Chrome Industries MXD Link Sling Review
While we wish it was more comfortable to carry, we're still digging the Chrome Industries MXD Link Sling as a well-structured, well-segmented option for everyday essentials.
Our Verdict
Unlock the Pro Summary
Save time. Get access to brief summaries of our reviews so you can browse and make decisions more efficiently.
Pros
Plenty of organization
Well-structured & keeps its shape while empty
Elastic welt protects laptop from the zipper
Cons
No padding on shoulder strap
Buckle can dig into your chest
Phone sleeve is tight for larger phones
Technical Details
Capacity

4.3l

Weight (lb)

1.3 lb (0.6 kg)

Denier

840D

Dimensions

8.25 in x 16 in x 2 in (21 x 40.6 x 5.1 cm)

Notable Materials

Nylon, Polyester, YKK Zippers, Duraflex Hardware

Manufacturing Country

Thailand

Laptop Compartment Size

13"

Warranty Information
Full Review
Get up to 10% off Chrome Industries • Join Pack Hacker Pro
Chrome Industries has created yet another citified sling—the Chrome Industries MXD Link Sling—that carries all your essentials in a slick, streamlined design.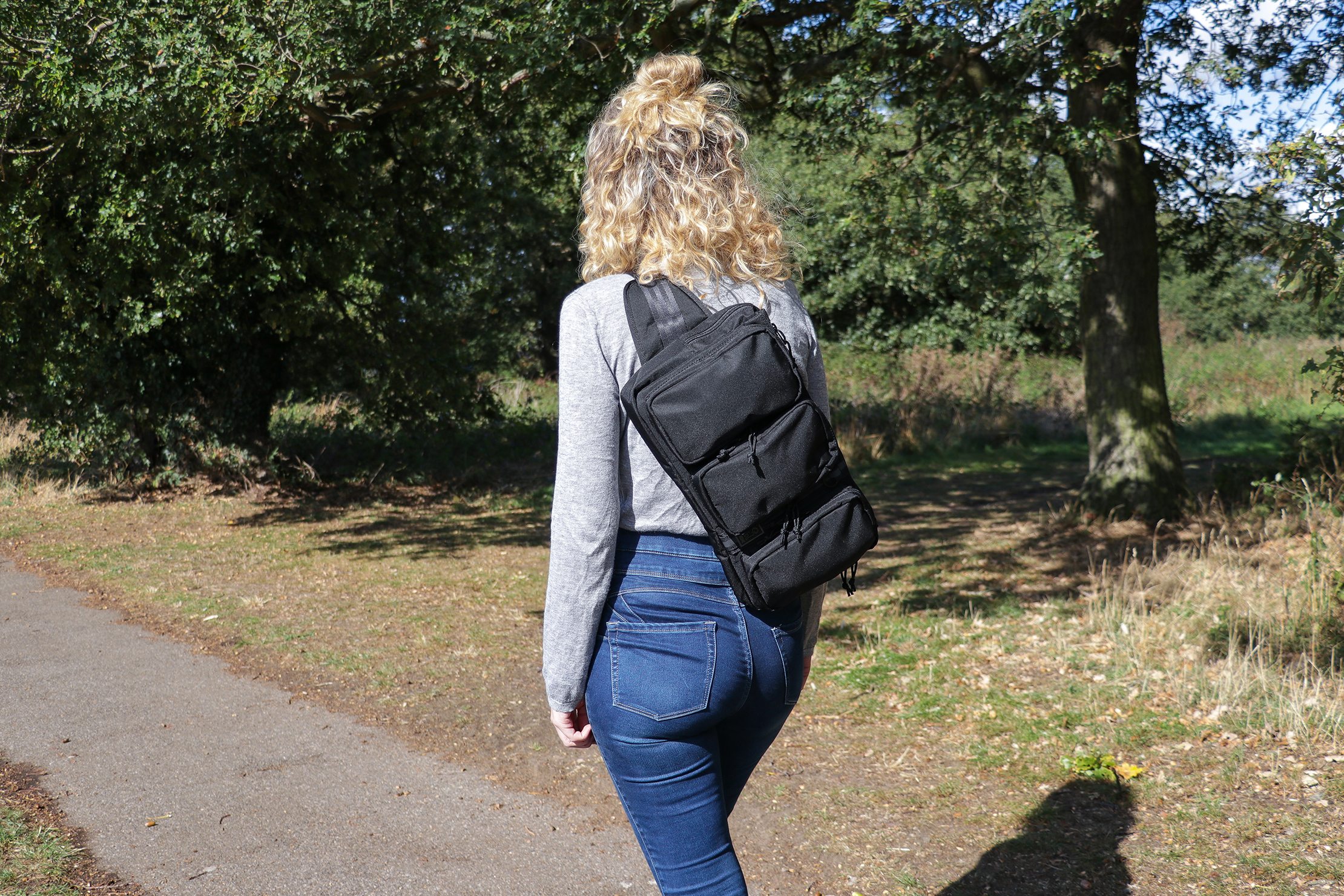 This thing has tons of organization to keep your stuff segmented and easy to grab, as well as the capacity to store your laptop, so you get everything you need all wrapped up into one system.
We've been testing it around the UK for two weeks now. Keep reading to see what we have to say!
Materials & Aesthetic
This sling has a distinct boxy look to it, and this structure creates a very urban aesthetic that looks at home on city streets. That said, it can also look very large and bulky on the body, which may have contributed to its low score of 30% in our Instagram poll on its looks.
The MXD Link Sling is only available in Black at the time of this review, but you won't hear any complaints from us. This colorway helps the sling retain a serious and subdued vibe that doesn't make a statement but rather, blends into the crowd. If that's what you're looking for, this sling is a solid option.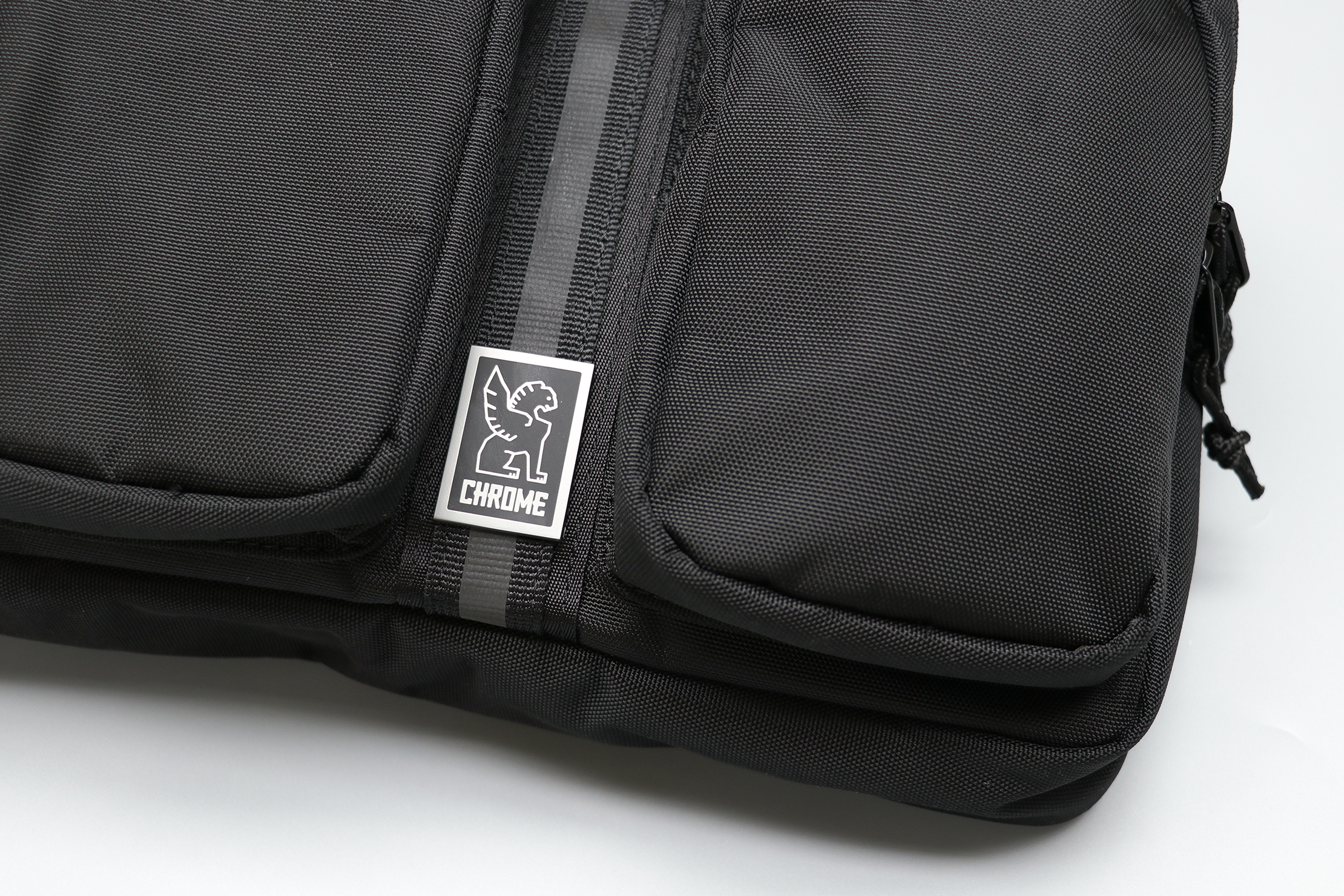 You'll spot the Chrome Industries logo, a griffin-like figure, on a rubbery patch on the front of the sling. It's grey-on-black and blends in nicely with the surrounding fabric, so if you're one for subtle branding, you won't be disappointed.
As for material, this sling is built with an 840D nylon shell and feels robust. It has held up well so far during testing. On the inside, there's a 70D poly liner that's nice and shiny and makes it easy to slip our gear in and out. Plus, this adds some water-resistance to the inside of the sling, which is always appreciated, especially when we're carrying tech.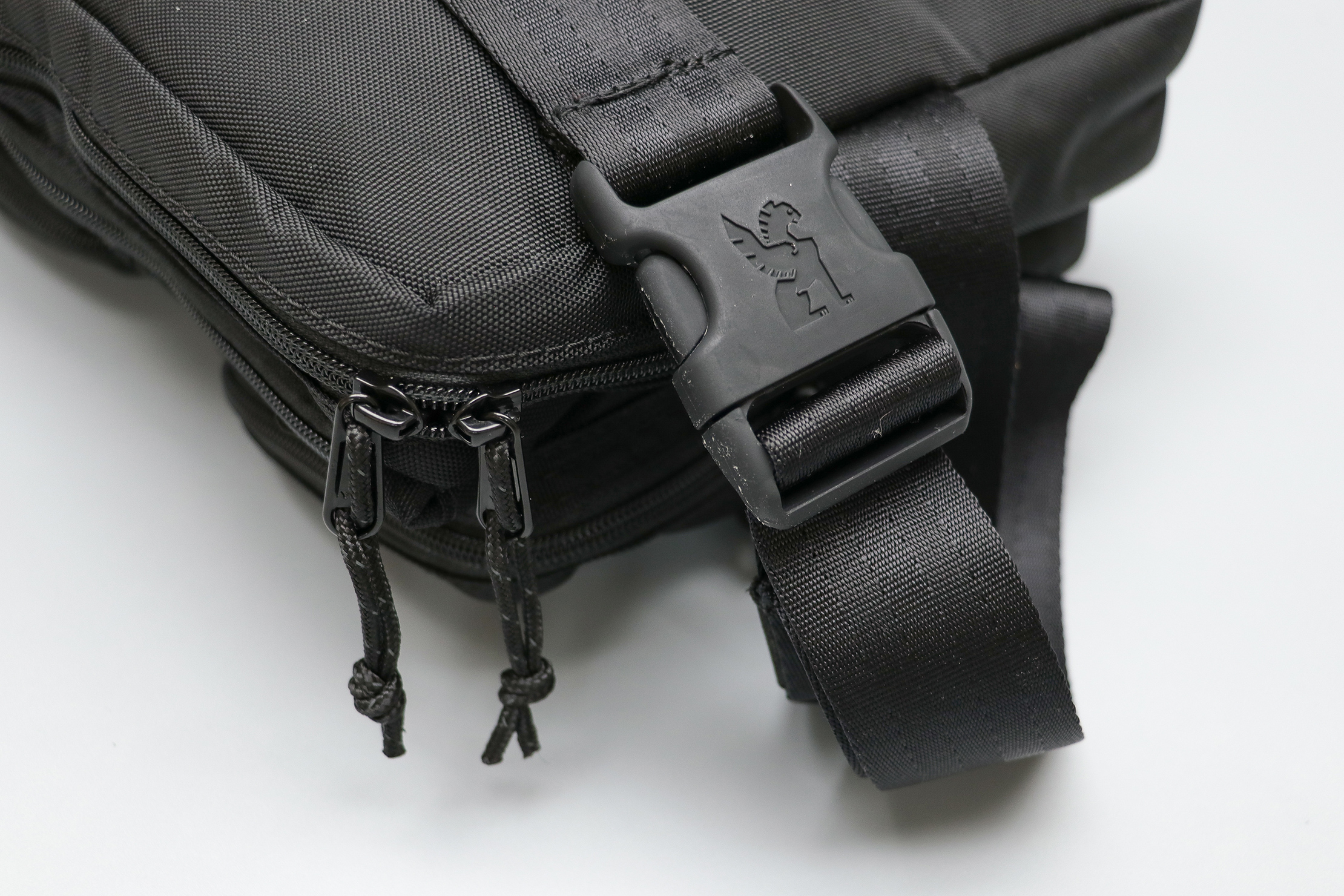 There are some YKK zippers throughout this sling with some easy-to-grab paracord pulls that help them glide with ease. We've tested lots of this brand's zippers over the years, and we're happy to report that, per usual, they're performing nicely.
If you're wondering where the big buckle on this sling comes from, it's from Duraflex—yet another brand we have tons of positive experience with. This buckle has stayed secure throughout our testing, though we've found it can dig into our chests when we have this thing fully packed and are wearing it in sling-mode—more on that in the next section.
External Components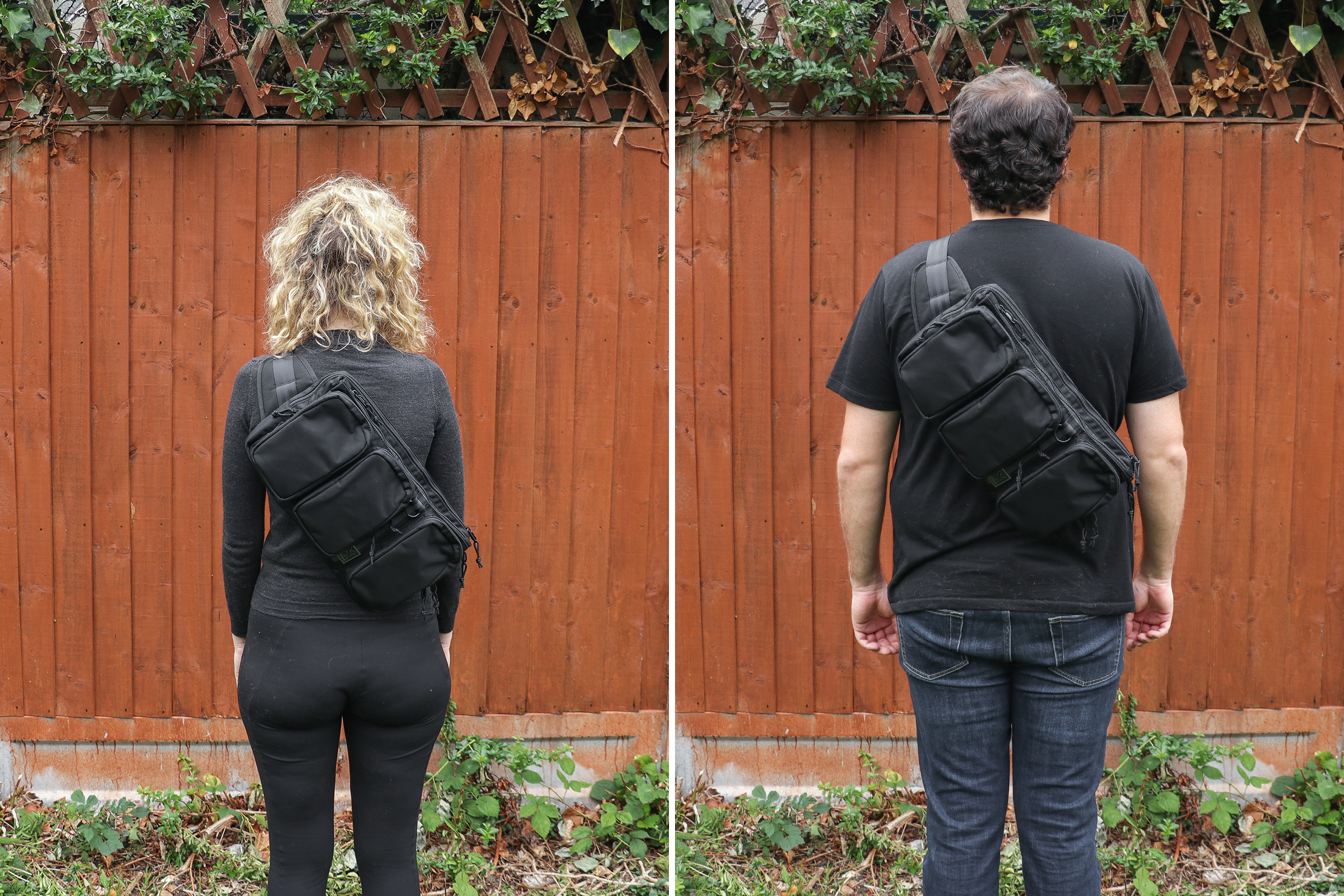 You can wear the MXD Link Sling crossbody in true sling style, or you can opt to wrap it around your waist as a waist pack, depending on your preferences and use case. We haven't found the waist pack carry to be the most comfortable or efficient, and we do have some notes about sling-mode as well, which we'll go into depth about below.
The shoulder strap is made of a seat belt-like material that's nice and smooth in hand, and not as rough as some nylon straps we've tested in the past. It's also pretty wide, which allows it to better disperse weight, so we don't feel it digging into our shoulders in any spots.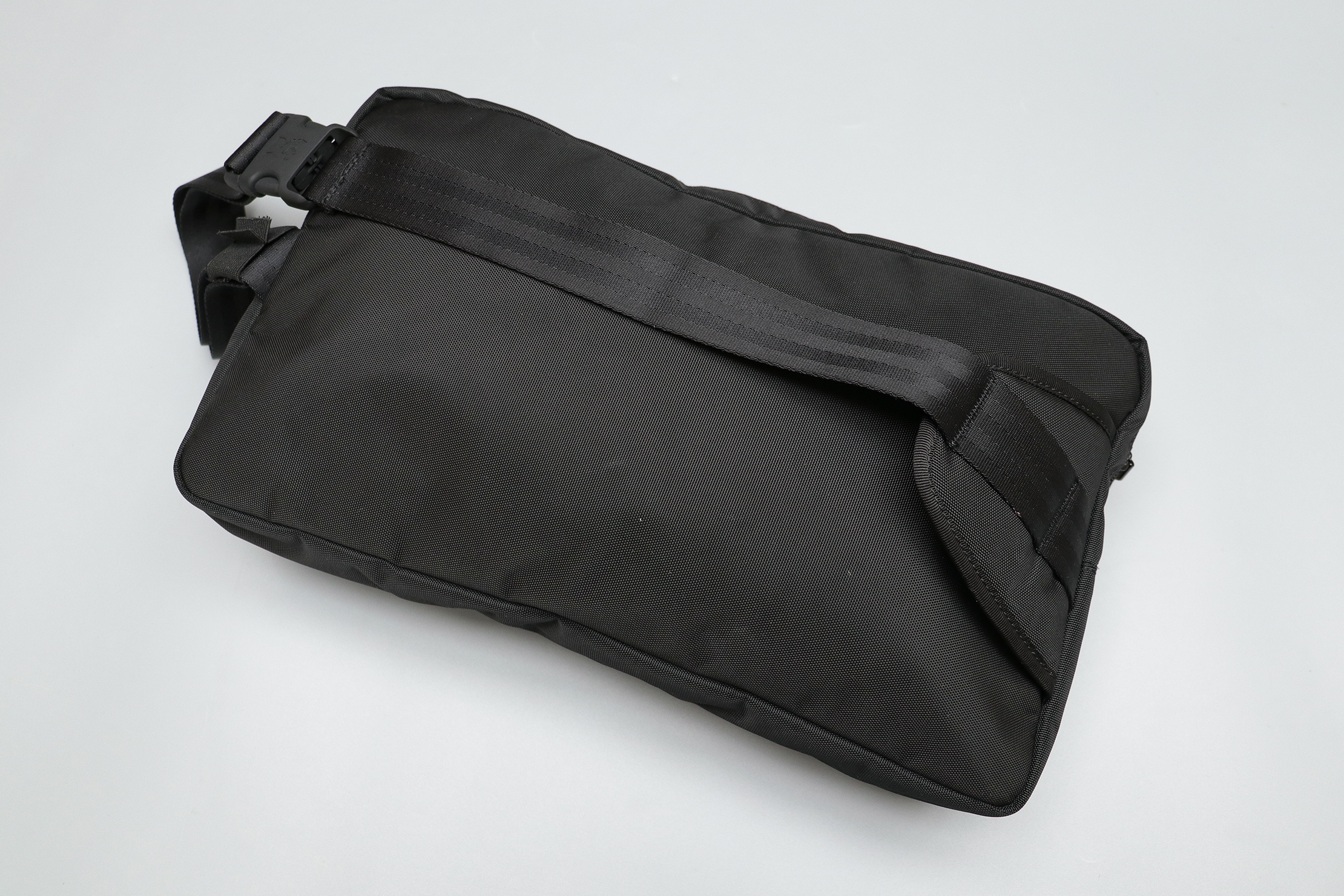 When you're wearing this thing as a sling, you have a small amount of padding at one end of the strap that sits against your shoulder. It's thin and short, so it doesn't offer much comfort for your entire shoulder. We would've liked to have some padding along the actual strap as well—especially when we're carrying something like our laptop inside, as this sling can get pretty heavy. The buckle that secures this strap is also quite large, and we've found it to dig into the chest when we have the sling fully packed, which also hasn't been very comfortable.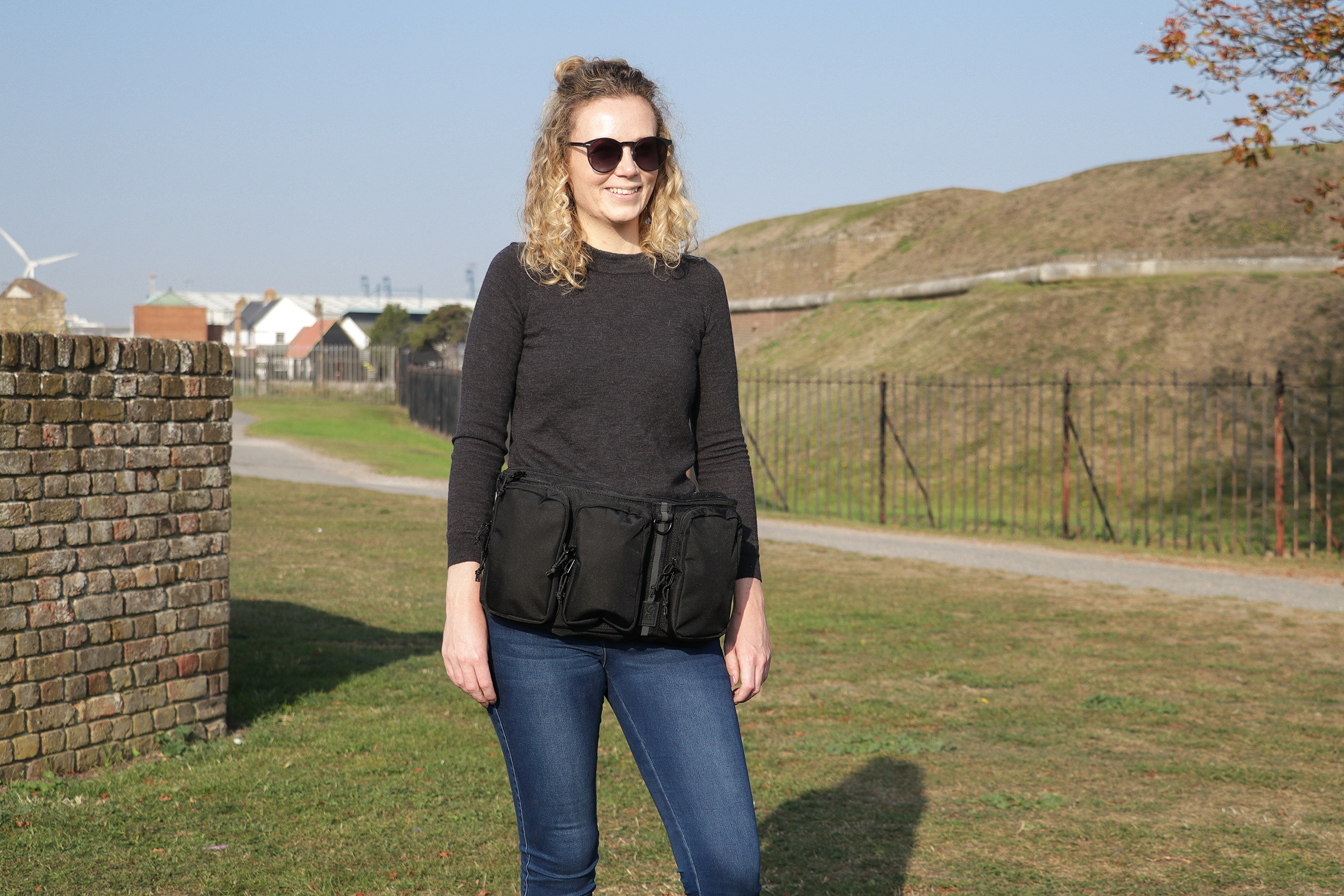 Another issue we ran into is with the waist pack carry. This sling is on the larger side, and when secured around the waist, it can be wider than the body. It's bulky and difficult to carry, so we personally do prefer wearing it in sling-mode—we had a similar experience with the Chrome Industries MXD Notch Sling Bag as well. Of course, this may not be as big of an issue for you—it all depends on your frame and body type.
The back panel has perhaps been the most comfortable aspect of this sling's carry. It may not have any mesh lining for that added breathability, but it does have a nice level of cushy padding that gives it some structure, so it's not floppy or pulling away from the back. This padding is part of what protects your laptop inside the dedicated compartment located toward the back of the sling, which we'll touch on in the next section.
Inside The Sling
First, we want to talk about the three tall, narrow pockets on the front of the sling that you have at your disposal. You can fit a surprising amount in each one, but even when they're flat, they retain their shape instead of sinking inward and looking floppy.
The first pocket has a sleeve on the inside that's advertised as a place to keep your phone when not in use, so it's always quick to grab. However, we tried slipping a standard iPhone 11 with a RhinoShield SolidSuit Case on the inside during testing and found that we have to really force it into this sleeve for it to fit. Because of this, we've just been letting the phone free-float in the open space in front of the pocket. It hasn't been a huge deal as there are some nice padding and a soft liner to keep it protected. That said, we would've appreciated the added security of the sleeve to keep our phones away from our other items, and from falling out when we open up the pocket.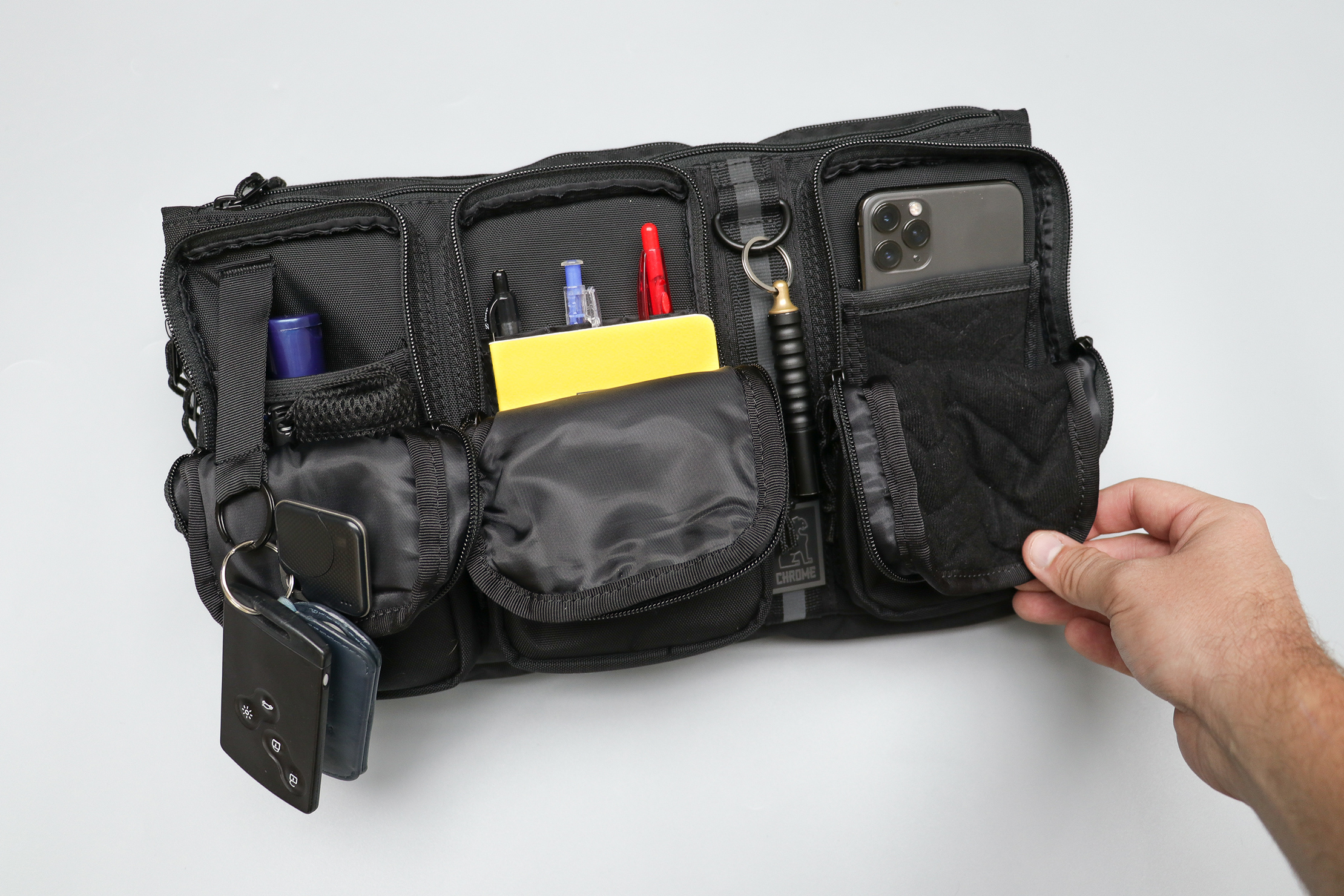 Inside the middle pocket, we've been keeping a bulkier charger as well as a small notebook for quick and easy access when we need them. Against the back wall, you also have three pen sleeves where you can slip in pens, pencils, a stylus, and the like, so they're always handy. Between this pocket and the first one is an O-ring that you can use to clip some smaller gear if you choose.
The third pocket has been a great spot to keep any leftover items, whether that means extra cables, accessories, or even some snacks for when you get hungry. There's a mesh pouch inside with a similar depth as the sleeve in the first pocket we talked about, but because the mesh is see-through, you have a lot more visibility of what's inside—even if your smaller and shorter items do sink to the bottom.
Also inside this pocket is the sling's key leash, which you can use to clip your keys to, so they're close by when you need to unlock your car, door, locker, or mailbox. There's a metal ring at the end where you can attach the keys, though we would've liked to see some sort of clip instead, as they take longer to remove this way than simply disengaging a clip.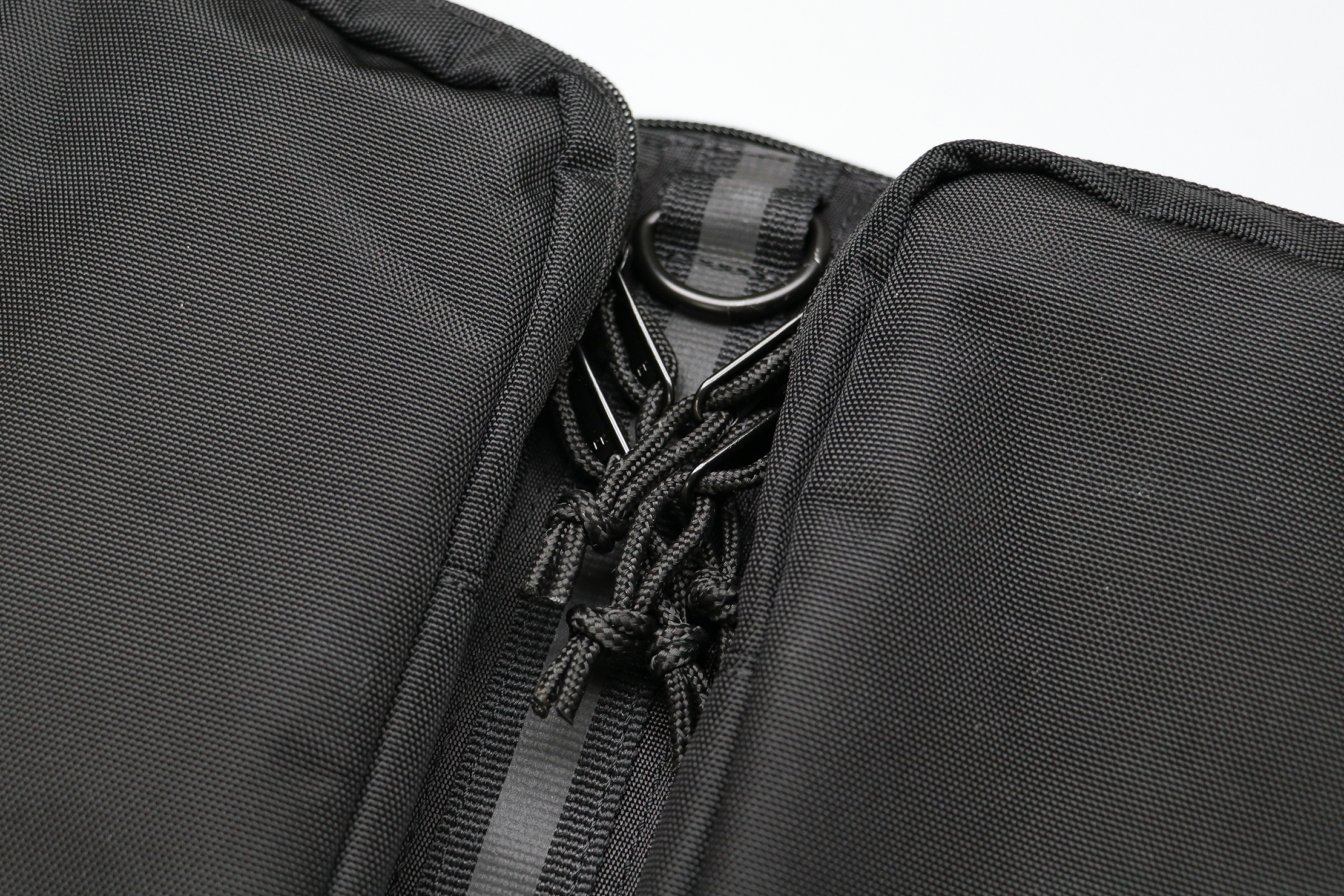 Something we want to note is that when you have all the zipper pulls sitting in between these two pockets, it can be hard to discern which zipper unzips what when you're in a hurry. You can avoid this by making sure you have the zippers for each pocket along the same side, so they're not intersecting, but it can be a nuisance to have to keep this in mind every time you zip and unzip a pocket, so it's something to be aware of.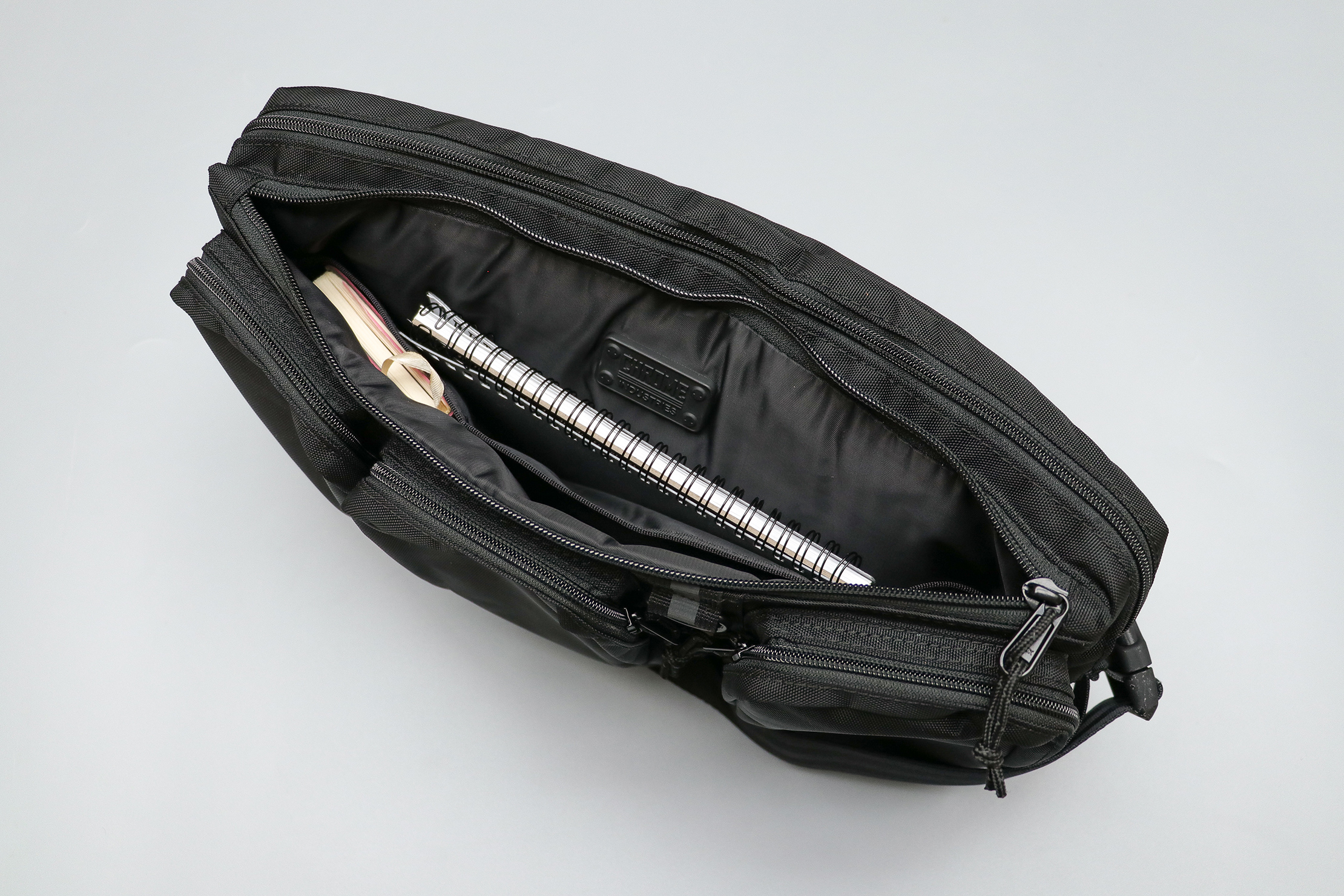 Behind these pockets is the main compartment that features a smooth, shiny lining material so you can easily slide your stuff in and out. In terms of organization, you have two liner pockets against one side to help segment your gear. The larger pocket works for any chargers you might need to take with you or other smaller accessories, while the smaller pouch can hold personal care items (hand sanitizer, chapstick, perfume/cologne) or anything else you don't want jostling around.
The rest of this compartment is just some free space that you can pack out with pouches or gear that you don't mind free-floating. If you're keeping a laptop in the laptop compartment, smaller, flatter items work best in here. When you aren't carrying a laptop, you have more flexibility to pack some bulkier items (larger headphones, a compressible jacket, umbrella) if you have them.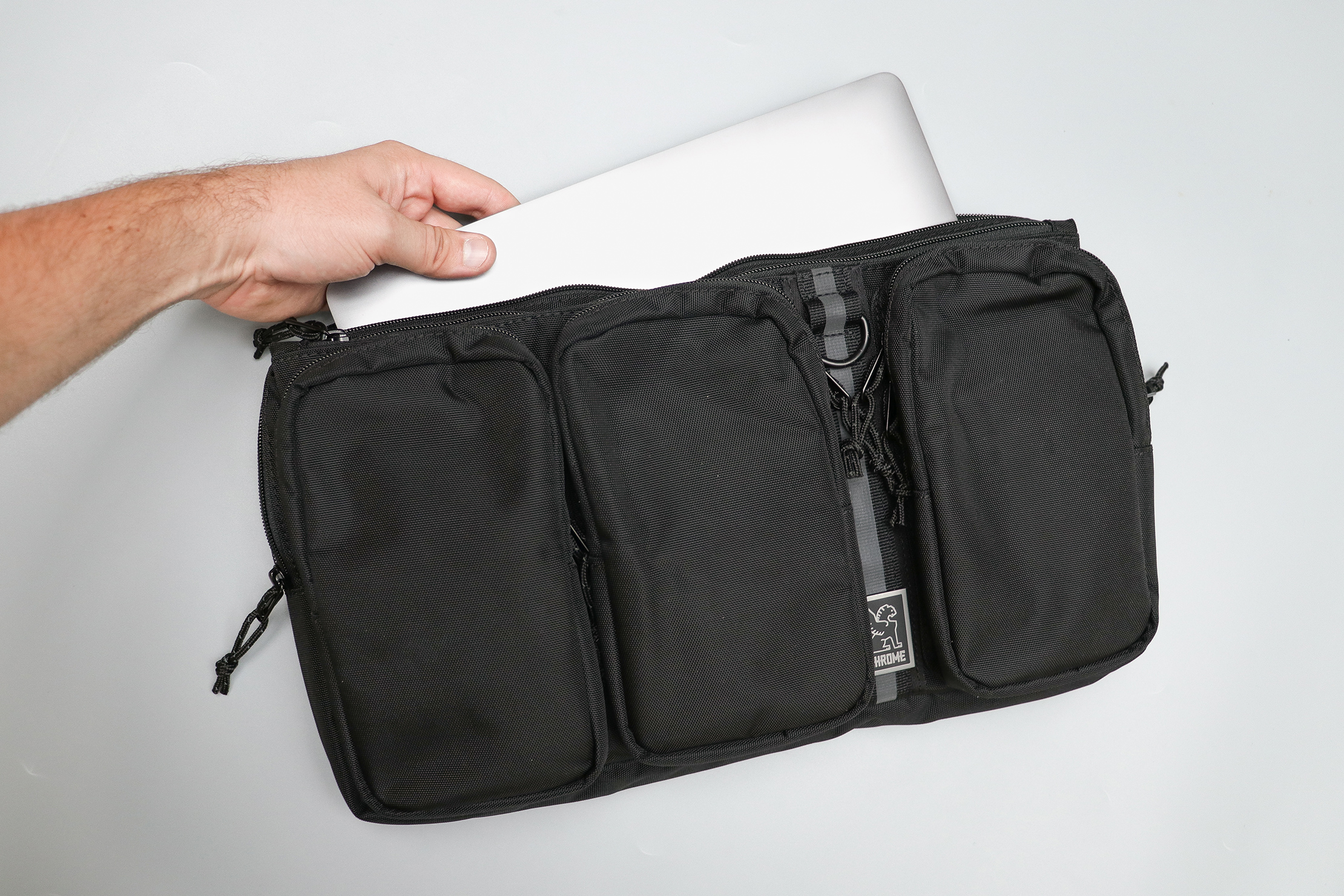 To finish off this sling's storage, we have the laptop compartment. You can fit up to a 13″ laptop inside, so it doesn't accommodate larger, bulkier tech, which may or not be a deal-breaker for you depending on your setup.
Like we mentioned when talking about the back panel, there's some padding on either side of the compartment to cushion your tech, which is helpful in this case as the laptop does tend to sway back forth in the open space when you're moving. Thankfully, there's a soft lining material inside to protect it from any scratches as it moves around.
What it doesn't have, though, is a false bottom. Because of this, you may want to keep your laptop in a protective case or sleeve. However, it will need to be on the thinner side, as you don't have a lot of extra space between your tech and the zipper to accommodate anything too thick. Speaking of the zipper, you'll notice a small elastic fabric welt that sits beneath the zipper and prevents it from getting caught on and scratching your laptop, which is a thoughtful integration.
Usage Timeline
Initial Usage
Condition: Excellent
Well padded laptop compartment for a 13″ laptop
Lots of great organization all over this sling, everything has its own place
Can also be worn as a gigantic waistpack
2 Weeks of Use
Condition: Excellent
We're really digging the organization on this sling, there really does seem to be a place for everything
The sleeve designed for your phone is too small, but it does fit in the compartment in front of this
The strap lacks padding and gets uncomfortable if you're wearing this sling for longer periods of time
As a waist pack, this is huge and feels very uncomfortable, plus the waist strap is a little too long
The flap that goes over the top of the laptop is a great feature and protects it from getting scratched by the zipper
The zippers on the back compartments work well and are easy to use, however, it can get confusing using the zippers on the smaller compartments at the front if you're trying to access something quickly
Access the Pro Community Discussion
Get your questions about the Chrome Industries MXD Link Sling answered from our team and the Pro Community right here on the page. Plus, join discussions with other members about gear, guides, and more.
Other Bags & Luggage Reviews