CabinZero Classic Travel Backpack Review
If you're on a budget, meet the CabinZero Classic Travel Backpack. While it's nothing special, it's a solid and versatile pack that works for short trips.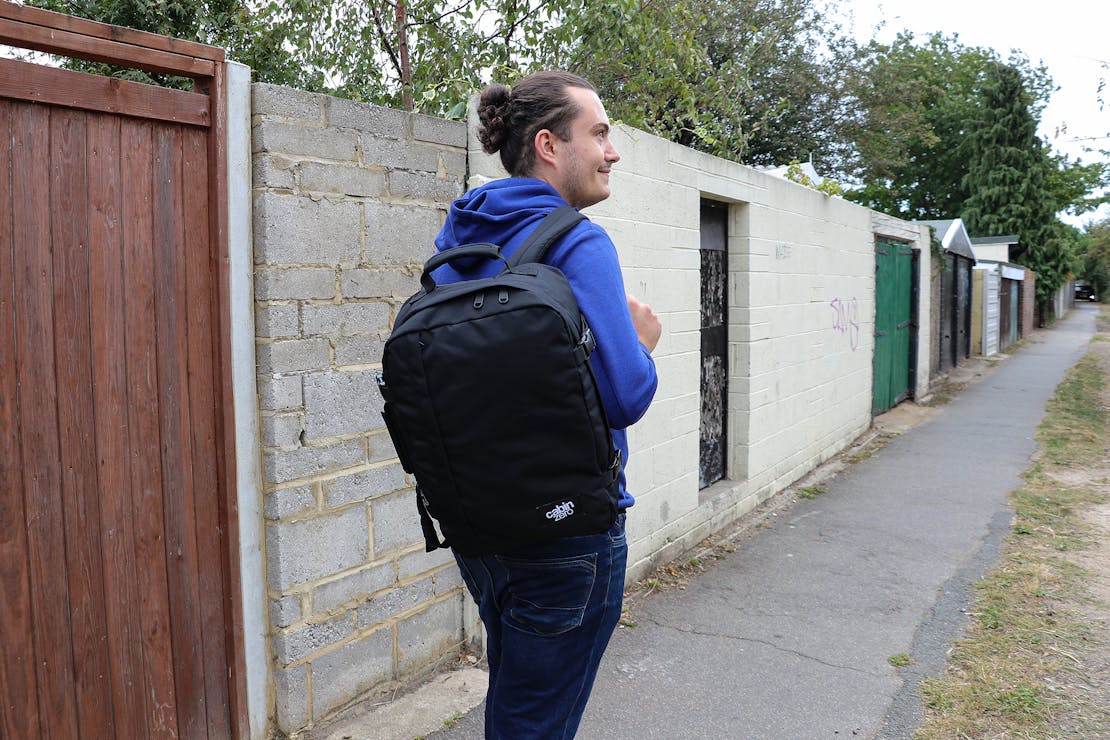 Our Verdict
Unlock the Pro Summary
Save time. Get access to brief summaries of our reviews so you can browse and make decisions more efficiently.
Pros
Budget-friendly
The clamshell main compartment opening comes in handy
Works as both a daypack and one-bag travel backpack
Cons
Lack of structure creates a slouchy look and uncomfortable carry
Lacks a sternum strap and hip belt
Not ideal for long-term travel
Technical Details
89 %
Carry-On Compliance (Beta)
Capacity

36l

Also available in 28L and 44L capacities

Weight (lb)

1.54 lb (0.7 kg)

Dimensions

17.7 in x 12.2 in x 7.9 in (45 x 31 x 20.1 cm)

Notable Materials

Polyester, Duraflex Hardware, YKK Zippers

Manufacturing Country

China

Warranty Information
Full Review
All you need to know about the CabinZero Classic Travel Backpack is in its name. Classic. This simple, minimalist one-bag travel backpack doesn't feature anything fancy. But for its price—less than 100 bucks—we wouldn't expect it to.
CabinZero—a U.K. company that goes with one-bag travel like peanut butter goes with jelly—has a cult following. And for good reason. While it doesn't sell the fanciest, hardiest gear, it sells solid, affordable items that'll get the job done. (Plus, if you're between the ages of 16 and 26, you can get CabinZero gear at a 20% discount!)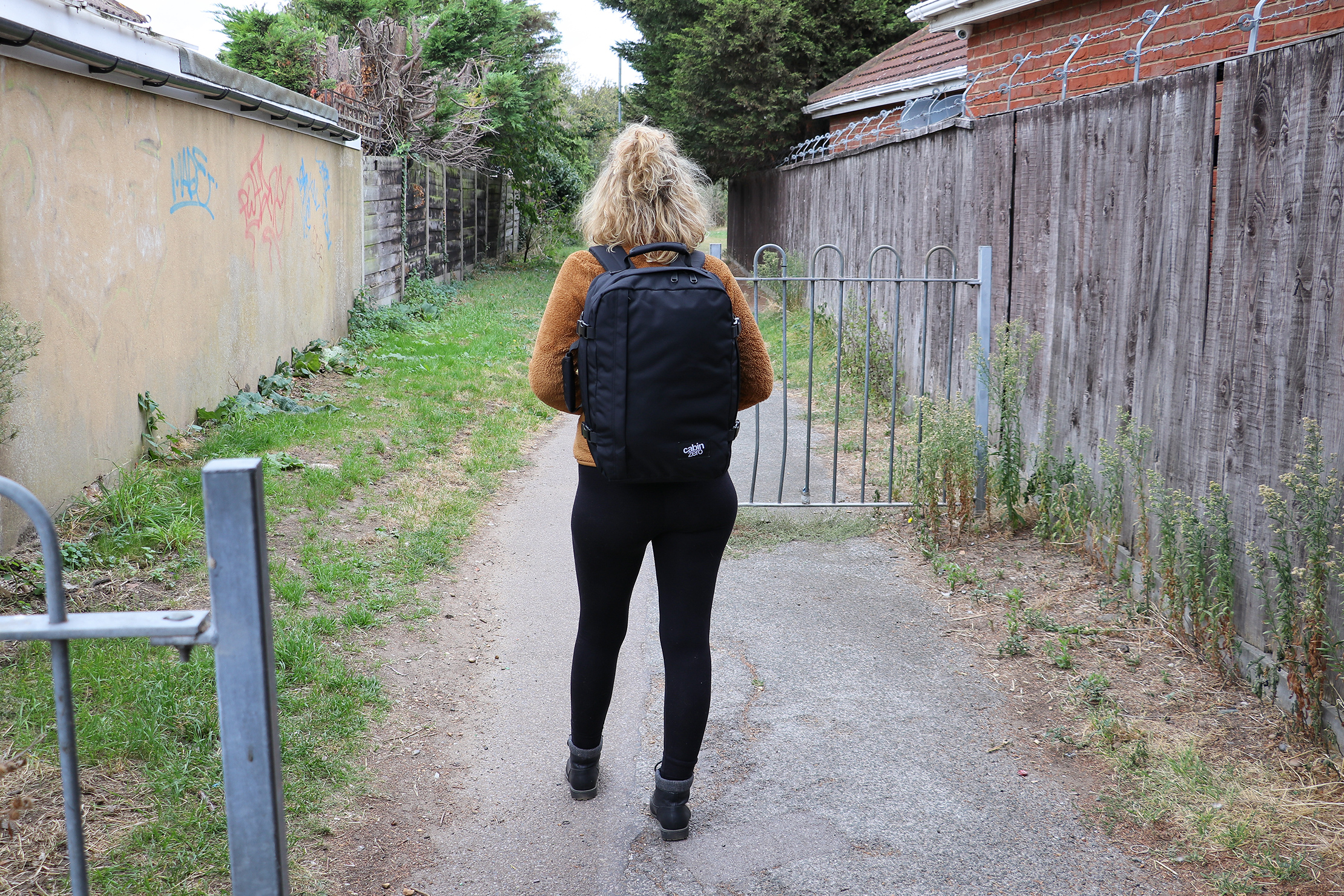 The company offers a huge line of backpacks, including the Classic Plus and Classic Pro bags, which are essentially the same as the original Classic Travel Backpack with a few extra features. There's also an adventurer line for more adventurous—or clumsy—travelers.
We've been testing the Classic Travel Backpack, so let's jump in and see what this bag has to offer.
Materials & Aesthetic
CabinZero's Classic Travel Backpack is available in three different sizes—28L, 36L, and 44L—and approximately one bazillion colorways (give or take half of a bazillion). Seriously though, you'll likely be able to find a colorway that speaks to your soul thanks to the 30-some options.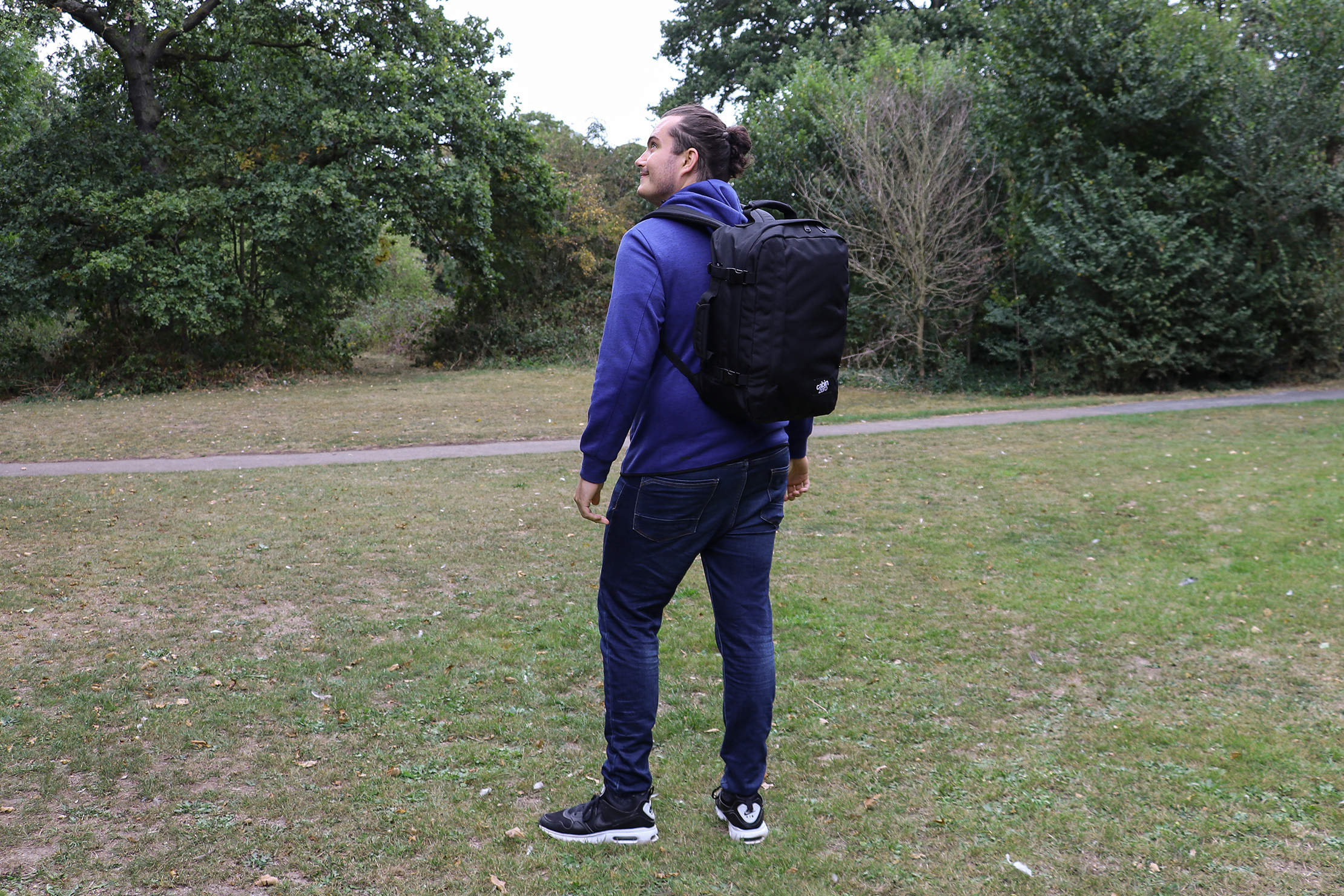 In our case, that's the Absolute Black (hmm, sounds creepier than we expected…). We like black as it hides stains, goes with everything, and doesn't stand out in a crowd. We've been testing it in the 36L size, which we think is solid for one-bag travel. Large enough you can fit everything you'll need, but not large to the point of being uncomfortably heavy or bulky.
Unfortunately, this bag doesn't have much structure (we'll discuss this more in a minute), which means it can look slouchy. Reminiscent of the early 2000's "skater boy" style, for better or worse (okay, definitely worse).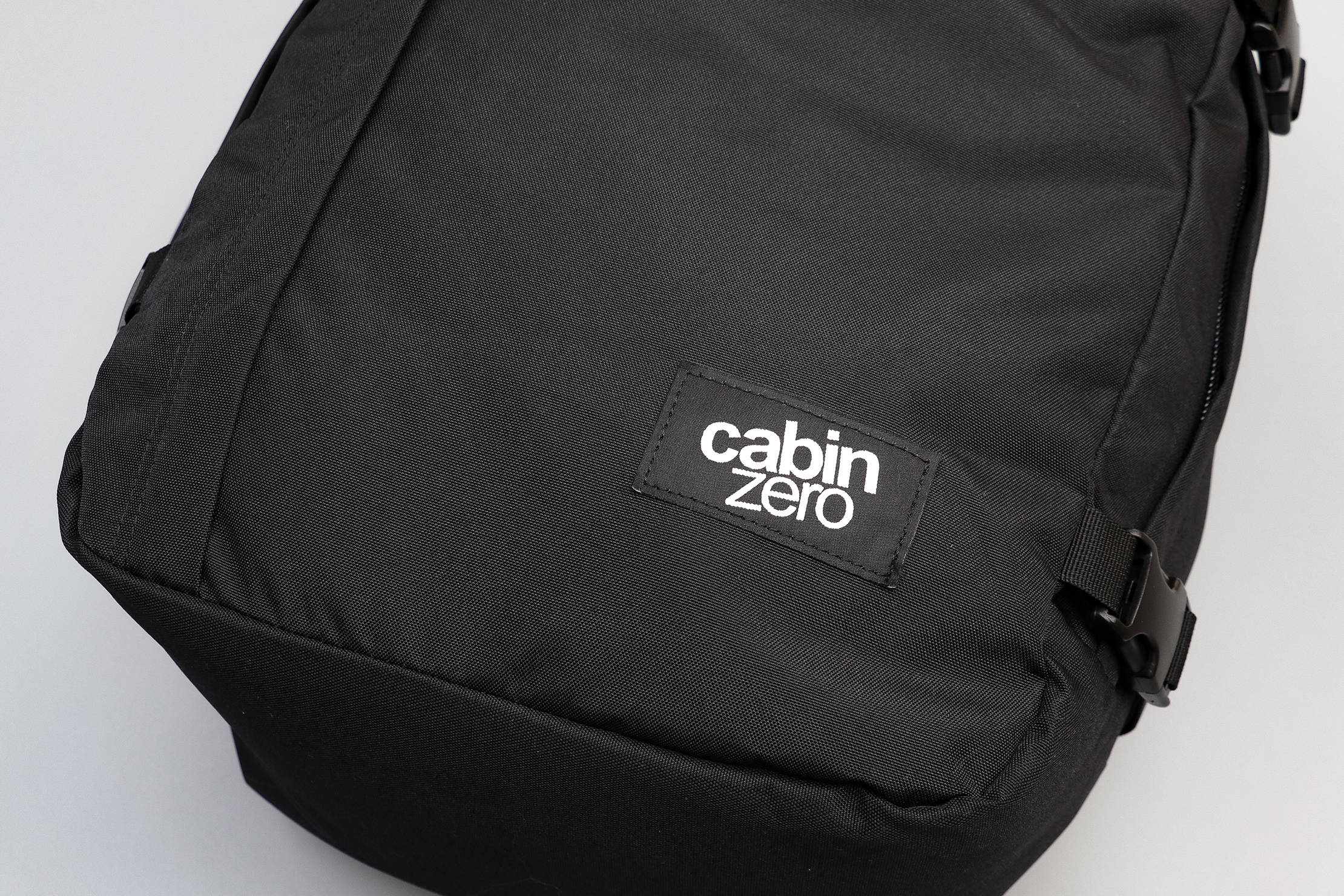 But we like basically everything else about its aesthetic. It's a classic backpack. As far as branding goes, you'll find the CabinZero logo on the bottom right and nowhere else. We're not usually fans of over-the-top branding, so this is a plus.
Moving on to the materials. The pack is made from 600D polyester. The good news is that polyester is lightweight. Coupled with this pack's lack of features and structure—which, again, we'll get into later—and this backpack doesn't weigh much. That's definitely a huge pro—not only helping keep your pack's overall weight down for airline restrictions but for the health of your back and shoulders.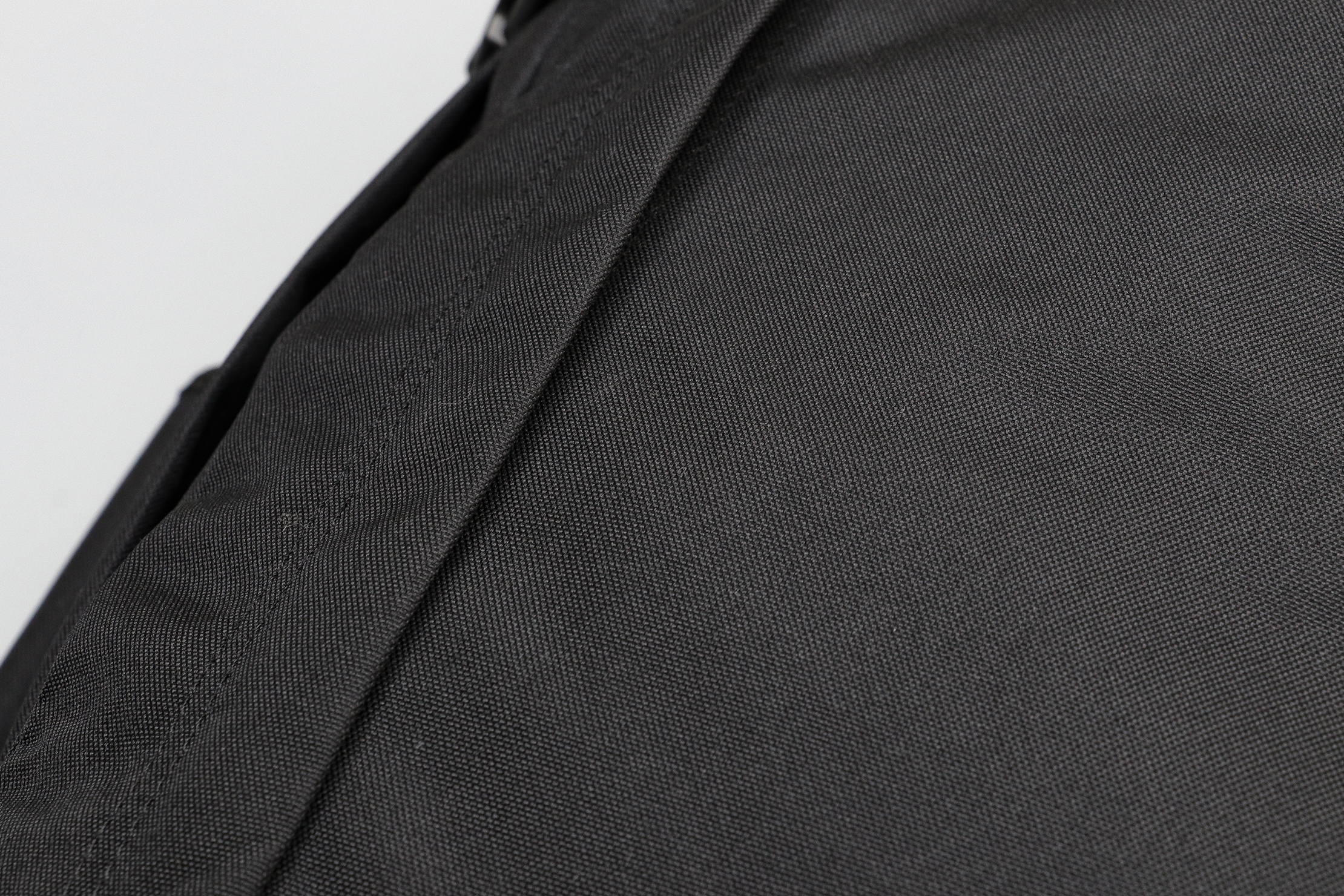 The bad news is, it's not the most durable fabric out there. There's no ripstop, so if you puncture it, the hole will expand to the point of rendering this pack unusable. It'll probably hold up for light travel—say a month touring southeast Asia—but if you're looking for a pack to live out of for two or more years, you'll likely want to choose another pack.
On a more positive note, all of the hardware on this thing is solid. The zippers are from the trustworthy Japanese manufacturer, YKK, with hardier zippers on the exterior. These external zippers are also lockable, which is a nice touch. The beefy buckles are from Duraflex, so we have no complaints there.

External Components
Arguably, one of the most important aspects of a backpack is its harness system. So how does this one stack up? It's not bad. It's not great, but it's not as disappointing as it could be for a pack of this price.
The straps are made of a dense-ish foam and are curved to fit your body. As long as the pack isn't overloaded, they're comfortable. And they work on a variety of body types and sizes, which is great.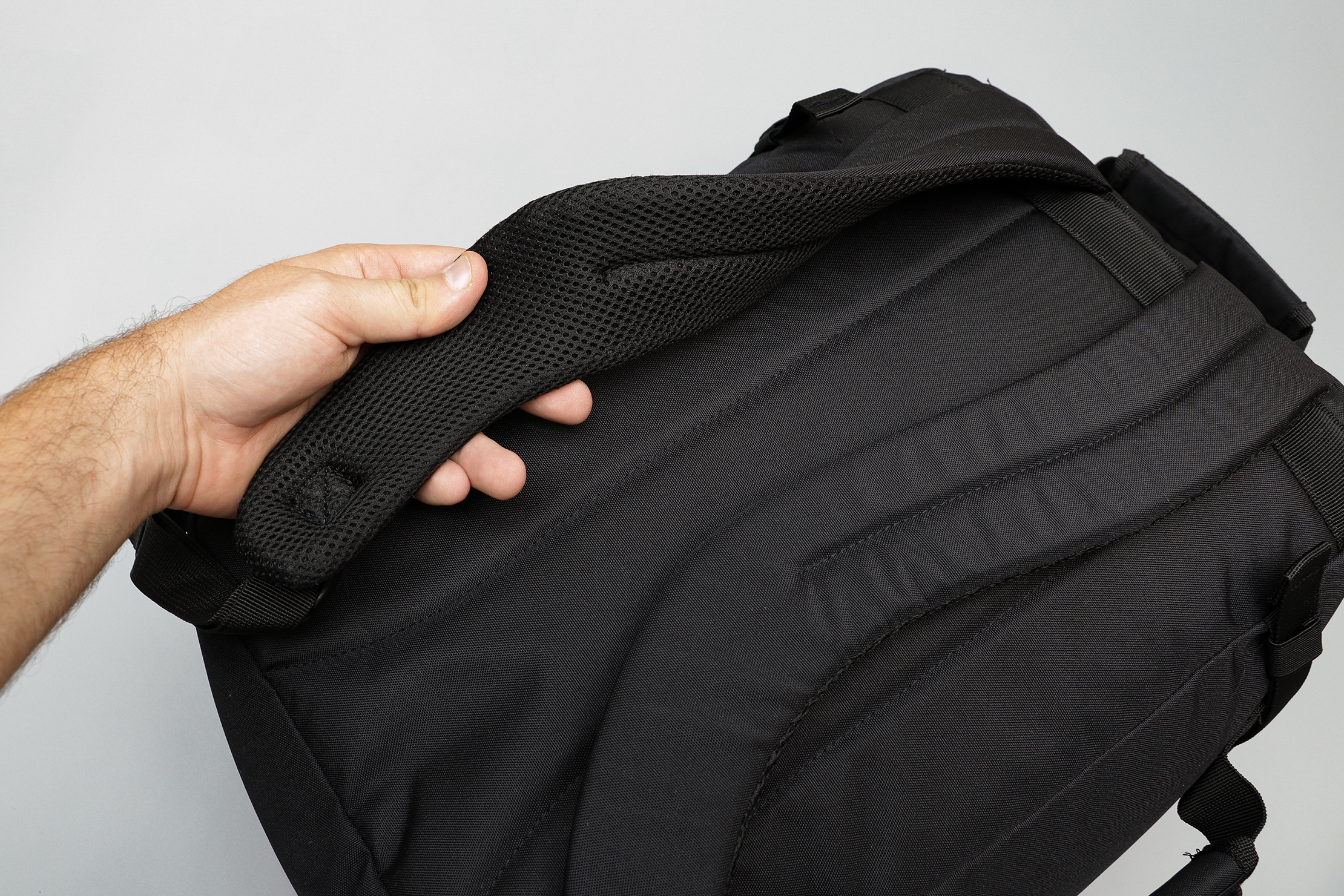 Now, there isn't a sternum strap or hip belt. At 36L, the pack can get away with this—they're not all that necessary. Of course, if you like that extra support then you'll be disappointed here. We're surprised that the 44L version doesn't offer a sternum strap either, because at that size, it'll get uncomfortable to carry pretty quickly.
We dislike the lack of structure on this thing. If you only have a few items at the bottom of the bag, it sags. And when the bag sags, it digs into your lower back—which is as irritating as it sounds. As you fill it up, it starts to have a little more structure. So make sure to be a packrat.
If you're not planning to travel with this bag frequently or take it with you on long walks, you'll do fine by the way it carries. Otherwise, you may want to opt for something that considers comfort slightly more.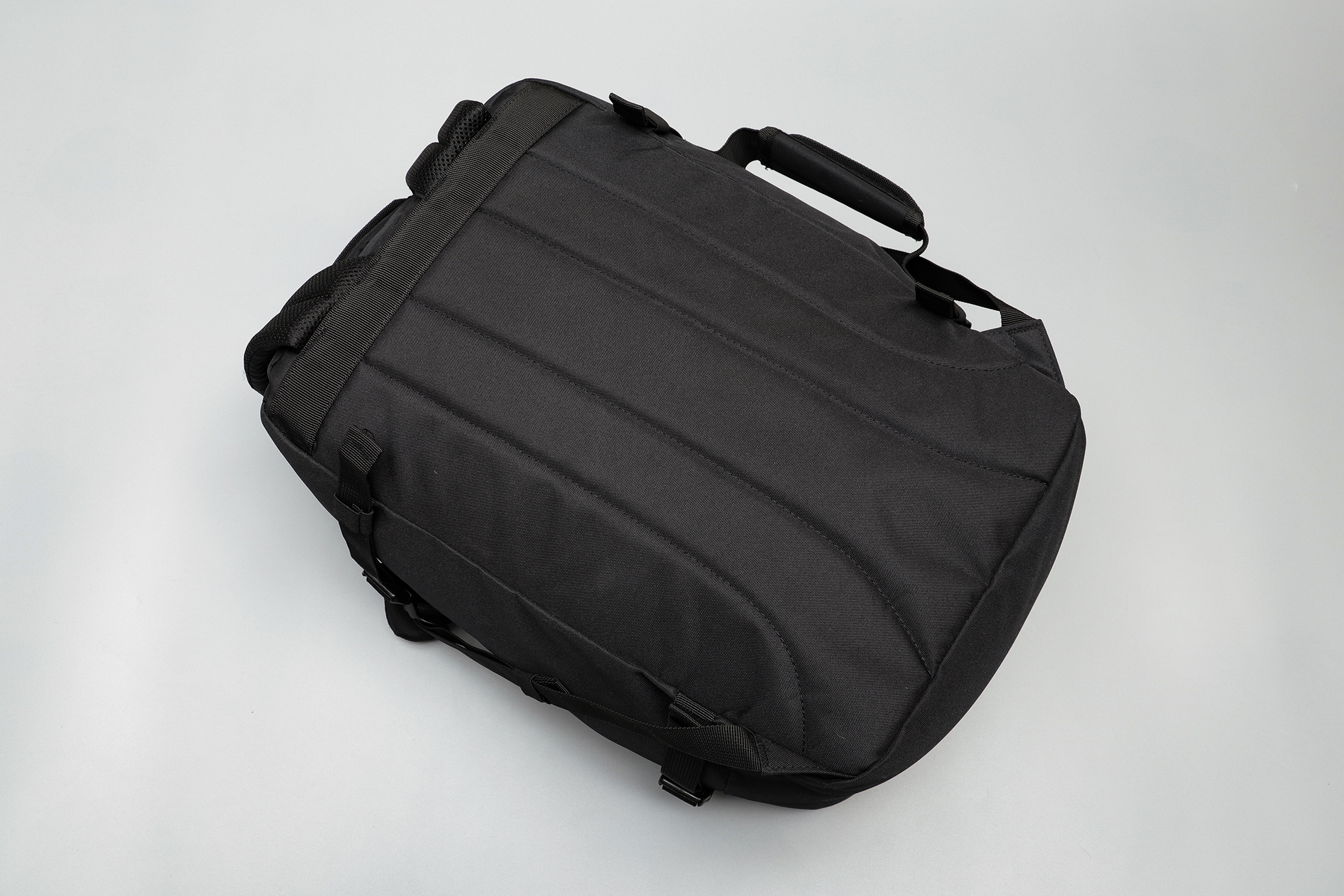 On that note, there's nothing special going on with the back panel either. It doesn't have mesh or a ventilation system. Which means, yes, you may end up with that dreaded swamp back…dun, dun, dunnnn. No backpack is immune to the back sweat problem, but this one is particularly bad at preventing it.
Okay, let's take a look at the handles. You'll find one on the top of the backpack and one on the side. They help maneuver the bag, especially in and out of overhead bins—although we're not digging the fact that they open with velcro. It detracts from the overall look of the bag.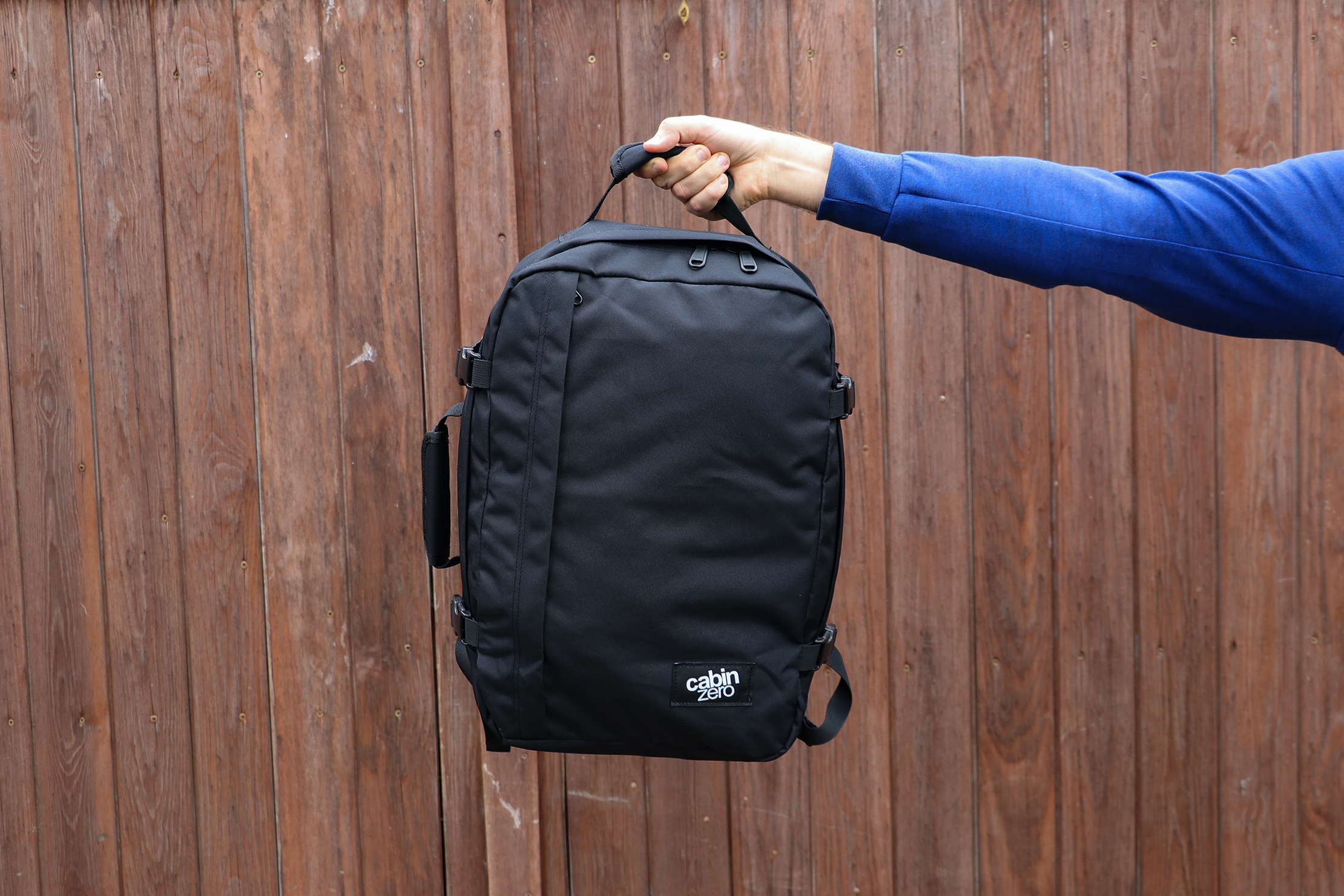 Finally, there are compression straps. They do a nice job compressing everything, meaning you can get away with using the 36L version as a daypack when need be. This is great as you won't have to pack a separate daypack.
That said, this backpack has an annoying quirk it shares with a number of other backpacks we've reviewed—the strap keepers on the compression straps have limited mobility, so when you compress this thing, the straps dangle. You could potentially tuck the remaining strap back into the elastic, but it's not ideal. What's even the point of including the strap keepers? (This isn't a rhetorical question, CabinZero. Let us know!).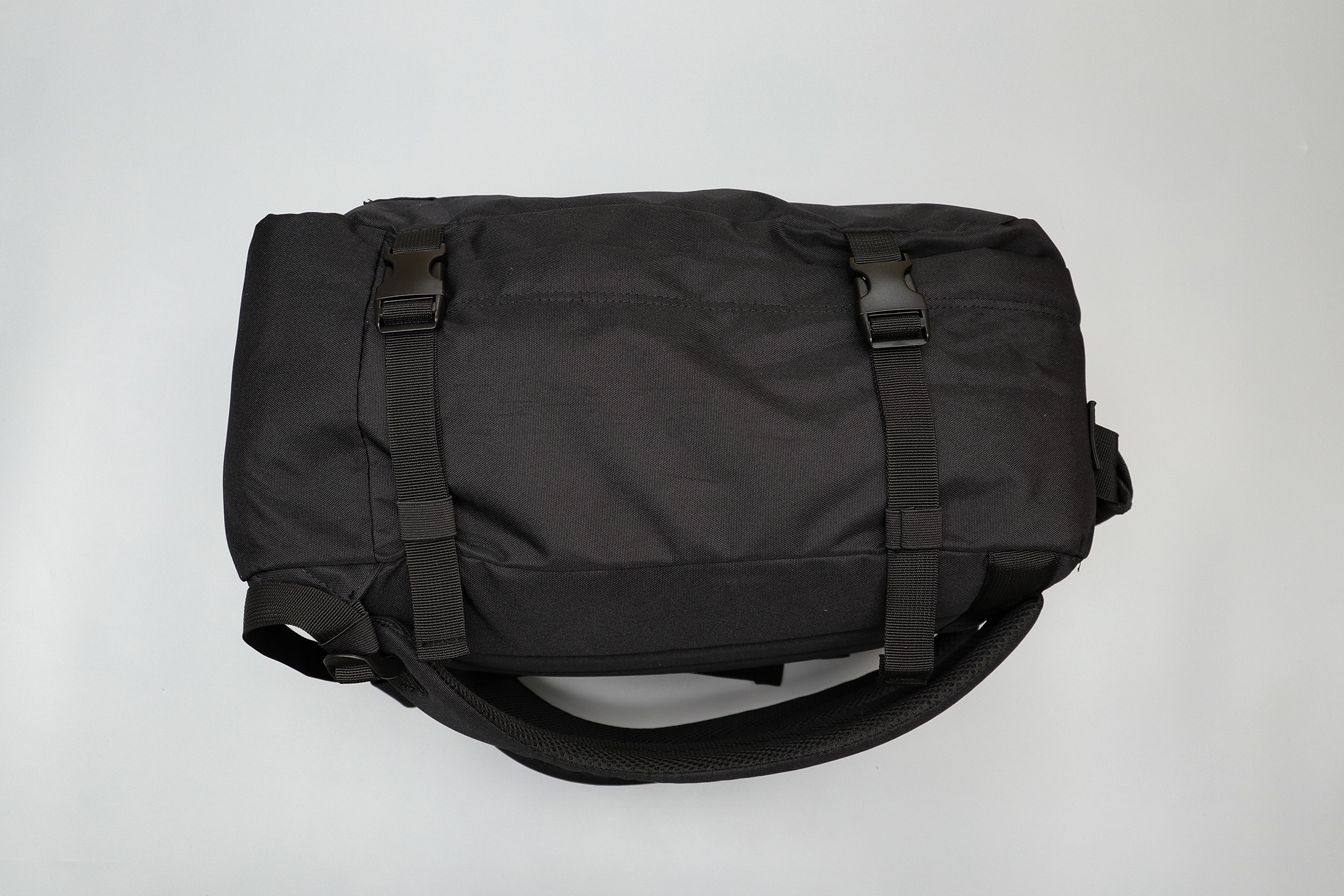 You can't get into the main compartment without unbuckling the compression straps. This is both a good and bad thing. The good news is that it's tricky for anyone up-to-no-good to get inside the main compartment and steal whatever goodies you've got in there. The bad news is that it's tricky for you to get inside this compartment and grab whatever goodies you've got in there. You have to unbuckle all four buckles to open it up, which may not sound like a pain, but when you do it over and over, it gets annoying.
Inside the Pack
Once you do get all of those compression straps unbuckled, you'll notice the main compartment opens in a clamshell-style (i.e. all the way around like luggage does). This is a huge plus and comes in handy when you're packing everything up.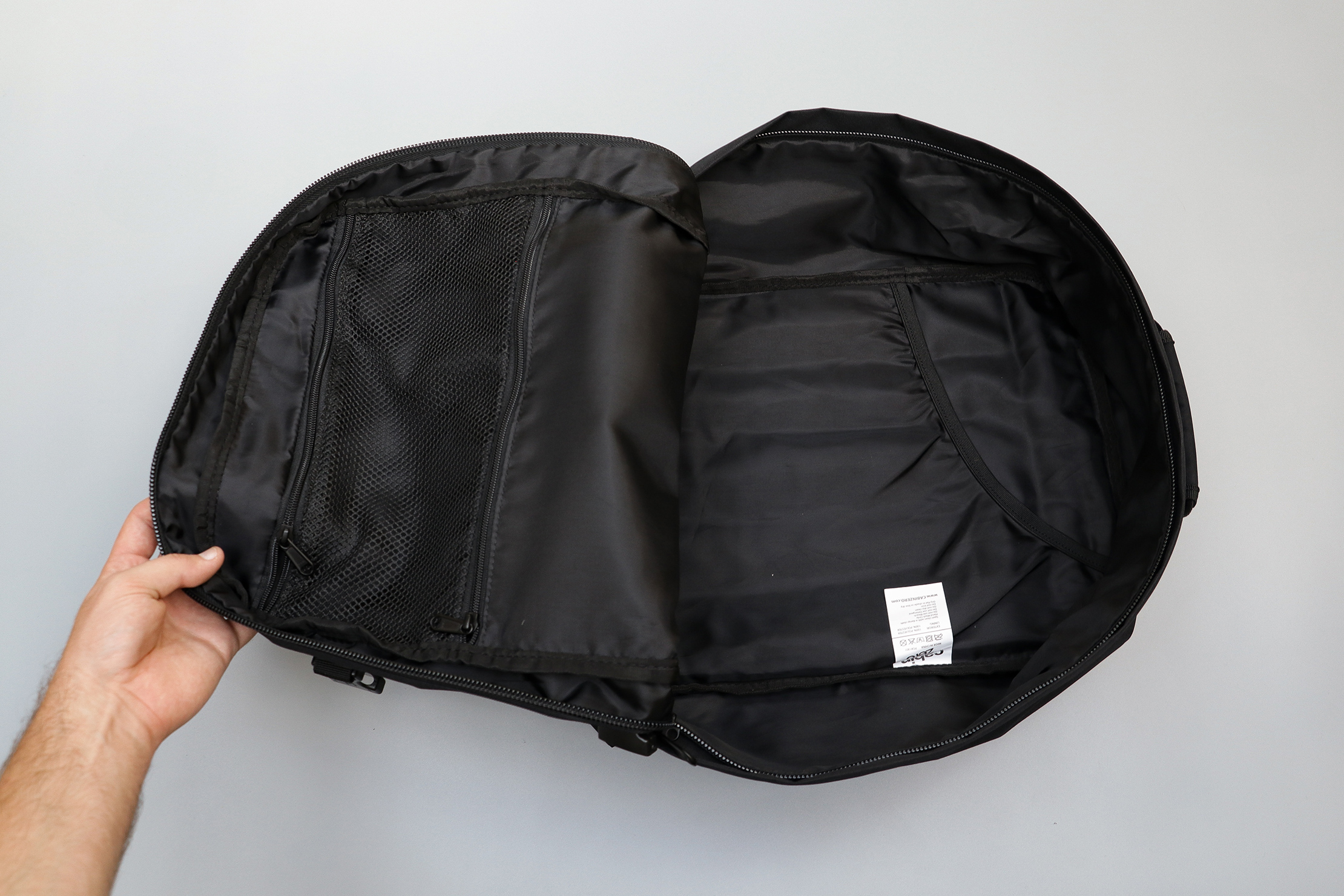 Inside this main compartment, you'll find two pockets on the interior flap—one mesh and one regular. They both close with zippers, ensuring everything will stay put. They're great for a little bit of compartmentalization—you can keep your toiletries or electronics separate from the rest of your stuff.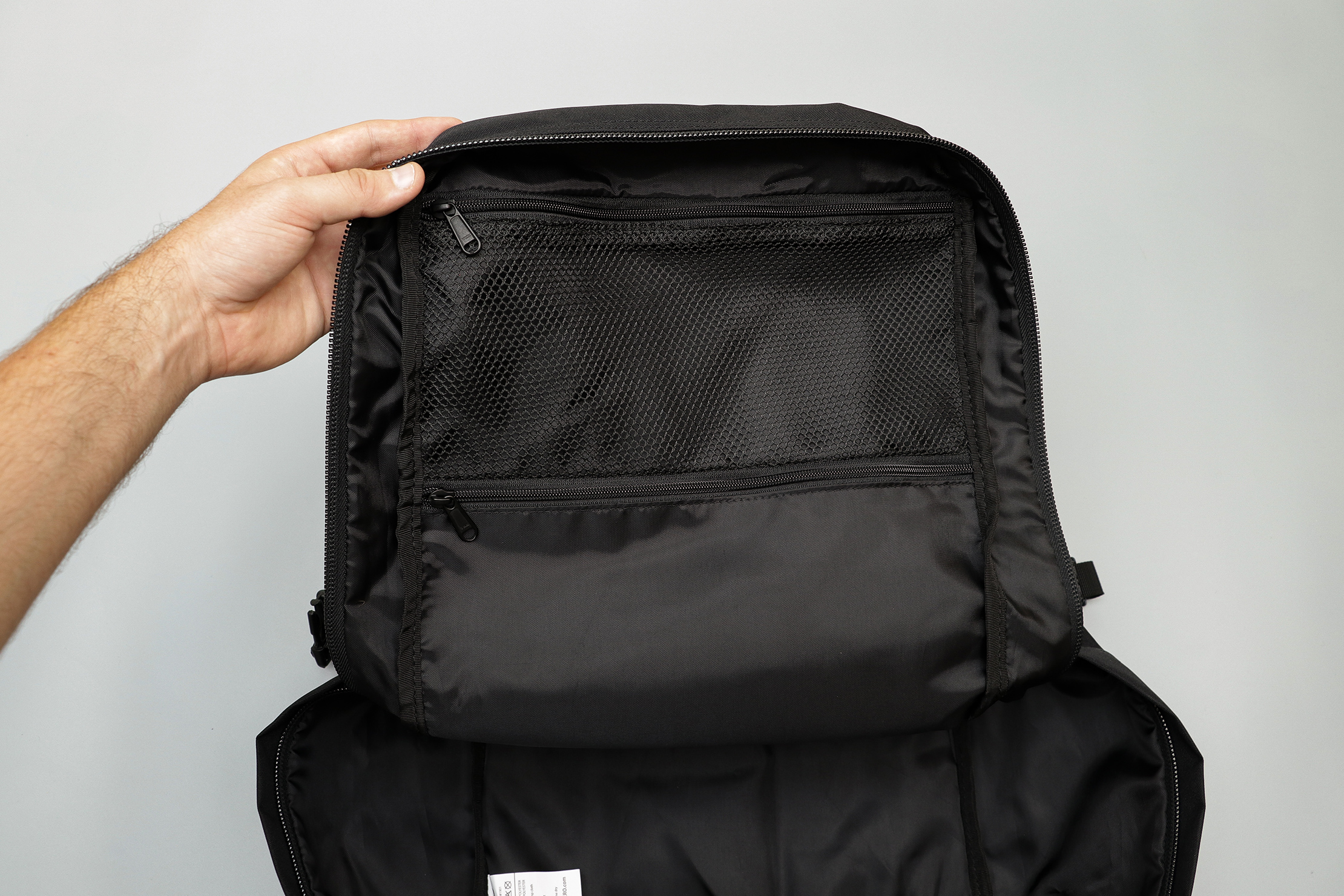 On the back, you'll find a sleeve that will hold up to a 15'' laptop. To be clear, this sleeve isn't built with laptops in mind. There is no padding or protection here. If you're going to use it for a laptop or tablet, we highly, highly recommend a case. You could also store thin books or random documents here—it's versatile.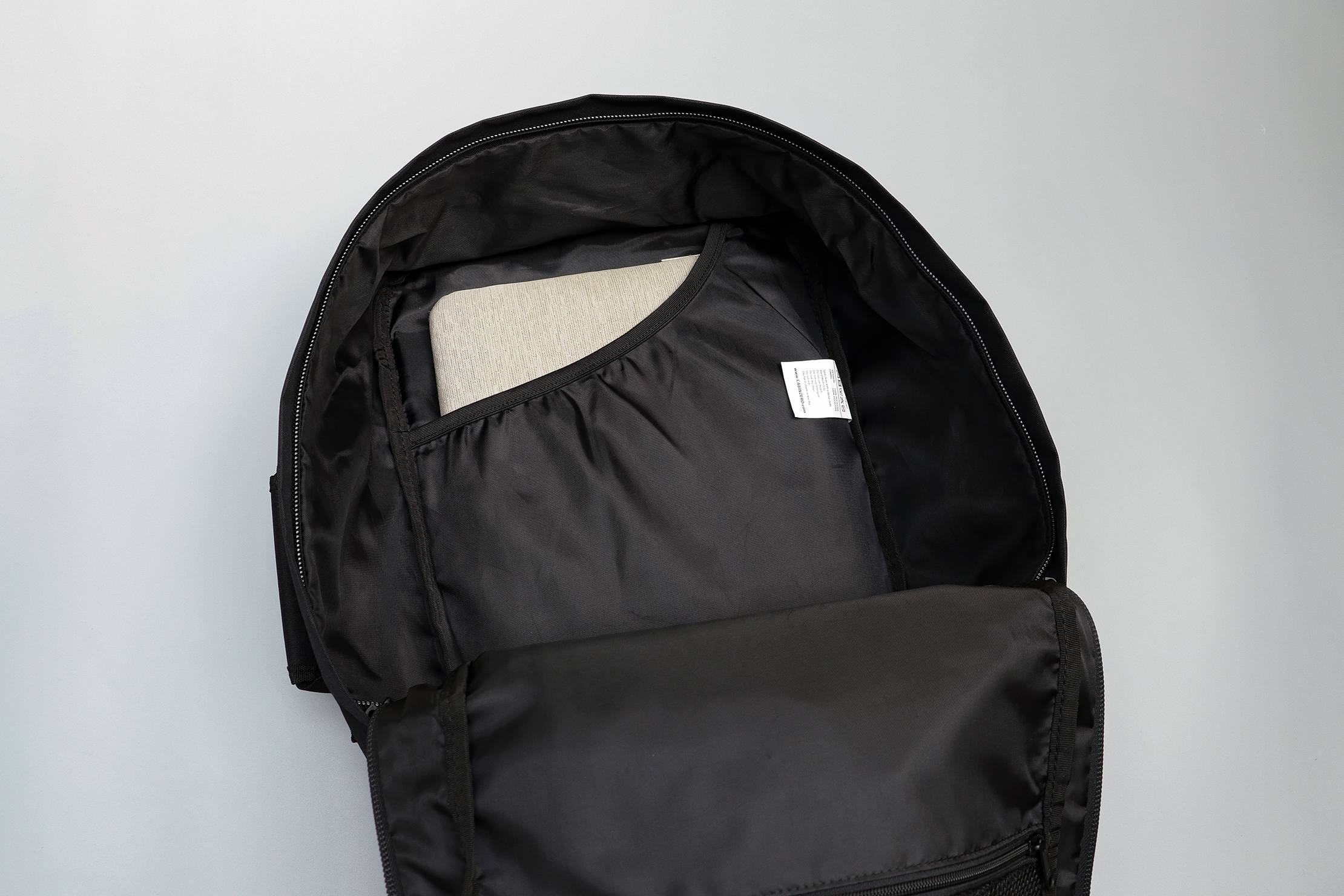 The rest of this compartment is just open space to do with what you will. We recommend packing cubes or accessory bags, so your stuff won't end up in a knotted jumble after a flight. We've found this space to be smaller than other 36L bags we've tested, so be aware of that. Compression cubes may come in handy here.
There's also a "quick-grab" pocket on the front of this backpack that you can access without unbuckling the compression straps. We're using quotes here because it's massive for a quick-grab pocket. It's not the usual small space for a phone or wallet. We've found this to be annoying, but some of you may appreciate its larger size, depending on your use-case. It fits a jacket nicely, as well as some larger items you may reach for frequently—a sketchbook, your plate spinning set, whatever.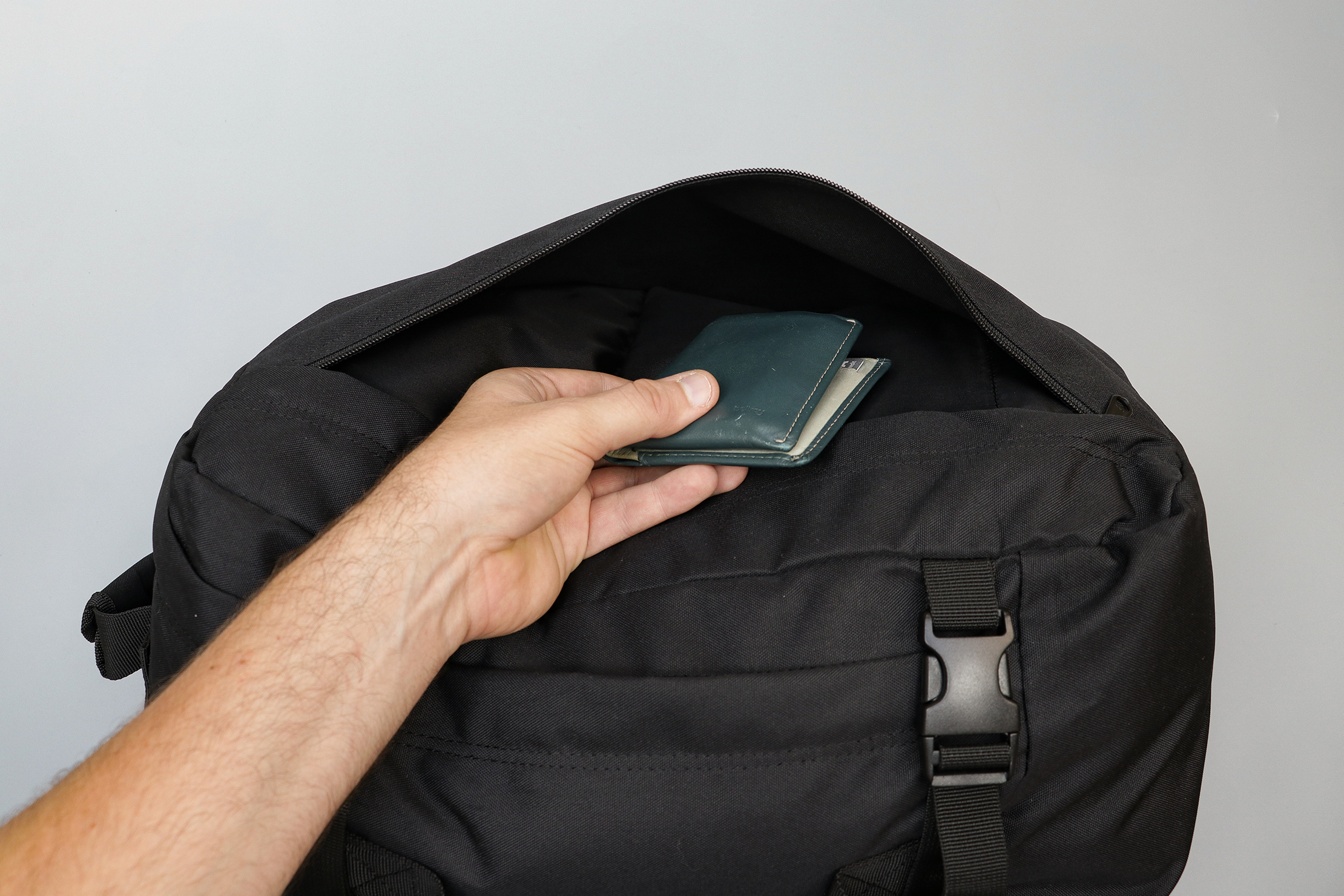 In an ideal world, this pack would feature both a pocket of this size and another, smaller one for those items we mentioned above. But it's not an ideal world (#truthhurts).
You may have noticed we haven't talked about a water bottle pocket. That's because there isn't one. We would've appreciated one—after all, we're lovers of water here at Pack Hacker—but with the backpack's overall lack of structure we're not sure how well it would've worked, anyway.
Durability & Testing
We've been testing the CabinZero 36L Classic Travel Backpack for three weeks around the U.K. Despite its flaws—particularly its lack of structure—we've enjoyed testing it. At a quarter, or even a fifth, of the price of other travel backpacks on the market, it's a solid pick.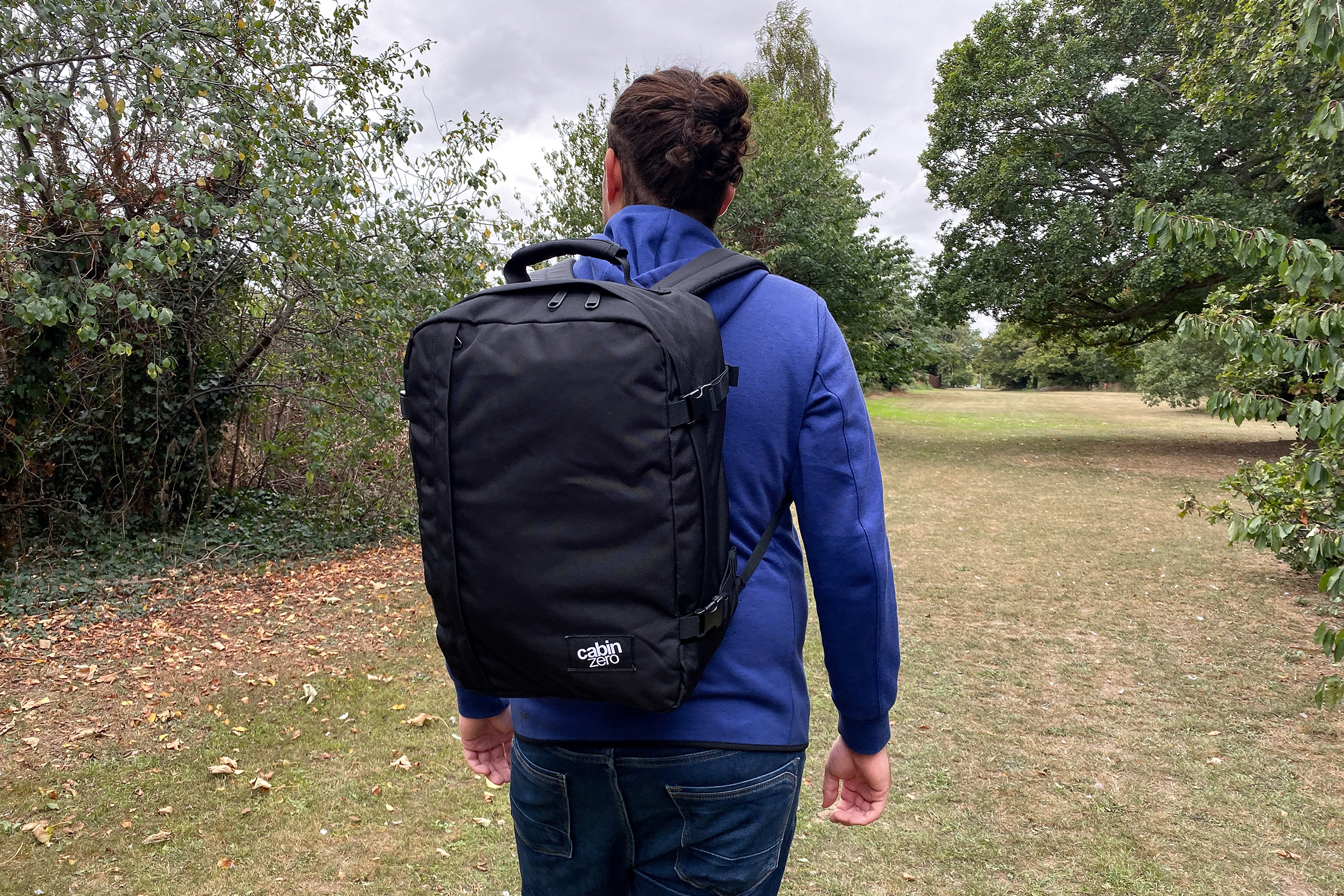 On all of CabinZero's bags, including on the Classic Travel Backpack, there is an Okoban Tracking Tag—a super neat device that allows you to find your bag if it ever gets lost or stolen. Simply register the tag on Okoban's website and it'll be integrated with your airline's baggage tracking system. We love seeing innovation on bags, especially one as useful as this. And even though we haven't had to use it (knock on wood), it definitely gives this backpack some bonus points.
Now, when it comes to durability, we have some concerns. The stitching on the end of one of the compression straps has completely come undone. This doesn't really affect using the strap, but it does mean the buckle can slip off the end.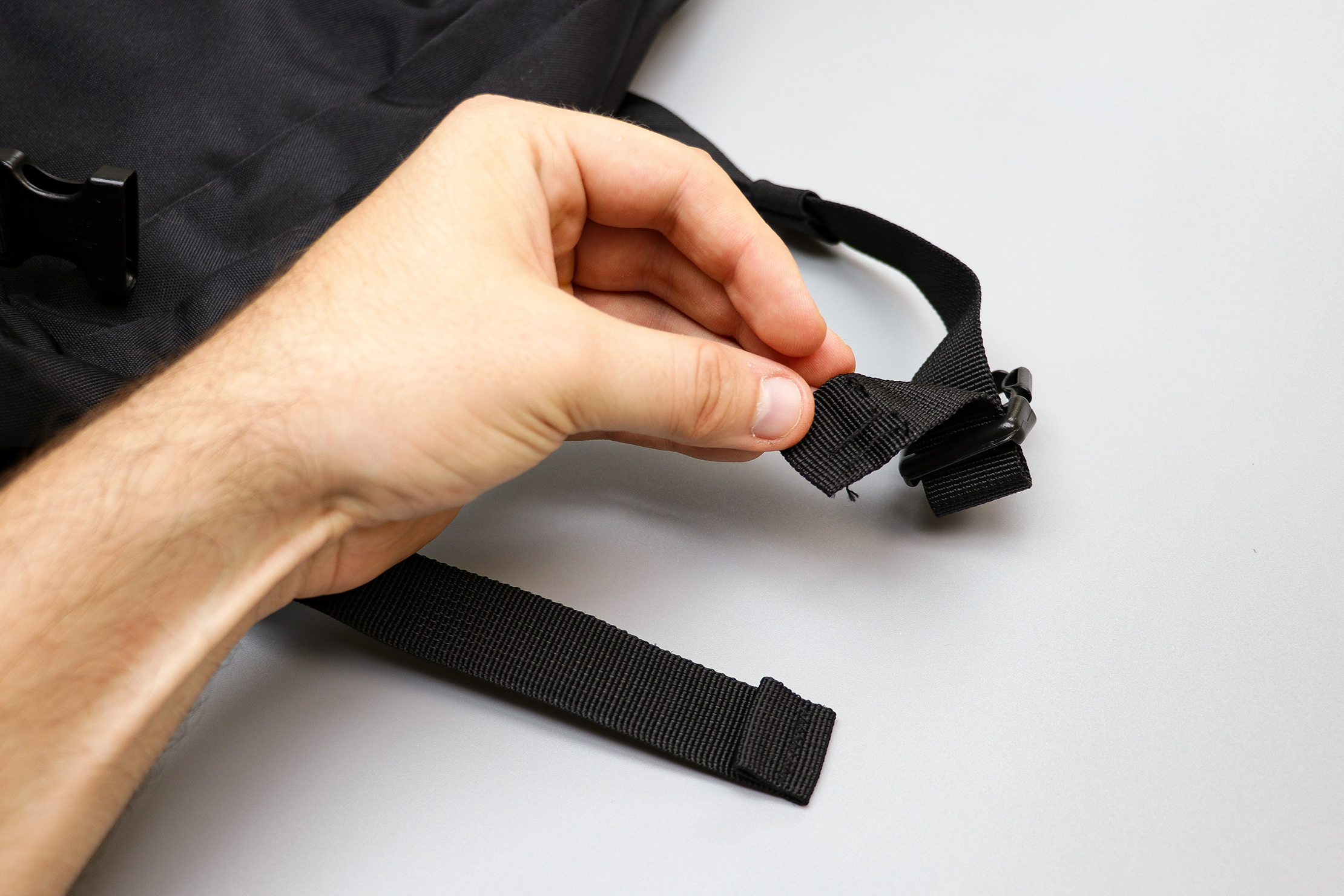 At this point, we have no other issues to report, but it's never a good sign when things start falling apart after only a few weeks of testing—even something this small. We're not sure how the polyester will continue to hold up, but so far, so good.
While it's not a great backpack if you've quit your desk job, sold all of your stuff, and booked a one-way ticket around the world, it's a great, budget option if you're planning on traveling intermediately or only a few months at a time.
Usage Timeline
Initial Usage
Condition: Excellent
One of the cheapest one bag travel backpacks on the market
The YKK Zippers and Duraflex Buckles are reliable and durable hardware components
Available in a ton of different of colors
The backpack lacks structure so it can slouch down your back if it's not full up
The Okoban tracking tag is a nice touch
2 Weeks of Use
Condition: Excellent
Enjoyed using this thing as both a travel bag and a daypack.
1 Month of Use
Condition: Good
Apart from the stitching on the compression strap, everything is holding up so far.
Access the Pro Community Discussion
Get your questions about the CabinZero Classic Travel Backpack answered from our team and the Pro Community right here on the page. Plus, join discussions with other members about gear, guides, and more.
Other Bags & Luggage Reviews