Bluffworks Gramercy Suit (Blazer & Pants) Review
The Bluffworks Gramercy suit separates have enough pockets and features to be a useful travel suit, without being too over-the-top—although there's not much stretch.
Our Verdict
Unlock the Pro Summary
Save time. Get access to brief summaries of our reviews so you can browse and make decisions more efficiently.
Pros
Pocket game is on-point
Great wrinkle-resistance
Lightweight and breathable
Cons
Not much stretch
While it's breathable, it still gets hot on those scorchers
Hard to use all the pockets at once—the suit gets bulky
Recent Pack Hacker Video
Technical Details
Notable Materials

Polyester, Cotton

Manufacturing Country

China

Warranty Information
Full Review
Get up to 15% off Bluffworks • Join Pack Hacker Pro
Bluffworks is in the game of making travel clothing that doesn't look like travel clothing. In that regard, they've succeeded with the Gramercy Suit. This suit looks like a traditional wool suit but has loads of features that will make any business traveler's life a lot easier.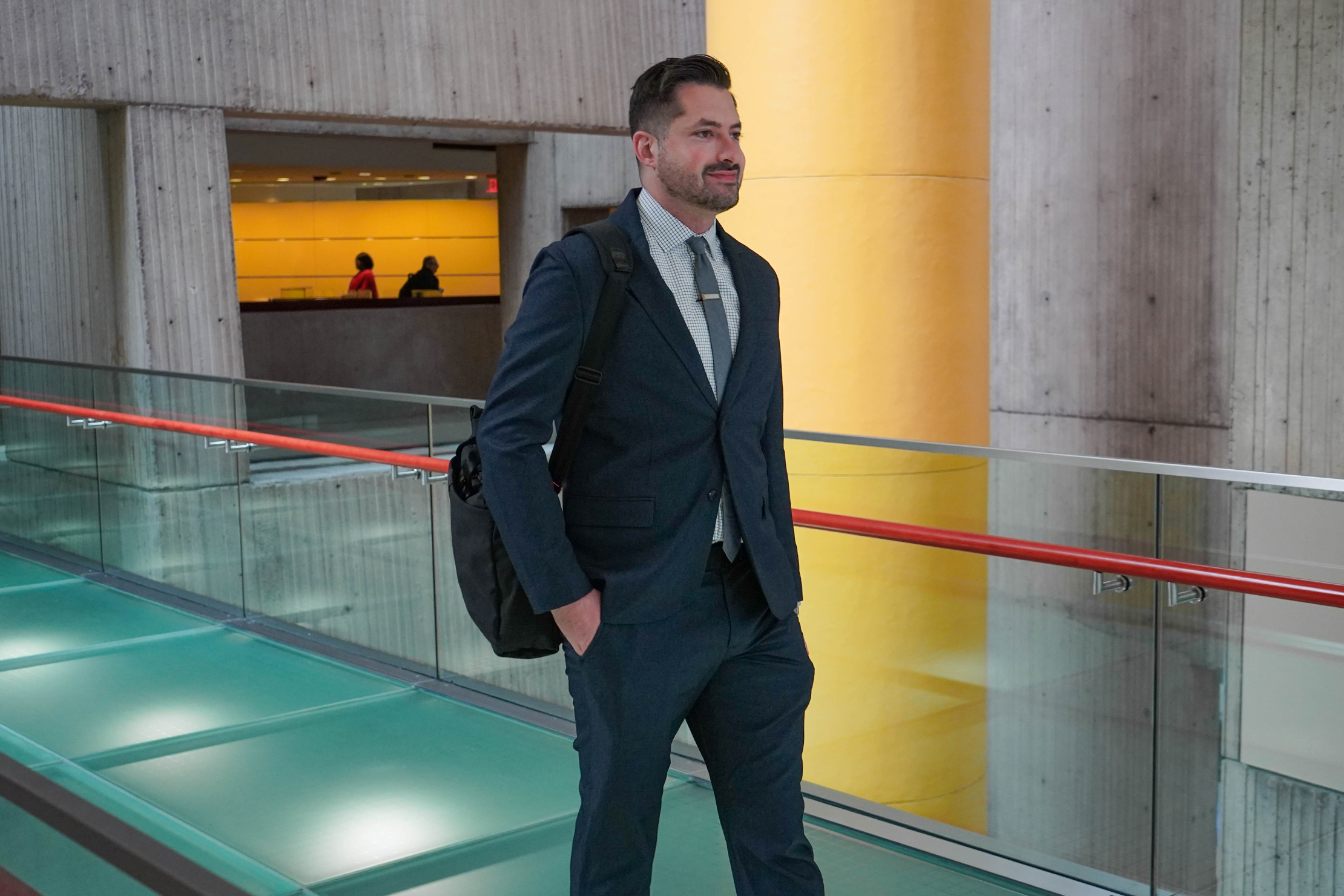 To clarify, the Gramercy Pants and Blazer are sold separately but have been designed to be worn together, which is how we're reviewing them today. Throw on a sophisticated dress shirt—say the Bluffworks Zenith Dress Shirt—for a polished look that's acceptable for business meetings or other professional settings, and comfortable enough to wear on long flights when traveling to said meetings. You can wear them as individual pieces too if you'd like to be a little more casual.
So let's get into the review.
Fit & Fabric
As we mentioned already, the Gramercy Suit looks exactly like a suit. Not a travel suit, but a good ole fashioned suit that'll fit in at weddings, business meetings, or whatever sophisticated events you have in your schedule.
The suit is available in three colorways at the time of this review: Blue Hour (navy), Northwest Grey, and Gotham Grey. We have to say, we're pretty big fans of how the folks at Bluffworks name their colorways (as we've pointed out before). Gotham Grey truly describes the hazy, almost black color of the fabric.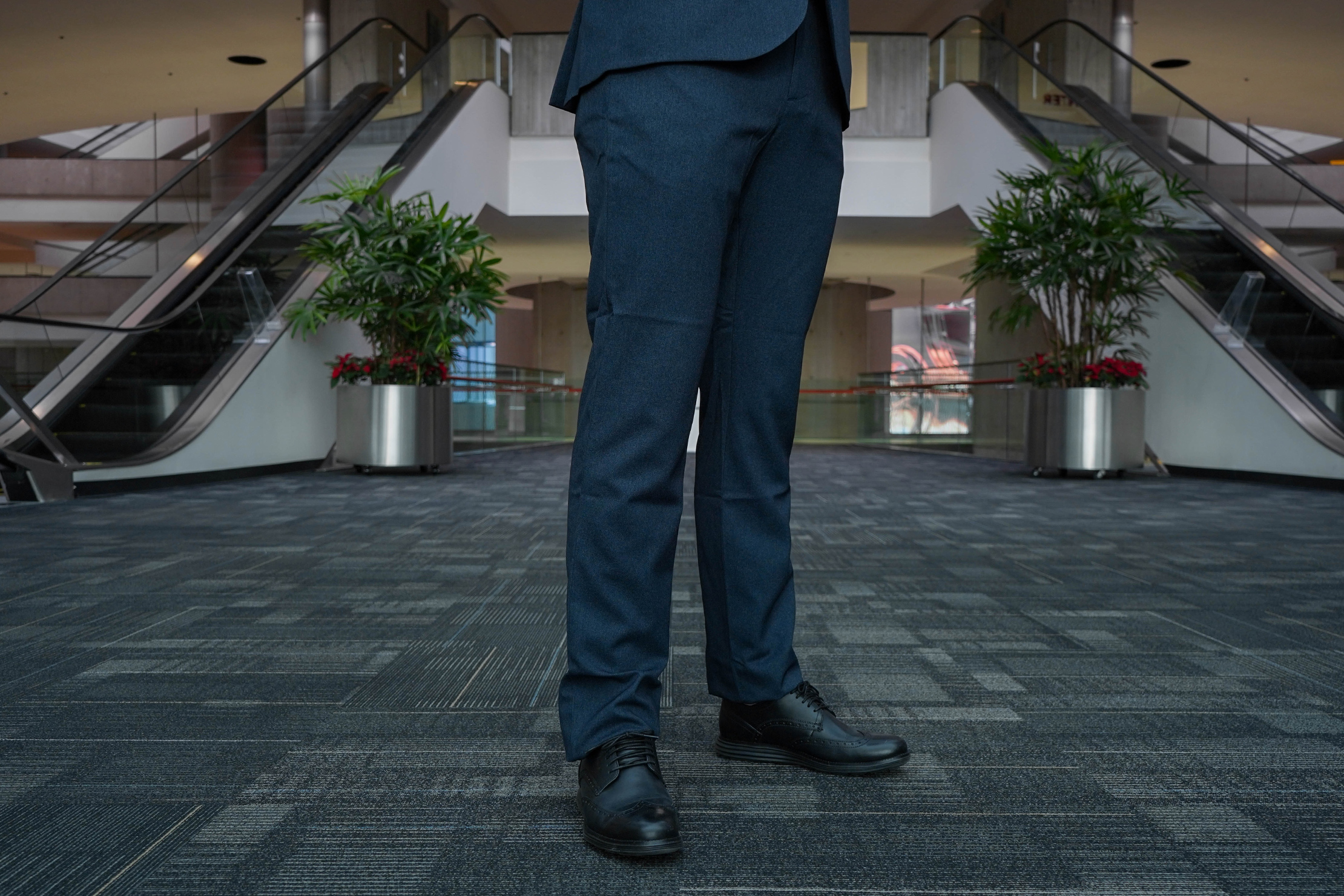 But with a suit, it's all about the fit, which is why Bluffworks offers the Gramercy Blazer in a classic and slim fit, and the Gramercy Pants in a regular and tailored fit. And both are available in a large number of sizes. The pants have both odd and even sizes, which is great for those of you who are on the taller or shorter ends of the spectrum.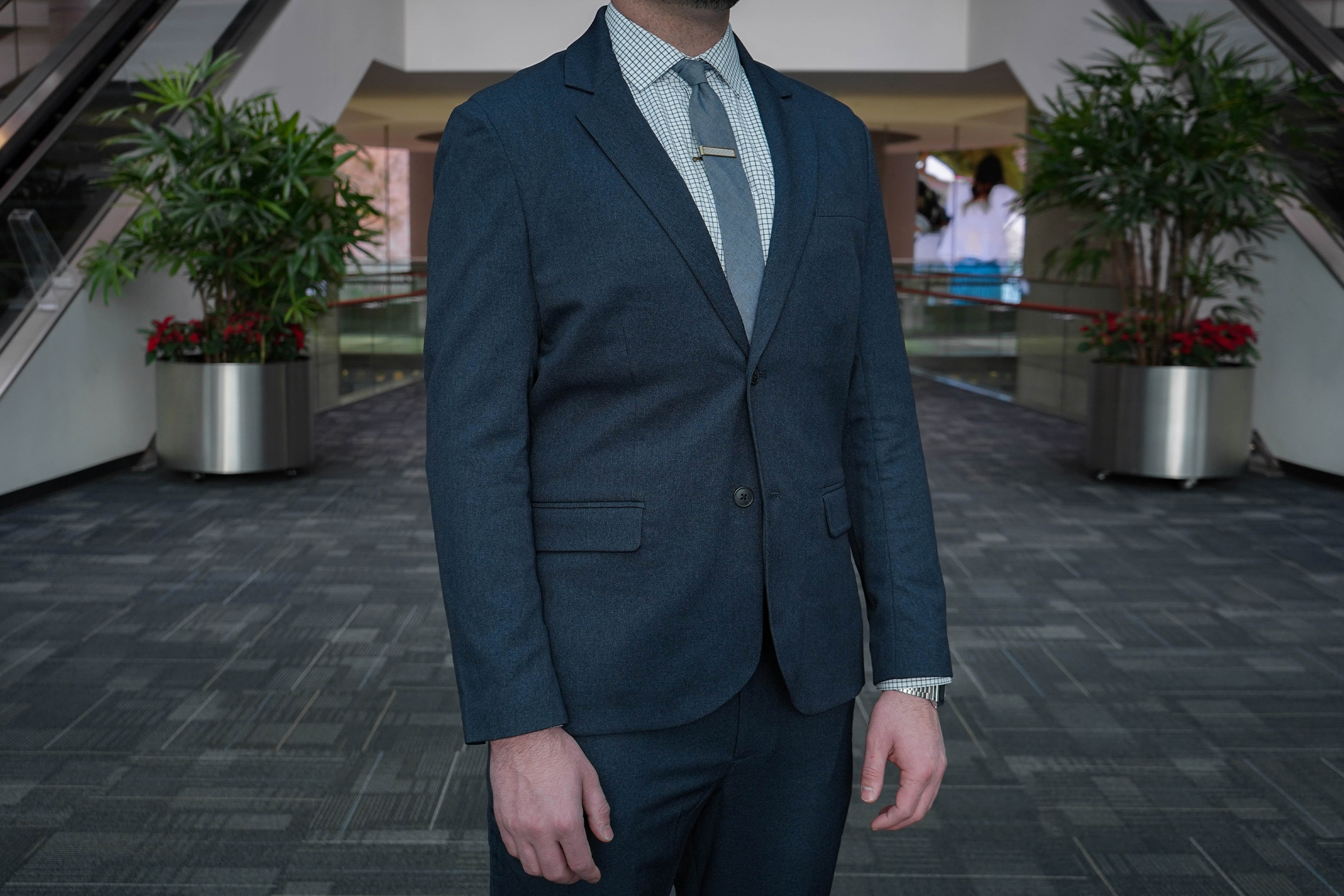 We've found the blazer to fit a bit loosely, but you can always get the suit altered to fit you perfectly—as long as your tailor is able to work with the technical fabric. Of course, every body is different, so you may not need to get the suit altered.
Both the blazer and pants are made from 100% polyester, which is a common fabric known to be lightweight, durable, and inexpensive. On the flip side, it also can be shiny and swishy.
But not all polyester is created equal and, in the case of the Gramercy Suit, the polyester is super high-quality. It's been created in such a way that it feels like wool and, best of all, there is no swishing! (A huge plus for all of you stealthy folks—international spies, etc—out there.)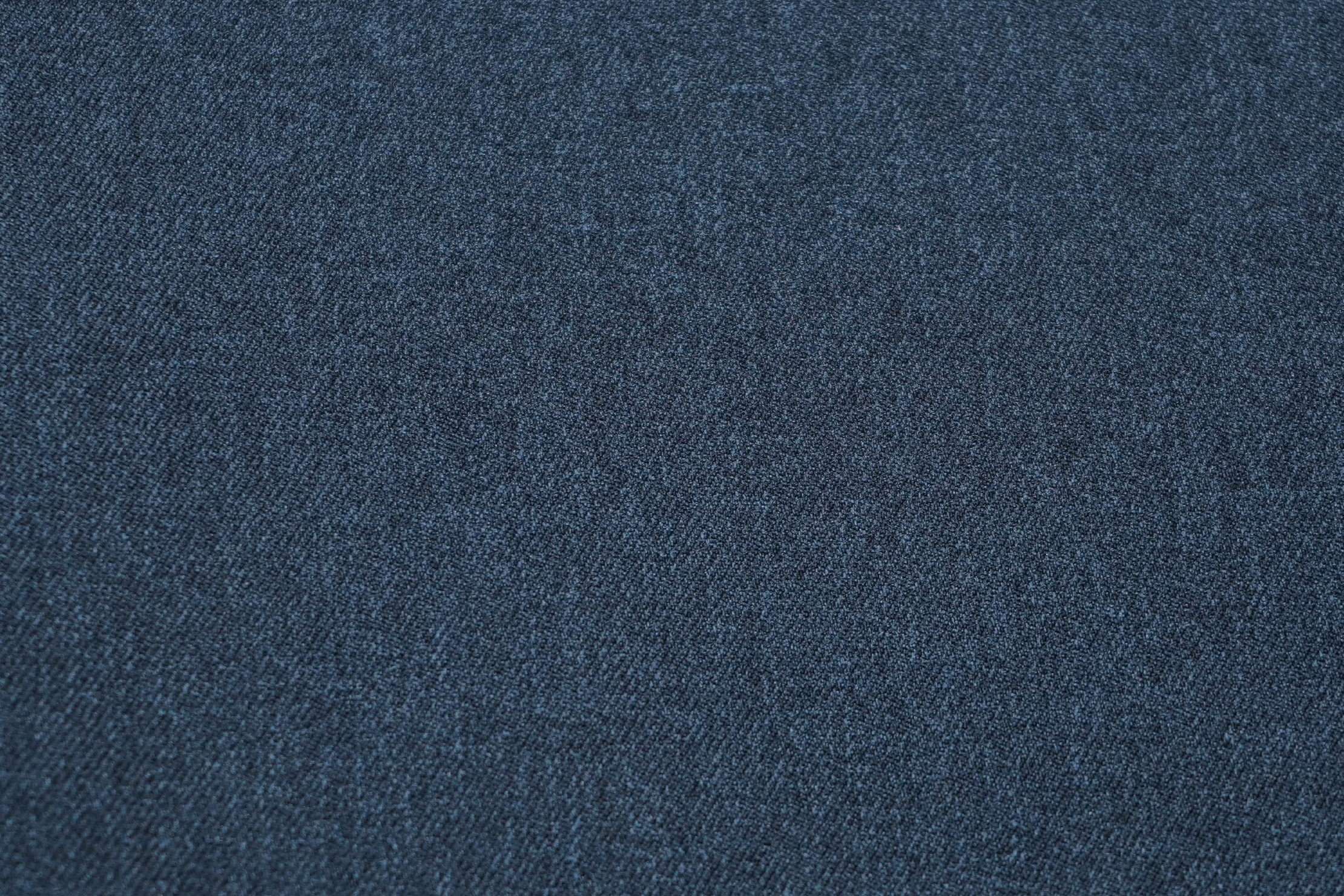 The interior of the blazer feels a little more technical and swishy than the rest of the suit, which we like as it's comfortable and has some give to it.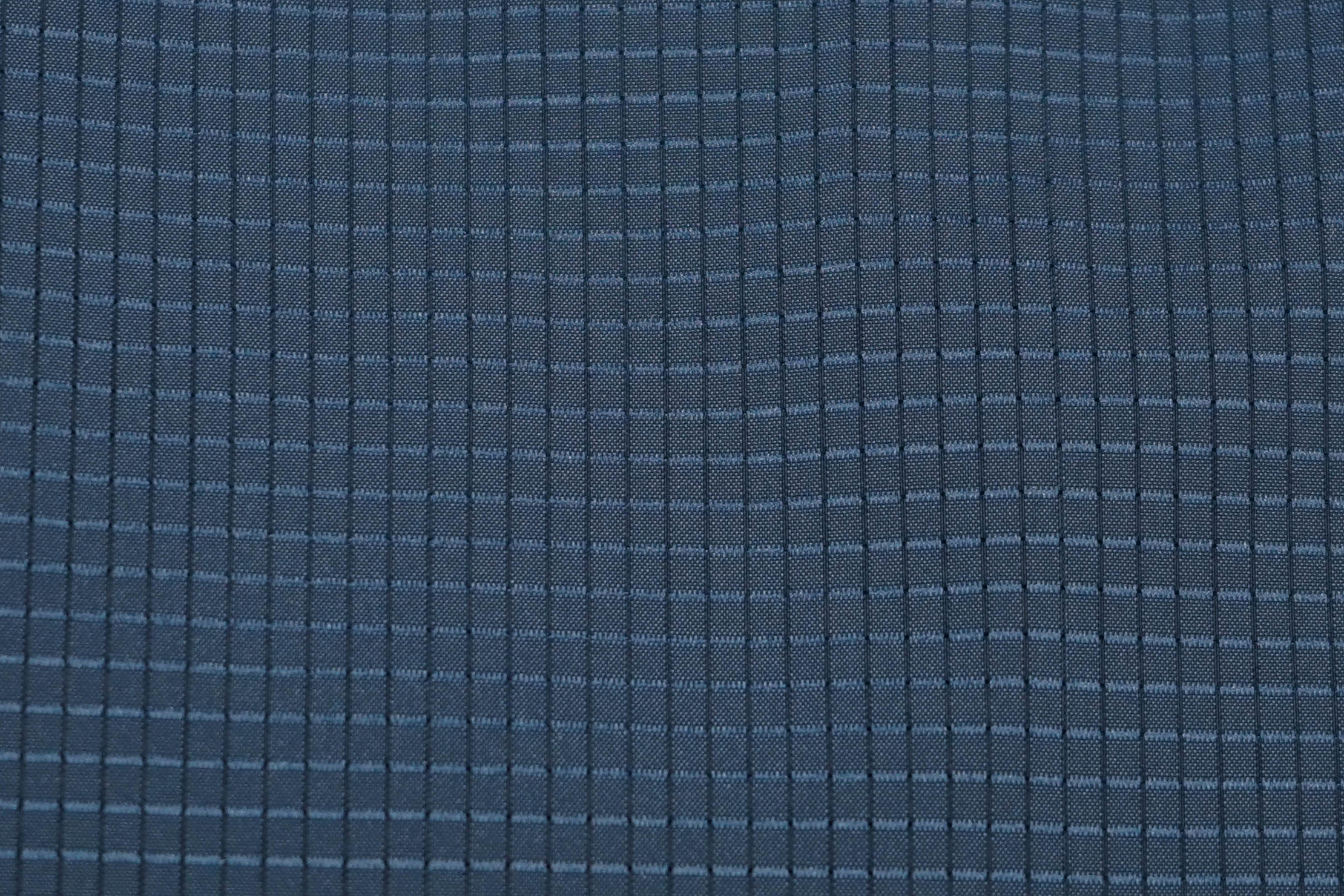 Another great feature for you secret agents is all of the pockets. There are 10 pockets on the blazer and eight pockets on the pants for a total of 18 pockets (!). Even if you're not into espionage and stuff, these pockets come in handy. Most of the pockets are discrete, meaning you can store important things like passports, extra cash, and dozens of diamonds in them without worrying about pickpockets or your stuff falling out.
And that discreteness means that the suit still manages to have a classy aesthetic.
You're probably wondering: How could there possibly be 18 pockets in one suit? Well, we'll walk you through it. That's right, folks, it's time for the moment you've all been waiting for…the pocket tour.
Pocket Tour
Let's start with the Blazer. On the exterior of the coat, you'll find pockets #1, #2, and #3. One on the chest and two on the hips, all three of which are your normal, run-of-the-mill pockets. They're pretty deep and feature a chic interior pattern that pops up on a number of these pockets, which is a nice touch.
The interior of the blazer is where things get interesting.
Pocket #4 is a zippered chest pocket that sits on the wearer's right-hand side. It's a great spot for your passport, wallet, or other items you want to keep secure.
Pockets #5 and #6 are stash pockets on either side of the bottom interior. A great spot for boarding documents and things of that nature.
Pocket #7 is one of our favorites as it has a bright orange liner, which is a great pop of color, and closes with a button. It's a classy pocket that's ideal for things you'll want to access quickly. Your phone, breath mints, etc.
Pocket #8 sits inside pocket #7 and is a pen slot, so you can be ready to sign important documents at a moment's notice—or play a spontaneous game of Tic-Tac-Toe.
Pocket #9 is a hidden stash pocket that closes with velcro. Once again, great for valuable items you don't want to lose.
And, finally, pocket #10. This is a zippered pocket that will sit against your back when you're wearing the jacket. So it's super secure, but also not all that easy to access, especially to access discreetly. It's a good spot for emergency cash or things like that.
Whew—that's a lot of pockets. To be frank, we don't use all of them. We hardly carry that much stuff with us, but we like that these pockets stay out of your way when not in use. Even the zippered ones lay flat.
We have gotten a lot more mileage out of the pants pockets.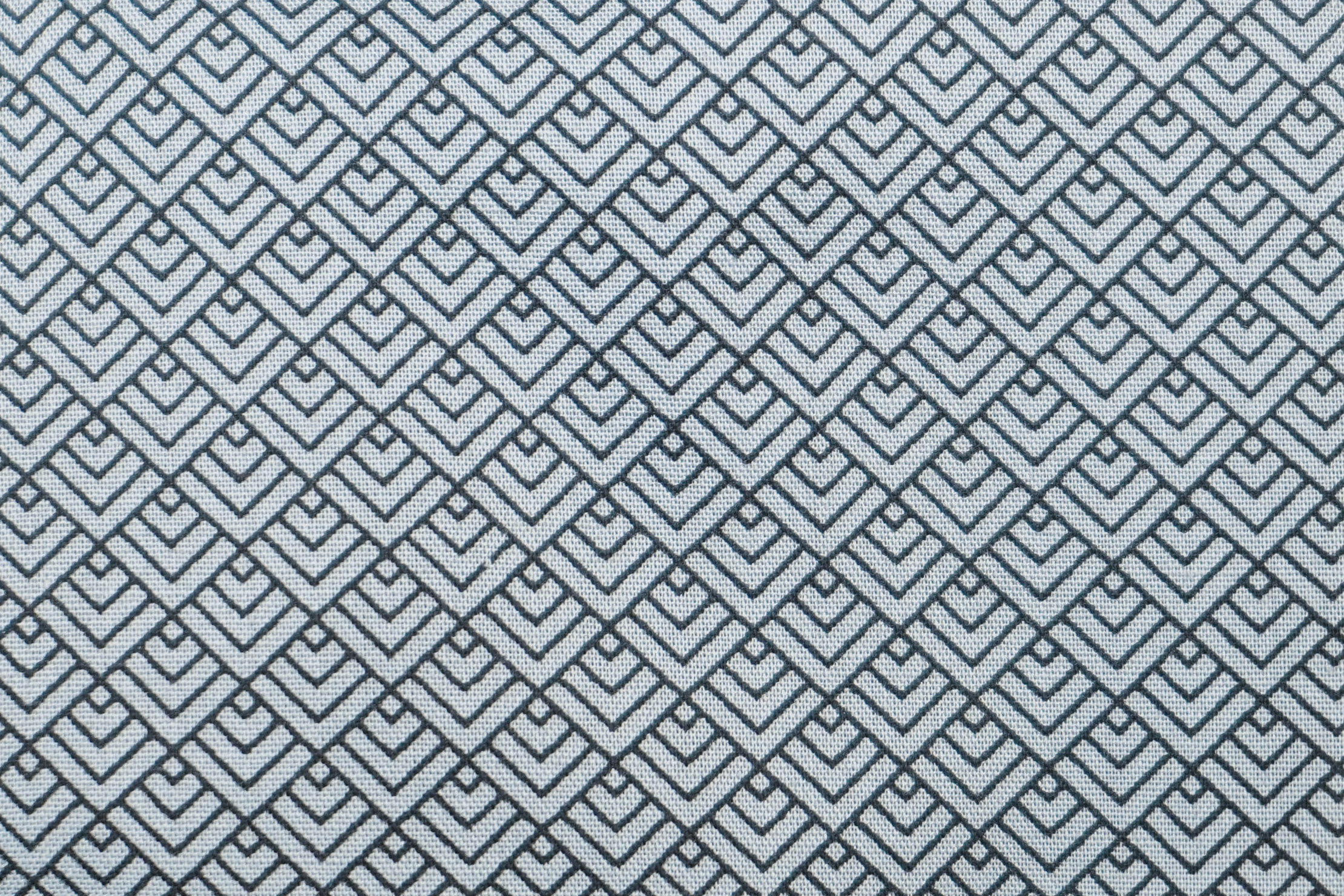 The pockets on the pants aren't stacked down the length of the legs like on cargo pants, instead, they're layered. Pockets inside of pockets.
Pockets #1 and #2 are your standard front pants pockets, big enough for a smartphone, wallet, etc. Inside of both of those pockets are pockets #3 and #4, which are internal zippered pockets. Great for those items you want to keep extra secure.
Tucked into the pocket on the wearer's right-hand side is pocket #5: a coin pocket. As the name suggests, it's a good spot for coins. We don't use coins much in the U.S. but when traveling to countries where coins are worth more—basically anywhere in Europe, Japan, etc.—it's nice to have a spot for them.
Pocket #6 is a normal back pants pocket, while pocket #7 is also a normal pants pocket, only it closes with a zipper.
Pocket #8 is a long, skinny-ish pocket tucked in the waistline. It's difficult to access, so we suggest storing things you don't need much here.
And, there you have it, folks, 18 pockets. As we said, we love that there are enough pockets you can securely store your phone, wallet, travel documents, passport, extra cash, even a tablet. And, if you don't use these pockets, they don't get in your way. That said, if you overfill the pockets, the suit can start to look and feel bulky.
We also love that the folks at Bluffworks have managed to stuff 18 pockets into two garments without making said garments look goofy. Now, that's an accomplishment!
Features
We've already mentioned the most notable feature about this suit—all of the pockets—but a few more fun things are going on.
First up, we've got wrinkle-resistance. We found that this suit does a nice job shaking out wrinkles, especially once you throw it on (your body heat helps smooth everything out). There may be a stray wrinkle here or there, but nothing major. In fact, it beats the wrinkle-resistance of the Ministry of Supply Kinetic Suit. We've put it on after leaving it crumpled up in a drawer and found that it still looked nice enough to wear out.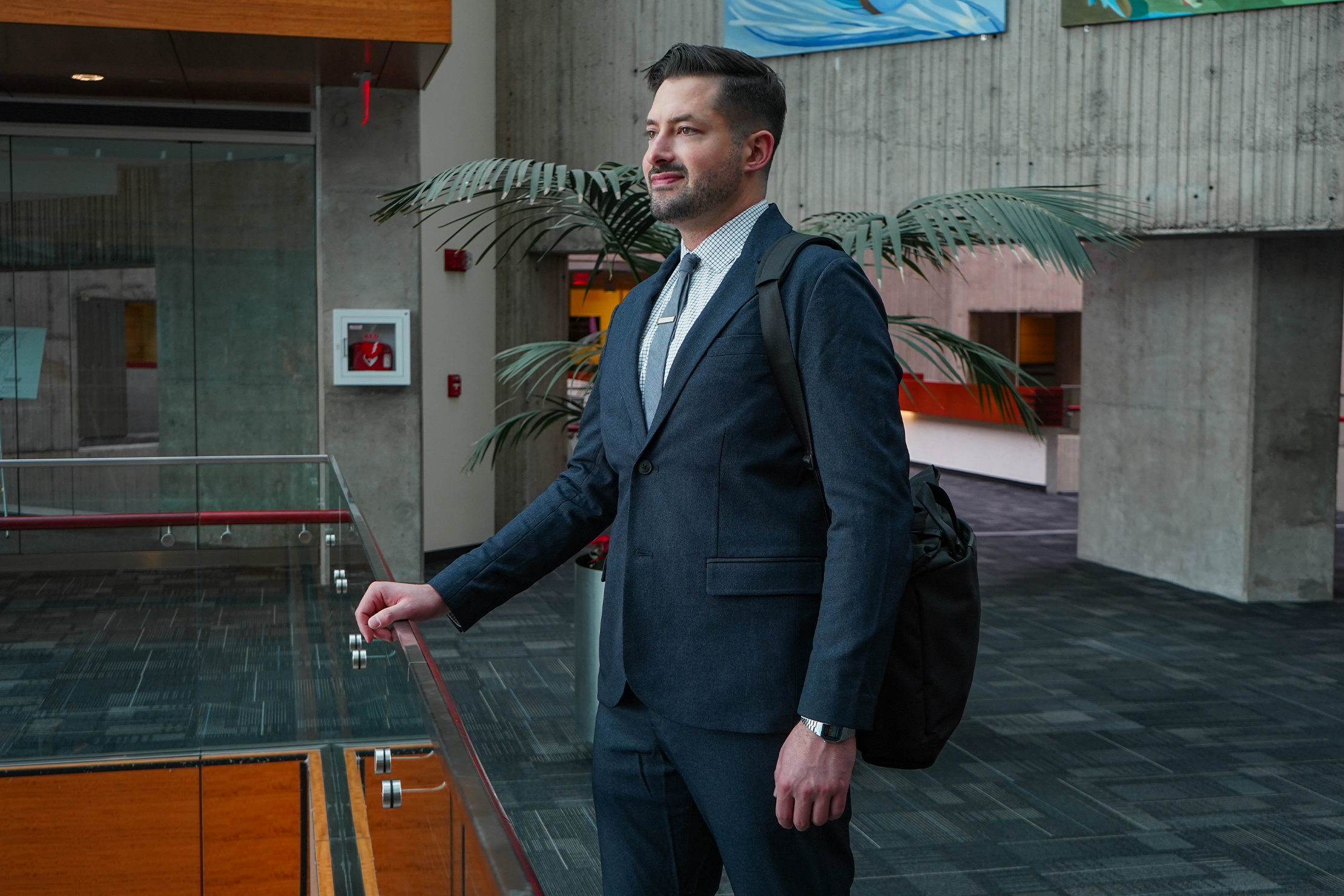 And, if you ever encounter super stubborn wrinkles, Bluffworks reports that you can use your iron on a low setting to make everything look as good as new again.
On that same note, one major benefit of this suit is that there is no dry-cleaning required. You can toss it in the washer and dryer. We don't know about you, but when we're traveling, we're not keen on the idea of having to dry clean clothing, so, yeah, this feature is awesome.
The Gramercy Suit is also lightweight and breathable. Unlike a lot of 100% polyester clothing, there is no plastic-bag effect. Of course, it's still a suit, so you'll get hot wearing it on those scorchers, but that breathability adds to its overall comfort.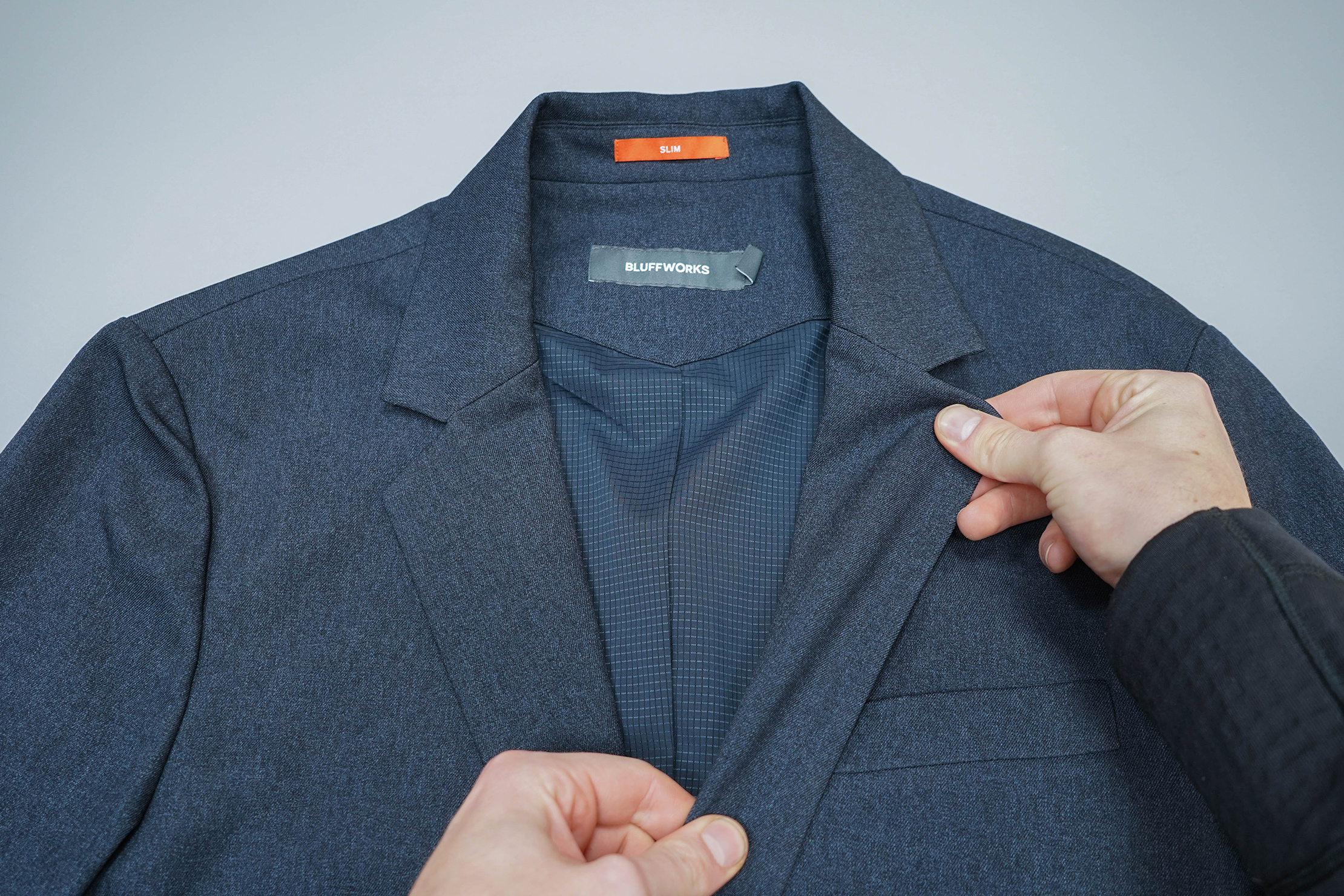 Finally, the folks at Bluffworks report this suit as stretchy and we have to disagree. While there's a little bit of stretch—especially on the interior of the blazer—there's not much of it. Unlike some other travel clothing, this suit doesn't feel like sophisticated athleisure. It feels more like a traditional suit with a few extra features. We wouldn't recommend wearing it while doing various sporting activities, but there's enough stretch to make it comfortable for everyday life.
Durability & Testing
We've been testing the Bluffworks Gramercy Suit for two weeks in Detroit, Michigan, and we're proud to report that we've had no issues with durability. Everything looks as good as new, and it appears to be made with top-notch craftsmanship—but we'll make sure to keep the Usage Timeline updated if that were to change.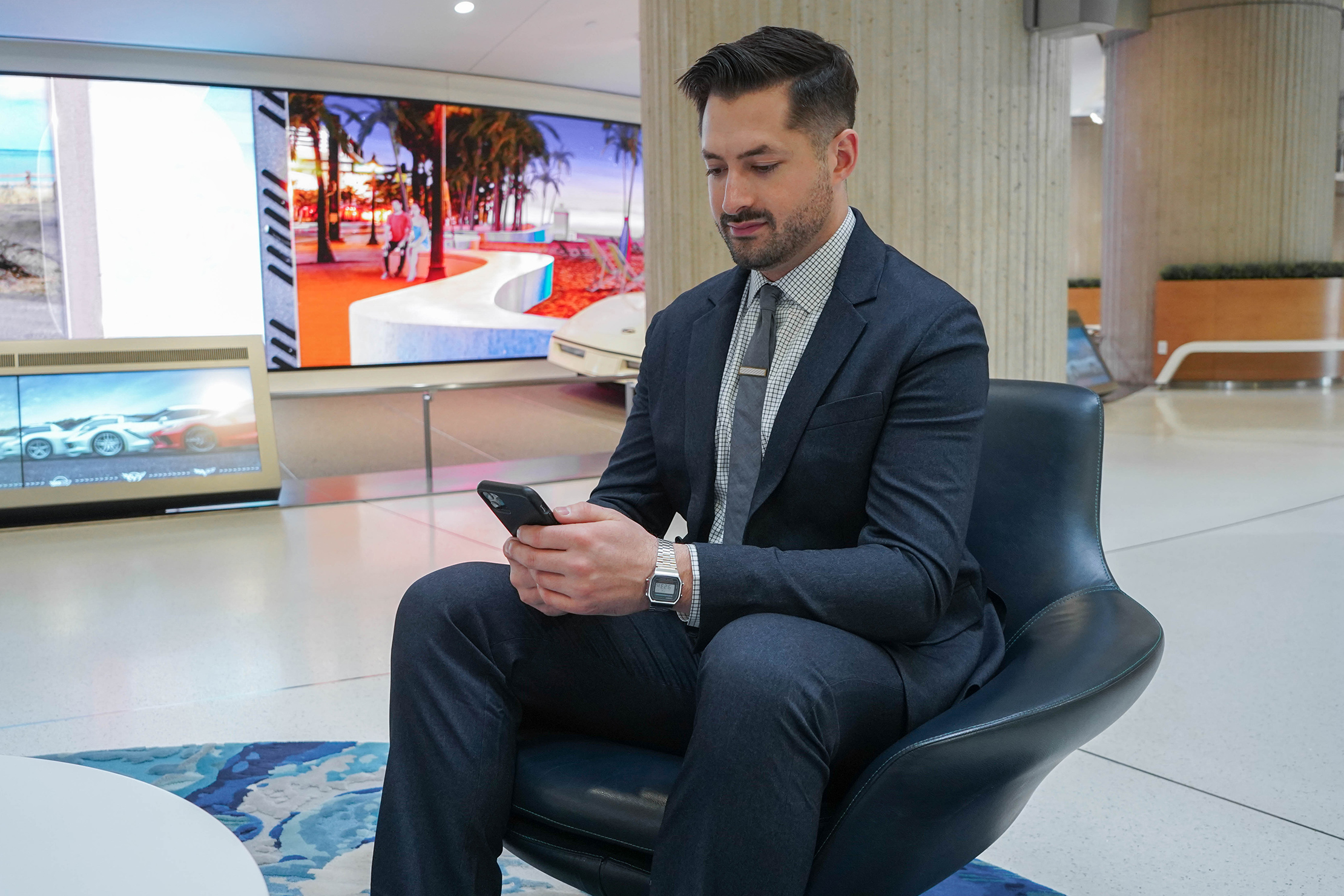 Overall, it's a solid travel suit with enough features to be helpful, but not too many to be ridiculously over-the-top—especially if you're into pockets or detest wrinkles.
Usage Timeline
Initial Usage
Condition: Excellent
For the Blazer, we have a size 42 slim in the colorway Blue Hour
For the Pants, we have a size W35 L36 tailored fit in the colorway Blue Hour
The blazer is somewhat relaxed, even with a slim fit
Digging the overall color and fit
Has a solid, high-quality feel to it
Excited to test and see how it handles wrinkles on the road
2 Weeks of Use
Condition: Excellent
Everything is looking good. A few too many pockets for us, but we like that they stay out of your way when not in-use.
Access the Pro Community Discussion
Get your questions about the Bluffworks Gramercy Suit (Blazer & Pants) answered from our team and the Pro Community right here on the page. Plus, join discussions with other members about gear, guides, and more.
Other Clothing & Accessories Reviews