Bluffworks Ascender Chino Review
Full of features and even more pockets, the Bluffworks Ascender Chinos are great for travel. As long as you don't mind swishy fabric.
Our Verdict
Unlock the Pro Summary
Save time. Get access to brief summaries of our reviews so you can browse and make decisions more efficiently.
Pros
10 pockets allow for ample organization and security
Lightweight, stretchy, wrinkle-resistant, and breathable
Easy to dress up or down
Cons
Swishy material
Zippered pockets detract from the sophisticated aesthetic
Durability of the button may be a concern
Recent Pack Hacker Video
Technical Details
Notable Materials

YKK Zippers, Polyester

Manufacturing Country

China

Warranty Information
Full Review
Get up to 15% off Bluffworks • Join Pack Hacker Pro
If you're familiar with Bluffworks—a men's travel clothing company—then you probably expect its Ascender Chinos to have a strong pocket game. You're not wrong.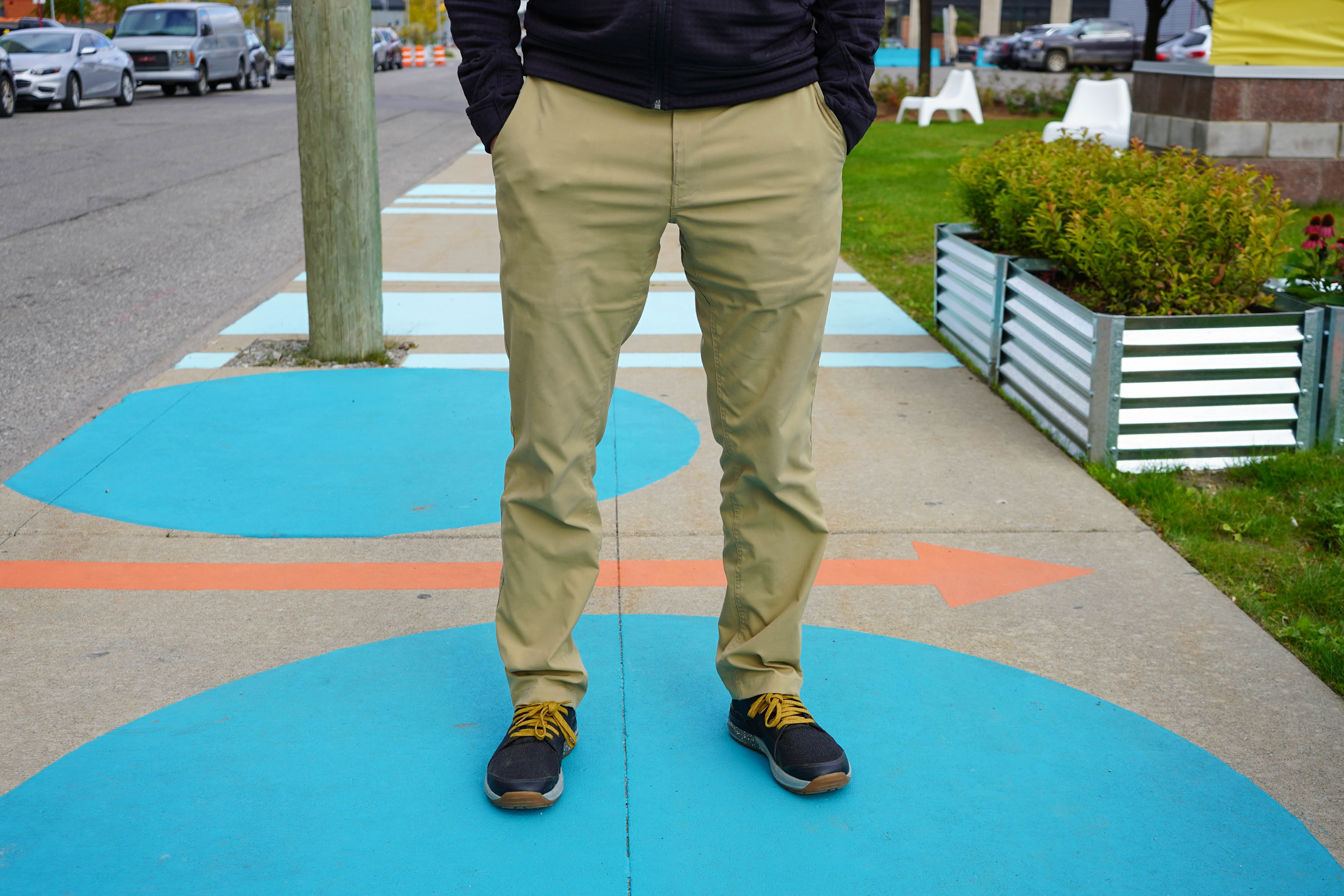 These chinos have 10 pockets (!), including a few with zippers and a super special secret one tucked into the back waistband. If you're in to pants organization—is that a thing?—then these pants will be your playground.
But we're getting ahead of ourselves. Let's start at the beginning.
Fit, Fabric & Features
Bluffworks understands that a pair of pants are only as good as their fit, which is why they offer both a tailored and regular fit plus a large number of waist and length sizes. They're also available in five colorways at the time of this review: Desert Khaki, Voyager Grey, Midnight Navy, Mars Red, and Boulevard Green. And we have to give it to the Bluffworks Team—they're surprisingly talented at naming colorways (almost as good as we are).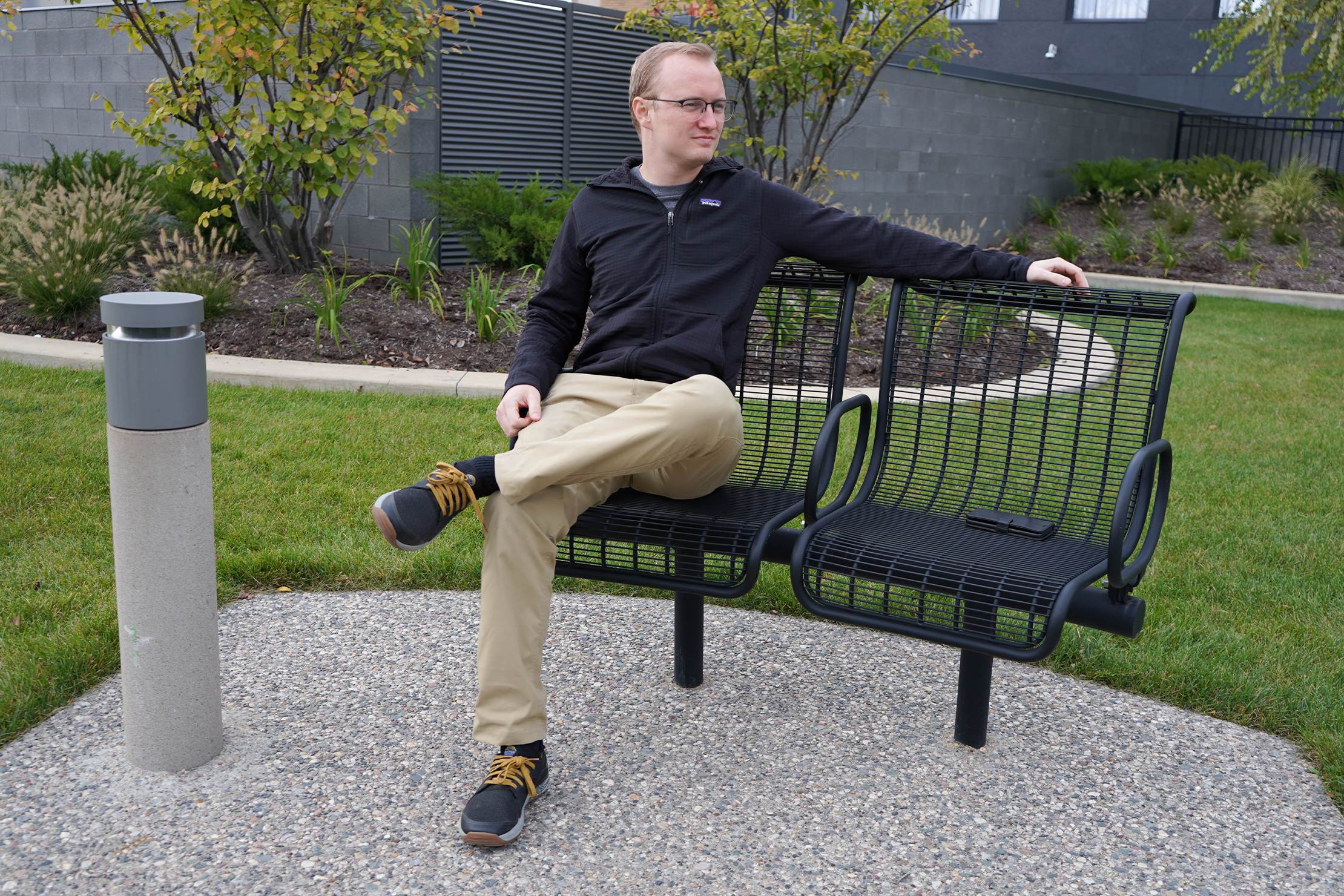 We've been testing the Khaki colorway in a tailored fit, which follows the lines of the body more closely. No matter what fit you choose, these chinos have a sophisticated aesthetic. Basically one step up from a pair of jeans. You can dress them up with a polo or button-up or keep it casual with some sneakers and a t-shirt. They go with anything—especially in the neutral colorway we've been testing—which is a huge plus for travel when you're working with a limited wardrobe.
That said, the zippered pockets detract from the elegance of the pants. We're not sure about you, but we've never seen suit pants with zippered pockets before. You can still get away with wearing these things to a fancy event, but they won't look as classy as a pair of pants like the Ministry of Supply Momentum Chino.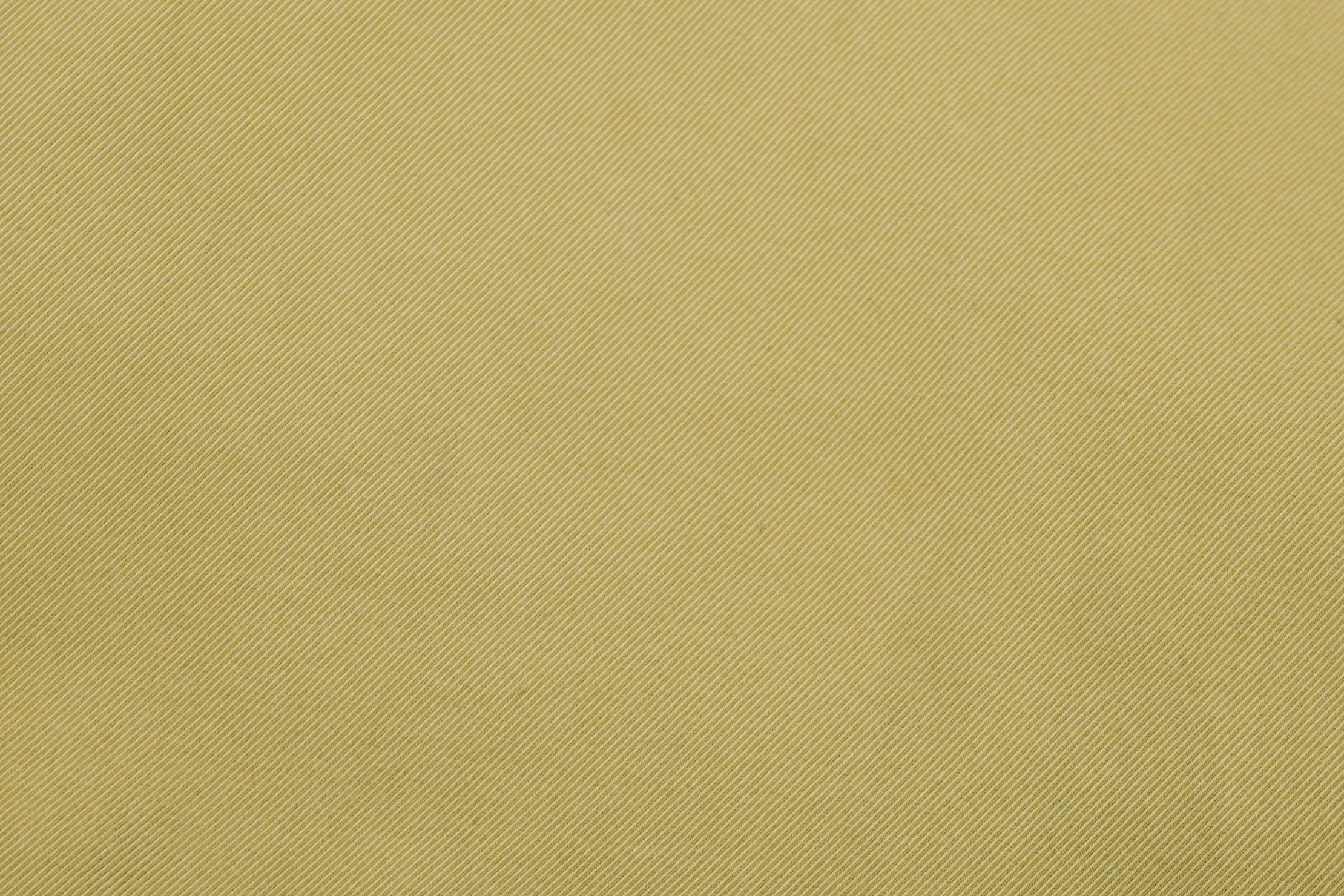 Now, these pants are made from 100% polyester, which is a common fabric in the world of fashion. It's lightweight and breathable, which are both great for travel. But they're swishy. If you just cringed reading the word "swishy" then these pants are obviously not for you.
Some people can't stand that feeling, but we haven't been bothered by it. Especially since, in return, you get a whole host of features. First of all, these pants have a good amount of stretch to them. While the fabric is rather stiff and not the softest in the world, the flexibility of these chinos, especially in the gusset and waist areas, make them oh-so-comfortable.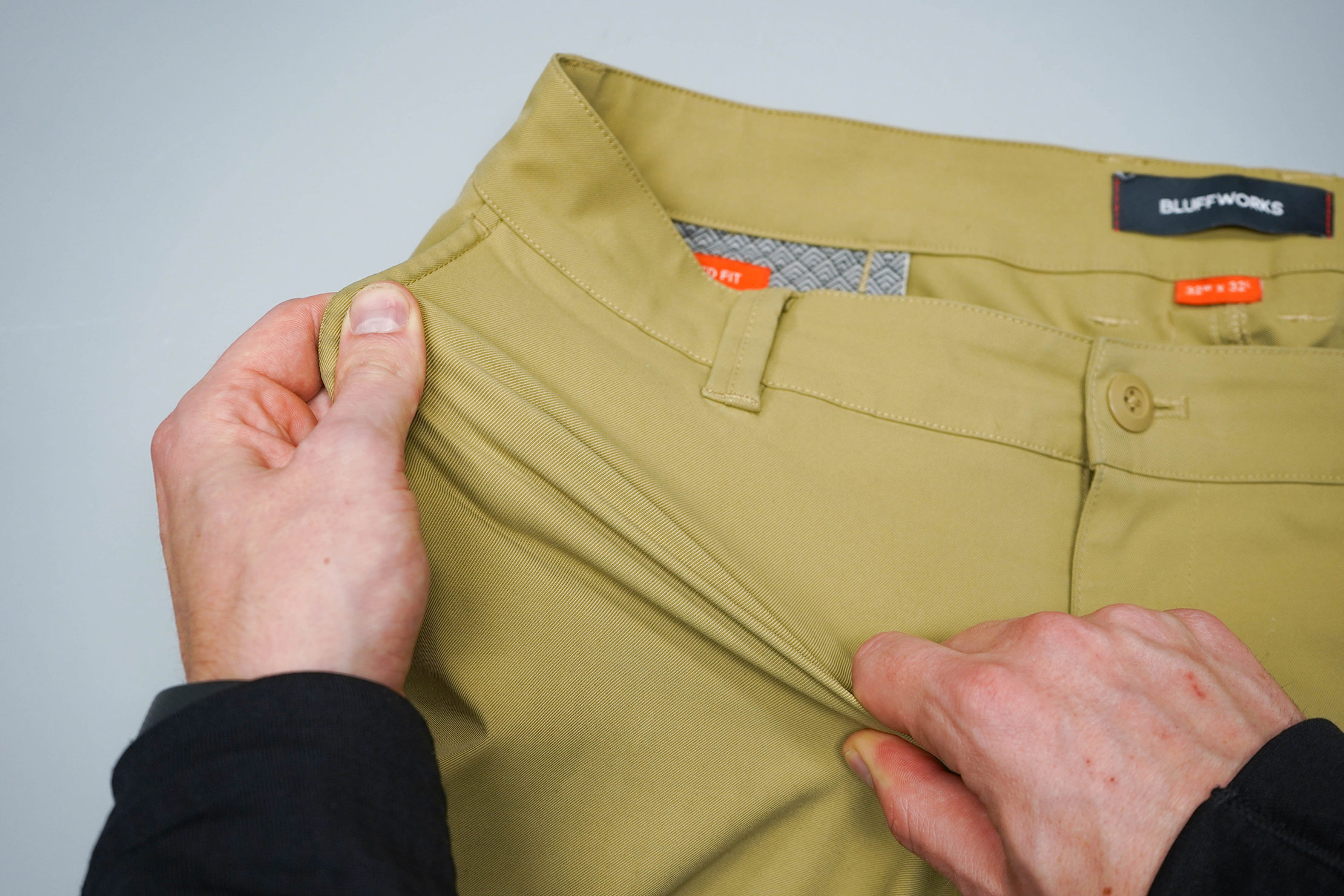 Plus, these pants are antimicrobial, water-resistant, and shake out wrinkles. Let's start with the water-resistance, which also contributes to the stain-resistance of the pants. These pants have had a run-in with an entire cup of coffee—due to a faulty lid—and within ten minutes the coffee dried, leaving no evidence of the situation at all. Bluffworks for the win!
Moving on to the wrinkle-resistance. We're not classy enough to travel with a portable iron (do portable irons exist?) so wrinkle-resistance is a major plus…almost as awesome as all those pockets we mentioned earlier.
Speaking of pockets—are you ready for the pocket tour? Drum roll, please…
Pocket Tour
Unlike cargo pants, the pockets on the Bluffworks Ascender Chinos aren't stacked down the entire length of the legs. Instead, they're layered within one another. Pockets on pockets on pockets—literally.

Starting on the wearer's right front side—there's a regular pocket, inside of which is a zippered pocket, phone pocket, and multi-tool utility pocket (who knew you needed a dedicated spot for your multi-tool? We certainly didn't). Plus, there's a key clip, which we've found surprisingly useful. It keeps your keys from disappearing into the depths of the pocket, saving you a solid 30 seconds better spent doing anything else than digging for your keys.

On the wearer's left front side, there's a regular pocket, inside of which is a zippered pocket and money pouch pocket, which is secured with velcro.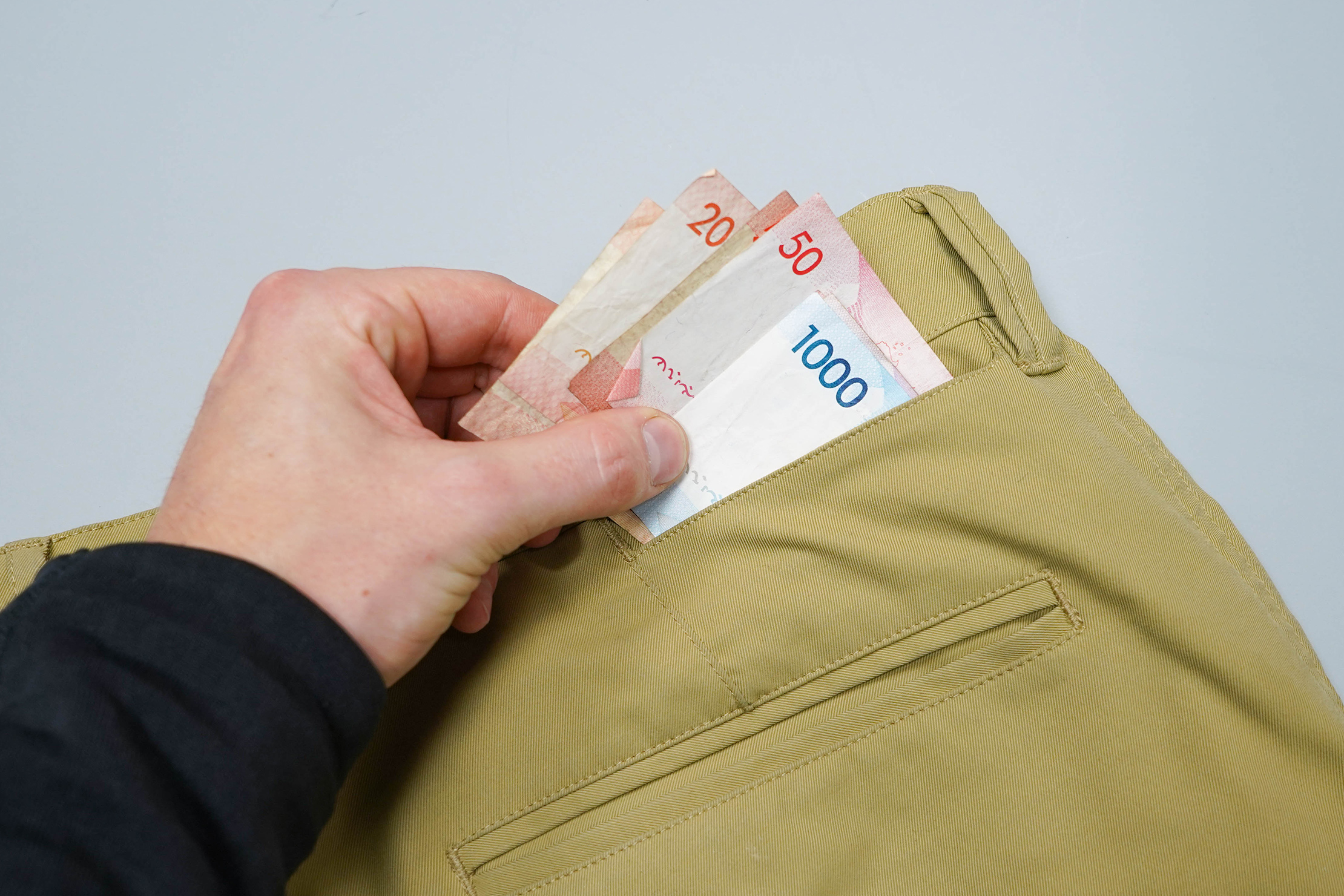 Moving to the back. On the wearer's right back side, there's a regular ole' pocket as well as a secret hidden pocket tucked into the waistband. This secret pocket is pretty difficult to access—which is kind of the point. But don't use it for things you'll need to grab frequently. It's quite deep, but equally thin, so it won't hold much. We've found a few extra bills work well.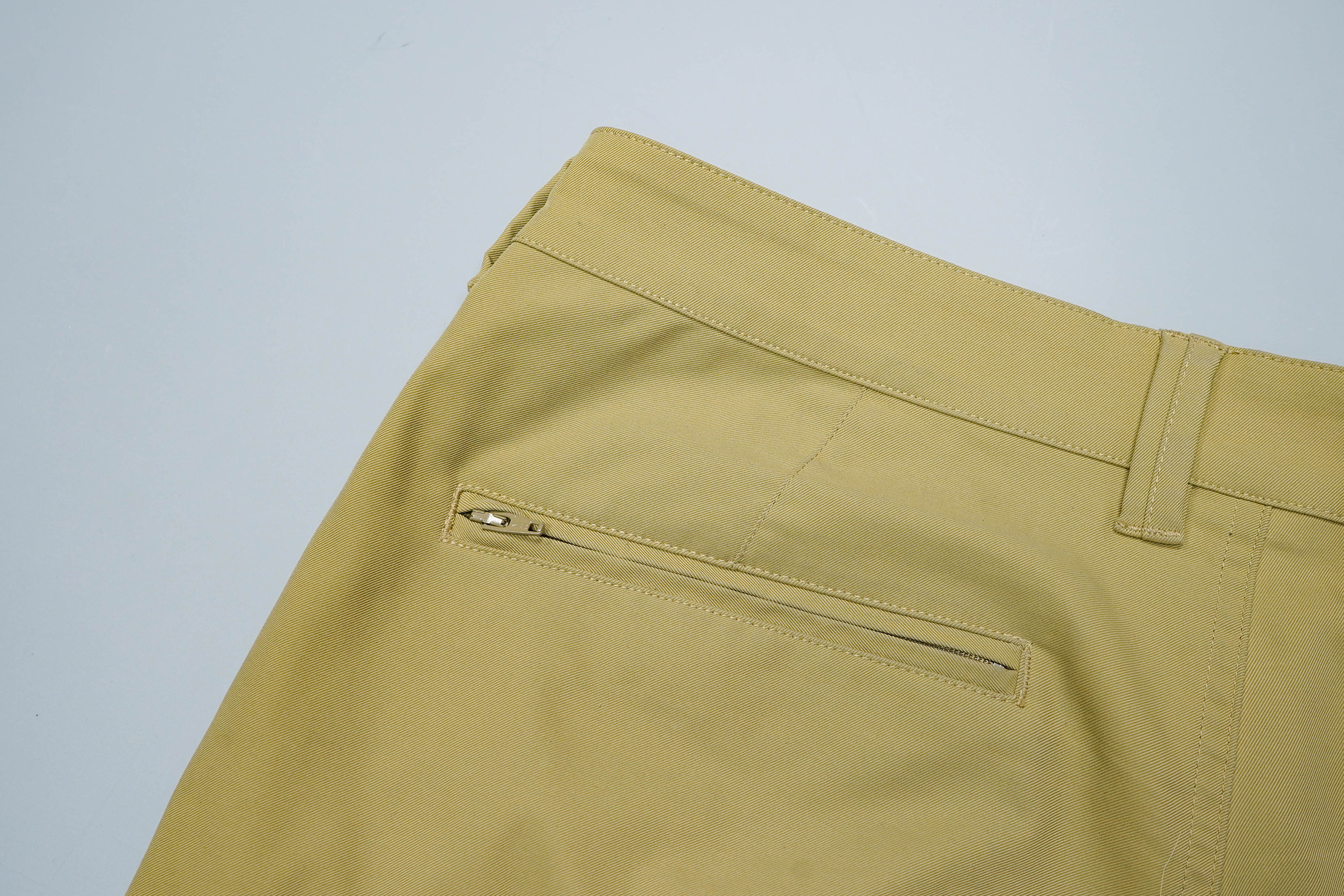 Finally, there's a zippered pocket on the wearer's left back side.
To be frank, we haven't utilized all of these pockets. We haven't had the need. But—again—if you're all about organization then you'll love having a spot for everything.
We certainly appreciate being able to keep our stuff secure while out and about. Pickpockets are in the business of being quick—if they have to stick their hand in your pocket and subsequently unzip another pocket within for your cash…they'll likely move on to an easier target. Plus, all the front zippers are reverse direction, meaning they're even more difficult to work than regular zippers.
You'll likely feel safe while wearing these chinos.
Durability & Testing
We've never reviewed a product before that we describe as both unreliable and durable. Until now.
The first pair of Bluffworks Ascender Chinos we've tested fell apart on us after a few days! The button popped off. And, before you ask, no, we had not just eaten a gigantic lunch.
We've seen this complaint on other reviews of the Ascender Chinos, so we're not sure what the deal is. These reviewers have said Bluffworks will replace the chinos rather quickly if this happens, but we'd still prefer it not to happen in the first place.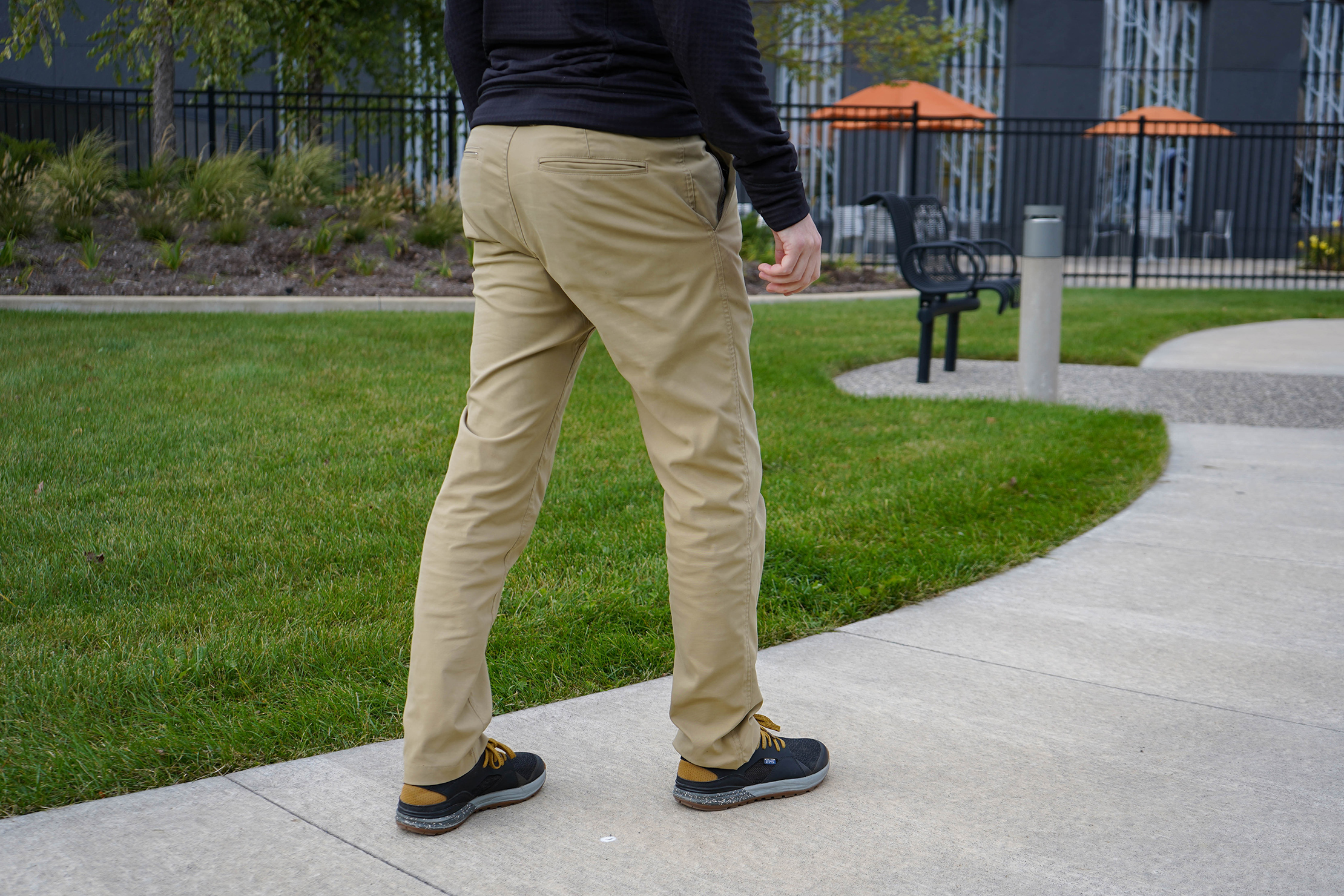 The second pair of chinos we've tested haven't had any issues. We've been testing them for nearly a month now and can't even complain about a loose thread. They've held up incredibly well, though we've accidentally dried it on high once or twice (against the explicit instructions not to on the Bluffworks website. What can we say, we live dangerously).
We're not sure if Bluffworks bought stronger thread or if the button issue was contained to one batch of the chinos. Or what happened there. Hopefully, Bluffworks has gotten it together.
Usage Timeline
Initial Usage
Condition: Bad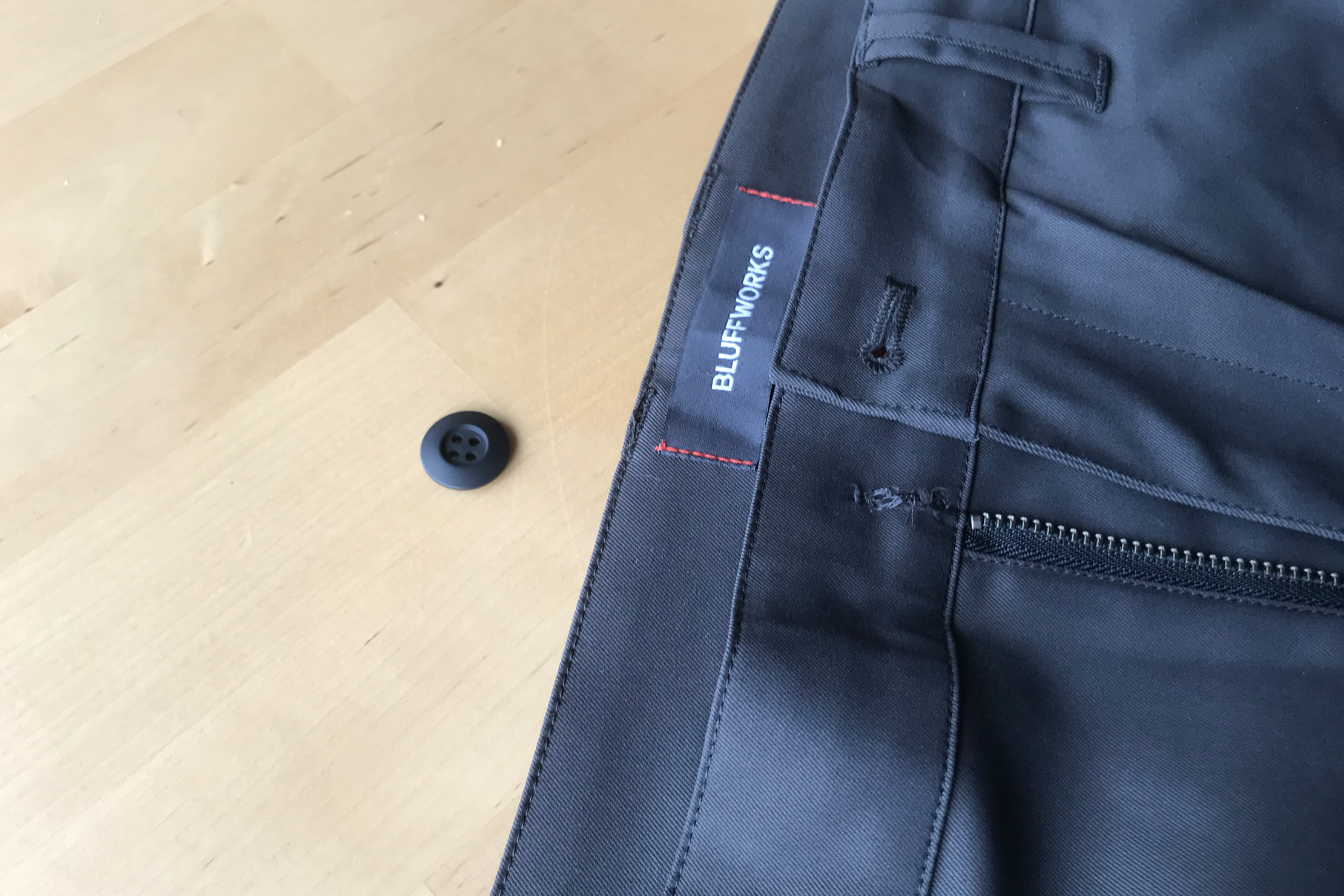 The button fell off within 15 minutes of wear. Not a great sign of the quality assurance going on.
Fabric feels better than the original Chino from Bluffworks.
As always, love all the pockets Bluffworks offers.
A very slight "swish" while walking but hardly noticeable.
The fit seems a little larger than true to size.
1 Month of Use
Condition: Excellent
Everything is looking great on our second pair of Chinos.
Access the Pro Community Discussion
Get your questions about the Bluffworks Ascender Chino answered from our team and the Pro Community right here on the page. Plus, join discussions with other members about gear, guides, and more.
Other Clothing & Accessories Reviews