Bellroy Micro Sleeve Wallet Review
The Bellroy Micro Sleeve Wallet packs some clever features in a small package, but the card slots can get loose over time.
Our Verdict
Unlock the Pro Summary
Save time. Get access to brief summaries of our reviews so you can browse and make decisions more efficiently.
Pros
Simple design keeps it slim
Middle compartment is tight but easy to access via side-squeezing
Durable stitching
Cons
Card slots become loose over time
Small capacity can be limiting
Symmetrical design might make you mix up card slots
Recent Pack Hacker Video
Technical Details
Dimensions

2.87 in x 4.02 in (7.3 x 10.2 cm)

Notable Materials

Leather

Manufacturing Country

India

Warranty Information
Full Review
Migrating to a micro wallet can be an interesting exercise in one's ability to downsize. It's easy to pick up a few cards here and there along the way, and some of them can be a sentimental piece with a story—especially when it comes to travel transit cards and the like. But if you're determined to say goodbye to a few of your wallet's contents, a micro wallet can be a good quality-of-life change for you and your pocket.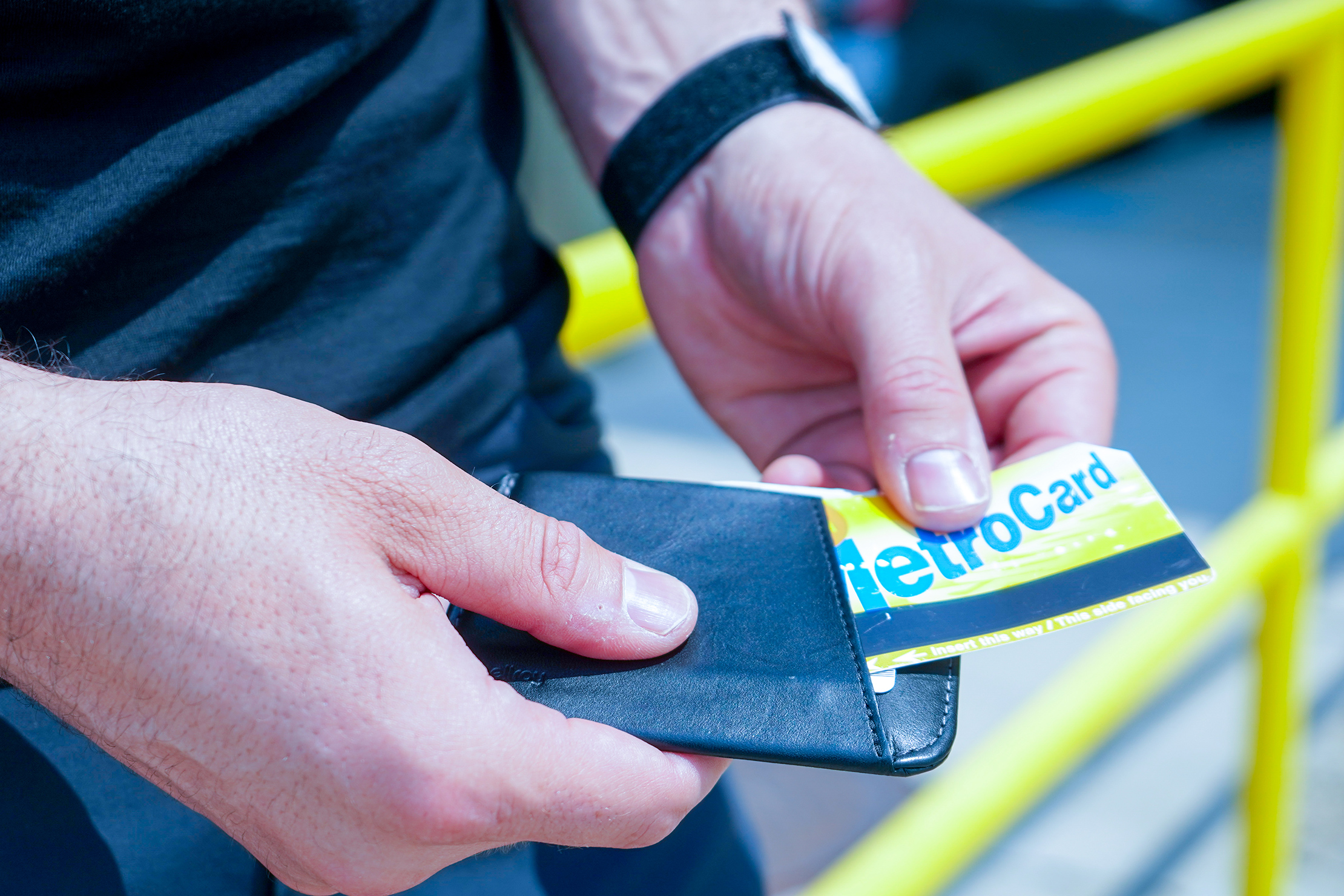 In this review, we'll be taking a closer look at Bellroy's Micro Sleeve Wallet. It has a clever design and set of features that make good use of the available, albeit minimal, space. Usage over time is a must-see when you're dealing with something as frequently accessed as a wallet, and we have made some noteworthy observations for this micro wallet.
Materials & Aesthetic
Wallets usually come in a rectangular shape, and the Micro Sleeve Wallet is no exception. The shape and profile probably won't wow you, at least, not in this all-black colorway. But once you step into the two-tone colorways, things get a bit funkier. There's a Navy Tan option, with a navy blue exterior and a tan interior, and a Caramel option with a dark orange exterior and a gray interior. However, these two latter options are on the flashy side, and the black's discreet looks might be the more practical choice if you don't want your wallet to draw too much attention.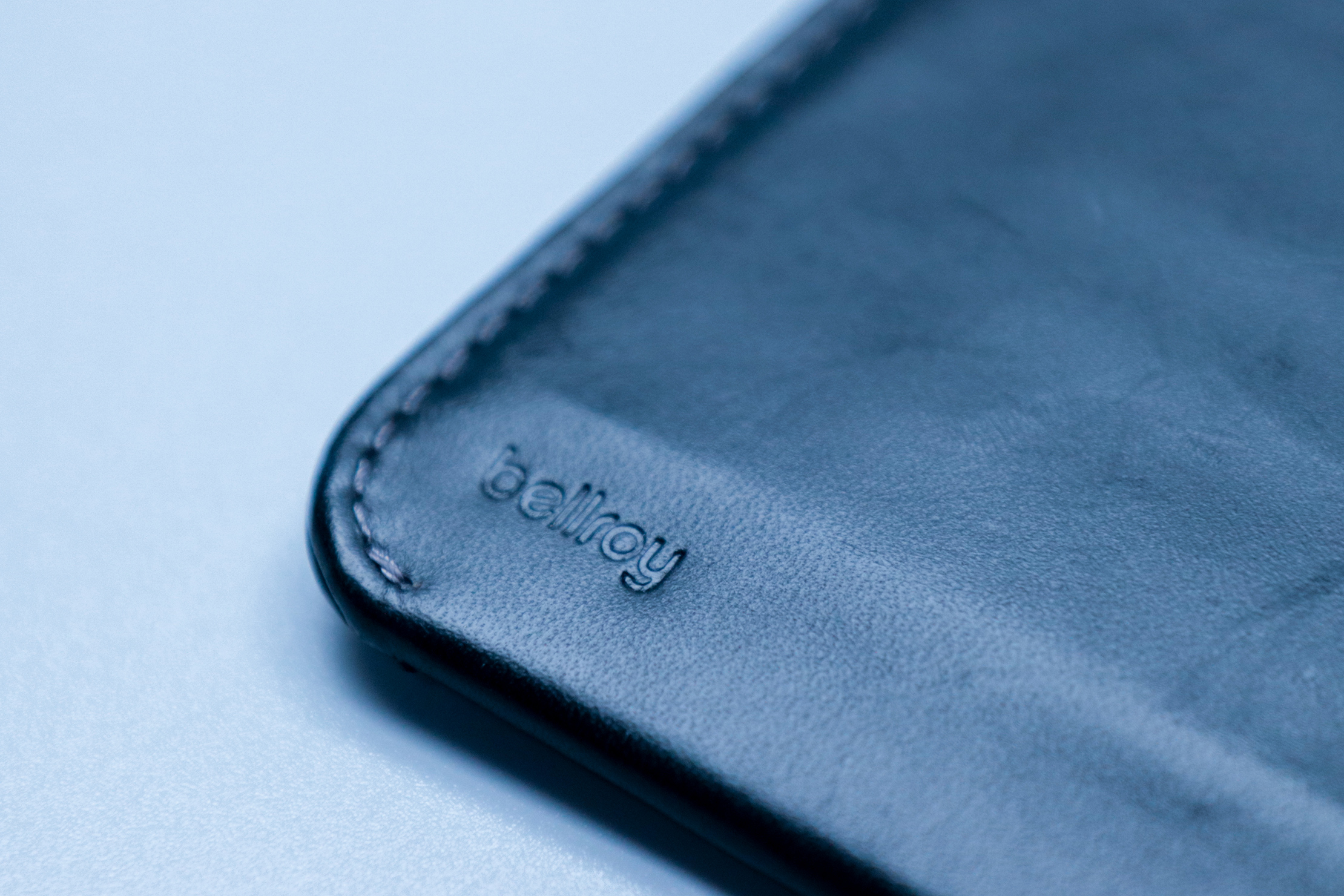 Out of the box, the Micro Sleeve Wallet has a really clean design. Bellroy has a good track record for the aesthetics of their products, and things aren't different for the Micro Sleeve Wallet. Bellroy's logos can be found tucked away in the bottom right corner and upper left corner on each side of the wallet. They're simply debossed, and the owl logo is even hidden away once you've put a card inside.
The clean design does take a hit once a stack of cards has sat inside the outer slots. We've tested the Micro Sleeve Wallet for two months, and the leather has earned the unmistakable outline of credit cards. The good news is our credit cards' numbers haven't been imprinted as well for everyone to see, but the wallet does look a bit more worn-in after lengthy use.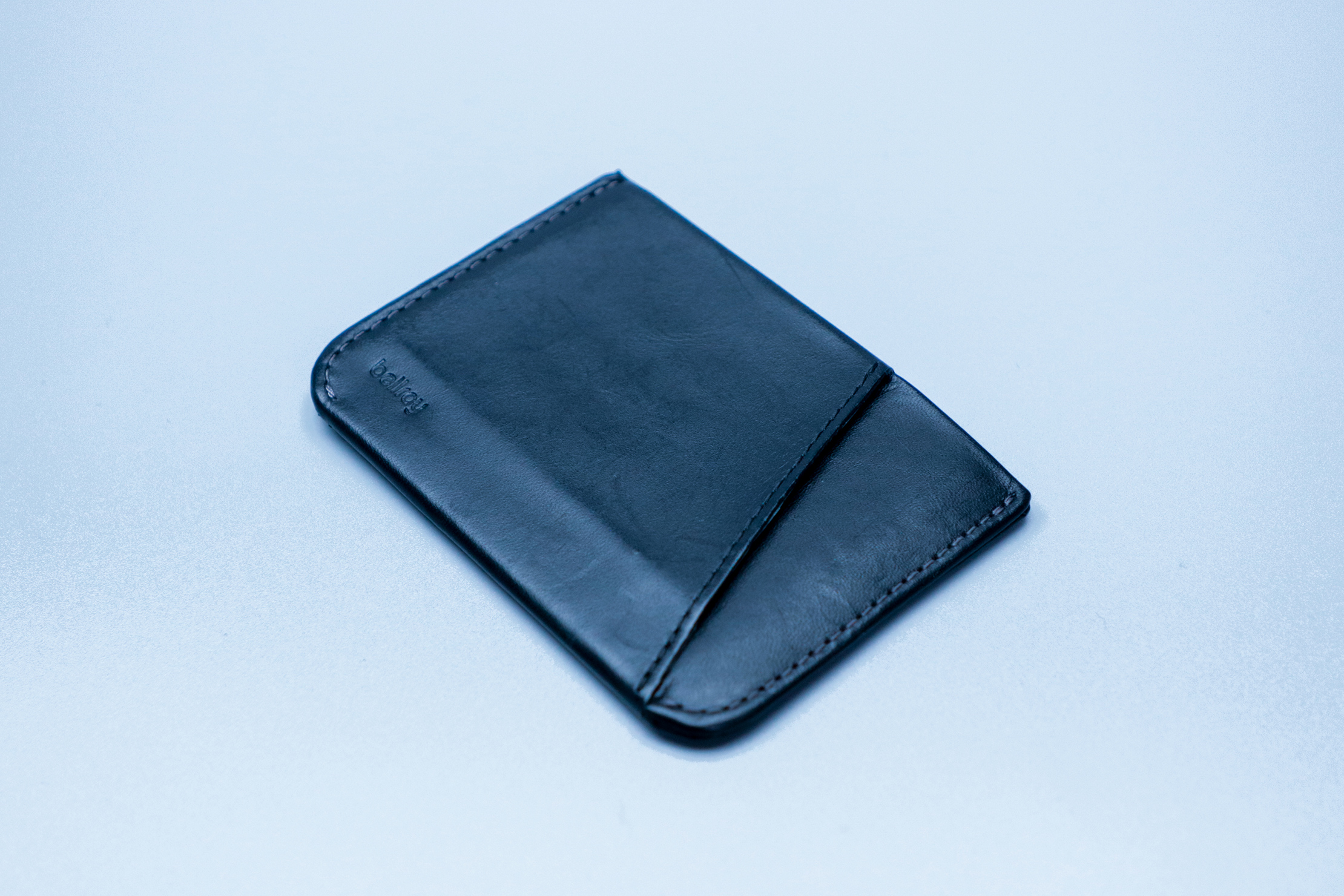 Even after the leather has worn in, quality remains good throughout the wallet. One of the key areas we took particular notice of is the stitching around the edges. It's areas like these where you'd typically find signs of wear and tear. Fortunately, the Micro Sleeve Wallet's stitching has shown minimal, if not no, signs of significant deterioration. We'll take the worn-in leather as long as the wallet's held securely together.
Usage
In terms of capacity, the Micro Sleeve Wallet can carry up to two cards on each side for a total of four cards. Your mileage may vary depending on what kinds of cards you carry and how thick they are. You can also fit more in the middle compartment, but that area's meant for cash. This is a micro wallet, so you'll have to make careful considerations if you're looking to switch from a bigger wallet.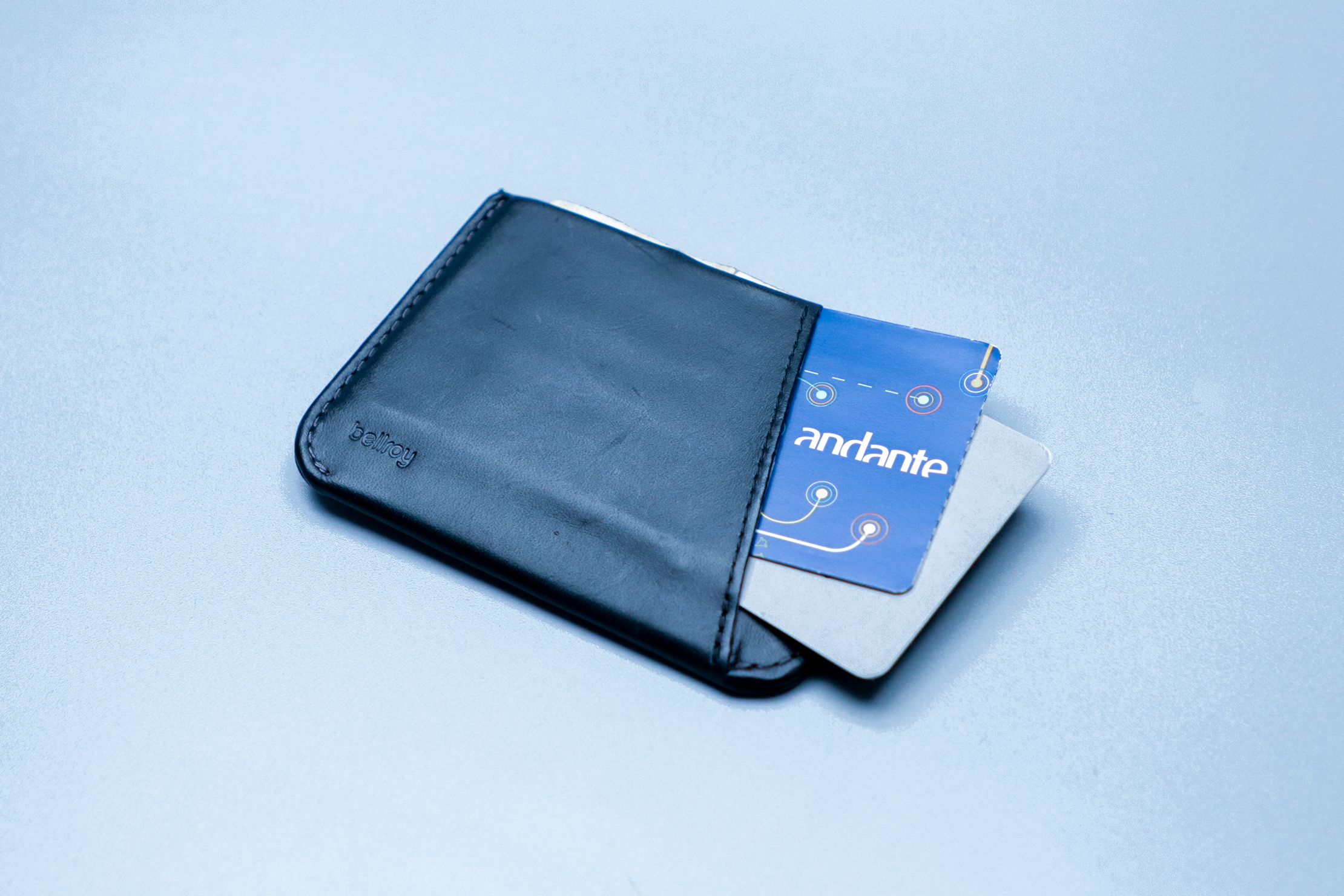 We kept two personal cards on one side and two business credit cards on the other for our loadout. The Micro Sleeve's symmetrical design did make us think twice whether we were pulling out our business or personal credit card, but this won't be an issue if your cards are colored differently. The slanted edges of the slots do reveal a good portion of your card, so you can identify them easily using their color.
As mentioned earlier, the leather material of the card slots has worn in noticeably over time. As a result, when we only had one card inside, there was some slipping going on. It's not so bad that cards just slid out like they were on silk, but it might pose a problem with enough shimmying. This can be avoided by maintaining the number of cards you have fit in and not holding the wallet slots facing down when using one of them.
One clever design choice Bellroy has implemented on the Micro Sleeve Wallet is how the middle compartment opens. Simply squeeze in from the edges and voilà you can now effortlessly reach in for your cash and/or cards. Four fairly worn-out US dollar bills fit inside with a single fold, but taller currencies like the Japanese Yen or British pound sterling might need more folding.
Carrying a small wallet like the Micro Sleeve Wallet can be a bit intimidating at first. Having card slots facing outwards is a relatively big change from a typical folding wallet. But once you get past the downsizing phase, the benefits do begin to show.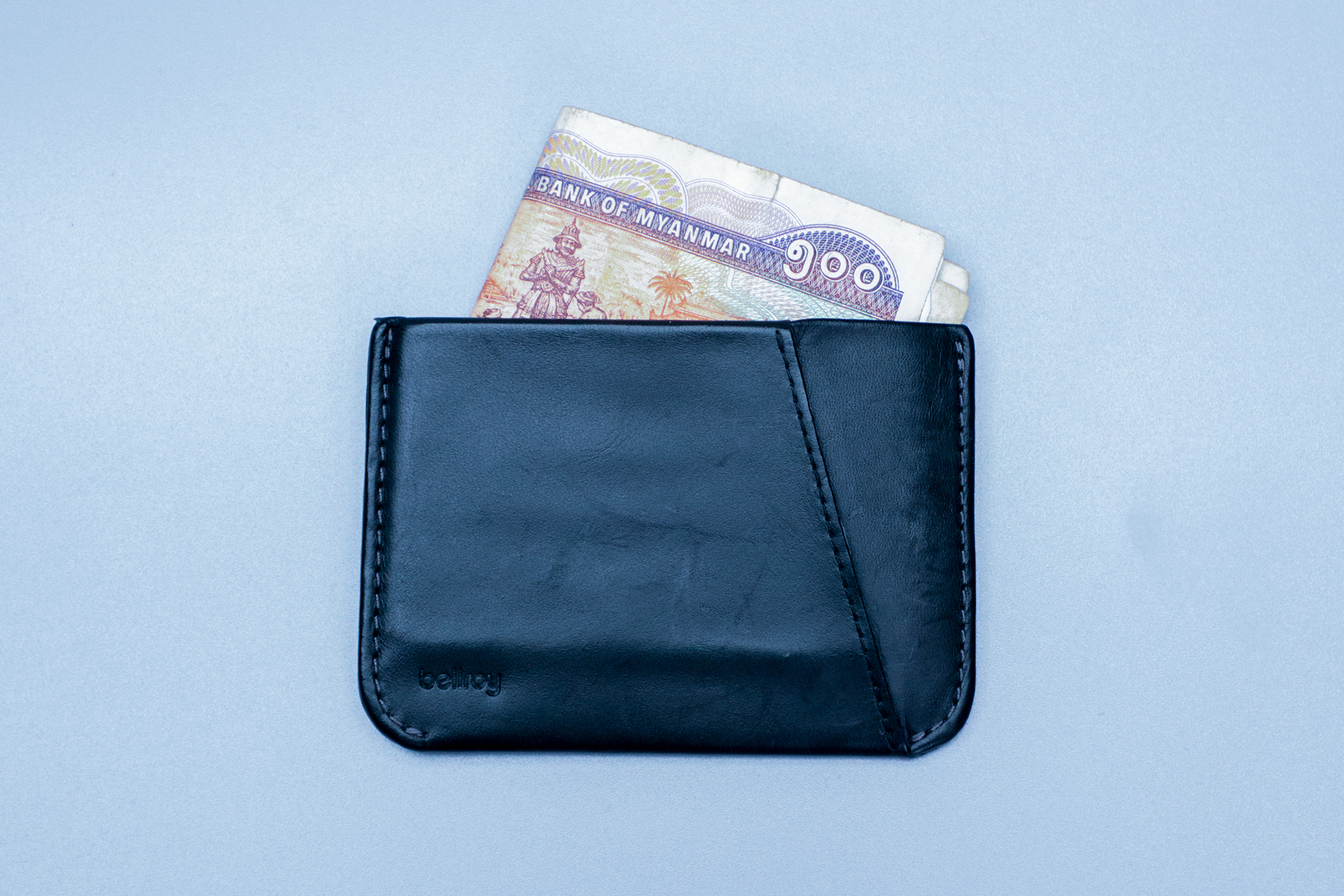 You get more space inside your pocket, it's much lighter to carry around, and in the case of the Micro Sleeve Wallet, accessibility isn't too bad either. It's even quicker in some cases because you're dealing with a much more open design.
The experience of using a micro wallet can be a limiting one if you're switching from a larger wallet. That's part and parcel for making the switch, but micro wallets that minimize the hassle do catch our attention. In the case of Bellroy's Micro Sleeve Wallet, the capacity isn't as limiting as, for example, the Magpul DAKA Micro Wallet, and the edge squeeze is a neat feature.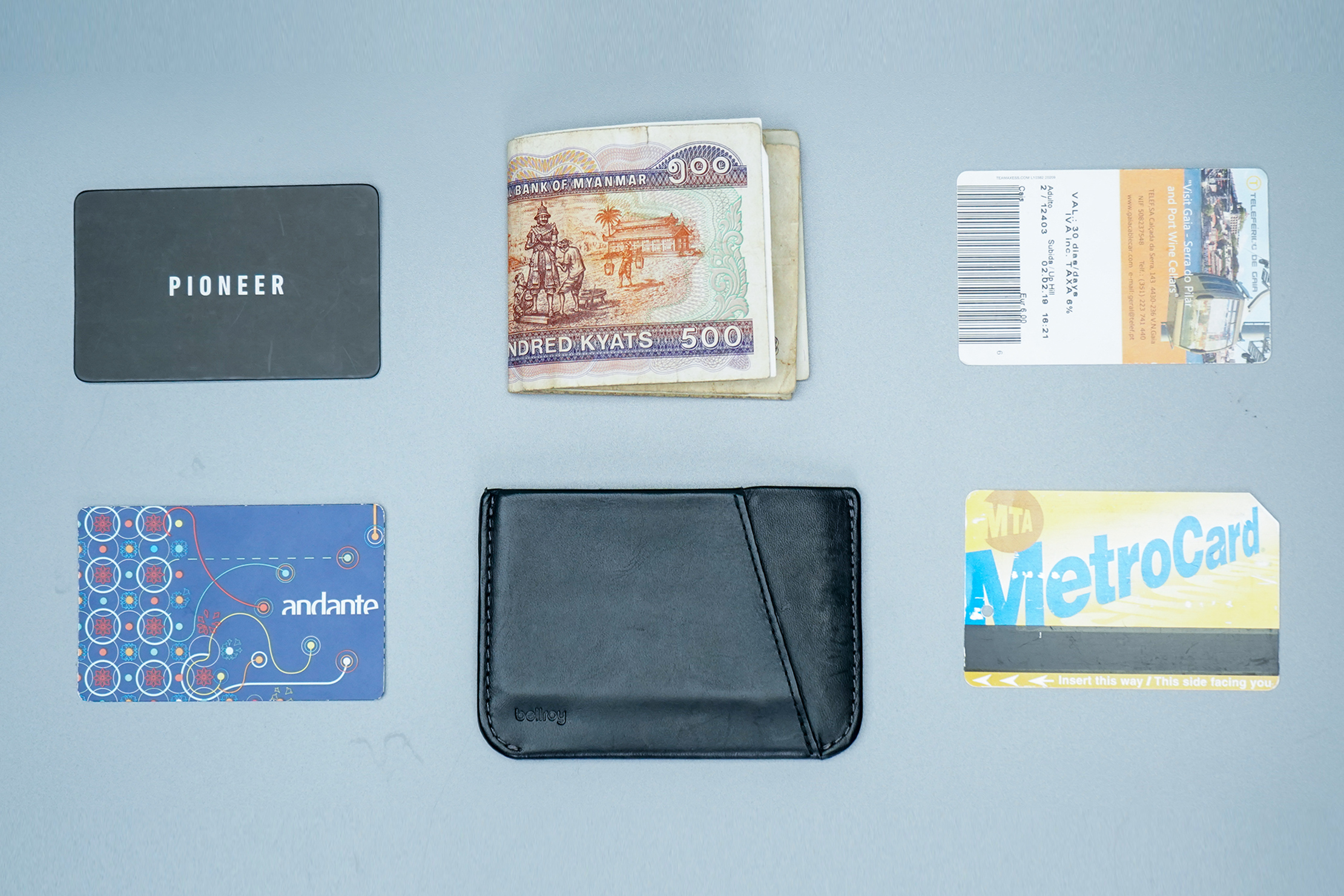 If you're looking for a little bit more of everything, we'll point you to our review of Bellroy's Slim Sleeve. But if you're set on getting a micro wallet, the only potential snag with the Micro Sleeve is how much looser the card slots get. It's something to keep in mind, and it's not necessarily a deal-breaker either—just another small compromise for going smaller.
Usage Timeline
Initial Usage
Condition: Excellent
Beautiful design and detailing
Slim & small form factor
Like how you can squeeze the ends of the wallet to open the main compartment up for easier access
2 Weeks of Use
Condition: Excellent
Card slots have stretched out a bit with use
Still digging the slim profile
Access the Pro Community Discussion
Get your questions about the Bellroy Micro Sleeve Wallet answered from our team and the Pro Community right here on the page. Plus, join discussions with other members about gear, guides, and more.
Other Organizers & Pouches Reviews