Bellroy Flight Bag Review
Though you can carry the Bellroy Flight Bag in three different ways for added convenience and versatility, we had a reoccurring issue with the backpack straps.
Our Verdict
Unlock the Pro Summary
Save time. Get access to brief summaries of our reviews so you can browse and make decisions more efficiently.
Pros
Three ways to carry
Ample organization
Leather accents are sturdy and sleek
Cons
Backpack straps don't hold adjustment
Doesn't keep shape unless fully packed
Easily collects dust, lint, and pet hair
Recent Pack Hacker Video
Technical Details
Capacity

28l

Weight (lb)

2.98 lb (1.4 kg)

Dimensions

15 in x 21.3 in x 7.5 in (38.1 x 54.1 x 19.1 cm)

Notable Materials

Leather, Nylon, Polyester, YKK Zippers, Metal

Manufacturing Country

Philippines

Laptop Compartment Size

16"

Warranty Information
Full Review
If you find it hard to decide between a duffle, shoulder bag, and backpack, we have a solution for you: don't. The Bellroy Flight Bag satisfies all three carry options while giving you plenty of space to hold the things you want to pack for a weekend away. Whether you're heading out on a business trip, venturing off to a wedding, or hopping on a weekend flight to scratch that travel itch, this bag is great for frequent and casual travelers alike.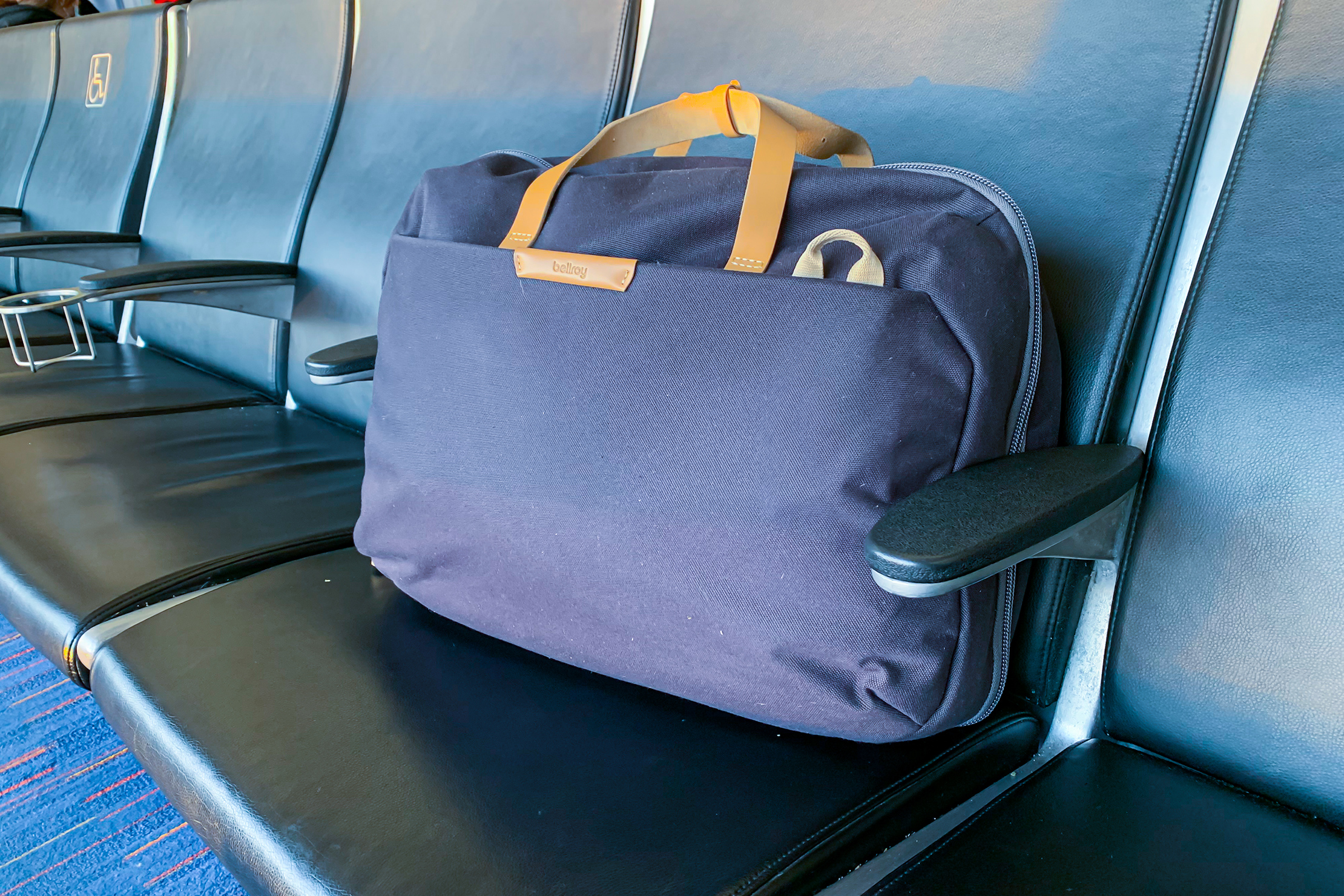 With a 28L capacity and briefcase-style design, this bag packs out surprisingly well. That said, we have a few qualms with the functionality, mainly with the backpack straps. So, let's get right into the nitty-gritty to discuss how it performed throughout our testing.
Materials & Aesthetic
The Flight Bag has a flat profile designed to get you on and off planes with ease (hence the name). It only passes our carry-on compliance test by 46% based on measurements, which is something to keep in mind if you're like us and prefer to travel without checking a bag. However, some airlines are more relaxed than others, and the bag is flexible for easier squishing into tight spaces. It's up to you whether or not the extra fee to check a bag at the gate is worth the convenience.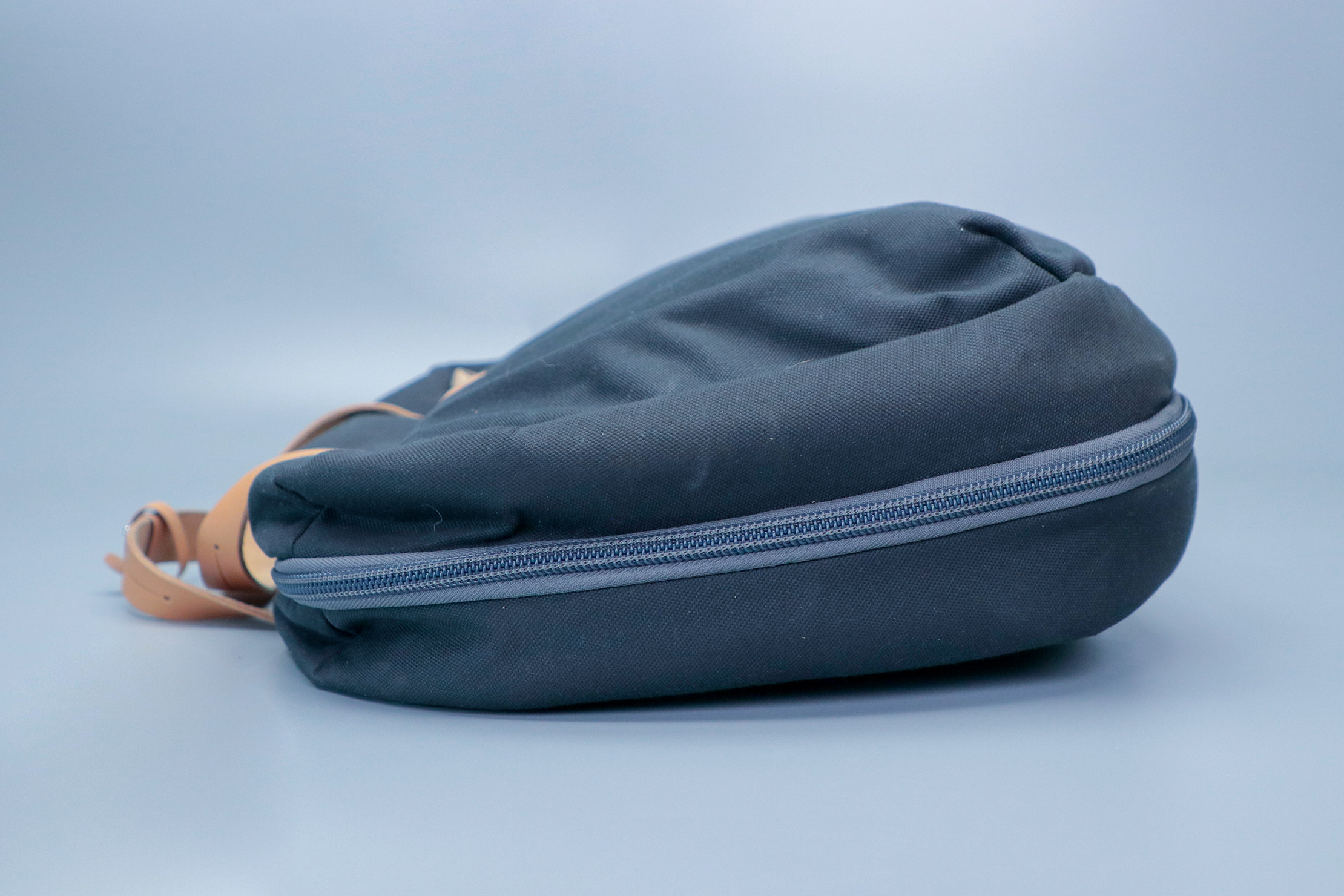 The bag is well-organized, which we'll get into later, but its lack of structure means that the edges cave in unless the bag is fully packed out. This leads to an interesting aesthetic that takes away from the satisfyingly rounded edges and thin profile. A couple of even folks asked us to fully pack out the bag after we posted our aesthetic poll on Instagram even though it was 90% full! We found that it comes in the most at the top, which is likely due to the way the external pockets are designed. There's a structured seam at the bottom edges but not at the top, so the material itself comes out further only at the base of the bag.
Whether this is a design dealbreaker or not is up to you, but we like that the bag only expands as far as it needs to because then it rests comfortably against us when worn as a crossbody or shoulder bag. Does it look as good as when it's packed out? Not in our opinion, but we understand that functionality and carry-ability won out here. It would have been nice for the bag to hold that rectangular shape at all times, but you get that look whenever the bag is stuffed to the brim. Packrats rejoice!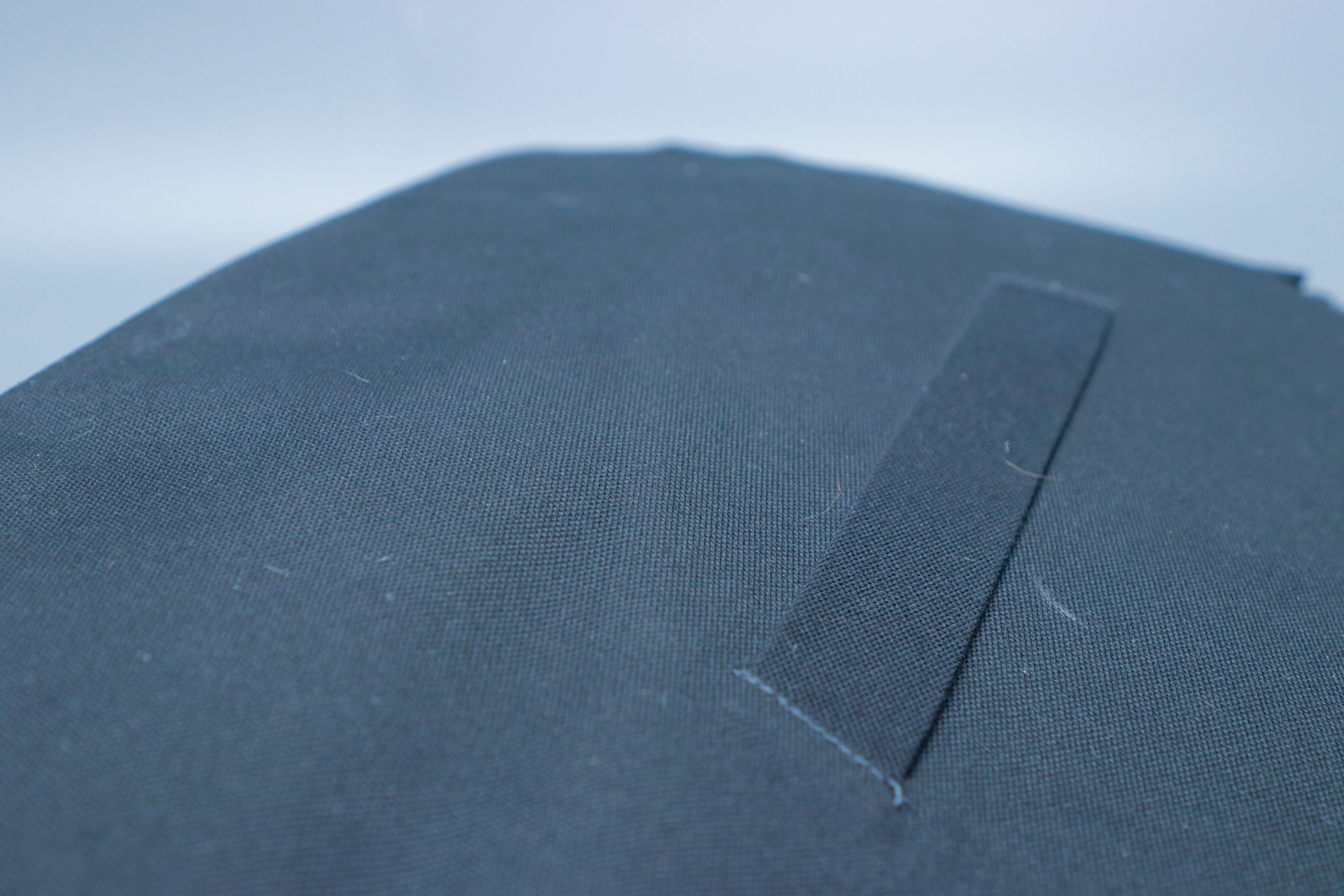 There are three colorways at the time of writing: Black, Charcoal, and Marine Blue. All three bags are made with different materials, but we can only vouch for the Charcoal as it's the one we tested. While Black is made with Recycled Dura Nylon and Marine Blue is made with Baida Nylon, Charcoal is made with Canva Weave, a polyester that feels similar to canvas but is created from recycled plastic water bottles. According to Bellroy, it also has "the added benefit of water-resistance and improved durability," and we had no issues with moisture or damage throughout our testing.
We like the matte look and soft texture, but it picked up lint, pet hair, and dust incredibly quickly. Even after using a lint roller, there was a lot left behind, which makes us think that this is the kind of bag where you have to accept that you'll be bringing your pets everywhere with you. It's pretty easy to get the dust off with a damp rag but beware of dirty surfaces when you set it down.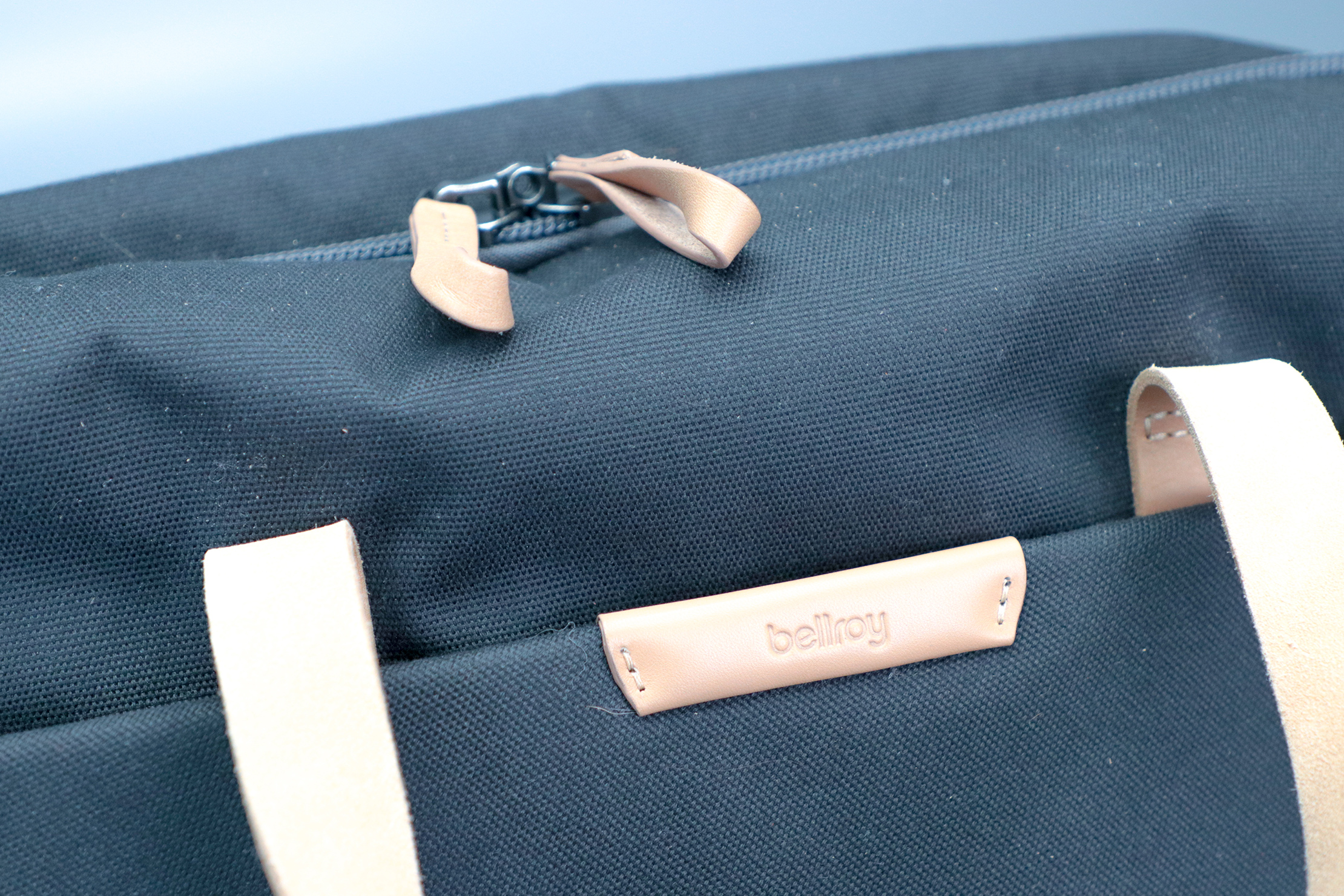 Now onto the smaller details. It's got trusty YKK zippers on the outside and inside, which is always a great sign for longevity. The rest of the bag uses leather for accents like the zipper pulls, carry handles and their keeper, and the strip of Bellroy branding. We like the sleek and professional look this brings to the table. But, how do all of these features come together? Let's take a closer look.
External Components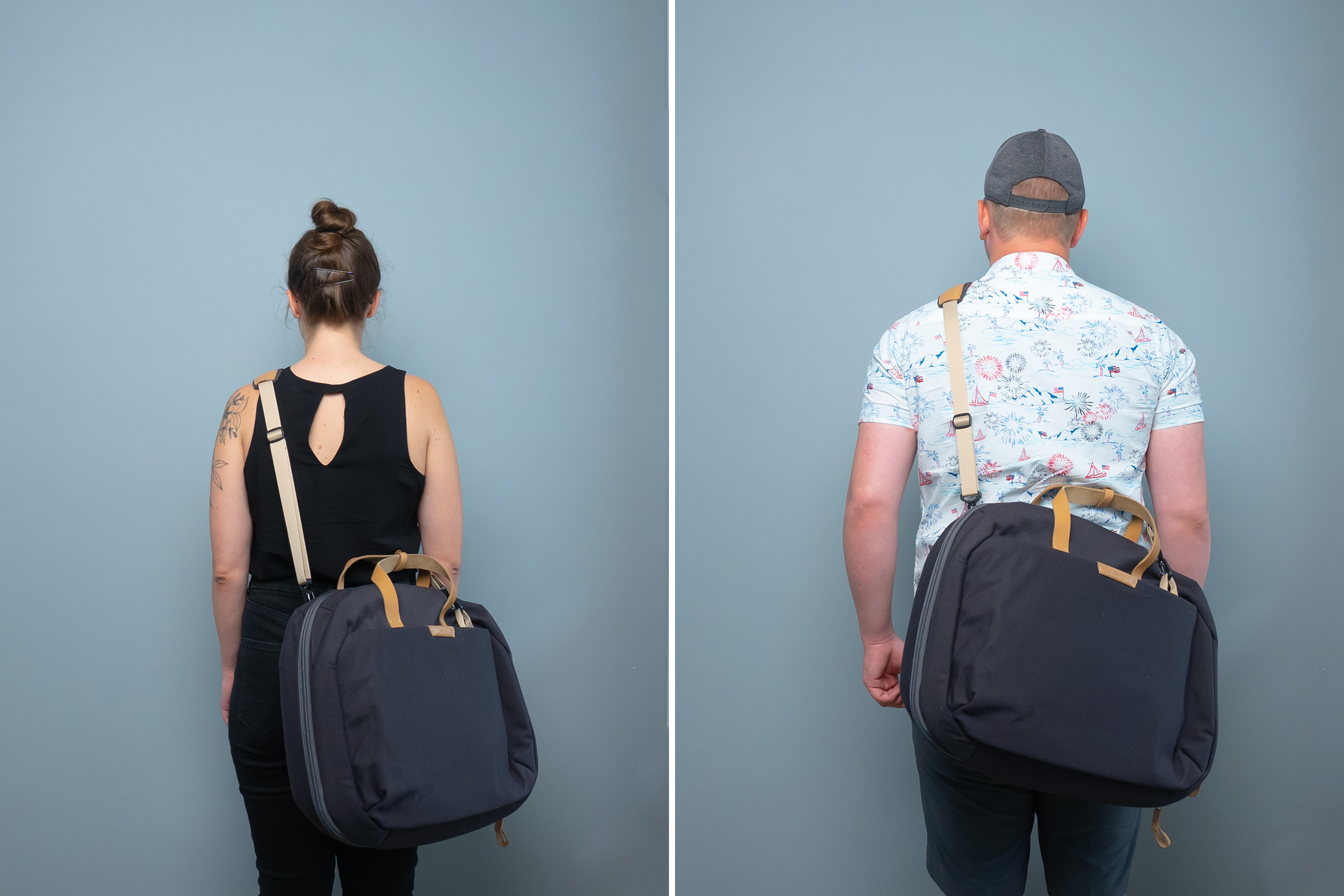 As we mentioned before, there are three ways to carry this bag. This is one of the biggest benefits, as it's not often that you see a travel backpack, duffel, and shoulder bag in one. The outside of the bag has canvas loops that act as attachment points for whatever strap you're using. There's no place to tuck these loops away, so they're visible at all times. Our preferred way to carry the bag was with the detachable shoulder strap like in the photo above, as we could adjust the length and position with ease. It's also comfortable, with a shoulder pad that moves wherever you need it most.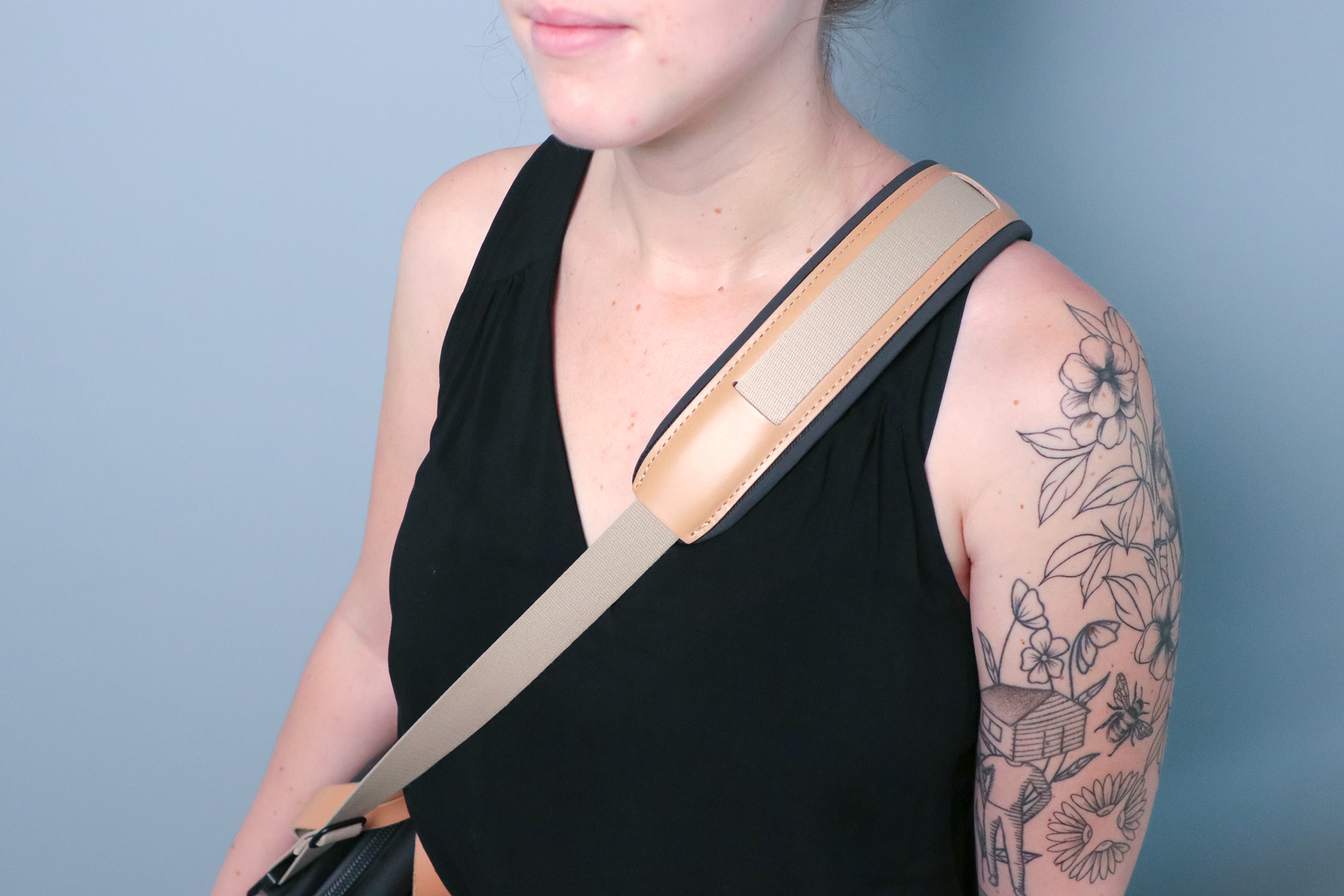 If you're like us at Pack Hacker and you're partial to a good backpack, you can also carry it this way. There's a small zipper along the seam of what eventually becomes the back panel, which you open to access the shoulder straps. All you have to do is pull each one out through the small opening and attach the straps to the canvas loops at the opposite end of the bag using the attached G hook carabiners. Unfortunately, this is where the easy part stops.
To start, we had trouble quickly removing the G hooks when we wanted to detach the straps. Unlike the single shoulder strap, which has regular carabiners, the top of the G hook has an angle that easily catches on the attachment loops. While this isn't a huge usage dealbreaker for us, it was difficult to remove the backpack straps quickly before boarding a flight. We recommend taking them off in advance so that you're not sticking the bag in the overhead bin with the straps free-flying. However, if you do wait until the last second and don't have a chance, there's an additional carry handle in the zippered area for quick grabs.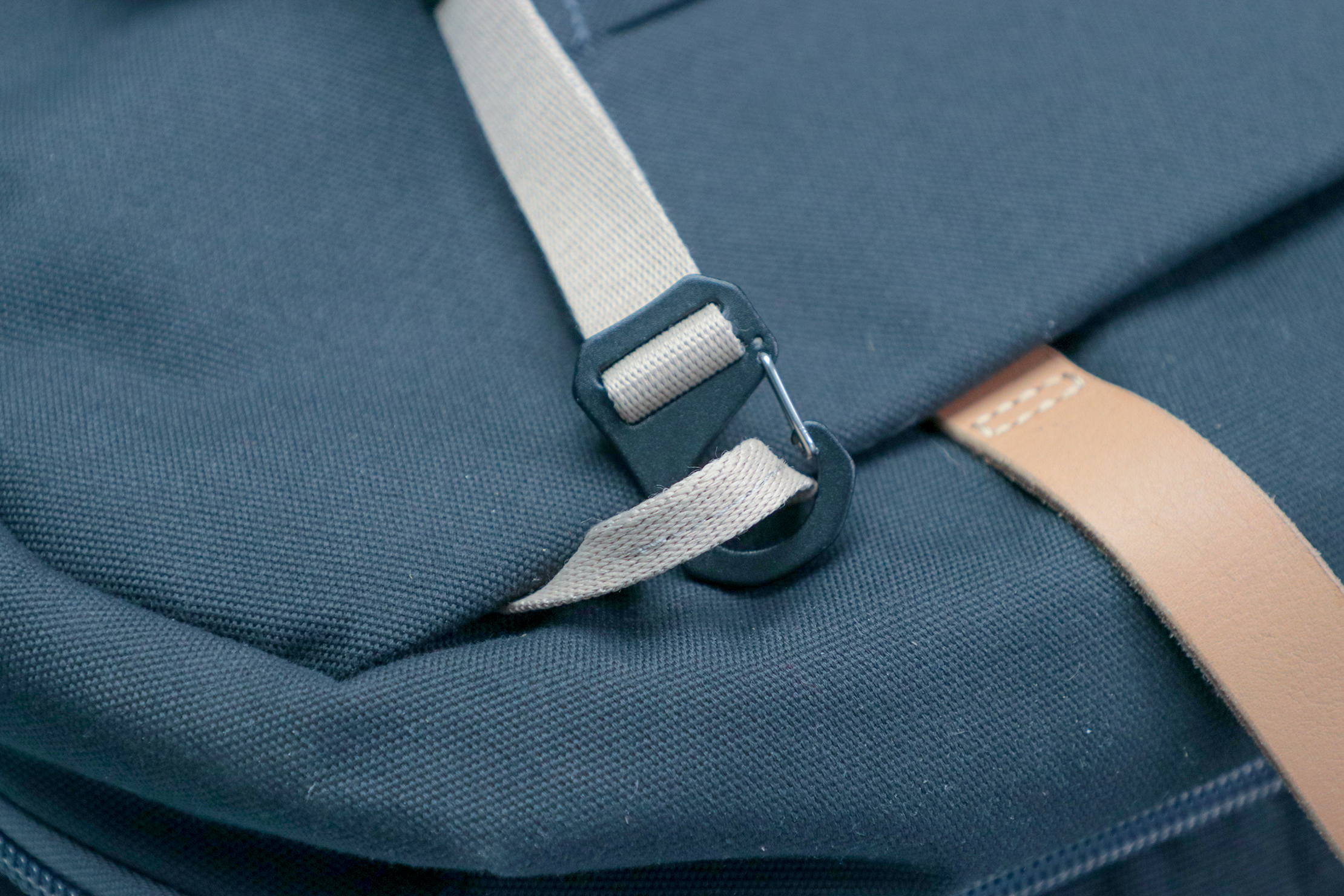 The biggest issue we have with the backpack straps is their lack of adjustability. Sure, the hardware is there, but we couldn't get it to hold the adjustment no matter how hard we tried. When we adjusted it before putting the bag on, it easily moved to the length we anticipated needing. However, the second we pushed our arm through the first strap, it extended back to the longest available length. This happened over and over again, and we still haven't found a way to stop it. The straps were nearly impossible to adjust once the bag was on our backs as well, so any hope of changing the strap length disappeared pretty quickly.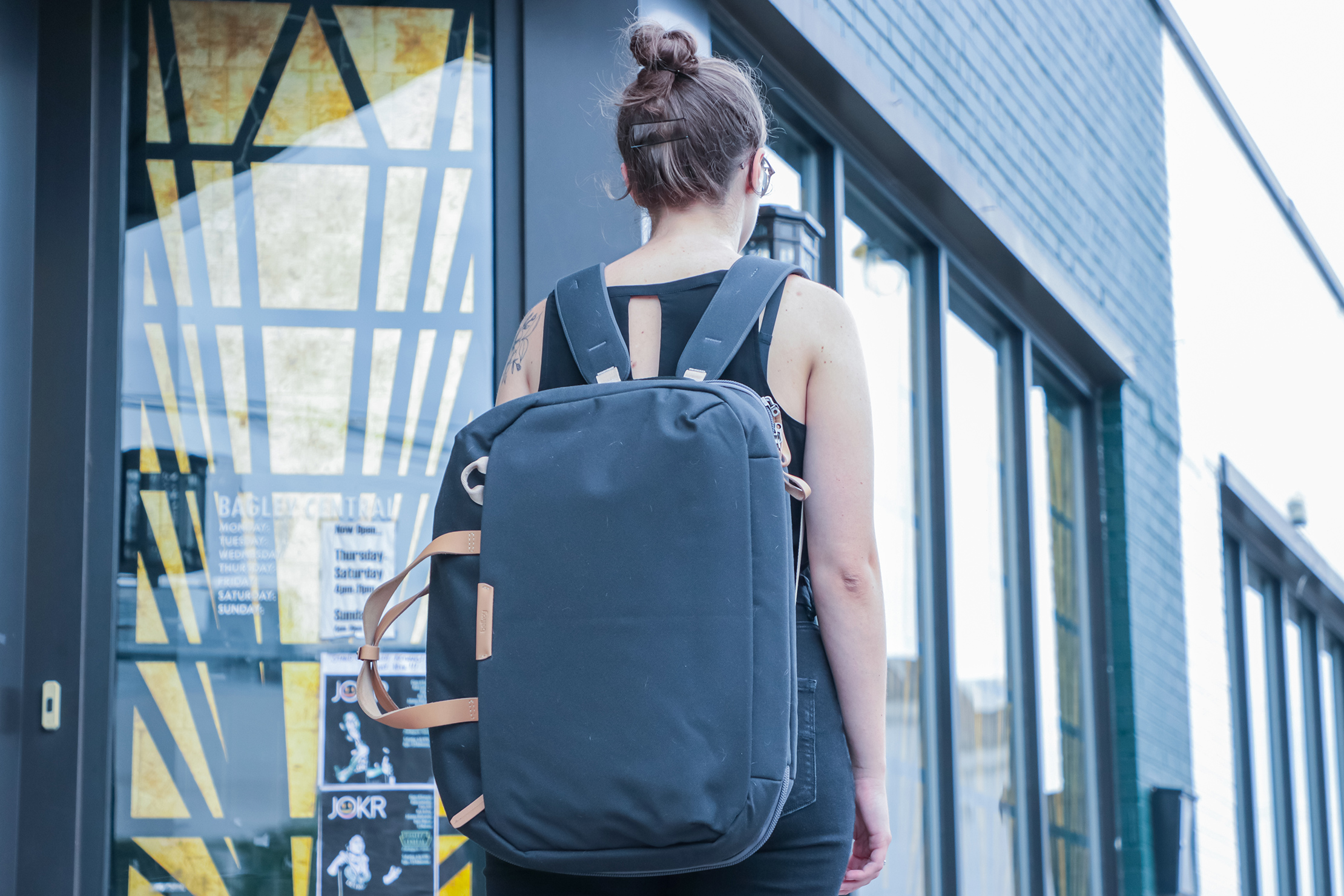 In summary, this means that the backpack rests incredibly far down, which is uncomfortable to carry, and it adds a lot of weight to the shoulders since there aren't any load lifters or a hip belt to assist. We also think it looks pretty silly. However, after a while, we gave up, accepted our saggy backpack fate, and opted for either of the other carrying options.
This brings us to the last type, which is perhaps the most obvious of the three. Two leather carry handles at the top of the bag exist for quick grabs and extended carry alike. Unlike the other straps, which are lightly padded for comfort, these handles are strictly leather, so it can be uncomfortable to carry the bag this way for extended periods. You may prefer it this way if you're used to duffels, though we found it became a bit much to lug through the airport when packed to the absolute max. Short distances were a breeze, though.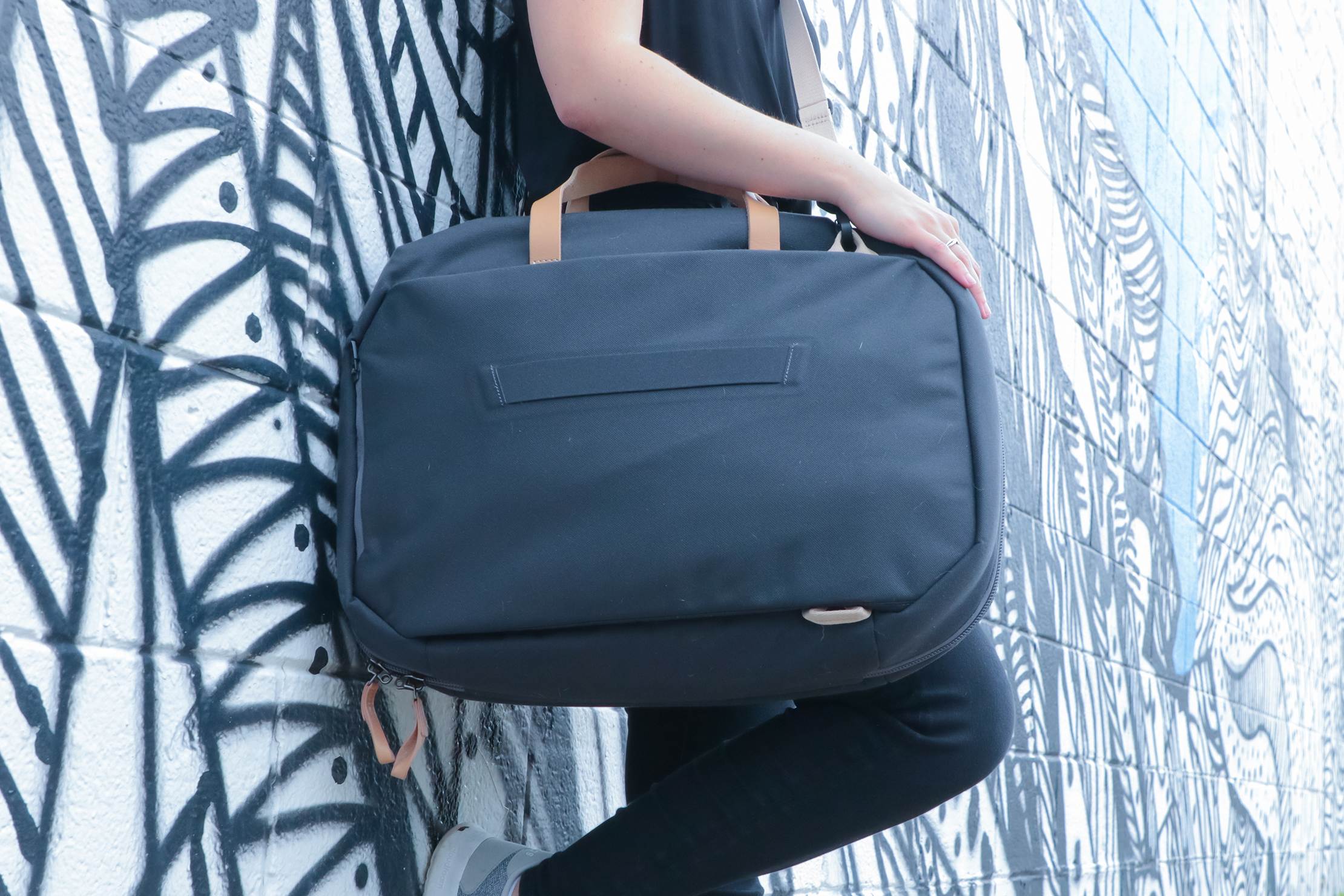 Because the handles don't have a place to tuck away, the bag comes with a leather keeper that wraps around the handles and secures with a metal knob. It keeps both handles together to reduce the chances of catching on things like doorknobs or airplane chair arms, though the straps still stick out pretty far, so you'll want to be careful regardless. After multiple uses, we noticed that the strap easily disconnects at the main handle attachment point. This puts you at a higher risk of losing the keeper altogether, so be sure to keep your eye on it.
In general, the outside of the bag is designed to be simple and symmetrical. Apart from a luggage pass-through and the loops for the detachable straps, the Flight Bag looks sleek and clean. Where it really starts to shine is with the internal storage.
Inside The Bag
As we mentioned above, this bag is symmetrical. Each side features a large zippered pocket that spans the entire length of the bag, though they serve different purposes. For the sake of this review, we'll tell them apart by referring to the one with the Bellroy branding as the front pocket and the one with the luggage pass-through as the rear one. You can wear this bag in whatever way suits you best, but the pockets are designed to hold different types of gear.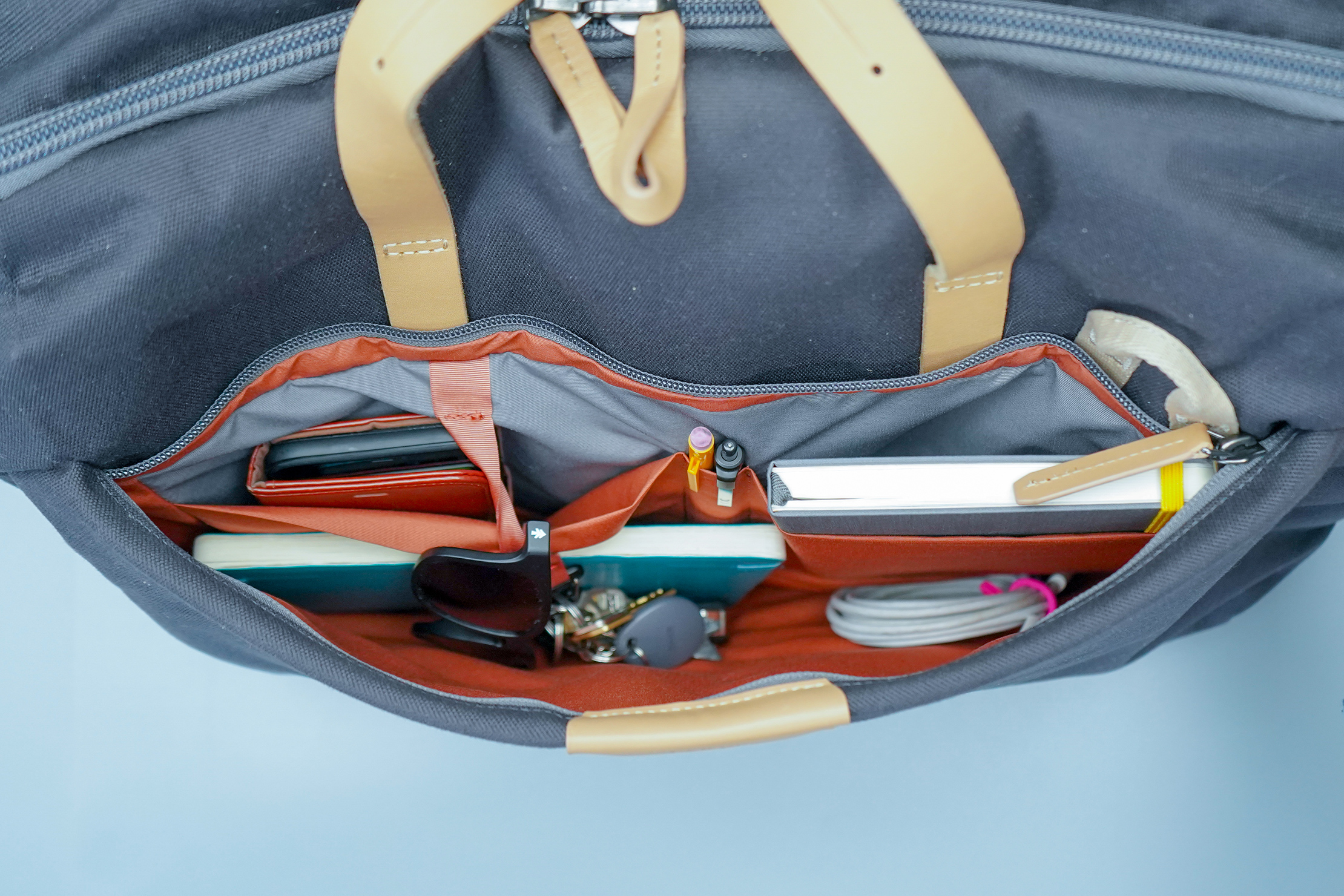 We'll start with the front pocket, which has two large pockets and a pen silo on one side while the rest of the compartment remains fully open to pack as you please. We found this whole pocket great for smaller items like notebooks, phones, sunglasses, and any other items requiring quick access. Additionally, a key strap with a G hook carabiner keeps your keys from getting lost in the shuffle. We also used this pocket to hold liquids until we made it through security, as it was easier to access what TSA needs from the outside pockets instead of the main compartment.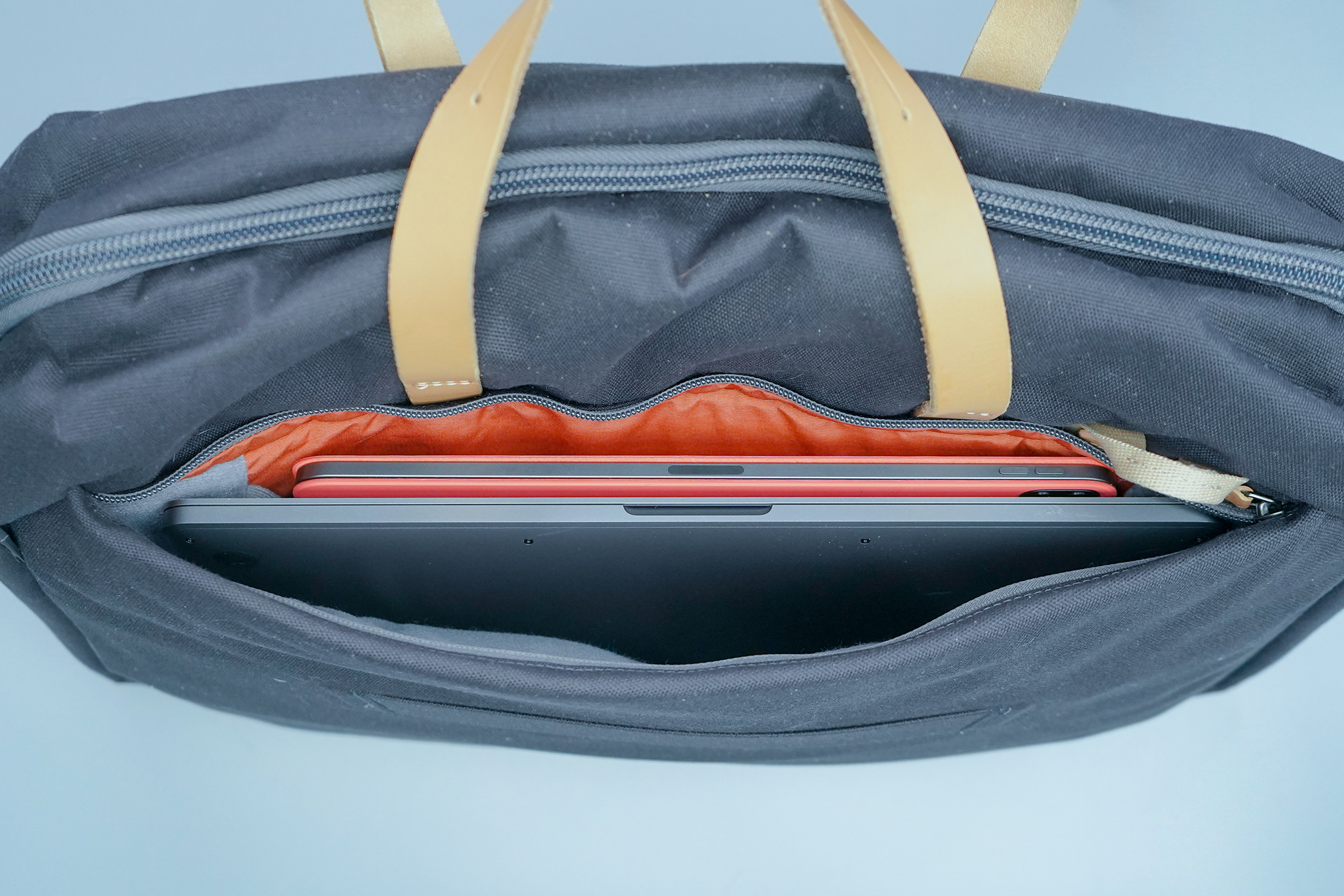 The back pocket is the same size as the front, though it has significantly less organization. This pocket is what will most often rest against your body, so it's great for items you want to keep safe, like a laptop and a wallet. There's padding within the outside and inside liners (unlike the front pocket), so it's a solid space for sensitive tech. There's also a smaller lined pocket inside, which we used for a wallet, tablet, or e-reader.
Now, onto the big leagues. The main compartment opens into a full clamshell, making it easier to optimize every inch of internal space. We'll look at each side individually, as they both serve different purposes.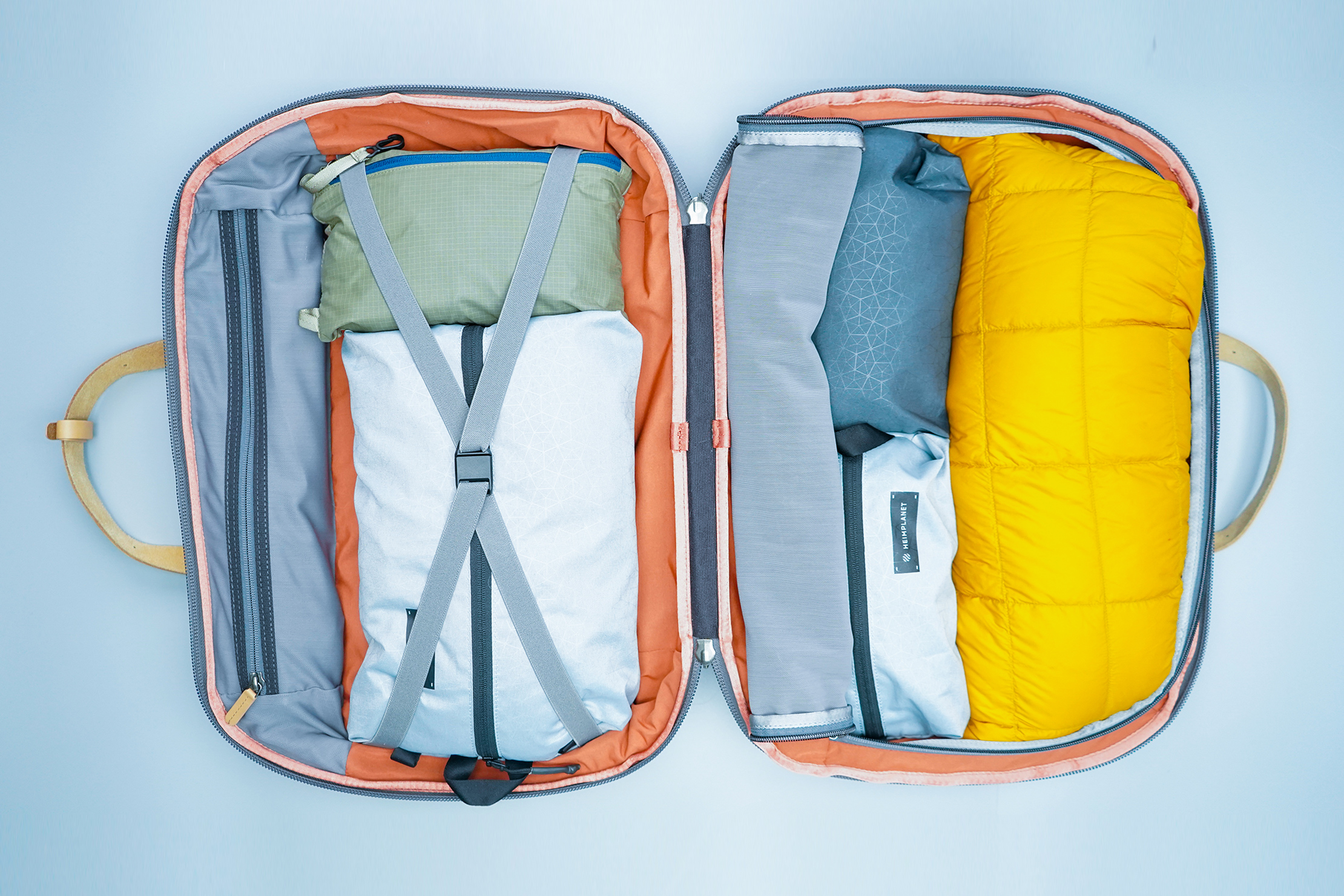 Starting with the fully open side, this is where you'll pack a majority of your clothing. It doesn't look very deep, but we could get a few days of clothing in this area without issue. It even fit a bridesmaid's dress in a thin plastic garment bag, and while it's no longer the 1980's and tulle is largely out of style, a floor-length dress still takes up quite a bit of storage space. Even with that inside, we could fit the other warm-weather clothing we needed to get us through the rest of the long weekend. Once everything is packed, magnetic compression straps easily snap into place and keep your things in place. If you're a fan of packing cubes, these can go here as well.
The only other feature on this side of the bag is what Bellroy calls the "zip pop pocket," which is essentially a tube-like zippered pocket that runs the length of the bag. It's fairly stretchy and roomy, so we used this for undergarments and socks. Our bag came with two pouches made from recycled materials—a large one for shoes and a smaller one that's great for any small, errant gear—which you can use for dirty clothing. Still, we found that this pocket did the job of keeping our used intimates separate. You can also use this pocket for cords or toiletries.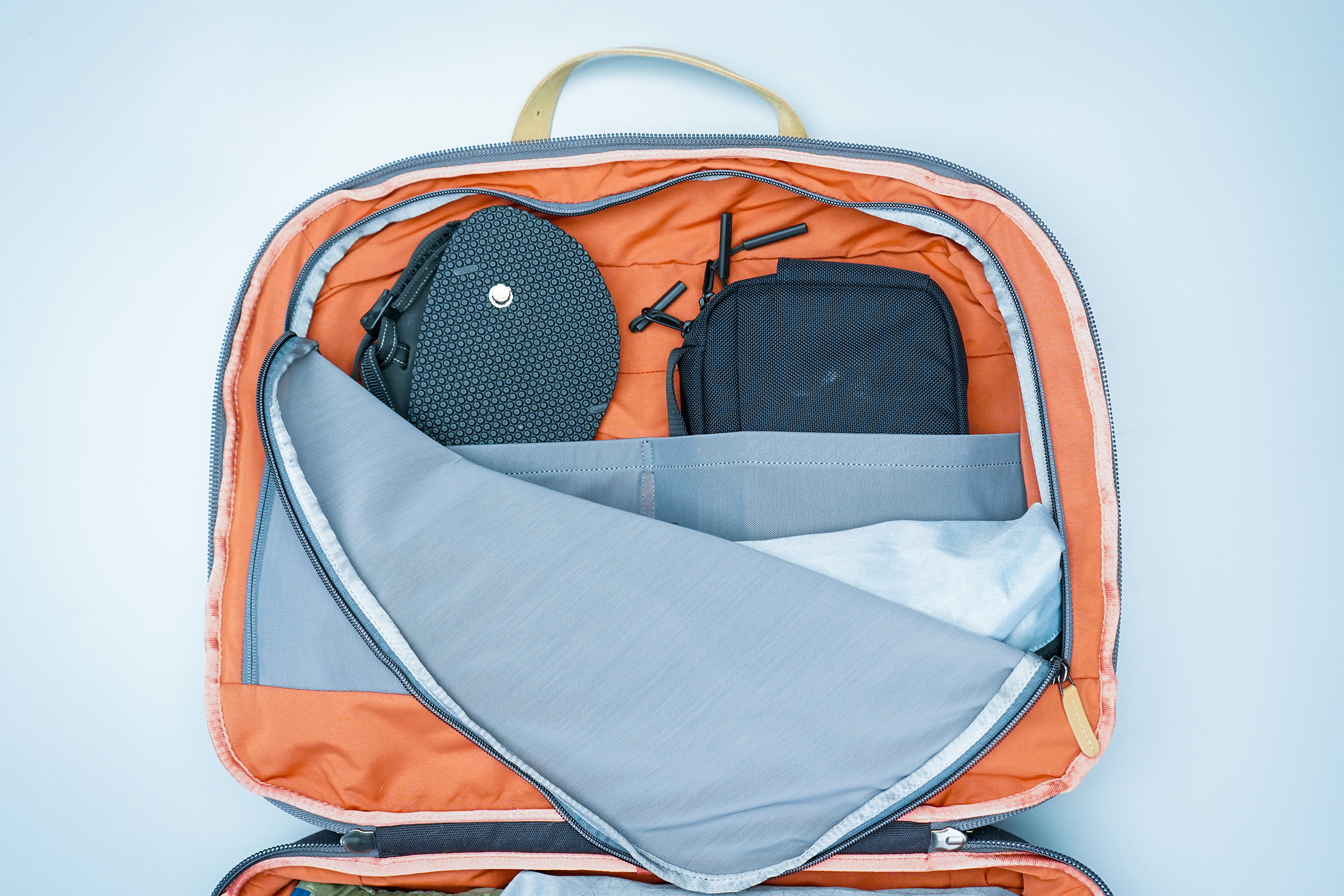 Moving onto the other side, the first thing you'll notice is a stretchy mesh that covers the entire compartment. This zippered divider keeps gear from falling out of the bag when you open it, which is handy because this is where you'll store most of your smaller items that can easily slip out of their designated pockets. Two large pockets on the liner are great for holding a Dopp kit and shoes. We also used this pocket to hold larger clothing items like a flannel because it was easier to slip our hand into this pocket than to rip it out from under the compression strap on the other side and risk messing up our beautiful folds.
Regardless of how you use either side of this bag, each compartment is spacious and allows you to get creative with what gear you want to go where. In all honesty, we often found that we had more space than we needed for a quick weekend away, but we were happy to have the extra room when our travels required a bit more than just a single pair of pants with three different shirt options.
This bag is great to have on hand if you're searching for something flatter than a stereotypical duffel, and the fact that you can carry it three different ways is a huge versatility bonus. However, the adjustment issue with the backpack straps was a huge bummer for us—though it's up to you to decide if it's a dealbreaker. All we can say is that this bag could handle a light jog through the airport as we tried to catch a flight, so if anything, at least the name is spot on.
Usage Timeline
Initial Usage
Condition: Excellent
Organization inside is superb with plenty of pockets for even smaller items like toiletries
Each side has just enough depth to get things snuggly inside
Satisfyingly compact and dense to take with you on a plane
2 Weeks of Use
Condition: Excellent
Material easily collects pet hair and dust
Padding on shoulder and backpack straps adds comfort
Leather keeper on carry handle easily falls off at the attachment point
Backpack straps don't keep their adjustment length once you put them on
Access the Pro Community Discussion
Get your questions about the Bellroy Flight Bag answered from our team and the Pro Community right here on the page. Plus, join discussions with other members about gear, guides, and more.
Other Bags & Luggage Reviews