ARKTYPE Dashpack Review
We dig the dangle-free look of the ARKTYPE Dashpack's harness system, though the padding and adjustment could both use some tweaking.
Our Verdict
Unlock the Pro Summary
Save time. Get access to brief summaries of our reviews so you can browse and make decisions more efficiently.
Pros
Ample space and organization in small 15-liter size
Clean look thanks to dangle-free straps
Solid build quality and materials
Cons
Front pocket's organization not optimal for smaller gear
Shoulder straps' padded area could use more coverage
Adjustment strap bunches up and jams in the Sliplok buckles
Recent Pack Hacker Video
Technical Details
Capacity

15l

Weight (lb)

2 lb (0.9 kg)

Denier

1680D

Dimensions

18.5 in x 11 in x 4.5 in (47 x 27.9 x 11.4 cm)

Notable Materials

Ballistic Nylon, Ripstop Nylon, DWR Coating, Duraflex Hardware, YKK Zippers, EVA Foam, Paracord

Manufacturing Country

United States

Laptop Compartment Size

14"

up to a slim 15" laptop

Warranty Information
Full Review
Whenever we're presented with a small bag, we're more than up to the challenge of tailoring a packing list for it. We're all about efficiency—being able to pack as much of our essentials as possible into the smallest space possible. It makes air travel more convenient since we can get away with just a carry-on, and it also means we get to focus more on the trip rather than a smorgasbord of gear.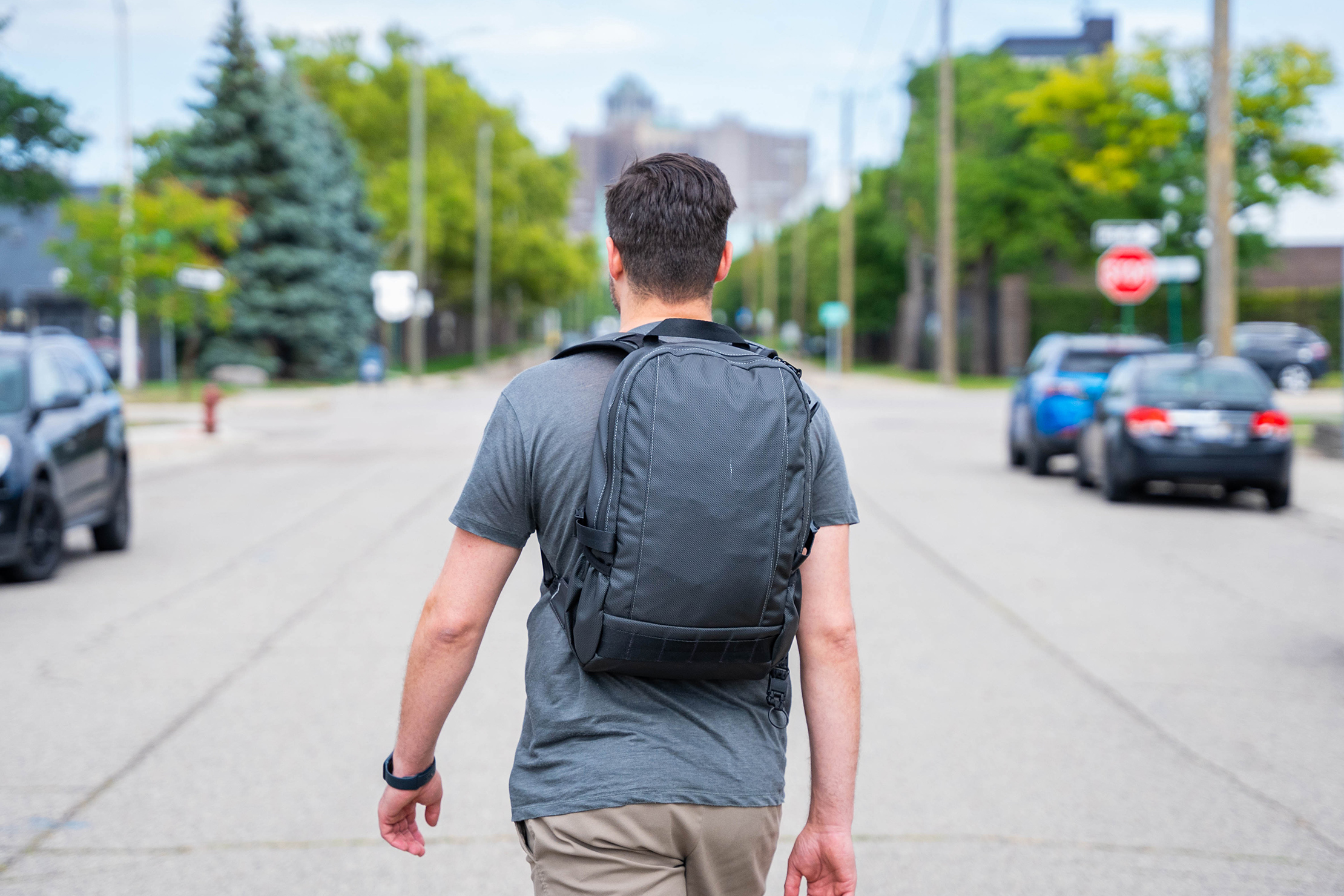 That philosophy manifested itself when we used ARKTYPE's Dashpack. At 15 liters, it's relatively small even compared to other daypacks in the 20-liter range. We're always worried about compromises when it comes to smaller backpacks like this, but the Dashpack comes quite well-equipped. It has water bottle pockets, D-rings all around, a dedicated laptop compartment, and a harness system that uses Duraflex's Sliplok. What's a Sliplok? Read on to find out.
External Components
Don't let the relatively small rated capacity fool you into thinking that the Dashpack is delicate. We can tell you right away that this thing is built like an absolute beast. The exterior fabric is made of 1680-denier ballistic nylon, there are YKK zippers all around, and the hardware's courtesy of Duraflex. With a cast of reputable names like those, we never really have to worry about being a bit rough with the Dashpack—not that we make a habit of being careless.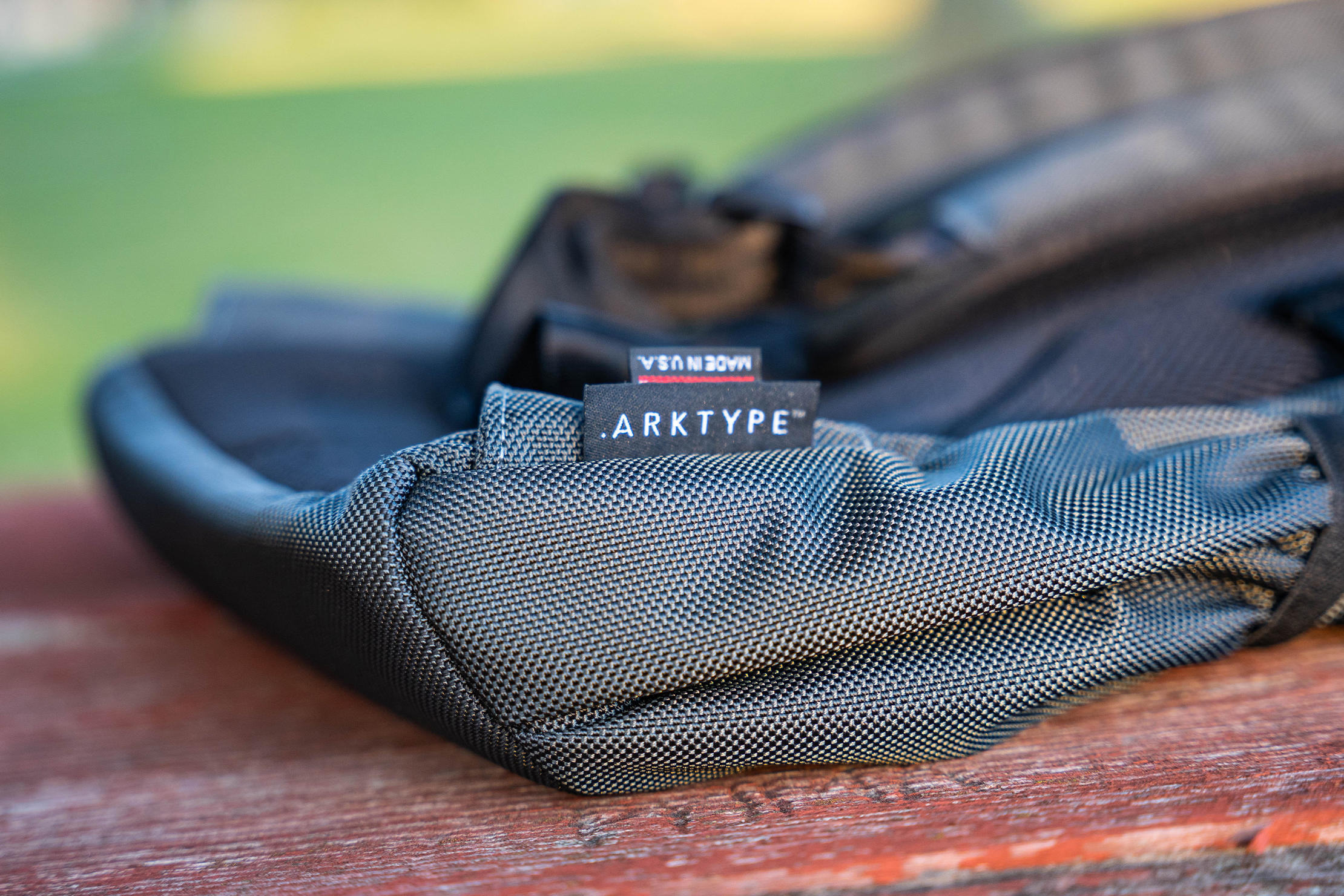 Further reinforcing the whole built-to-last impression are the PALS-like webbing along the bottom front. We say they're "PALS-like" because the width is slightly wider than the standard, so don't expect total compatibility with MOLLE accessories. Still, loops are loops, and this is a good way to expand the Dashpack's carrying capabilities.
That said, the height of the loops is a problem. Rigid hooks, clips, buckles, and other hardware have a hard time fitting into them. In fact, one of the few carabiners we have on hand that can fit is the Nite Ize S-Biner #5, which is pretty large compared to the smaller version we typically use on other bags.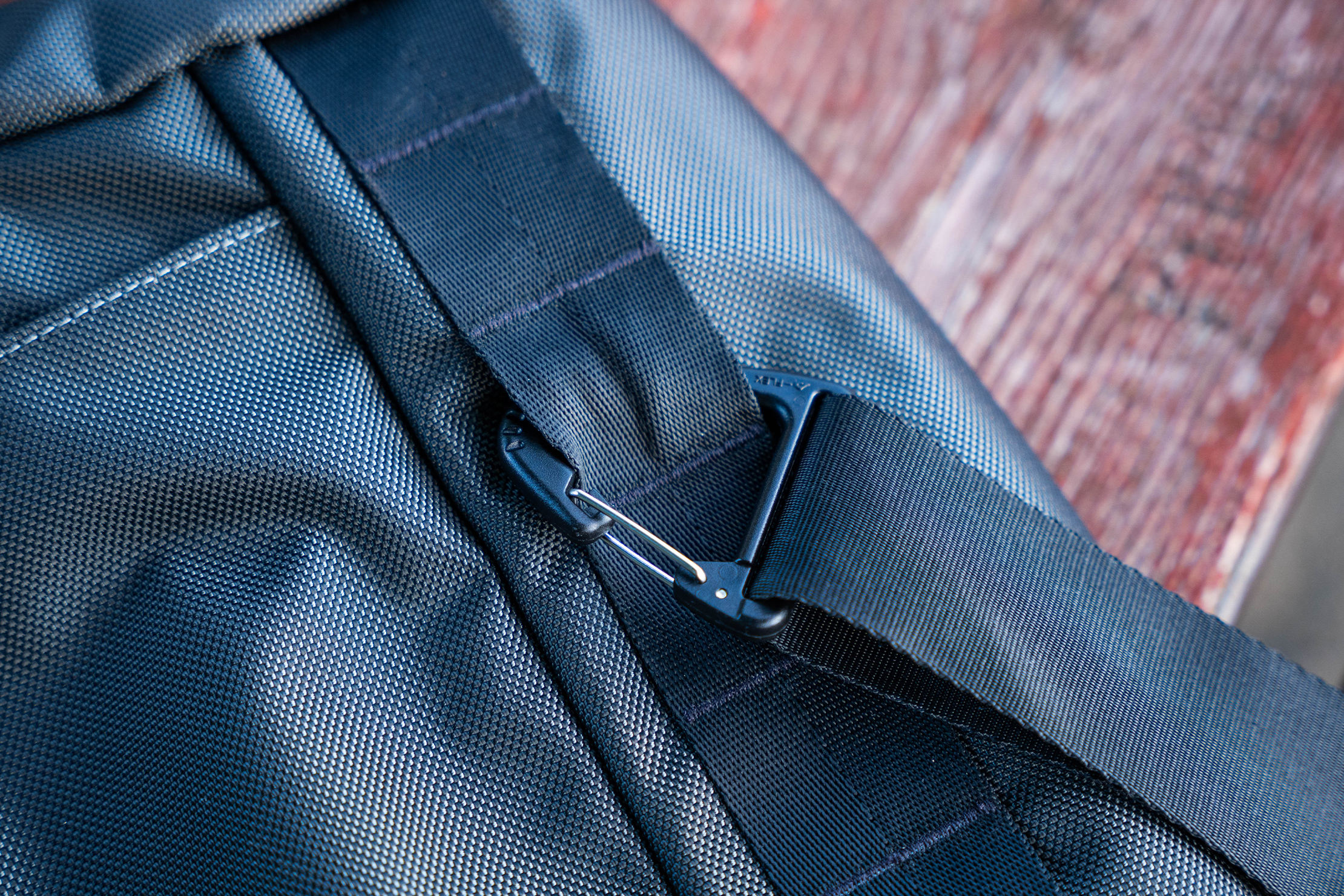 Carrying a water bottle is more or less a necessity for us since we often find ourselves on the move (that's kind of our thing here at Pack Hacker). At the same time, we're also quite fond of compact daypacks like the Dashpack. Unfortunately, water bottles are one of the first features on the chopping board in order to keep daypacks small.
The good news is that the Dashpack still has two water bottle pockets, with one on each side. The bad news is that they're quite small and consequently tight-fitting. Our 21-ounce Hydro Flask still fits, though, which is our everyday carry bottle. Anything wider may struggle to fit since the elastic can only stretch so far.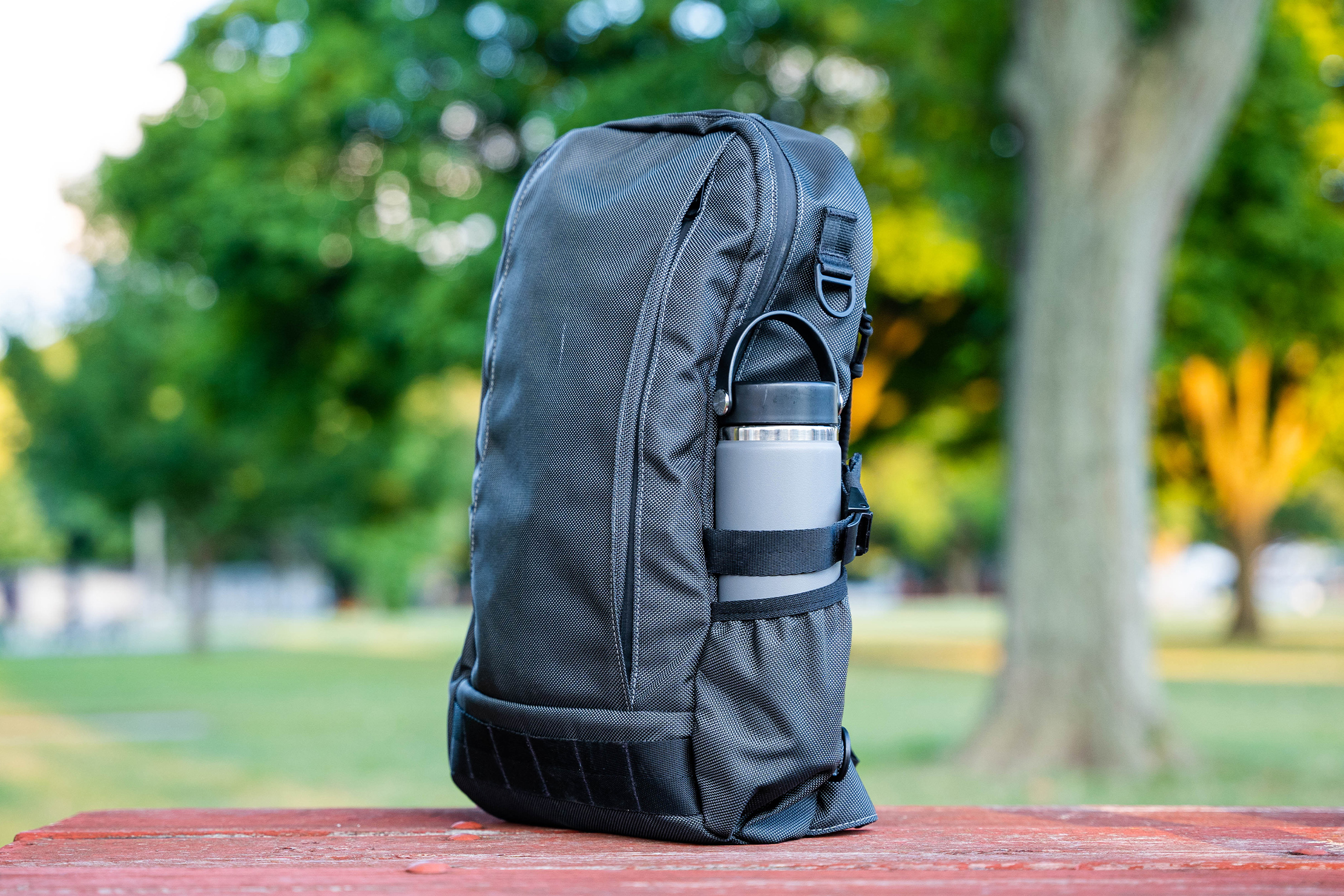 It's also worth noting that there are side cam compression straps that you can use to further cinch down a bottle or lengthy gear like a travel tripod. There's even a D-ring above the right-side water bottle pocket (plus another one just below the side of the left shoulder strap). We really dig D-rings above water bottle pockets because they allow us to clip our Hydro Flask's handle for more security. Call it paranoia, but we'd hate to be that person whose water bottle accidentally falls out and rolls down the aisle during a flight—yes, that's based on a true experience.
Oh, and of course, you can use the side cam compression straps to tighten the bag's shape even more. However, the Dashpack is honestly already quite slim as it is, so its primary use for us is really just for further security.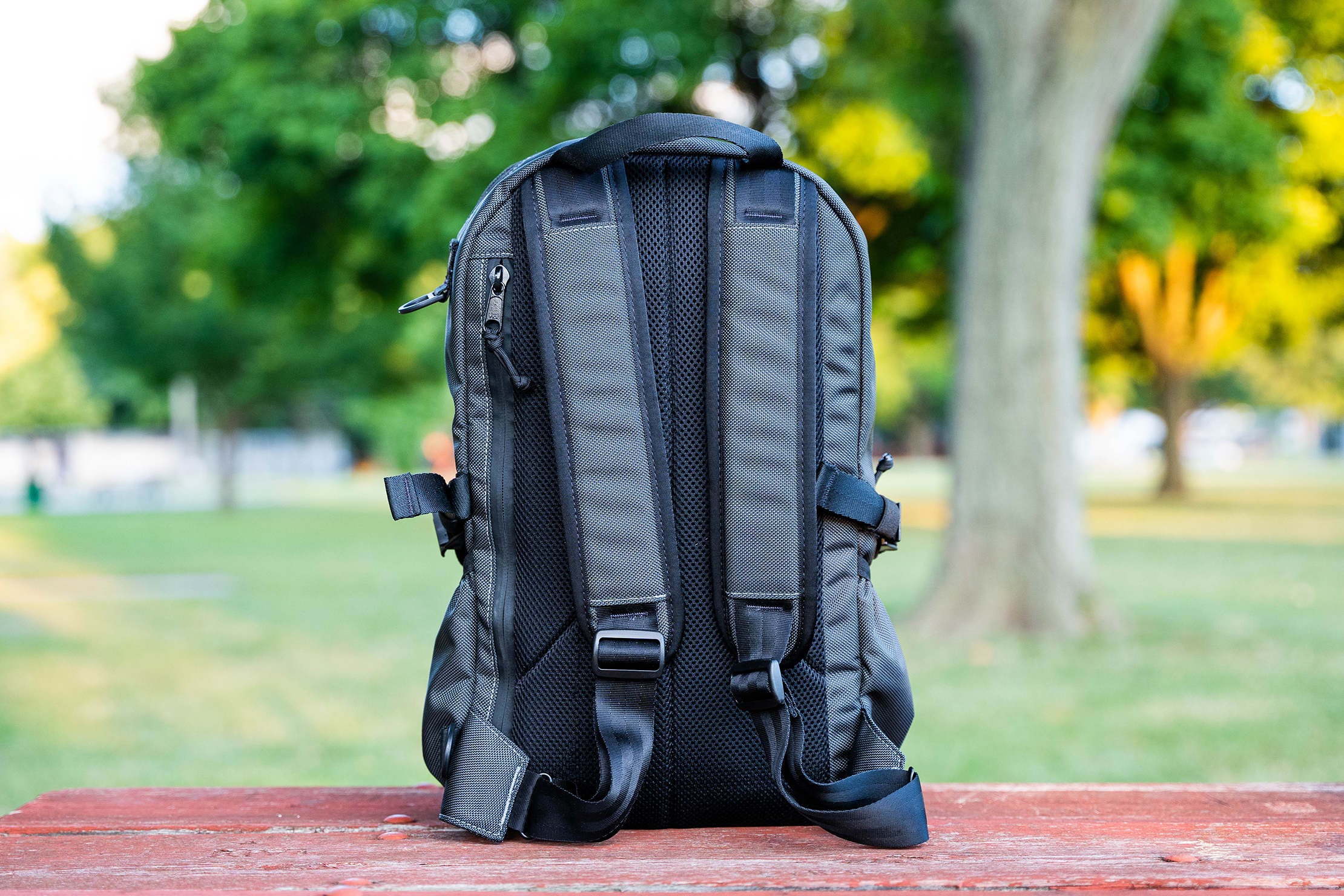 Since the Dashpack and its 15-liter size isn't really meant to be a heavy hauler, we don't expect a super beefy harness system. The shoulder straps have good width and adequate padding. However, we do get a slight feeling that it's a bit too thin, at least in looks. That's not to say it isn't comfortable, as we'll discuss later.
You get some reinforcement along the top that's made of a soft seatbelt-like material. The shoulder straps themselves use Evazote foam, which feels relatively dense here, albeit thin-looking, as we mentioned earlier.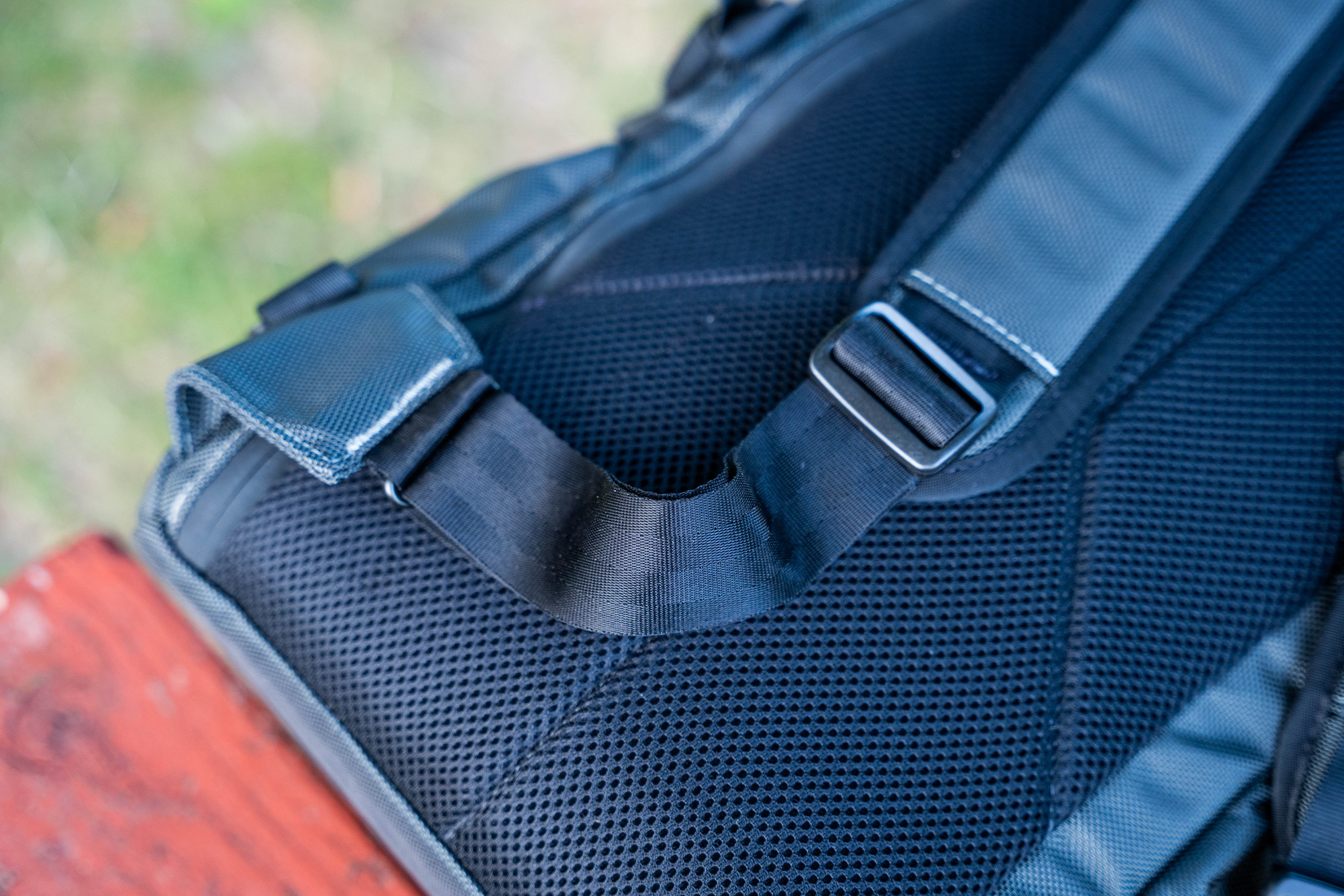 Adjustment is made through Duraflex Sliplok buckles. What makes these buckles special, you ask? In typical shoulder strap designs, the adjustment straps are stitched to the bag and looped into buckles that are on the shoulder straps themselves, leaving the dangly parts that you pull on to tighten them up. Whereas on the Dashpack's Sliploks, the adjustment straps (that's the seatbelt-like portion) extend from the shoulder straps, loop into anchors on the bag itself, and are mounted to the shoulder strap via the Sliploks. This leaves no dangling bits and, therefore, a cleaner look.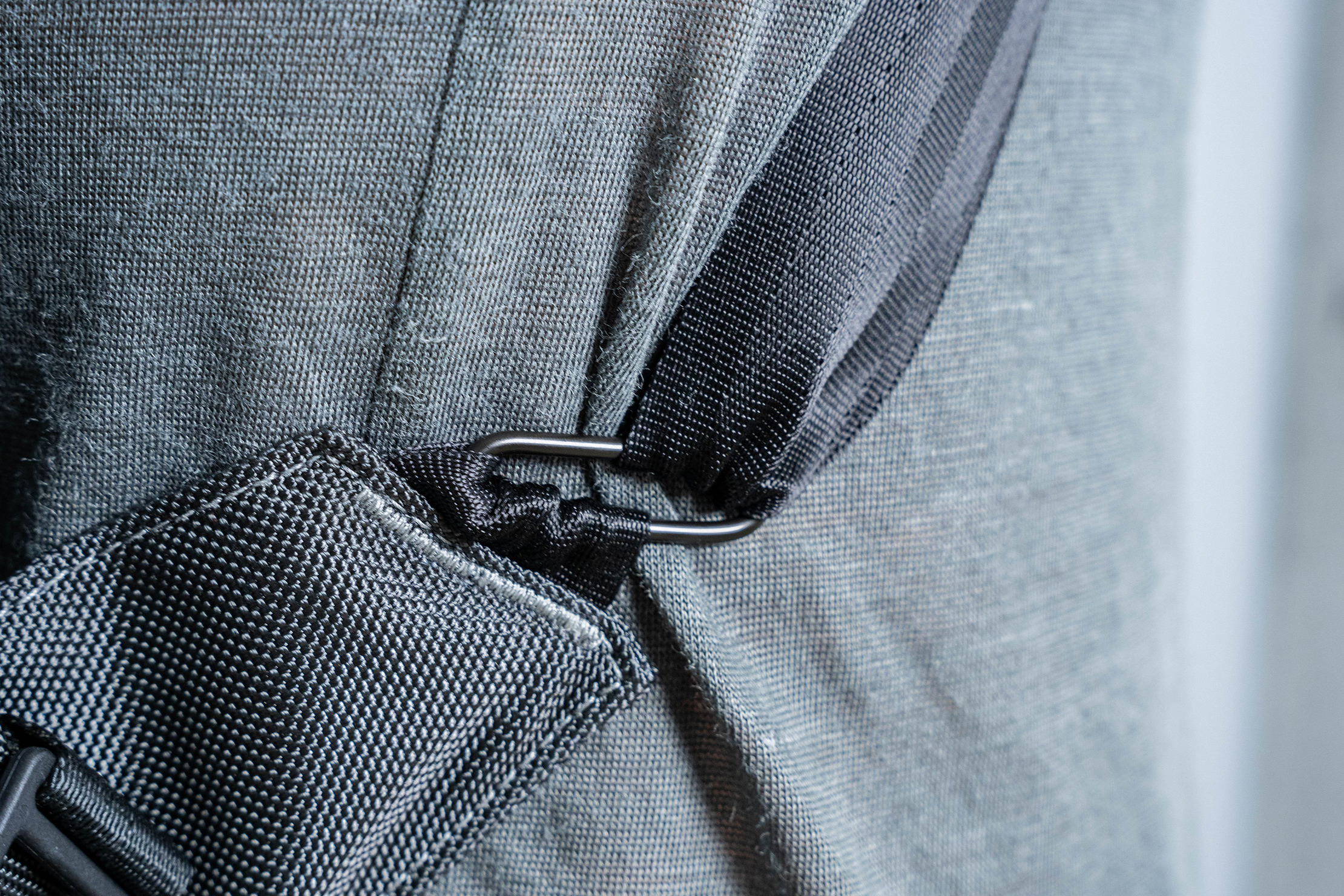 We dig the idea in theory since we're huge fans of the #danglefree look. However, the strap is prone to kinking and jamming on the anchors once tension is applied (i.e., once we're wearing the bag). This means making adjustments is rather difficult, so do it before you have the pack on.
The underside of the shoulder straps and the surface of the back panel are both covered in breathable mesh. Our standard disclaimer applies here: mesh helps in keeping the air flowing, thus preventing a sweaty back, but if it gets hot enough, it's still inevitable. The back panel itself has dense padding similar to the shoulder straps. Despite the Dashpack's size, it has good structure, and it shows prominently with the back panel.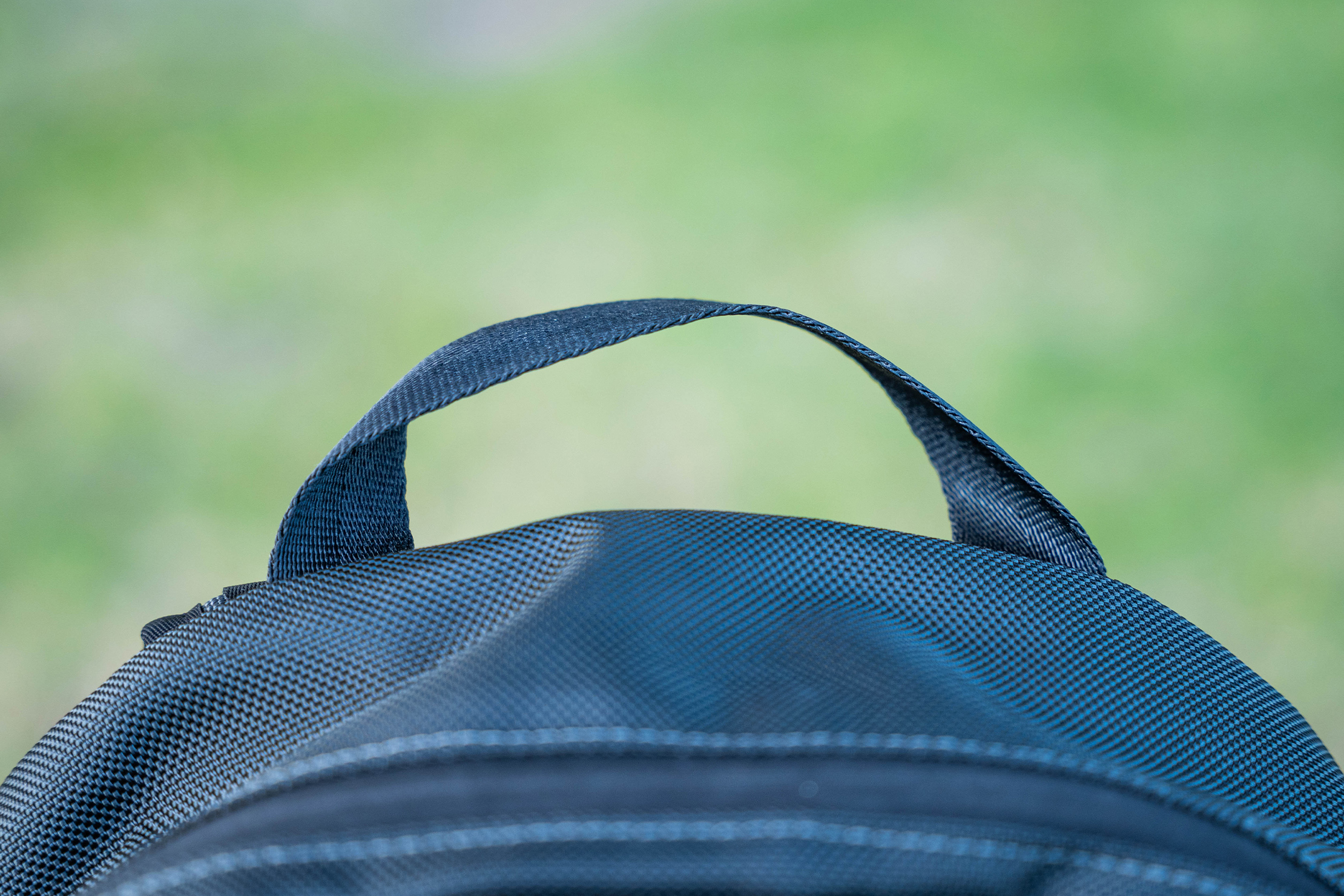 The Dashpack also comes with a typical nylon handle at the top. There's nothing much to note about it, other than it uses the same soft seatbelt-like material found along the shoulder straps. It's not anything fancy, though it gets the job done and is easy to hang on shallow hooks.
Fit Notes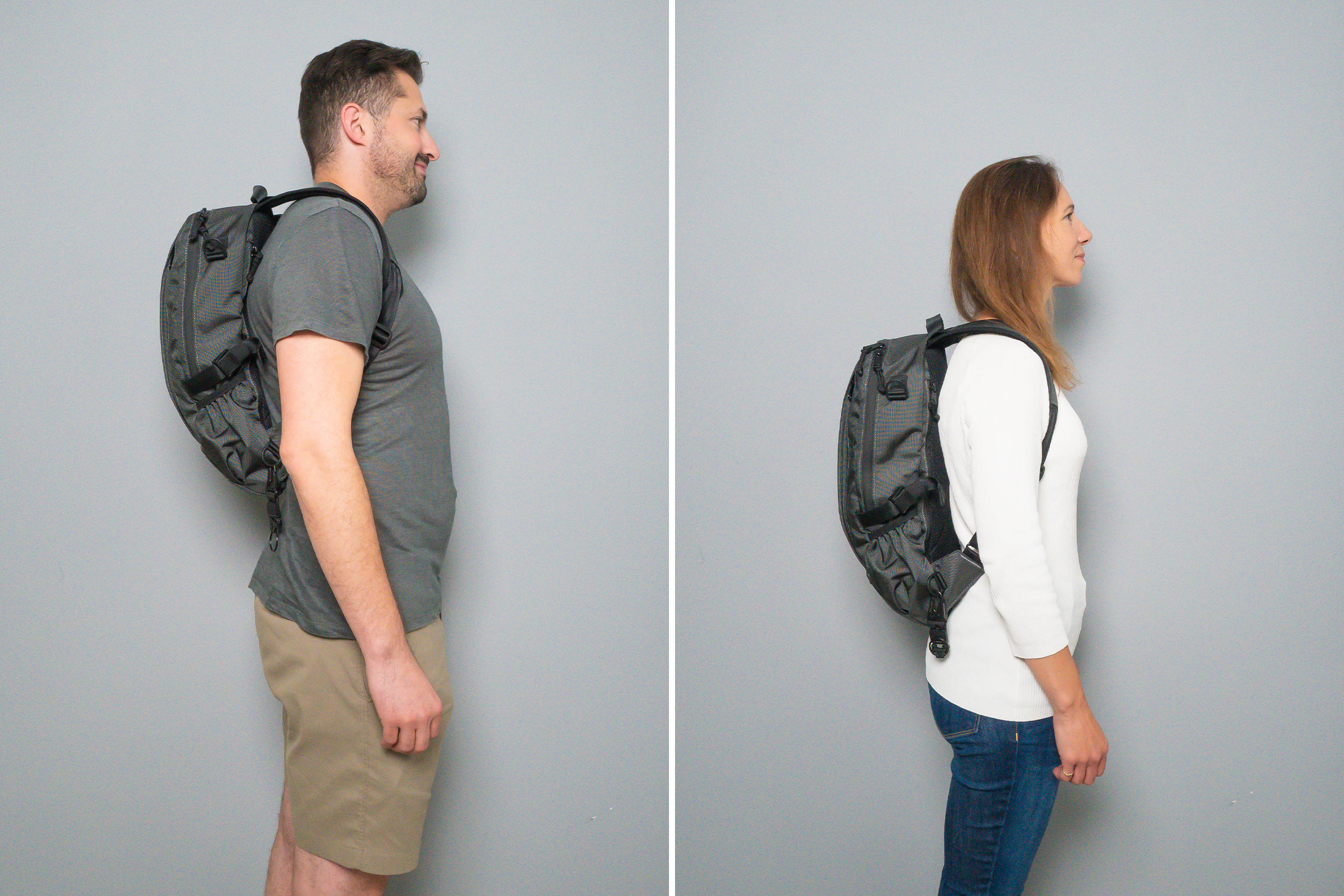 Thanks to the Dashpack's shades of gray appearance, it looks rather smart and sleek to wear. You might even say it's a dashing-looking backpack to wear around the concrete jungle that is a city. It also doesn't look too small, certainly not comical on larger-framed users like some of us here at Pack Hacker HQ.
From some angles, the Dashpack may even look higher capacity than it is. Once you look at it from the sides, though, you get an idea where that impression is rooted. The bag's outline curves down gently from the top, giving it more coverage without the extra depth that makes other backpacks feel back-heavy or saggy.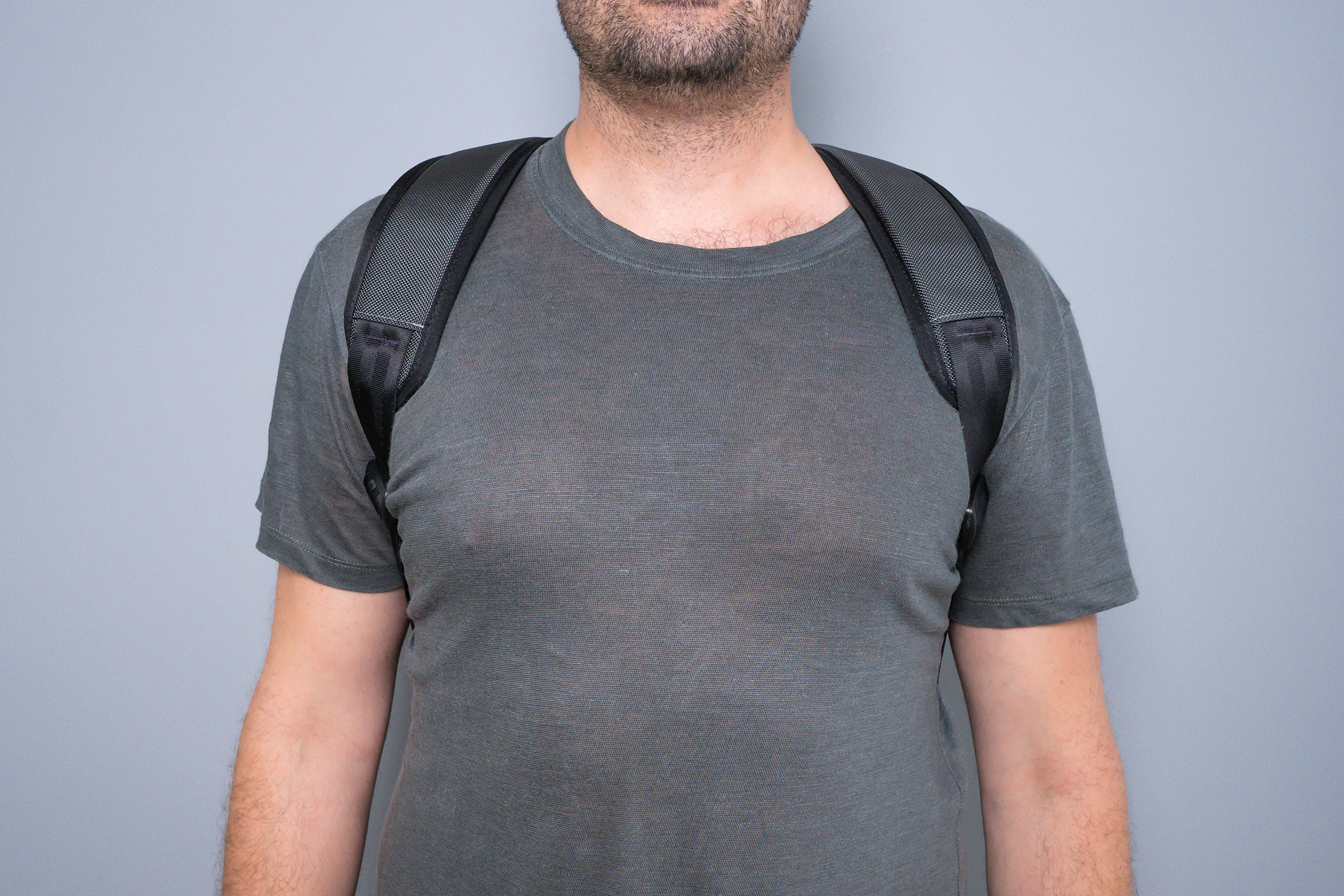 Going back to the Dashpack's harness system, we do find the shoulder straps' padded portion too short. While we usually like our backpacks tightened and sitting high, a loaded Dashpack wears more comfortably with a loosened harness system. Consequently, the padded portion slips more to the back, bringing the thinner seatbelt straps closer to the shoulders. The area where the two parts of the strap meet can start to dig in, and it's hard not to notice once you do.
All of that said, while we do notice it digging in, it's not something that bothers us too much; the fit and carry of the Dashpack are still comfortable overall.
Inside The Backpack
The first of the Dashpack's interior sections we're looking at is the laptop compartment. Yes, this 15-liter backpack gets a dedicated compartment just for that purpose. It's rated for up to a 15-inch laptop, though a 16-inch MacBook Pro fits just as well. There's barely any wiggle room left, however, so your mileage may vary if you're using other 16-inch laptops. Needless to say, there's really no room left for a false bottom, so be mindful when setting the Dashpack down.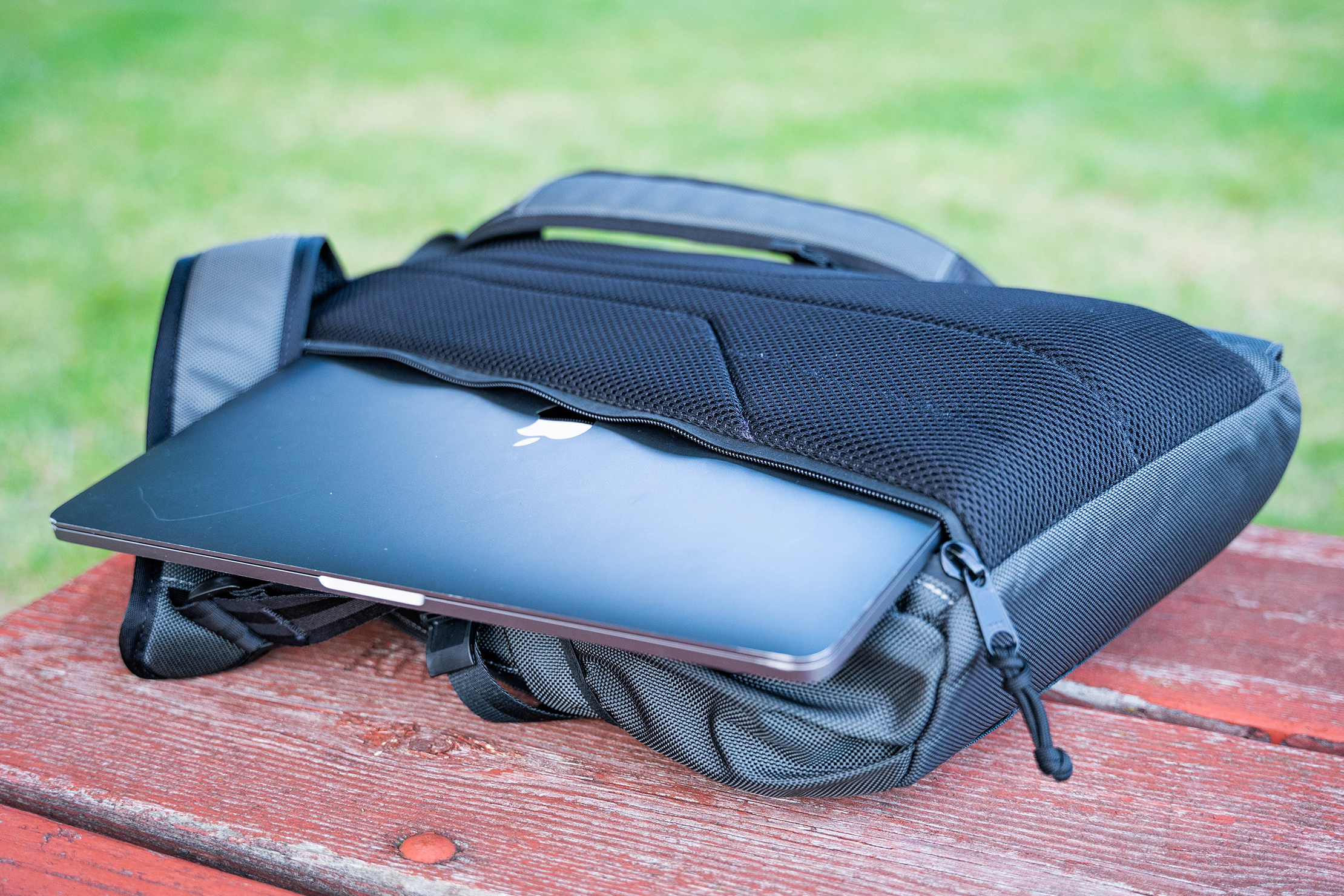 The laptop compartment's opening is located along the left side of the back panel. It's worth noting that unzipping the weather-resistant YKK zipper goes top to bottom, where it's partially obscured by the left shoulder strap's anchor point below. As for inserting a laptop like our MacBook Pro, we still have to get the zipper's lip over the edge in order to close it properly. Overall, the tolerance is a bit tight, but considering the Dashpack's size, it's more than forgivable.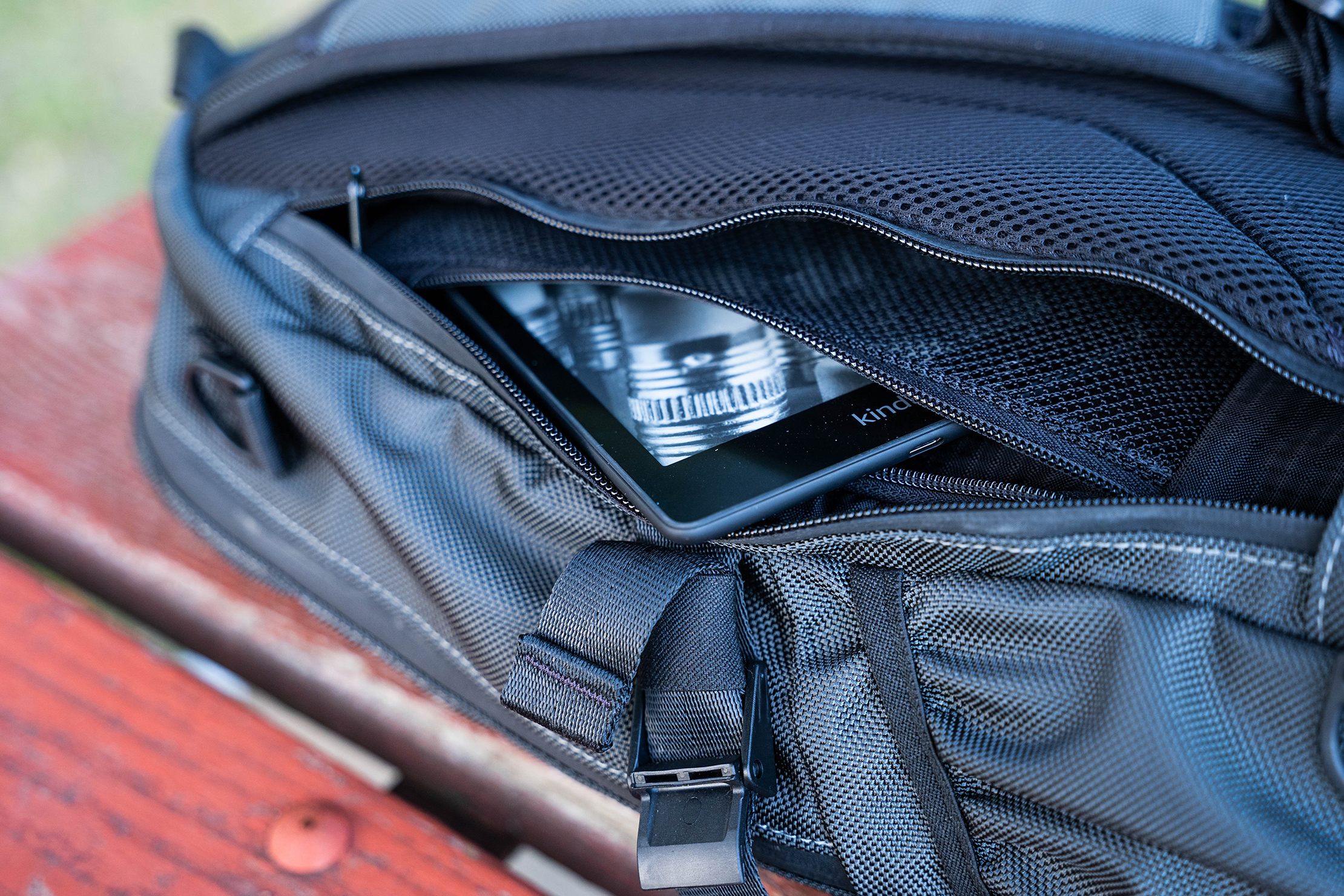 Given the relative tightness inside, you may think ARKTYPE just left it as just that—a laptop compartment. However, they also put a zippered mesh in there for good measure. It's really only optimal for flat gear like a tablet, but we appreciate the extra bit of organization.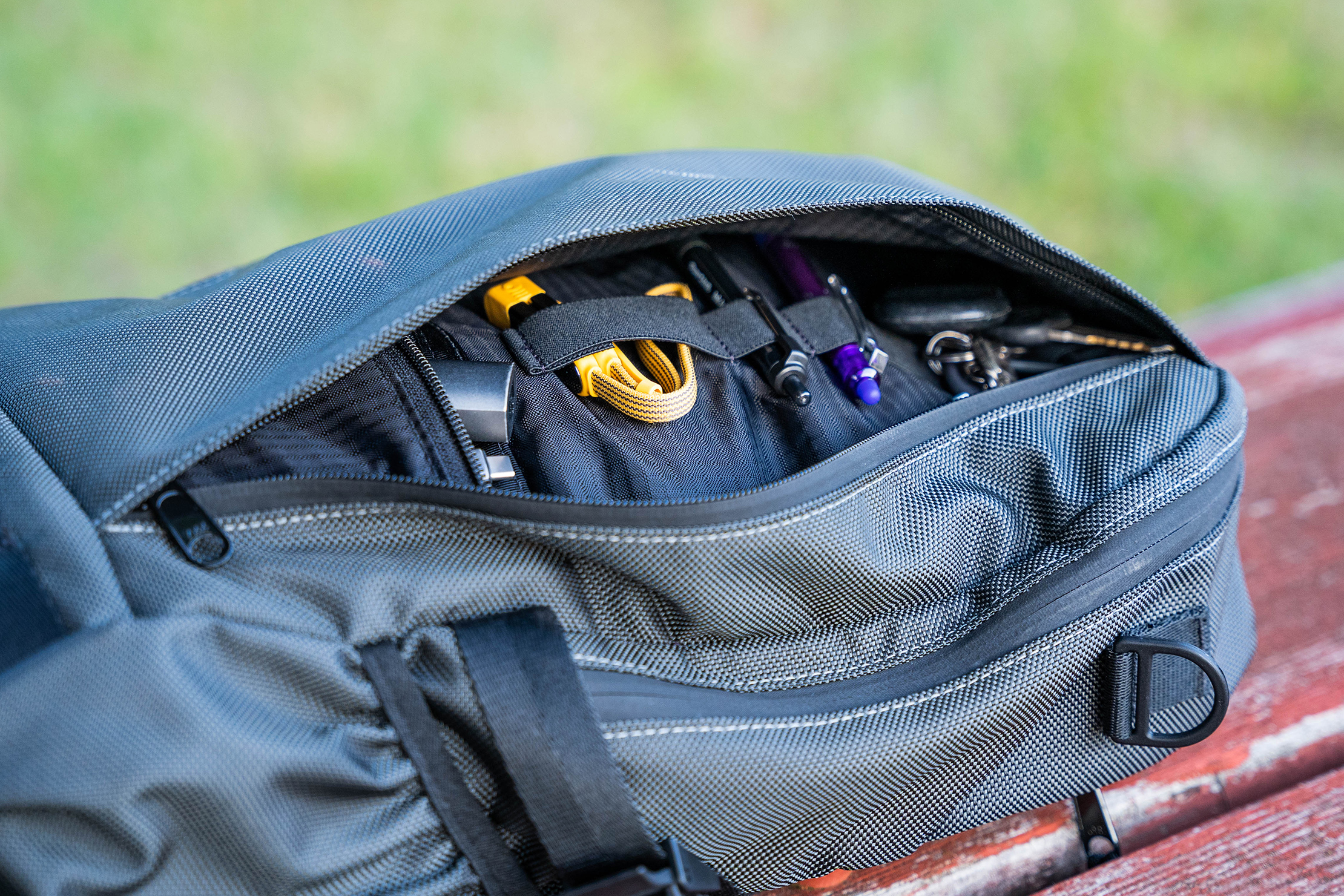 The front pocket similarly opens from the side, this time from the right, and it's stealthily hidden by a fabric welt. Inside, you get a fair bit of organization, mostly through elastic loops. Because of the sideways orientation of the pocket, the loops and the accompanying D-ring are also facing that way.
Our main gripe with the front pocket is that since most of our gear is free-floating inside, anything attached to the loops can get jostled around. We recommend using small and slim pouches for further organization and limiting the use of the loops to gear that you're certain will stay in place. There's also a zippered liner pocket along the bottom, though it's relatively tricky to access.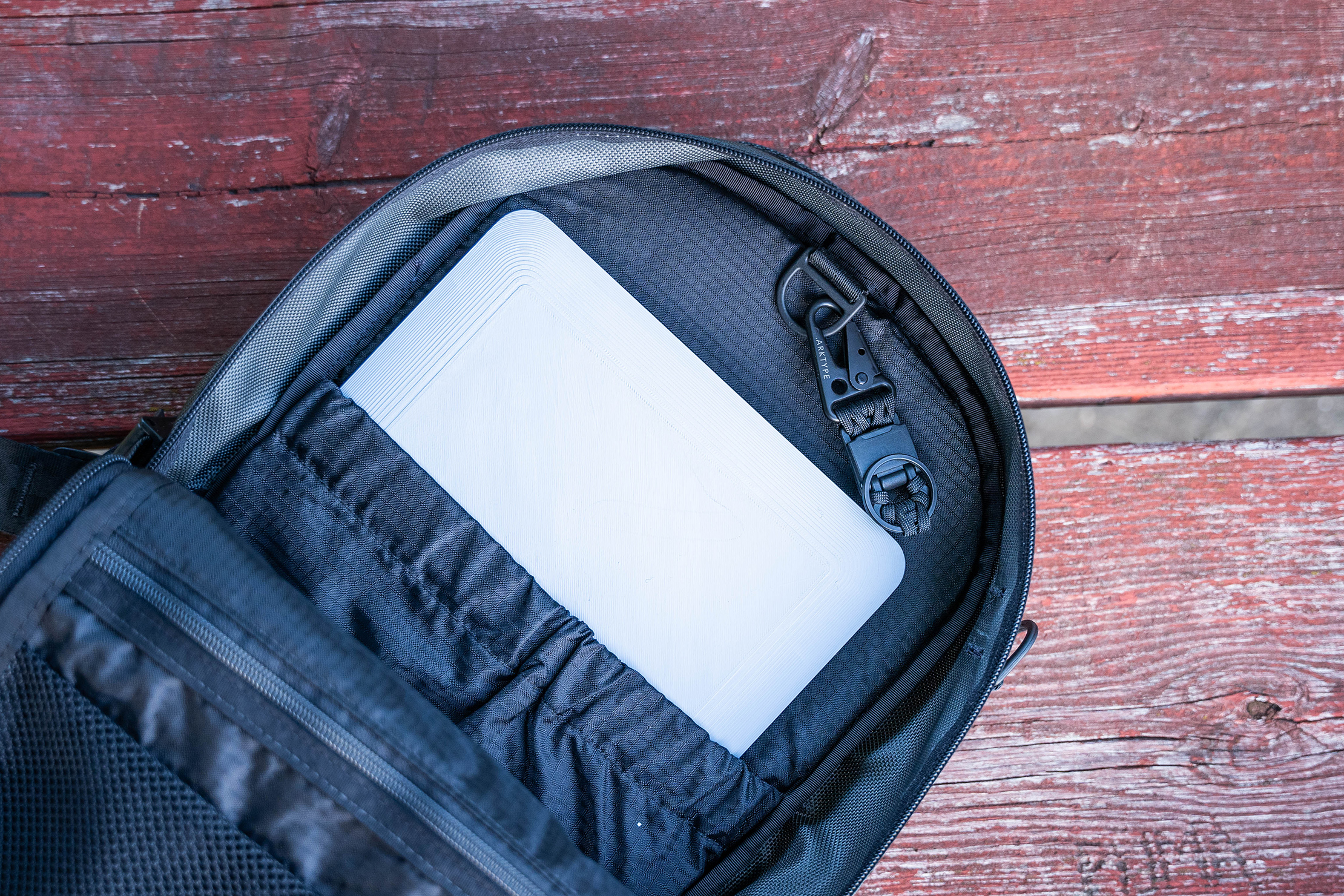 Now we arrive at the Dashpack's main compartment. We dig the layout ARKTYPE went for here since it feels cavernous. There's a slip pocket at the back where we can put our MacBook Pro from earlier, but that's really the only segmentation here. For the most part, the main area remains open and free to manipulate through packing cubes and pouches, easily accessible through the horseshoe-style opening.
If it's another D-ring you want, it's another D-ring you'll get. There's another just above the rear slip pocket. You can use this if you don't feel like putting your keys on the D-ring in the front pocket. Just bear in mind that they might scrape your laptop if you use the rear slip pocket for that purpose.
On the subject of the rear slip pocket, you can use it to separate bulky gear, though we find ourselves using it for our laptop since it's a tiny bit suspended, granting it a false bottom. Overall, you have two choices for laptop storage: the dedicated laptop compartment that's quicker to access but without a false bottom or the slower-to-access main compartment rear sleeve that's suspended—the choice is yours.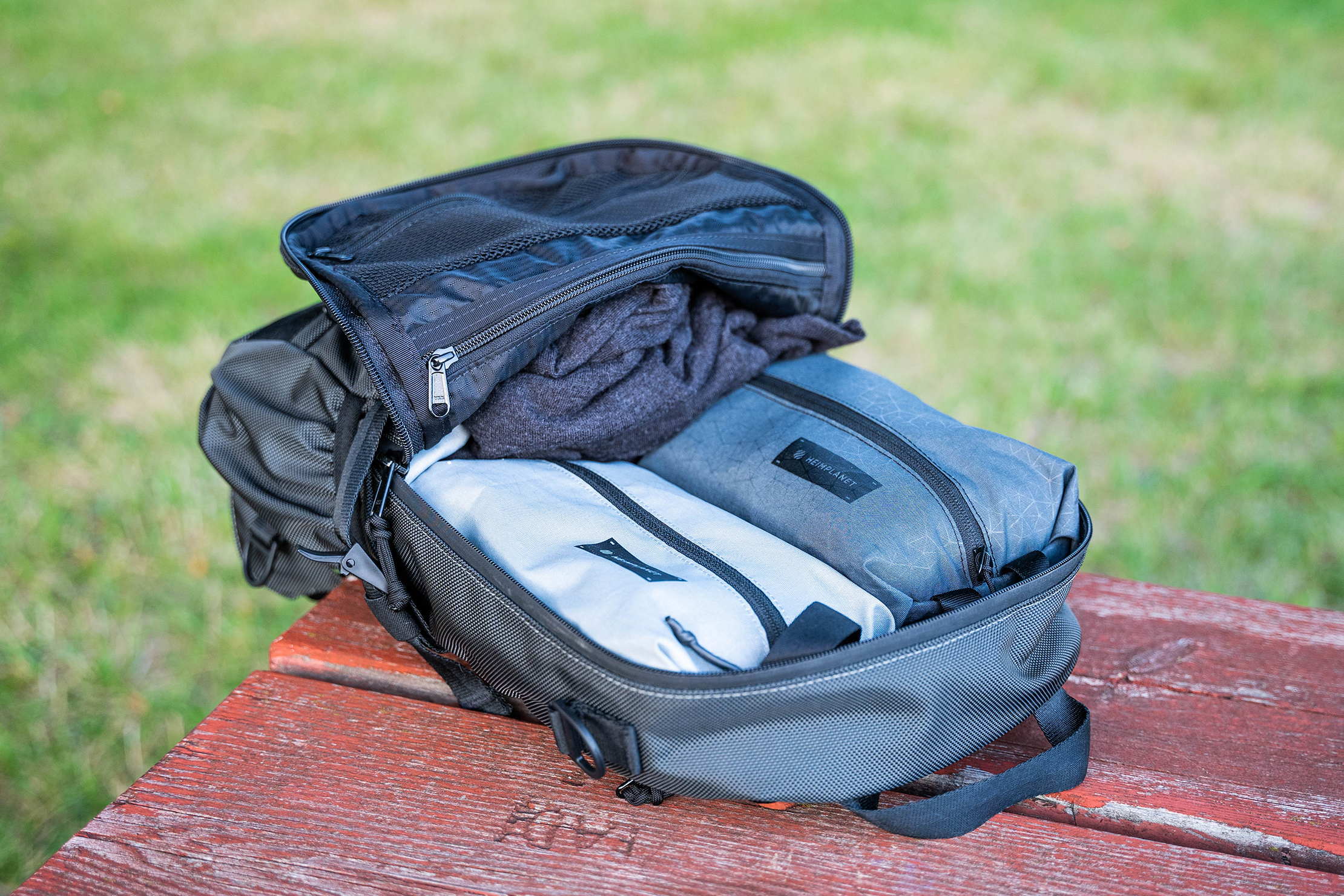 You get more pockets on the front side. At the top is a zippered mesh pocket, followed by a zippered liner pocket below it. Our Kindle fits in both, though it's more of a squeeze for the lower pocket. In general, though, both pockets are more than enough to get travel items like a passport, cash, or some medicine sorted.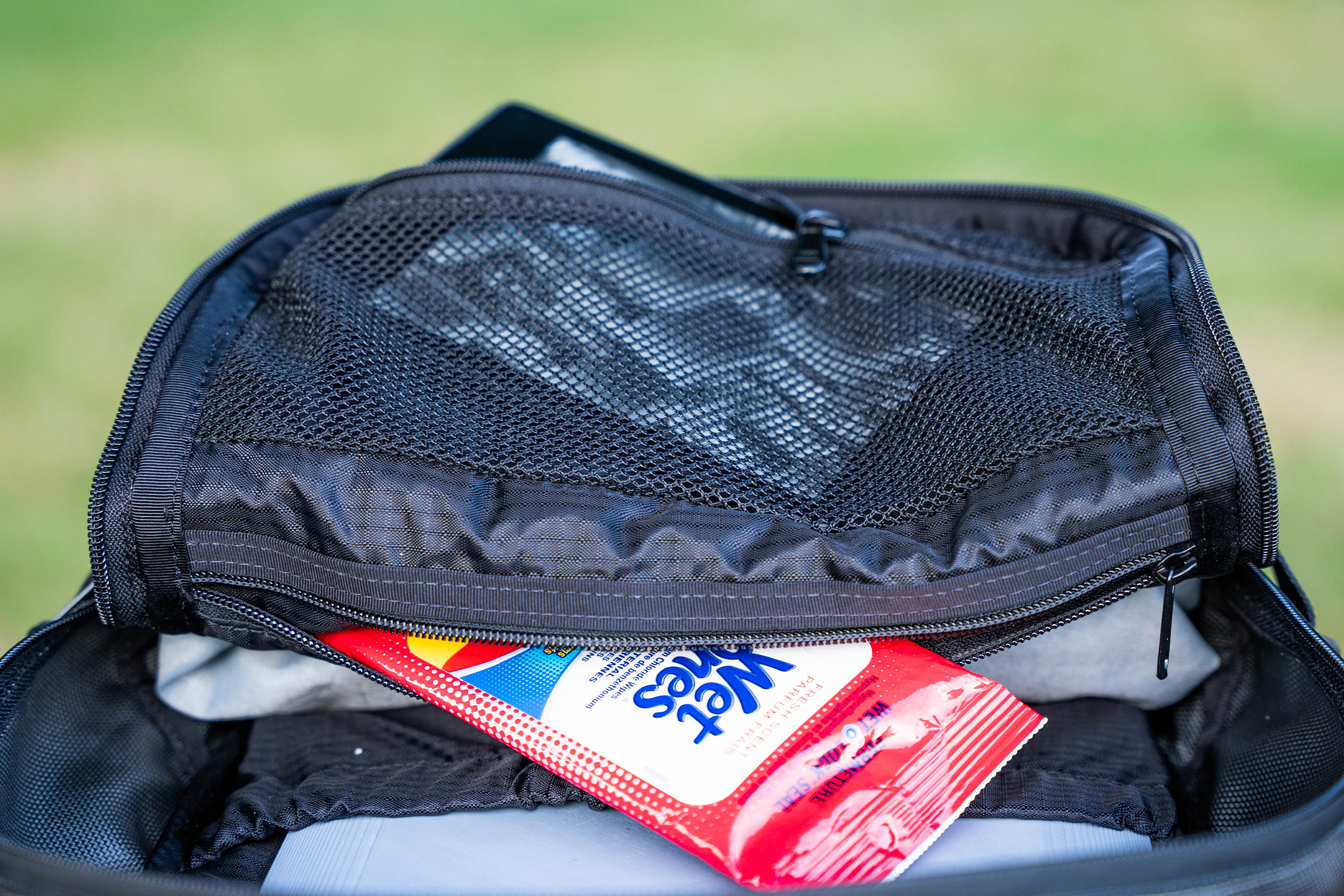 In spite of its humble 15-liter size, the Dashpack doesn't feel inadequate in terms of space. We're able to enjoy it as a weekend travel backpack. Sure, it does take some packing skills to make use of the limited space, but ARKTYPE does a splendid job maximizing it without sacrificing organization. We also like the dangle-free harness system, though we also think it could use some refinement, so it feels more optimal to carry.
Usage Timeline
Initial Usage
Condition: Excellent
Digging the thinner profile of this bag
Straps feel a bit thin, but it's enough padding for a small 15L pack
Unique strap adjustment design that doesn't allow for dangling straps—that's a plus in our book
Bottle pockets are small but hold a Hydro Flask nicely
Webbing is thicker than standard PALS webbing for MOLLE accessories, so some of our standard accessories don't work well on it
2 Weeks of Use
Condition: Excellent
Padded portion of strap is a little short, though the dangle-free adjusters for it are nice to use
MacBook Pro 16″ barely fits in the back laptop compartment, but it does!
Zippered pocket inside of front pocket is hard to access
High-quality materials and built like a tank
Access the Pro Community Discussion
Get your questions about the ARKTYPE Dashpack answered from our team and the Pro Community right here on the page. Plus, join discussions with other members about gear, guides, and more.
Other Bags & Luggage Reviews