Arc'teryx Patera Parka Review
The Arc'teryx Patera Parka balances a city-sleek look with warmth performance, but it can get a bit fussy if you're particular about function.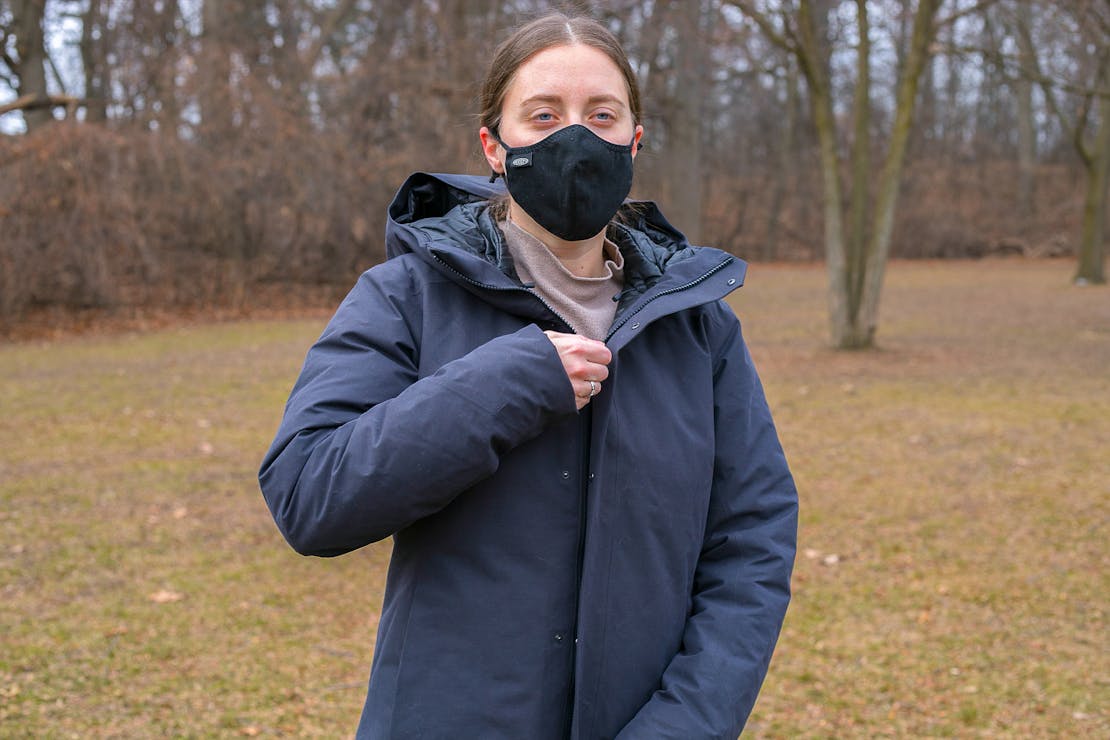 Our Verdict
Unlock the Pro Summary
Save time. Get access to brief summaries of our reviews so you can browse and make decisions more efficiently.
Pros
Sleek design with little visible zippers or hardware
Durable, flexible, and lightweight fabric inside and out
Cinch cord hood and neck gasket can add extra coverage
Cons
Hood is challenging to take on and off when jacket is fully zipped
Two-way zipper often unzips from the bottom
Awkwardly placed neck gasket can get in the way
Recent Pack Hacker Video
Technical Details
Weight (oz)

31.9 oz (904.3 g)

Notable Materials

GORE-TEX, Goose Down, YKK Zippers, Polyester, Nylon

Manufacturing Country

China

Warranty Information
Full Review
Best in city conditions, the Arc'teryx Patera Parka is a casual jacket designed to be warm in fluctuating temps and protective against biting wind and rain. It's versatile enough to carry you through quick errands or long walks on city blocks but definitely isn't a go-to for technical hikes or sports. It has a sleek, minimalist look that's hard to find in a parka and is warm enough to get you through long Michigan winters.
It's said that a good jacket is an investment, but the Patera's hefty price definitely had us wavering a bit. Arc'teryx isn't known for being budget-friendly, but what they lack in approachability they make up for in product quality and innovation. So, can this jacket make you forget all about the price tag in favor of many warm winters to come? We've got some thoughts.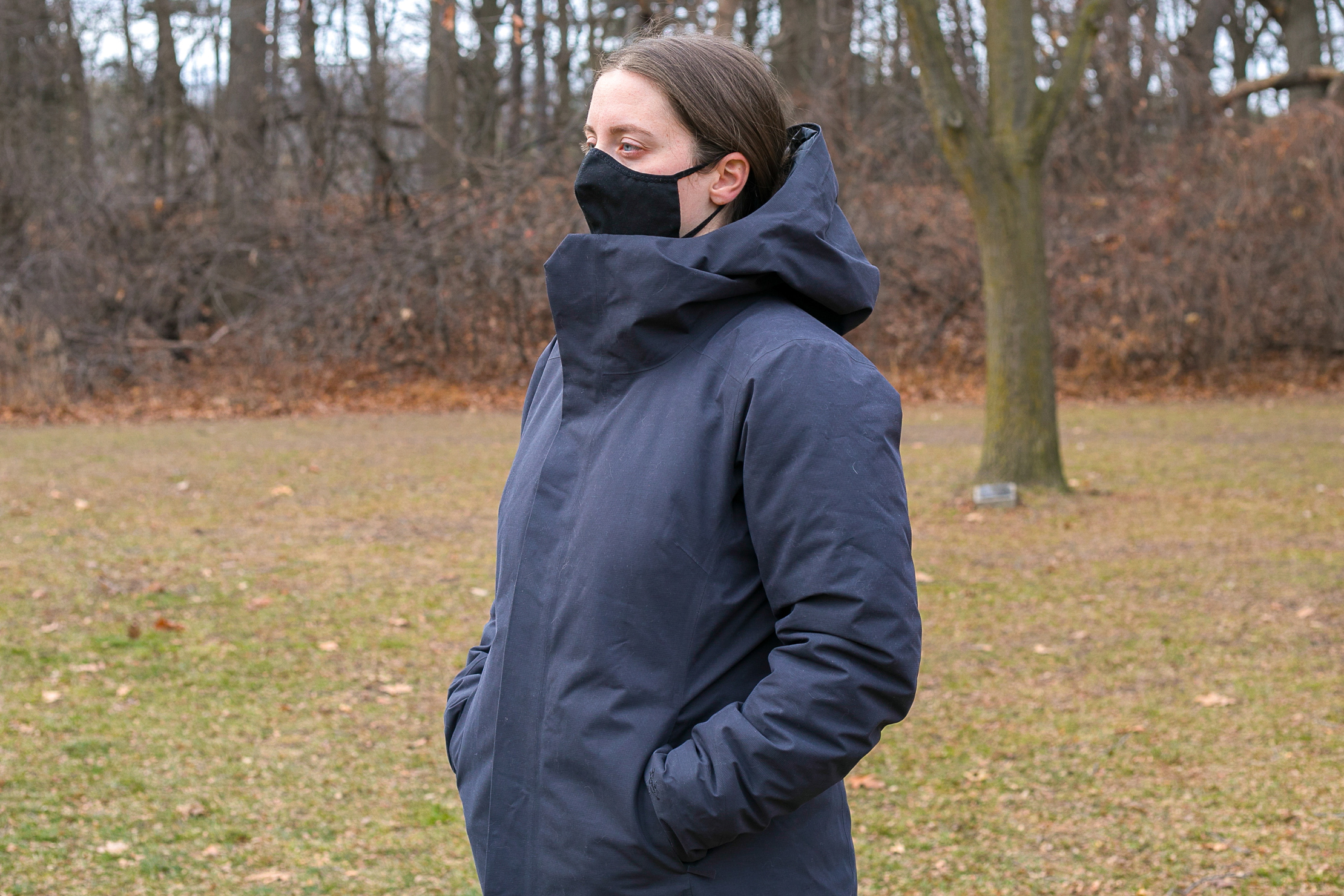 Materials & Aesthetic
The first thing that struck us about this jacket was its look. It's nothing flashy, just a basic jacket with basic features that you can find almost anywhere, but that's what's best about it. A jacket that's free of external hardware and isn't a puffer is surprisingly tough to find. There's also no super visible branding, only a little embroidered logo on the left wrist.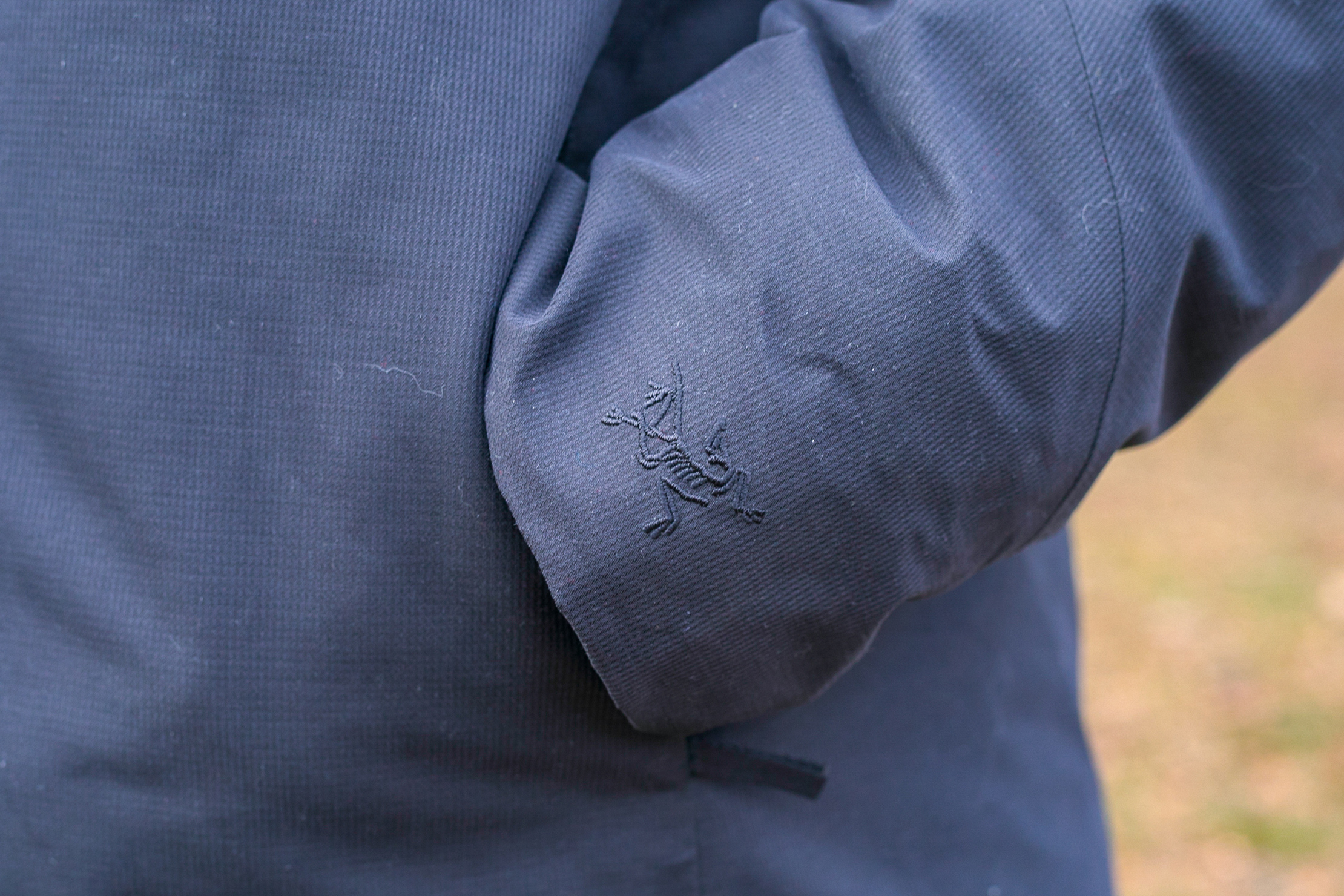 All of the zippers are hidden, giving the jacket extra clean lines without skimping on storage. There's even an internal hidden pocket, which is a big win for women's clothing, as it's often left out of the pocket conversation entirely.
The silhouette isn't bulky at all, so we were surprised to find that there's more than enough room to fit thighs with a little extra oomph on them without altering the jacket's natural knee-length design. It comes in a little at the waist to give you some shape without any cinching or belting that can over-exaggerate your figure and just end up uncomfortable when it comes time to layer. The straight cut extends out enough to give you mobility for sitting or squatting comfortably.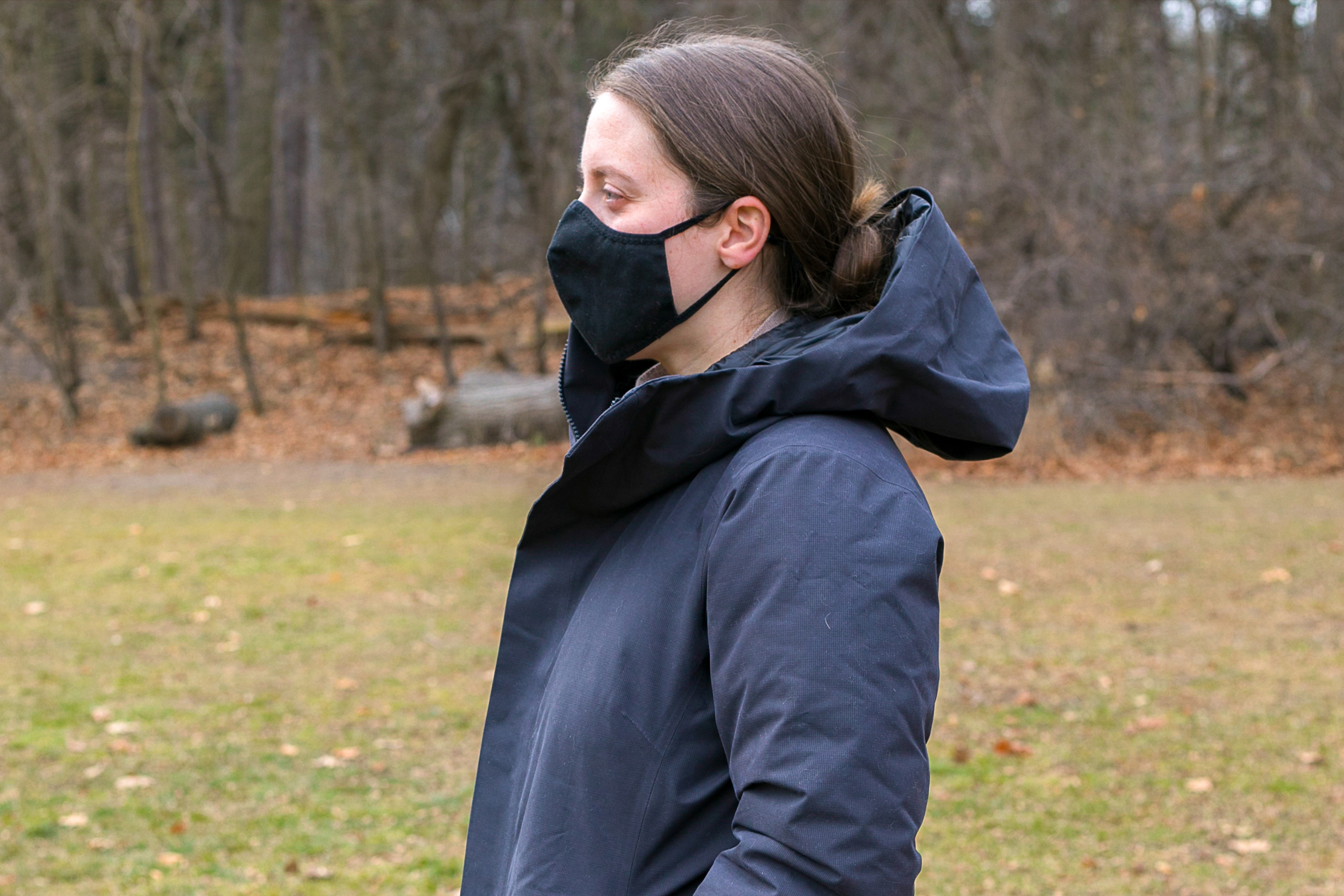 A blend of 750 fill power European Goose down (in the arms and torso) and synthetic insulation in other vulnerable areas (like the neck gasket and hood) is more than enough to keep you warm in wind, rain, snow, or on a grossly cold day. All you need to do to stay comfortable is layer accordingly, meaning lighter layers on warmer days and a few thicker ones when the temperature drops.
One thing we appreciate about this jacket is the blend of materials inside and out. The poly blend liner is slick and soft without being cold while the matte-like polyester shell is equipped with GORE-TEX waterproofing and feels durable to the touch. We're not worried that the structure will crinkle beyond recognition if we sit too long on public transit, but we also wouldn't go too ham and expect it to come out unscathed. That being said, we got ourselves into a sticky situation on a winter hike and had to go back down a snowy hill butt-first and the jacket came out on the other side without a scratch, so we're fairly confident it can take a beating if necessary.
This jacket comes in a few basic colorways to satisfy a neutral palate but doesn't offer any flashy options as of now. The black looks pretty dark online but is definitely more grey when compared side-by-side to other black clothing. We'd liken it to a pair of black jeans that fade a bit after you wash them; they're still clearly black, but then you buy a new pair of jeans and look at the old ones and say, "I need to either dye these or retire them." Not that we're speaking from experience.
Features & Usage
From top to bottom, the Patera works to balance form and function. Two zippered hand pockets are deep enough to hold more than just an item or two and are easy to shut with bulky gloves on. We were able to shove a phone, wallet, chapstick, and keys into one pocket, but we did run out of room for hands and ended up making some adjustments. The internal pocket fits credit cards, a photo I.D., and a cell phone. For sizing reference, the iPhone 11 Pro Max fits snug in the pocket with a few millimeters between the case and the seam to spare.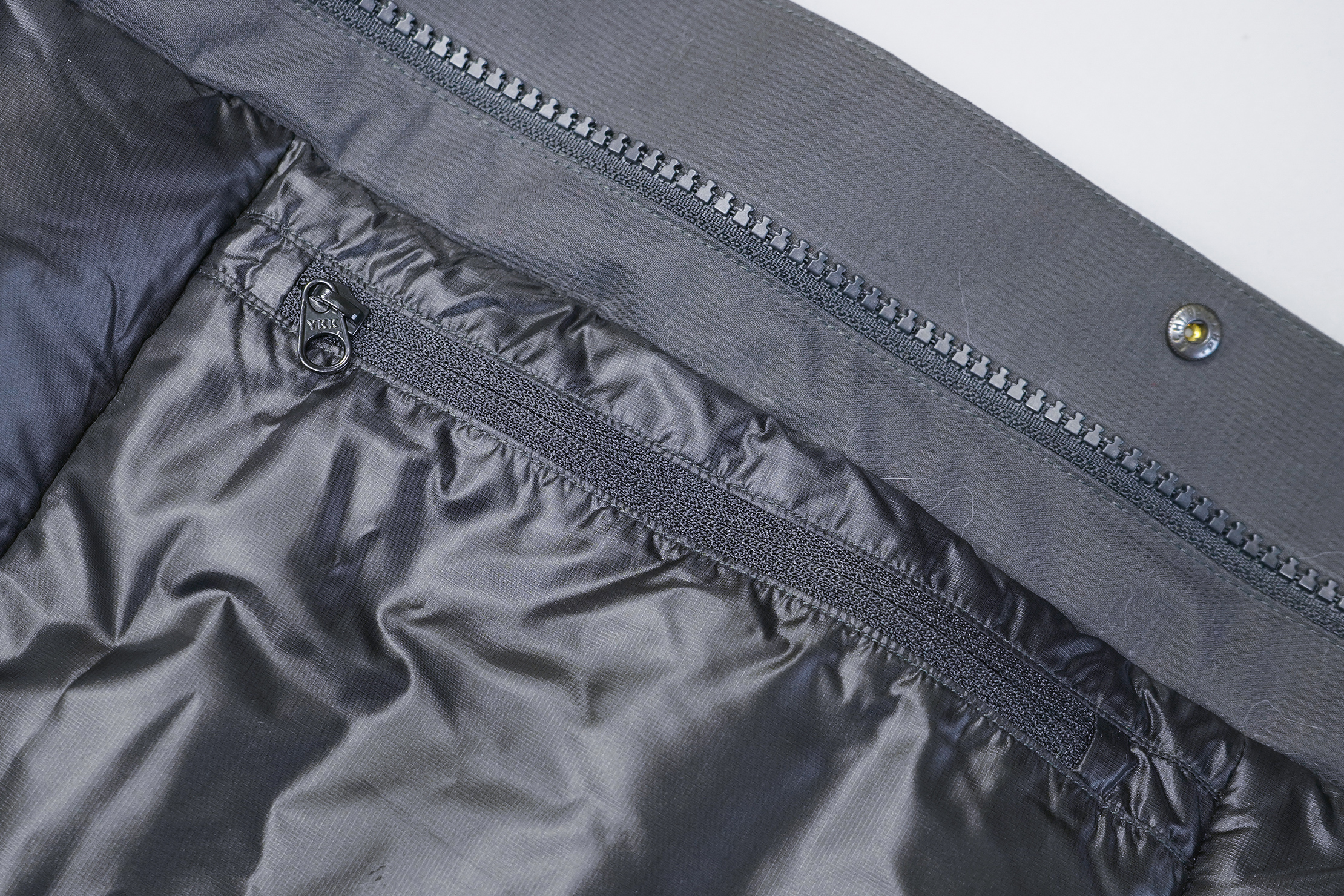 The front two-way WaterTight™ Vislon zipper is covered by a placket that can be snap buttoned from the neck gasket to about 5.5" from the bottom seam of the jacket. That bottom button has come in handy more than once, as the zipper ends almost a full 10 inches from the seam and leaves a lot of room for wind to blow in. This makes the jacket feel shorter than it is, so if you're looking for a jacket that's going to keep your thighs mega warm on your winter walks you'll probably want to look elsewhere.
Because buttons aren't as secure as a full zipper (obviously), you still run the risk of popping the placket open mid-walk and shuffling to snap it back in place on the go. It doesn't happen often, but it can be quite a nuisance when it does. We also had issues getting the zipper to cooperate if it wasn't lined up perfectly. Two-way zippers are great for increasing mobility, but the jacket is short enough that we hardly found ourselves using it so the issue ended up being an unnecessary frustration.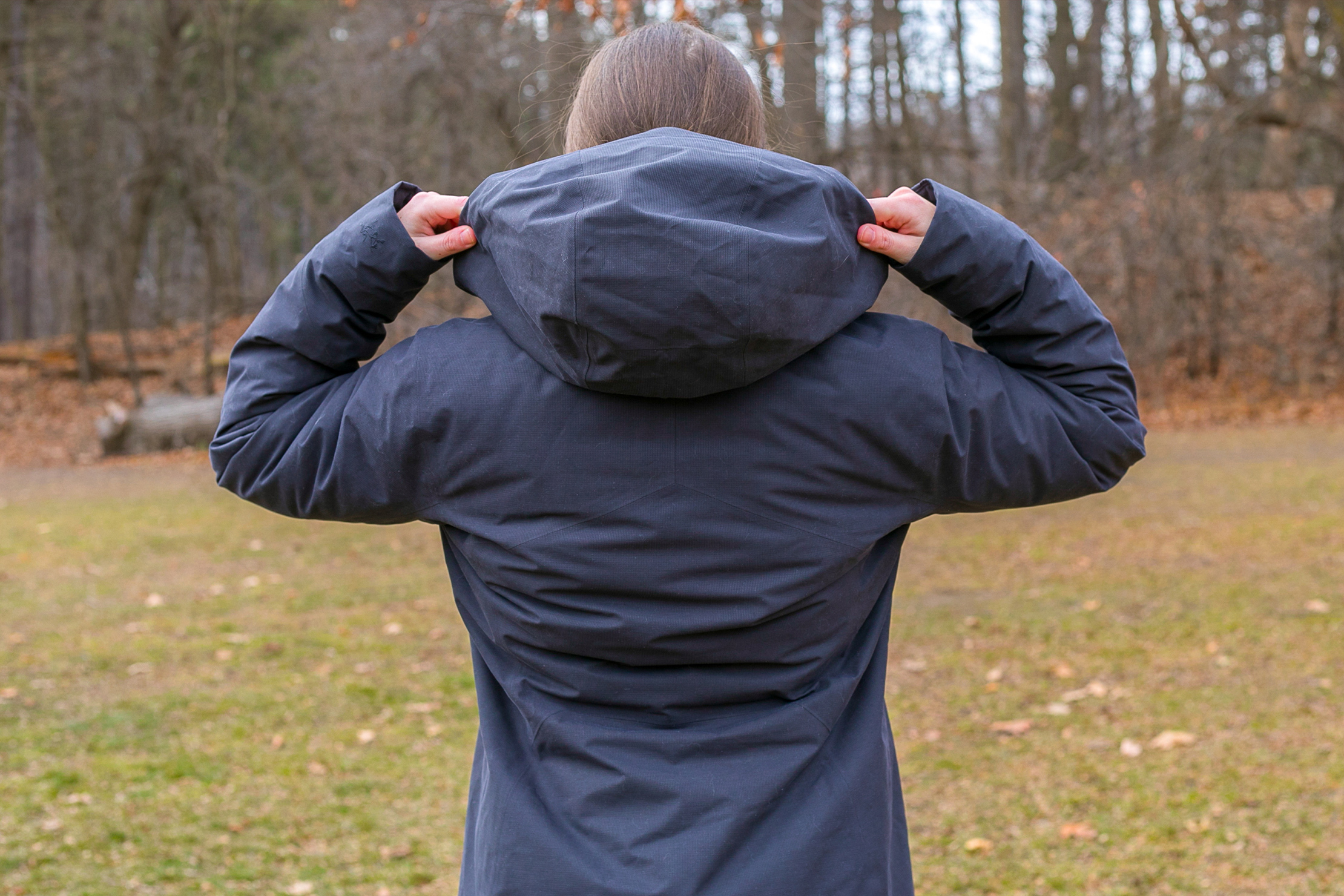 As for protective features, the hood is lightweight and has a very subtle bill that keeps its structure. It won't fall into your face and block your vision or slip back off your head, but if you're worried, cinch cords on the inside of the jacket and back of the hood give you the option to tighten it to keep it up during super windy or cold days. However, we did find that there was a bit of catch on knit caps or beanies because the hood itself is pretty narrow when paired with the fully zipped neck gasket. It's also tough to get the hood up when the jacket is fully zipped.
Speaking of, we have a bit of a love-hate thing going on with the neck gasket. While it's great for blocking wind in a pinch, we found ourselves not relying on it because it's pretty stiff and at a somewhat awkward height. It constantly bumped against our chins and made it hard to carry on conversations (or mouth-breathe).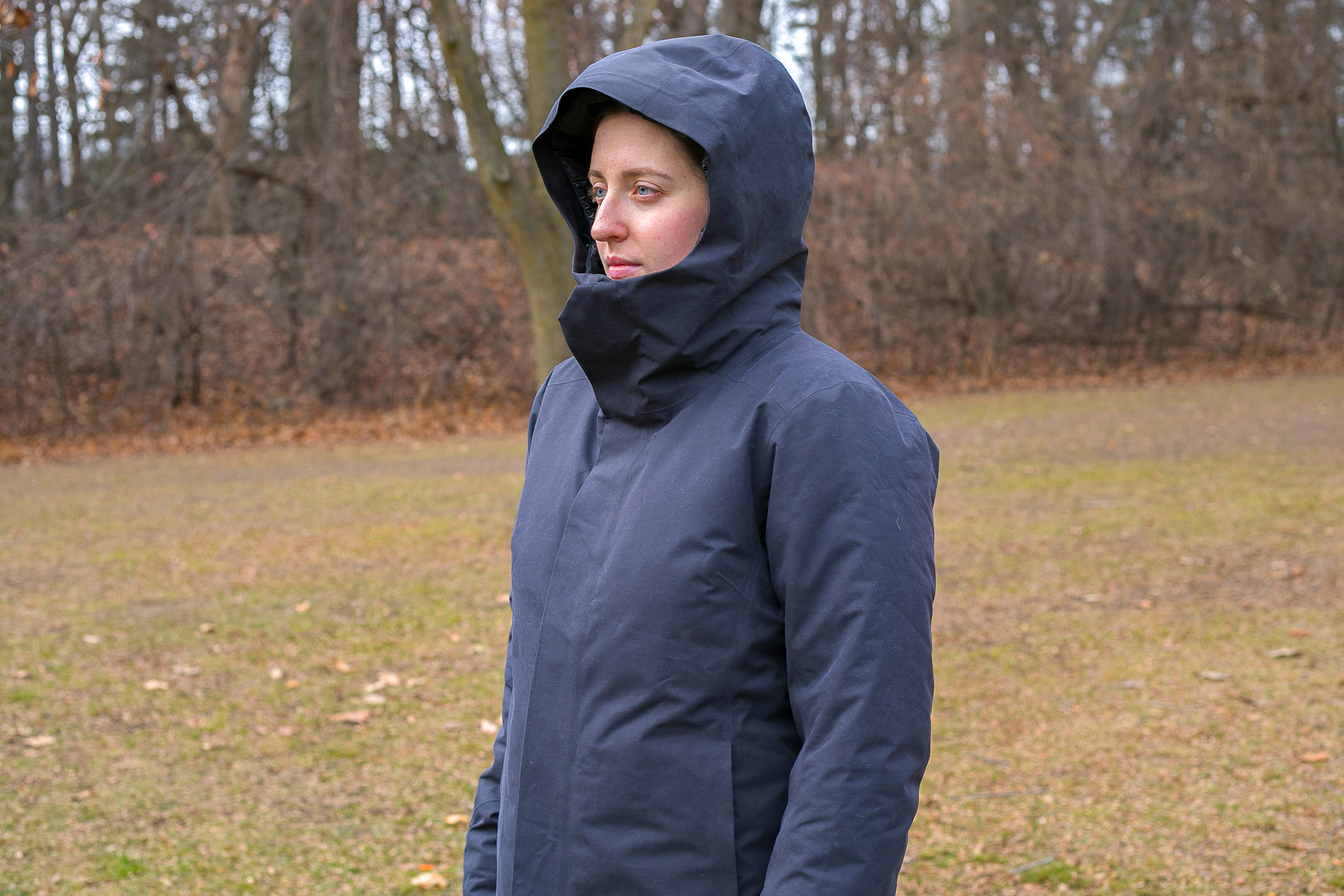 On the plus side, the sleeves are a dream. The wrist gaskets are soft and really lock onto your wrist size while the shaped cuffs give you extra room for hand protection. We could easily put on thick gloves without struggling to tuck them beneath the cuff. There wasn't a single moment where our wrists felt any cold air.
While this jacket isn't particularly packable, it's lightweight and thin enough that you can bring it on trips without cursing the extra bulk and durable enough for you to feel confident crunching it up a little if need be.
With two months of use under our belt, this jacket has seen us through some pretty moderate and pretty gnarly weather. We've found that it's fairly breathable and efficiently regulates our body temps in both 40° and 15° Fahrenheit (4° and -9° Celsius), whether we're just taking the dog on a leisurely walk or really motoring to get to the bakery down the street before they close.
Overall, the Patera lives up to its hefty price tag with its timeless, sleek look that's hard to find, versatility in months of shifting weather patterns, and simple features that go a long way without trying too hard to do so. But, if you're an ultralight traveler who needs packability above everything else, there are other equally warm jackets that will do the job.
Usage Timeline
Initial Usage
Condition: Excellent
Surprisingly lightweight for a parka
GORE-TEX exterior has a matte-like look and feel to it
Two-way zipper can be a little tough to get on if it's not positioned correctly right away
Interior lining is soft and slippery without being cold
2 Weeks of Use
Condition: Excellent
It regulates body temperature well, keeping us warm when we're idle in the cold but cool when we start to gain speed on a walk and work up a sweat
The zipper is a bit of a pain and has gotten stuck more than once with us still inside the jacket
The material holds onto dirt easily but it comes off with a quick wet wipe down
There's no creasing in the shape of the jacket even with prolonged sitting
We wish the zipper came down a little lower to keep our thighs warm as we walk but the button adds a little extra support in the cold
It's incredibly hard to put on and take off the hood when the jacket is zipped up all the way through the neck gasket
1 Month of Use
Condition: Excellent
There's been no visible stretching with daily use, and it still has its original shape and profile
We found that we nearly always use the extra button below the zipper to keep in warmth, but it's nice to have the option to easily unhook it for more airflow on warmer days
The zipper is still giving us trouble, but we found that as long as you really secure it before zipping or unzipping, there isn't too much of an issue
We noticed that we favored using a winter hat rather than relying on the hood because of how tight it is around the head and how difficult it is to remove
2 Months of Use
Condition: Good
The jacket has held its original shape and feel, with no fading or stretching of the material, though there is minor creasing in high-wear areas like at the pelvis (from sitting) and along the sleeves at the elbows
All dirt marks are easily removed and the waterproofing is still intact
We still generally avoid the hood, but we're thankful for its tight fit when we need protection from the snow and wind in a pinch
The neck gasket is still invasive, but it's easy to keep it unzipped so it's not a deal-breaker
Access the Pro Community Discussion
Get your questions about the Arc'teryx Patera Parka answered from our team and the Pro Community right here on the page. Plus, join discussions with other members about gear, guides, and more.
Other Clothing & Accessories Reviews