Arcido Vaga Review
A lightweight and durable daypack, the Arcido Vaga gets the job done—but its overall floppiness and small water bottle holders leave much to be desired.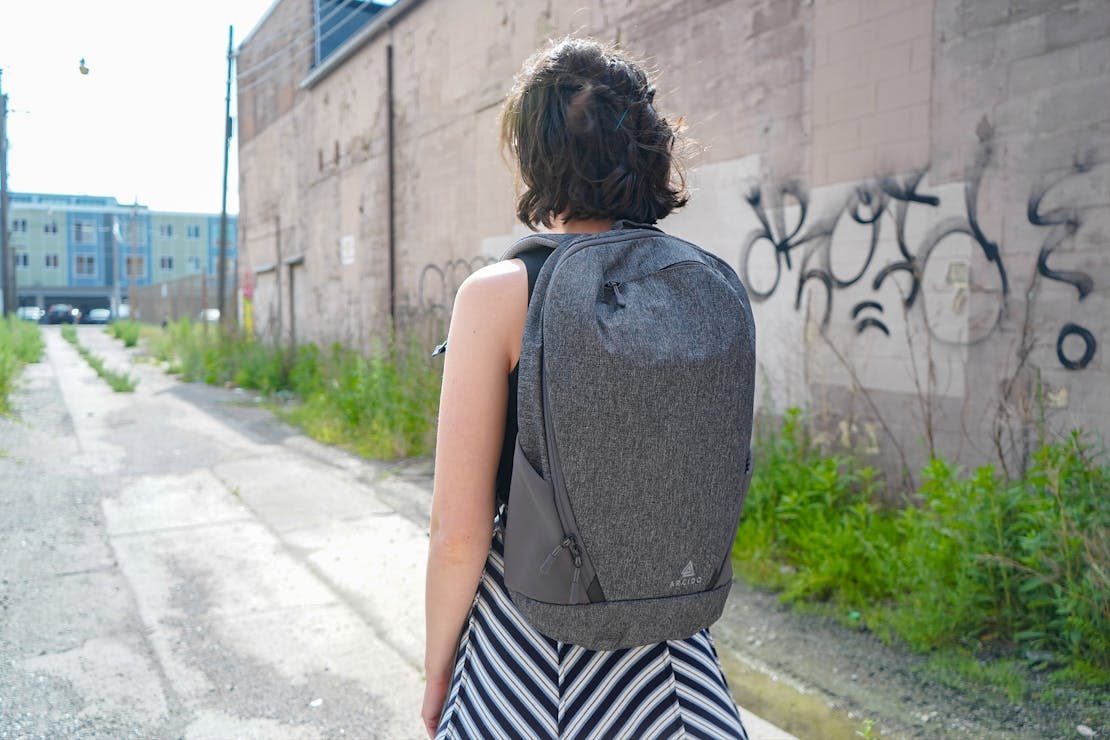 Our Verdict
Unlock the Pro Summary
Save time. Get access to brief summaries of our reviews so you can browse and make decisions more efficiently.
Pros
Lays flat and is lightweight enough to pack inside a larger bag—specifically the Arcido Akra.
Laptop harness keeps your laptop suspended, and thus, more protected.
Comfortable carry with curved and padded shoulder straps and the option of adding a sternum strap.
Cons
For not being compressible, it's very floppy.
The water bottle holders aren't big enough to hold most water bottles, and they don't feel very secure.
The quick-grab handle is also small, and won't fit on all wall hooks.
Recent Pack Hacker Video
Technical Details
Capacity

20l

Denier

500D

Weight (lb)

1.3 lb (0.6 kg)

Dimensions

20 in x 14 in x 6 in (50.8 x 35.6 x 15.2 cm)

Notable Materials

YKK Zippers, Kodra Nylon, Polyurethane

Manufacturing Country

Vietnam

Warranty Information
Full Review
The Arcido Vaga and Akra packs are designed to work together to make one-bag travel a breeze. The Vaga is a daypack that is both lightweight and flat enough to tuck inside the Akra—its larger travel backpack counterpart.
The Vaga is a great little pack that can be used alongside a larger travel backpack for coffee shop excursions or more exciting adventures once you reach your destination (not that a coffee shop isn't exciting). Outside of the travel context, you could also use this bag on its own as a daily driver. There are no rules with daypacks, people!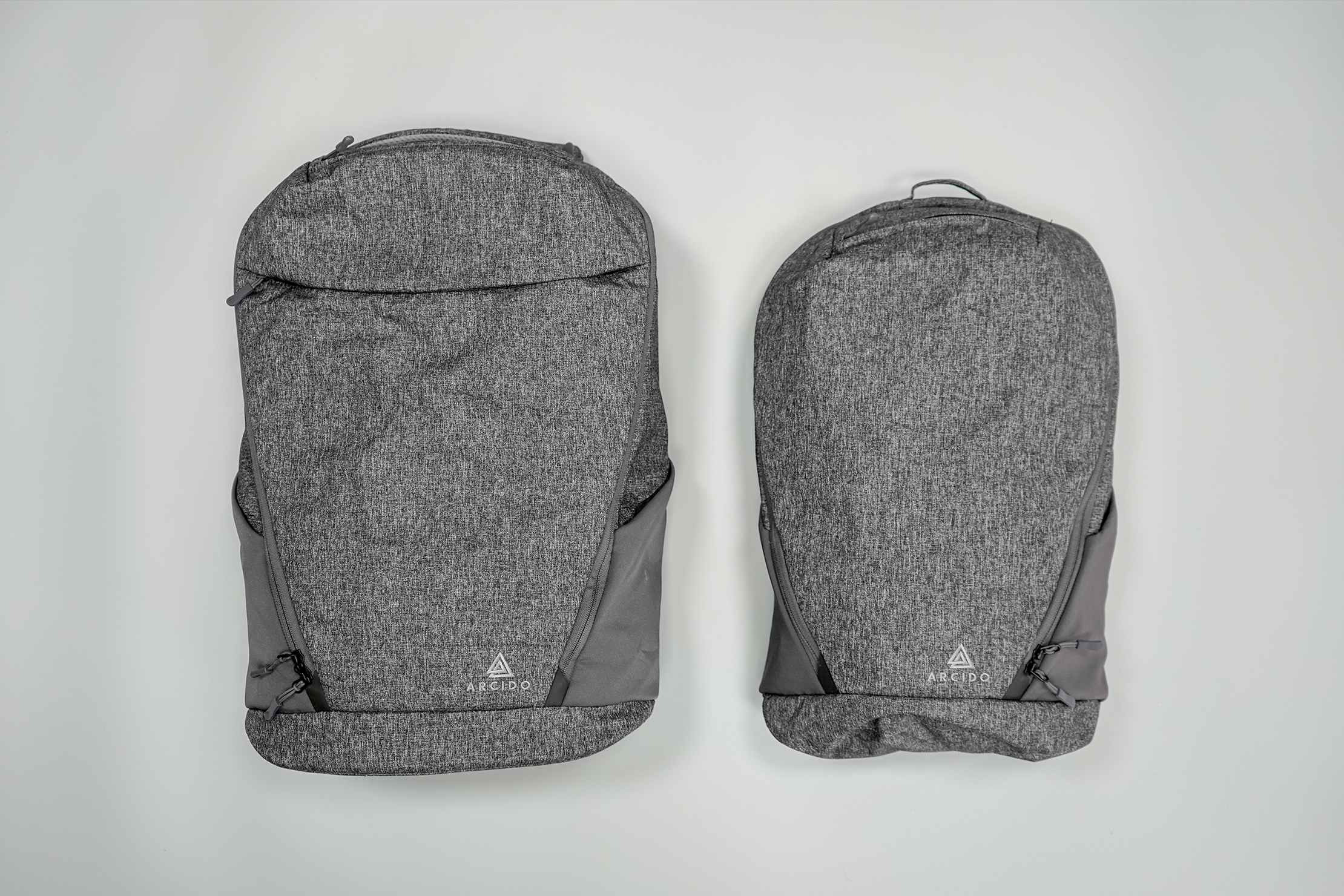 In this review, we'll be focused solely on the Vaga, but be sure to check out our review of the Arcido Akra to get a glimpse of the full Arcido one bag travel experience in all its glory.
Now, the folks over at Arcido are certainly not new to the backpack game. They launched a successful Kickstarter in 2016 for their Arcido Bag, and the Vaga and Akra were also born on Kickstarter in 2018. The company prides itself on making high-quality packs with one-bag travel in mind. Very on brand for all of us over at Pack Hacker.
Alright, we can't wait any longer. Let's dive into this review and check out what the Vaga has to offer!
Materials & Aesthetic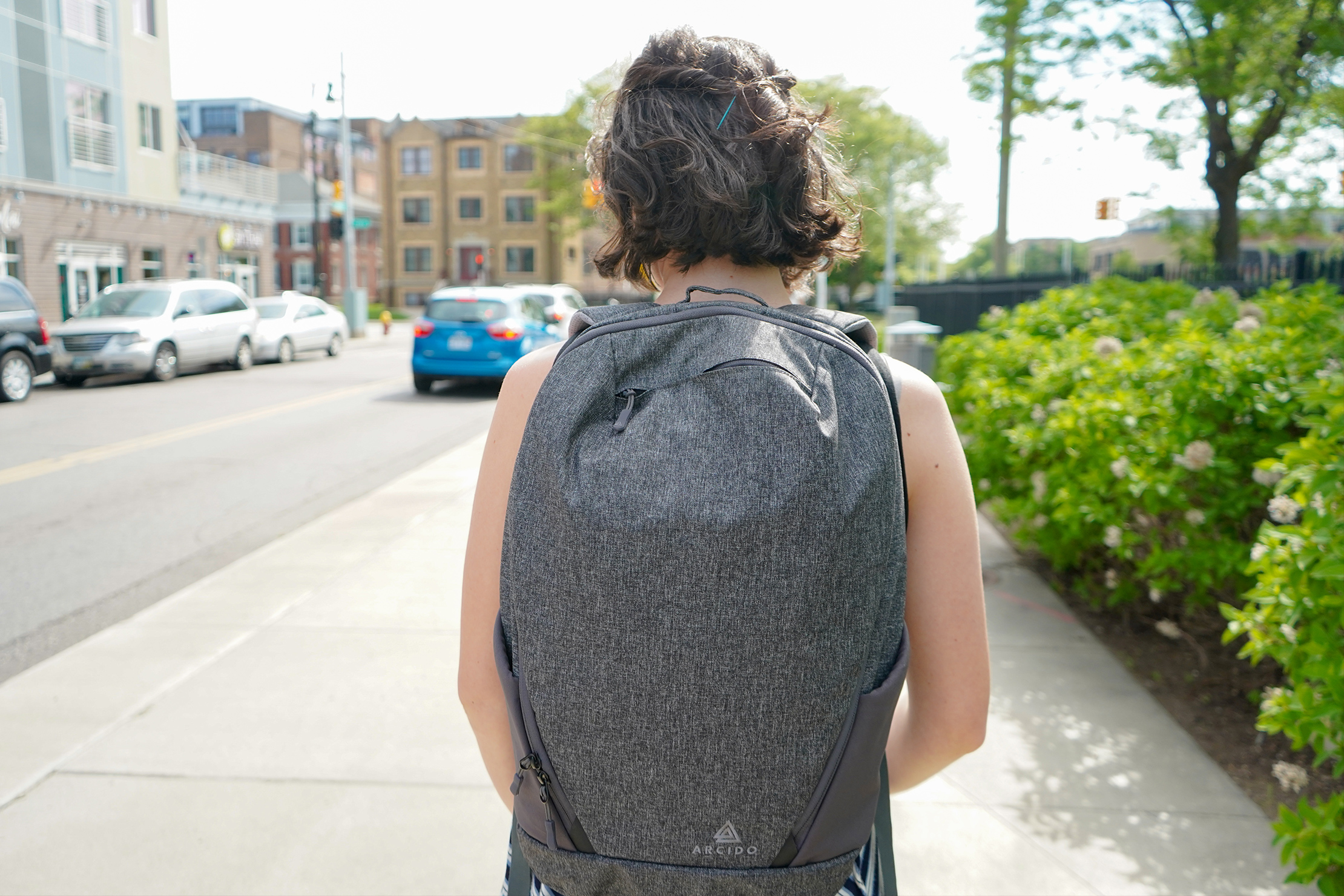 With a gray exterior and minimal features, the Arcido Vaga has a nice, sleek aesthetic. At 20L, there's no need for any complicated harness system or robust load-lifters, which helps to create that minimalist look.
As of this review, the Vaga is only available in this heather-gray colorway, and we're not complaining. We think the Vaga looks quite polished overall—it definitely feels at home in the city more than a mountain peak.
And the materials are no joke either…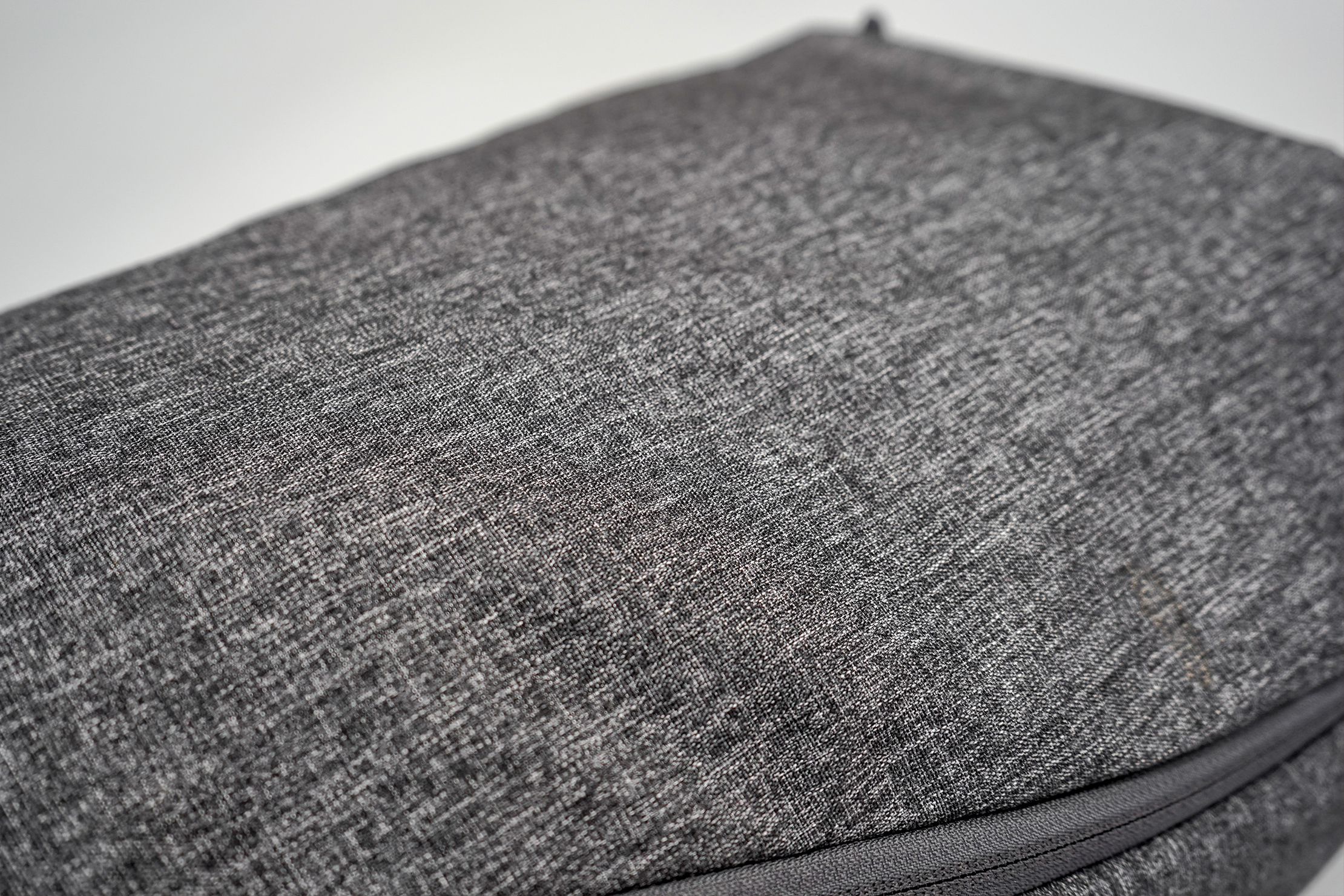 The exterior is made of a 500D Kodra nylon, a fabric known for its durability and low weight, while the lining is a 150D polyester oxford. Both have an additional polyurethane (PU) coating to make the pack water-resistant.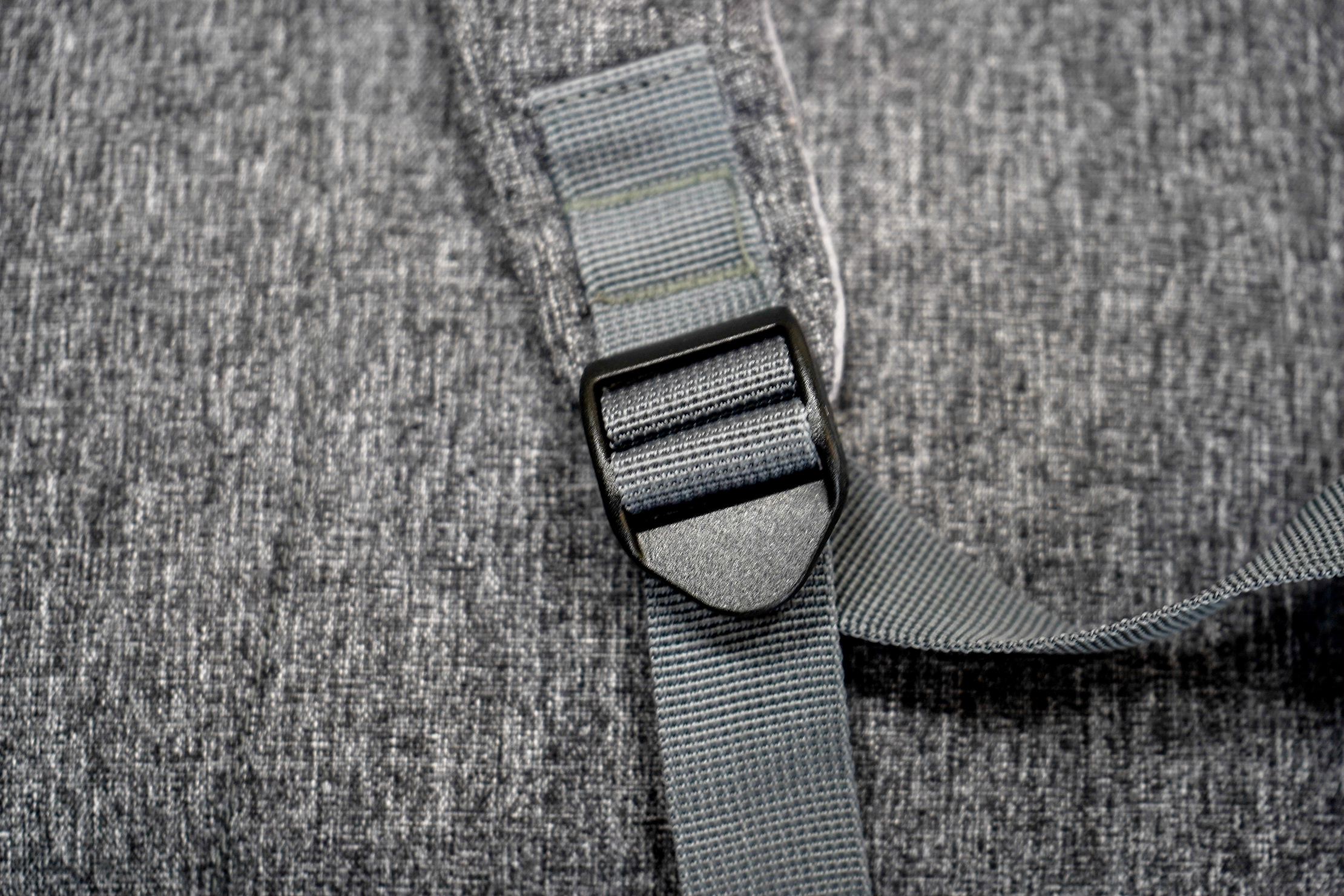 The strap adjusters are made with Faspros hardware and, surprisingly, we haven't had a lot of experience with this brand…so we can't say much at this time. They seem durable enough, but we'll definitely be keeping an eye on them as we continue testing.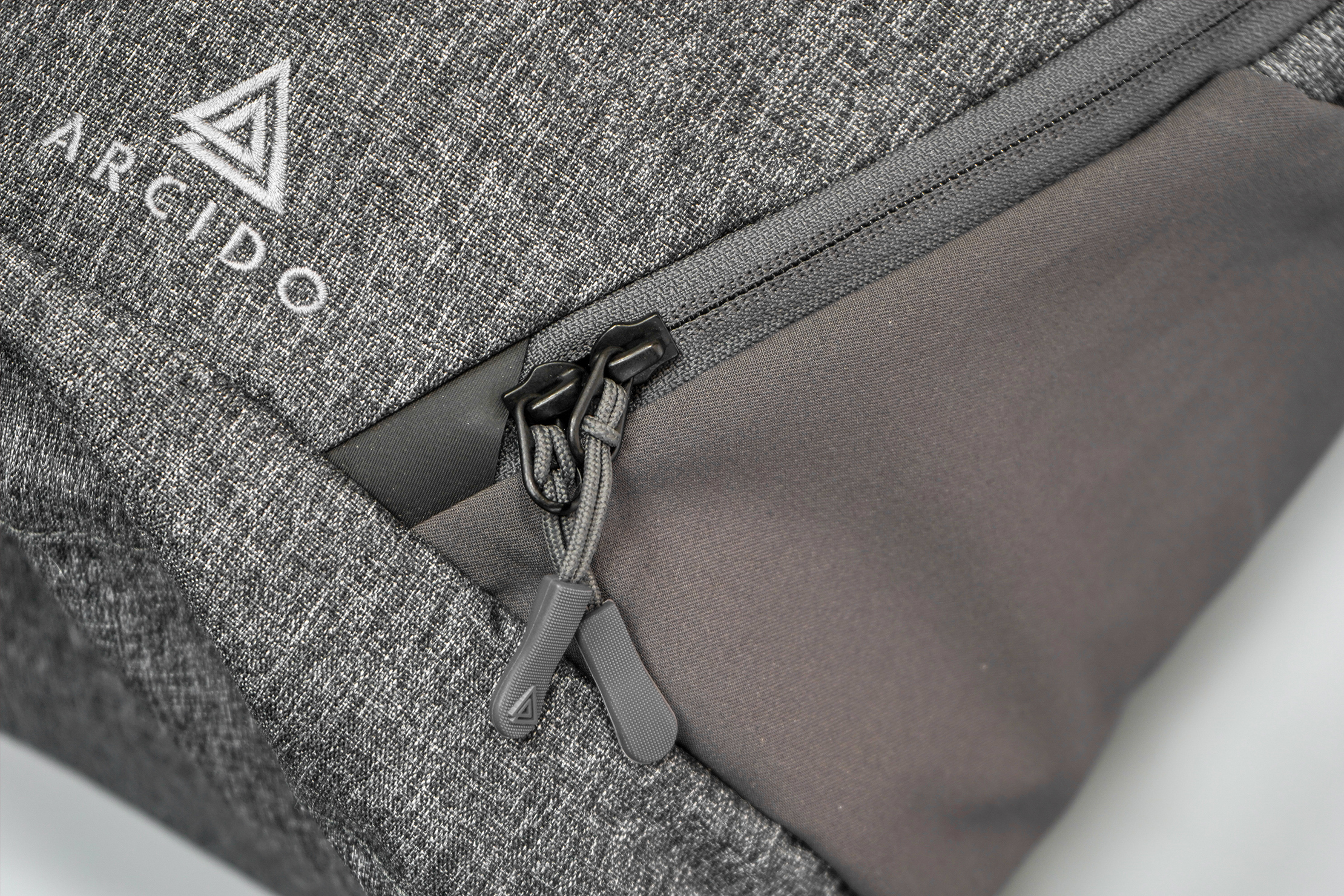 Moving on to a brand we are familiar with, the Vaga has YKK #5 Reverse Coil Zippers. They're high-quality, but not the beefiest of zippers. We think that's okay, because it's not the beefiest pack either. If these were on a larger travel pack, that'd be a different story.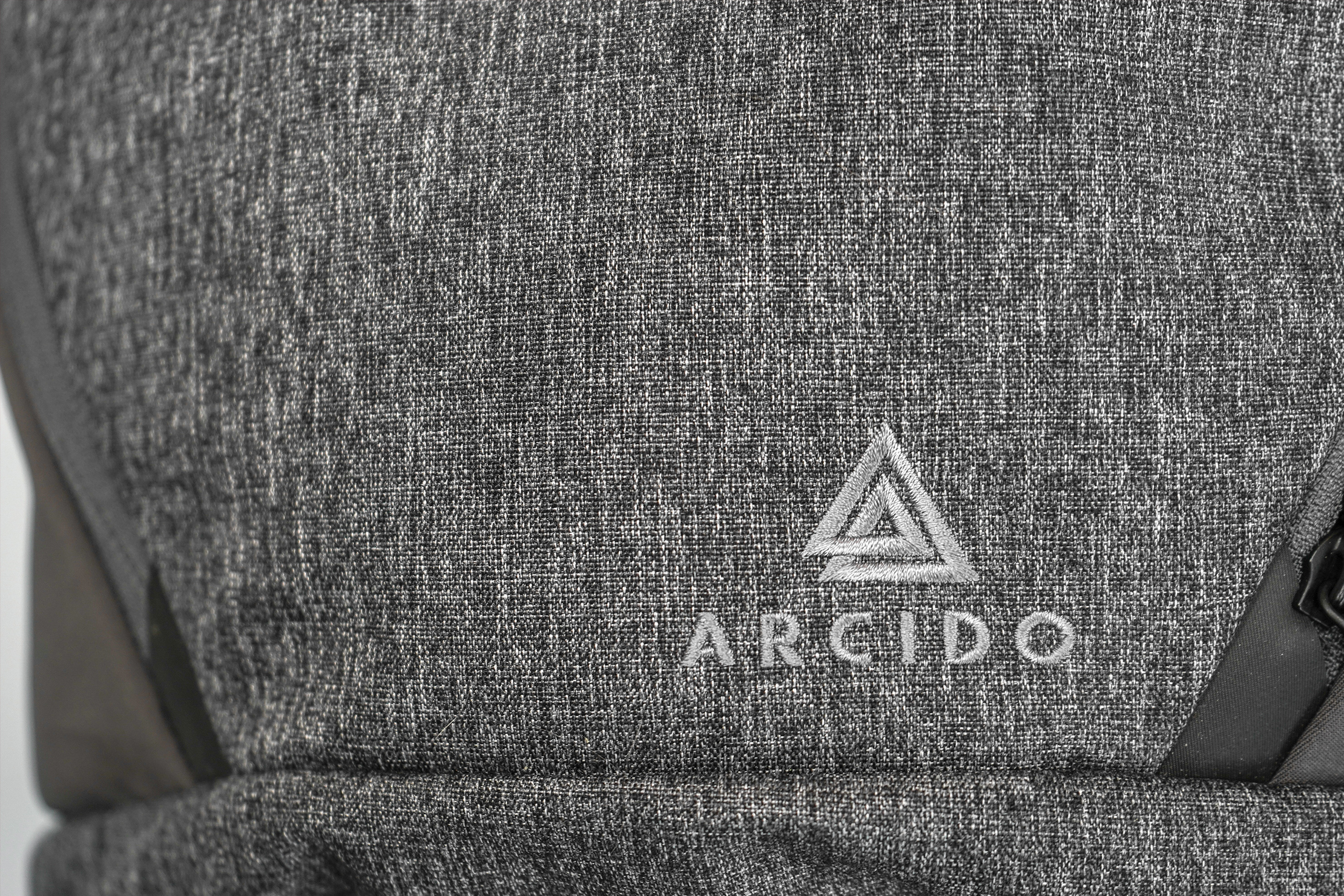 And, while not exactly minimal, the branding is pretty subdued overall. You'll see their logo on the zipper pulls as well as on the left back strap, and their full logo—including their name—sewn into the front bottom and back top of the pack.
External Components
Moving on to the external components, let's begin with the harness system. There's not much going on here and, honestly, there doesn't need to be. The shoulder straps are contoured and nicely padded for a comfortable carry. And with some additional mesh—they're pretty breathable too.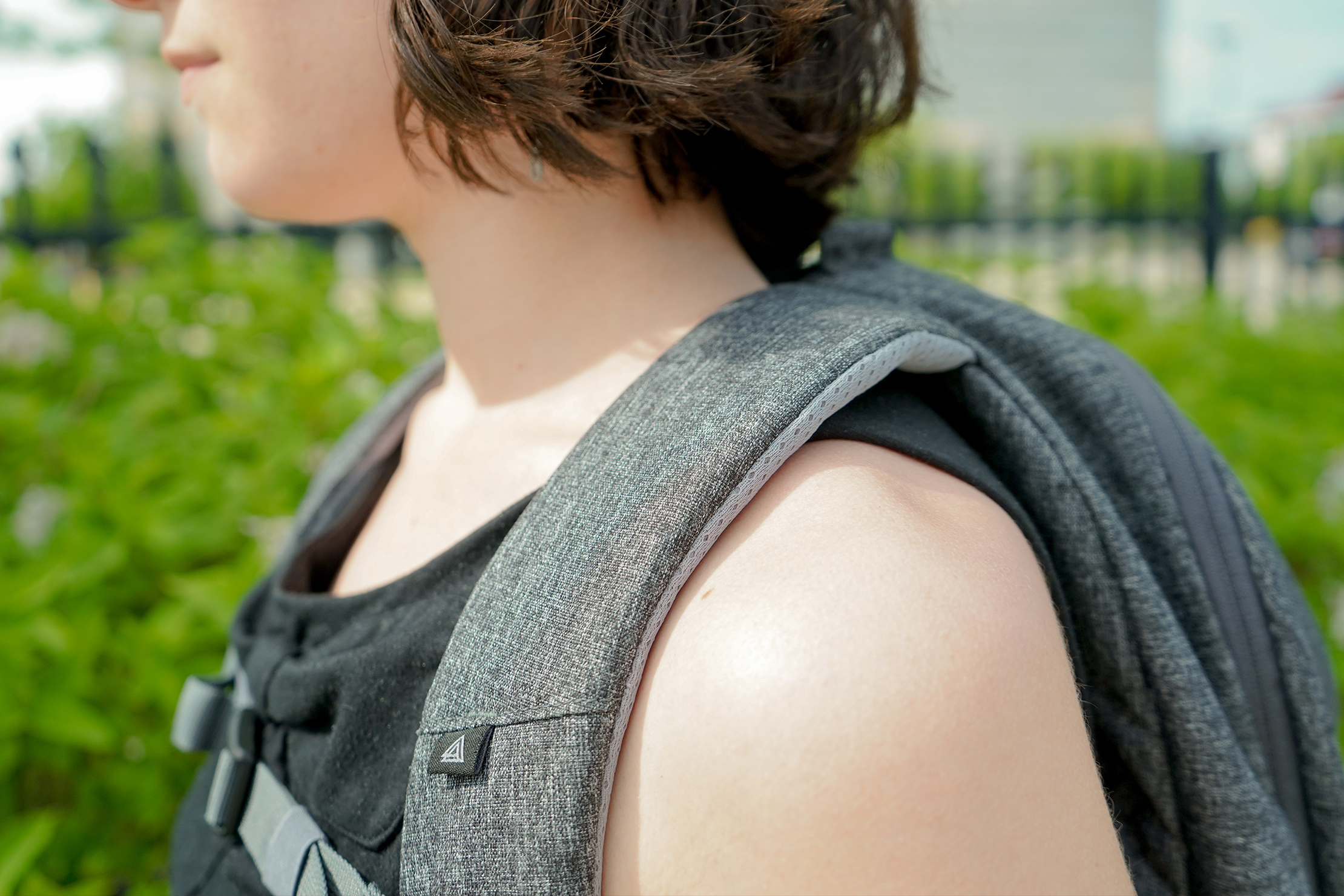 There's also a place for you to connect a sternum strap, which sits under a flap of fabric when not in use.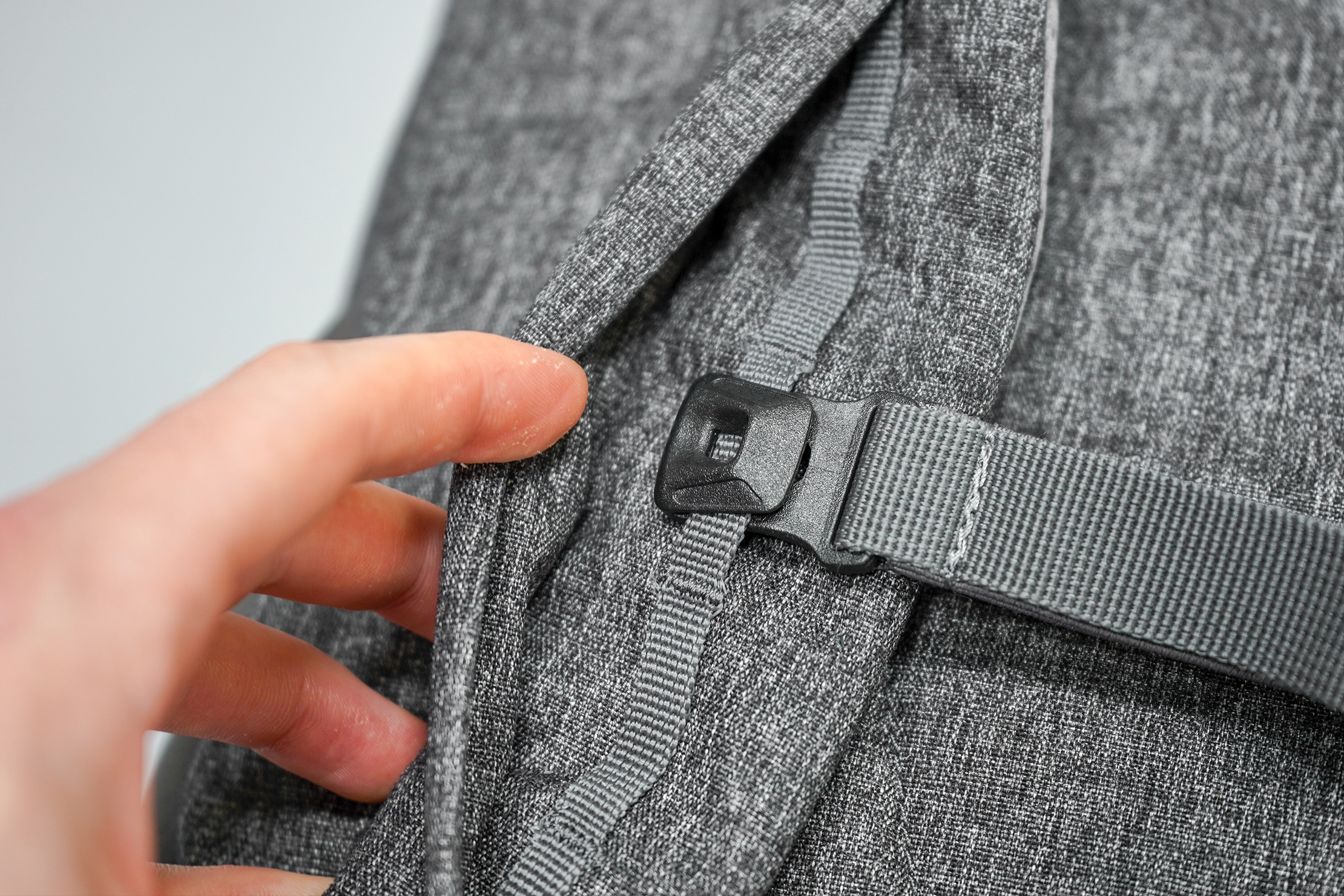 We think this is a classy touch, but it should be noted that the sternum strap does not come with the Vaga. If you buy the Akra & Vaga bundle, then you'll receive a sternum strap that you can switch between the two bags. You can also just buy a sternum strap on their website. Because the bag is so small, it's comfortable enough to carry without a sternum strap, so we're okay with this.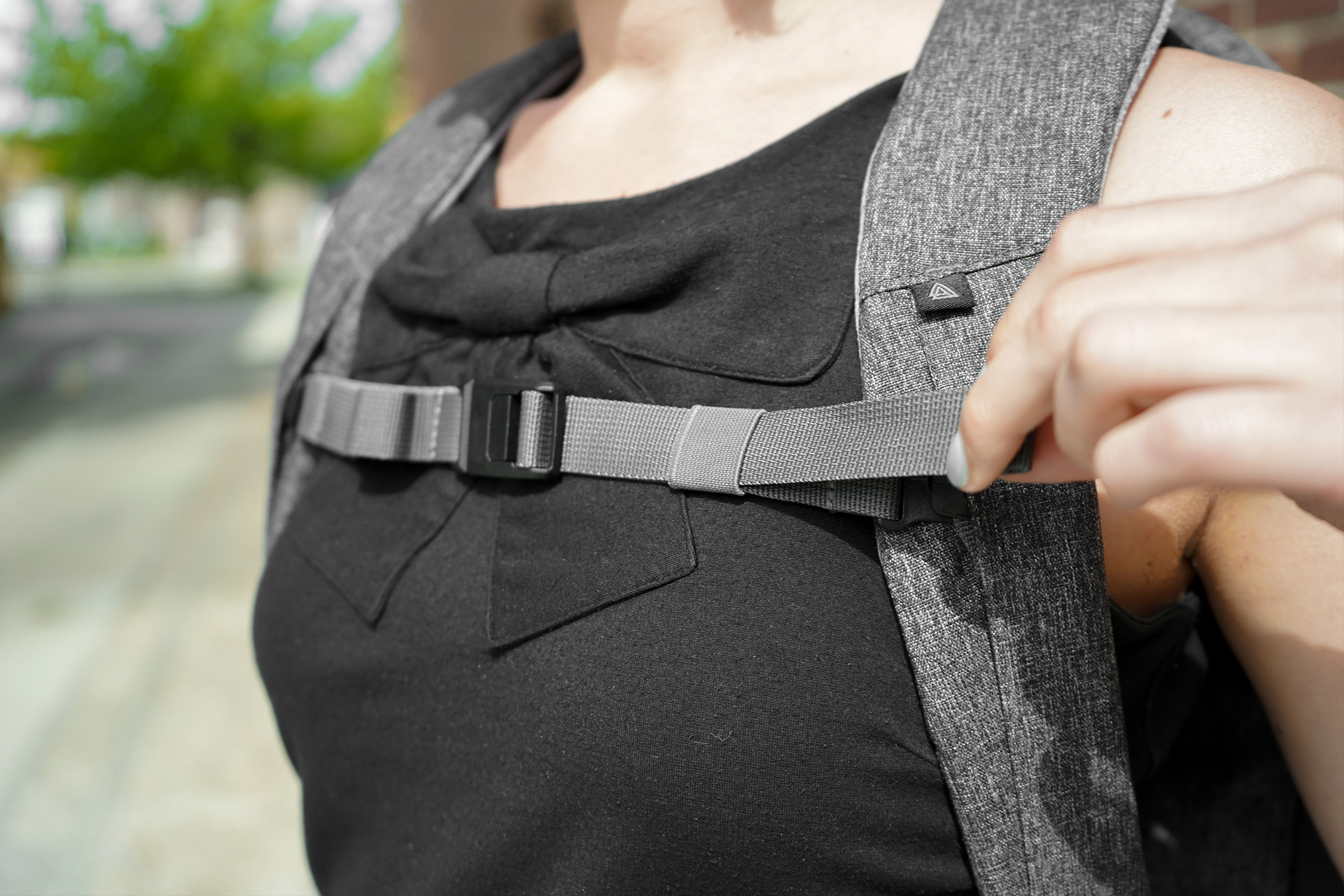 While we like the fact that you can switch the sternum strap between the two bags—and that the sternum strap is adjustable—we're not a huge fan of the way it's adjustable. You hook it to the little loops on the shoulder straps, and it can come free pretty easily. We haven't lost the sternum strap yet—though we have on bags with a similar design.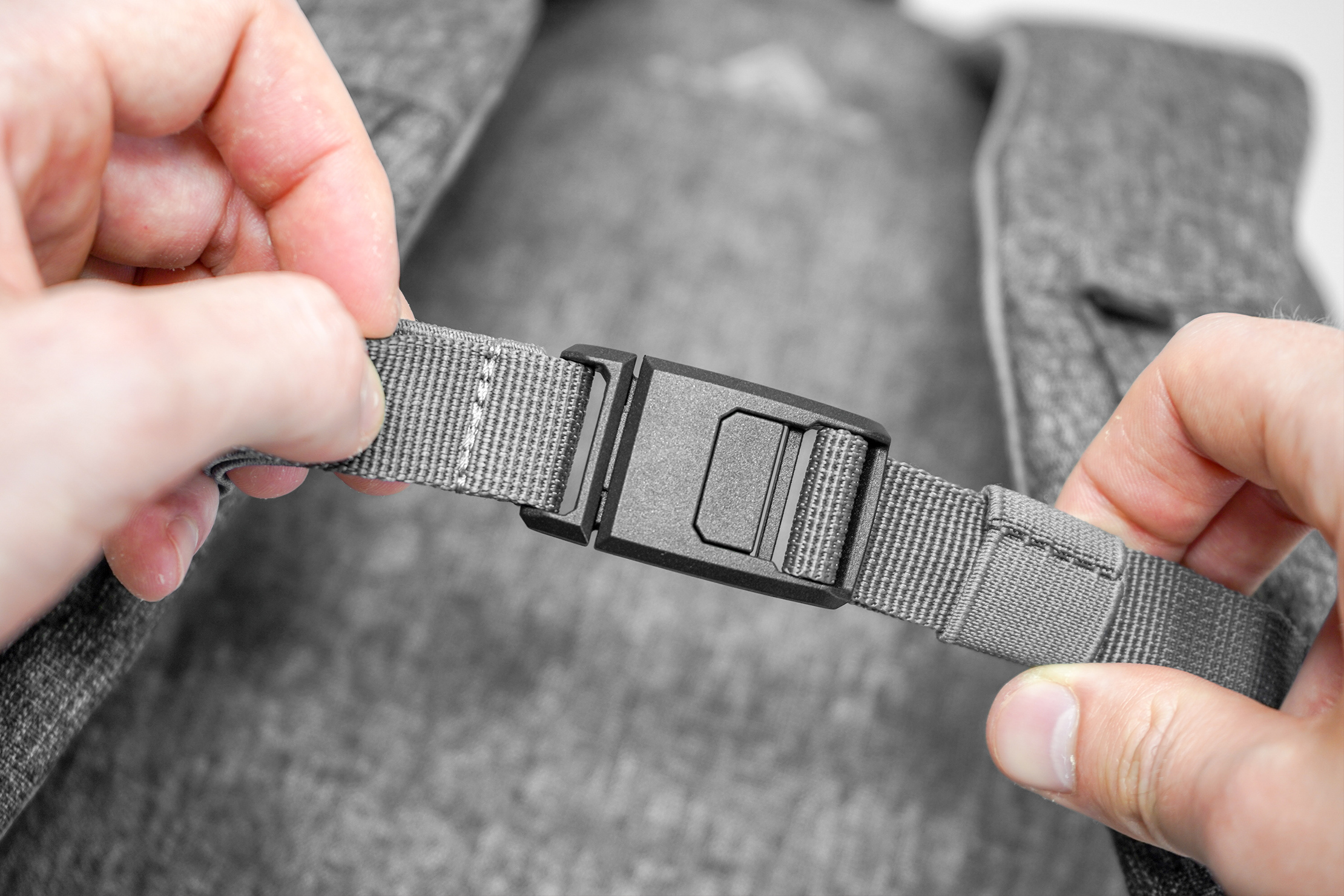 The strap connects with a magnetic buckle that's also fun to fidget with (multifunctional!), and there's a little elastic strap keeper that keeps the excess of the strap nice and contained. We really dig this feature, because no one should be dealing with dangling straps in 2019.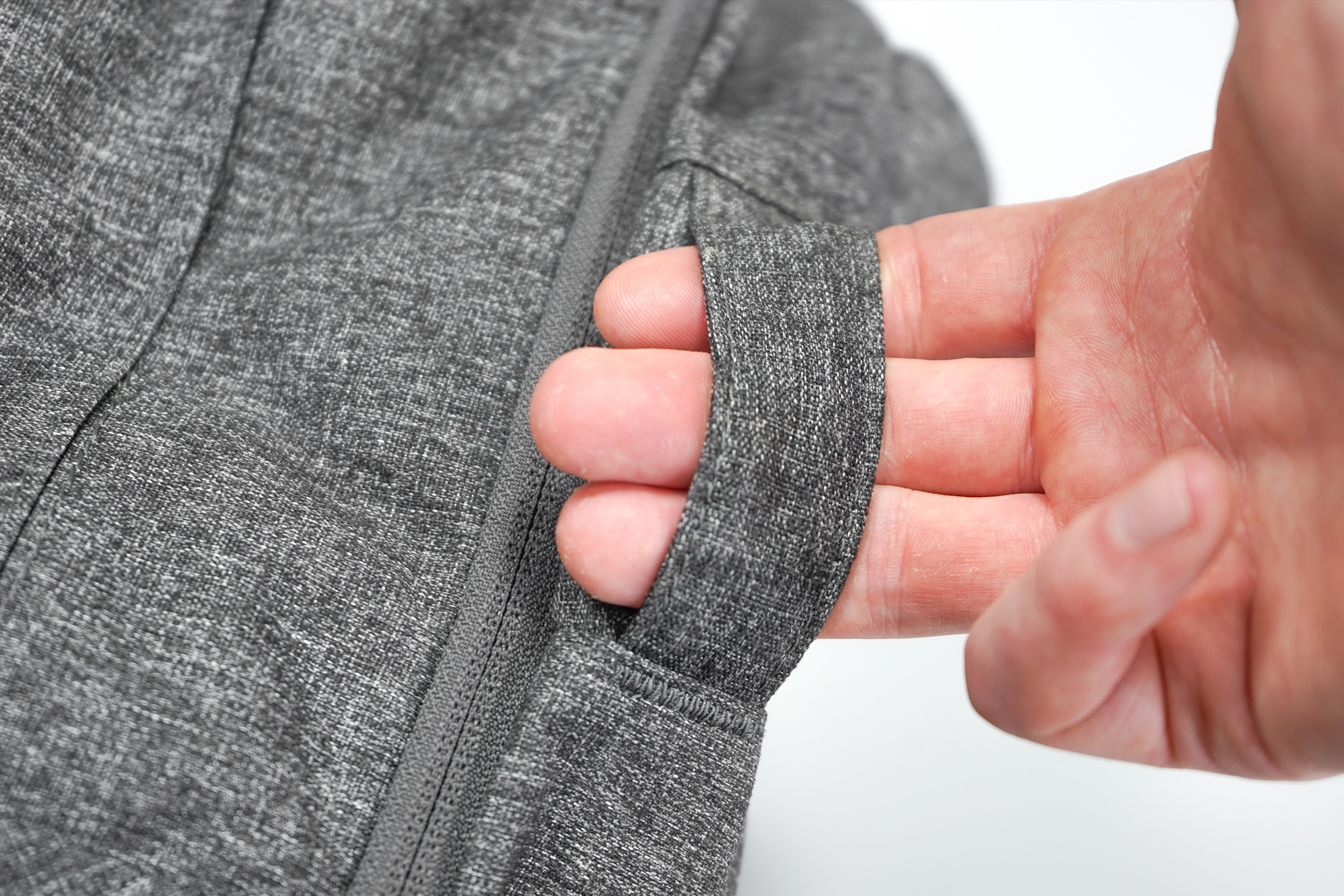 There's a quick-grab handle at the top of the bag made of the same material as the exterior. It's really small—it only fits about three fingers (depending on the size of your hand, of course)—and because of its size it won't sit on a number of wall hooks out there. We've actually had some issues with it not fitting on bathroom stall hooks, which is a huge bummer, as you might be left stashing it on the floor. #Gross. But it works well enough if you need to quickly handle the bag, and it's durably made, which is definitely a plus.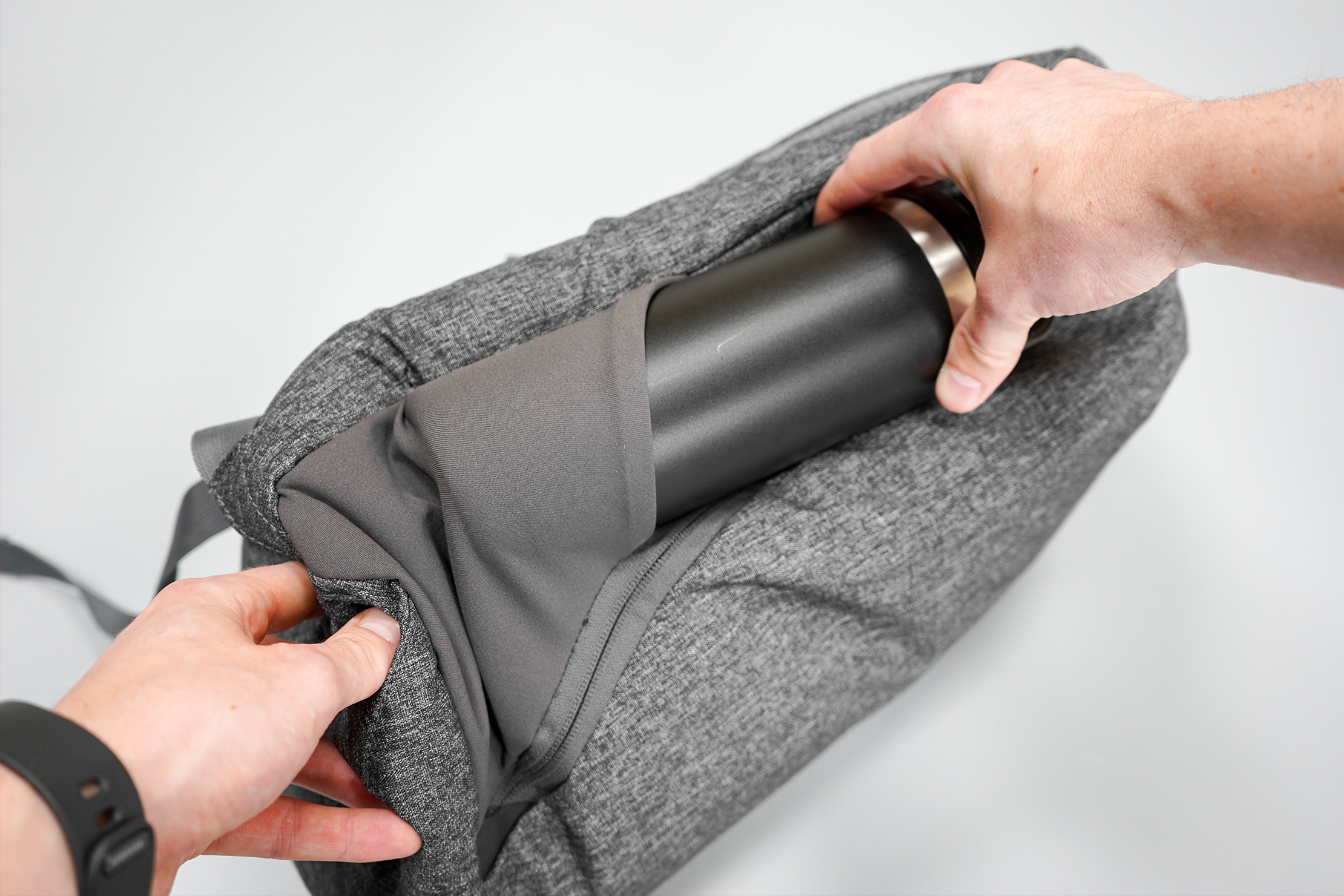 So that brings us to the water bottle pockets…Oh, the water bottle pockets. Here's the deal: these things are just too small for most water bottles. You'll be better off using these as two additional quick-grab pockets for receipts or snacks, which is a bit of a shame.
And even if you find a water bottle small enough to fit, it's going to be really hard to wiggle it in there—especially if you don't have a full pack. Additionally, with the way the pockets are designed, they just don't feel secure. If you do manage to squeeze a water bottle or reusable mug in there, make sure the top is screwed on tight—because it might not stay in for long.
Inside the Pack
Arcido sticks with simplicity on the interior of the pack as well, which definitely works (we're all about simplicity here).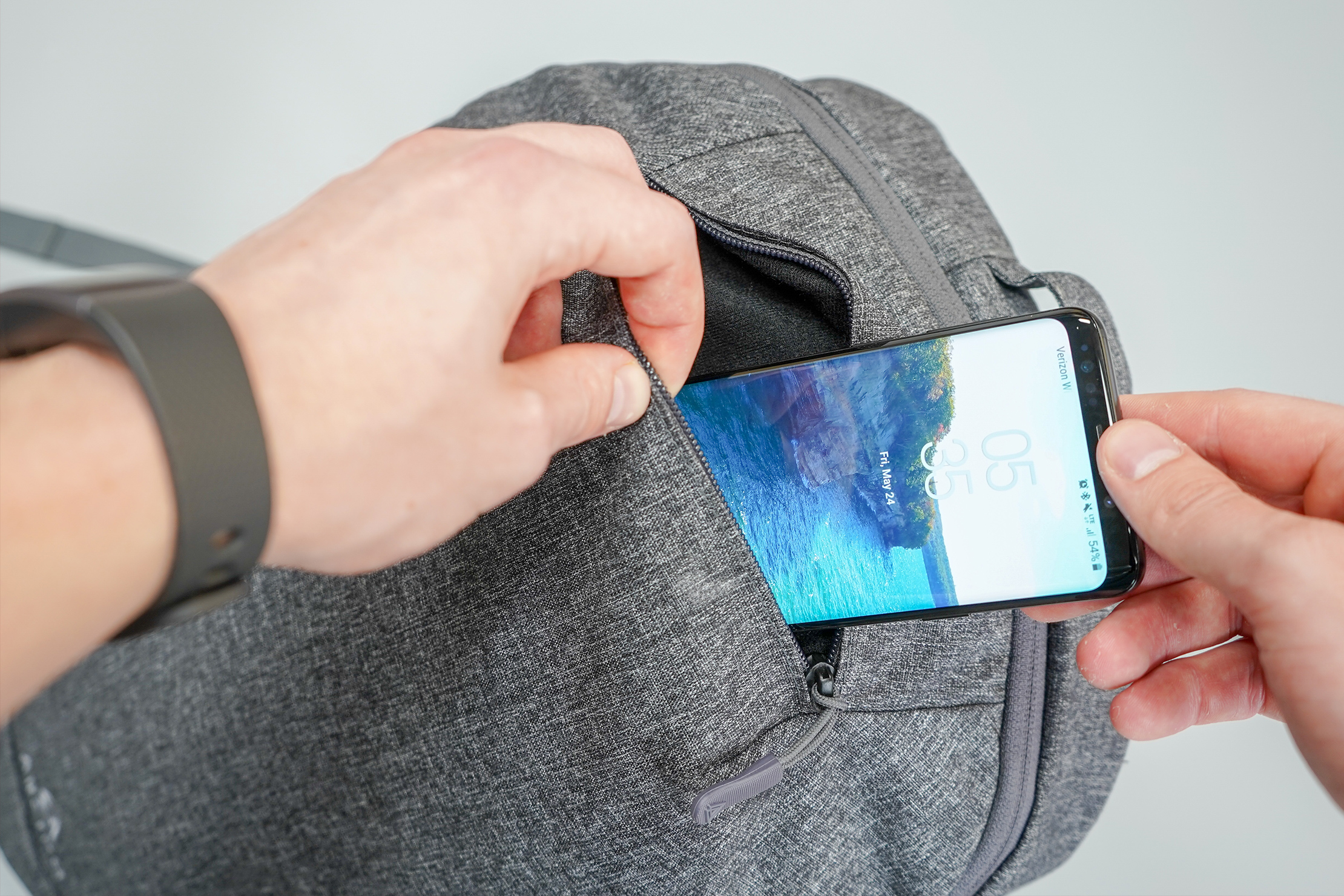 First off, we have the quick-grab zipper pouch. It's fleece-lined—which we're digging—making it a really nice spot to store delicate technology or sunglasses. It's big enough to hold a plus-sized iPhone, but a larger wallet (like a clutch style) doesn't fit, which is a bit of a bummer. The opening of the pocket doesn't stretch at all either, so there's no finagling your way into fitting something that's just slightly too big.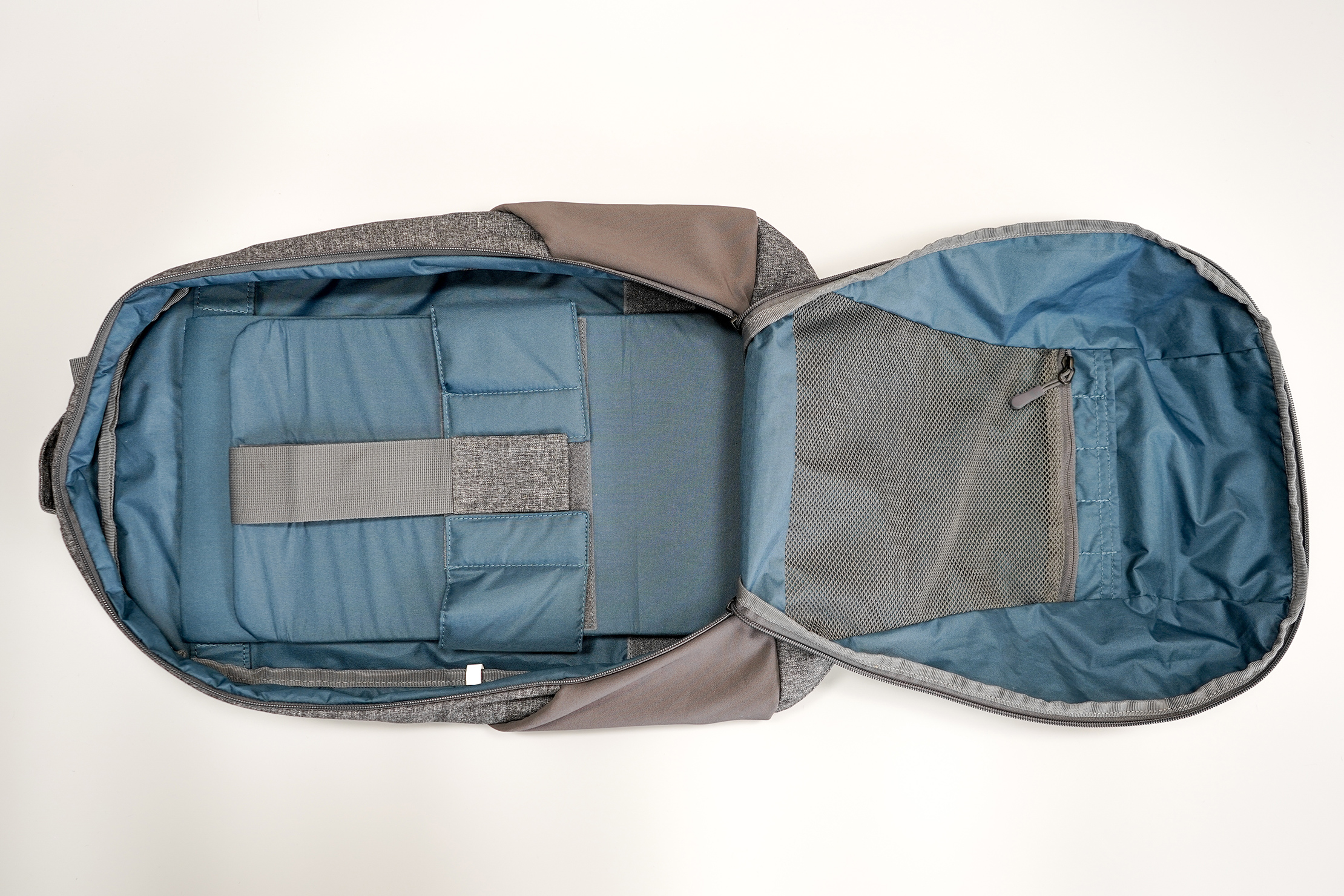 The only other pocket is the main one, which has a curved clamshell-style opening. Like we mention with all clamshell packs—a style where the compartment opens all the way around, like a suitcase—we love how this allows you to easily see everything you have in your pack.
That being said, if you unzip the main compartment more than just a little bit and dig around for something inside, the entire front of the pack will just flop over. There's just no structure at all.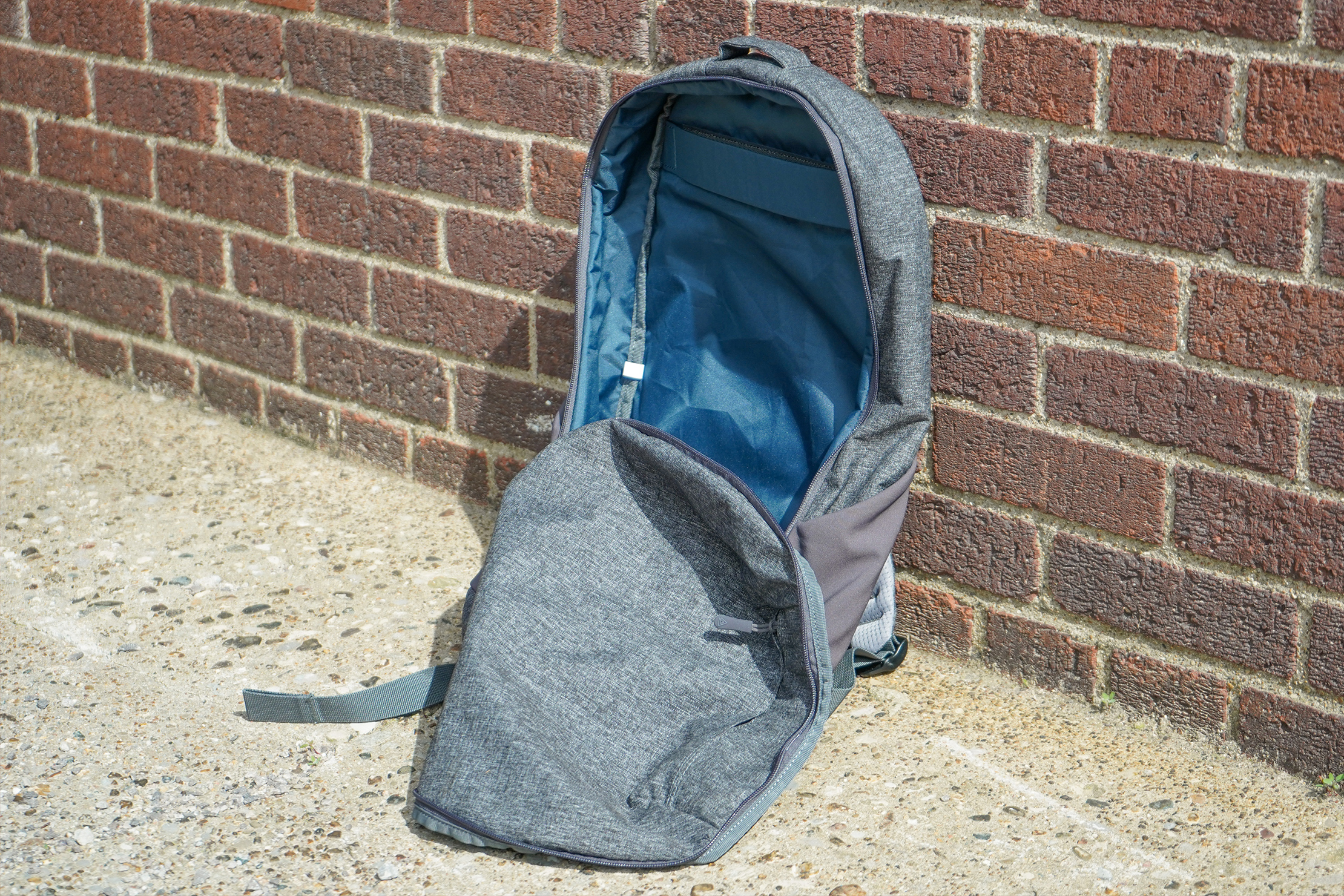 This floppiness—and yes, that's the scientific term—has been a bit annoying, to put it plainly. Not only does it encourage the rest of the bag to slide all the way to the floor, but it makes it harder to access the quick-grab pocket and the organizers on the underside of the flap.
We're okay with floppiness in exchange for compressibility, but while the Vaga is packable, it doesn't compress into itself or a sack (more on this later). It could definitely use just a bit more structure, in our opinion. But, hey, we don't make bags—we just review them (and wear them, and test them, and analyze the crap out of them).
We do like the simplicity of the main compartment. There's not much going on—and that's what we like to see.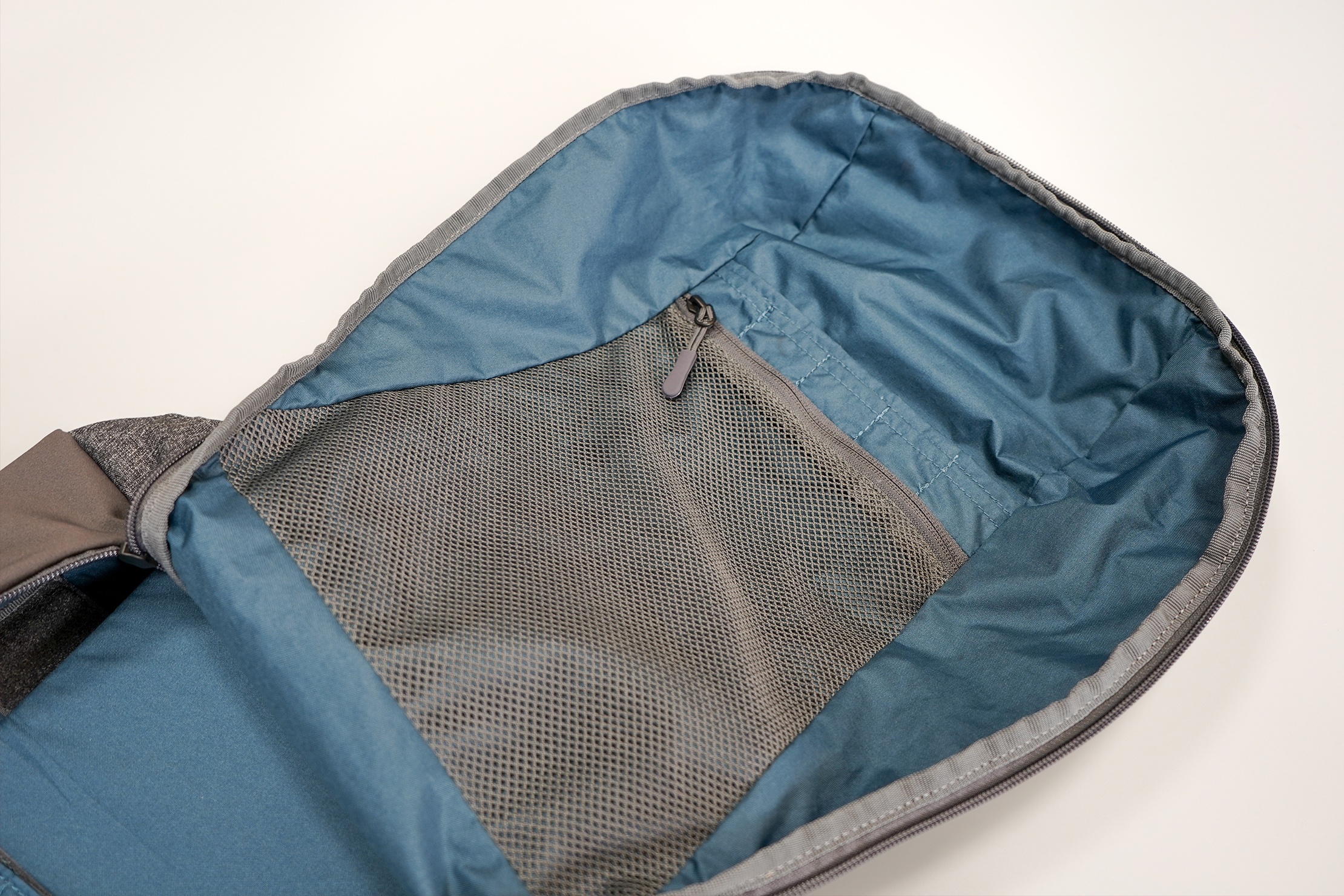 On one side, there's a large pocket that is secured with a square of velcro. We didn't really use this space much, to be honest. But it's a great spot to stash a book or notebook. Just don't try clipping a pen there if you ever want to see it again. Trust us…just stick the pens where they're supposed to go—in the little pen holders!
There's also a zippered mesh pocket on this side that works well for tech accessories, like computer or phone chargers.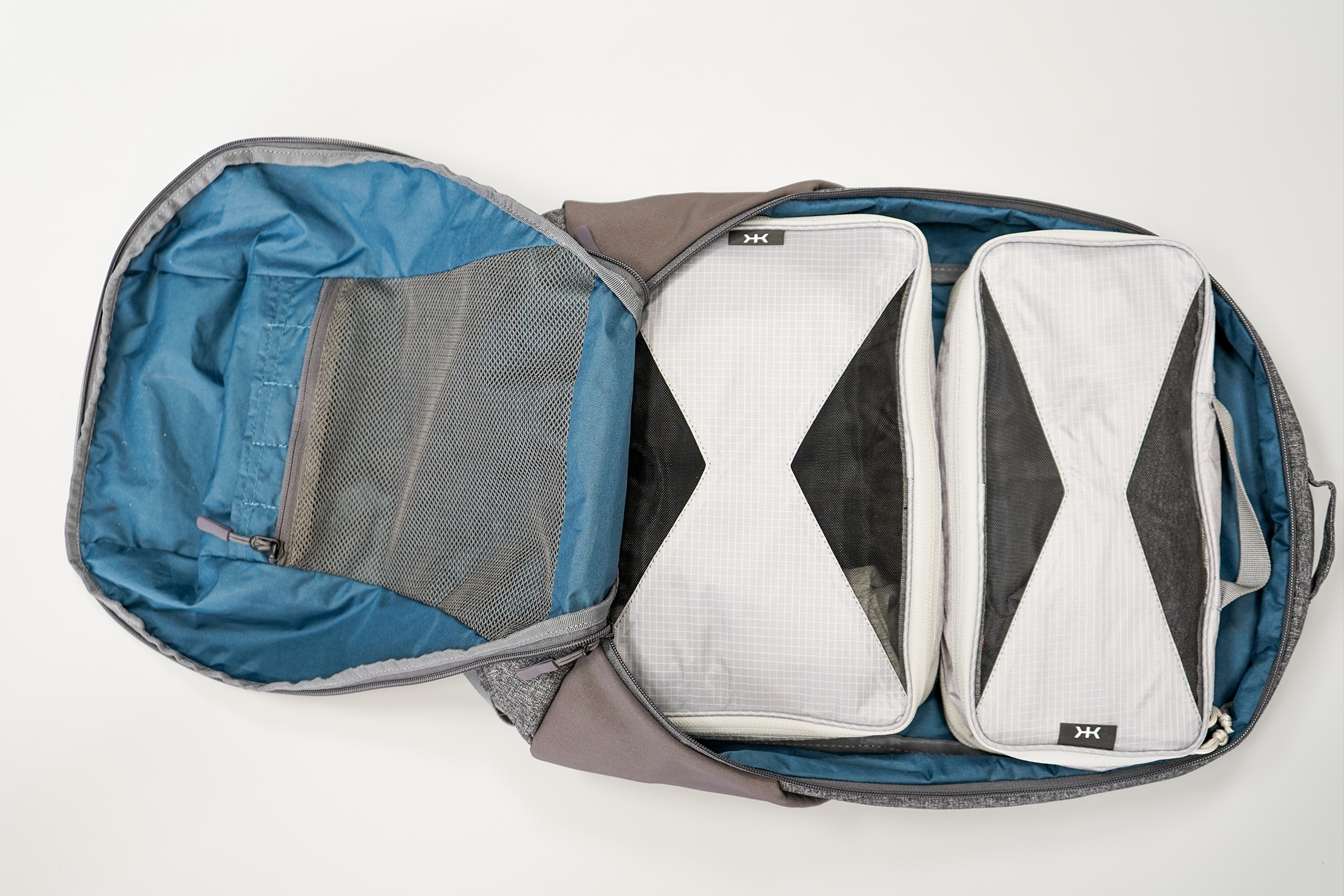 Opposite that is just a big space to fill with whatever-it-is you want. As per usual for this style of bag, we suggest using some packing cubes to keep all of your stuff tidy and protected from spilling all over the floor (remember, this is a floppy bag we're dealing with). You can buy packing cubes from Arcido—or buy them in a bundle with the Akra and Vaga—that are specially designed to fit inside these packs. But you can just put your stuff in there as is, too.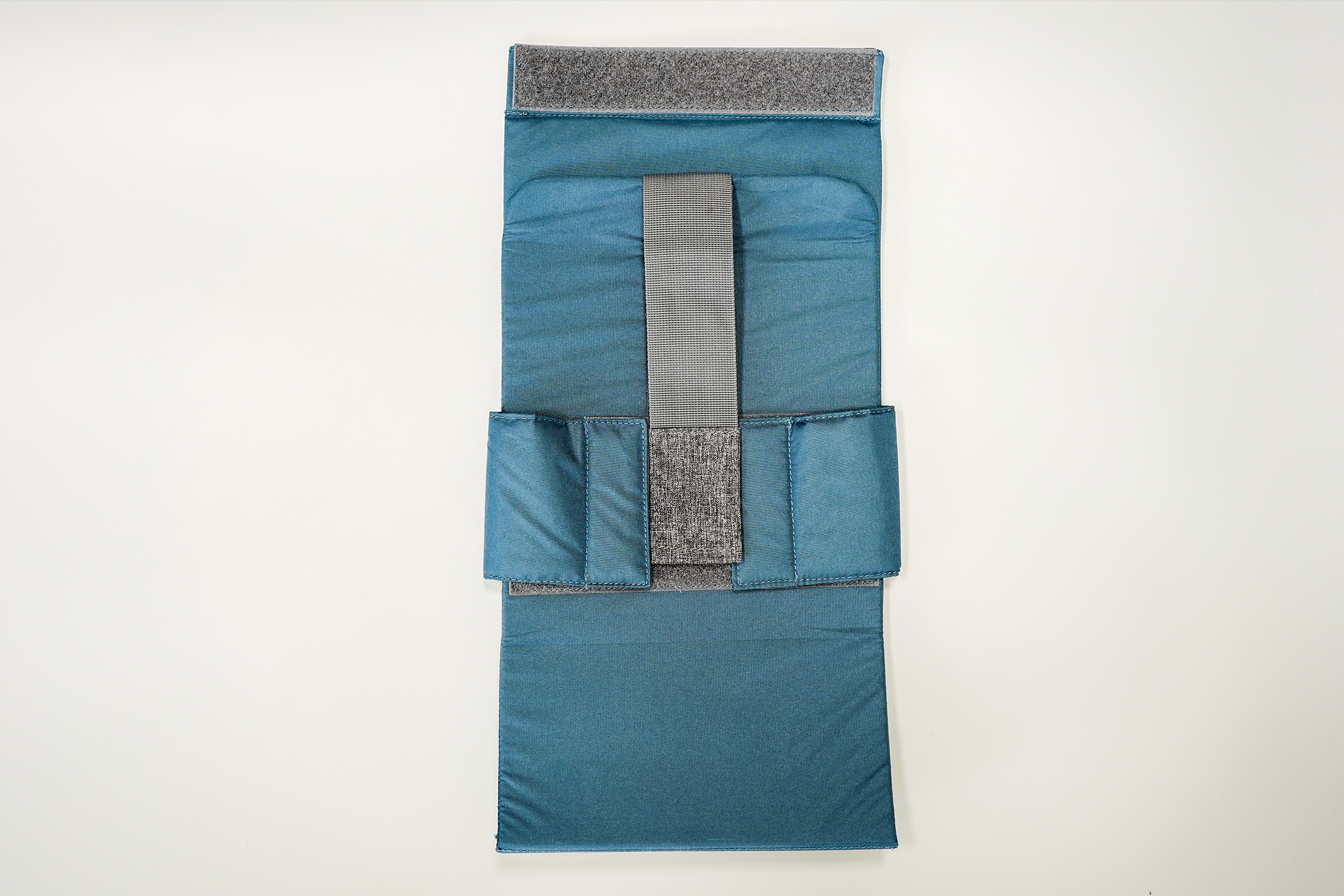 Now, there's no laptop sleeve. But fear not—the folks at Arcido made a laptop harness that you can easily transfer between the Akra and Vaga. The harness hooks into the main compartment in the Vaga and a separate laptop compartment in the Akra. We actually think this design is super unique and neat, as there are definitely use-cases for wanting to easily and securely transfer your laptop between the two bags. And you don't need to take the laptop out of the harness to switch between the two.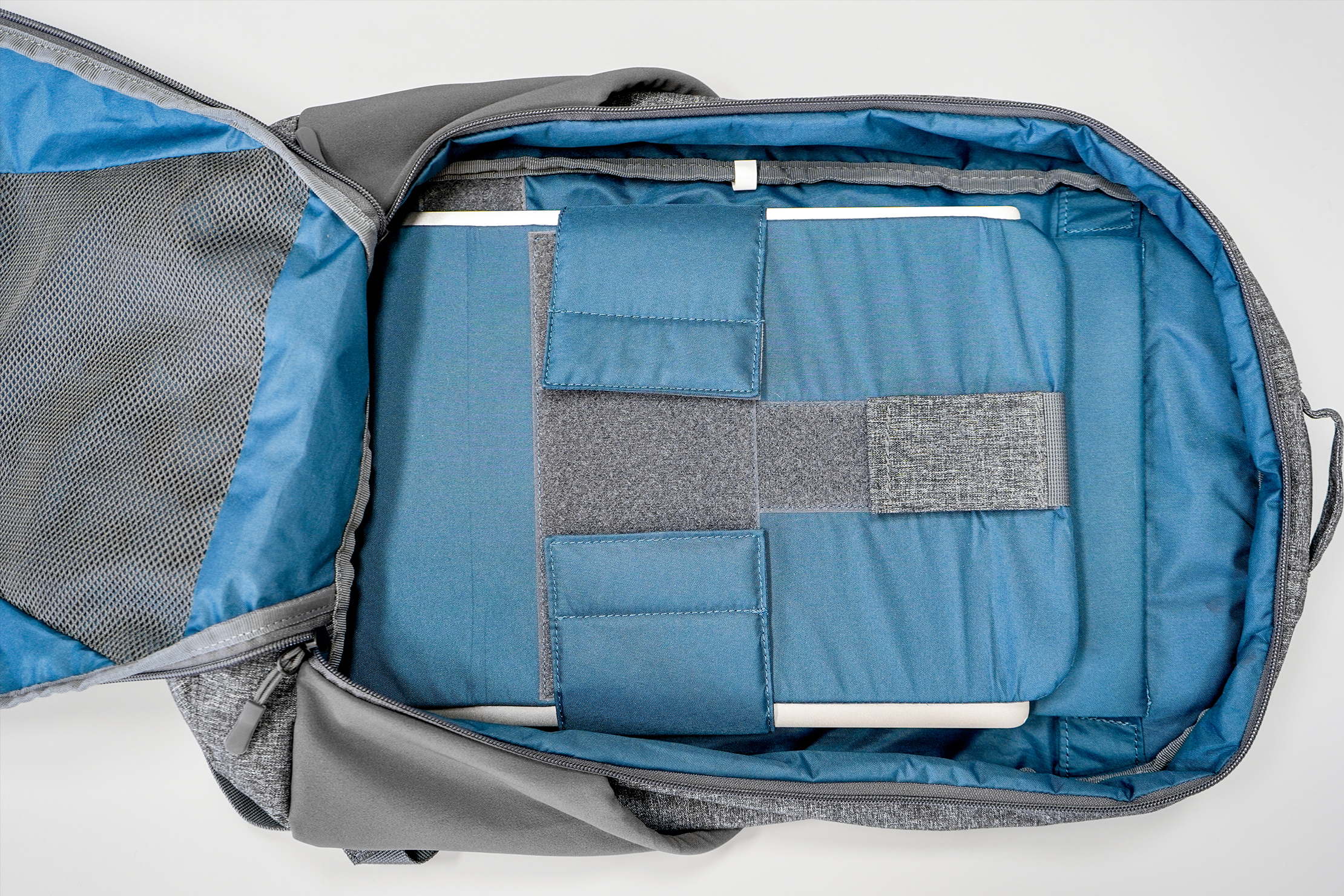 Arcido says the harness will hold up to a 15.4'' laptop, but it's adjustable, so you can tighten it to firmly hold your laptop if it's on the smaller end. We tested it with a 13'' Macbook and it felt nice and secure.
The harness also keeps your laptop off the bottom and sides of the pack—which is great as far as protection goes. No need to panic if you accidentally drop your bag (unless it's a wildly far drop). And sliding your laptop out with their pull-tab is just oh-so-satisfying.
All you have to do is lift up the main velcro strap of the harness then tug it toward your body, and the laptop will slide up enough for you to grab it. This is especially great when you need to quickly access your laptop while the rest of the bag is full—say, at airport security.
But, however fun the laptop harness is to use, it does add some extra bulk compared to just a regular laptop sleeve. So keep that in mind.
Durability & Testing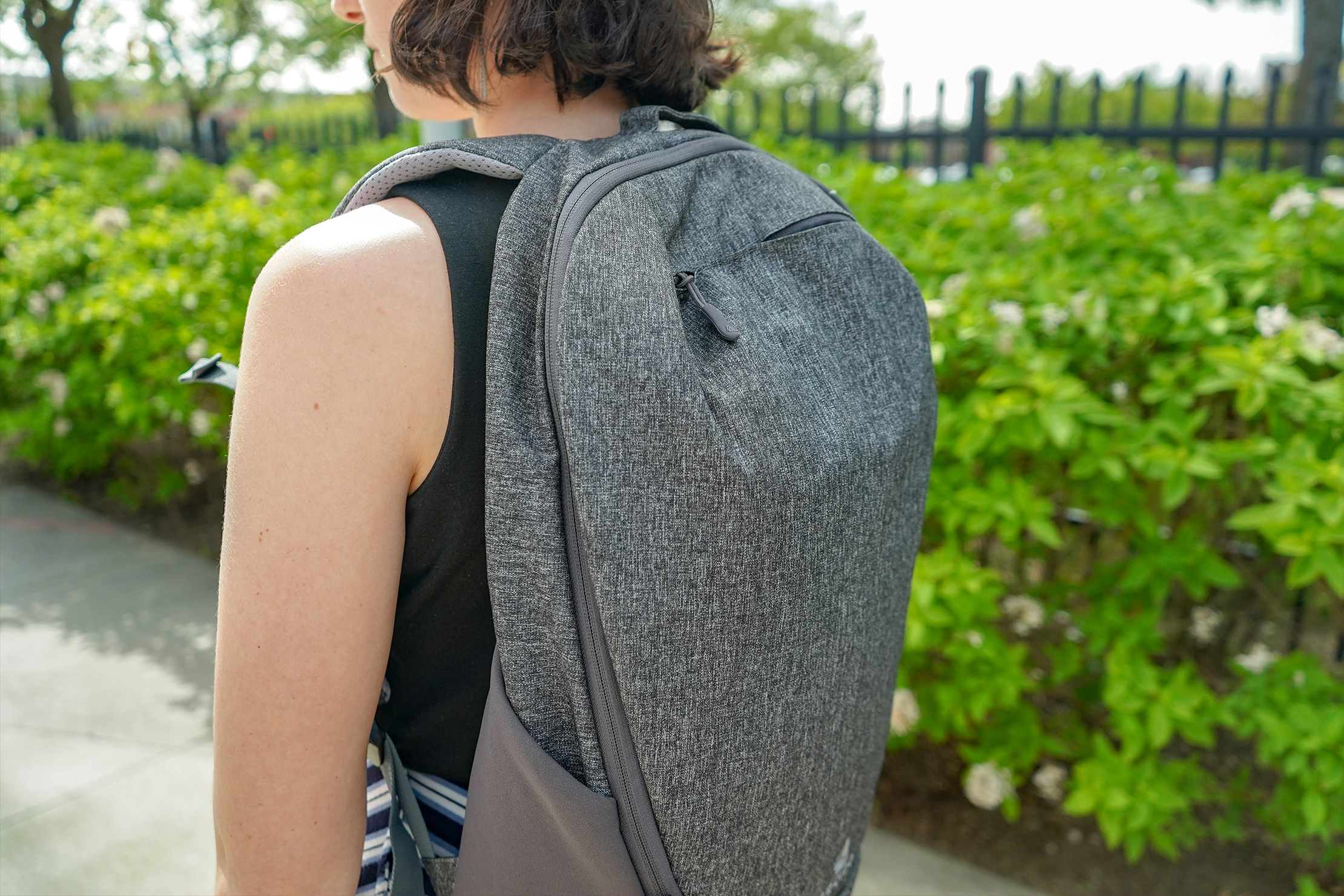 We have been testing the Arcido Vaga around Detroit, Michigan for two weeks and taken it with us on a weekend trip to Chicago. It definitely looks sleek and professional—it fit right in at a conference where some attendees opted for blazers and briefcases.
The quality has held up well so far; we haven't noticed any abrasions or marks. And the color hides dirt and the like really well.
As we mentioned earlier, Arcido designed the Vaga specifically to fit inside the Akra. We took both the Akra and Vaga to Chicago and it was a nice system that worked well in actual usage.

The Vaga could probably sit inside most larger packs because it's lightweight and lays flat (as long as you don't have the laptop harness inside), although it is slightly bigger than most other daypacks. Of course, your best bet is to use it with the Akra. The laptop harness and sternum straps can be transferred between the two, they were made to go together, and they look like a matching set, which is always fun.
As we mentioned earlier, the Vaga—while packable—doesn't compress like the Matador Freerain24 2.0 or the Tortuga Setout Packable Daypack. This isn't a dealbreaker, of course, but if you're concerned about space then you'll probably want to opt for a different style of daypack.
Usage Timeline
Initial Usage
Condition: Excellent
Takes up a little more room than an average daypack if you're wanting to pack it into a larger bag, but it certainly lays flat and is packable.
Digging the soft quick grab pocket for delicate technology and sunglasses. Big enough for a plus-sized iPhone.
The curved zipper clamshell access is interesting, although maybe more effective for larger packs.
1 Month of Use
Condition: Good
The small water bottle holders are quite frustrating to use, but we're impressed with how clean it still looks.
Access the Pro Community Discussion
Get your questions about the Arcido Vaga answered from our team and the Pro Community right here on the page. Plus, join discussions with other members about gear, guides, and more.
Other Bags & Luggage Reviews