Arcido Akra Review
The Arcido Akra is a polished-looking 35-liter one-bag travel backpack with an innovative design, unique features and smart functionality.
Our Verdict
Pros
The look is streamlined and considered
The laptop harness is a great and customizable design
Lots of smart organization geared toward travel
Cons
The sternum strap can fall off unexpectedly
It can be difficult to fill the main compartment with the curved zipper, especially towards the bottom of the bag
Technical Details
56 %
Carry-On Compliance (Beta)
Capacity

35l

Denier

500D

Weight (lb)

2.4 lb (1.1 kg)

Including sternum strap.

Dimensions

21.5 in x 13.5 in x 8.5 in (54.6 x 34.3 x 21.6 cm)

Notable Materials

YKK Zippers, Kodra Nylon, Polyurethane

Manufacturing Country

Vietnam

Laptop Compartment Size

15"

Warranty Information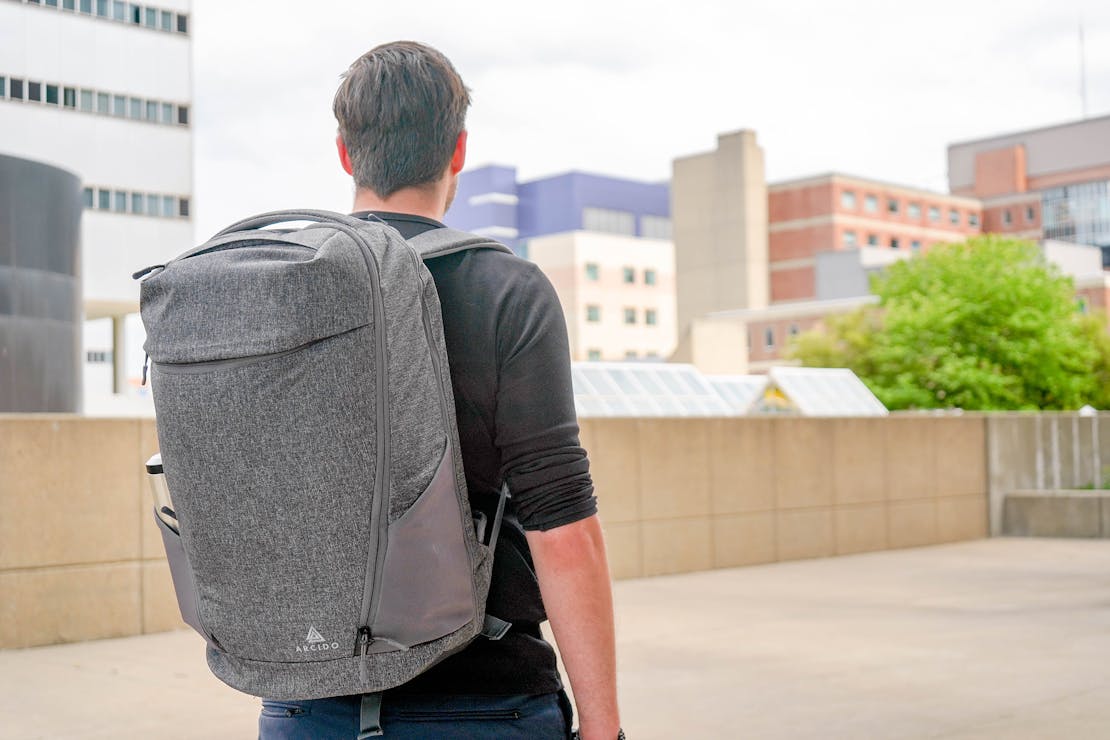 Full Review
Get up to 10% off Arcido with our Deals Vault by Joining Our Newsletter.
Thinking outside the box can be risky for a brand, but it pays off when it's done well—and that's exactly what we've found with the innovative and functional Akra, from Arcido.
The Akra is a 35-liter one-bag travel backpack with a polished look, smart functionality and unique features. Arcido makes travel gear "that keeps you efficient on the move," and the Akra is marketed as the brand's newest and most streamlined bag yet.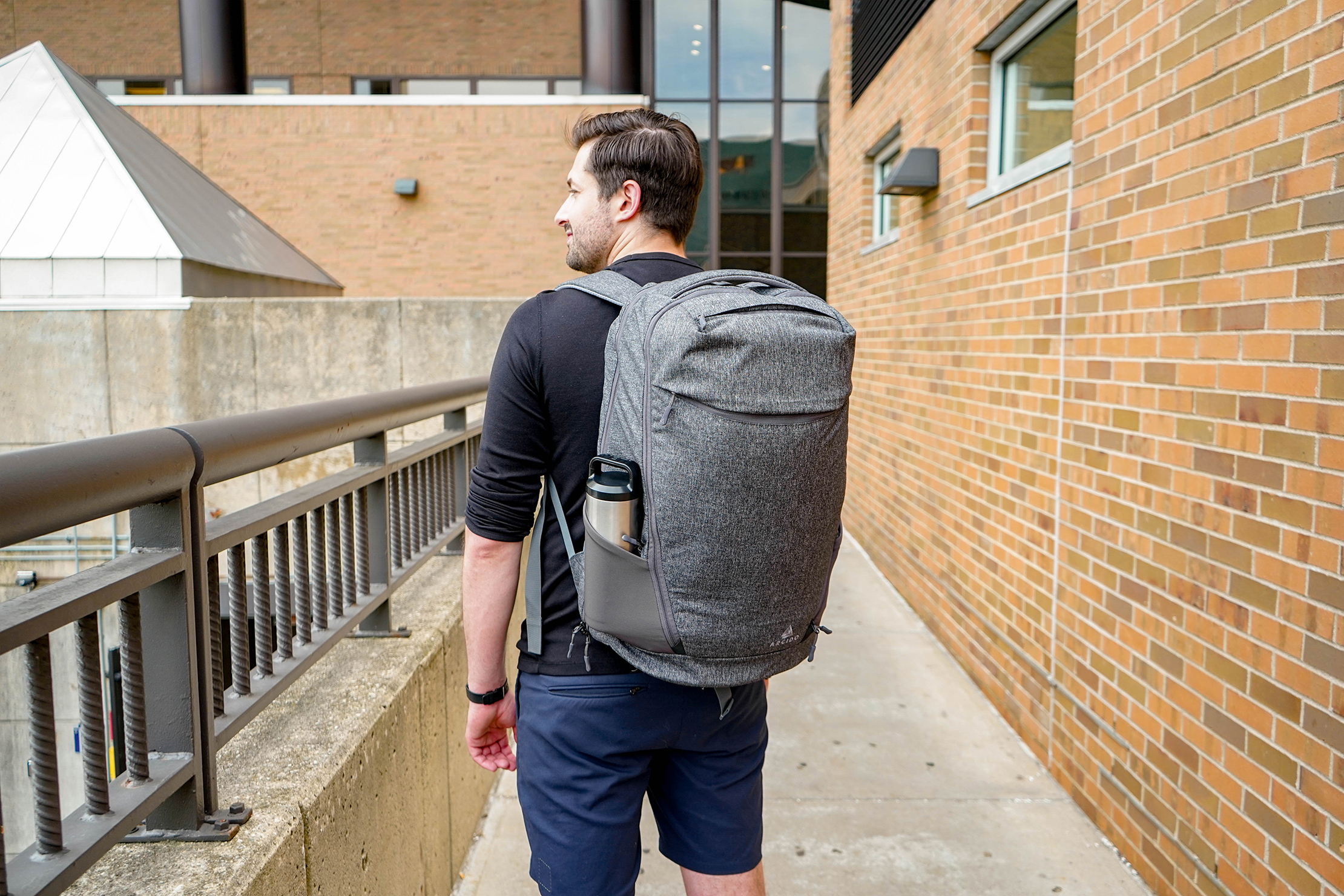 We've been testing the Arcido Akra for about a month now along with the brand's smaller daypack and other coordinating items in the Arcido ecosystem, including a wash bag, packing cubes, and more. We're excited to share our thoughts, so let's get to it!
Materials & Aesthetic
First things first, the Arcido Akra has a minimalistic and professional feel that we noticed right away. The main fabric used is a 500D Kodra nylon and the heathered gray color—the only colorway available at the time of this review—gives a work-friendly vibe while also hiding dirt and dust when you're on the go.
The zippers are colored to match the fabric and some of them have welting, which is a tiny piece of fabric that goes over the zipper and hides it. Arcido also used reverse coils so none of the zipper teeth are showing, and we like how this adds to the polished and streamlined look of the Akra. It should also help with durability and water-resistance.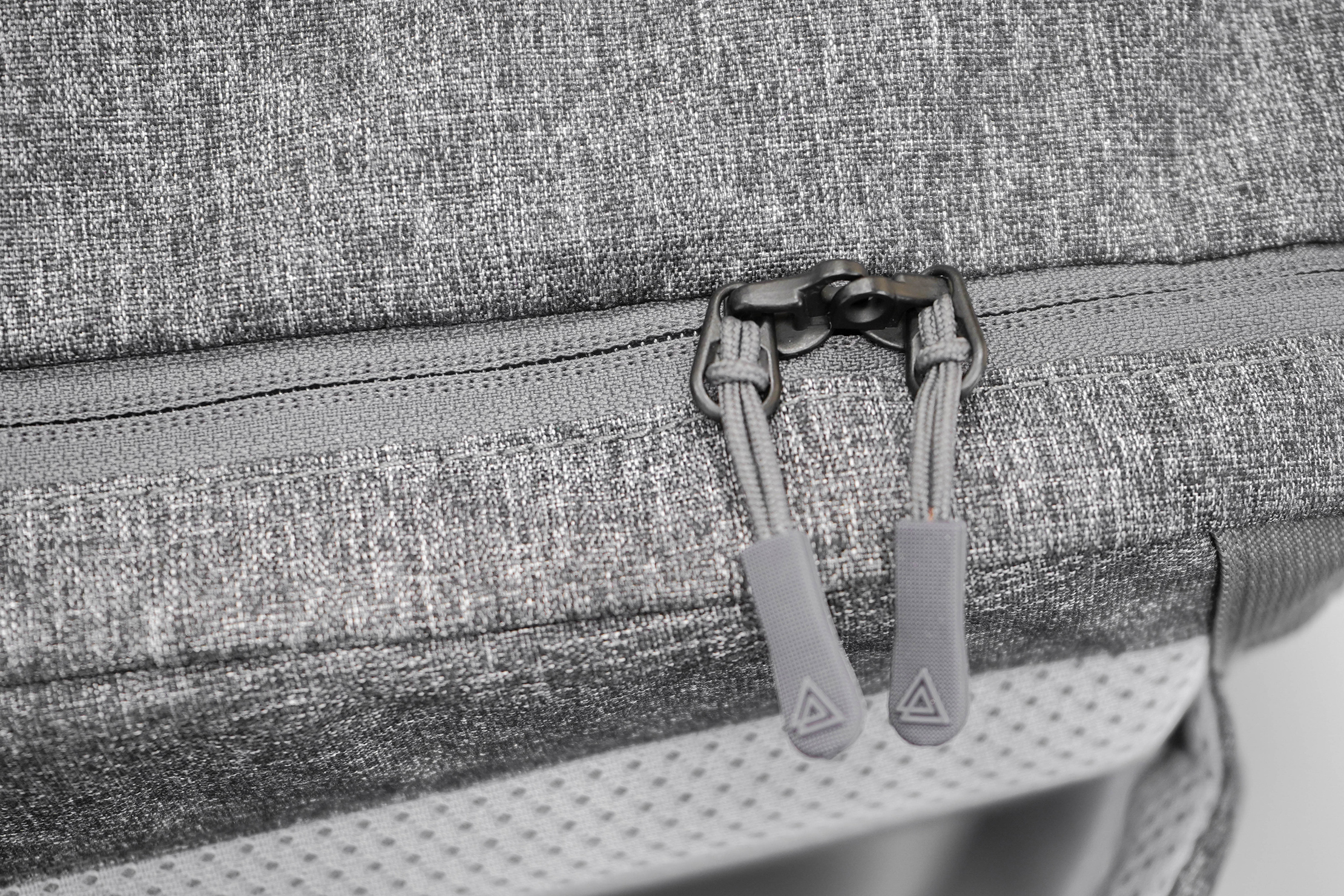 The positioning of the zipper gives the pack an interesting and rounded look, which we like for the most part, although we did have some zipper access issues that we'll get into later in the review.
When it comes to the branding on this pack, it's pretty minimal. A small logo is found on the bottom front of the bag, another on the back panel and an even smaller logo mark on the shoulder strap.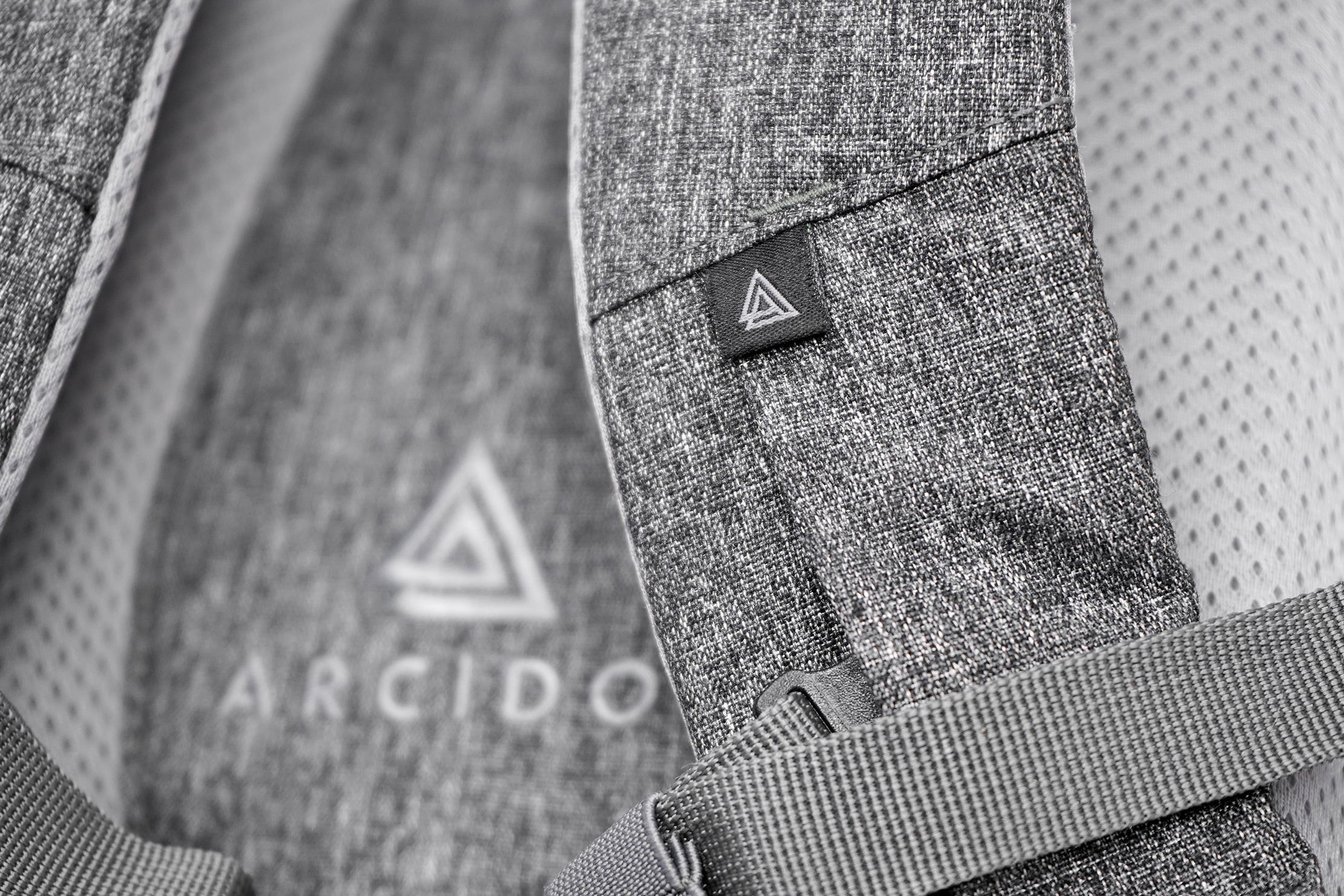 We definitely appreciate the unique and streamlined look of the Arcido Akra, and we think the heathered gray fabric is a nice choice. We do an Instagram aesthetic poll for all of our bags, and the Akra split the middle almost perfectly, with 52 percent of our followers saying they liked the look. We're always trying to get an idea of what people like in terms of style, so be sure to follow us on Instagram @packhacker to have your say in future polls and let your voice be known!
The Akra features durable YKK zippers—recently updated from #5 to #7, which is a definite improvement—across the pack. The hardware is a mix of DuraFlex and FasPros. As you'll notice from our previous reviews, Duraflex has proven itself time and time again to be a reliable and durable choice.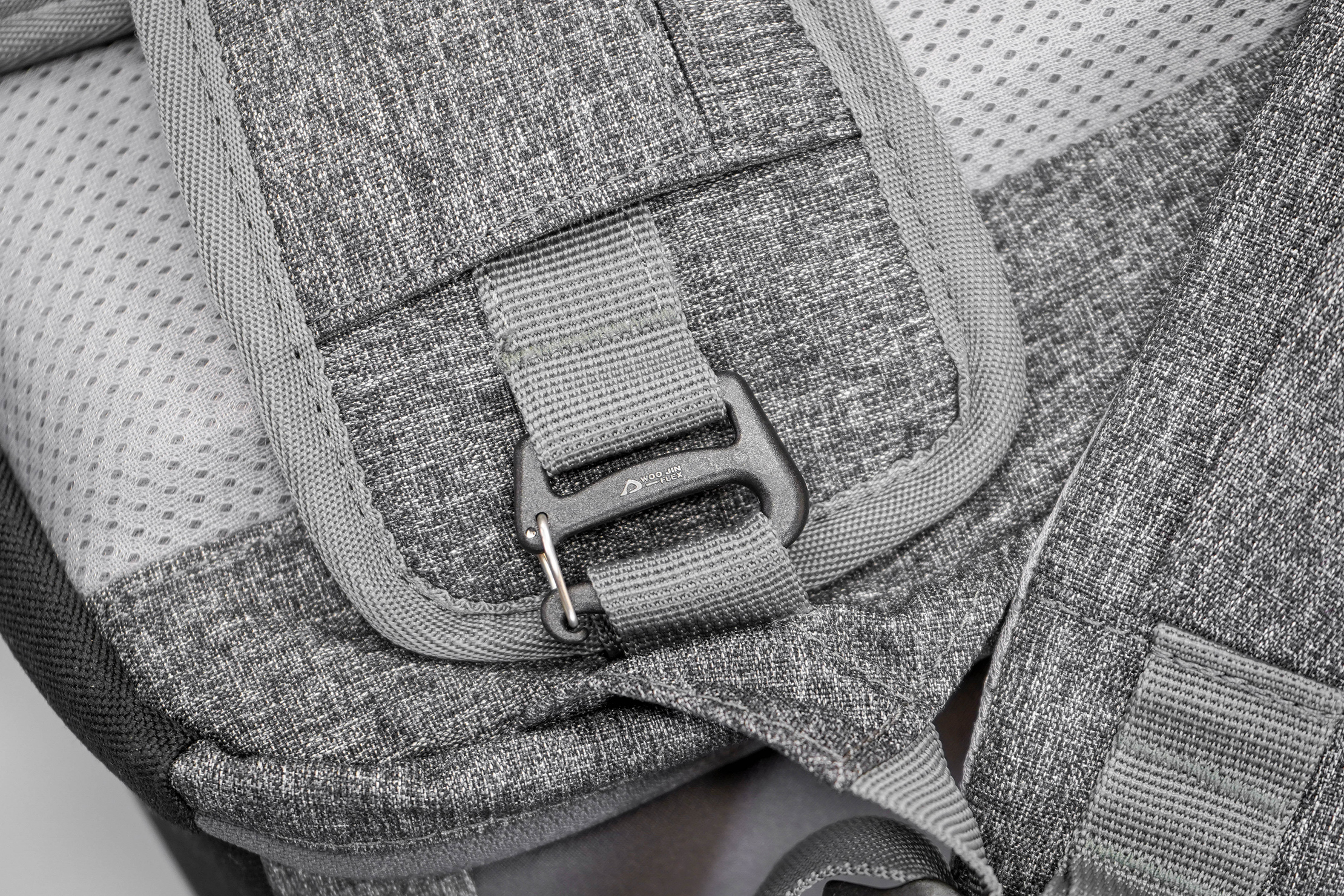 We're less familiar with the FasPros brand, so only time will tell if it holds up as well—but as always, we'll keep you updated with the usage timeline below as we keep testing it.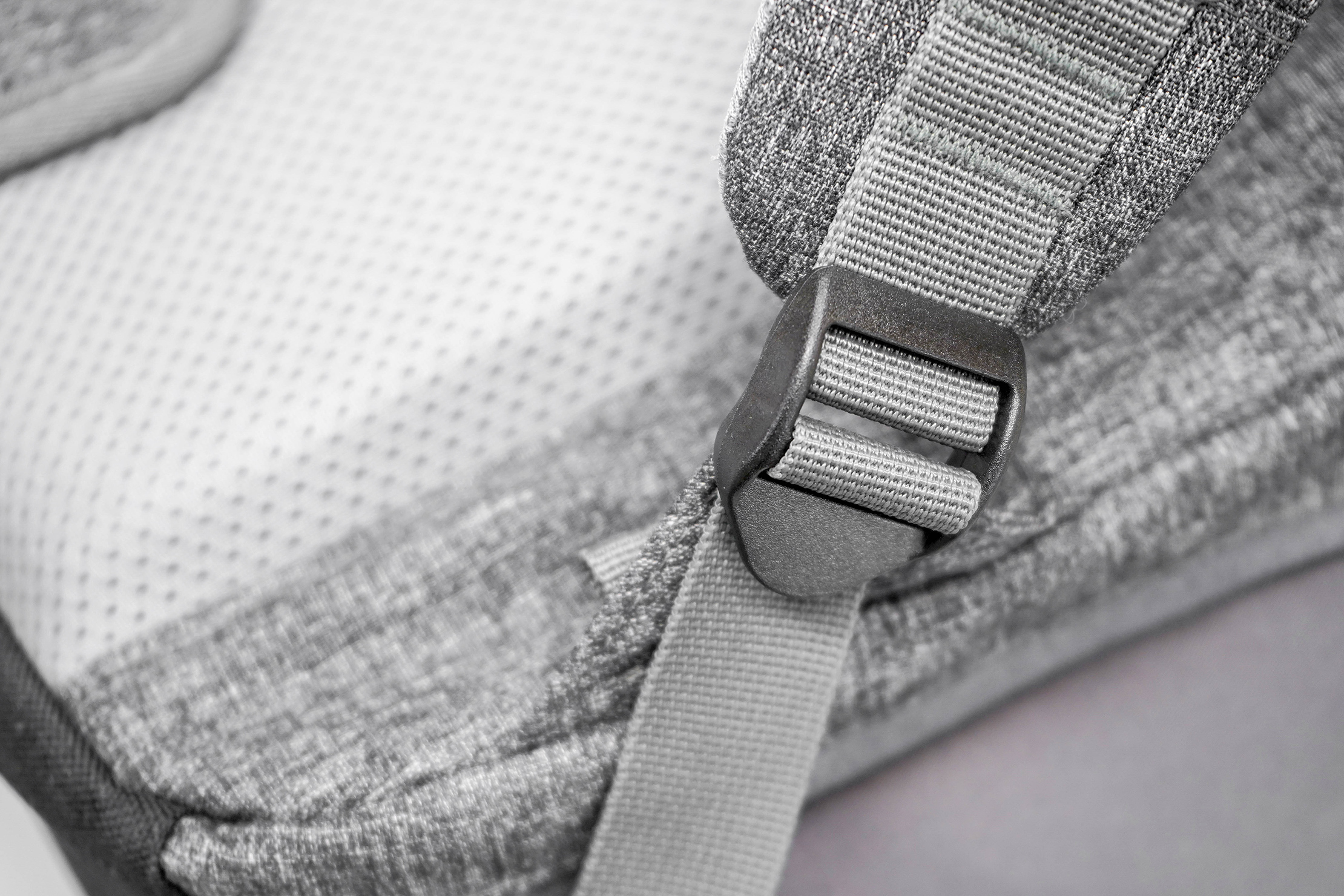 External Components
The professional feel of the Arcido Akra continues with the design of its harness system. The straps have 500D Kodra fabric on the outside, breathable mesh on the inside and they're packed with some pretty dense foam that makes for a comfortable ride.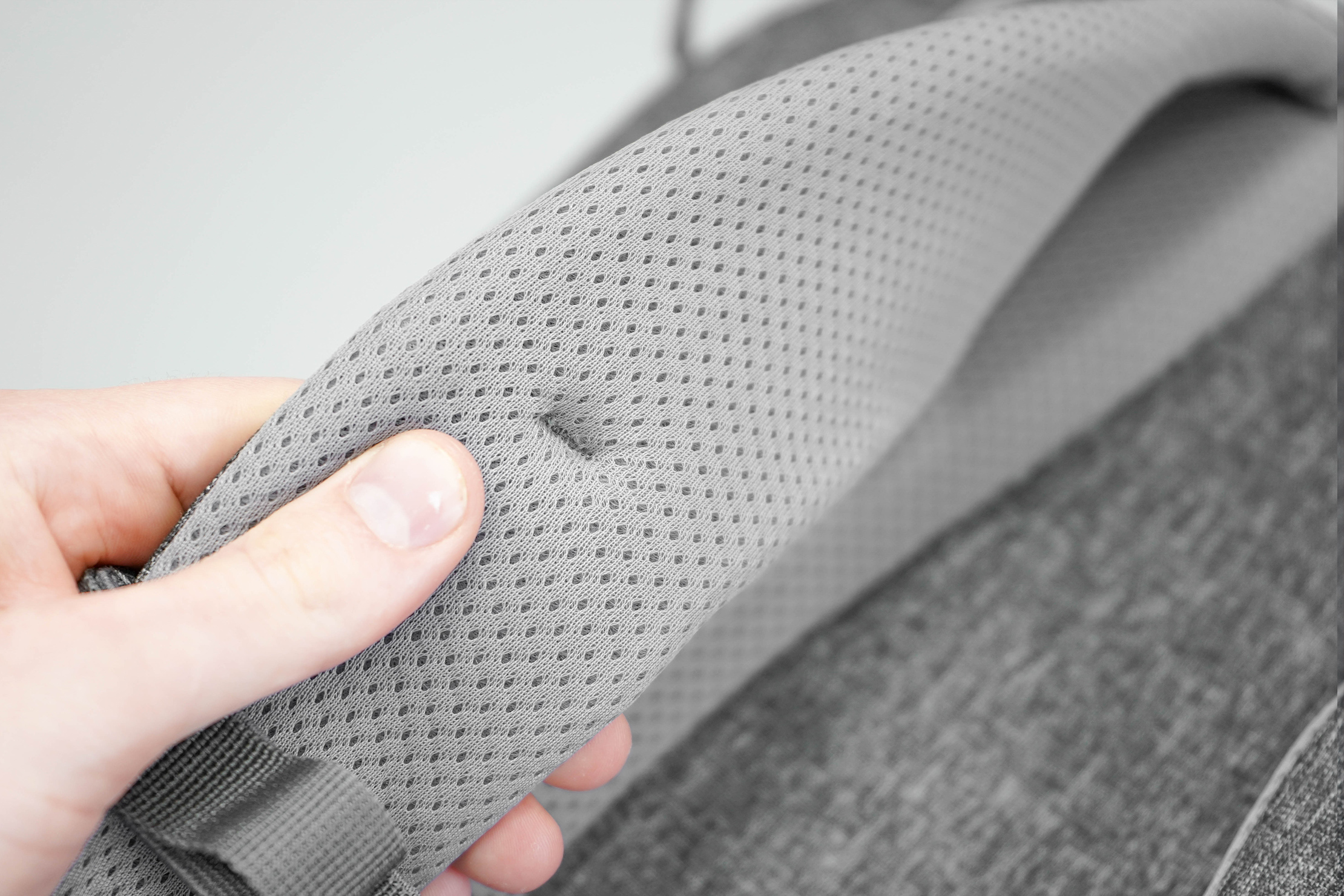 The sternum strap attachment point is hidden behind a welted piece of fabric, which also adds to this pack's streamlined look. Looks aren't everything, though, and we did find a problem with how this sternum strap attaches. If you're an avid Pack Hacker follower, you'll know these straps sometimes get lost in testing when the attachment point isn't permanent—and that's precisely what we're concerned about with this pack. It's just way too easy for this particular strap to slip out on its own. On the bright side, this didn't happen during our month of testing the Akra or the smaller Vaga daypack, but you should know it's a possibility.

The sternum strap features a satisfying magnetic buckle, which we love, and there's also a strap keeper to manage the excess strap. Since there's a small amount of elasticity added, this sternum strap is comfortable to use, as it will conform to your body shape and the positioning of the straps as everything moves around.
This strap is also swappable to the smaller Vaga daypack, so if you own both (or want an excuse to own both) this could be a nice convenience factor.

Adjustability on the Arcido Akra main straps is pretty standard, but we've been a bit disappointed that the same elastic keepers found on the sternum strap and hip belt aren't used here as well. This seems pretty odd to us, considering shoulder strap adjusters tend to be the main area where backpack companies opt for elastic keepers like these—not sternum straps.
Some nylon webbing is found at the bottom of the harness system for attaching an optional hip belt. We tried this out but it functioned a bit more like a stomach belt, hitting around the belly button on our 6-foot-2-inch tester with a torso length of 19.25 inches. That isn't how it's intended to be worn, of course, so it's definitely something to keep in mind. Other brands have solved this problem by offering multiple nylon loops for attachment points, so we'll be interested to see whether that's offered on a future iteration of this pack.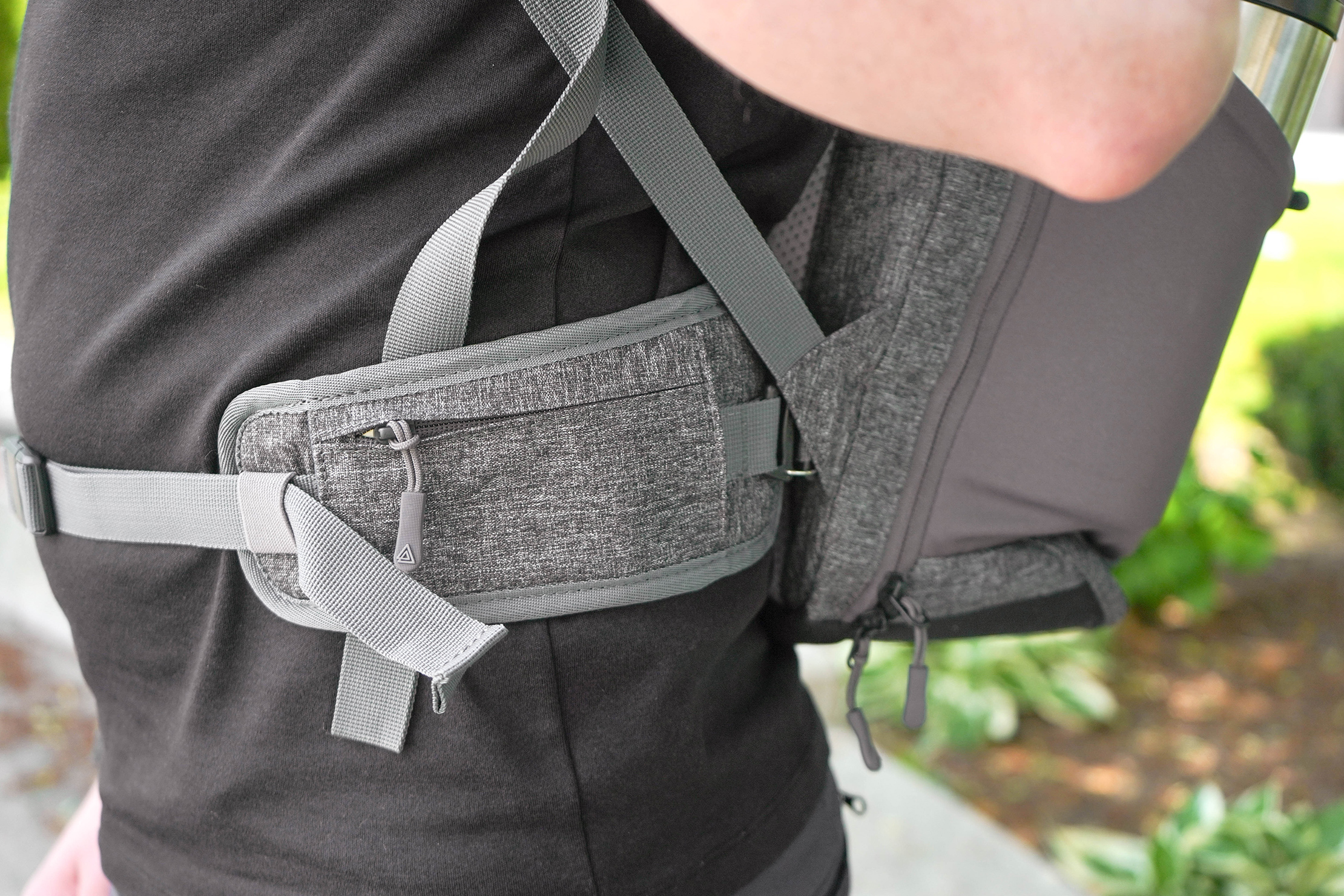 When it comes to the hardware on the Arcido Akra, we have a couple of minor gripes. The Duraflex gatekeeper used to attach the hip belt is one of the hardest clips in the backpack business to do and undo. It's still a popular choice on many bags (somehow?), so we can't quite knock Arcido for going this route, but just know that it may be a bit tricky to get on and off.
Another issue is that the magnetic buckle on the hip belt doesn't work very well in this application. You typically want a hip belt close and tight to your body, and while this was tightened, we typically ended up poking ourselves trying to get the magnetic buckle off. A standard slide-release buckle would likely work better in this area, though your mileage may vary.
On the positive side, the hip belt does have some nice, smaller pockets that can be used for more flexible items or things like lip balm, transit cards or cash. We wouldn't recommend storing your phone here, though, since it will be a bit stiff and the hip belt really needs to contour to your body to function properly.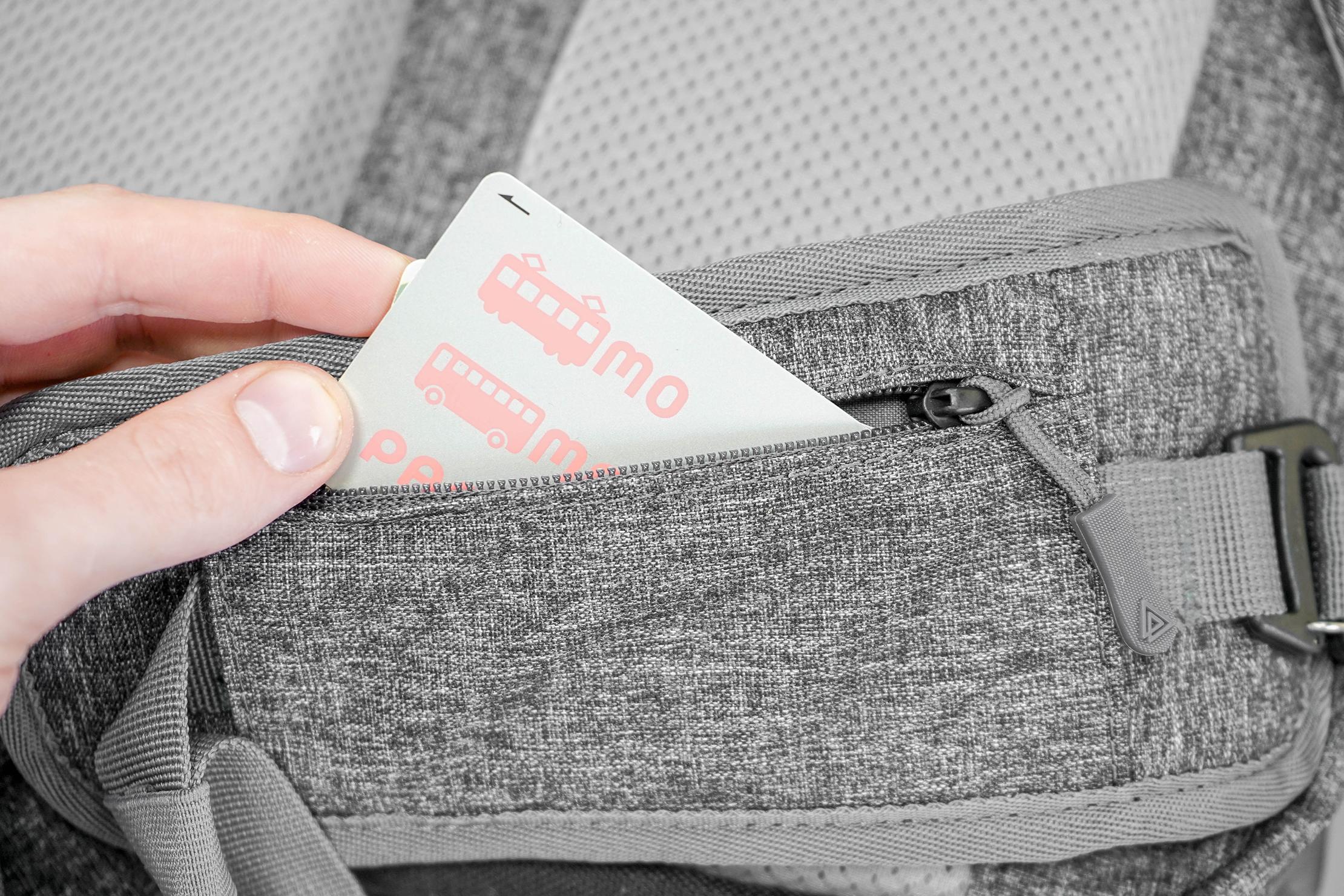 The elastic keepers we mentioned before are also found on the hip belt—which help with strap management—and the extra nylon at the attachment points provides some flexibility for the hip belt as well.
Dense foam is found along the back panel of the Arcido Akra, and we like that it's lined with mesh. While you can't avoid back sweat entirely with any travel backpack, the mesh certainly helps with airflow.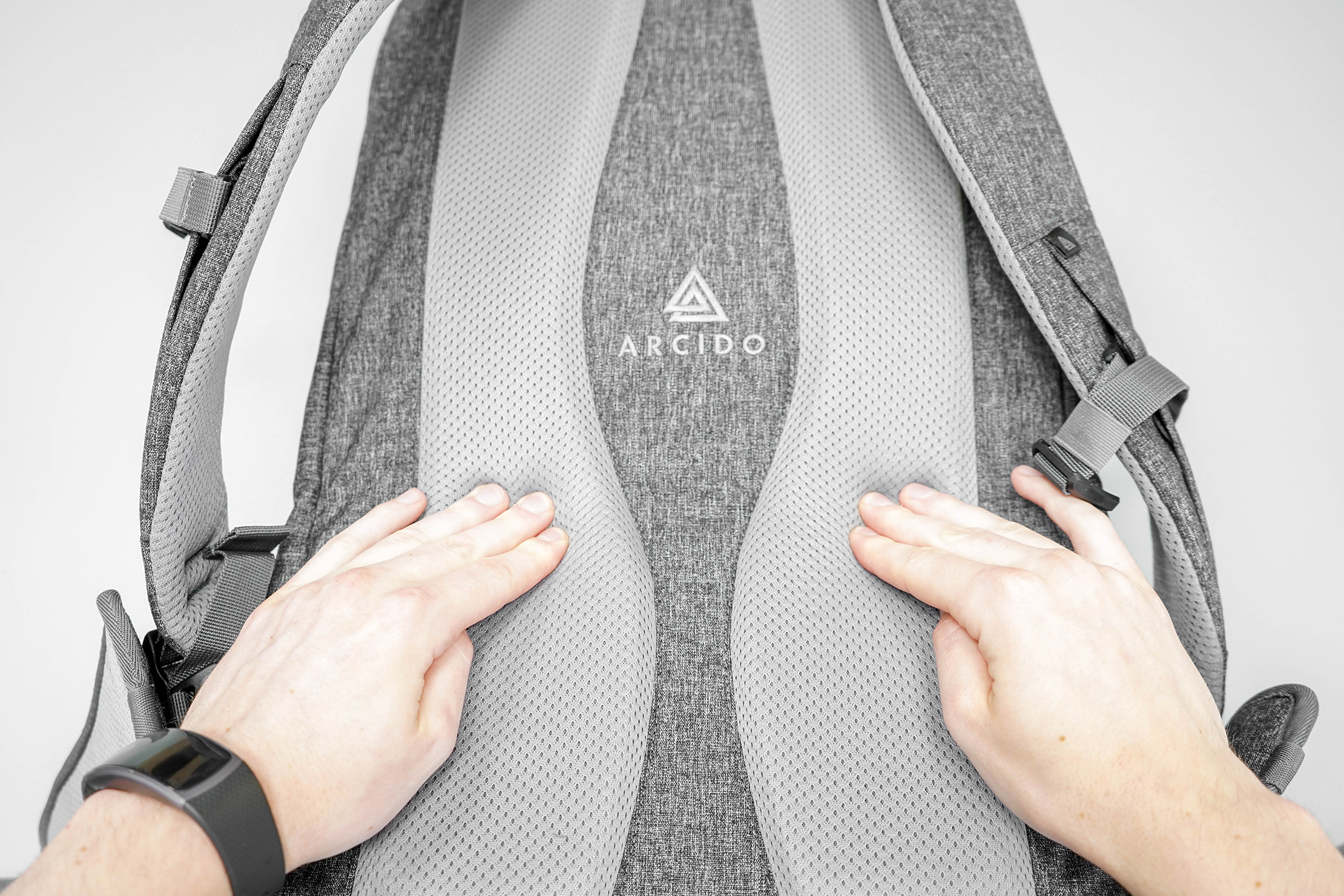 The low-profile grab handle on top of the pack is just the right size and has the right amount of padding. This is exactly what we like to see on a top grab handle, so definitely no complaints on that front.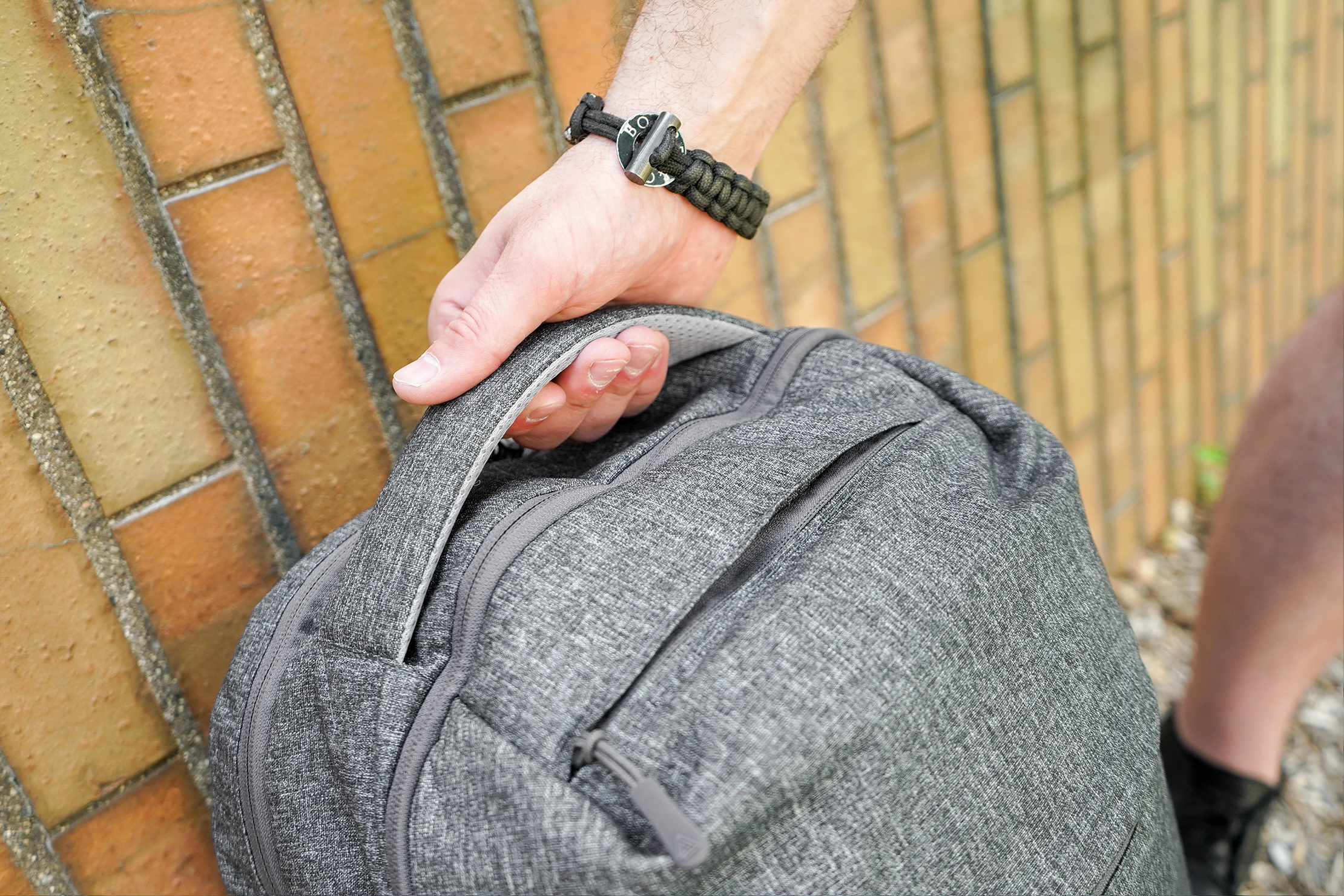 The bottom of the Akra has a higher denier fabric for added durability when you set the bag down. However, while a thin frame sheet provides structure, the pack is still a bit floppy overall and unable to stand on its own unless it's packed with structural or padded packing cubes.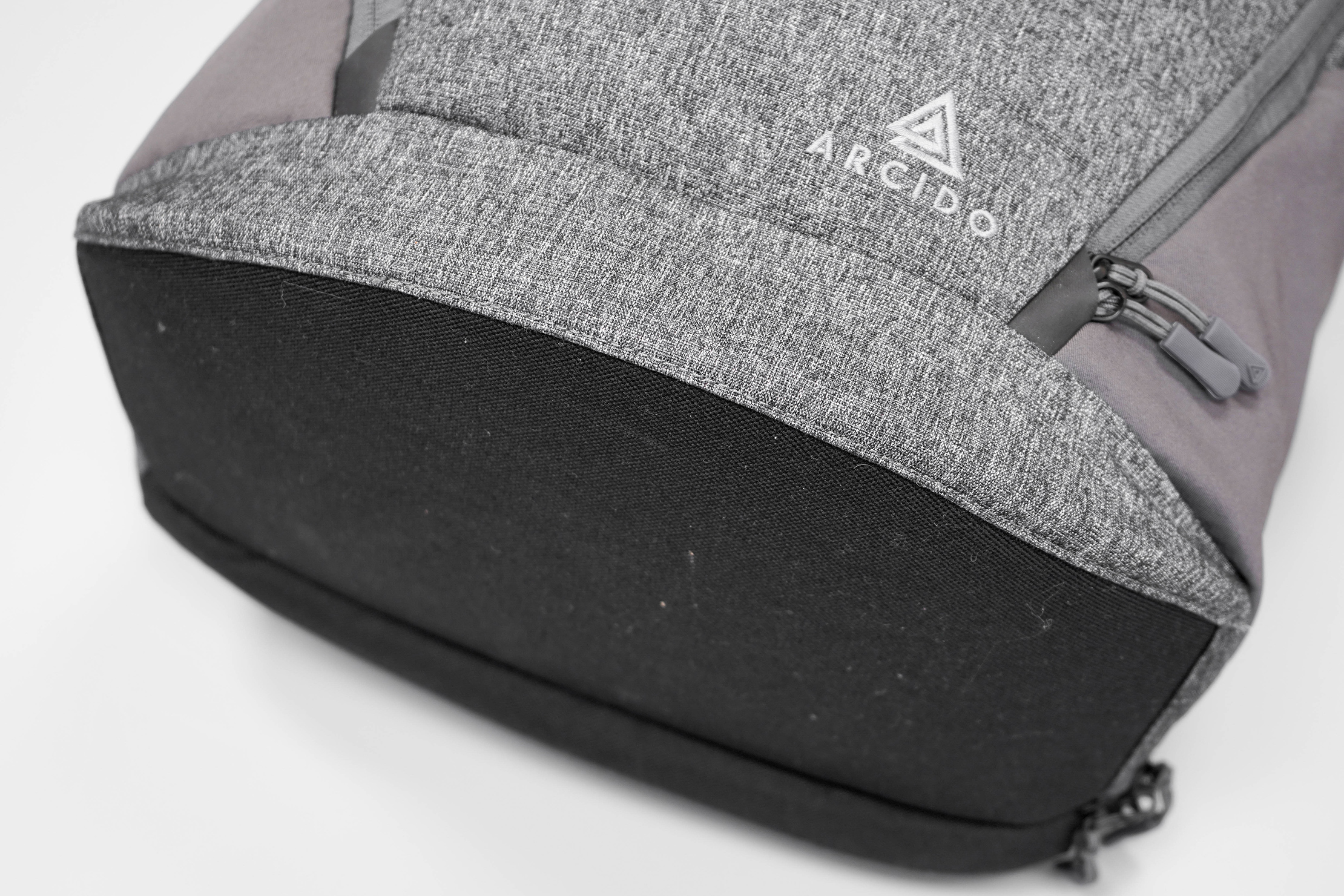 Water bottle pockets—a pretty important component for a lot of travelers—are found on each side of the pack. Both are generously-sized and can accommodate larger bottles, however the material and minimal stretchiness leaves something to be desired when it comes to holding a water bottle in place. In our testing, we've often found our water bottles falling out.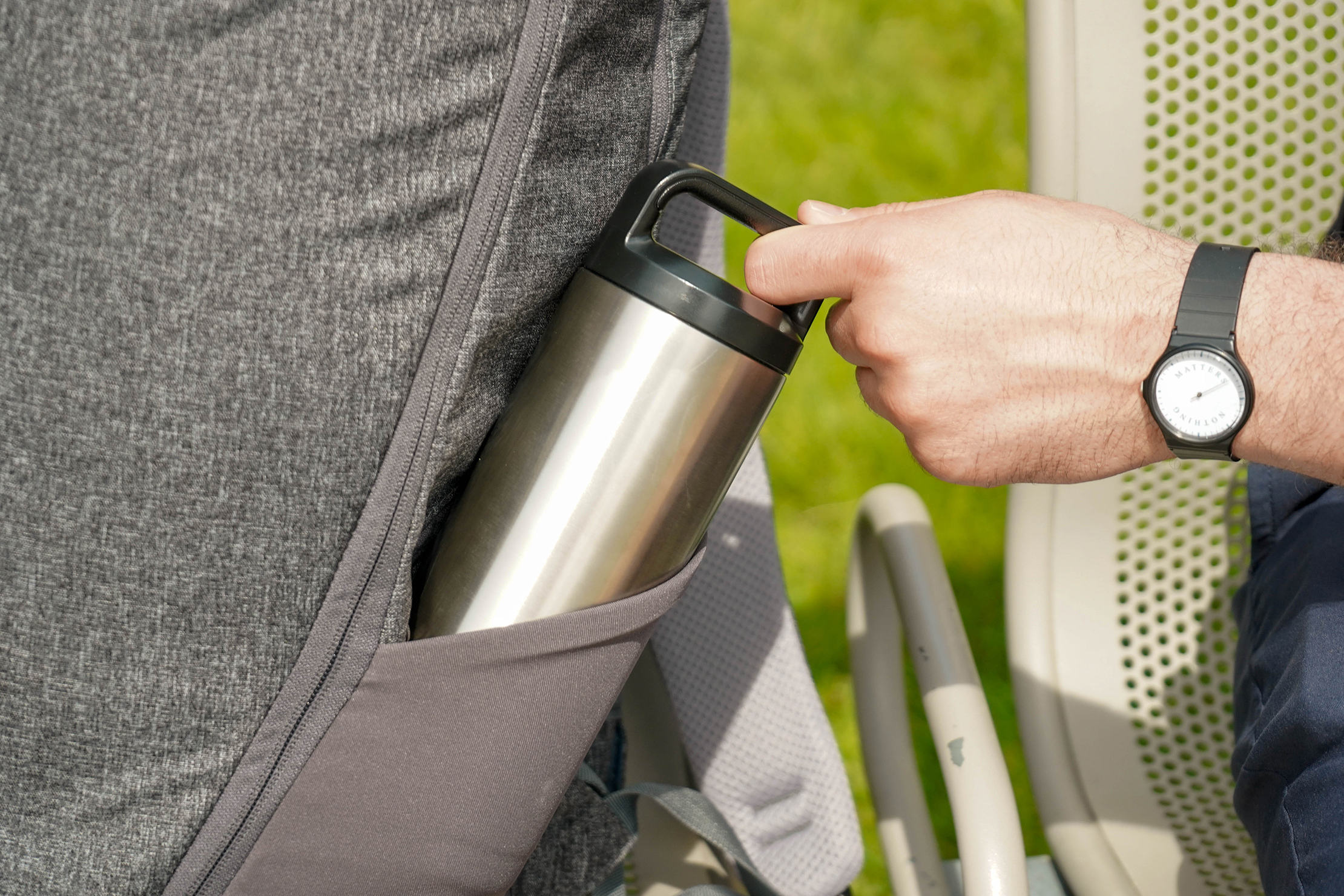 Inside the Pack
Where the Arcido Akra really shines is with some of its unique organizational features and design decisions that have clearly been made with travelers in mind.
Two stealth pockets are located right behind the water bottle mesh, and we like how the angled positioning of the zipper follows the water bottle mesh exactly (sometimes it's all about the little details!).
A decently-sized quick-access pocket lined with a felt-like material is found on top of the pack, and this is a good place to store more delicate items like sunglasses or your phone. Then there's also a back, hidden pocket which is ideal for things that need a bit more security—like travel documents, extra cash or your passport.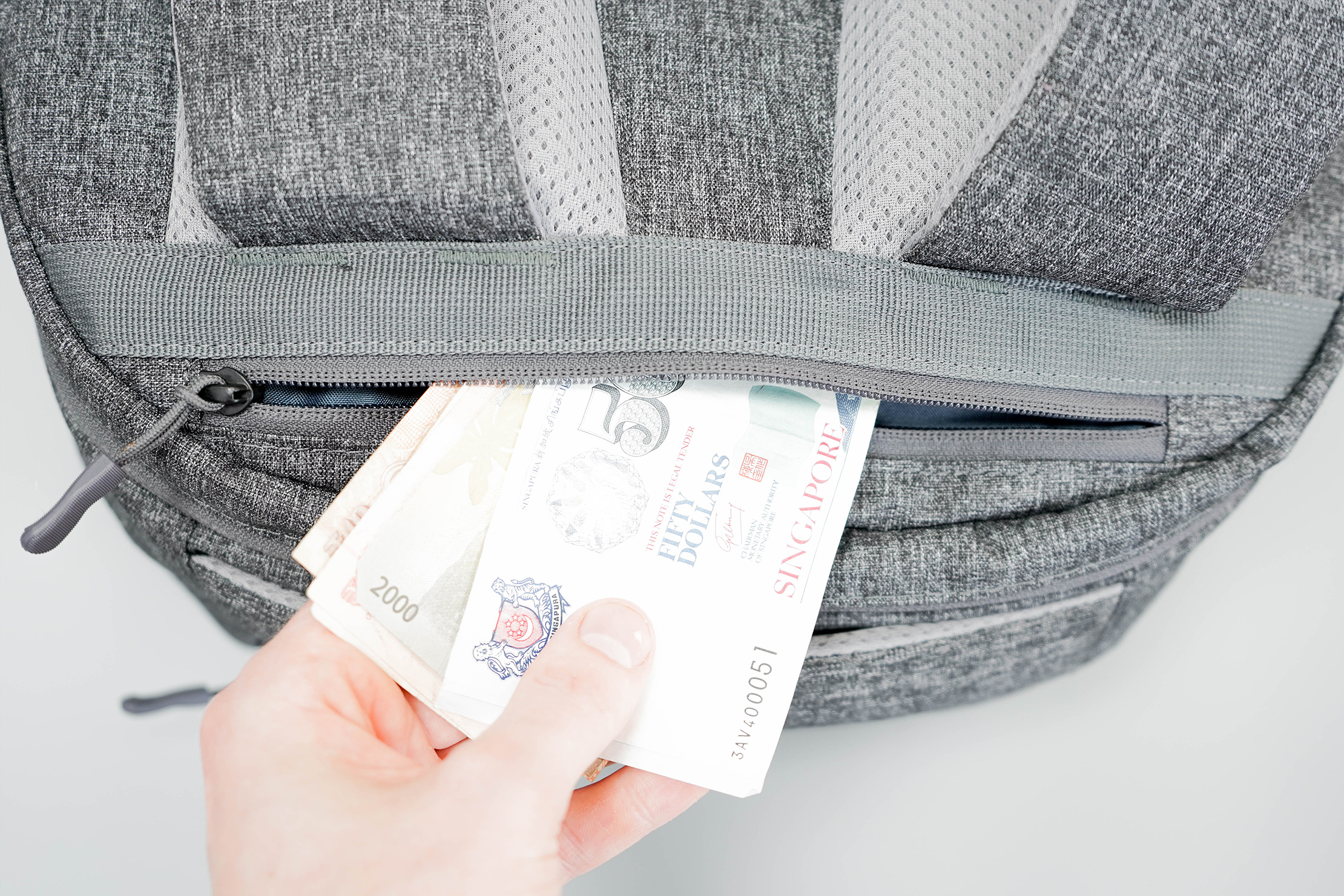 When opening up the Akra fully via the clamshell zipper at the back, you'll be able to access the laptop organization features. We care a lot about laptop compartments here at Pack Hacker and the Akra doesn't disappoint with its unique laptop harness. This harness offers a custom fit, which will work well for most laptops under 15 inches, and you can use the Velcro on the sides to simply slide your laptop in or out and tighten it up for a secure fit. We like how this system easily accommodates laptop of varying thicknesses.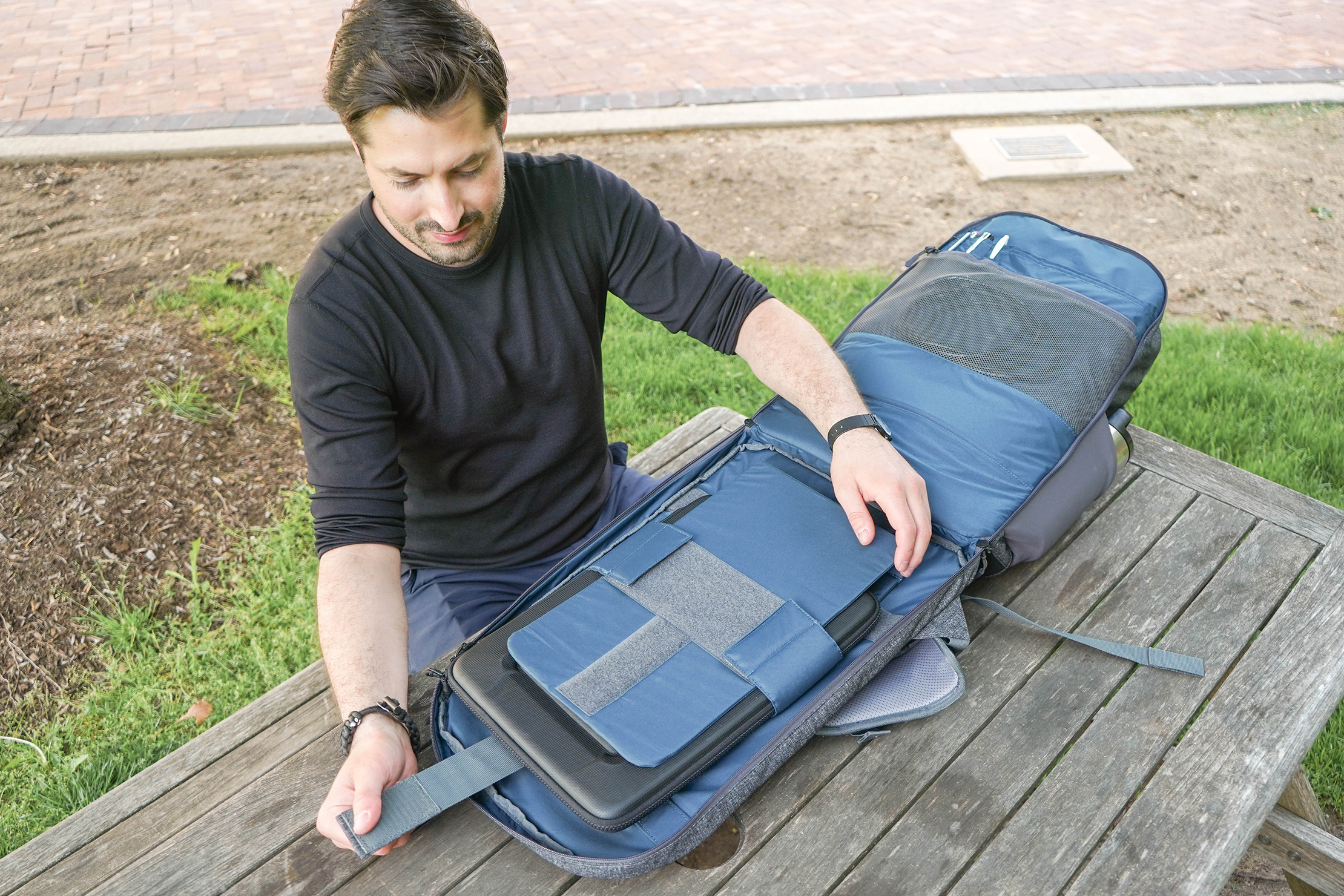 When in use, your laptop is suspended in the middle of the bag—AKA, "floating"—which is a critical feature since the edge of your laptop won't hit the ground first if you drop the pack by accident. A pull cord at the top helps with the laptop suspension and makes it easier to pull the laptop in or out.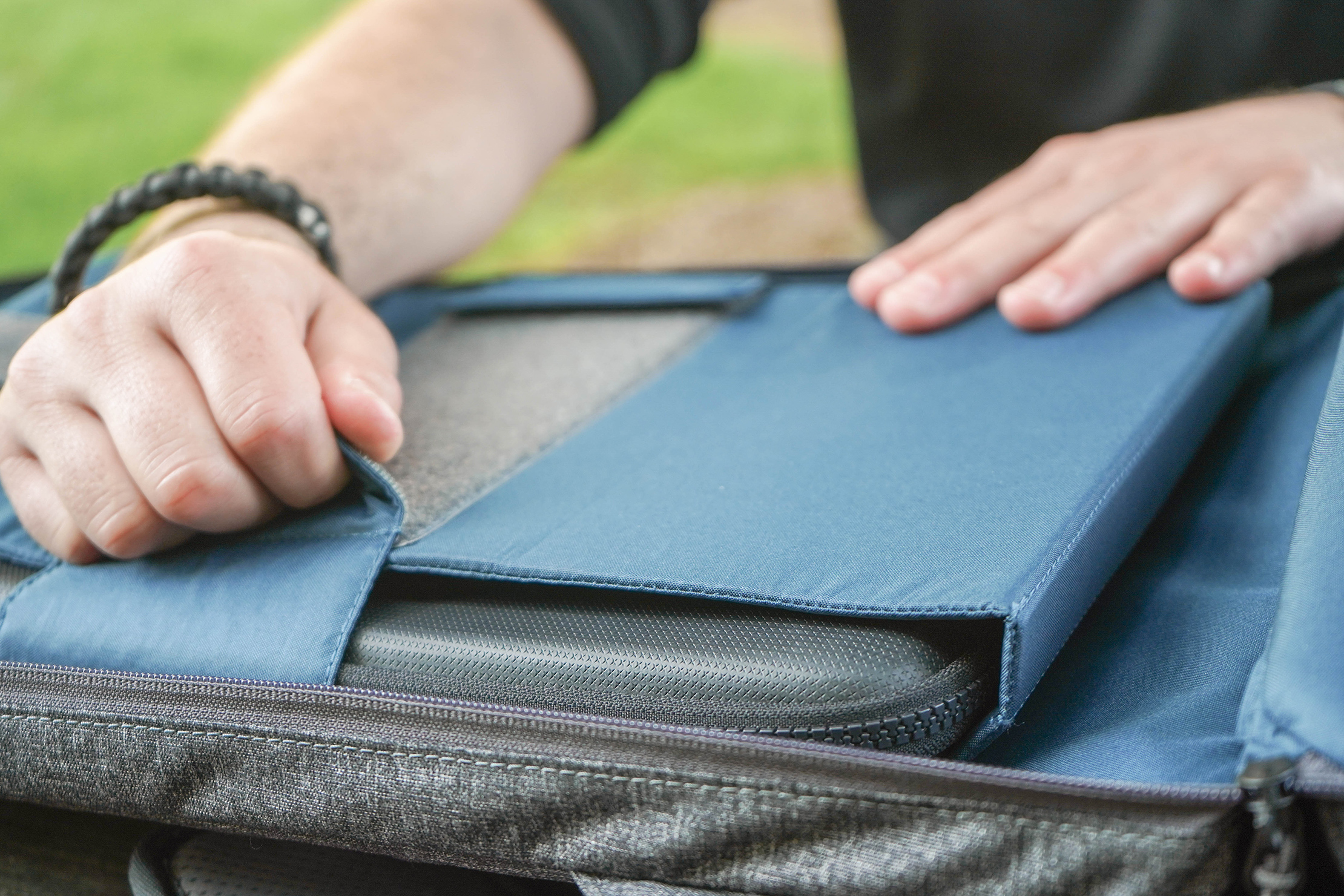 Another nice feature is that the entire laptop harness is easily transferable between the Akra and the smaller Vaga we mentioned earlier. Overall, we really dig the unique thinking here and we're glad Arcido didn't play it safe—we always like to see brands push the envelope and try new things to keep the backpack industry moving forward.
Behind the laptop compartment, you'll find some productivity and organizational features including a mesh compartment that is ideal for cords, flatter items or anything that isn't too bulky. There is also space for four pens, pencils or styluses at the top, and a slot for a notebook or smaller tablet.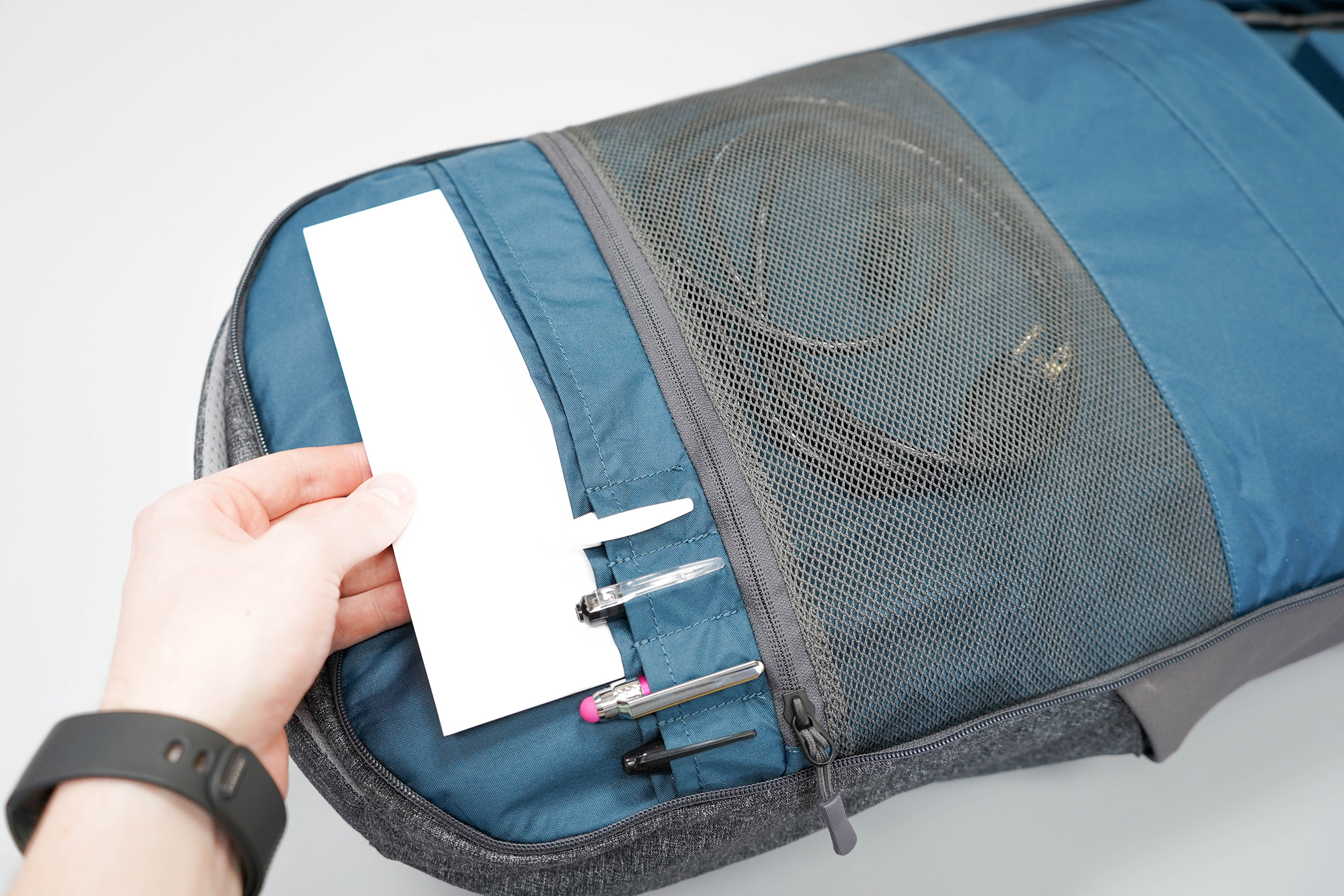 A Velcro pocket along the back is another nice spot for thin items like travel documents that need to stay flat, though we did notice that the lack of structure in this pocket makes it a bit difficult for the Velcro to line up correctly.
Now back to the front of the bag, where you'll find the main front pocket which goes all the way down to the bottom of the bag and is also accessible from the main interior compartment. Although it's a bit oddly-shaped, this pocket has lots of space and we've found it useful for stuffing a light jacket inside while you're traveling.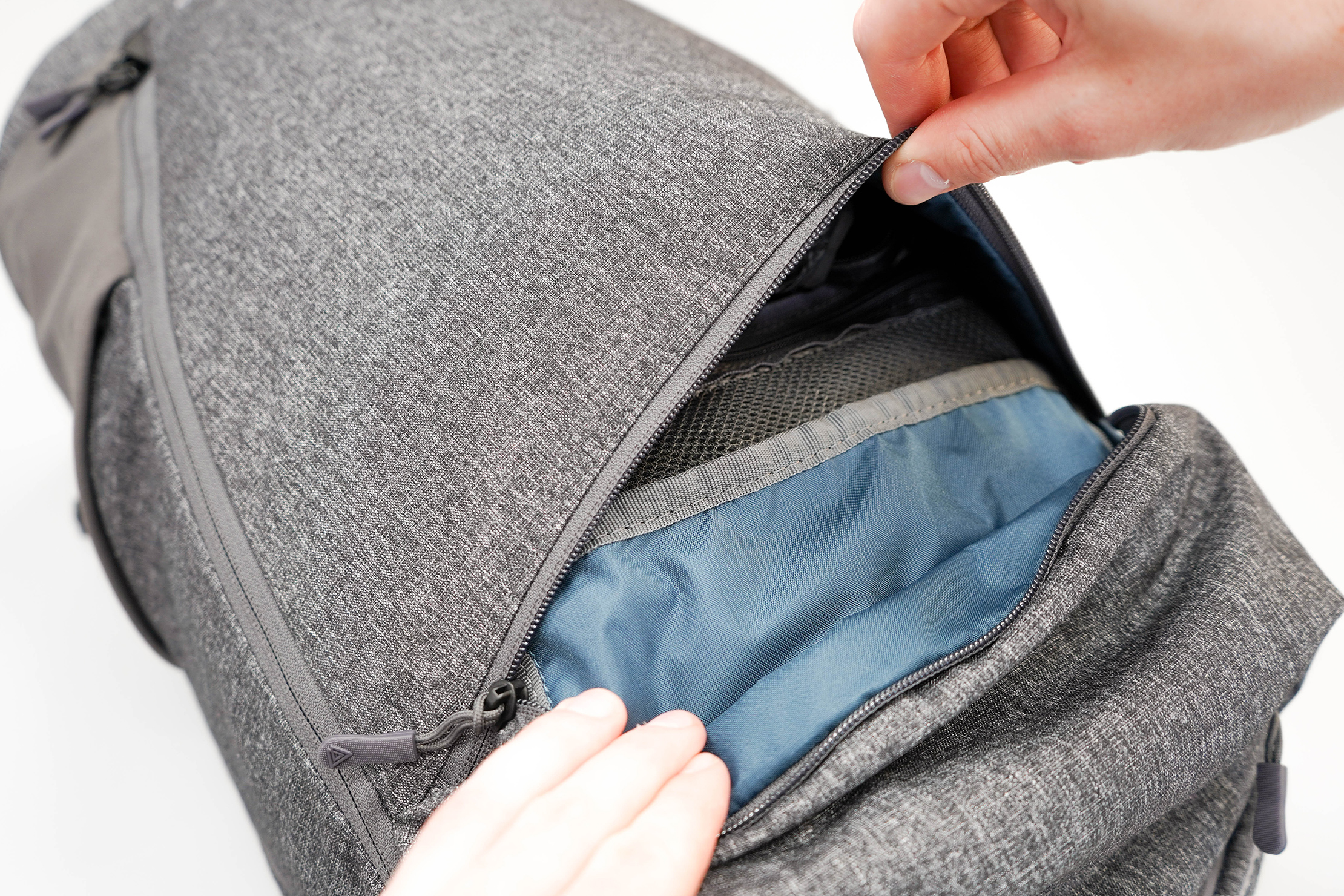 Opening up the main curved zipper of the Akra—which we like the look of, by the way—provides access to the main compartment, and there are also some nice zipper garages at the bottom of this section.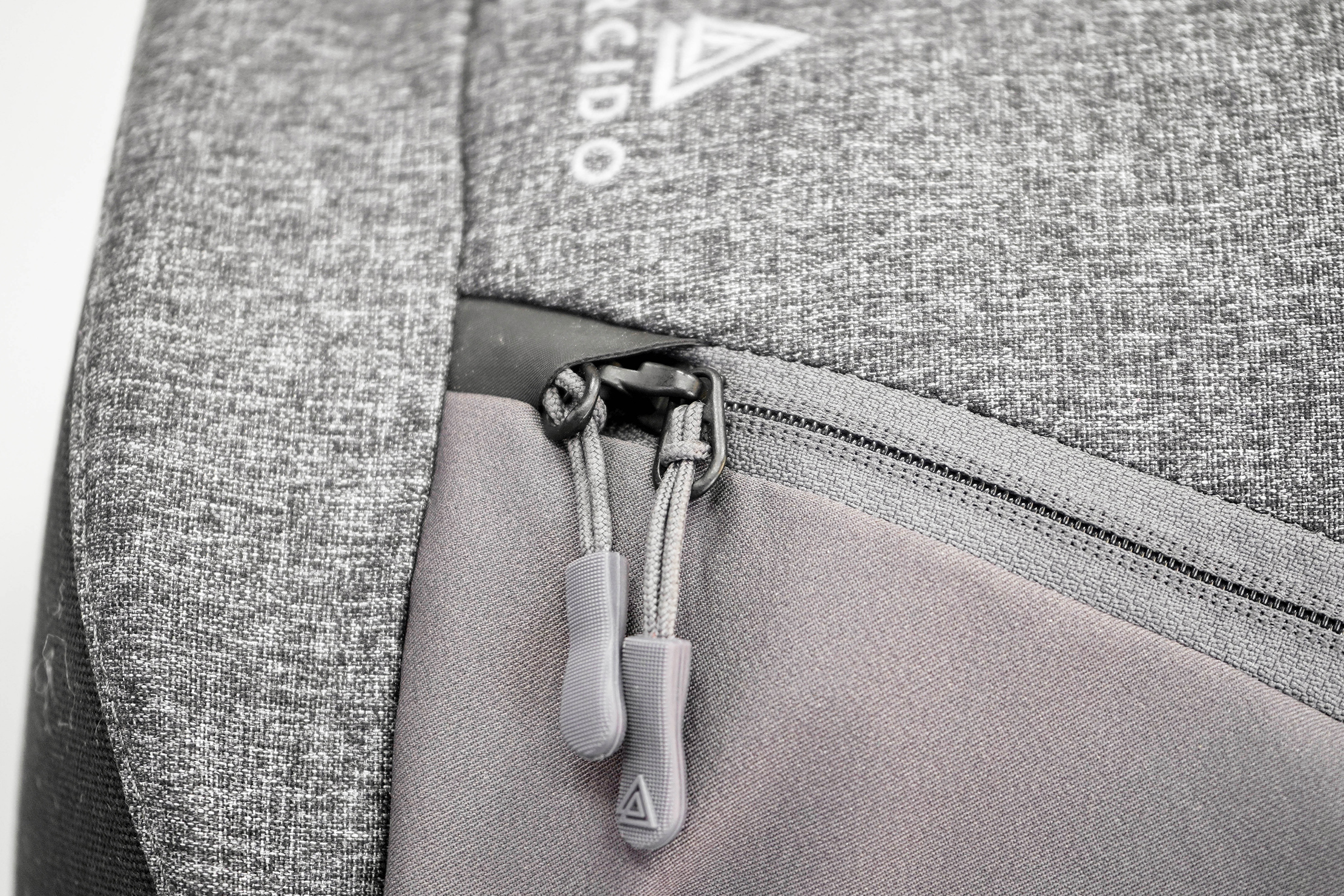 Inside the main compartment, you'll find a giant bucket and two compression straps. The compression straps work well for loose clothing but actually work best with Arcido's packing cubes—one large and two smaller cubes will fit perfectly inside of this bag.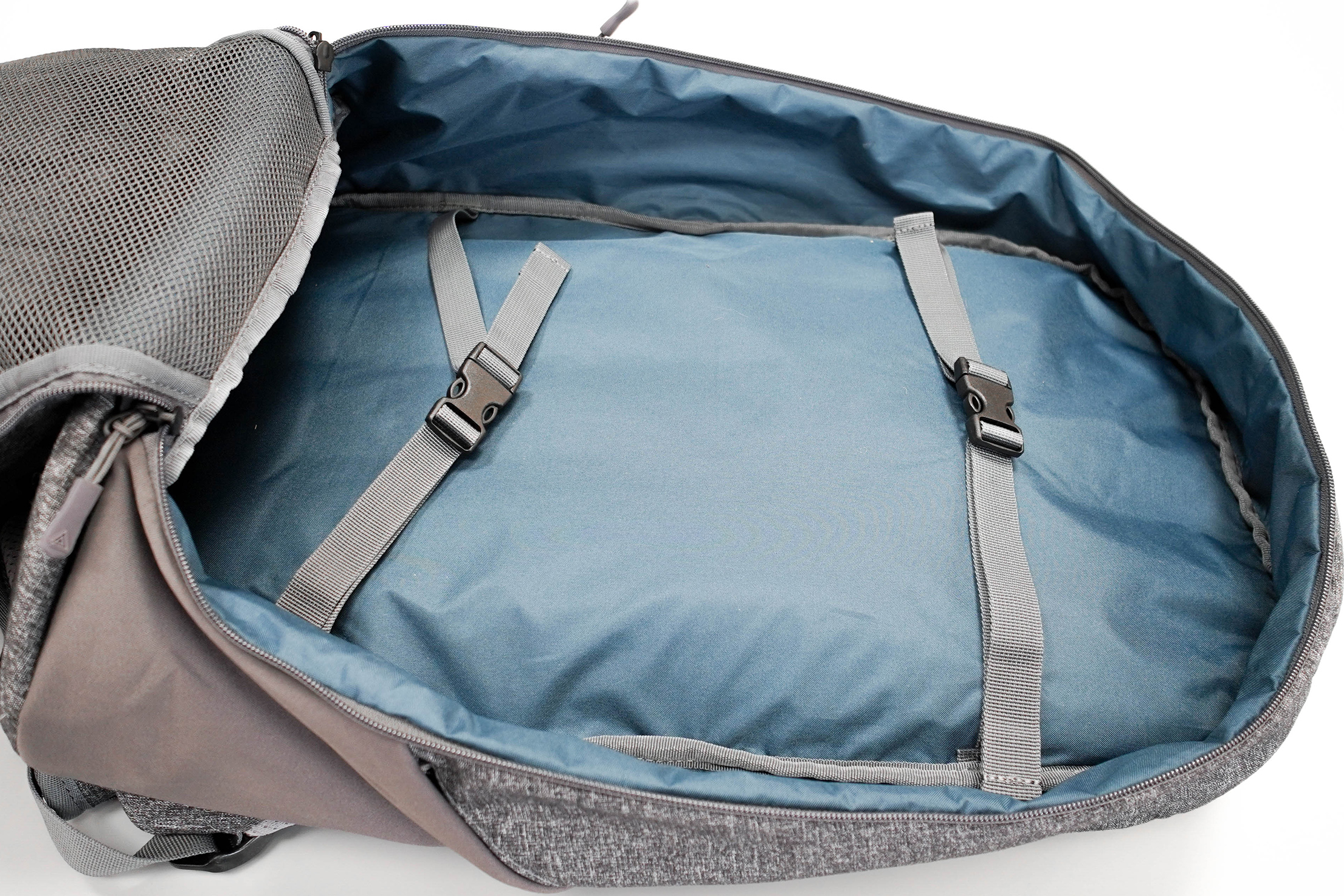 Although the curved zipper along the front of the Akra provides an interesting look, we did find it hard to fully pack this bag towards the bottom. While the zipper flows nicely along the top, things do get tighter at the bottom.
And finally, the front pocket on the outside is also the mesh pocket found on the inside, so it's accessible from the interior and the exterior—a nice organizational touch.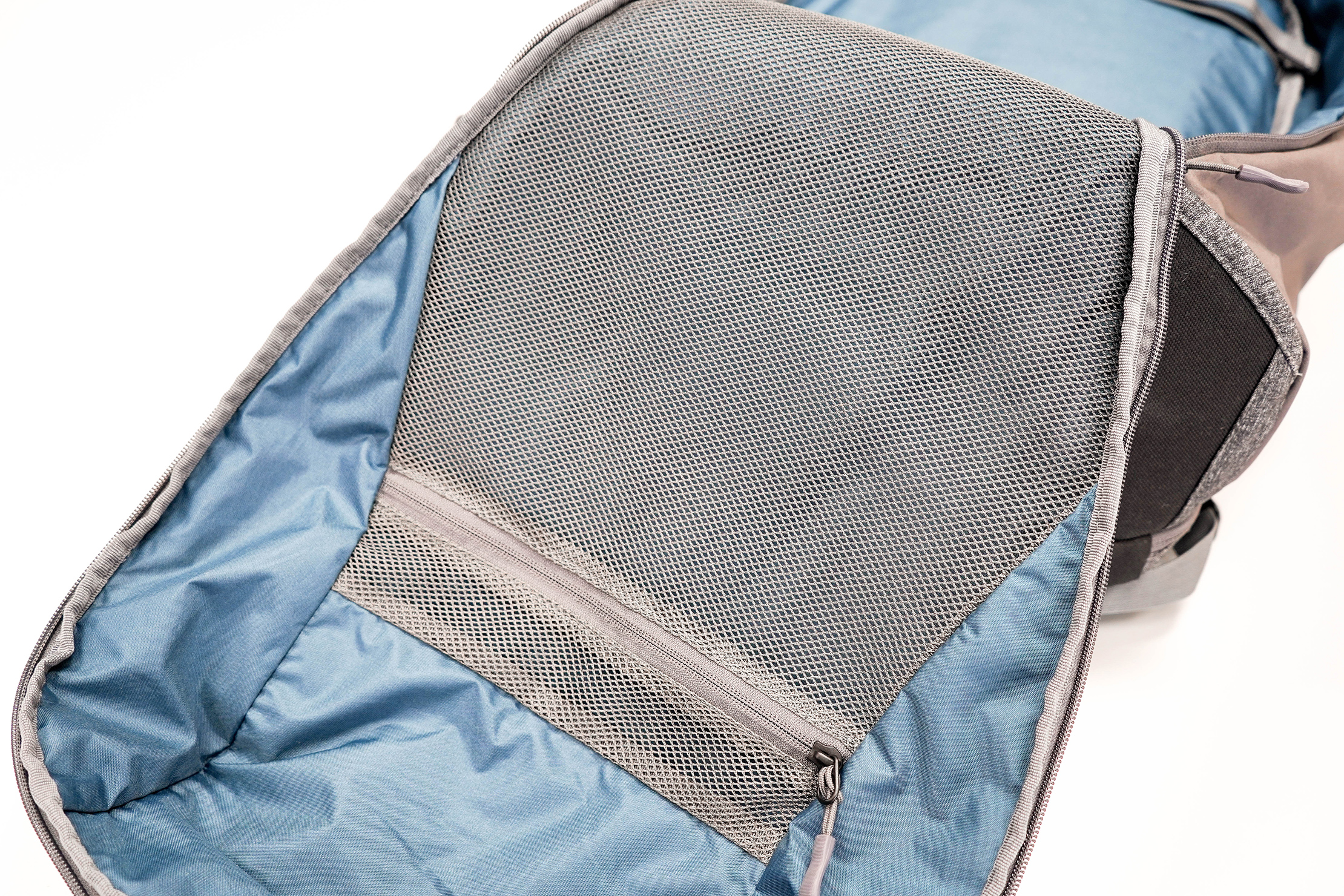 Durability & Testing
At the time of this review, we've been testing the Arcido Akra for about a month and some of the related Arcido products (the packing cubes and daypack) for about two weeks.
Although we've noticed a couple of minor aesthetic blemishes on the exterior of the pack, we haven't seen any loose threads or had any major concerns to speak of. All in all, it's "so far so good" on the durability front.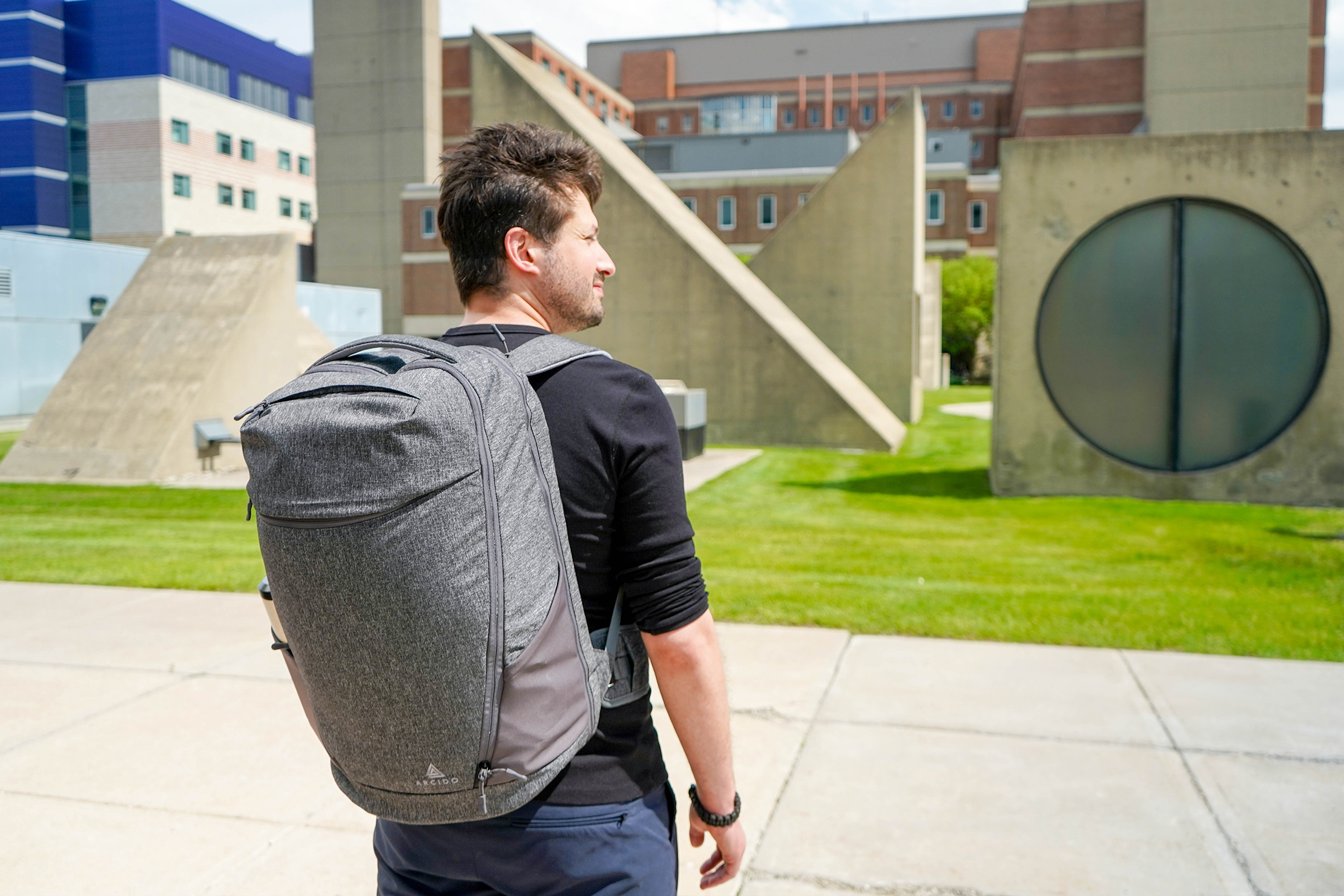 Usage Timeline
Initial Usage
Condition: Excellent
The curved zipper on the main clamshell is interesting—it leaves space for the top quick-grab pocket.
Great to have an option for a hip belt with a pack of this capacity.
2 Weeks of Use
Condition: Excellent
Super cool laptop harness. Hip belt is way too high up.
1 Month of Use
Condition: Excellent
Holding up well, only a couple minor blemishes
Overall
The Arcido Akra is a thoughtfully-designed bag made with the traveler in mind. From its curved straps and streamlined look to its customizable harness system, the Akra is full of innovation and we like that Arcido has taken a bold design direction with this pack. We haven't seen these items in many other backpacks and, as far as we can tell, they're pretty unique to Arcido. With the Akra's easy-to-lose sternum strap, you may not want to stray too far from the city, but this bag functions incredibly well for the urban-focused traveler seeking a slick-looking travel bag and a great organization system to go along with it.
Other Bags & Luggage Reviews