ALPAKA Metro Pouch Review
The ALPAKA Metro Pouch fits a fair amount of gear and easily attaches to a bag or your person, though it can be hard to find a use for it in some pack-outs.
Our Verdict
Unlock the Pro Summary
Save time. Get access to brief summaries of our reviews so you can browse and make decisions more efficiently.
Pros
Materials are durable and highly water resistant
Tons of internal organization for such a small pouch
Modular with other ALPAKA gear
Cons
Zipper heads leave small gap in the track for water to get through
Gear inside the elastic straps can take up space in the pocket below it
Most modern phones don't fit inside
Recent Pack Hacker Video
Technical Details
Capacity

0.7l

Weight (oz)

3.6 oz (102.1 g)

Dimensions

5.3 in x 2.2 in x 3.5 in (13.5 x 5.6 x 8.9 cm)

Notable Materials

Ballistic Nylon, Ripstop Nylon, YKK Zippers

Manufacturing Country

China

Warranty Information
Full Review
Get up to 15% off ALPAKA • Join Pack Hacker Pro
We've tested a few pouches like this one, but at the time of writing, none have had as much depth for gear storage as the ALPAKA Metro Pouch. We're curious to see if this depth enables us to carry more everyday carry gear or whether we feel as if we're being bogged down. Let's dive in! Or maybe we should walk in, it's deep, but it isn't that deep…Okay, jokes aside, let's get into it!
External Components
The pouch is crafted from 410D Ballistic nylon. The material is a little shiny yet extraordinarily durable and water resistant. The materials look very professional, especially when paired with a daypack, travel backpack, or sling with similar materials.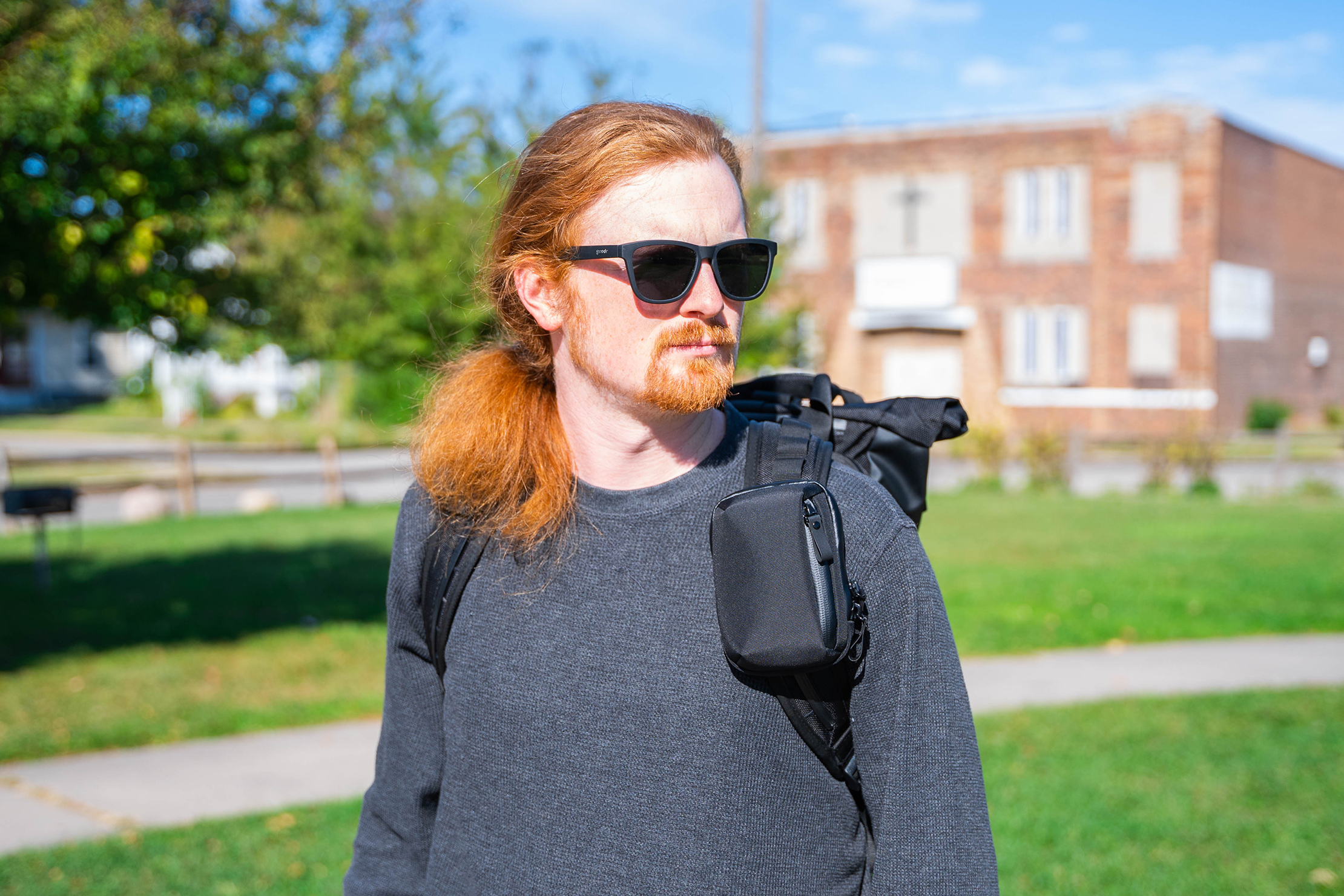 There are two zippers on the pouch, both of which are from YKK and have AquaGuard finishes. The secondary compartment has one zipper head, and the primary pocket has two. This makes it so that you can open any small portion of the compartment should you want to or leave the pulls on either side of the track. We dig these features, though there's a small hole between the two heads where water can theoretically get through. There was a lot of care and attention put into making this pouch water resistant, but this feels like an oversight.
There are three ways to attach the pouch to things. On the back are two straps—one that runs vertically with a button and another that is horizontal and uses a hook and loop fastener.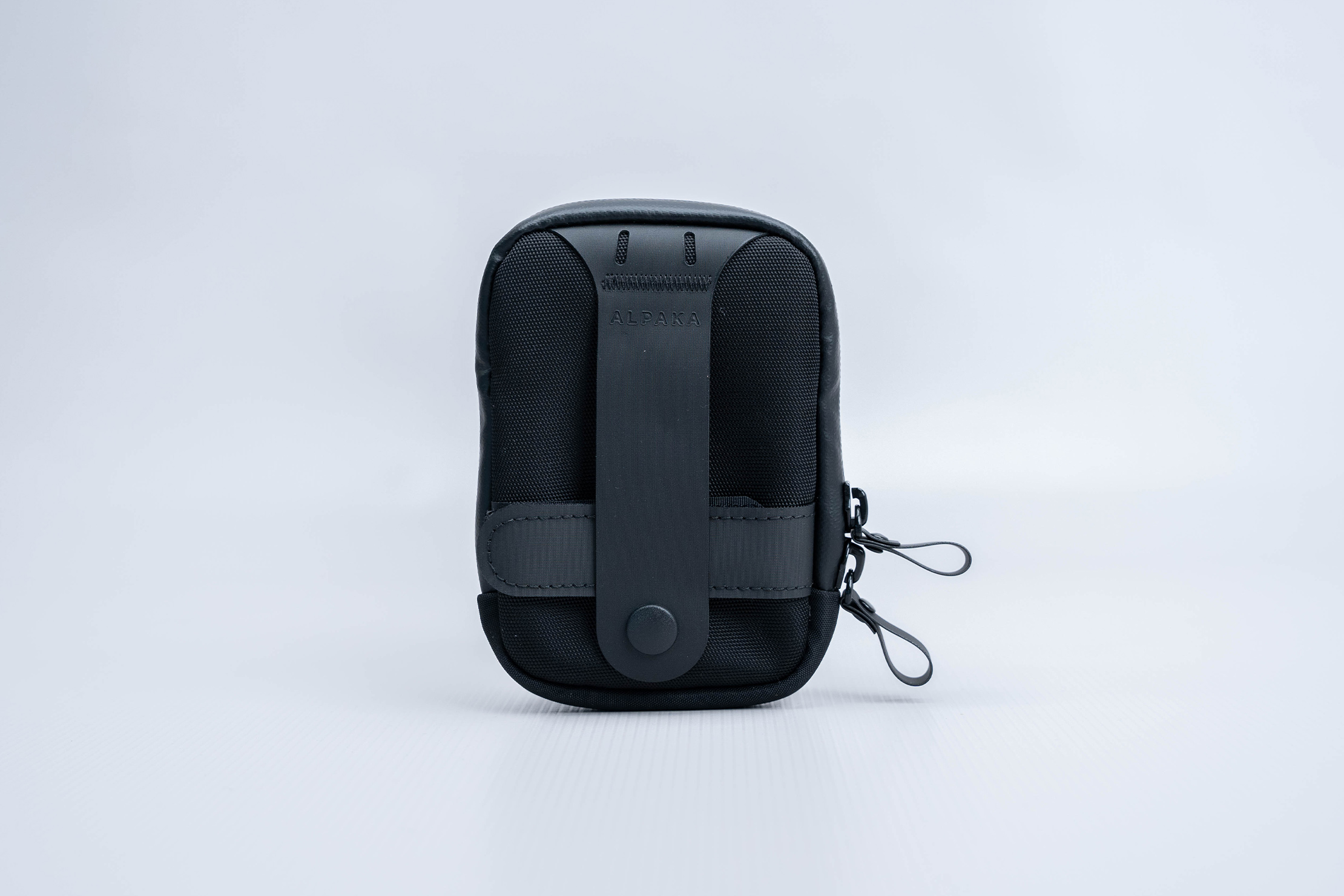 The vertical one is for belts, horizontal straps, or molle webbing and attachment loops that run side to side. The button has a snap closure, and the strap can be secured more by covering it with the horizontal one.
The hook and loop fastener is for attaching the pouch to shoulder straps, vertical attachment loops, or molle webbing that runs up and down. You can't secure this one more with the button strap because it would block it while in use.
You can use the two in tandem to get a more stable connection, which works well for shoulder straps. If there is a horizontal loop, loop the button fastener through that, then attach the hook and loop fastener around the back side. Now the pouch is secure and can't fall down the shoulder strap.
Near the top of the pouch, two small holes enable you to attach the HUB Keychain. It isn't included with your purchase, but it makes connecting the Metro Pouch to just about anything easier. The design resembles a large clip that has a removable magnet. It can only be released by pulling on a Hypalon-like tab—if you pull on the metal clip that attaches to the top of the Metro Pouch, it won't come off.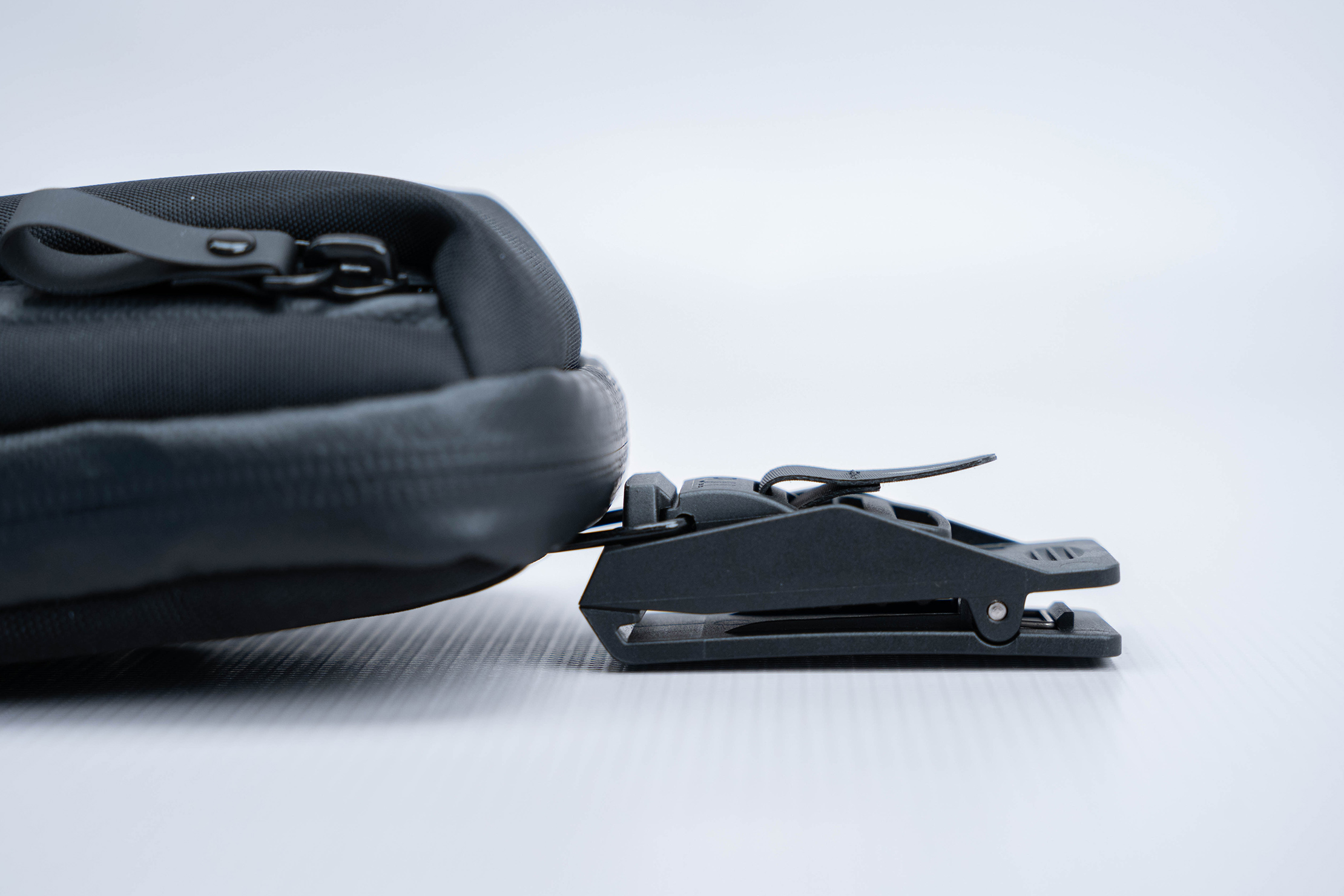 Overall, when it comes to attaching the pouch onto a shoulder strap, it doesn't excel unless there's some attachment point. It won't grip onto just a shoulder strap well because there isn't enough surface area for the hook and loop fastener. It works well when there's something for either of the straps to lock into. The addition of the HUB Keychain makes clipping it onto different things quickly a breeze, though it's sold separately.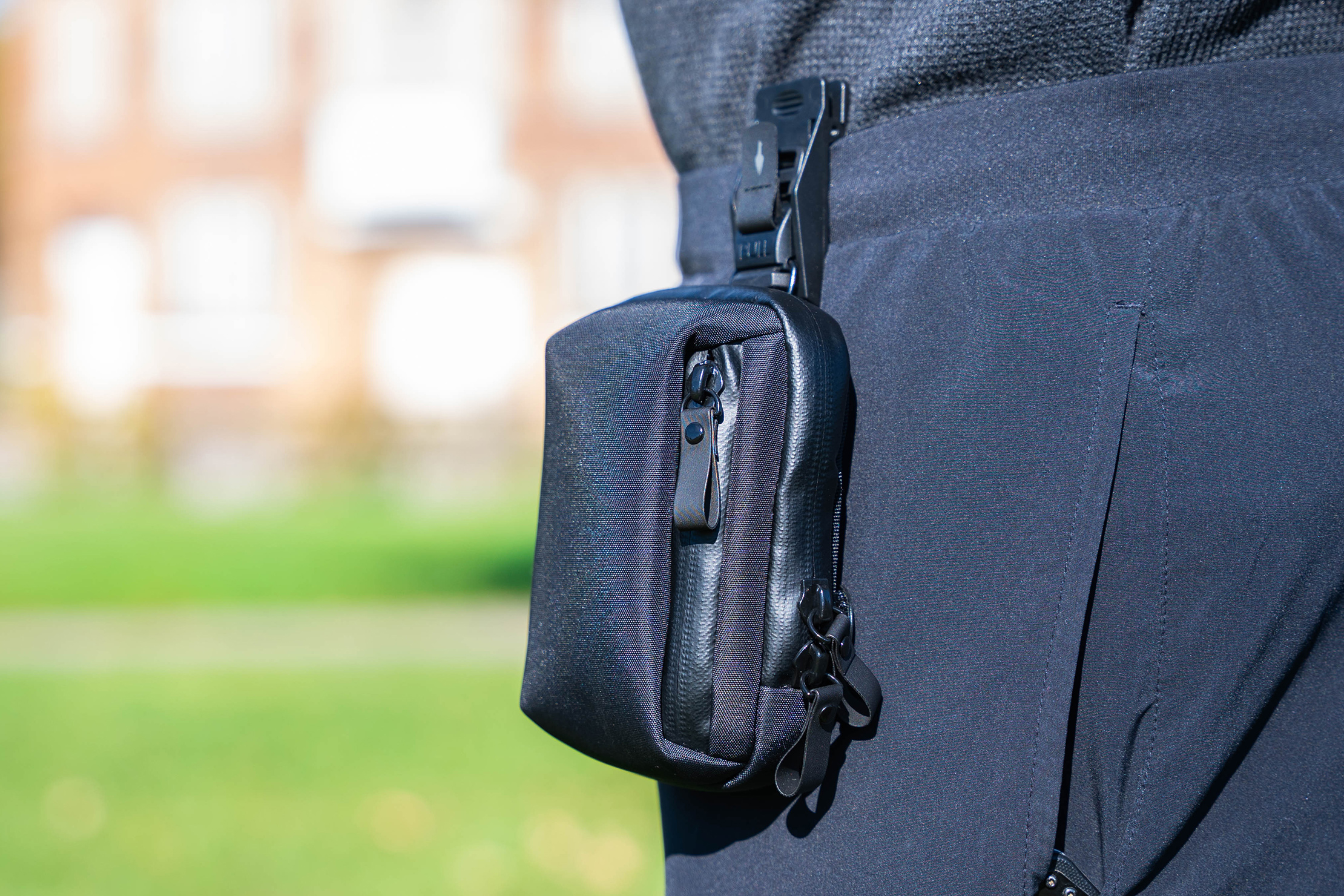 The only logo is on the back of the pouch on the top of the vertical strap. It's very sleek looking, but it can look a little funky on a belt. It looks nice on a minimalistic backpack, but it looks out of place on a colorful pack. It integrates well inside a bag of any color, though!
Inside The Pouch
There's just one secondary compartment, and it's on the front side with a vertical zipper. Depending on where you have the pouch attached it can change the ease of access. If you place it on your left shoulder strap, you won't be able to get inside this pocket easily. On your right shoulder strap, it's a lot more convenient.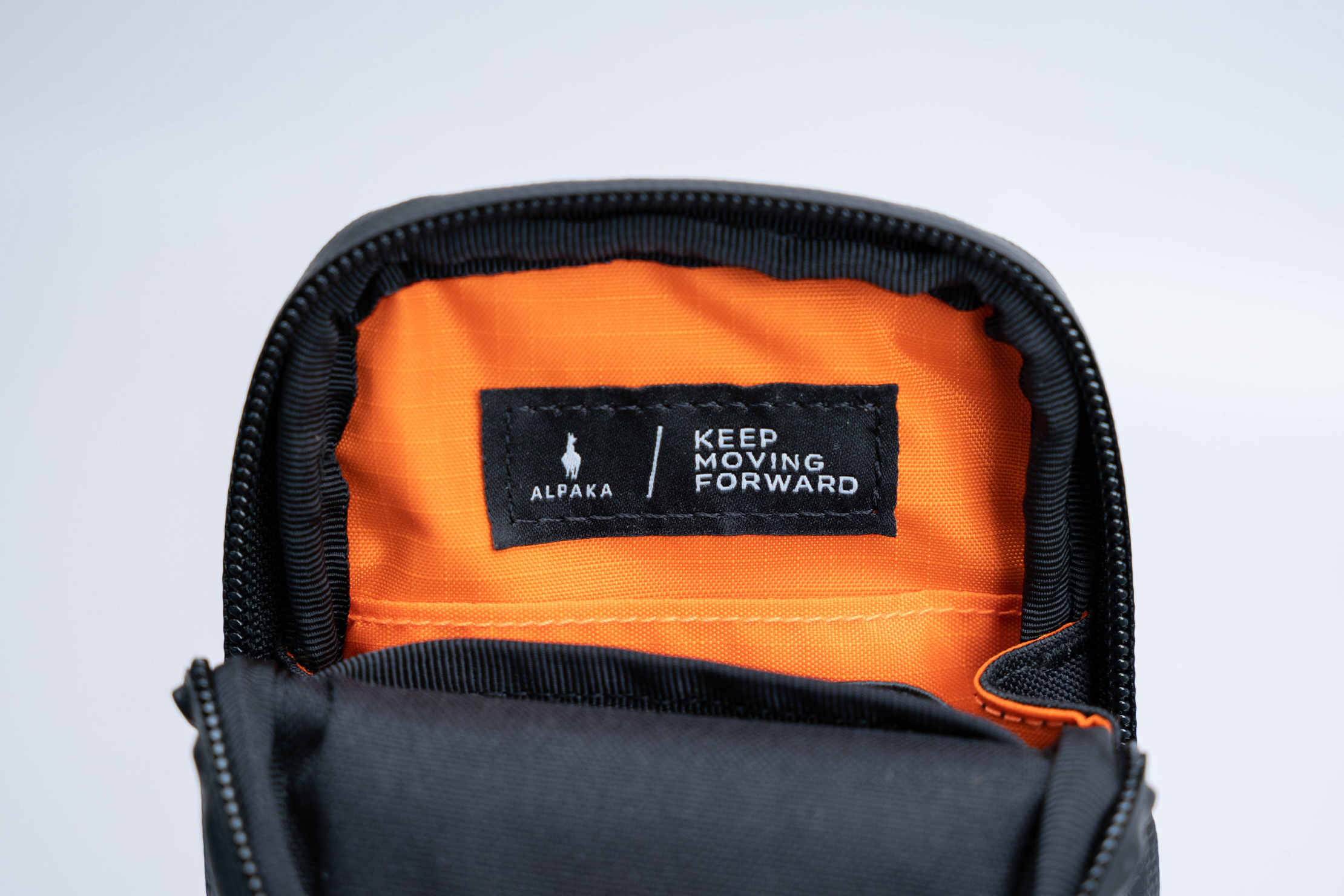 This is the first place you'll get a look at the orange high-vis 210D ripstop liner. It makes seeing your gear much easier, so long as you don't buy everything in bright orange. There's quite a bit of depth in this pocket, which is convenient for stashing your AirPods or a similarly sized item. If you've got the main pocket stuffed to the brim, it's harder to fit large gear inside here because it's easy to expand through their shared wall.
The primary compartment opens almost three-fourths of the way around the rectangular shape of this pouch. There's a gusset to ensure the front flap doesn't open too far and spill all your gear out, which is helpful when you're worried about dropping something but annoying when you are trying to get a better look at what's inside.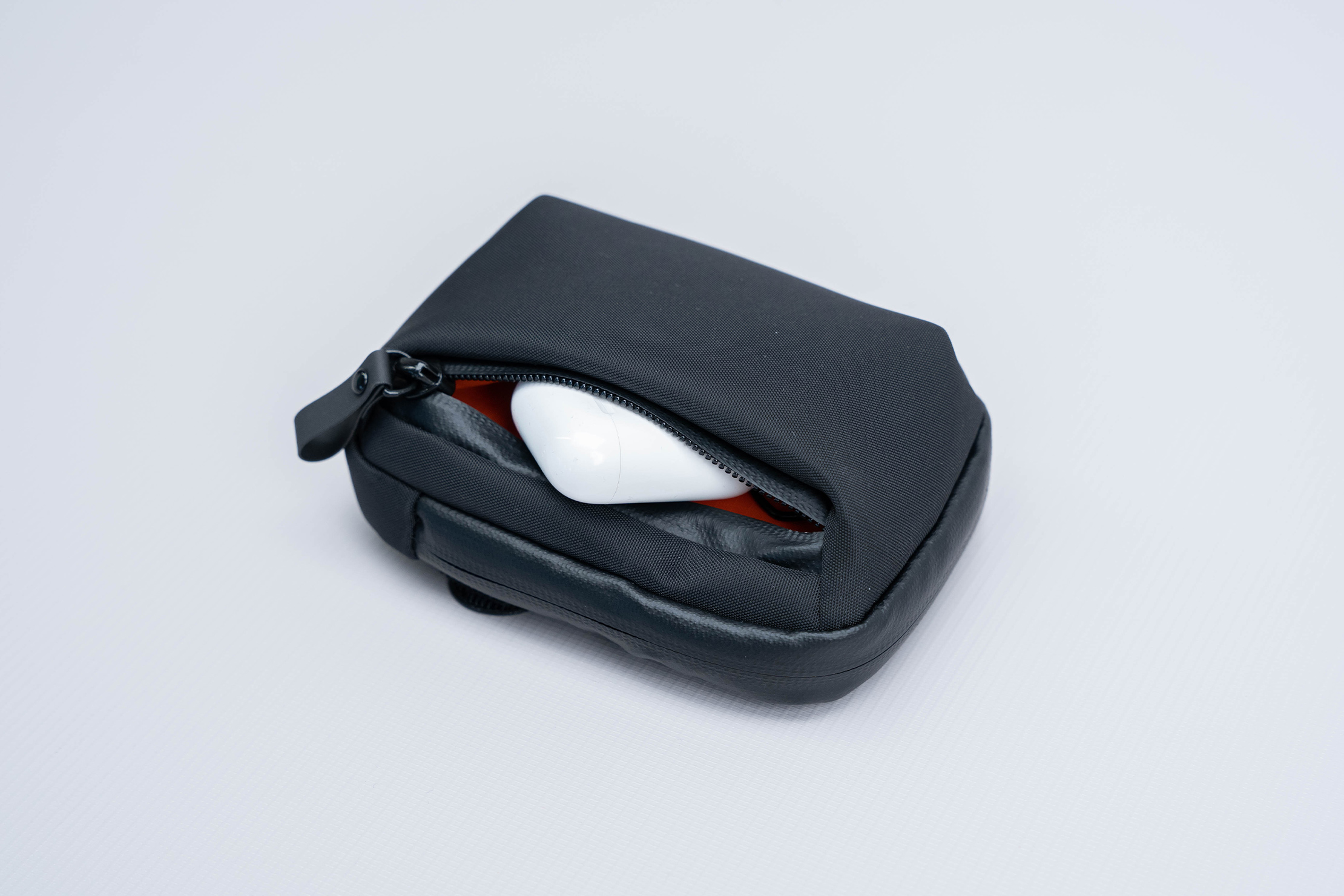 The front side has two liner pockets—one on top of the other. The one further back is a good spot for a credit card, and the lower one works well for cash. If you have something a bit too big for the secondary compartment shoved inside, it can make it hard to get things into these pockets or potentially bend your cards, so it's best to use caution if you put a card here.
There's more organization on the back wall, but this side is black, not high-vis orange. It also has a large liner pocket and is a good spot for a minimalistic wallet. There's a little more protection on this side because it backs up to the backside of the pouch, so it isn't a bad spot for cards, either.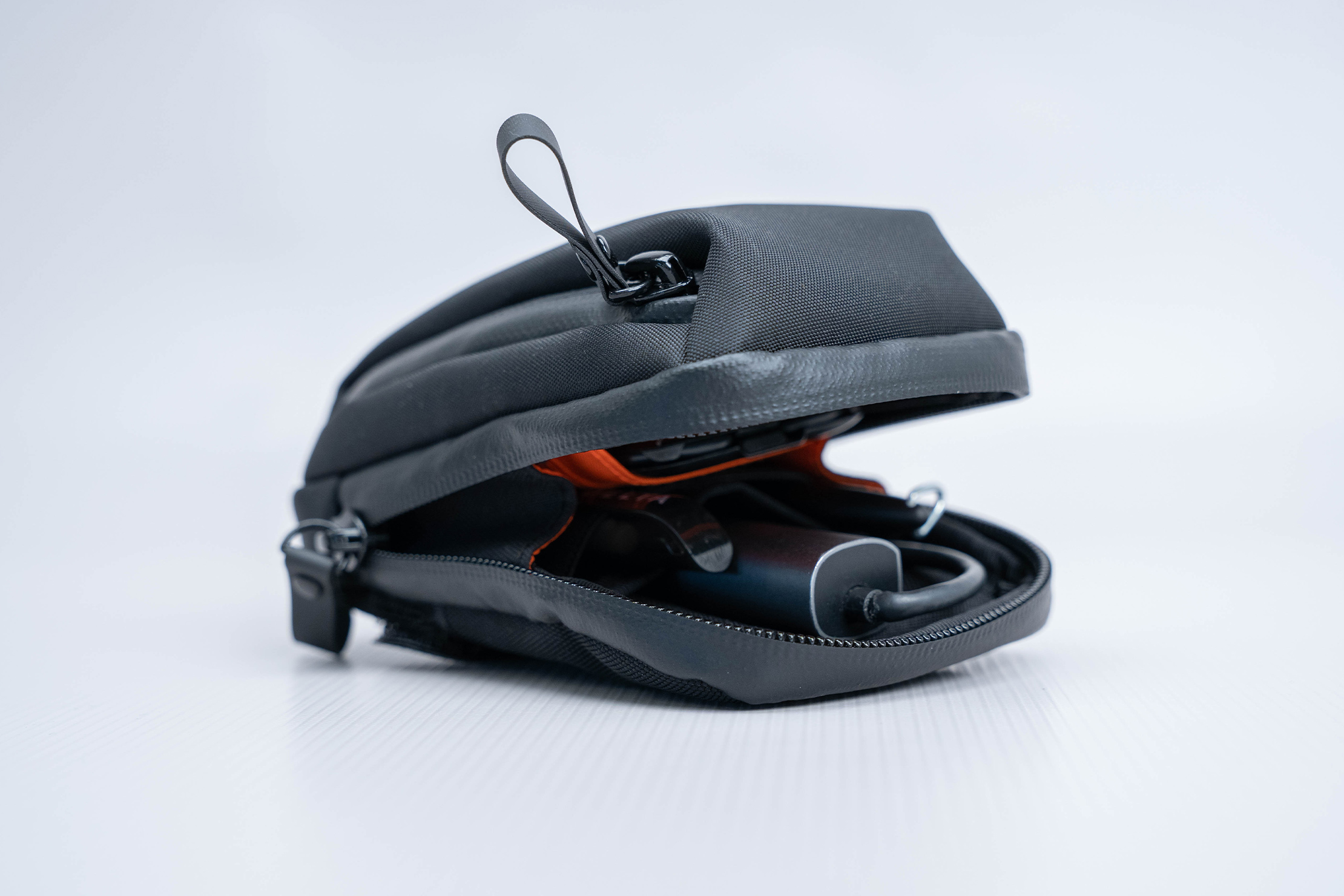 About halfway down, there are two pieces of elastic for stowing unruly gear like a charging cable or large items like a pocket knife or travel pen. If you place taller things here, they tend to find their way into the small pocket below the elastic. You can get around this by reaching your finger deep inside the pouch while loading gear inside. Most of the time, having those items sit in that last liner pocket isn't a huge deal, but it's a good place for dongles, SD cards, or other small gear, so you might want to keep it free.
Last but not least, there isn't enough room inside this pouch for a phone. It fits depth and width-wise, but unless you're using a flip phone, it isn't going to fit inside.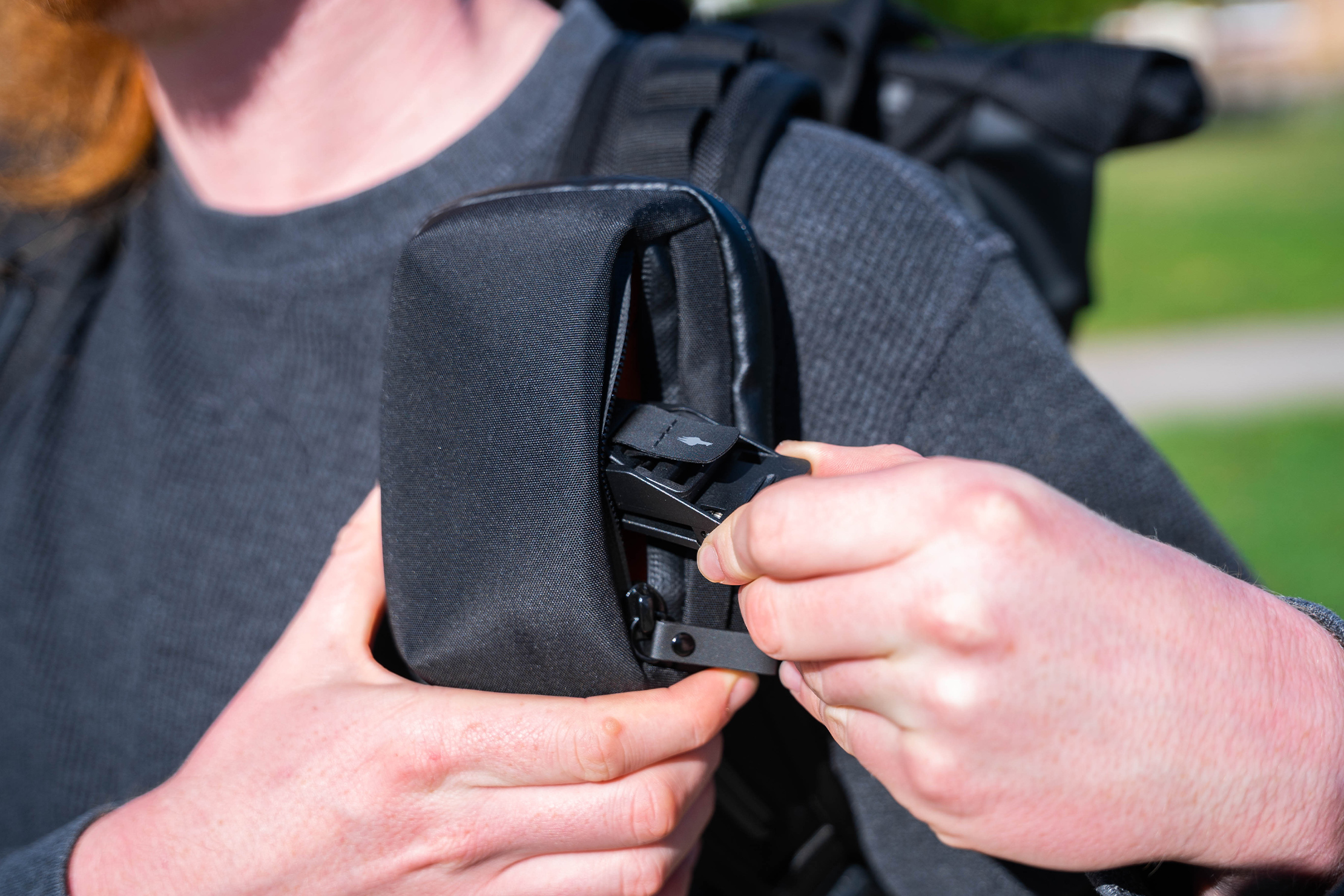 There is a fair amount of space between the two sides, which is an excellent place for your wallet, headphones, small battery bank, or other not-so-large items.
Overall, we're not all that sure what to do with this pouch. Typically a design like this is a great way to keep your phone closer to your ears so you can hear notifications and have quick access to it and other quick-use items. Because you can't fit your phone in here (no disrespect to flip phone users), it feels like a mini fanny pack that doesn't have as convenient carry options. When deployed inside a pack, it works well, but it isn't doing much that a tech case isn't already doing.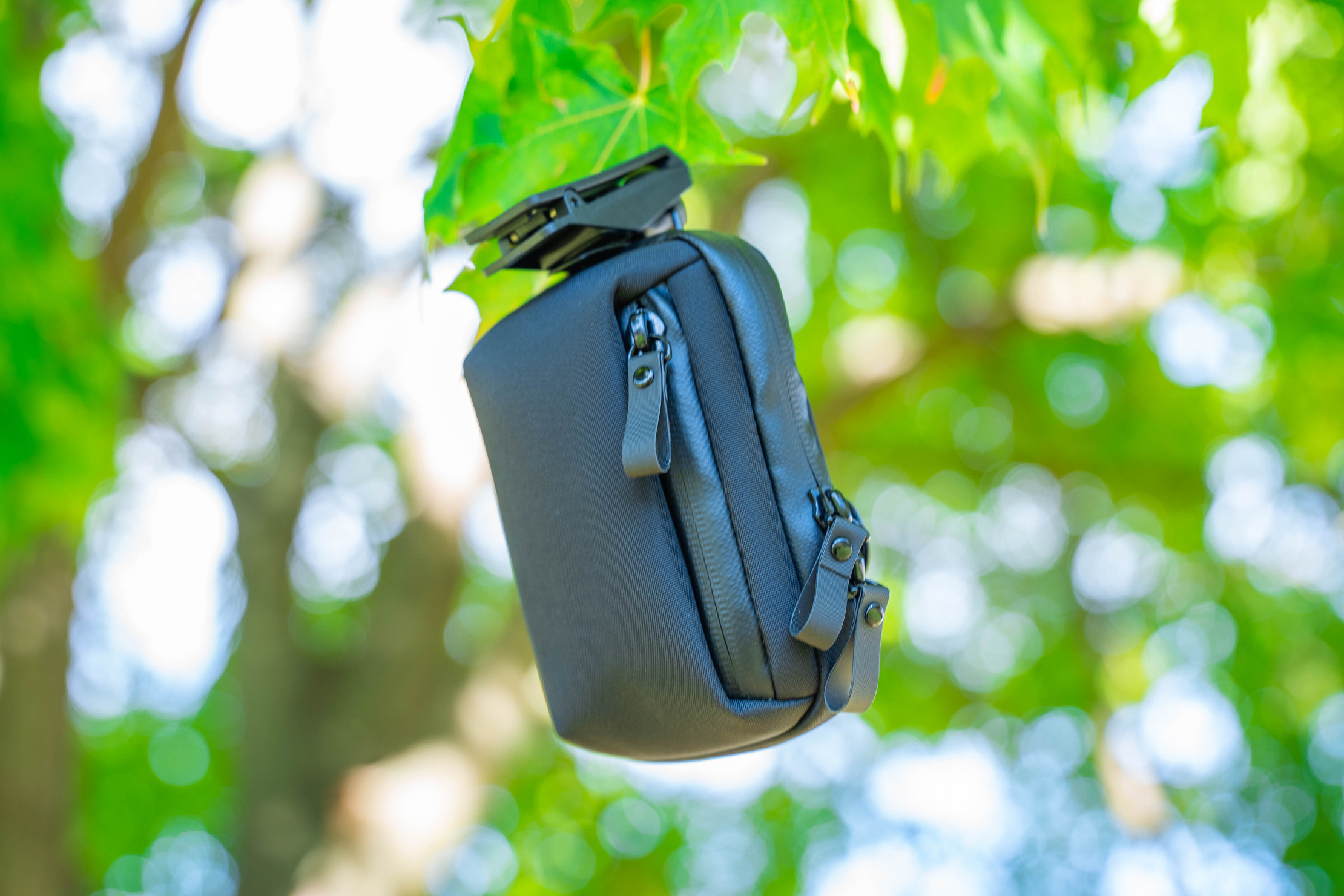 What the Metro Pouch does have the capability of doing is jumping around on different pieces of gear. It can go from your sling to your daypack to your tech brief and back again so long as it has the appropriate mounting points. That's worth talking about, even if it won't fit your phone.
Usage Timeline
Initial Usage
Condition: Excellent
The zipper gets stuck on the corners occasionally—which can be annoying, but the AquaGuard track keeps things dry
The exterior material is durable and looks professional
The harness system is simple but makes latching the pouch onto different items easy
2 Weeks of Use
Condition: Excellent
The main compartment zipper can be difficult to open when fully packed
Primary pack materials are durable and water resistant
Zipper heads on the main compartment have a small hole between them for water to get inside
Access the Pro Community Discussion
Get your questions about the ALPAKA Metro Pouch answered from our team and the Pro Community right here on the page. Plus, join discussions with other members about gear, guides, and more.
Other Organizers & Pouches Reviews