ALPAKA Elements Travel Backpack Review
The ALPAKA Elements Travel Backpack's plentiful organization is well-suited for everyday carry use, though it places less emphasis on open packing space.
Our Verdict
Unlock the Pro Summary
Save time. Get access to brief summaries of our reviews so you can browse and make decisions more efficiently.
Pros
Magnetic sternum strap secure yet easy to release
Organizing small gear easy with numerous pockets
Laptop compartment's foam padding protection is substantial
Cons
Carrying comfort feels a bit saggy for a travel backpack
Abundant organization leaves less space for bulky gear
Laptop compartment fit is tight when using separate sleeve for your device
Recent Pack Hacker Video
Technical Details
Capacity

35l

Weight (lb)

3.75 lb (1.7 kg)

Denier

840D

Dimensions

20.5 in x 12.2 in x 7.87 in (52.1 x 31 x 20 cm)

Notable Materials

Ballistic Nylon, X-Pac, YKK Zippers, Hypalon®, Ripstop Nylon

Manufacturing Country

China

Laptop Compartment Size

16"

Warranty Information
Full Review
Get up to 15% off ALPAKA • Join Pack Hacker Pro
What happens when you take ALPAKA's Elements Backpack and scale it up to a travel backpack's size? You get the Elements Travel Backpack, complete with the same style, build quality, and organization as its smaller daypack counterparts. It's a good-looking backpack that ticks all the right boxes on paper. However, does this necessarily work in practice?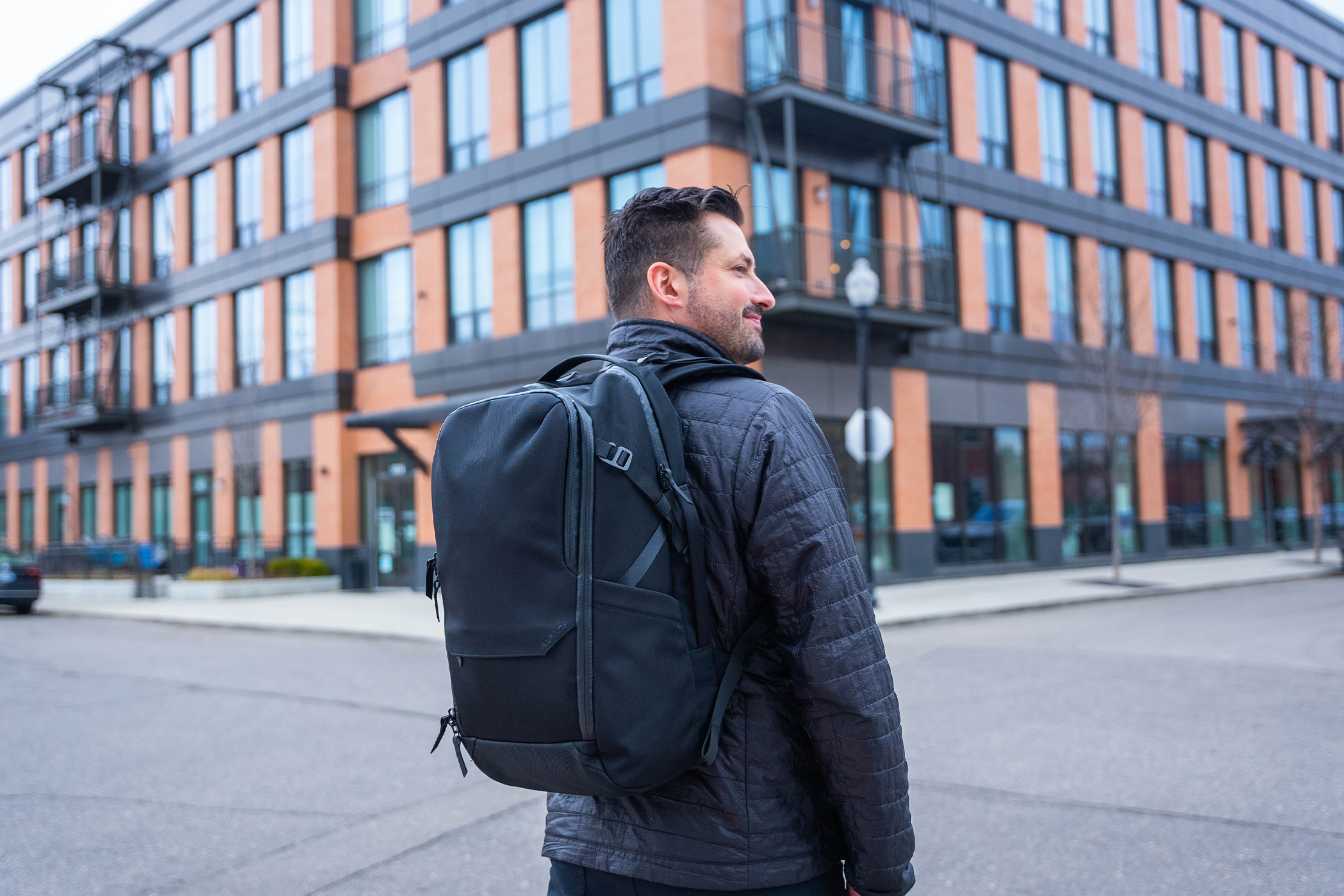 The answer is yes, but it's not a perfect solution. The amount of organization in the Elements Travel Backpack, with its many compartments and pockets, is impressive. That said, some of them are not super accessible when you fully pack the bag and take up otherwise usable space for other gear. While this is an ideal setup for those looking for an organization-focused travel backpack, we still prefer the flexibility of a less compartmentalized design.
External Components
The exterior of the Elements Travel Backpack features the same clean aesthetic as ALPAKA's other backpacks. It's black and rectangular but curved in the corners to make it look more streamlined. The somewhat glossy tracks of the YKK AquaGuard zippers provide subtle accents. Meanwhile, the fabric welt hiding the front pocket gives it some tasteful edginess.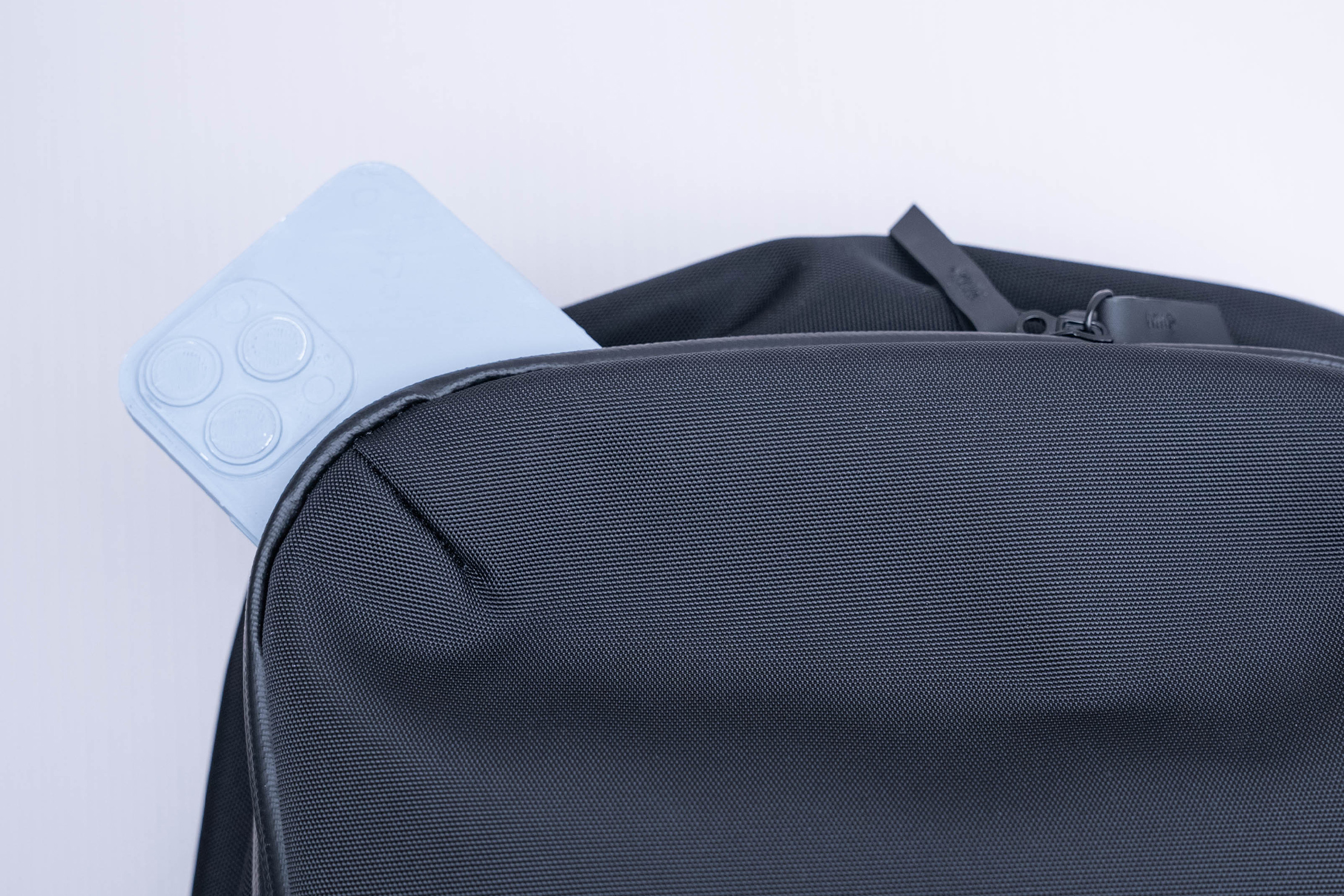 Material-wise, you get a ballistic nylon shell with a noticeably heavier weave at the bottom. The choice makes sense since you want the base of a bag to be more abrasion-resistant, and a heavier pattern will achieve just that. As mentioned, the zippers are from YKK, and they each have a Hypalon pull to make them easier to grip, even with sweaty or rain-soaked hands.
Speaking of hands, you can also grab at one of two handles: one at the top and one on the right side. Thankfully, these include some padding instead of just being simple nylon strips tacked as afterthoughts. Though you probably shouldn't use these for prolonged carrying, they are useful for pulling the bag out of overhead bins and car trunks.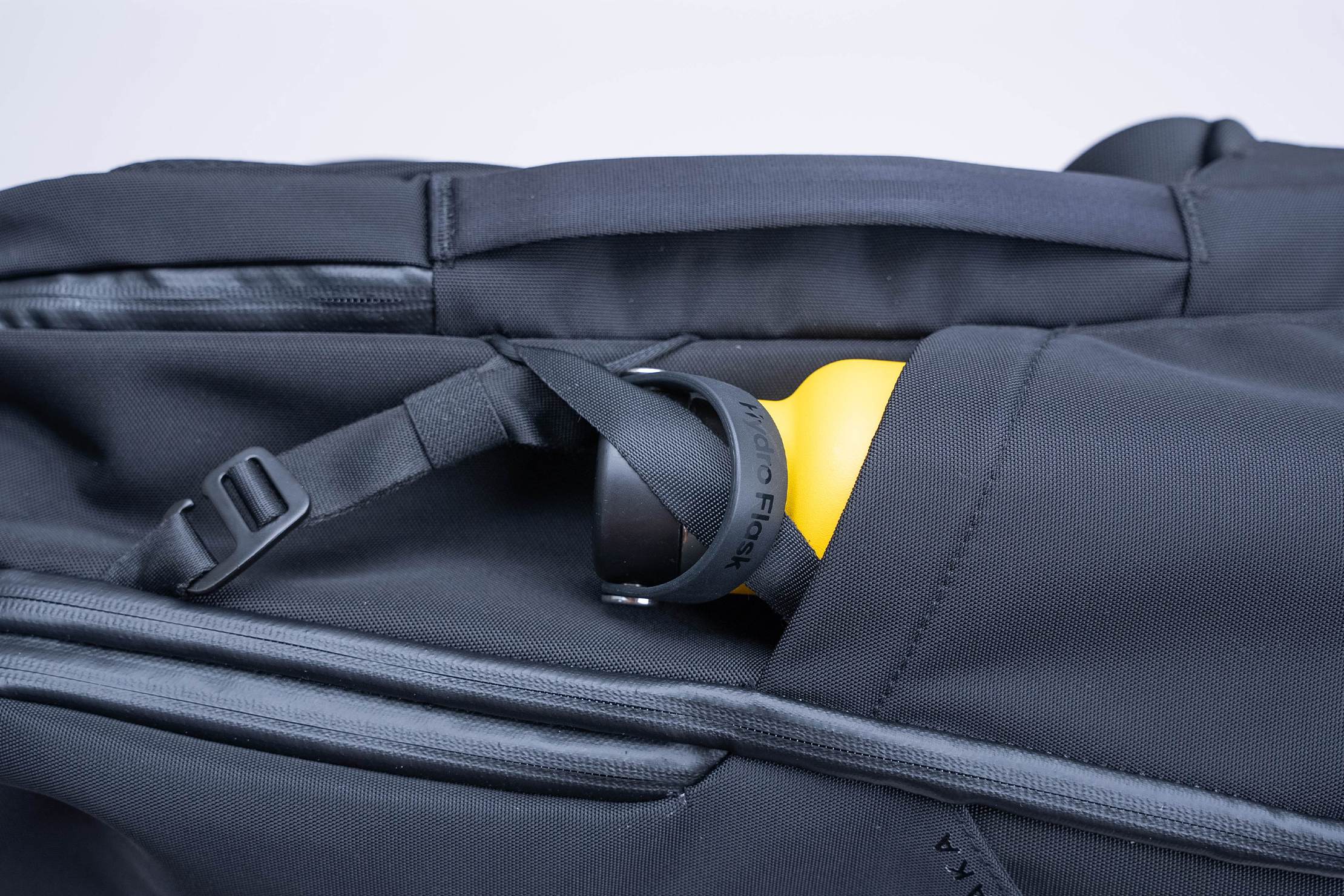 Near the handle is the Elements Travel Backpack's lone water bottle pocket. Its fairly simple design uses elastic to keep your bottle secure. However, it also features a strap with a G-hook that can be threaded through a loop just beside the handle and locked to another loop near the front compartment's zipper track.
Is it a bit complicated? Yes, and we wouldn't recommend doing this if you frequently sip since the built-in elastic already does a decent job. However, for travel purposes, we think it's worth the trouble so you can avoid being that person whose bottle rolls down the cabin aisle during an overnight flight.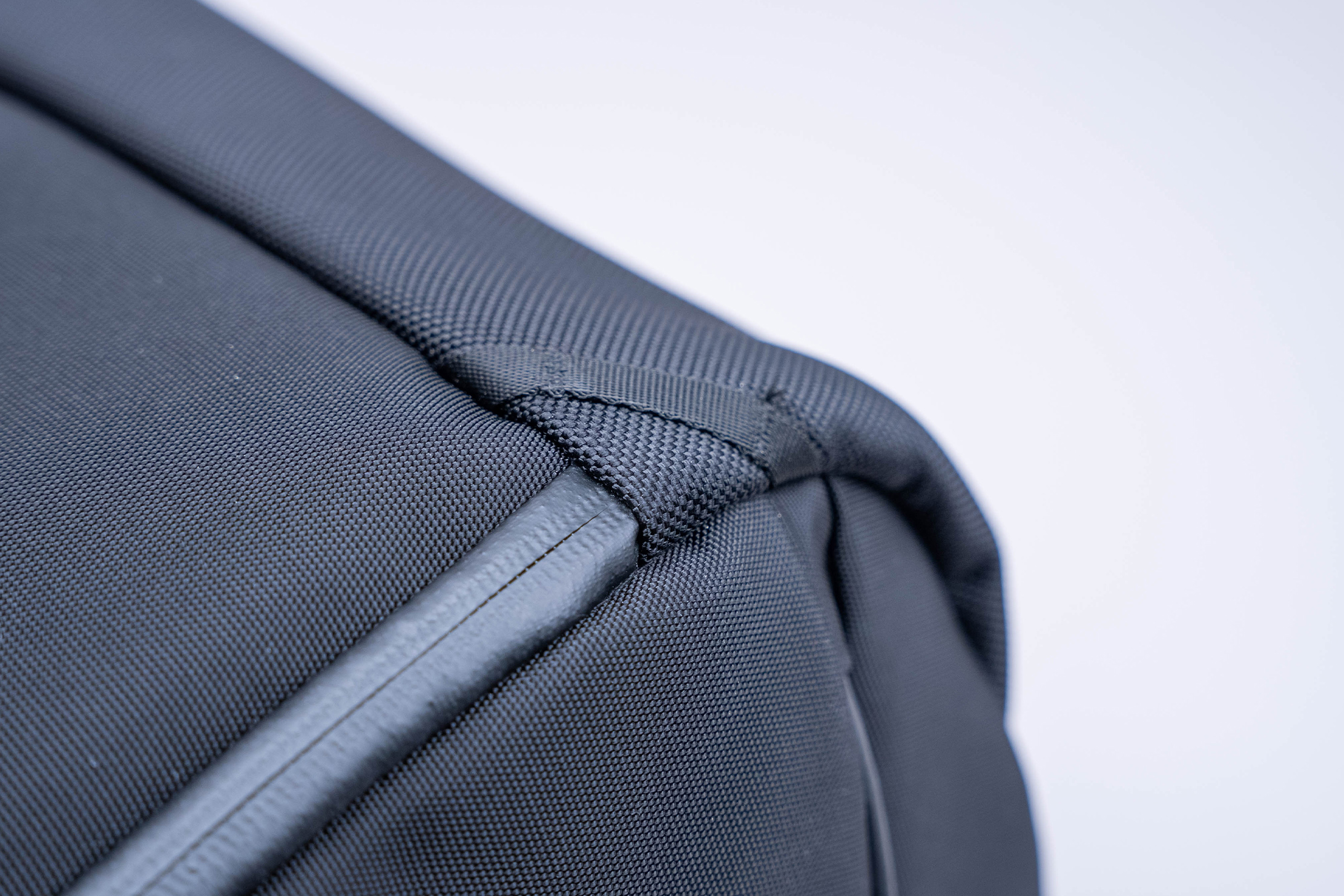 There are two more loops on the bottom corners at the front and back. You can use these to attach accessory straps which you can then use to externally carry a pair of shoes, a yoga mat, or even a camera tripod—gear that's generally too bulky to put inside.
It's worth noting that these loops are quite low-profile, stealthy, and easy to miss—and that's a good thing. Other brands like to put attachment loops front and center to make them a part of the bag's presentation. While some find the utilitarian look appealing, there's something equally satisfying about these loops still being there, just hidden in plain sight.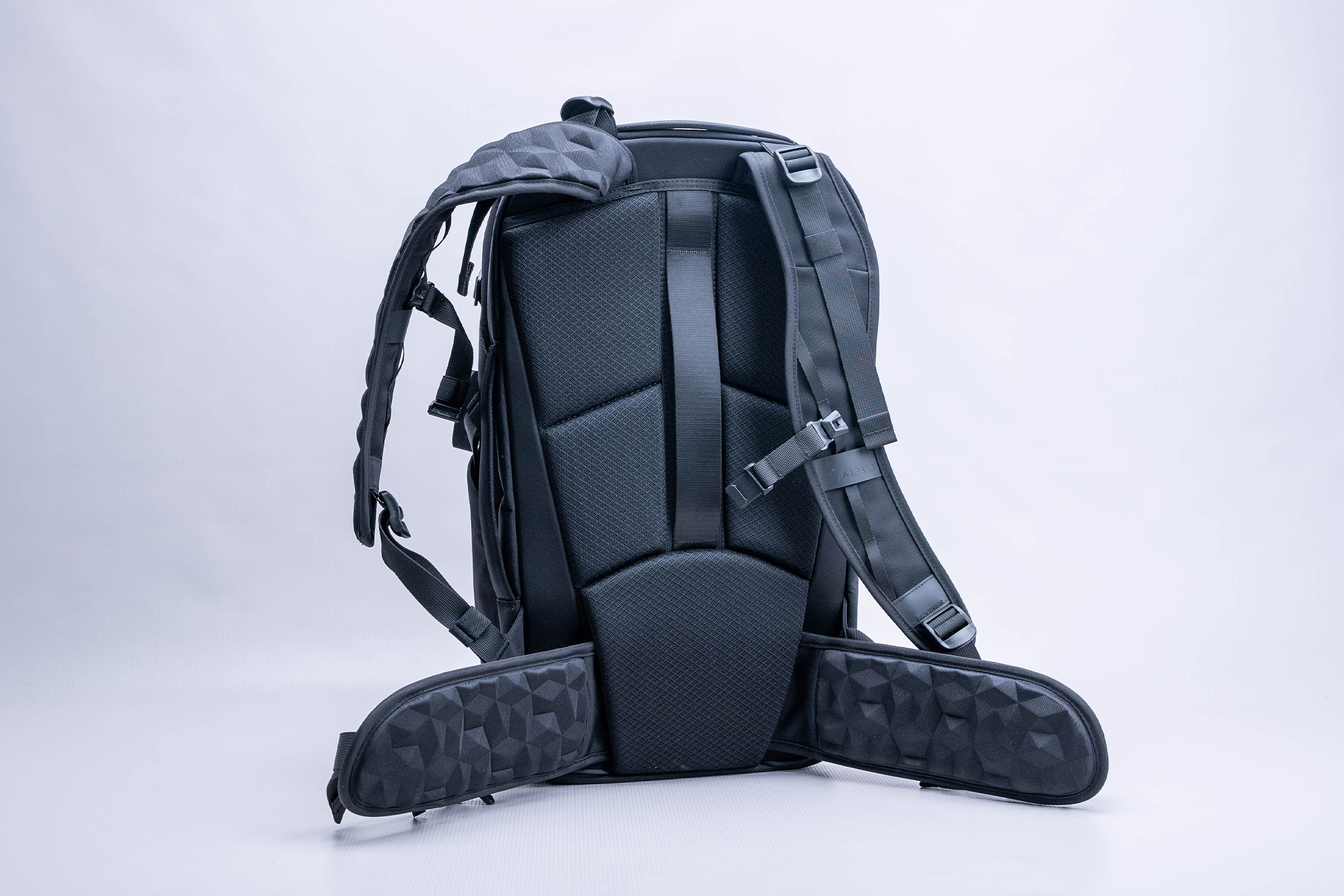 The harness system on the Elements Travel Backpack remains mostly unchanged from its daypack siblings. The shoulder straps have thick foam padding with a unique geometric pattern. We've grown accustomed to how this feels on the shoulders, but first-time users may initially feel weirded out (it wears off, don't worry).
The sternum strap adjusts via loops. While we won't harp too much about how much better rail-mounted sternum straps function when compared to loop-mounted ones (the former offers more granular adjustments), this mounting works fine and doesn't accidentally detach. The magnetic buckle also gets the job done with minimal fuss, and it's easy to disengage—you simply press the buckle to release it.
Other small details on the shoulder straps include two attachment loops for accessories like a carabiner or a keychain. Plus, the adjusters come with strap keepers so you can stop slack from dangling freely and potentially snagging on loose furniture. A loose backpack strap could catch on a museum railing and knock over a piece of priceless artwork. You just never know, you know?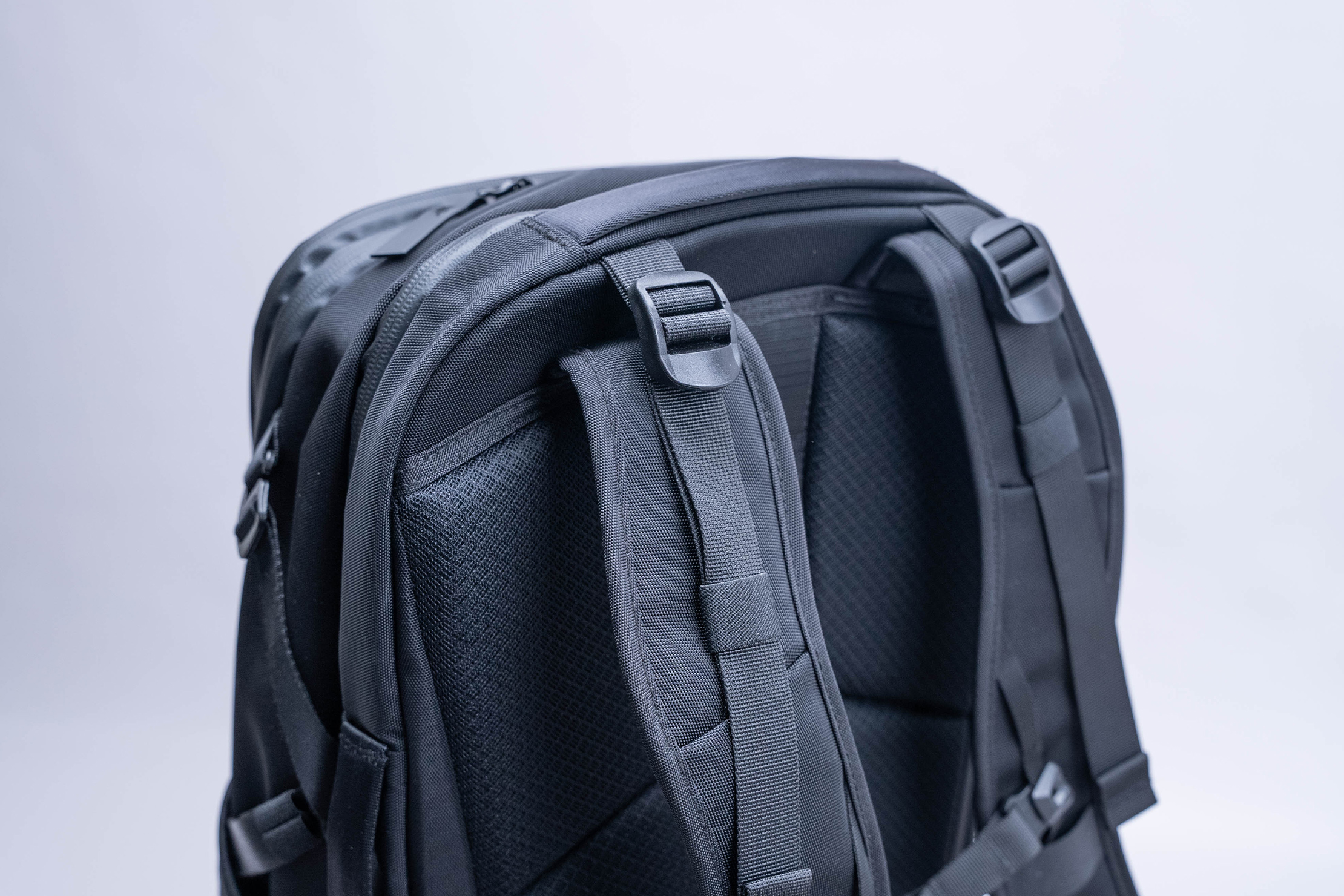 So far, so standard. However, where the Elements Travel Backpack's harness system distinguishes itself is with its load lifters. We mostly see these on travel backpacks to pull the load higher and closer to the shoulders. So, do they work? We'll discuss it in the next section—stay tuned.
As with the harness system, the entire back panel is more or less the same style found on the smaller Elements backpacks. There are five foam sections arranged in a V shape. Unlike the shoulder straps, ALPAKA uses more traditional mesh-covered foam here instead of geometric. There's a central air channel with a built-in luggage pass-through to sit the pack horizontally on rolling luggage. Take note, the pass-through is a bit off-center, so the Elements Travel Backpack sits noticeably unbalanced.


Lastly, there are two loops near the bottom of the back panel so you can attach a hip belt. Given their small size, though, you may not be able to fit one that's very robust. Fortunately, an included hip belt attaches via VELCRO underneath the back panel's bottom-most foam section.
Fit Notes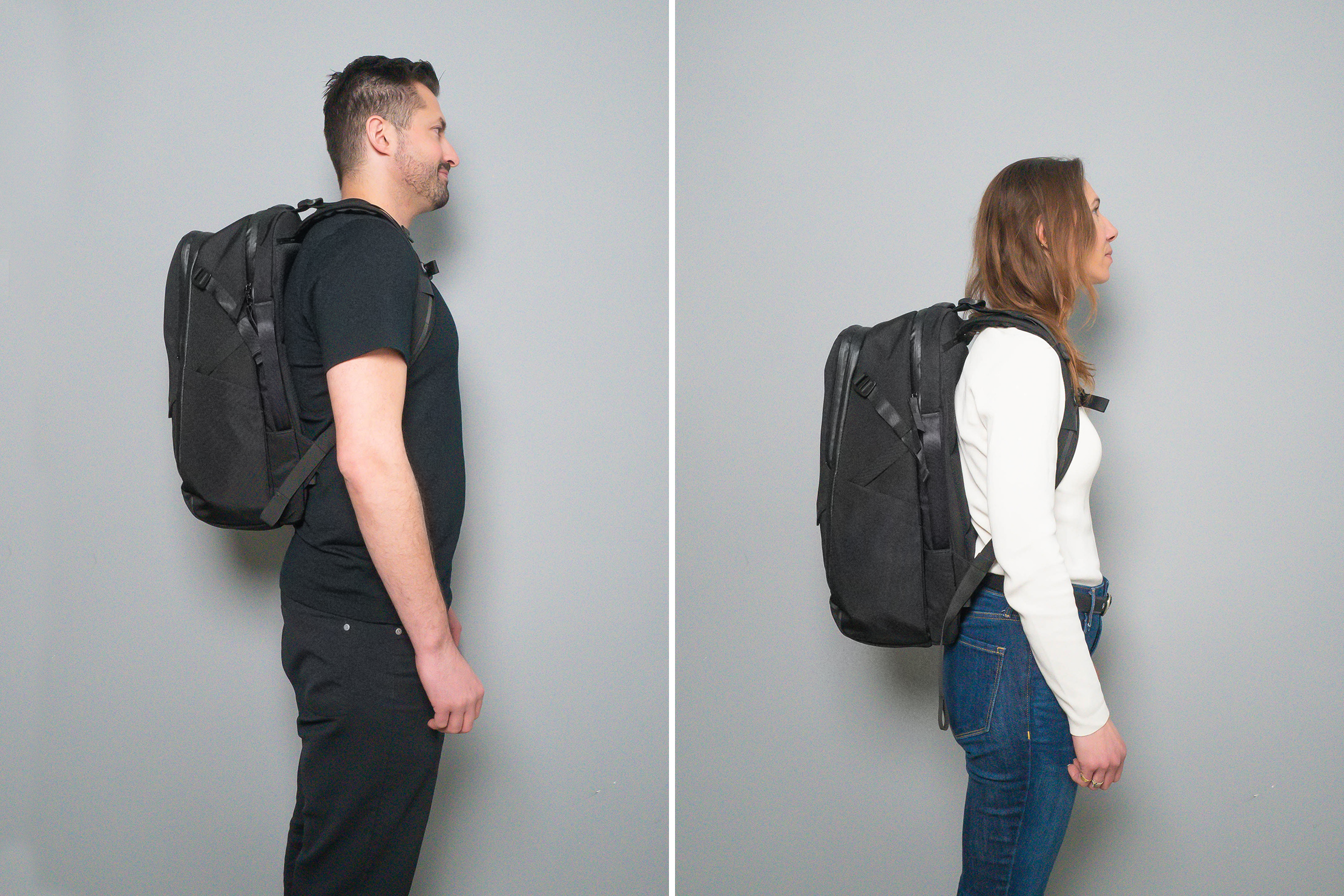 The Elements Travel Backpack carries differently than its daypack siblings, feeling noticeably saggier despite the similar harness system and back panel. Not by much, mind you, but enough for us to notice. Even extensive fiddling with the load lifters, sternum strap, adjusters, and even the hip belt, doesn't completely eliminate the saggy feel. This may be due to the sheer size of the Elements Travel Backpack versus ALPAKA's daypacks, or it could be down to the shape.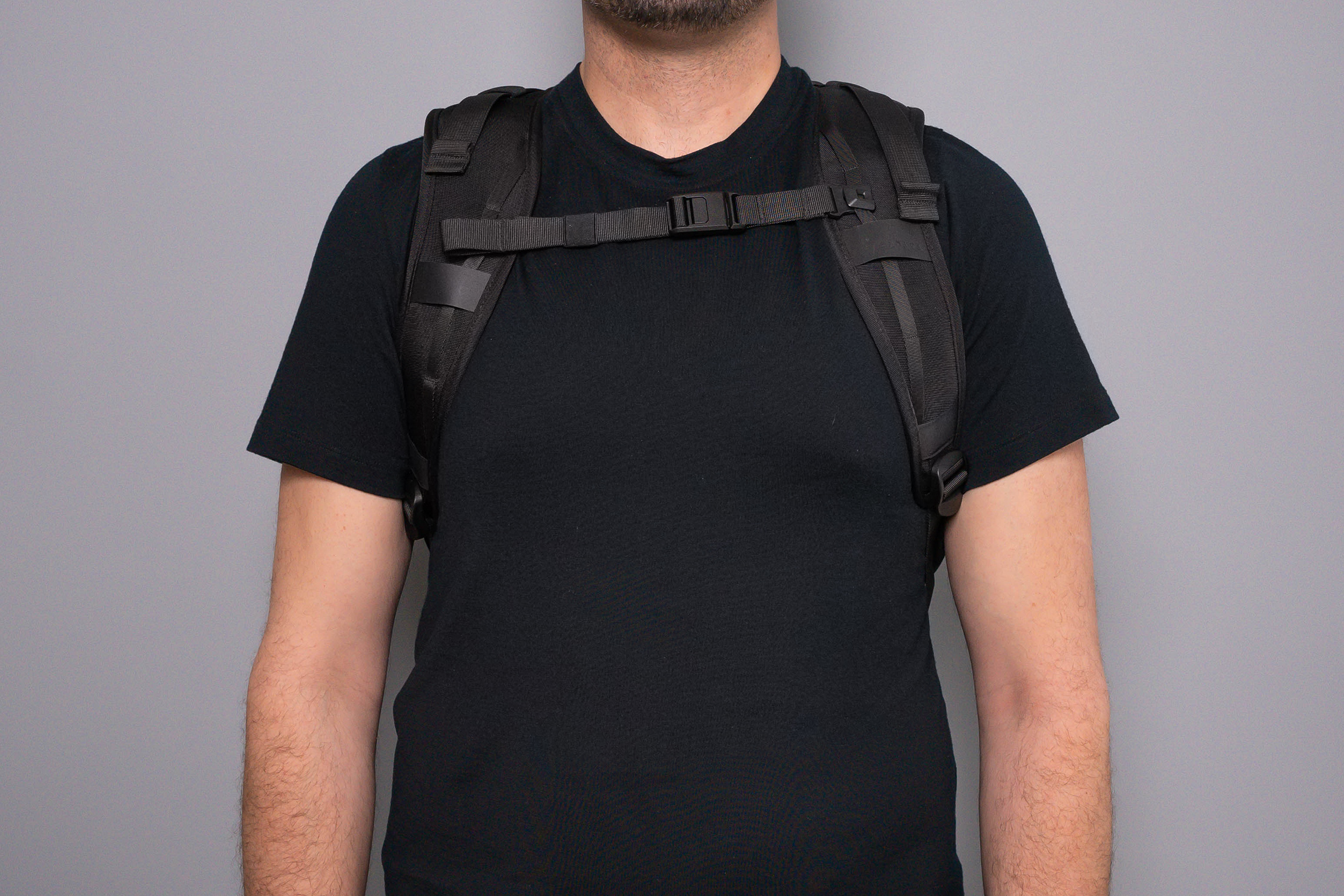 The relatively tall Elements Travel Backpack sits lower on the back than we like. Based on our experience, large travel backpacks tend to wear more comfortably when they're higher. You get less of that pulling-me-back sensation since the pack is more aligned with your back and shoulders. The resulting fit isn't the best, but it isn't terrible either; we just think this harness system is more at home with the brand's everyday carry bags than a travel backpack.
Inside The Backpack
Like any self-respecting travel backpack, the Elements Travel Backpack has a dedicated compartment for your laptop. It's located at the back, guarded by one of the aforementioned YKK AquaGuard zippers, and rated for up to 16-inch devices. Our main gripe is how tight-fitting it feels when used with ALPAKA's own Slim Laptop Sleeve. Of course, the obvious solution is to simply not use a separate laptop sleeve. However, when you're a digital nomad whose livelihood depends on a thousand-dollar laptop, is that a risk you want to take?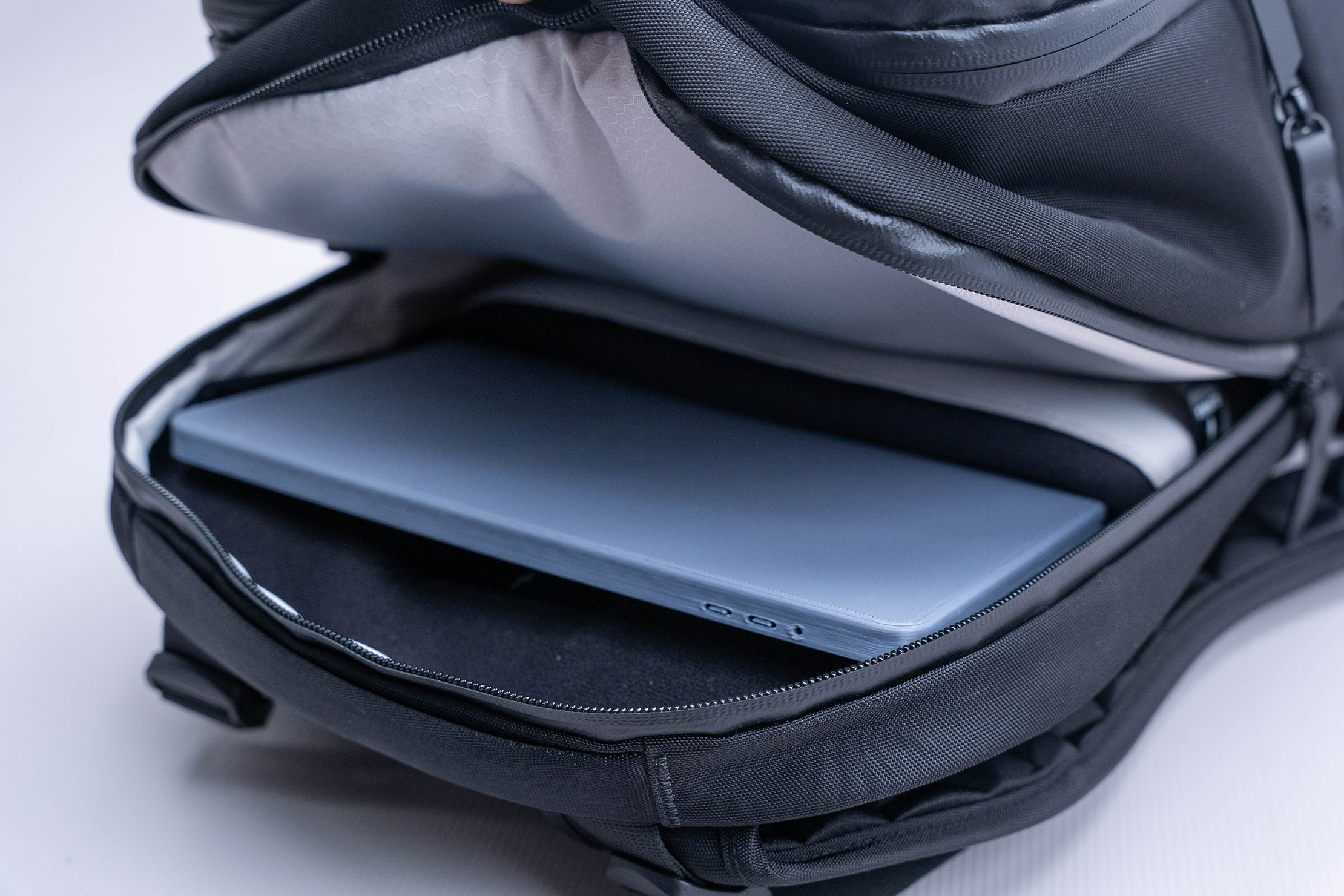 We've narrowed the issue to a few causes. First, ALPAKA simply made the laptop compartment's sleeve too tight to accommodate another sleeve. It's worth noting that the Slim Sleeve's fabric and laptop compartment's liner grip each other fairly well, so it's also a factor. Second, the adjacent main compartment can bow out and squeeze into the laptop compartment's space, exacerbating the problem. Otherwise, it's a good laptop compartment with foam padding for protection if you decide to leave an additional sleeve behind, a separate pocket for a tablet, and a white honeycomb liner for better visibility.
Back at the front, you get a quick-access pocket for everyday carry items. It is relatively low, so you'll have to really reach for it if the bag's on the floor and you're sitting on a bench. It uses the same white honeycomb liner but has no organization inside.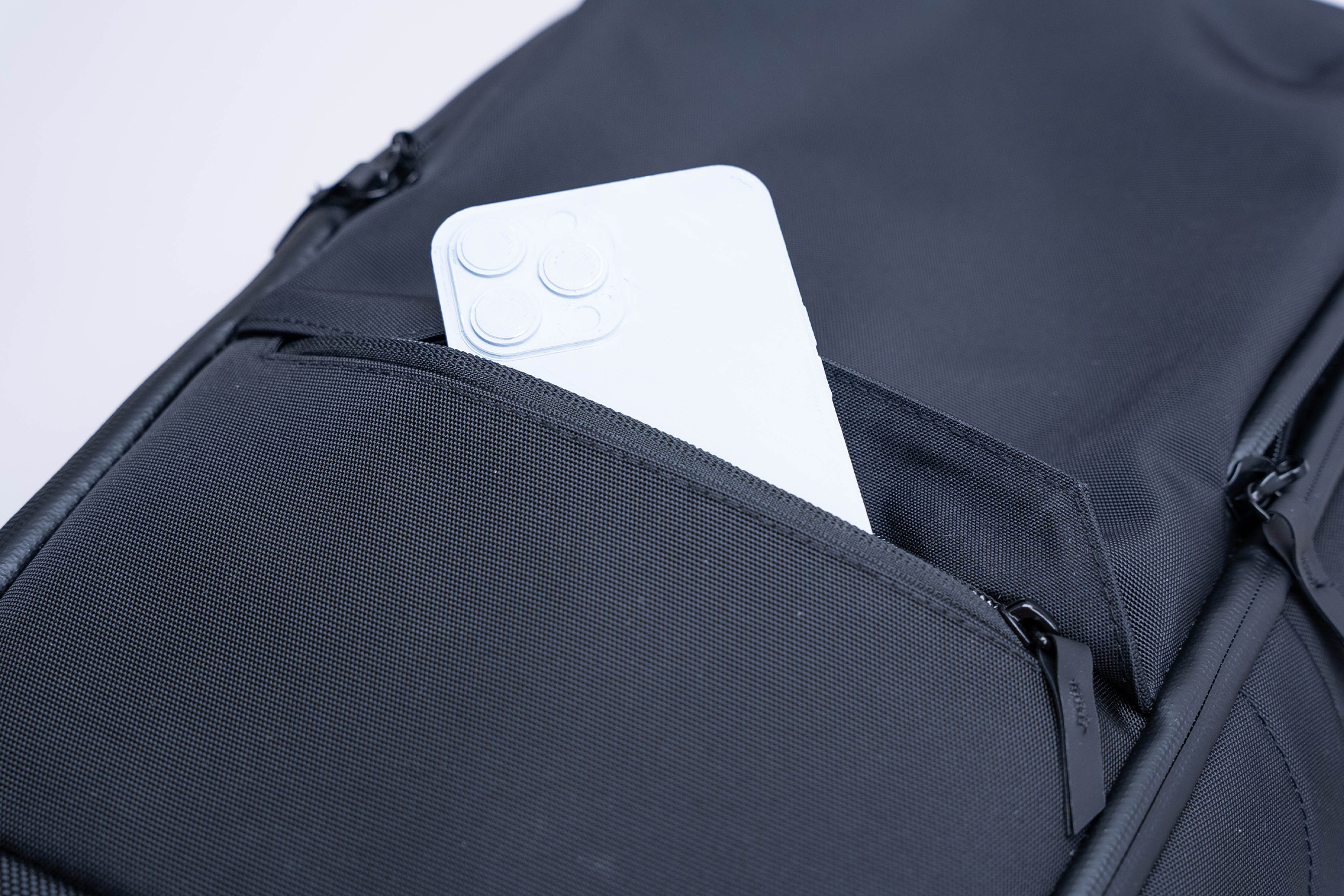 That said, if organization is what you want, look no further than the Elements Travel Backpack's admin panel. On the front side is a zippered mesh pocket with three MOLLE-like loops below for ALPAKA's HUB system, where you can attach first-party accessories like their cardholder, keychain, and USB lanyard. There's also a zippered pocket just behind the HUB system with a small pocket for a smart tracker. It holds in an Apple AirTag well, so it doesn't get mixed up with the rest of the smaller accessories in the pocket.
On the back side are another zippered pocket and two passport-sized pockets, each accompanied by a pen slot. All of this adds up to a ton of options for organizing small gear. However, if that's not enough, there are other pockets to explore.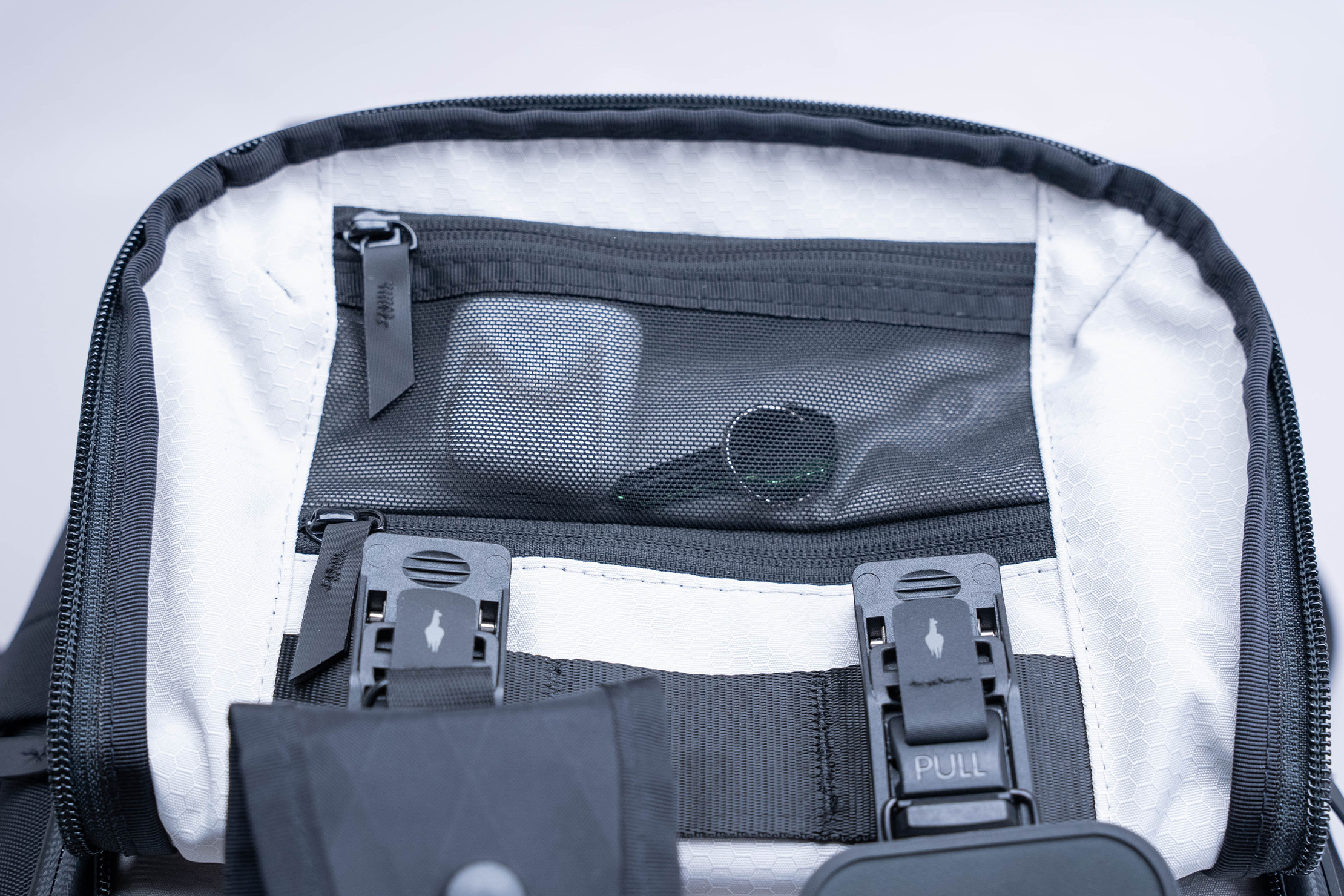 On the left side of the Elements Travel Backpack is a pouch-like compartment. Inside are two large pen pockets, though realistically, you'd put something bigger like a multi-tool here to better use the space. Behind those is a liner pocket that can fit a MacBook's wall charger. Oh, and there's also a zippered pocket on the flap itself because why not, we suppose? It's another handy spot for passport-sized items, at the very least.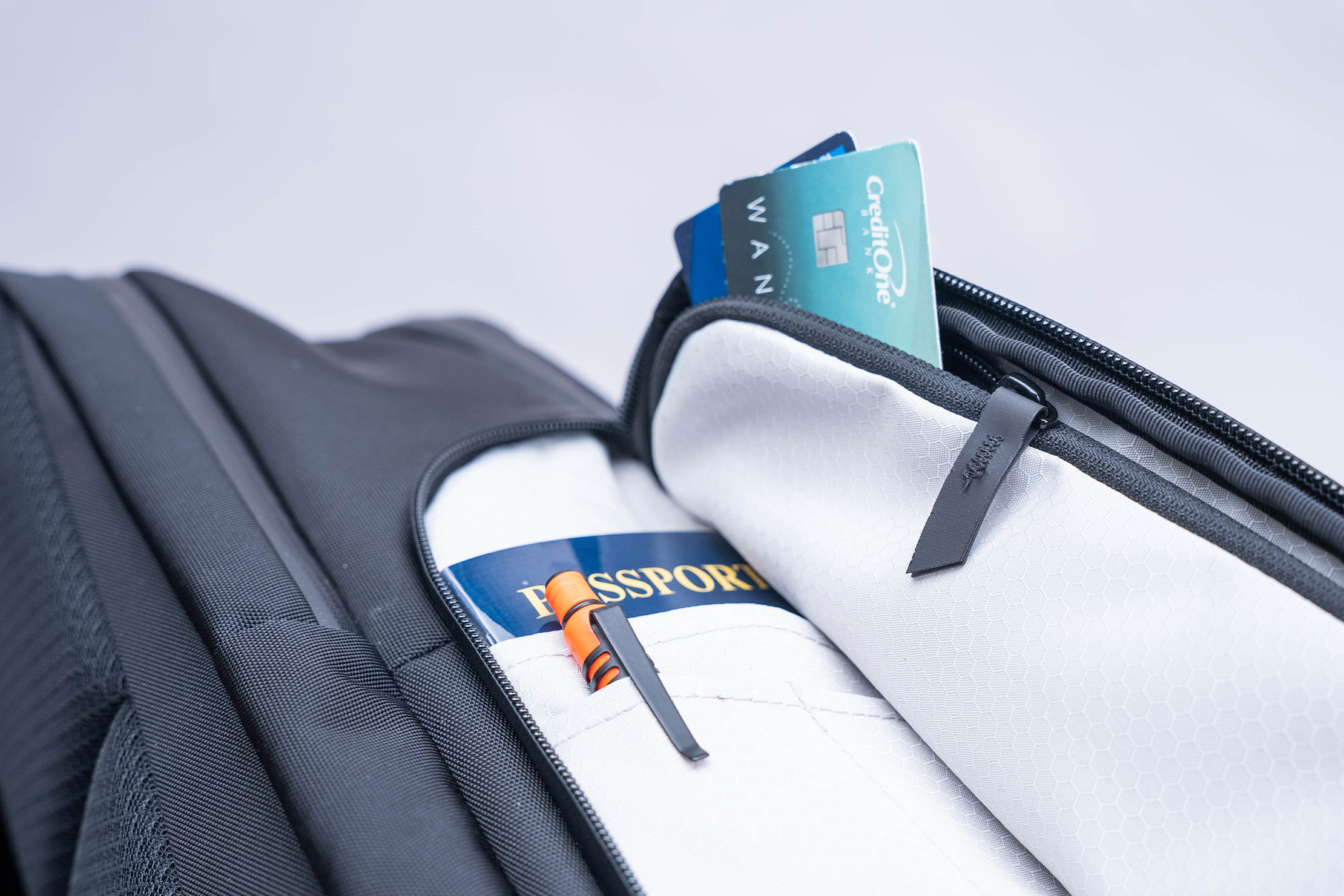 This trend of having a lot of organization options continues in the main compartment. You get a clamshell opening that reveals the big bucket space inside. Apart from that, though, there are more HUB accessory attachment points at the back, two large mesh pockets at the front, and four mesh pockets along the sides.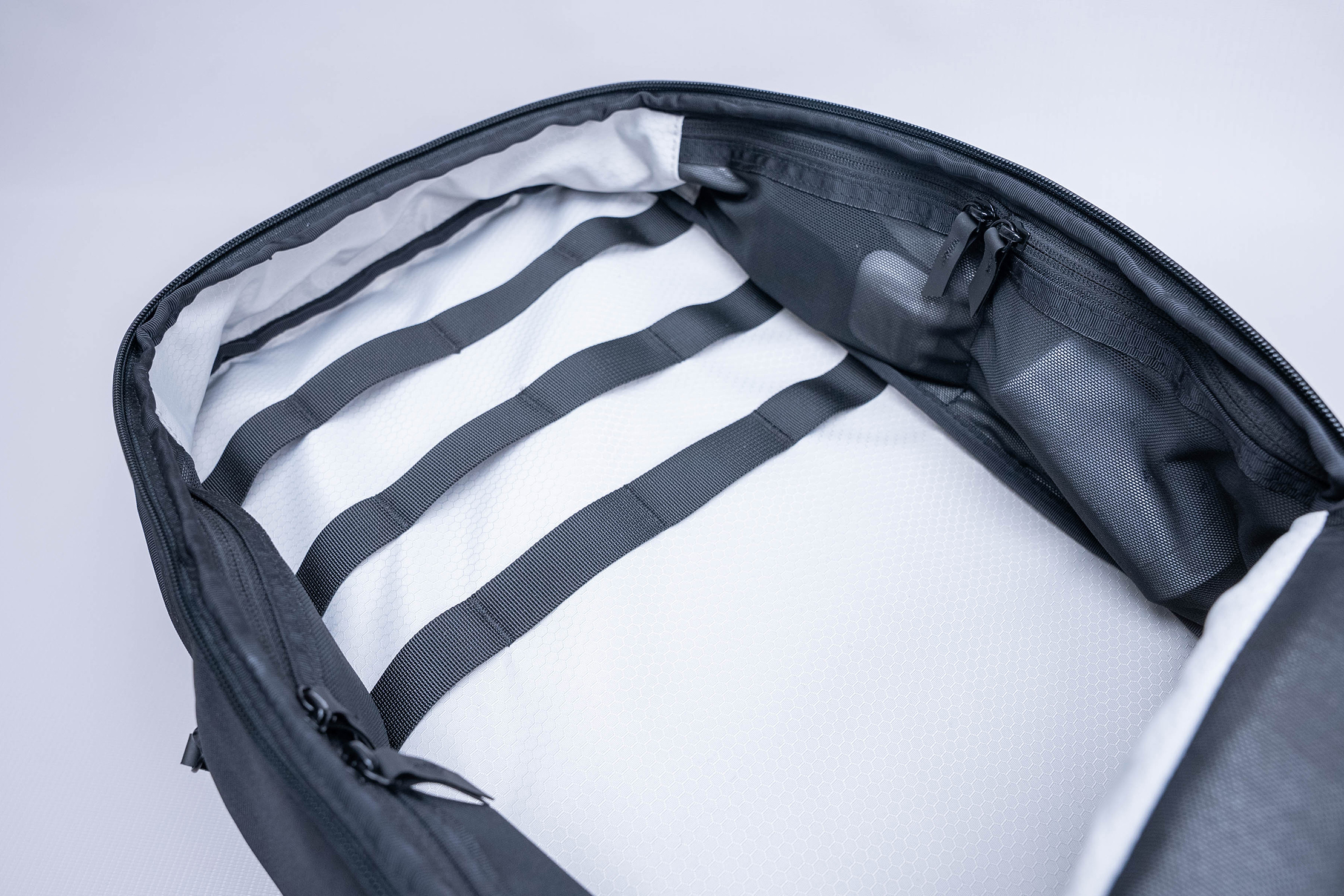 We dig the zippered mesh pockets at the front. They're big and stretchy, so they can accommodate a number of loose clothing like gloves, socks, and underwear. However, we can't help but feel that the rest of the organization is overkill. They're all located at the back and the sides, where they get obscured by the packing cubes and/or clothing you'll eventually pack inside. In other words, it's a question of accessibility.
In our review of Tortuga's Travel Backpack 40L, we noted their efforts to cut back on interior pockets to let users organize with their own pouches and packing cubes. At first, we were a bit apprehensive since it was a step down from the Outbreaker Travel Backpack 35L's features. In the Elements Travel Backpack's case, ALPAKA went in the opposite direction and gave users a lot of built-in pockets. While having many options is good for those who want flexibility, it doesn't make for an entirely cohesive packing experience if those options get in each other's way.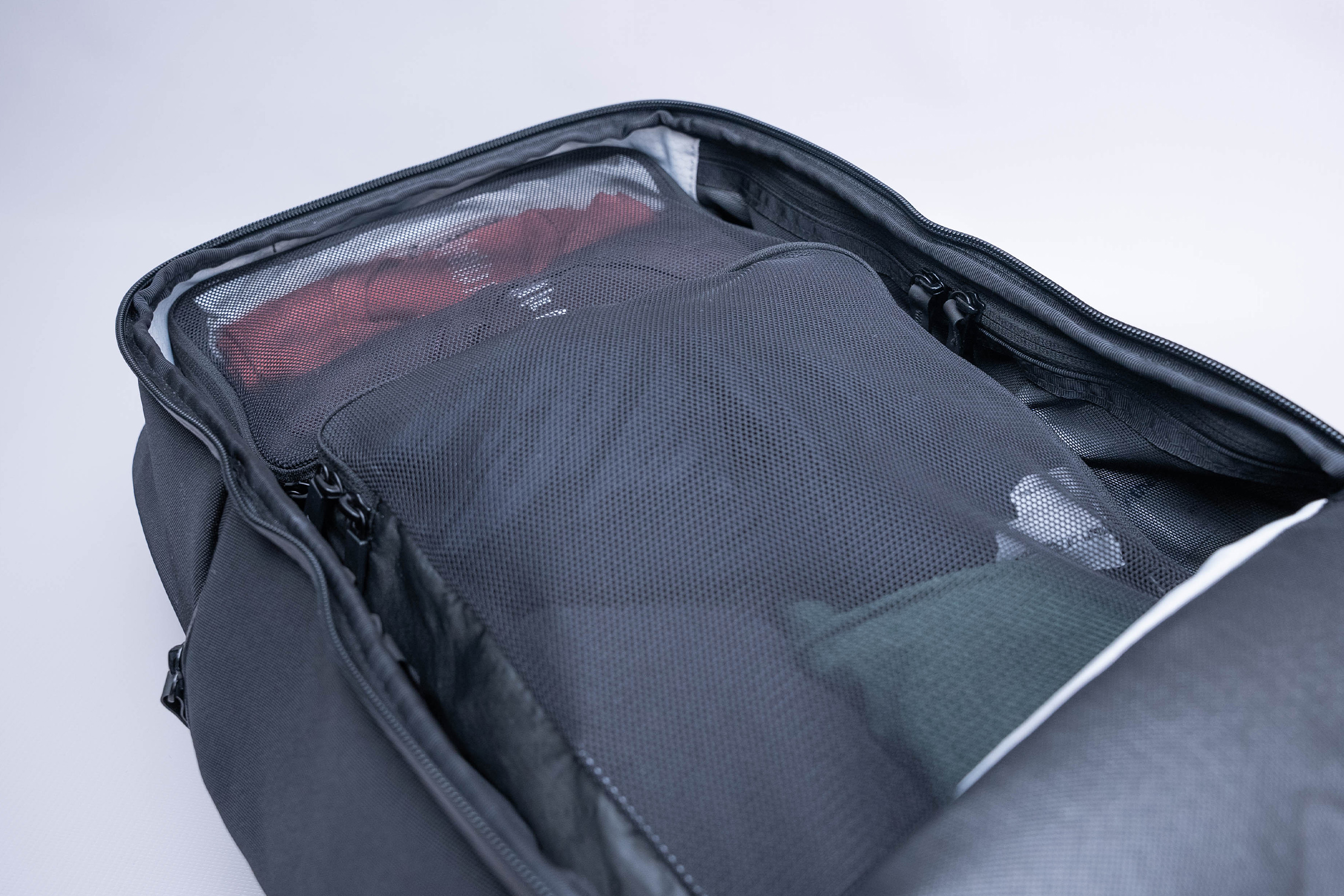 To be clear, you don't have to use those pockets and HUB attachment points if you don't want to. It's just that ALPAKA could've used the space more efficiently and that this level of organization feels more attuned to their everyday carry backpacks. On the other hand, this also means that the Elements Travel Backpack is a viable choice if you plan on using it as a daily carry with a heavy emphasis on organization.
Usage Timeline
Initial Usage
Condition: Excellent
Really dig the look & feel of the bag on an initial glance – it has a streamlined look
The carry feels a tad saggy initially—excited to load it up, fit it properly, and bring it on a trip to test
ALPAKA usually offers excellent organization in their products, and so far, this doesn't disappoint
Can get away with it as an everyday carry bag decently well due to the shape
A lot of organization options – excited to utilize them
2 Weeks of Use
Condition: Excellent
The amount of organization ALPAKA offers with this bag is great, but it hinders packability and increases weight—this level of organization seems to work better with everyday carry backpacks
Despite dialing in the harness system, bag still carries a bit saggy when fully loaded
Larger laptops can have trouble going smoothly in and out of the pack
Really like the stretchy mesh offered in the pockets—easy to pack larger items inside if needed since the mesh stretches
Access the Pro Community Discussion
Get your questions about the ALPAKA Elements Travel Backpack answered from our team and the Pro Community right here on the page. Plus, join discussions with other members about gear, guides, and more.
Other Bags & Luggage Reviews