ALPAKA Atom X Sling Review
The ALPAKA Atom X Sling makes good use of its tall and wide profile, but its slimness can also be a limiting factor.
Our Verdict
Unlock the Pro Summary
Save time. Get access to brief summaries of our reviews so you can browse and make decisions more efficiently.
Pros
Slim profile with good width and height
Versatile carrying options
Zippers have built-in snap hooks
Cons
Bulky items can compromise carry
Corner can dig into your arm if carried on your back
Keys might scratch your smartphone if they're all in the RFID-blocking front pocket with the key leash
Recent Pack Hacker Video
Technical Details
100 %
Carry-on Compliance
Capacity

5l

Weight (lb)

.7 lb (0.3 kg)

Denier

1000D

Dimensions

7.9 in x 11.8 in x 1.1 in (20.1 x 30 x 2.8 cm)

Notable Materials

Ballistic Nylon, Nylon, Polyester, Ripstop Nylon, Zoom Zippers

Manufacturing Country

China

Warranty Information
Full Review
Get up to 15% off ALPAKA • Join Pack Hacker Pro
Playing around with the available space for a given form factor can be an interesting experiment on where things can be pushed. Backpacks, for example, can range from small daypacks for urban dwellers up to large travel backpacks for cross-country adventures. The same can be applied to sling bags.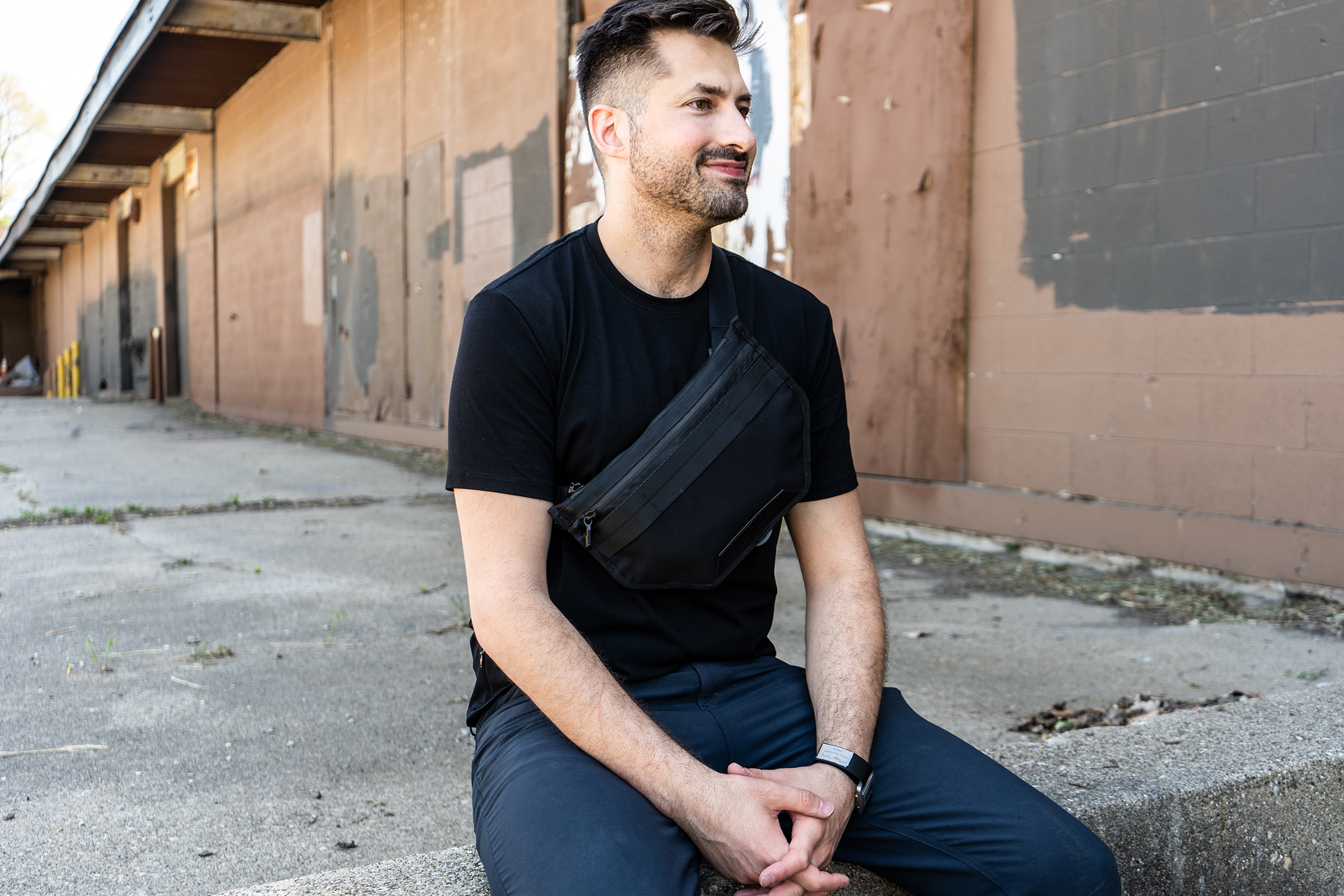 ALPAKA's Atom X Sling has a relatively wide and tall profile, but it's also quite slim. It's not going to be an all-rounder that can carry bulky items like water bottles or your Nintendo Switch's original charger (though it can carry the Switch itself, Joy-Cons attached). However, ALPAKA's thrown in some clever features to balance it out, including a Maglockz buckle, an RFID-blocking front pocket, and good vertical and horizontal space.
Materials & Aesthetic
Those familiar with typical waist packs might recognize the Atom X Sling as one, and it can be carried that way. It has a polygonal shape with six corners and a relatively wide surface area. For the Jet Black variant we have here, there's little in terms of standout aesthetic features. Even the debossed ALPAKA logo is blacked out, and so are the webbing, zippers, and trim.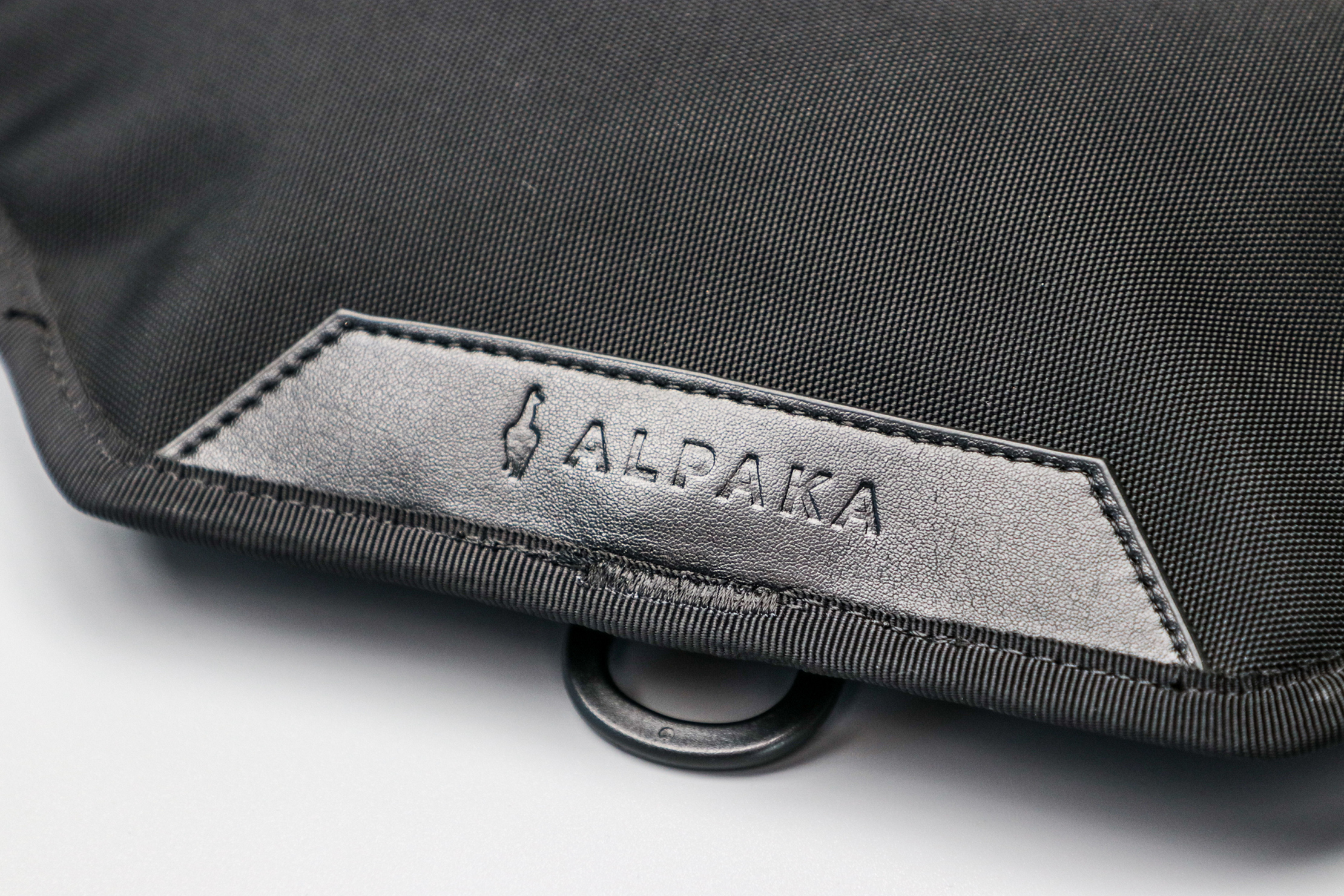 If you want a bit more flair and want to forgo the sleek and discreet styling of an all-black aesthetic, there's also a White X-PAC and Dark Multicam X-PAC option. Regardless of which among the three you pick, they all come with a fair bit of weather resistance, and most of the trim is still black. The White X-PAC colorway gets a nice two-tone look because of this, and it's not a bad look to consider.
The White and Dark Multicam X-PAC colorways come with VX21 and X50 X-PAC fabric, respectively, while the Jet Black variant comes in 1000D Ballistic Nylon. It's a durable-feeling fabric, and it's backed by Ripstop Nylon liner fabric from the inside. Equally important are the weather-resistant Zoom Zippers used and the fairly beefy pulls that come with built-in snap hooks.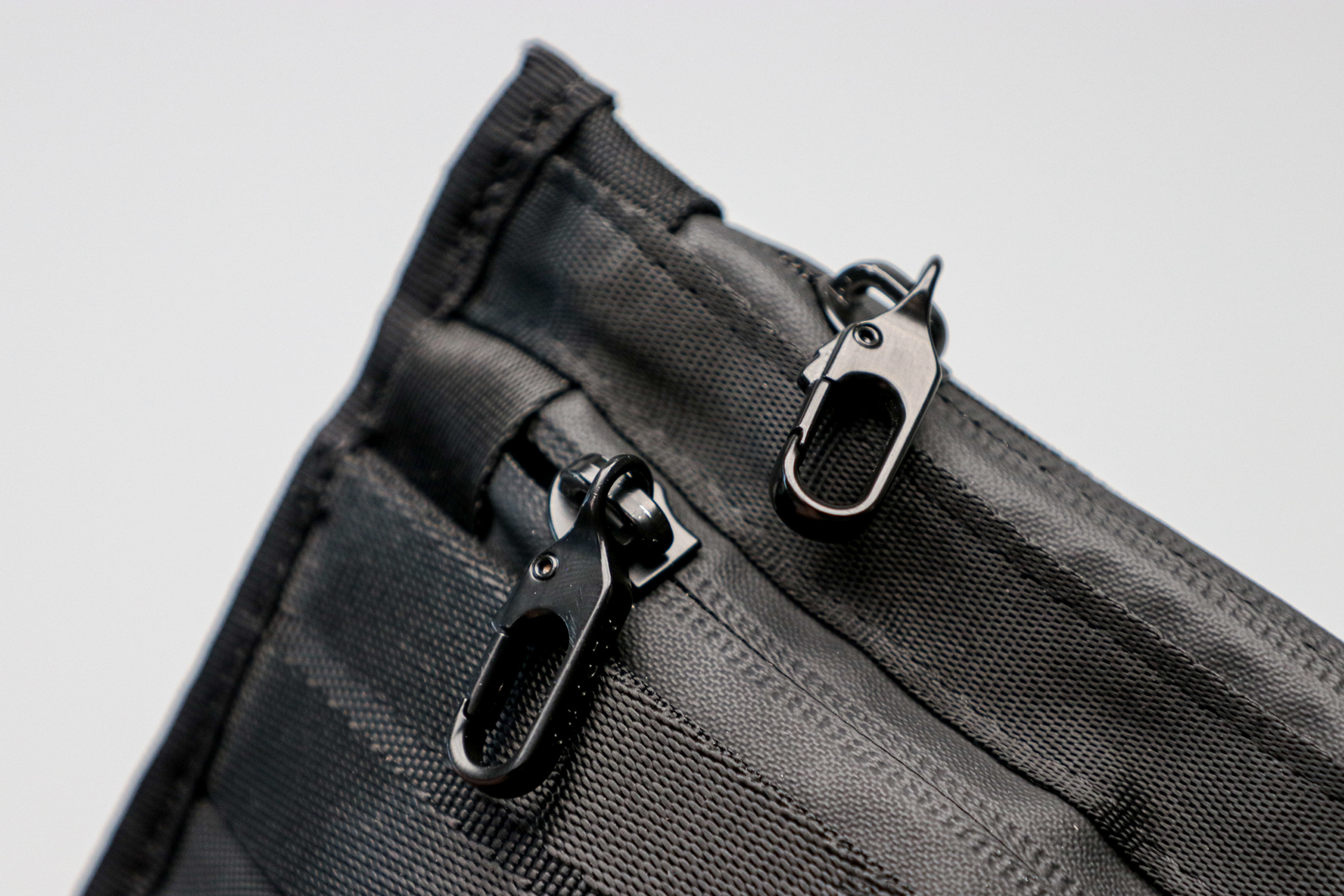 Last but not least is the Maglockz magnetic buckle on the strap. This buckle feels satisfying to use as it slides into place with great tactility. It's just one part of the list of good features the Atom X Sling has, but we feel it has a good impact on its own because of how it adds to the premium vibe of the bag.
External Components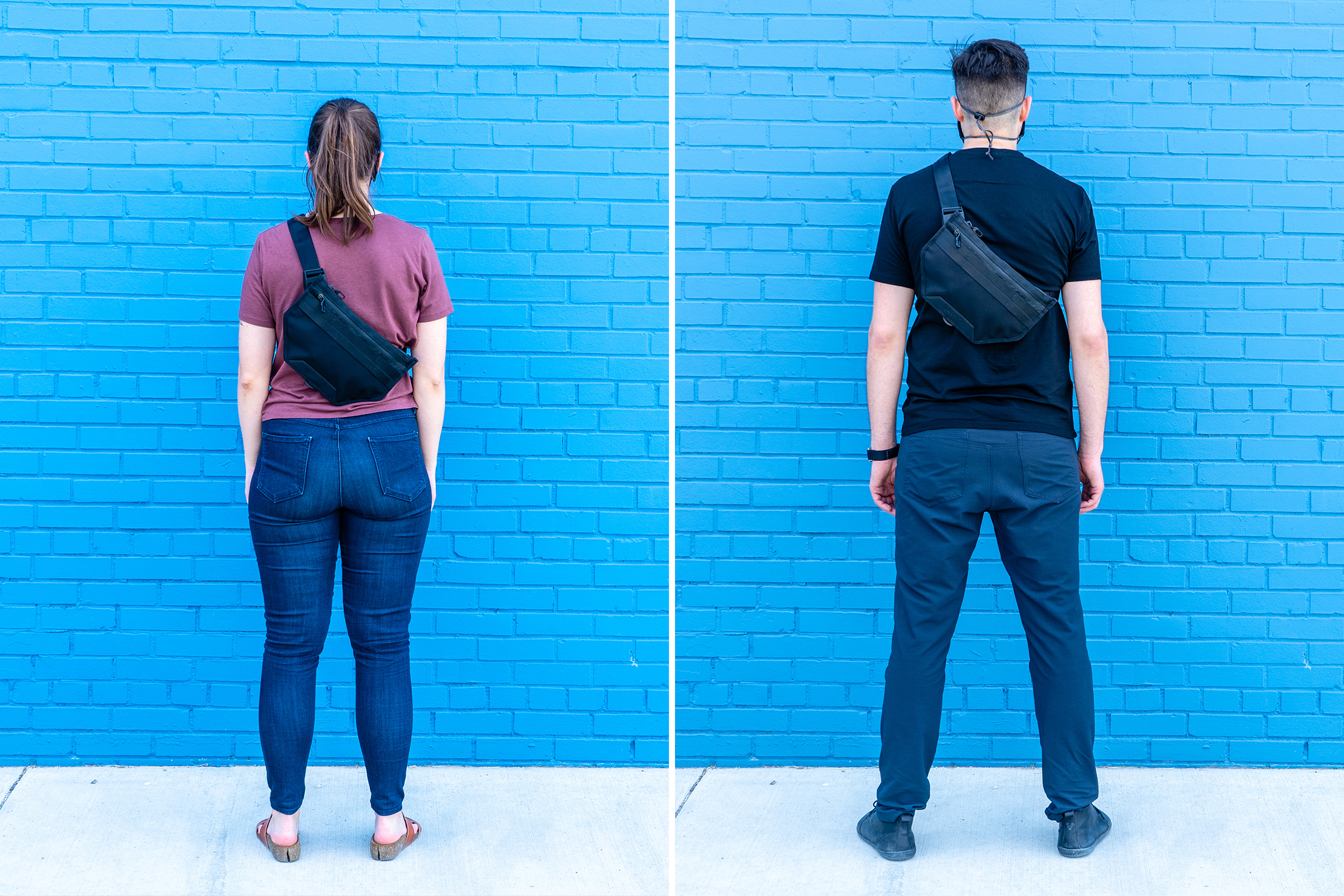 In a somewhat ironic twist, we didn't actually find ourselves using this magnetic buckle all that much during testing. The buckle is located near the attachment point of the strap on the sling itself, so it's mostly accessible when you have the sling mounted towards the front. Even then, we found it easier just to remove the sling over our shoulders normally. That's not a knock on the buckle and more of a compliment of how easy it is to wear and take the sling off.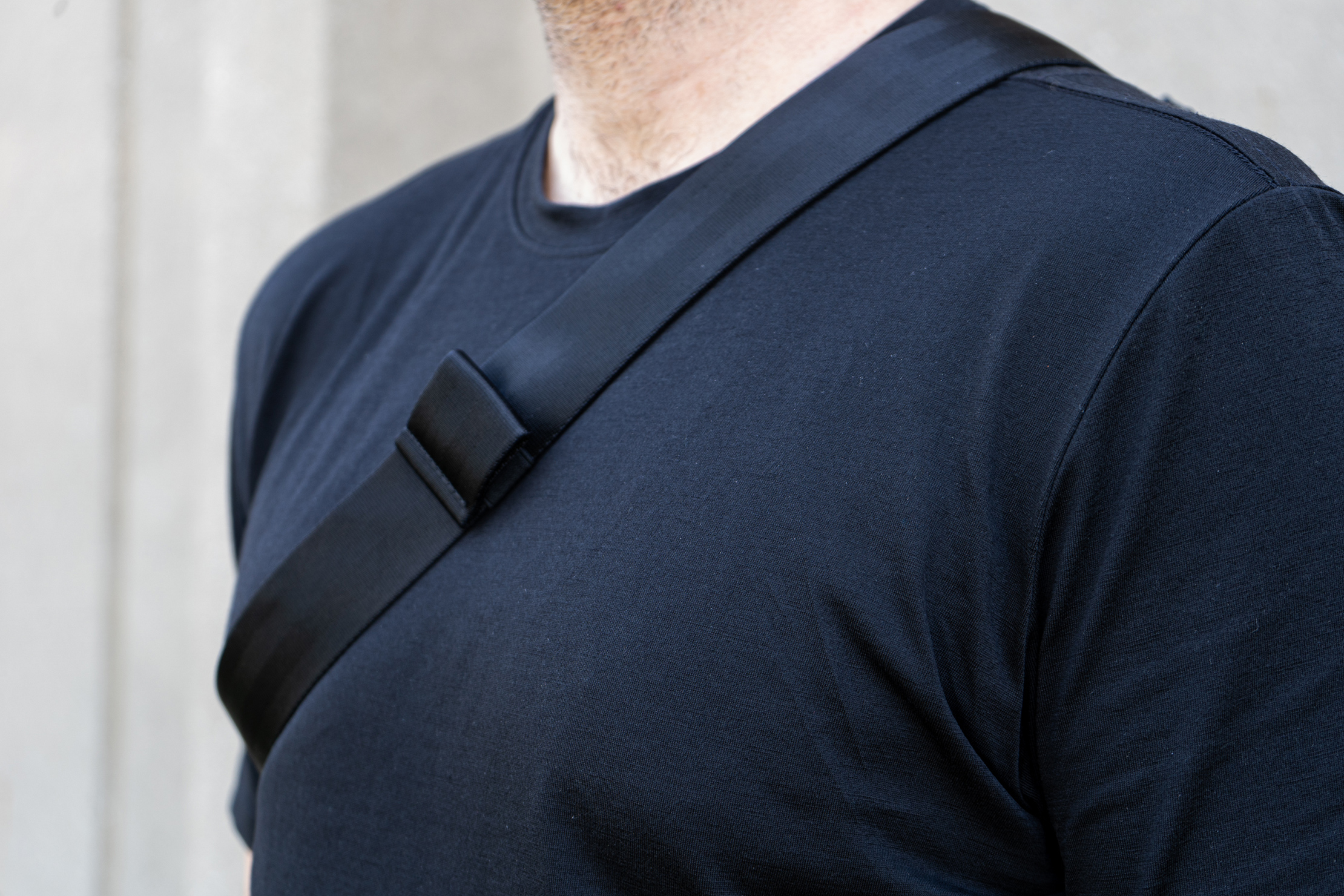 The strap itself is made with soft nylon, and it's comfortable to wear, easy to adjust, and has a strap keeper included. It's stitched on the fabric of the sling in a diagonal fashion, which helps it sit against you better. The Atom X Sling's slim profile factors in as well, making the load feel more spread out whether you wear it as a waist pack, crossbody, or over your shoulder.
All in all, ALPAKA has done a good job with the harness system. Even the magnetic buckle has a flat side, so it doesn't dig in too badly. If there's one gripe we have with how the Atom X Sling carries, it's how the upper corner dug into our arm when we carried it on our back. Tightening the strap pushes the corner further away, but it still sometimes hits.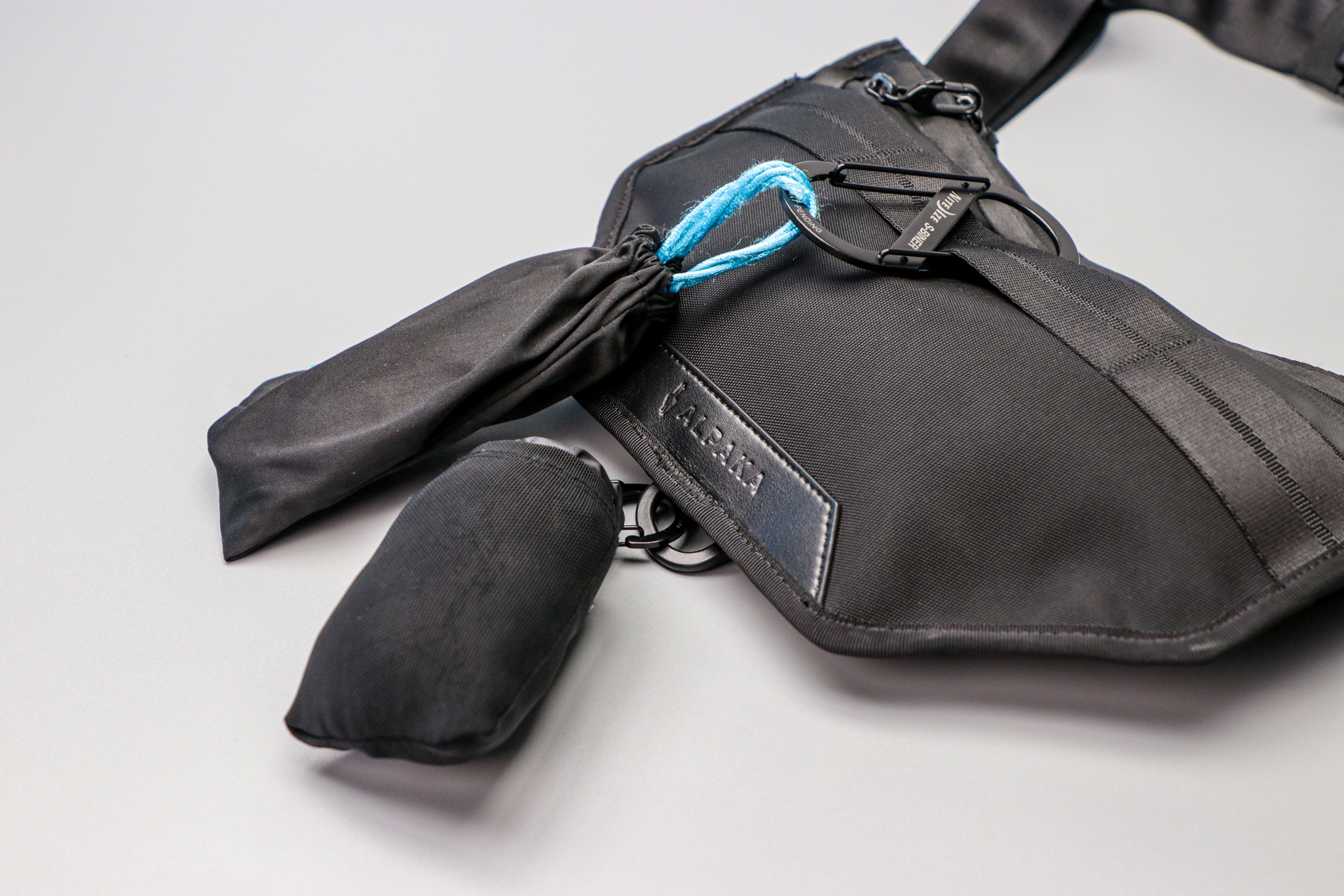 At the front of the Atom X Sling is a set of PALS-like webbing, the middle of which is wide enough to use as a handle. Of course, their main purpose is for attaching MOLLE accessories, plus some wide carabiners. However, it's worth noting that this webbing doesn't strictly follow the PALS standard; thus, not all MOLLE accessories may work with it. There's also a rear-mounted D-ring at the bottom, plus the Zoom Zippers' have built-in snap hooks. The latter's purpose is to hook into hidden loops for extra security of the pockets, but that's a lot of attachment points for a sling this slim.
Inside The Sling
The Atom X Sling comes with a rear-most security pocket wide enough for a small notebook or something passport-sized. The opening is wide enough for one, making accessibility not too bad. Considering that there's no padded back panel, we'd avoid putting anything bulky or sharp-ish in this pocket, such as a bundle of keys or a pair of sunglasses. We kept cards we use daily to lessen how often we pull out our wallets, plus some change if we needed it. But for everyday carry items like keys, hand sanitizer, packs of gum, and earphones, the front pocket is more suitable for those.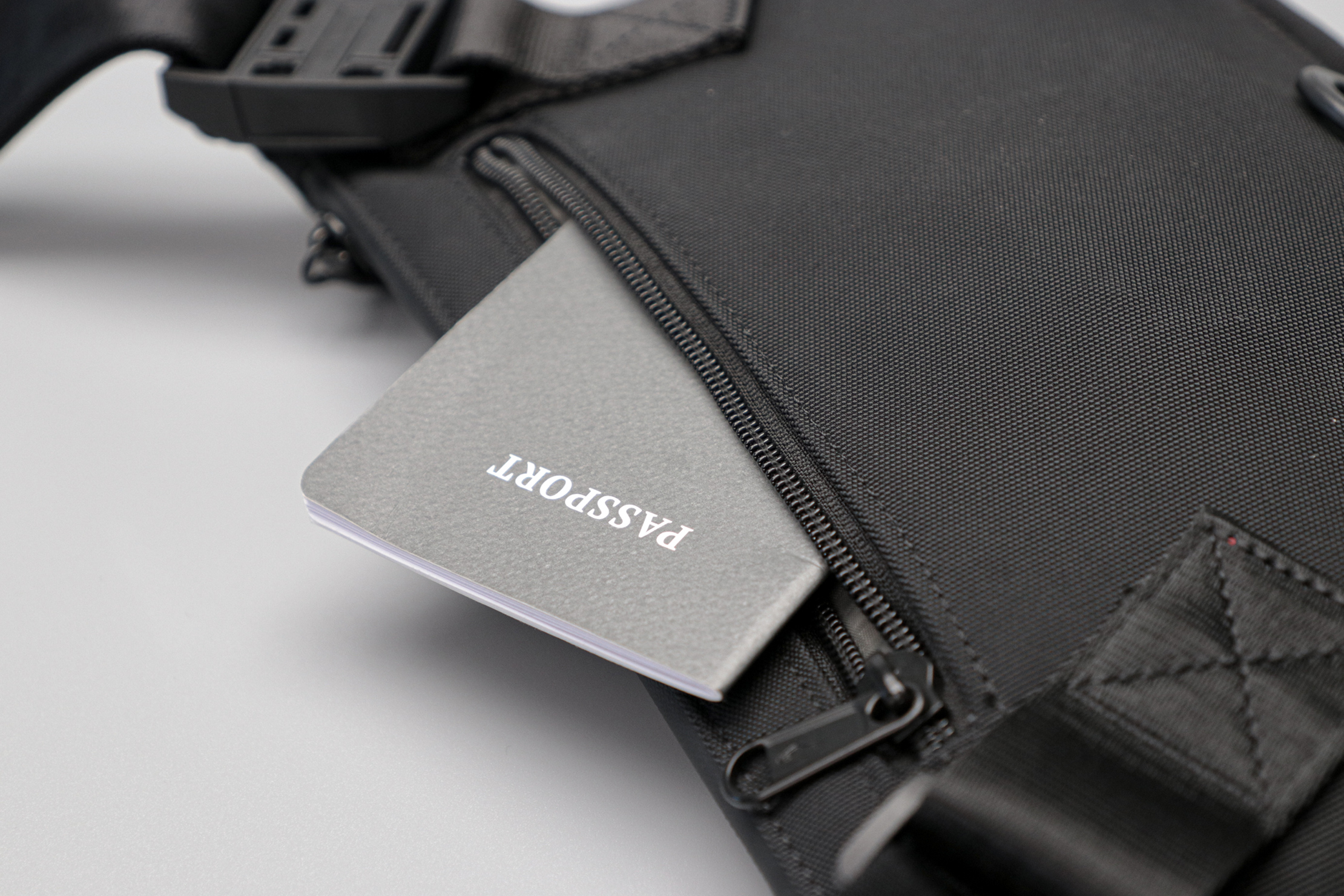 Inside the front pocket is a shiny silver interior fabric that's self-sanitizing against germs. We don't have the means to test that claim by ALPAKA, but at the very least, it makes the front pocket easy to navigate and keeps your stuff visible, especially during the day when the fabric can reflect sunlight. It's also RFID-blocking to protect against skimmers and has a built-in key leash that's fairly long. The key leash's clip is a bit on the plastic-y side, but we're more than fine with it since the length meant that we had no trouble using our keys to unlock doors without having to detach them.
We come to the main compartment where most of the Atom X Sling's space and organization are. One of the realizations we came to while testing the sling was how wide it is. We came to this realization when we tested ALPAKA's claim that it can fit a whole Nintendo Switch horizontally with the Joy-Cons attached to it. Considering how wide the Switch is, that's commendable in its own right. Lo and behold, it does fit the console, though just barely.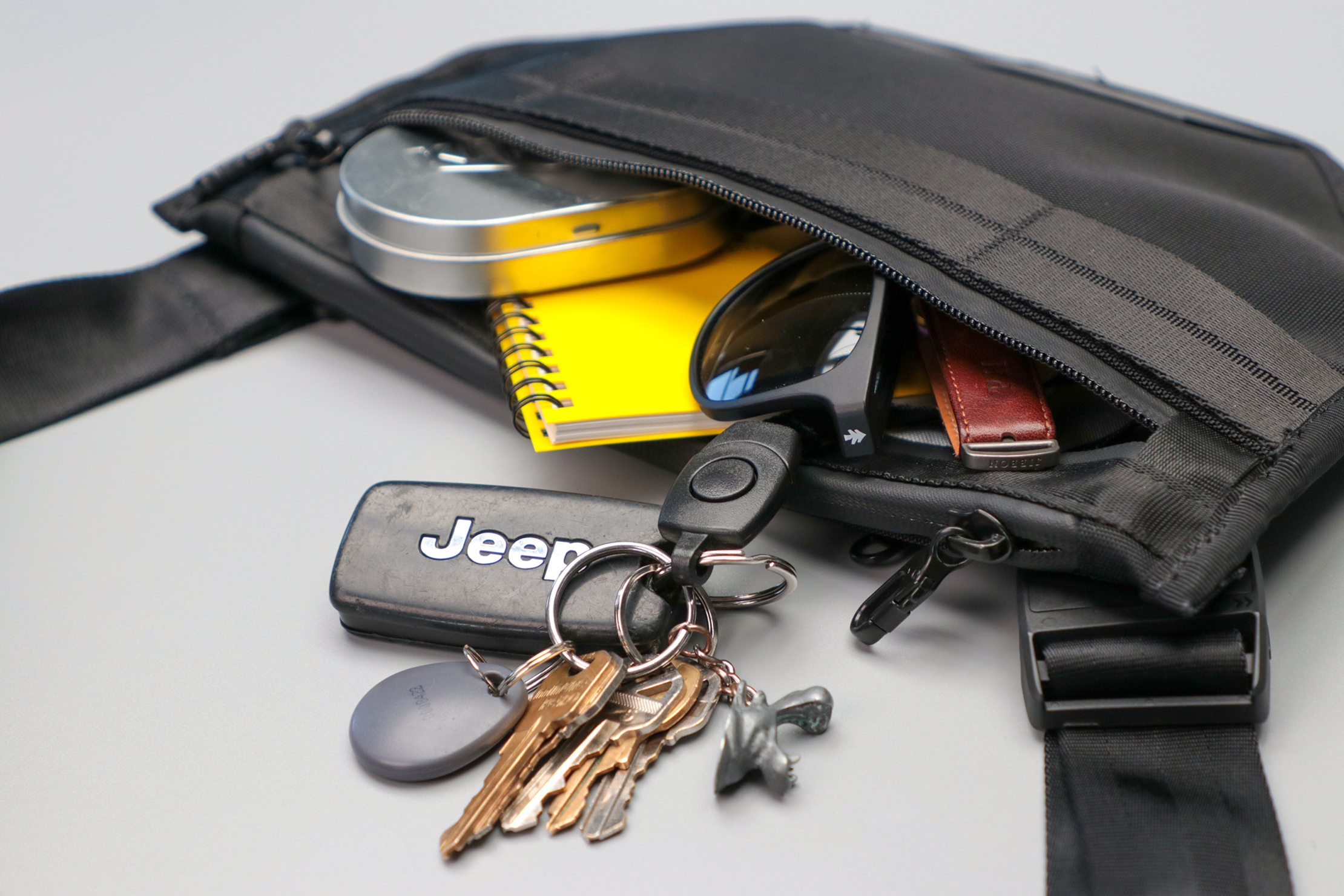 Not only does it fit a handheld console horizontally, but it also fits a tall smartphone vertically as well. Our iPhone 12 Pro Max measures at a relatively tall 6.33 inches, and it fits into the mesh pocket while standing up. So while the Atom X Sling doesn't have a ton of horizontal depth, it makes up for it in width and height. You'll want to keep things slim so that the sling remains flat and easy to rest against you. For the Atom X Sling, half of the carrying comfort is the harness system, while the other half is how well you maintain the slim profile.
That's all about space; what about organization? Inside are two mesh pockets, one of which we used for our aforementioned iPhone. We like how ALPAKA made the mesh pockets with good height because we have seen slings with shallow liner or mesh pockets. For the Atom X Sling, there's a good amount of depth to them that whatever's inside will be fairly secure and won't fall out unexpectedly.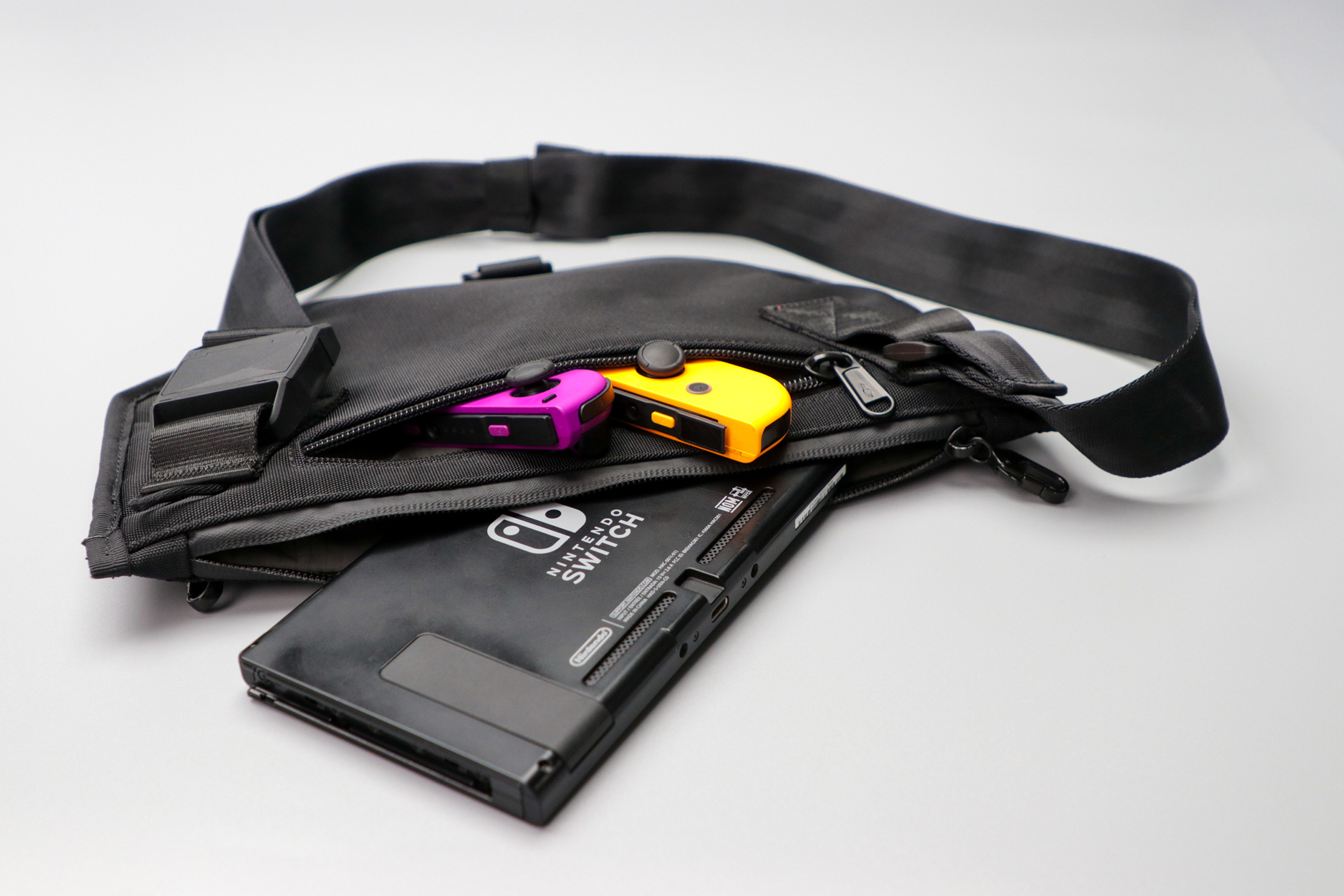 Organization by way of two mesh pockets doesn't seem a lot, and we have seen slings with a greater number of pockets and diverse ones as well. But it's not always the case of "more equals better." In the Atom X Sling's case, it has enough to get by, though it will be up to you if it is.
ALPAKA's equipped the Atom X Sling with good materials and a capable set of features. One of its biggest strengths is how slim it is, which does limit the bulk that you can carry. Bulky items like water bottles or an extra camera lens, for example, might compromise carrying comfort. But if that's not an issue for you, the sling more than makes up for it in terms of width, height, attachment options, build quality, and well-balanced organization.
Usage Timeline
Initial Usage
Condition: Excellent
Extremely durable materials for a small sling
Large enough to fit a nintendo switch
Anti-microbial copper/silver lining in the front pocket
2 Weeks of Use
Condition: Excellent
Digging the slim profile of this sling—it can be worn inside of a jacket or sweatshirt due to the low profile
When worn on the pack, the pointy corner on the side of the sling can scratch the back of your arm
Lockable zippers are handy not only to secure the sling, but hang additional keys or keychain EDC items on the outside of the bag as well
Access the Pro Community Discussion
Get your questions about the ALPAKA Atom X Sling answered from our team and the Pro Community right here on the page. Plus, join discussions with other members about gear, guides, and more.
Other Bags & Luggage Reviews