Able Carry Able Cooler Review
The Able Carry Able Cooler's ability to carry a six-pack is matched only by its robust build quality—both are top-notch for a lunchbox.
Our Verdict
Unlock the Pro Summary
Save time. Get access to brief summaries of our reviews so you can browse and make decisions more efficiently.
Pros
Well-made with robust X-Pac fabric
Thick, padded handle is comfortable to hold
Adjustable dividers mean more organizational flexibility
Cons
Interior is not completely sealed; some permeation is possible
Six-pack of 12-ounce cans fit, but with little headroom to spare
Slim profile may not fit some food containers
Recent Pack Hacker Video
Technical Details
Capacity

2.5l

Weight (lb)

.55 lb (0.2 kg)

Dimensions

9.7 in x 10 in x 3.2 in (24.6 x 25.4 x 8.1 cm)

Notable Materials

X-Pac, YKK Zippers

Manufacturing Country

Hong Kong

Warranty Information
Full Review
Get up to 10% off Able Carry • Join Pack Hacker Pro
When trekking through nature, we often find ourselves lost in the moment. This is especially true once we reach the end of the trail, where a gorgeous view is waiting to be admired. At that moment, how can it possibly get any better? The answer: Someone tells the group, "Alright, lunchtime!"—sweeter words have never been spoken. That's the cue to bust out the lunchboxes.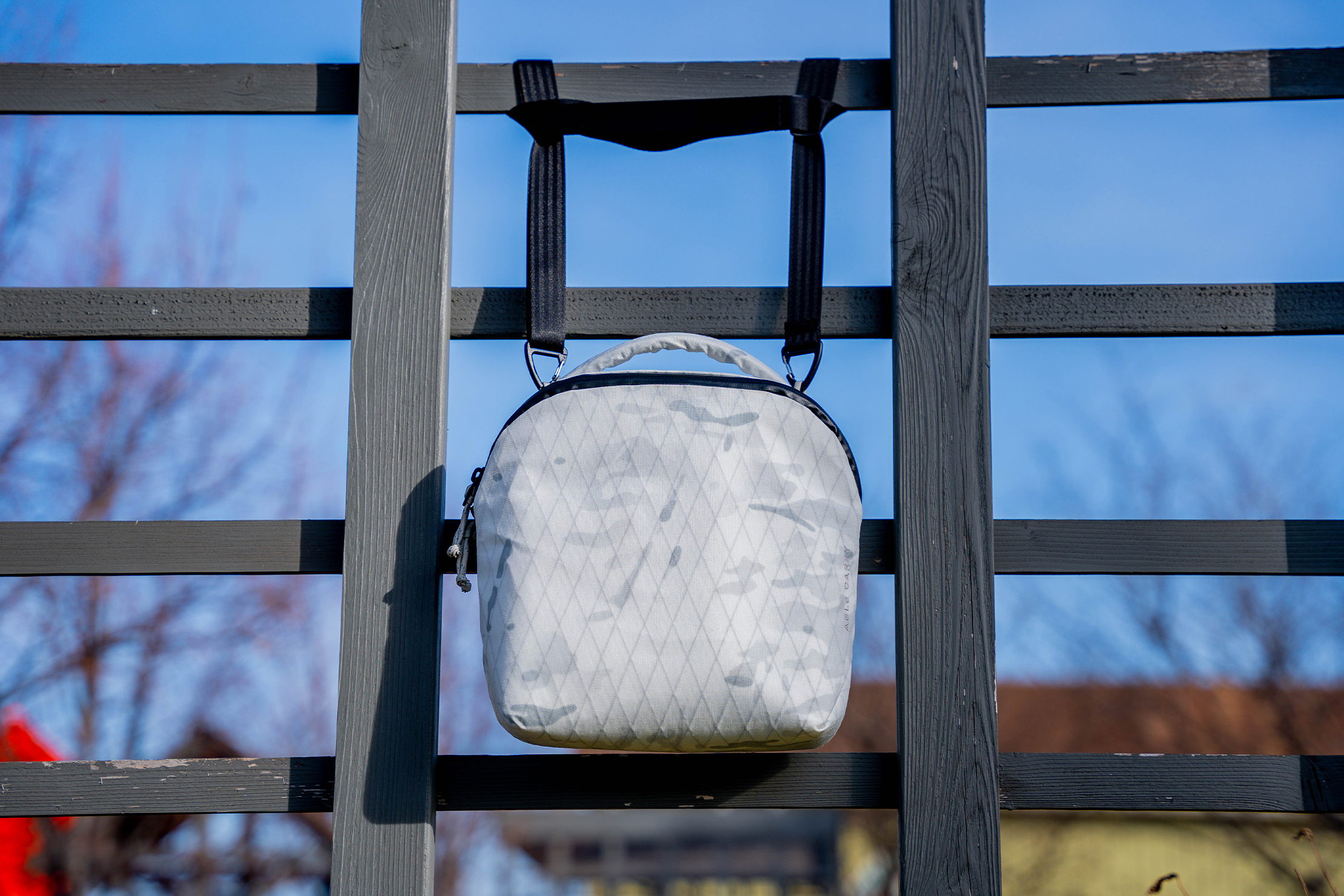 The Able Cooler is Able Carry's idea of a lunchbox: covered in durable X-Pac and specifically designed to carry a six-pack. Is it a bit over-engineered? We'd say so but in a good, it's-really-well-built kind of way. And hey, we're not exactly complaining if someone's idea of lunch is six cans of cola, as long as they're willing to share. But it isn't limited to drinks alone. In this review, we'll be looking at how well Able Carry's lunch box performs in more than just carrying drinks.
Materials & Aesthetic
The Able Cooler only comes in one colorway at the time of writing: X-Pac White Alpine. While we typically prefer a darker colorway, we don't mind this one at all. At the very least, we won't mistake the Able Cooler for one of our many black camera cubes and toiletry bags. It's different enough that we can distinguish it but not different enough that it explicitly looks like a lunchbox. In other words, it's a lunchbox we can confidently carry, even in a professional setting.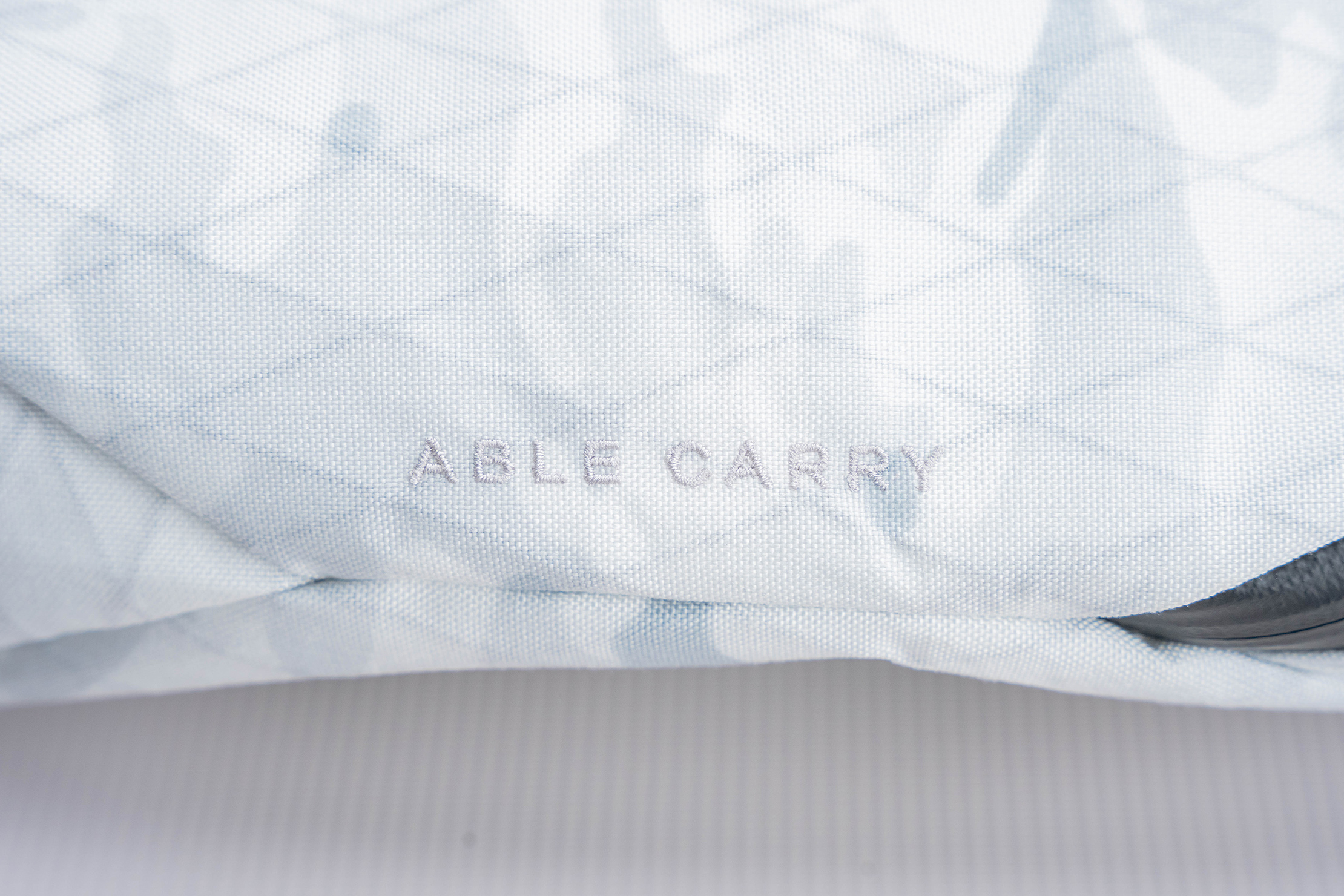 In some ways, the Able Cooler even looks like Able Carry's Thirteen Daybag with its forward-slanting opening—not a huge surprise given how well the two fit together. The X-Pac fabric's diamond pattern isn't a bad look for a lunchbox either, as it gives it a more chilled appearance (ice trays, anyone?). As far as lunch boxes go, the Able Cooler is definitely one of the better-looking ones we've seen.
The X-Pac feels a bit overkill, but we'd rather have gear be too robust than too flimsy. For the uninitiated, X-Pac is a fabric composed of different layers: a nylon outer shell, polyester X-Ply mesh, and a waterproof film. There are different versions of the fabric, but most have the signature diamond pattern, courtesy of the X-Ply mesh. A key characteristic of the material is that it's 100% waterproof. Mind you, that doesn't make the Able Cooler itself 100% waterproof, just the fabric.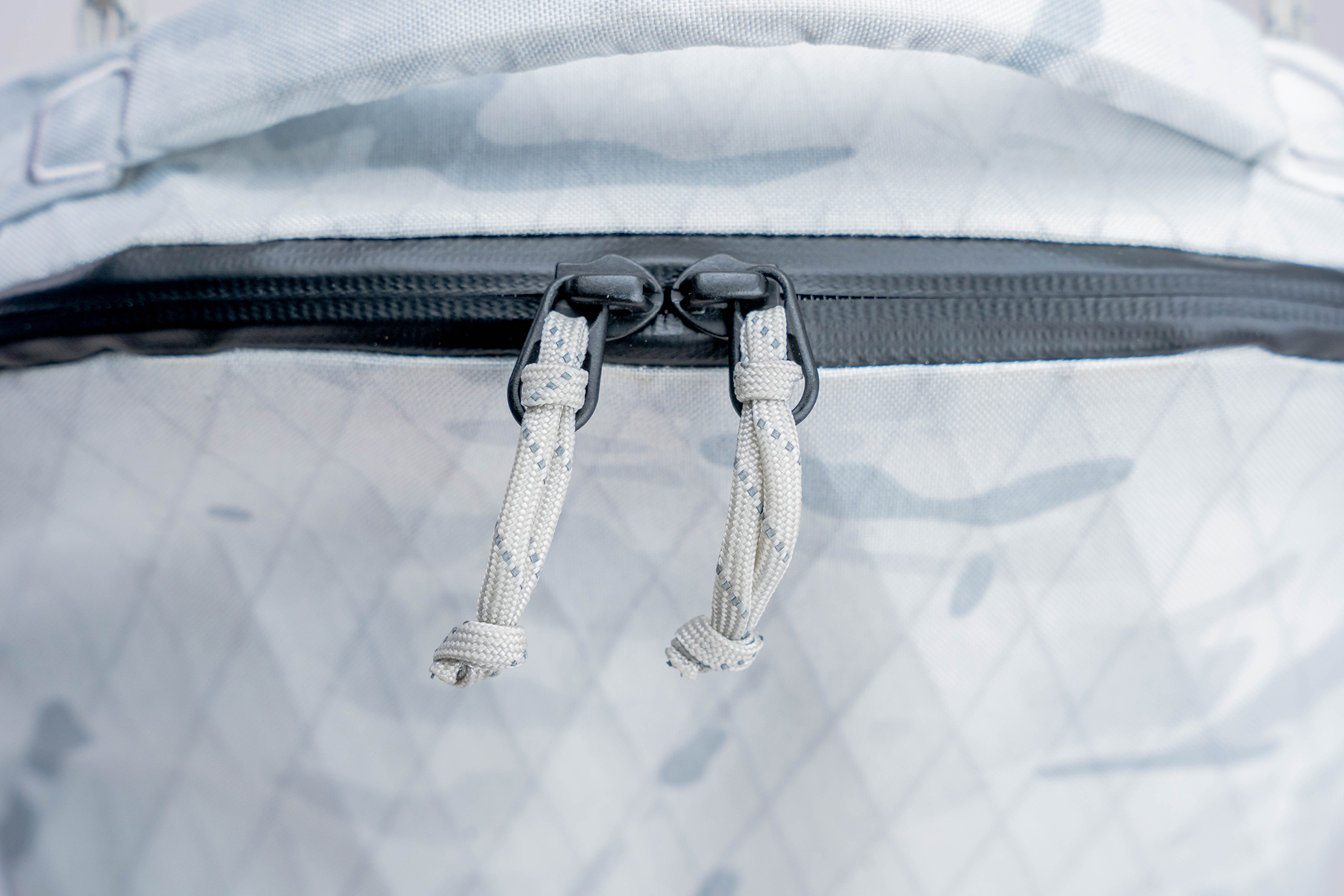 The zippers are No. 8 YKK AquaGuard, which are very weather-resistant. Meanwhile, the interior is lined with food-grade foil. Able Carry states that the foil isn't completely sealed, so leaks may permeate through it and the zippers, though we didn't have any issues during our testing.
Usage & Features
Carrying the Able Cooler is quite easy whether you're holding it by the handle or the included detachable sling strap. The strap is relatively narrow and made out of seatbelt-like material. Each end attaches via triangular gatekeeper clips and onto thick loops behind the Able Cooler.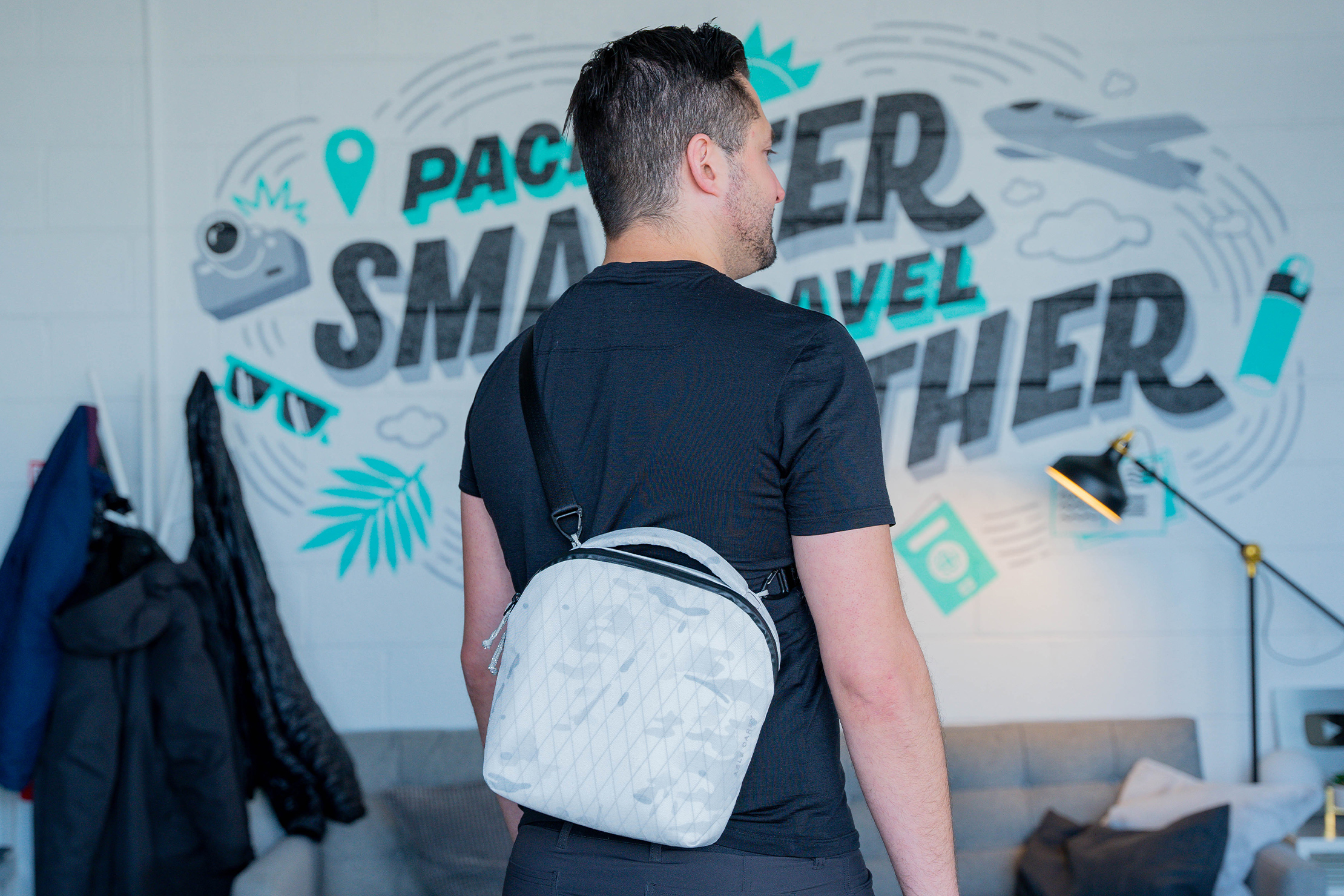 We find the included strap more than capable of handling a six-pack-laden Able Cooler. But for those who already have their own favorite strap (we all have one, right?), the loops are designed to fit those, too. They're not only thick but are also large enough that most clips can thread through. As for what else you can do with these loops, we'll leave that to your creative minds.
Even without the strap, the top handle of the Able Cooler is thick and well-padded for carrying 72 ounces worth of drinks. The handle runs across almost the entire length of the cooler's top side, which means that it doesn't squeeze into our hands whenever we use it like narrower handles do. The ends are also bartack stitched into the fabric in square patterns—another indicator of just how borderline over-engineered this lunchbox is.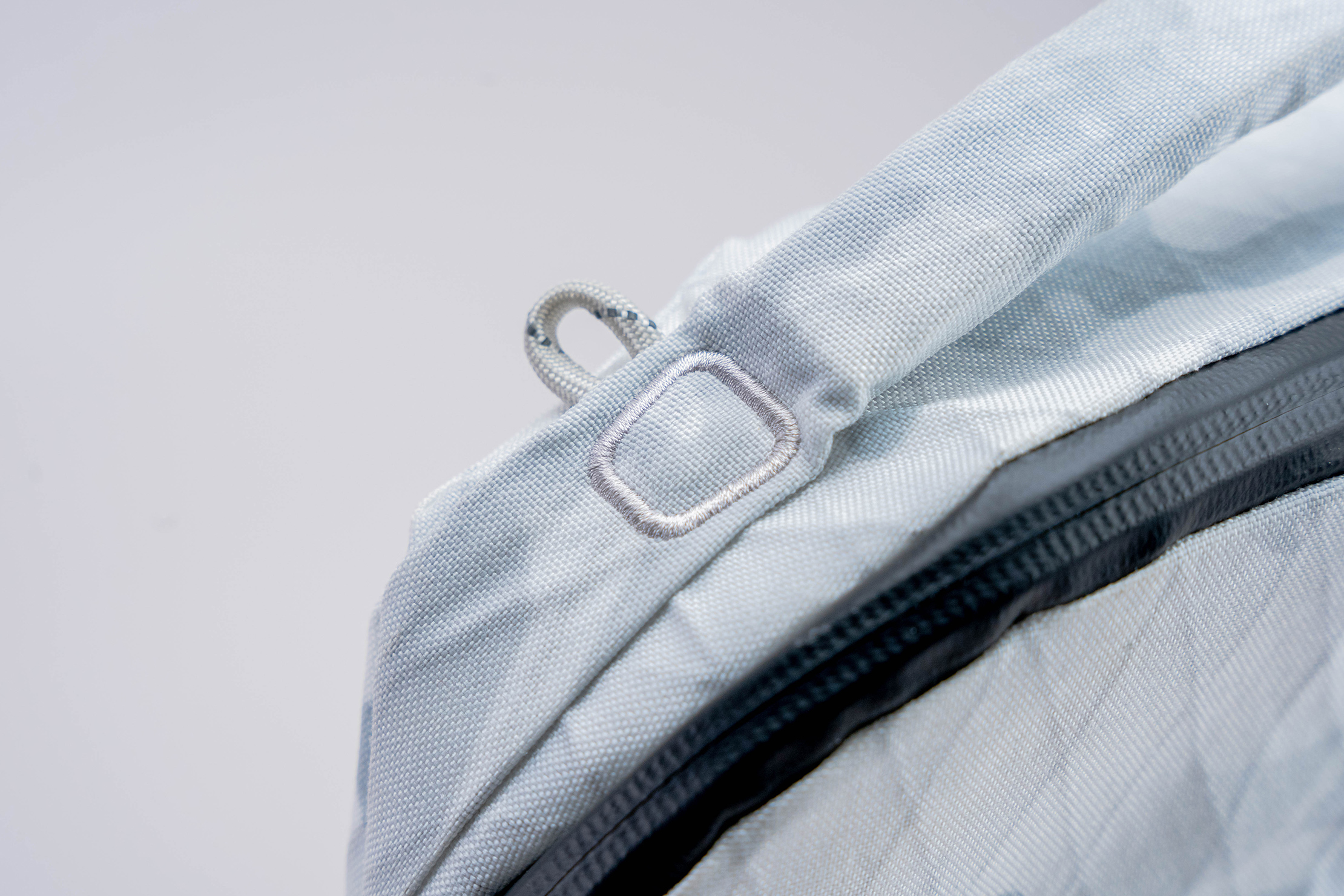 Carrying the Able Cooler on its own is comfortable, but it's also easy to fit into one bag. Able Carry designed their lunchbox to fit their own gear, such as the Thirteen Daybag. The Able Cooler fits in the top portion of the main compartment perfectly, as seen in the photo below. The fit varies depending on what bag you're using, but the cooler's slim profile is relatively versatile.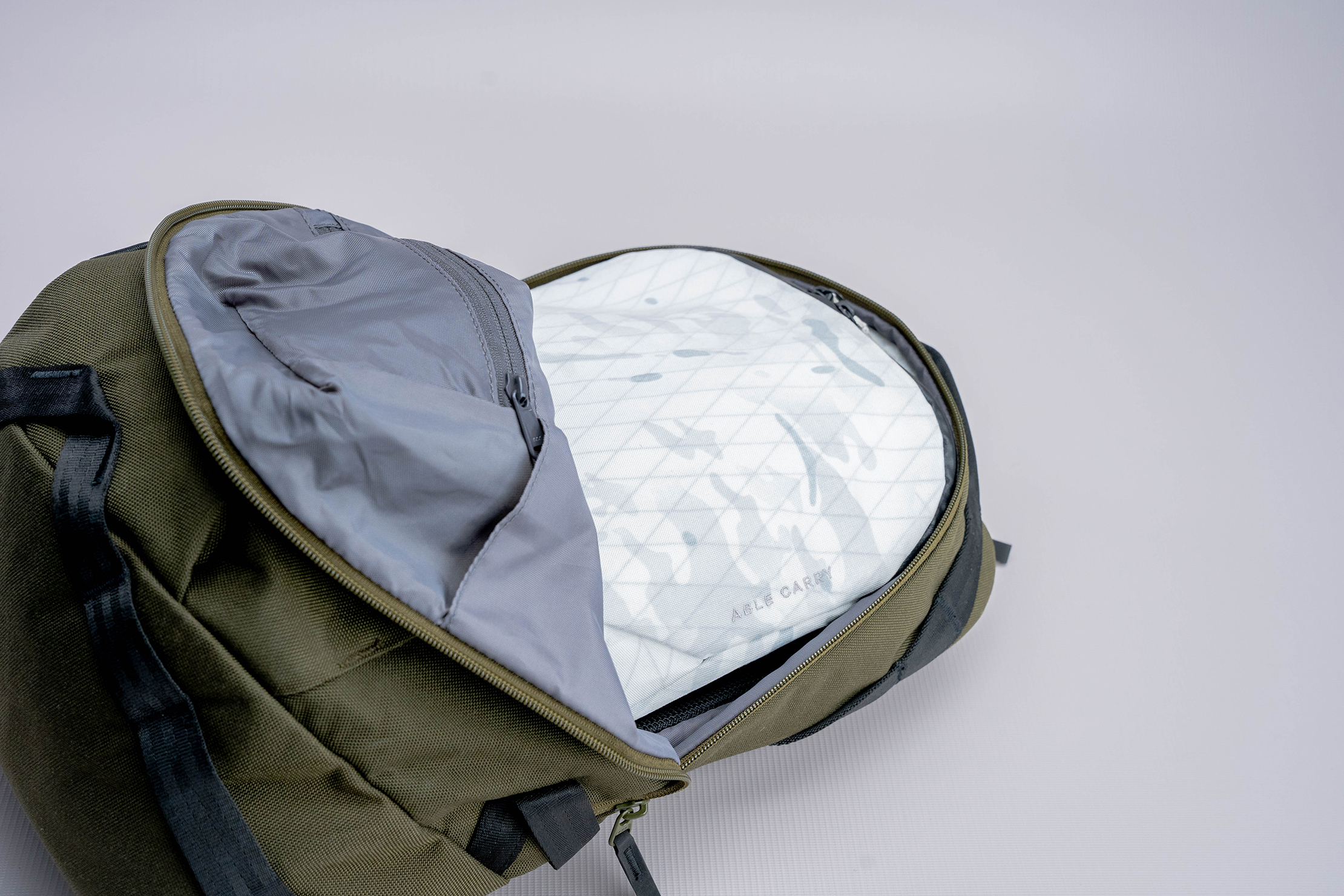 The inside space is foil-lined and subdivided into three by two dividers. Each column of space can take in a stack of two 12-ounce beverage cans for a total of six. Indeed, a six-pack does fit. In our experience, though, the fit along the top is noticeably tight. This is probably due to manufacturing tolerances since the Able Cooler's made by hand, though we can't be sure.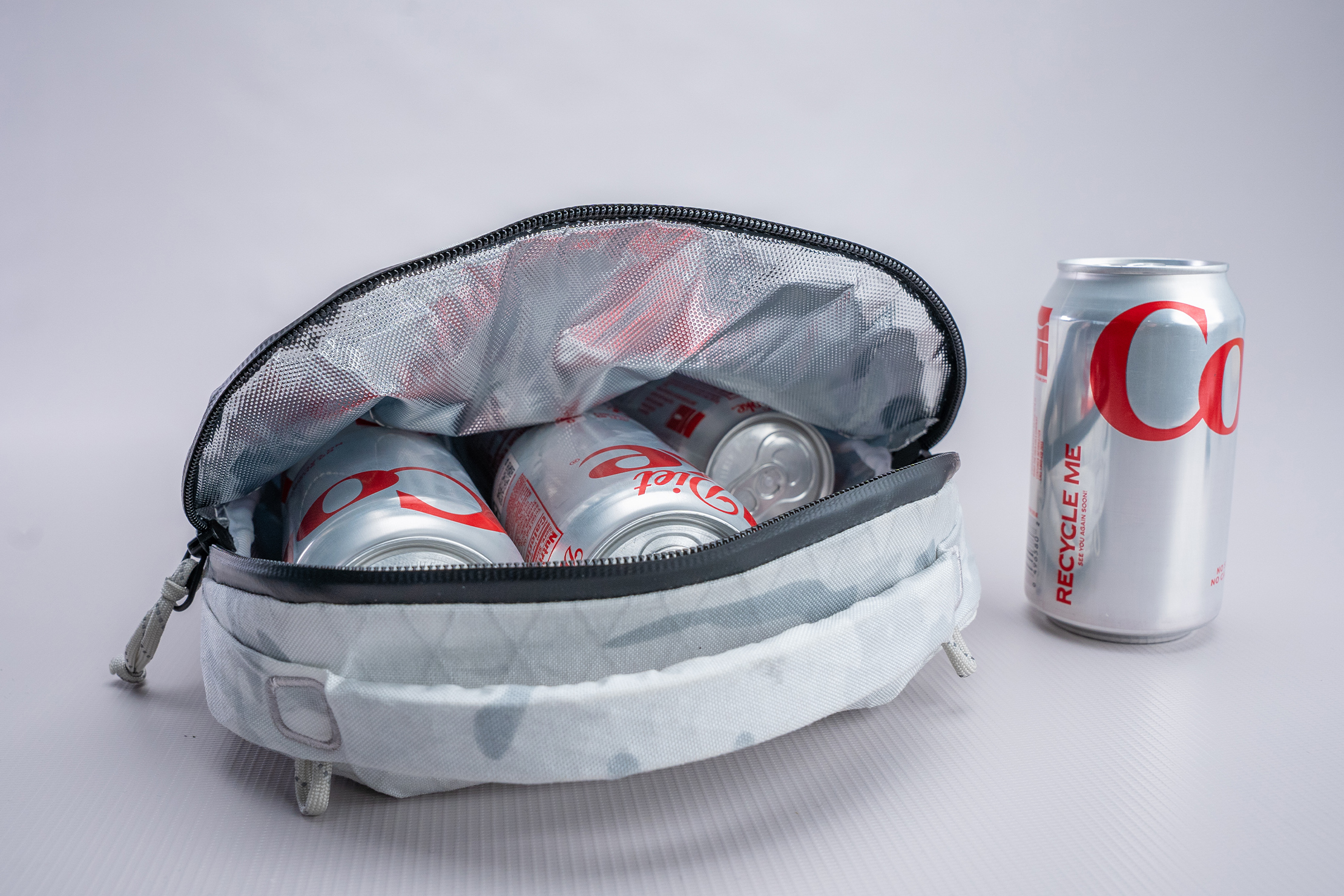 There's some wiggle room in terms of width where small ice packs can be inserted. Again, the foil isn't completely sealed, so it's recommended to put them in sealed bags. On the plus side, the foil is relatively easy to clean if spills occur.
In cases where lunch doesn't consist of six drink cans, the dividers can be adjusted to free up space. The bottom and rear edges are mounted on loop and hook fasteners, which can be undone to fold flat towards the front. Undoing one of the dividers is enough for us to fit a food container and a set of travel utensils. We leave the remaining column for a can of seltzer and an apple or orange.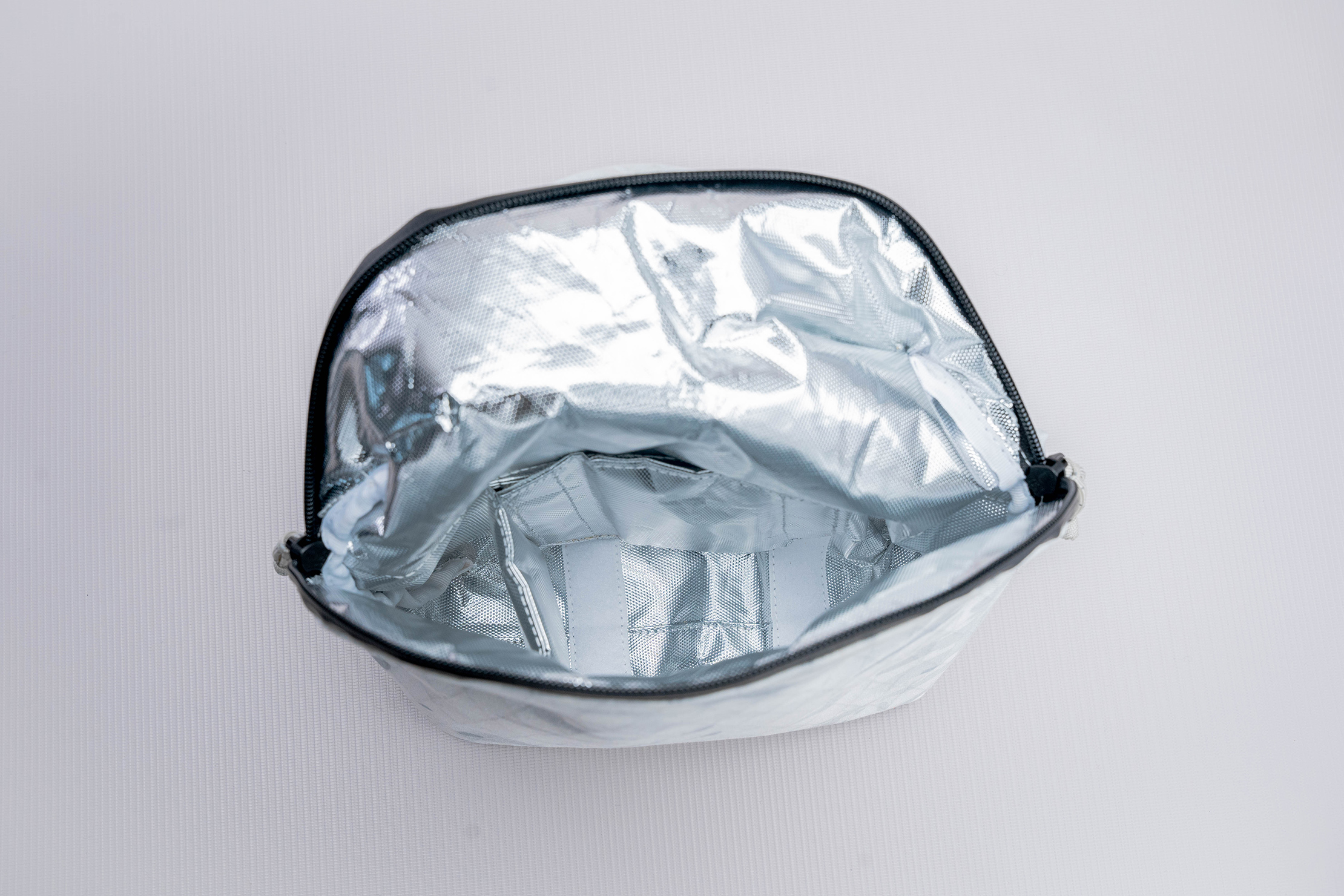 The Able Cooler is able to maintain our cans' cold temperature for a couple of hours. That's during the winter season, where it's noticeably cooler. We expect performance to drop once it gets warmer, in which case ice packs come in handy, but we'll keep you updated in the usage timeline below. We also don't notice any noteworthy leakage of moisture or condensation outside the bag when we have it loaded with cold drinks.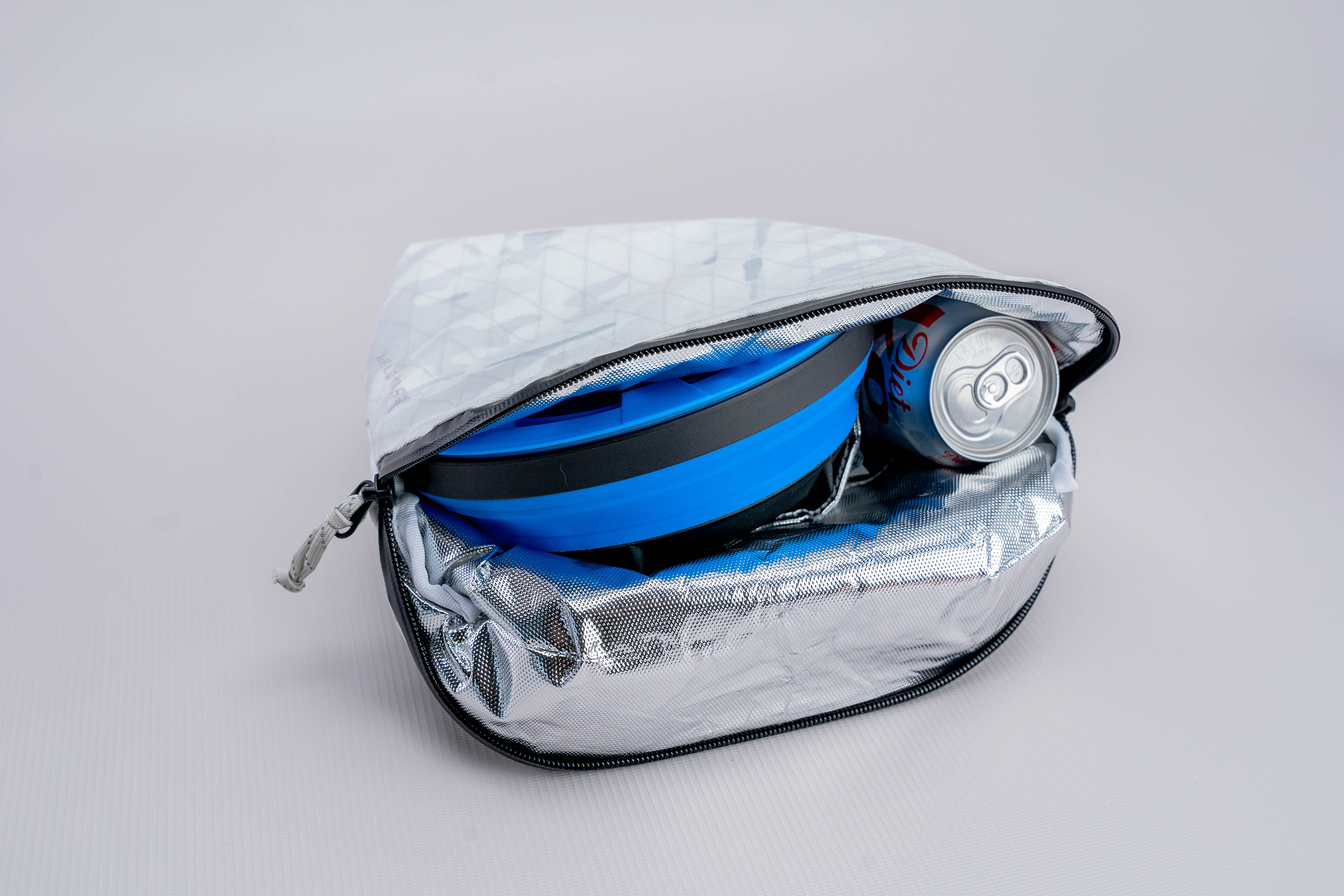 Able Carry's approach to a lunchbox is unique, but it's also well-executed. The build quality is top-notch and, in some areas, borderline overkill. It's also easy to carry and fit inside a daypack while having flexible organization itself. The Able Cooler doesn't just settle for "able"; it goes the extra mile.
Usage Timeline
Initial Usage
Condition: Excellent
There are built-in loops for attaching a sling strap
Top handle is wide and well-padded
Fits a sixpack by double stacking in three separate slots
2 Weeks of Use
Condition: Excellent
Fitting a 6 pack of cans inside is a tight squeeze, but it works!
This is a fun cooler—the X Pac is certainly overkill
Padded handle is comfortable to grab
Fits inside of a backpack satisfyingly well and has a slim form factor
Access the Pro Community Discussion
Get your questions about the Able Carry Able Cooler answered from our team and the Pro Community right here on the page. Plus, join discussions with other members about gear, guides, and more.
Other Bags & Luggage Reviews