Has working from home completely knocked your work-life balance out of whack? Tired of being cooped up and itching to get out and explore? Sounds like you need a staycation. But what exactly is a "staycation," and how do you take one? Don't worry. We've got your back with these 15 staycation ideas whether you're exploring your local area or staying home.
So, what the heck is a staycation anyway?
We're glad you asked. A staycation is when you take time off work to travel within your city or the surrounding area for a weekend. It's an easy vacation without jetting away on a plane to another country (though we love those types of trips too).
Think about it. When is the last time you actually explored your own city? There are probably loads of hidden gems that you've never got around to visiting because you're too busy working or traveling elsewhere. Now you can finally check out that whacky doll museum and find that angel wing mural you keep seeing people post corny photos in front of. You'll get to support local businesses in the process, too, a win-win all around.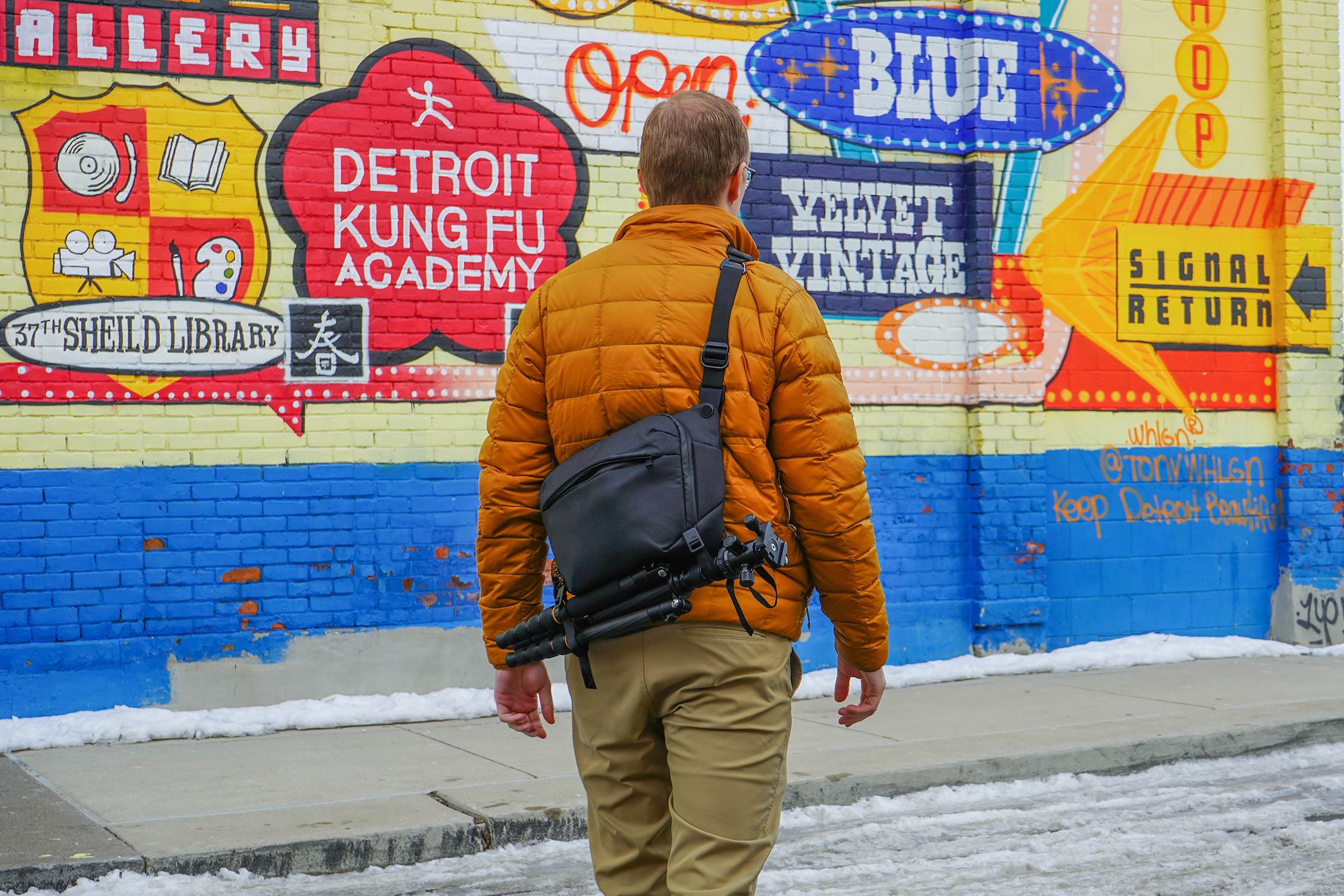 If you don't want to—or can't—leave the house, you can staycation from home. Turn off your work email and notifications and pretend your everyday stress doesn't exist for a few days. Transform your home into a relaxing retreat with easy-going music and scented candles. No cooking, cleaning, or worrying about anything—just maximum relaxation. Here's your chance to get takeout from that new Caribbean restaurant you've been meaning to try. Eating cuisine from different parts of the world is one of the best parts about traveling, after all.
Now that you know what a staycation is and why you should take one, let's get into some ideas on what to do.
Staycation Ideas for Exploring Locally
It's time to be a tourist in your own city. Hit up all the spots you've heard about but never got around to visiting. Find some new favorites, or hop in the car for a few hours and zip off to a nearby city. It doesn't matter if you're just going for a long walk in a park that's only 30 minutes away. It still counts as traveling!
Try a new local restaurant or cafe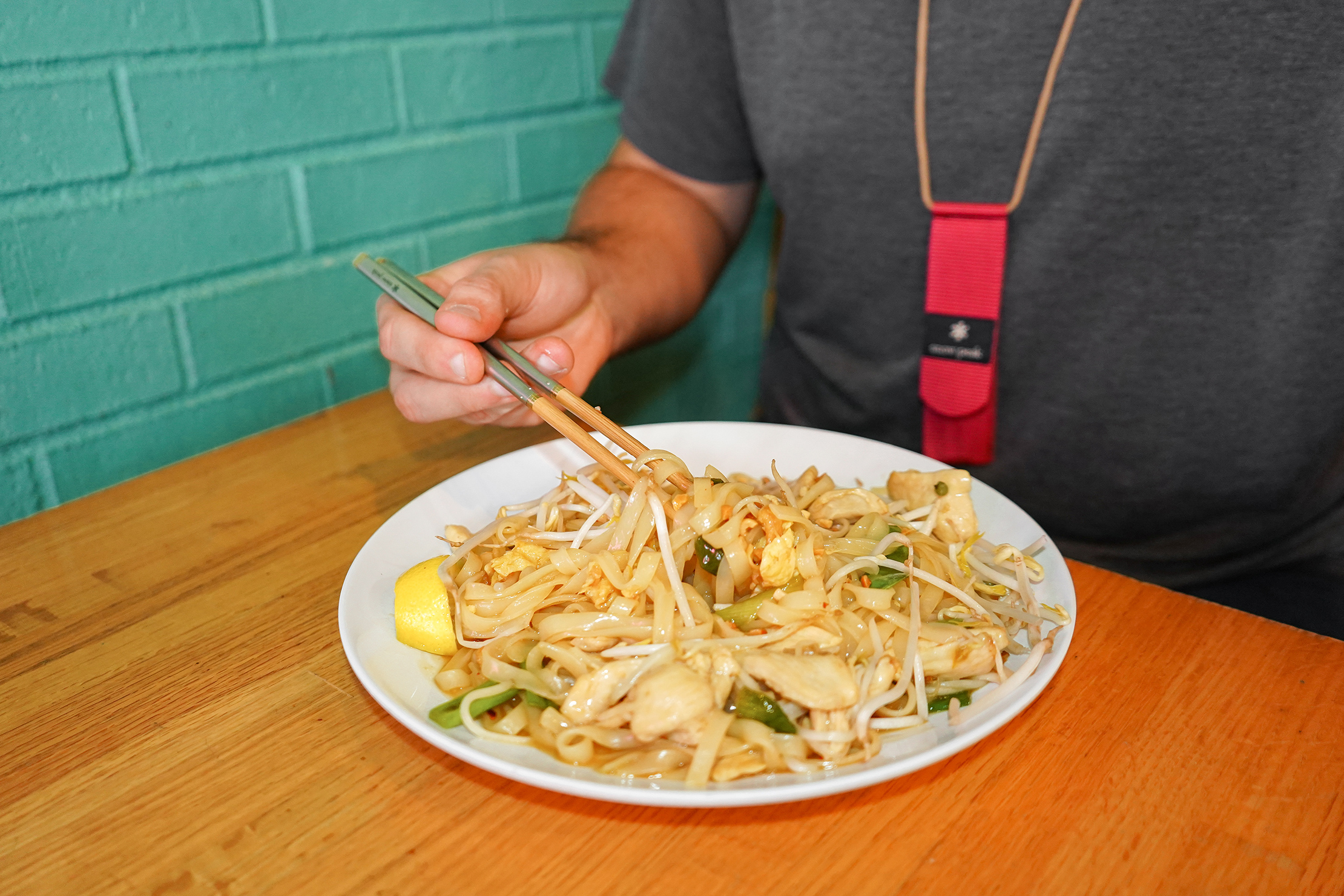 We're always looking for an excuse to eat, especially if it means we get to discover a new culture through food. So think about a country you'd like to visit, find a local restaurant specializing in that type of cuisine, and order one of everything on the menu. Okay, maybe one of everything is a bit much. Perhaps just ask for the chef's recommendation and try something you've never had before.
Explore a new neighborhood
You probably know your neighborhood like the back of your hand, but what about that artsy industrial neighborhood you've heard so much about? Or the historical district a few blocks away with elaborate architecture and pretty gardens? Exploring a new area is how you discover all the gems that only the locals know. Plus, it's probably time to find a bar with a better jukebox than the one down the street that you've frequented for years.
Find a regional park for a walk or day hike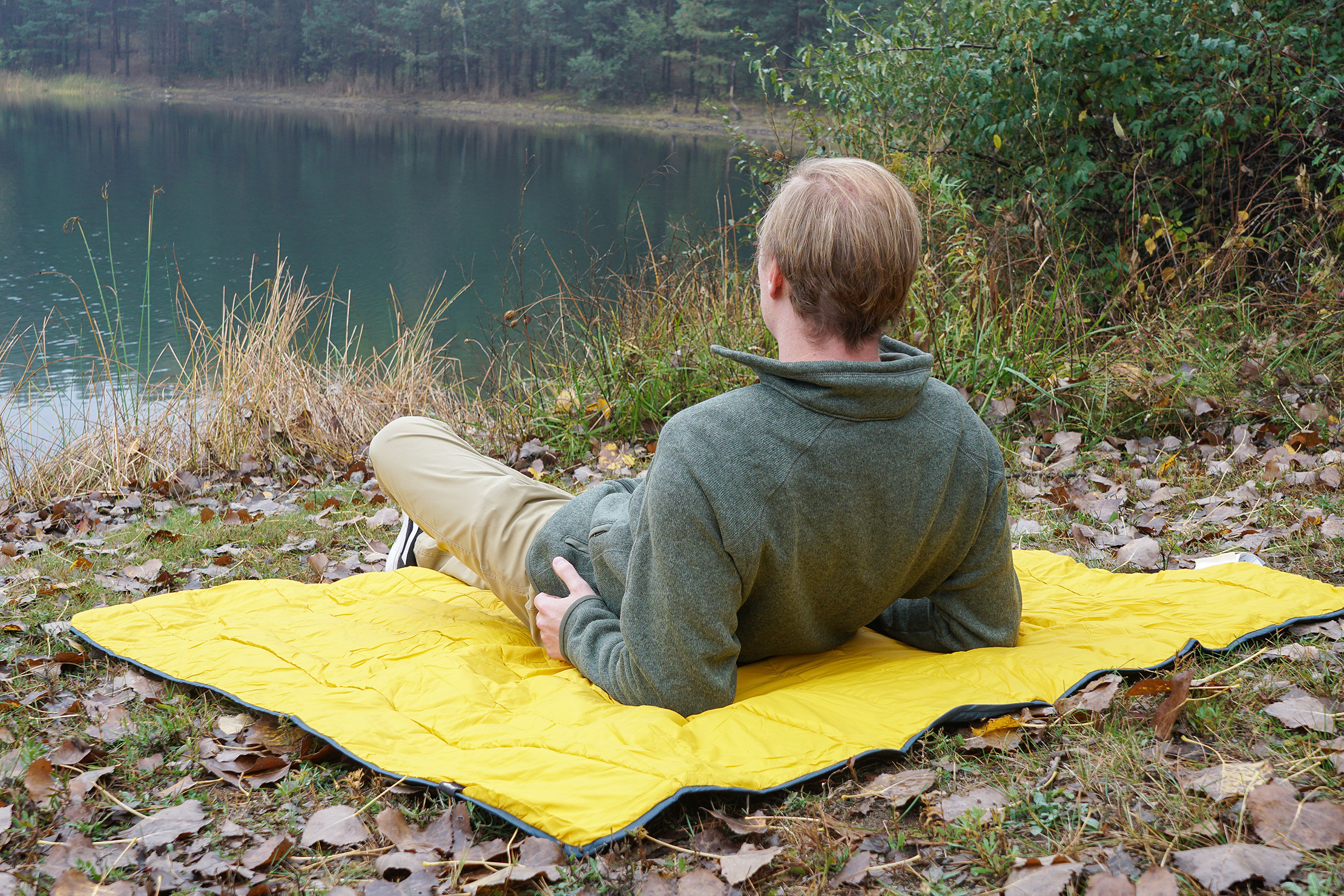 We're willing to bet there are more regional parks in your city and surrounding areas than you're aware of. Here in Michigan, Pack Hacker's home, there are over 100 state parks that offer hiking trails, winter cabins, yurts, and beyond. If that sounds too outdoorsy for you, simply getting outside for a short walk is a truly underrated way to destress—extra points for passive exercise that's actually enjoyable.
Explore the downtown area on foot
The same downtown that you whiz right through in your car is probably home to tons of local shops you've never even heard of. The best way to find them is on foot. Think of how it felt the first time you strolled down the streets of a new bustling metropolis. Remember the excitement of unfamiliar sights, sounds, and smells. Except for this time, you're not far from home, and any new spots you discover can be revisited anytime you want. A relatable slogan coffee mug or new wardrobe awaits. #VacationModeActivated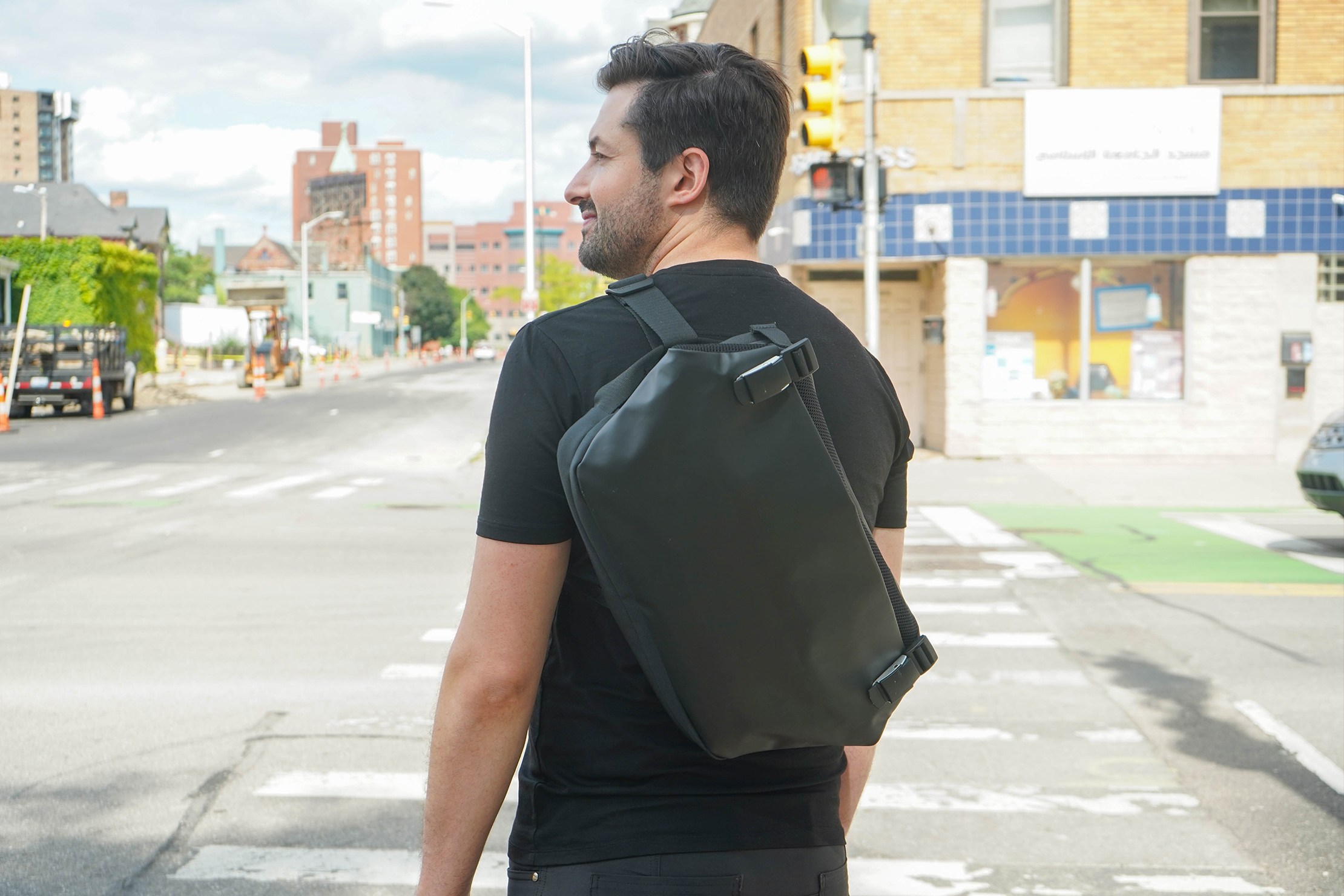 Book a room at a nice hotel
The key to staycation-ing is to keep it simple. Sometimes, you just need a change of scenery, i.e., a room that isn't in your house. So find a nice hotel, order some room service, and let someone else make the bed for a change. If you're feeling extra fancy or traveling with a partner, find a room with a swanky hot tub and relax in style. This makes exploring the downtown area on foot even more convenient.
Take a road trip to the next closest city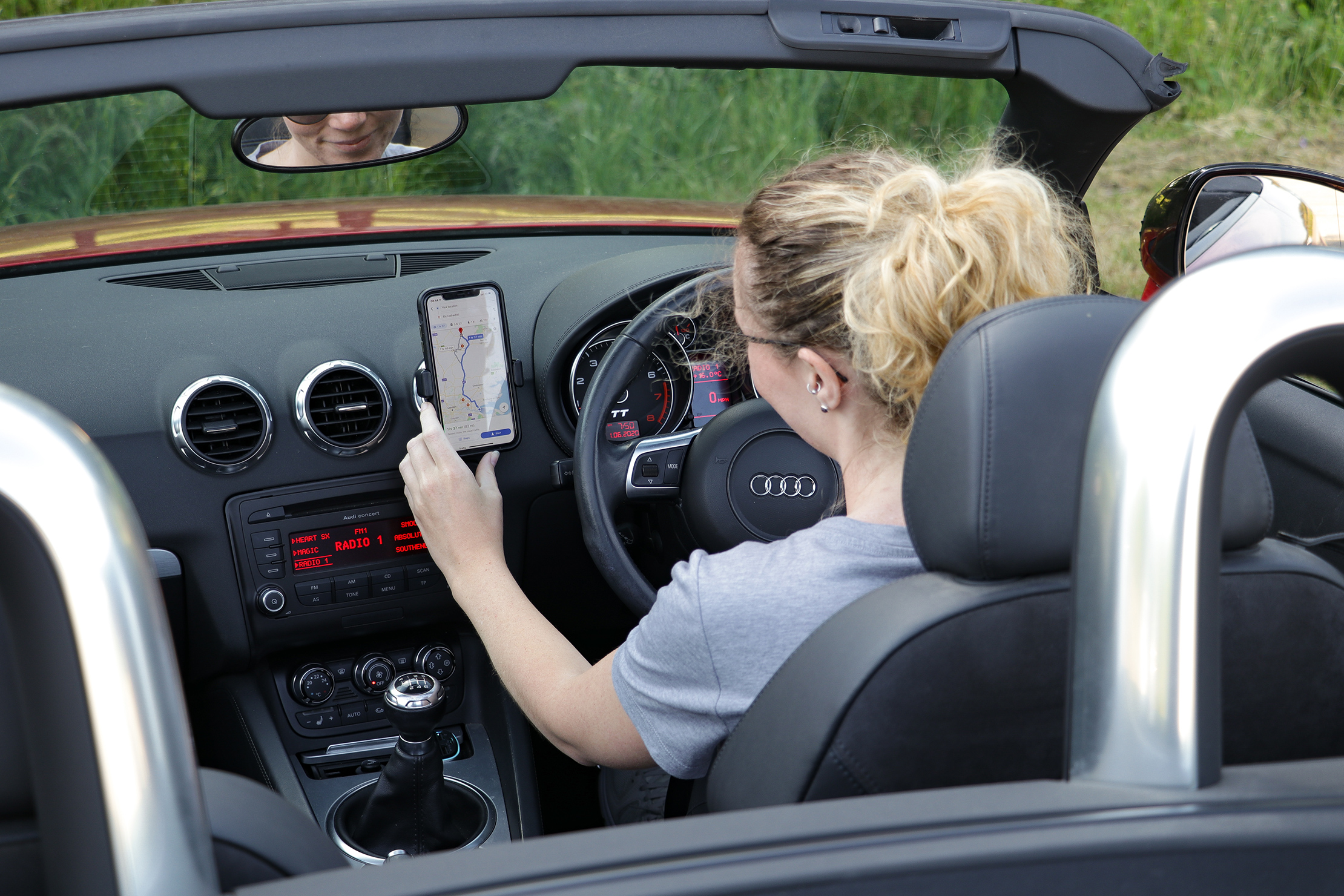 Cruising down the highway with the windows down, music blasting, and wind blowing in your hair is the feeling of freedom. Road trips are the embodiment of the journey being just as enjoyable as the destination itself. Who knows, your newest favorite place to travel could be only three hours away. Just pick a place, get in the car, and go. You've got nothing to lose. As long as you don't get lost… and even that makes for a good story, at least!
Visit local museums
You don't have to go all the way to the Louvre to be awestruck by beautiful paintings. Visiting a local museum means you probably won't have to wait in a massive line or worry about hordes of people standing in front of the Mona Lisa. Travel back to the days of ancient Greece as you admire detailed sculptures. Imagine what it would be like to witness a Nigerian Yoruba ritual while you read about cultural artifacts. This is escapism at its finest, and like the best trips, you'll learn something new in the process.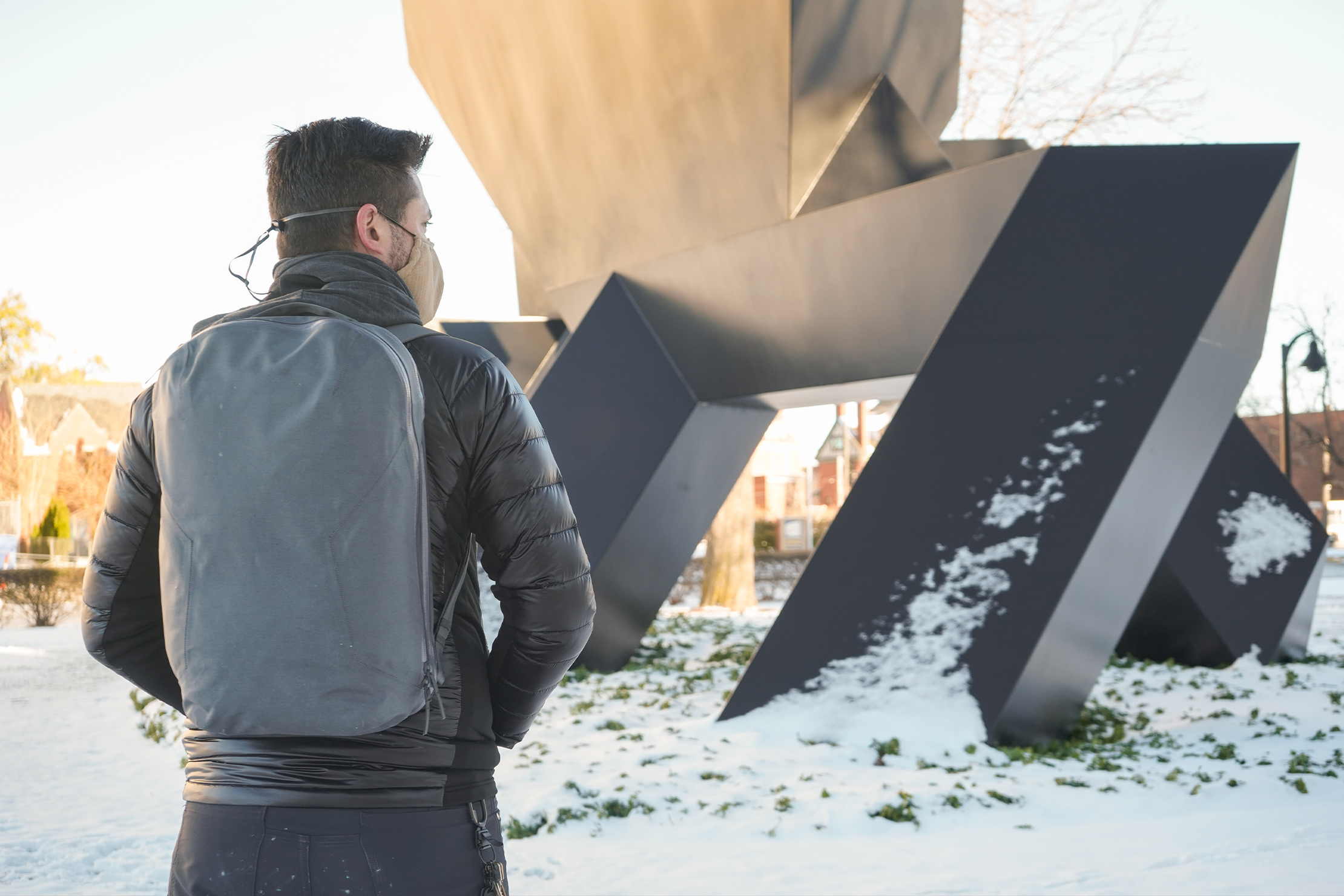 Try the food specialties of nearby cities
Seriously, we love food. Yes, eating is half the fun of traveling, but that doesn't always mean trying something exotic or foreign. Every city has its specialty, whether it's fish and chips in London or a Philly cheesesteak in Philadelphia. Here's where you combine a bunch of these ideas together for an expert-level staycation. Take a road trip to a nearby city, book a swanky hotel, explore the downtown area, visit a museum, and eat the local specialty while you're there. There's your itinerary. Boom, you're welcome!
Staycation Ideas for at Home
If none of the ideas above are an option for you, then there's always the at-home staycation. Just set your phone to "do not disturb" and really get into it. A little creativity and imagination go a long way.
Go camping in your backyard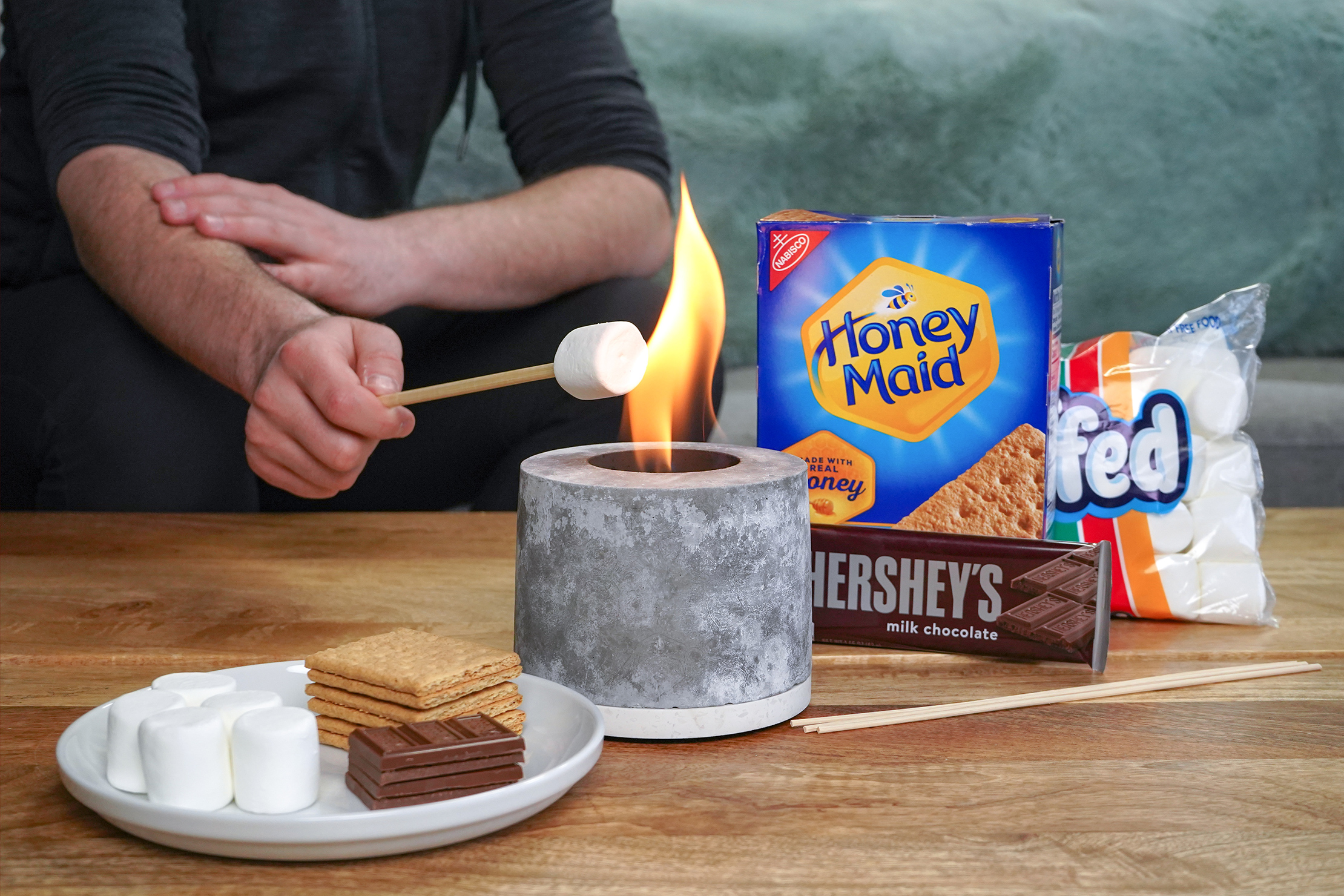 Pitch a tent, grab some sleeping bags, start a campfire, and make some s'mores. If you don't have a fire pit or backyard, build a freaking blanket fort in your living room and make s'mores on the stove. You do have a stove, don't you? If not, get a FLIKR Fire Personal Concrete Fireplace and make s'mores over that. It's basically like a little indoor campfire. All you need to do now is find a soothing playlist of campfire and forest sounds. YouTube and Headspace have plenty of them.
Plan a spa day
Working from home means going from the bed to the desk chair. Or maybe just brewing some coffee and working right from the bed. We're not judging, promise. We know because we've done it too. We also know how this sedentary lifestyle causes stiff joints and muscle tension, so we appreciate a good home spa day. Indulge in an essential oil bath soak and deep cleansing facial to melt away stress. Just close your eyes, light some aromatherapy candles and play some gentle music. Soon enough, you'll forget you're even at home.


Order takeout from a new restaurant
We said it before, we'll say it a thousand more times—eating is one of the best parts of traveling. When you can't go to another country and can't be bothered walking to the Thai restaurant around the corner, takeout is your best friend. Do you dream of visiting Italy? Find an old-world Italian restaurant. Fantasizing about eating ceviche on the coast of Mexico? Find the most authentic Mexican restaurant you can and give 'em your business. Remember, no cooking, no cleanup, no stress.
Read travel books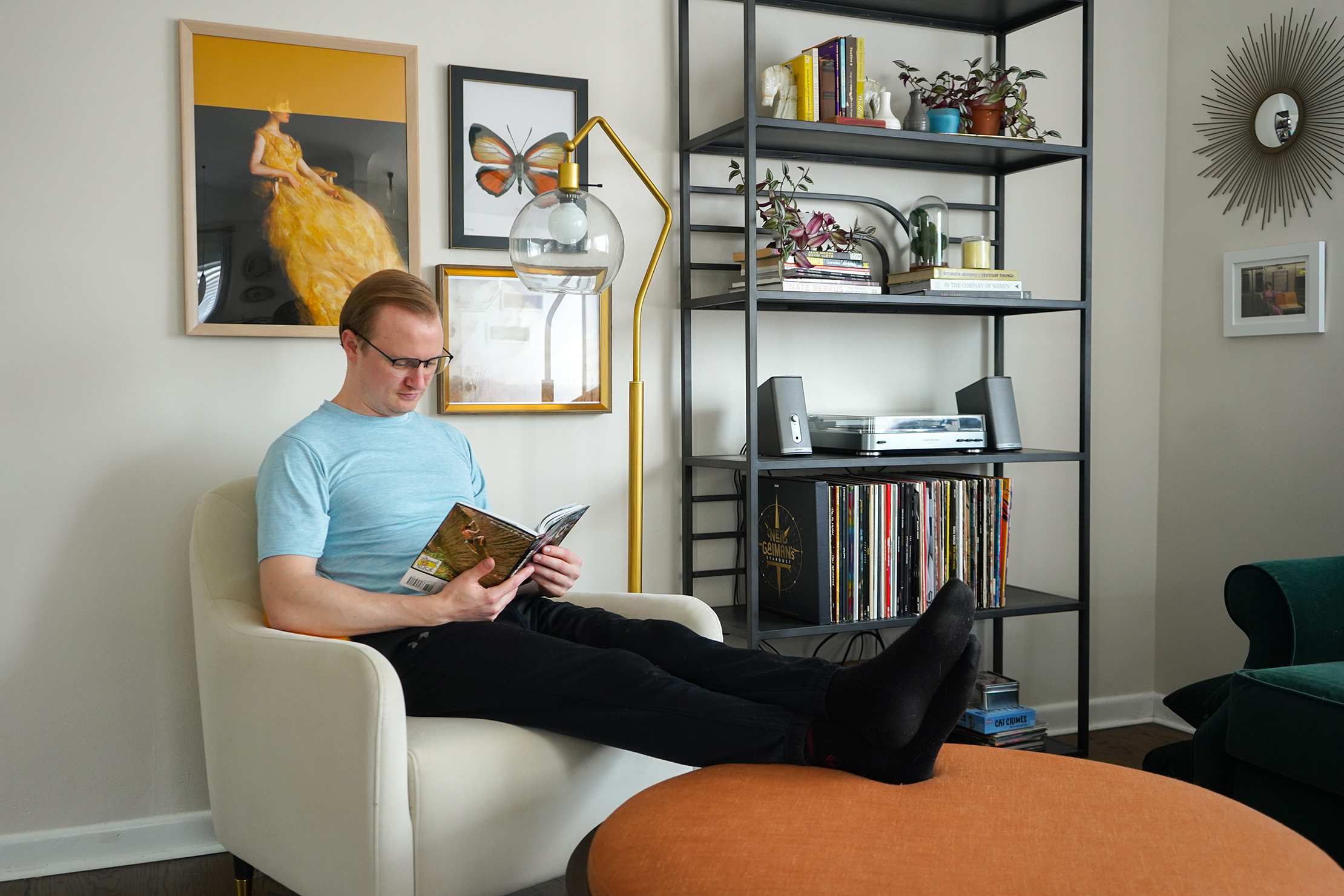 Maybe you already have your next dream trip planned out in your head. Maybe you don't, and you want some ideas on where to travel. Either way, reading some books or magazines about travel will give you that inspiration for future trips. National Geographic always publishes photos and articles of magical destinations that make us drool. If you already know where you want to go next, find a novel that takes place there and make a plan to hit up places the main character frequents. Or keep it simple, and pick up a few guidebooks on your destination.
Have an epic movie marathon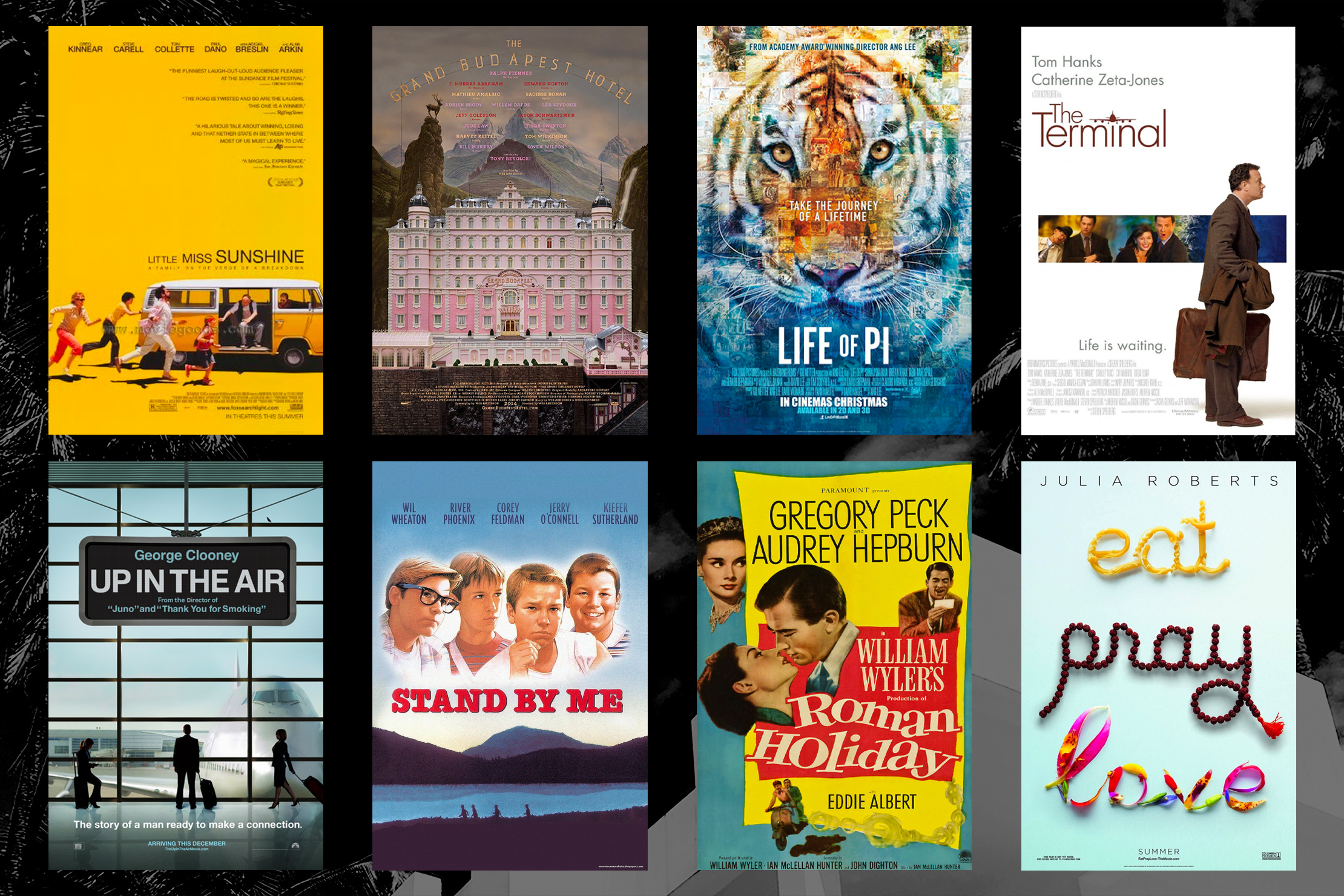 When we say epic, we're talking projectors, popcorn, and excessive amounts of chocolate. Forget bingeing '90s sitcom reruns. Pick something that will make you feel like you're on an adventure even though you're sitting on the couch. There's "Lost in Translation" for neon Tokyo adventures or "Little Miss Sunshine" for dysfunctional family road trip vibes. "Eat, Pray, Love" is a good pick for when you feel like quitting your job to travel the world. Not into any of those? Try one of the movies from this list instead.
Have a yoga retreat

We can't all be Instagram yogis who travel to Bali for retreats twice a year. What we can do is make our own at home. Sign up for a virtual yoga class or series offered by a local studio, put on your stretchiest pants, and commit to it. Or suppose you want to go the complete budget route. In that case, you can take advantage of numerous yoga playlists and challenges on YouTube. Who needs to go to Bali when you've got soothing tunes, tropical drinks, and YouTube, where you can learn to do pretty much anything.
Clean your house
We know we said no cleaning and no stress, but while you're sitting there thinking, "wtf," just hear us out! Have you ever noticed how having a cluttered home or workspace affects your mood? It's because your physical space reflects your headspace and vice versa. So if you're sitting at a desk crowded with stacks of papers and coffee cups, wondering why you can't focus, try mindfully tidying it up. See if that doesn't put you in a better mood. Listen, Marie Kondo didn't become a Netflix sensation for no reason. There's something genuinely peaceful about organizing your space. Having an environment conducive to productivity is especially important for the folks working from home.