We all have that one friend or family member who is always taking a photo. A landscape shot at the park, setting up the group photo over the holidays, or snagging a selfie at every turn. When finding gifts for photographers, it can be challenging to know where to start, especially if you don't know much about the craft. Well, lucky for you, we're here to help!
We've teamed up with KEH to bring you this list of gift ideas for the photographer in your life—whether they're just getting started or are an established shooter. KEH has a wide variety of used camera gear and a stock of new items on hand, so this list enables you to save some money on your holiday shopping while being more sustainable by purchasing used gear. Plus, their equipment goes through an industry-leading inspection and grading process to ensure you get the best quality gear.
If you need some extra cash to start your holiday shopping, KEH will give you 10% more trade-in value for your gear when you make a purchase, so your dollar goes further! And, with their free 180-day warranty and hassle-free 21-day return policy, you have time to decide if the gear is right for you. Plus, you get 5% off with code PackHack5 through January 31st, 2023. Or, if you're doing your shopping from December 9th to 12th, 2022, use code SAVE10A to get 10% off your order sitewide (exclusions apply). It's a win-win-win-win!
Before we dive in, we should mention that we created this list with everyone in mind. Some camera gear is more of a novelty than others, and the photographer you're shopping for may already have a few items on this list. When purchasing camera gear for someone, it's always best to ask them (or someone close to them) what they already own before purchasing something. As much as they'd love two camera bodies, your money is better spent elsewhere!
Without further ado, let's dive into our favorite gifts for photographers!
1. Canon AE-1 Program 35mm Camera Body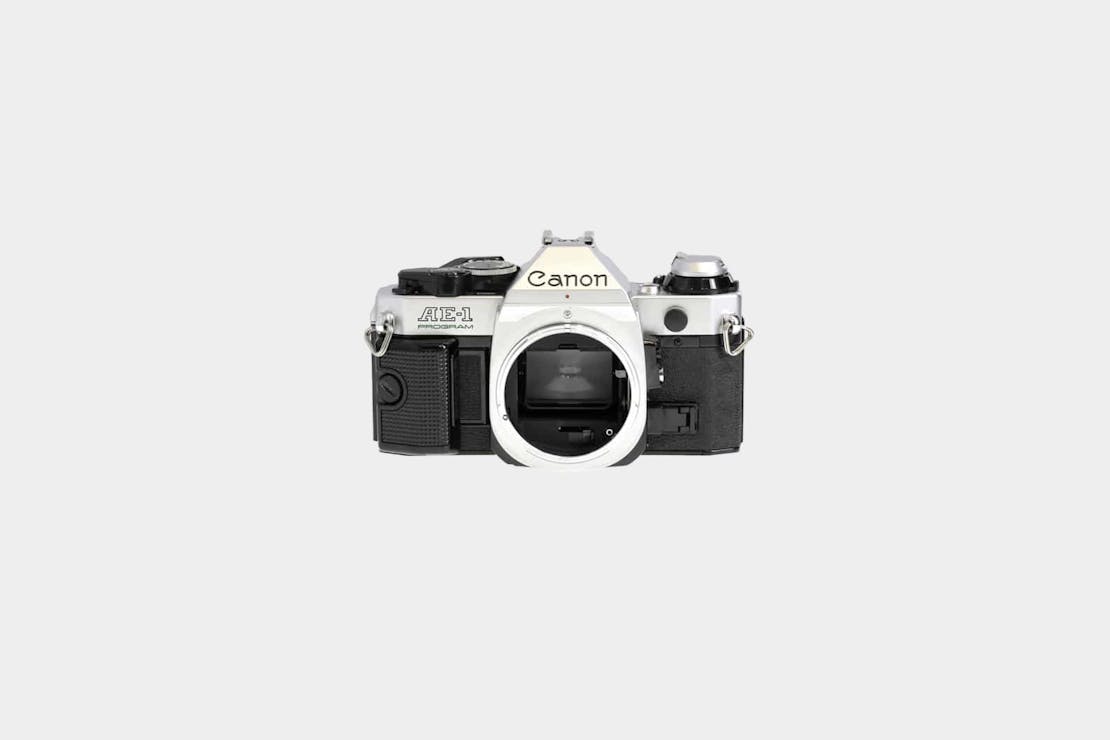 Why We Like It: A classic workhorse camera that's incredibly hard to break but is friendly to first-time film shooters.
What You Should Know: It's pretty heavy for its size, weighing down a pack.
We know what you might be thinking—a film camera? In the golden age of technology, Pack Hacker recommends buying a camera that needs film to operate as a present for someone you care about? More like for my worst enemy! If you think we're joking, hear us out. From its introduction in the mid-70s through today, the Canon AE-1 has been a go-to first film camera for generations of photographers. It's a classic workhorse used by students, journalists, and hobbyists for decades. Plus, it's small enough to fit in your daypack without taking up much space
Well, what makes it so sought after? First things first, it's hard to break. It can take a bump here, a knock there, and then some. This adds weight, but we think the durability is worth it. Plus, it takes great images whether you're a seasoned professional or just getting started. With the AE-1 Program, you can shoot in full auto mode; just point, focus, and shoot. This places it high on the list of gifts for photographers because anyone can use it and have fun doing so. Plus, the lucky recipient of this camera can use the hashtag #filmisnotdead when you share the photos on social media! All the cool kids are doing it.
See Details & Buying Options
So there you have it—our favorite gifts for photographers this holiday season! In the process, we hope you learned something new and were able to purchase a sustainably used piece of camera gear for someone important in your life from our friends at KEH. Or, maybe you even get a little something for yourself. Happy shooting!