We all have that one friend or family member who is always taking a photo. A landscape shot at the park, setting up the group photo over the holidays, or snagging a selfie at every turn. When finding gifts for photographers, it can be challenging to know where to start, especially if you don't know much about the craft. Well, lucky for you, we're here to help!
We've teamed up with KEH to bring you this list of gift ideas for the photographer in your life—whether they're just getting started or are an established shooter. KEH has a wide variety of used camera gear and a stock of new items on hand, so this list enables you to save some money on your holiday shopping while being more sustainable by purchasing used gear. Plus, their equipment goes through an industry-leading inspection and grading process to ensure you get the best quality gear.
If you need some extra cash to start your holiday shopping, KEH will give you 10% more trade-in value for your gear when you make a purchase, so your dollar goes further! And, with their free 180-day warranty and hassle-free 21-day return policy, you have time to decide if the gear is right for you. Plus, you get 5% off with code PackHack5 through January 31st, 2023. Or, if you're doing your shopping from December 9th to 12th, 2022, use code SAVE10A to get 10% off your order sitewide (exclusions apply). It's a win-win-win-win!
Before we dive in, we should mention that we created this list with everyone in mind. Some camera gear is more of a novelty than others, and the photographer you're shopping for may already have a few items on this list. When purchasing camera gear for someone, it's always best to ask them (or someone close to them) what they already own before purchasing something. As much as they'd love two camera bodies, your money is better spent elsewhere!
Without further ado, let's dive into our favorite gifts for photographers!
1. Canon AE-1 Program 35mm Camera Body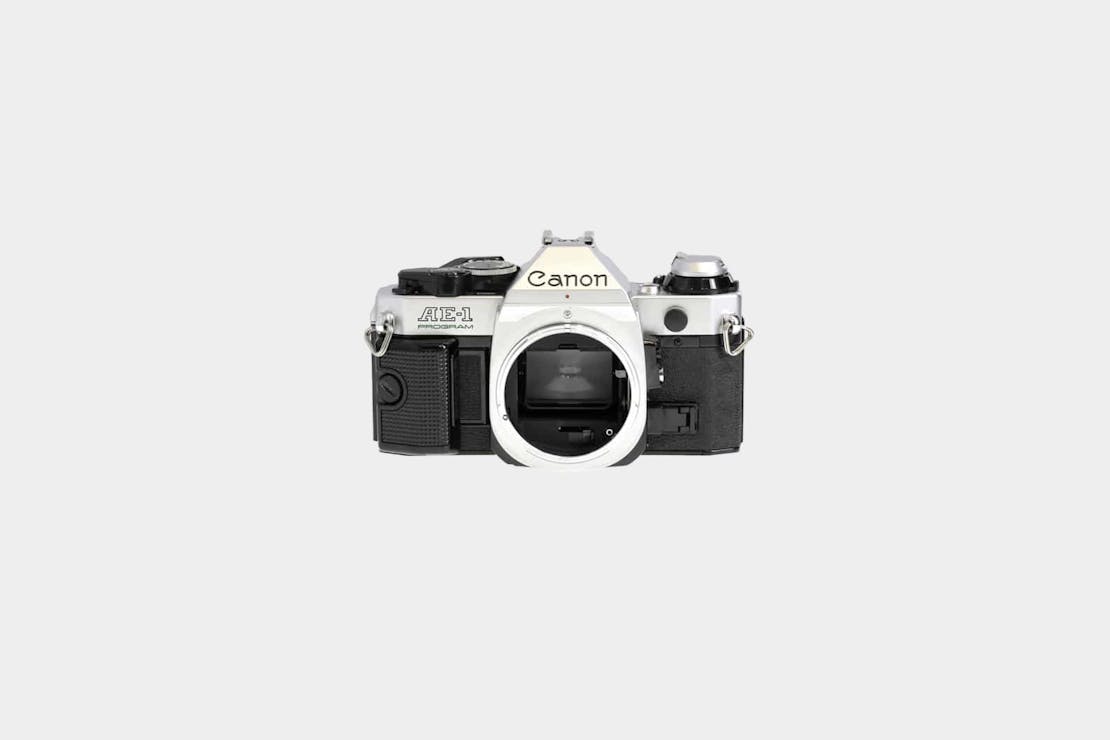 Why We Like It: A classic workhorse camera that's incredibly hard to break but is friendly to first-time film shooters.
What You Should Know: It's pretty heavy for its size, weighing down a pack.

We know what you might be thinking—a film camera? In the golden age of technology, Pack Hacker recommends buying a camera that needs film to operate as a present for someone you care about? More like for my worst enemy! If you think we're joking, hear us out. From its introduction in the mid-70s through today, the Canon AE-1 has been a go-to first film camera for generations of photographers. It's a classic workhorse used by students, journalists, and hobbyists for decades. Plus, it's small enough to fit in your daypack without taking up much space

Well, what makes it so sought after? First things first, it's hard to break. It can take a bump here, a knock there, and then some. This adds weight, but we think the durability is worth it. Plus, it takes great images whether you're a seasoned professional or just getting started. With the AE-1 Program, you can shoot in full auto mode; just point, focus, and shoot. This places it high on the list of gifts for photographers because anyone can use it and have fun doing so. Plus, the lucky recipient of this camera can use the hashtag #filmisnotdead when you share the photos on social media! All the cool kids are doing it.
See Details & Buying Options
2. Canon 50mm F/1.8 FD Mount Lens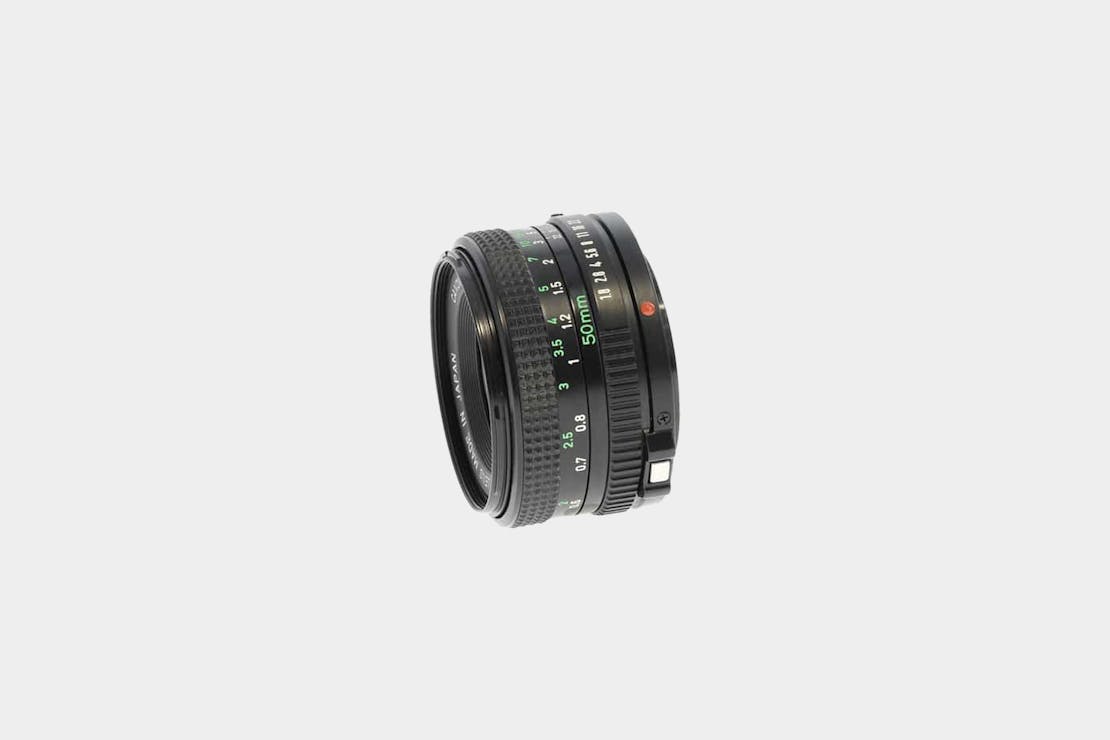 Why We Like It: The lens came with the Canon AE-1 originally and is great in low-light situations.
What You Should Know: The edges of the frame are a little fuzzy.

If you're going with a film camera as a gift for a photographer, you'd better get them a lens too. The Canon 50mm F/1.8 FD lens is a great shout for cameras with an FD mount. Not only is this the lens most commonly used on the legendary Canon AE-1, but it's also readily available and won't break the bank. A great present for a low price? Who would have thought?!

When it comes to image quality, the 50mm F/1.8 does fairly well. There's some fuzziness around the outside of the frame, but the center will be razor-sharp. In addition to good IQ, this lens has a great form factor. Because it doesn't have a lot of modern bells and whistles like autofocus or stabilization, this thing fits in your pocket. Stopping up to F/1.8 offers the shooter great performance in low light and will grant smooth out-of-focus backgrounds better than the iPhone could ever deliver.
See Details & Buying Options
3. Kodak Portra 400 (135-36) Color Negative Film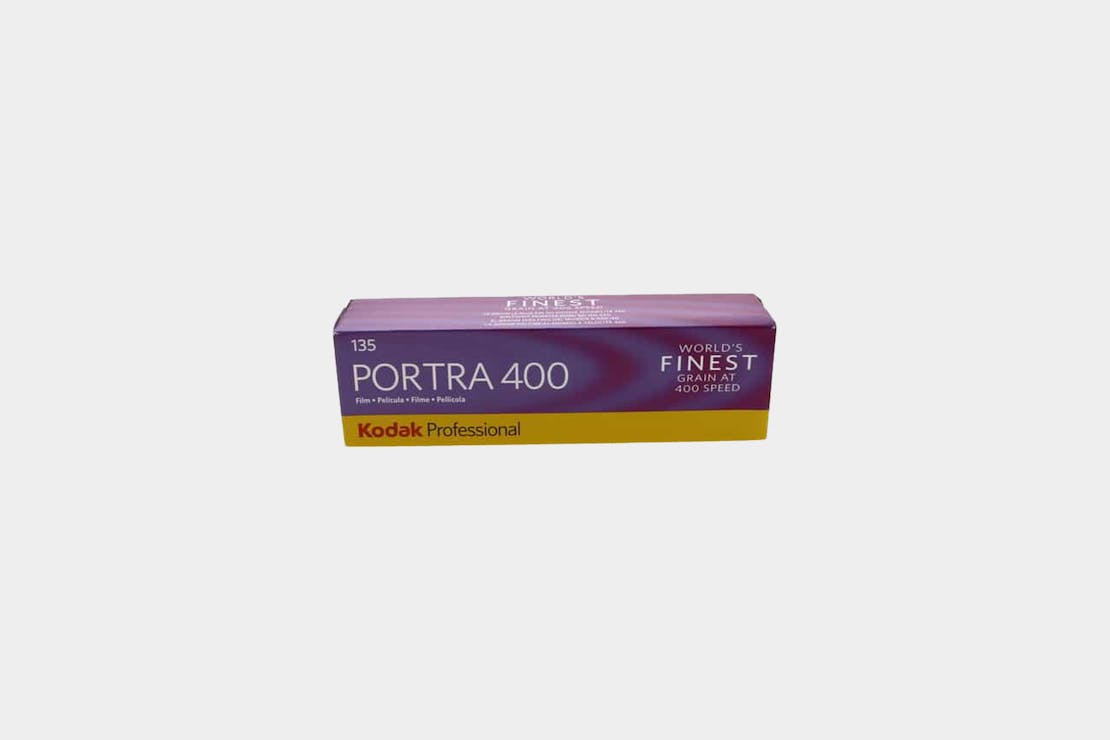 Why We Like It: The best readily available 400 ISO color film in most parts of the world.
What You Should Know: One of the more expensive films on the market.

If you've moved your way down the list of gifts for photographers and already purchased a film camera, the next most essential thing is film for the camera. Although there aren't nearly as many films available as even a decade ago, there are still a few good options. There are budget films like Fuji 400, experimental stocks like Psychedelic Blues, and then there's the king of tones, Portra 400. First introduced in the late-1990s, Portra is the go-to for hobbyists and professionals looking for good color rendition.

The cat still in the bag in this situation is price. Portra 400 is one of the more expensive films on the market—but for a good reason. In an age of digital cameras with 40+ megapixels, more and more professionals are turning back to film or picking up the medium for the very first time because of the results Portra can offer. Plus, you can pick up this film in most corners of the world due to its global popularity. Why not give the gift of scientifically perfected tones this year?
See Details & Buying Options
4. GoPro HERO10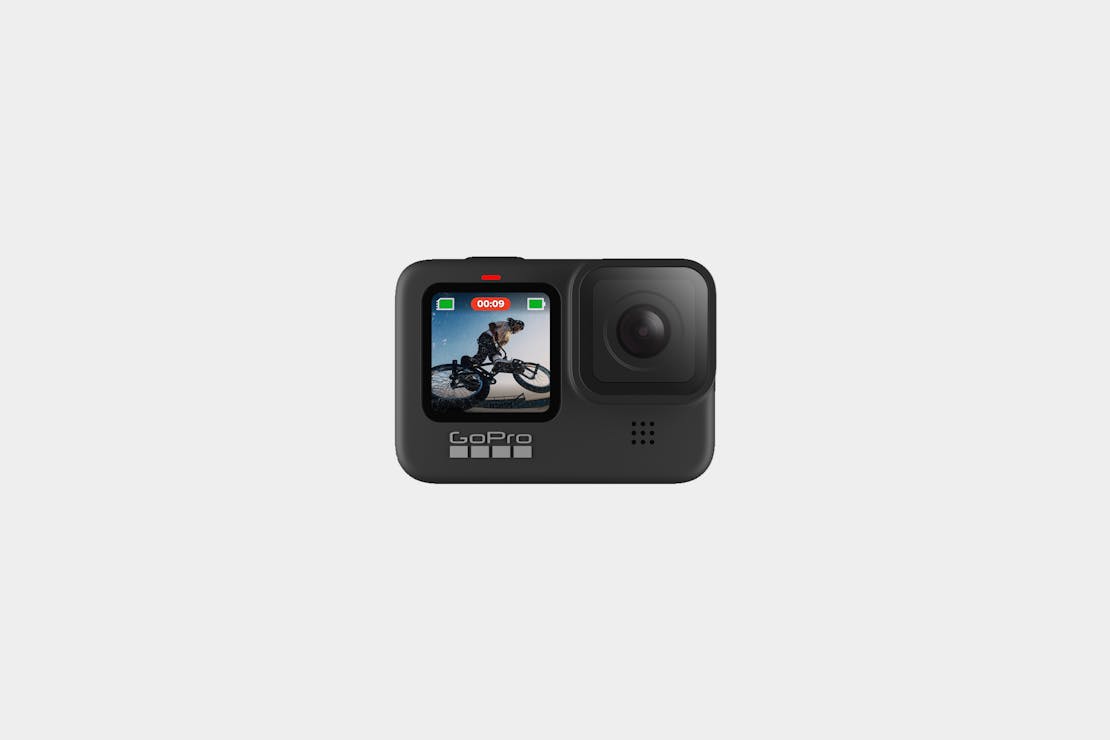 Why We Like It: A camera that can take a beating and go anywhere, including underwater.
What You Should Know: The HERO11 has better specs, but the 10 is still a worthy contender.

When GoPros first came out, they took the world by storm. Everyone wanted one—whether they were shooting a kayak trip through the rapids in Colorado or doing parkour on top of old refrigerator boxes in the parking lot at work. Two decades later, GoPros are just as popular as ever. The newest models are competent—shooting 4K video, beautiful still images, and offering the option to shoot both hyperlapse and timelapse videos. The Hero10 was released in 2021, and although it isn't the newest model, it's a more than capable travel companion. Plus, it's so small it can fit in your sling!

The Hero10 takes GoPro's HyperSmooth technology to the next level, making creating shake-free videos of adventures easier than ever. It can shoot up to 5.3K video, which can be watched on the big screen or downsized to 4K to match other projects. The camera shoots 23 megapixel still images, so there's no issue printing the images large is no issue. If you're looking for gifts for photographers who love outdoor adventures, the GoPro Hero10 is a great shout for creators who never stop, even when the road gets rough.
See Details & Buying Options
5. GoPro The Handler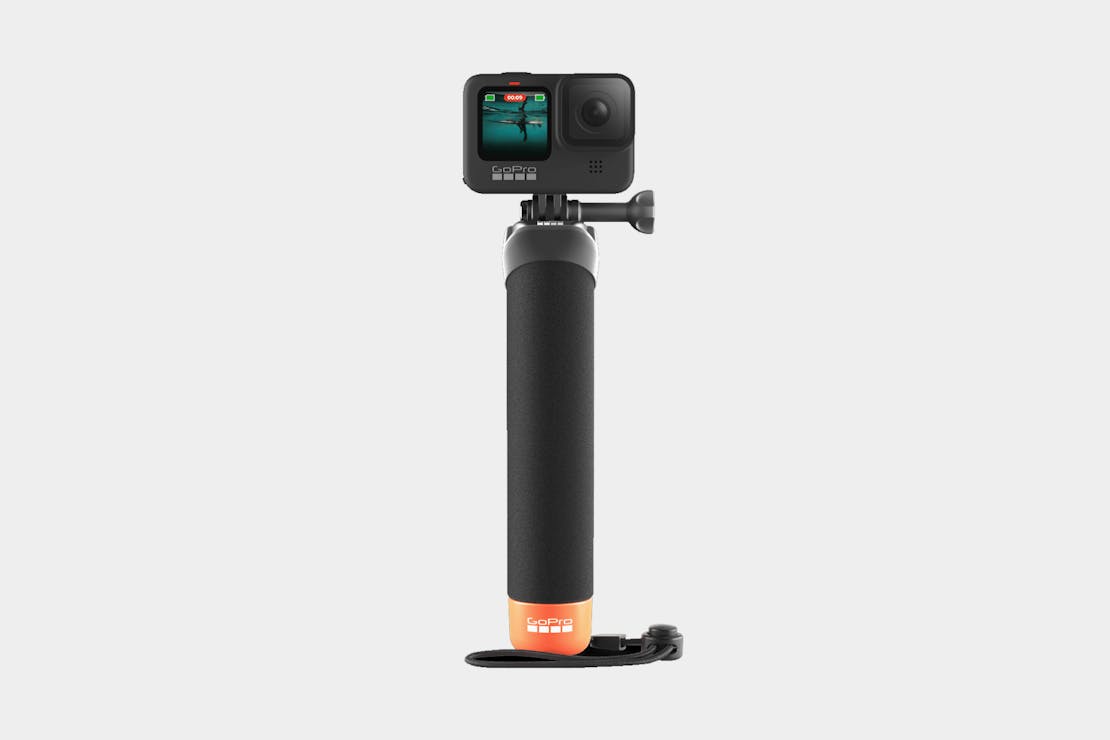 Why We Like It: Very lightweight and floats for aquatic adventures.
What You Should Know: Not the the most durable option for a GoPro.

GoPros are great for rugged adventures, but their biggest downfall is that they don't float. If they're taken into the water without some sort of flotation device and are dropped, all that footage will be lost forever (unless you can retrieve it from the sea or lake floor, of course). The Handler Floating Hand Grip floats and operates as a mini-selfie stick. When taken in the water, The Handler will ensure the camera doesn't sink to the bottom of the ocean.

Without a mount, it's hard to get good footage with a GoPro. The Handler enables smooth footage while panning across a landscape and is large enough to feel comfortable in hand. Or, take it underwater and point it at aquatic life instead of just having the camera mounted on dive gear. After a few feet, it becomes difficult to take it deeper because of the air inside the plastic finish. Regarding action cameras, The Handler should be near the top of your list of gifts for photographers.
See Details & Buying Options
6. FUJIFILM X-T3 Mirrorless Digital Camera Body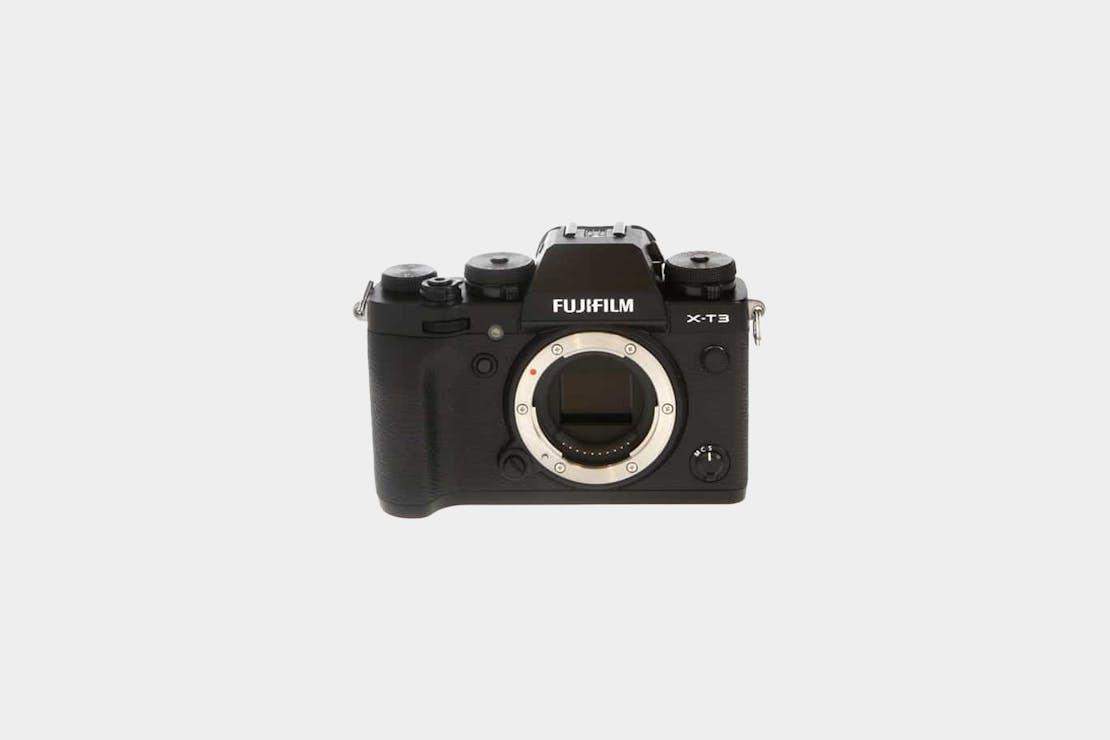 Why We Like It: A great starter camera to dive into the Fujifilm X-Series that can shoot 4K video, too.
What You Should Know: The screen doesn't fold out completely, so it isn't ideal for vlogging.

At this point, it's very apparent that the world is moving toward mirrorless cameras. From film SLRs to the advent of DSLRs, we've come a long way in a few short decades. Mirrorless cameras are usually a lot smaller than DSLRs, have better autofocus technology, and are at the forefront of new features and specs. Although it's been out for a few years, the Fujifilm X-T3 is a great shout for photographers who are just getting into the mirrorless game or photography in general.

The X-T3 was the third camera in the Fujifilm X-T series of cameras (not including the spinoffs) and features a 26-megapixel sensor and the ability to shoot 4K video at 60 frames per second. Other features include focus peaking for manual focus lenses, built-in timelapse mode, and easy vintage lens mounting. Although the X-T3 was released in 2018, the specs hit well above its date of birth. Eventually, an upgrade is easy when it becomes outdated because all the lenses that work on the X-T3 will work on the X-T4, X-T5, or X-T-a-billion. If you know someone looking for something they can explore the art of photography with, the Fujifilm X-T3 is a great shout to start that journey.
See Details & Buying Options
7. FUJIFILM XF 18-55mm f/2.8-4 R LM OIS Lens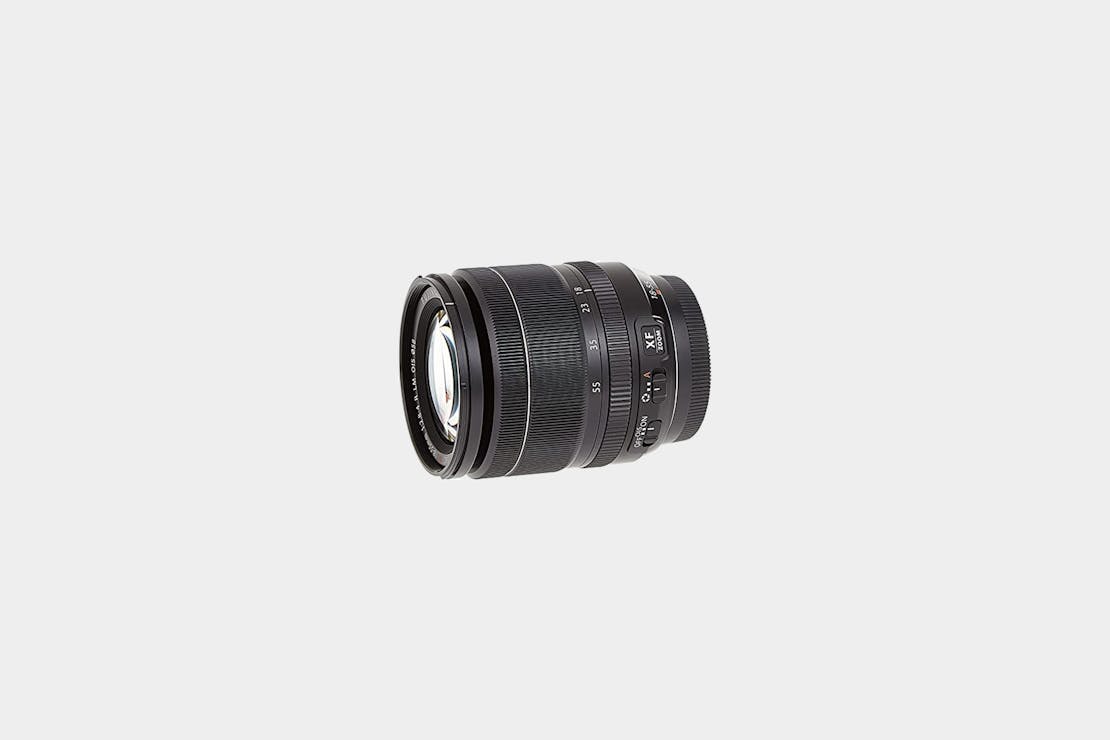 Why We Like It: A good starter lens that can survive in most conditions.
What You Should Know: In extreme low-light, it leaves something to be desired.

Kit lenses tend to have a bad connotation in photography. Considering the Fujifilm XF 18-55mm f/2.8-4 is a kit lens, why are we adding it to the list of gifts for photographers? Well, this lens is different than others within its realm. The 18-55mm has a maximum aperture of f/2.8. Most start lenses max out around f/3 or f/3.5, so the Fujifilm offers better low-light coverage than other kit lenses. Plus, the lens has OIS, or optical image stabilization. This helps make images shot in low light or at slow shutter speeds less blurry, which is a great feature for a lens used by a beginner. This lens has been a staple of the Fuji X-T line for years, so it makes sense to include it on this list.

In terms of faults, this lens has a few, but not enough to outweigh the positives. Whereas the 18-55mm outperforms many kit lenses in low light performance, it isn't as well suited for night shooting compared to higher priced lenses. It's a variable aperture lens, so you lose access to higher apertures as you zoom in. This is common with kit lenses but is noticeable for those used to fixed aperture lenses. Both of these issues are worth commenting on, but the big takeaway is that this lens is a great walk-around shooter for those just getting into the X-T system.
See Details & Buying Options
8. Perri's Leathers Ltd. Rainbow Stripe 2″ Camera Strap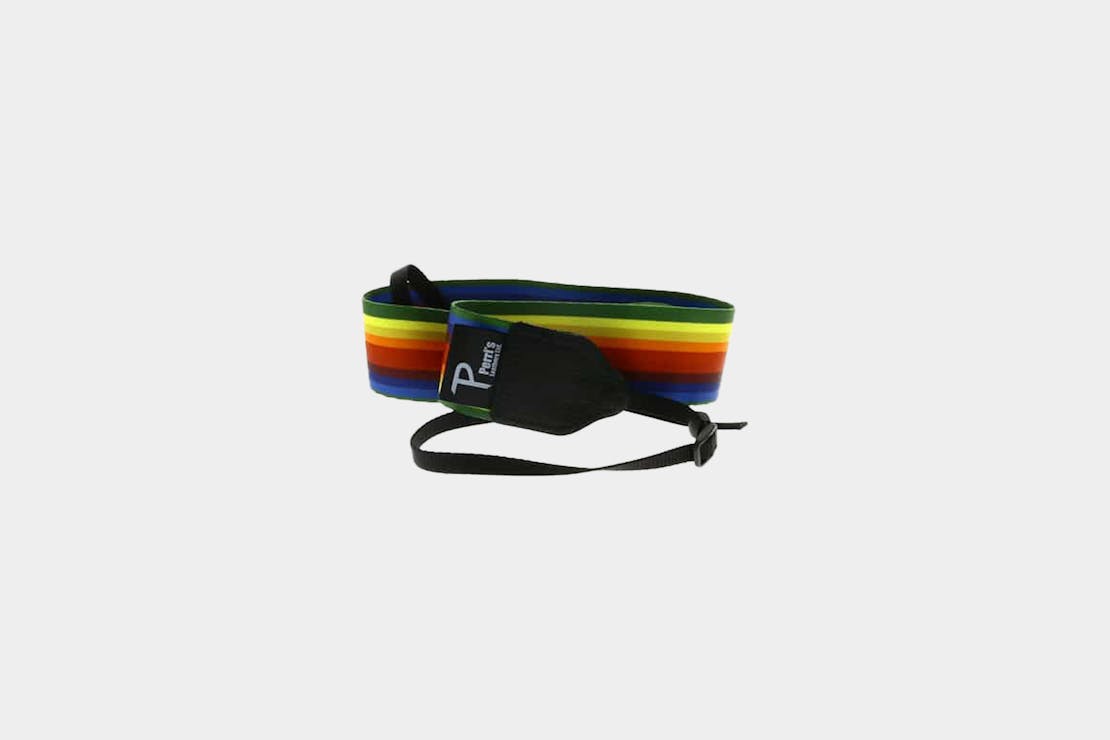 Why We Like It: It has a fun rainbow pattern and is thick enough to stay comfortable.
What You Should Know: Not a look that works for everyone.

What good is a camera without a strap to hang onto it with? Whether you're grabbing someone a new camera kit or just want to get a friend a fun gift for their hobby, a camera strap should be on the top of your list of gifts for photographers. Perri's has multiple styles of straps with unique designs, but the Rainbow Stripe model is bright, fun, and saturated.

Whoever ends up with this thing can use it to hold their camera around their neck or draped over their shoulder, and it can be used to hang onto while shooting to ensure it doesn't hit the floor if the camera is accidentally dropped. Perri's has more minimalistic options for the street photographer in your life, but as we mentioned, the Rainbow Stripe model is tons of fun. The look might not be for everyone, but it's worth a shot!
See Details & Buying Options
9. Canon Speedlite 430EX II Flash (GN141)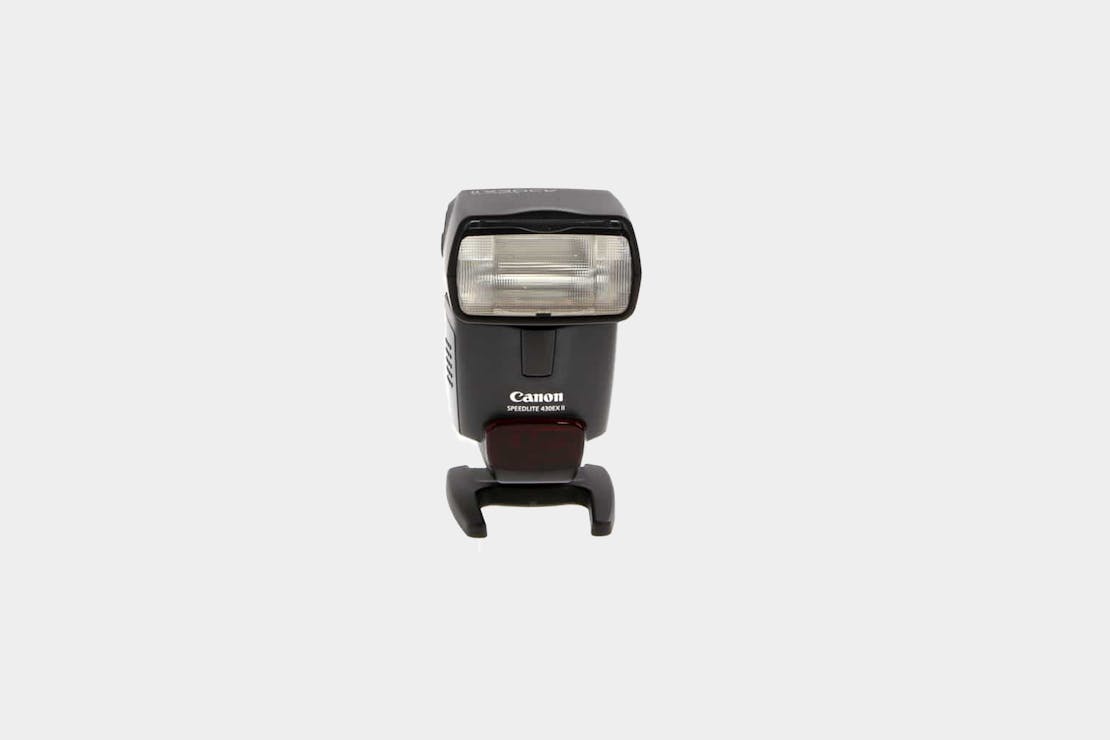 Why We Like It: Doesn't take up a ton of space but offers a lot of light for indoor events and locations.
What You Should Know: Won't have the latest and greatest features that new speedlites have.

At some point in every photographer's journey with a camera, they buy a flash. Some use them daily for portraits and lighting scenes, while others might just want to play with a concept to try something new. If you're shopping for gifts for photographers, and your friend or family member doesn't already own a flash, a basic speedlite is a fun gift to enable them to branch out and maybe even get some portrait work on the side.

The Canon Speedlite 430EX II is an excellent starter speedlite for a number of reasons. First, it's easy to use and understand. The back screen and buttons are easy to see and press, making for a smooth experience switching between modes and intensities. Second, the price is excellent for what you get. If they're just getting started, this lens will work even after they master the craft. Not bad for a budget-friendly light! This flash will work with all cameras, but with Canon EF lenses, you will be able to use TTL, or through the lens, mode. This enables the flash to work with your camera to find the perfect settings for the shot that's about to fire. This isn't needed for all photography uses but is a big perk if you're a Canon shooter. If you don't shoot Canon bodies or lenses, check out the variety of speedlites on KEH!
See Details & Buying Options
10. K&F Concept S210 Aluminum Tripod/Monopod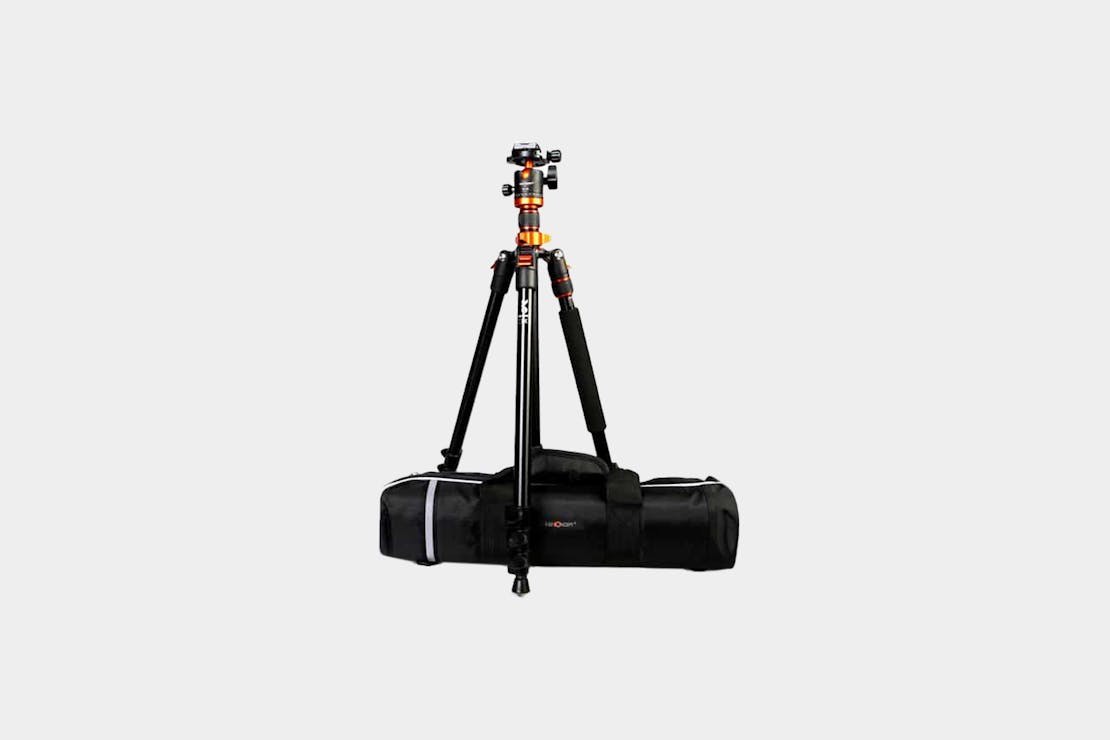 Why We Like It: Extends to nearly 6.5 feet tall, so high angles are always within reach.
What You Should Know: Not the lightest tripod on the market.

When most people pick up a camera for the first time, something that's on their mind is taking photos at night. There's not much more satisfying than taking a 20+ second exposure at night, waiting for the second click of the shutter and seeing what was just created. Whether the shot works or needs work, it wouldn't have been possible without a tripod. The K&F Concept S210 Aluminum Tripod extends high enough so that no angle is out of reach, and it's just under 20 inches tall when collapsed, so it's easy to take just about anywhere. Depending on the travel backpack they use, it may fit in a water bottle pocket.

If you get this tripod as a gift for the photographer in your life, you're delivering much more than a piece of aluminum. It can be used to set up a group shot with friends while on vacation to ensure that a large enough aperture can be used while shooting architectural details on a historic church, or to record a video to send to family members back home. It comes with a ball head, which enables quick and easy adjustments to get the perfect shot. After all, if you bought them their camera too, you don't want them dropping it while trying to take a selfie on a park bench, right?
See Details & Buying Options
11. FUJIFILM Instax Mini 40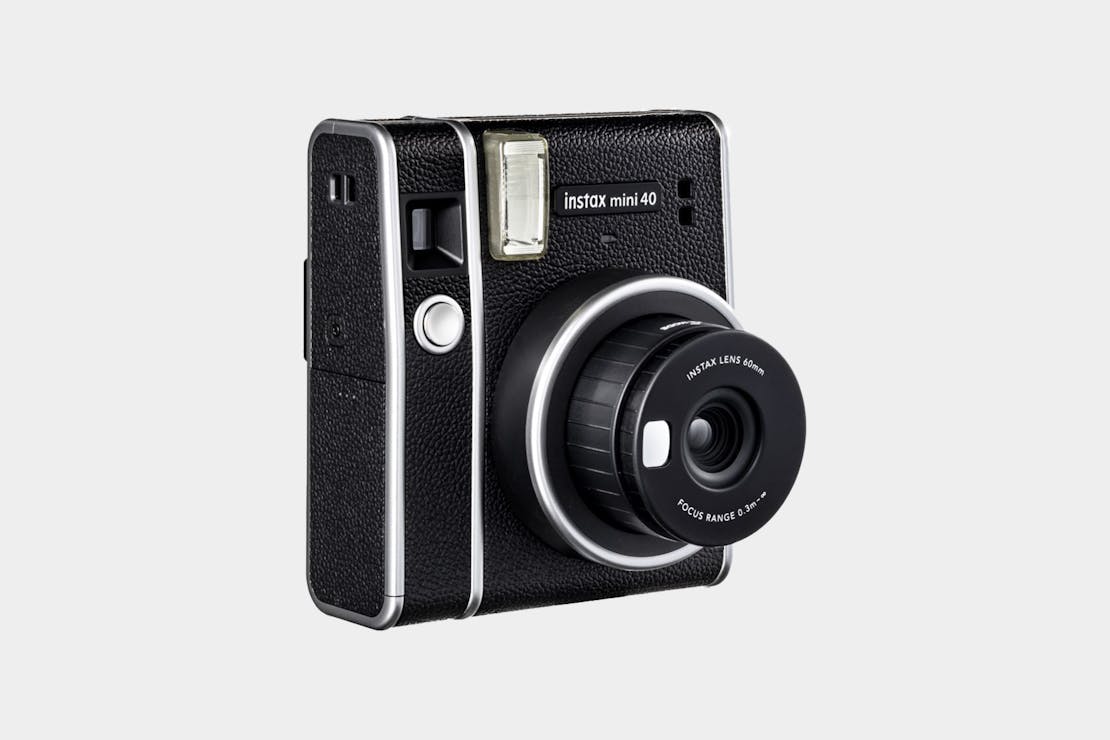 Why We Like It: A fun option for hanging out with friends and minimalist travel—just point and shoot!
What You Should Know: It doesn't have many different modes or adjustments.

Yeah, mirrorless, DSLR, action, and film cameras are cool, but what about a classic instant photography camera? There's something so satisfying about shooting an image and having it in your hand moments later that can't be replicated. There are a lot of instant cameras out there, but if you're looking for gifts for photographers in your life, look no further than the Fujifilm Instax mini 40. Although it doesn't have extra modes like some photographers are used to, it's a fun camera with a sleek design that delivers quick pictures and fun for hours.

The camera is fully automatic, so there's no fiddling with settings or focusing. This makes it a great travel companion because there's more of a focus on the place than there is on…well, focusing the camera. The flash is bright enough to shoot in a dark room, and it has selfie mode to enable fun closeups of a single person or a group of friends on a night on the town. There are many different Instax films to choose from, and all of those within the mini variety will fit this camera.
See Details & Buying Options
12. FUJIFILM Instax Mini Film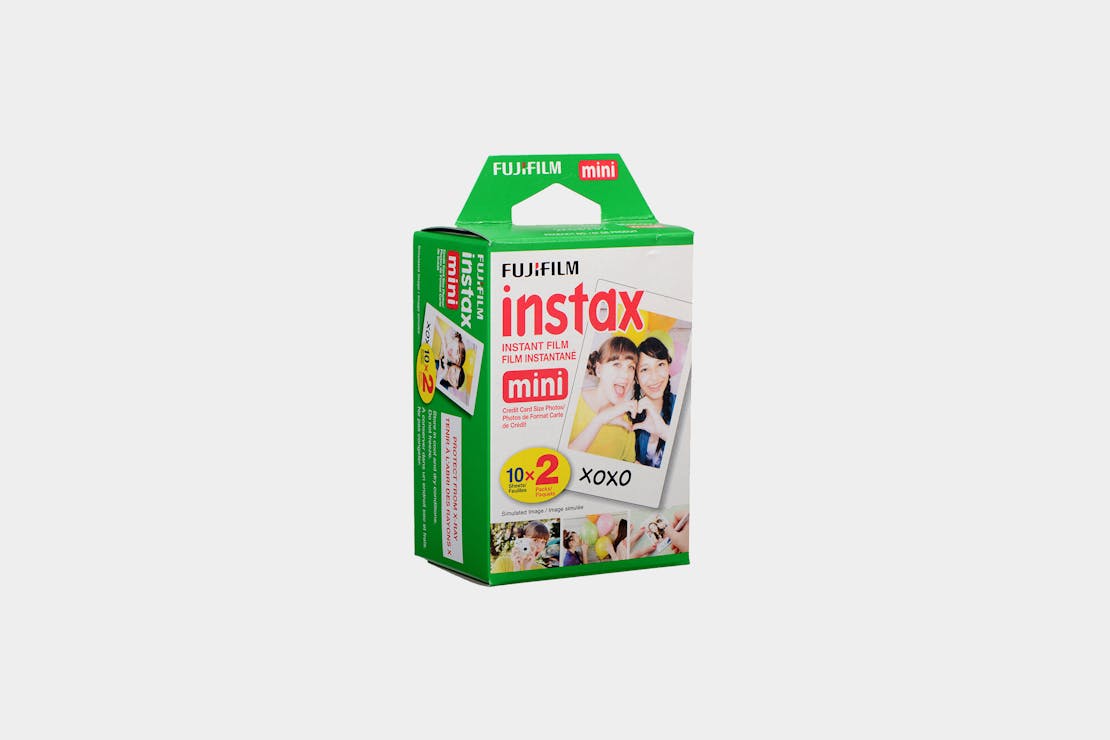 Why We Like It: A unique way to change up shooting with an Instax Mini camera.
What You Should Know: We recommend the black and white, which is more expensive than standard Instax Mini color film.

Color Instax Mini film is available at most convenience stores with an electronics or photo section, but the good stuff is harder to come by. There are quite a few specialty films, and the monochrome pack is by far the easiest to find. There's just something classic about a black-and-white image, especially in a physical format. If a friend or a family member has an Instax Mini camera, this is the perfect holiday gift for them.

Although the Instax Mini Monochrome 10 exposure pack costs more than the color counterpart, it's worth switching things up now and then. This film does particularly well in the winter, especially if the special someone in your life lives somewhere with snow. The snow comes out silky white, and anything else in the photograph looks dramatic. It makes for fun portrait taking too, but it can make people look more serious. If your friend or family member isn't into black-and-white film, check out a pack with fun borders!
See Details & Buying Options
13. K&F Concept Expandable Protective Lens Pouch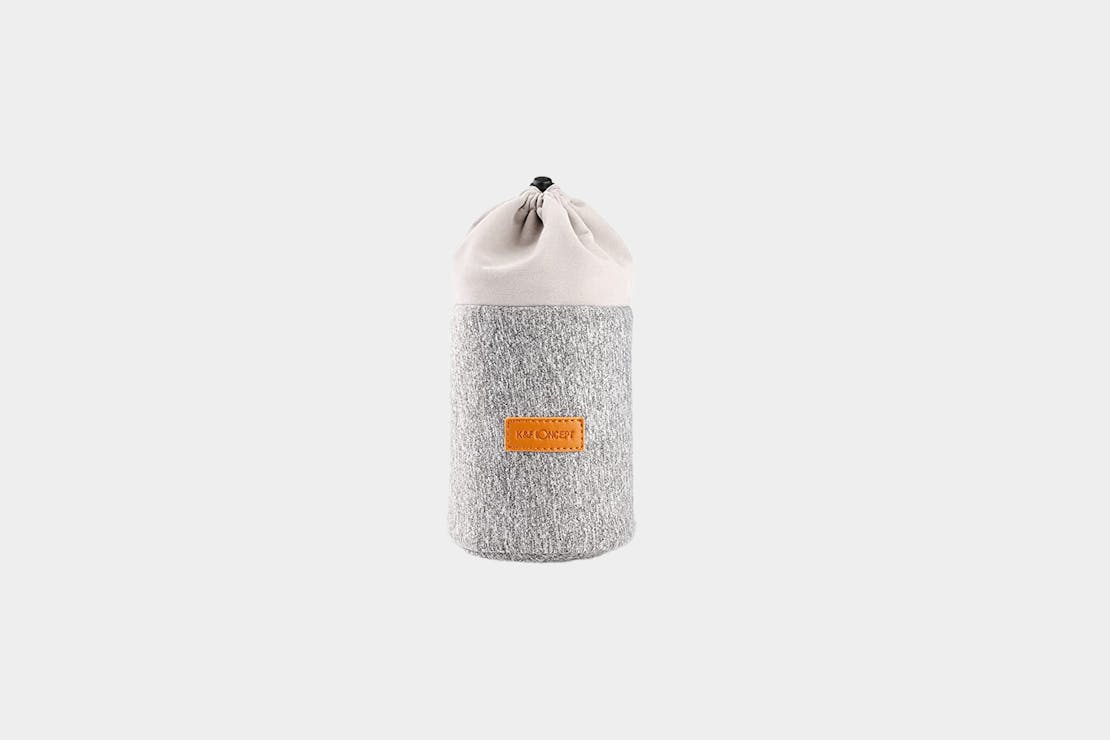 Why We Like It: Great for protecting extra lenses in transit and can be used as a pouch for other gear in a pinch.
What You Should Know: Won't work for the super long telephoto lenses.

If you're gifting a photographer a new lens or know someone without a proper protective case for their current one, the K&F Concept Expandable Protective Lens Pouch is a great gift. Even used lenses can cost hundreds of dollars, so it only makes sense to have a case to offer protection from the elements. The materials are soft yet durable, so the lens will be safe from scratches and protected from bumps and knocks on the journey. Due to its compressible size, it's a great item to throw on your Packing List.

Although the pouch may not meet everyone's style and taste preferences, it does its job well. The top extends to 18 centimeters, so long and short lenses can fit inside. In a pinch, it can even be used for non-photography-related organization, too. If you want to keep things simple, this should be on the top of your list of gifts for photographers.
See Details & Buying Options
So there you have it—our favorite gifts for photographers this holiday season! In the process, we hope you learned something new and were able to purchase a sustainably used piece of camera gear for someone important in your life from our friends at KEH. Or, maybe you even get a little something for yourself. Happy shooting!