You might be considering picking up a travel steamer for plenty of reasons. Maybe you're taking a long flight to a wedding, wear lots of wrinkle-prone fabrics like cotton or linen, or like to be prepared for any possible situation. Regardless of your reasoning, we're here to help!
Before diving in, let's chat about the three kinds of products we will feature on this list.
A travel steamer is what you came here for. It plugs into the wall, heats water, and shoots steam onto your clothing to get wrinkles out. Steamers can have a few unique features, but we'll get into that later.
A travel iron is like an iron you'd have at home, but—you guessed it—smaller. These often take up less space than a steamer, which is ideal for those who pack light; however, they can be tricky to use if you don't have a large flat surface. Plus, some accommodations come with an iron, so it may be redundant.
The last thing we'll discuss on this list are sprays that get wrinkles out. These are the least effective, but they're the smallest. For easy-to-work-with materials and those who are okay with a few wrinkles here or there, this is a good shout.
Regarding travel steamers, it's essential to understand voltage. Some models are dual voltage, so they can work for different kinds of power grids worldwide, and you'll only need an outlet adapter. However, if your steamer isn't dual-voltage, you'll need an outlet adapter and a power converter to ensure you don't fry your steamer.
Now that we've gone over the product types we'll chat about let's dive into the list!
1. Hilife Garment Steamer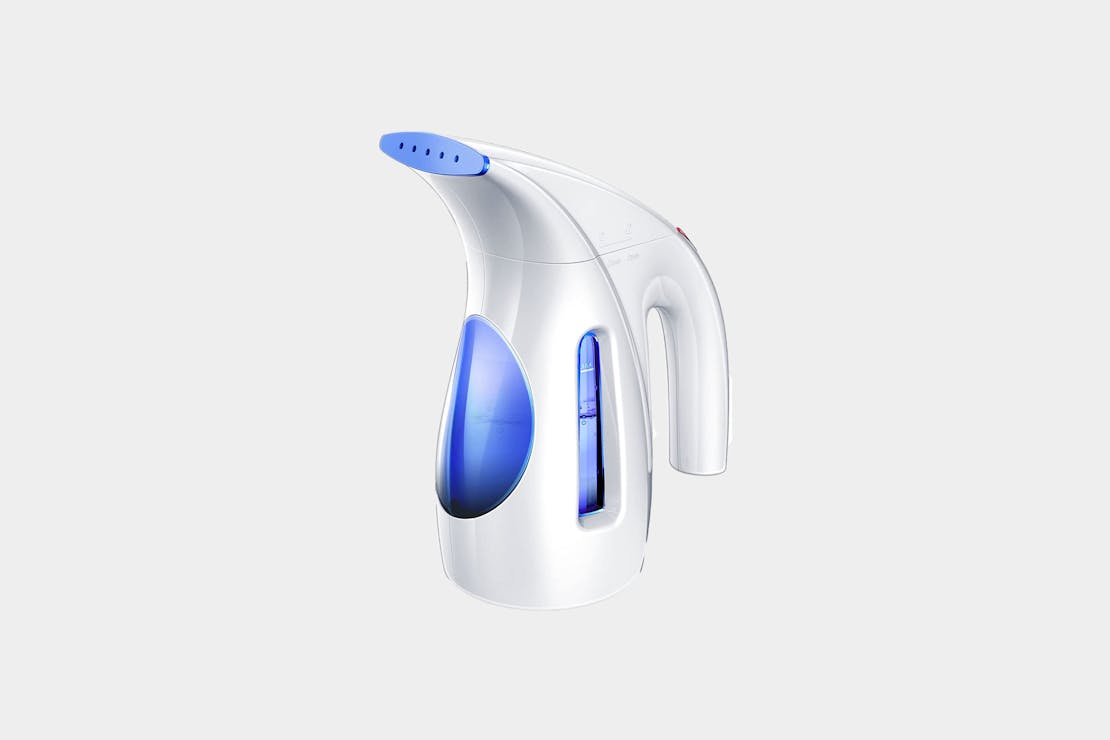 Finding something smaller is typically the goal when looking for a piece of travel gear. The Hilife Steamer combines features you're used to working with at home and a small package conducive to travel purposes. Whether you need the best travel steamer for your brother's wedding or are crossing the country for work, you can count on this model from Hilife.
As you were probably expecting, for something smaller, there's probably a downside. We've found that this model can't tackle thicker materials like denim. It can't put out enough steam or penetrate far enough into those fabrics to get the wrinkles out. However, for most clothing you'd take on a trip, it works great!
When it comes to your hunt for a travel steamer for clothing, the Hilife Steamer is a great bet.
Why We Like It
It's small and quick to warm up
The design is similar to what you're used to at home
What You Should Know
Not powerful enough for thick fabrics
Design isn't particularly sleek
See Details & Buying Options
So there you have it; some of the best travel steamer, iron, and spray products on the market. Hopefully, you're ready to take on that wedding, cross-country trip, or a vacation with a winkle-free attitude. Enjoy the trip!