Okay, we know what you might be thinking. A post on the best luggage scale; does it matter that much? Well, we think so!
Whether you're paying for a checked bag, a carry on is included with your flight, or you want to make sure your personal item isn't too heavy, bringing a luggage scale along for the ride is a great way to save weight and cash. You might buy souvenirs on your trip, pick up some rocks on the beach, or wear different clothing on the plane ride home. If you have a luggage scale with you, there's no guessing whether you'll be good at the gate, no matter where the destination is.
Most of the scales on this list are similar; however, many have unique features, a design perk we dig, or can be used for more than just weighing your pack. Before we dive into the list, let's chat about a few things.
Before you hit the airport, you have a few things to consider. Do you plan to purchase many things on your trip? If so, you must account for that future weight in your pack before leaving. Is your destination a drastically different climate than your home? Climate changes can have a massive impact on what you wear. If you don heavier clothing on the way to your destination and pack them away on the way home, that adds weight.
After the theoretical thinking is done, it's essential to look at your airline's regulations for luggage. Make sure your items fall under that range using your brand-spanking-new luggage scale, and you'll be all set.
Okay, I think we're ready to dive in! Time to find the best luggage scale for you.
1. Etekcity EL11 Digital Luggage Scale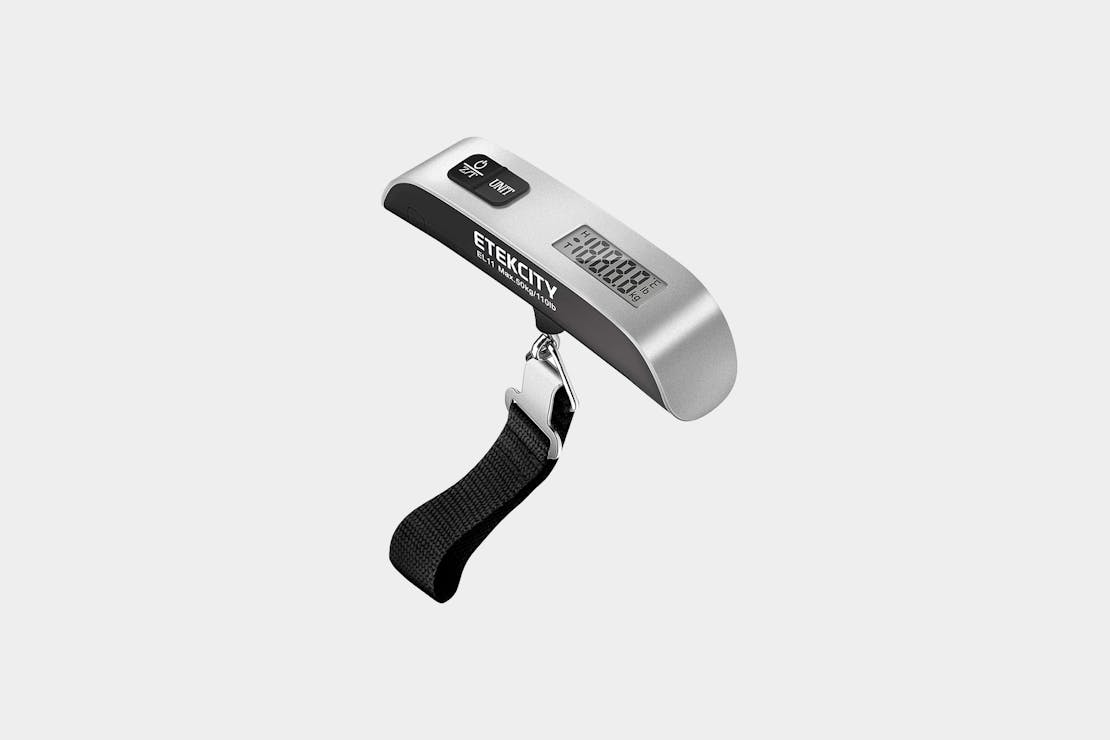 If you're looking for a slice of what it's like to be at Pack Hacker HQ (without joining Pack Hacker Pro, of course), look no further than the Etekcity Digital Hanging Luggage Scale. We use this scale to weigh things in the office multiple times a week and haven't had any issues with it. If that doesn't sell you, we can get down to brass tacks.
The loop and metal attachment make it easy to weigh almost anything. However, small items can be difficult because the metal end isn't malleable. You can weigh up to 110 lbs (nearly 50 Kg), so your luggage shouldn't be an issue. If you need to weigh something heavier, you can always weigh items inside the pack separately—one
packing cube
at a time!
In addition to working as a scale, this device measures temperature. This might seem odd, but it can be useful in certain situations. Suppose you're sensitive to certain temperatures while sleeping. In that case, you can get an accurate reading of the temperature where you'll be sleeping and adjust the hotel room's heating and cooling system accordingly.
This might be the best luggage scale for those looking for extras and ease of use!
Why We Like It
It has a thermostat for temperature readings
The Pack Hacker team uses this one frequently without issue
What You Should Know
There are limited weight units available
It can be hard to loop through small openings
See Details & Buying Options
So there you have it; some of the best luggage scale models for your next trip! Whether you're going to London or Lagos, you can weigh your pack to ensure you don't get extra baggage fees.