So, you've got to take a suit or dress on your next trip. Whether it's a wedding, birthday party, work meeting, or James Bond audition, you'll want to ensure that your outfit is wrinkle-free when you arrive. The best garment bag for you might be bare bones or have all the bells and whistles possible. Hopefully, you'll have found it by the time you finish reading this list.
Garment bags are typically larger than garment duffels. However, they both have their perks. The larger the bag typically means fewer folds, which will cause less wrinkling when done correctly. On the other hand, a garment duffle will be smaller and often doubles as a carry on, making it easier to bring with you and probably more efficient on the plane.
There are garment folders, too, which we'll cover in this post. These aren't designed for a full suit but can work to transport one in a pinch when paired with other gear. The perk of these bad boys is that you can use them for other purposes when you aren't traveling with dress clothing, making it a good bet for those who only sometimes need something for the road
Whether you're traveling with dress clothing for the first time or are a seasoned business traveler, there's something for you on this list. Let's dive in!
1. SwissGear 7895 Full Sized Wheeled Garment Bag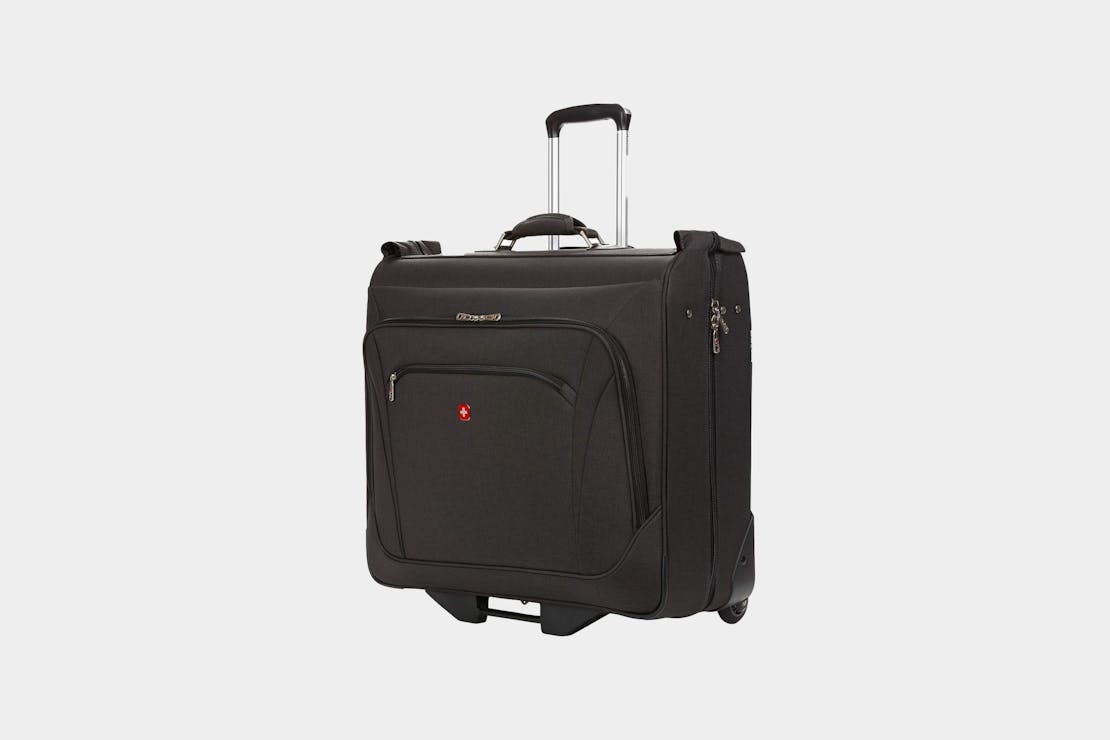 Just because it's called a garment bag doesn't mean you're limited to just bags. The SwissGear Premium Rolling Garment Bag is more like if a piece of rolling luggage and a suit bag had a baby. You can pack for more than a week in this travel garment bag. Along with offering a place to hang your suit, it includes a shoe compartment, a flat pocket for more dress shirts, stretch pockets of various sizes, and even a zippered wet bag for your toiletries.
It extends to be more than 47 inches (119 cm) tall to neatly pack your suit or dress, with tie-down straps to hold it in place, and then folds in half to be a comfortable 24 inches (61 cm) tall rolling behind you. The inline wheels are easy to roll through the airport with the locking extendable handle, and there are two front pockets where you can slide your phone, wallet, and travel documents to have them readily available at the airport.
Of course, all of these features mean it's not one of the lightest garment bags for travel, but we don't think you'll mind the extra weight if you can get through your entire business trip or wedding weekend with just one bag.
Why We Like It
The handle and bottom material are super durable and feel premium
You probably won't need to bring a separate piece of luggage because it has lots of internal organization
What You Should Know
It's not our favorite style because it's bulkier than traditional garment bags
It may not meet carry on compliance for many airlines
See Details & Buying Options
So there you have it: some of the finest and best garment bags on the market today. Hopefully, you and your suit or dress are ready to hit the skies, road, or city. Enjoy the trip!