Wool & Prince Heavy Crew Neck Review
Versatile, comfortable, and with all the benefits of Merino wool, the Wool & Prince Heavy Crew Neck is ideal for digital nomads and minimalists alike.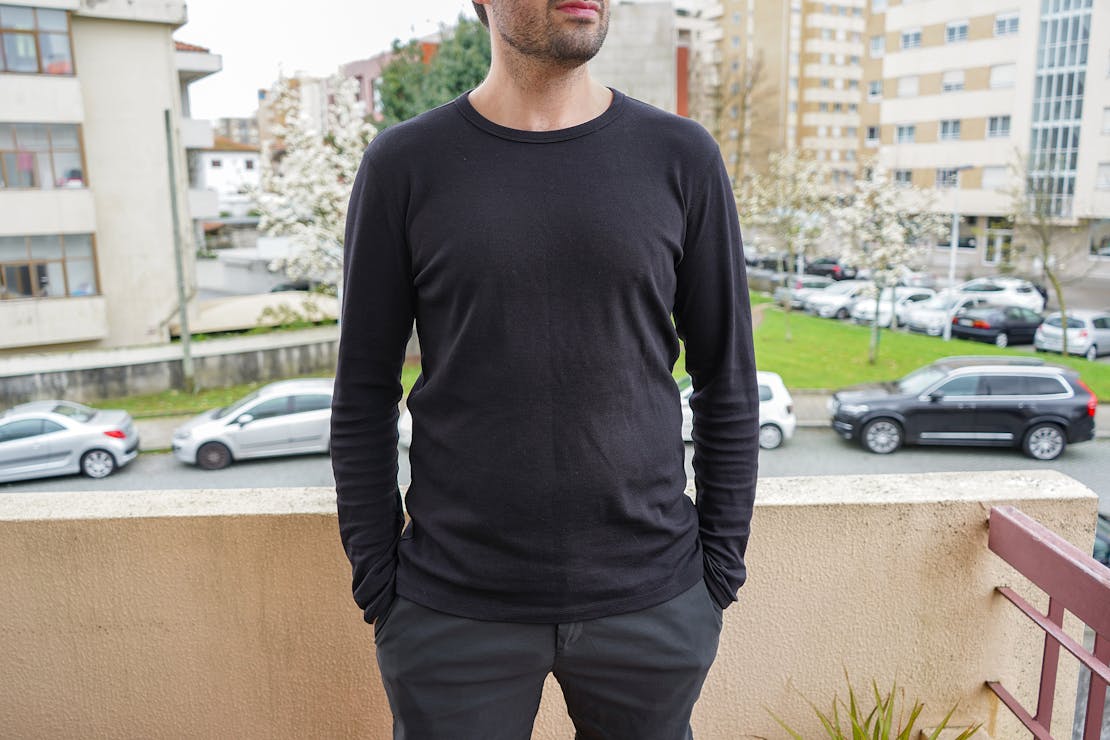 Our Verdict
Unlock the Pro Summary
Save time. Get access to brief summaries of our reviews so you can browse and make decisions more efficiently.
Pros
Odor, stain, and wrinkle resistant
Versatile: works great as a base-layer, over a button-up, or as-is
Comfort is second to none
Cons
Tag is starting to wash out
Not ideal for hot weather
Need to take care of the Merino
Recent Pack Hacker Video
Technical Details
Weight (oz)

13.30 oz (377 g)

Grams Per Square Meter

300gsm

Notable Materials

Merino Wool, Nylon

Manufacturing Country

South Korea

Warranty Information
Full Review
Perfecting your travel wardrobe can take years. You need clothes that are going to work well in multiple climates, stay fresh despite heavy use and, ideally, be worn time and again without odor becoming an issue. Not to mention, you don't want to look like you're wearing travel clothing.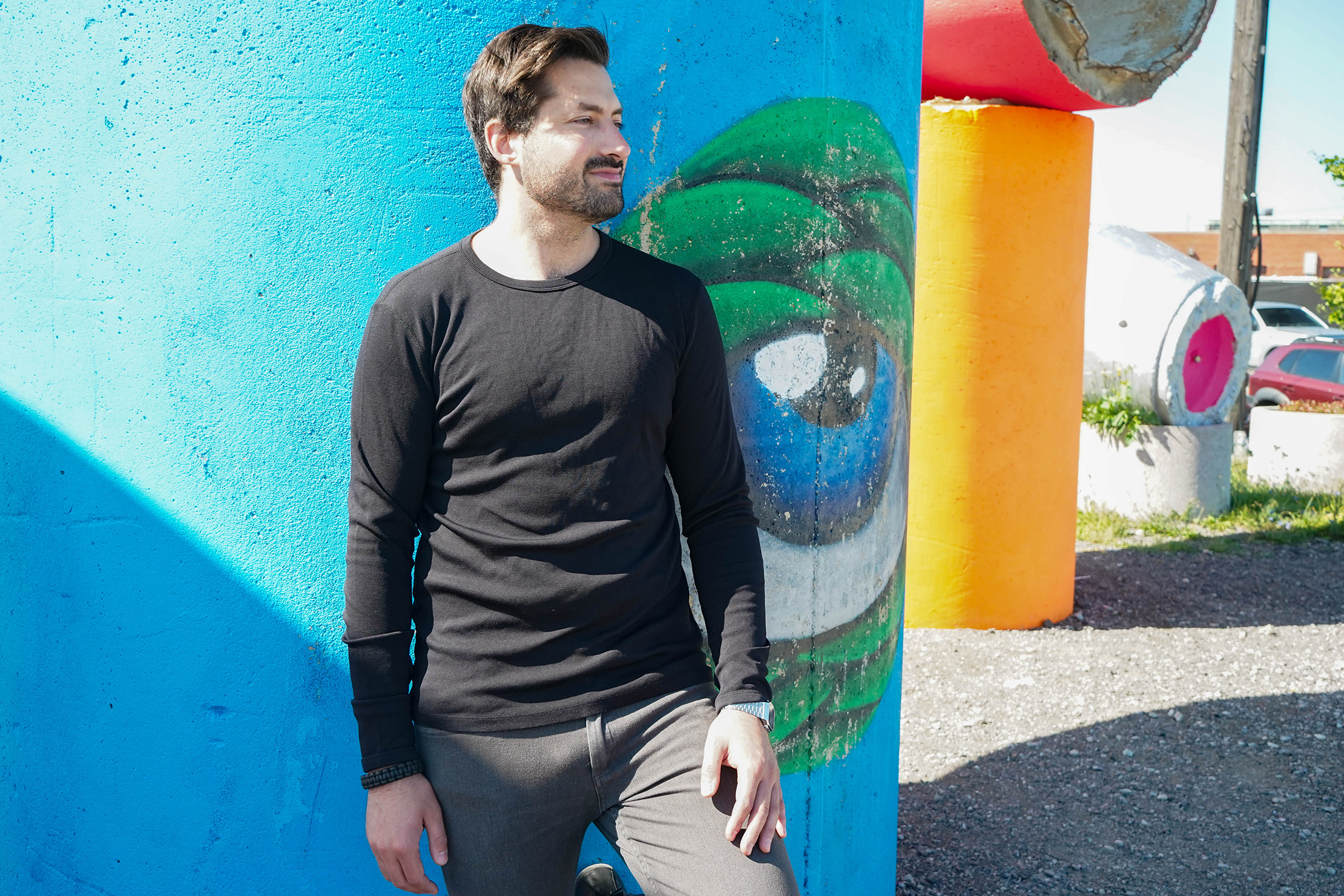 Enter the Wool & Prince Heavy Crew Neck. While we'll discuss some things we think could be improved later on in this review, we want to start by saying we absolutely love this shirt. You know how parents always say they can't pick a favorite child? Well, we tend to say the same thing about travel gear, but after using this shirt, we're not so sure anymore.
We've been testing the Heavy Crew Neck for about six months now, including on a month-long trip to Porto, Portugal where it was tested basically every single day. So that should tell you exactly how much we love it.
We think it'll make a great addition to any travel wardrobe. So let's get into it.
Features & Usage
If you're familiar with Wool & Prince—or if you take a second to scrutinize its name—then you'll know that the company primarily makes clothing from Merino wool, a fabric that's great for travel thanks to its odor, stain, and wrinkle resistance, as well as temperature regulation (meaning it works well in both hot and cold climates). Better yet, Wool & Prince makes clothing that looks like clothing, instead of high-performance, techy "travel clothing" that screams tourist. No cargo pockets here.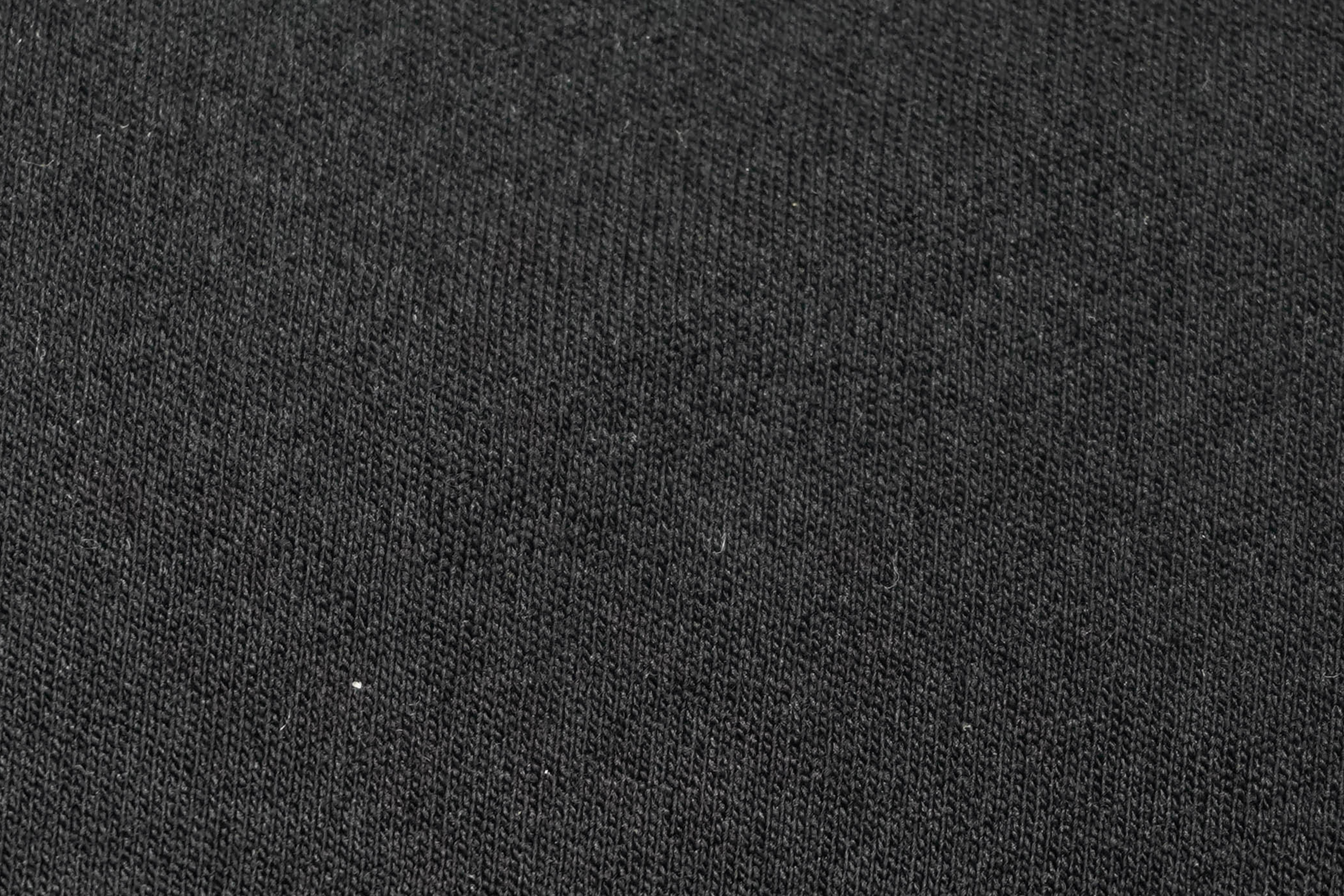 The Heavy Crew Neck is made with a blend of 78% Merino wool and 22% nylon 6,6. That extra six is important as it indicates a second 6-carbon monomer, making the fabric more durable than regular nylon, which only has a single, "silent" six on the end. Totally old-school, we know.
The folks at Wool & Prince (okay, their fabric manufacturer) wrap two small nylon filaments around a wool core to make this blend. More than sounding fancy, this fabric has all the benefits of Merino with the additional benefits of less pilling, exceptional durability, and a higher likelihood of holding its shape compared to shirts made from 100% Merino.
So, yeah, we are definitely digging this blend.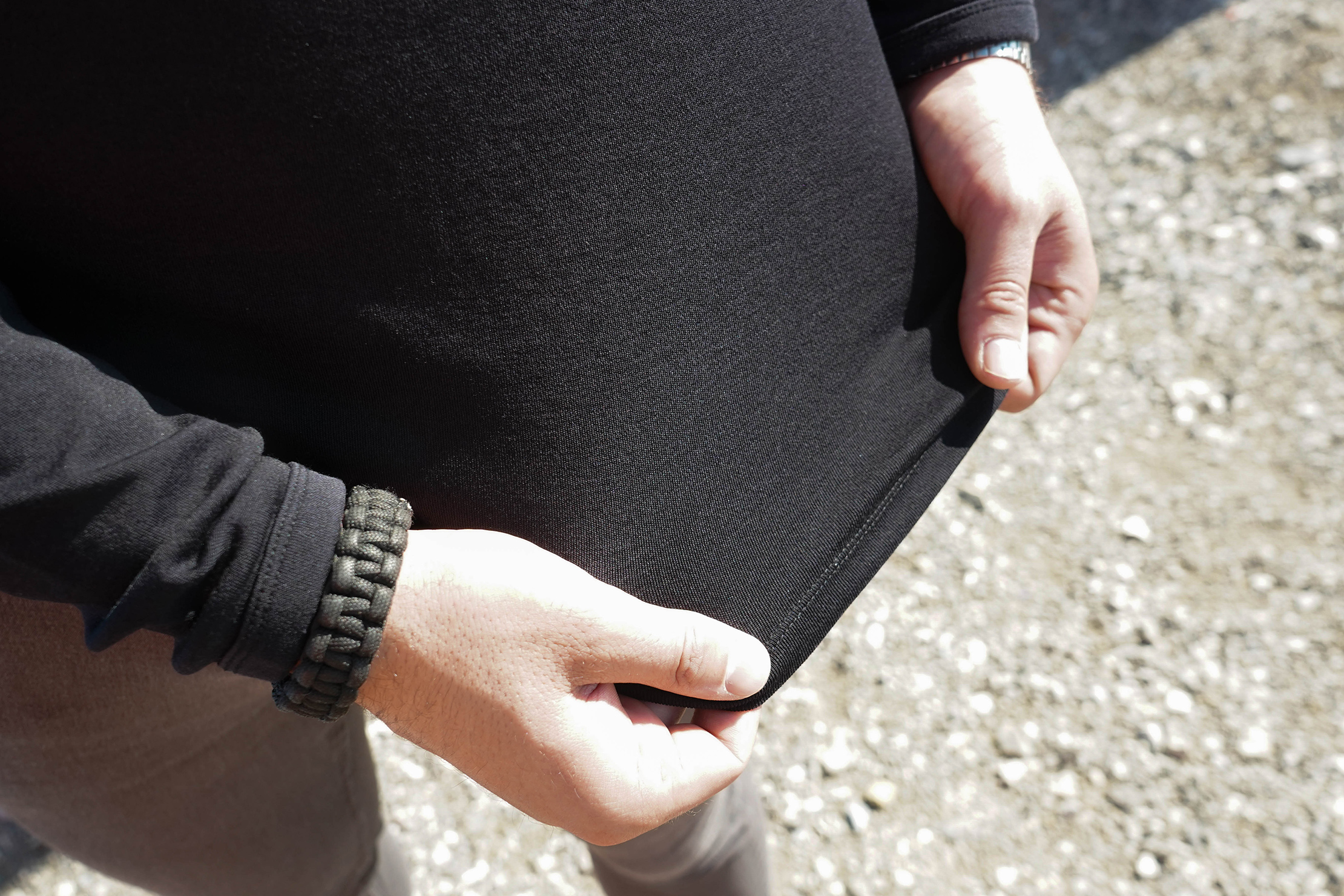 To get further into the weeds, which you probably didn't think was possible, this shirt has a GSM of 300. GSM, which stands for grams per square meter, measures the weight of a fabric. The higher the GSM, the denser the fabric. At 300 GSM, the Heavy Crew Neck is on the heavier side, hence the heavy in its name. (Your mind = blown.)
Though "heavier" doesn't mean heavy. The shirt is thick and warm, but not as bulky as a typical sweatshirt. Wool fibers trap heat better than most other fabrics, which means it'll keep you nice and toasty on days you could describe as "cool." For actual cold days, the Heavy Crew Neck works well as a base-layer. Throw on a jacket and you'll be good to go.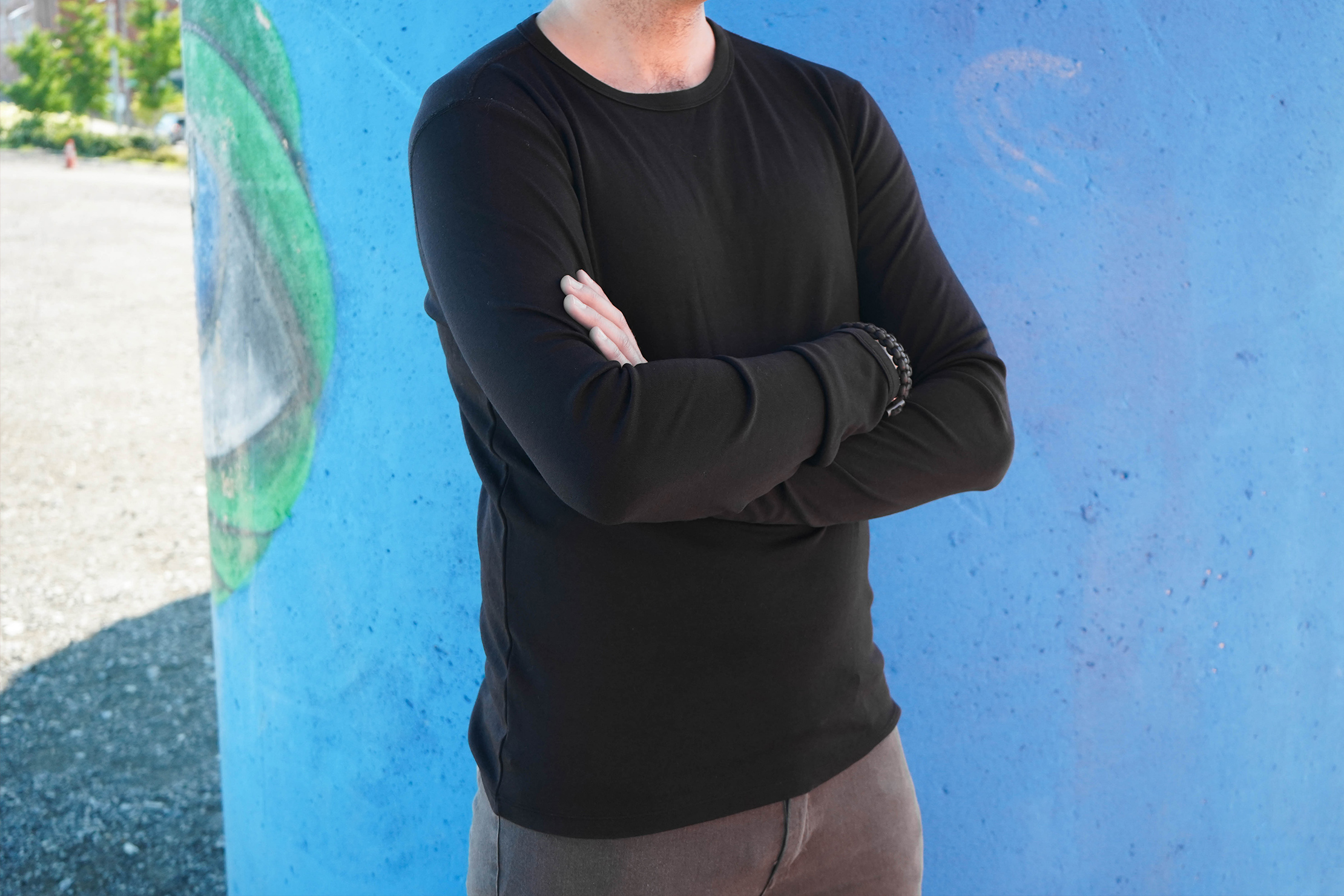 Unlike a number of base-layer shirts, the Heavy Crew Neck looks sharp enough to wear as a regular shirt too. It has a simple, minimalist design, which we love (no surprise to those of you familiar with us here). Simple tends to work better for travel since it allows you to dress a shirt up or down and wear it with jeans, slacks, shorts, whatever you'd like.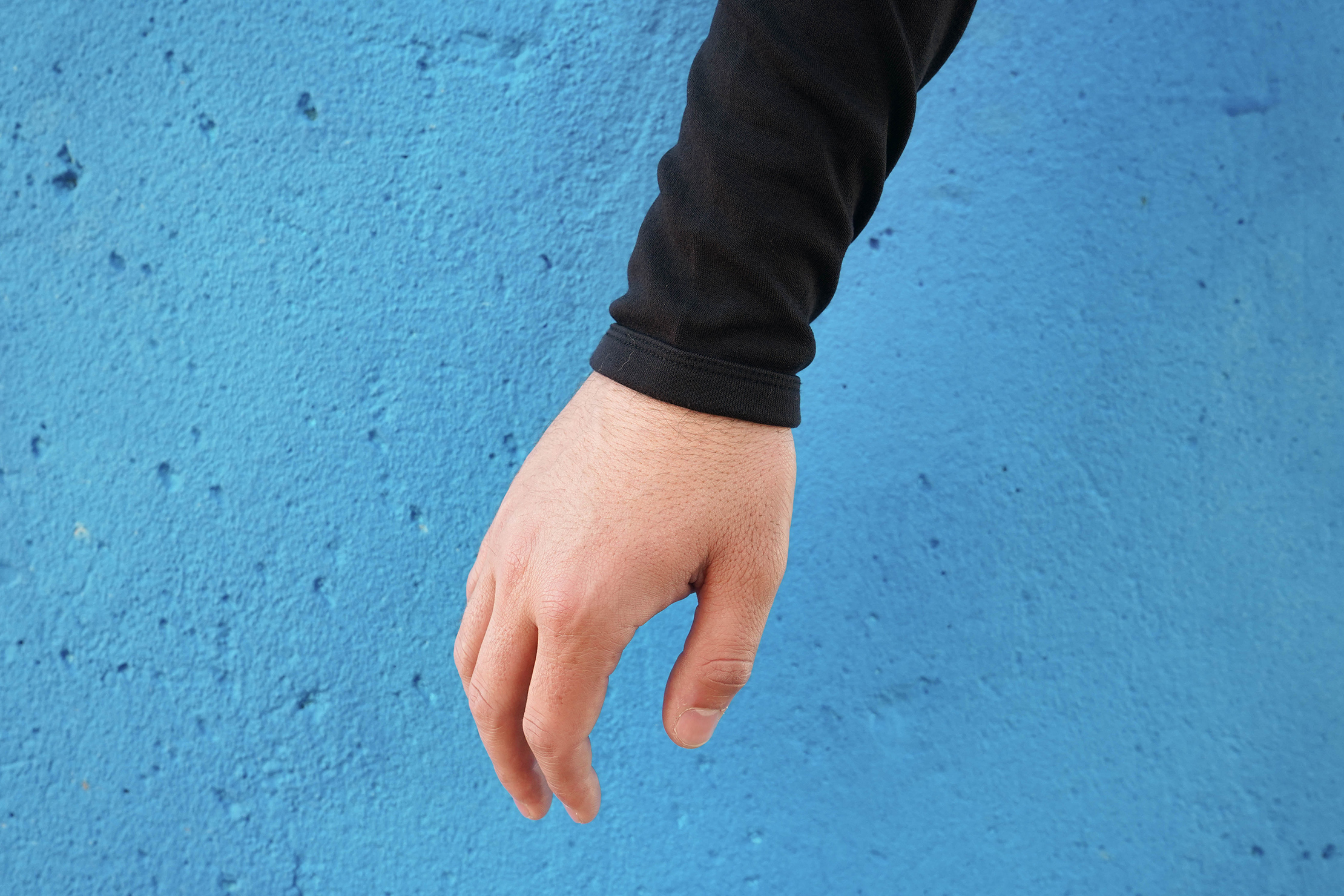 And there are just enough details to give this shirt some style—beautiful, thick stitching along the seams and nicely cuffed sleeves. At the time of this review, it's available in Navy and Black. We're partial to darker colors here at Pack Hacker (we've been testing the black), since they hide stains and tend to be more versatile, but for those of you who live for bright colors, you'll probably be disappointed by the lack of options. We do hope Wool & Prince will offer some more colorways in the future.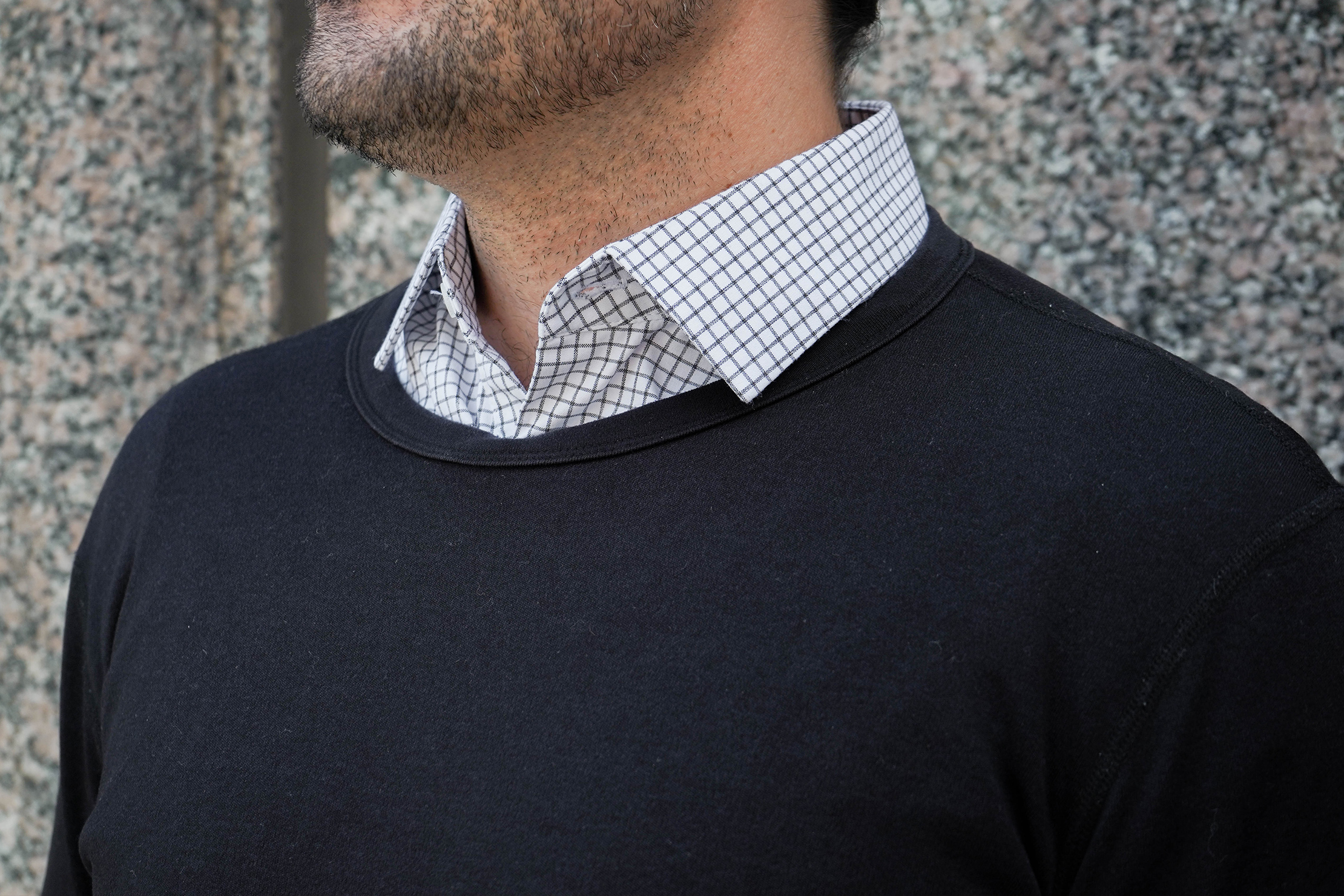 The fit is slim and long, which gives it an overall air of sophistication. Throw it over a button-up, and you'll be ready for a meeting. But it doesn't have to be fancy either. Roll up the sleeves, and you'll be ready for a brewery. Versatility, baby—it's the name of the game.
More than the look of this shirt, we've been loving how comfortable it feels. It's way more comfortable than it looks. Like wearing that moth-bitten, cozy sweatshirt you know has seen better days, but can't get yourself to throw away (but with more style, obviously).
We mentioned earlier that Merino wool is known for its thermoregulation. While that's true, the Heavy Crew Neck isn't ideal for hot climates. So no beaches—unless you're visiting beaches during colder months, in which case the Heavy Crew Neck will be perfect.
Durability & Testing
Like we mentioned earlier, we've been testing the Wool & Prince Heavy Crew Neck for six months now in Detroit and Portugal. While it's resting for the summer season at the time of this review, we fully expect to continue testing it almost daily as soon as we start slipping into autumn.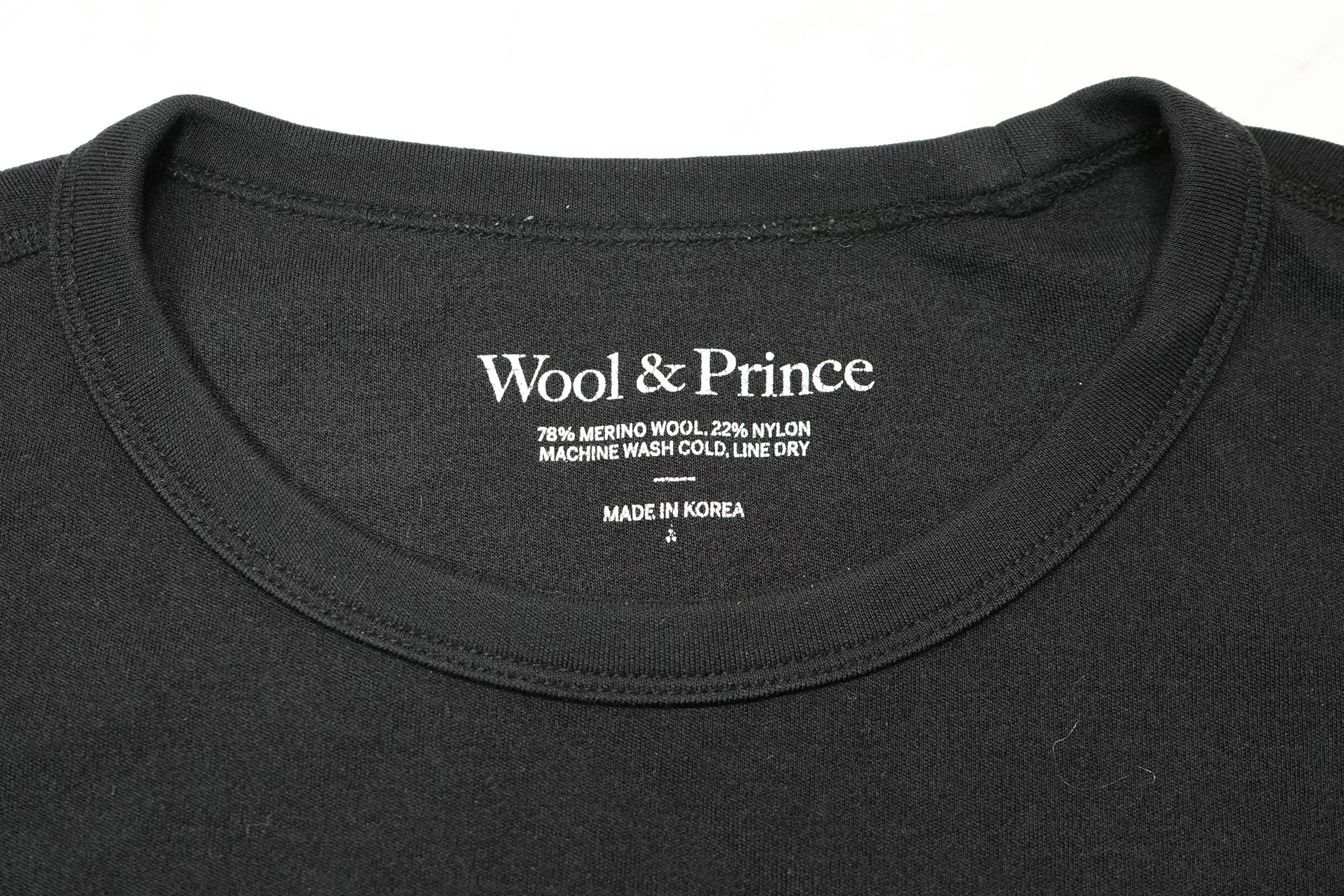 As far as durability goes, this shirt is built to last. The stitching is nearly perfect and the craftsmanship is top-notch…that is, except for the tag. We know it's a nitpick, but the Wool & Prince heat-pressed tags always wash out and we are always going to knock them for it. The washed-out tag causes real problems—it takes approximately 20 more seconds to put this shirt on because we have to take the time to investigate which side is the front and which is the back. 20 seconds multiplied by the hundreds of times we've worn this shirt… That's like an hour we won't ever get back.
This particular tag doesn't look as bad as we've seen on other Wool & Prince shirts, but it's starting to go and it's only a matter of time at this point.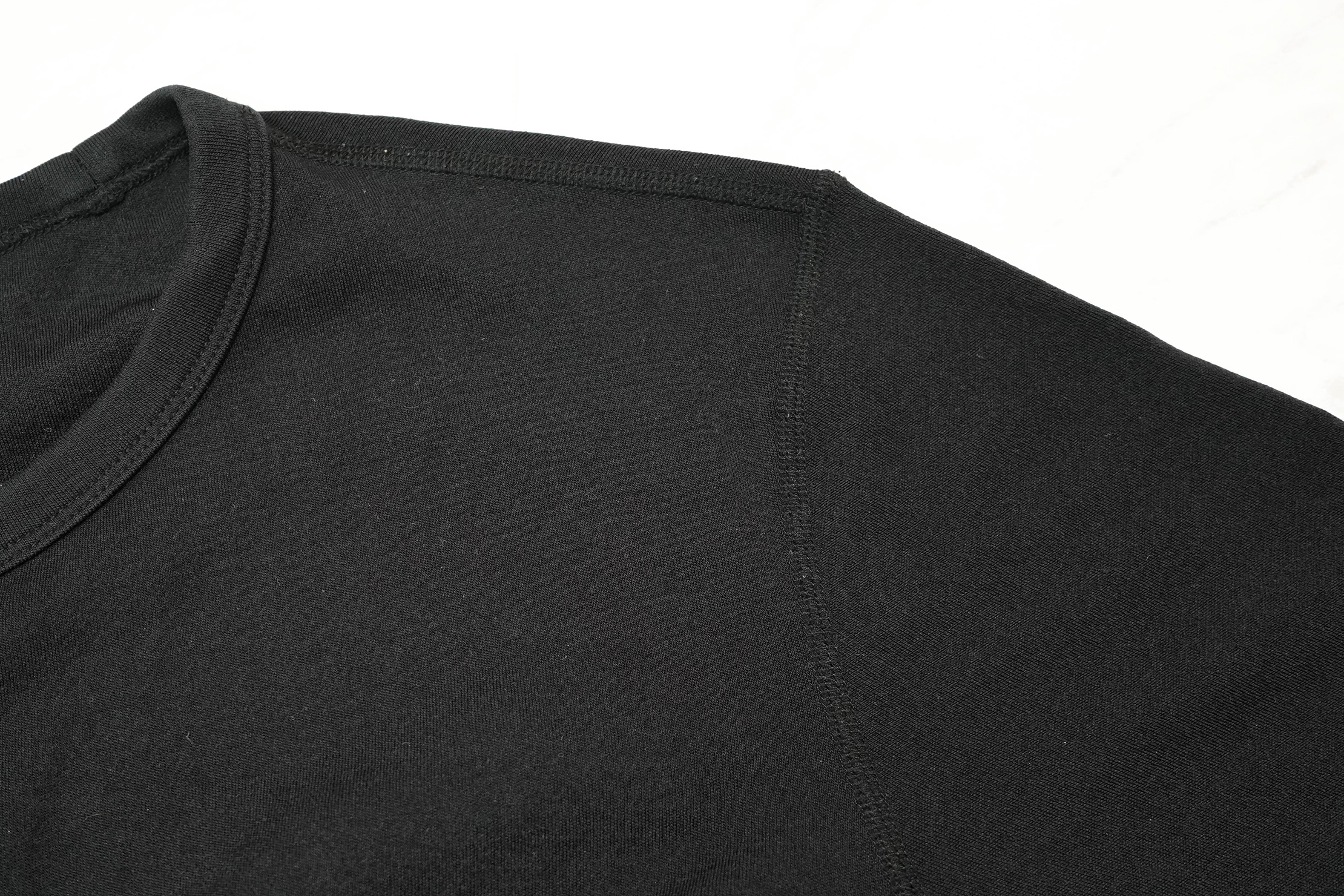 But other than the tag, the shirt doesn't look nearly as well-loved as it is. There's a small amount of lint clinging to the color, but nothing extraordinary. We did notice the shirt attracted a decent amount of lint when we first started wearing it, but that has lessened with time.
As always with Merino, we suggest taking care of the Heavy Crew Neck by washing it with cold water and laying it flat to dry. If you do that, you'll be good to go.
Usage Timeline
Initial Usage
Condition: Excellent
Wears like a no-frills heavy crew neck. We like the heavier weight as a base layer.
Picking up a decent amount of lint.
We always love Merino for Travel
1 Month of Use
Condition: Excellent
We're loving this thing—it has seen use practically every day. Although it's been collecting a decent amount of lint.
2 Months of Use
Condition: Excellent
The lint-collecting has decreased!
3 Months of Use
Condition: Good
The tag is starting to wash out—we're not surprised since that's pretty typical for Wool & Prince
6 Months of Use
Condition: Good
Other than the tag, which is only getting worse, everything looks great!
Access the Pro Community Discussion
Get your questions about the Wool & Prince Heavy Crew Neck answered from our team and the Pro Community right here on the page. Plus, join discussions with other members about gear, guides, and more.
Other Clothing & Accessories Reviews