Western Rise Limitless Merino Button-Down Shirt Review
The Western Rise Limitless Merino Button-Down Shirt looks more casual than advertised, but we're digging how soft, stretchy, and comfortable it is.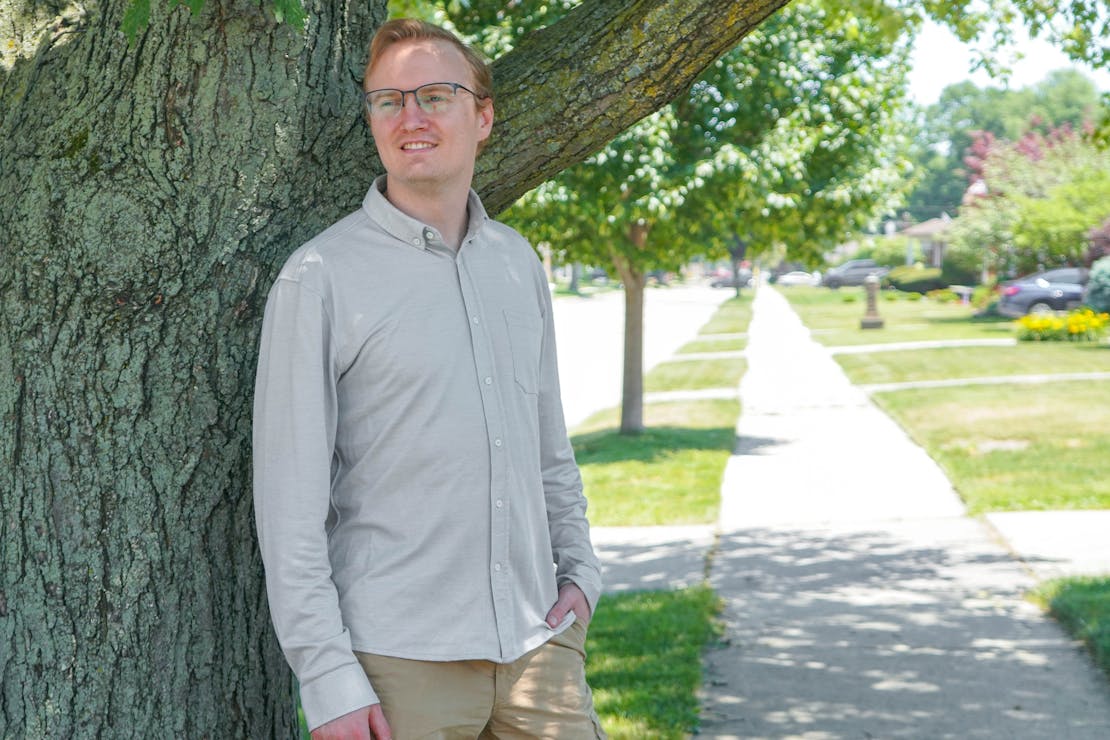 Our Verdict
Unlock the Pro Summary
Save time. Get access to brief summaries of our reviews so you can browse and make decisions more efficiently.
Pros
Supremely comfortable and stretchy
Odor and wrinkle resistant
Machine washable
Cons
Pajama shirt vibe
A thin layer of fuzz has developed after two weeks of testing
Not as moisture-wicking as advertised
Recent Pack Hacker Video
Technical Details
Notable Materials

Merino Wool, Polyester

Manufacturing Country

Vietnam

Warranty Information
Buying Options

$129.00
$128.00
Full Review
Get up to 15% off Western Rise • Join Pack Hacker Pro
The folks at Western Rise make a lot of claims about their Limitless Merino Button-Down Shirt, starting with the name. Limitless is quite the characterization.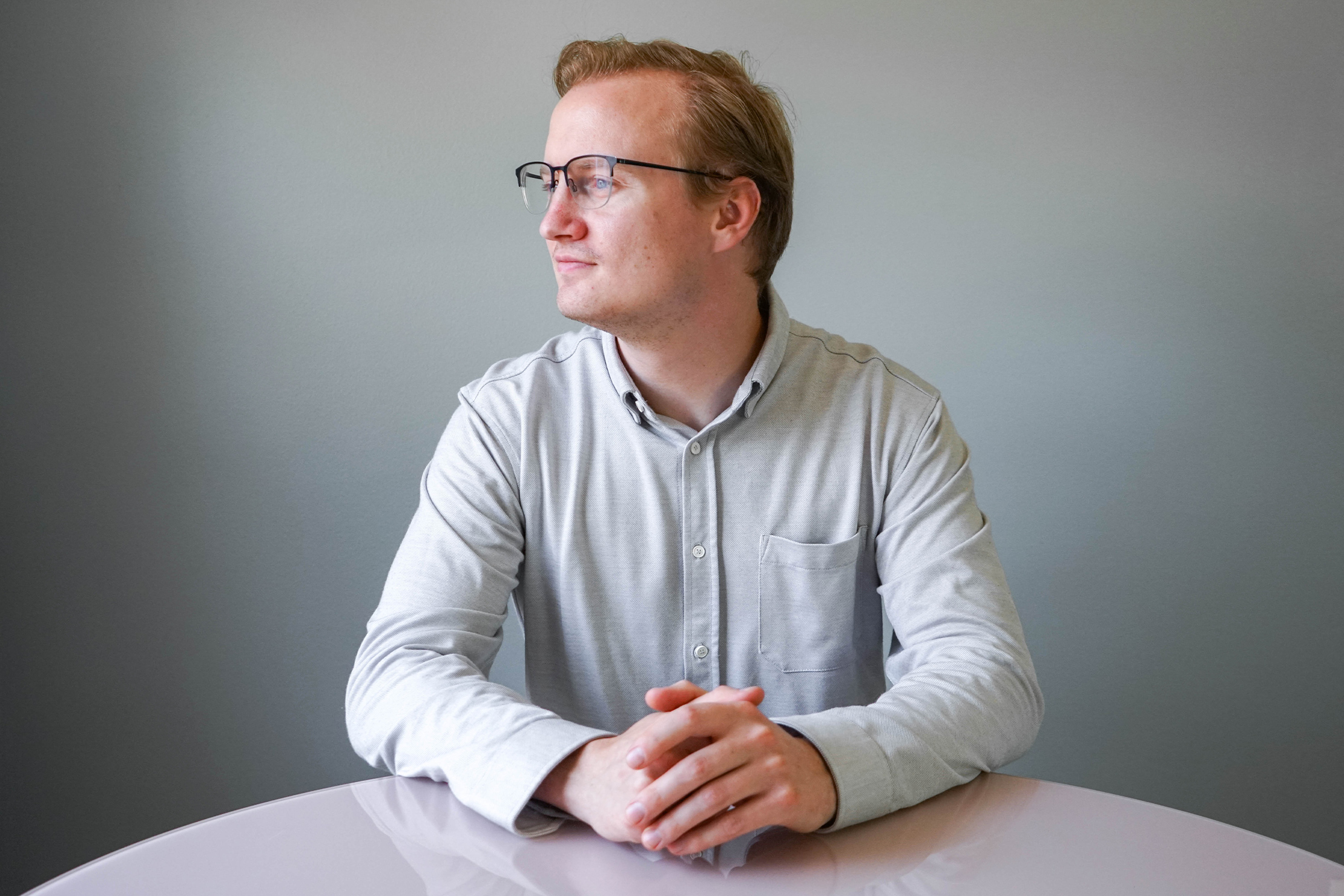 Additionally, it's advertised as odor-resistant, moisture-wicking, temperature-regulating, wrinkle-resistant, and stretchy.
To find out if this list of promises is legitimate, we've been putting the Limitless Merino Button-Down Shirt to the test for two weeks and counting. So, what have we uncovered? Let's take a look.
Fit, Fabric, & Features
The Western Rise Limitless Merino Button-Down Shirt has been designed to look like a dress shirt, but feel like a sweatshirt. Unfortunately, it hasn't fooled anyone looks-wise. We've been told by friends and family that it doesn't look like a dress shirt—with one (brutally honest) person saying the soft material has a pajama vibe. This is primarily due to how the fabric drapes on the body. It's soft and floppy, as opposed to traditional dress shirts, which have a stiffer shape.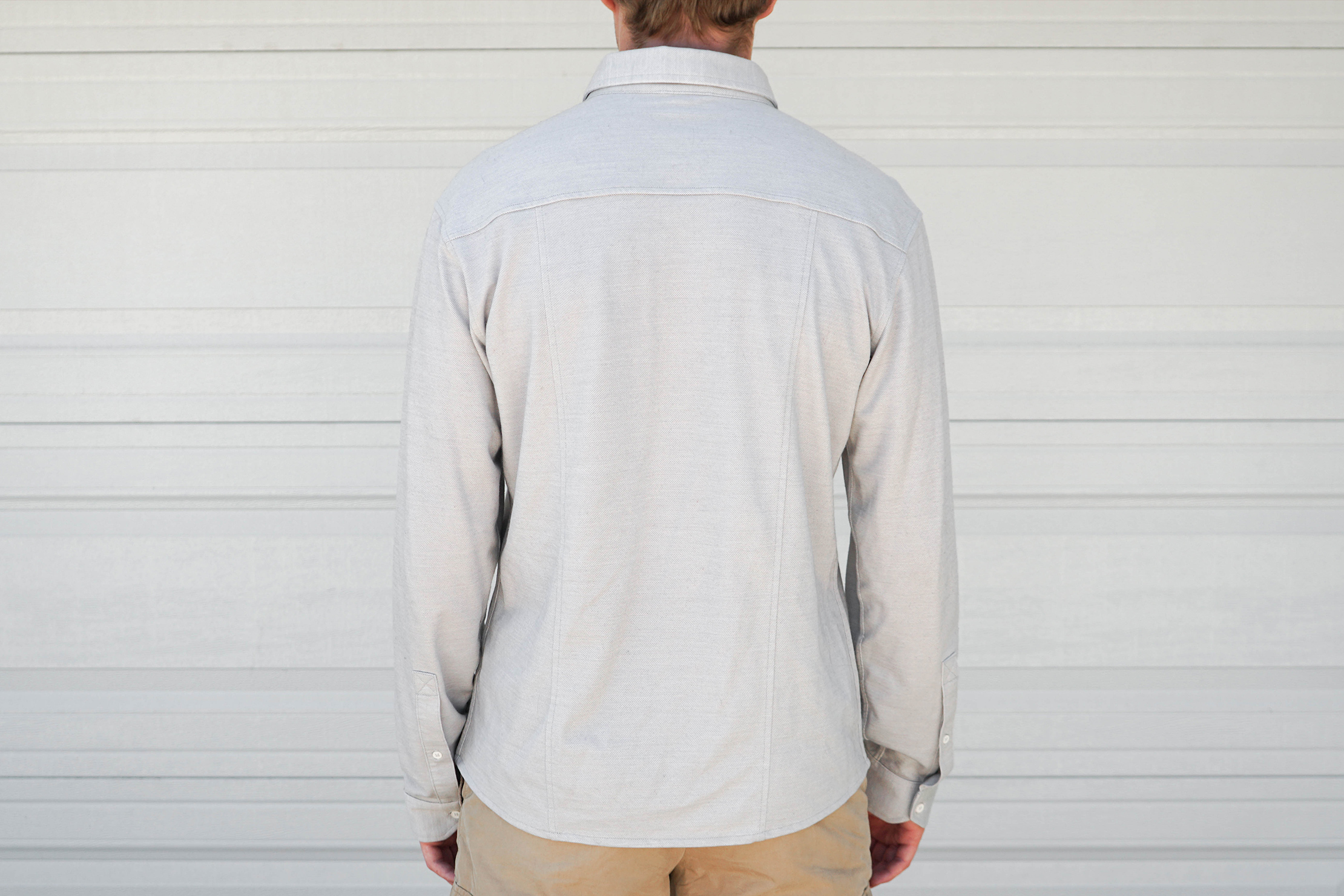 Additionally, the unique way the back of the shirt has been cut and sewn gives the shirt a more casual aesthetic. And, we've found while the shirt fits well across the chest and shoulders, the cuffs and hemline are long. The cuffs fall approximately halfway down our palms and the hem past our hips…yeah, there has been a lot of tucking involved during testing. Of course, the exact fit depends on your body. But even a tall Pack Hacker team member—6'2''—has found the sleeves to be too long.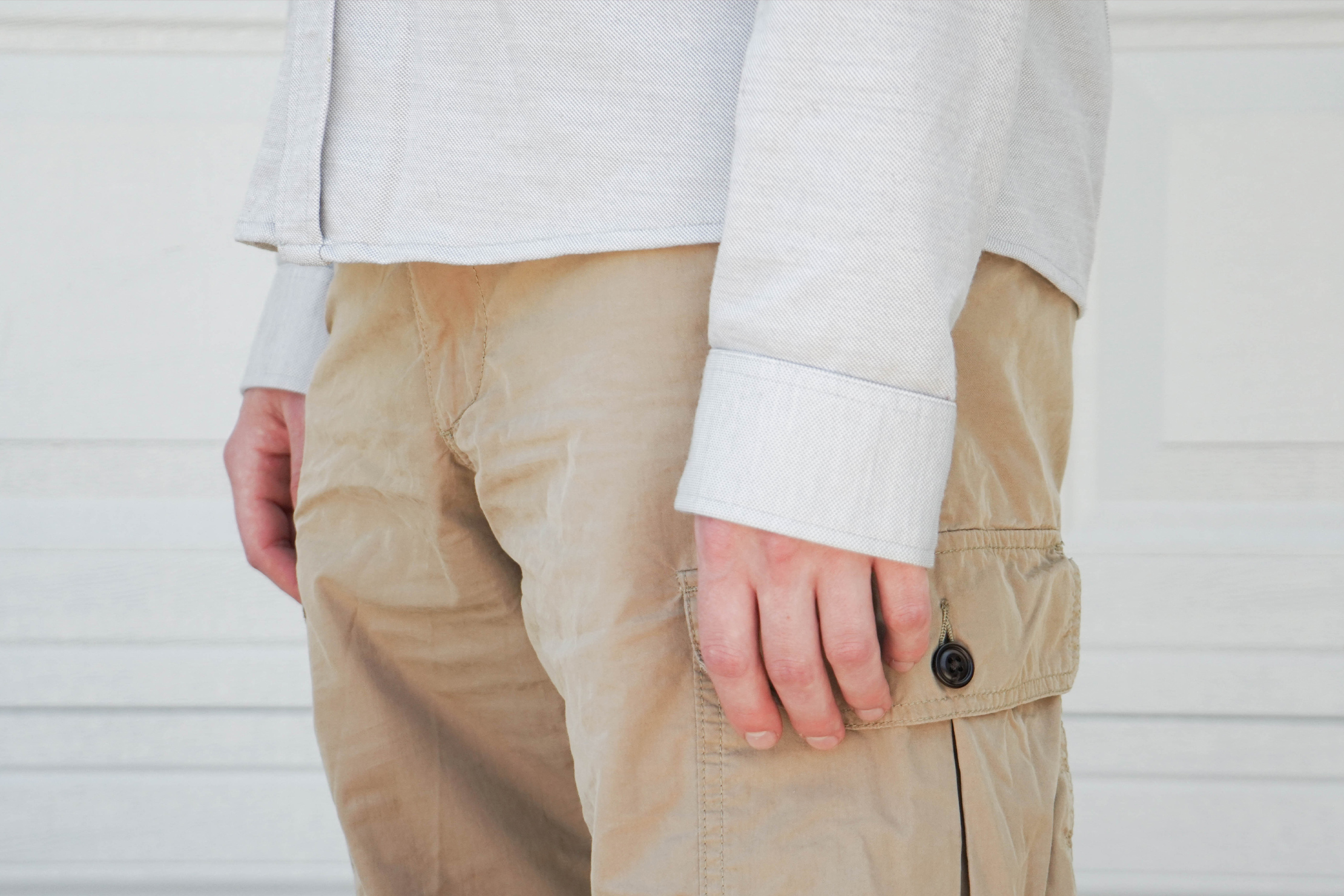 Now, this casual, pajama vibe isn't necessarily a bad thing. But it's worth keeping in mind. If you work at an office with a strict dress code—or will be traveling to a fancy-schmancy business meeting abroad—you may want to pick a more dressy dress shirt.
If you're still here, we're going to assume you're okay with the casual aesthetic this shirt has going on. So, let's take a look at some of its other features.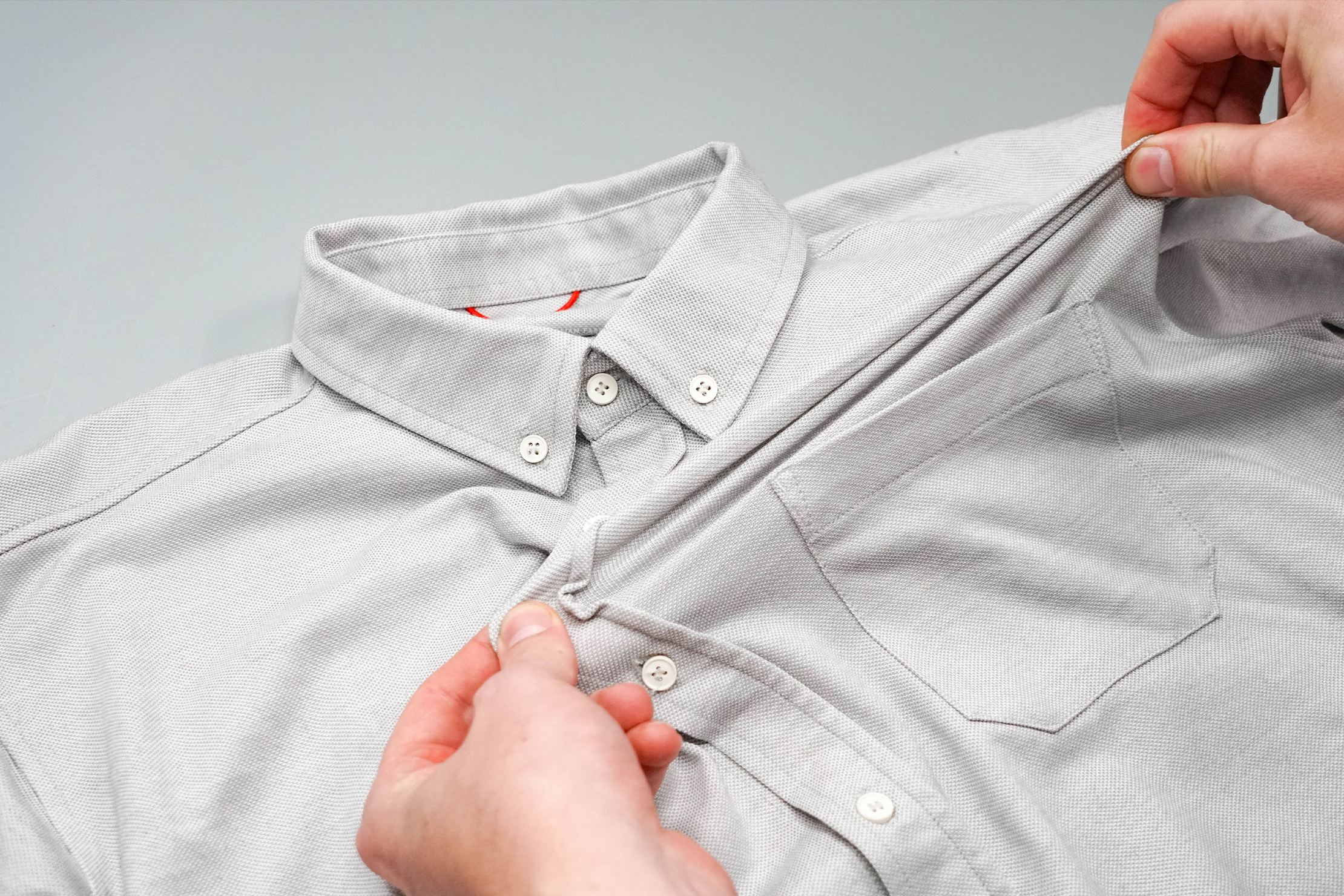 While we've been disappointed by how unlike a dress shirt this button-down looks, it keeps its promise of feeling like a sweatshirt. This thing is exceptionally soft—think baby sheep wrapped in a blanket kind of soft—flexible, and oh-so-stretchy. The 4-way stretch allows you to do all sorts of activities, from skeeball to pushups to wicked dance moves.
The shirt is made of a blend of Australian Merino wool (53%) and polyester (47%) with a GSM of 175. GSM stands for grams per square meter and tells you how thick the fabric will be. The higher the GSM, the thicker the fabric. A GSM of 175 means this button-down definitely isn't the lightest one we've tested, but it's not terribly thick either (meaning it's still breathable).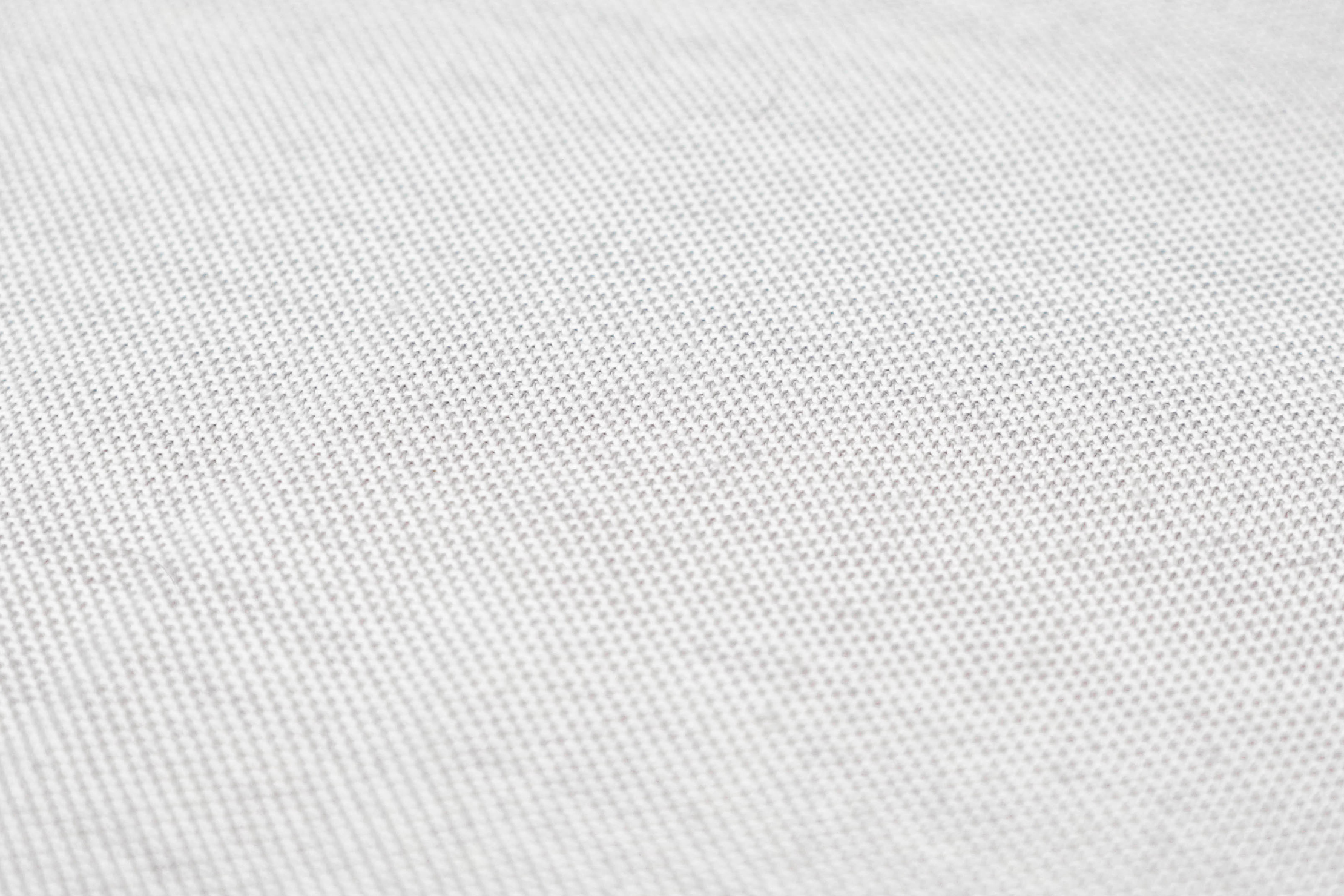 We're big fans of Merino wool here at Pack Hacker—we've written thousands of words on the subject, after all—and for good reason. Merino wool has a plethora of features that are great for travel, including all of those features we mentioned at the beginning of this review. But not all Merino wool is created equal (especially when blends are involved). So, it's time to answer the question we initially posed—are those features legitimate or not?
First up, let's talk temperature regulation. That basically means the fabric will be warm in cool weather and cool in warm weather. We've found that the Limitless Button-Down is more thermoregulating than, say, a long sleeve cotton button-down. But it still gets hot in the summer months.
The odor-resistance isn't as good as a shirt with a higher percentage of Merino, but it's still decent. We've worn it three days in a row without a problem. (You can get away with more time between washes if you let the shirt breathe for a day or two between wears. #PackHackerProTip.)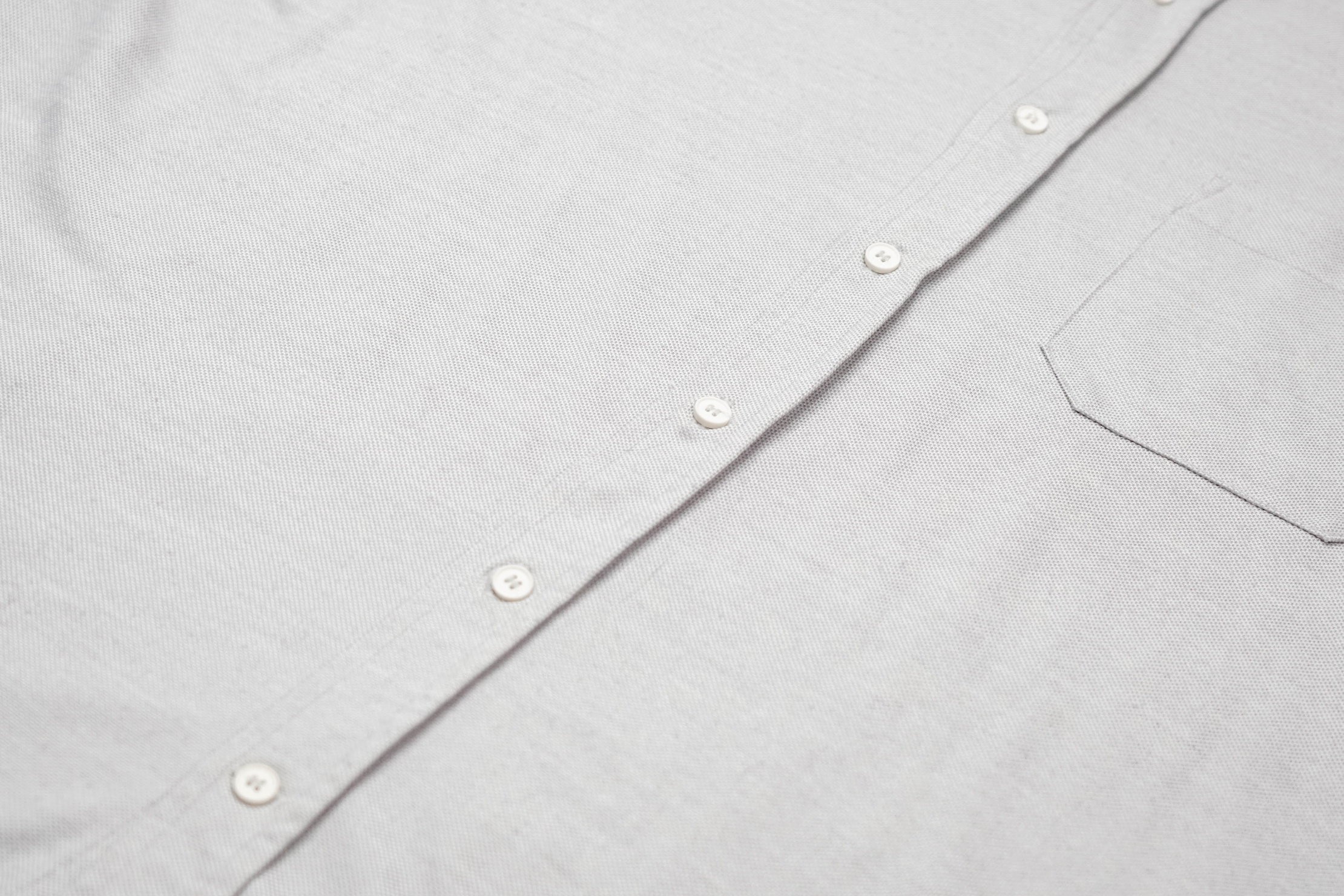 We're impressed by the shirt's wrinkle-resistance. The material is so soft that the shirt simply can't hold onto wrinkles. This is a huge plus if you're as adverse to irons as we are.
Finally, the shirt is advertised as moisture-wicking. Unfortunately, we haven't found this to be true. The fabric is so soft that it absorbs water—i.e. sweat—easily.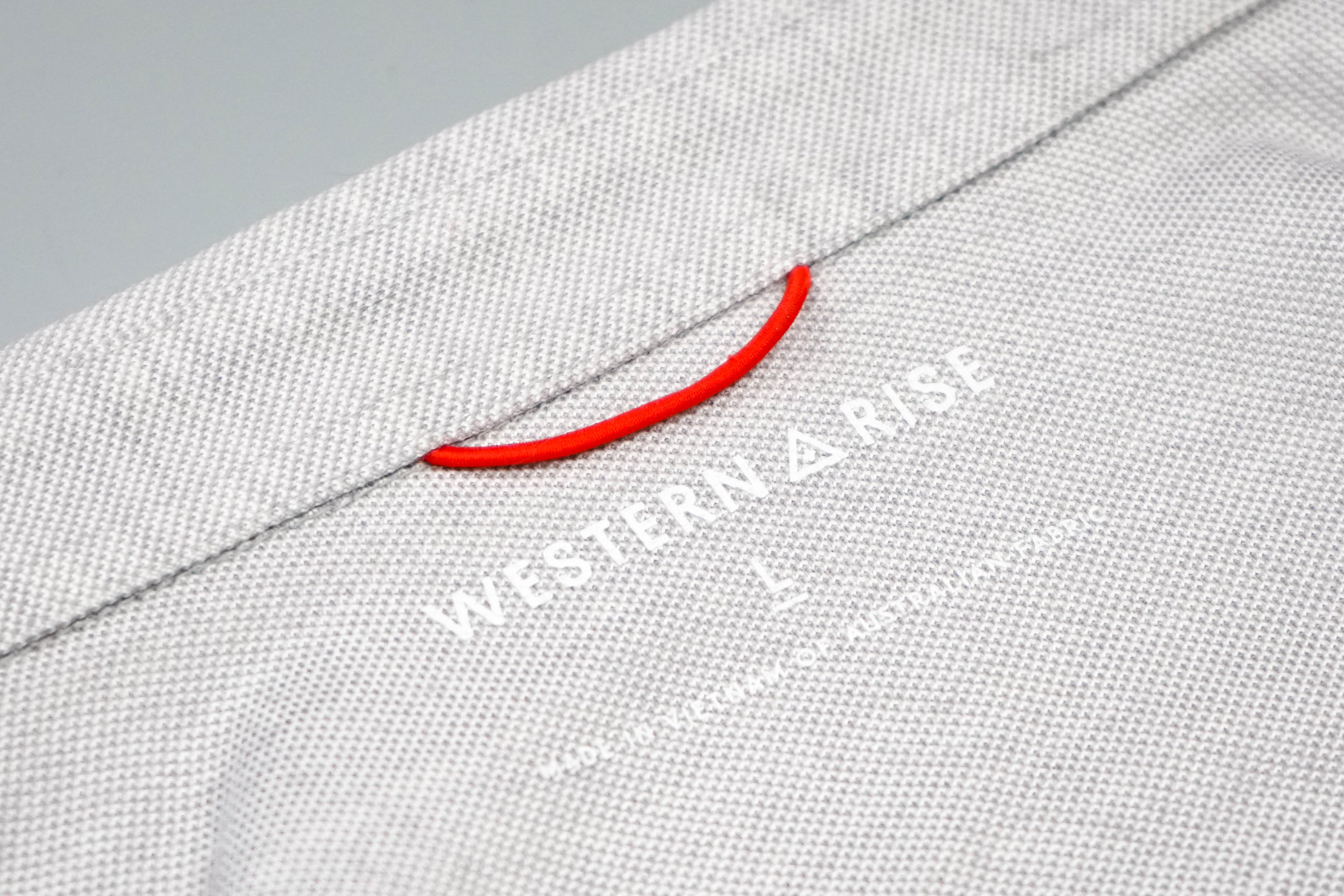 There are a few other features that are unrelated to Merino wool and worth discussing. The interior of the shirt has a hanging loop, which is a small touch, but a nice one all the same. There's also a front pocket for a pop of style and functionality. Note that you can't put anything too bulky or heavy in this pocket, otherwise the soft fabric will flop forward, dumping your stuff out. (It will also look odd.)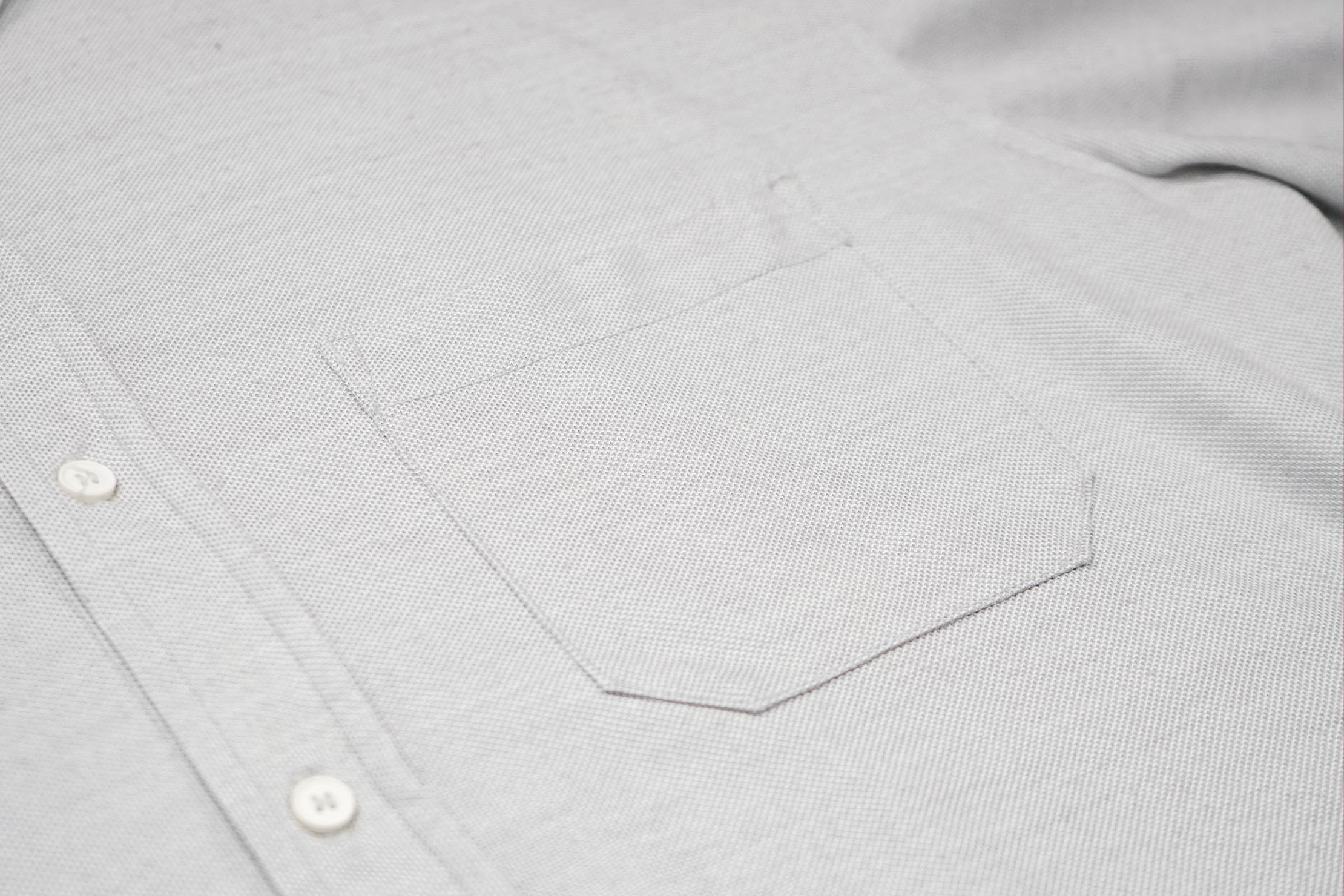 The Western Rise Limitless Merino Button-Down Shirt is also machine washable. This is definitely a plus in our books because who has time to get clothes dry cleaned on the road? (We'll tell you—nobody. Nobody has time to get clothes dry cleaned on the road.) You can also throw it in the dryer on low heat, but Western Rise says that you should expect a half-size shrinkage. (Note that the shrinkage could be considered a plus if the shirt is as long on you as it is on us.)
The buttons look nice and, for the most part, function like buttons. That is, except for the bottom-most one. It has a horizontal hole instead of a vertical hole—theoretically to help with strain—but it has come undone twice in use. Obviously, that's not a huge deal, but it's not ideal either.

We like that the collar can be buttoned down. (Here's a Fun Fact for you: button-ups and button-downs aren't interchangeable terms. A button-down refers to the buttons on the collar of a shirt that hold the collar down. If those buttons don't exist, it's a button-up. Hence why this shirt is called a Button-Down. Mind-blowing, right?) These collar buttons may come in handy when you're feeling fancy or it's a really windy day.
Before we wrap this section up, we want to point that Western Rise is a member of 1% for the Planet (meaning 1% of its annual revenue is donated to social and environmental non-profits), works with Fair Trade Certified™ factories, and is a Climate Neutral Certified company. We always appreciate when companies strive to do better in terms of social and environmental responsibility. So, good job, Western Rise.
Durability & Testing
As we mentioned at the beginning of this review, we've been testing the Western Rise Limitless Merino Button-Down Shirt for two weeks and counting around southeast Michigan. While we haven't noticed any major durability issues, we have noticed a small amount of fuzz sprinkled throughout (and especially concentrated around the buttons). The fuzz itself isn't terrible, but it does make us worry about the longevity of the shirt. After all, two weeks isn't a huge amount of time for this to be happening.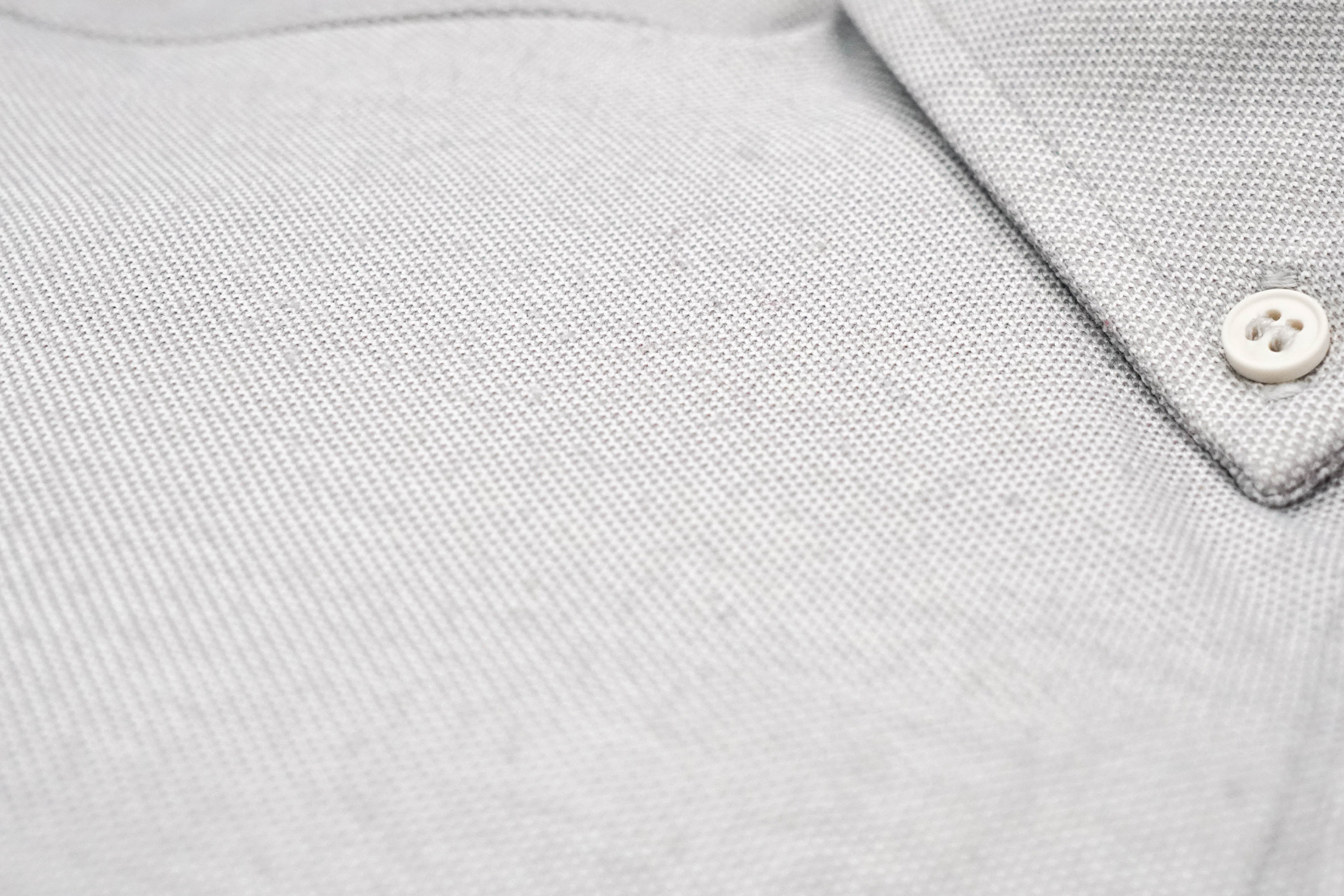 Usage Timeline
Initial Usage
Condition: Excellent
This shirt is remarkably soft, it looks like a dress shirt but feels like a sweatshirt
Material is stretchy and flexible, it works for most activities and is great for travel
The fit is a little bit long in the sleeve and body but fits well across the chest
2 Weeks of Use
Condition: Excellent
The comfortable material is holding up fine with just a few loose threads here and there
It is not as incognito as we thought—several people have noticed that it is not a dress shirt with one person saying the soft material has more of a pajama vibe
The bottom-most button has a horizontal hole instead of vertical and has come undone twice in use
Access the Pro Community Discussion
Get your questions about the Western Rise Limitless Merino Button-Down Shirt answered from our team and the Pro Community right here on the page. Plus, join discussions with other members about gear, guides, and more.
Other Clothing & Accessories Reviews