Western Rise Evolution Pant Review
The Western Rise Evolution Pant is packable, stretchy, and water-resistant—and has a strong pocket game. But they're not quite as awesome as advertised.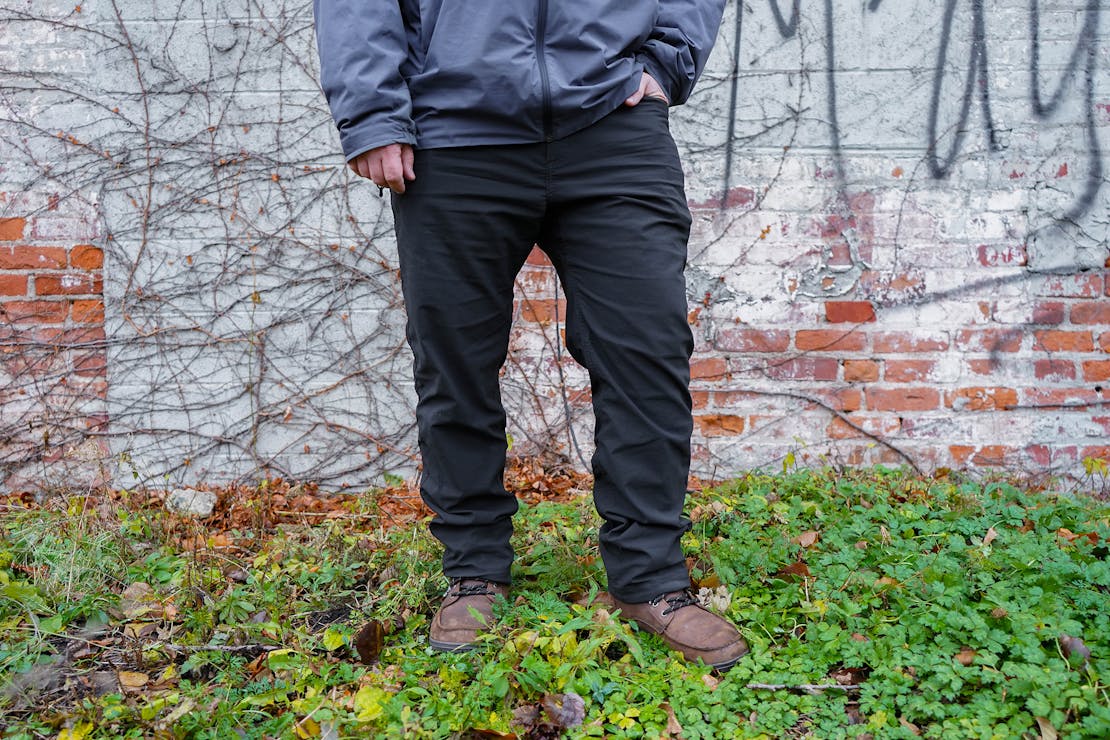 A newer version of this pant now includes 4-way stretch.
Our Verdict
Unlock the Pro Summary
Save time. Get access to brief summaries of our reviews so you can browse and make decisions more efficiently.
Pros
Lightweight and packable
Water and stain resistant
Great stretch
Cons
Not as anti-wrinkle as advertised
Loose threads and faded colorway make us concerned about longevity
Swishy fabric
Recent Pack Hacker Video
Technical Details
Grams Per Square Meter

173gsm

Notable Materials

Nylon, Elastane, YKK Zippers

Manufacturing Country

Vietnam

Warranty Information
Buying Options

$149.00
$128.00
Full Review
Get up to 15% off Western Rise • Join Pack Hacker Pro
The best way to describe the Western Rise Evolution Pant is with the adjective "fine." These pants, which boast all sorts of features and are marketed as the Ultimate Travel Pant, have some neat things going on but aren't nearly as awesome as advertised.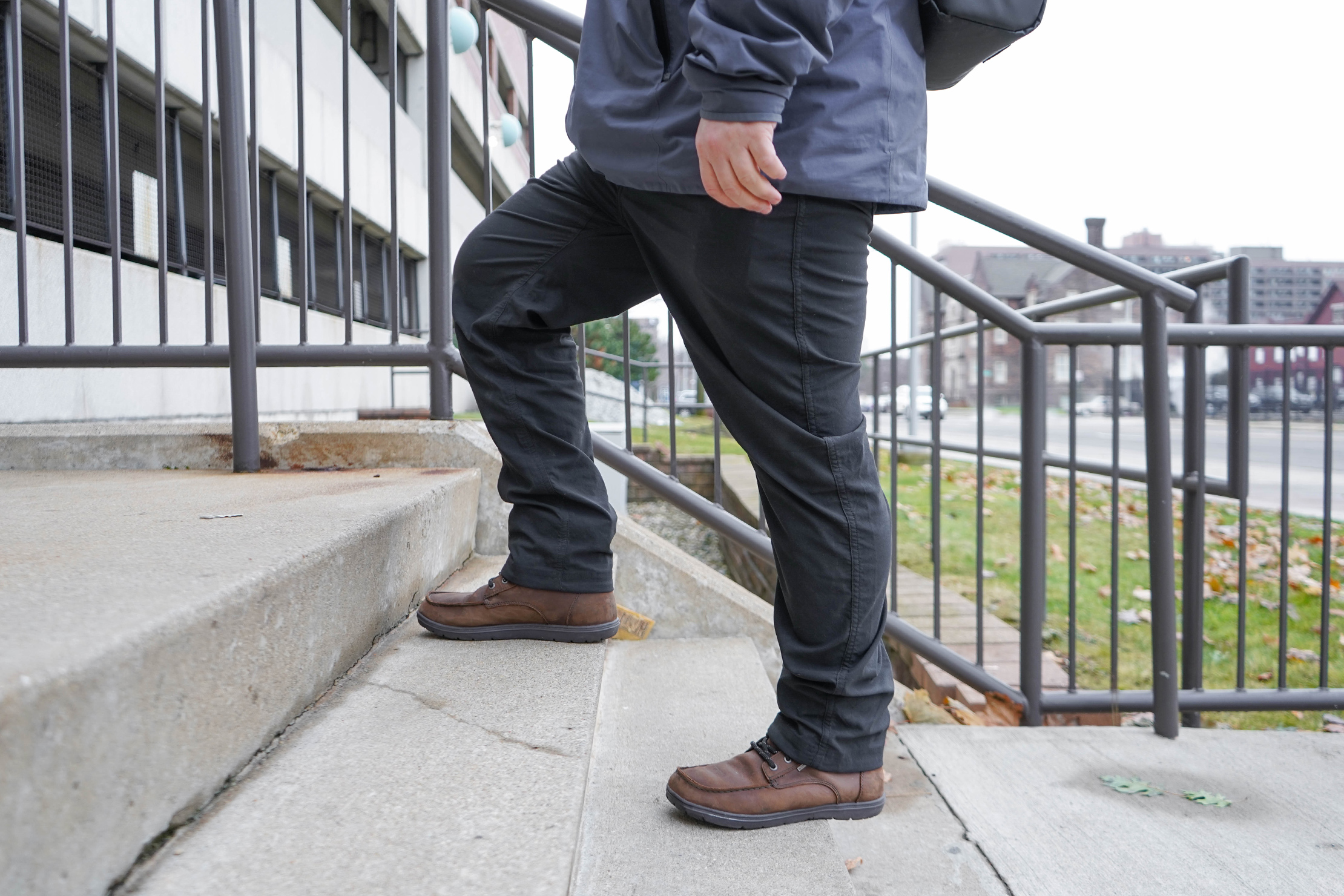 We want to like them more than we actually like them. So let's get into the review to see how and why we came to that conclusion.
Fabric, Fit, & Features
The aesthetic of the Western Rise Evolution Pants is somewhere between chinos and black wash jeans. If you pick up one of the lighter colorways, you'll have more of that chino thing going on, while the darker ones lean toward the latter. We'll give you one guess as to which we prefer.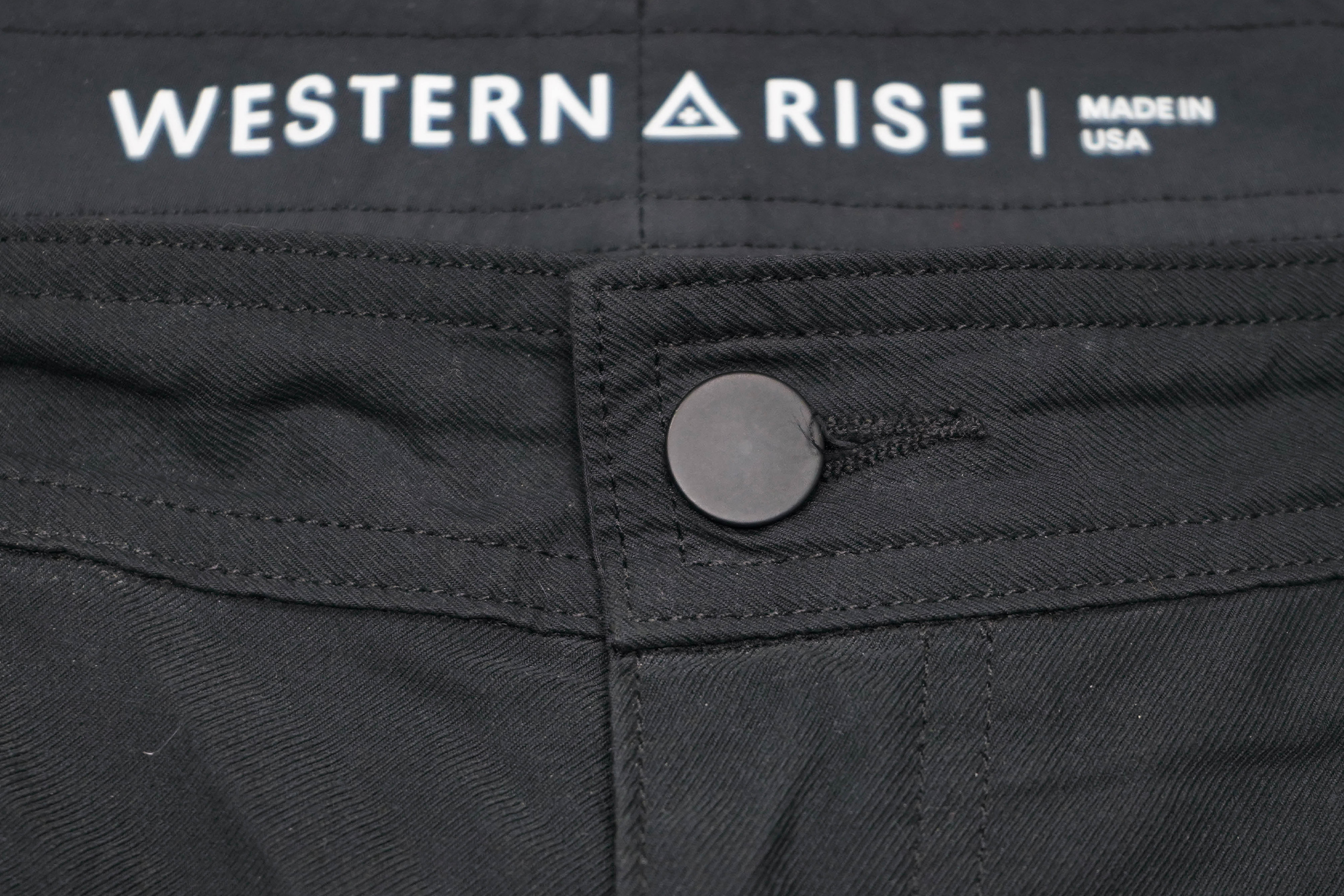 200 points if you guessed the darker colorways. Yes, in typical Pack Hacker fashion, we've been testing the Charcoal, but you can pick these pants up in Navy, Khaki, Olive, Blue Grey, and Shadow. We've been digging the Charcoal, especially with the black hardware that ups the overall sophistication factor of the pants.
But we're not digging the fit.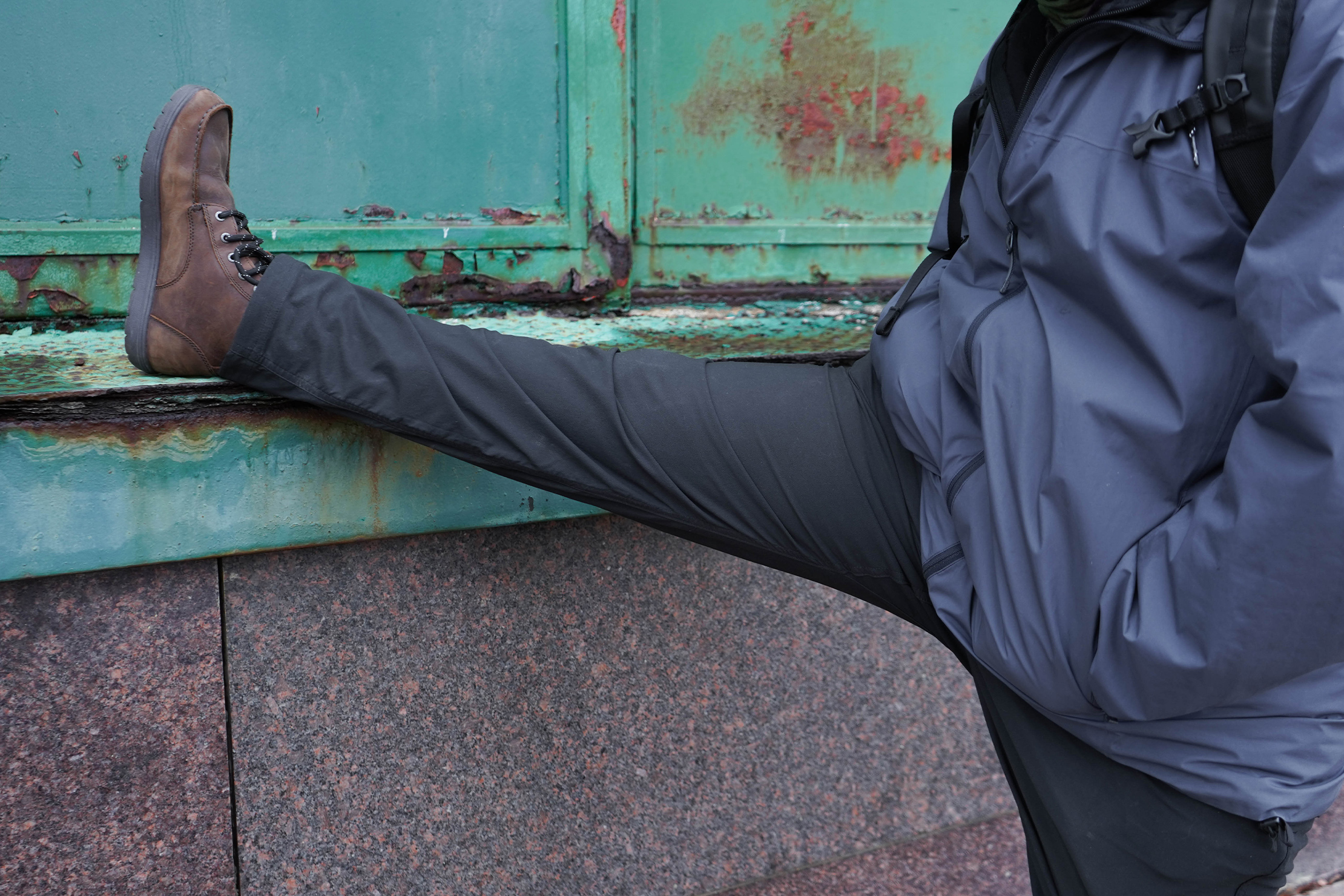 Of course, fit is subjective. Everyone has their own style preference and every single body is different—what looks good on some people looks even better on others. So, with that in mind, the Western Rise Evolution Pants have a straight leg that doesn't closely follow the lines of your body. Which means it can look a little baggy. We're not talking parachute pants, but they're noticeably loose.
And, if you would describe yourself as not-tall, you may have to roll up the cuffs.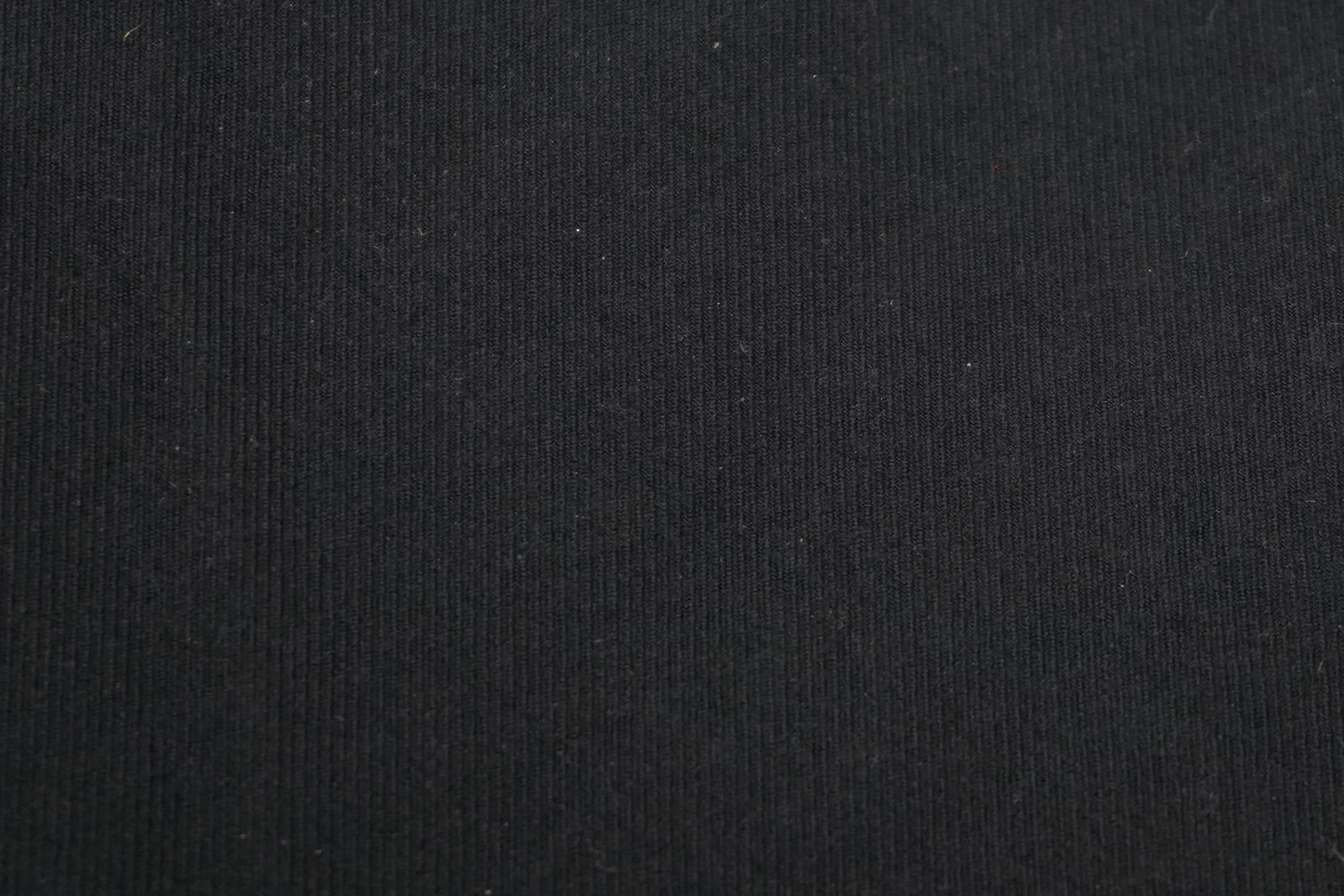 The pants are made from nylon Supplex® fabric, which is a mix of nylon and elastane. The elastane, of course, is responsible for the stretchiness of the pants (which we'll discuss further in a minute), while the nylon helps with durability and abrasion resistance. Now, the folks at Western Rise advertise that the nylon they use isn't regular ole nylon. It's Supplex® nylon (hence the Supplex® fabric name).
There's a lot to talk about here.
So let's go back to the birth of Supplex® nylon. The year is 1985. The place is DuPont. The question: How can we transform nylon into something as soft as cotton, while maintaining its durability, and adding water-resistance just for kicks?
The folks at DuPont—decked in what we can only assume was the best of 80's fashion—toiled over this question, spending hours upon hours in the science lab…
Okay, we're not actually going to go that deep. All you need to know is that Supplex® nylon—now owned by Invista—is super soft, resistant to water, breathable, and durable. Oh, and Western Rise says it gets the fabric from a bluesign® approved mill in Sweden, which is a major plus in our books.
Not as big of a plus? The fact that this fabric is swishy. For us, that's not a deal-breaker, but we know some people hate swishy pants, so we wanted to be sure we pointed it out.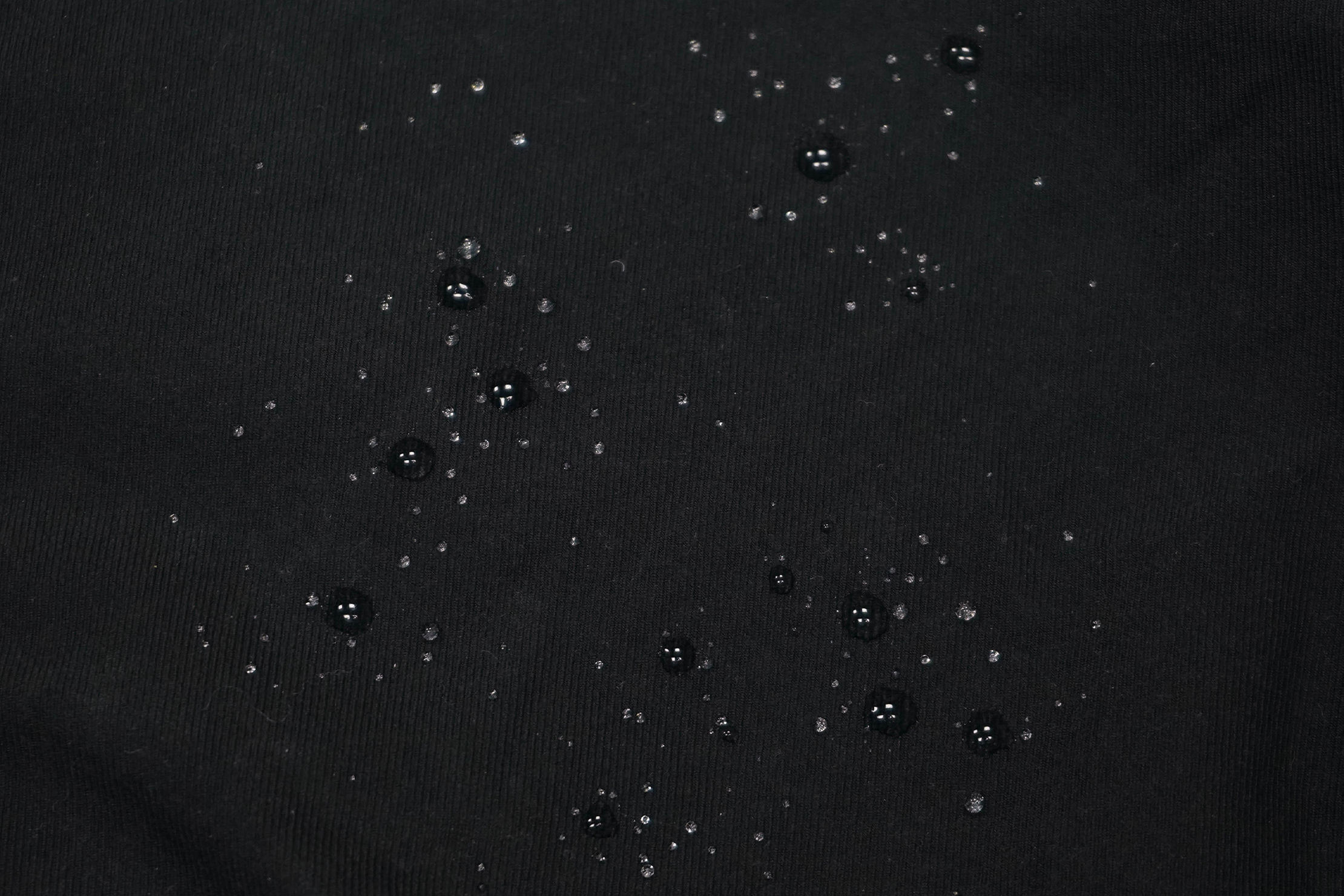 The fabric is also treated with a DWR coating for additional water and stain resistance. We've found this to be an exceptionally handy feature while testing a floppy water bottle and just living our lives in general. Being able to simply wipe water off of the pants and continue on our way is great. No one wants to walk around with wet pants, you know?
Plus, this coating repels odors and stains, so you don't have to wash these pants as frequently.
Great for everyone who hates laundry (so…everyone?). That said, DWR coatings do fade with time, so we expect that this stain/water resistance will wear off (although, remember the fabric is already a bit water-resistant). To stretch out the longevity of the DWR coating, make sure you follow the care instructions closely.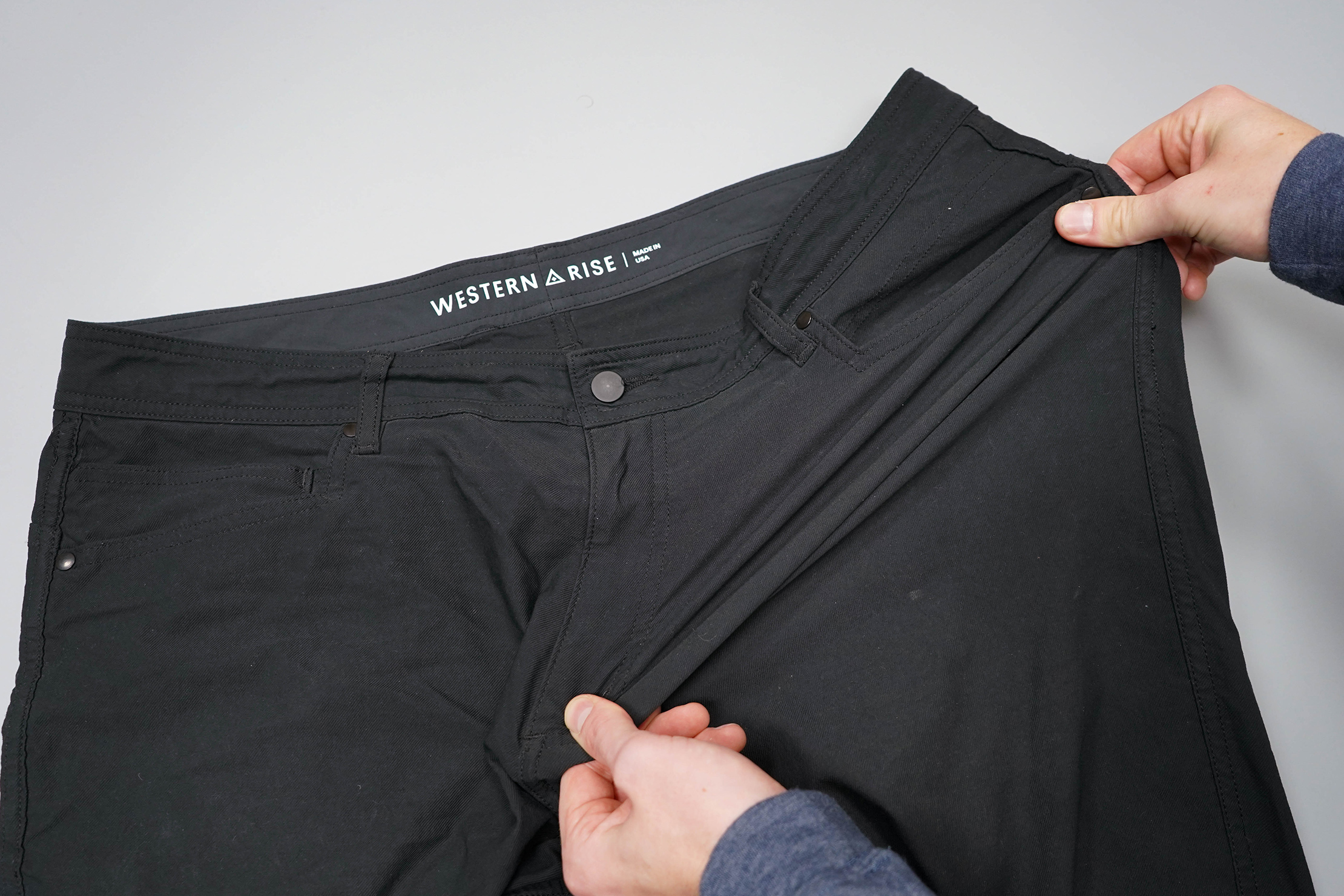 Which brings us to the stretchiness of the pants (told you we'd talk about it again). These pants are dang stretchy. They only have a 2-way stretch, as opposed to 4-way stretch, but that hasn't been an issue. They also have a 3" gusset, which gives you more range of motion. Granted, we haven't attempted a down dog while wearing them, so if you're a yoga-at-the-terminal kind of person, your experience may be different. Still, the stretch has been great for nature walks or urban hikes.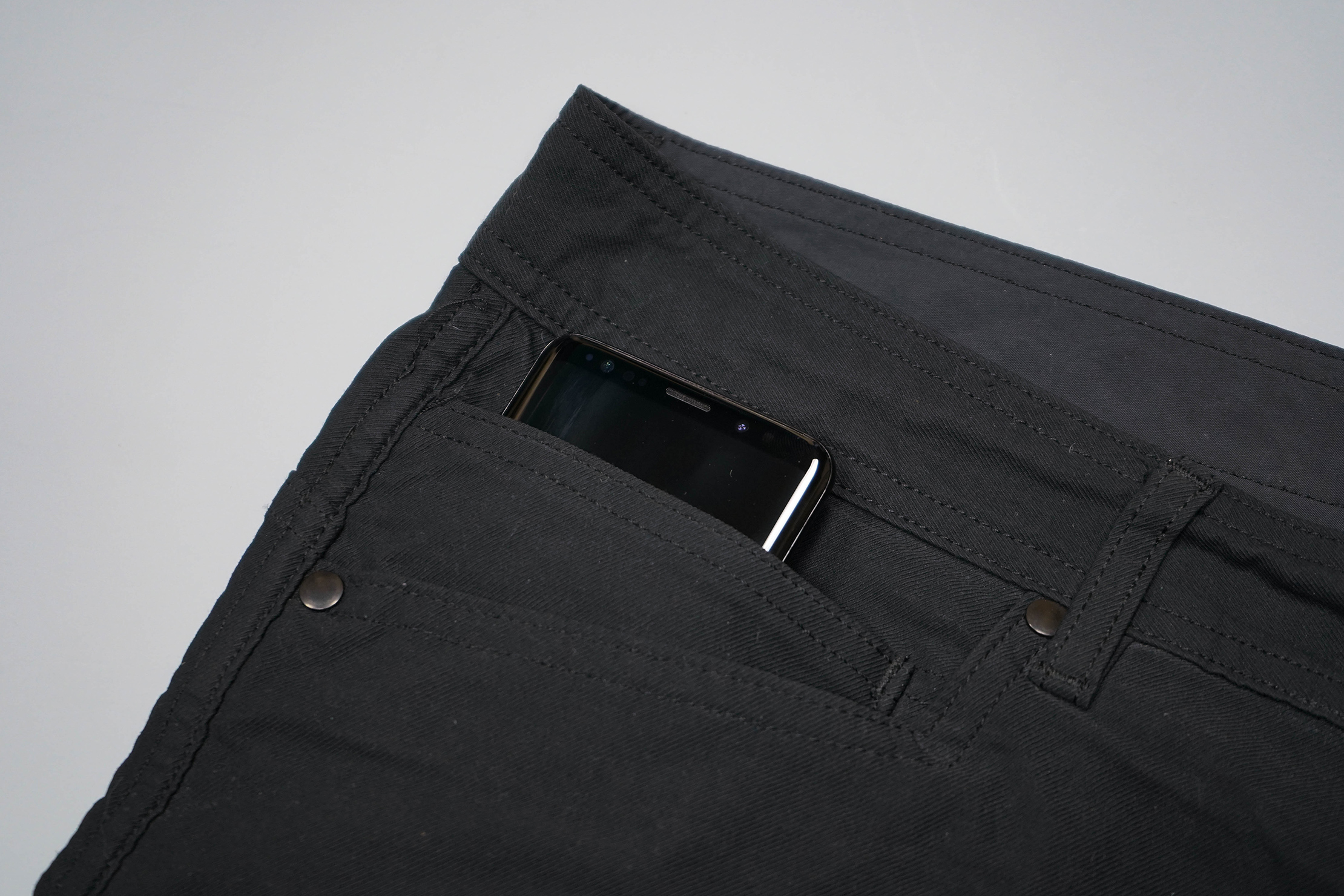 You'll find the four standard pants pockets on these guys—two on the front, two on the back—with two additional, travel-oriented pockets. The "media" pocket is tucked into the front right pocket and is designed for your phone. It fits most smartphones, including an iPhone 11 Pro Max with a thin case. But you can also use it for other things if you'd like. Quick-access cash, a bus pass, magic crystals…you do you.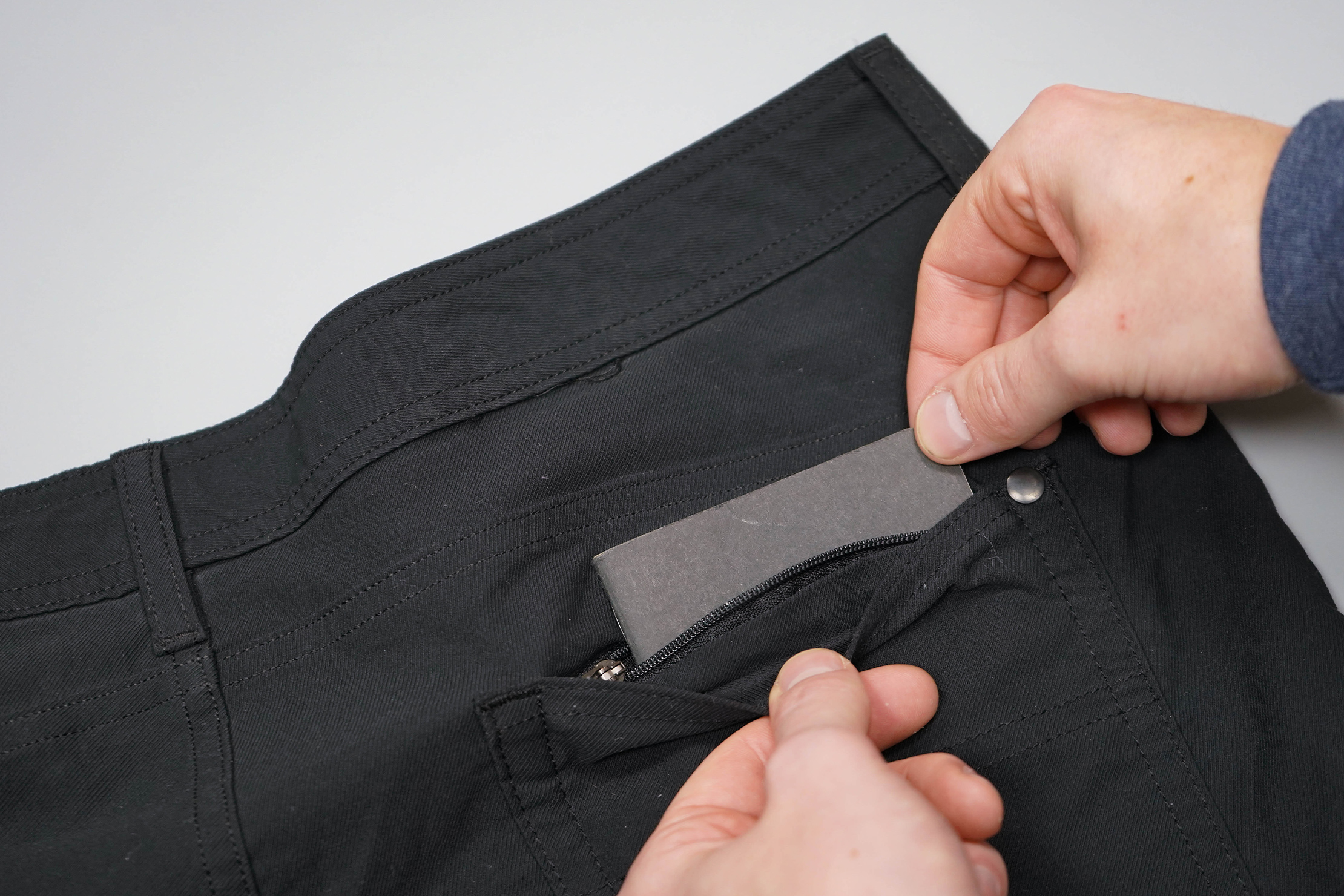 The second special pocket is a zippered security pocket, which is tucked into the back right pocket. It's roomy enough to hold a passport, a wallet, some extra cash. Best of all, it's hidden really well, so it's actually secure.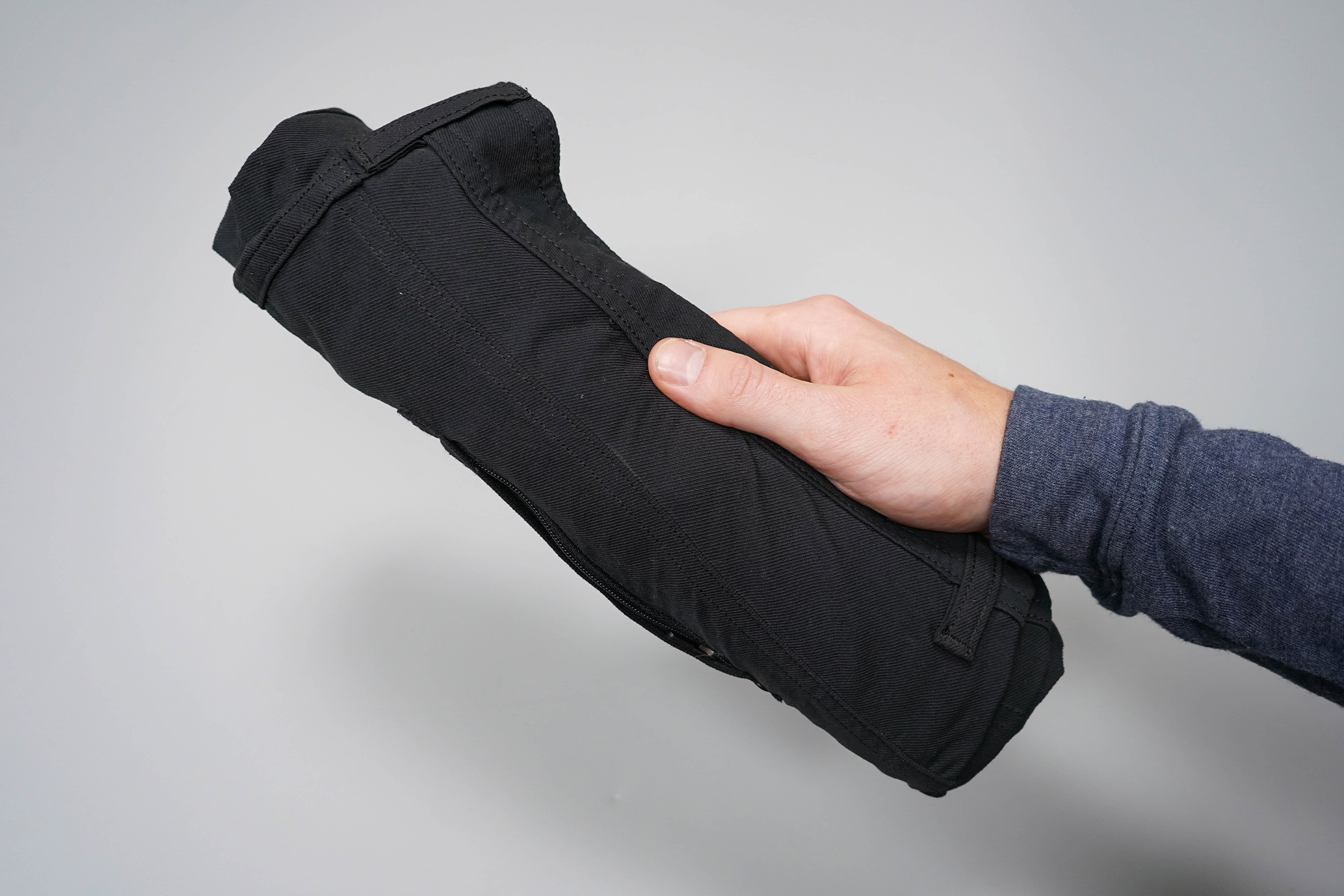 Rounding out the features, you'll also find that these pants are super lightweight and packable. By packable, we mean more packable than your average pair of pants. When rolled, they take up about the same amount of space as a rolled t-shirt, which for a pair of pants, is not bad.
Western Rise advertises that these pants are "anti-wrinkle." But we haven't really found that to be true. They're about as wrinkly as pants that don't advertise "anti-wrinkle" properties.
One final note is that these pants are not built for cold weather. We've tested them in three seasons and when it's cold, you'll definitely notice it on your legs.
Durability & Testing
We've been testing the Western Rise Evolution Pant for a couple of months in Detroit, Michigan across three seasons, and have taken it with us on multiple trips. During this time, these pants have seen a lot of wear and, unfortunately, you can tell. The waistband has stretched out slightly and there are a significant number of loose threads along the inseam, waistband, cuffs, and pockets. The black color has also faded, which isn't uncommon with black clothing, but still. None of this is the end of the world, but for a premium pair of pants, it's not ideal either.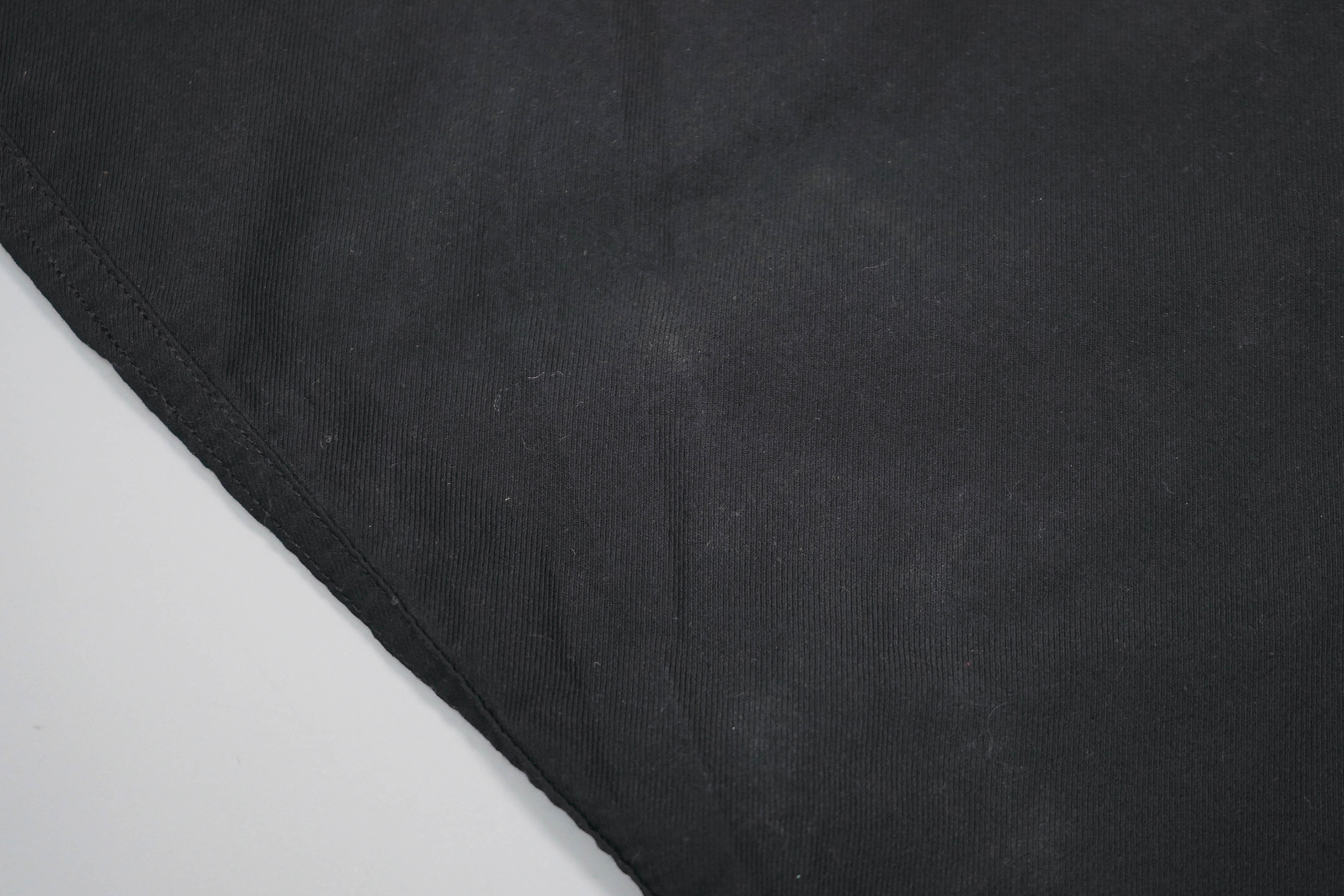 Overall, we like some things about the Western Rise Evolution Pant and dislike other things. Which, as we said at the beginning of the review, makes them fine.
Usage Timeline
Initial Usage
Condition: Excellent
Lightweight which is great for packing
Digging the extra security of the hidden zipper pocket
Material is more swishy than we'd like
2 Weeks of Use
Condition: Excellent
The waistband is starting to stretch out a bit. Maybe we're wearing these pants too much?
1 Month of Use
Condition: Good
Spotted a ton of loose threads. The color seems to be fading too, especially around the thigh and knee areas.
2 Months of Use
Condition: Good
Noticeably lightweight (a.k.a cold) in winter weather.
Access the Pro Community Discussion
Get your questions about the Western Rise Evolution Pant answered from our team and the Pro Community right here on the page. Plus, join discussions with other members about gear, guides, and more.
Other Clothing & Accessories Reviews