WANDRD VEER 18L Review
The WANDRD VEER 18L is a packable daypack with an inflatable camera cube that offers great durability and protection, we just wish it was a bit more intuitive out of the gate.
Our Verdict
Unlock the Pro Summary
Save time. Get access to brief summaries of our reviews so you can browse and make decisions more efficiently.
Pros
Inflatable components offer great camera protection and added comfort
Quickdraw access puts camera and gear within reach without taking off your bag
Durable materials
Cons
Confusing initial setup
Secondary access opening is a bit too small
Recent Pack Hacker Video
Technical Details
Capacity

18l

Denier

100D

Body Fabric

Denier

210D

Bottom Cap

Weight (oz)

12.8 oz (362.9 g)

Dimensions

18 in x 11 in x 9 in (45.7 x 27.9 x 22.9 cm)

Packs to 6"x9"x3"

Notable Materials

ROBIC®, Ripstop Nylon, Airmesh

Manufacturing Country

Vietnam

Warranty Information
Buying Options

$148.00
Full Review
Get up to 15% off WANDRD • Join Pack Hacker Pro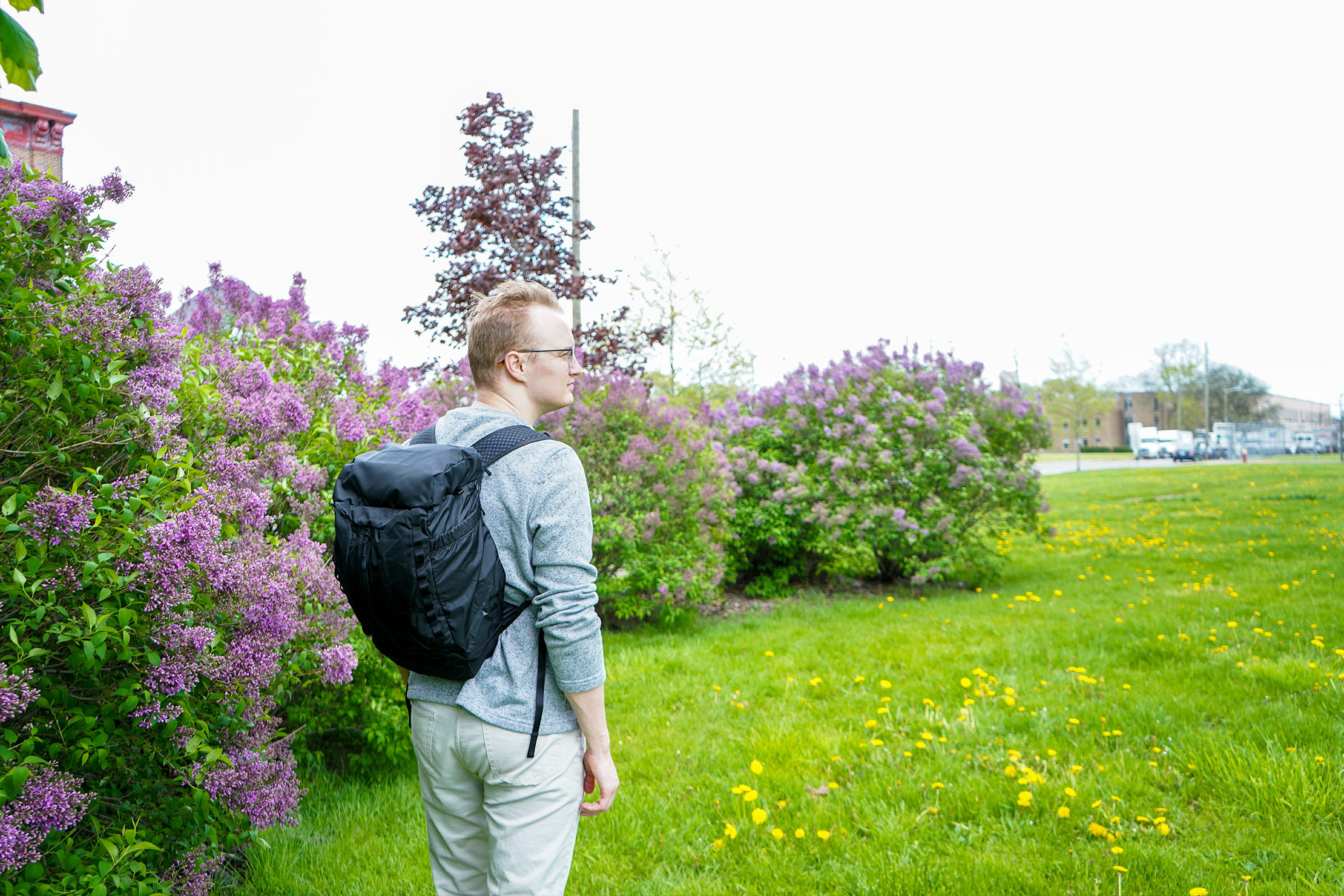 If you're a traveler who likes to bring your camera along on all your adventures, you know all too well the dilemma of choosing protection versus packability. Do you keep your camera safe in your camera bag with all of its padded compartments for maximum protection (but not much space for anything else), or do you pack it in your backpack and hope your rolled up sweatshirts are enough to keep it safe?
There's also the choice between protection and accessibility. Do you keep your camera on its strap at your side, even though it could mean a potentially fatal bump, or do you leave it in your bag? Well, if you leave it in your bag, you run the risk of missing that once-in-a-lifetime shot because you were trying to dig your camera out from underneath your rolled up sweatshirt and half-eaten sandwich (and, of course, you got some sauce on your lens in the process). If you couldn't tell, we've been there. Too many times… Which brings us to the WANDRD VEER 18.
The Kickstarter cowboys at WANDRD think you shouldn't have to choose between protection and accessibility, which has us pretty excited! In 2015, they successfully launched their first camera-focused travel bag, the PRVKE. Now they've returned to Kickstarter to introduce the VEER 18.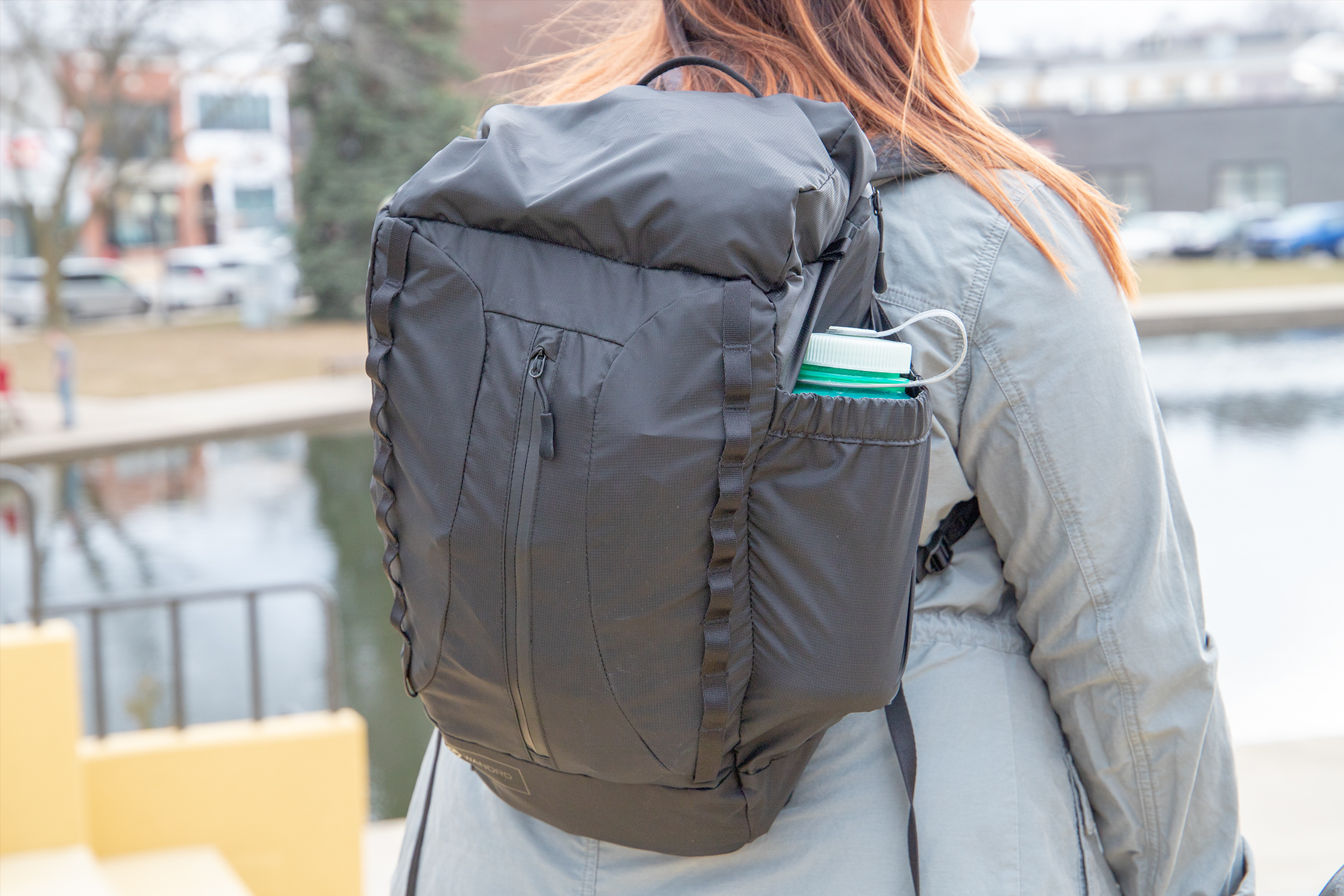 The WANDRD VEER 18 is a packable daypack designed for short trips when you want to leave your main bag behind but still take a small bag and camera. It's durable but surprisingly packable, and it keeps your camera protected but accessible. This may seem like a lot to ask out of a packable daypack—so the question on everyone's mind is…does it deliver?
Well, let's get into the review and see what has 2300+ Kickstarter backers so excited.
Material & Aesthetic
The WANDRD VEER 18 comes in three colors: black, cobalt blue, and rust brown. We went with black because, if you haven't caught on by now, we can't resist black on black gear.
The branding on this bag is minimal and sleek, which is always nice to see. First, there's one tiny white logo on the left shoulder strap (it's so small you might actually miss it on first glance).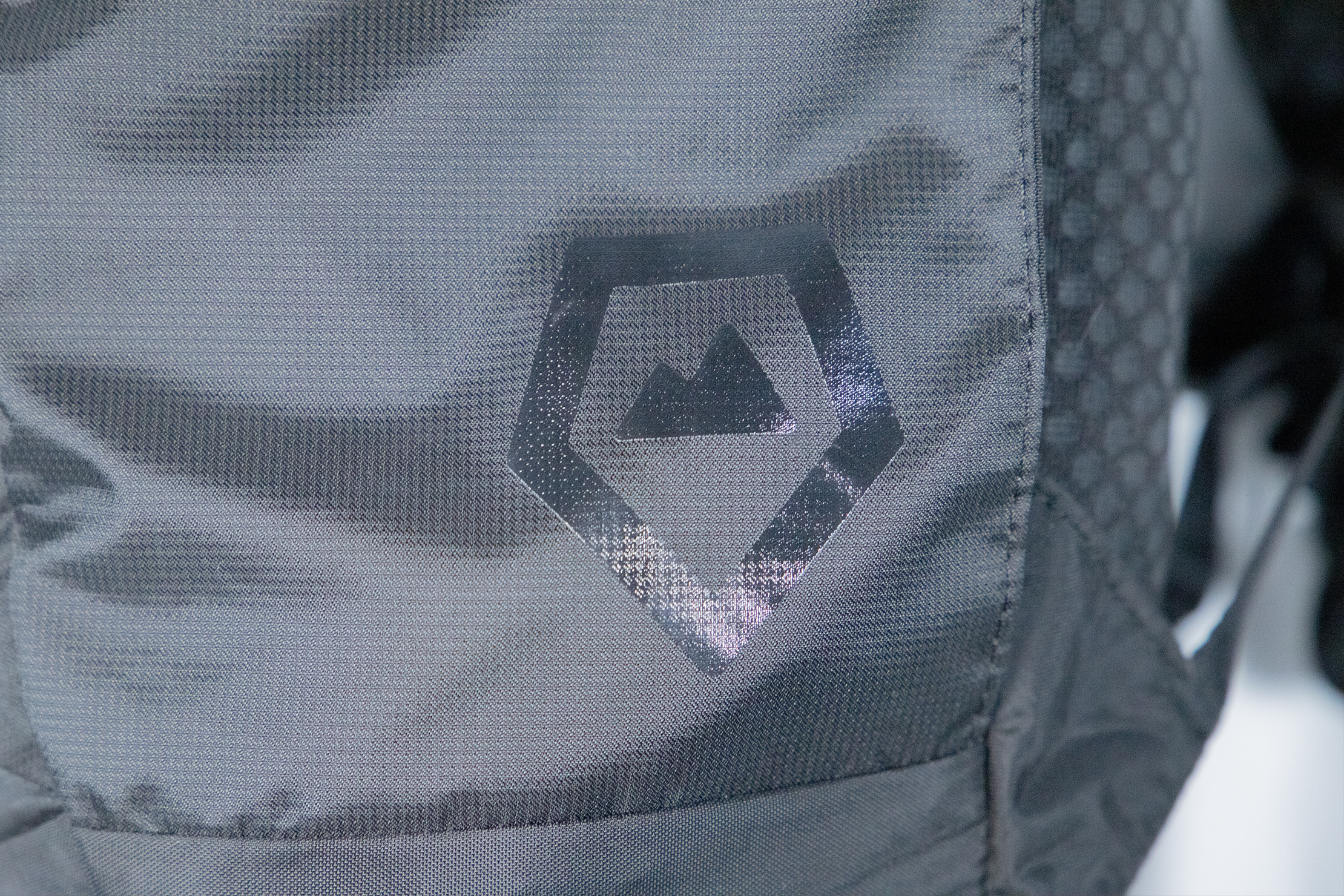 There are two shiny black decals on the front, a small logo on the bottom left, and a bigger emblem on the water bottle pocket. There's also a hidden black logo inside the top pocket which ends up being front and center when the VEER 18 is packed.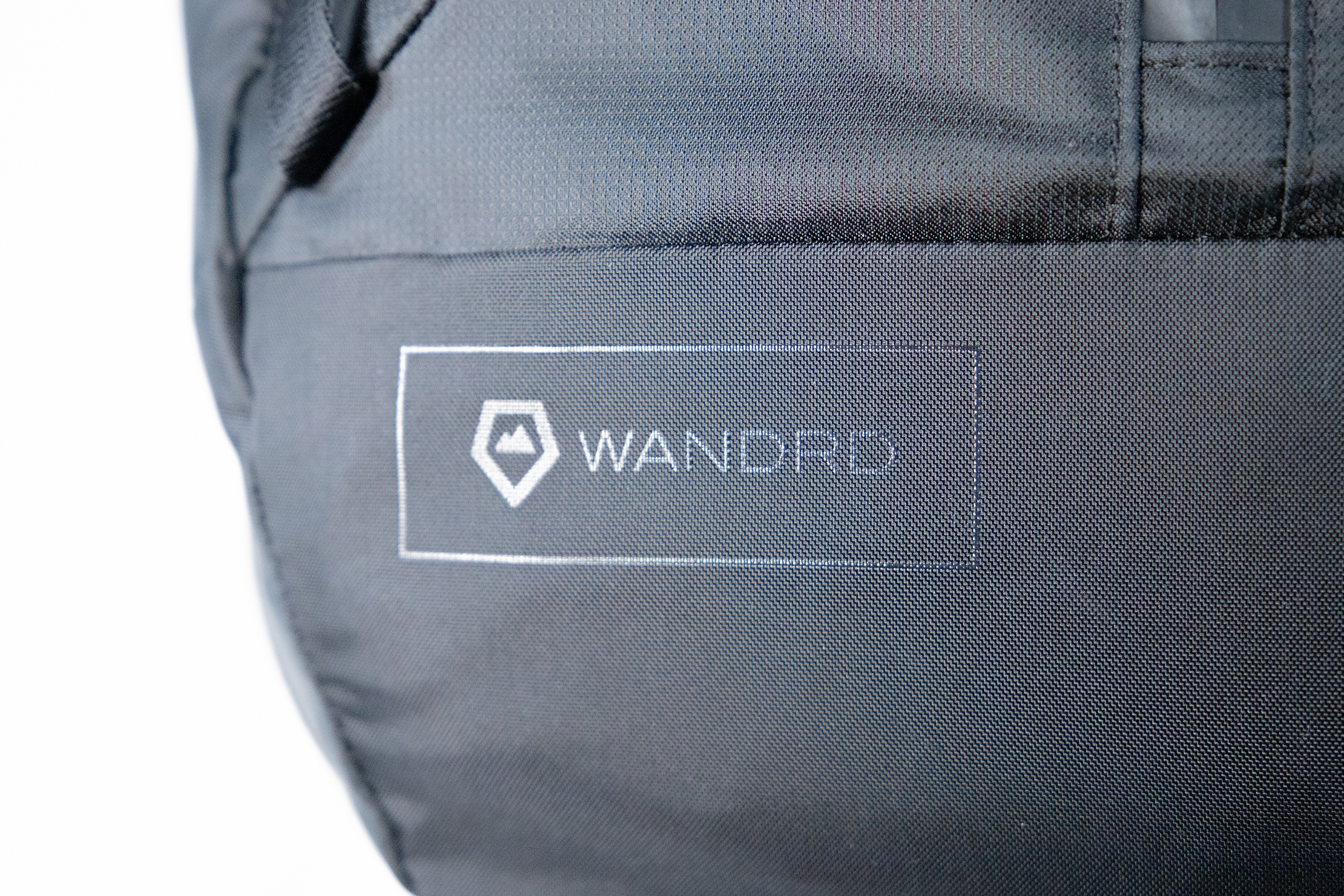 These black decals are slightly reflective, so they stand out in direct light but otherwise disappear into the black bag. We think this is a pretty slick design and is exactly how we'd picture Batman doing his backpack branding (if that is important to you). The webbing loops give this bag a slightly outdoorsy look that we could personally do without, but other than that, the VEER 18 doesn't do much to draw attention to itself. It feels at home in both urban and outdoor environments, and at first glance, you would never guess that it's packable (which is a serious compliment).

While most packable daypacks are closer to a 30 denier fabric, the VEER 18 uses "N100D Robic Dynatec" on the body, and in case that wasn't enough, they've added an "N210D Robic HD Oxford" bottom cap for extra durability. Even the inflatable components are a 150D Polyester with a TPU coating.
Translated from "Fancy Fabric Talk" to English, it means this pack is durable! Robic Dynatec and Robic HD Oxford are both high-density fabrics that are extremely resistant to wear and tear. As for the inflatables, a TPU coating just means that the fabric won't absorb any water.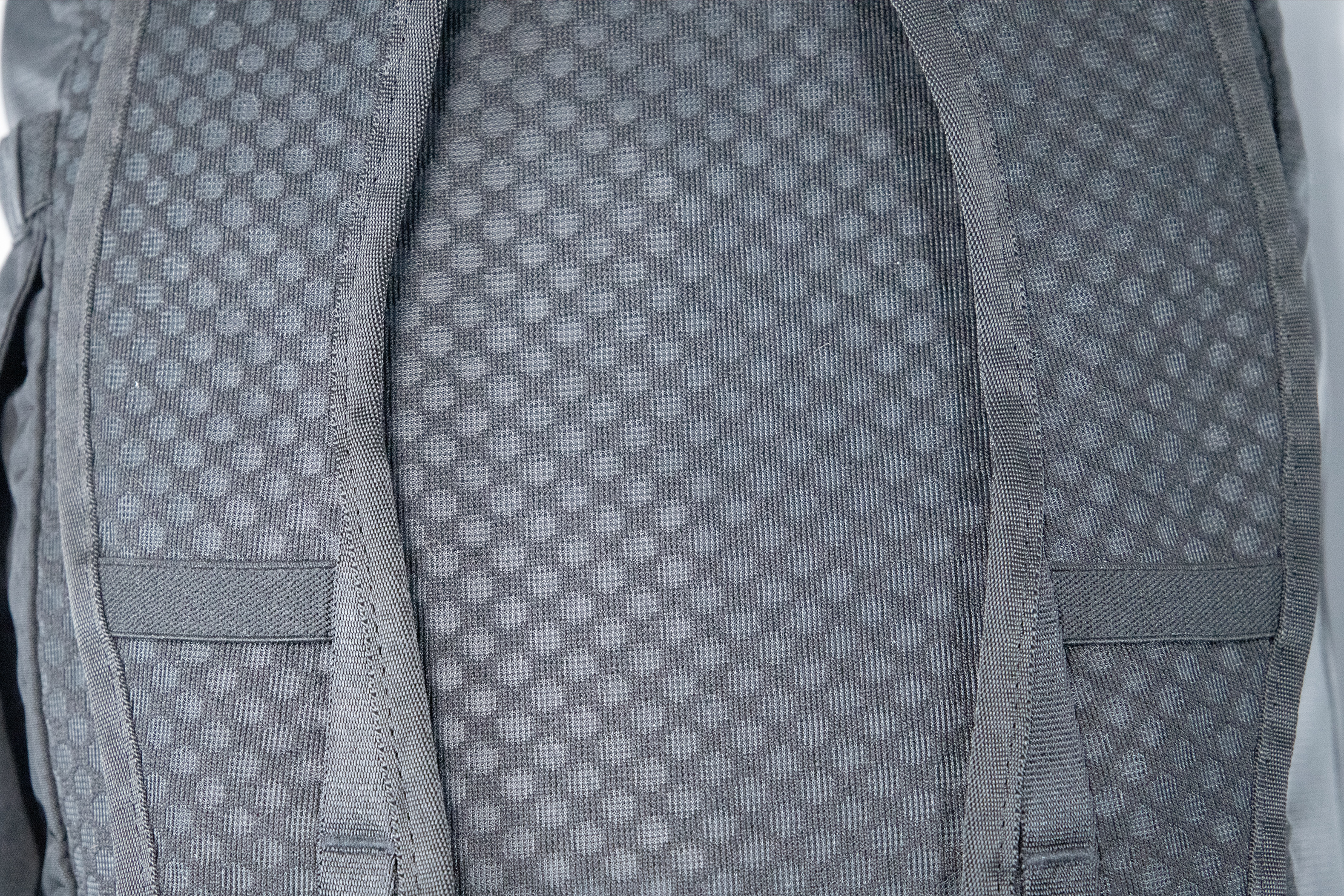 The shoulder straps and back panel are made with "Cool Honeycomb Airmesh," which basically means they're made of thin foam with honeycomb shaped holes, all wrapped in mesh. This makes them light, comfortable, and breathable—no complaints here. And all the zippers are YKK weather-resistant zippers with paracord pulls that have a strangely ergonomic grip on them.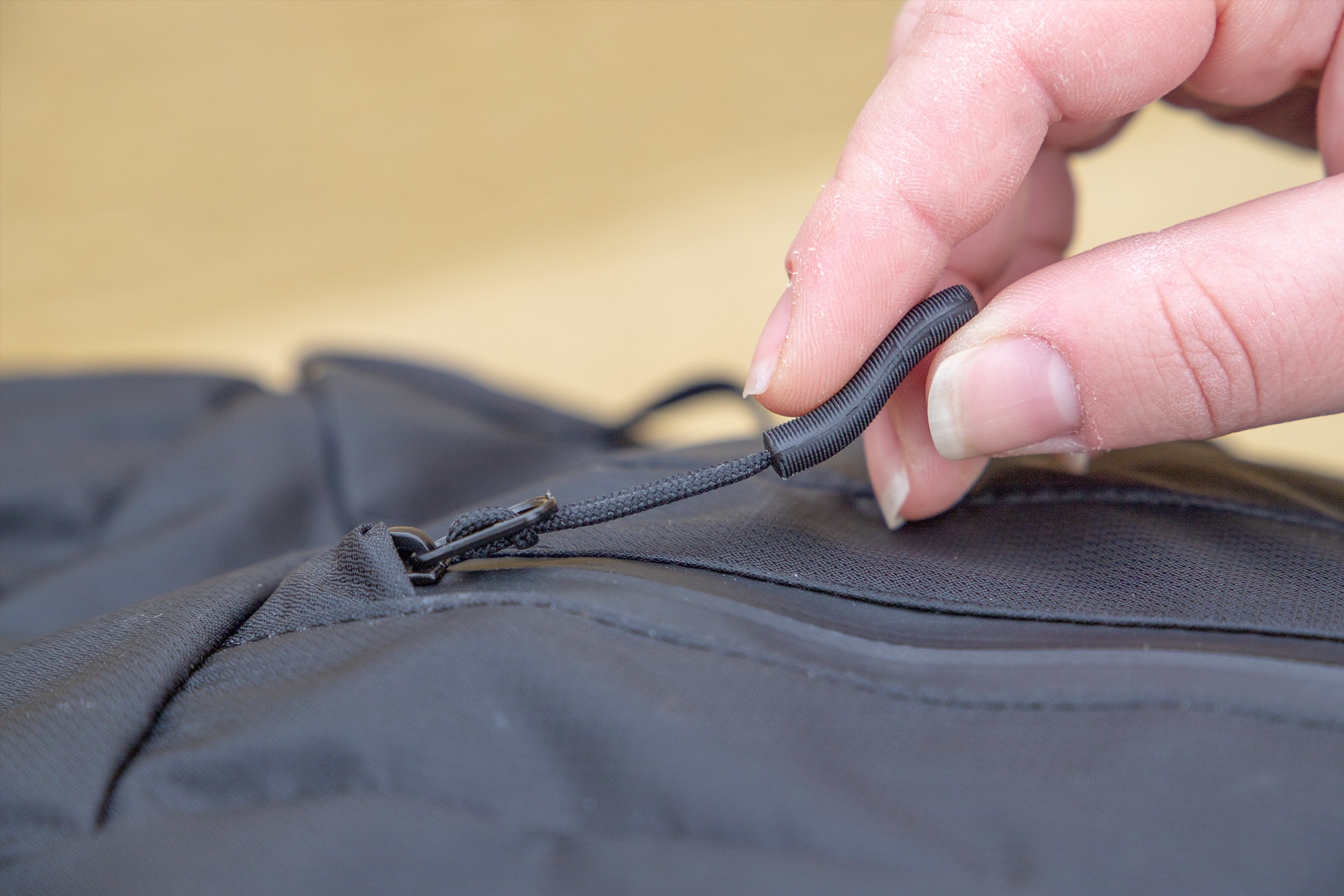 The zipper pulls are very comfortable to use and, although it's not a make-or-break detail, it's a nice touch (literally). All together, these materials make the VEER 18 very water resistant, which is great. During our testing, it has done well in the rain and, although the shoulder straps absorbed a small bit of water, our gear stayed dry.
Now, as we've mentioned, the VEER 18 is built with stronger materials than your average packable daypack, making it durable and pretty stylish, in our opinion. But that comes at a price—this thing is far bulkier and heavier than your average packable daypack.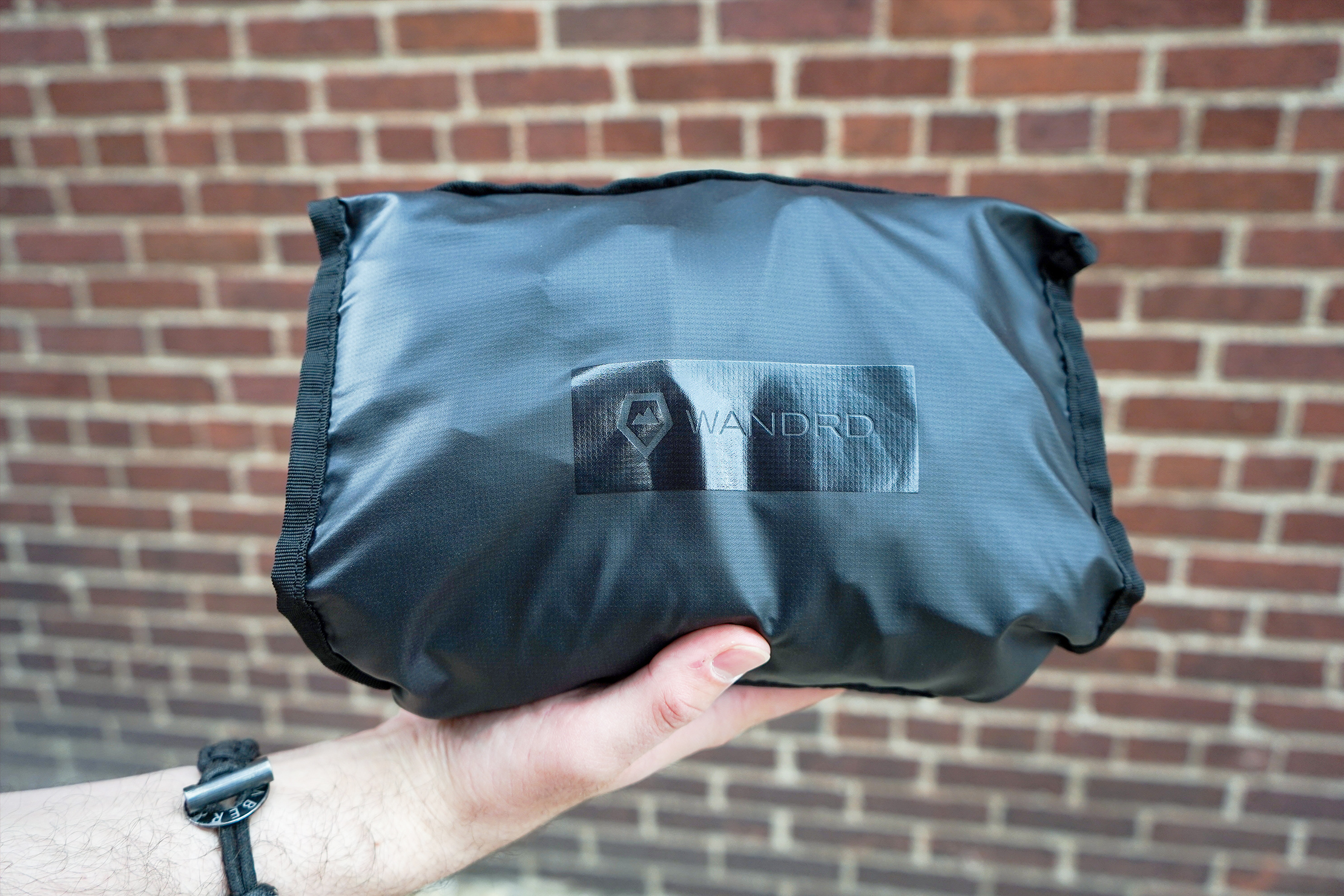 Fully compressed, the VEER 18 is 6 x 9 x 3 inches (about the size of a tissue box). This is pretty large for a packable daypack, seeing as we've tested a few that pack down to fit in your pocket. But considering the much stronger materials, it seems like a worthwhile trade-off. On the plus side, the inflatable components still fit inside even when the VEER 18 is compressed, although you have to deflate them first (obviously). There's also a clip, so if you can't spare the space in your main pack, you can always clip it to the outside.
The VEER 18 can be deployed easily in a few seconds by simply turning it inside out. It may take you a minute to get your inflatables blown up and situated, but you'll be ready to go in no time.
Now that we've got this bag right-side out, let's get into some of the features.
External Components
The most notable feature on the outside of the VEER 18 is the harness system. Even when loaded down with about fifteen pounds of camera and tech gear, the airmesh shoulder straps and back panel provide a comfortable carry. The honeycomb design finds a great balance between giving some noticeable cushion while still remaining light and breathable. The shoulder straps also include webbing loops that function as the anchor points for the sternum strap system.
The sternum strap can be adjusted between the five webbing loops on the shoulder straps, allowing you to put it almost exactly where you'd like. We say "almost" because the downside with this setup is that there is no fine-tuned adjustments. If you think the third loop is too high and the fourth loop is a little too low, you're just going to have to pick one. However, the upside is that it won't move or slide around. You can also just remove the sternum strap all together if you're not a fan.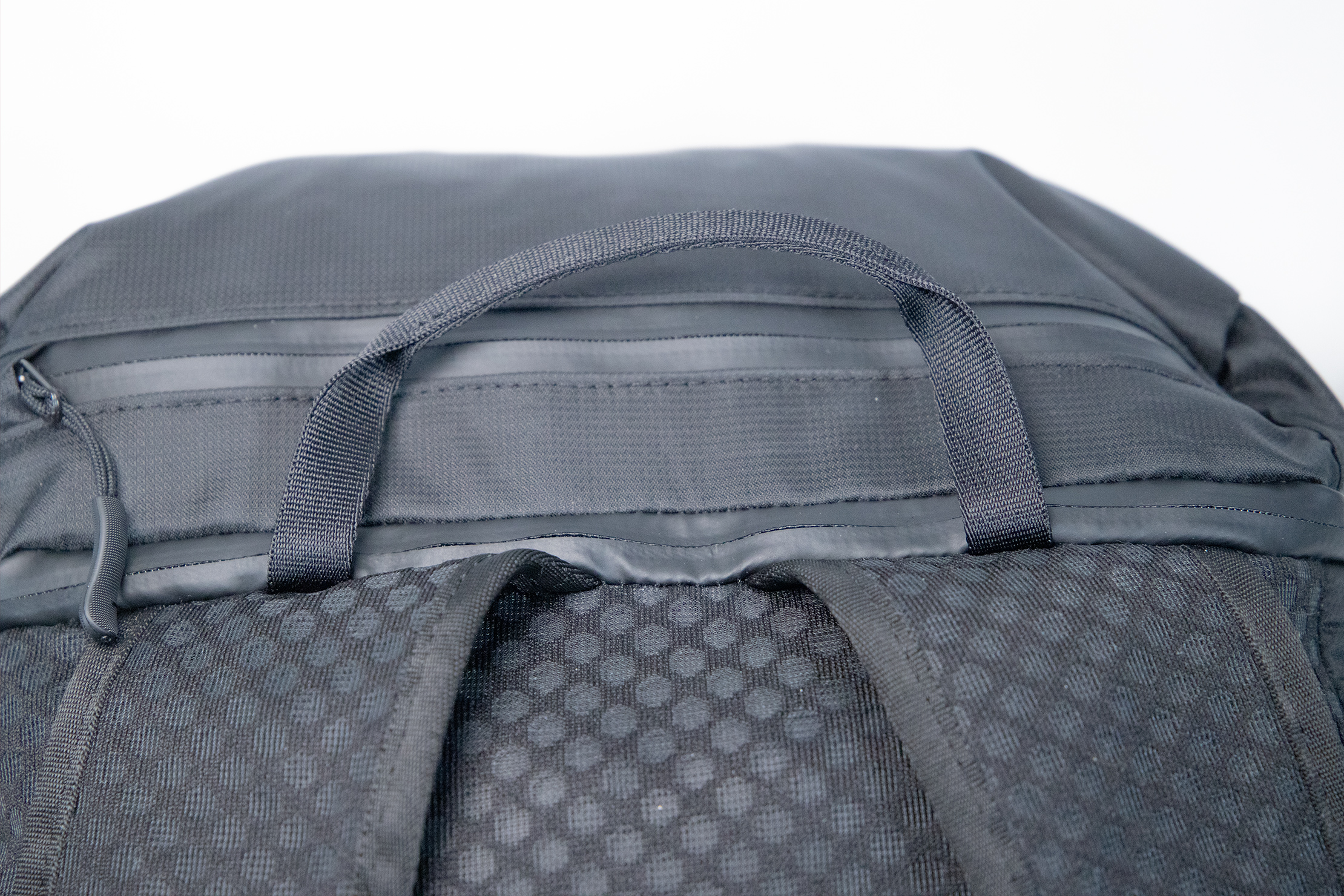 Above the harness system, there is a folded and sewn loop to hang the VEER 18 up on a hook. Although not groundbreaking technology, you'll be happy you have it when you can hang it up in the bathroom instead of putting it down in that puddle of what you hope is water.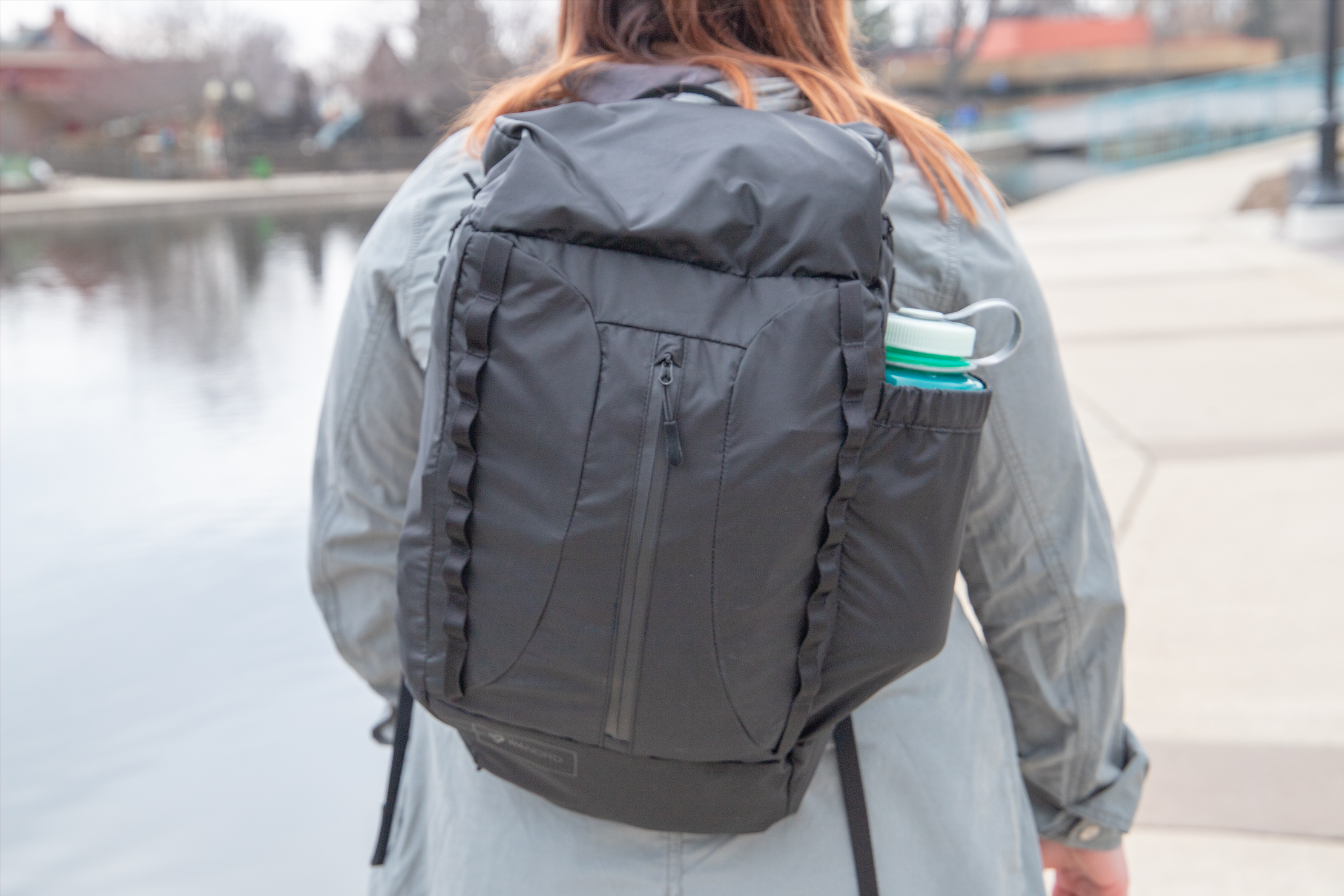 On the front of the pack, there are two webbing loops to hang some additional gear, although we have to admit that we haven't used them yet (and being more focused on urban travel, we most likely won't). On the side, the expandable water bottle pocket is a perfect fit for a 32 ounce Nalgene bottle. This is a pretty bulky water bottle, and the pocket is tall enough to make most of the bottle disappear while the elastic strap on top expands and holds the bottle tight.
Smaller bottles won't fall out while you're walking around because of how deep the pocket is, and WANDRD has included an elastic cord on one of their later iterations of the VEER to secure smaller water bottles in place.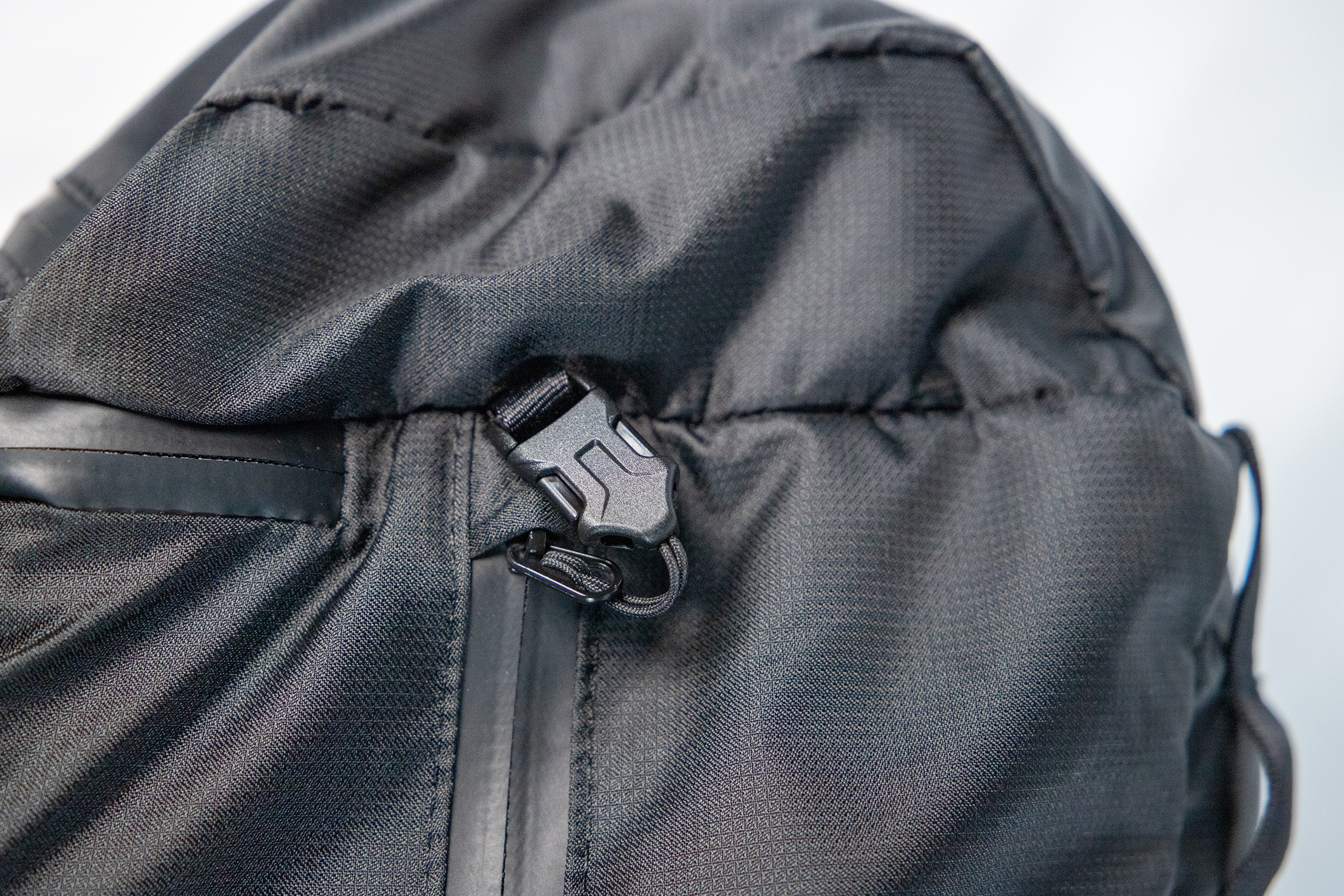 The main compartment has a "theft deterrent" zipper that consists of a buckle that attaches the zipper pull directly to the bag so it can't be unzipped…that is, until you release the buckle. Just to clarify, it does not lock or have a spot to put a luggage lock. It's just a buckle. This may stop a pickpocket who tries to quickly unzip your bag as you walk by, but we don't think it's going to deter any thieves who are trying to get into your bag.
Now, let's unbuckle that "theft deterrent" zipper ourselves, and get inside the WANDRD VEER 18.
Inside the Pack
Before we get into the fancy stuff (AKA, the inflatables),let's get the easy stuff out of the way first. The VEER 18 has two quick grab pockets, one on the front and one on top. You'll want to utilize these pockets as best you can, especially for smaller items, because this bag doesn't really have much other organization to speak of.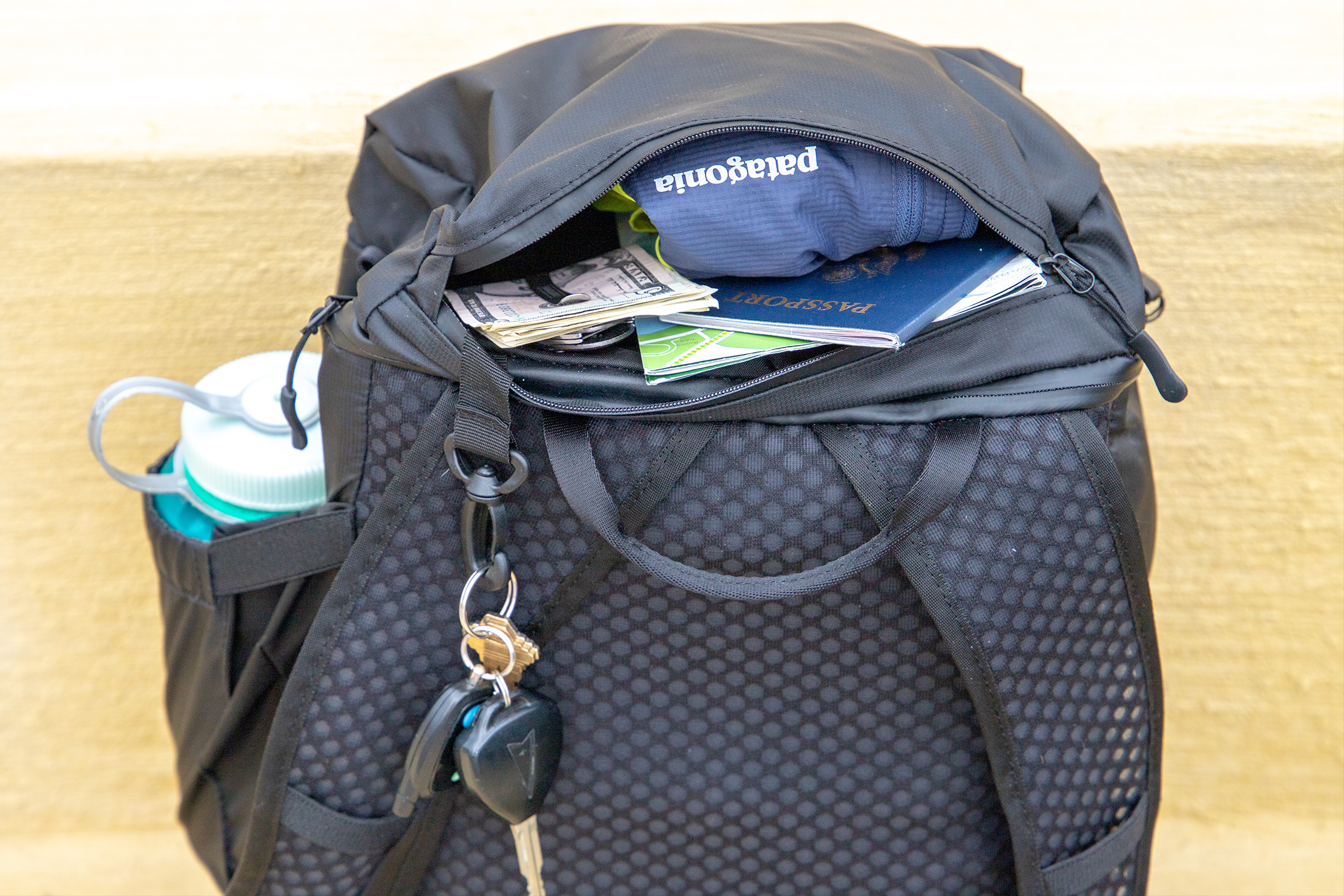 The first quick grab pocket is on the top, and it's the same pocket that turns inside out to become the bag that the rest of the VEER 18 compresses into. As an added bonus, you can use the packed bag attachment clip as a key clip when the bag is deployed. Since this quick-grab pocket fits the entire bag inside of it, it should come as no surprise that it's pretty large.


This is a good spot to store a sweater or lighter jacket, but it's even better suited for storing valuables because when you have the VEER 18 on your back, this zipper is right behind your neck or upper back. Although there's no "theft deterrent" zipper on this pocket, it would be almost impossible for someone to get into it while you're wearing the bag (well, they could technically get into it, but you'd be very aware of the situation).
The second quick grab pocket is dead center on the front of the bag. It's not nearly as big as the top one, but still big enough to fit a couple of key items. This is a great spot to store some extra batteries and memory cards if you're a photographer, or if you're the digital nomad type, it's big enough to fit a Macbook charger, a mouse, and a small speaker.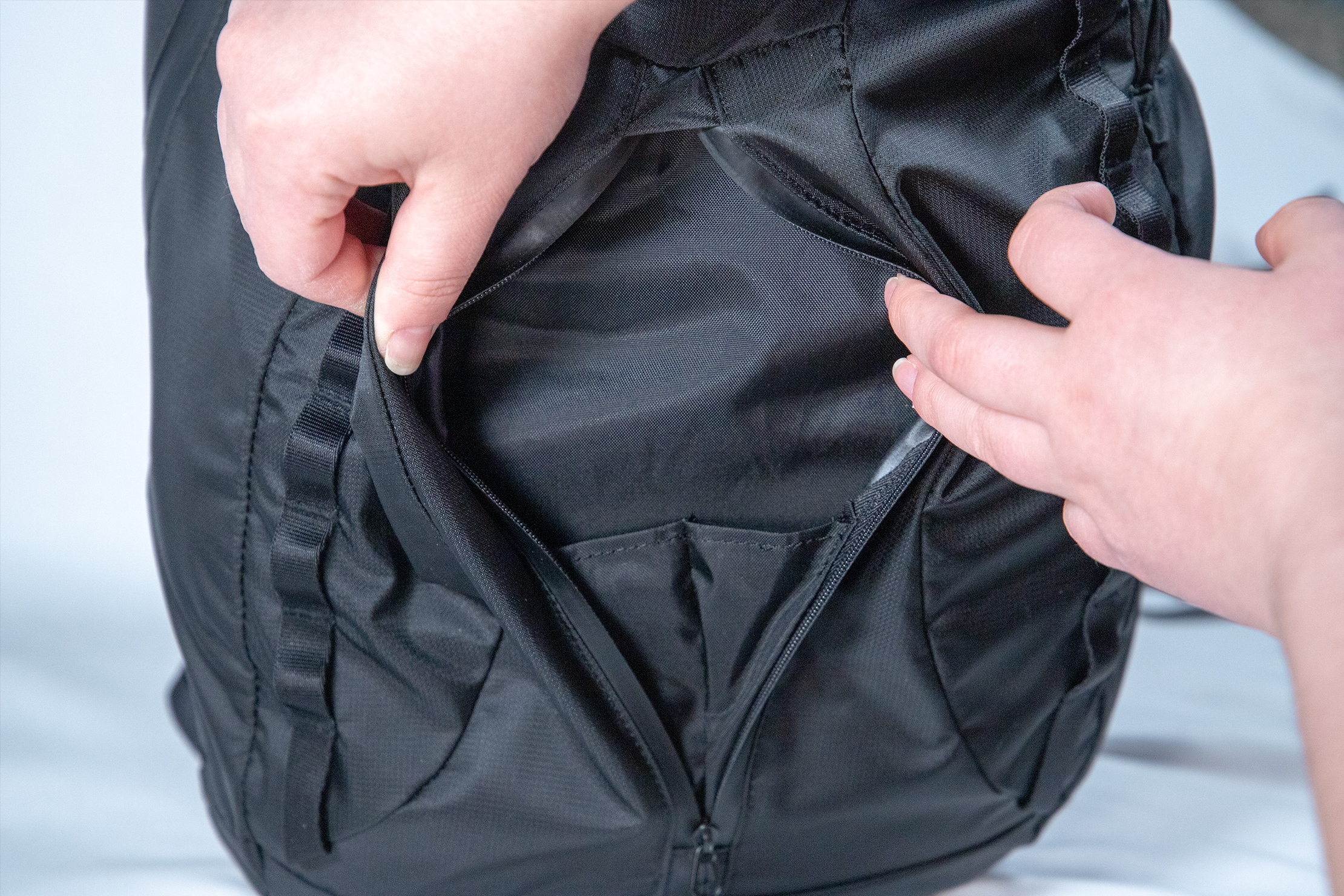 The zipper runs the entire length of the pocket, and one downside of this is that small items can fall out when it's unzipped all the way. To counteract this, WANDRD has put in a small piece of fabric on the inside of this pocket that runs about a third of the way up. This fabric helps catch any small items that might try to make a break for it when it's unzipped. It's a small but appreciated feature that shows WANDRD's attention to detail. We definitely appreciate it!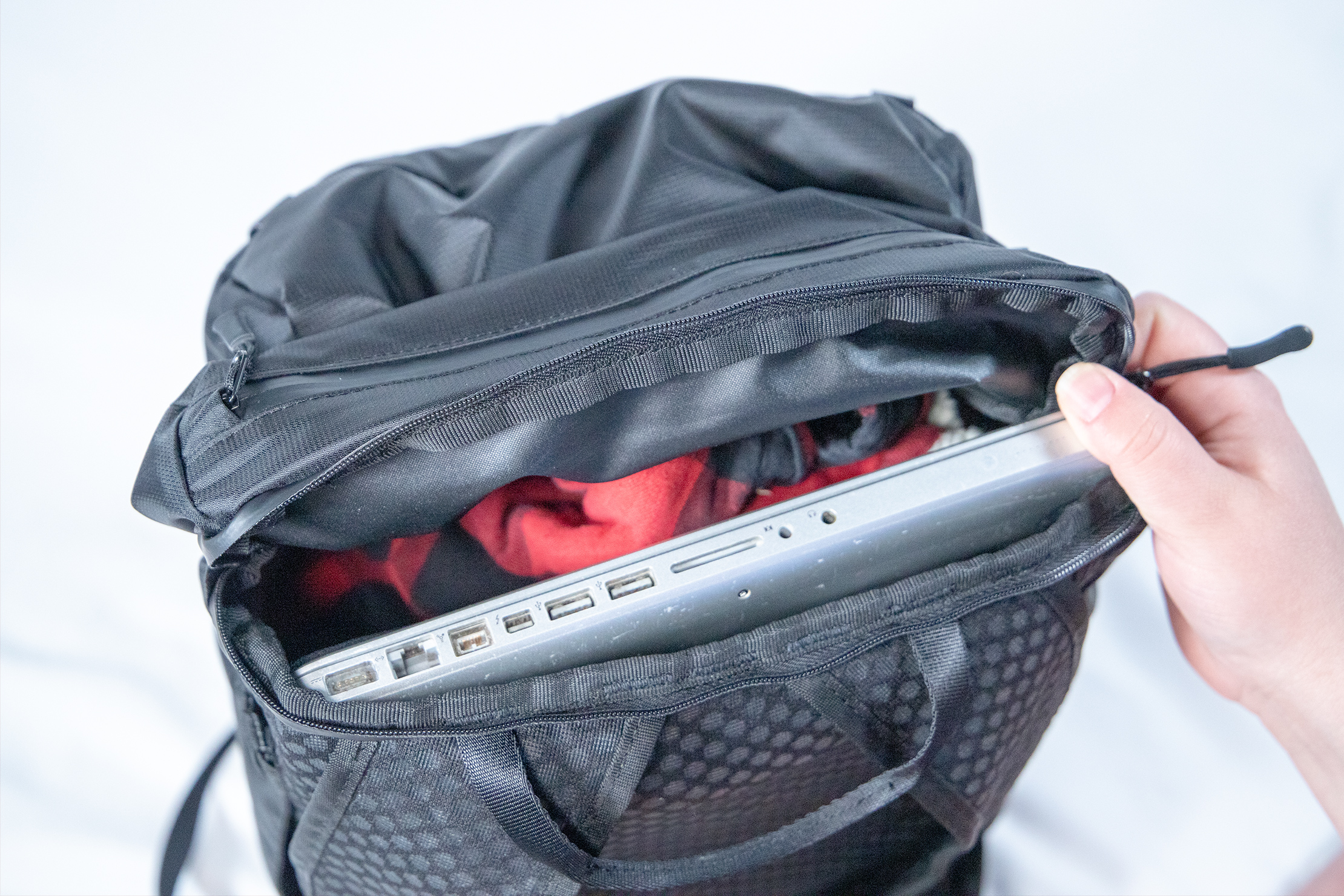 Like most packable bags, the main compartment isn't much to write home about. It's a single 18-liter compartment that includes a mesh sleeve with an opening at the top and part way down the side. The mesh is exactly where a laptop sleeve would be in any other backpack, so we put a 15" laptop in there and it fit perfectly.
There are also two ways to access this main compartment; there is a top zipper, which WANDRD calls the secondary access; and there's a side zipper, which they call the main access. If you think this seems backwards, you're not alone—we thought the same thing…until we used them!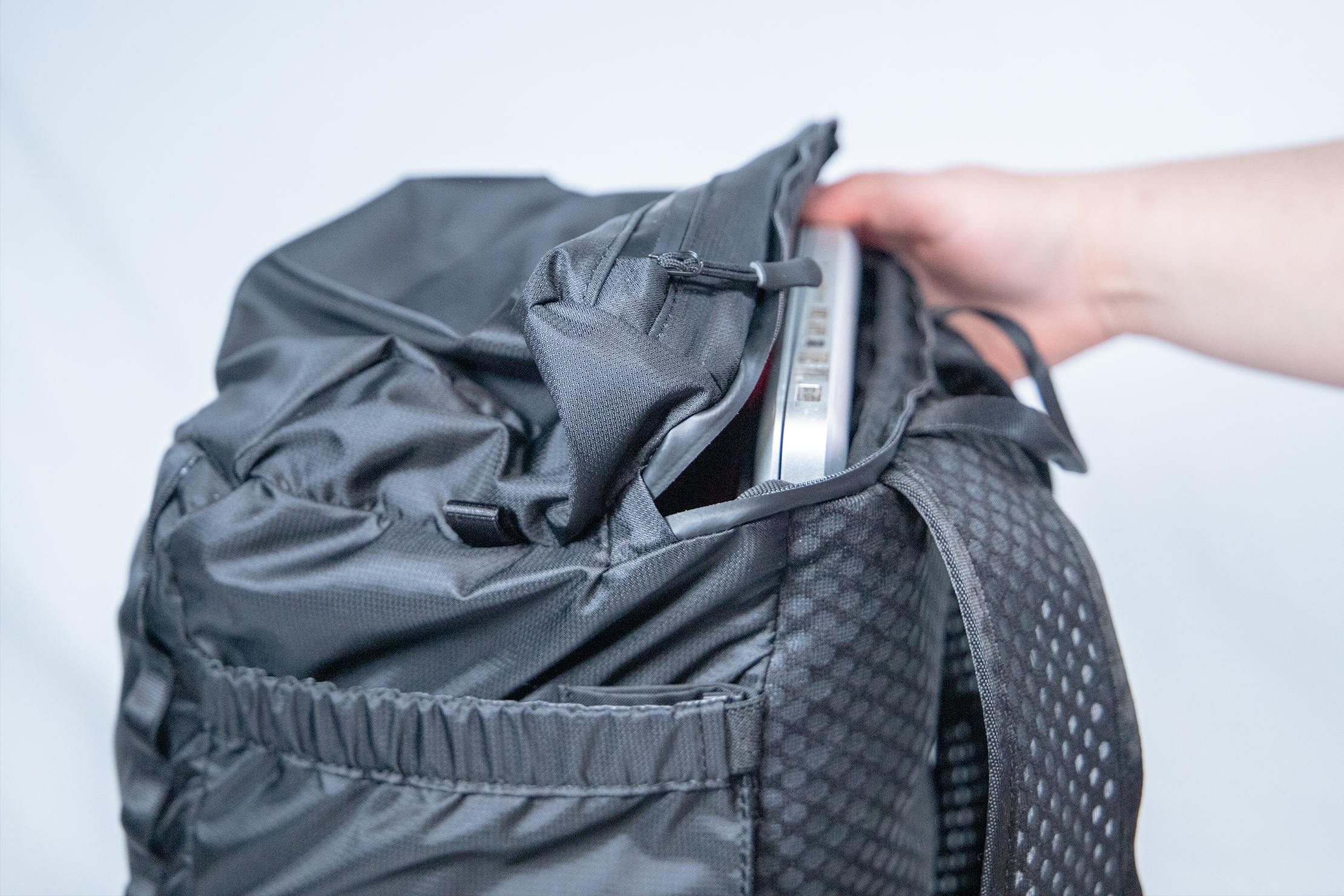 The aptly-named secondary access does not open very far and is almost like trying to look through a mail slot. It's the only way to get a laptop in the bag, but it isn't good for much else. If you want to get something from the bottom of the pack using the secondary access, you'll have to reach in and feel around for it.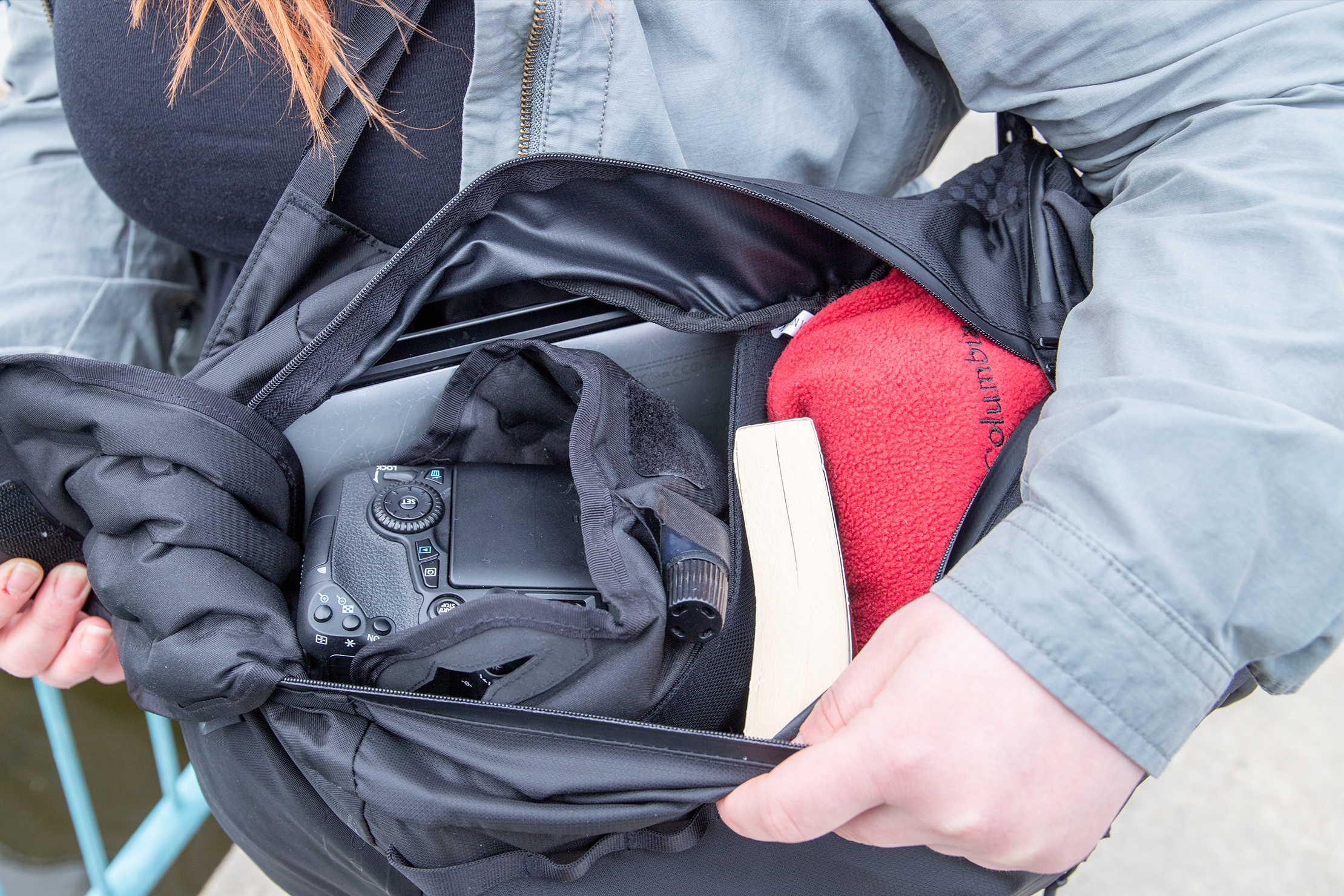 You're much better off using the side zipper, which opens wide and gives you access to anything you might need inside the pack (except your laptop). The reason why the side zipper is the main access point is because WANDRD designed the VEER 18 around the concept of "Quickdraw Access," which we're going to explain right now!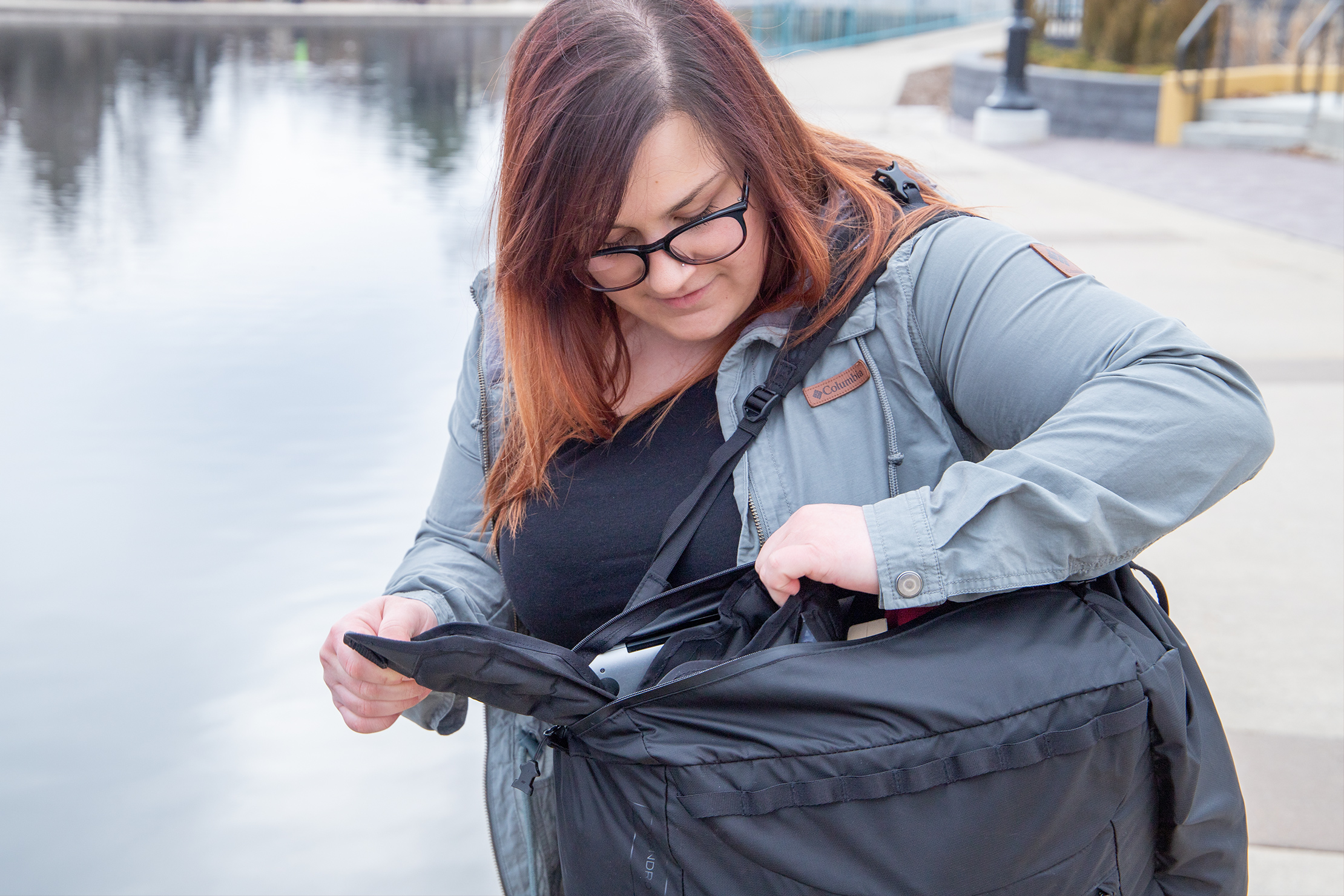 This whole "Quickdraw Access" thing is the idea that you shouldn't have to take your backpack off to get something out of your bag. You just need to take the right shoulder strap off, swing the bag around your left side, and boom! You've got full access to the main compartment. Everything is within reach and you don't have to set your bag on the ground or look for a table just to grab something. This "Quickdraw Access" may sound simple but it is extremely convenient, especially once you get the inflatable camera cube involved.
Speaking of the inflatable camera cube…is it time to talk about the inflatables yet? Yes? Okay. *Cue confetti*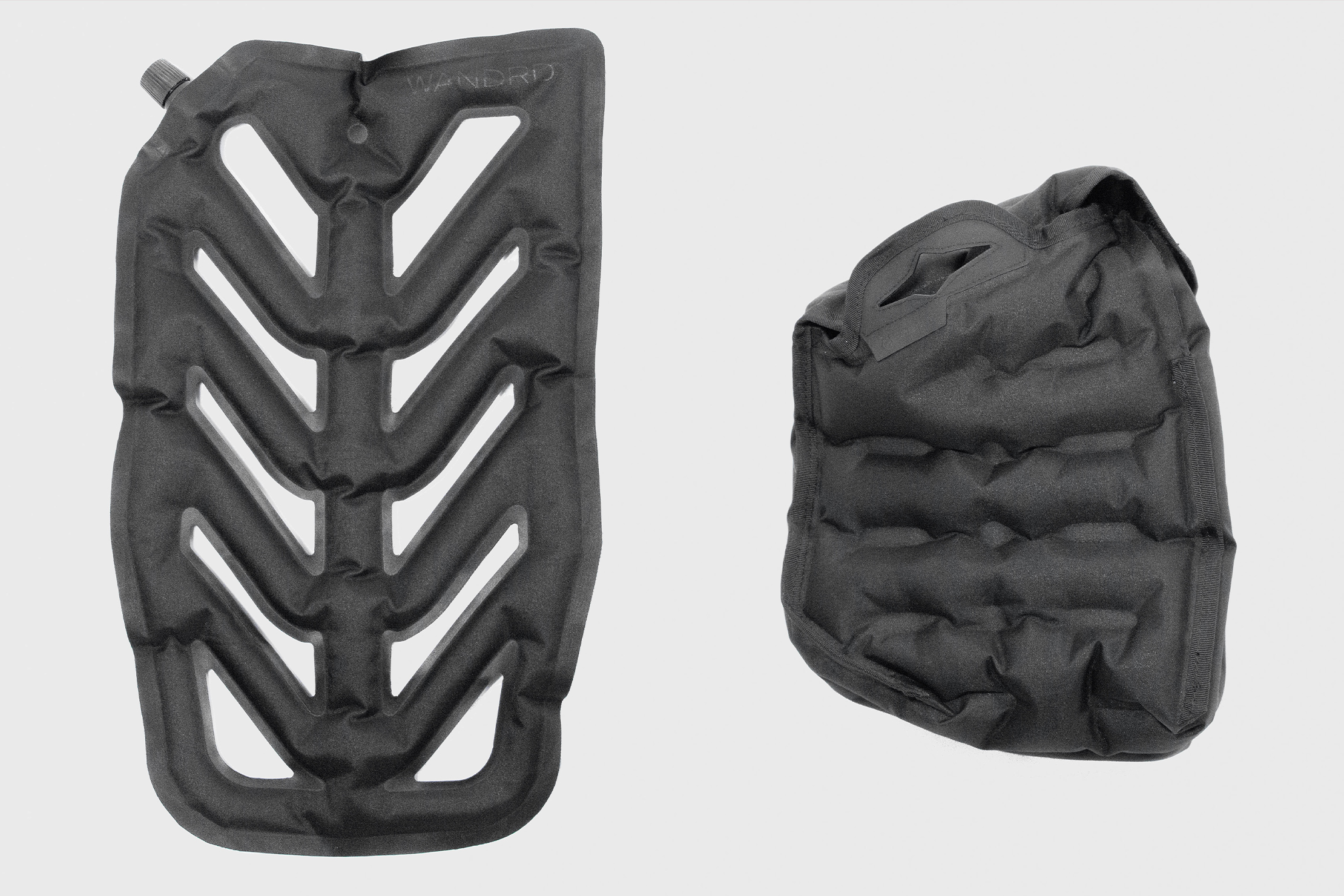 There are two inflatable components that can be added to the VEER 18. The first is a camera cube that is essentially an airbag for your camera. It provides a layer of protection that doesn't take up much more room than the camera itself. We're still not ready to throw this thing down the stairs, but it certainly helps put our mind at ease. The second is a back panel that is solely designed to add an extra layer of cushion between your back and your pack.
The inflatable components are what really separate the VEER 18 from other packs, and it's where this thing really shines. Without the inflatables, the VEER 18 is like economy airline seating—it'll get you where you're going, but it's not a memorable experience and your back may be a little sore when you get there. But the first time you get upgraded to first class, you'll be telling everyone how comfortable it was and you'll never want to fly economy again. That's exactly what the inflatables do for the VEER 18.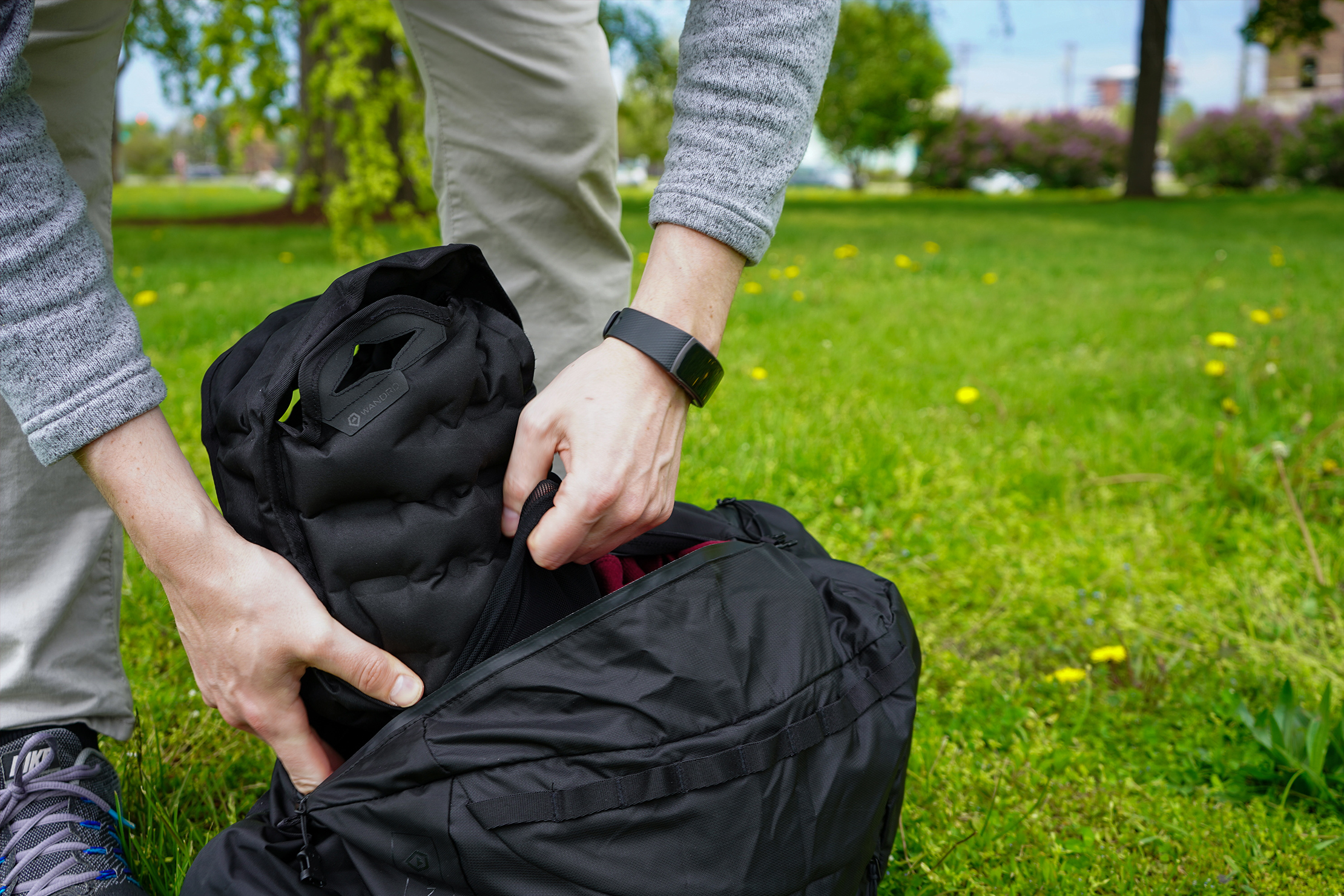 When you add the inflatable components to the VEER 18, it becomes something completely different. They're a smart way to add cushion and protection without adding weight or sacrificing packability, although we have to be honest—these things may be a little too smart for their own good.
The placement of the inflatables is not immediately obvious if you just picked up the bag for the first time. There are specific spots for both the camera cube and the inflatable back panel, and if you put them in the wrong spot you might not be happy with your experience. We've actually seen a few other reviews that have given the VEER 18 poor marks partly due to the fact that they put the inflatable components in the wrong spots. It only took us a couple uses to figure it all out and put everything in its proper place, but we wouldn't have said no to some directions either.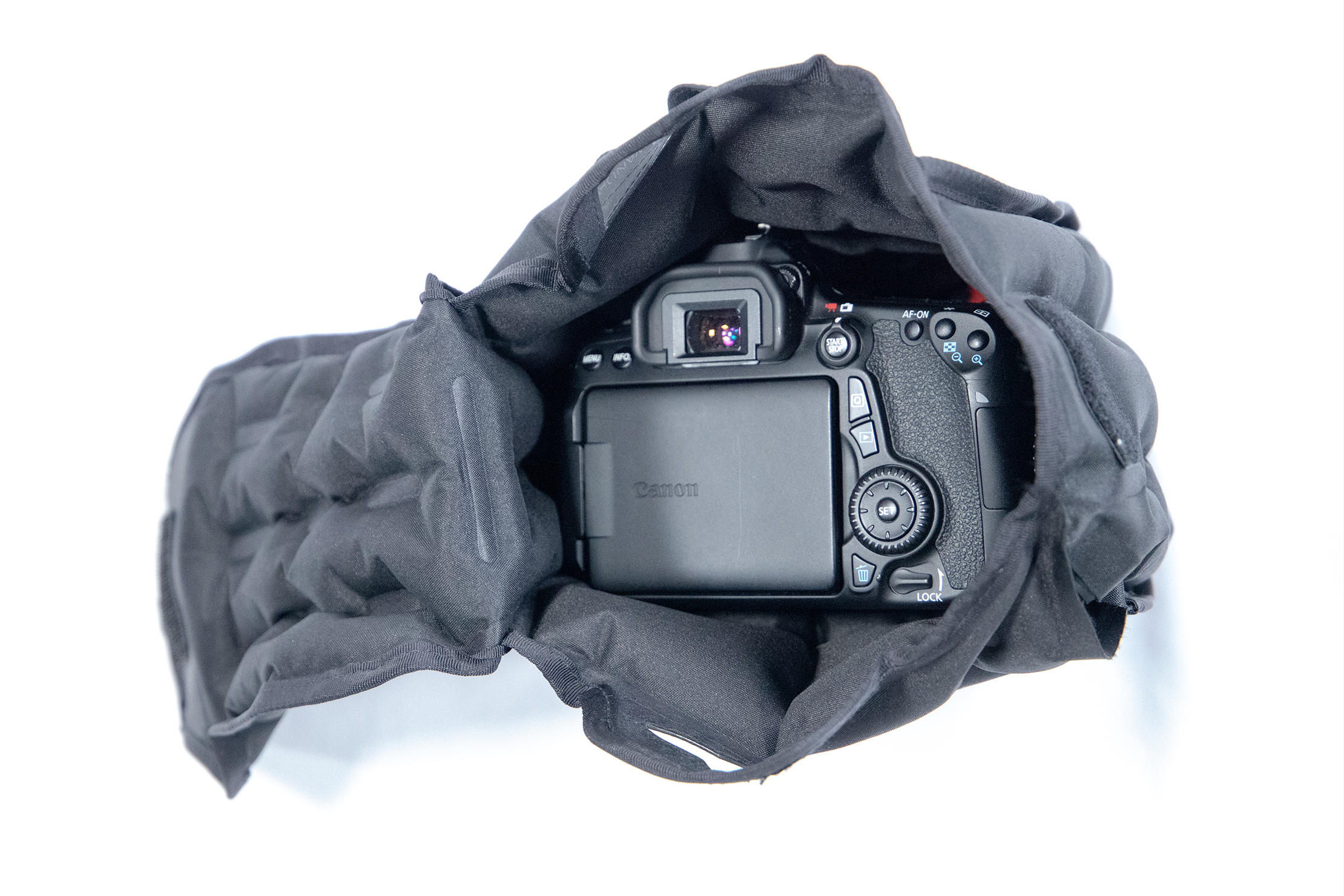 The camera cube is 7"x10"x6" inflated, but WANDRD recommends a camera and lens combo that is no bigger than 5"x7.5"x6", although we think it has enough stretch fit something slightly larger. Unfortunately, this means if you're a Canon 1DX or Nikon D5 user, you probably won't be able to fit anything besides your camera and a pancake lens in the camera cube. We've been using a Canon 6D mk II with a 24-105 mm lens and it fits like a glove.
The camera cube uses a twist valve and can be fully inflated in one or two breaths, so you don't have to worry about being red in the face when you're done. After it's inflated, just load the camera in, flip the lid down, and secure the velcro. One thing to note: the first time we packed the camera cube into the VEER 18, we just loaded it in through the main access and went on our way. But during that first trip, the camera cube moved around a lot and it was constantly shifting the weight of the bag, making it very uncomfortable to carry. We tried to use the quickdraw move to get the camera out and the cube ended up upside down at the bottom of the bag. Obviously, this couldn't be right—and after digging around a bit on WANDRD's website, we found our mistake.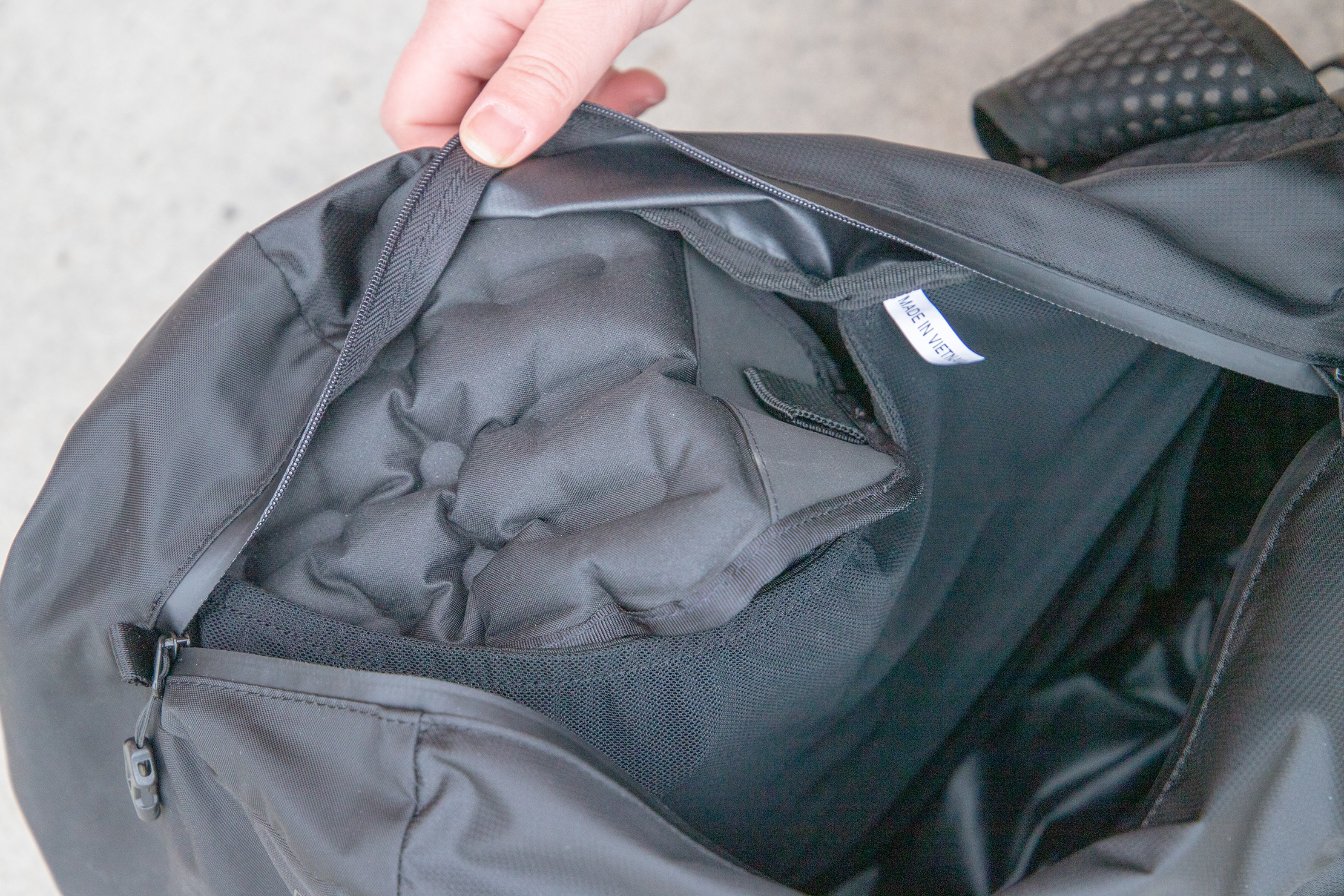 The camera cube is supposed to go inside the mesh sleeve! (Apparently it's not a laptop sleeve, but our laptop still fits so we're going to leave it there.) The next trip out we threw the camera cube inside the mesh sleeve and it went much better. The elastic and mesh holds the camera cube in place and secures the weight of the camera comfortably against your back.
If you use this method, you'll find that the camera is right on top, ready to go, and it packs away just as easily. If your bag is packed to the brim you might have a slightly harder time getting your camera back in, but the camera cube holds its shape pretty well. The downside here is that the bottom corner of the bag becomes very hard to access. The space is still there but you're going to have to go digging for anything that's packed there.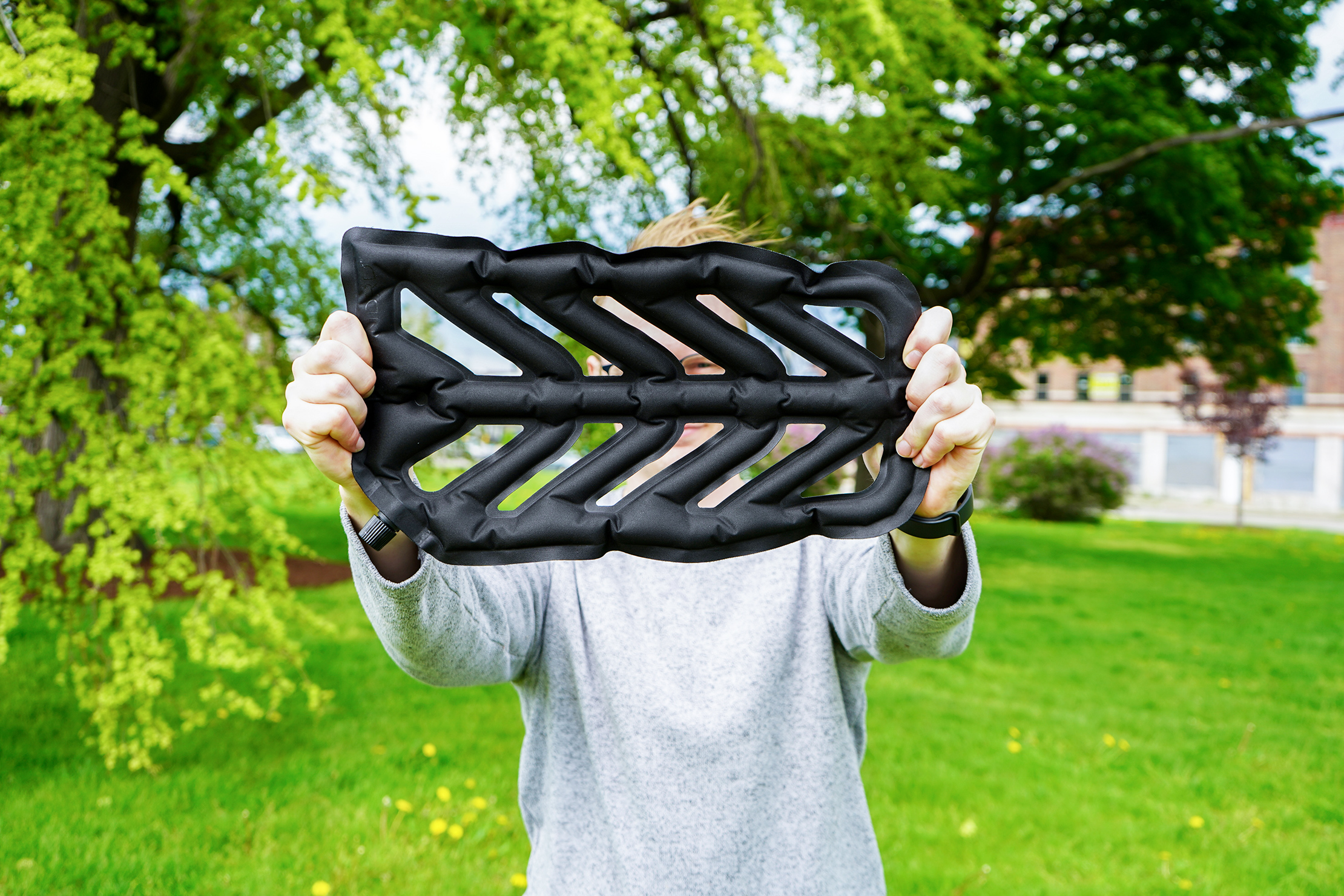 The second inflatable component is the inflatable back panel, and we had a very similar experience here as we did with the camera cube. The back panel uses the same materials and inflation valve and, just like the camera cube, we packed it wrong the first couple times (again, some directions would have been nice).
To use the back panel effectively, you first need to find the hidden sleeve underneath the mesh one, which is specially designed for this inflatable back panel. This sleeve puts the back panel just underneath the honeycomb airmesh and spaces it out from the rest of the bag. This added space gives the back panel considerably more breathability as well as a whole lot of cushion, which are both greatly appreciated! As far as we're concerned, the inflatable back panel takes the VEER 18 to the next level of comfort—and so far, we haven't found any downsides. Well, we suppose there is one downside… It has made us slightly resentful that our other packable daypacks don't have the same feature.
Durability & Testing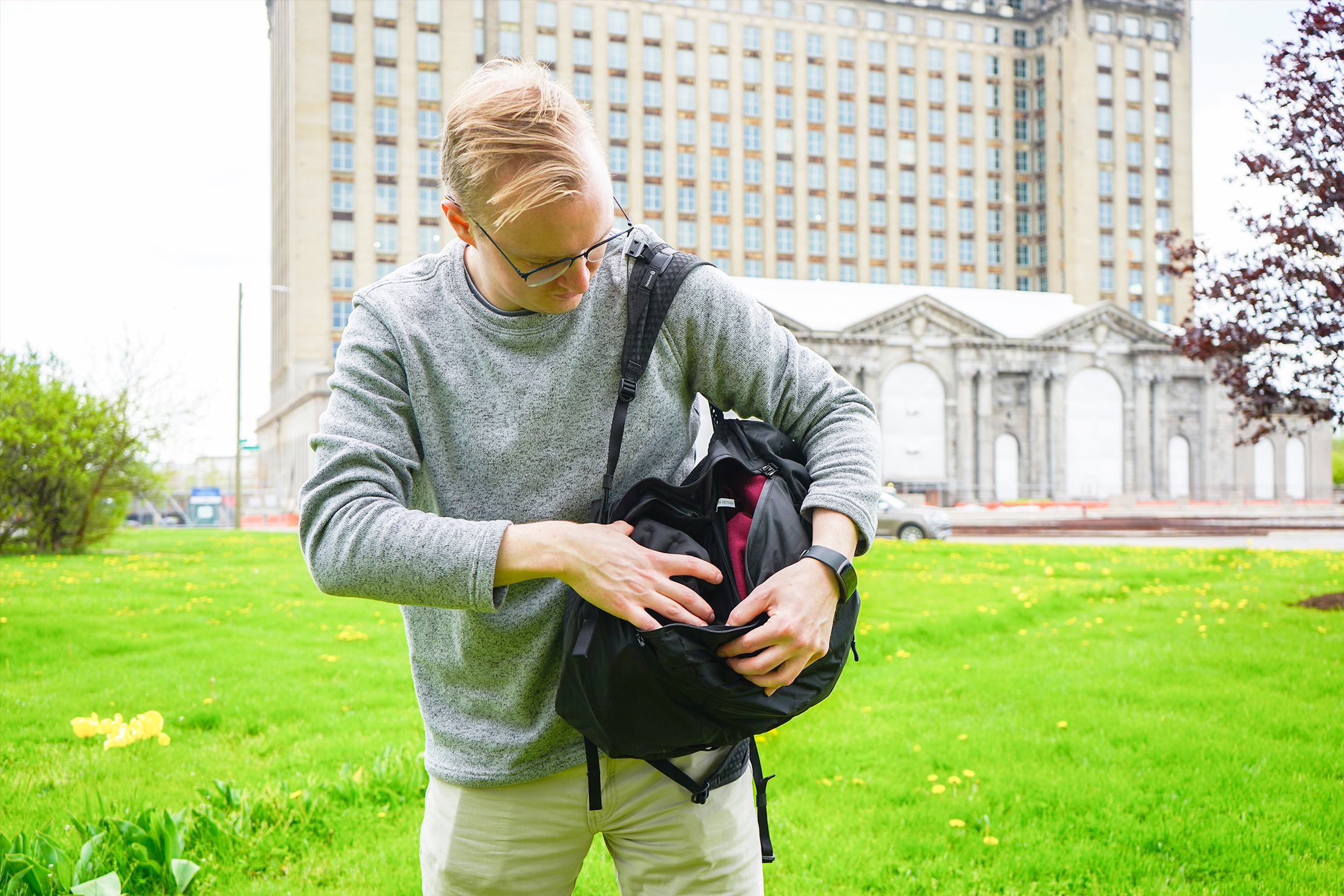 At the time of this review, we've been testing the WANDRD VEER 18 across the state of Michigan for just over two weeks. We haven't run into any issues outside of some initial quirks with setting up the inflatable components. In terms of durability, we have no complaints so far. No rips, no frays, no loose seams, just a little dirt on the outside that wipes right off. And based on the durable materials, quality build, and attention to detail, we're not surprised by this at all. Even if there were any serious issues, WANDRD's "Wander More, Worry Less Guarantee" gives you a lifetime warranty for all non-cosmetic defects that might happen to your bag, although we haven't been able to test this ourselves yet. We can't foresee any future problems that would require using the warranty, but it's always nice to have a backup plan.
Usage Timeline
Initial Usage
Condition: Excellent
The inflatable back panel and honeycomb airmesh make for a very comfortable carry
Durable materials for a package bag
Inflatable components add padding without adding too much weight
2 Weeks of Use
Condition: Excellent
No damage or durability issues so far
Quickdraw move is great for quick camera access
Camera cube takes up quite a bit of room in bag
Access the Pro Community Discussion
Get your questions about the WANDRD VEER 18L answered from our team and the Pro Community right here on the page. Plus, join discussions with other members about gear, guides, and more.
Other Bags & Luggage Reviews