Vanquest ADDAX-18 Backpack Review
We dig the organization and durable materials used on the Vanquest ADDAX-18 Backpack. However, it could benefit from some liter independent pockets.
Our Verdict
Unlock the Pro Summary
Save time. Get access to brief summaries of our reviews so you can browse and make decisions more efficiently.
Pros
Bright interior liner adds excellent visibility
Reinforced bottom and sides keep laptop protected
Tons of organization to customize your carry
Cons
Compartments compete for space when filled
VELCRO strap keepers can snag
Long zipper pulls can be a bit jingly
Recent Pack Hacker Video
Technical Details
Capacity

18l

Weight (lb)

2.3 lb (1 kg)

Denier

400D

Dimensions

17 in x 11 in x 6.25 in (43.2 x 27.9 x 15.9 cm)

Fully extended exterior

Notable Materials

CORDURA® Nylon, Ripstop Nylon, DWR Coating, YKK Zippers, ITW Hardware, Duraflex Hardware, Nylon, Polyester, Polyurethane

Laptop Compartment Size

15"

Warranty Information
Full Review
If you're into tactical vibes and are looking for a sturdy, durable pack, check out the Vanquest ADDAX-18 Backpack. It's made of quality materials and has a ton of organization for you to customize your carry. At 18L, it makes a good daypack and can accommodate a few packing cubes and pouches for a weekend trip.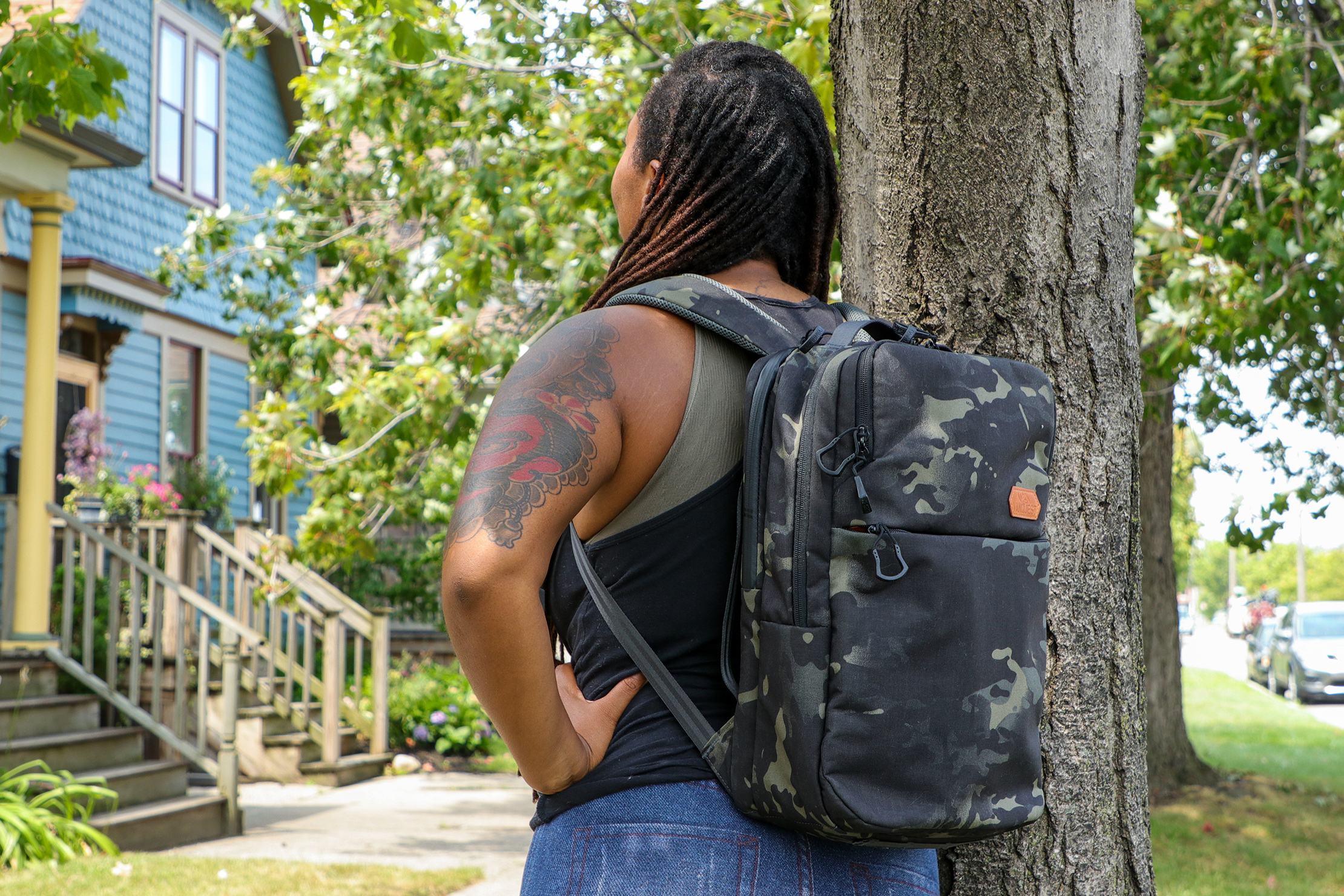 When we found this bag was available in a sick camo colorway, we were convinced we needed to test it out. During our two weeks of testing, we found that the pockets and compartments seriously compete for space despite the amount of organization and potential for customization. When you start to fill the main compartment even a little, it makes the laptop compartment tight (and vice versa). That said, it's easy to make it work with some strategic packing in tow. So let's get into the details of this bag, starting with the materials.
Materials & Aesthetic
The Vanquest ADDAX-18 Backpack comes in a few different colors, which determines the materials used. For solid colors, there's Shadow Gray and Midnight Blue, the latter of which looks more like denim than midnight. Both are made with a 400D nylon and polyester blend with multiple coatings of polyurethane for water resistance. Finally, there's the MultiCam Black colorway which is a black/camo blend. Naturally, that's the version we went with.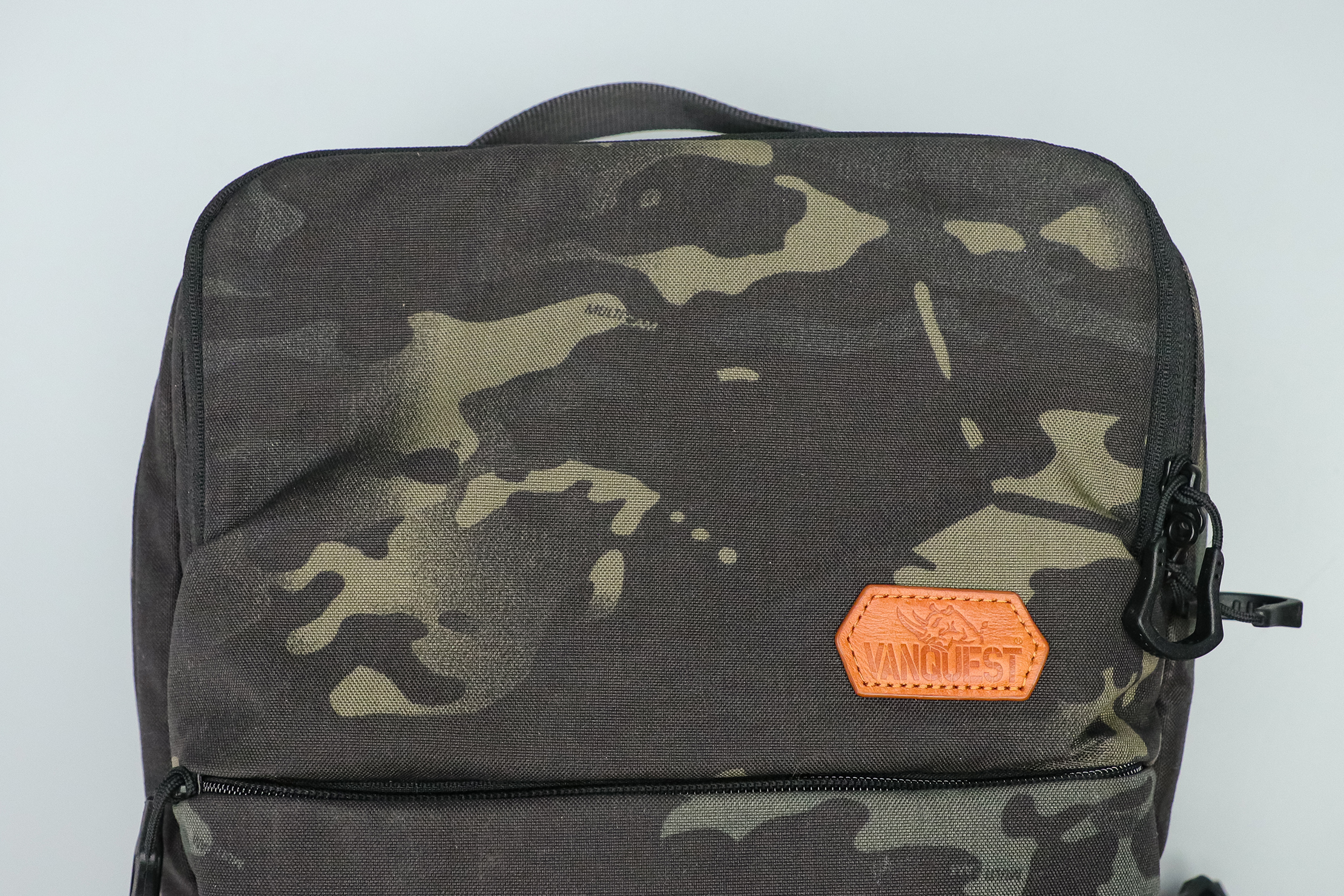 The MultiCam Black version of this bag is made with thicker and more durable materials than the others. The primary material is a 500D military-grade Cordura with a durable water repellent coating (DWR). You can actually see "MultiCam" printed on the fabric throughout the bag if you look closely. Ours says it smack dab on the center of the bag's front top pocket. It seems like the placement of the "MultiCam" stamp varies from bag to bag, which is kind of cool but also a bit random that it's included in the first place. Luckily it's stealthy enough that you don't see it unless you're looking really hard. Vanquest gear tends to lean more on the rugged, tactical side, and this bag is no exception. It's sturdy and relatively rigid without being overkill. We expect nothing less from a brand whose tagline is "Tough-Built Gear." The ADDAX-18 Backpack is part of their Urban Series, which is more casual for everyday carry.
The rest of the materials on this bag are all high quality too. You've got Duraflex and ITW hardware and YKK reverse coil zippers, and the laptop compartment even features a YKK Aquagaurd zipper which keeps water and moisture out. The place where your laptop goes is probably the most important spot on a bag and needs good weather resistance, so we appreciate the thought behind this. If your clothes inside get a little wet, you can always wash and dry them, but a soggy laptop is a recipe for disaster (and probably lots of crying on our part).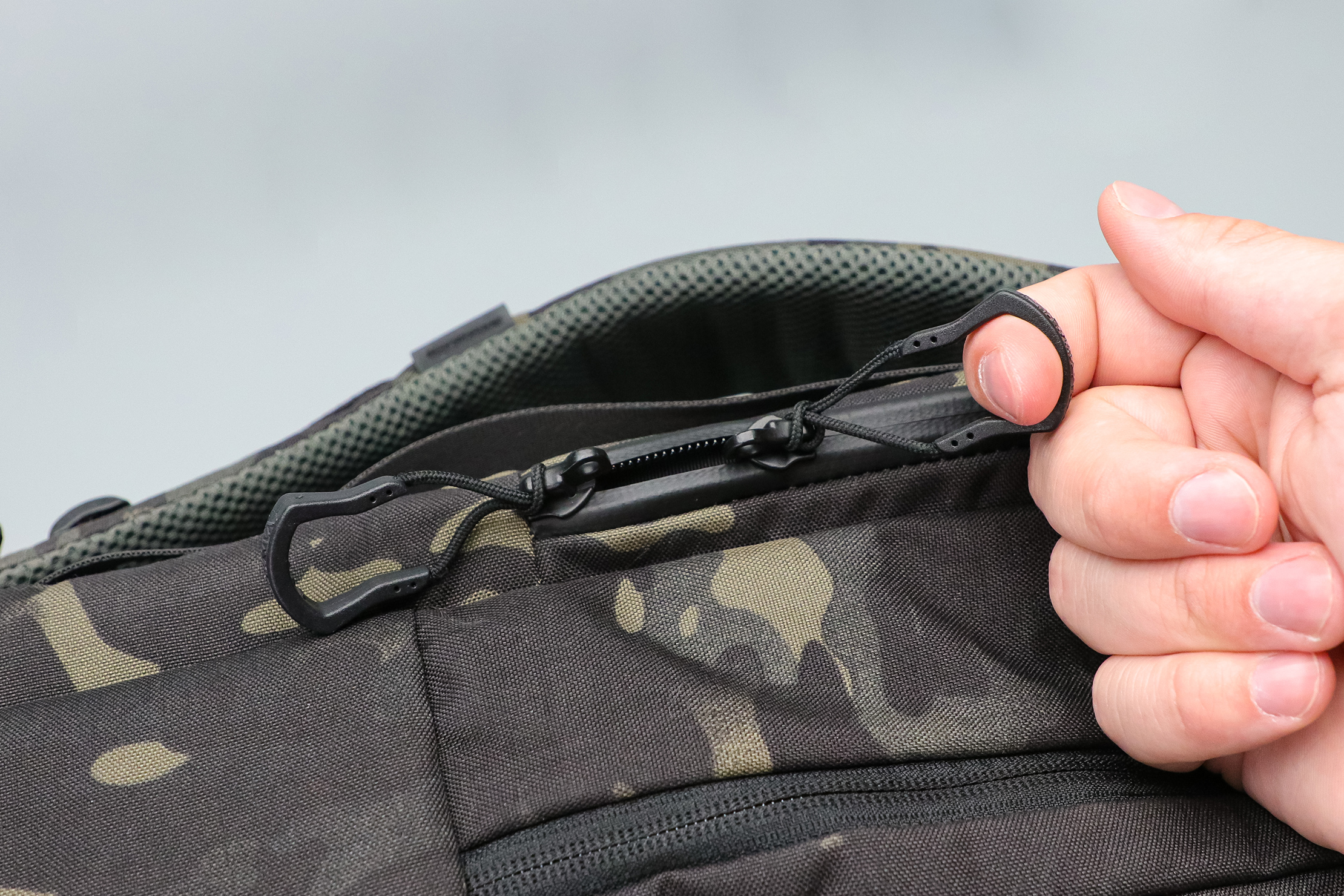 Vanquest makes their own Spartan zipper pulls, which feature a wide piece of molded nylon that feels like thick plastic on a nylon cord. These are a nice upgrade from traditional cord zipper pulls as they give you more to actually grab onto and make zipping the bag open and closed a breeze. The only caveat of these bigger pulls is that they don't necessarily lay flat. They stick out from the top and sides of the bag, interrupting what would otherwise be a clean profile.
The bag's shape is more boxy than round, but at 18L, it's far from looking like a massive brick on your back. Instead, it looks like a nice, tight school pack—the kind only the cool kids wear. It also has a fairly slim profile all around (minus the zipper pulls that we just mentioned) and can fit on a crowded subway or backcountry campsite. Now that we've covered how easy this bad boy is on the eyes, let's get into some of its functionality in the next section.
External Components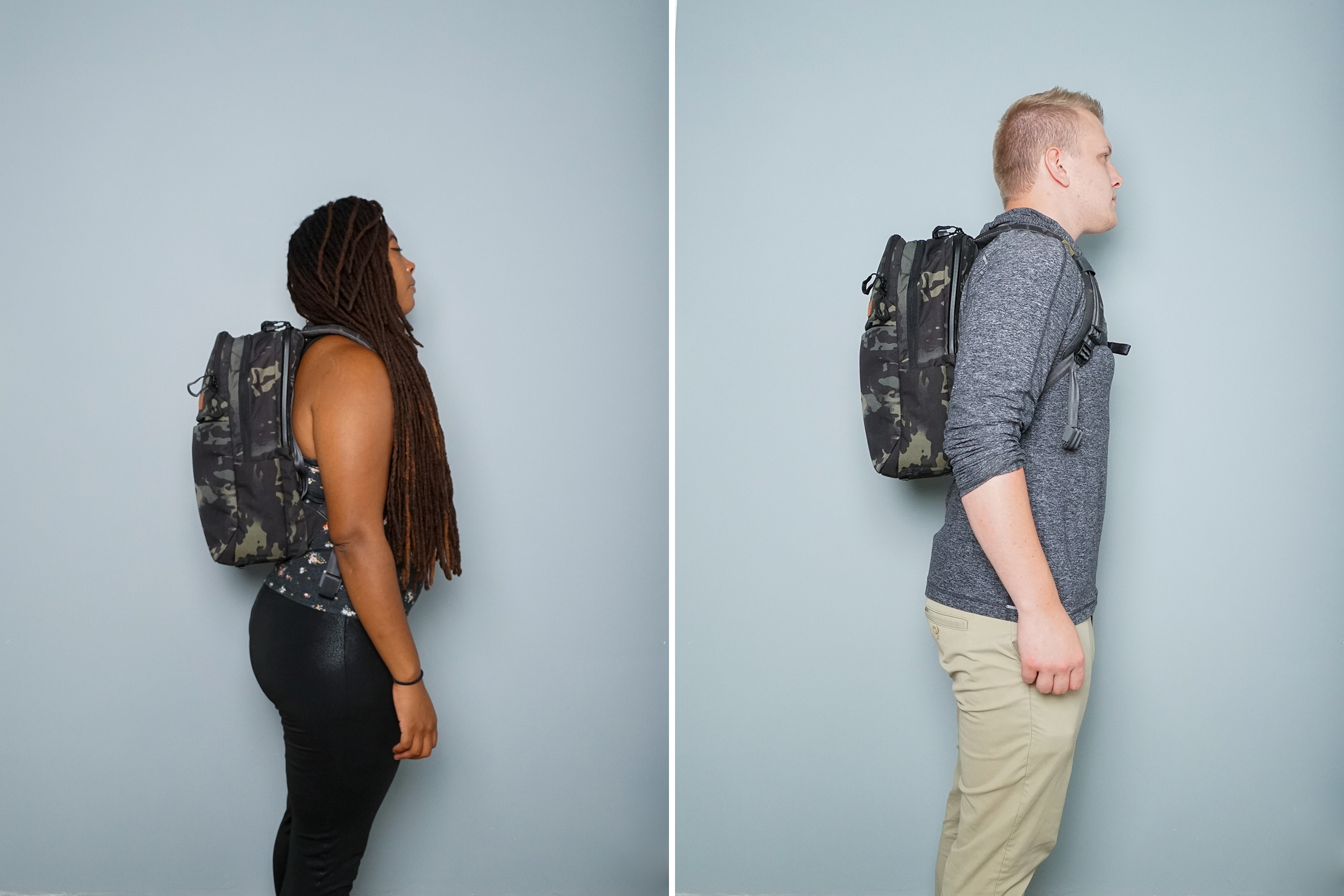 We've mostly been looking at the front of the Vanquest ADDAX-18 Backpack in this review so far, but it's got it going on in the back, too. Keeping with the bag's rugged, ready-for-anything aesthetic is the harness system. The shoulder straps are thick with dense foam padding and a layer of mesh for breathability. They also have an ergonomic design that contours around your chest and shoulders for comfort.
The sternum strap is hefty and isn't one of our favorites for a few reasons, however. We found it a little too sturdy and slightly overkill for a bag of this size. The buckle is also pretty large and feels like it belongs on a 40L travel backpack instead of an 18L daypack. Above that, there is a thick Hypalon loop with a "Vanquest" stamp on it that you could use to clip on something like a water bottle or accessory pouch with a carabiner. We say could because, while not impossible, you have to make sure your carabiner is pretty substantial to actually get around here since the Hypalon is so thick.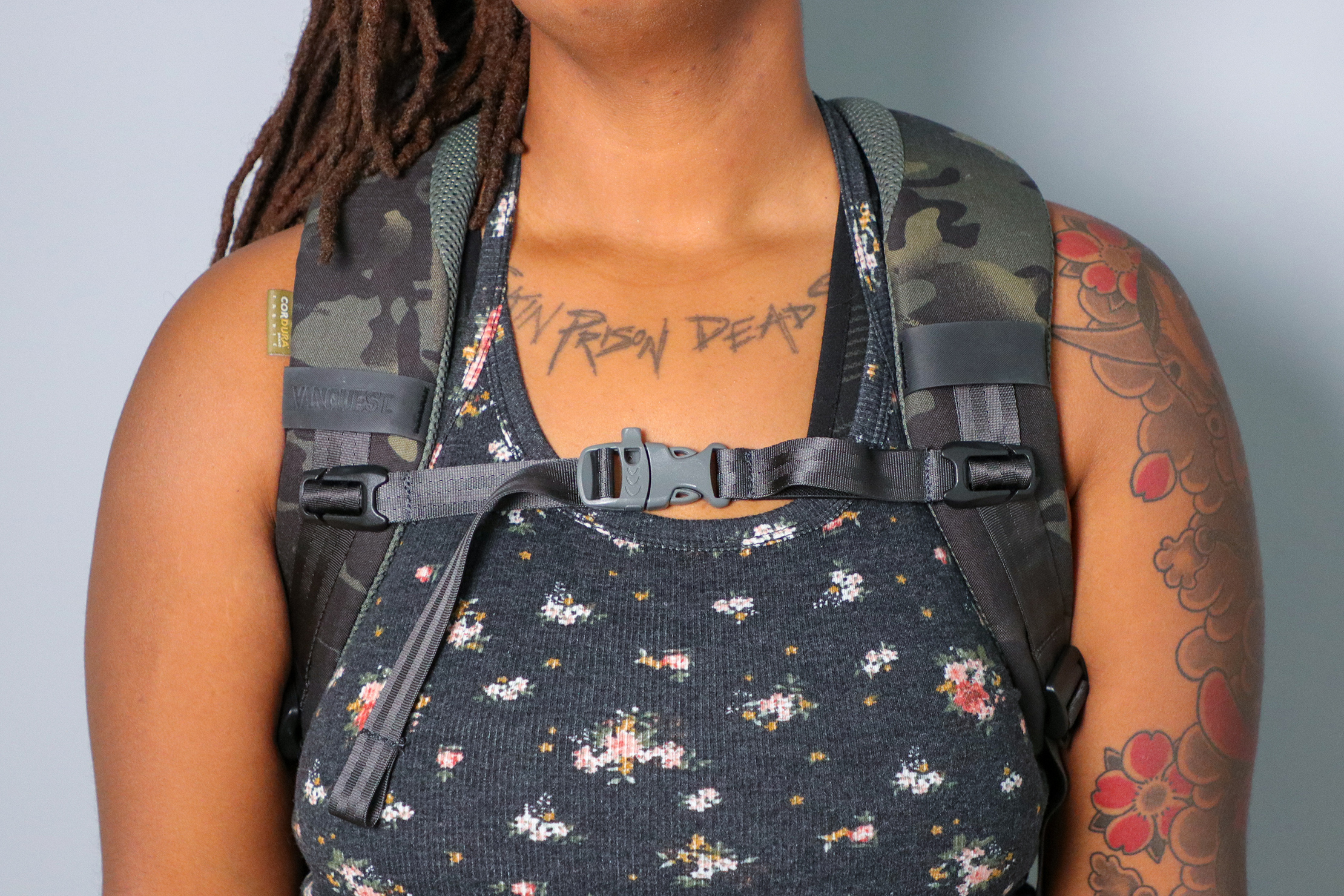 We were happy to see strap keepers on this bag, as dangling shoulder straps hitting you on the butt while you're traveling is a hard pass for us. However, we were surprised to see that they are made of VELCRO, and using them is much different from the strap keepers we've used on other bags. Usually, they're made of elastic that you slide down the straps to whatever point you want to hold them down. On this bag, you have to roll up the excess shoulder strap and then wrap the VELCRO in place around it. Even though the straps are more or less tamed this way, it does leave you with a little wad at the end. While riding a bike, this little roll kept hitting us on the side as it flapped around in the wind. It almost defeats the purpose of having strap keepers in the first place. It didn't bother us too much while walking or in weather that wasn't windy, but it's something to look out for. Also, the VELCRO can get caught if you have long hair.
Moving onto the back panel, you'll find the same foam padding and breathable mesh that's on the shoulder straps. We found it sturdy without being too rigid during testing. Two wide strips of nylon here—one on each side—serve as a luggage pass-through if you're traveling with two bags. There's also a thicker nylon handle on top of the bag, which is convenient for grabbing it out of the backseat of your car, overhead bins, and otherwise tight spaces.

When you turn the bag over to check out the underside, you'll notice two rows of nylon webbing. In our experience, this is a much easier spot to clip on a water bottle, though it will hang pretty low from the bag and won't be the easiest to access. Beyond that, there aren't too many bells and whistles on the outside of this bag. It's one of the things that makes the profile so clean and minimal, which we appreciate. Most of the prominent features are on the inside, so let's open it up and have a look.
Inside The Pack
According to Vanquest, this bag has 15 total pockets and slots. They aren't lying—across the main compartment, laptop compartment, and two front pockets, there's a ton of organization for big and small items. It can be a little confusing at first, but once you figure out a system that works for you, most of the pockets and slots come in handy in one way or another. Throughout the compartments is a bright orange interior liner. We're not gonna lie—it was a bit intense at first, but a bright liner on a dark-colored bag is honestly a blessing. It makes it easier to find everything you've got inside. It's also made of Ripstop Nylon which helps prevent any small tears from getting bigger. It's got a swishy feel (and sound), but nothing too off-putting.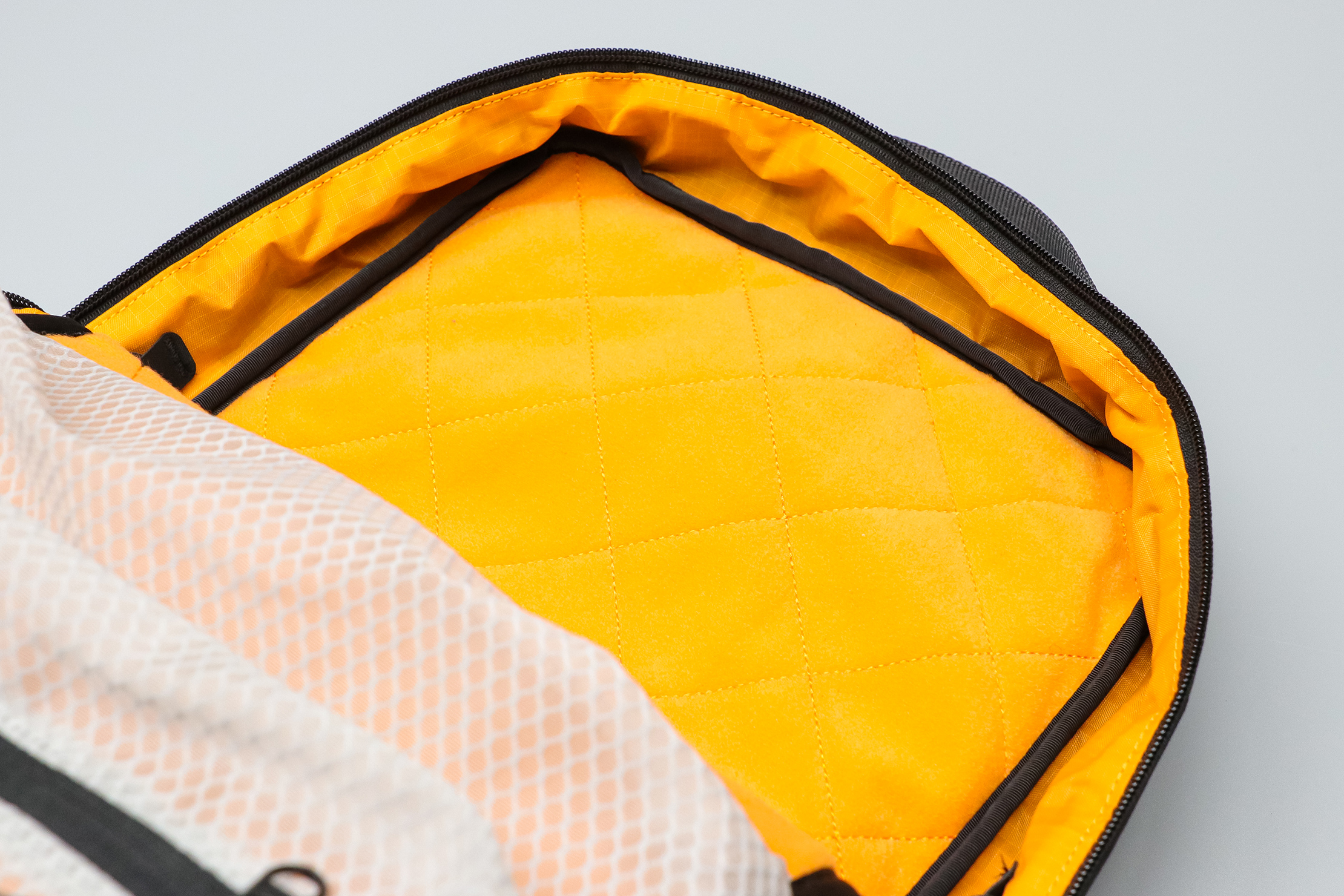 To avoid confusing you, we'll take a look at the pack from front to back. Right on the front of the bag, you have two wide pockets. The one on the bottom is longer and can accommodate notebooks and light reading material. One thing we noticed across all of the compartments is that they compete with each other for space. This means that if you pack the front pocket too full, it eats into the main compartment and subsequently makes the laptop compartment tight. This is important to keep in mind when packing the bag. For that reason, we found the lower front pocket to work best with a small notebook and a thin novel inside. There are three slots here, along with some elastic loops you can use for accessories, but we preferred not to fill them or else they would be tight to access.
The top pocket above that is smaller with more organization. It features a zippered mesh pocket, more elastic loops, a key clip, and another pocket with a VELCRO closure. Again, you can use these elastic loops to add additional accessories while being mindful of space. There's also an attachment loop where you can clip on an extra accessory. We mostly used the mesh pocket since it's relatively large and makes a convenient spot for quick-grab items like your wallet, phone, and keys.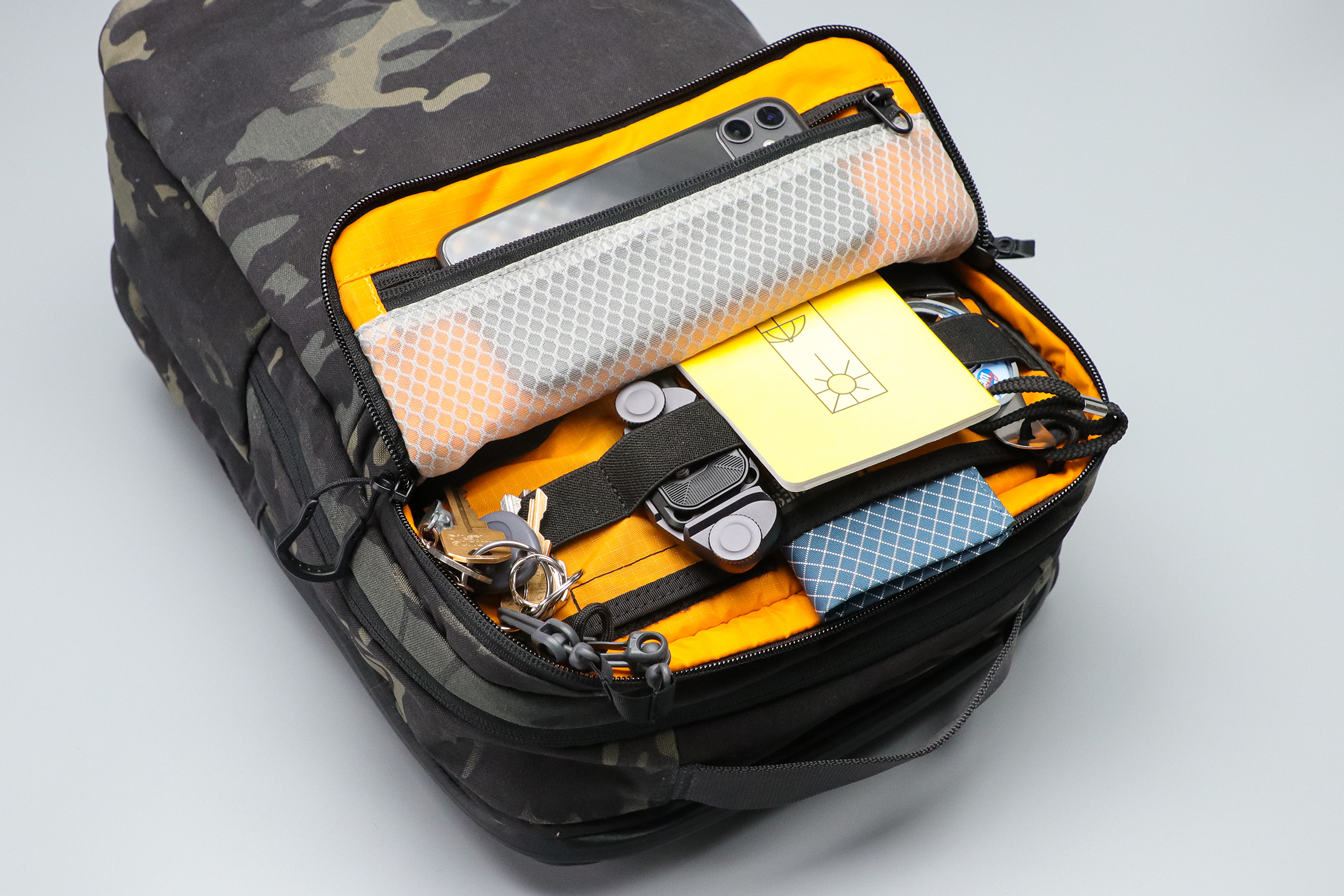 Next is the main compartment, which opens up horseshoe style. One of the first things we noticed inside were the water bottle sleeves. Aha! Here's where they've been hiding. Some of us at Pack Hacker are fans of water bottle sleeves on the outside of our bags because they're easier to access. Alas, here they are inside—one on each side of the compartment. They're made of the same mesh material used on the zippered pockets and have an elastic drawstring loop near the top to keep your bottle in place. They're nothing fancy, but get the job done, and they can be snapped to the side if you want them out of the way.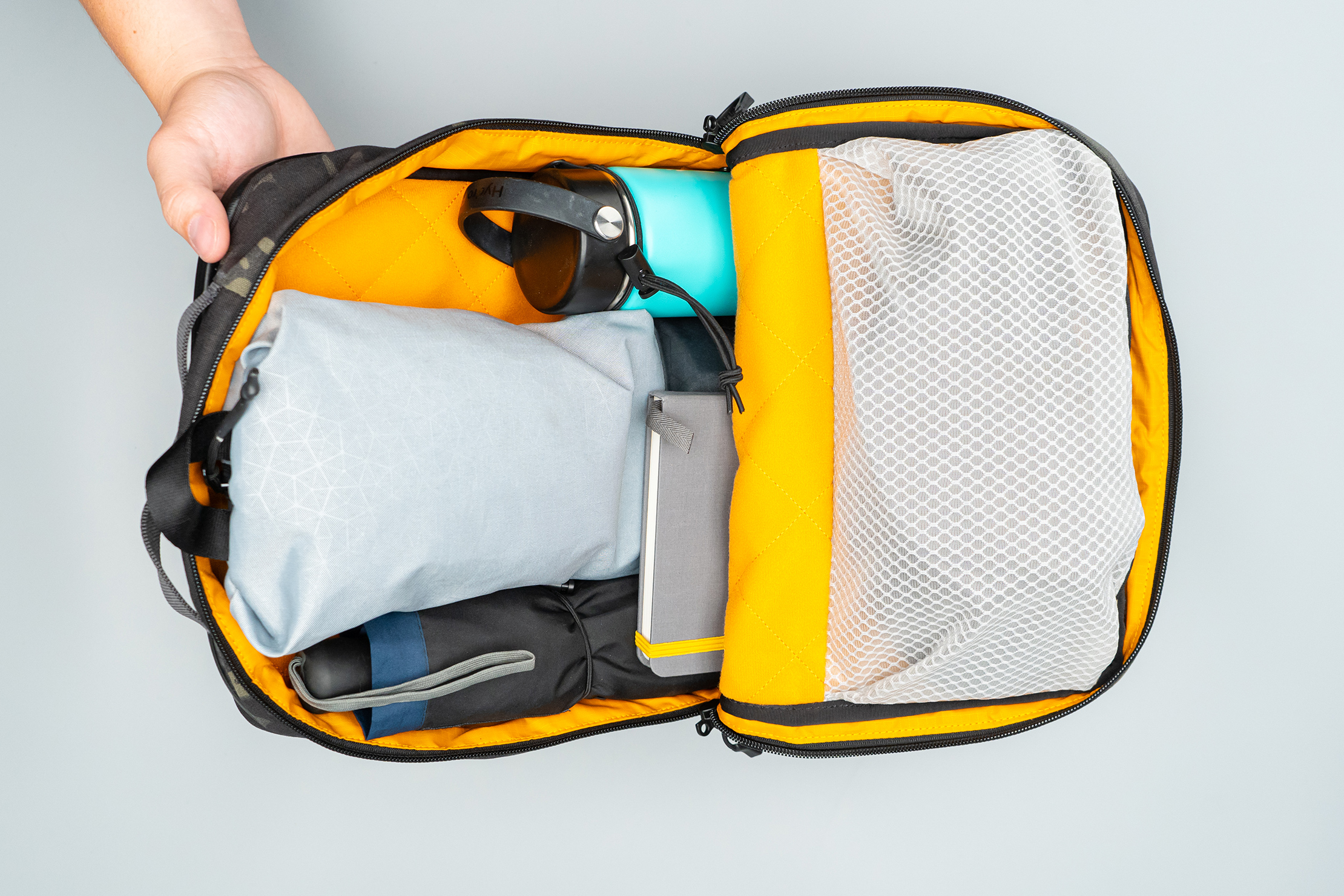 There's another one of those mesh zippered pockets on the opening flap, but it has a much bigger capacity than the one in the front pocket. This makes a good spot for a toiletry bag, tech kit, or even loose tech accessories if you aren't a pouch kind of person. Beyond that, the main compartment is an open space where you can fit a pair of packing cubes and a jacket for a weekend trip. While the interior here is still blindingly bright orange, the material is felt instead of Ripstop Nylon.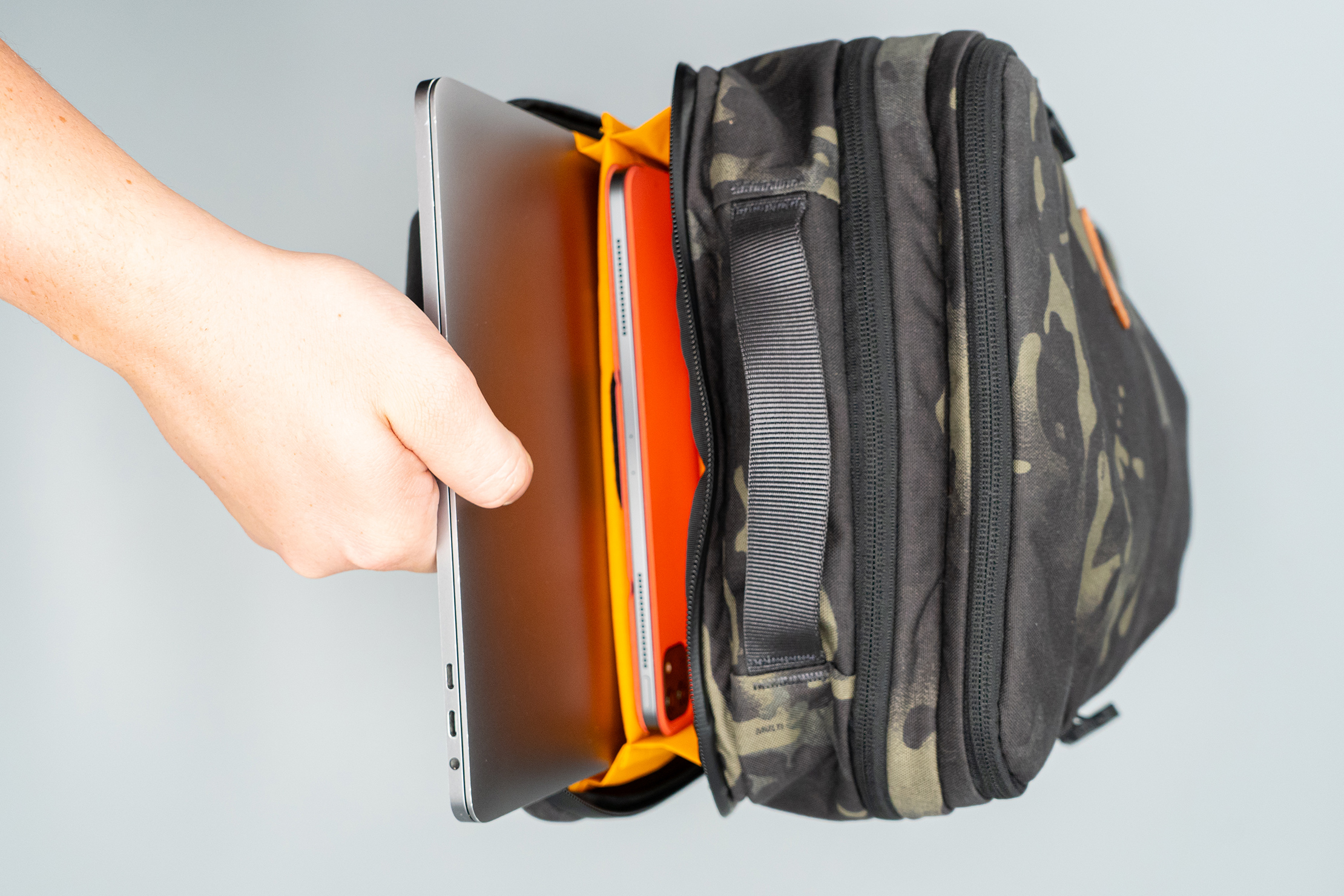 Last but not least is the laptop compartment at the back of the bag. It's rather tight but has a gusseted opening so that you can grab stuff out of it easily. Inside there's a densely padded laptop sleeve that can fit up to a 15" device. There's also a smaller device sleeve for a tablet or notebook in front of that. Both sleeves have a false bottom, which leaves your devices suspended and protects them from hitting the ground when you put your bag on the floor (or drop it by accident). Between the weatherproof YKK Aquaguard zipper and false bottom, this laptop compartment is pretty legit, and we feel pretty comfortable with the amount of protection it provides.
Overall, the Vanquest ADDAX-18 Backpack is a solid pack for daily use or weekend trips. We dig the MultiCam Black colorway, bright interior liner for visibility, and the amount of organization it offers. The bag could really benefit from some liter independent pockets, though, as they compete for space when you start to fill them even a little.
Usage Timeline
Initial Usage
Condition: Excellent
Interior fabric is bright and visible
There's a set of loops inside for attaching accessories
Pockets inside are plentiful and varied
2 Weeks of Use
Condition: Excellent
Material is durable and bag is reinforced around the bottom and sides
Tons of internal organization and attachment points to customize your carry
Velcro strap keepers can sometimes get caught if you have long hair
Large zipper pulls make zipping a breeze but stick out from the sides and look a bit clunky
Access the Pro Community Discussion
Get your questions about the Vanquest ADDAX-18 Backpack answered from our team and the Pro Community right here on the page. Plus, join discussions with other members about gear, guides, and more.
Other Bags & Luggage Reviews