Uniqlo AIRism T-Shirt Review
The Uniqlo AIRism T-shirt is an affordable, versatile, and stylish shirt. It performs well in a number of roles, and for about 10 bucks, it's a steal.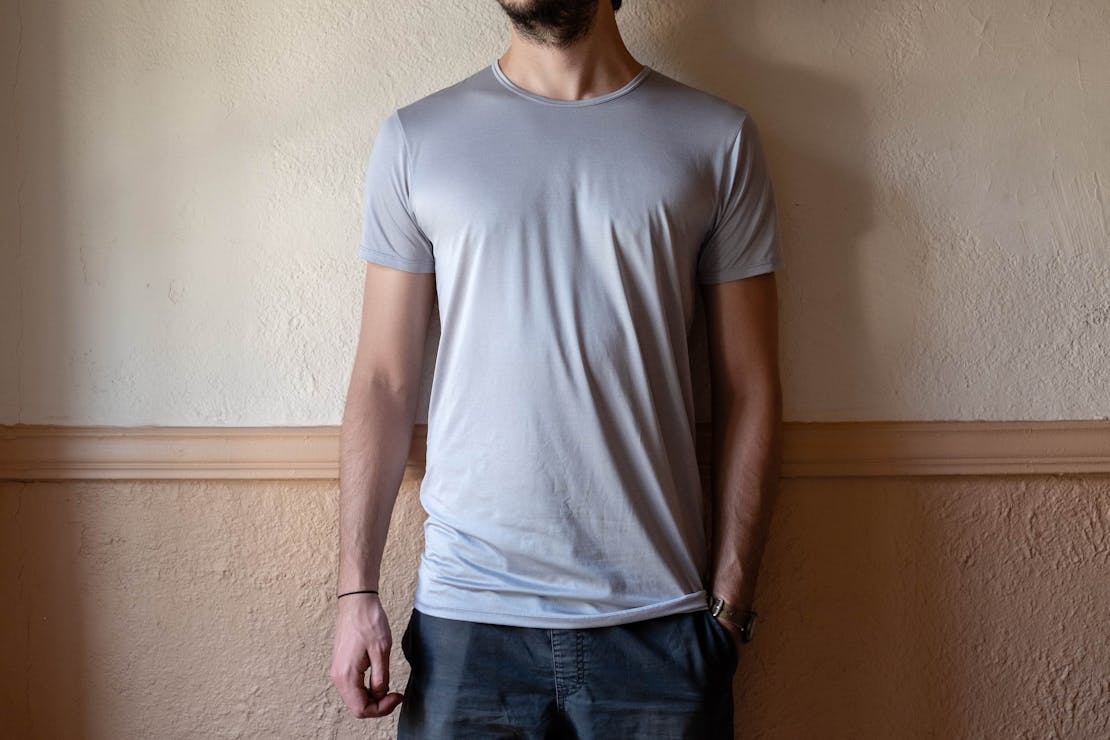 Our Verdict
Unlock the Pro Summary
Save time. Get access to brief summaries of our reviews so you can browse and make decisions more efficiently.
Pros
Very lightweight and hardly takes up any space when packed.
A snug and embracing fit that feels great when it's on.
Breathable and dries quickly.
Cons
The material feels a little flimsy and synthetic when feeling it with your hand.
Might be a bit too long for people who are on the shorter side.
The fabric has a slight shine/sheen, which some might not like.
Recent Pack Hacker Video
Technical Details
Notable Materials

Polyester, Spandex

Manufacturing Country

China

Warranty Information
Full Review
What is a T-shirt? Yes, it's a style of shirt made out of some type of fabric that's worn on the body and named after the letter it mimics with its shape. It's also an exceptionally comfortable clothing staple worn all over the world, and undoubtedly an item you'll pack when you travel. Their ubiquity may cause some to overlook specific features many companies are offering in their T-shirts, but we urge you to look a little closer at the Uniqlo AIRism T-shirt.
If you aren't inclined to think deeply about T-shirts, we understand. But read these words: there exists a lightweight, breathable, sweat-wicking, fast-drying, stretchy, anti-odor, and stylish T-shirt you can buy for around ten dollars that should meet nearly every one of your travel needs. If you're sold on the points above, you might just want to skip this review and hit the "buy" button now. But if you're not yet sold on this Uniqlo undershirt, let's dive in a little deeper.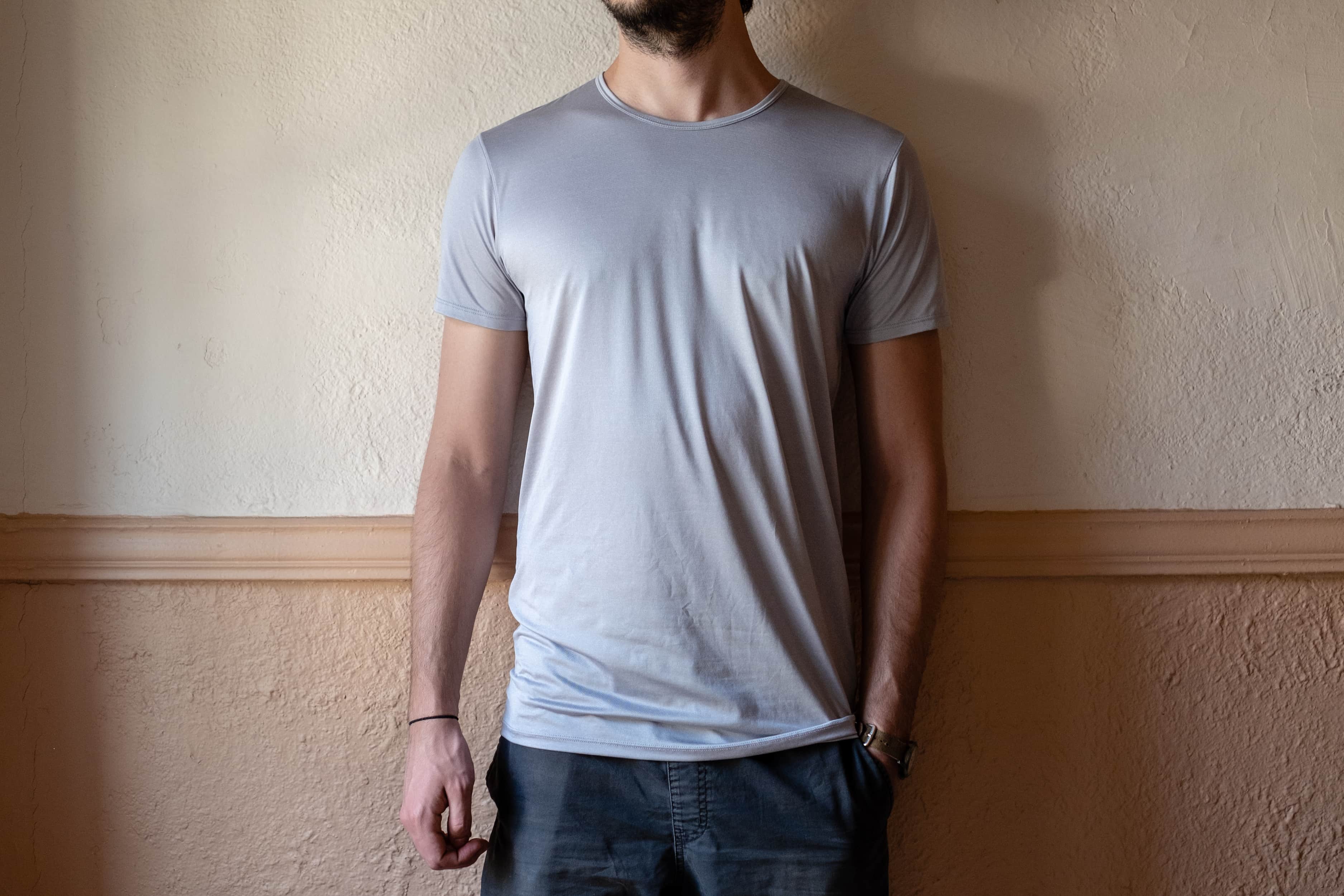 If you aren't familiar with Uniqlo, just know that they're a Japanese casual wear designer, manufacturer, and retailer that sells a slew of great products for women, men, and kids. Their products are quite inexpensive, given they control much of their supply chain, but they still hold up well.
One of their many product lines is the AIRism series, which is described as, "Comfortable and light as air. AIRism is a new type of innerwear that assures your comfort in any season." After testing their AIRism T-shirt for a few months now, we wholeheartedly agree with this.
The t-shirt comes in a variety of styles (v-neck, crew neck, tank top), colors (white, gray, blue, black), and is made with a blend of synthetic fabrics (89% Polyester and 11% Spandex). To the touch, this blend may feel flimsy or too synthetic, but once you throw this shirt on you'll feel like you're wearing a regular cotton tee. The material is durable, too. We haven't noticed any signs of wear after using these shirts for a number of months now. The only possible downside we've noticed is that this blend does have a sort of "sheen" to it, which may or may not be an issue depending on your personal preference. We don't really mind it.
One difference between these AIRism shirts and the traditional cotton ones is the weight. Any old T-shirt isn't heavy to begin with, but it's easy to notice how light this Uniqlo undershirt is. If you're wearing one under a few layers, you may forget you have one on! That's a compliment, by the way. It means this Uniqlo undershirt isn't intrusive in any way. And while they do function very well as an undershirt, they also work just as well as a T-shirt you'd wear out and about.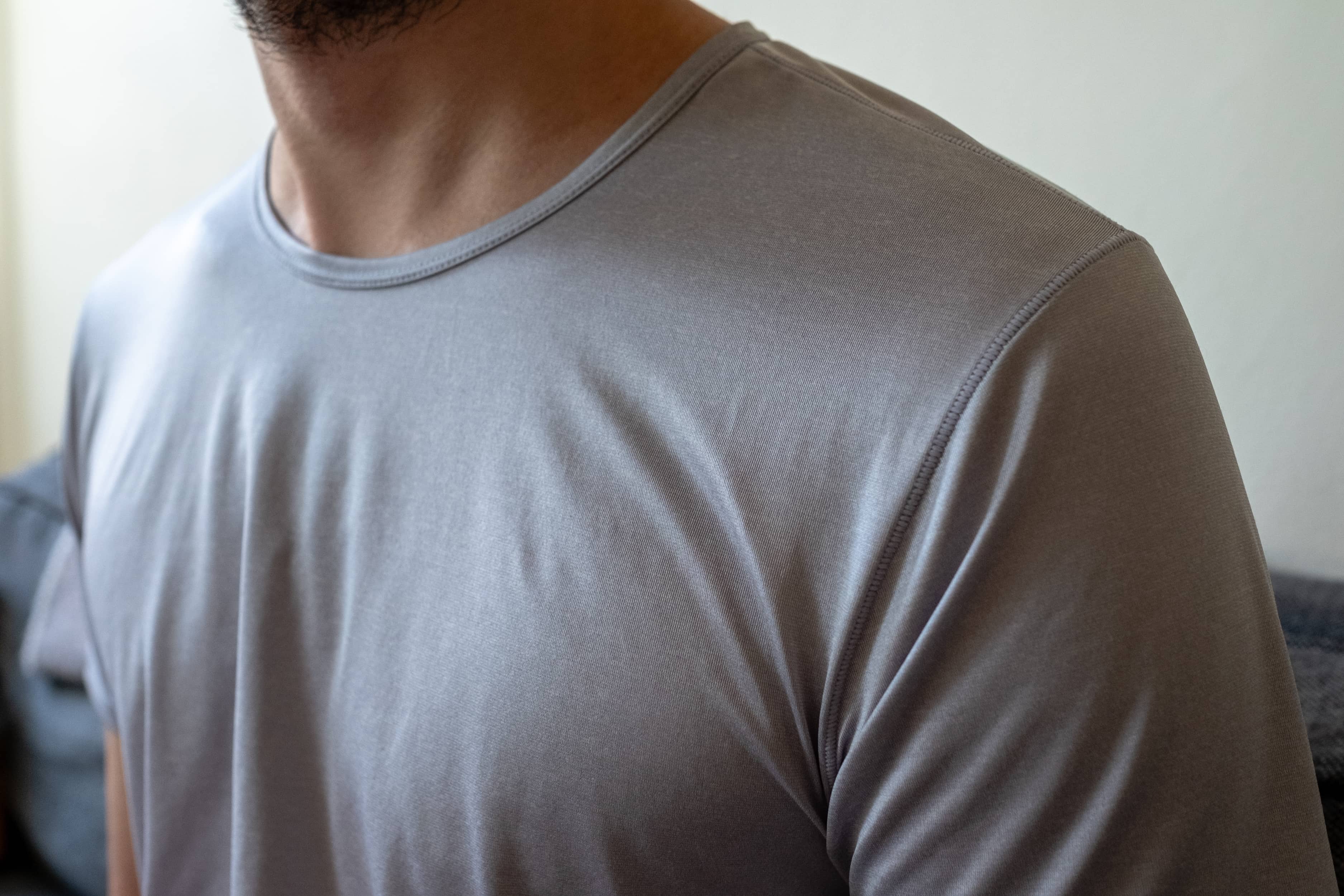 Another benefit of these is that they're longer than the average T-shirt. Measuring against some standard t-shirts in one of our closets, the Uniqlo shirt came in at about three-and-a-half inches longer. This comes in handy when you want to wear one tucked into your shorts or pants as a base layer. It'll stay tucked and won't come out like a more traditional, shorter shirt might. Overall, we don't see the length as a problem, though if you aren't gifted with ample altitude you may not be so keen on this feature.
This Uniqlo undershirt is also equipped with quick-drying technology as well as self-deodorizing and anti-microbial/odor features. They dry much faster than a traditional fabric, and we did find that you can wear them a few more times before washing than you would normally. This is a great feature for someone who's traveling and can only bring a select few items. They also pack down very, very small, which is another reason to consider choosing these tees as your go-to travel shirts.
There isn't much else to say about these AIRism T-shirts, and that's a positive thing. If there was, it would most likely be something negative. Thankfully, that isn't the case. This Uniqlo undershirt is a great travel shirt at an incredible value.
Usage Timeline
Initial Usage
Condition: Excellent
Taken right out of the package and worn for a whole day, it looked and felt great.
1 Month of Use
Condition: Excellent
Access the Pro Community Discussion
Get your questions about the Uniqlo AIRism T-Shirt answered from our team and the Pro Community right here on the page. Plus, join discussions with other members about gear, guides, and more.
Other Clothing & Accessories Reviews