Tropicfeel Canyon Sneakers Review
Breathable, quick-drying, and odor-resistant, the Tropicfeel Canyon Sneakers largely live up to the hype, but they're not perfect.
Our Verdict
Unlock the Pro Summary
Save time. Get access to brief summaries of our reviews so you can browse and make decisions more efficiently.
Pros
Breathable, quick-drying, comfortable (with or without socks), and lightweight
Odor-resistant
Grippy outsole for difficult terrain
Cons
Not ideal for cold weather or nice occasions
Sprint laces take time to get used to
Takes a few days to break-in
Recent Pack Hacker Video
Technical Details
Notable Materials

Rubber, Recycled Polyester, Elastic

Manufacturing Country

China

Warranty Information
Full Review
Get up to 15% off Tropicfeel • Join Pack Hacker Pro
We've been excited to get our hands on a pair of Tropicfeel shoes for awhile.
Tropicfeel had an incredibly successful Kickstarter campaign back in 2018 for its Tropic sneakers—becoming the most funded shoe campaign on the crowdfunding platform thus far. Tropicfeel, which is based out of Barcelona, described the Tropic sneakers as the "Ultimate Travel Shoes."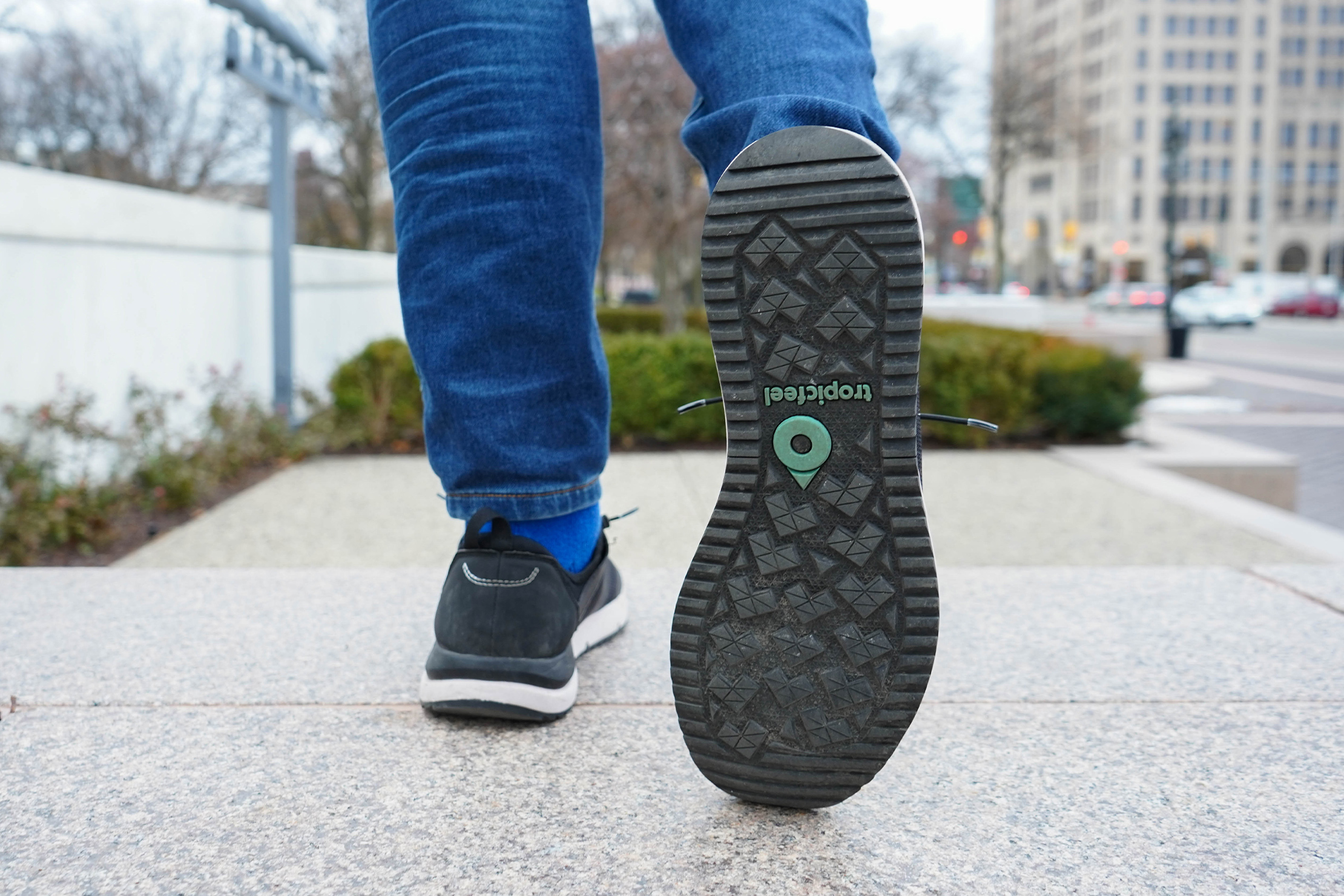 Fast forward a year, and Tropicfeel released two new pairs of shoes: the Monsoon Sneakers and, what they call the "Ultimate Travel Shoes 2.0," the Canyon Sneakers, which we'll be reviewing today.
With a tagline like "Ultimate Travel Shoes," you can bet we had high expectations going into testing. Ultimate denotes some serious confidence. Ultimate doesn't leave any wiggle room. Ultimate is, well, ultimate.
We've been testing the Canyon Sneakers for two weeks in Detroit, Michigan and have a lot of good things to say (as well as some not-as-good things). So let's get into it.
Materials & Aesthetic
The Canyon Sneakers look like a simple pair of sneakers. You can't dress them up, so if your travels involve business meetings or cocktail hours, you'll probably want to pack a nicer pair of shoes along with these sneakers. While that may seem incredibly obvious—after all, they're sneakers—we wanted to point this out as Tropicfeel claims that the Canyon Sneakers are the only shoes you'll need to pack. Not so for all you fancy folks.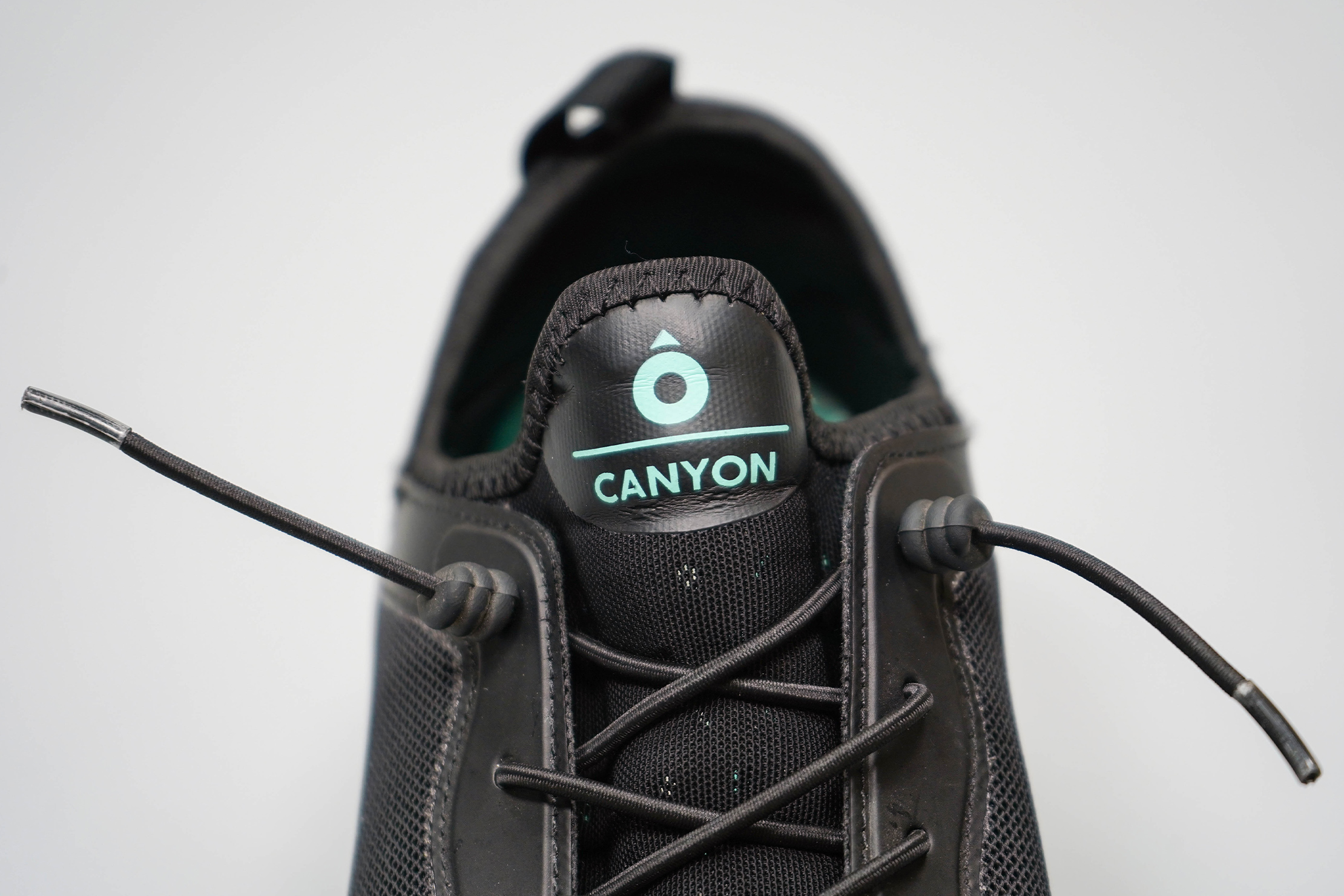 The Canyon Sneakers are available in multiple colorways at the time of this review, including green, navy, and sand. We've been testing the "Core Black" which is a bit of a misnomer because there are elements of white and teal throughout. Though we still think they look nice.
We're digging the fact that Tropicfeel includes an extra pair of "contrasting" shoelaces. For the Core Black colorway, these shoelaces are teal. So if you ever feel like mixing things up, you can ditch the black laces and throw on the teal ones. It actually makes for a fresh, new look. Like buying a new pair of shoes without having to fork over any money. Win, win.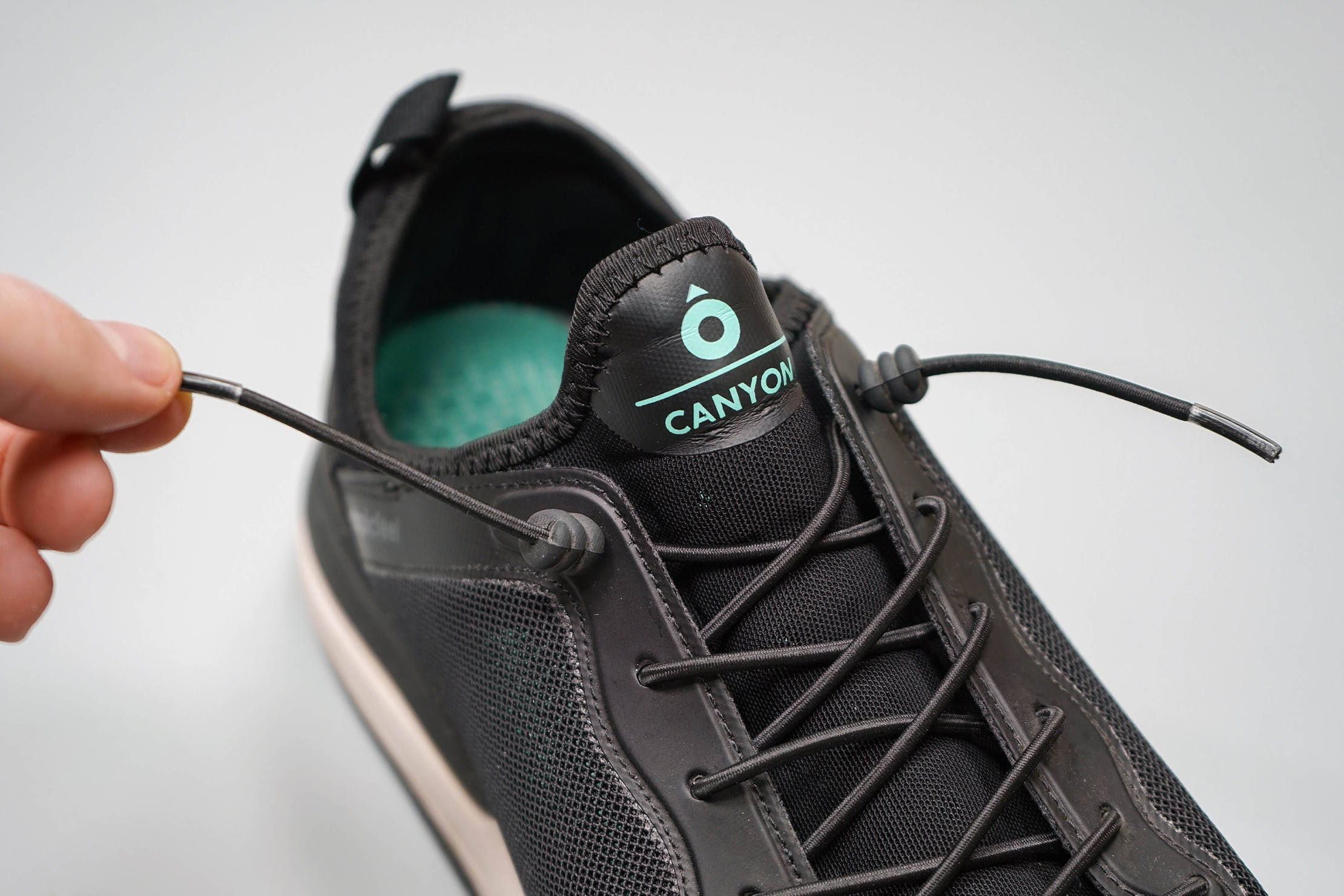 Let's talk about these laces for a moment. The Tropicfeel laces aren't your ordinary sneaker laces. The folks there call them "sprint laces" and they have a small rubber knot to tighten or loosen them, which also holds the laces in place. No need for tying. The benefits are that it takes all of 10 seconds to slip these on and you can skip tying your shoes—which we all know is such a pain.
But it's an odd look. The laces dangle. Those of you who know us here at Pack Hacker, know we're all about that #DangleFreeExperience. We didn't realize it would ever apply to gear beyond backpacks, but apparently, it does.
All that said, you get used to the look of the laces pretty quickly, so it's not a big deal. Plus, we love that Tropicfeel is trying something different.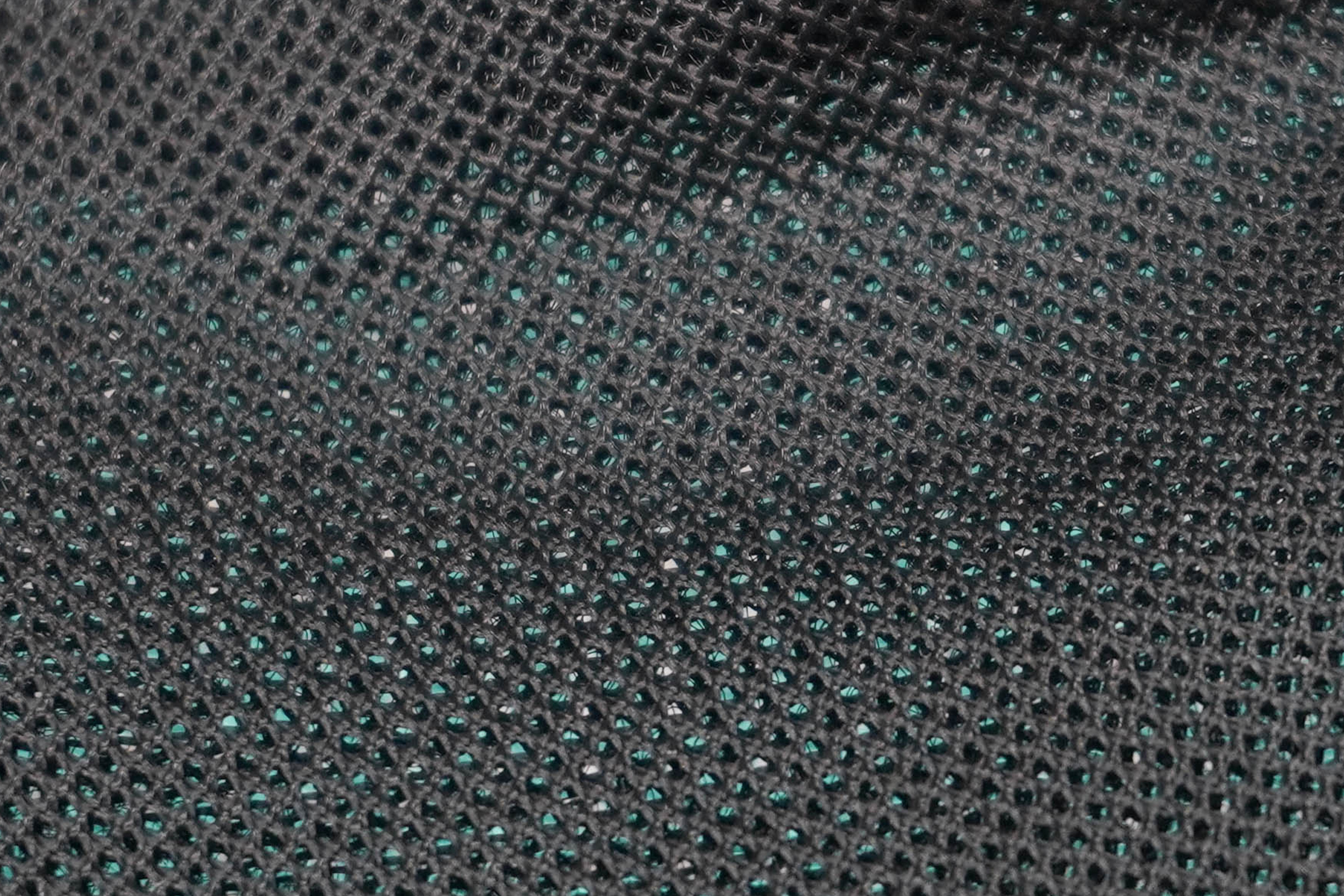 The shoes are 100% vegan, which is great for all you vegan travelers out there. Each pair is also made from 3.5 recycled plastic bottles, which we can certainly appreciate.
On that same sustainability note, Tropicfeel has stated that it's "embarked on a journey to become a carbon-neutral company." We think this is great, especially since they've recognized some of the environmental issues associated with travel, although we wish they were more specific about this goal. Embarked on a journey is pretty vague.
We do love how the folks over there give back 1% of their profits to "keep natural wonders alive."
Features & Benefits
The Tropicfeel Canyon Sneakers have been specifically designed for travel, so you can bet that they have a number of features.
First of all, they're quick-drying. This is not only helpful for being out in all sorts of wet weather, but you can also wear these shoes at the beach, on a boat, even in the water if you'd like to.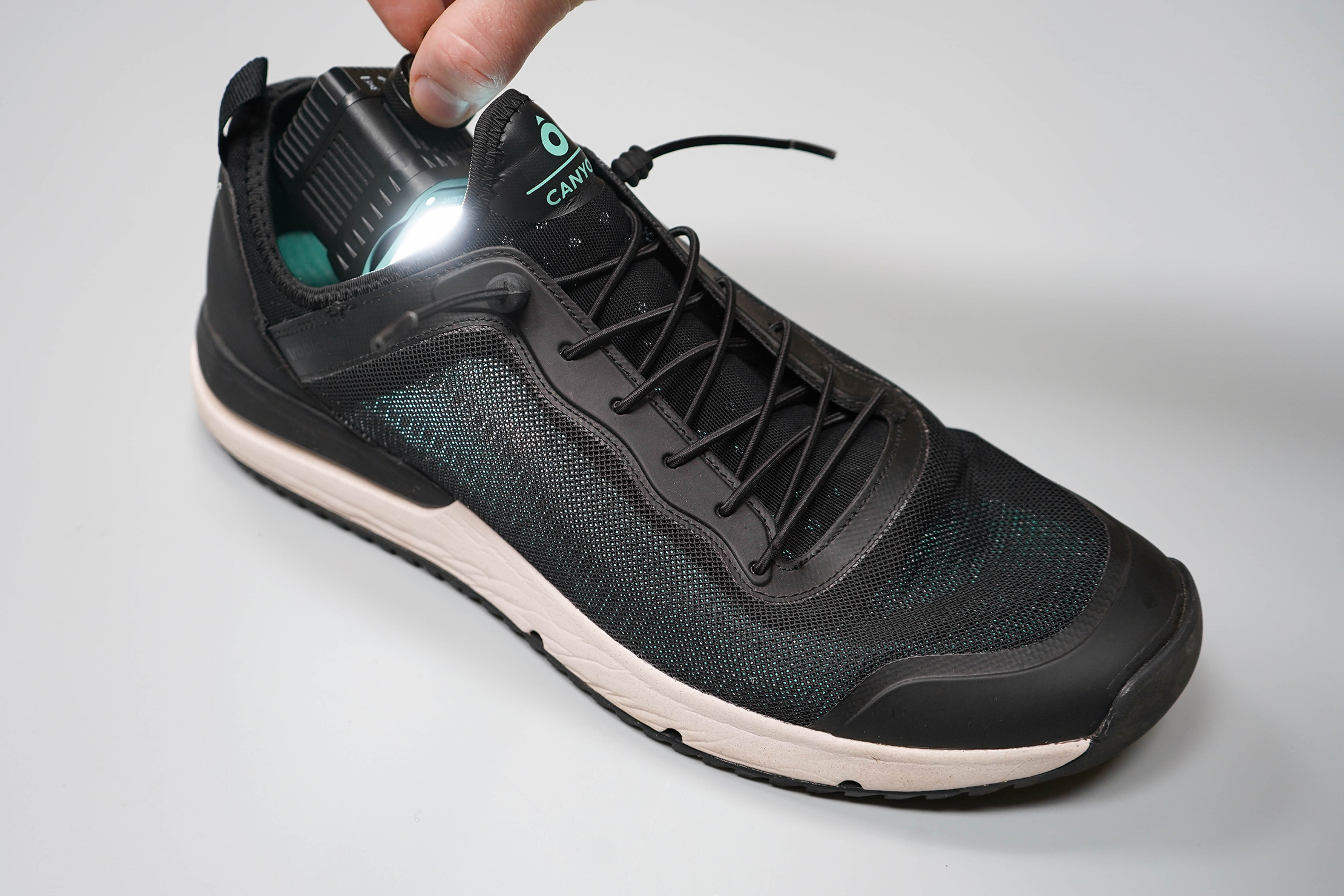 On a similar note, they're also breathable. The upper is a mesh material that allows air to flow in and out. For those feet-sweaters out there, you know how much of a plus this is.
However, this breathability means these shoes are much better for warmer climates than cooler ones. We don't recommend these shoes for winter travel. And, yes, we speak from experience.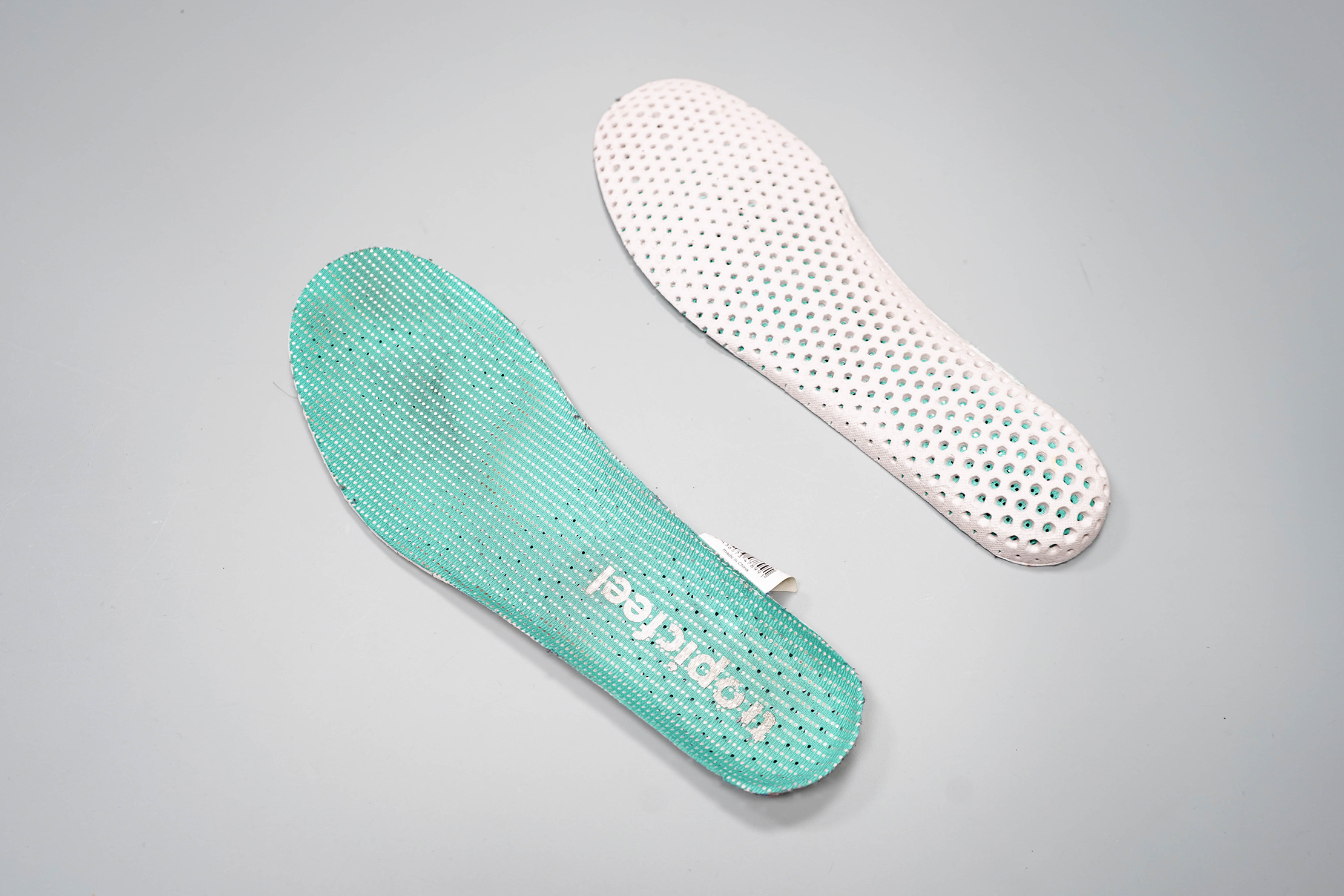 Another major benefit of the Canyon Sneakers is their comfort. You can choose to wear them with or without socks—whatever strikes your fancy—as the interior material is super soft. Plus, you can easily glide them on as you would a sock, which means you can be out the door in record time.
They do take a little bit of time to break-in. The material over the toe box can collapse and rub your big toe, which is exactly as uncomfortable as it sounds, but it shouldn't last more than a few days. (At least was the case for us.)
The shoes also have an Agion® treatment to help eliminate odors. We've given these shoes the Sniff Test—the things we do for you—and have to say we're pleasantly surprised. After two weeks of consistent wear, the shoes smell just fine.
The sneakers clock in at 7oz, which is super lightweight. Especially as these shoes aren't considered minimalist. Of course, this weight is great for packing, but also for comfort. You'll hardly feel like you're wearing anything.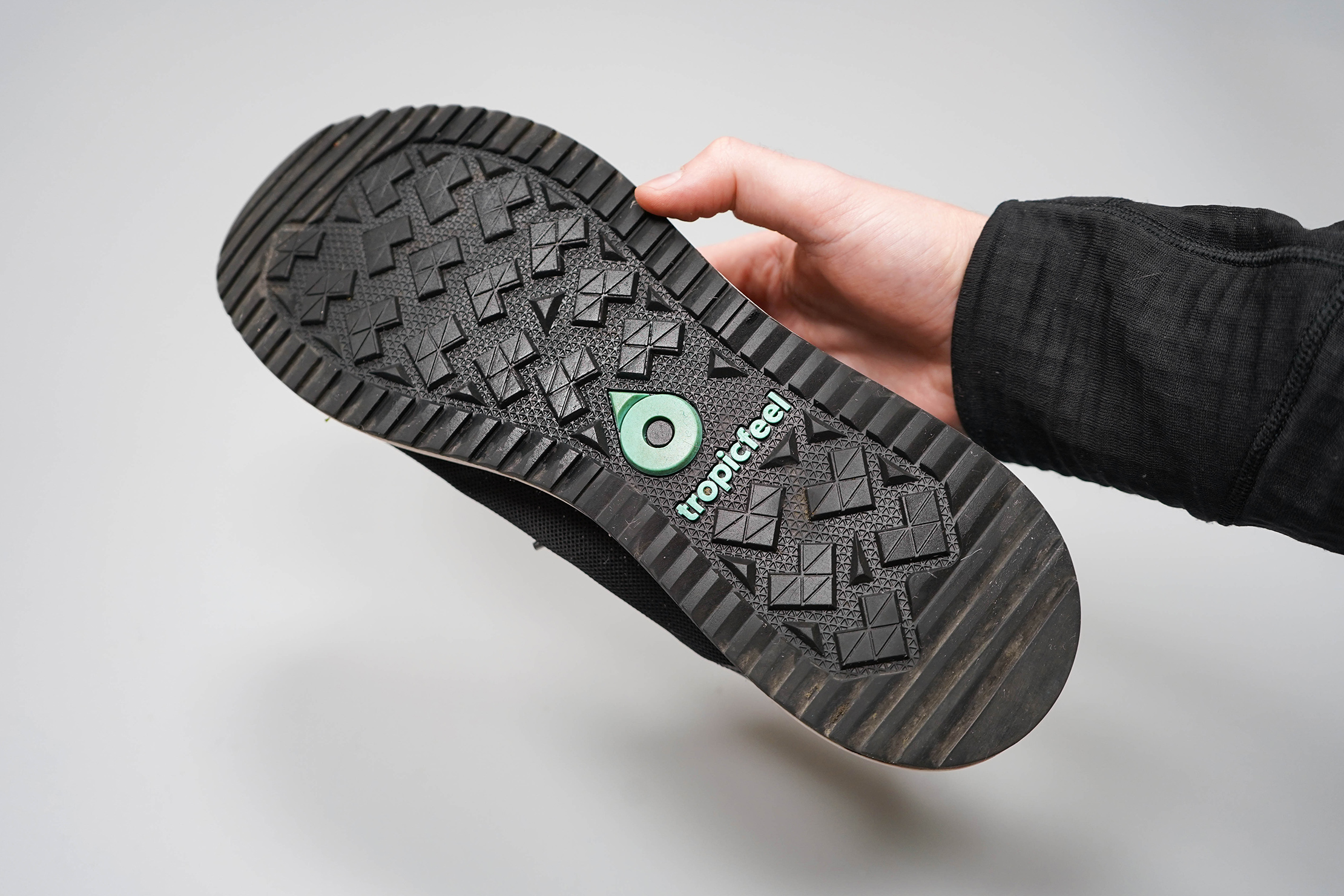 Finally, the sneakers have a grippy rubber outsole, helping you stay upright while navigating rocky terrain or cobblestone streets. Coupled with that quick-drying feature we mentioned earlier, these shoes work well in a variety of situations. In a forest, at a beach, in the city, basically anywhere that isn't dressy or cold.
Durability & Testing
The whole idea behind the Tropicfeel Canyon Sneakers is that they're the only pair of shoes you need to take with you traipsing the globe. Which means they're going to get a lot of wear. Not only because you'll be slipping them on daily, but let's be real, you're probably a lot more active touring Pairs than when you're at home, going to work every day.
So, you should probably expect that you'll need to replace these shoes semi-frequently. That said, we haven't had any durability issues yet. So far, so good.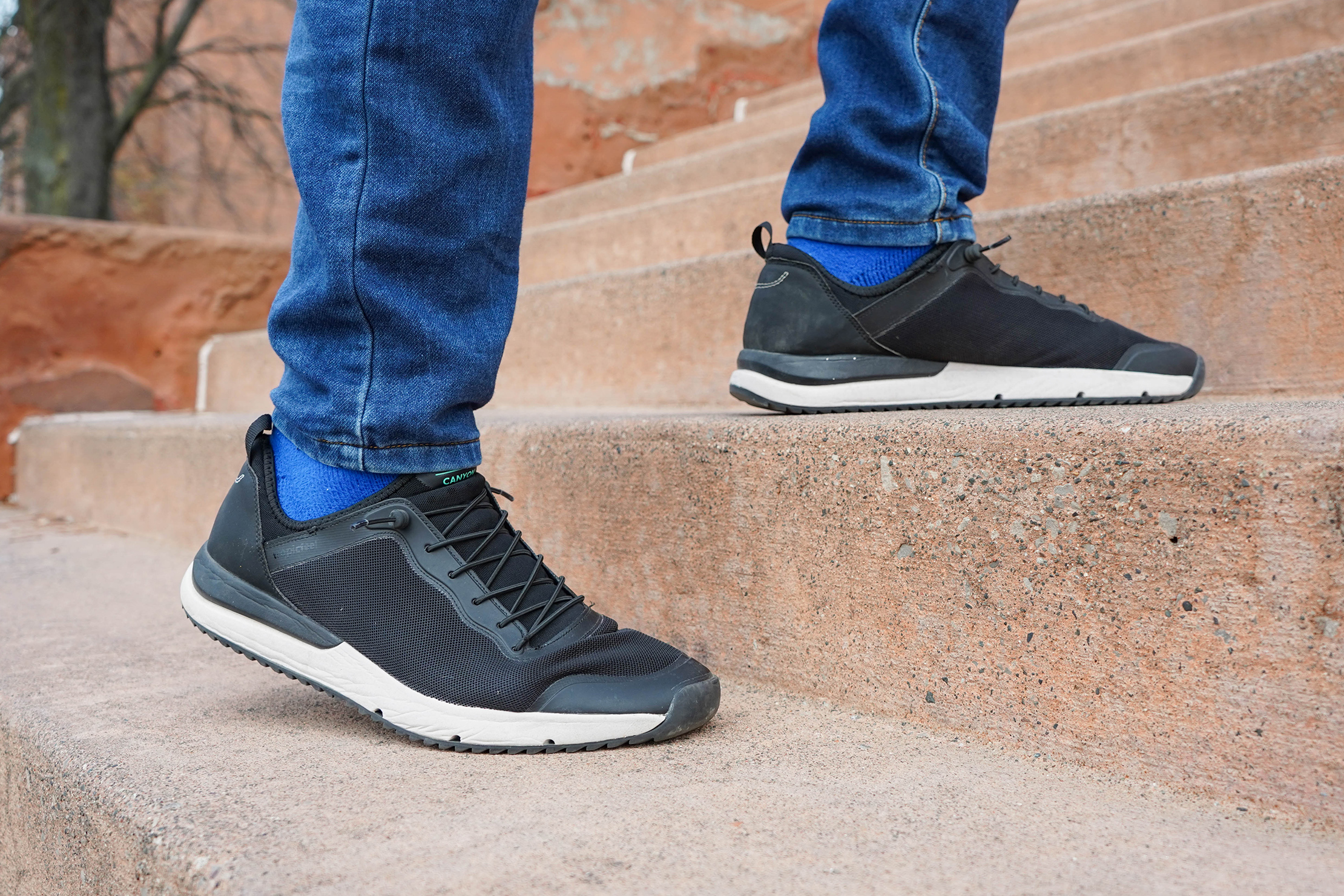 While we haven't loved testing them in below-freezing temperatures for the past two weeks, we're big fans of these sneakers overall. If you'll be traveling to the warmer wonders of the world, you may want to take a look at the Tropicfeel Canyon Sneakers.
Usage Timeline
Initial Usage
Condition: Excellent
The laces stick out a bit with the knot-stopping mechanism, but we're digging that it allows you to simply slip the shoes on
Very comfortable to wear with plenty of cushion
Geared more towards warmer climates
2 Weeks of Use
Condition: Excellent
Not amazing in cold weather, but we're digging them otherwise.
Access the Pro Community Discussion
Get your questions about the Tropicfeel Canyon Sneakers answered from our team and the Pro Community right here on the page. Plus, join discussions with other members about gear, guides, and more.
Other Clothing & Accessories Reviews