Tortuga Outbreaker Laptop Backpack Review
With a comfortable harness system and smart organization, the Tortuga Outbreaker Laptop Backpack is great for travel—if you don't mind its crinkly exterior.
Our Verdict
Unlock the Pro Summary
Save time. Get access to brief summaries of our reviews so you can browse and make decisions more efficiently.
Pros
Smart organization
Comfortable harness system
Laptop sleeve offers plenty of protection
Cons
Sailcloth exterior is crinkly
Can be tricky to access your stuff in the front compartment
The handles can be hard to grab when the pack isn't fully packed out
Recent Pack Hacker Video
Technical Details
Capacity

27l

Weight (lb)

3.2 lb (1.5 kg)

Dimensions

18.5 in x 12 in x 9 in (47 x 30.5 x 22.9 cm)

Notable Materials

Sailcloth, Ariaprene® Foam, YKK Zippers, Duraflex Hardware

Manufacturing Country

China

Laptop Compartment Size

15"

Warranty Information
Full Review
Get up to 10% off Tortuga • Join Pack Hacker Pro
The Tortuga Outbreaker Laptop Backpack will give you deja vu. This 27L pack, which Tortuga advertises as the "ideal under-the-seat backpack for a frequent traveler" has a lot of similarities to Tortuga's other travel bags—and we mean that in a good way as Tortuga gear frequently impresses us.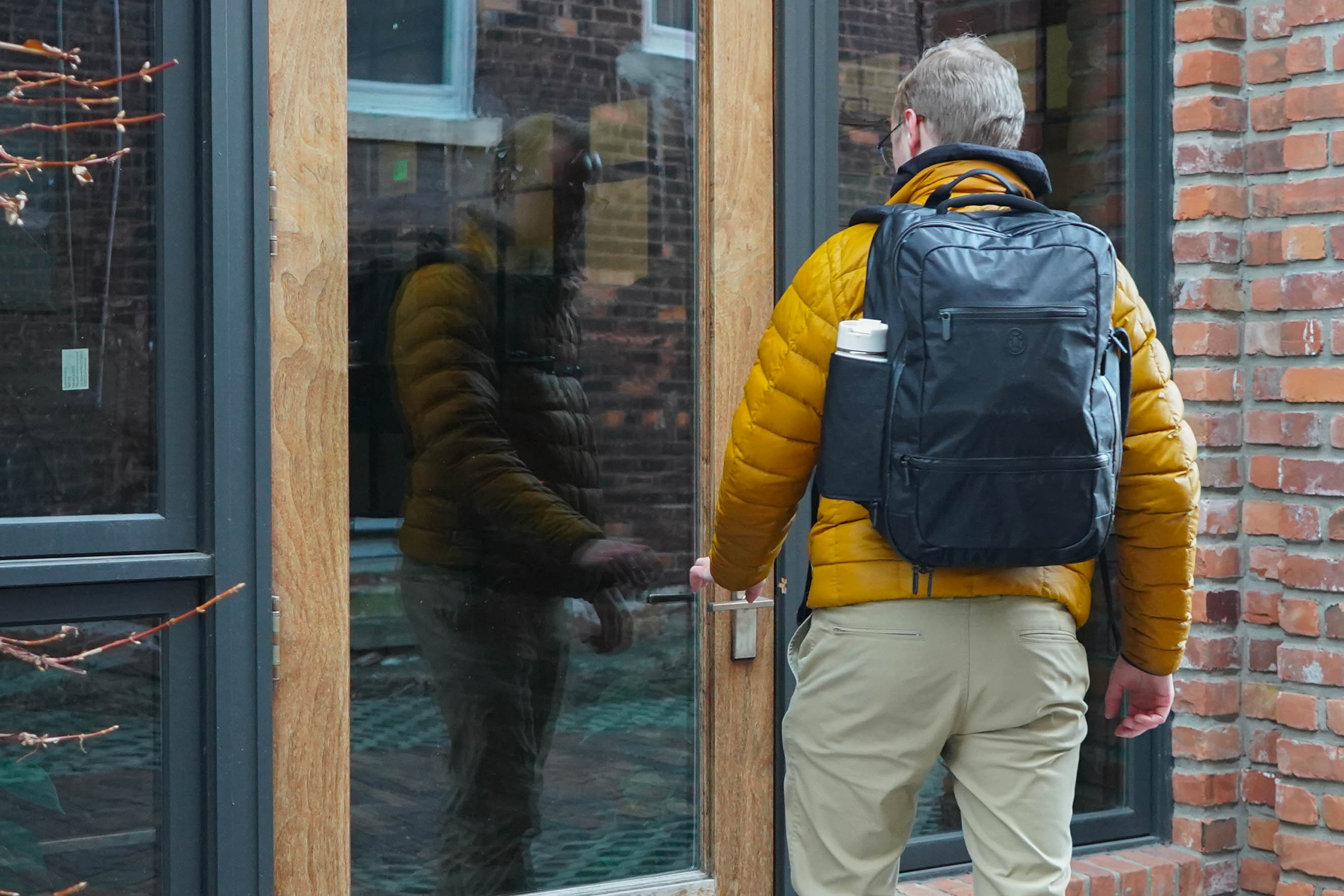 So will the Tortuga Outbreaker Laptop Backpack continue that trend? We've put this bag to the test for two weeks in Detroit, Michigan to find out. Read on to see what we've uncovered.
Materials & Aesthetic
Like the other packs in Torguga's Outbreaker collection, the Outbreaker Laptop Backpack has a VX21 sailcloth exterior. This sailcloth is a combination of 210D nylon with DWR and UV resistant coatings, polyester, and PET film. In case you're not a fabric engineer, that means this pack is made of some highly durable and highly water-resistant stuff. It's also lightweight and doesn't have much structure.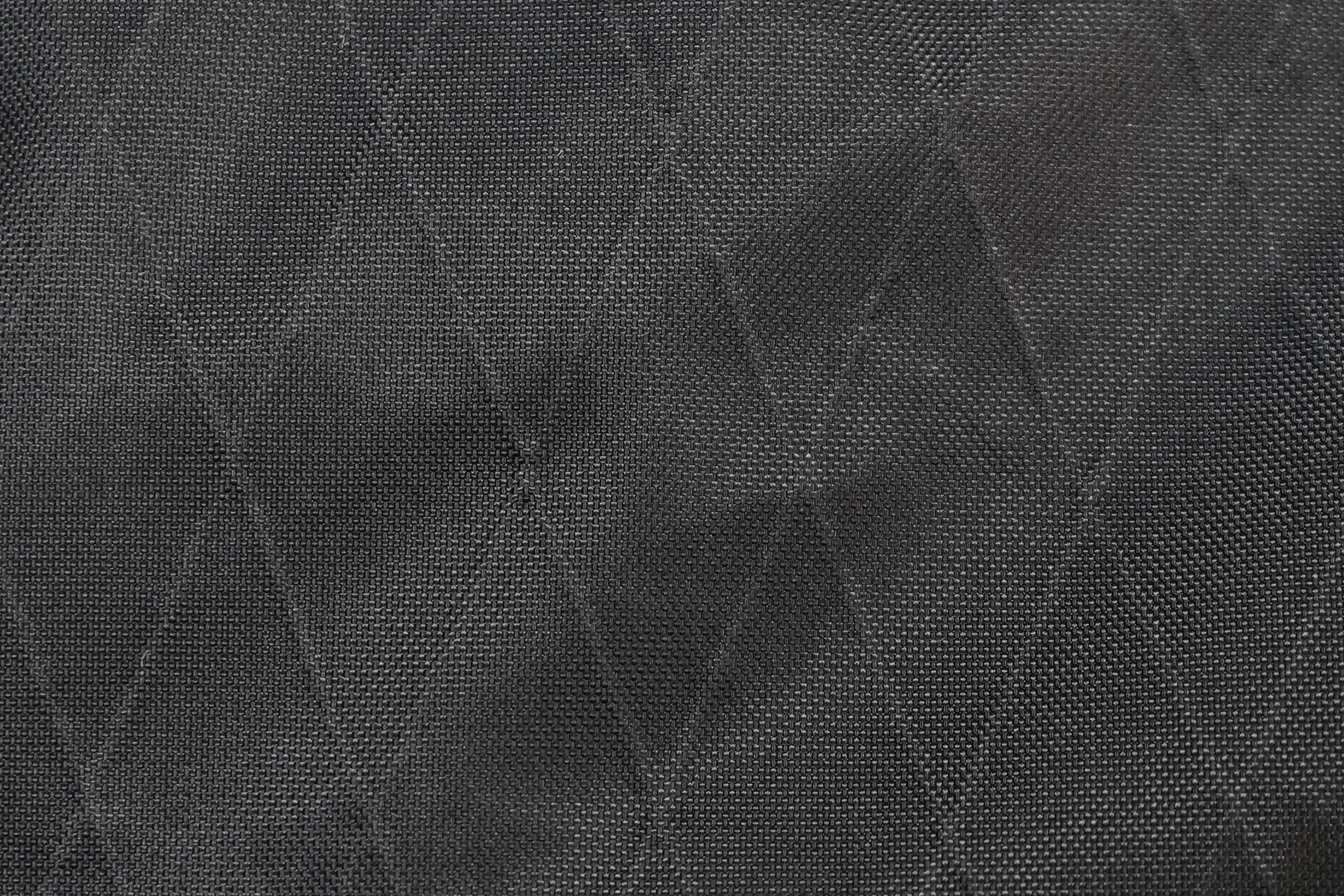 The water-resistance is elevated by YKK AquaGuard® Zippers, which repel water with a thin polyurethane coating. Suffice to say, the weather-resistance on this pack is solid. You should be good to go, even when traveling throughout Asia in the rainy season. As an added bonus, the zippers on the front, main, and laptop compartments are all lockable for great peace-of-mind.

You'll find Ariaprene foam on the back panel and shoulder straps, which is not only comfortable but hypoallergenic and non-abrasive. And, coupled with the mesh overlay, it's quite breathable (more on the functionality of the harness system later).
Finishing off the materials, there are Duraflex buckles throughout this bag. We've tested numerous bags with Duraflex hardware and have yet to have major issues. So you're (likely) not going to have any problems here.
While the materials are all top-notch, the aesthetic of the Outbreaker Laptop Backpack is hit-or-miss. The sailcloth looks shiny and crinkly, which is not everyone's cup of tea. Now, it's not actually as crinkly as it looks—you won't feel like you have a plastic bag on your back, don't worry.
The diamond ripstop pattern also gives this pack a techy look. As does the fact that, at the time of this review, the Outbreaker Laptop Backpack is only available in black. Again, this is one of those things you either love or hate. We're squarely on the "love" side. We're also digging the minimal, black-on-black branding.
External Components
We've waxed poetic about the harness systems on Tortuga packs before and we're going to do it again with the Outbreaker Laptop Backpack.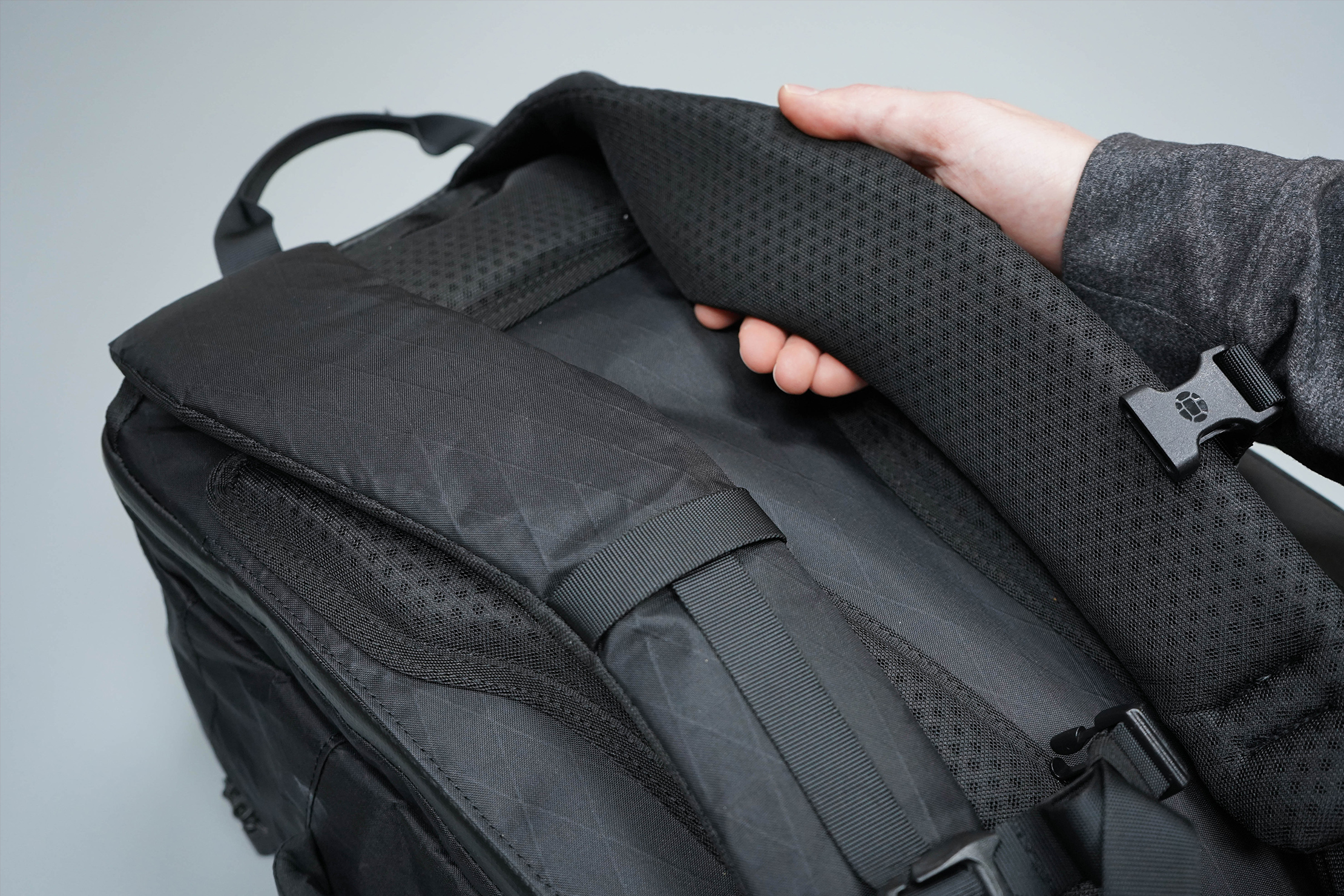 The backpack straps don't have a lot of structure, but they make up for that with a wide width—they sit nicely on your shoulders and distribute the weight evenly. Plus, the lack of structure means they wear well both low or high (they bend to your body).
The aforementioned Ariaprene foam is soft, cushy, and breathable. As we said, the foam is also found on the back panel. There, it's super dense and thick (maybe too dense for some of you). The porous foam and mesh help keep the dreaded swamp back to a minimum, but you'll likely still sweat in hotter climates. Such are the perils of wearing a backpack.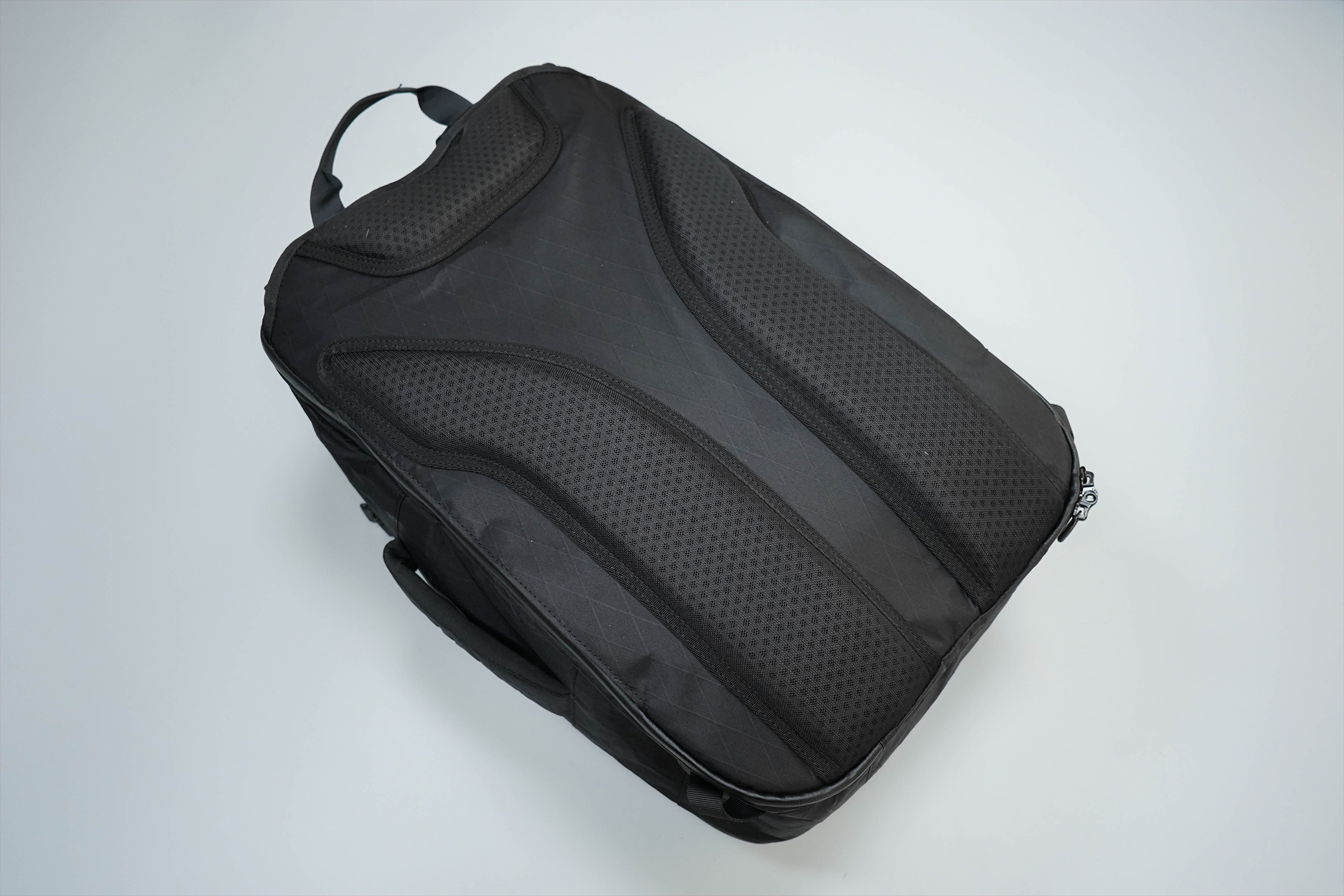 The thick pads of foam are also the only parts of the pack that sit on your back. This adds great ventilation, but you can really feel the pads pressing against your back. Not everyone will be a fan of how this feels, but we're digging it.
You have the option to tuck the shoulder straps behind the back panel, creating a cleaner look. That way, you can check your bag without worrying about the backpack straps getting snagged on things in the underbelly of the plane. It's also great for sliding the backpack in and out of the overhead bin or if you ever want to carry the pack in briefcase mode. The back panel stays securely closed with velcro.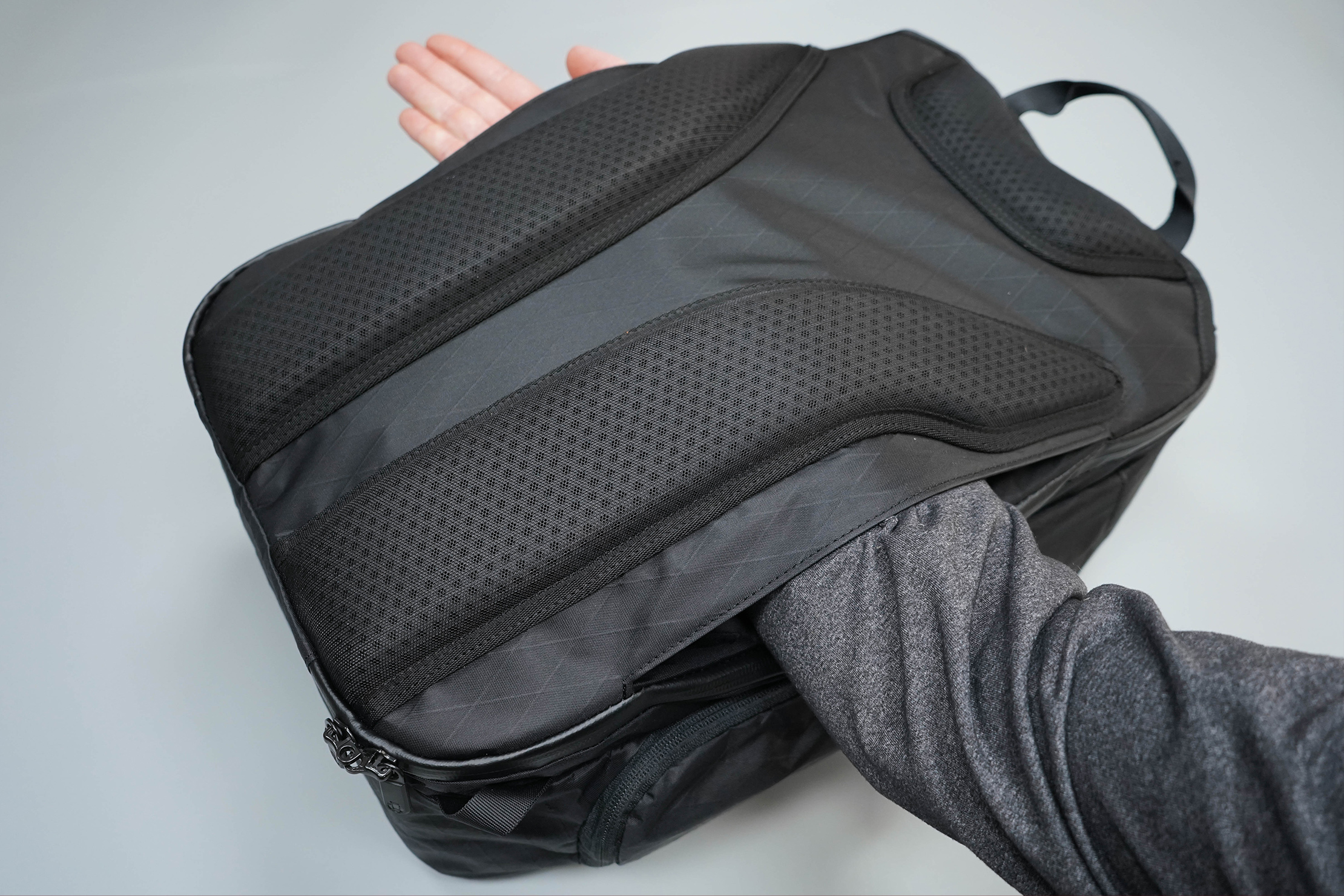 The back panel also features a luggage passthrough to make traveling in conjunction with roller luggage much easier. That said, the passthrough shares the same space as the stowed backpack straps, so it can be difficult to squeeze it through a luggage handle while the straps are stowed. So, we've found it's best to leave the straps out when using this feature.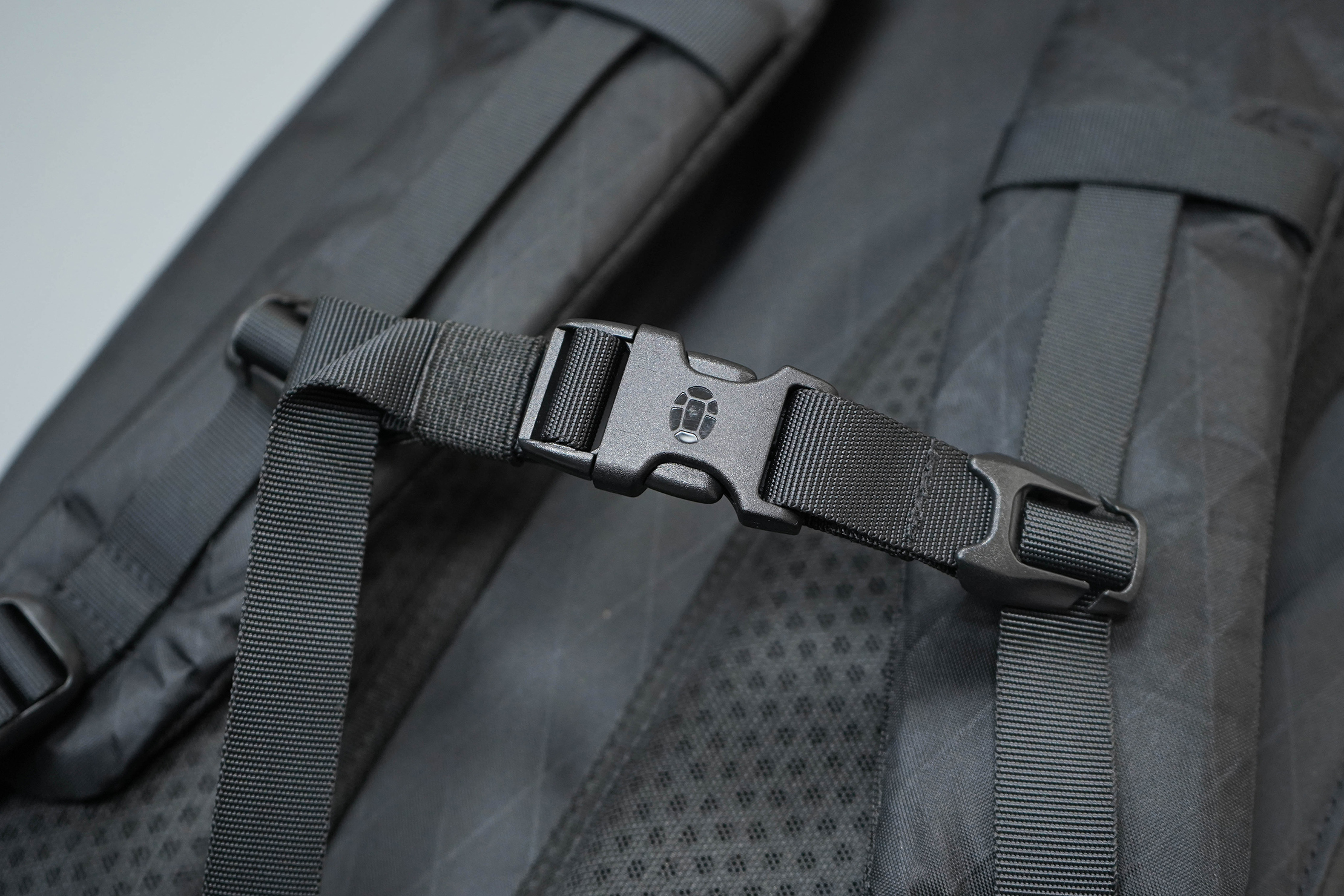 There's also an adjustable sternum strap, which is a great addition since this pack can get heavy when fully loaded out. There's an elasticated section that flexes when you're walking for a more comfortable carry, and there's a strap keeper to ensure any excess strap stays tidy.
Unlike other adjustable sternum straps that have a few different positions you can switch to, this one slides along a track, making it (almost) infinitely adjustable. And, when you get it where you want it, it stays in place. You can also remove the sternum strap if you'd like.
We want to point out that the Outbreaker Laptop Backpack doesn't have any load-lifters or a hip belt. At 27L, we don't think either of those are necessary, but it's something to keep in mind.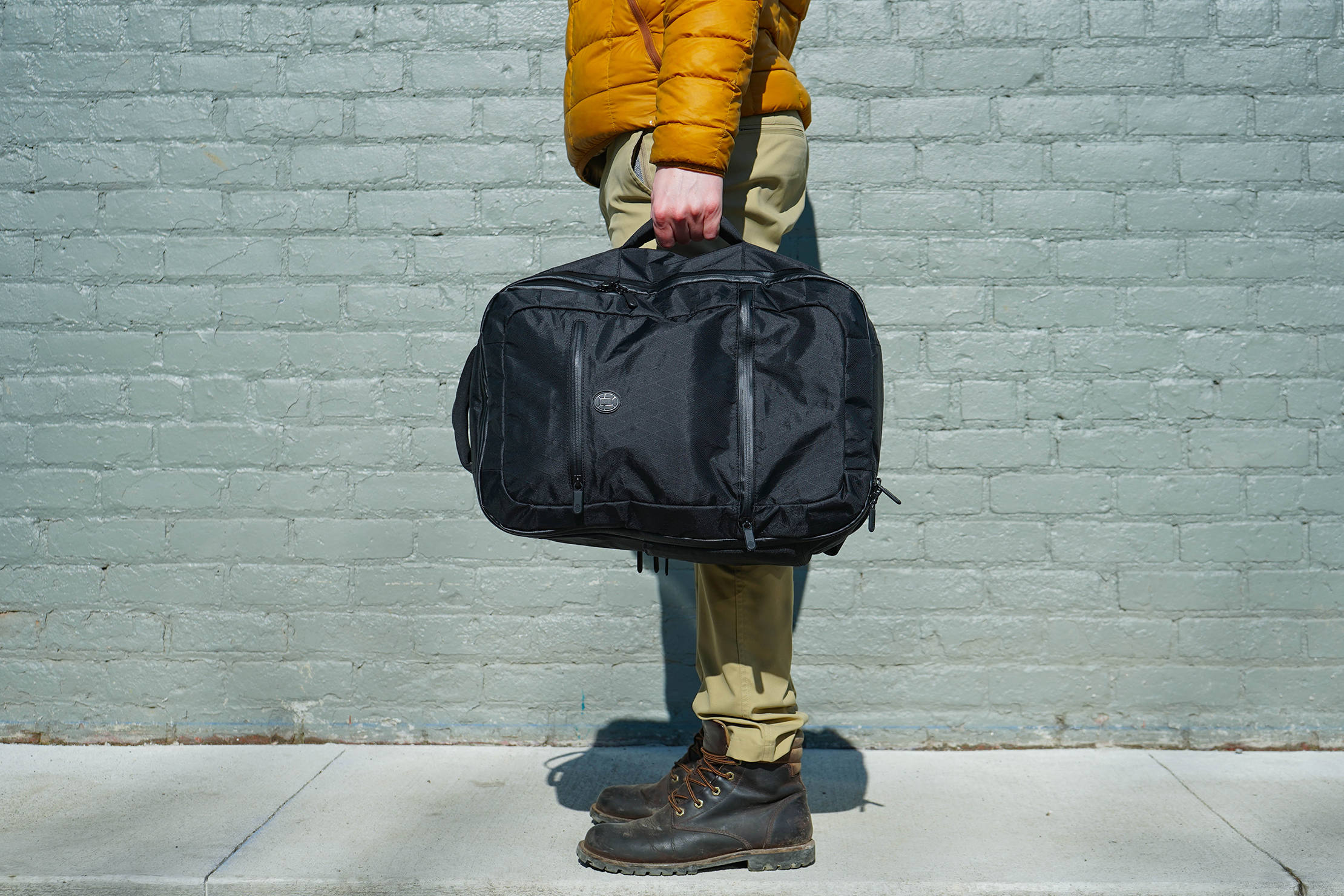 Moving away from the harness system, you'll find two sturdy handles—one on the top, one on the right side. They're well-padded, making them comfortable to grab and hold. The side handle allows you to carry this thing as a briefcase (just remember to stow those straps). While this carry isn't amazing, it works if your back needs a break or you simply want to look a touch more professional. The handles are also great for maneuvering this pack—swinging it into overhead bins, grabbing it from under the seat in front of you, etc.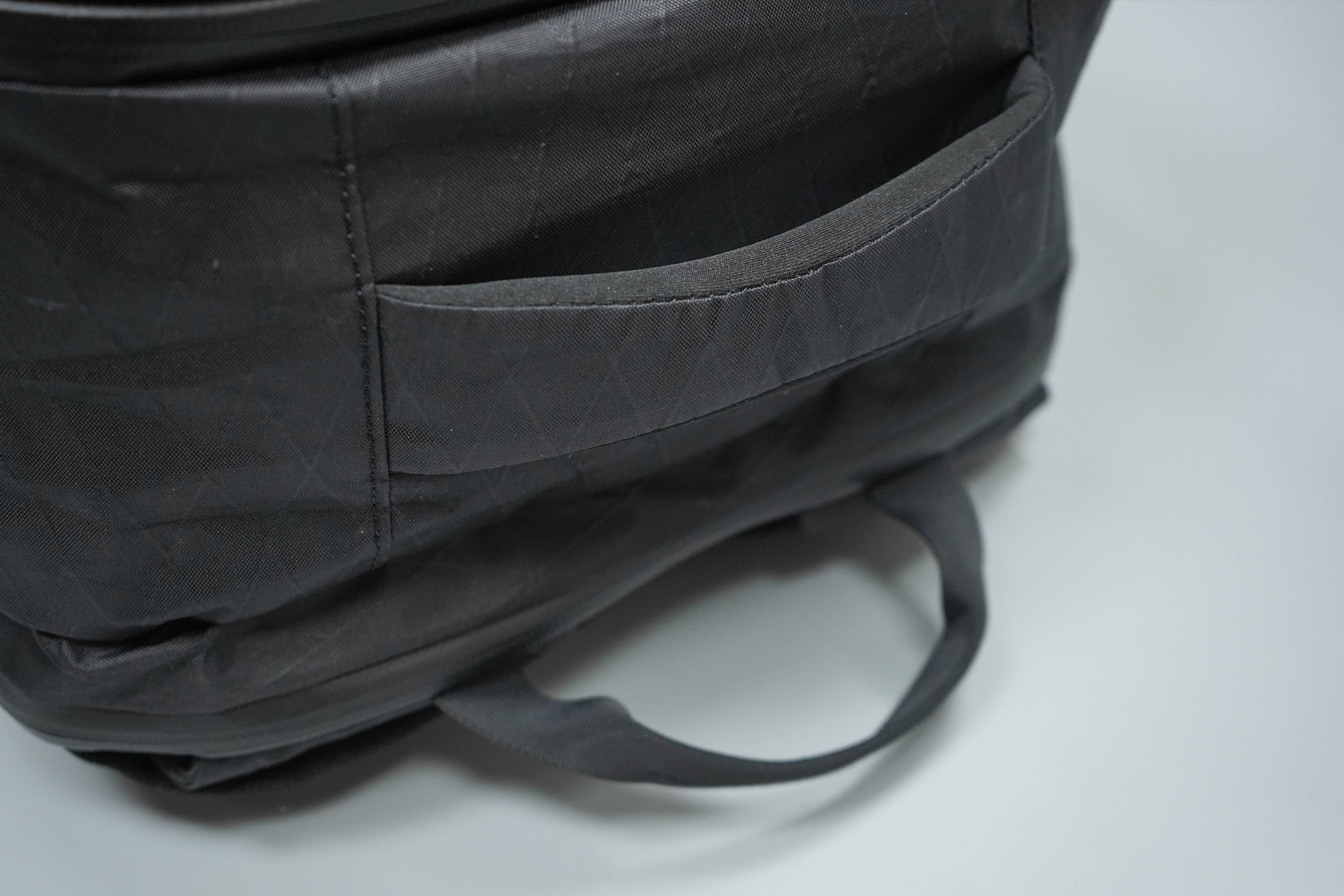 There's an additional handle on the top of the pack, which is a simple loop. This handle is less for grabbing and more for hanging. Use it to hang the pack off of disgusting airport bathroom floors, disgusting airport bar floors, disgusting airport terminal floors, disgusting…well, you get the idea. The pack does lean forward a little bit when you hang it up, which isn't the end of the world. But if you want to avoid that, you can try to slide both top handles through whatever hook you've strung the pack up on.
All three handles can be hard to grab when the pack isn't fully packed out, just because this backpack doesn't have much structure. Not the biggest deal, especially since that lack-of-structure helps keep this bag lightweight. But can be annoying enough to point out.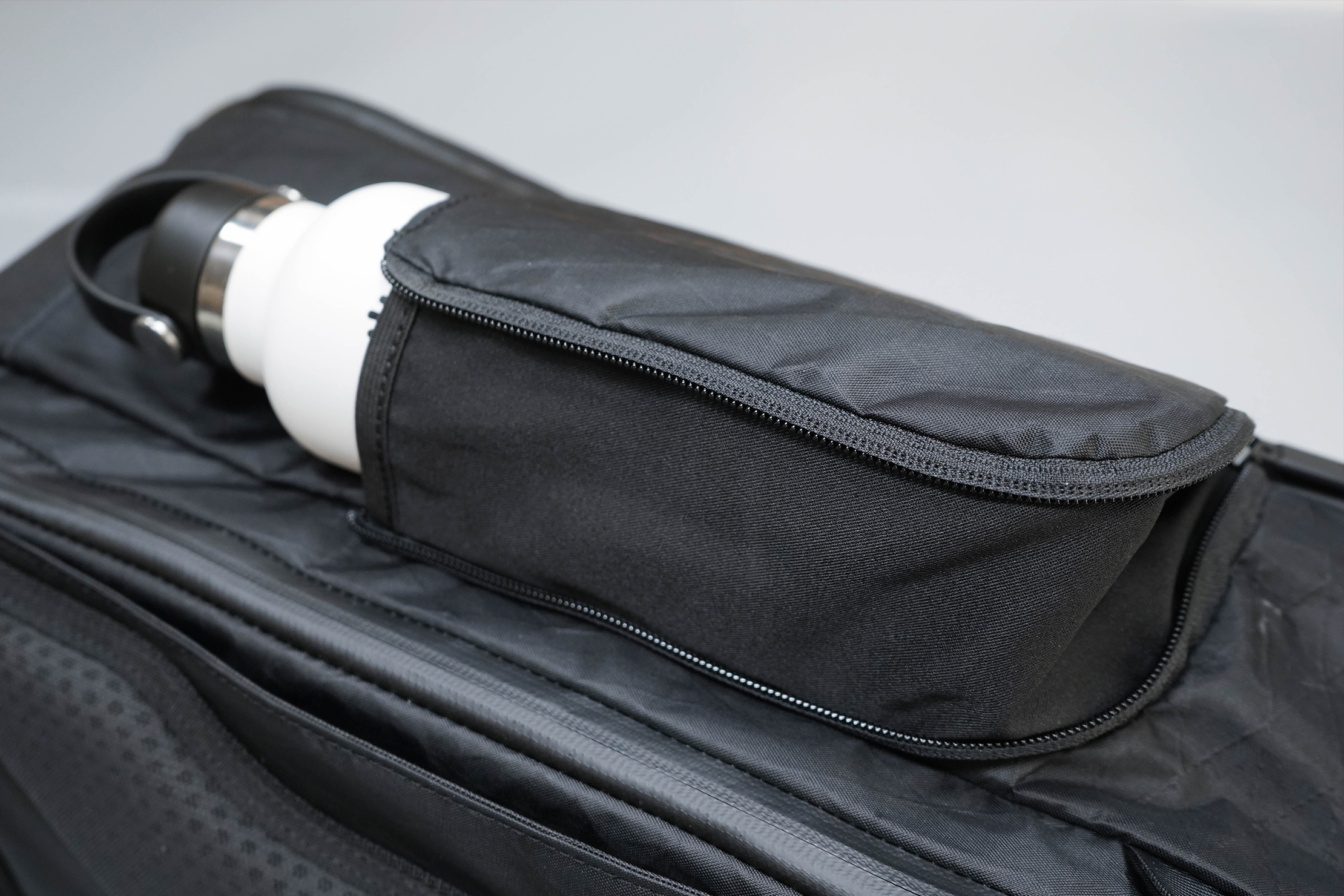 Finally, there's a water bottle pocket on the left side of the pack, which zips down and stays flat when not in-use (you can also squeeze smaller water bottles into it in its compressed state). If you have a larger water bottle or thermos, simply unzip it to expand the available room.
We prefer to keep it expanded a majority of the time because, when it's compressed, water bottles will stick into the main compartment a little bit, eating into that space. Although, this may also happen when the pocket's expanded if you have a gigantic water bottle.
Still with us? Good—because we're about to take a peek inside this pack. And, yes, it's just as complex as the exterior.
Inside the Pack
There's not one, but two quick-grab pockets on the Outbreaker Laptop Backpack. The top quick-grab pocket doesn't have much depth, so it's best for small items. We've mostly used it for AirPods and an AirPods charger—you never know when you're going to need to rock out to some jams at a moment's notice.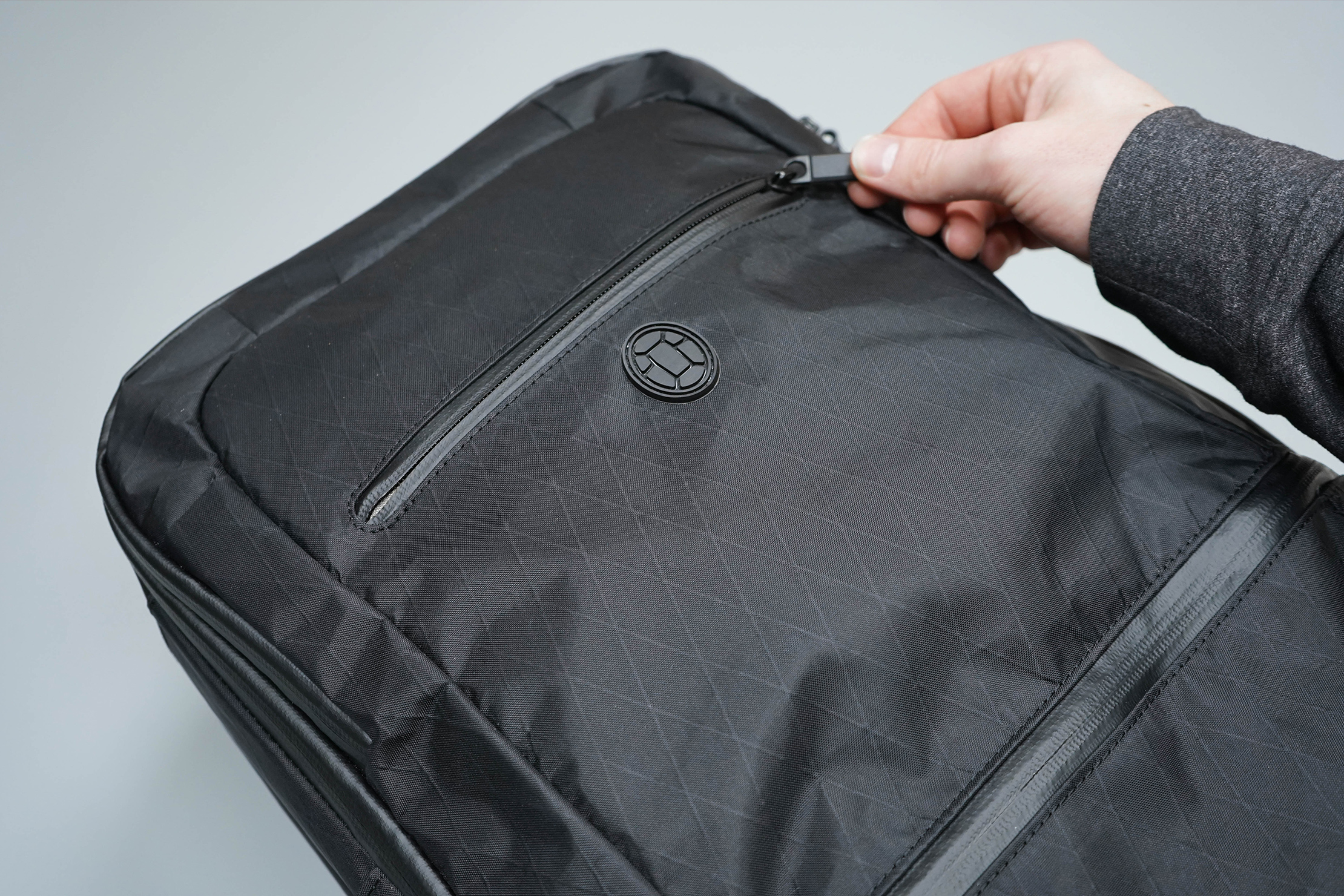 The second quick-grab pocket, located approximately ¾ of the way down the pack, has more room for those classic quick-grab items—wallet, phone, a glam shot of your cat. It also has a key leash…so keys would work well here too. It's also a great dump pocket to throw all of your pocketable items while you're going through airport security.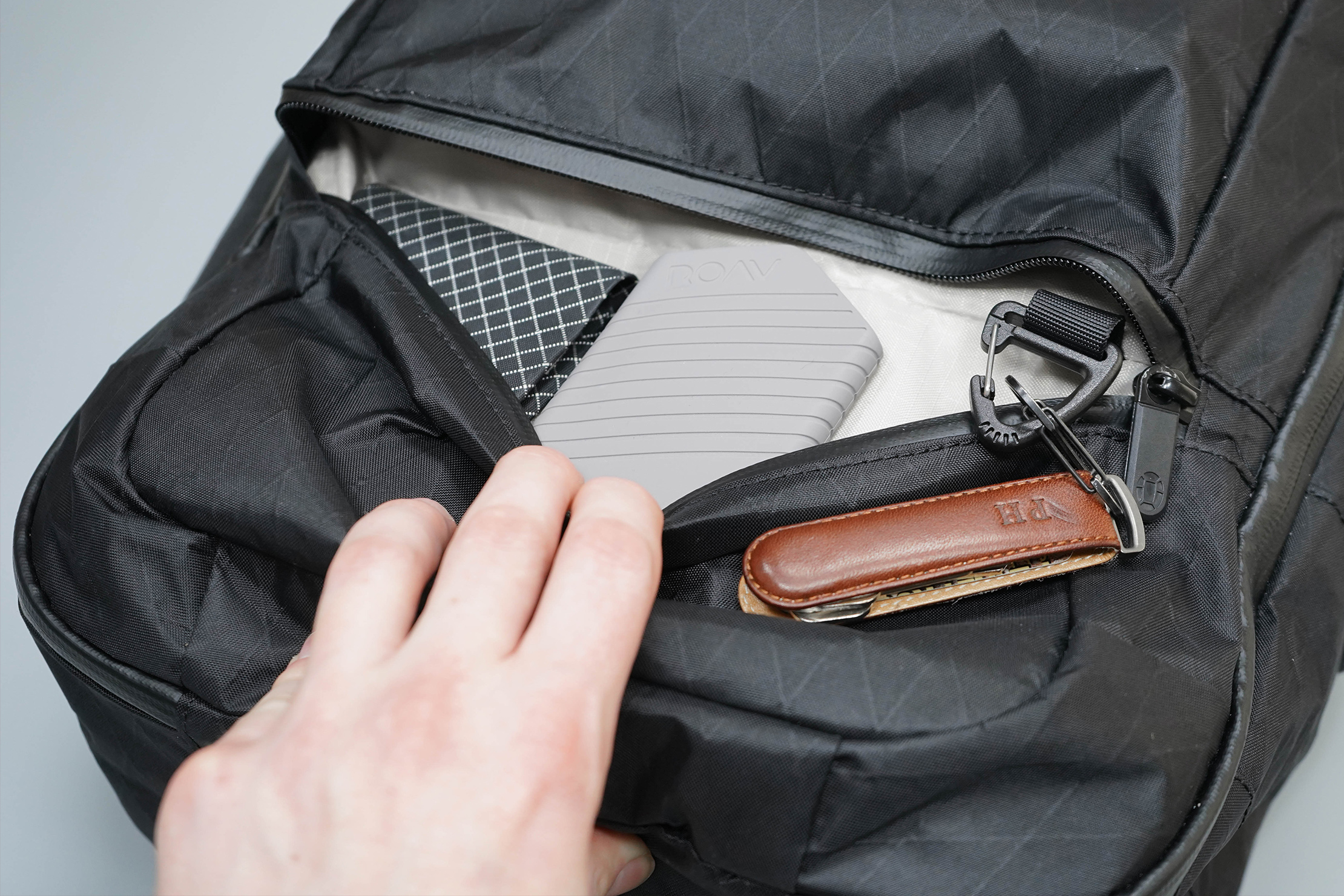 Behind the quick-grab pockets, there's a large compartment full of primo organization. If you're familiar with Tortuga, you won't be shocked by this organization panel, which shows up on a number of Tortuga backpacks (and we're not complaining). First of all, there are three pen/pencil/stylus (styli?) holders. But the Pack Hacker team is full of rebels, so we've used one of the pockets as a fork holder instead. You never know you're going to need a fork.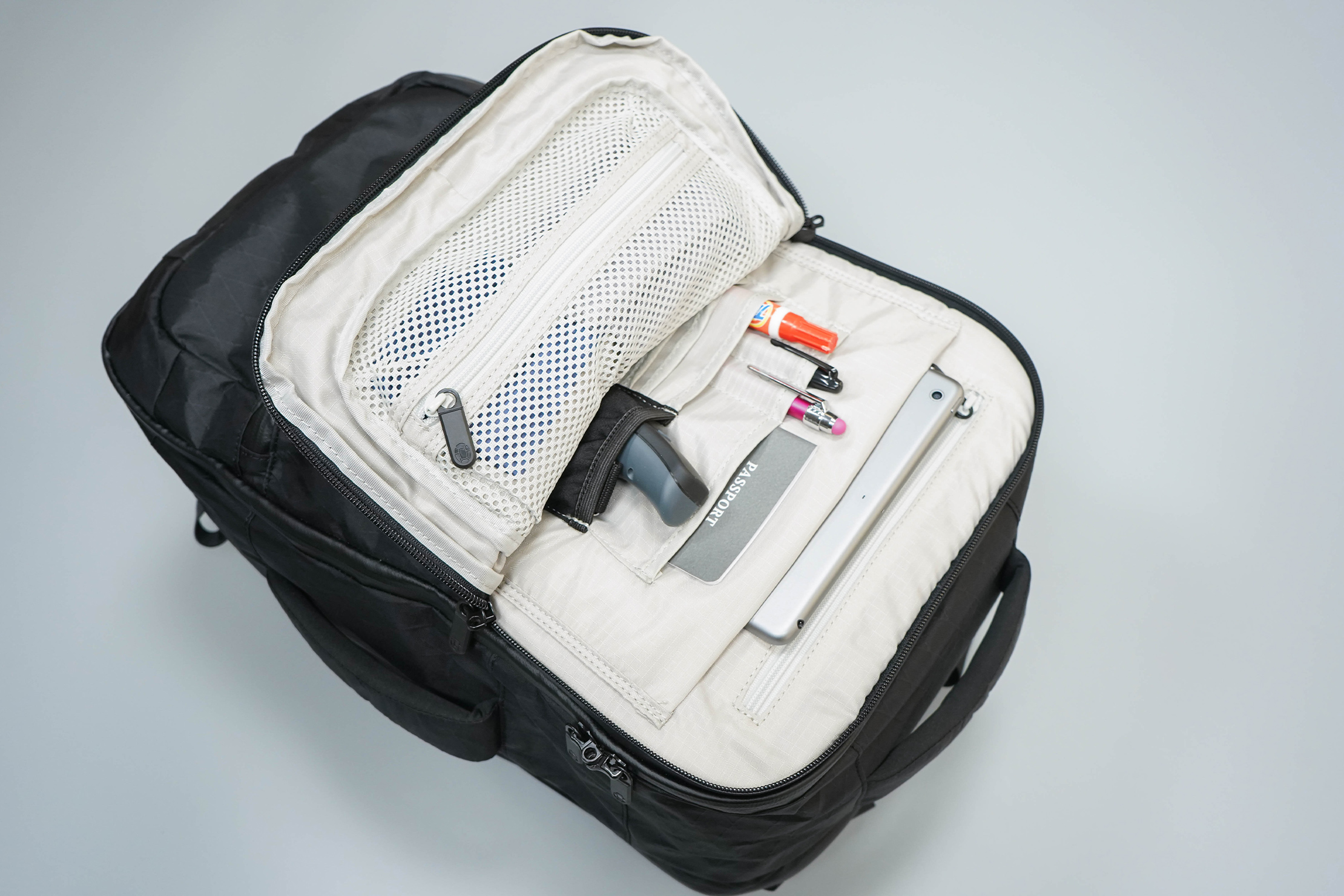 There are multiple flat liner pockets and sleeves for cards and thin notebooks/books respectively. We've also used one of the pockets to hold a Tide To Go Pen (again, rebels), (also, traveling with a Tide To Go Pen is a game-changer, trust). There's also a mesh pocket, where we've carried a luggage scale to weigh all the bags that come in, ensuring companies' measurements are correct. You probably don't travel with a luggage scale, but any bulkier items work well here as the mesh is super stretchy.
Up top, there's a zippered pocket, which is a great spot for a passport as it's easily accessible but still protected behind two zippers.
There's also a tablet pocket. One side of the tablet pocket's interior is lined with some sort of faux-fur. It's oh-so-soft. Baby-sheep-wrapped-in-a baby-blanket kind of soft. We do have a small nit-pick though. The faux-fur is on the side of the pocket that faces out, meaning if you put the screen of your tablet against the faux-fur (which is the whole point) the tablet screen will be facing the front of the pack—which does not offer a lot of protection. The tablet pocket is padded, but it still makes us nervous. We would prefer if that faux-fur was on the opposite side of the pocket.
Okay—we're still not done here. Yeah, there's a lot going on. Across from the organization panel, there's a zippered mesh pocket. We've put a bottle of screen cleaner and a couple of screen cleaning cloths here. You gotta keep that monitor clean, you know?
And the compartment itself has a good amount of volume and depth. It goes approximately ¾ of the way down the pack. It's a good spot for a book or a jacket, but can be tricky to access when the pack is full. It can also make the front of the pack look a little lumpy. So we don't frequently use this space.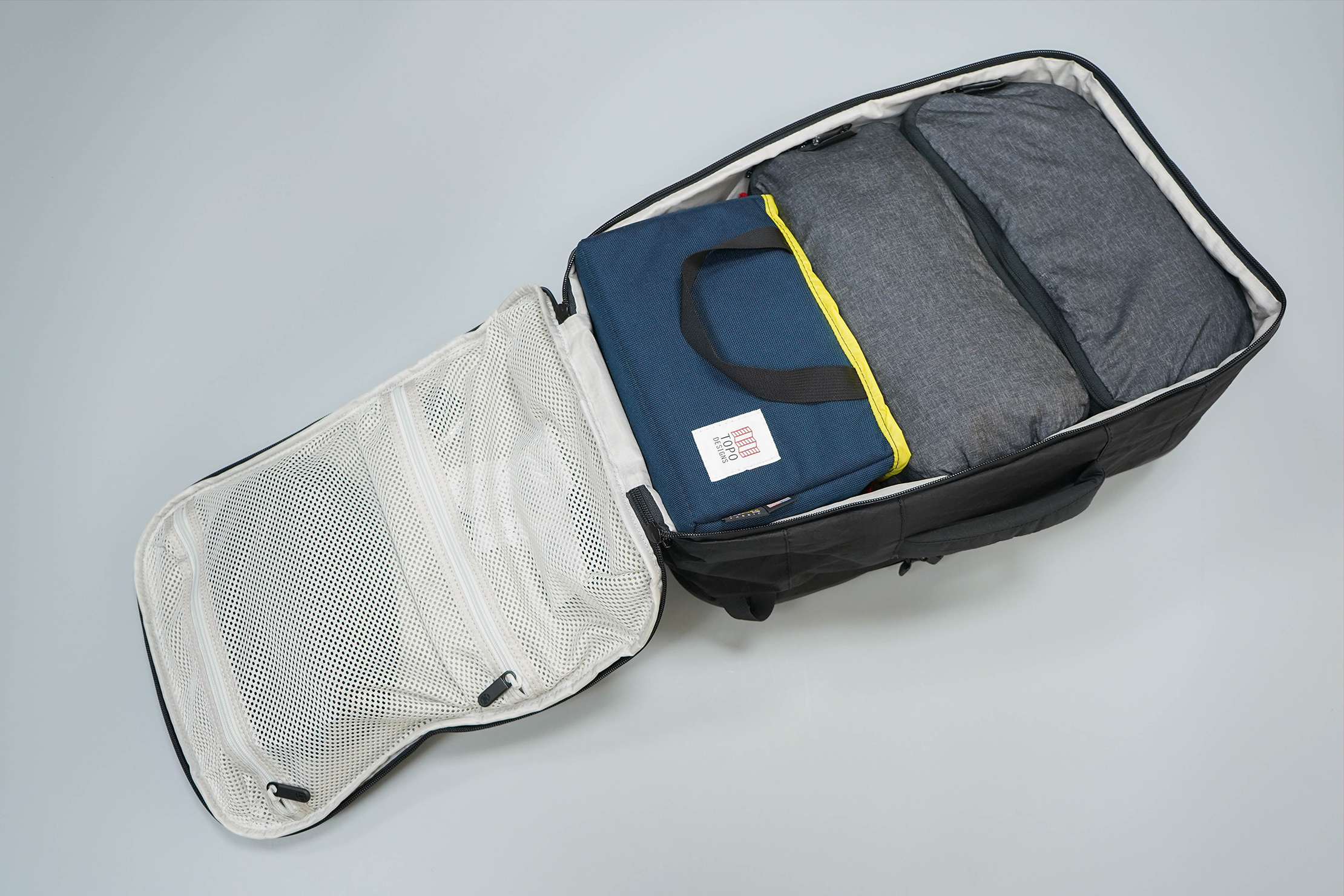 Three compartments down, two to go. Let's check out the main compartment, shall we? It opens in a full clamshell-style (all the way around), allowing you to pack it up as you would hard-sided luggage. One side is essentially a big bucket for clothes (or whatever you want, but it's perfect for clothes). We suggest packing cubes and accessory pouches to keep everything organized.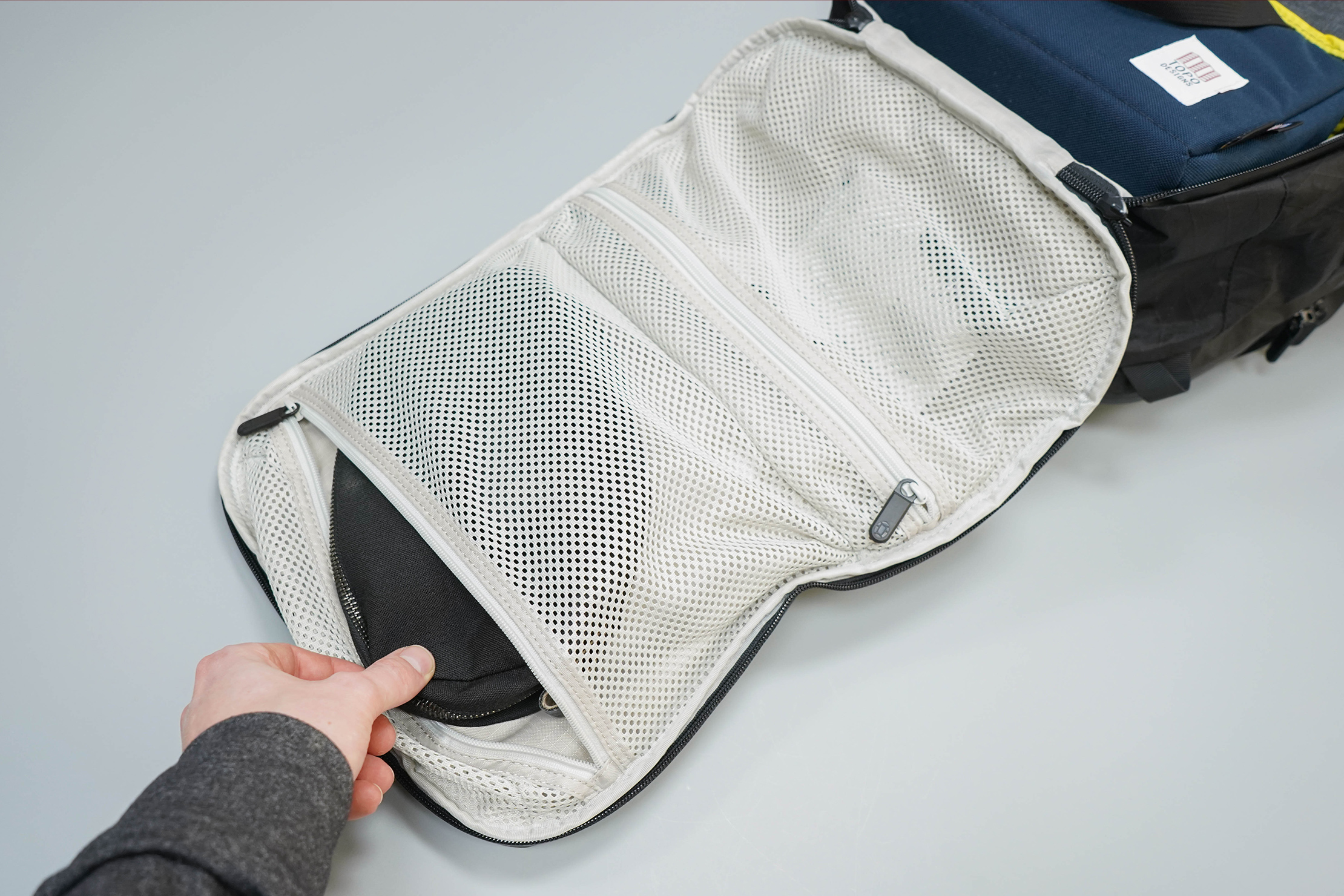 On the opposite side, there are two zippered, mesh pockets stacked on top of each other. We've put a toiletry kit in the top one and quick-grab toiletry items in the bottom one (face wipes, solid cologne, little things to keep you refreshed after a long day traveling or exploring).
Finally, there's the tech compartment, which also opens all the way around clamshell-style. Inside, there are three zippered mesh pockets—two small ones up top and a larger one on the bottom. We've put over-the-ear headphones in the bottom one and random bits and bobs in the top two (adapters, a mouse, chargers, extra batteries, etc).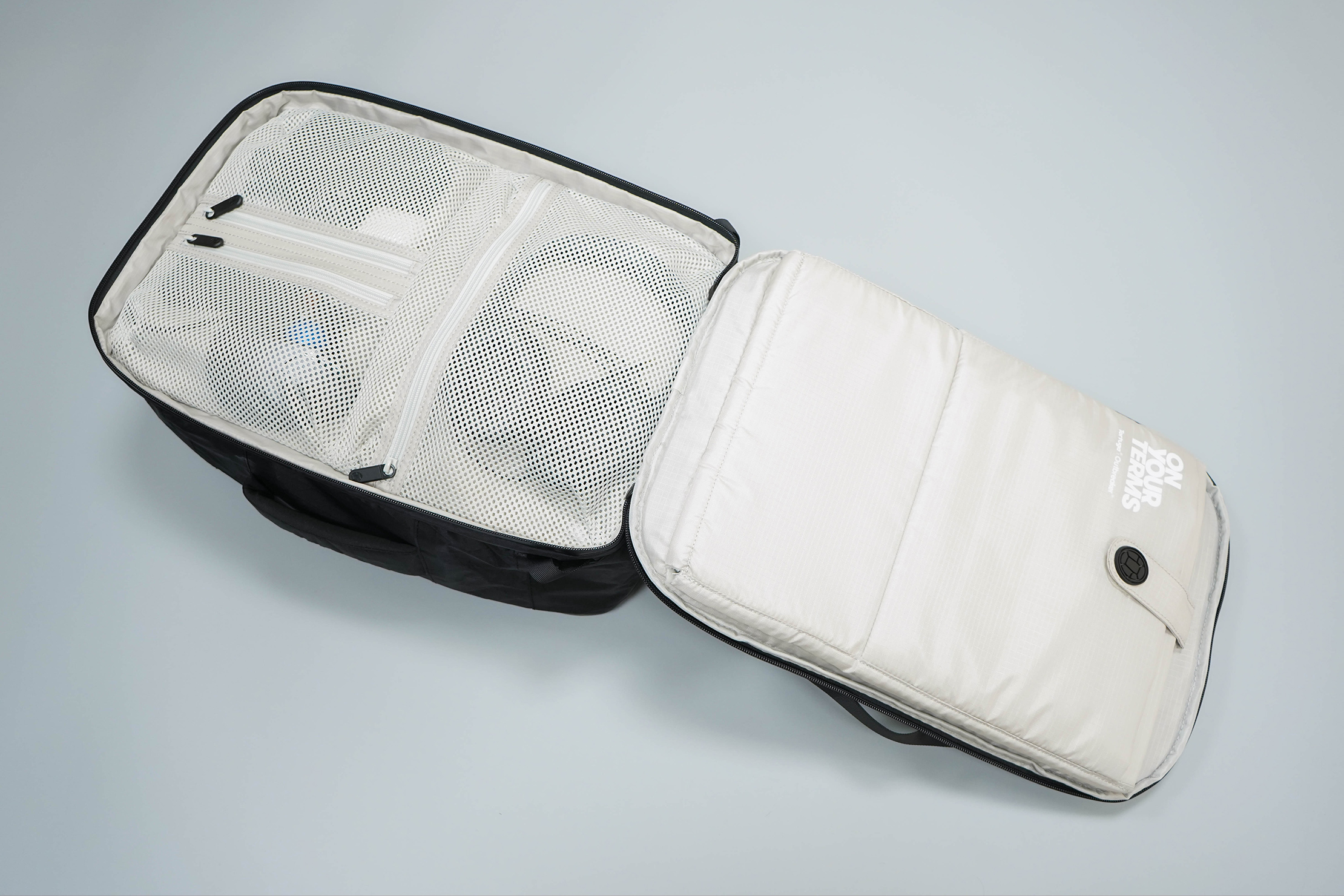 Across from that, there's another tablet pocket. This one also features that faux-fur we mentioned earlier. The faux-fur faces the interior of the pack, so the tablet screen will be facing the interior of the pack which should offer more padding as you'll probably fill up the main compartment with clothes. For that reason, we're more inclined to put a tablet here than the tablet pocket in the front compartment.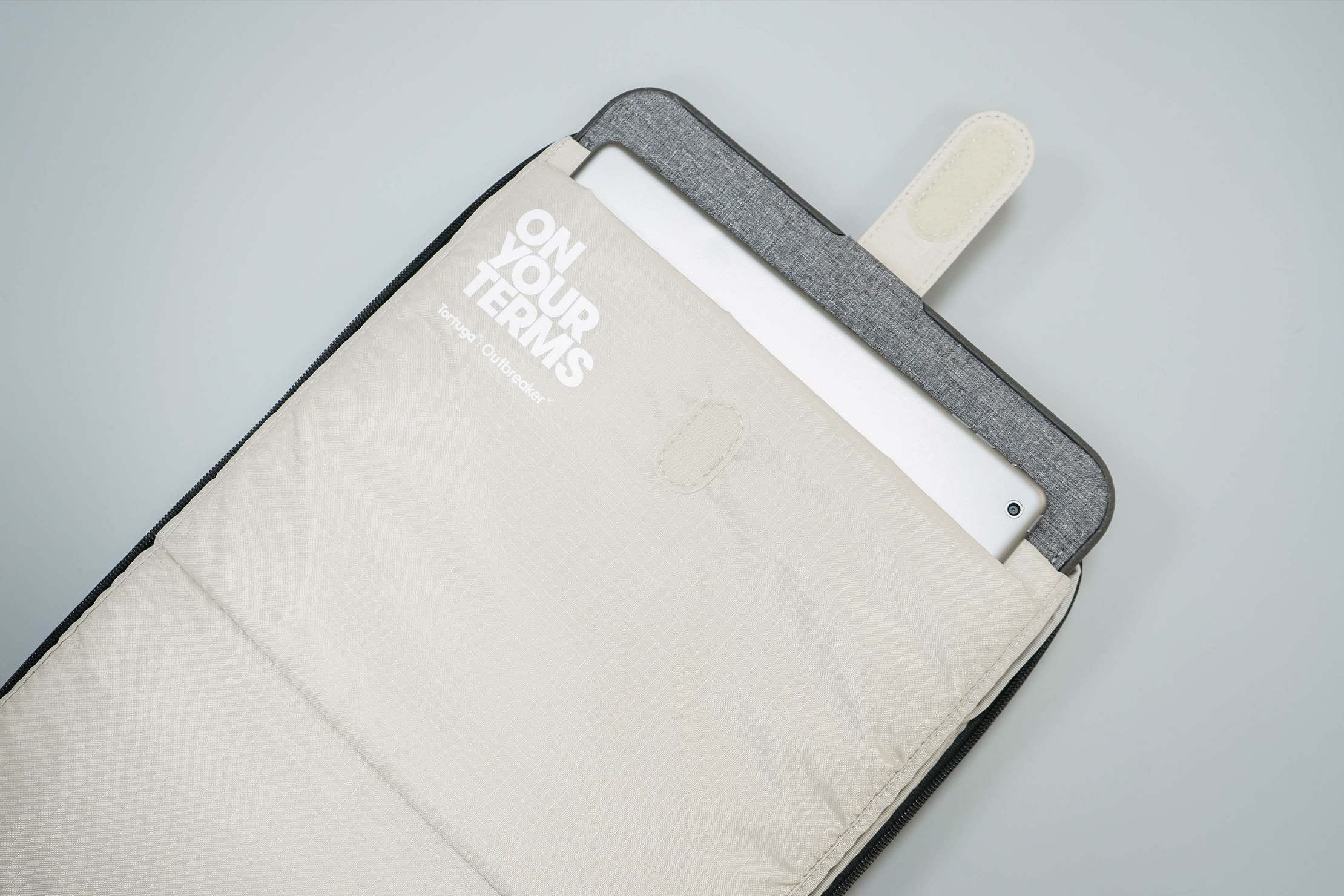 Behind that is the laptop sleeve, which is thickly padded and has that faux-fur on both sides. Tortuga advertises that it'll fit up to a 15'' laptop, but we've found it'll accommodate larger laptops without a case (like a 16'' MacBook Pro). You don't need a case because of all that padding, but we always suggest using one since we like to proceed on the side of caution.
And that's it! Overall, we like that everything is compartmentalized. There's a separate spot for your daily essentials, clothes/toiletries, and tech. You can get what you need when you need it without having to dig past your other stuff.
Durability & Testing
After two weeks of testing, we can safely say that the Tortuga Outbreaker Laptop Backpack is a great addition to the Tortuga ecosystem. This pack has everything we've come to love and expect from the company—a comfortable harness system, primo organization, and durable materials. At 27L, it's on the smaller end of the spectrum as far as a one bag travel option, but it's definitely doable. And it'll slide beneath the seat in front of you on most airlines, which is a huge plus.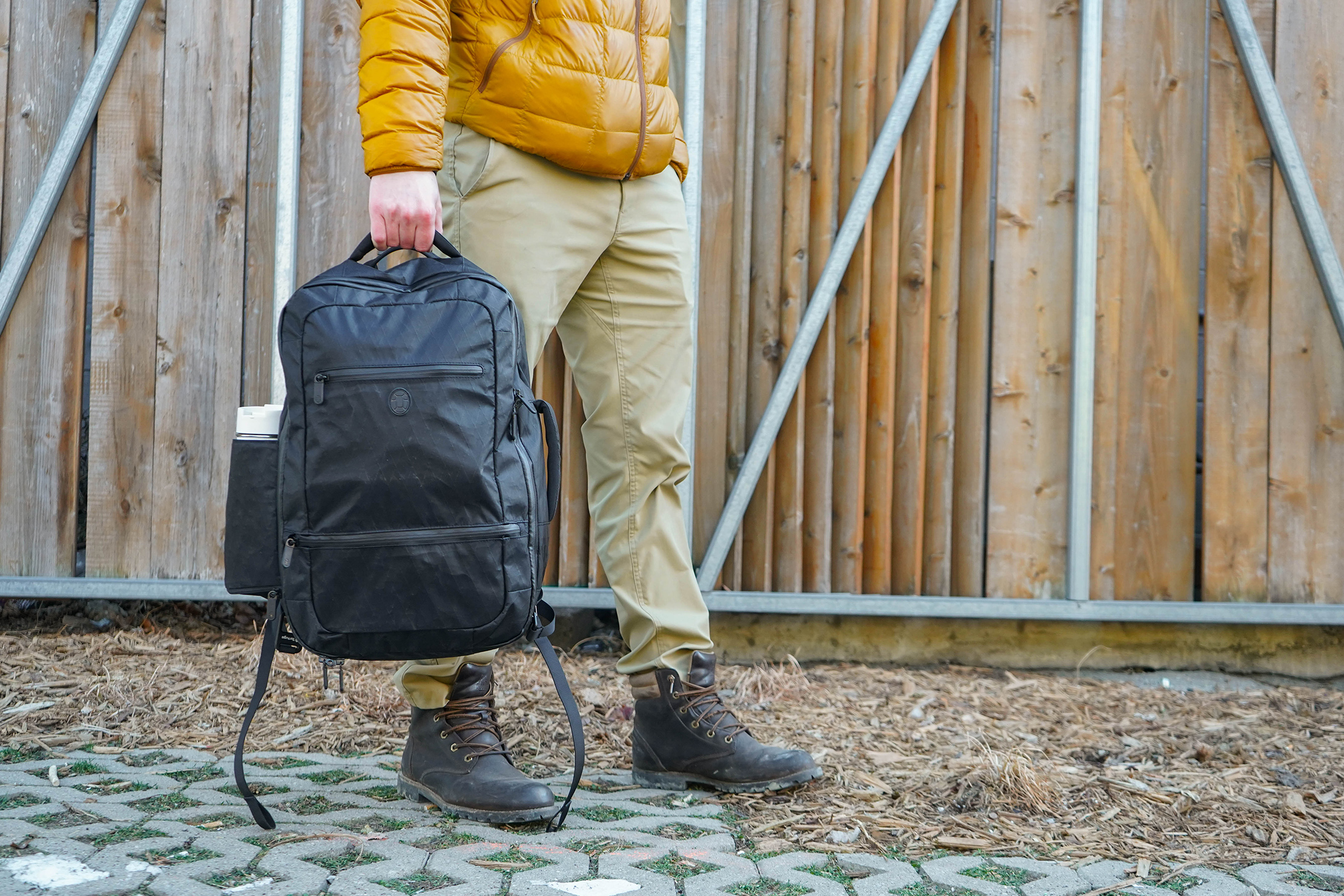 We have no durability issues to report yet and, knowing Tortuga, don't foresee that we will anytime soon.
Usage Timeline
Initial Usage
Condition: Excellent
Really smart organization all over this bag
Great carry-on sized bag
Well padded harness system overall
2 Weeks of Use
Condition: Excellent
This has been an all-around great bag to use
It's taken a few to days to figure out the best way to pack it out, but everything fits in nicely—there's a place for all your gear
There's not much structure so its best to use this bag fully packed out, especially if you want to use the outside handles
Access the Pro Community Discussion
Get your questions about the Tortuga Outbreaker Laptop Backpack answered from our team and the Pro Community right here on the page. Plus, join discussions with other members about gear, guides, and more.
Other Bags & Luggage Reviews