Tooletries Koby Lite Dopp Kit Review
You can stow a lot of toiletries inside the sleek Tooletries Koby Lite; however, the zipper isn't water resistant, and the interior is tough to clean.
Our Verdict
Unlock the Pro Summary
Save time. Get access to brief summaries of our reviews so you can browse and make decisions more efficiently.
Pros
Exterior texture isn't too slippery when wet
Loads of space on the interior to stow gear
Can attach inside your pack via exterior loops
Cons
Zipper isn't water resistant, so spills can escape the pouch
No internal organization
Exterior doesn't hold its shape and can bulge out
Recent Pack Hacker Video
Technical Details
Weight (oz)

7.8 oz (221.1 g)

Dimensions

10 in x 6 in x 6 in (25.4 x 15.2 x 15.2 cm)

Notable Materials

Silicone

Manufacturing Country

China

Warranty Information
Full Review
If you like bringing everything but the kitchen sink, the Tooletries Koby Lite might be the best toiletry bag for you. We're amped to see how the silicone construction and minimalist design work in the real world and whether this thing lands on one of our packing lists. Let's dive in!
External Components
Before we get too far, we should mention that there are three sizes to choose from. We're testing the Koby Lite—the middle sibling. There's a smaller mini and a larger bag version, too, so if you're left wanting more or less space by the end of this, look for either of those to satisfy your fix!

At the time of writing, only the black colorway is available. However, we have a dark green model on hand, so we may see more colors back in stock soon. It's sleek, and there's a texture on the exterior that feels oddly outdoorsy. Why is that so strange? Let's dive into the materials to find out.
This thing is made from 100% silicone. When inspected closely, the texture we mentioned earlier helps it not slip around so much and looks like little rivers in a delta. It's fun to look at and hold onto, but the materials don't hold their shape well when it's not fully packed. Certain items can bulge out when the bag is stuffed with gear, which can look odd. However, that little bit of extra space is helpful when you bring home more equipment than you left with on vacation.
The exterior likes to hold onto dust and pet hair; we've had this experience with most other silicone products we've tested, as well. It's easy to clean, and it doesn't take much to get things looking brand new again, which is a pro to balance out that con.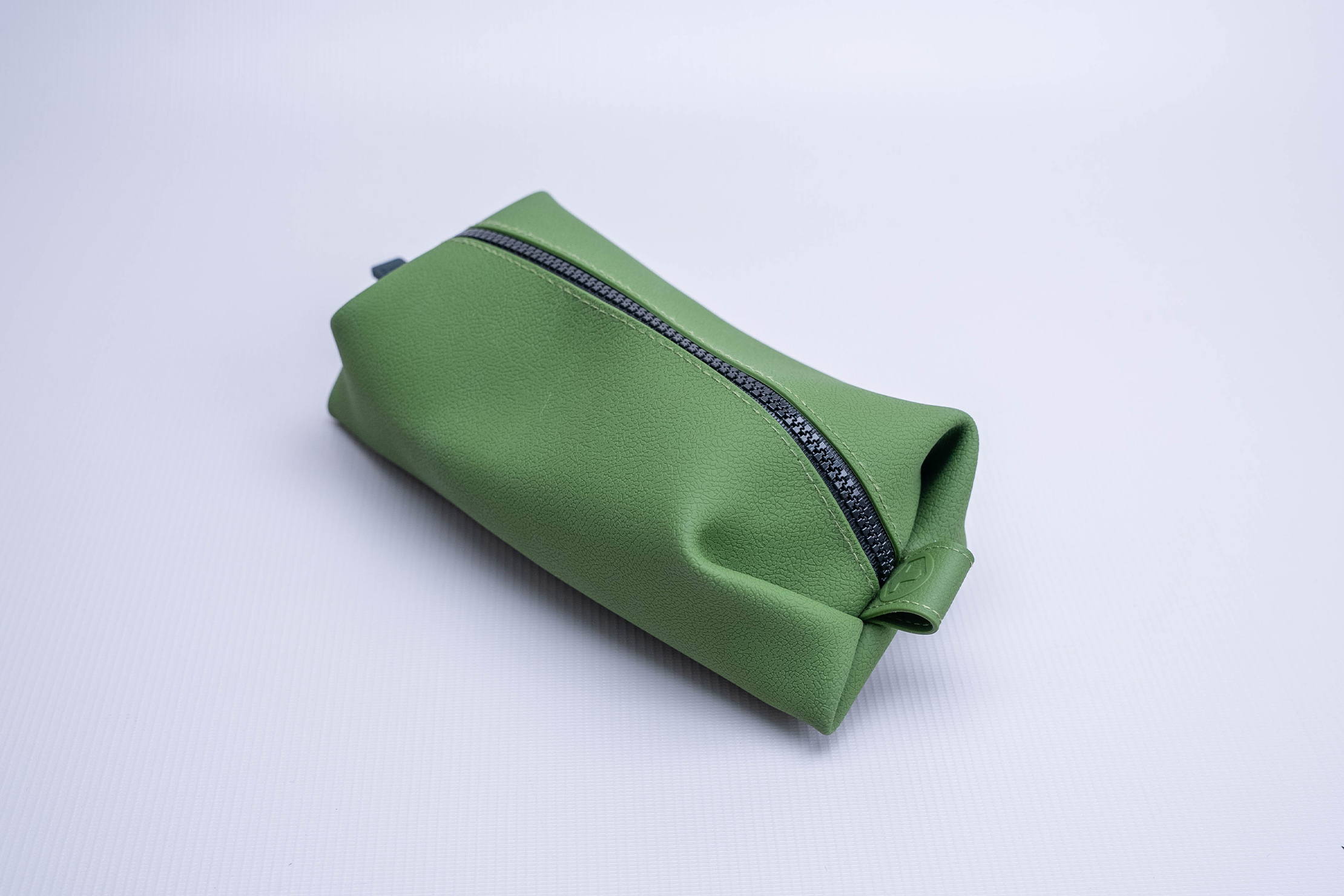 Loops on either end of the zipper track help open and close the main compartment. You can also use them to attach extra gear with a carabiner or strap. However, they aren't very large, so connecting certain things can be challenging, and they don't function very well as handles. They don't appear to be designed for carrying; however, since there isn't a handle, getting from one place to another can be awkward without stowing this bag in a daypack. Think of going to a community-style bathroom, like if you're packing for a hostel trip, or freshening up in the airplane, etc.
The zipper is unbranded and feels cheap. It isn't waterproof or water-resistant, which feels like a miss. Silicone is highly water resistant, but the zipper negates all that work, as liquid escapes through easily. For minor spills, you might be okay, but anything more can soak the interior of your pack fairly quickly.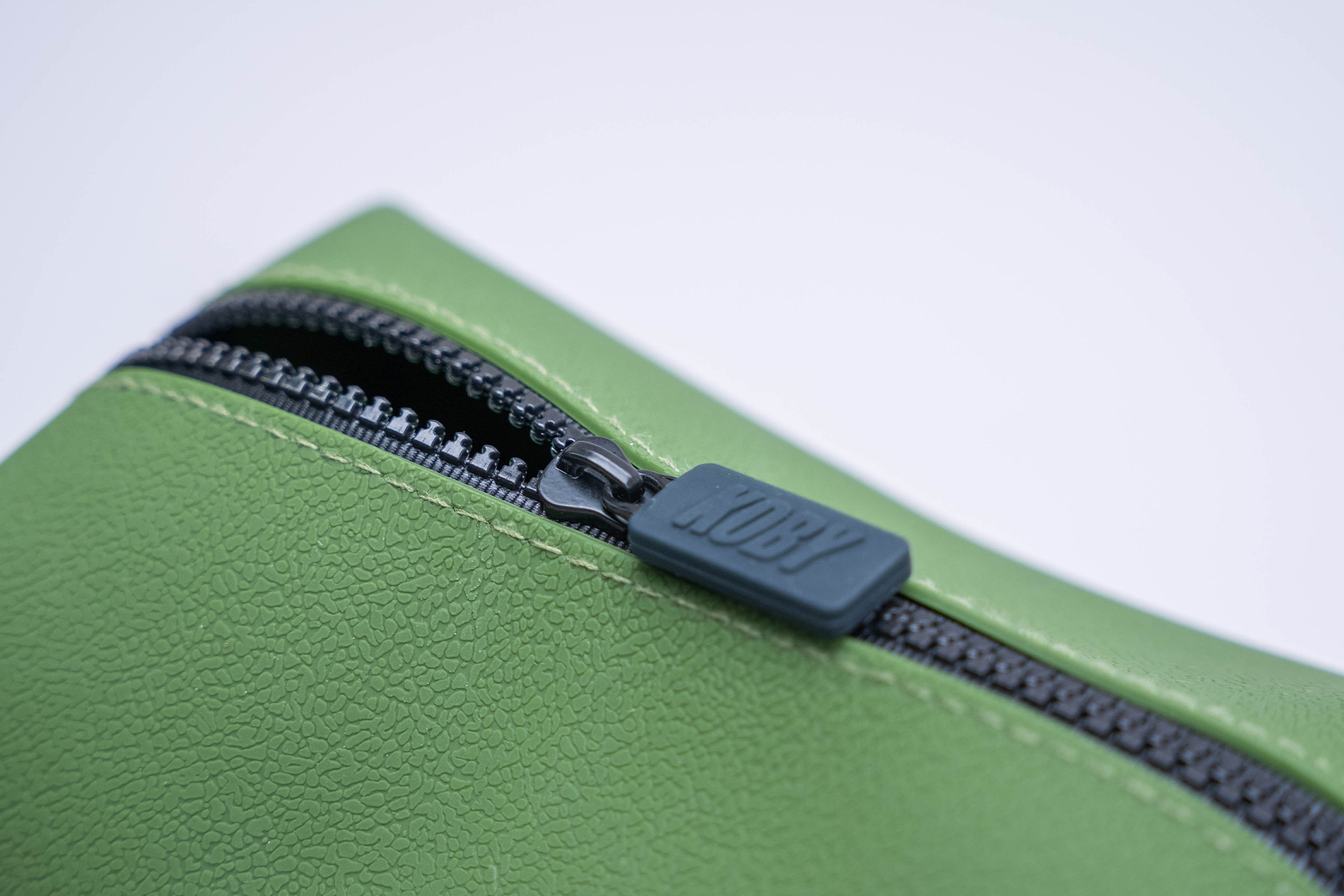 The zipper can be rough on your hand when opening and closing the pouch to snag gear. It probably won't hurt you (we can't make any promises), but after rubbing your wrist on the teeth a few times, you'll start trying to condense trips so you don't have to go inside as often.
Inside The Pouch
Wait until you get a look at the interior—you'll be blown away. Wait for it…look! There's nothing in here!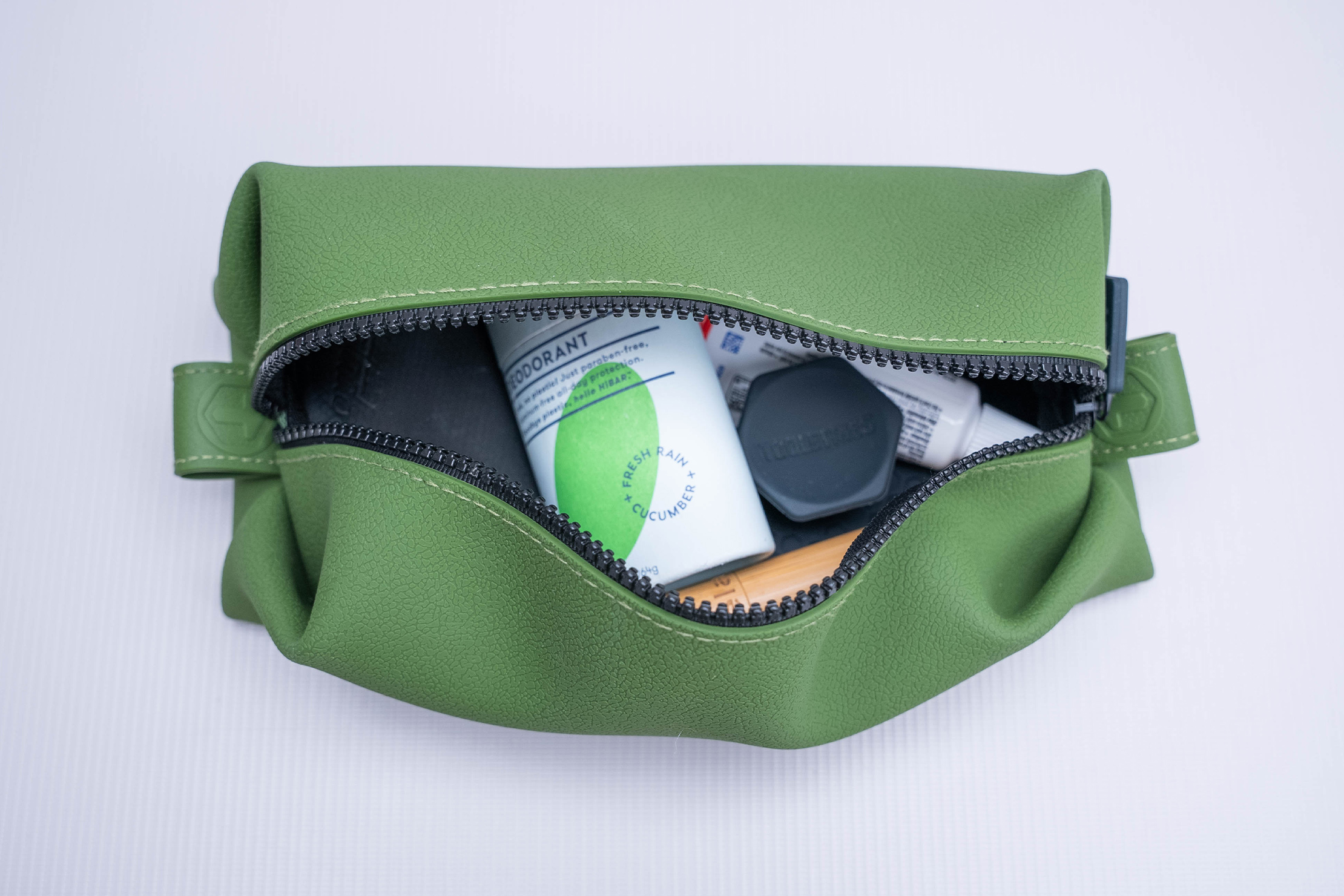 Jokes aside, there's no internal organization inside this thing. We're not sure if that's because adding it to the silicone base material would be difficult or if the designers at Tooletries wanted to leave more space for your toiletries, but either way, there's a lot of room to work with here.
The interior doesn't have the same texture as the outside. It's the same smooth silicone you're used to seeing in other bathroom and kitchen products. It can be a little slippery, but that's not a huge deal because it's inside the pouch. Like, come on, toothbrush, where are you trying to escape to? You're already inside!
Navigating the interior can be difficult because the silicone exterior doesn't let any light through, so all the light has to come through the zippered opening.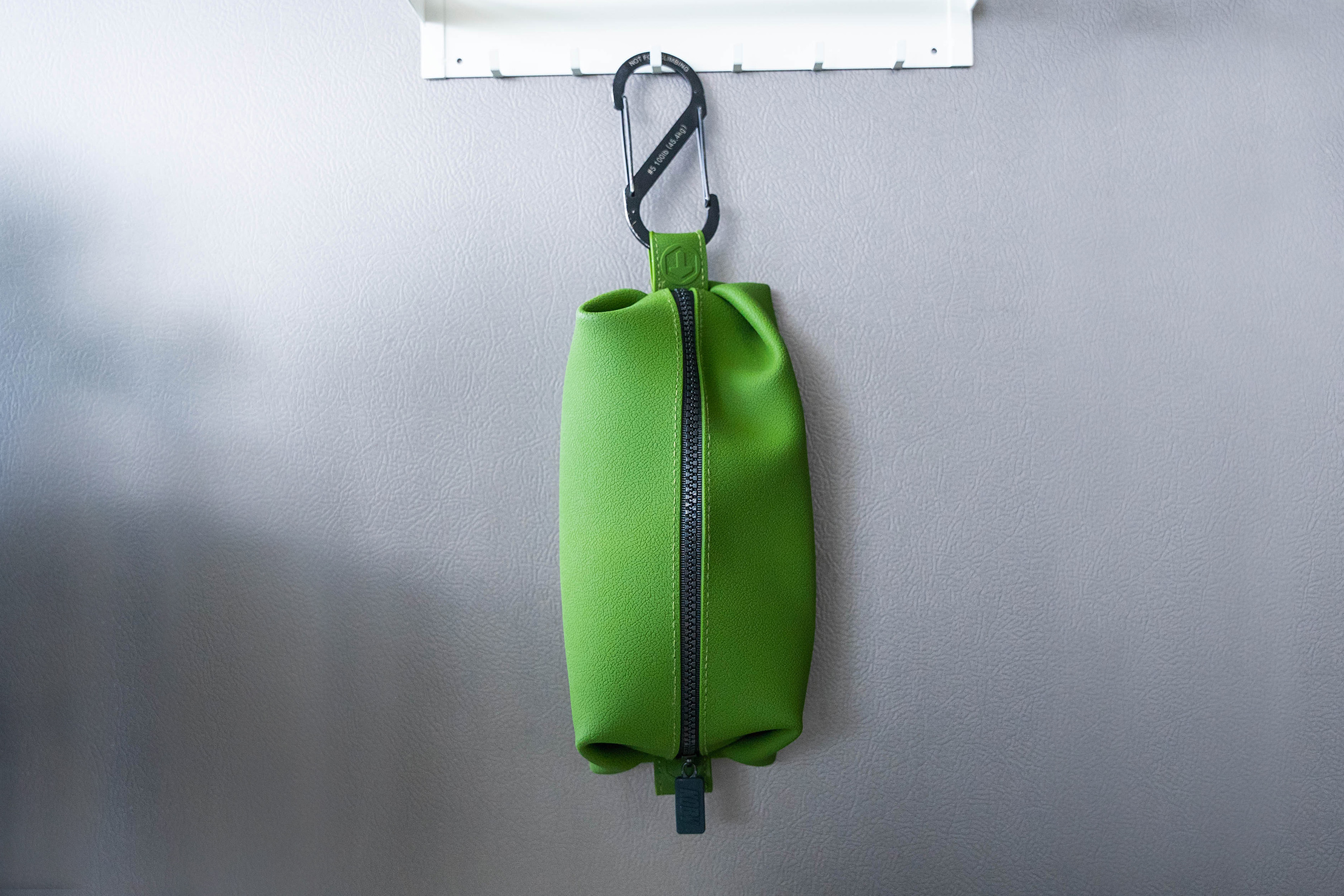 The folds in the material on the ends of the pouch make it harder to clean. There's a seam inside, and the part underneath is hard to wipe properly. After a spill, it's best to rinse it out with water as best you can.
The silicone doesn't breathe, so if you throw wet gear inside, no new air gets inside (except for the small amount that will sneak through the zipper track), so be sure to empty wet gear as soon as you can to prevent mildew or other stinky occurrences.
We're amped with how much gear we can stow inside this thing. There's so much free real estate that you'd think you're playing Monopoly alone. All the railroads? You betcha! You'll have no issue fitting your travel-size packs in here, but if you want to bring everything you typically use at home, you may need to upgrade to the larger-size toiletry bag.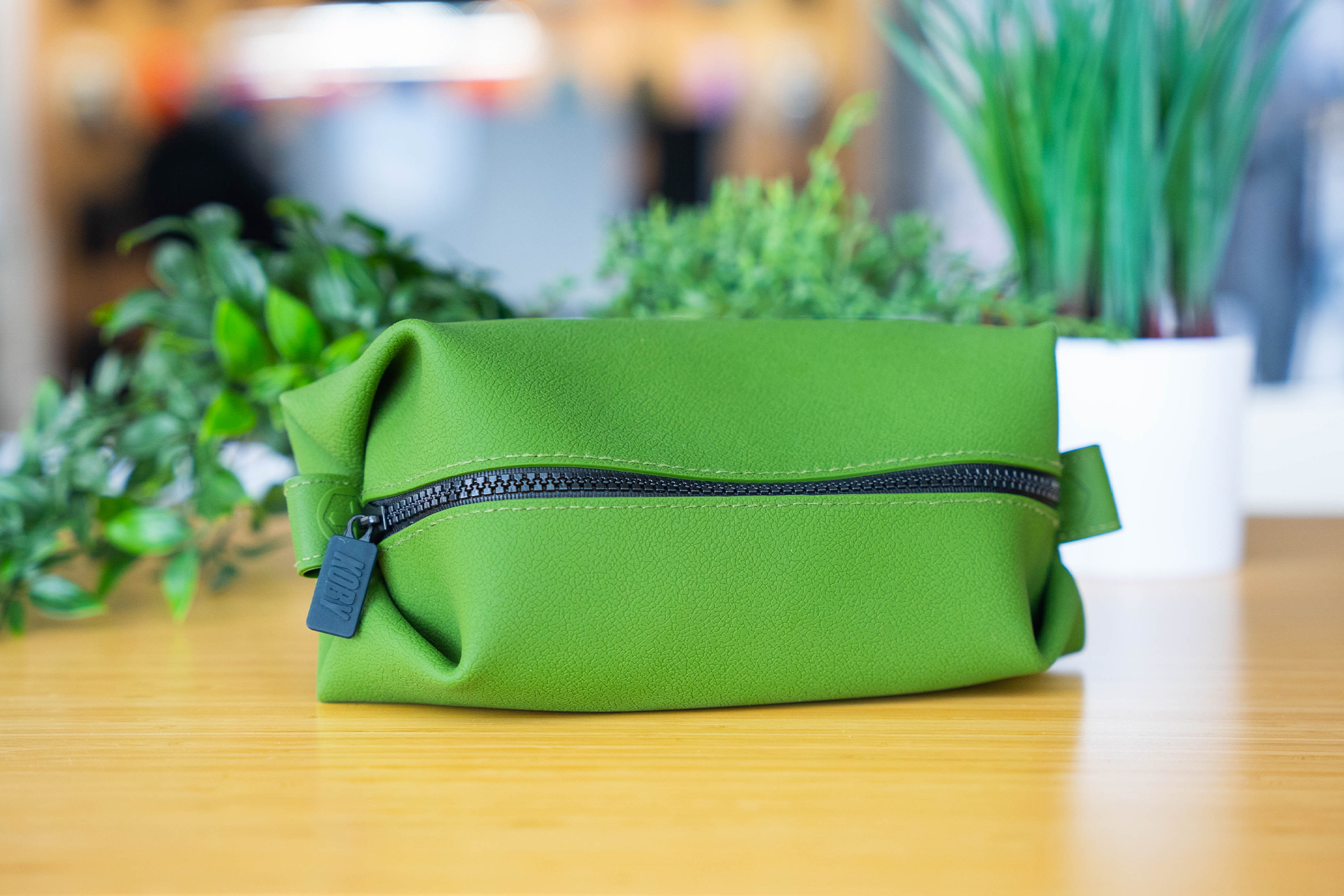 Overall, we want to like this kit, but it can be hard to use. The zipper makes leaks hard to deal with, the interior is difficult to clean, and your gear will get stinky if you leave it inside for too long. However, there's a ton of space to work with, and we dig the use of silicone, so there are positives to work with. Plus, this thing looks rad!
Usage Timeline
Initial Usage
Condition: Excellent
The materials are waterproof; however, they will be hard to get used to
We worry that the silicone will be easy to puncture with sharp toiletry items
The zipper doesn't feel very durable, so we'll put that to the test
2 Weeks of Use
Condition: Excellent
The zipper leaks liquids easily, which feels like a huge miss
Silicone is durable and waterproof, which works well for toiletries
The materials don't hold their shape well when not fully packed, which can look goofy
Access the Pro Community Discussion
Get your questions about the Tooletries Koby Lite Dopp Kit answered from our team and the Pro Community right here on the page. Plus, join discussions with other members about gear, guides, and more.
Other Organizers & Pouches Reviews