Tooletries GoBrush Review
The Tooletries GoBrush is a retractable toothbrush with some clever features that, unfortunately, come at a relatively large size.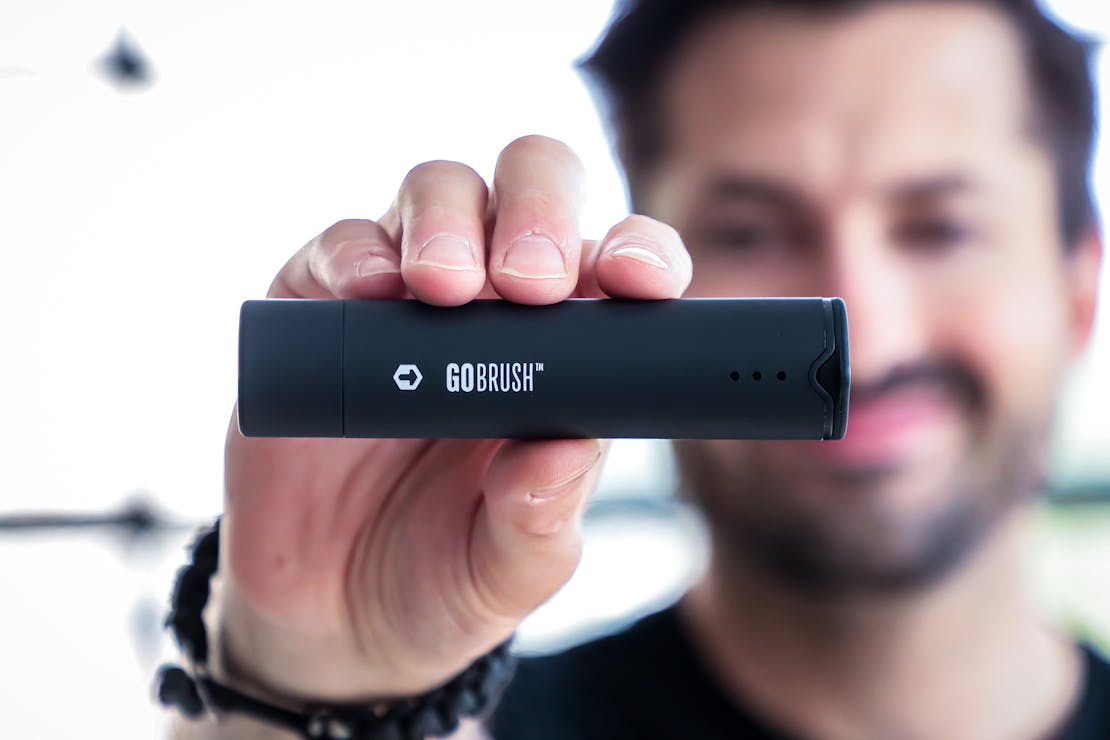 Our Verdict
Unlock the Pro Summary
Save time. Get access to brief summaries of our reviews so you can browse and make decisions more efficiently.
Pros
Tactile spring action
Replaceable brush head
Lightweight for its size
Cons
Large for a travel toothbrush
Lid is untethered
Handle's interior is inaccessible for cleaning
Recent Pack Hacker Video
Technical Details
Weight (oz)

1.65 oz (46.8 g)

We weighed this ourselves

Notable Materials

Silicone

Manufacturing Country

China

Warranty Information
Full Review
A smile can carry you a long way if you ever find yourself in a new place and you're not particularly familiar with the spoken language. It's much easier to interact with a stranger if they're smiling rather than scowling, after all. Hence, keeping our teeth nice and clean is not only a hygienic no-brainer but also a travel trick worth passing on.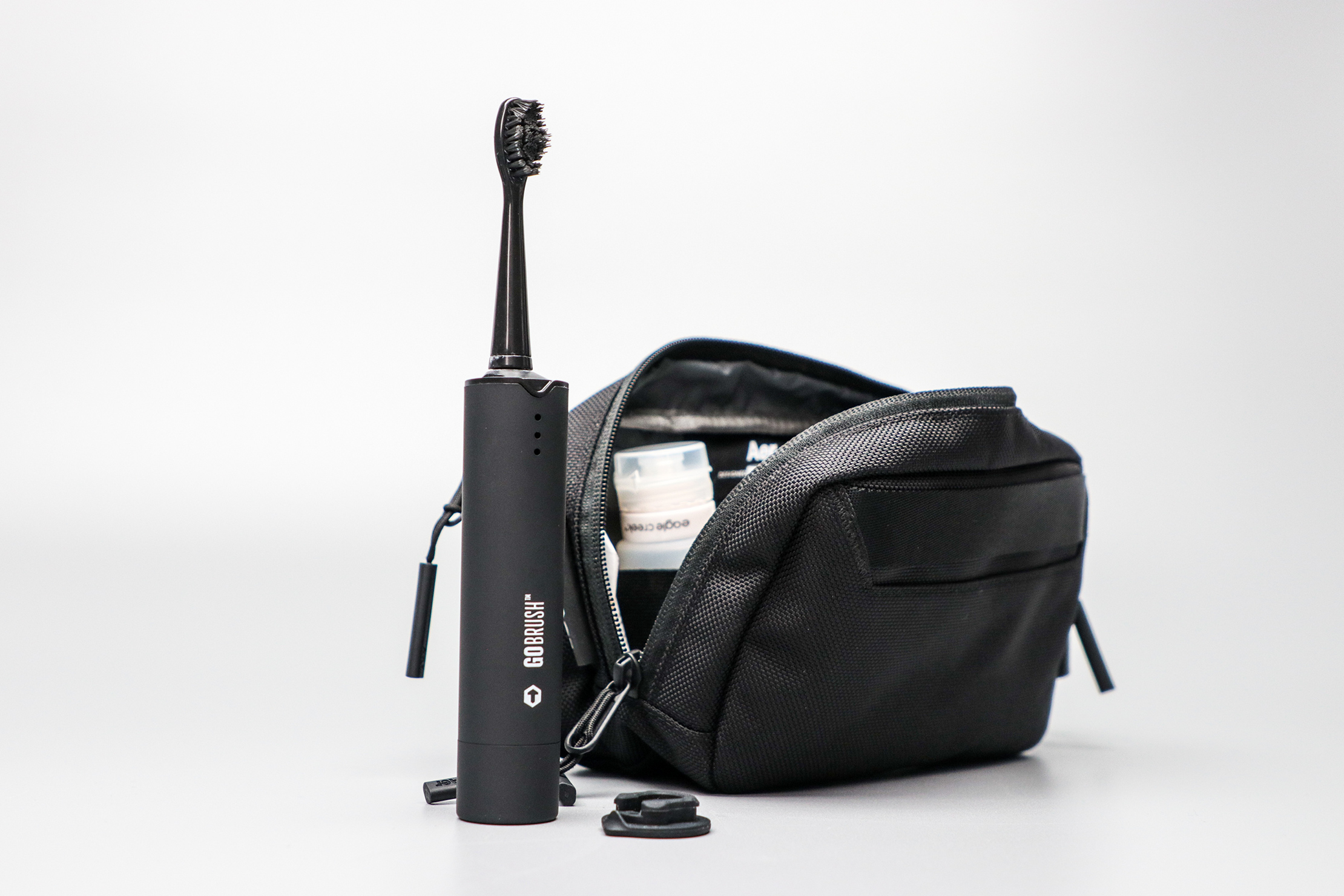 A travel toothbrush is a must to maintain this friendly, approachable aura and keep your smile as fresh as daisies. Hotel complimentary toothbrushes can be a bit of a mixed bag depending on the establishment, so having your own toothbrush helps keep your oral hygiene more consistent while also cutting back on waste. Tooletries' GoBrush is one such solution, and there are two ways to look at it: as a toothbrush and as a travel toothbrush. The question is, how does it fare in both?
Materials & Aesthetic
The first thing you might notice about the GoBrush is how un-toothbrush-like it looks. If anything, it resembles a high-end bicycle handle more than something you'd find in a typical bathroom. It is a toothbrush, though, and a sleek-looking one at that. Pop the top, deploy the brush, and the top half becomes a more familiar sight than before. It has an all-black design from top to bottom, with the brush portion being more glossy and the handle portion being more matte—it's the only color option (Charcoal) currently available. Apart from being stylish, this two-tone design makes the brush's shaft more smooth while making the handle a touch more grippy.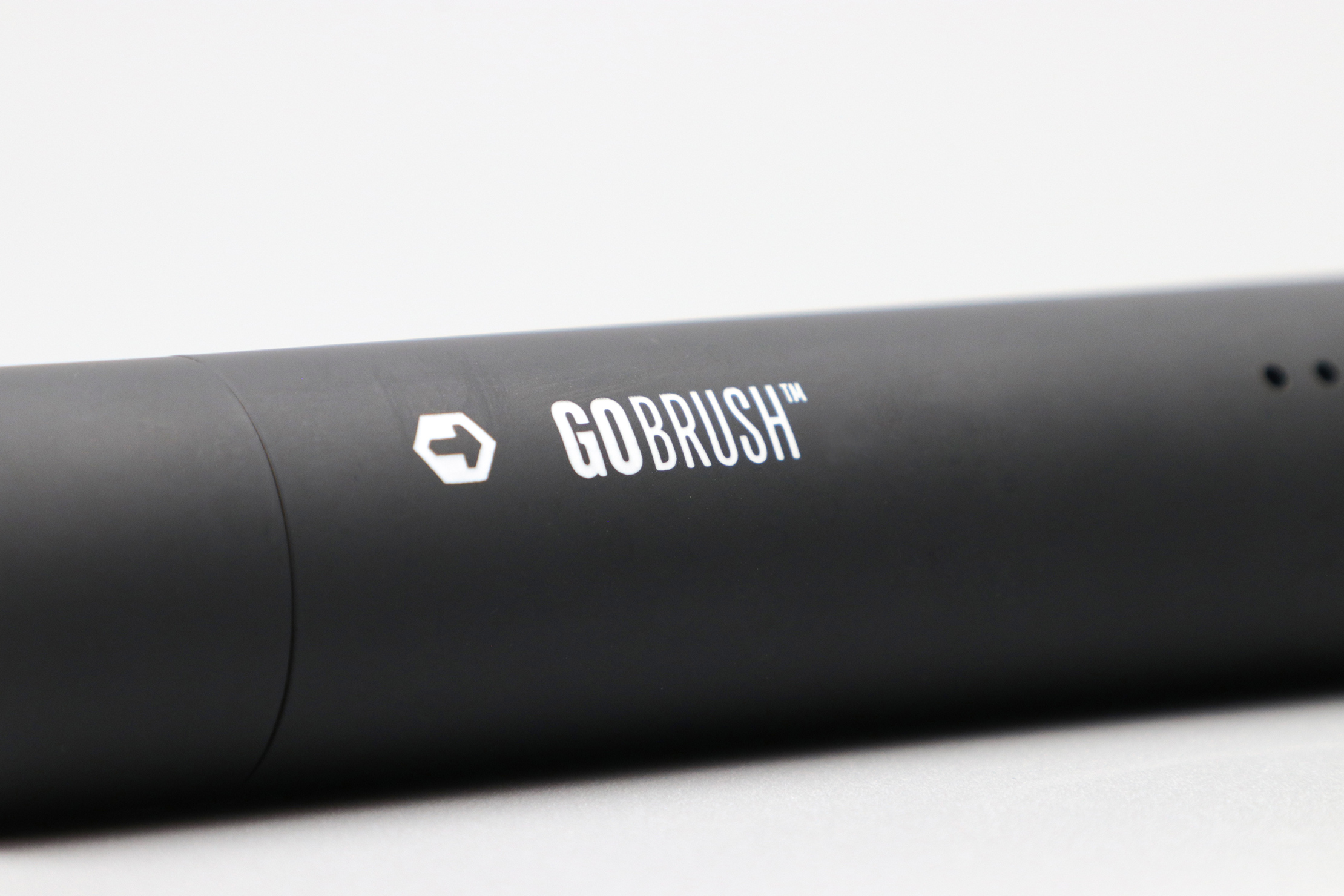 That upscale aesthetic does take a hit once we handled the GoBrush a little bit more. It has a mostly plastic body that doesn't feel as good as we hoped it would—it felt more and more like a Fisher-Price toy the more we used it. The silver lining here is that the GoBrush felt light for its size—we'd rather save the arm workout for when we're at the gym rather than in front of the bathroom mirror.
Usage
To open the GoBrush, you have to remove the top lid and set it aside while you go about the business of cleaning your teeth. This isn't an issue if you're in, say, a hotel bathroom where there's plenty of space to set your Dopp kit and toiletries on a surface. However, this lid is small and can get lost if it falls somewhere unreachable like an uncovered drain, in between rocks and terrain, or carried off by a bird. That last one might be unlikely, but we still wish this lid was tethered in some way to avoid it getting lost at all.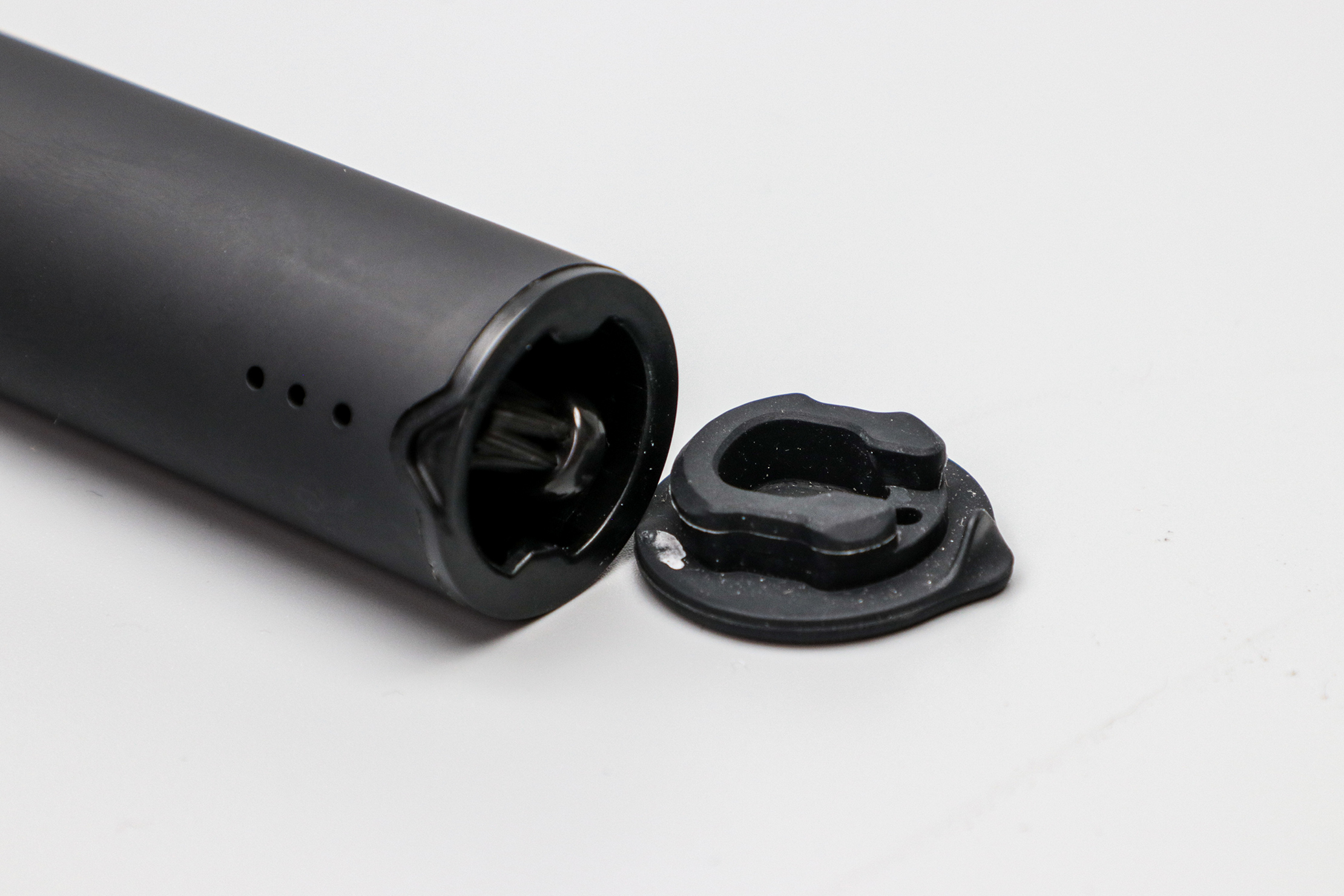 Once the lid's out of the way, simply twist the bottom portion of the handle, and the brush springs out. The whole shaft deploys in a blink of an eye, but it's not something too forceful that it would hurt if you accidentally spring it against your hand. To retract, you twist and push it down back into the handle until it clicks into place. The entire mechanism feels tactile and satisfying to use, and it makes the GoBrush almost like a James Bond-esque tactical toothbrush.
As we mentioned earlier, the GoBrush's canister-like main body is fairly chunky. In fact, it's chunkier than even some electric toothbrushes we've encountered in the past. This makes handling and actually using the GoBrush a bit more tricky. It's the same sort of feeling you get when you move on to a new and unfamiliar toothbrush, though, so it's nothing that we couldn't get used to in time.
In actual brushing, the GoBrush feels okay, and it cleans teeth just as well as other manual toothbrushes we've used in the past. How comfortable the bristles are against gums varies from person to person, but we think that the GoBrush's has a good mix of softness and stiffness. You can also replace the whole brush shaft when it becomes too worn out. We've used ours for a few weeks now on a daily basis, and it hasn't reached the point of needing to be replaced any time soon. But again, that'll come down to how enthusiastic you are with your brushing habits.
That's all the toothbrush aspects covered, but how is the GoBrush as a travel toothbrush? For starters, we feel that it's relatively big for a manual toothbrush. We keep coming back to the GoBrush's size because it's not as compact as much simpler travel toothbrushes like the Lingito Travel Toothbrush. In a compact Dopp kit or travel pouch, it takes up a considerable amount of space—not ideal if you're making the most out of all the available space you have.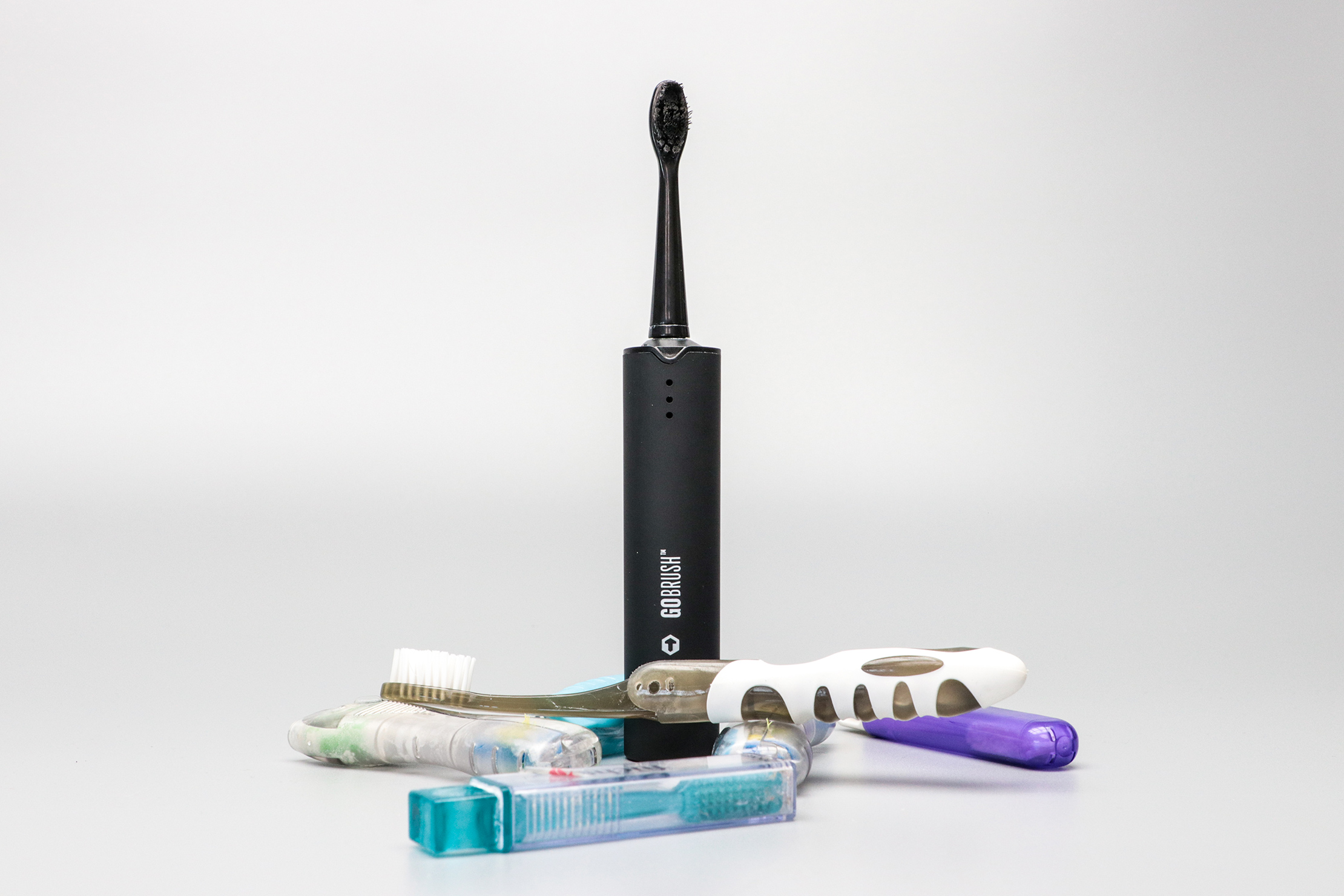 In addition to its size, the plastic assembly also has some holes where liquids and moisture can get in. Tooletries says these are ventilation holes that keep things hygienic, but we're not sure how well that works since we can't take a peek inside. As far as we can tell, there's no straightforward way to disassemble the handle to clean the internals. Our GoBrush accumulated some grime where the shaft and handle are joined together, so we can only imagine what it's like inside.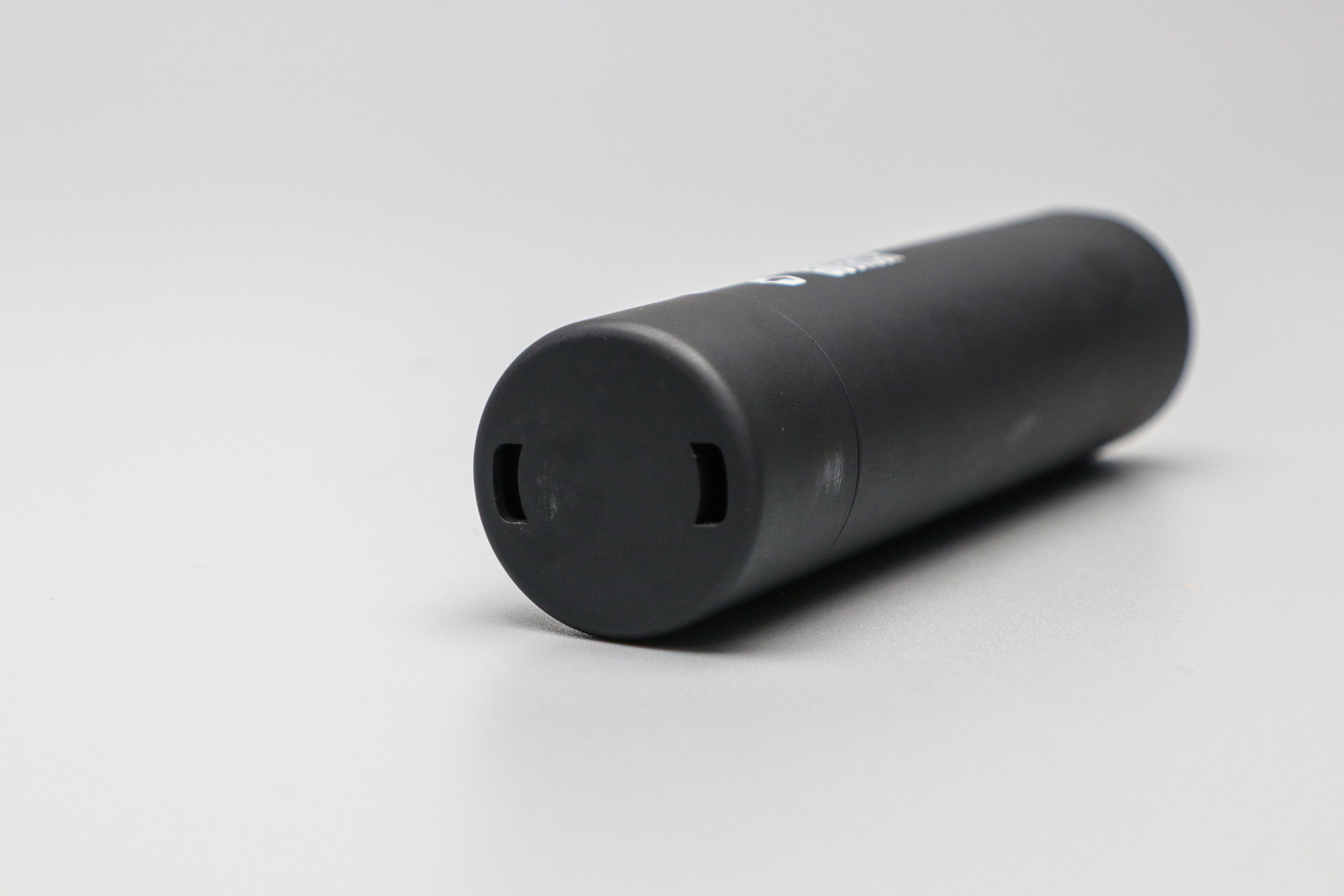 Unfortunately, the GoBrush won't be packed in our Dopp kit anytime soon due to its size and tricky maintenance. It's too bad because the clever twist mechanism was fun to use each time, and it generally functioned well as a toothbrush. If Tooletries can make it even more compact and easier to clean, it'd make a fine addition to a travel kit.
Usage Timeline
Initial Usage
Condition: Excellent
No noticeable flex at the joint
The heads are replaceable in case they wear out
2 Weeks of Use
Condition: Excellent
Clever concept
The size of the brush is a little large
The spring action of the toothbrush seems a little flimsy
Not easy to clean the area that houses the toothbrush
1 Month of Use
Condition: Dead
Well, that was a disappointment: our brush no longer springs into action when the bottom is twisted, and it's stuck in the lowered position.
Access the Pro Community Discussion
Get your questions about the Tooletries GoBrush answered from our team and the Pro Community right here on the page. Plus, join discussions with other members about gear, guides, and more.
Other Toiletries & Personal Care Reviews