TOM BIHN Travel Tray Review
The Tom Bihn Travel Tray is a travel-friendly, easy-to-use piece of kit that keeps things organized, though it lacks some rigidity for its use case.
Our Verdict
Unlock the Pro Summary
Save time. Get access to brief summaries of our reviews so you can browse and make decisions more efficiently.
Pros
Compresses and stows away well
Easy way to have more organization while away from home
Drawstring top adds pouch-like functionality
Cons
Lack of padding makes it less ideal for very fragile items
Not as sturdy as hard trays or cases
No internal organization (requiring smaller pouches or multiple trays to segment gear)
Recent Pack Hacker Video
Technical Details
Capacity

2.5l

Weight (oz)

2 oz (56.7 g)

Large halcyon Nylon

Denier

200D

Halcyon Nylon

Dimensions

4.5 in x 8 in (11.4 x 20.3 cm)

Notable Materials

Nylon

Manufacturing Country

United States

Warranty Information
Full Review
So you've finally done it. You've packed everything away into your suitcase and carry-on sling bag, and you're about to embark on your well-deserved mid-year vacation. But why is it that no matter how well-organized a vacation starts, getting cluttered is almost always the moment we get to our destination?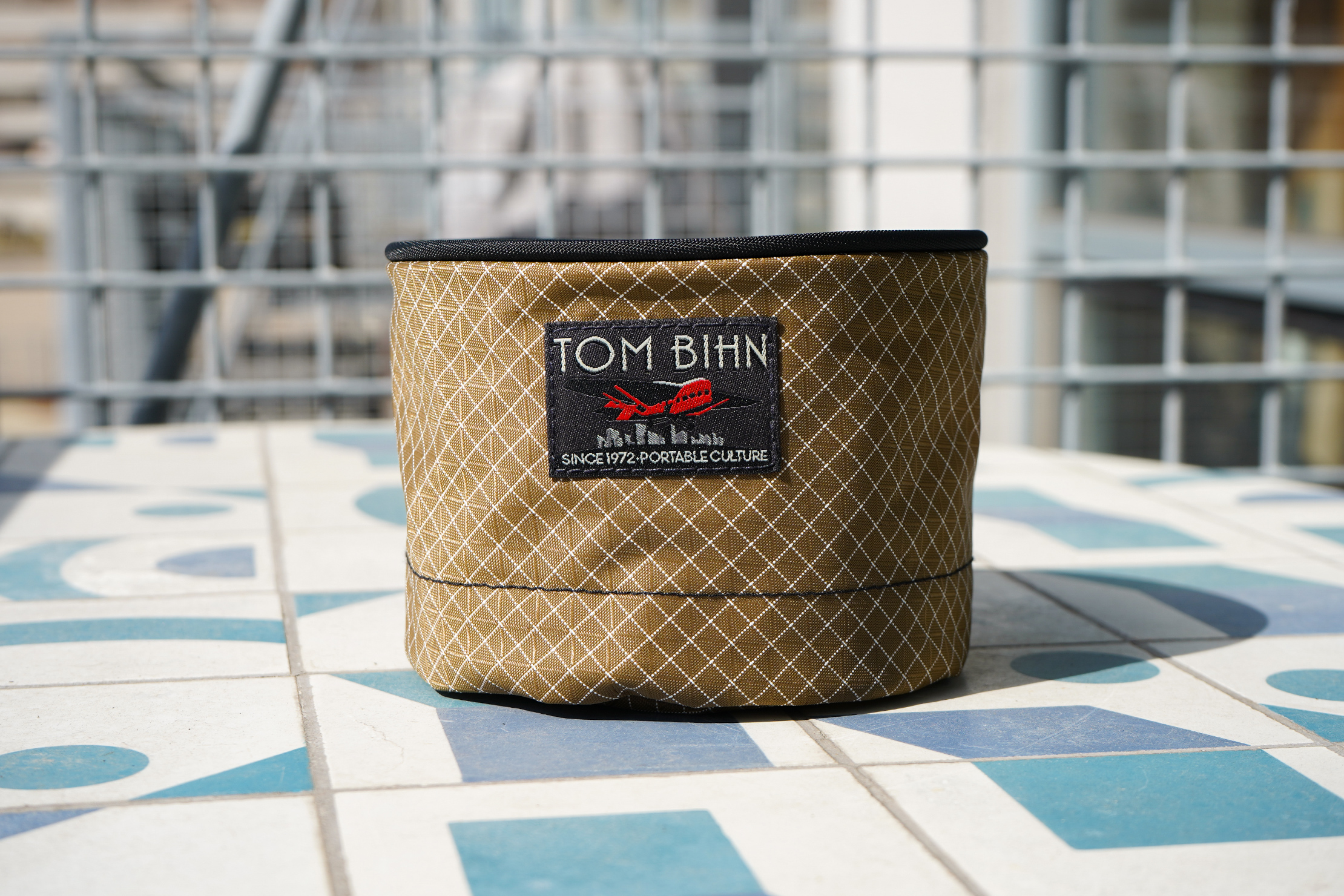 Travel Trays—they're Tom Bihn's answer to keeping things tidied up on the go. Simple and easy-to-use, they're convenient to have around your home-away-from-home. Of course, only strict discipline will help you prevent a messy nightstand, so let's take a look if the Travel Tray can help you achieve that.
Materials & Aesthetic
Tom Bihn's materials on the Travel Tray are their usual choices of CORDURA Ballistic Nylon or Halcyon fabrics. The ones we have here are Halcyon, and they are offered in a healthy variety of colorways: Wasabi (yellow-ish green), Ultraviolet, Island (blue), Northwest Sky (gray), Solaris, and Coyote (brown). The CORDURA Ballistic Nylon ones are also available in Coyote and Island, and additionally Dawn (faint lavender), Black, Cloud (gray), Viridian, and Grass.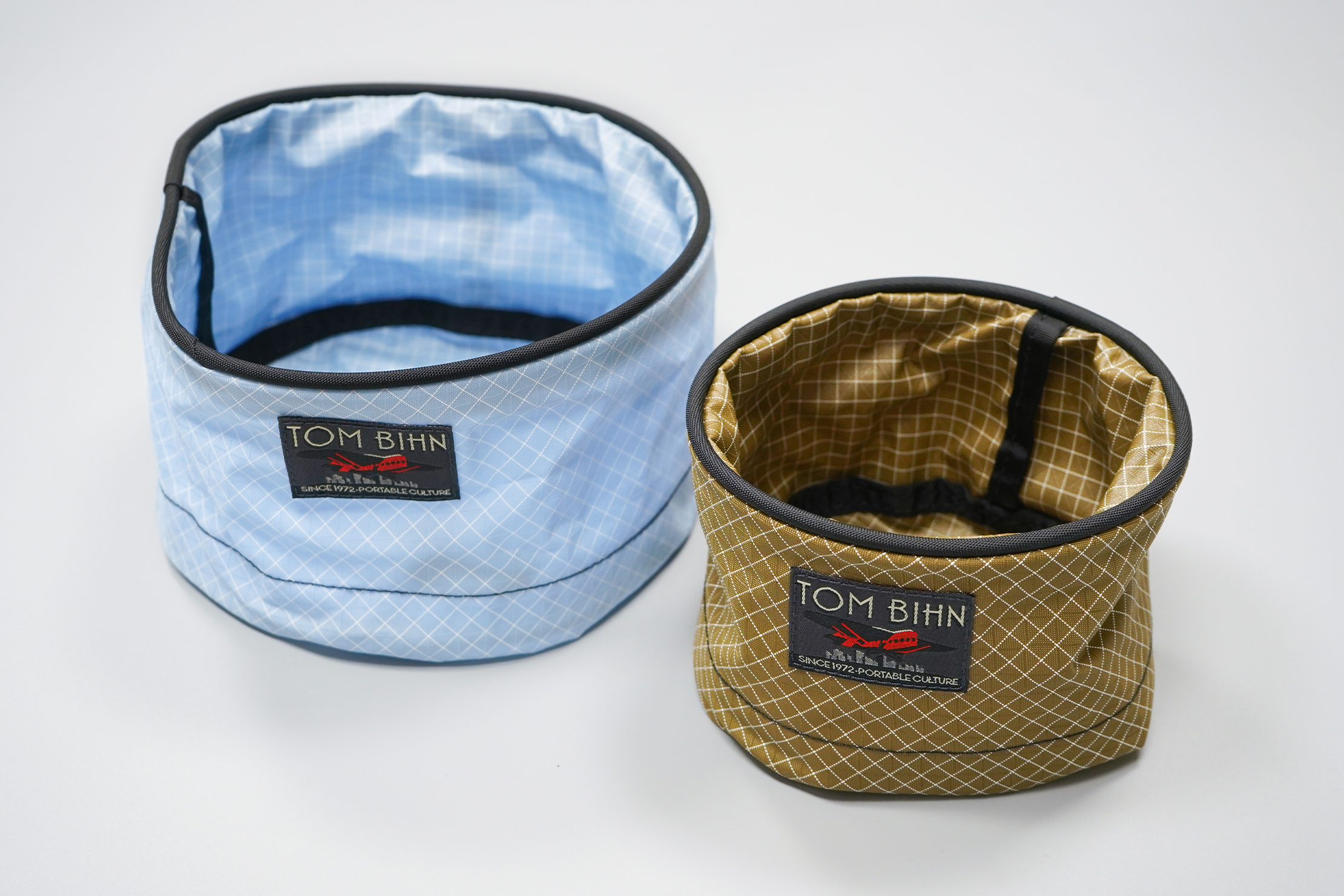 We're digging the number of choices because it means each one of you and your six friends or family members can have a unique color of their own and avoid mix-ups. Or if you go at it solo, you can segment stuff into different colored Travel Trays so you won't have to label with a sharpie. Although with the Halcyon's grid pattern, it's almost too tempting not to draw something on it.
These Travel Trays are undoubtedly from Tom Bihn, and that's not just because of the very prominent Tom Bihn badge on the outside. The Halcyon fabric gives a distinct look and feel to the trays. We've recently covered their Paragon Design Labs edition backpack, and these definitely feel a lot like the Paragon's liner fabric; very durable yet fairly lightweight and easy to handle.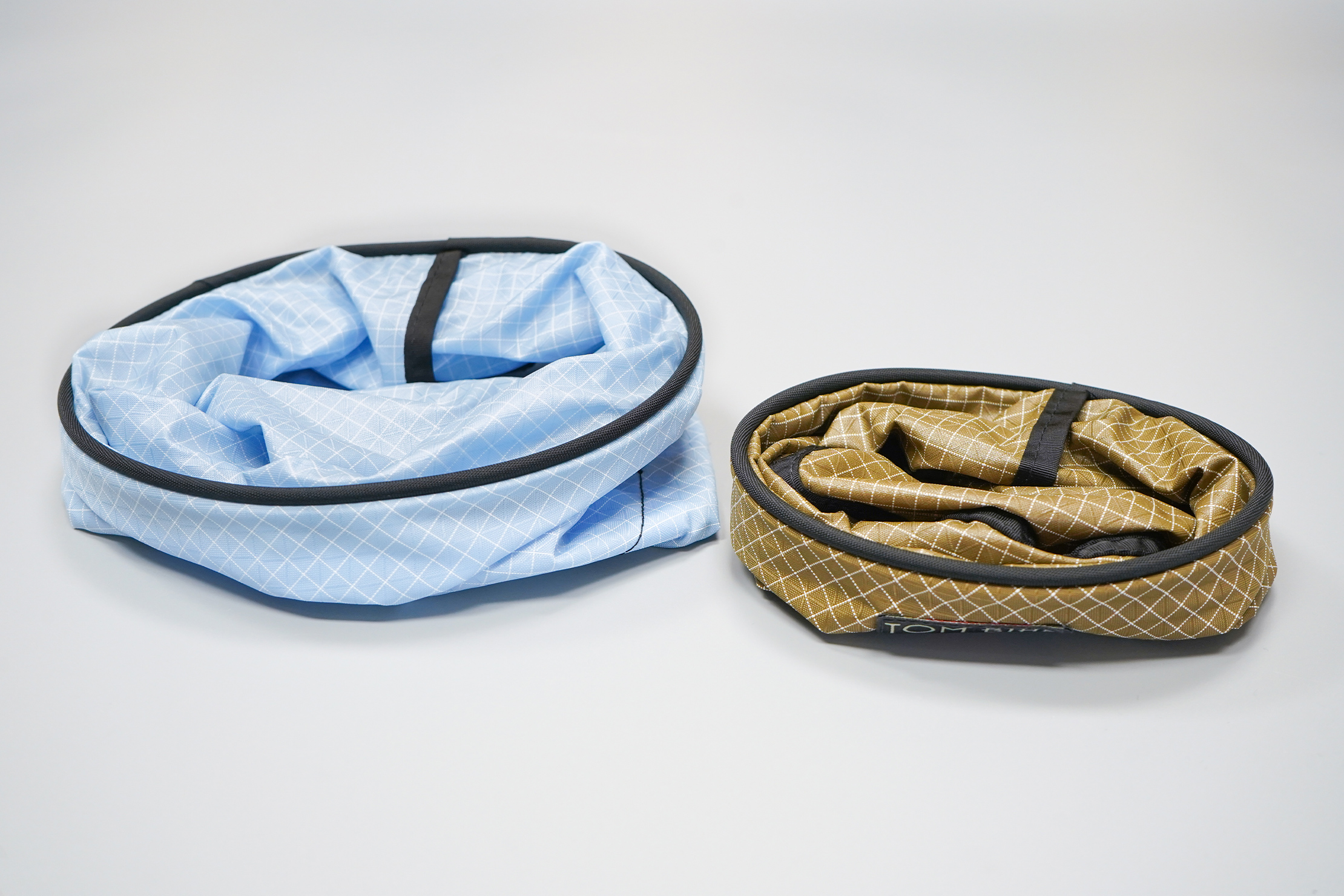 With a thin and minimalist material like this, you can expect great portability as well. The Travel Tray compresses down almost completely flat, making them more than able to fit inside liner pockets that don't have much depth or a fabric gusset.
Usage
At first glance, we were a bit skeptical about the Halcyon fabric being rigid enough to stand on its own and act as a wall around the tray. We chucked in our smartphone on the smaller tray and were pleased to see it not collapse under the weight. Though there is some noticeable compression, the tray holds up fine.
That's thanks to these tube-like thick pieces of fabric that serve as the frame of the Travel Tray. They keep things round and stiff, but they fall short of having an actual solid metal insert or something similar. All in all, the structure on both sizes is strong enough for travel purposes, but they won't be replacing hard plastic cubbies anytime soon.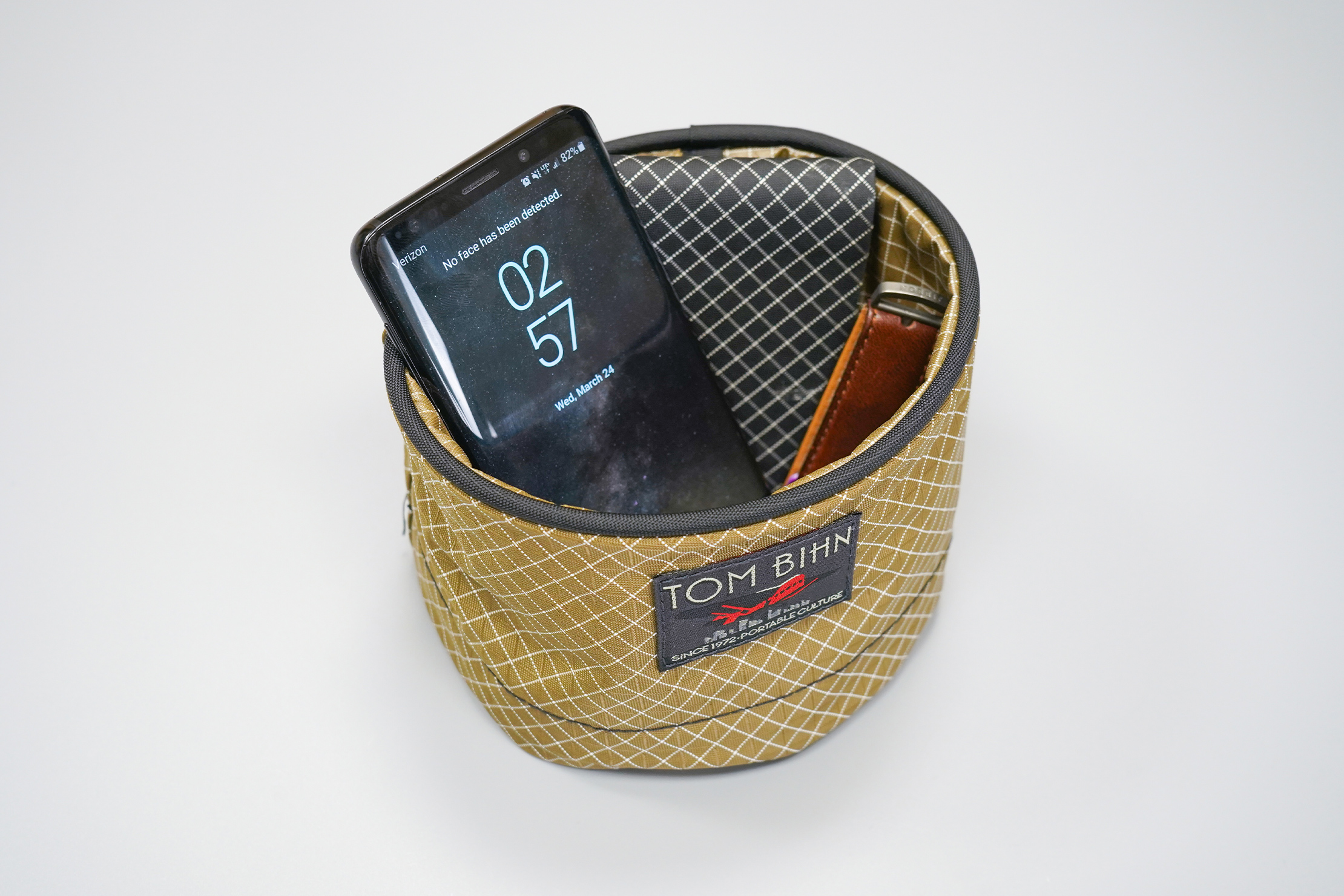 What those travel purposes are exactly, is as wide as you'd imagine. Our photographer found the large variant useful as a quick and easy way to have somewhere to place loose pieces of camera gear during off-site shoots. Pouches and camera cubes serve similar purposes, but having a separate, easily accessible dump sack makes things even easier.
We brought these along during one of our out-of-town trips, and these can be a godsend during hotel stays. One of the first things we're always itching to do when we first get to our hotel rooms—and we're sure a lot of you can relate to this—is to flop on the bed. But we also tend to have tons of small stuff in our pockets; thus, we always dump everything in our pockets onto the nightstand.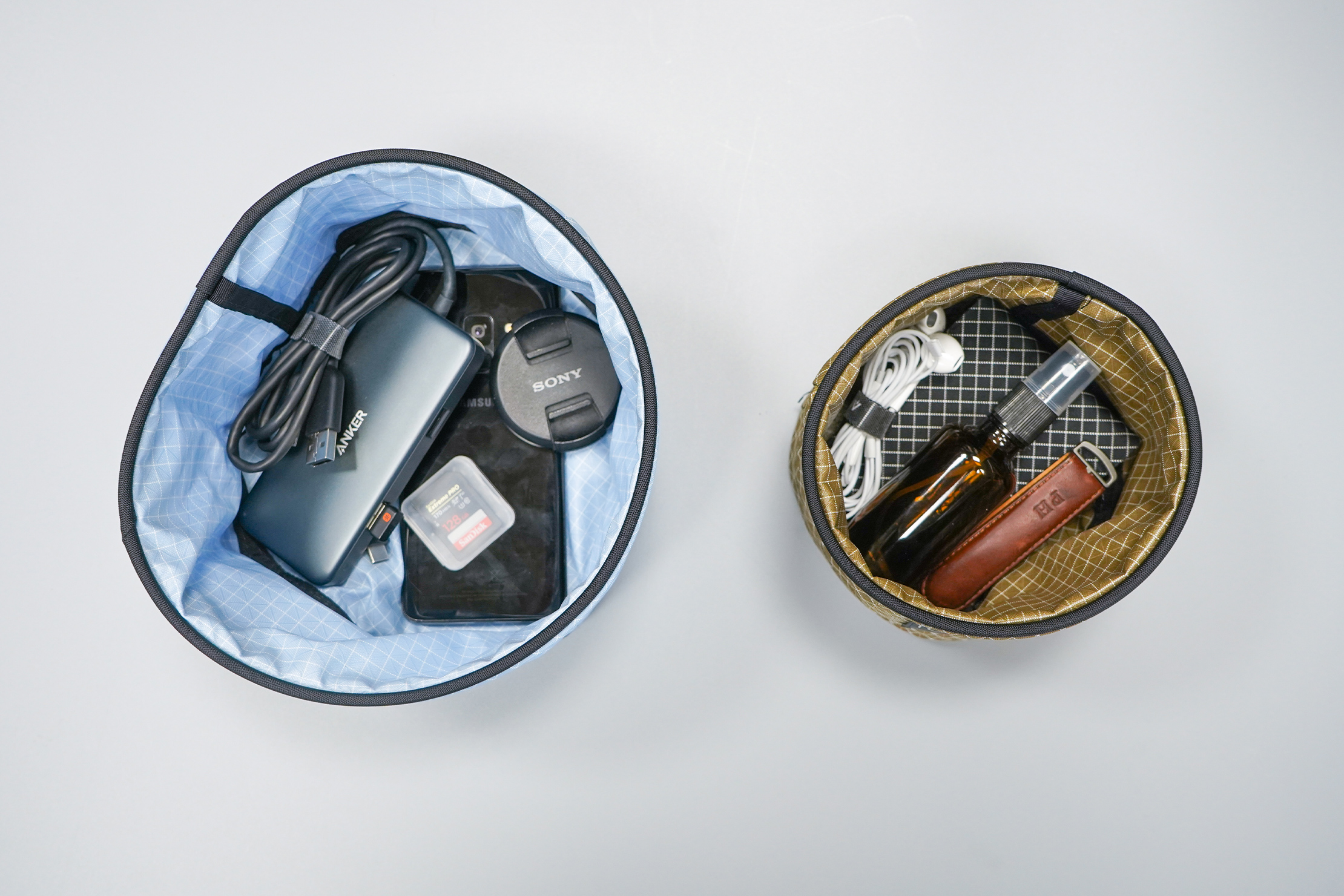 That's a messy sight we'd rather not have—one that a Travel Tray can help alleviate. The small size is perfectly fine for these pocketable items: house keys, car keyfobs, a small wallet, loose change, and earphones. They deploy really quickly too, so it won't keep you away from your post-flight hotel nap too much.
Regardless of whether you're swapping out memory cards and lens caps or piling on loose change and small trinkets from beach-side bazaars, the Tom Bihn Travel Tray keeps things neat and organized on the go.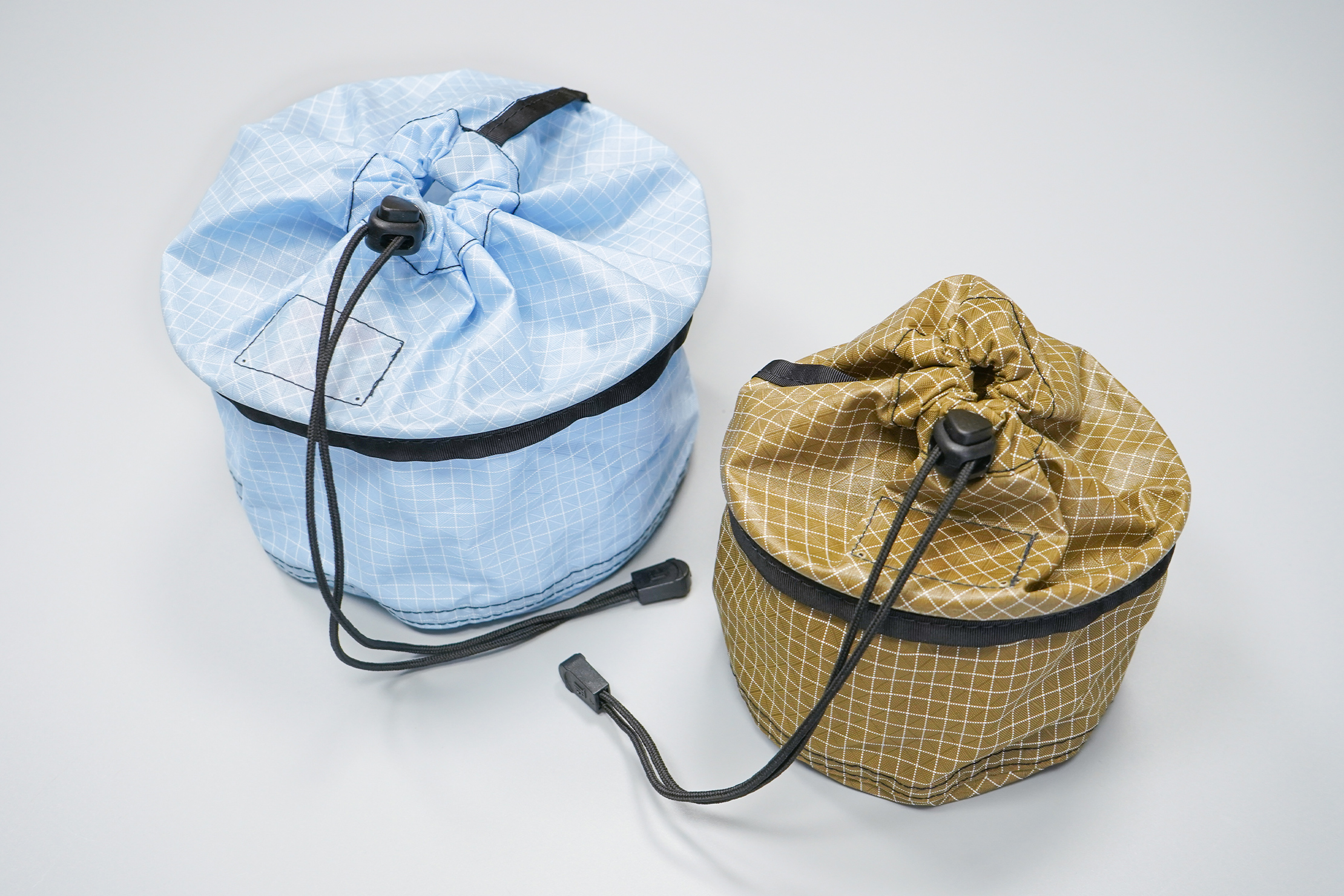 There's even a semi-literal cherry on top: the drawstring closure. That's right, for those times when you're feeling lazy and/or have to leave in a hurry, you can simply pull the drawstring and toss the whole tray—now resembling a pouch—into your bag, and you're good to go. Simple, easy, and convenient.
Wrap Up
As simple, easy, and convenient as Tom Bihn's Travel Trays are, they're not all-in-one solutions either. A pouch like the EVERGOODS CAP2L will better serve those looking for compartments and segmentation, or the Moment MTW Camera Insert if you're more photography-oriented.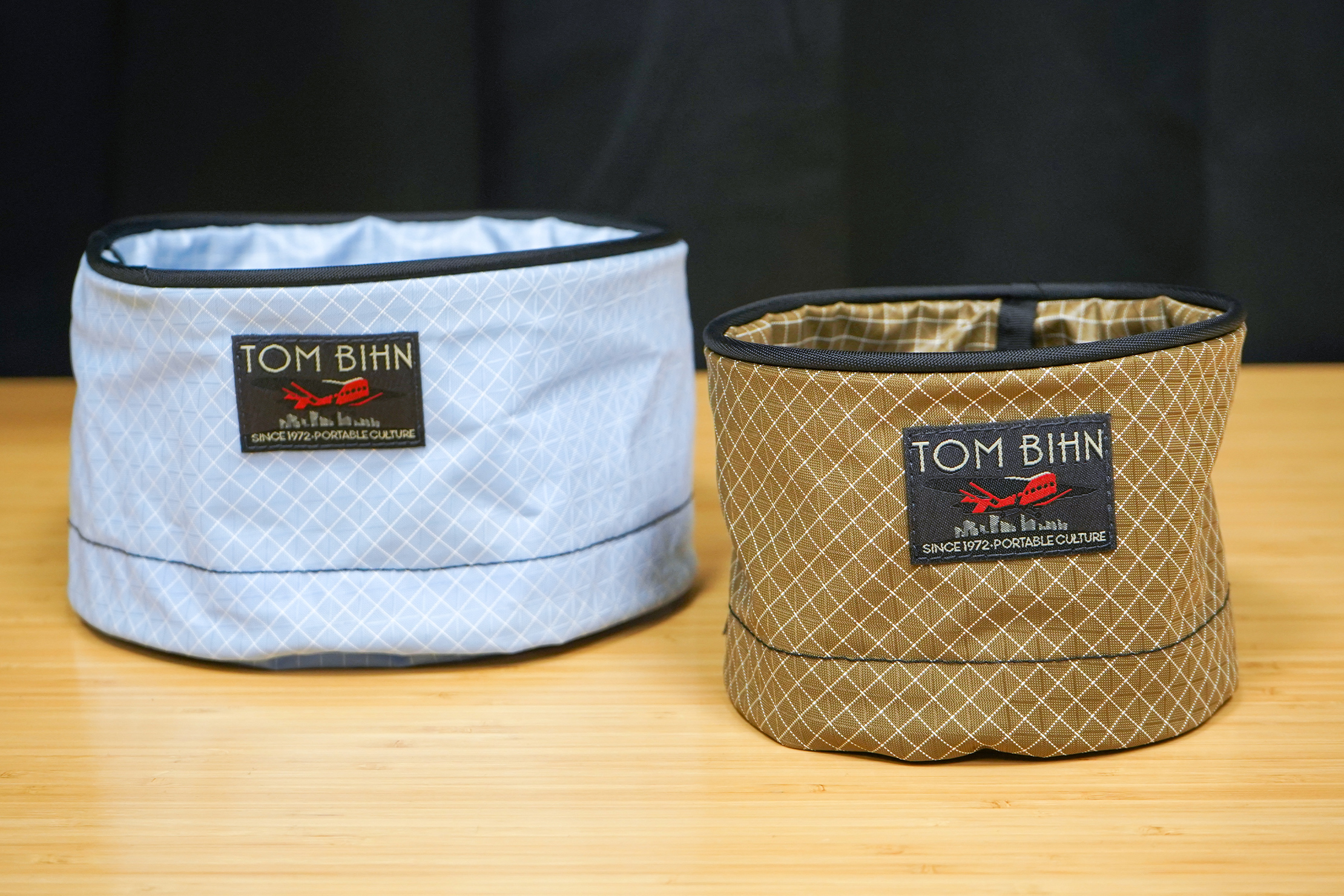 They're not outright replacements either for permanent organizers on your desk. But if you just need an extra cubby or dump sack to chuck your stuff in without fear of them rolling off behind a heavy hotel nightstand or turning a café's table into a mess, the Tom Bihn Travel Tray certainly delivers.
Usage Timeline
Initial Usage
Condition: Excellent
Comes in small and large sizes, and both ballistic nylon and halcyon materials
Great for throwing in any items that you want nearby and quick access to
Pulls shut with a drawstring to keep anything from falling out
2 Weeks of Use
Condition: Excellent
We've been impressed with this little tray. It's great for holding all the small loose items that we use often, and it's easy to pack up when we're ready to hit the road. Its small sack style is versatile enough to be used as a tech pouch, toiletry kit, or a camera accessory bag in a pinch. We've even had one of our Pros use it as a chalk bag for rock climbing.
Access the Pro Community Discussion
Get your questions about the TOM BIHN Travel Tray answered from our team and the Pro Community right here on the page. Plus, join discussions with other members about gear, guides, and more.
Other Organizers & Pouches Reviews