THINX Hiphugger Review
The THINX period-proof Hiphuggers are absorbent, antimicrobial, and a real game changer when it comes to travel—even if they take a while to dry.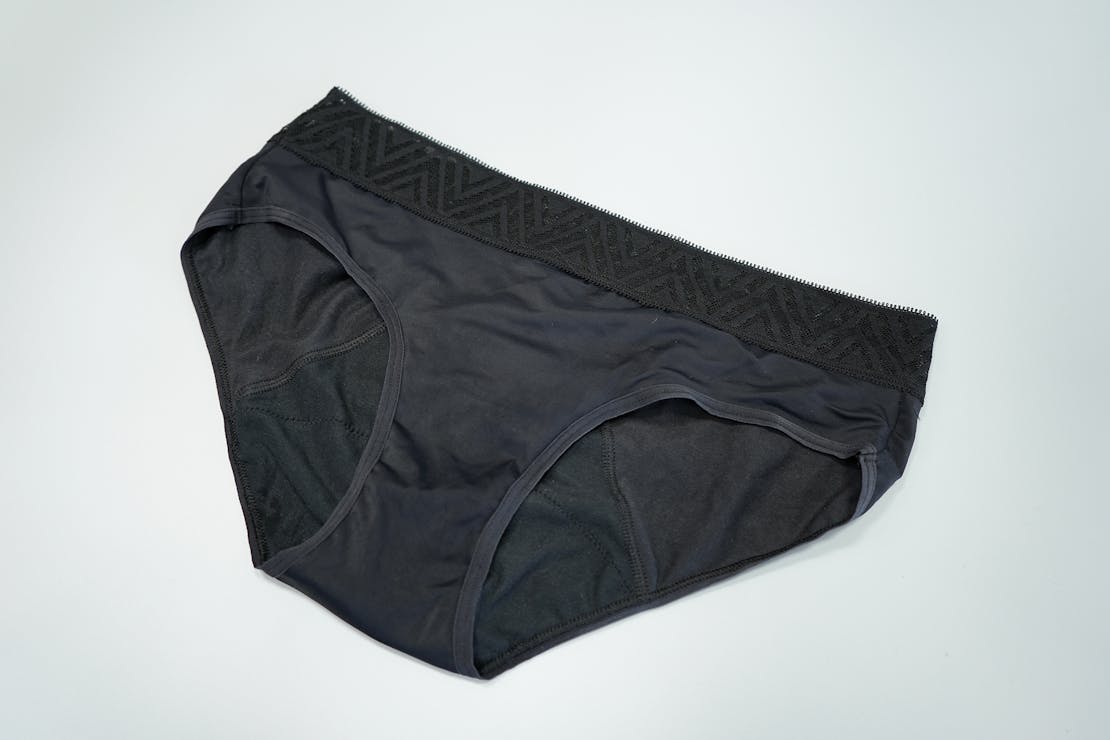 Our Verdict
Unlock the Pro Summary
Save time. Get access to brief summaries of our reviews so you can browse and make decisions more efficiently.
Pros
Absorbent, antimicrobial, and leak resistant
Always having them with you gives peace-of-mind while traveling
They look and feel nice on—so you can save space in your pack and wear them as regular underwear too
Cons
Everyone's period is different—and what works for some people won't work for everyone.
They take longer to dry than normal underwear
After one month of use, there has already been a small amount of fraying along the sides and top
Recent Pack Hacker Video
Technical Details
Weight (oz)

1.9 oz (53.9 g)

Notable Materials

Cotton, Organic Cotton, Elastane, Nylon

Manufacturing Country

Sri Lanka
Full Review
When it comes to traveling and periods, things can get sticky (ugh—sorry we had to). The THINX Hiphuggers, which are a pair of underwear designed to work like a super absorbent pad, are one great solution. The best part? They actually work and they even look nice and feel fresh on.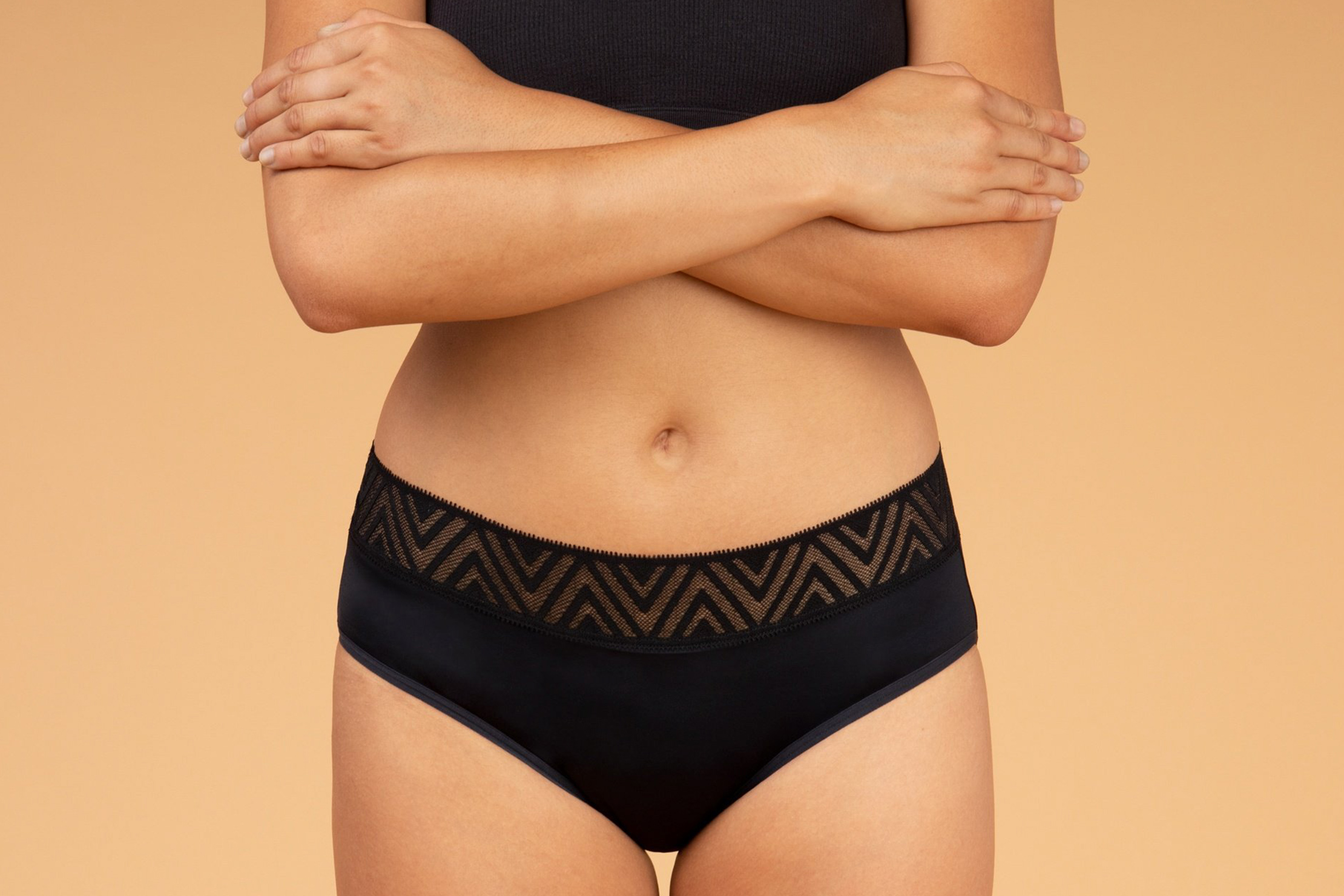 THINX started in 2014 and was one of the first companies to make period-proof underwear a thing. To this day, the folks over there are committed to de-stigmatizing periods—they hold no punches when talking about menstruation on their website and social media, and they partner with a variety of organizations to provide education and sanitary products to people with periods across the globe, which we can dig.
And just like there's no one backpack for everyone, there's no one sanitary product for everyone. That being said, we do think this period-proof underwear is a great choice for travel. So let's jump into it.
Materials & Aesthetic
At the time of this review, THINX offers six styles of underwear, plus a small line of activewear. Different styles are better or worse for different flows—you can check out the THINX website to learn what will work best for your body (they even have a fun Know Your Flow quiz).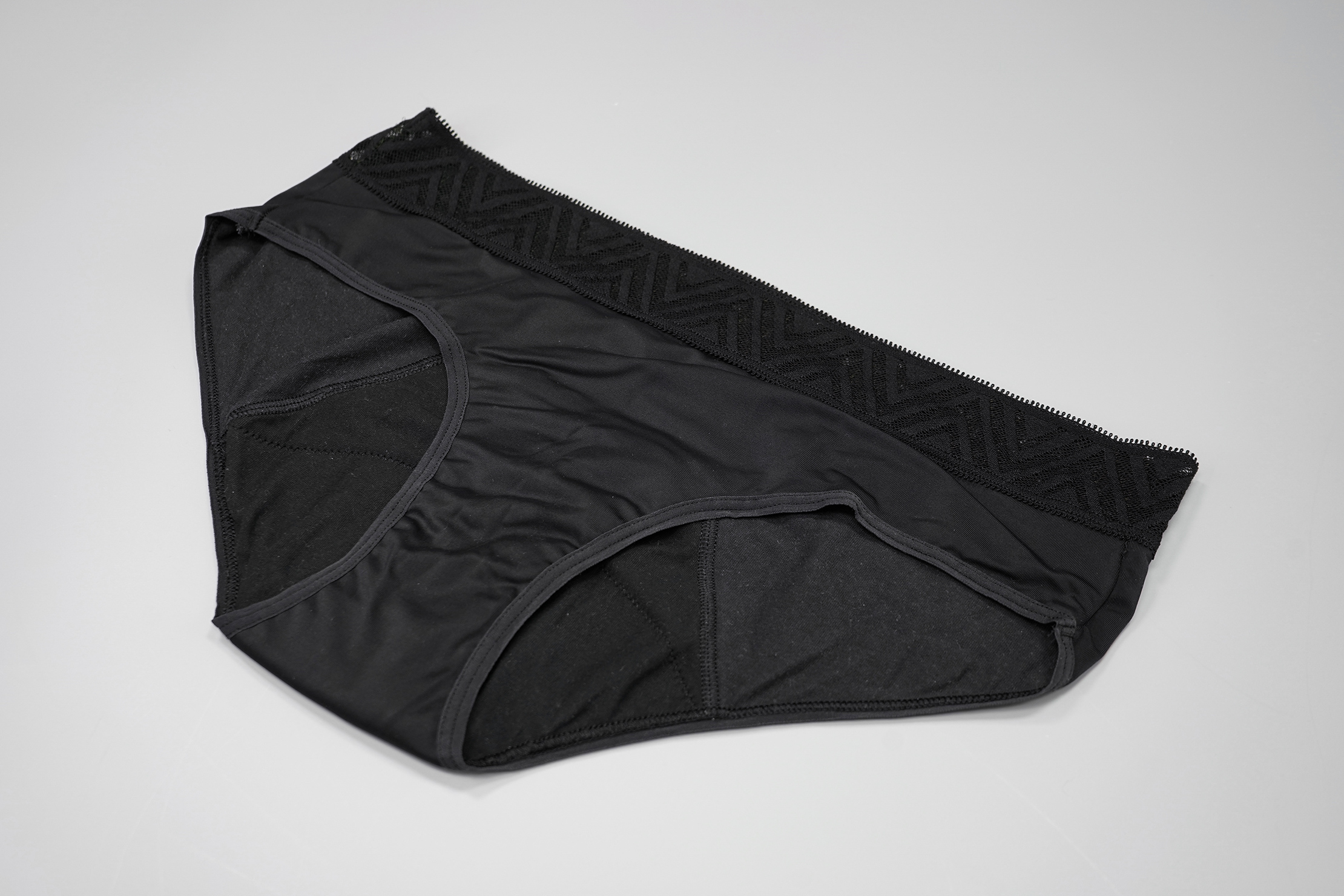 We've been testing the Hiphugger style, which, according to THINX, works for heavier flows (about two tampons worth). It's available in four colors: ocean, dust, black, and beige. In classic Pack Hacker style, we tested the black.
The Classic Hiphugger body is mostly nylon, while the gusset is a mix of cotton and elastane. But if you prefer all cotton underwear, three of the styles are also available in organic cotton—meaning both the body and gusset are made of 95% organic cotton.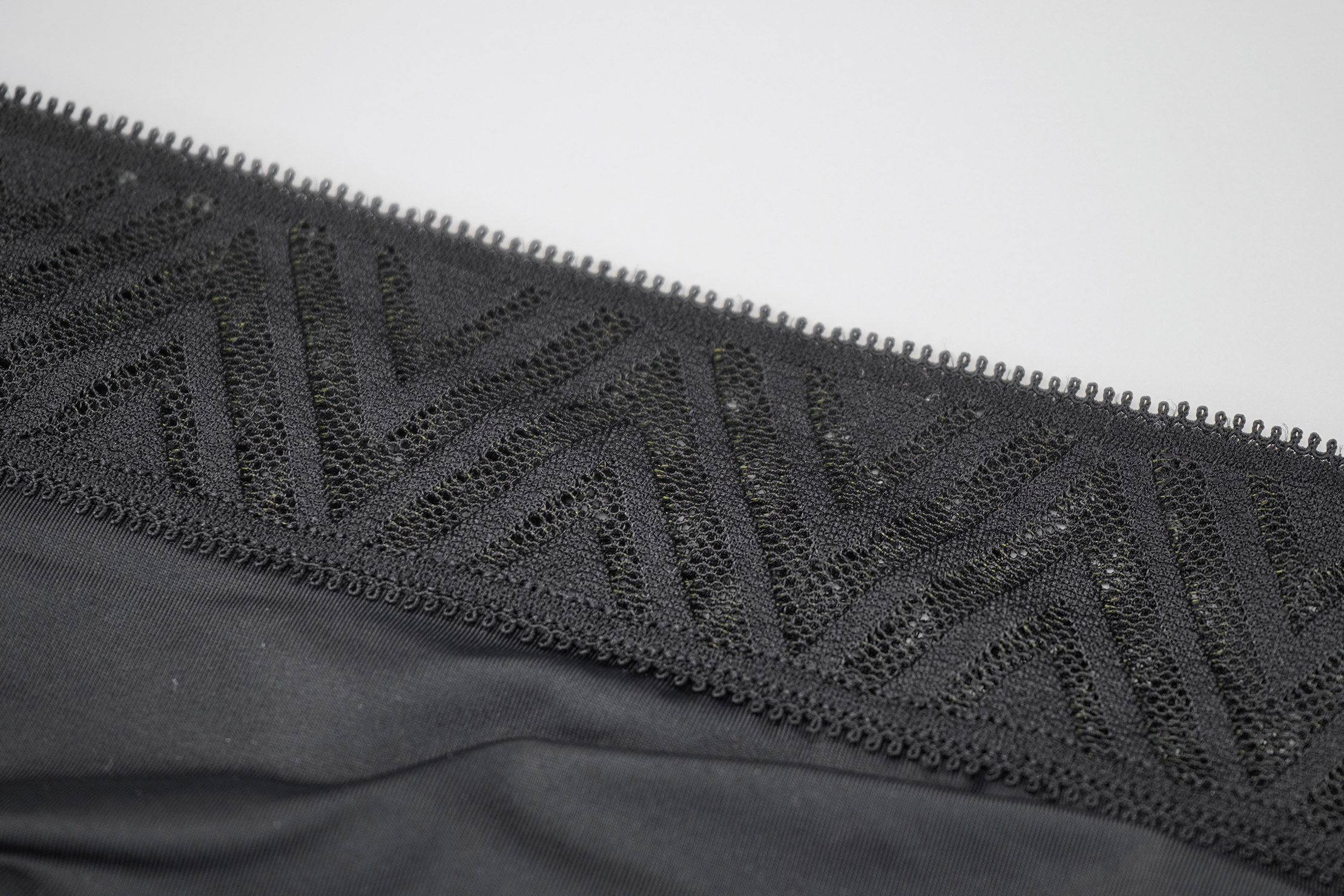 Whichever style you choose, they all just look like underwear, and nice underwear at that. The Hiphugger has lace detailing at the top that not only keeps it secure to your body, but just looks really nice. And, honestly, we love that about them. No more wearing ugly underwear on period days! Cheers to that.
Features & Usage
Of course, the reason to buy a pair of THINX underwear to begin with is the features. Let's just start with the obvious: the Hiphuggers make for a great sanitary product.
They're absorbent—again, the Hiphugger panties are the equivalent of two tampons—and we've found that they work really well, even lasting us all day when we have a lighter flow. Exactly how long you can wear your THINX underwear before switching them out depends on your body.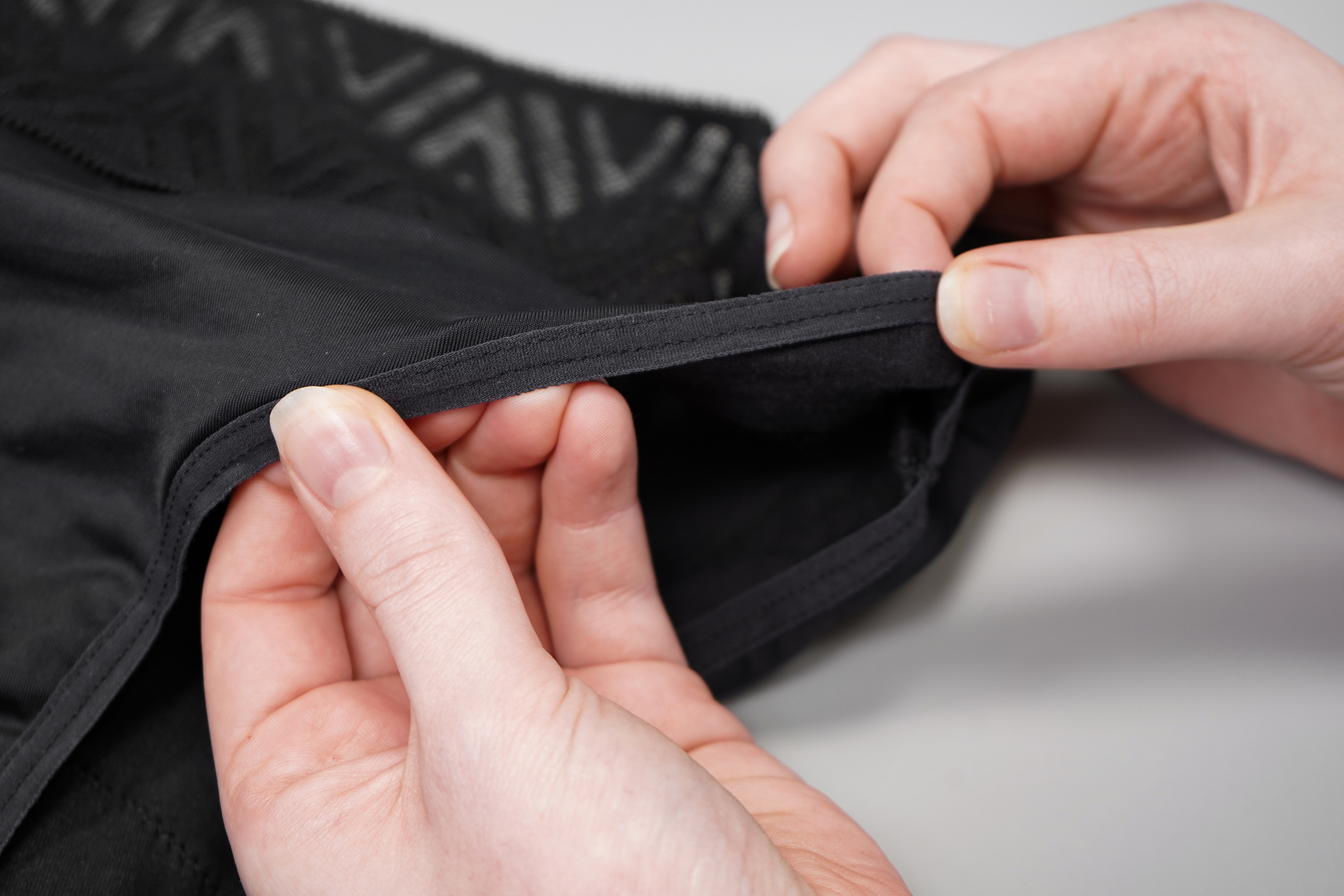 The elastic around the legs and the height of the Hiphugger (like the name implies, they sit on your hips) make them feel very secure. They offer all the protection you need, particularly when sleeping. They're better than pads in this way, which, let's be real, can be kind of iffy overnight.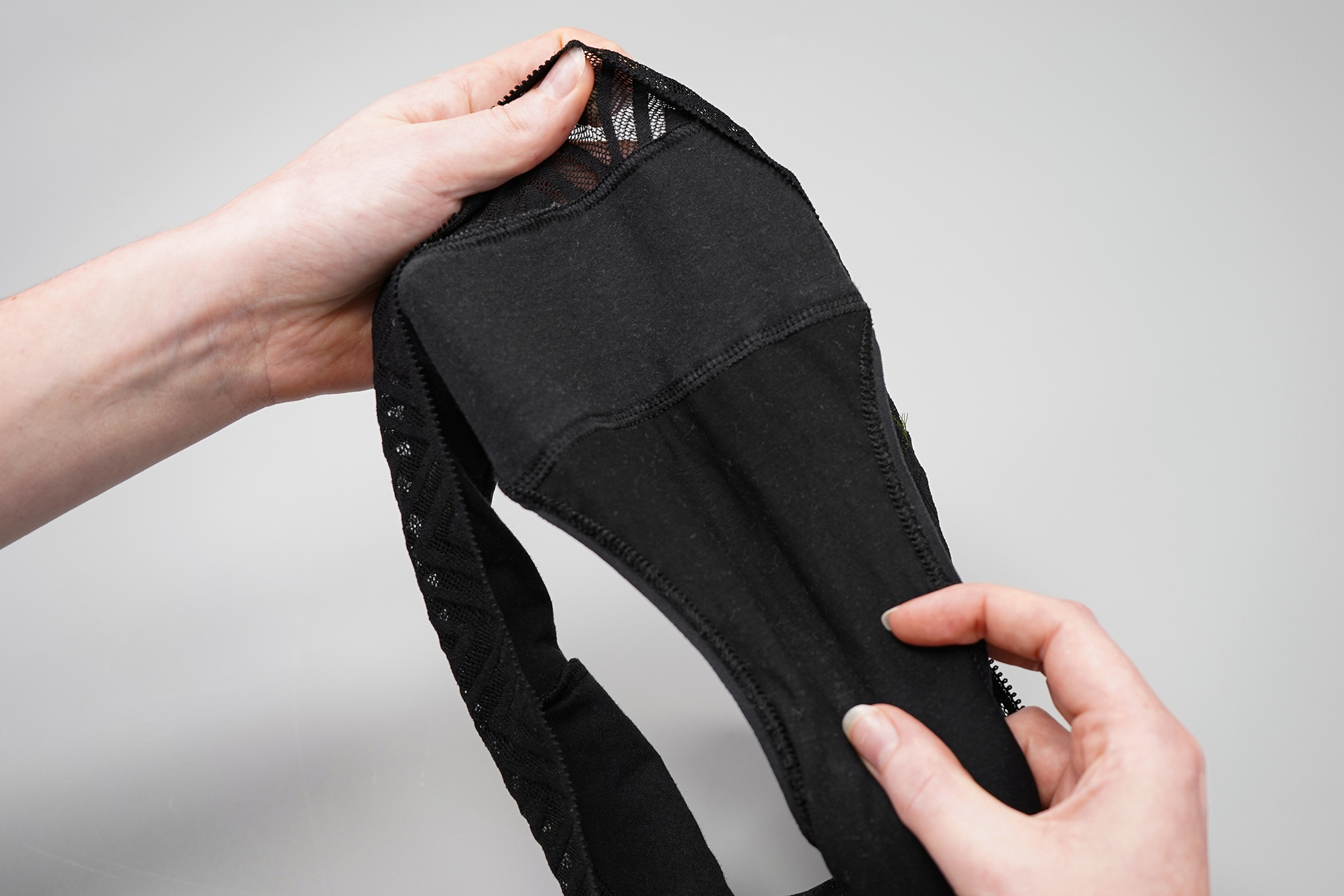 Another great and very necessary feature of the THINX Hiphugger panties are the antimicrobial properties. You don't have to worry about any sort of odor, even if you've been wearing them for 6+ hours. And, don't worry, the antimicrobial properties only affect the bacteria on the fabric and not on your body. Plus, THINX underwear are moisture-wicking to keep you nice and dry.
And when it comes to travel, the THINX Hiphugger panties are a game-changer. Seriously.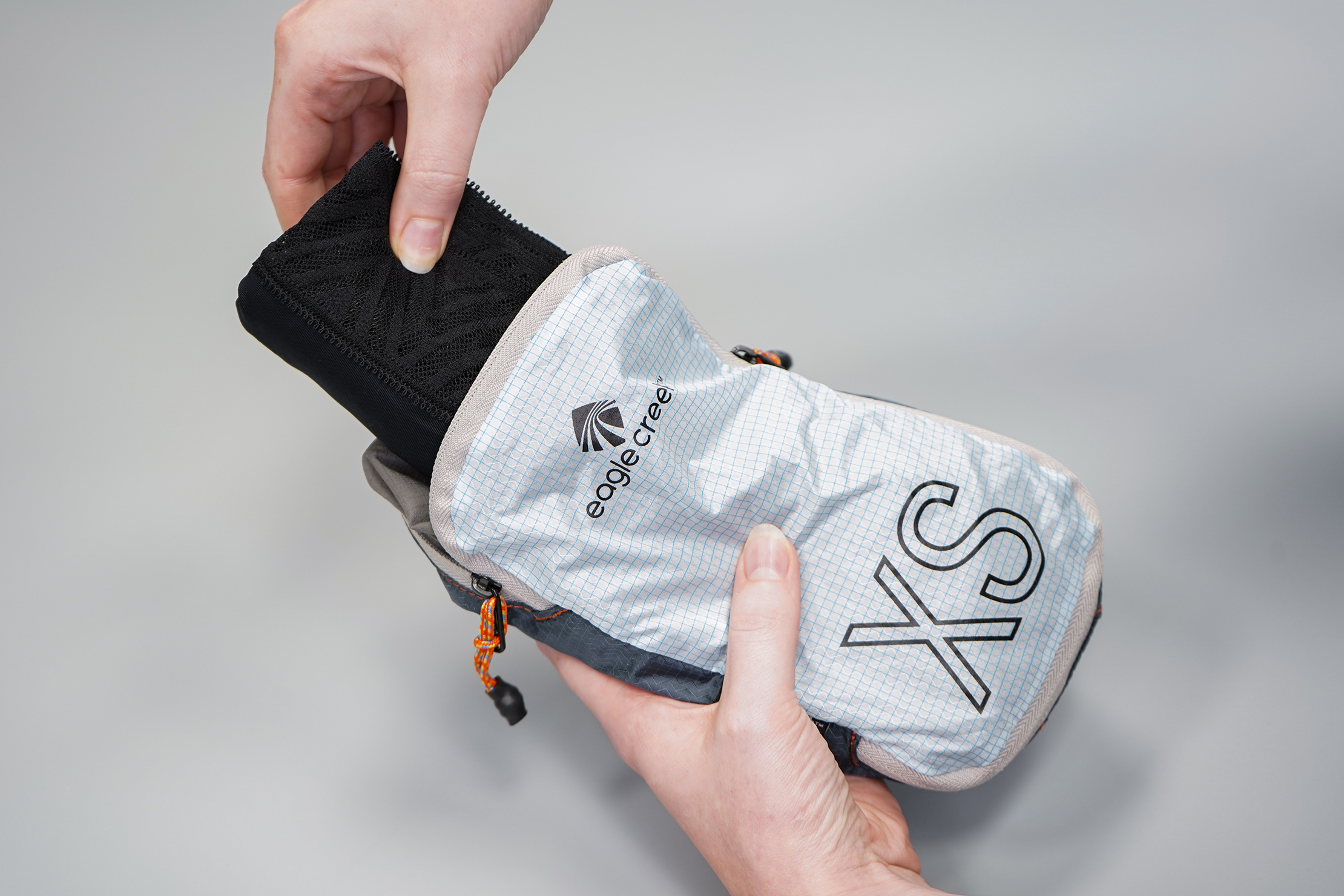 First of all, we love knowing that we'll never be caught without a sanitary product, which is a huge plus when traveling. When you're abroad or on the road, you don't always know where to pick up tampons or pads and sometimes you may not trust the brands that are available. This solves those problems entirely, as they'll always be tucked away in your pack.
And periods aren't always the most predictable. It's never fun—let's be real, it's freaking horrible—to get your period a couple of days early without easy access to sanitary products. So more than anything, THINX will give you peace of mind while you travel. If your period comes early, just toss on your THINX and you'll be good to go.
On a similar note, during your travels you might be caught in a situation where there is no good place to throw away your sanitary products, whether you're backpacking or just in a bathroom with no garbage can. Because THINX are not disposable (obviously), you won't have to discreetly wrap and tuck your sanitary items in your bag for later disposal ever again. (That is, unless you're also opting to use tampons and pads with your THINX.)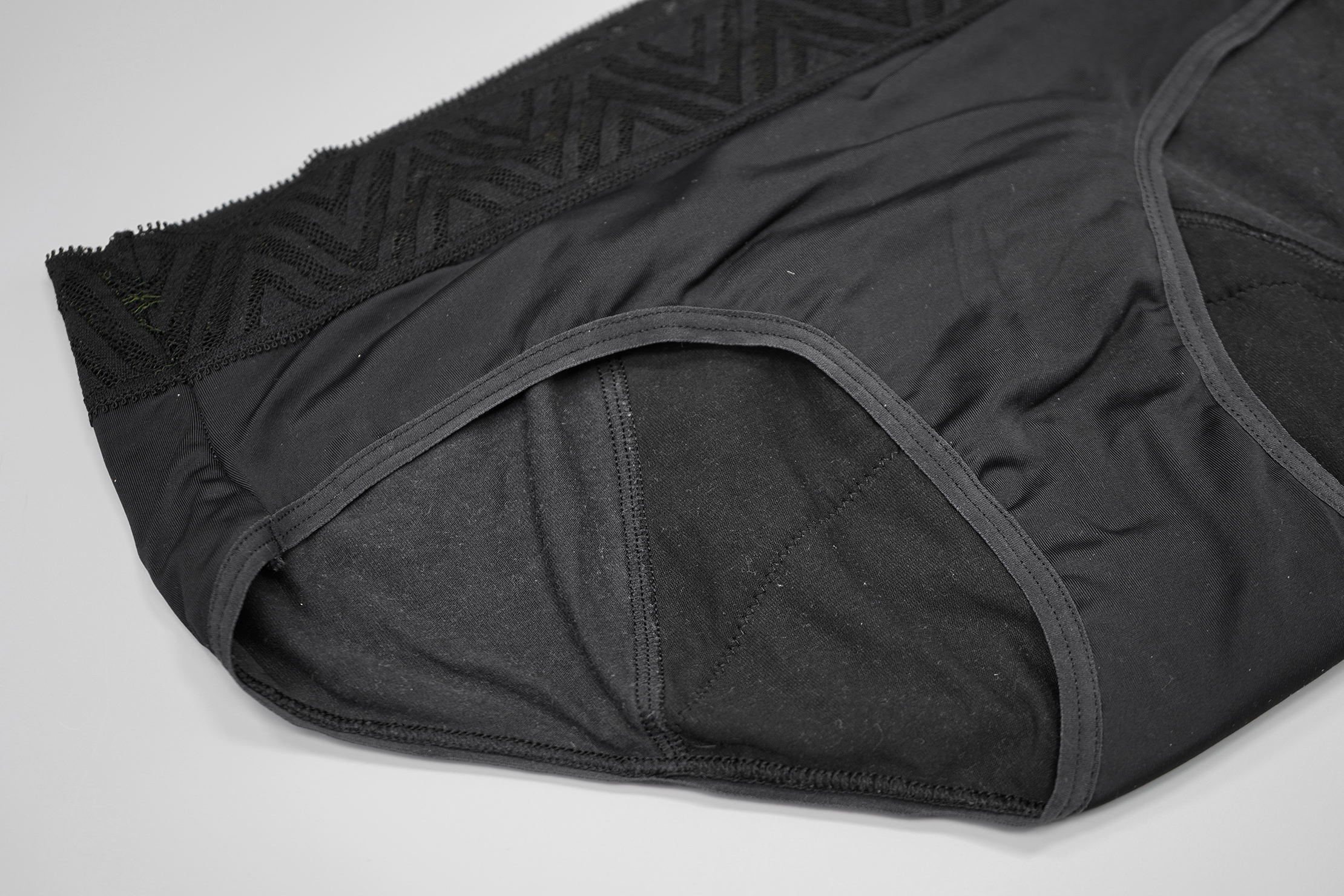 And while the THINX Hiphugger panties are a bit thicker than a regular pair of underwear, they don't feel much different when on. They're actually quite comfortable (although we understand comfort is relative here as everyone's underwear preference is different).
But because they wear more-or-less like standard briefs, you can wear them anytime—not just on your period. That means they won't take up any extra space in your bag. Just count your THINX underwear as regular underwear when you pack.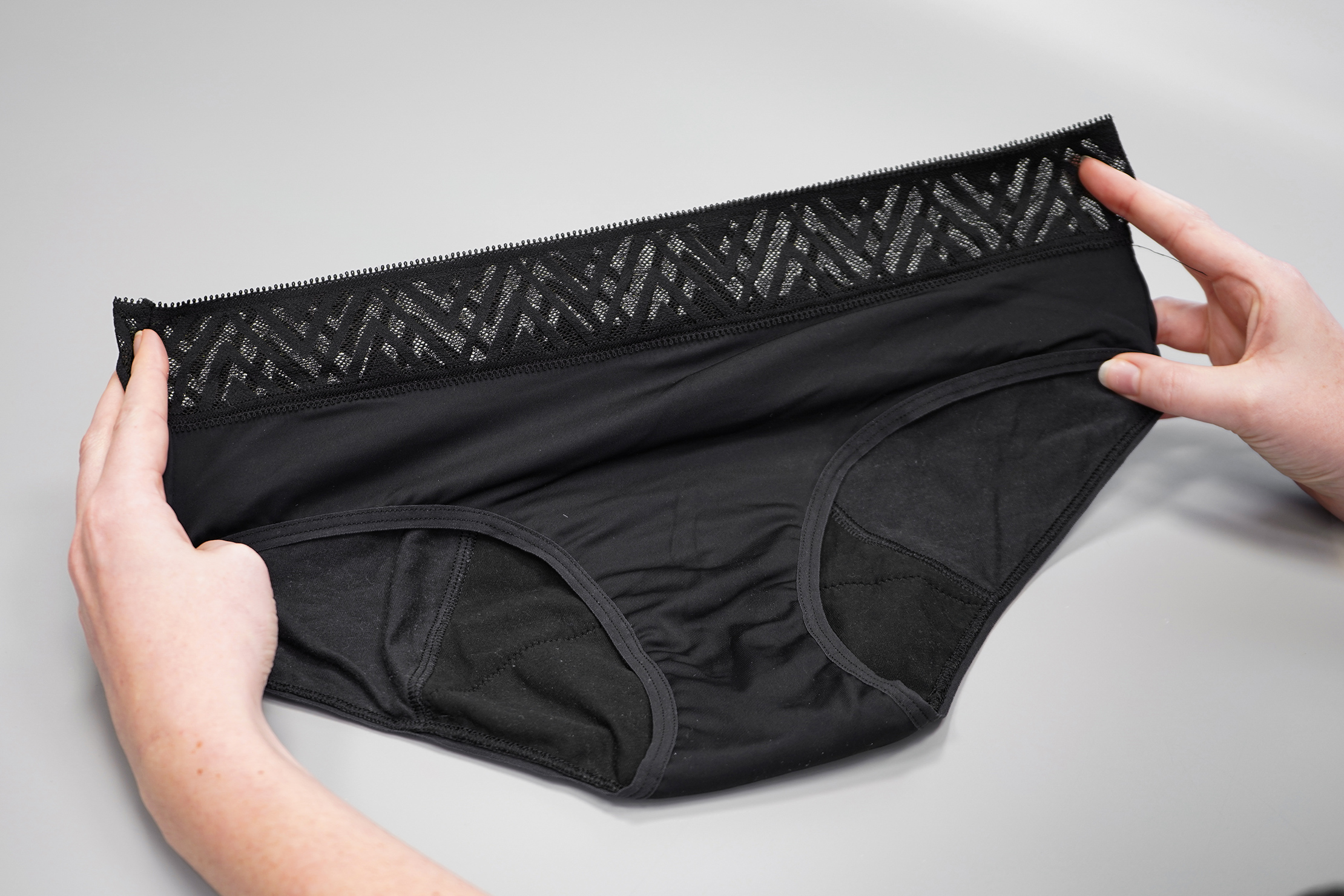 We recommend having at least two pairs. Not only because you'll want to switch them out for absorbencies sake, but because it always feels nice to stay fresh. Again, how many pairs you need depends on your flow and preference, so we also highly advise testing your THINX underwear before you go traveling.
Like we said, a huge benefit is the peace of mind THINX underwear provides, so if you're nervous about how the underwear will work with you and your body, you won't be enjoying one of the best parts of them to begin with. Wear them around your house for a bit and see how many hours you can wear a pair comfortably—that kind of thing—so you can adjust before you venture out into the world.
Something to note: if you try your THINX underwear for 60 days and they don't work for you, THINX will return your money. Although we haven't verified this ourselves, as the underwear has worked well for us in testing.
And while we've only been using this underwear on its own during our testing, THINX says some people opt to use a tampon or menstrual cup with them if they want or need double the protection. It's all about finding what works for you.
Durability & Testing
There's something inherently suspicious about period-proof underwear. But for the month we've been testing the THINX Hiphugger panties, we've really enjoyed them. They just work. We've never had to worry or stress about coverage or protection, even when wearing them all day long.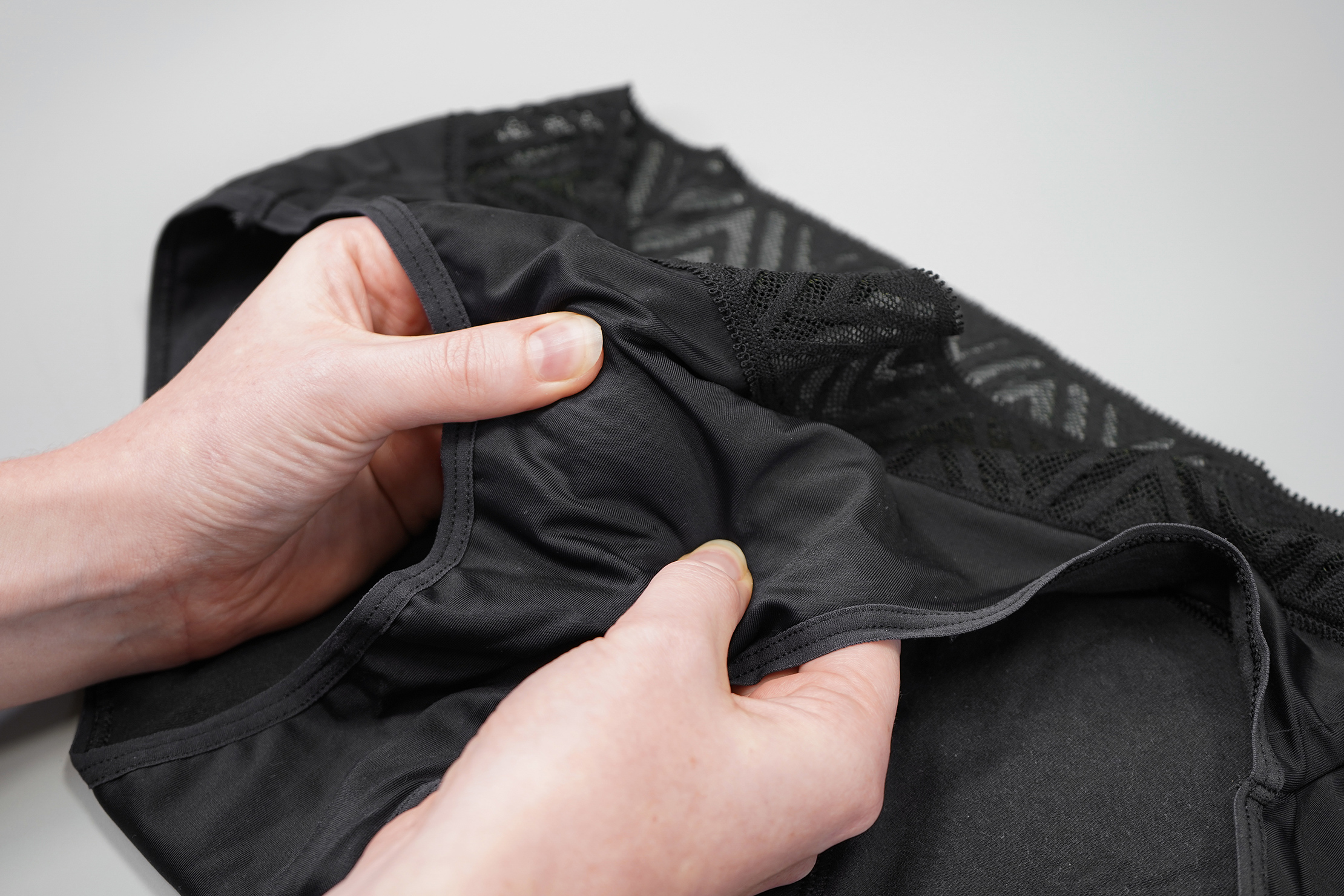 And no, they don't feel gross on. Like we recommended earlier, you'll probably want more than one pair so you can switch them out because it's always nice to feel extra fresh on your period. At the very least, we usually wear one pair during the day then switch to the other overnight.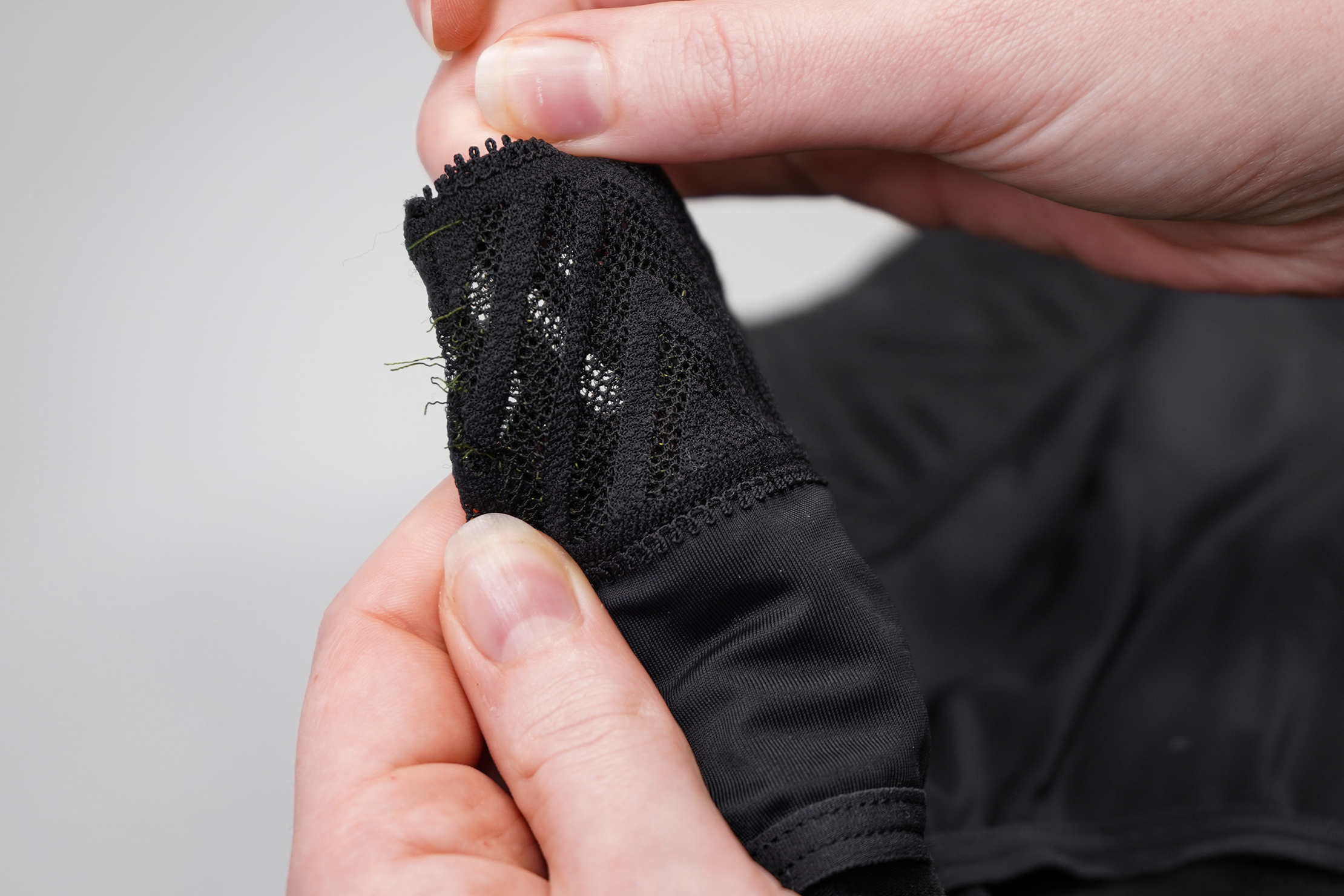 As far as durability goes, our THINX underwear have held up well so far. There are a few small pulls in the lace detailing up top, but that's it. And the main function of the underwear—being a sanitary product—hasn't degraded at all.
You do need to take special care when washing them, however. THINX recommends rinsing them right after you take them off, then washing in a mesh laundry bag whenever you do laundry next (the rest of your clothes will be just fine), and hanging them up to dry.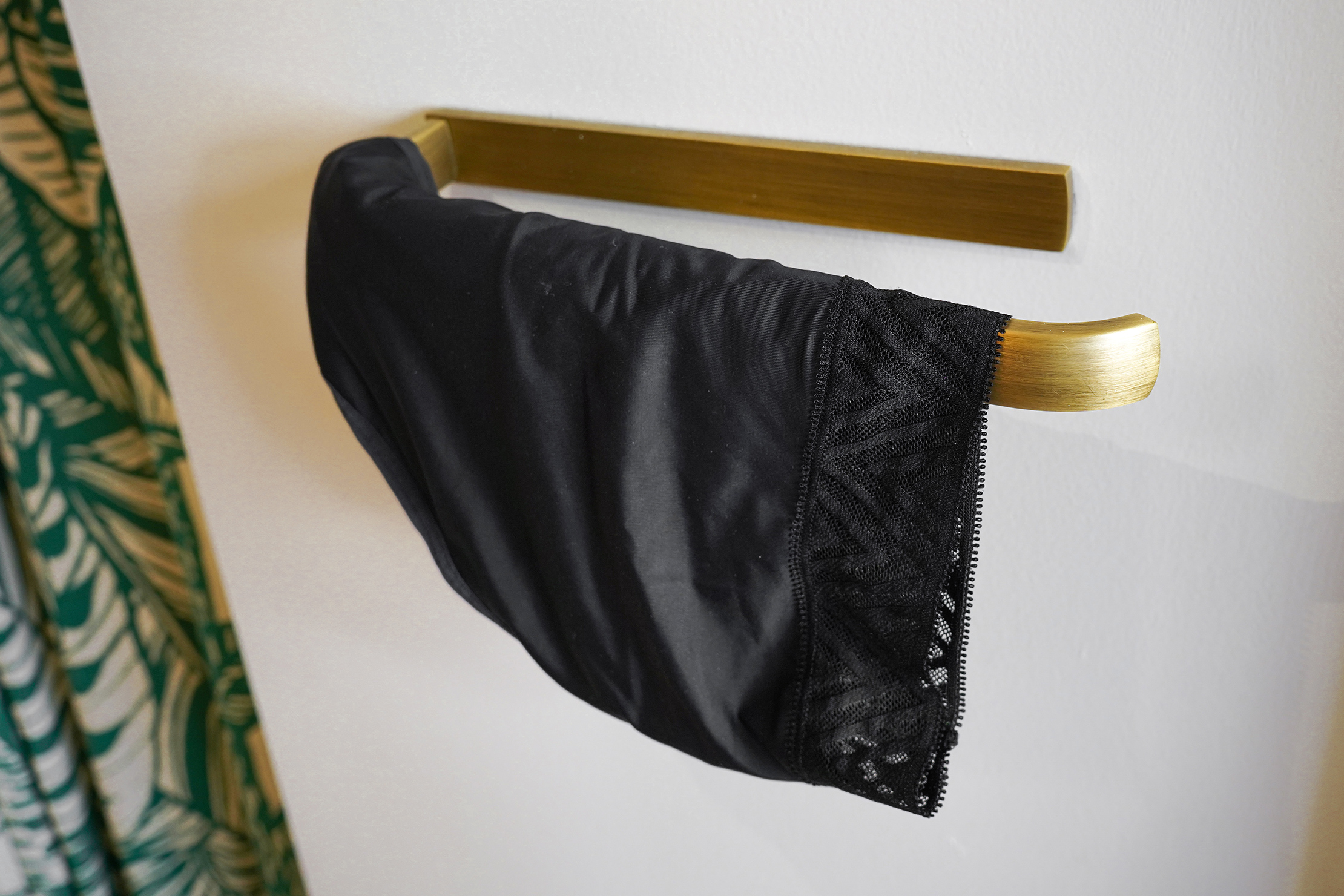 Because the THINX Hiphugger are so absorbent, they take longer to dry than a normal pair of underwear. We've found it takes around 8 hours or so.
That said, THINX recently released the THINX Air. While we haven't tested them ourselves, THINX claims these will dry 2 times faster than their traditional Hiphugger. We're digging the sound of that.
But if you'd prefer to stick with the Hiphugger, which is a more absorbent style, the drying time definitely isn't a deal breaker. Just make sure you keep the timing in mind, and if you're ever in a real pinch, the blow-dryer in your hotel room will work wonders.
Usage Timeline
Initial Usage
Condition: Excellent
Moisture-wicking, anti-microbial, absorbent and leak-resistant. We're interested in seeing whether these are as reliable as they sound.
Sleek and minimal design and we're digging the extra touch with the lace on the waistband.
Sustainable and travel-friendly.
1 Month of Use
Condition: Excellent
We've been pleasantly surprised by how well the Hiphugger panties work. They feel more secure and protective than a regular pad. And—no odor!
Access the Pro Community Discussion
Get your questions about the THINX Hiphugger answered from our team and the Pro Community right here on the page. Plus, join discussions with other members about gear, guides, and more.
Other Clothing & Accessories Reviews