Sherpani Qube Hip Pack Review
A stylish hip pack with extra security features and multiple carry options, the Sherpani Qube Hip Pack is ideal for travel—even if it's a little large.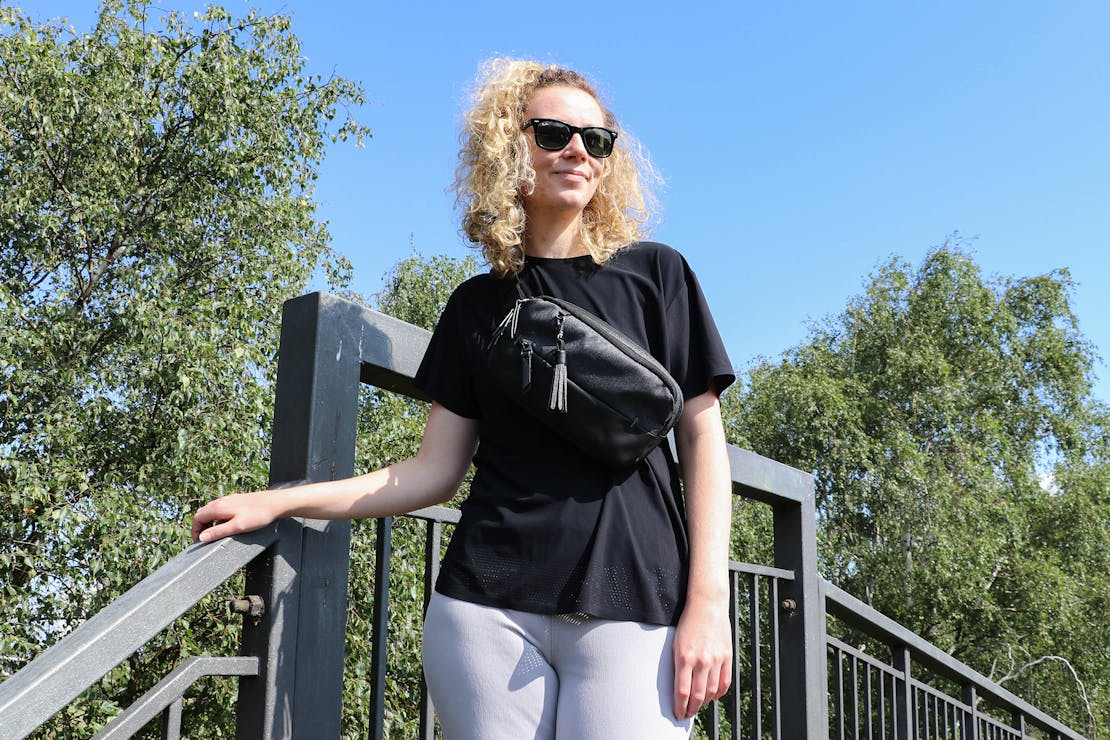 Our Verdict
Unlock the Pro Summary
Save time. Get access to brief summaries of our reviews so you can browse and make decisions more efficiently.
Pros
Great security features, including an RFID-blocking pocket and lockable zippers
Sleek, minimalist aesthetic
Internal organization makes it easy to keep your stuff tidy
Cons
At 6L, this pack may be too large for those who only want to carry the essentials
The buckle is not especially secure
The buckle can dig into your chest when wearing the pack on your back
Recent Pack Hacker Video
Technical Details
100 %
Carry-on Compliance
Capacity

6l

Denier

300D

Weight (oz)

10 oz (283.5 g)

Dimensions

5.5 in x 10 in x 3 in (14 x 25.4 x 7.6 cm)

Notable Materials

Polyester, Polyurethane

Manufacturing Country

Indonesia

Warranty Information
Full Review
It's no secret that we're fans of hip packs here. We're all about keeping up with trends—and hip packs are definitely "in" at the moment—but more importantly, hip packs are convenient! They allow you to keep your essentials close by while strolling the cobblestone streets of cities or hopping from airport to airport.

And the Sherpani Qube Hip Pack—an REI Exclusive—has taken hip packs to the next level. At least in terms of security features. This Hip Pack has lockable zippers, an RFID-blocking pocket, and a slash-proof bottom. Now, we haven't exactly tested those last two features. We don't own an RFID reader, and we (luckily) haven't encountered a wrongdoer with a penchant for slashing bags yet, so we're going to take Sherpani at their word here.
But we're getting ahead of ourselves. Let's start at the beginning.
Materials & Aesthetic
For the most part, this hip pack has a minimalist, sleek aesthetic. It's available in three colorways at the time of this review—Arctic, Black, and Merlot. We'll give you one guess on the colorway we've been testing.

If you guessed black—you win! (Your prize is bragging rights—go tell all your friends!) We're all about black here at Pack Hacker since it tends to calls less attention to itself, shows less dirt, and goes with every outfit. This black colorway is more of a dark gray, but we still dig it.
The Sherpani logo is stamped on the center of the bag, but it's discreet. In most light, you can barely see it. We tend to prefer subtle branding—we haven't enjoyed wearing massive logos since that GAP sweatshirt trend circa 2004.

Anyway, the only not-so-minimalist aspect of this bag is the tassel on the front. Frankly, we're not tassel-people here at Pack Hacker—is anyone surprised?—but if you are, you'll love this pop of style. Luckily, it's detachable, so it's a win-win for tassel and non-tassel people alike (not something you often see). When you detach it, you'll be left with a small metal loop you can hook any number of things to. A carabiner, your keys, a fun keychain—you name it.

This hip pack can also be worn as either a hip pack or a sling bag (crossbody). While the straps are anchored in such a way that it seems to be built for the hips, we think it works better on the chest or back. At six liters, this pack is large—for a hip pack—and, on some bodies, will span the entire width of the hips, thus looking comically huge. Not exactly up our alley, but if you're into that, go for it!
Let's get into the materials (one of our favorite parts of any review). The exterior is made from a 300D polyester, which isn't as strong as nylon, but it works for a pack of this size. As we already mentioned, the bottom of this pack is made from a slash-proof material. It has a somewhat plasticky feel to it, but don't worry, it's tough. We haven't taken a knife to it, so we can't say for certain how well it'll hold up in a slashing scenario, but it feels hardy at least.

The zippers are unbranded, though they feel durable. We're usually skeptical of unbranded zippers, so we'll make sure to keep an eye on them—look for updates on our Durability Timeline down below.
External Components
As we said above, this hip pack is large. As a rule, the larger the hip pack, the more uncomfortable it becomes to carry (at some point, you'll crave the harness system of a backpack). But the folks at Sherpani have done their best to make carrying this thing as comfortable as possible. And we have to say, they've done an excellent job (though it can still get uncomfortable if you stuff this thing full).

The back panel has a soft, breathable mesh that helps keep sweating to a minimum. And the strap is thick enough to be supportive. It also has a smooth, almost silky texture that feels nice and won't cause any pilling on your clothing.
The attachment points are slightly padded and designed for a comfortable carry around the hips, which is great. Although—as we already mentioned—the pack does work well in crossbody-mode too.
Lastly, the plastic buckle is no joke. It's massive, which may help with longevity and easy buckling, but it can dig into your body, especially when you wear the pack on your back (meaning the buckle is on your chest). It's not terribly uncomfortable, but we would not describe it as "pleasant" either.
Inside the Hip Pack

You'll find three main compartments on this thing. The first—located on the front of the pack—is almost hidden. We say almost because while the zipper track is tucked beneath a layer of fabric, the zipper itself is visible. It's a neat look that contributes to that sleek aesthetic we talked about earlier.
This pocket doesn't have much going on. It's shallow, so it won't fit anything large, but it's quick to access—so it's ideal for small things you'll frequently be grabbing. We've been using it for pens—you'll never know when you need to whip out a pen at a moment's notice! If anyone knows of any pen quick-draw contests, let us know—we'll be there to smash the competition with our Sherpani Qube.

The next compartment has a couple of pockets to help you keep your stuff organized. On the back right, you'll see a slightly elasticated mesh slip pocket. It's a handy place to keep items you don't want to lose or that you'll want to access quickly.

On the left, you'll find a small, zippered mesh pocket with a clip inside. It's not super convenient to access—so it's a nice spot for things you want to keep safe but don't use much. If you're planning to spend the entire day out and about, you can attach your keys to the clip in the morning and not worry about having to dig through a mountain of stuff to find them when you slog back to your hotel that evening.
While the clip works great as a key clip—one of the better ones we've seen on hip packs, in fact—it's also meant to clip to one of the external zippers for security purposes. We love when features play double duty, so hats off to the Sherpani design team.
The compartment itself is massive. It can fit a good amount of stuff inside—e-readers, full-sized wallets, even a small water bottle. But we suggest putting smaller, thinner items in this compartment as the big stuff will make it harder to access the aforementioned pockets.

You'll want to put the really big stuff in the third compartment, which doesn't have much organization going on. You'll find a padded sleeve along the back, where we've been keeping our phone. But it's also an ideal spot for your passport as it's quick to access. You'll see another one of those key clip/security clips in this pocket as well.
As we said, this is the ideal spot for bulkier items. But if you stuff it to the max, it'll eat into the space in the second compartment. So keep that in mind.
The interior fabric on these pockets is a light gray color, which helps you see what you've got going on inside.
Security Features
We've already talked about this, but we briefly want to go over it again since it's a huge selling point. This pack has three main security features:
An RFID-protected pocket

The statistics on how many RFID crimes have been committed are fuzzy, with some experts saying that there hasn't been a single report of a fraudster collecting sensitive information via electronic-scanning, while others argue it's tricky to say how stolen credit card information is gathered. But it's always a possibility, and we appreciate the peace-of-mind this RFID-protected pocket offers. Stash your passport, RFID credit cards, or hotel key cards inside this pocket and let all your RFID worries melt away.

Lockable Zippers
Lockable zippers won't protect you from every kind of thief out there, but they are a major deterrent for someone who is trying to get in and out of your bag in the time it takes you to blink.
Anti-blade fabric bottom
Of course, you're unlikely to have your hip pack slashed open (at least where we travel). But it's nice to know that if someone does try to slash your pack open, you won't lose your important stuff. You'll probably still have a bad day, but not a miserable one.
You may have noticed that we haven't mentioned anything about the buckle. That's because it has no added security. It's not lockable or hidden. In theory, this means someone who's up-to-no-good can unbuckle the buckle on this pack and run away with it and your valuables. But this buckle is solid and large, so you have to give it a good squeeze to unclip. We think this is enough security, but if you're looking for the hip pack version of a fire safe lockbox, you may opt for a different pack.
Durability & Testing
We've been testing the Sherpani Qube Hip Pack for two weeks around Essex, England. To be blunt, it's not our favorite hip pack for everyday carry (we prefer the Eagle Creek Wayfinder Waist Pack). And that's due to the size of this thing.

We usually only carry the essentials on the daily—wallet, keys, and phone. That's it. That said, the Sherpani Qube Hip Pack is excellent for travel, where you'll usually be touting more stuff (a map, sunscreen, snacks, etc.). It's especially great for flights, as you'll be able to carry all you could possibly need to make sitting inside a floating metal bird next to sweaty strangers for hours at a time comfortable (or more comfortable). We're talking eye mask, earplugs, breath mints, e-readers—the works.
As far as durability is concerned, we have nothing to report. Everything looks as good as new!
Usage Timeline
Initial Usage
Condition: Excellent
Lots of space and compartments to organize your items.
Extra security such as locking zippers, RFID protection and a blade blocker fabric.
This is an REI Exclusive item.
2 Weeks of Use
Condition: Excellent
Access the Pro Community Discussion
Get your questions about the Sherpani Qube Hip Pack answered from our team and the Pro Community right here on the page. Plus, join discussions with other members about gear, guides, and more.
Other Bags & Luggage Reviews