Sea to Summit X-Seal & Go Set Review
The Sea to Summit X-Seal & Go Set is a cup and bowl combo that snaps together for easy carry, though beware of spills if the lids are loose.
Our Verdict
Unlock the Pro Summary
Save time. Get access to brief summaries of our reviews so you can browse and make decisions more efficiently.
Pros
Bowl's solid base is easy to slice food on
Compressed form saves space in tight bags
Imprinted measurements handy for cooking on the go
Cons
Lids can be hard to unscrew
Cup and bowl can be tough to separate
Even a slightly loose lid can lead to spills
Recent Pack Hacker Video
Technical Details
Capacity

7.2oz

(small) | 14 oz (medium) | 20 oz (large) | 28.8 oz (x-large)

Weight (oz)

7.2 oz (204.1 g)

(small set) | 11 oz (large set)

Dimensions

2.5 in x 3.5 in (6.4 x 8.9 cm)

(small) | 2.00 in x 6.25 in (large)

Notable Materials

Silicone, Nylon, Polypropylene

Manufacturing Country

China

Warranty Information
Full Review
If you've ever tried taking soup from one place to another, chances are you're familiar with the gnawing feeling of Murphy's law. For the uninitiated, it's specifically stated as: "Anything that can go wrong, will go wrong." Even if it's not soup, it only takes one bad jostle to turn the inside of a bag into a complete mess no one's going to want to deal with.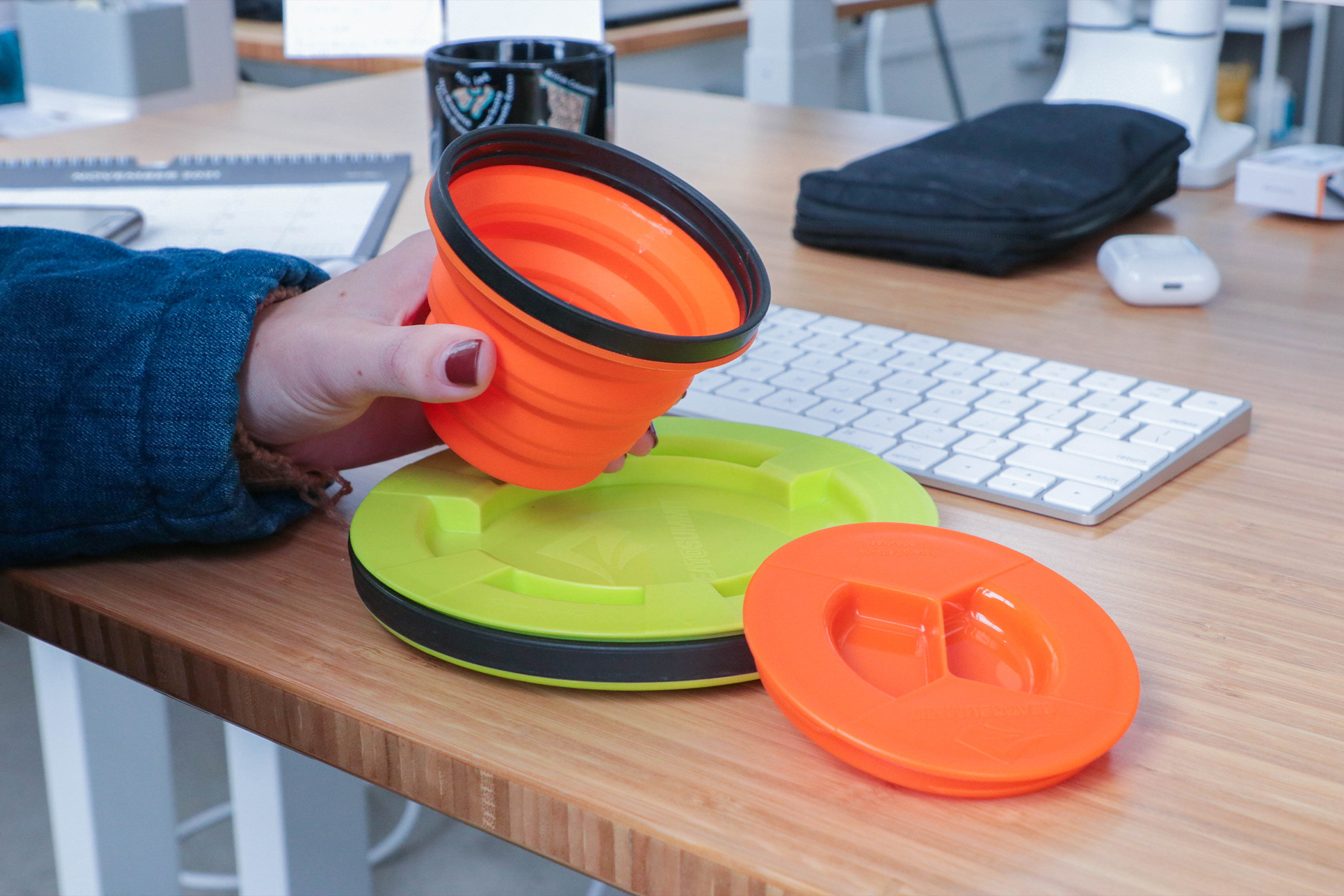 Indeed, meals on the go can be messy when not packed correctly. Enter: Sea to Summit's X-Seal & Go Food Set. That's somewhat of a mouthful to say, but it's basically a bowl and cup combo that comes in two different sizes each. They're collapsible, sealable, and—this is our favorite part—the bowls have a solid base. We're raring to dig into this one, and if you are too, let's dive right in.
Materials & Aesthetic
The X-Seal & Go cups and bowls are all quite eye-catching. Most of the colorways available at the time of writing are punchy and bright, nearing borderline neon. They're easily visible even under poor lighting conditions, such as an evening campsite or the office pantry in the wee hours of overtime. Unfortunately, the lively colors may be more likely to attract others to your food, regardless of if it's plain boiled broccoli or the homemade pasta you've been saving for later.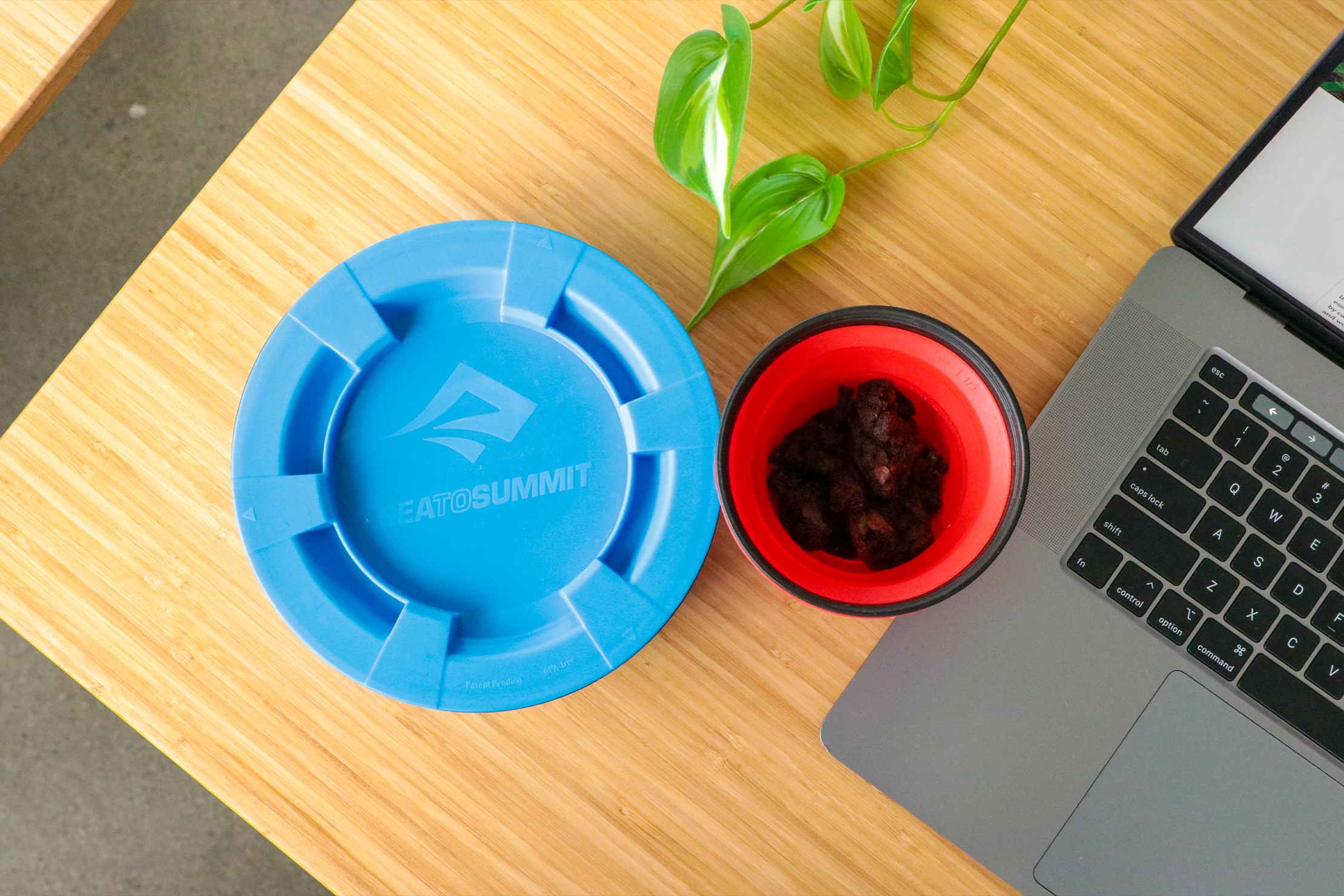 There are a total of four sizes available: small and medium for the cups, large and extra-large for the bowls. There's a bunch of colors to choose from for each size, though if bought as a set, there may be slight variations on the available combos. For our testing, we have a small cup (orange) with a large bowl (lime), and we also have a medium cup (red) paired with an extra-large bowl (royal blue). Regardless, the colors don't really affect the usability nor how easy they are to clean—it's just a matter of personal preference.
The bowls resemble frisbees while they are compressed. The pattern on their lids resembles wheel spokes or hubcaps. Meanwhile, the patterns on the cups' lids are more minimal but serve the same purpose. They're for gripping the lid while unscrewing them. Just how effective the grooves and patterns are as grips, we'll get into later.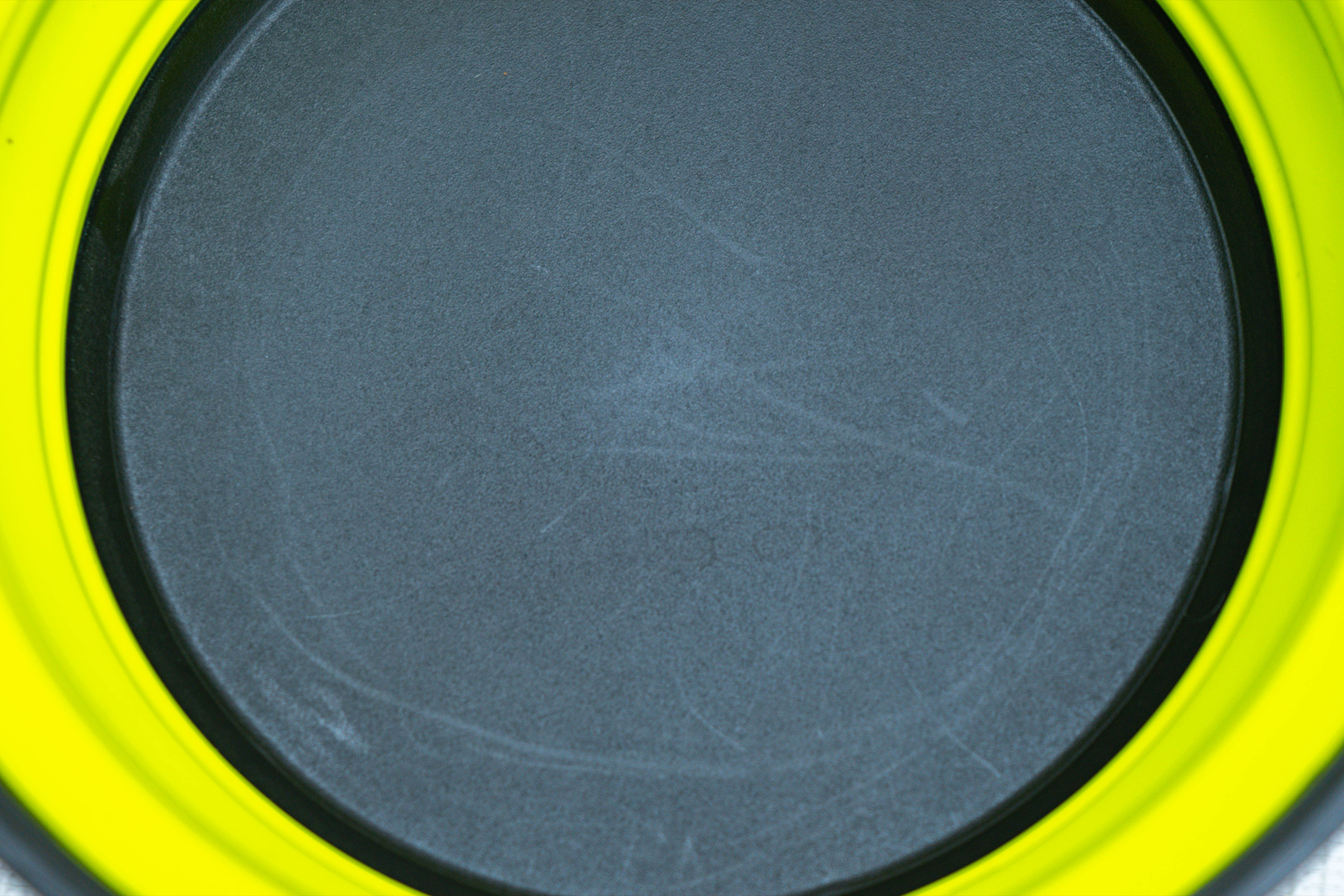 The X-Seal & Go cups and bowls are made of three primary materials, namely silicone, nylon 66, and polypropylene. The silicone material is relatively thick, and the way it's structured helps keep it propped up when expanded. At the same time, it's also soft enough that compression takes only a gentle but firm push. Both the polypropylene lid and nylon base are solid, but it's the nylon base of the bowls we're keen on. There's minimal flex despite the material being more commonly associated with fabrics. This greatly helps functionality, again, as we'll discuss later on.
Despite daily usage with metal table forks, butter knives, and spoons, there's only minimal scratching on the surfaces of the X-Seal & Go set, primarily on the nylon base of the bowls. At worst, though, we have to shine the bowl under direct light to notice any of the scratches, and they didn't really harm overall usability.
Usage & Features
As a set, the cups can attach on top of the bowls' lids when they're compressed. Keep in mind that the pairing goes: small cup with large bowl, and medium cup with extra-large bowl. We found that having the cups stacked on top of the bowl is a good housekeeping feature, as there are fewer items to track once we're done using them. The only real issue is that they stick together almost too well, and there were instances where we had to force them apart.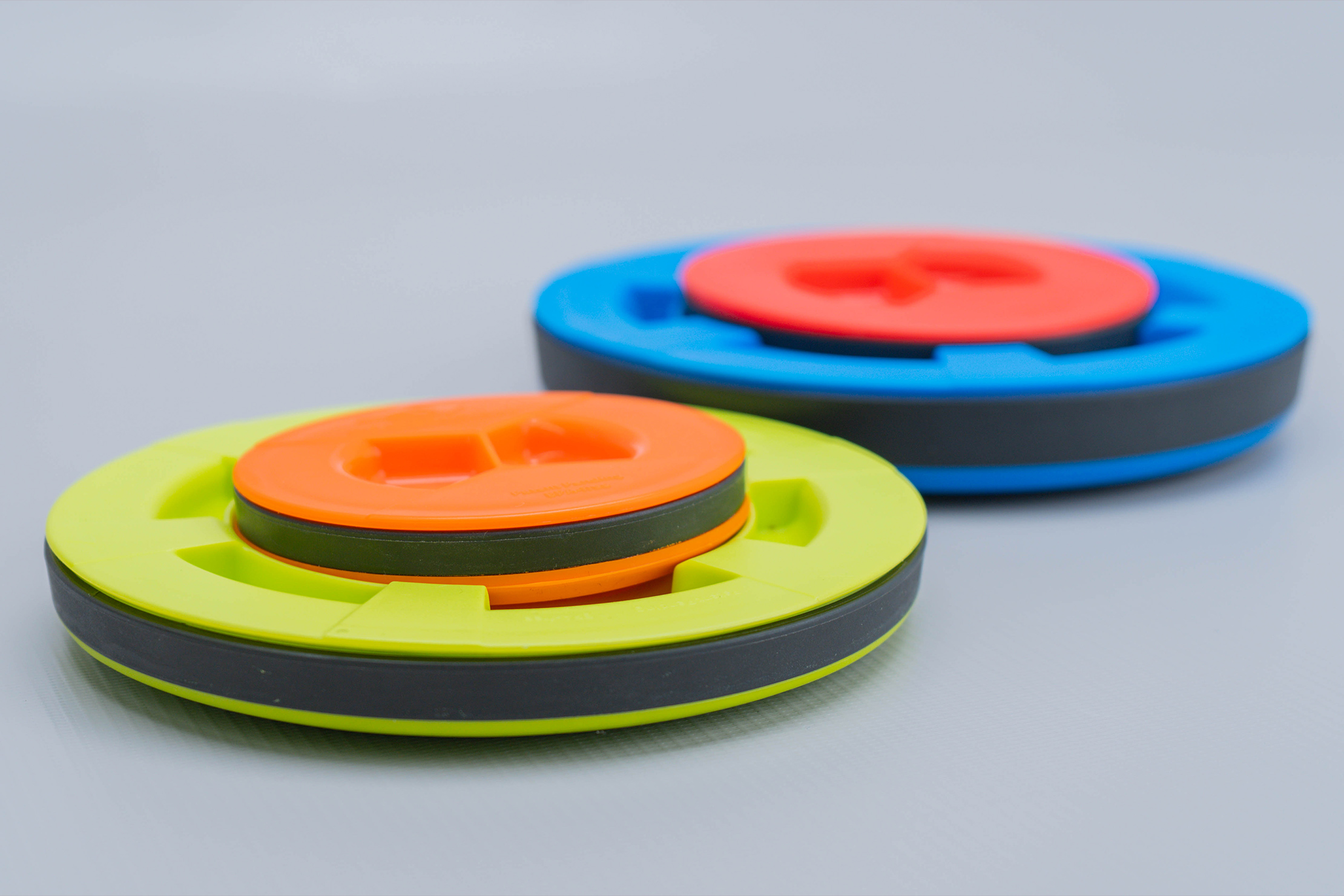 Once they're all separated, it's just a matter of unscrewing the lids and pushing the base to expand them. While the smaller cups' lids are fairly easy to unscrew, the wider bowls sometimes take a bit more effort. The near edgeless design of the lids almost forces us to rely on the molded center for grip. However, we found that gripping nearer to the edges sometimes made unscrewing easier. Fortunately, the shallow threading of all the lids means that only a quarter-turn is needed to remove them.
One quality of life feature we dig with the X-Seal & Go set is the volume markings inside. It's a small feature but a very handy one to have for cooking on the go when there are no measuring cups available. Measurements are provided in both metric and fluid ounces, so there's no need to fumble around with multiple conversions either.

The cups are easy enough to drink from. Their odd shape, courtesy of the accordion-style expansion, makes them a bit wider and more conical than a typical cup. The only potential issue with the shape is when we're using them for viscous sauces, as the fluid tends to catch around the ridges. This requires us to scoop them out with more effort compared to, say, a smooth bowl. It's an understandable tradeoff with the accordion-like expansion, but one that's still worth pointing out.
The bowls share the same wide profile of the cups but are a bit more stretched out to make them more bowl-like. That said, they can still come off as shallow if not for the indicated capacity printed beneath them. We have the complete measurements for all four sizes in the table above if you want to check them out. For our use case, the set doesn't feel lacking in terms of space. For single-person meals, the medium cup and extra-large bowl combo are more than enough. Of course, your mileage may vary depending on your eating habits.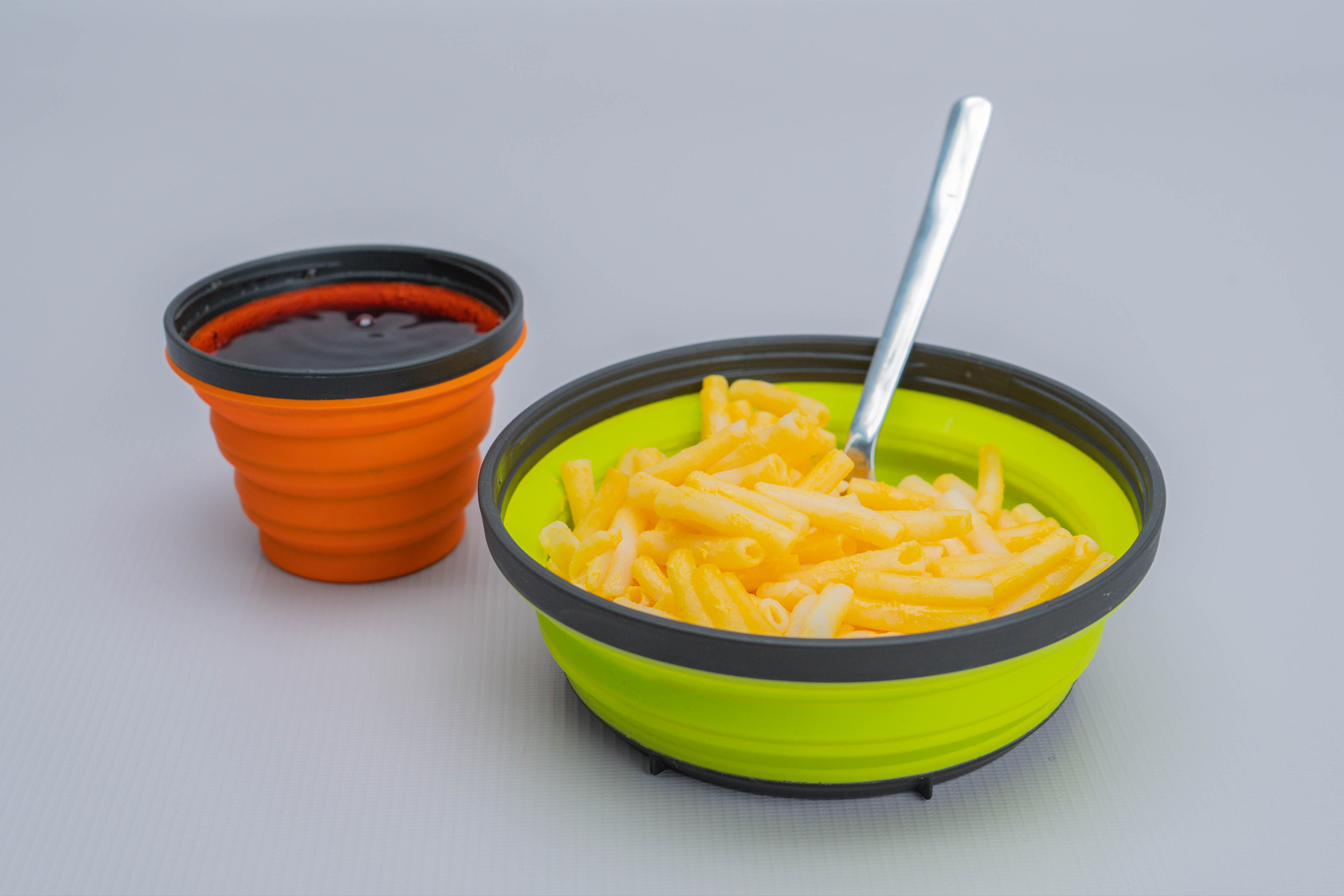 As mentioned earlier, we're keen on the solid base of the bowl because it helped us really dig into our meals. For food that requires vigorous cutting, a solid platform is a must so you can fork and slice it down. Sea to Summit even thoughtfully put small tabs at the base of the bowl to keep it from tipping over. Combined with the well-designed expansion of the silicone body, we have little to worry about when using the set, allowing us to focus on our food.
While the lids generally seal well despite the shallow threading, there is sometimes a tiny but noticeable gap between the bowls' lid and rim. The good news is that we didn't encounter any leaks when we had them sealed properly. However, since the threading is shallow with just a quarter turn, even a slightly loose seal can cause leaking. This means we're always careful to make sure that we're doing the full quarter turn each time we use the X-Seal & Go set, especially when we're dealing with saucier and more fluid food.
After eating comes the washing. Because the body is mostly silicone, rinsing off all but the stickiest of stains is relatively easy with a bit of elbow grease. We even used a cup to hold caramel sauce at one point, and it washed away without any issue. The set is certified dishwasher safe, so the kit is easy to maintain on a daily basis. Mind you, the grooves along the lid and the ribbed silicone body may require special attention to ensure there's no unwanted leftovers.
Stowing away the containers is easy enough because they compress to about a fourth of their original size. While the cup can attach to the top of the bowl, storing them separately is an option, depending on your packing strategy. We like to keep things together since we have more than enough space in our own bags. If we have any leftover food, we prioritize filling the bowl since the cup must be compressed to attach to the bowl's lid.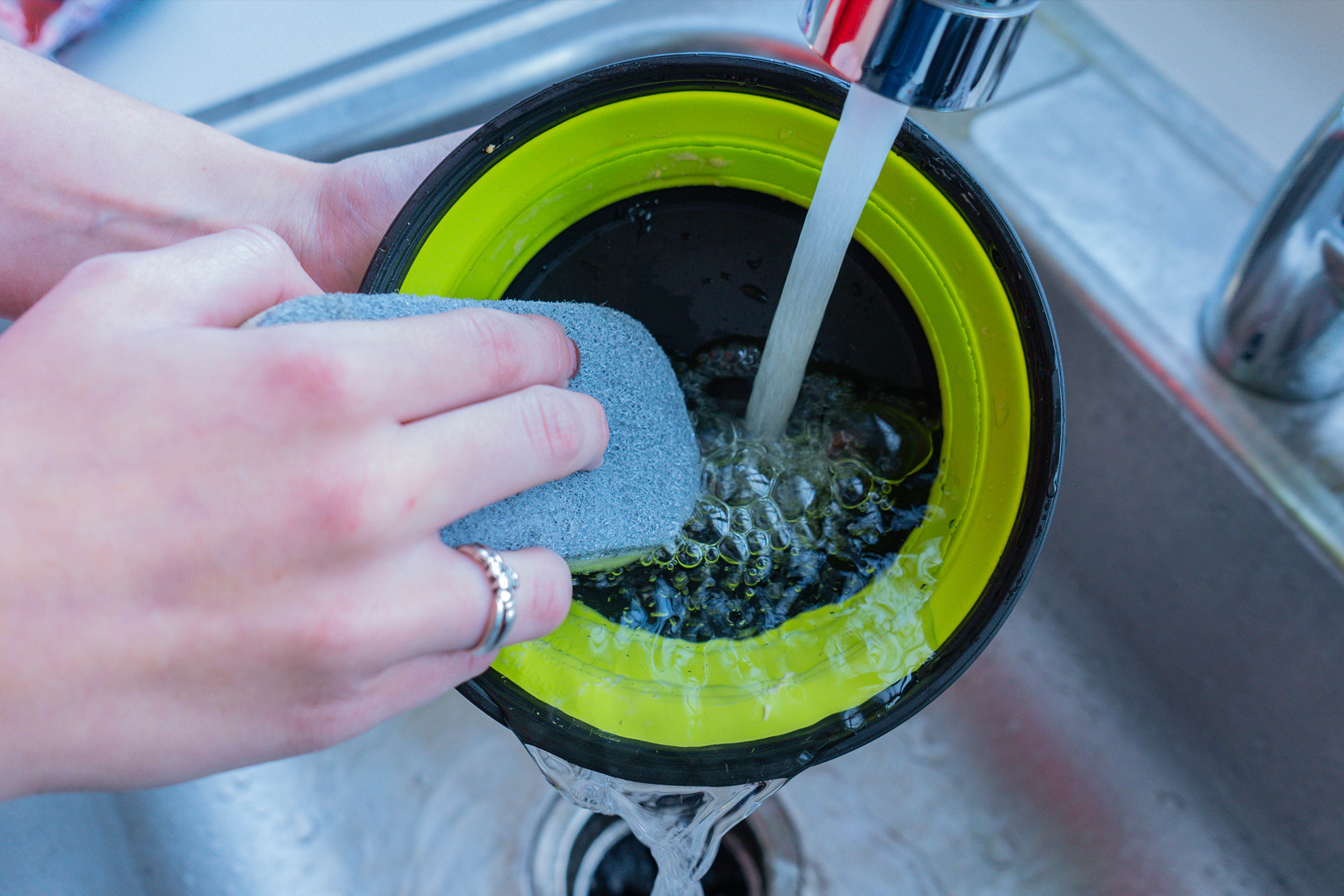 The X-Seal & Go Food Set's portable and sealable design makes it a versatile kit. The most noteworthy feature for us is the bowl's solid base, which really helps take our minds off potentially cutting through delicate silicone. From eating to packing away, the experience is relatively headache-free—a welcome course for any meal on the go.
Usage Timeline
Initial Usage
Condition: Excellent
Collapsible design means depth is adjustable
Twist cap doesn't require a lot of twisting to open or close
The cap seals well and is pretty much airtight
2 Weeks of Use
Condition: Excellent
Lids can be difficult to get a tight seal on
Similarly, lids can be difficult to open when closed incorrectly or too tight
Silicone cleans off super well by hand wash and dishwasher
Microwave safe, which is handy for leftovers
Hard nylon base on the bowls adds stability while eating, but we wish there were one on the cup too
Access the Pro Community Discussion
Get your questions about the Sea to Summit X-Seal & Go Set answered from our team and the Pro Community right here on the page. Plus, join discussions with other members about gear, guides, and more.
Other Organizers & Pouches Reviews