Sea to Summit Hanging Toiletry Bag Review
Sea to Summit's Hanging Toiletry Bag is a mini shelf of toiletries you can travel with, though it struggles to stand up on its own, so hanging is a must.
Our Verdict
Unlock the Pro Summary
Save time. Get access to brief summaries of our reviews so you can browse and make decisions more efficiently.
Pros
Compressibility makes it more packable in bag
CORDURA Ultra-Sil fabric is easy to clean
Simple hanging design gives you a travel-sized shelf
Cons
Tends to tip over because of a lack of structure
Included mirror hangs out at weird angles
Main compartment finicky to unzip
Recent Pack Hacker Video
Technical Details
Capacity

3l

Weight (oz)

2.8 oz (79.4 g)

(small) | 4 oz (large)

Denier

30D

Dimensions

9 in x 6 in x 3 in (22.9 x 15.2 x 7.6 cm)

(small) | 10 in x 9 in x 4 in (large)

Notable Materials

CORDURA® Nylon, Hypalon®, Unbranded Zippers

Manufacturing Country

Vietnam

Warranty Information
Full Review
The hanging toiletry bag concept is one that we've seen executed well, with products like Peak Design's Wash Pouch and Away's Hanging Toiletry Bag. Now, though, it's time to take a look at Sea to Summit's take on the idea, and admittedly, their approach is relatively simpler.

Firstly, there isn't a dizzying amount of pockets inside for every bathroom gadget, nor is there thick and structured fabric. At the humble 3-liter size of the small version, you only get a handful of mesh pockets, some open space for your travel-sized bottles, and lightweight, water-resistant fabric that lacks serious structure. Oh, but a pocket mirror does come included, so that's a nice touch.
Is it enough substance for a travel toiletry bag, though? Let's find out.
External Components
The staple of any good toiletry bag is, of course, water-resistant fabric. After all, it's going to be accompanying you to and from bathrooms or other humid wash areas, so it's pretty much a necessity. We've seen various materials used for this purpose, and Sea to Summit keeps it simple by opting for CORDURA's 30-denier Ultra-Sil nylon. The fabric's sleek finish is indicative of how water resistant and easy to clean it is, and it works well in practice.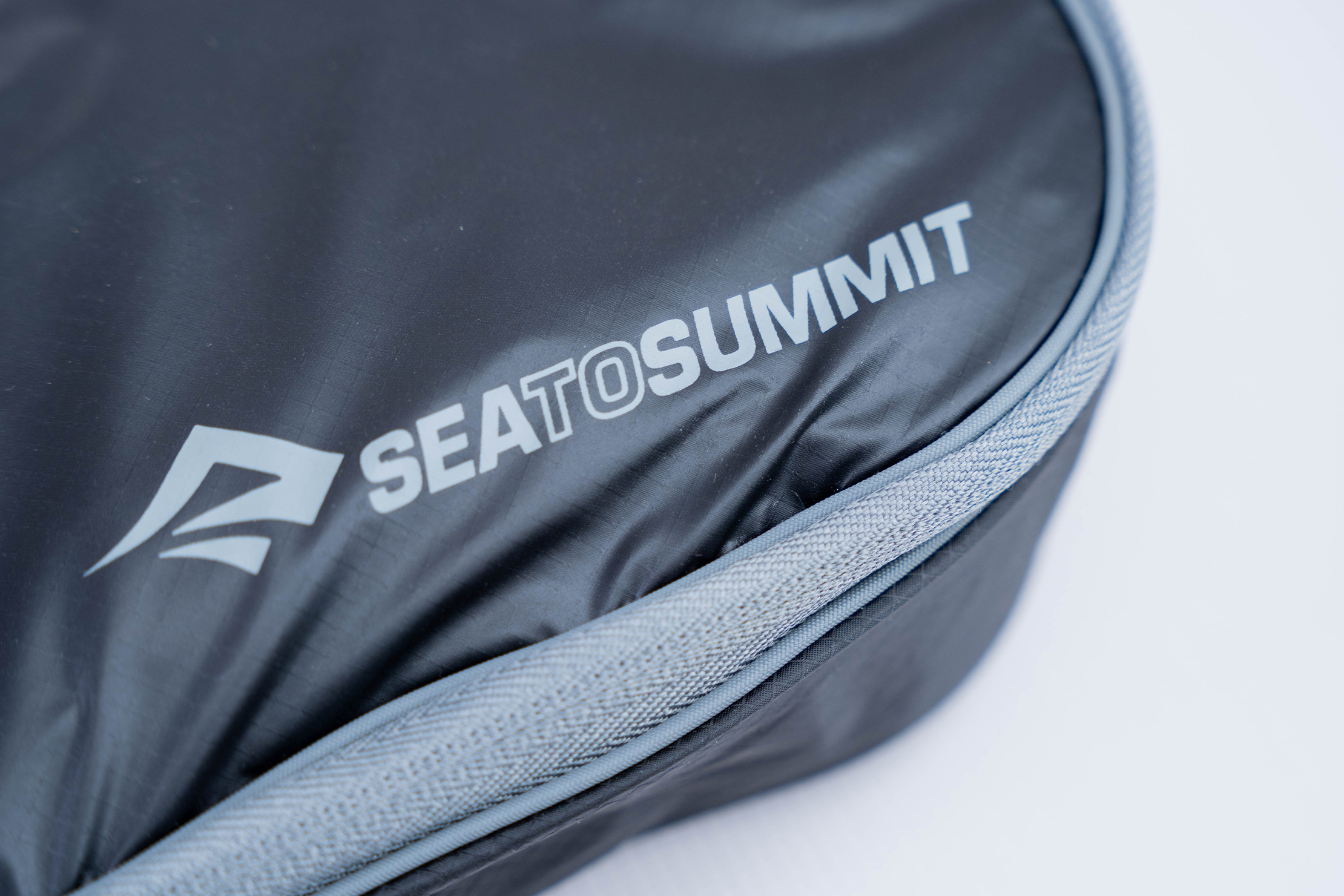 Despite the fabric's water-resistant nature, it is fairly lightweight and very much unstructured. This becomes evident as you start packing the interior, and the contents begin to press their outline against the fabric.
For those who like a bit of personalization, Sea to Summit offers the Hanging Toiletry Bag in a handful of colorways. If you ask us, though, black is always the way to go as it hides stains better than lighter colors. And trust us, stains are inevitable when it comes to toiletry bags.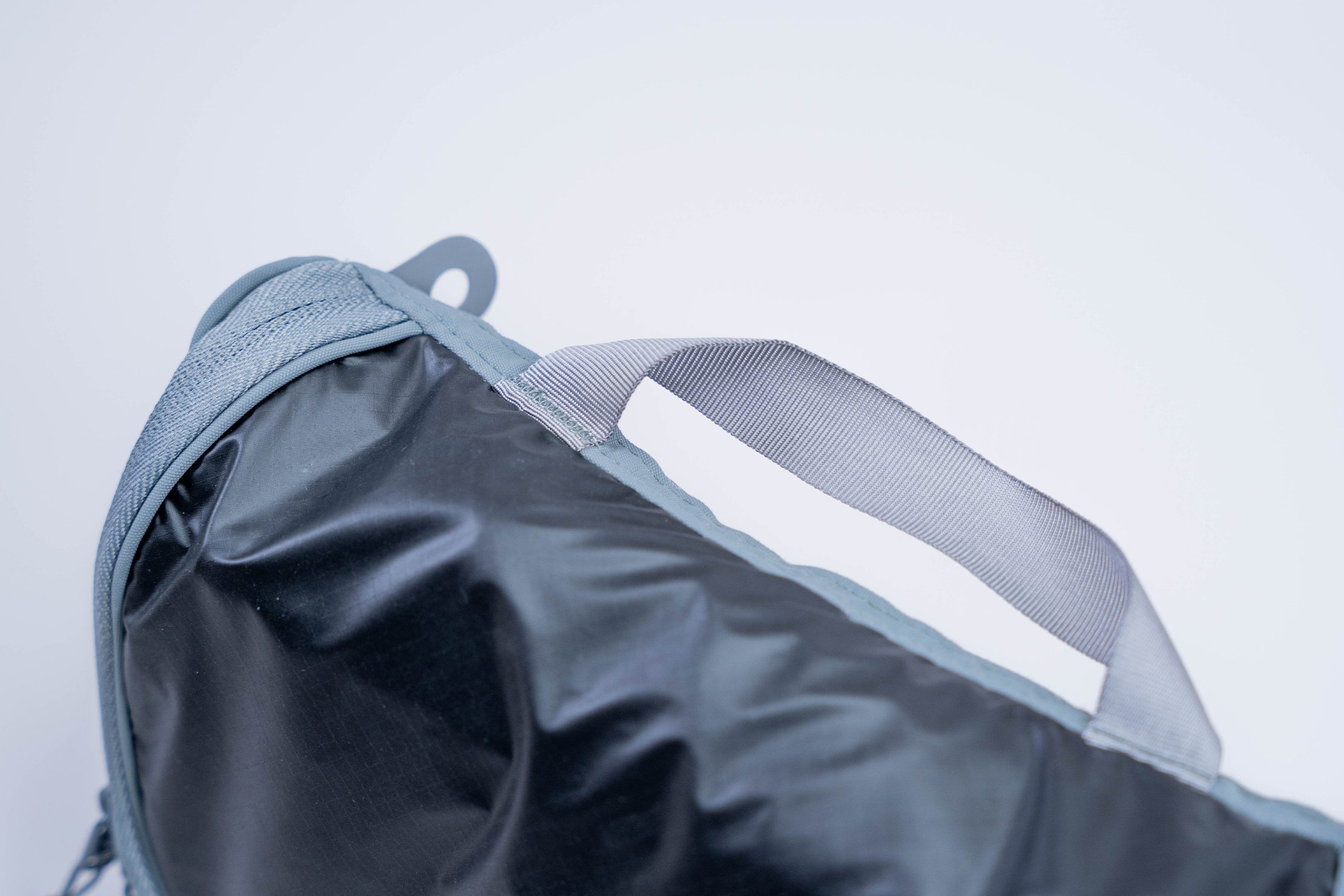 Up at the top and towards the back is the lone handle for carrying the Toiletry Bag. No fancy gimmicks and tricks here, folks; this is just a simple folded nylon handle. We typically see soft seatbelt-like material utilized for handles like these, but this one feels a tad rougher than that.
Flanking the handle are loops. These don't look particularly durable, given how thin the material is, unfortunately. If anything, these are just pull tabs to help you zip and unzip the rear pocket's zipper, the holes there in case you want to hang an accessory rather than for hanging the toiletry bag itself.

Last among the external components are the zippers. No YKK-branding here, unfortunately, because these are unbranded zippers. They're also standard zips with thin pulls and no water-resistant features like a reverse coil or AquaGuard-style track to be seen. To its credit, the zipper works just fine despite being from an unknown brand. We can't speak for how long it will last, though.
Inside The Toiletry Bag
Spoiler alert: the main compartment can be a bit tricky to access. Thankfully, there's the secondary pocket at the back we mentioned previously. The space available is, understandably, limited and only suitable for flat items. That's okay because we only need a secondary pocket like this mostly for toiletries we need to access quickly.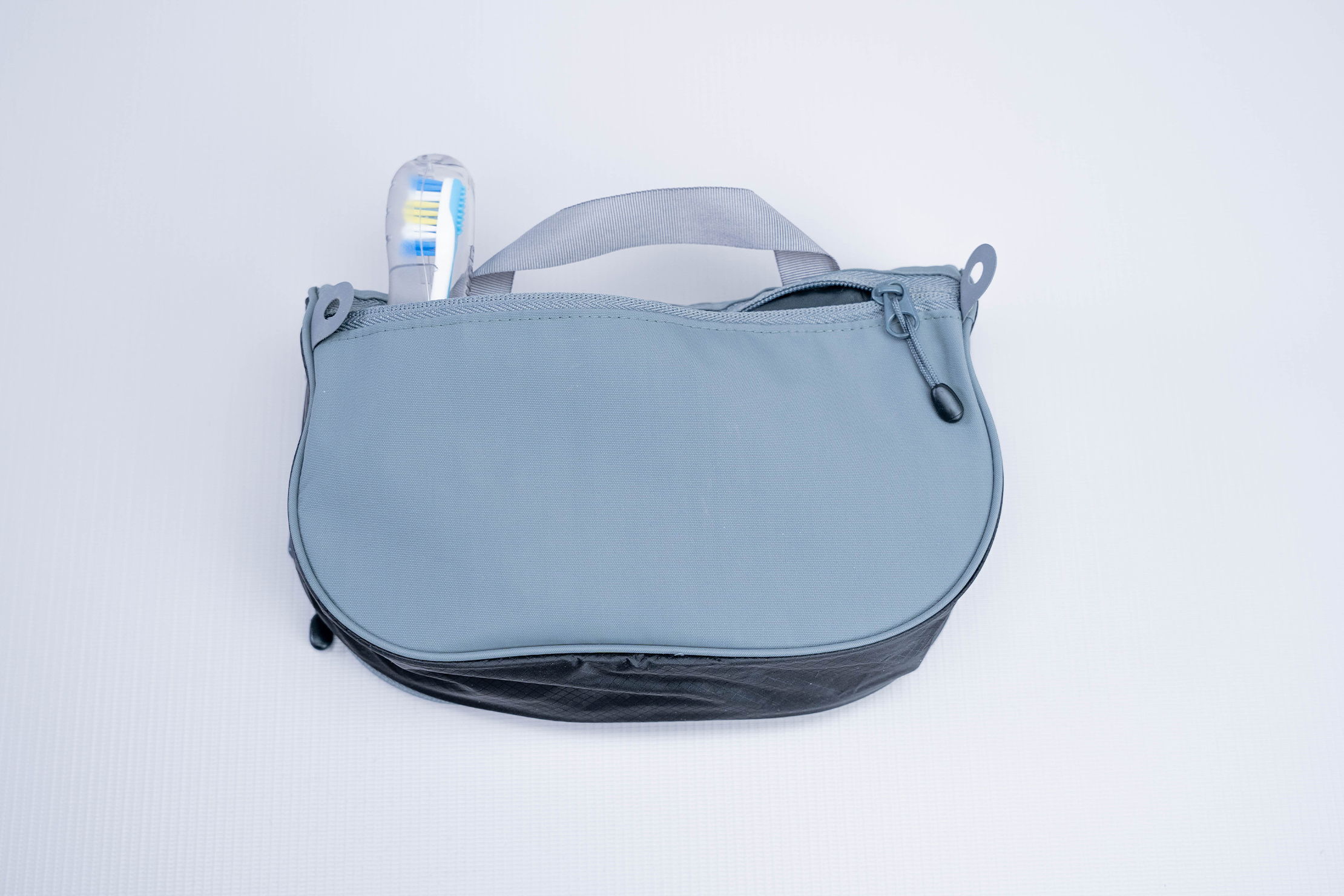 In our case, that quick-grab toiletry would be our travel toothbrush and toothpaste. At the time of writing, we're using the quip Electric Toothbrush. It's one of the smallest electric toothbrushes we've seen and only leaves little space to spare, so your mileage will vary.
The main compartment opens up in a half-moon shape like a hatch. The shape of the opening grants us a ton of access to all of our toiletries inside. However, before you get to that, the unzipping process is relatively finicky since the zipper has to go all the way from the rear, around the bottom front edge, then back to the rear on the opposite side. This means you're basically trading quick and convenient access for how wide of an opening you get.

The first feature you'll notice inside the Hanging Toiletry Bag is the included pocket mirror. It's tethered to a short strap that allows it to hang out, or you can detach it using the small buckle and use it as a hand mirror. The way it hangs out makes it awkward to get a good viewing angle, so we just opt to use it by hand. Once you're done with it, the mirror can also be stashed away in the mesh pocket in the back.
That said, the rear mesh pocket can be hard to access, especially once it's filled with our long makeup accessories, like cosmetic brushes. Thus, we end up just letting it sit in the main compartment's free space. Fortunately, there is an abundance of that free space, which is great considering that the sample we're testing is the small variant rated at just 3 liters (the large is rated at 6 liters).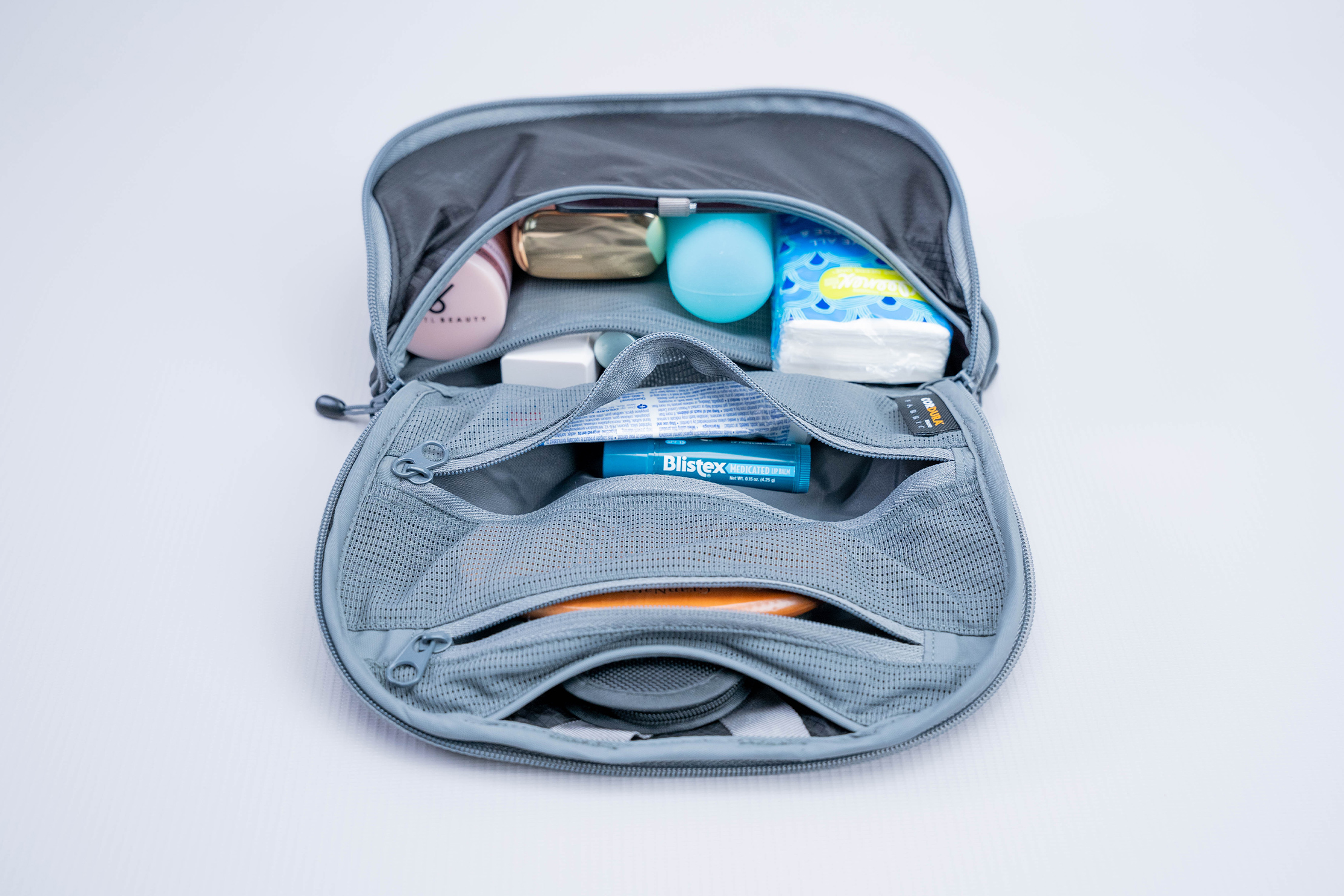 The main area is your general storage for travel-sized bottles. Unfortunately, this is where the Hanging Toiletry Bag's unstructured fabric shows its weakness. In essence, the ability of the Hanging Toiletry Bag to stand up depends on what you have inside. At full capacity, with all of our bottles inside, it's able to stand up. However, once we start taking things out, it eventually tips backward where most of the weight is.
That weight is not only because of the hatch but also because that hatch has two mesh pockets which we've filled with other toiletries. Since these are semi-see-through, they're ideal for small accessories like bobby pins, nail cutters, packets of cream, etc.

While the Hanging Toiletry Bag has difficulty standing up on its own, that's more than offset by its hanging feature. Just grab the hanger from its slip pocket along the edge of the hatch, and presto! You now just need to find somewhere to hang it. We recommend finding a spot that is eye-level so that the included pocket mirror has a good angle.
All in all, Sea to Summit's design for the Hanging Toiletry Bag is let down mostly by its soft structure. Still, since it's not meant to be a standing pouch, we really can't fault it too much in that regard. Plus, the soft structure does mean it has relatively good compressibility when you need to squeeze it into a jam-packed bag.
Usage Timeline
Initial Usage
Condition: Excellent
Material is lightweight but not structured—will it stand on its own
Included hanger feels sturdy
Mirror placement feels awkward
2 Weeks of Use
Condition: Excellent
Materials are easy to clean
Horseshoe opening can make it difficult to quickly get into the pouch
Doesn't stand up on its own
Access the Pro Community Discussion
Get your questions about the Sea to Summit Hanging Toiletry Bag answered from our team and the Pro Community right here on the page. Plus, join discussions with other members about gear, guides, and more.
Other Organizers & Pouches Reviews