Recycled Firefighter The Battalion 12 Hr Backpack Review
The Recycled Firefighter The Battalion 12Hr Backpack is a compact, durable daypack—as long as you don't mind minimal organization.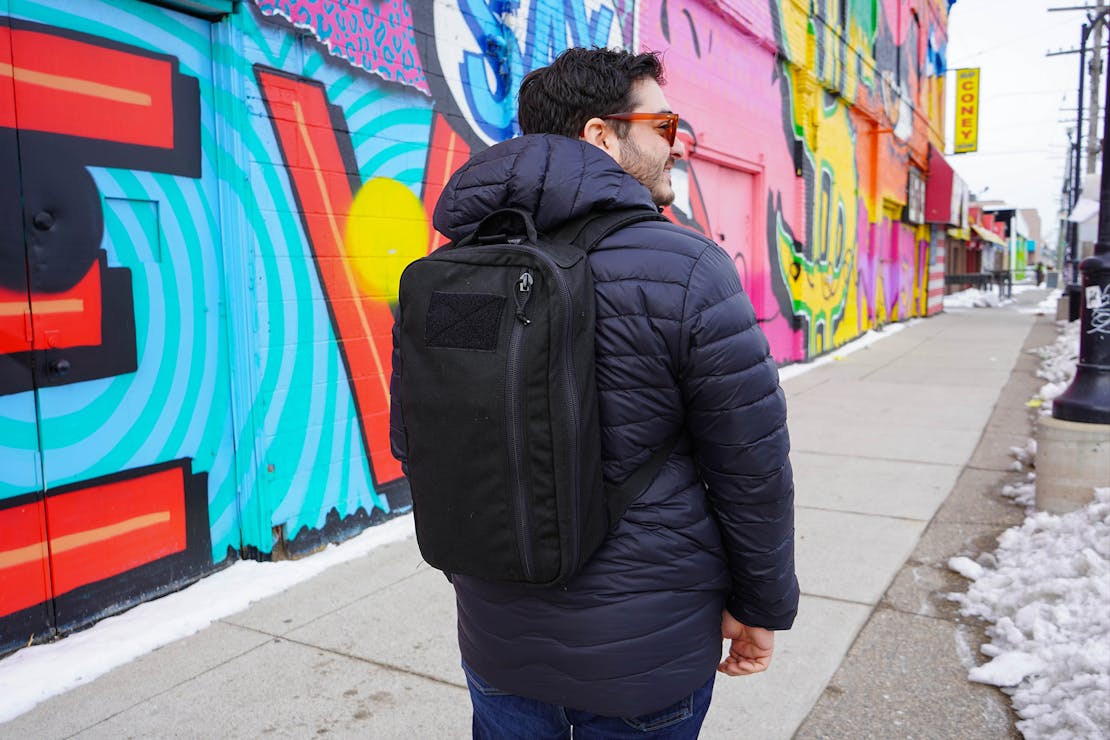 Our Verdict
Unlock the Pro Summary
Save time. Get access to brief summaries of our reviews so you can browse and make decisions more efficiently.
Pros
Quality materials and top-notch craftsmanship
Bright orange liner
Thick, comfortable backpack straps
Cons
Organization may be too minimal for some
Back panel lacks air channels, mesh, and structure
The backpack straps pull away from each other when in use
Technical Details
94 %
Carry-On Compliance (Beta)
Capacity

12l

Weight (lb)

1.25 lb (0.6 kg)

Denier

1000D

Dimensions

17 in x 9 in x 4.5 in (43.2 x 22.9 x 11.4 cm)

Notable Materials

Packcloth, CORDURA®, YKK Zippers

Manufacturing Country

United States

Laptop Compartment Size

13"
Full Review
If "minimalist" is your middle name then you'll probably dig what the Recycled Firefighter The Battalion 12Hr Backpack has to offer. This 12L daypack is basically as simple as it gets—and we mean that in a good way.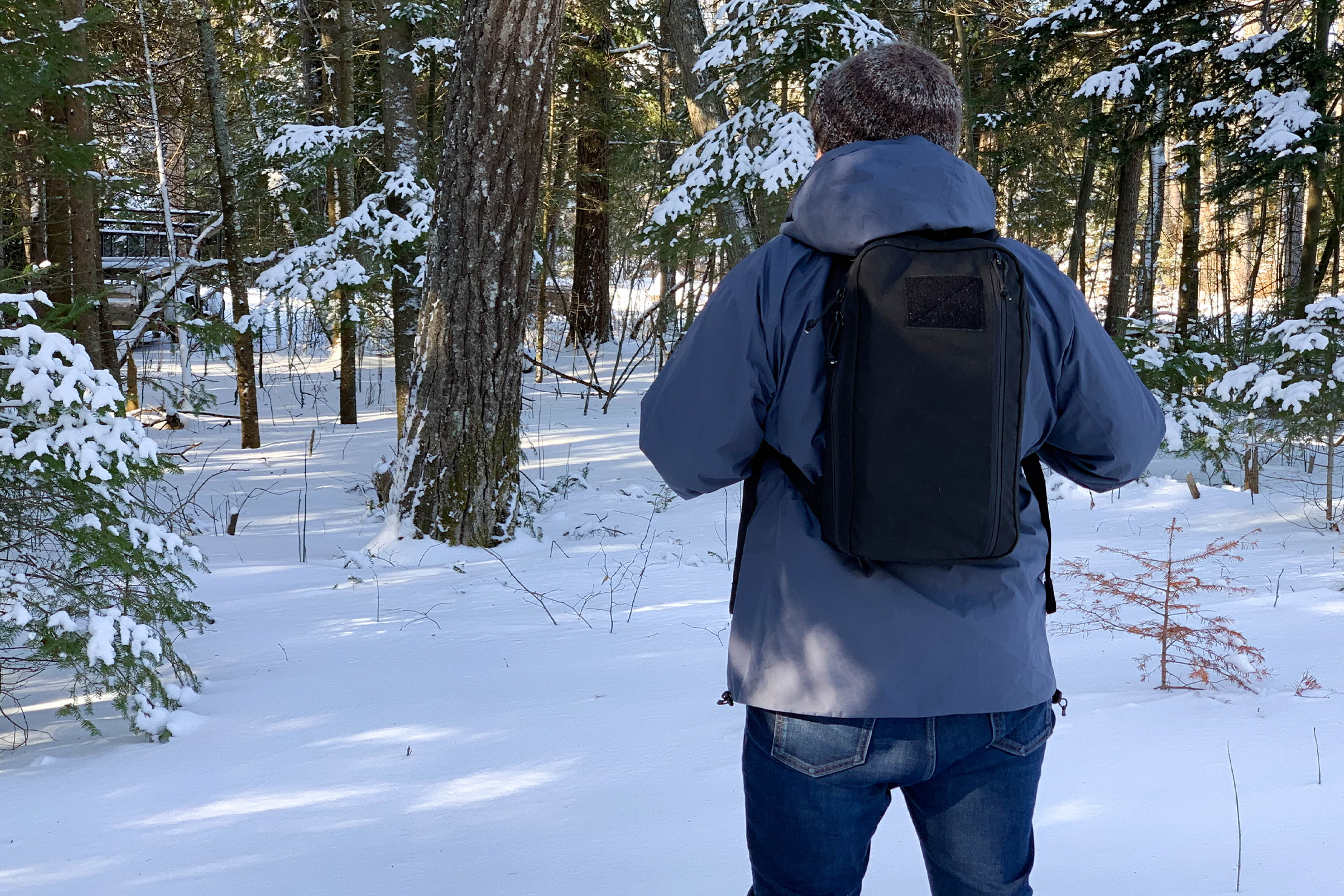 Having tested the Battalion for just over one month in Detroit and Northern Michigan, we've had some time to get a feel for how this pack performs. So let's jump into the review.
Materials & Aesthetic
The Battalion 12Hr Backpack looks like the GORUCK Bullet Ruck's long-lost twin. It has the same tacti-cool aesthetic that you'll ever love or hate. Overall, we're digging the look of this compact daypack. Especially in the sleek black colorway we've been testing.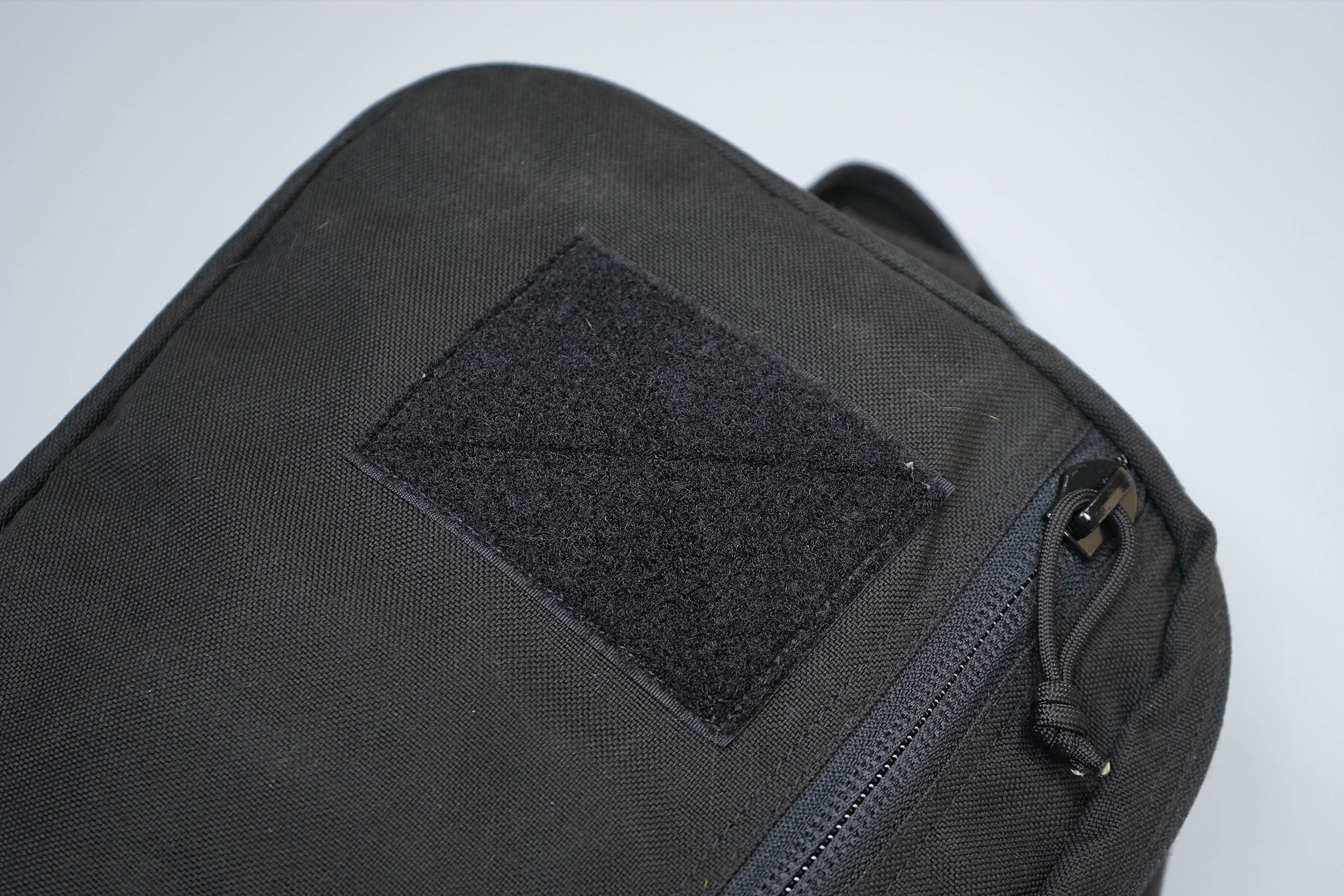 But there are eleven other colorways available at the time of this review, so you can find one that speaks to your soul. And you can add a little bit more personality to the exterior by slapping on a patch. The velcro area is a little bit larger than you'll see on other packs with a similar design (cough, cough The GORUCK Bullet). Recycled Firefighter sells a couple of patches at the time of this review, but you can also throw on your own. We've tested it with the Pack Hacker patch for no other reason other than its sleek, dope design (you can trust us on this one, we're not biased at all…).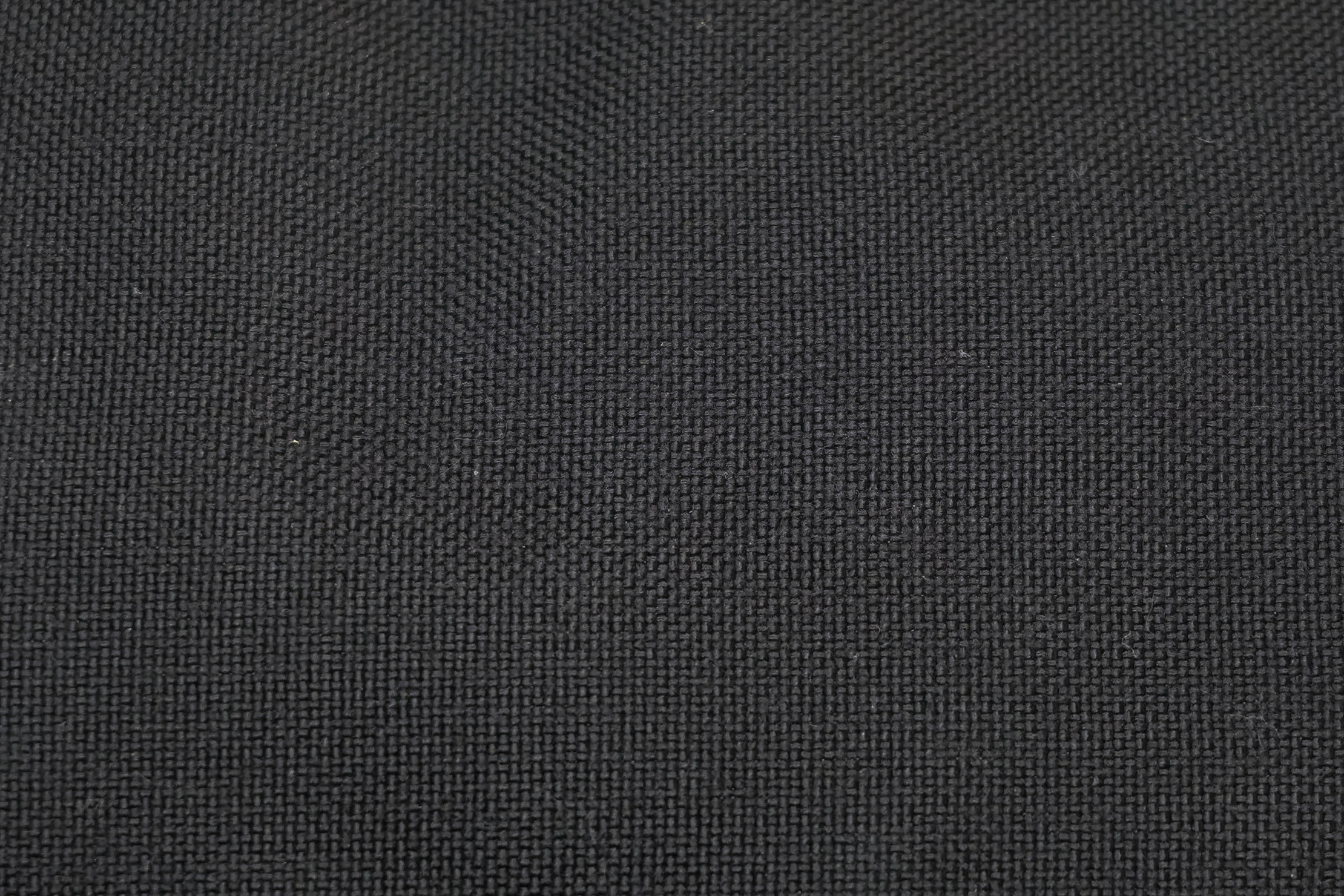 Most of the colorways are made with 1000D CORDURA® fabric and 400D packcloth liner. A few of the colorways also use X-Pac, a shiny, water-resistant, and lightweight fabric. Either way, you should be good to go as far as durability is concerned.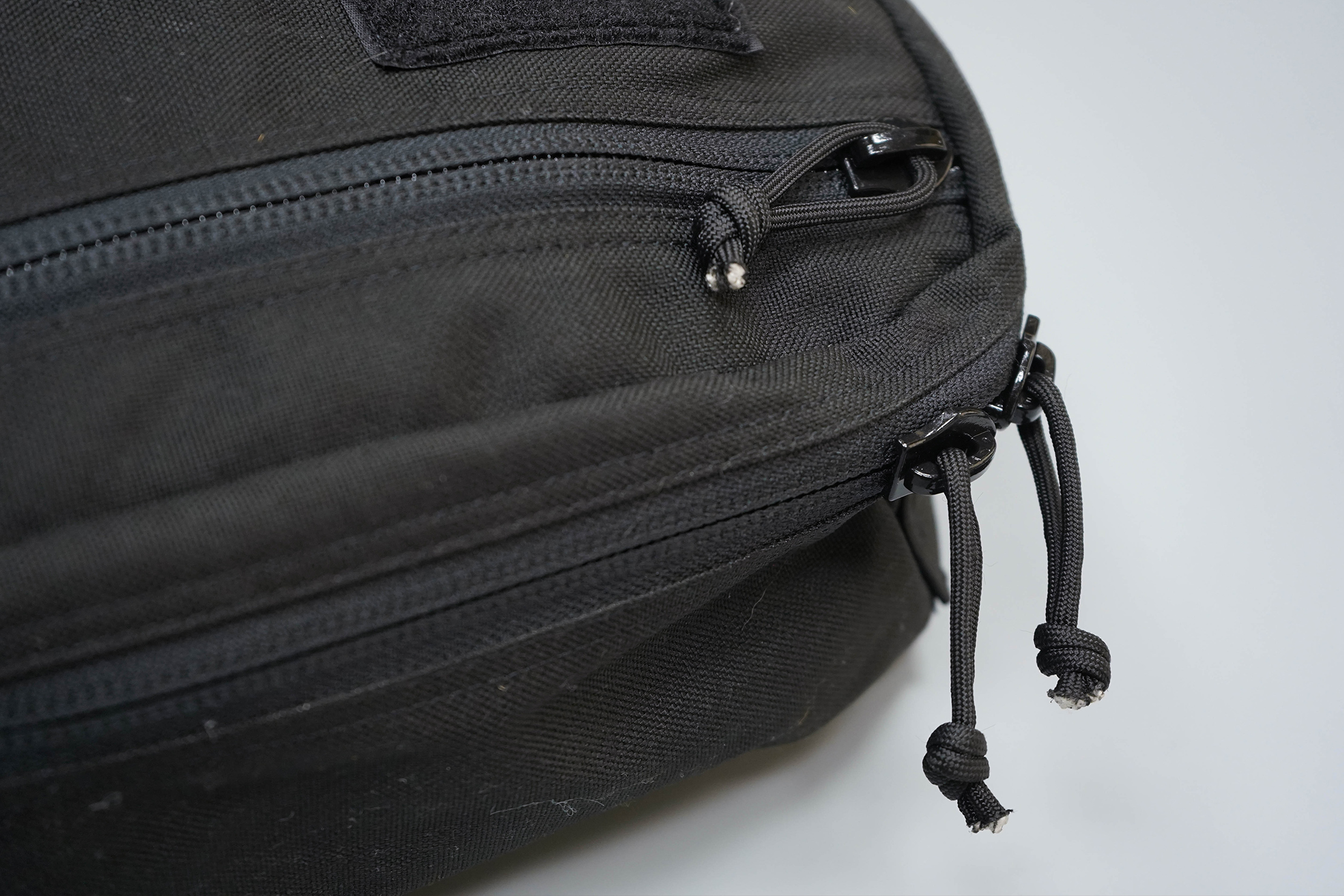 The #10 YKK zippers on both the exterior and interior of the pack are just as durable. Really, they're overkill on a pack of this size. You especially don't need beefy zippers on interior pockets, but that doesn't mean we don't appreciate them. We always prefer over-specced materials than flimsy ones that will fall apart after a few months.
And the paracord zipper pulls are the perfect thickness. They're chunky enough that you can easily get a good grip, but not too intense.
Finally, we want to note that the Battalion is sewn in the U.S. in small batches—the craftsmanship is top-notch.
External Components
The backpack straps on the Battalion are solid, especially considering that this is a 12L pack. They're beefy (½ inch of padding), wide, and have a slight contour to them. You could probably load this pack up with bricks and comfortably wear it all day long.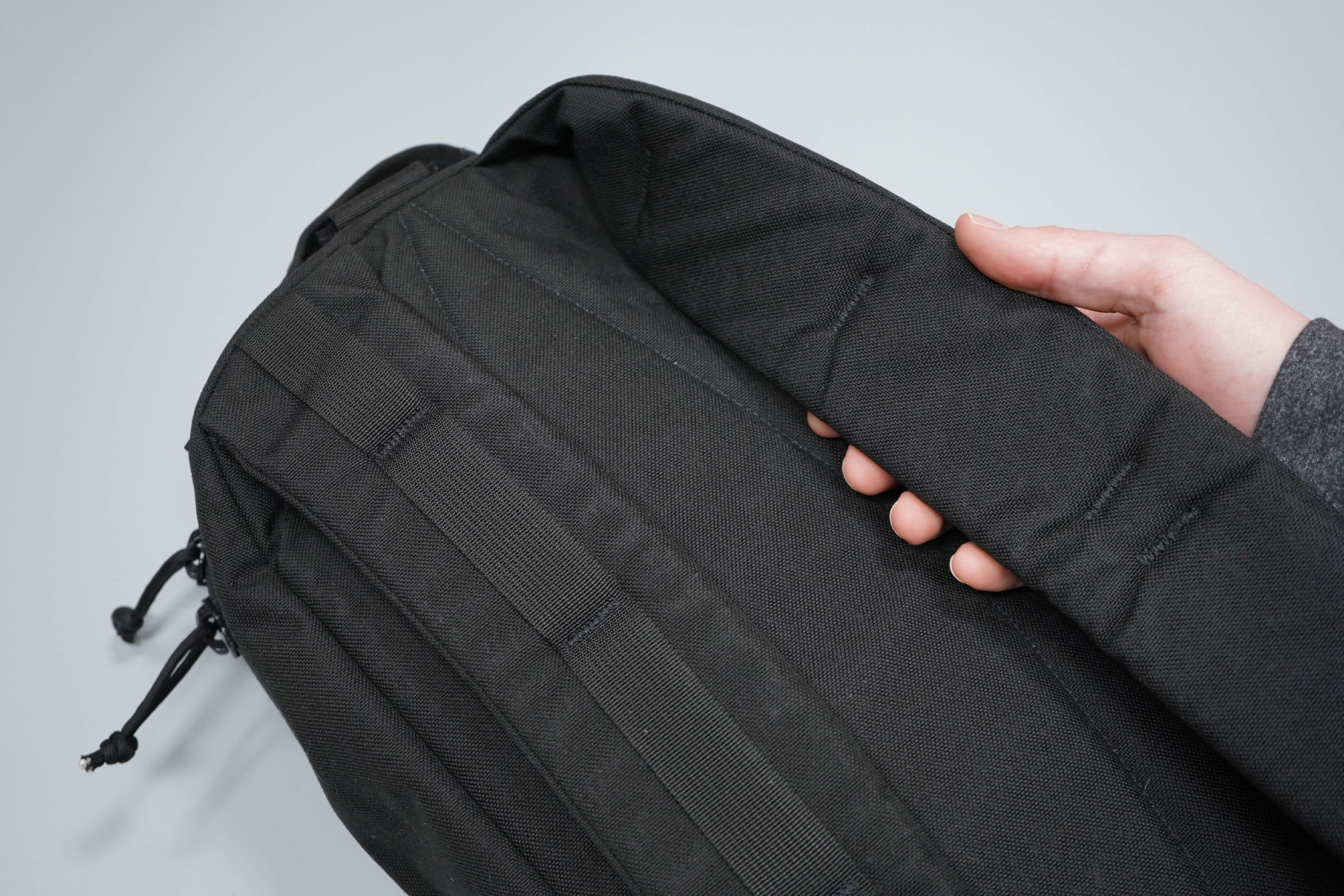 That said, the straps are anchored far apart. When you're wearing the pack, the straps tend to pull away from each other, particularly when you have a slippery jacket on (like a down jacket). If you have wider shoulders, you may appreciate the extra room, but it hasn't been ideal during our testing. It's not the end of the world, but it's something we notice every time we put on the pack. And something we occasionally had to adjust while out and about. A sternum strap would help combat this problem.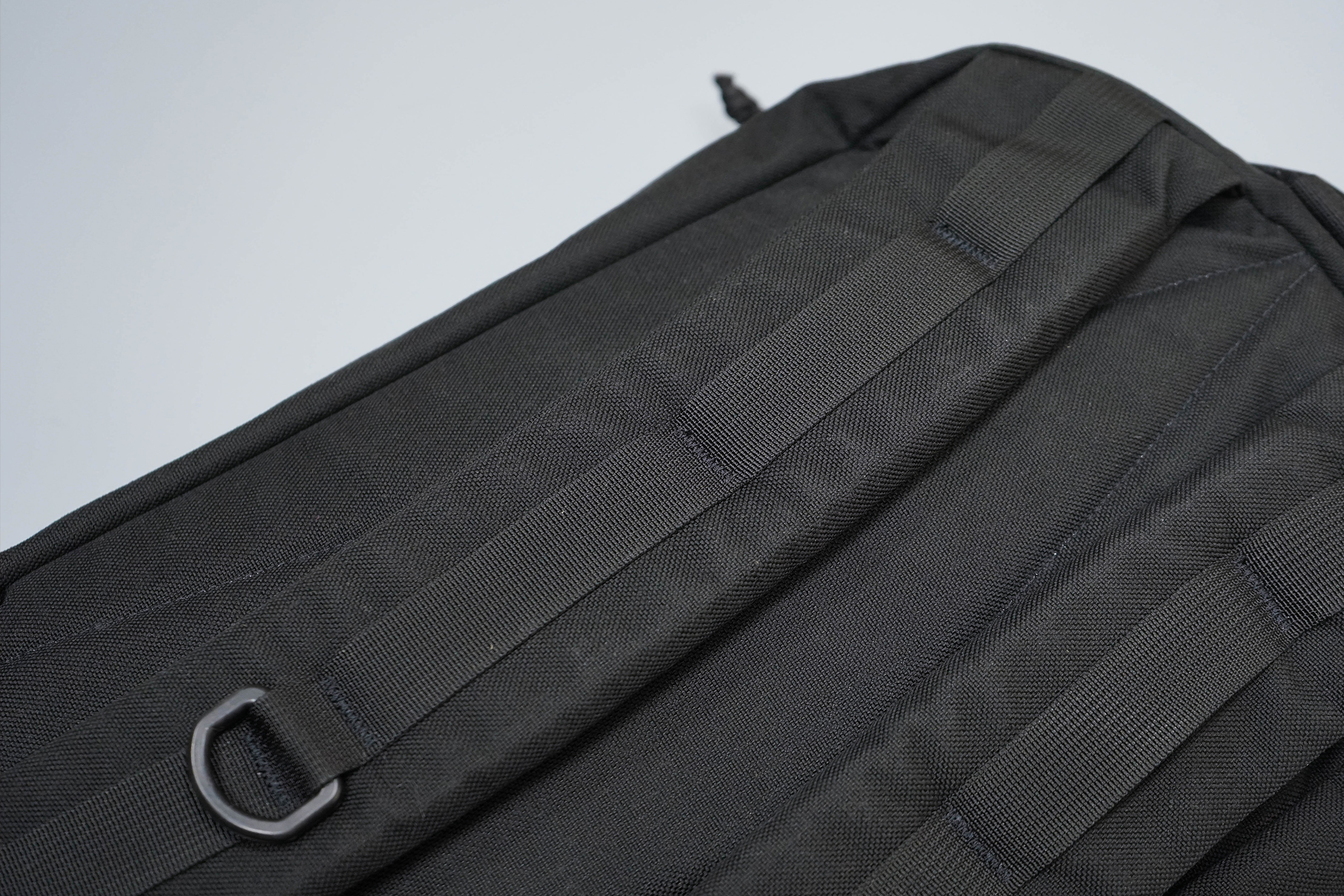 The front of the straps are lined with a single row of PALS, so you can attach gear externally if you're into that sort of thing. There are also two D-rings—one on each strap—to not only attach more gear but to keep a water bottle hose tidy (the pack has been designed to hold a hydration bladder).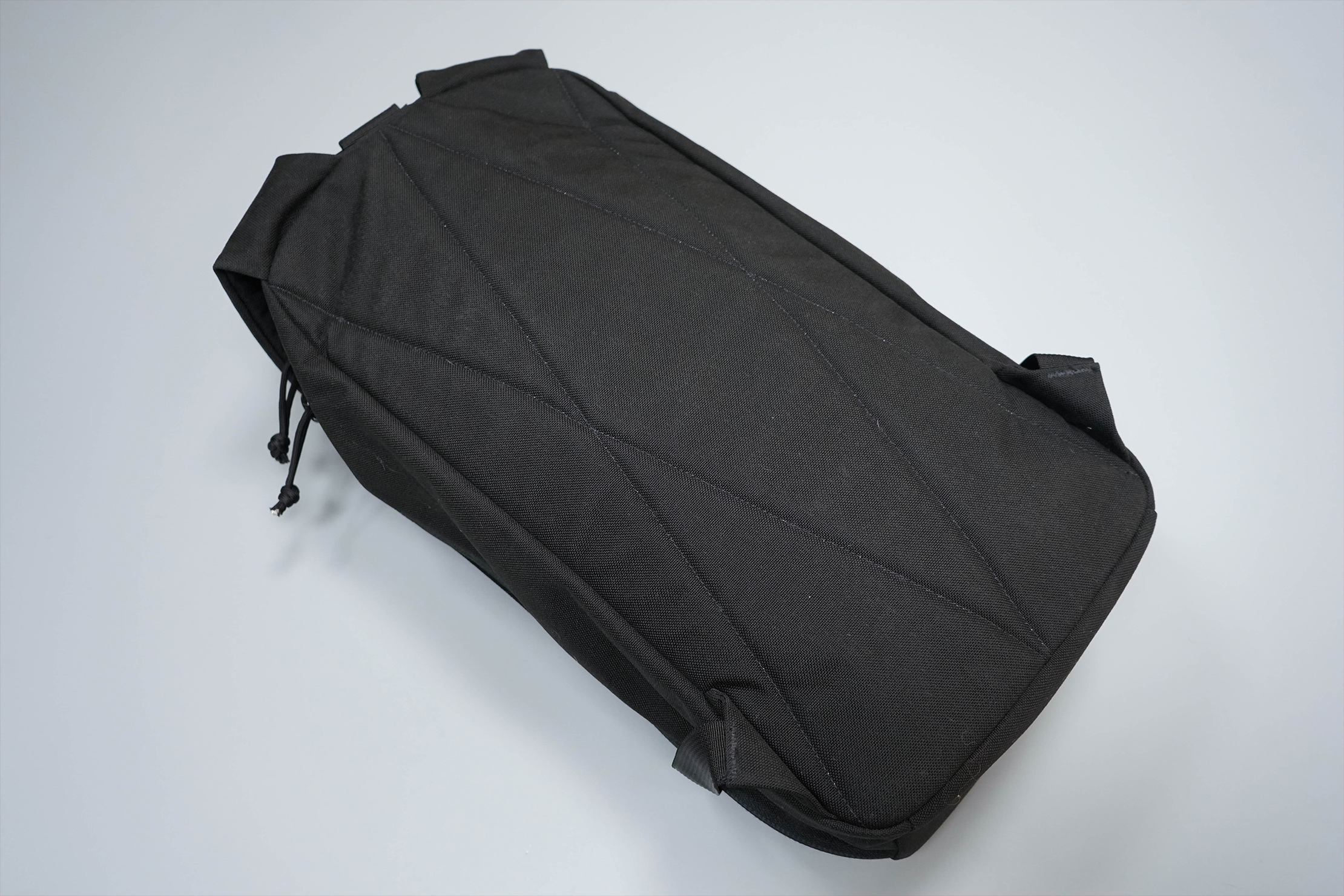 You won't find any mesh or major channels for airflow on the back panel of the Battalion to prevent the dreaded Swamp Back (dun, dun, dunnn). There is a diamond pattern to help your back breathe a little bit, but it's not going to be that effective. If you're adventuring in hot climates, you'll likely notice this thing on your back.
There also isn't a frame sheet, so the pack doesn't have much structure. Not a huge deal for a pack of this size, but something to keep in mind. However, there is some padding, which is much appreciated.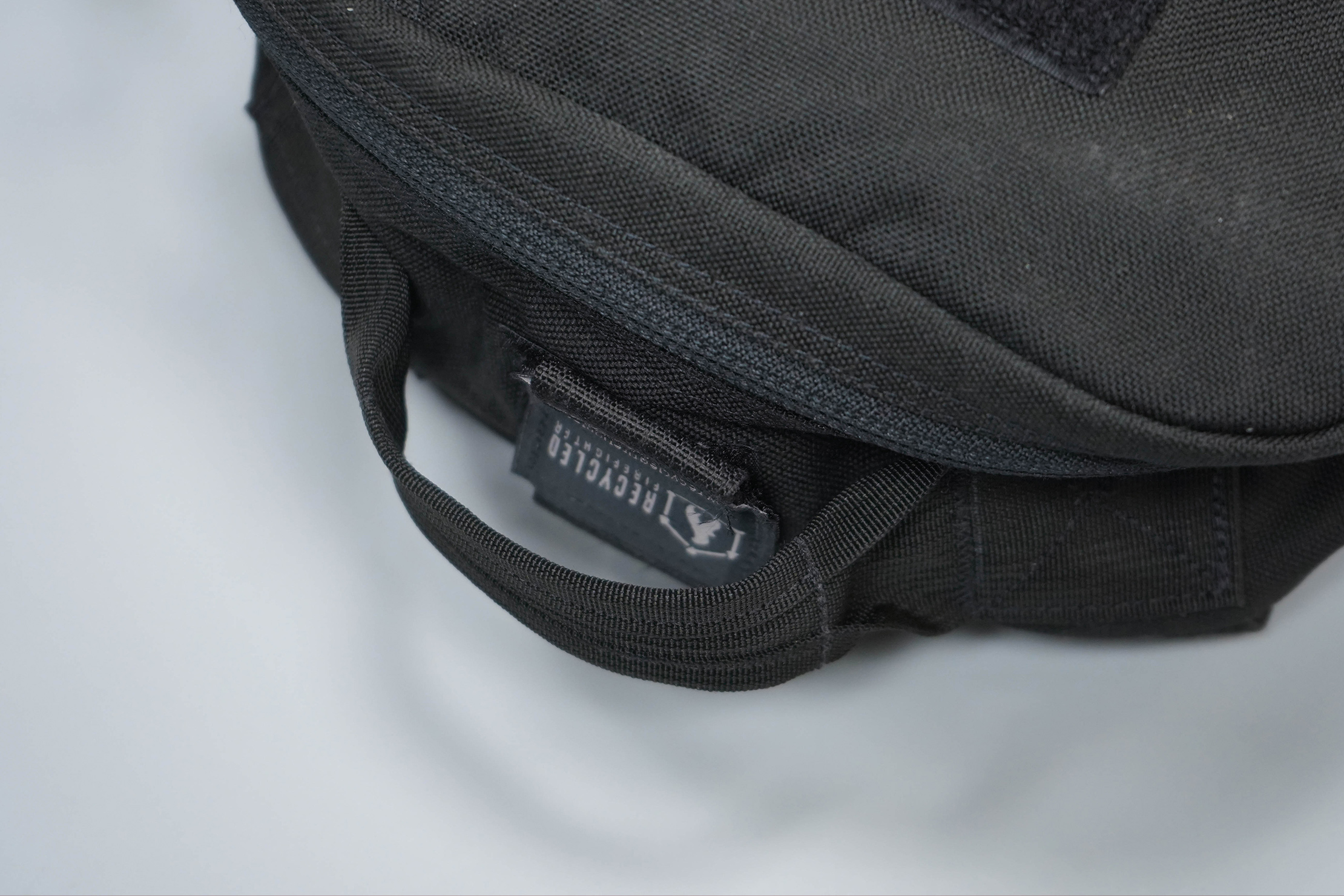 The grab handle works well for grabbing this thing from underneath the seat in front of you on a plane or for hanging it up in bathroom stalls (or wherever else you'll find disgusting floors). It's been folded over for durability's sake, with the reinforced fabric on the top of the handle. We've seen comments that wonder why the handle has been designed in this way since it's not the most aesthetically-pleasing. It's because it allows for a better, smoother grip when you carry it. And we'll take function over fashion any day of the week.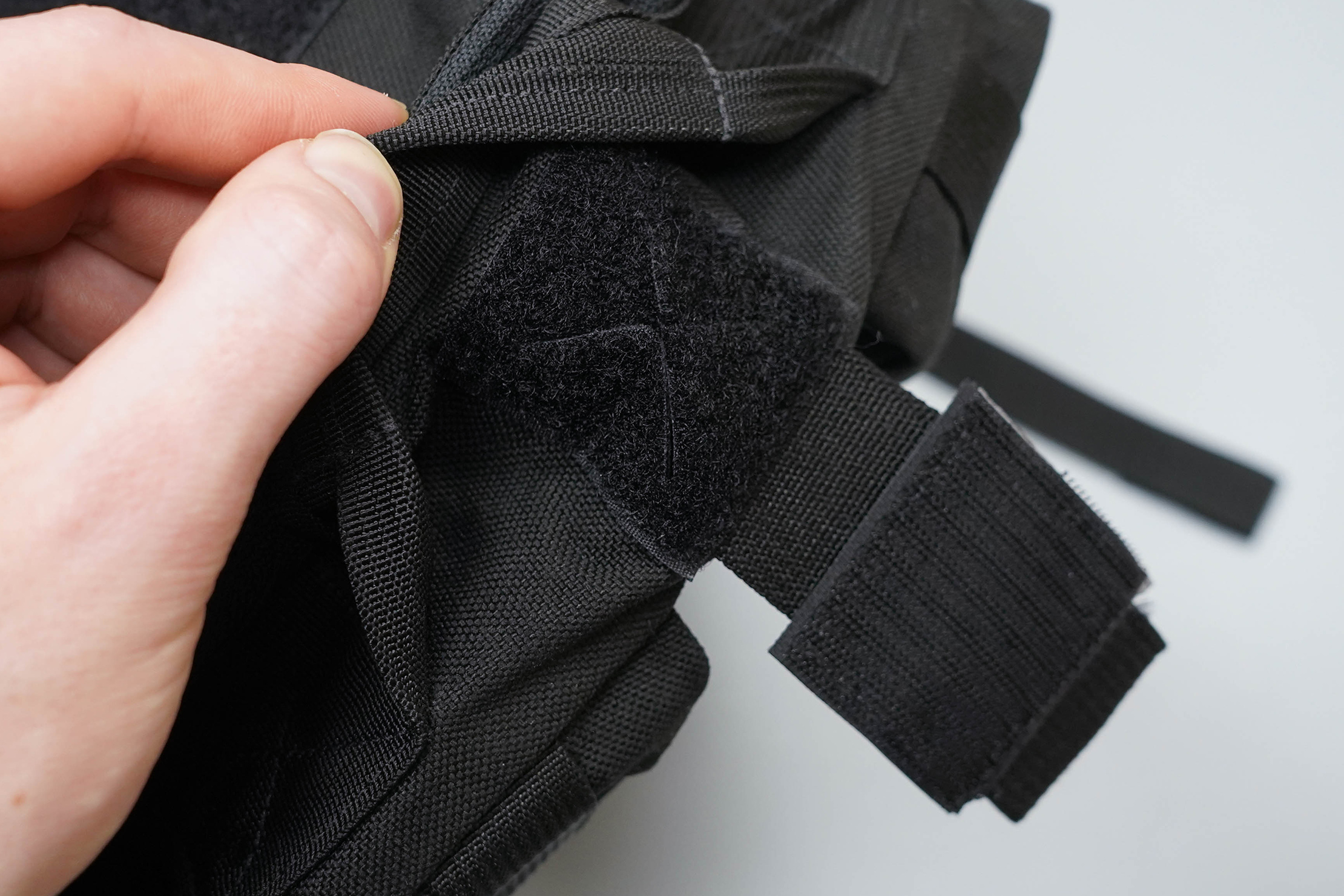 Beneath the handle is a Recycled Firefighter logo tag that doubles as a velcro flap. When you lift it up, you'll find a passthrough for your water bladder hose. (There's a loop on the interior of the pack for a hydration bladder). Speaking of the interior of the pack…let's zip this thing open.
Inside the Pack
The first thing you'll notice when you get into this bag is the blazing orange lining (which is inside both compartments). And we mean blazing. This color is so bright, you'll want to lather on sunscreen and avoid looking at it directly. It's fabulous—you can easily spot your gear even in low light situations.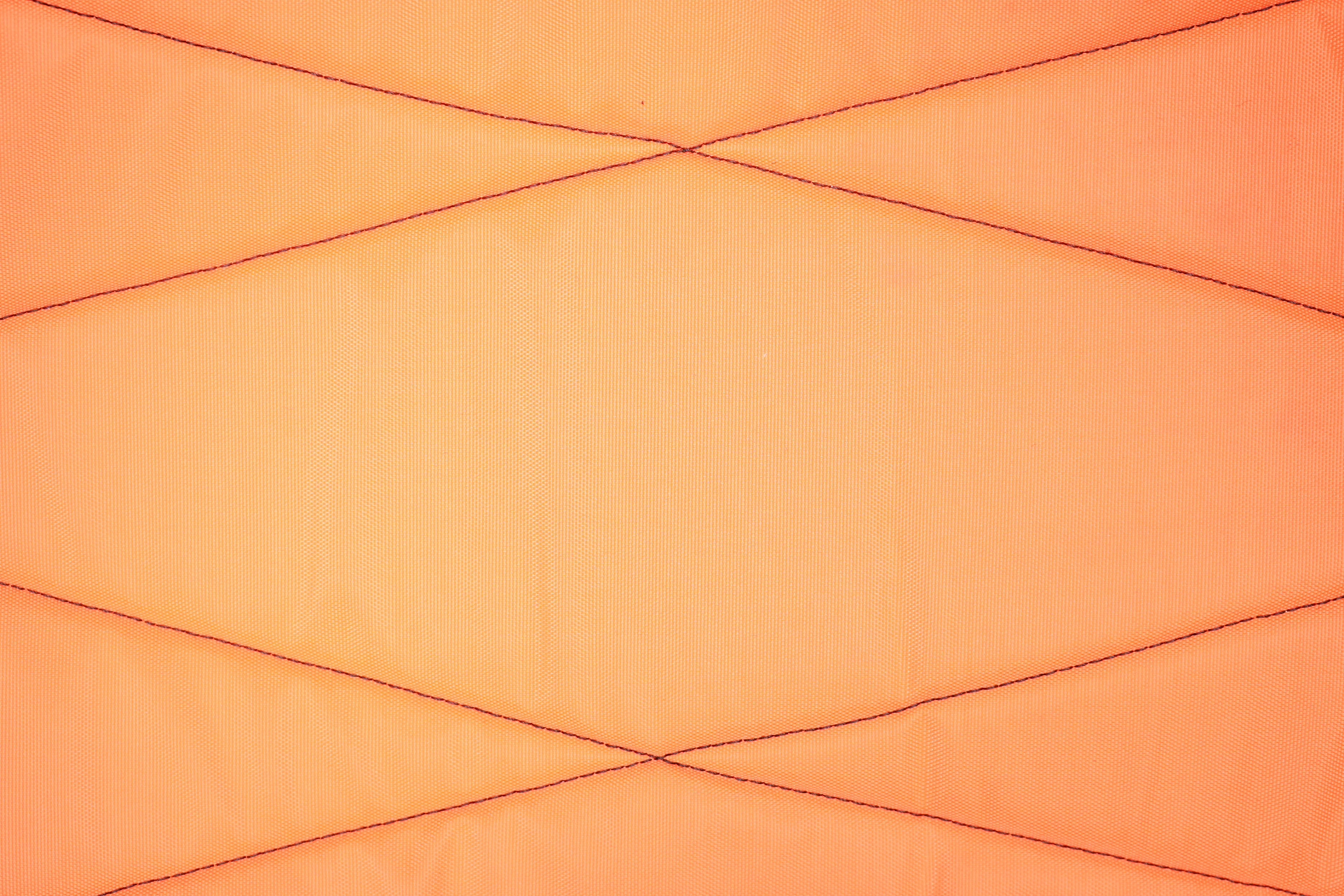 The front vertical pocket doesn't have much liter space—it works better for flatter or smaller items. There are three simple divider pockets of various sizes, so you can keep your stuff organized. Now, these pockets are oriented horizontally. We usually don't have nice things to say about horizontal pockets on a backpack, especially ones like these that aren't elasticated or zippered. This style is almost always a recipe for a jumbled disaster.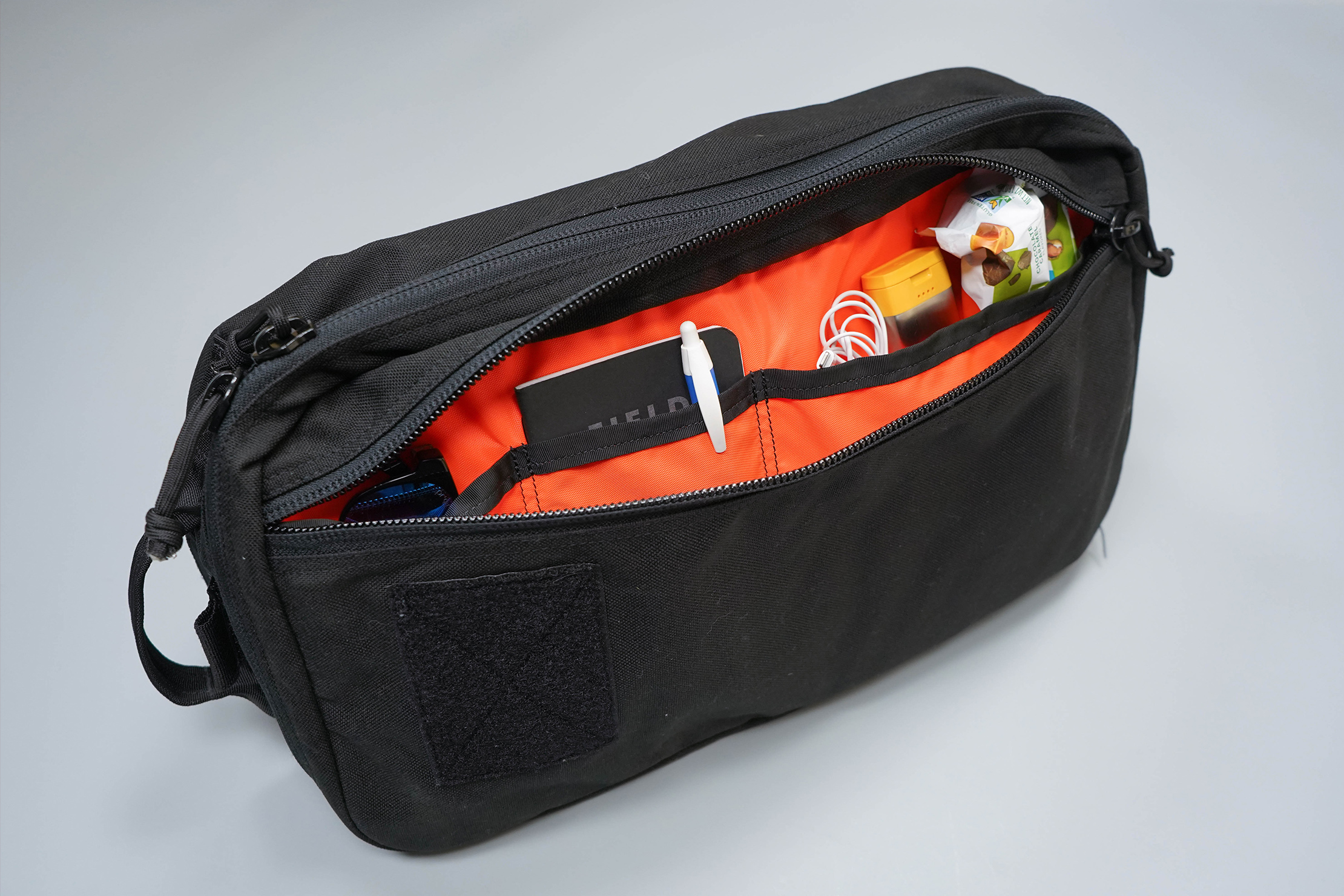 However, we haven't had any issues with these ones so far. However, we haven't had any issues with these ones so far. The openings are close to the side of the compartment, so there's not much room for your stuff to go. Of course, it's always possible that your stuff will find a way, especially if you're throwing this pack around a lot or have smaller stuff.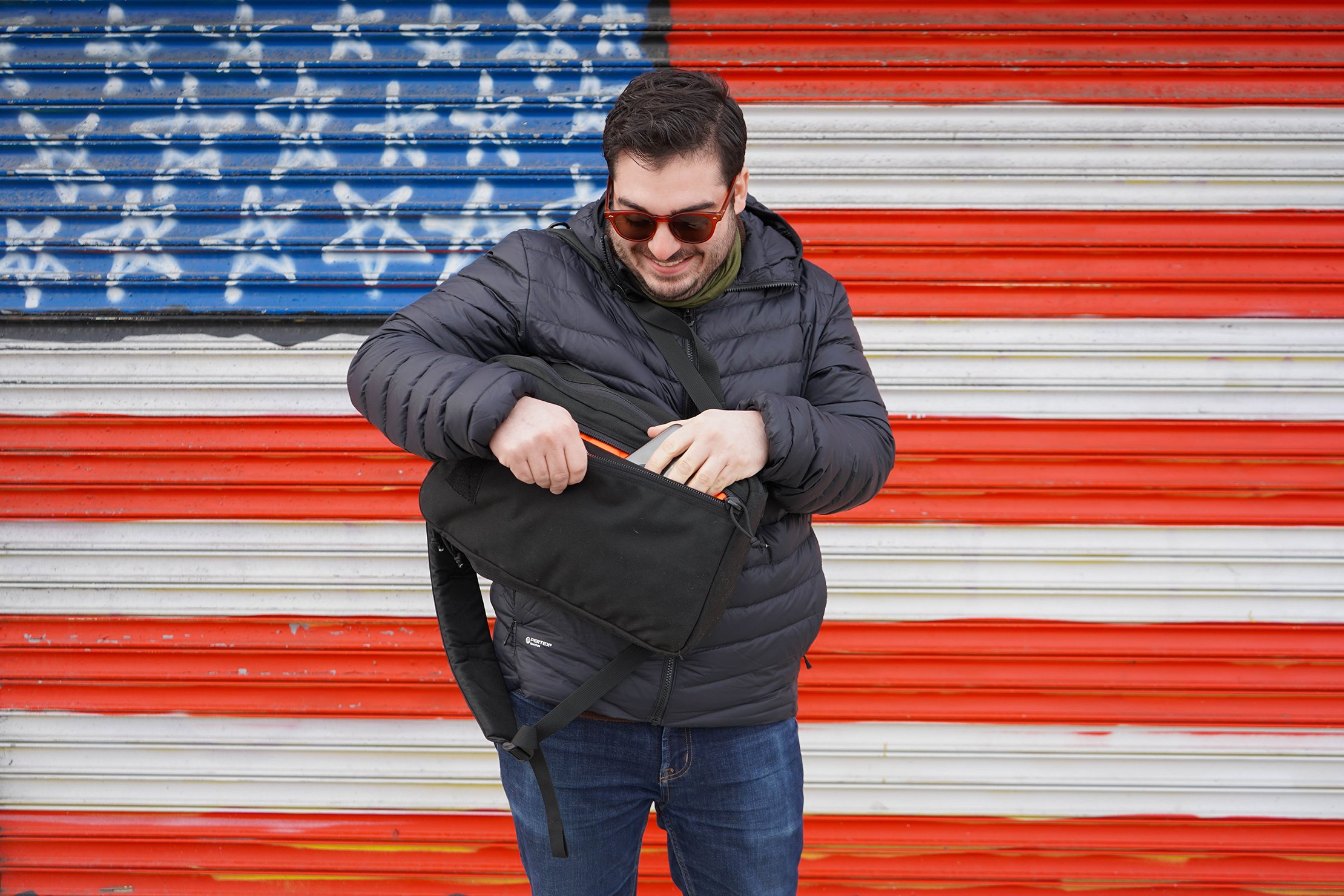 The benefit of horizontal pockets is that they're easy to access. You can swing the pack off of one shoulder to the front of your body and quickly grab what you need. We've mostly used these pockets to store snacks and a pair of glasses (though it doesn't have any padding or protection, so it's risky without a case). We've also used them for a wallet and keys on one or two occasions.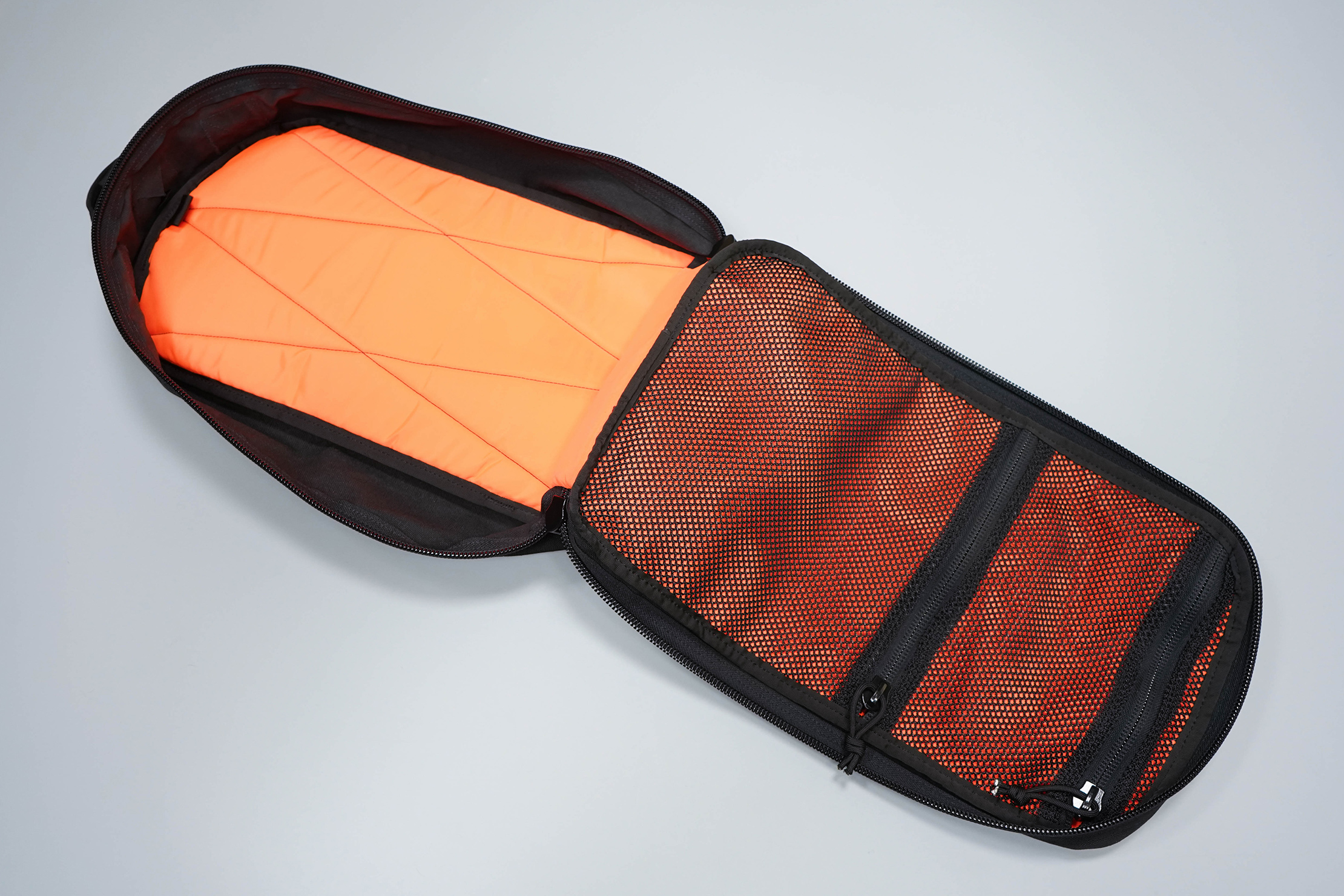 The main compartment on the Battalion opens fully clamshell-style for maximum access. On the front flap, there are two zippered mesh pockets. The mesh is coarse and robust, reminding us of fishing nets. You won't want to pet it, but it should last you a long while. And the mesh is great for visibility.

Inside, we've stored tech accessories—a MacBook charger in the larger one on the bottom, miscellaneous dongles and such in the smaller one up top. They're also great to hold your phone, wallet, keys, and similar items you'll want to keep secure on day trips.

For the rest of the main compartment, you basically have a giant bucket. At the bottom of the bag, there's ¼ inch foam padding, which helps give the bag a little bit of structure. Because this space is completely open, you can use it however you wish to. We always suggest packing cubes and/or accessory pouches to keep the chaos at bay.
On day trips, you can throw an extra sweater or jacket here, as well as a water bottle, sunscreen, a trail map, small umbrella, things of that nature. For the daily grind, you can pack a tech pouch, laptop stand, water bottle, and a laptop.
The Battalion doesn't have a dedicated laptop pocket or sleeve, so you'll need to protect your laptop inside of a padded sleeve/case unless you enjoy throwing caution to the wind. Although the folks at Recycled Firefighter say this bag will only fit up to a 13″ laptop, we've been able to fit a 15″, inside a case, with no problems.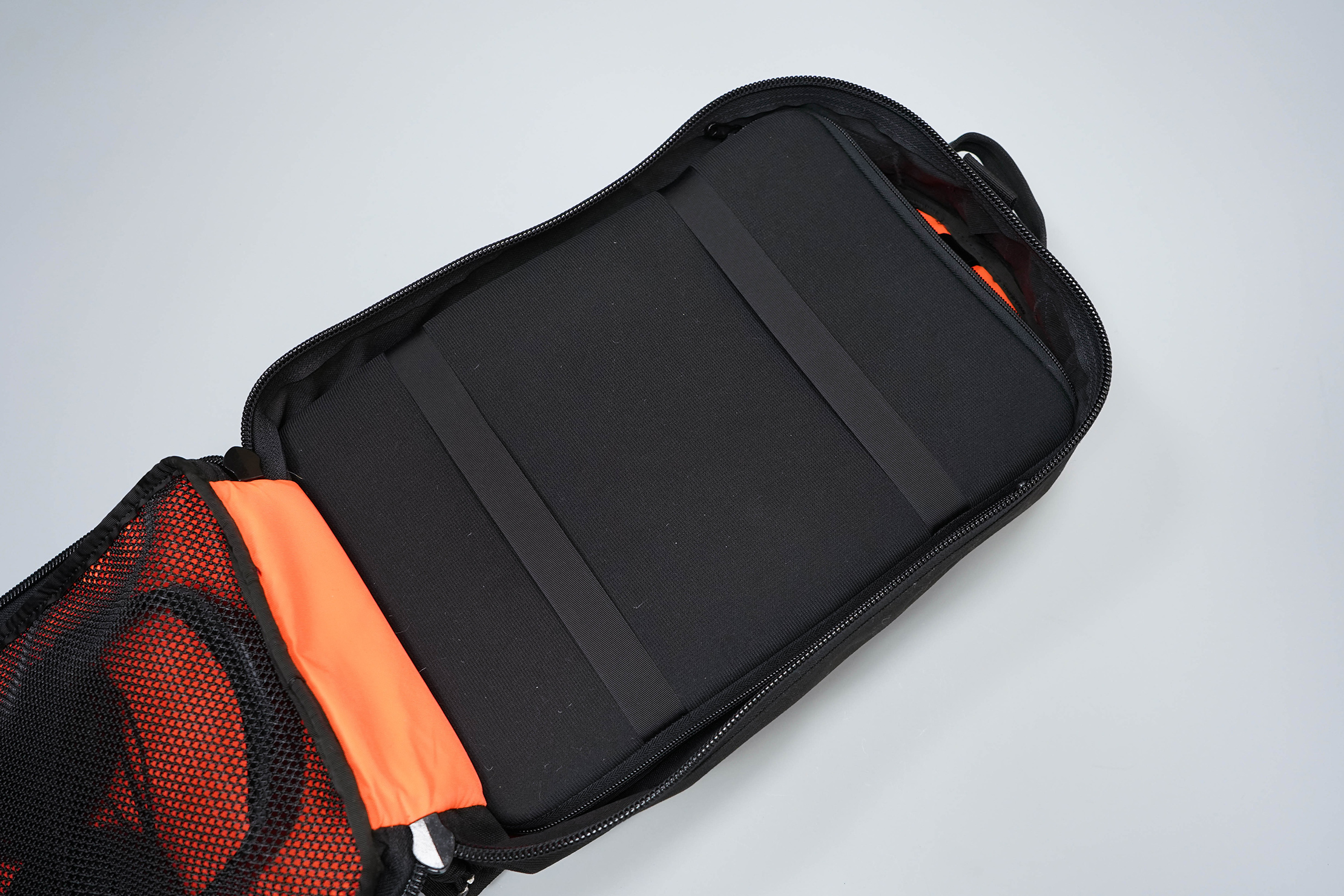 To be exact, we've tested the Battalion with the Tom Bihn Cache. The Cache's zipper opens all the way around, allowing us to leave the top open and slide our laptop out without having to physically remove the entire case from the pack. Essentially, it's a makeshift laptop pocket (just a little Pack Hacker hack for ya).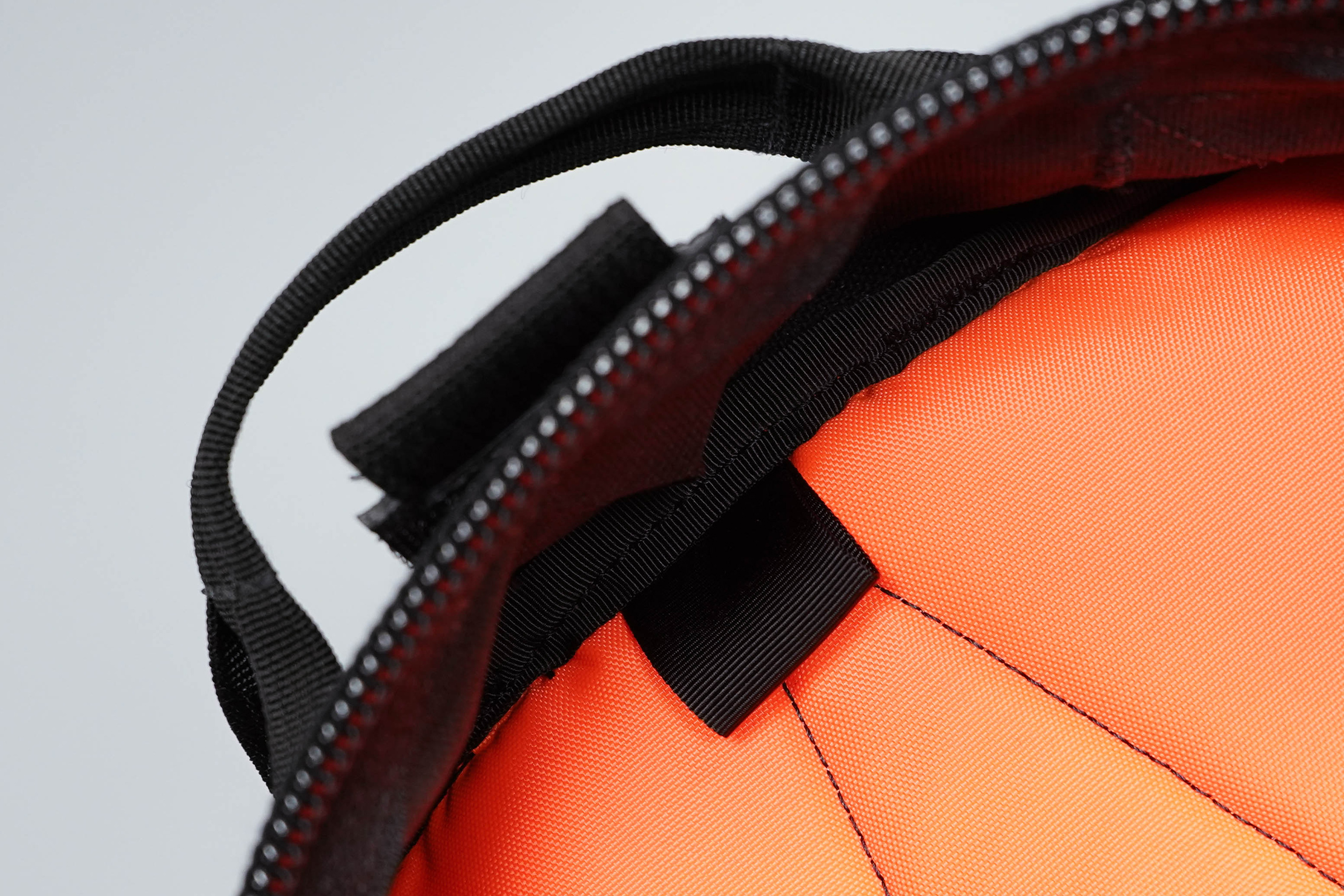 Finally, there is a loop for you to hook a hydration bladder. But you can also use it to trick out your bag in other ways, hanging pouches, a MOLLE panel, etc. And it doesn't get in your way if you don't use it.
Durability & Testing
At the time of this review, we've been testing the Recycled Firefighter The Battalion 12Hr Backpack for about a month as a daily driver around Detroit, Michigan. We've also taken it with us on a weekend trip to Northern Michigan where the pack was up against blizzard conditions—the Battalion handled it like it was nothing.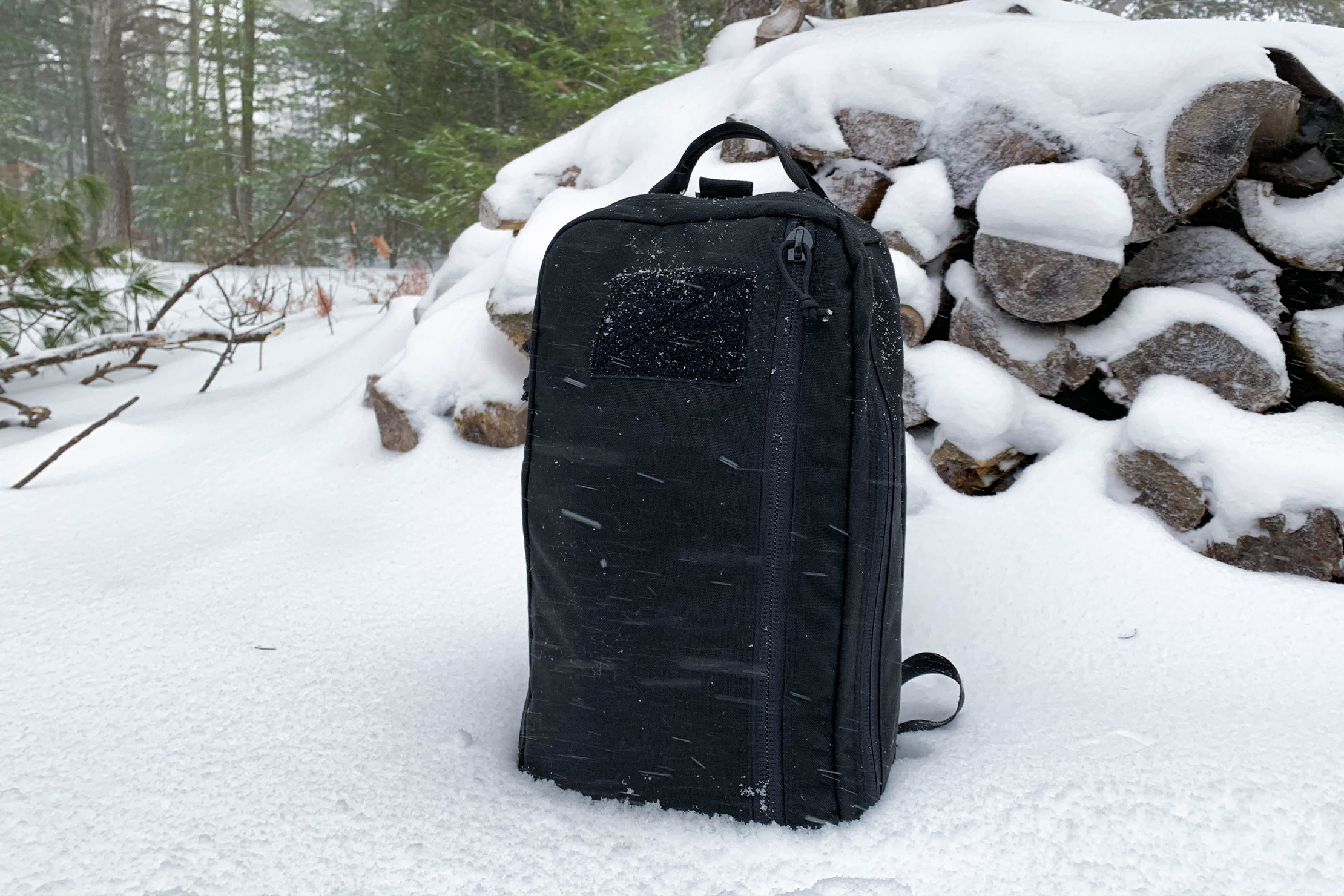 Beyond a few loose threads, the Battalion still looks brand new. With its durable materials and top-notch craftsmanship, we don't expect that to change any time soon.
Usage Timeline
Initial Usage
Condition: Excellent
Perfect size for all you everyday carry essentials
Lots of padding on the straps and back panel make for a comfortable carry
A few pockets on the inside for organizations, feels like the right about for this size of bag
2 Weeks of Use
Condition: Excellent
Shoulder straps are thick, padded, and comfortable no matter how much to fill this bag up. But they seem to pull away from each other when in use. Especially if you're wearing a slippery down jacket. Not a huge deal, but definitely noticeable (a sternum strap would help fix this issue).
1 Month of Use
Condition: Excellent
Been using this bag as a daily driver and as a daypack on a couple of short trips. It has just enough room to hold the essentials, but there's no laptop compartment or water bottle pocket—just an empty space to organize as you wish (for better or worse).
Access the Pro Community Discussion
Get your questions about the Recycled Firefighter The Battalion 12 Hr Backpack answered from our team and the Pro Community right here on the page. Plus, join discussions with other members about gear, guides, and more.
Other Bags & Luggage Reviews