Rains Backpack Review
The Rains Backpack boasts discreet looks and minimalist styling, though the comfort and device protection are minimal too.
Our Verdict
Unlock the Pro Summary
Save time. Get access to brief summaries of our reviews so you can browse and make decisions more efficiently.
Pros
Sharp, clean, minimalist look
Above par weather resistance thanks to polyurethane
Spacious and unobstructed interior due to the rectangular profile
Cons
The bare-bones shoulder straps look good but lack comfort
Loose threads in some parts after two weeks of use isn't great
Laptop compartment offers little drop protection
Recent Pack Hacker Video
Technical Details
Capacity

13l

Weight (lb)

1.9 lb (0.9 kg)

Dimensions

18.5 in x 11 in x 4 in (47 x 27.9 x 10.2 cm)

Notable Materials

Polyurethane, Polyester, Metal

Manufacturing Country

China

Laptop Compartment Size

15"

Warranty Information
Full Review
In this review, we're taking a look at the Rains Backpack, and the first thoughts we had of it were all about the way it looked. The matte black-ness and discreet styling certainly made a strong impression on us. It's a "less-is-more" situation. It all looks very classy once it's on your back, and it won't look out of place when you take a stroll down through the more luxurious parts of downtown.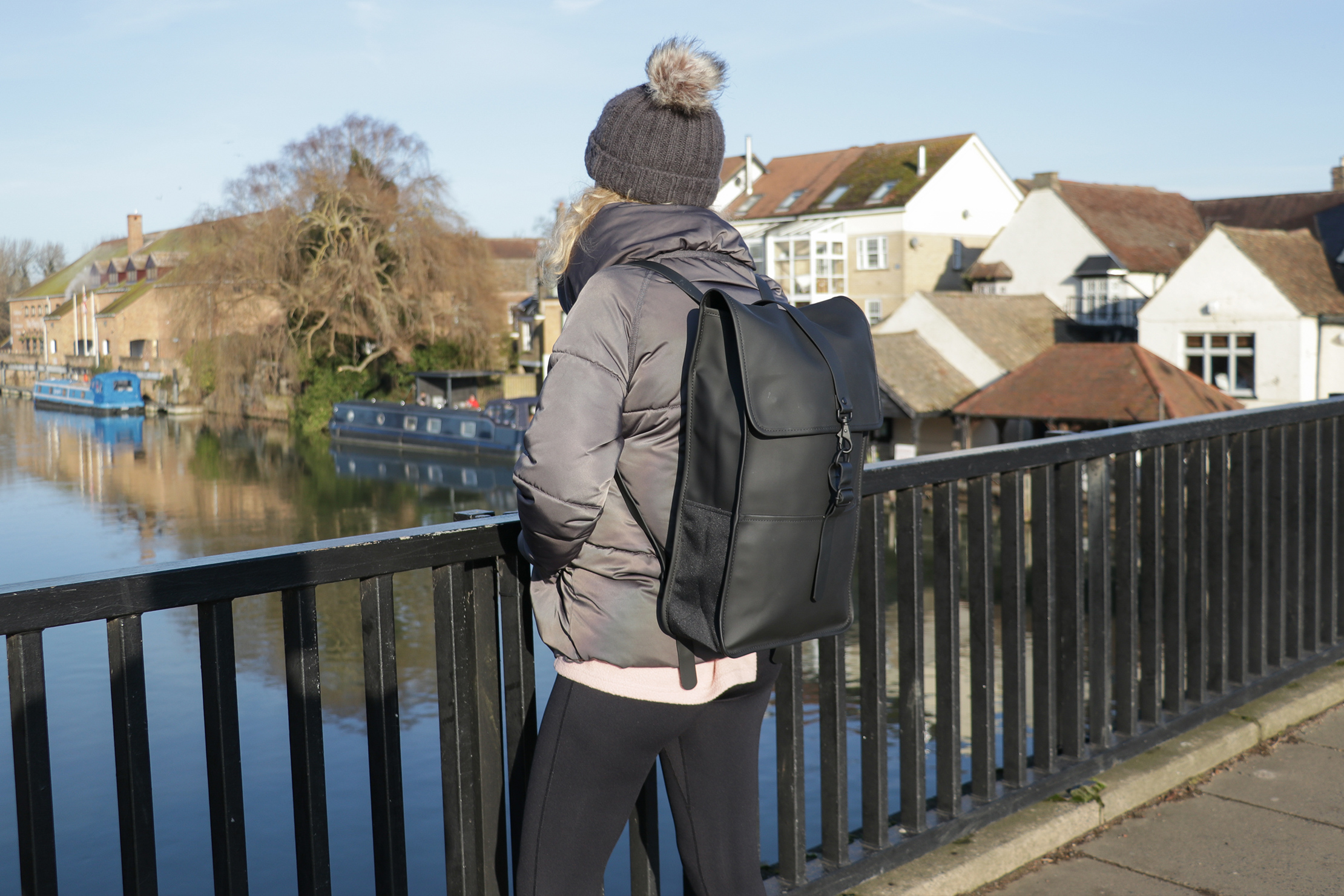 There are some notable compromises, however. Not least of which are the less-than-optimal harness system and a frequently jammed internal pocket. These are trade-offs worth taking a deeper look at, so if you're interested, jump in with us and see what's to love and what's to look out for.
Materials & Aesthetic
The Rains Backpack starts strong with its sharp, clean looks. Don't get us wrong, we're not ones to ever put form over function, and we certainly try to get the most value whenever we splurge. But even we have to admit that the aesthetic that Rains went for here is quite appealing to the eyes. It's all just very minimal, with no in-your-face branding anywhere. Quite the opposite, in fact, as the only Rains logo we could find was on the zipper.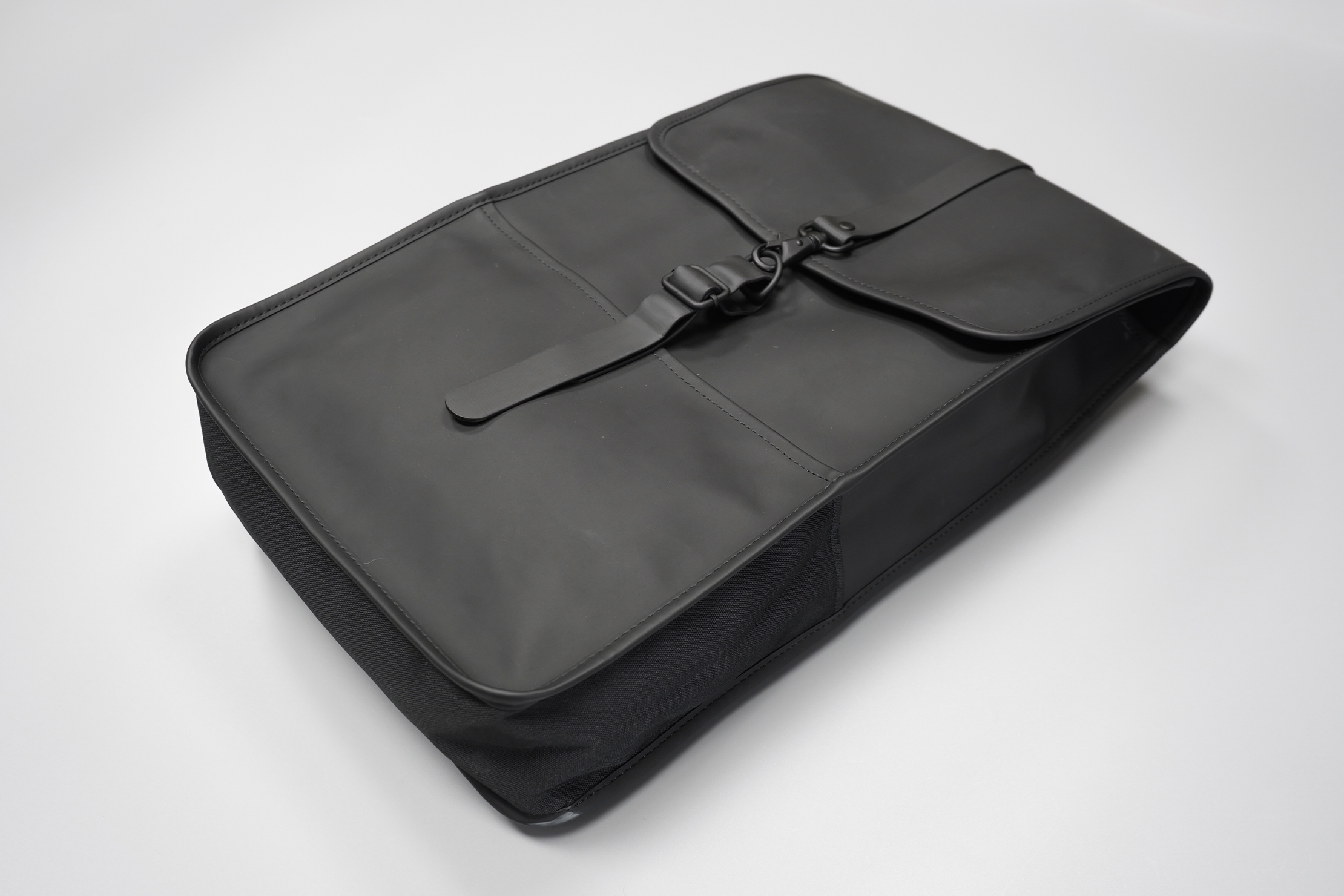 Despite the smooth matte black finish, there's no leather involved here. The fabric is a blend of 50% polyurethane and 50% polyester that's extremely water-resistant and puts practical merit behind the matte-ness.
According to our Instagram poll, 59% are into the slick, matte black look. If you're not, there are several other colorway options currently available. Quite a lot actually: blue, green, olive, yellow, charcoal, khaki, off white, and shiny black. There's also a color option called "taupe". We'll save you a 10-second Google search and tell you that it's a lighter shade of brown, and its name derives from the French noun for mole, as in the animal. Our resident mole expert reassured us that moles are not an ingredient for polyester nor polyurethane, so we can all rest easy.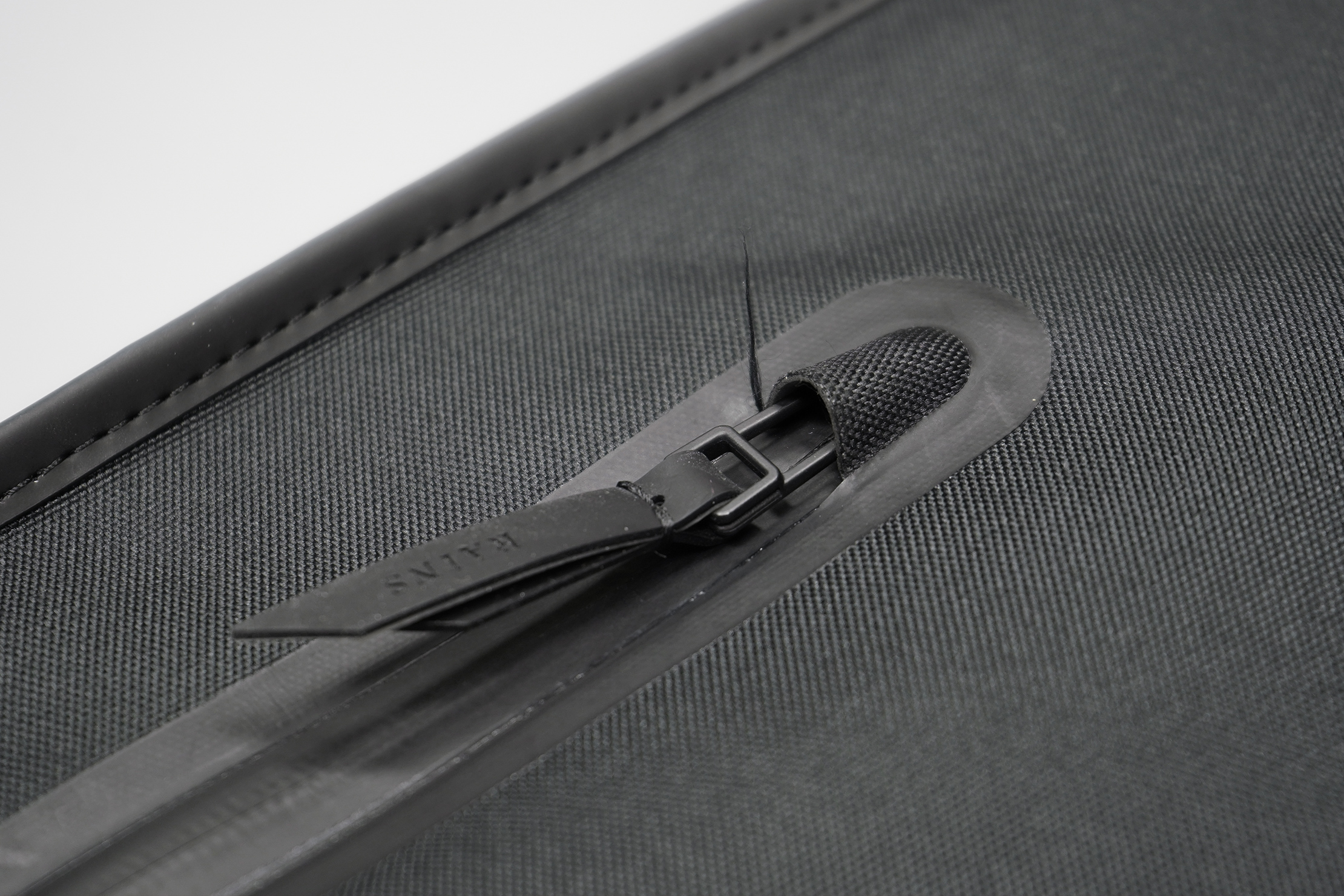 After two weeks, we noticed loose threads on some areas of the back panel. Nothing has fallen off, broken down, or disintegrated, and we were able to use the backpack as intended. Nonetheless, it's still noteworthy, especially if you're planning to keep this backpack for years.
The main lobster claw clasp, D-ring, and buckles outside are all weather-resistant stainless steel and feel good in the hand. Under the flap are magnets on either side to help keep it closed along the edges. And you'll want to keep it as closed as possible because what good is all the water-resistant material in the world if the backpack is breached with large gaps anyway?
External Components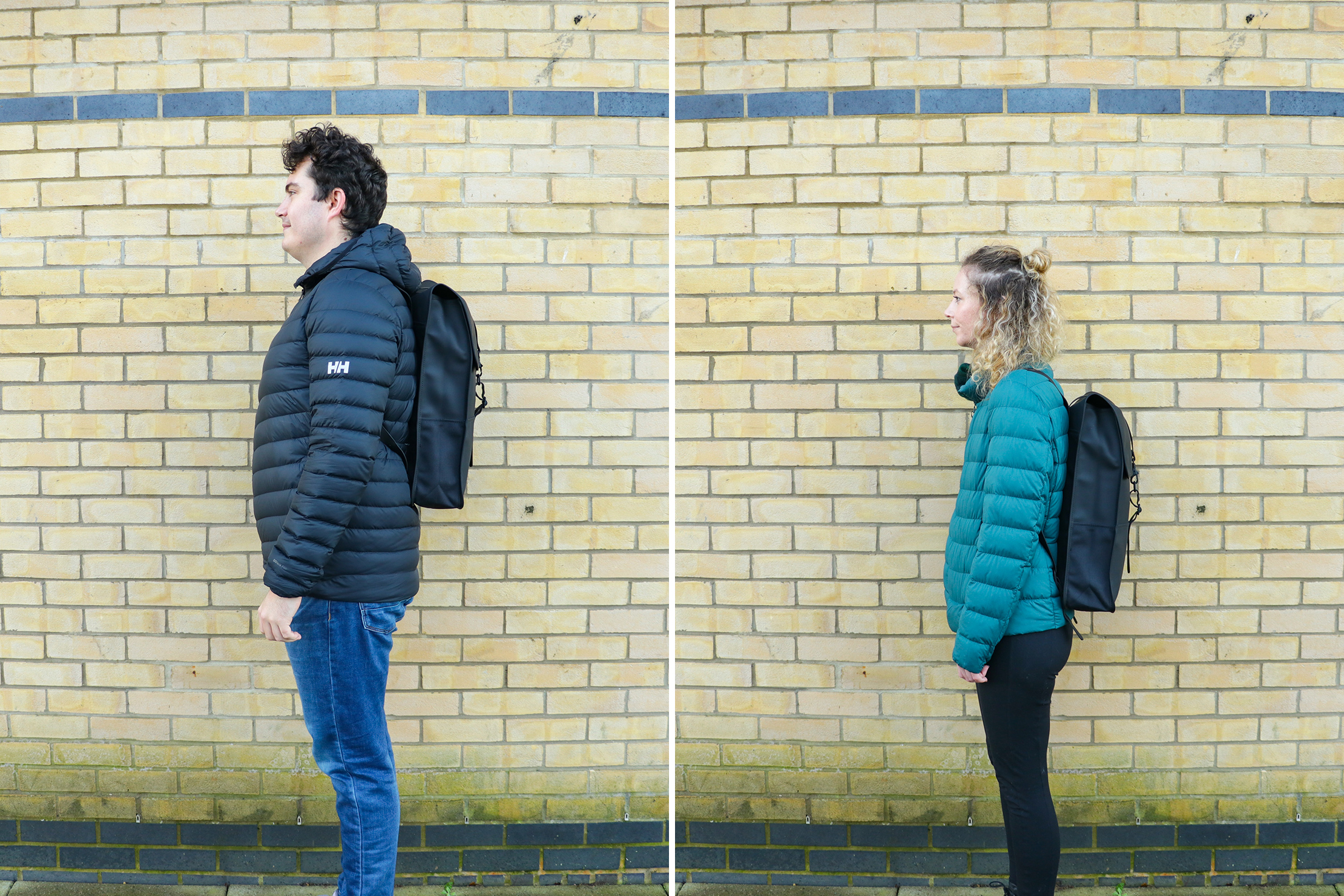 We'll start at the front with the strap in charge of keeping the flap down. It's an unusual metal lobster claw clasp + D-ring strap solution instead of the more common side release buckles found on similarly-looking knapsacks. As previously mentioned, a pair of button magnets complements the strap, each located on each side underneath the flap.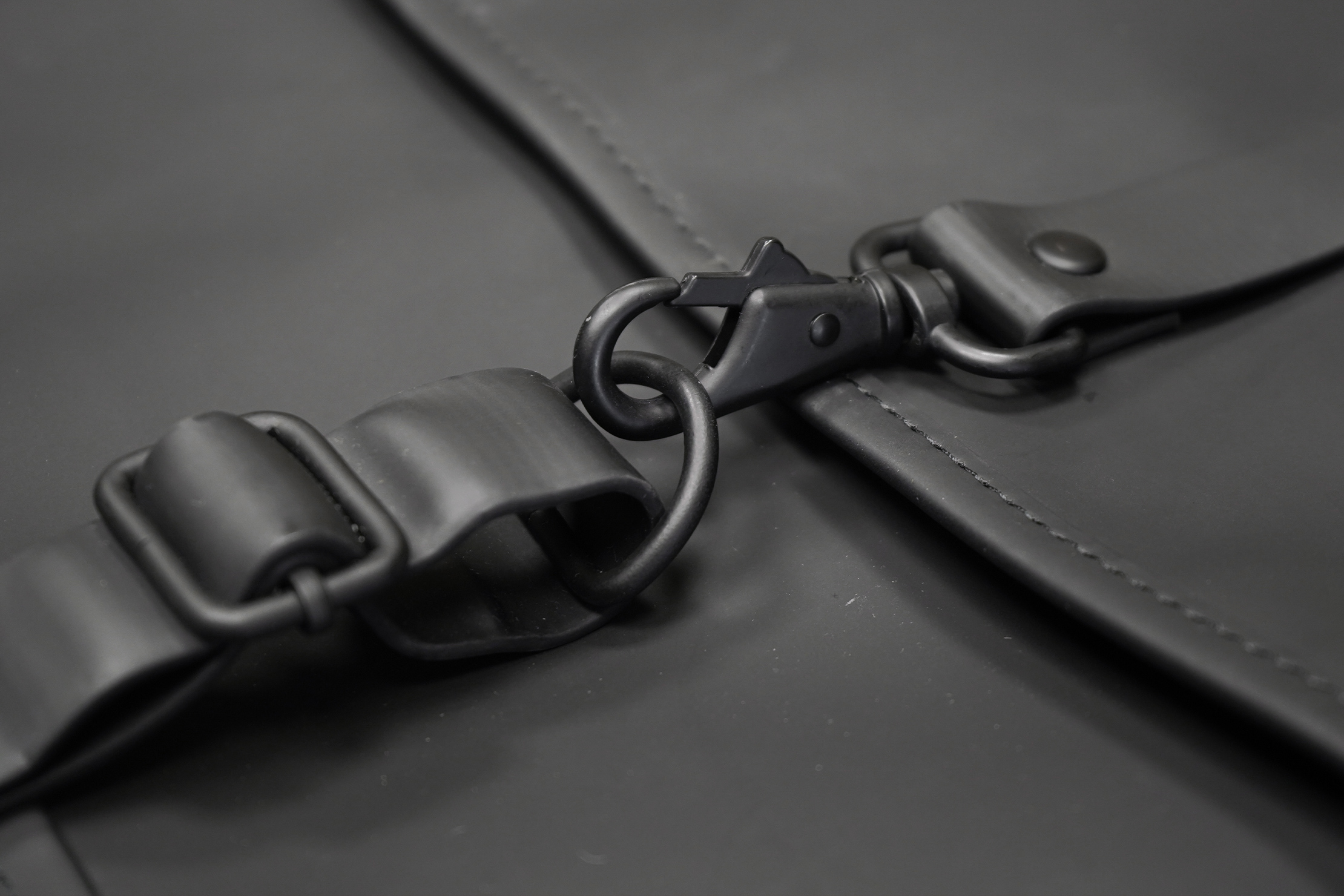 The D-ring's strap is length adjustable when the backpack needs to make full use of its 13-liter capacity, though the button magnets are no longer aligned. The straps, made from the same material as the main fabric, are relatively rigid. As a result, the strap retains a crease from where the buckle has sat for a prolonged period. This is purely a cosmetic issue as this "bubbling" did not go away even after some time though it hasn't hampered function. Still, we wish this strap was quick to adjust to make this issue much easier to wave off.
Rains has forgone any extra handles for this backpack. The usual loop/handle you'd find between the shoulder straps on most other bags isn't there. Seeing as the front strap already runs across the pack's top, we used that instead. It's not the most comfortable since it's not padded, but it will do in a pinch, especially if it's packed lightly.
Side water bottle pockets are also not present. This isn't the first time we've encountered a backpack without one, but considering the size of this bag, we can't help wonder why they decided not to include one. This means you'll have to resort to putting your—hopefully—insulated and tightly sealed water bottle inside where your laptop and other valuables are taking up valuable real estate.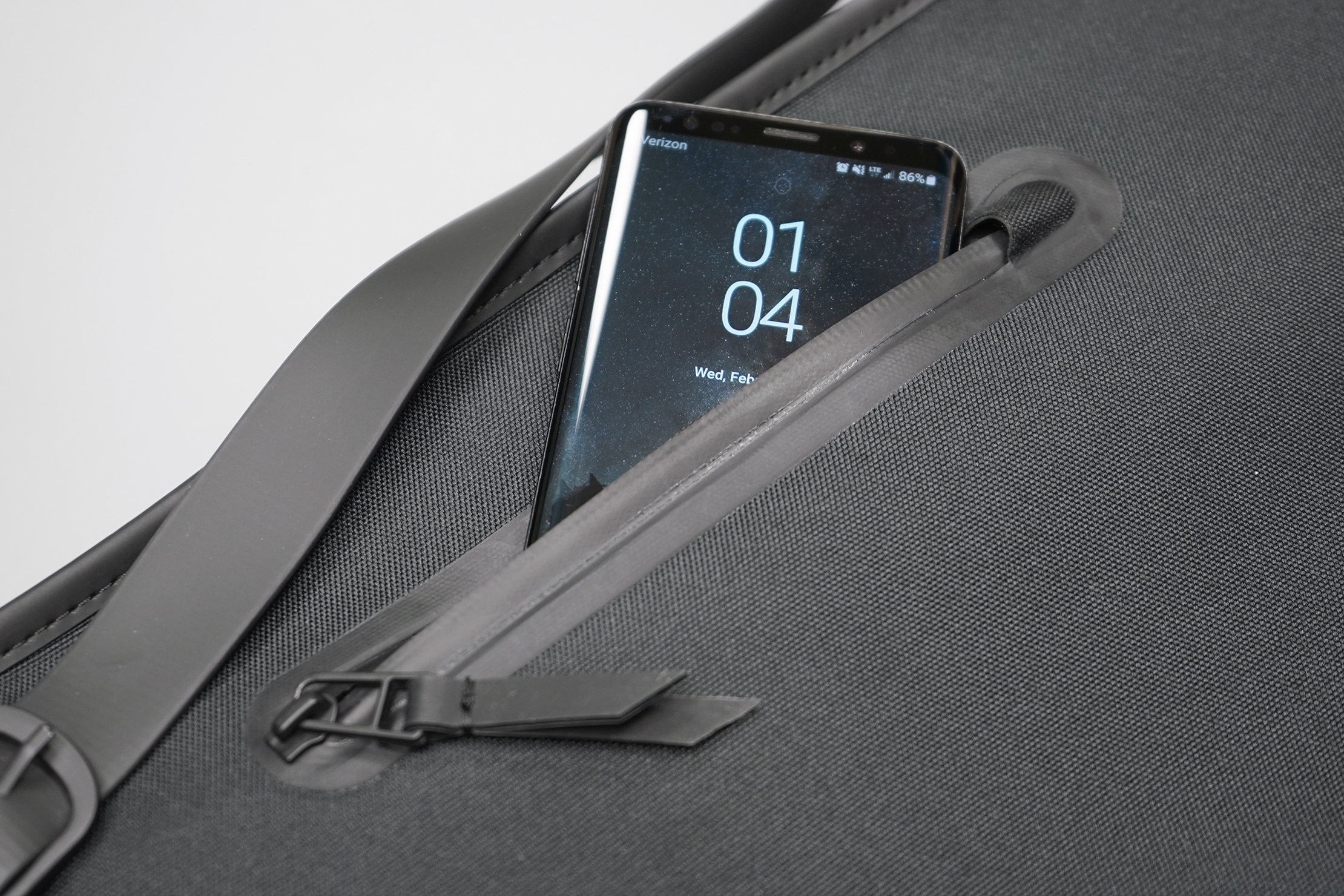 There's a phone/security pocket around the back panel. It's specified as a phone pocket for a good reason, as we found out ourselves. We tried putting in various items that we'd usually do for these types of pockets: keys, wallets, travel documents, and, of course, our smartphone. We found that anything bulky or not flat will jut into your back due to the thinly padded back panel. So unless you want an awkwardly built-in back scratcher, it's best to leave this pocket for the flat stuff.
The harness system looks simplistic, befitting the overall minimalist aesthetic Rains is going for. On closer examination, it's comprised of the same polyurethane-polyester material as you'd find elsewhere on the pack. Unfortunately, the shoulder straps themselves are thin and do not distribute load very well on your shoulders. Sure they look nice—but this is one area where less doesn't mean more.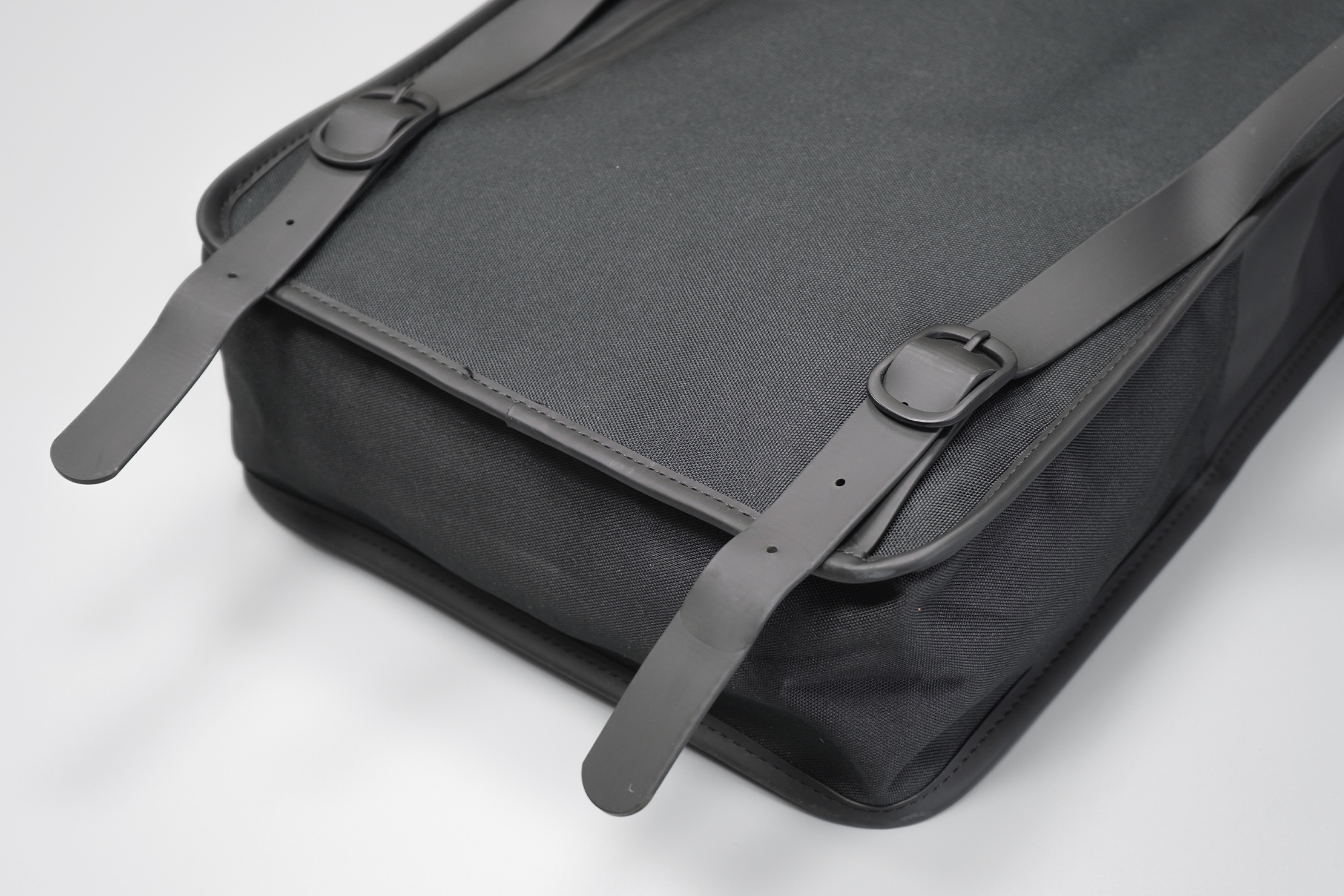 Instead of standard sliding buckles, Rains opted for belt-style adjustment. Perhaps they realized the same pitfalls we noticed when adjusting the front strap, so they decided to go with a different adjustment system for the shoulder straps. Each shoulder strap only comes with four punch holes out of the box. That's not a wide range to choose from, and we prefer more granularity when it comes to adjustment for the sake of inclusivity. Of course, you can punch in your own holes, but that can get messy if not done correctly, so we would have appreciated it if Rains at least provided more than four holes as standard.
Our experience with the harness system wasn't the most comfortable—especially when the bag was heavily loaded. The thin straps offered no cushion and dug into our shoulders, making it tiresome to carry for long periods. Plus, the shoulder straps took time to re-adjust, requiring us to take off the entire pack whenever we needed to—a problem we seldom encountered in other backpacks with more typical strap adjusters.
Inside The Pack
Getting inside the Rains Backpack is as easy as undoing the clasp, folding the flap over, and expanding the wide mouth at the top. Depending on the colorway, your first glance may not give you a complete idea of how roomy the interior is. Ours is an all-black interior, so it can be hard to see what's going on inside, depending on the lighting conditions.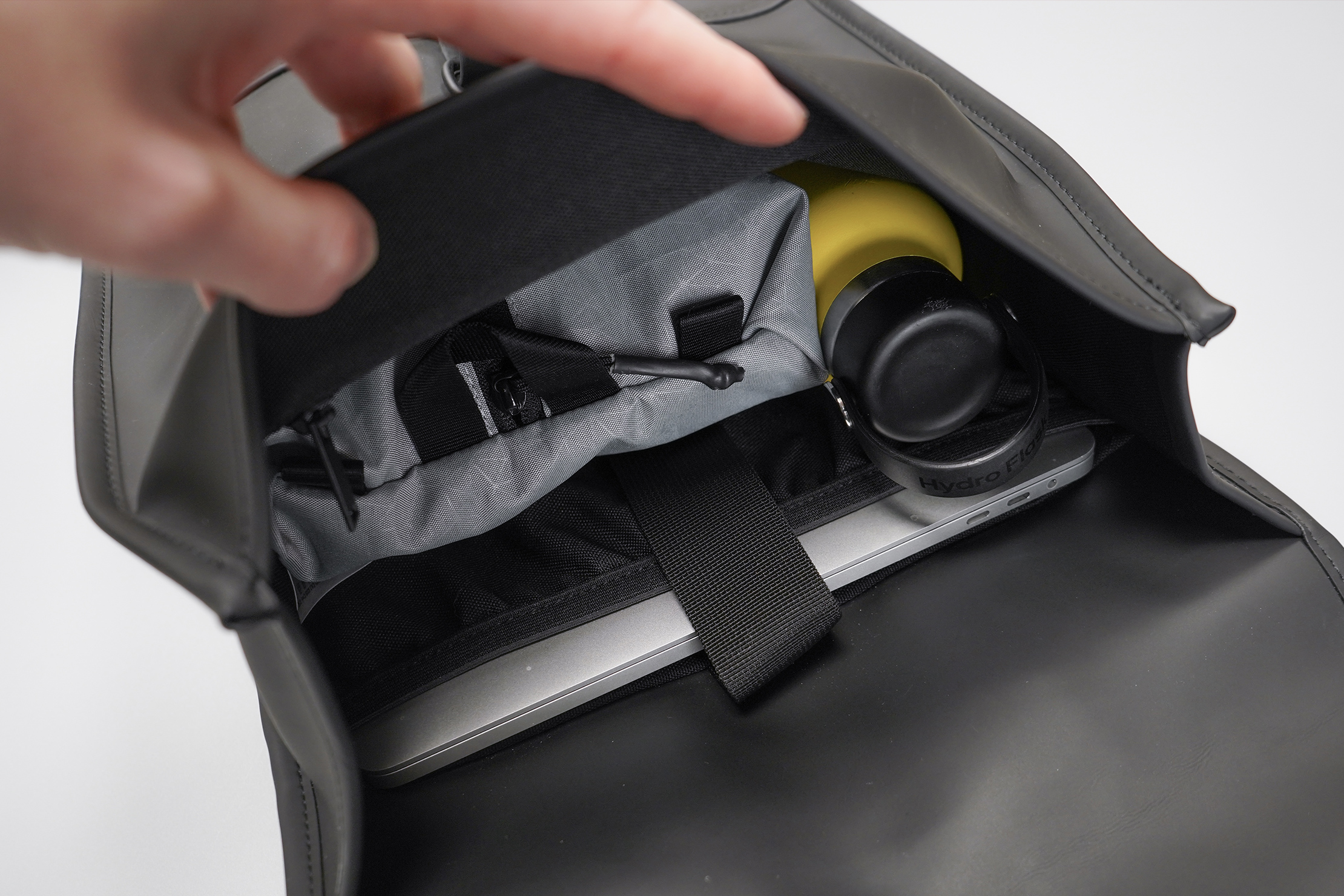 The overall boxy design of the Rains Backpack means it pairs well with pouches, organizers, packing cubes, and anything else that comes with a squared-off design. Water bottles also fit inside nicely if they sat flush to one side and wedged in by other stuff in the pack. It's no travel bag that can swallow up your entire closet, but it's enough for your everyday items like a jacket, notebooks, some textbooks, and a packed lunch.
There's one zipper pocket inside directly behind the face of the backpack. It's 5.5 inches deep; perfect for small, quick-access items that were unsuitable for the rear security pocket, such as a set of pointy keys, a pack of wet wipes, a small bottle of hand sanitizer, tangly earphones, and some stationery.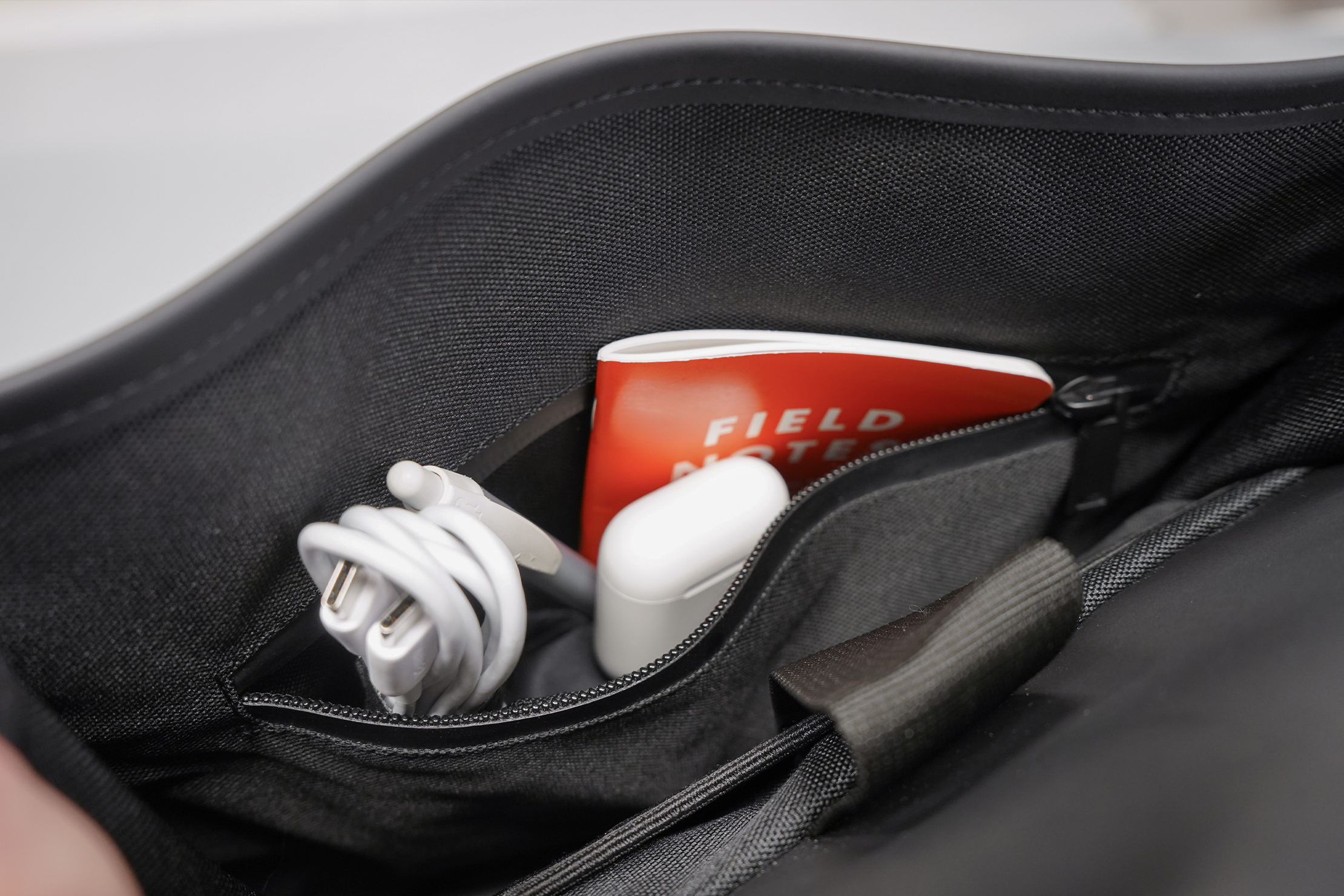 We didn't find this pocket particularly quick to access. The zipper would refuse to unzip 2 out of 3 times throughout our testing period due to the zipper pull twisting into a weird angle and not straightening out on the initial pull. Holding on to the exterior fabric and being more mindful while pulling the zipper mitigates the problem, but it was most definitely a source of frustration for us.
There's a ubiquitous laptop compartment that can support devices up to 15 inches. Although the laptop compartment does have a false bottom underneath, adding a bit of buffer for laptop protection, we still kept our laptop in a separate sleeve for extra protection.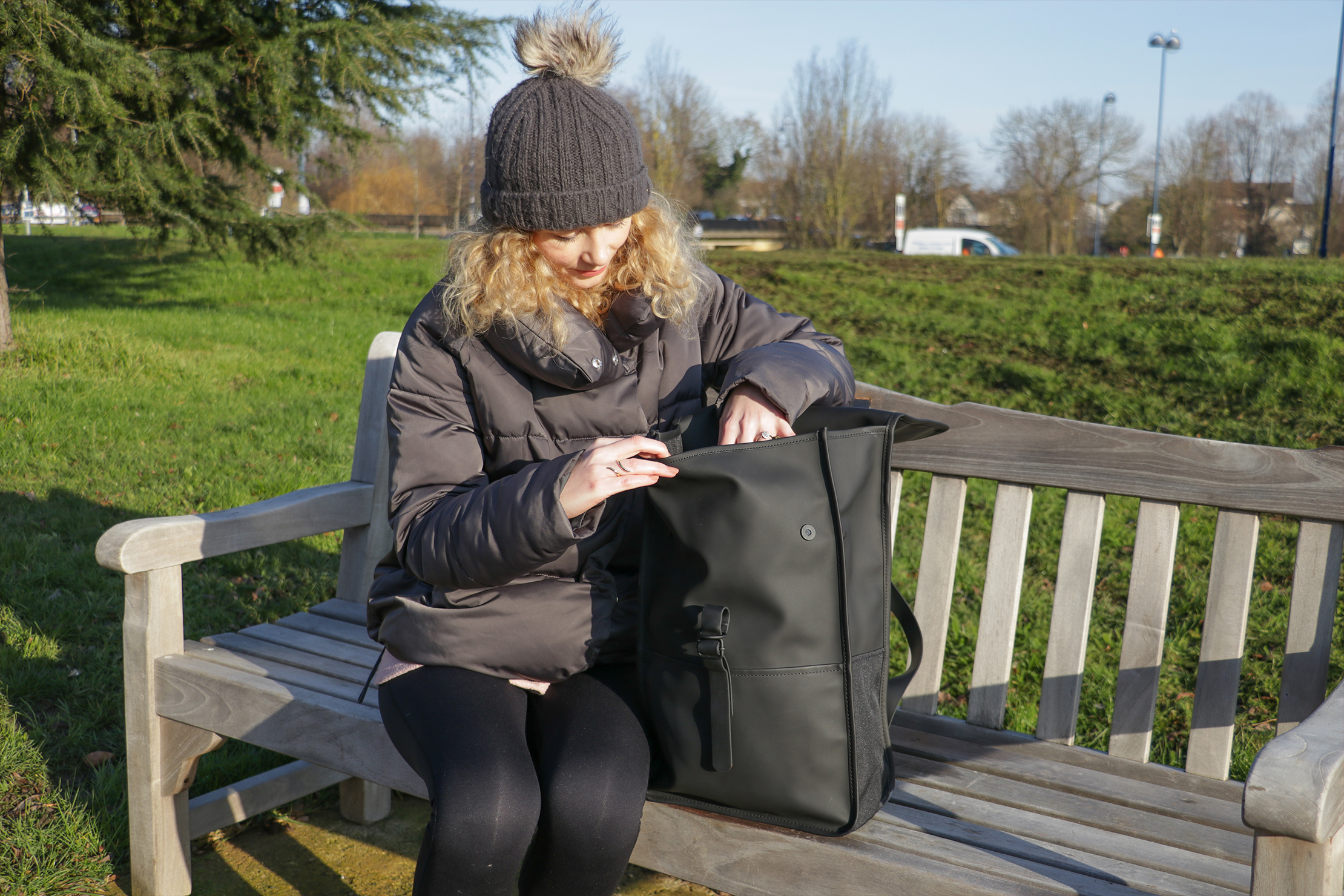 We walk away from the Rains Backpack with a few key take-aways, not least of which are the less-than-ideal shoulder straps and its fiddly adjustment, the subpar internal visibility for this black variant, and the interior pocket's zipper that was prone to jamming. It's not all bad, though, as we still think that the styling's appeal still holds up.
Overall, our experience with the Rains Backpack was just OK. Sure, it has some great styling and a nice, minimal look, but we found the lack of functionality and tricky mechanisms to be frustrating in everyday use. Of course, your mileage may vary, so consider our notes when deciding whether or not to pick this up!
Usage Timeline
Initial Usage
Condition: Excellent
Outside is extremely water-resistant
Minimalist style bag with only a laptop compartment and two small pockets
Bag is a little more focused on fashion than function
2 Weeks of Use
Condition: Good
The material offers some nice weather resistance when we got caught in a rain shower and has a smart-looking aesthetic
This pack is quite long, so we found that it's not as comfortable on your back if you have a shorter torso
There's a lack of quick access pockets outside of the pack and the pocket on the back of the pack only works well with smaller and flatter items
We've noticed some marks on the material and a few loose threads around the pack already, plus the material is misshapen on the shoulder straps and on the adjustable strap on the front of this bag
The main compartment lacks visibility due to the dark interior materials, so we recommend using packing cubes and pouches to help you organize your items
The shoulder straps offer little comfort as there isn't any padding and we found that they really start to dig into your shoulders when in use
The laptop sleeve doesn't have any padding, so we recommend using a laptop case to help keep your laptop safe
We tested this laptop sleeve and it does fit a 15" laptop, but if you use it with a case, it's going to be a tight squeeze
Access the Pro Community Discussion
Get your questions about the Rains Backpack answered from our team and the Pro Community right here on the page. Plus, join discussions with other members about gear, guides, and more.
Other Bags & Luggage Reviews