Public Rec Go-To Tee Crew Review
We like the Public Rec Go-To Tee's aesthetic, soft and stretchy feel, and odor-resistance. But the wrinkly collar detracts from its clean look.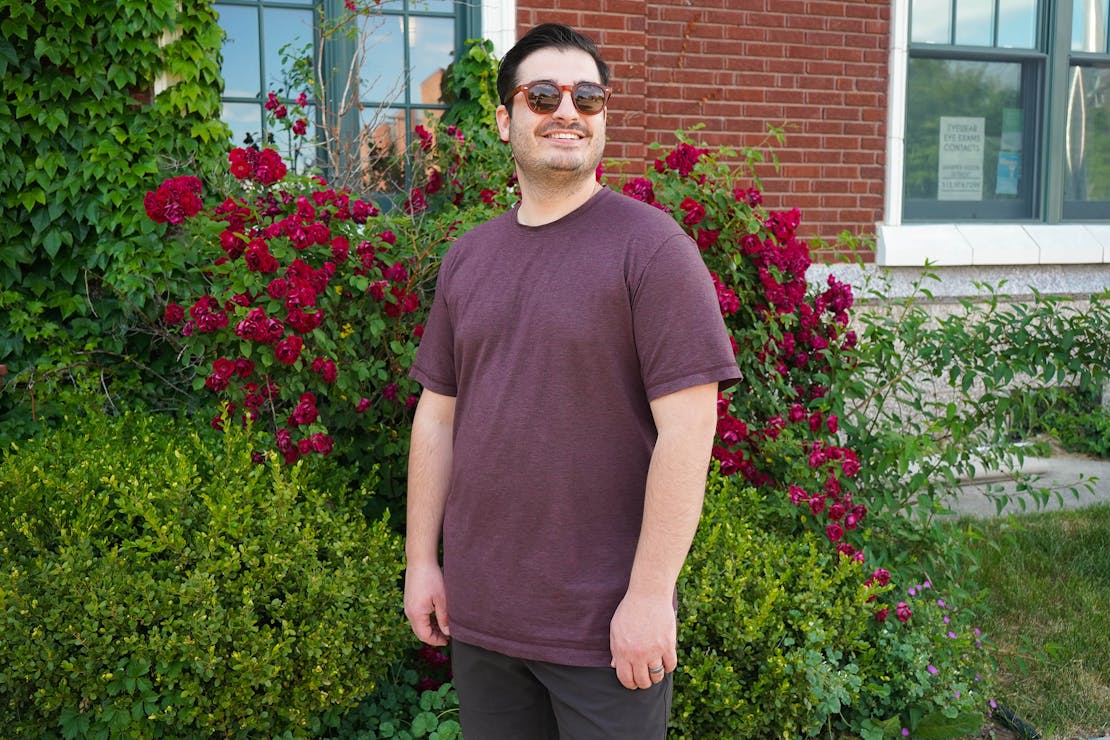 Our Verdict
Unlock the Pro Summary
Save time. Get access to brief summaries of our reviews so you can browse and make decisions more efficiently.
Pros
Soft, stretchy, and oh-so-comfortable
Clean aesthetic
Breathable
Cons
Wrinkly collar after first wash
A handful of loose threads
Only available in subdued colorways (may not be a con, depending on your style)
Recent Pack Hacker Video
Technical Details
Notable Materials

Cotton, Lyocell, Spandex

Manufacturing Country

Peru

Warranty Information
Full Review
Today we're taking a look at the Public Rec Go-To Tee, which is advertised as, "comfort, made smart." And who doesn't want that?

Before we jump into the review, we want to point out that Go-To Tee doesn't boast all of the same features as other travel t-shirts we've tested, including a quick-drying time, wrinkle-resistance, or any UPF protection. If that's what you're looking for, we suggest checking out our other clothing reviews. But if you're looking for a classic, comfortable t-shirt that works well as a daily driver—and has a few features for travel—then read on.
Fit, Fabric, & Features
The Go-To Tee is clearly casual—almost athletic looking—but a little sleeker than your average t-shirt. It's polished enough that you may be able to dress it up for a nice date, but it's never going to fly in a fancy business meeting. We've been testing the Crew Style, but it's also available in a v-neck if that's more of your thing.
At the time of this review, the tee is available in six colorways: White, Black, Heather Charcoal, Heather Navy, Heather Silver Spoon, and Heather Burgundy. We've been testing the Burgundy and really digging it. It adds a pop of color to your wardrobe but isn't too wild (which may be disappointing if you're into bright t-shirts, especially since the Burgundy is the "wild" color in the group). The Burgundy also has a Heathered look to it—hence the name Heather Burgundy—which we think creates a nice, primo aesthetic.

As far as branding is concerned, you'll find the Public Rec name on the back interior of the collar and a Public Rec "P" on the back bottom of the tee. We like that the branding is super minimal and doesn't detract from the simple aesthetic of this thing. And, because this "P" is reflective, it adds to the tee's overall athletic look.
We think this tee fits nicely—relaxed, but not too loose—and more-or-less true to size. We've found that the sleeves are a little bit longer than average t-shirt sleeves. Of course, fit is subjective and dependent on your body type.
The fabric on this shirt is 69% Prima Cotton blended with 23% Lyocell and 8% Spandex. It's super soft. Plus, it's thick enough that it doesn't feel like it'll fall apart in the washing machine, but thin enough it breathes in the heat. Public Rec advertises this fabric blend is moisture-wicking, which is sort-of true. We haven't noticed the moisture-wicking properties to be exceptional—you'll still get sweaty sitting in direct sunlight, for example—but we've tested this thing on long walks in the heat without getting too sweaty or gross. And we call that a win.

One of our favorite things about this thing is how stretchy it is (for which we credit the Spandex). This stretchiness coupled with the soft fabric means that the Public Rec Go-To Tee is oh-so-comfortable.
We have found a couple of loose threads, although nothing overly concerning at this point. Overall, the stitching is thick, robust, and clean.
Public Rec doesn't advertise the Go-To Tee as being odor-resistant, but we've found that it resists odors better than your classic cotton tee (although it's not nearly as good as clothing made from Merino wool). How many wears you can get out of this shirt depends on several factors, including how much you sweat, your tolerance for your own BO, how many people you're around, and so on. But we've found you can get away with three times as long as you have a rest day in between each wear.

Now, our biggest gripe with the Tee is its wrinkly collar. While it wasn't wrinkly out-of-the-box, it has been wrinkly since the first wash (despite the fact that we followed the care instructions—machine wash cold, tumble dry medium). The bacon neck thing it has going on is not a good look…to say the least. (And we say this as bacon-lovers.) You could probably smooth it out with an iron, but if you're as iron-adverse as we are then this may be a deal-breaker.
Durability & Testing
We've been testing the Public Rec Go-To Tee for four months and counting, including on a trip to Cabo San Lucas, Mexico. Overall, it's a solid tee. We appreciate that it's comfortable, versatile, and has some odor-resistance. We also like that you can wear it multiple times in-between washes, which came in handy on our trip to Mexico. Plus, the aesthetic is nice for exploring—casual but looks decent enough for an afternoon out.

As far as durability is concerned, we don't have much to report. As previously mentioned, we have noticed some loose threads. We don't think they're a deal-breaker, but we will be keeping an eye on them. We'll keep you updated in the Usage Timeline.
Usage Timeline
Initial Usage
Condition: Excellent
Soft and stretchy material
Casual style while still looking nicer than your average t-shirt
Wrinkle resistant and packs nicely
2 Weeks of Use
Condition: Excellent
While it's not as odor-resistant as Merino wool, this thing is pretty solid. We've been able to get three wears before washing—with letting it air out for a couple of days in between. Might be able to push it further, but there hasn't been a need.
1 Month of Use
Condition: Good
The collar has been wrinkled ever since the first wash. It's not ideal but didn't stop us from packing it for a trip to Cabo San Lucas, Mexico. Traveling with clothes that can go multiple wears without being washed is great.

2 Months of Use
Condition: Good
Been noticing a few loose threads on the seams, but the shirt is still stretchy and comfortable after multiple washes.
3 Months of Use
Condition: Good
Continuing to keep the Go-To Tee in our weekly shirt rotations (it's a nice pop of color). Even though it's not advertised as anti-odor, we' ve been consistently able to get two or three wears before washing—especially on lighter activity days and with some air-out time in between. The wrinkly/stretched-out collar continues to be a bummer—we notice it every time we put on the shirt as it detracts from its overall clean aesthetic.
Access the Pro Community Discussion
Get your questions about the Public Rec Go-To Tee Crew answered from our team and the Pro Community right here on the page. Plus, join discussions with other members about gear, guides, and more.
Other Clothing & Accessories Reviews