prAna Stretch Zion Pant Review
Stretchy, comfortable, and full of features, the prAna Stretch Zion Pants are ideal for outdoor adventurers—although they have a technical aesthetic.
Our Verdict
Unlock the Pro Summary
Save time. Get access to brief summaries of our reviews so you can browse and make decisions more efficiently.
Pros
Stretchy and comfortable
Made of durable, quality materials
Pocket game is strong
Cons
Look outdoorsy
Not ideal for hot weather
DWR coating requires care
Recent Pack Hacker Video
Technical Details
Notable Materials

Nylon, Spandex, DWR Coating, YKK Zippers

Manufacturing Country

China
Full Review
The prAna Stretch Zion Pants are named after Zion National Park—a national park known for its rust-colored cliffs and sweeping desert views. Yeah, these pants have a lot to live up to.
So do they?

We've been testing the Stretch Zion Pants for three years and counting. Yes, you read that correctly, three years. We've taken them on all sorts of eco-adventures and have to say, these pants live up to their namesake (and the hype among outdoorsy folks). Why? Well, let's check them out.
Fabric, Fit & Features
Let's start with the obvious. The prAna Stretch Zion Pants aren't going to win you any fashion awards. The pants have a loose, baggy fit and, thus, have an outdoorsy vibe that'll look out of place in the city. At the time of this review, the pants are available in five subdued colorways that really reinforce that technical aesthetic: Bronzed, Cargo Green, Charcoal, Dark Khaki, and Mud (note: not all of the colors are available for all of the inseam sizes)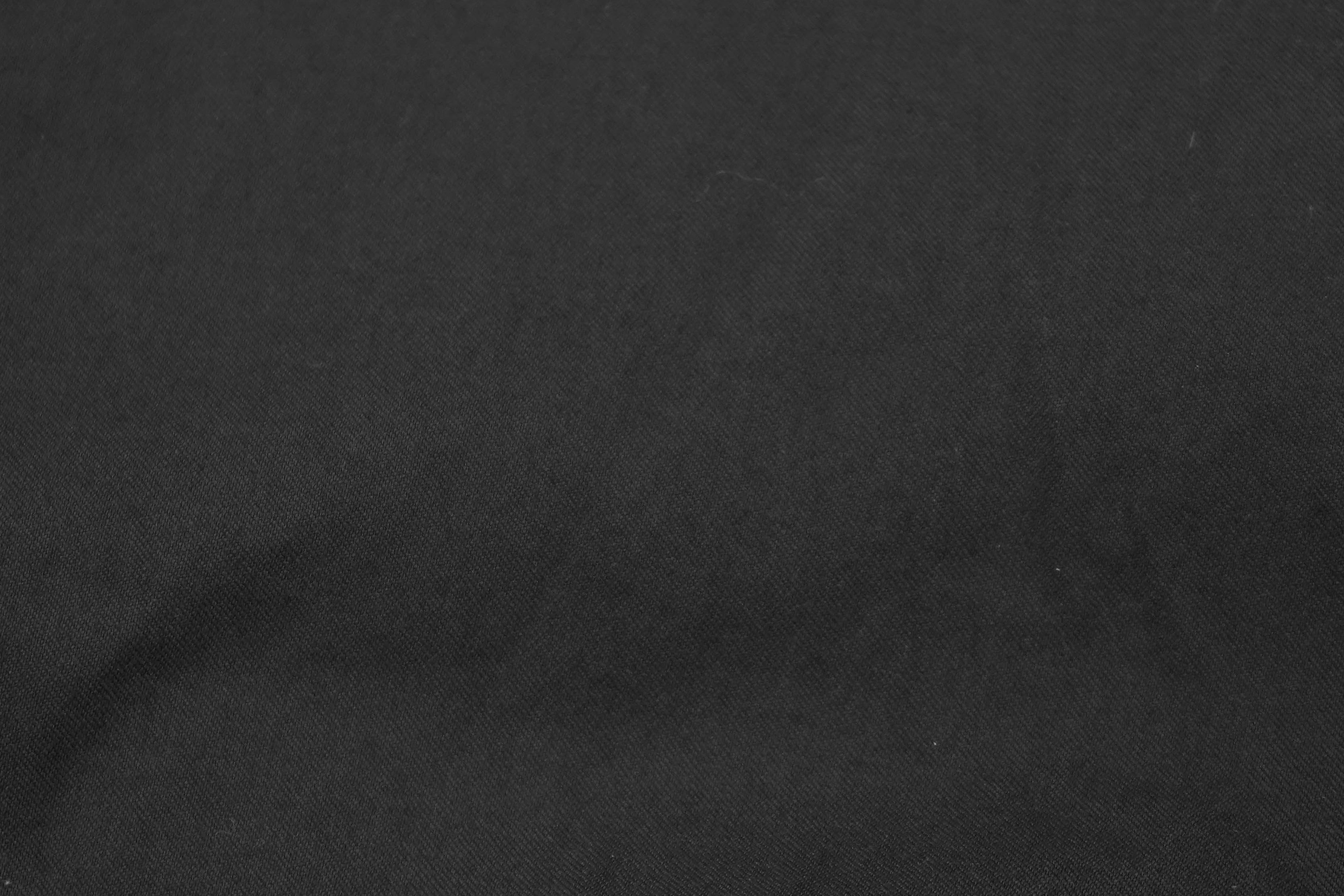 Of course, these pants haven't been designed to look good—they've been designed to perform.
They're made of prAna's own Stretch Zion Fabric, which is a blend of 97% nylon and 3% spandex. The fabric is finished with a DWR coating to make these pants water-resistant. Now, anything with a DWR coating requires extra care to ensure the longevity of that coating. But even if you do follow the care instructions, the coating will still fade with time. After three years, the water-resistance is noticeably less effective (and the pants weren't exceptionally water-resistant to begin with).
The fabric also has a UPF of 50+, which is great for sun protection. We've found that these pants are a little too thick to be comfortable in hot weather, especially when exerting yourself, but the sun can shine on cooler days, so we still appreciate this feature.

With a four-way stretch and gusseted crotch, these pants are stretchy enough for whatever athletic pursuit you have in mind. Rock climbing. Hiking. Yoga. Intense video-gaming. The gusseted crotch also has ventilation holes, something you'll appreciate during all of those aforementioned sporting activities. And, of course, breathability + stretch = comfort. You'll want to wear these pants all the time (it might even become a problem).
We'll talk about durability more in a bit, but just know that these pants are abrasion-resistant and have been designed to keep up with all of your adventures.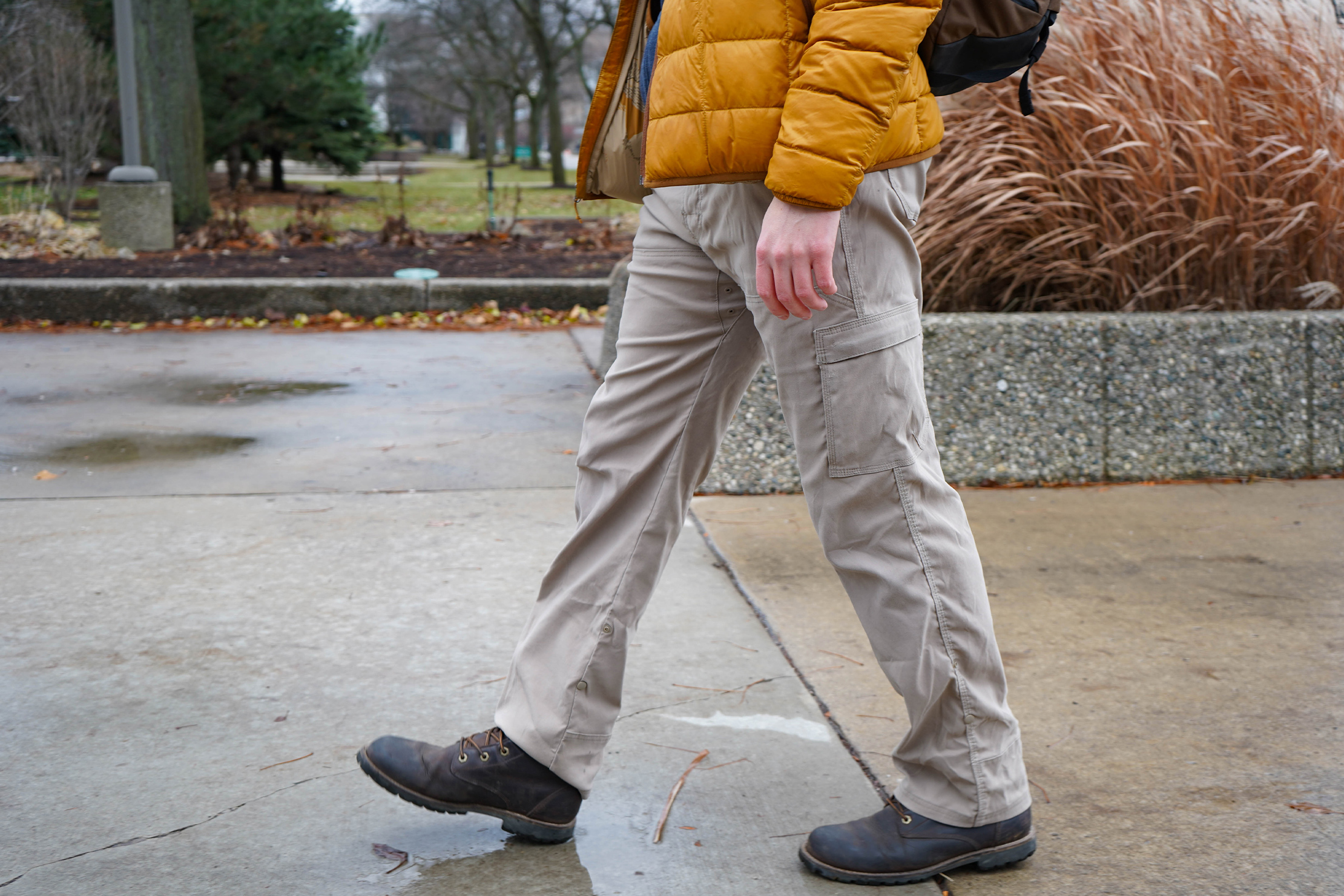 We mentioned earlier how baggy these pants are, and while that's not-so-great for pants you plan to wear on the daily, it's actually nice for adventuring. The cuffs will fit over a chunky pair of hiking boots (if you're into that kind of thing) and will never constrict your movement.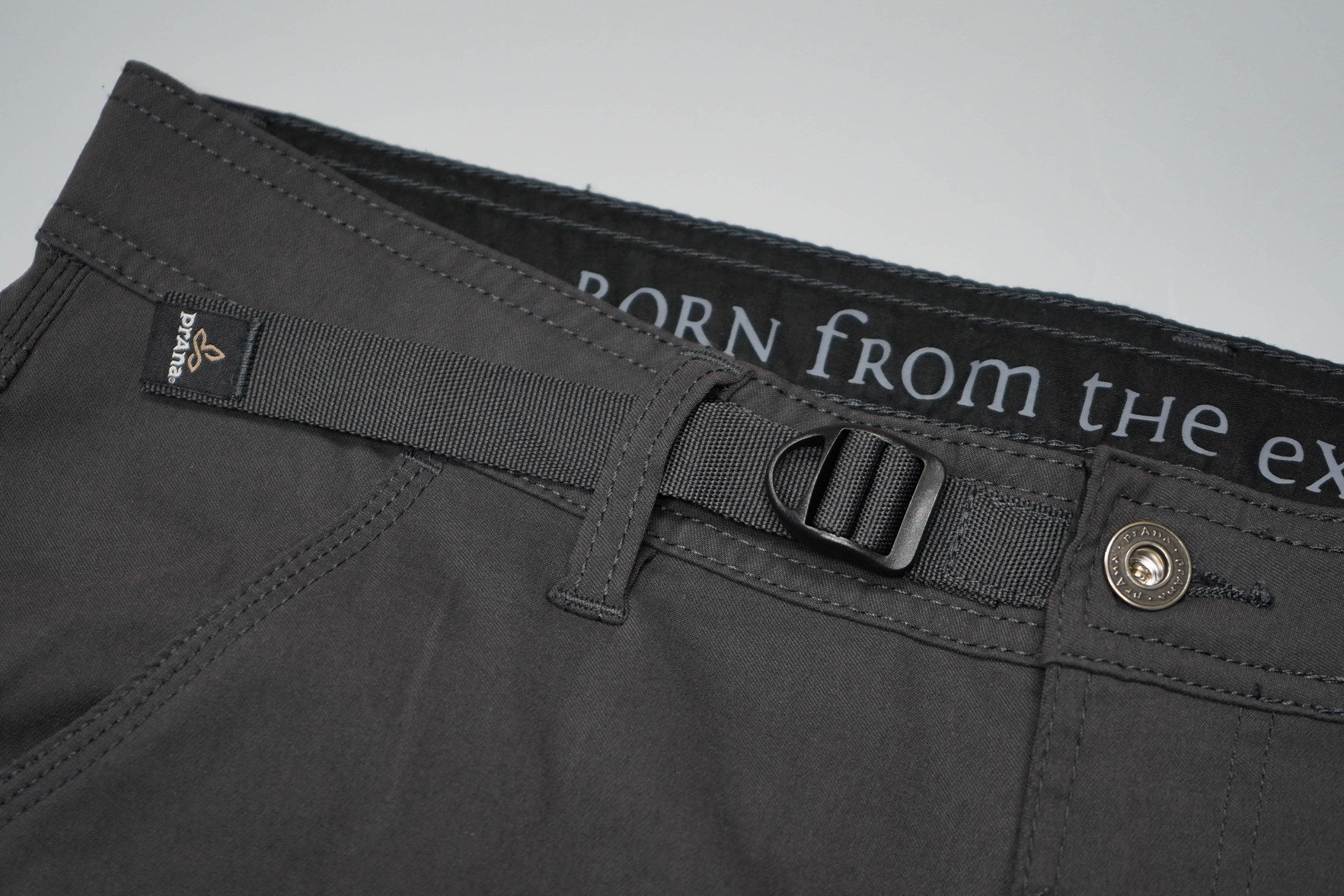 Plus, the pants come with an adjustable waistband that's essentially a built-in belt, meaning you don't need to wear a separate one. This is a major plus, especially if you're a climber as wearing both a belt and a harness is not exactly comfortable. It's also helpful for hiking or backpacking when your hip-belt can cause your belt buckle to dig into your skin. But the pants have belt loops too, so if you're particular about your belts and want to wear your favorite bedazzled, ode-to-Elvis belt while bagging a peak you can do that.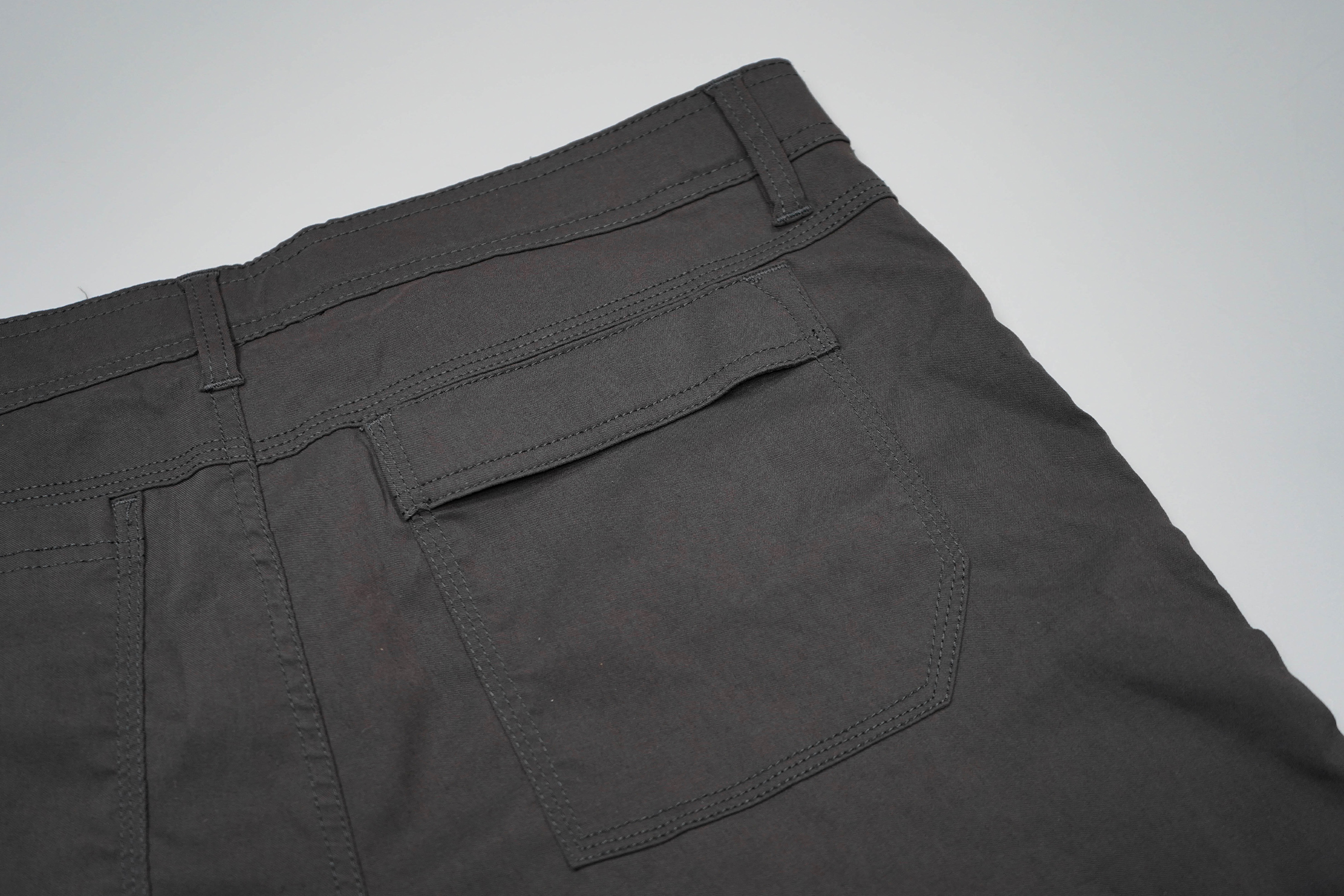 As far as pockets are concerned, the Stretch Zion pants have five. Two normal front pockets with mesh interiors and one standard back pocket. The second back pocket has a slice of fabric over the top of it to keep it sealed. That said, it's not zippered or secured, so be aware that stuff can still fall out. The fifth pocket is a zippered pocket on the side of the pants.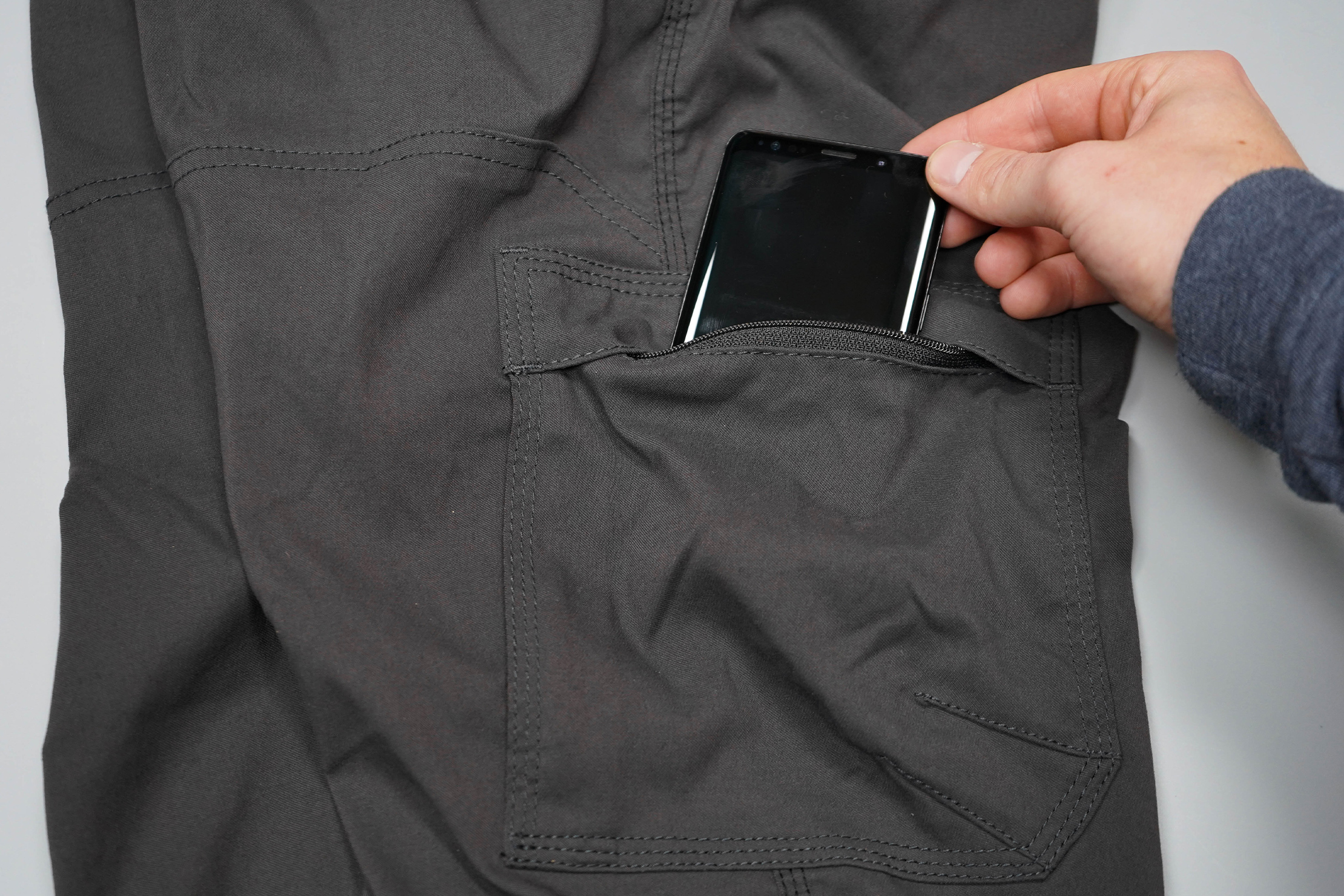 While we don't think this zippered pocket does anything for these pants looks-wise (in fact, quite the opposite), it's exceedingly helpful. First of all, it's zippered so it's a great spot for keeping items you don't want to lose. Money, a good luck charm, whatever. It's also great because it's accessible all of the time—which isn't the case for the other four pockets. Say you're climbing and the harness has sealed off the front pockets. You can put your phone in the zippered pocket, climb, and then grab your phone to snap a picture of the epic view at the top without a problem.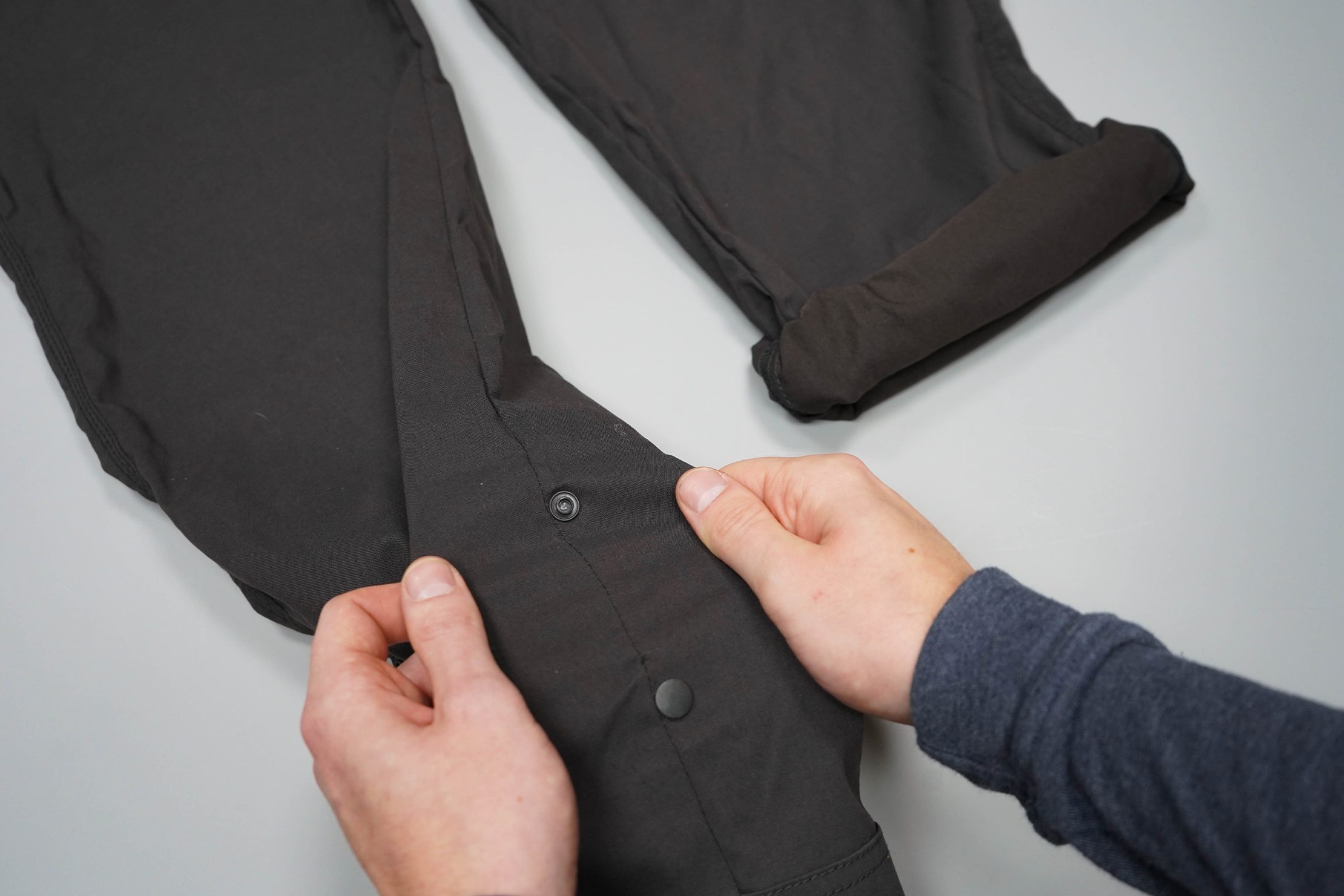 The last feature worth noting is the roll-up leg snaps. Some people don't like to have their pants anywhere near their feet while climbing, so it's a plus that you can easily roll up the cuffs and snap them into place. Beyond climbing, this is good for traipsing through creeks while on a hike, splashing in puddles while embracing your inner five-year-old, or just some extra ventilation.
Durability & Testing
As we mentioned at the beginning of this review, we've been testing the prAna Stretch Zion Pant for three years and counting. And it's not like we only wear them occasionally. Oh no, we've been putting through the wringer. Climbing, hiking, climbing again, backpacking, more climbing. They've become our go-to adventure pants—we've even suggested the other adventurers in our lives pick up a pair. They're just that good.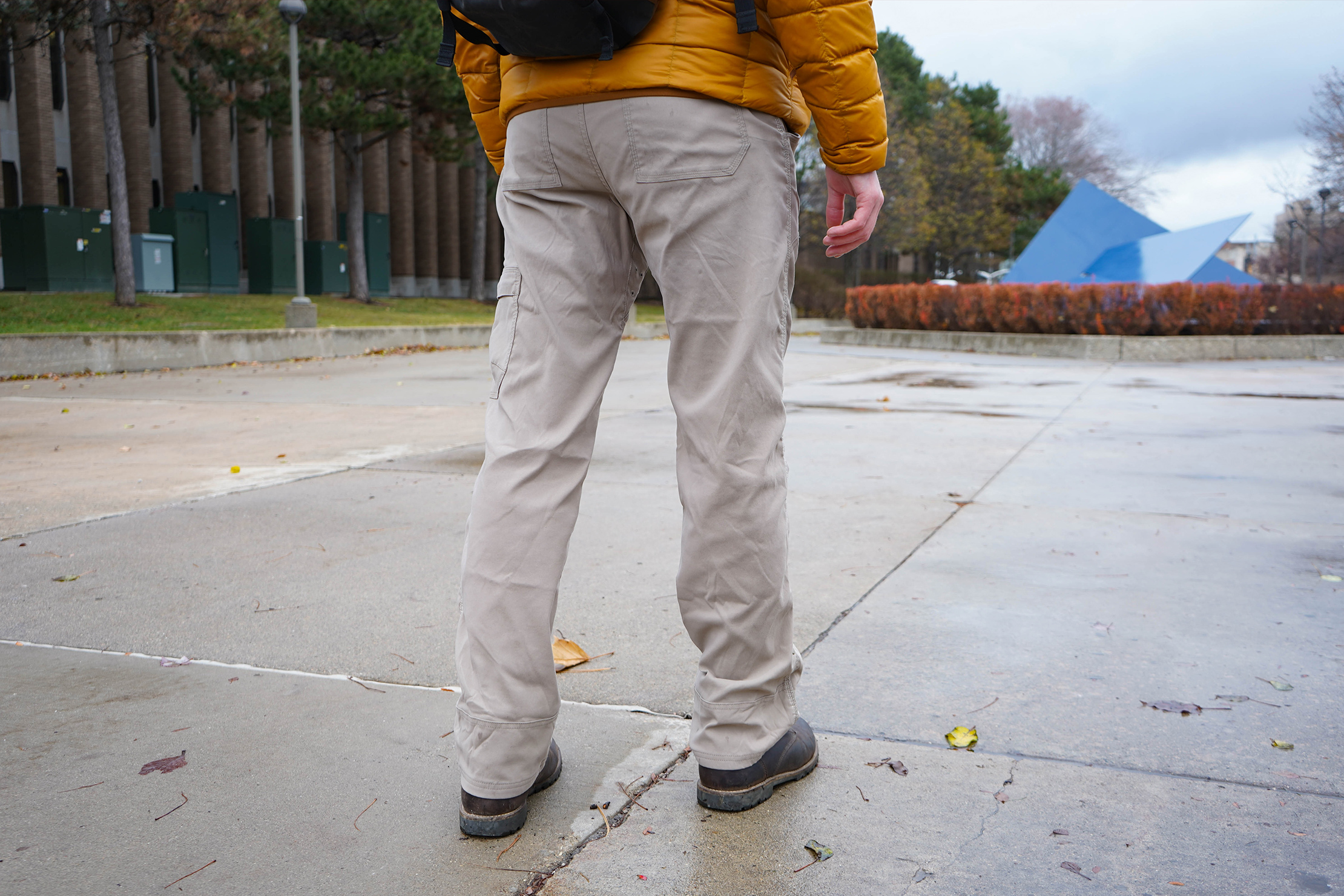 Better yet, they're still going strong durability-wise. There is a small amount of pilling in the knee-area and that's it. Super impressive for a pair of pants that frequently come in contact with a rock wall (which has the texture and grit of sandpaper).
If you're in need of a durable, comfortable pair of pants to take with you on all of your outdoor pursuits, then the prAna Stretch Zion Pant is definitely worth looking at.
Usage Timeline
Initial Usage
Condition: Excellent
Stretchy material and looser fit makes them great for active adventurers
The features of these pants like the roll-up leg snaps and adjustable waistband make them very versatile
Extremely durable
1 Month of Use
Condition: Excellent
Loving them so far…we can see why everyone in the outdoor arena suggests picking up a pair.
2 Months of Use
Condition: Excellent
Been getting a lot of use out of them!
3 Months of Use
Condition: Excellent
They're great for climbing. Stretchy and comfortable, yet abrasion-resistant. Perfect!
6 Months of Use
Condition: Excellent
Not amazing for hot weather—we're fans of lighter pants for the summertime. That said, these pants are pretty breathable (we credit the ventilation holes).
9 Months of Use
Condition: Good
Starting to see some pilling on the knee area (where they come into contact with rock walls). Which is not bad at all. Rock walls are known to shred clothing.
1 Year of Use
Condition: Good
Loving the zippered side pocket. Super helpful on the crag.
1.5 Years of Use
Condition: Good
2 Years of Use
Condition: Good
Pilling is a little worse—but we wear these pants climbing multiple times a week. The fact that there are no major signs of wear and tear is amazing.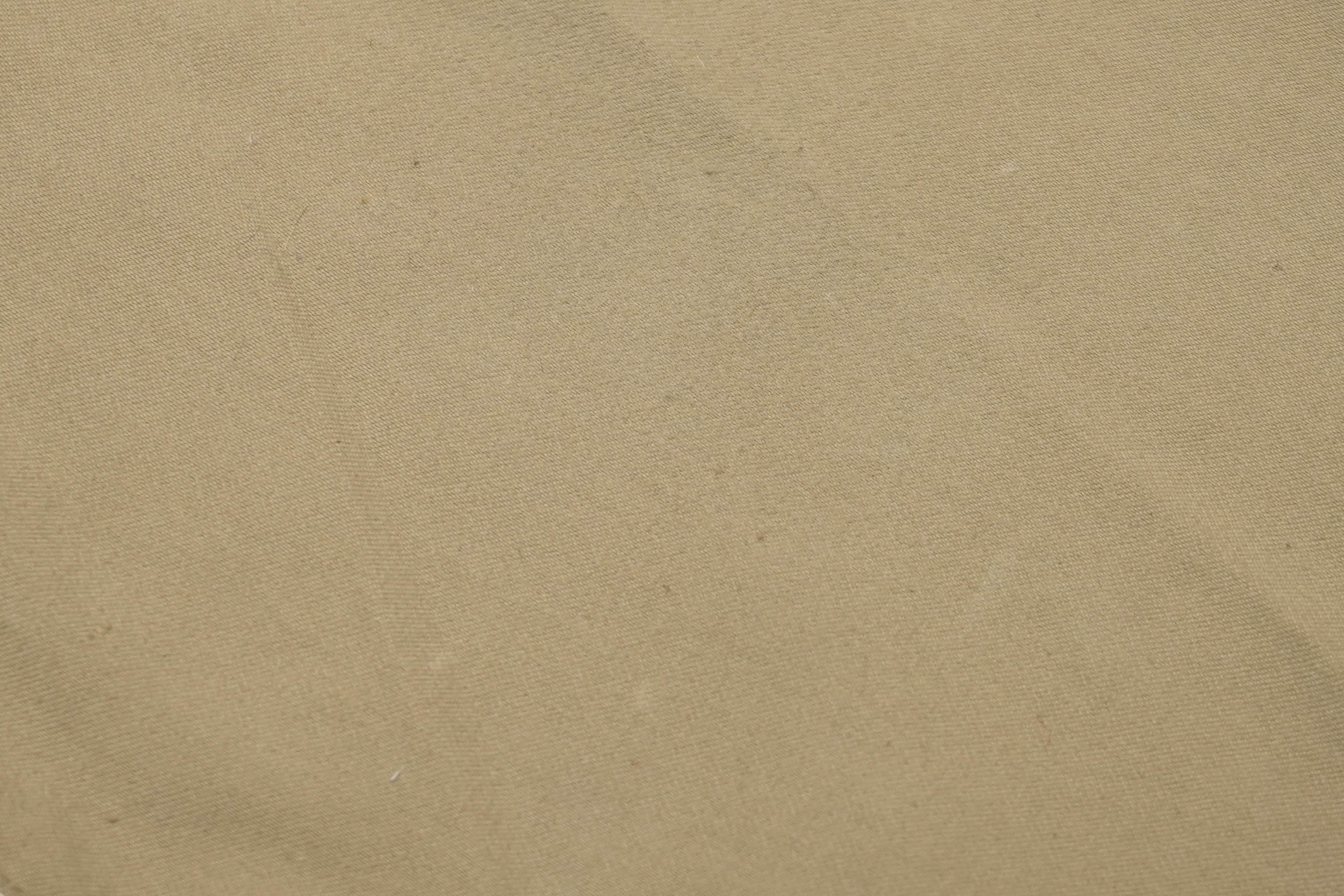 2.5 Years of Use
Condition: Good
Water-resistance has been fading.
3 Years of Use
Condition: Good
We have three years of ample use out of these pants and, somehow, they're still going strong! We plan to keep wearing them for a while yet.
Access the Pro Community Discussion
Get your questions about the prAna Stretch Zion Pant answered from our team and the Pro Community right here on the page. Plus, join discussions with other members about gear, guides, and more.
Other Clothing & Accessories Reviews