Pelican G40 Personal Utility Go Case Review
The waterproof Pelican G40 Personal Utility Go Case touts a secure level of protection for your everyday essentials, but it's not the easiest to pack.
Our Verdict
Unlock the Pro Summary
Save time. Get access to brief summaries of our reviews so you can browse and make decisions more efficiently.
Pros
Sturdy, durable, waterproof materials
Handle for easy carrying and clipping to packs
Accommodates a larger-sized smartphone
Cons
Bulky & difficult to pack away
Capacity feels tight even with just the basics inside
Gear has to be positioned correctly for removable tray to sit in place
Recent Pack Hacker Video
Technical Details
Dimensions

10.63 in x 5.39 in x 2.42 in (27 x 13.7 x 6.1 cm)

Notable Materials

ABS Plastic, Thermoplastic Elastomer (TPE), Stainless Steel, Thermoplastic Polyurethane (TPU), EVA Foam

Manufacturing Country

China

Warranty Information
Full Review
As we noted in our Pelican Memory Card Case (0915 and 0945) review, Pelican is a brand that's made a name for itself by creating incredibly durable and protective cases of all sizes.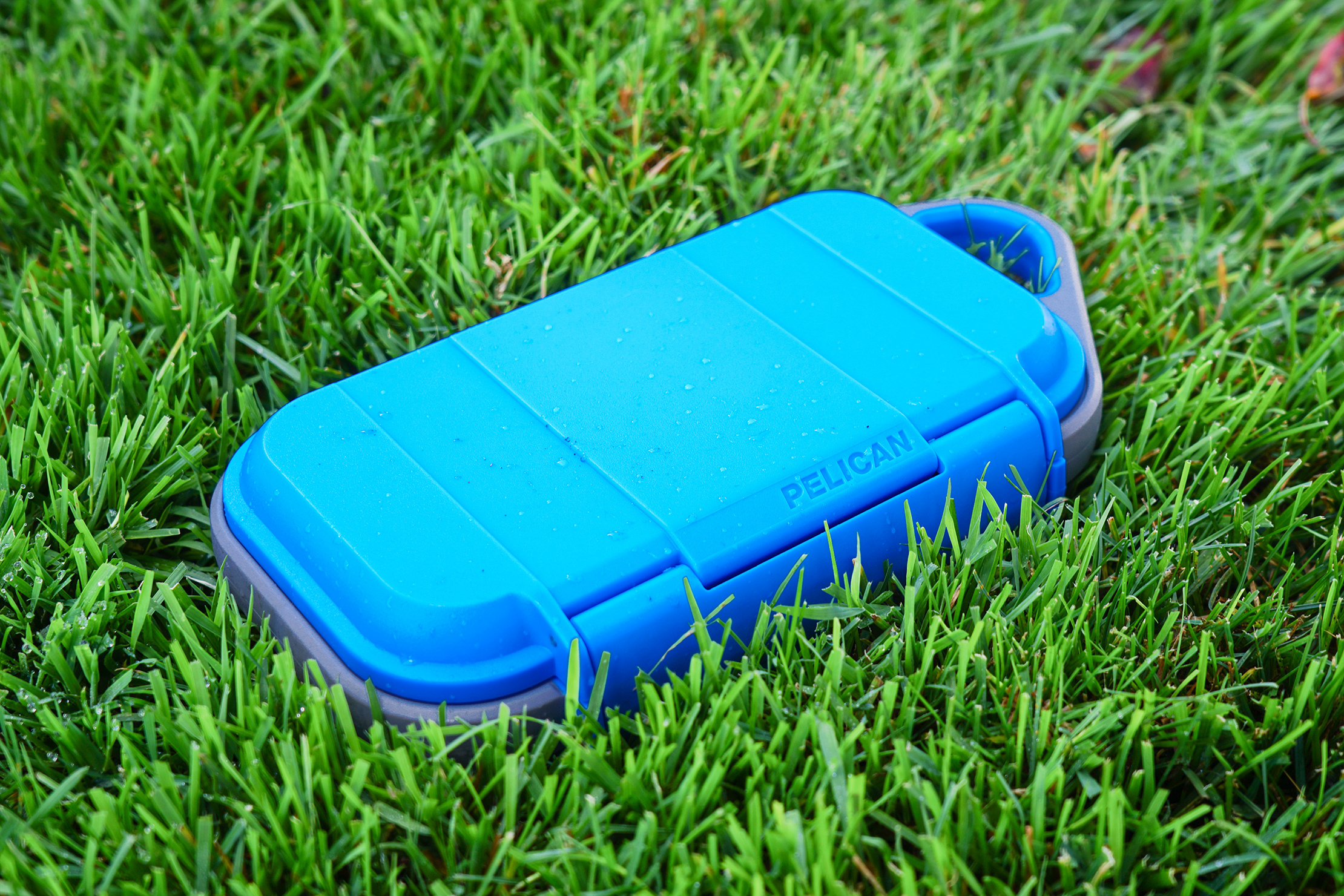 The Pelican G40 Personal Utility Go Case is no exception. It's a mouthful to say, but more importantly, it offers a significant level of protection for your smaller everyday necessities—especially when you're out in rougher terrain.
These last two weeks of testing have been fun, but we're ready to get into this review. Let's get to it.
Materials & Aesthetic
The G40 Personal Utility Go Case has a distinct boxy, techy aesthetic, yet it also looks rugged enough for the outdoors. We've been testing the Surf Blue/Gray colorway these last two weeks, and appreciate the bright exterior that makes it easy to spot.
There are several even brighter colorways, like White/Aqua and Lime/Gray, that are quick to find when you drop them in the bush or water—or, you have Anthracite/Gray as an option, which is much more subdued if that's what you're looking for.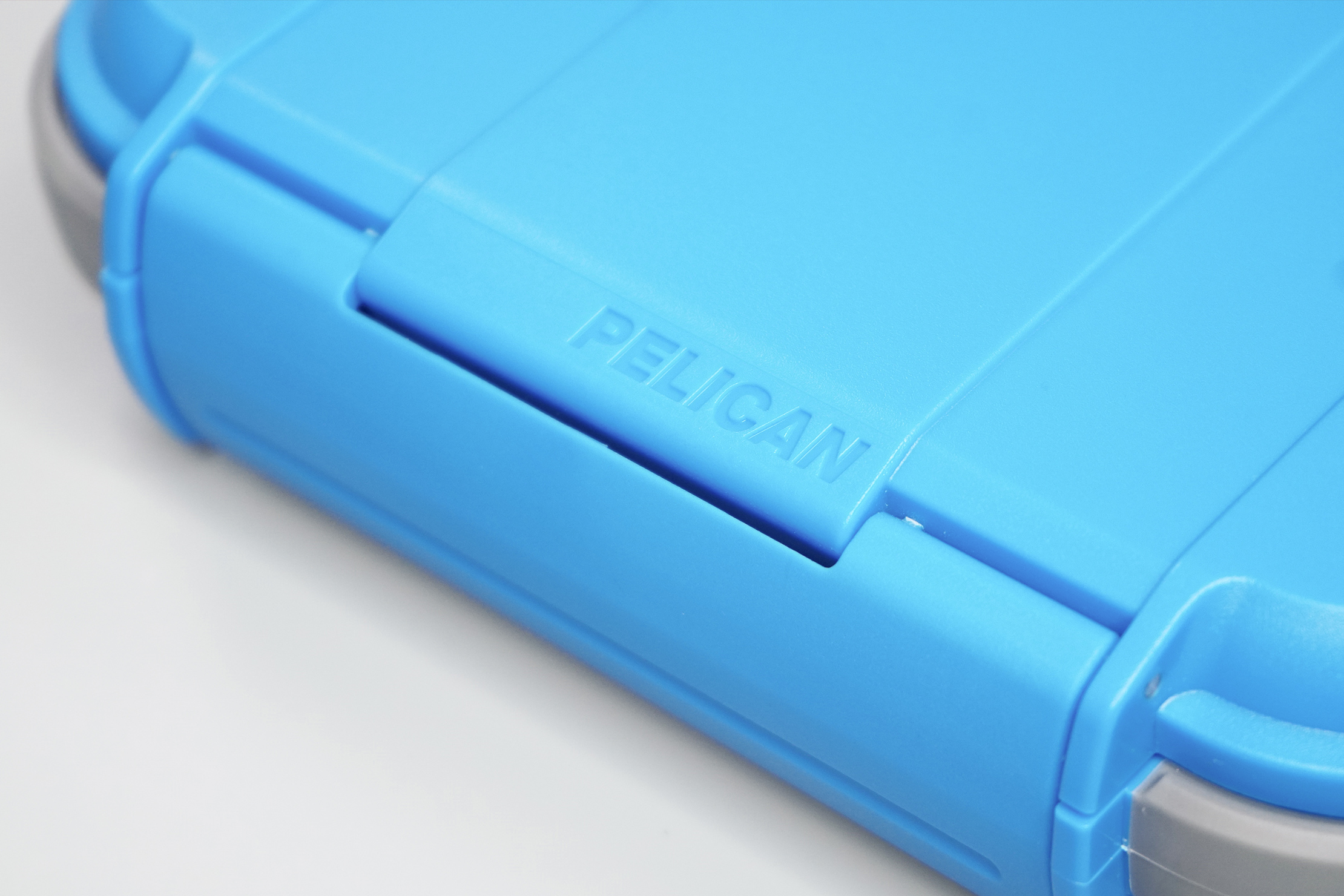 Branding-wise, you'll see the Pelican wordmark debossed into the side that doesn't draw much attention, but still asserts itself as a brand that means business when it comes to protecting your stuff. It's minimal but makes its point.
This case is constructed with a durable ABS plastic outer shell with rubber bumpers around the outside to protect it from those accidental drops. It's IP67 rated for protection against all kinds of debris, whether it's snow, dust, and dirt, and can even be submerged in water at a depth of one meter for 30 minutes.
Naturally, we wanted to put this thing to the test, so we've been taking it on all of our outdoor adventures—hiking the trail, kayaking, you name it. We've dropped this thing both on the ground and in the water, and our gear has been safe from harm every time. It's one tough cookie—or case, rather.
Features & Usage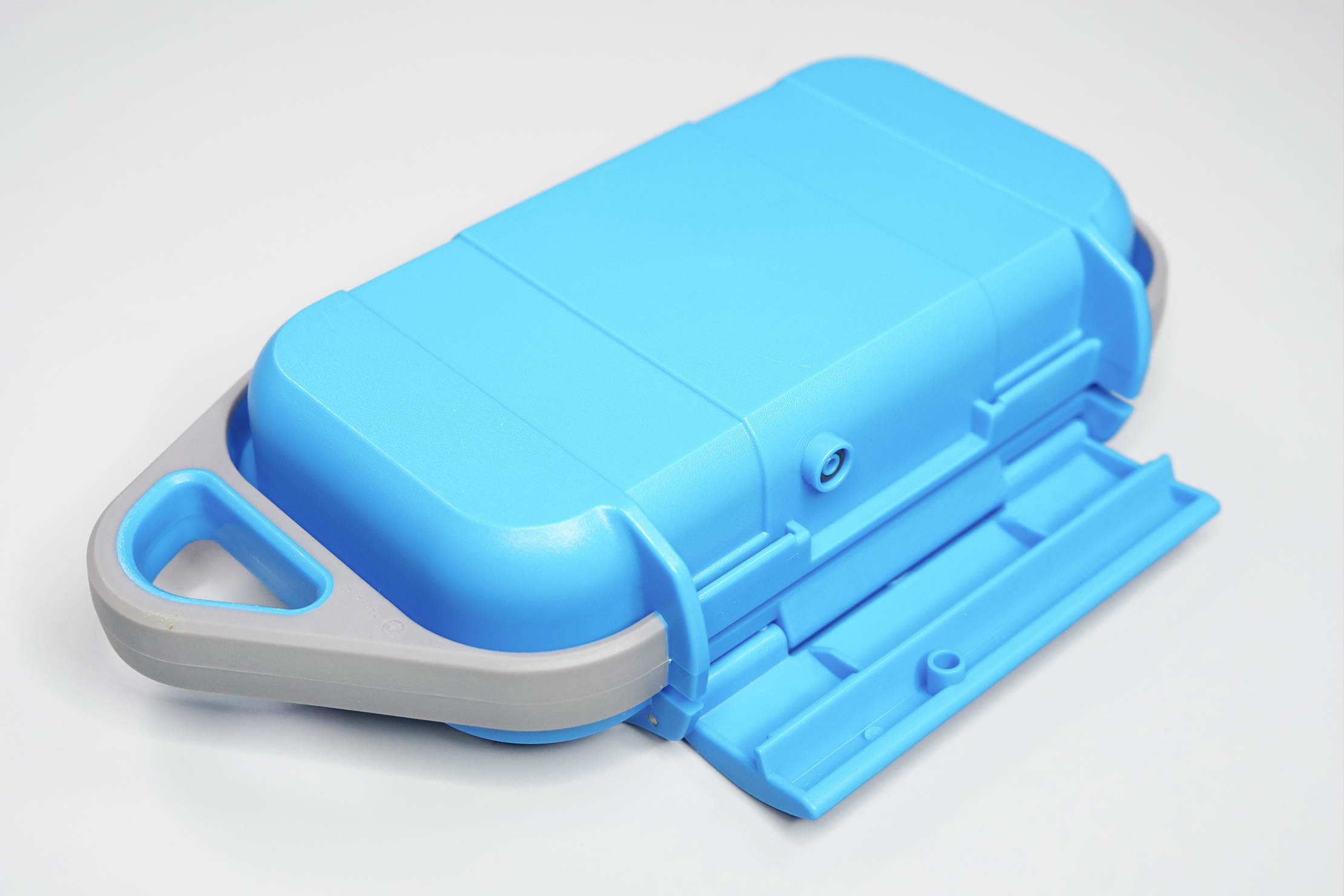 There's a handle at the top that you can carry the case from, or clip a carabiner to if you want to hang it on the outside of your pack. This has been a convenient integration, as this case is pretty big and bulky, making it difficult to pack away in our bags for later use—it just takes up too much room for the little amount it can hold.
This case opens up one way, and that's by the large latch on the side. It's stayed secure throughout testing, so we haven't had any issues with gear falling out or debris getting inside—as long as we're careful with how we pack it, which we'll explain shortly.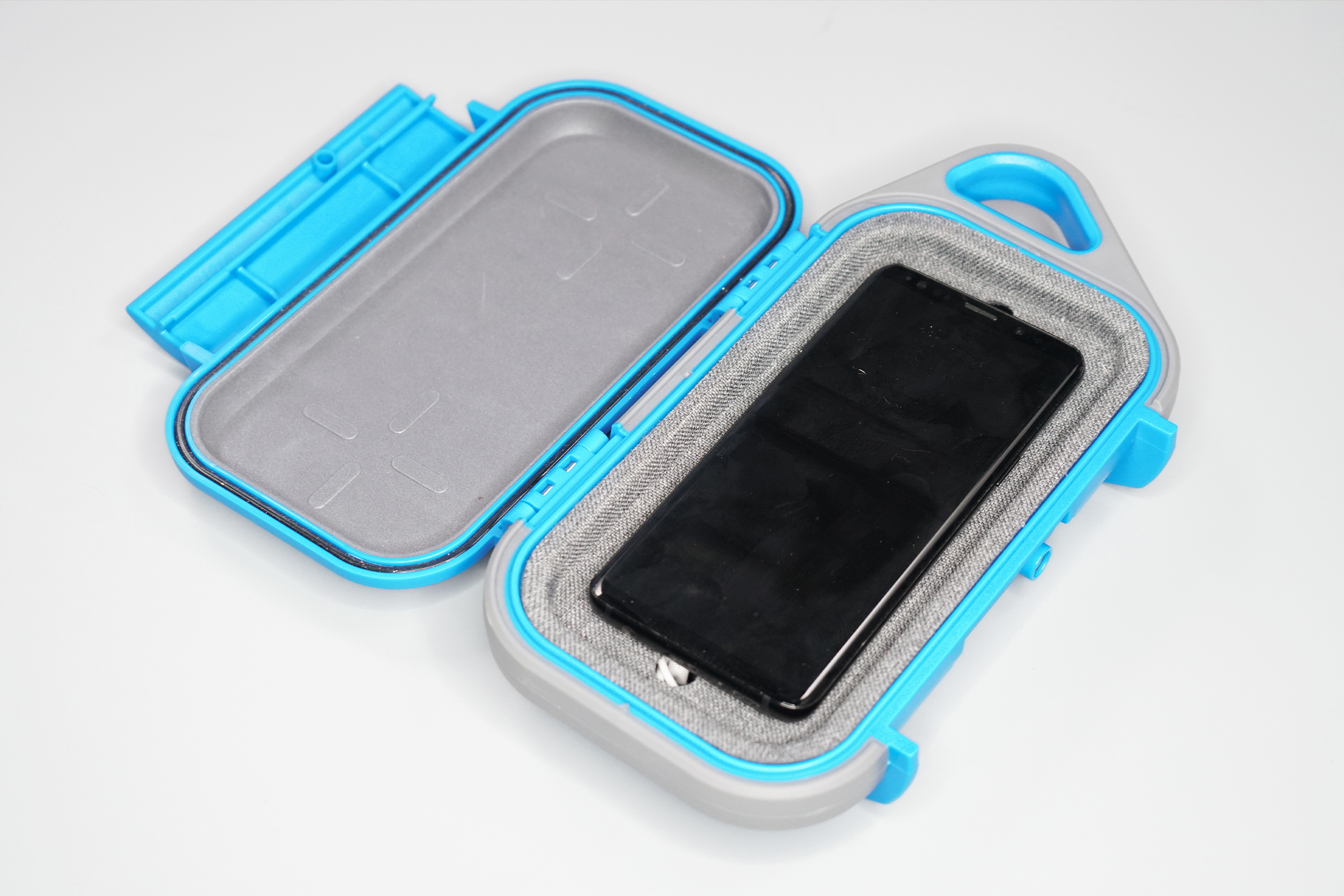 When you do have it open, you'll notice a removable tray where you can set your phone, as long as it's an iPhone 11 Pro Max, Samsung Note 9 or smaller. It will also depend on what accessories you have on your phone, like cases or pop sockets. For example, if you have too thick of a case, this can cause some difficulty with closing the latch. Even if you are able to close it, it's a tight squeeze, which can place a lot of unwanted pressure on your phone and anything else you're keeping underneath it.
On the back of this removable tray, you have some slots where you can slip your ID and other cards in case you need them on your journey, as well as an elastic strap, which Pelican advertises as a spot to hold headphones.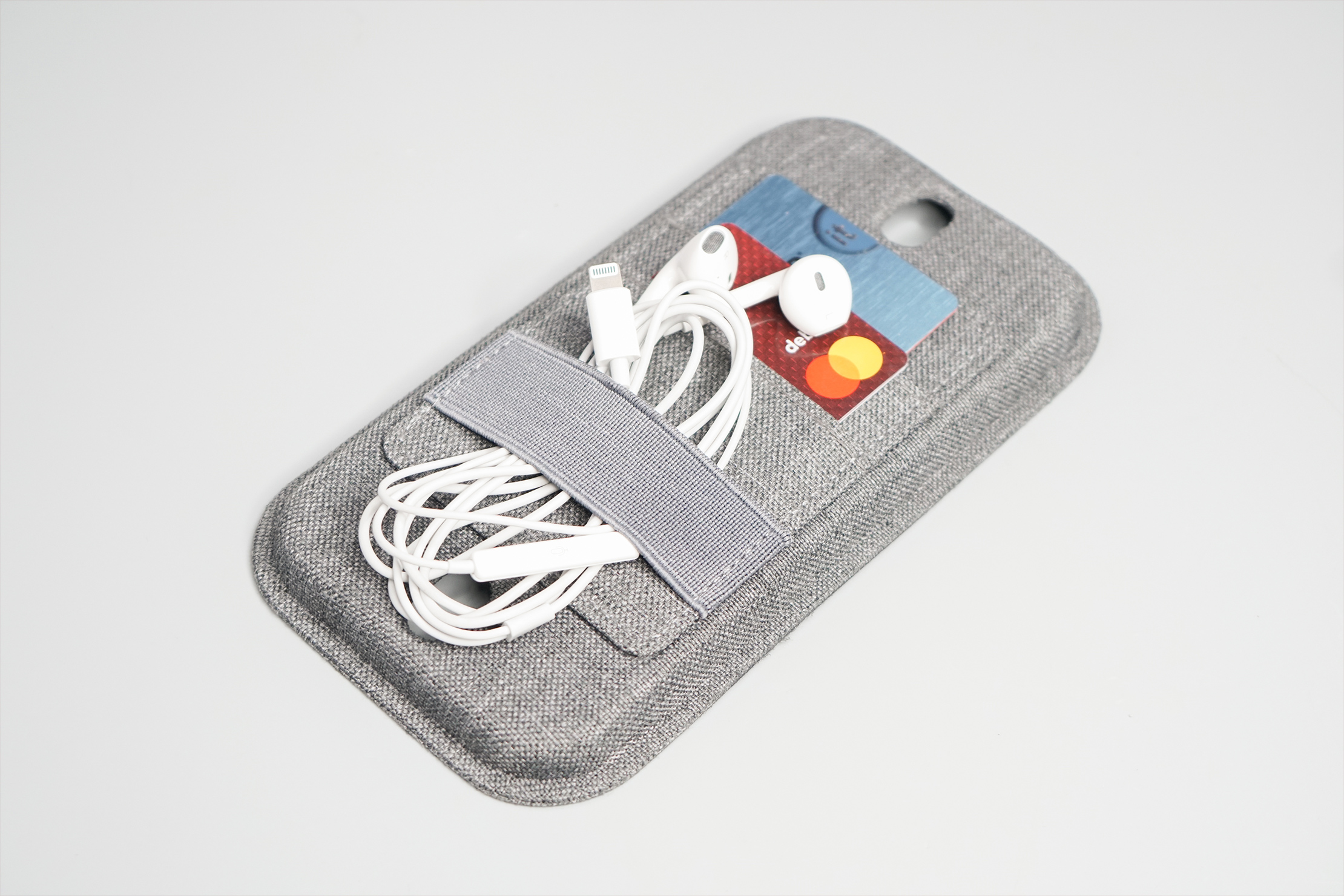 We kept a pair back here and found it did an alright job of keeping them together and in place, but since they're bulkier, it can affect what you're able to pack in the free space below the tray. Keeping something flat like cash would also work if you want to use this integration as a super minimal wallet and leave you more flexibility for packing other items.
You're then left with some room at the bottom to store any personal care items or basic necessities, like chapstick, keys, a charger, and the like. This case isn't very deep, meaning anything you do keep inside will need to be especially small—we tried getting a pair of Apple AirPods in here, and with the case, they didn't fit.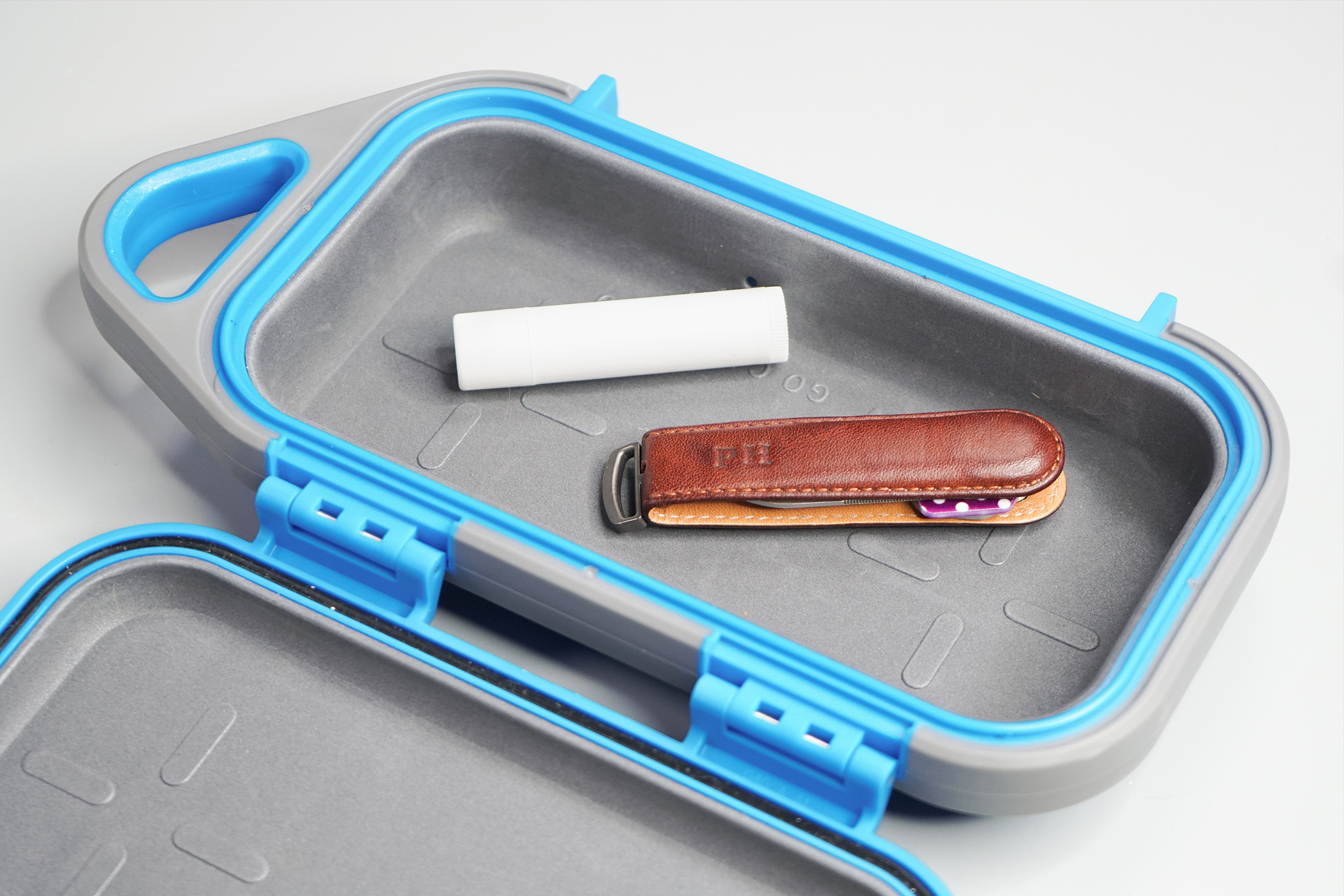 We've also found that when we're keeping a pair of corded headphones secured with the nylon strap, it essentially cuts the rest of the space in this case by half, even further affecting what we're able to pack. Plus, we have to make sure to position the items on different sides of the case, so they don't come together. Otherwise, this will cause the tray to shift upward and make it difficult to shut.
Usage Timeline
Initial Usage
Condition: Excellent
Fits an iPhone X Max or Samsung Note 9
Waterproof up to 1 meter for 30 minutes
Phone tray on top and open space on bottom any smaller accessories
2 Weeks of Use
Condition: Excellent
This thing is super sturdy and well-built—not a surprise coming from Pelican
Accidently dropped this with a phone inside. Luckily, the rubber bumper that runs along the outside offers plenty of protection (no harm done)
We put the IP67-rated waterproofness to the testing during a day out kayaking. We're happy to report that it works as advertised. Our phone, some cash, and keys stayed safe and dry from slashes and when dunking it underwater (the things we do for testing!)

Pelican G40 Personal Utility Go Case In Kayak

While it works well for specific use cases, we've found that it's a bit too bulky for everyday use—especially considering how much stuff you can fit inside. That is to say, not very much. Most of the limitations are from the height (or depth, depending on how you look at it) of the main compartment. And if you keep the removable tray in, you're even more limited to how much you can fit underneath. For size reference, AirPods in their case do not fit under the tray (so the lid won't close). We've had to pack this thing strategically, and sparingly, to make sure we can squeeze our gear inside
The organization on the backside of the tray is simple but effective. Again, slimmer items work best here. Although, we've tried slipping a spare SD card in one slot and it almost got stuck—the slots definitely work better for credit cards, an ID, and similar sized cards. We've had a pair of wired earbuds tucked in the elastic band, but found the interfere more with items you're keeping below
Access the Pro Community Discussion
Get your questions about the Pelican G40 Personal Utility Go Case answered from our team and the Pro Community right here on the page. Plus, join discussions with other members about gear, guides, and more.
Other Organizers & Pouches Reviews