Nite Ize RunOff Waterproof Phone Case Review
The Nite Ize Runoff Waterproof Phone Case is a pouch for those heading to rainy places looking for extra tech protection.
Our Verdict
Unlock the Pro Summary
Save time. Get access to brief summaries of our reviews so you can browse and make decisions more efficiently.
Pros
Can still take photos while phone is in case
No issues with water entering the case
Zipper is fairly easy to manipulate
Cons
Phone band on interior is tough to use with a protective case
If you put other items inside case they cover phone camera
Zipper pull and lanyard feel cheap
Recent Pack Hacker Video
Technical Details
Weight (oz)

1.6 oz (45.4 g)

Dimensions

3.85 in x 6.65 in x 0.70 in (9.8 x 16.9 x 1.8 cm)

Interior dimensions

Notable Materials

Thermoplastic Polyurethane (TPU)

Warranty Information
Buying Options

$40.00
$43.45
Full Review
Get up to 20% off Nite Ize • Join Pack Hacker Pro
We've tested waterproof Nite Ize gear in the past, but nothing as small as the Runoff Waterproof Phone Case. We dig having a place to stow our water-sensitive gear, but upon initial inspection, we can't help but wonder whether Nite Ize's phone case is a little too small to be useful while traveling. We put that to the test, so hang tight to find out!
Materials & Aesthetic
The case is crafted from waterproof thermoplastic polyurethane (TPU). The non-clear sections of the photo are a graphite color and are very sleek-looking. The clear TPU sections tend to get dirty fairly easily. It picks up fingerprints and other marks but wipes clean quickly with a wet paper towel.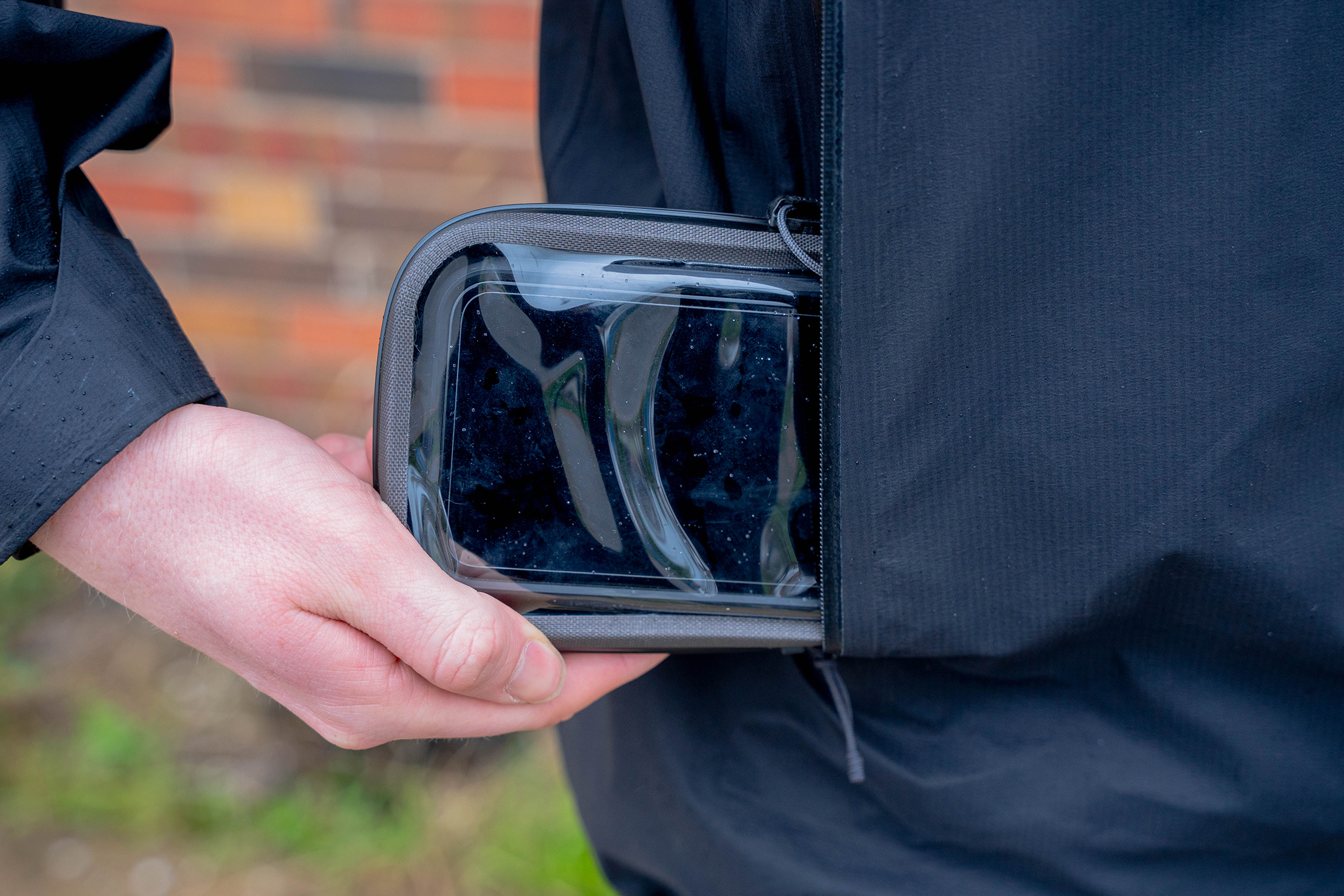 Unlike other Nite Ize products we have tested, the Waterproof Phone Case has a transparent TPU section on both sides. This is so that you can still take photos when the case is on, which is a nice inclusion. We will dive into how useful it is later on, but we feel that's worth mentioning here.
The Nite Ize logo is on the back of the case and comes in the form of a small circle logo. It's the same style logo as we see on the RunOff Waterproof Travel Pouch—but we have noticed some Nite Ize products have a rectangular logo. We dig the circular one better as it's smaller and less noticeable.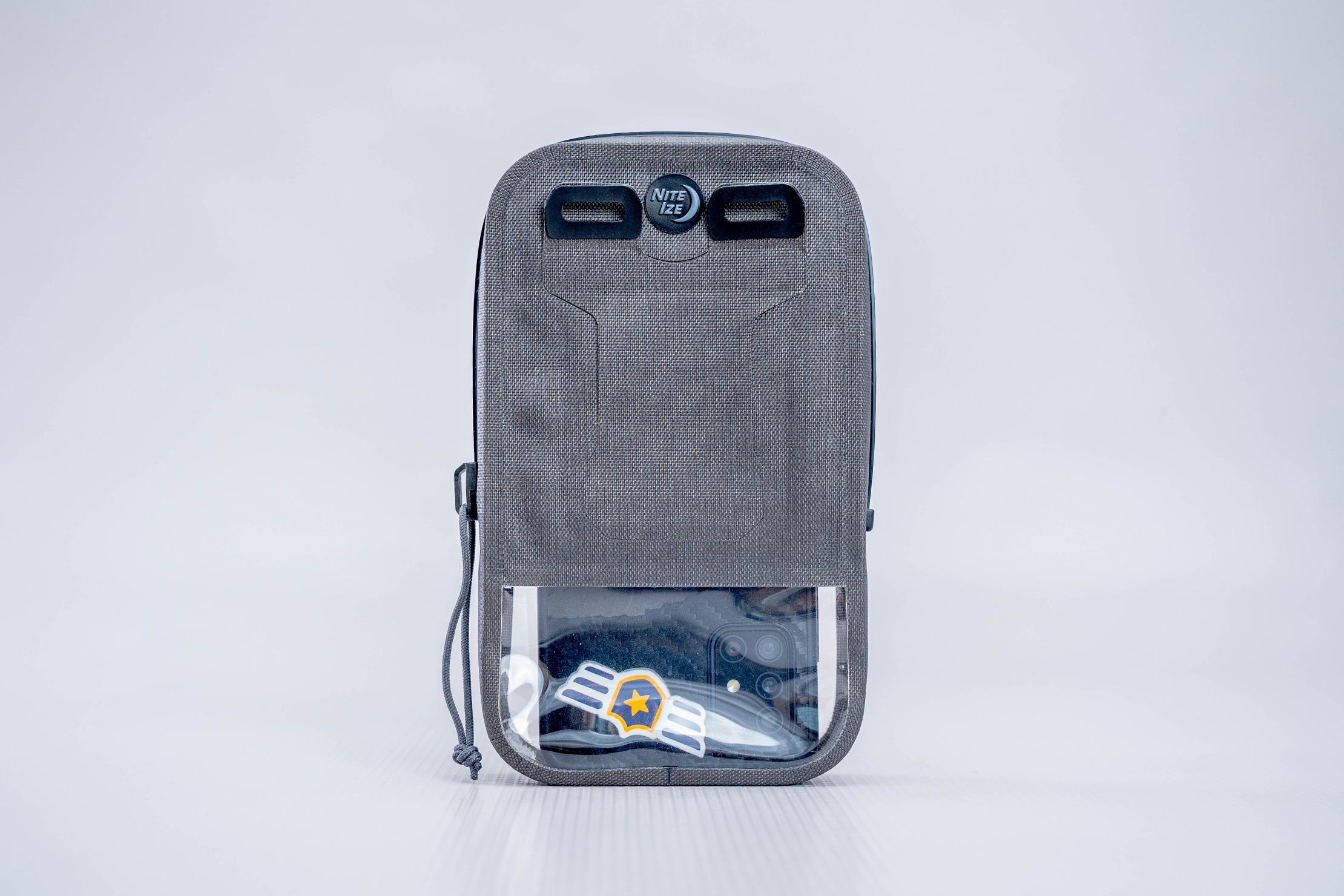 The seams on the case are RF welded, which means that radiofrequency was used to apply heat to the hem to mold it together. This makes it watertight and lacks any fabric seams to come loose, which has been positive in our experience. All of the Nite Ize waterproof products we have tested to date have used this sealing method, and we have yet to have any issues to report.
We've gone on and on a few times about the TRU® Zip technology that Nite Ize uses a few times, but we'll have to do it again here. It's the same zipper we've come to know so well in testing, just on a different product. It's crafted from plastic so that it won't rust like a metal zipper. The zipper head locks into place at the end of the track, and when you squeeze the case when it's sealed, no air comes out, even if you push extremely hard.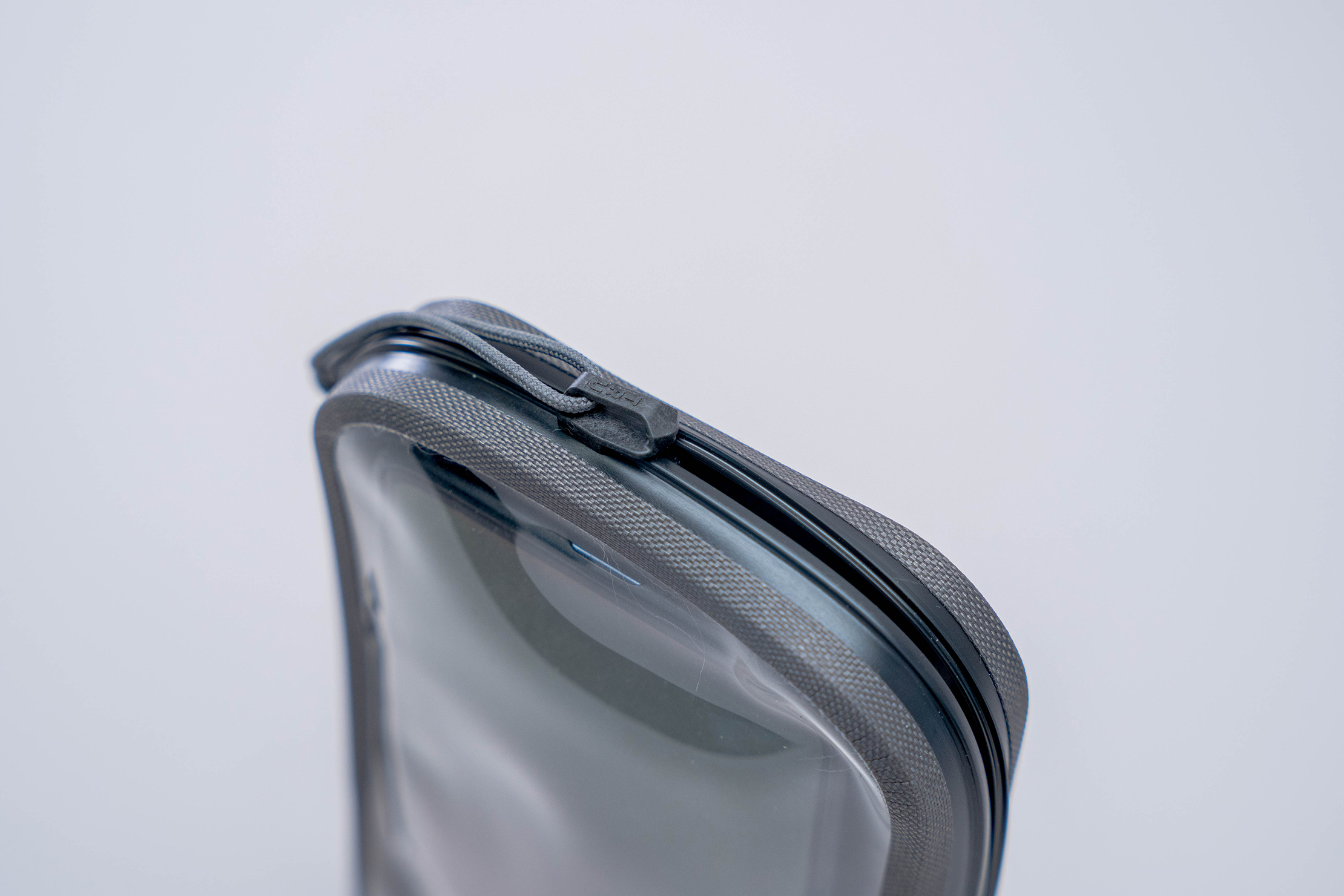 We have noticed that sometimes we would think we pulled the zipper closed and look later on to see that it was a few centimeters from the end of the track. This is not an issue with the zipper, but a problem with how we used it that we felt was necessary to voice as if you weren't to close the zip all the way, water would undoubtedly get inside if you were to submerge the case.
Similar to other TRU® Zips we have tested in the past, Nite Ize recommends that you lubricate the zipper to ensure its longevity. We did not need to do this for it to continue working, but it's an important thing to consider during the life of the case or if you live somewhere where you will only be using it at certain times of the year or when traveling. After weeks of sitting unused in the winter or between trips, especially in a dry environment, you may need to lubricate it for it to work properly.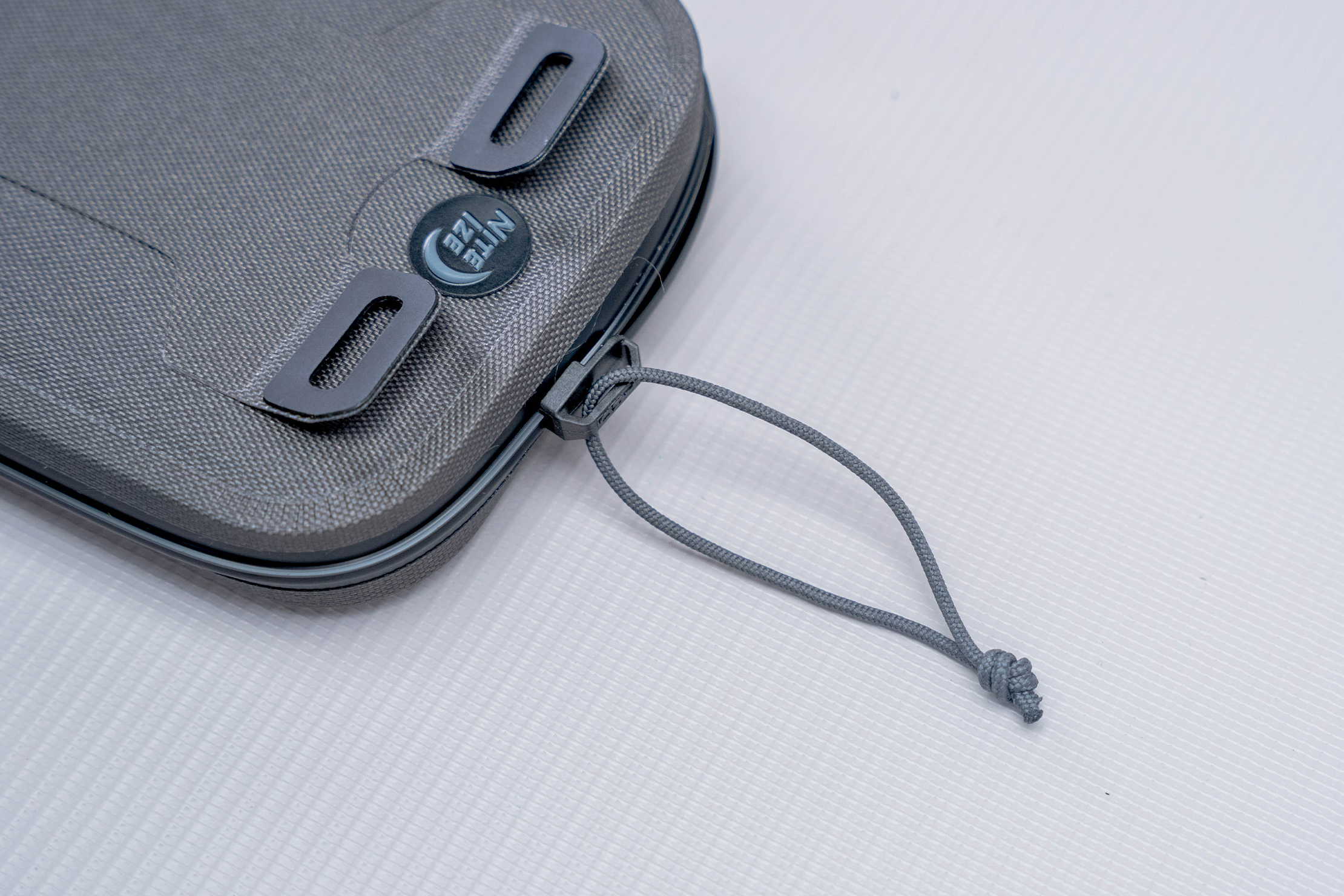 Once again, the zipper pull on the zipper leaves something to be desired. It feels cheap, doesn't stand on its own two feet, and makes what could be an excellent zipper experience feel dull and useless. This might seem harsh, but we love the zipper and truly dislike the zipper pull. It by no means makes the case unusable, but it feels like an inconvenience.
Zipper pull aside, the construction of the case gets a good grade from us overall. It has an IP67 rating, which means you can submerge it in a meter of water for up to 30 minutes. We think it's important to note that even an iPhone 11, an older device even by the standards of when this review is being written, has an IP68 rating. This means it has the same solids rating as the case and a higher liquids rating. Even with that being said, nobody wants to risk losing their phone in the lake, so having it in a case is ideal. Plus, you can attach the case to a plethora of different things, which isn't the case with your phone.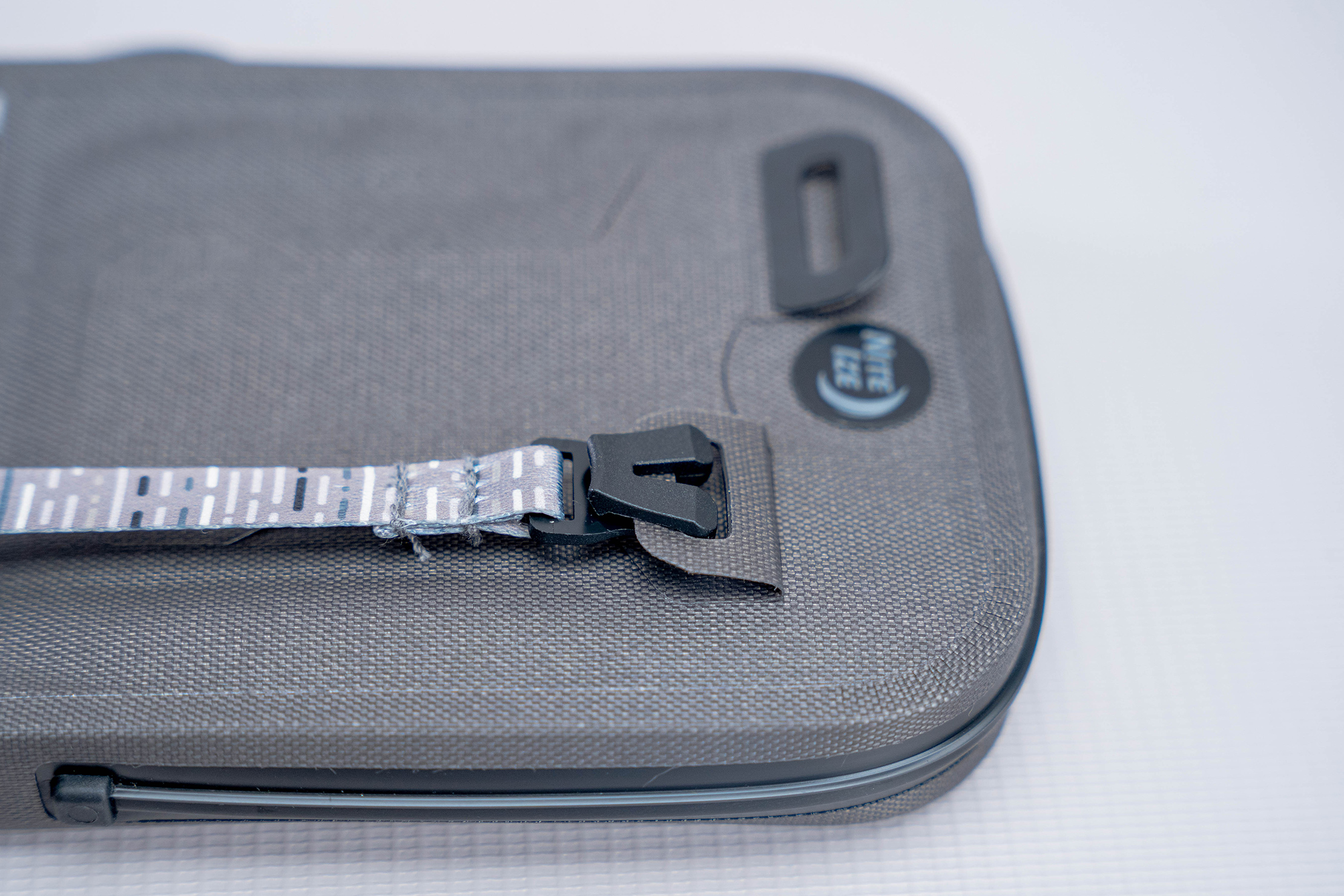 There are two loops on the back of the case that can be used to attach the included lanyard-style strap. The strap is extremely basic, without any padding or aeration. It feels cheap, but it does do the job it was intended to do. You can wear it around your neck or hang it on a hook, and it's long enough to tie it around something if you need or want to. We are a little disappointed with its quality, but we like it more than the zipper pulls to put things into perspective. The eyes are reinforced and could accept any lanyard-style clip, so long as it isn't too thick.
Just below those is a belt or strap loop. It blends nicely with the pack and is hard to see if you don't know it's there. You can use this to attach the case to your belt or to feed through a strap or a piece of rope. It's sturdy but can be a little awkward to use. It does come in handy if you want to fasten it onto your backpack, though.
Usage & Features
The case's interior has a band to keep your phone pressed up against the TPU so that it's easier to use the touch screen on your phone. This works fairly well if you don't have a protective case on your phone, but it can get a little tricky if you do. Most cases have a lip on them to protect the glass screen on your device, which puts a small amount of space between your phone and the TPU. There's enough budge to use most areas of your phone, but sometimes touching the corners can be a little dicey.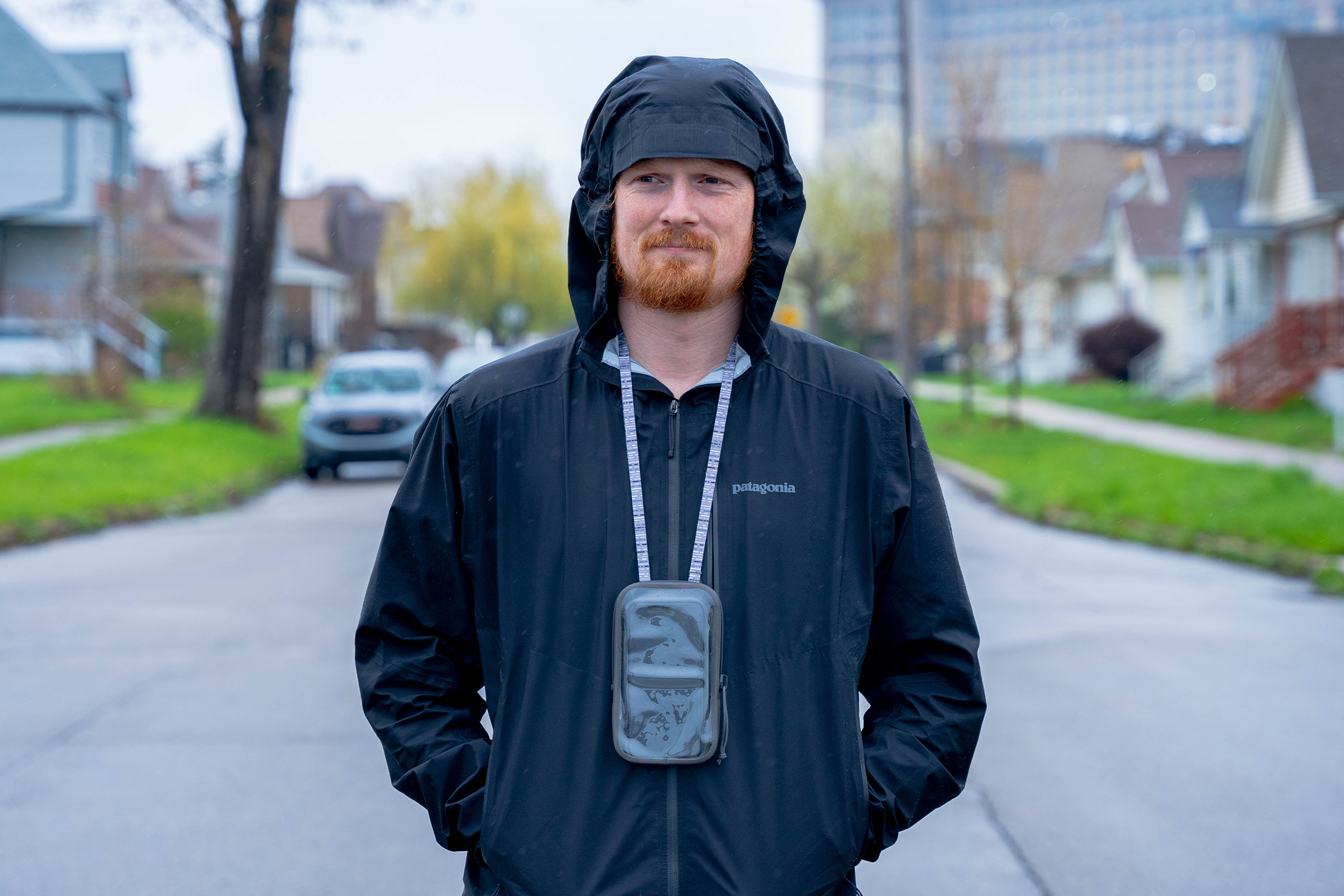 Sliding a cased phone in and out of the band is quite difficult, sometimes taking extreme force to get it in or out. Without a case, it slides in and out just fine.
Continuing the conversation about the TPU material, the photos shot through it are shockingly good quality. In our experience, any time you place something, clear or otherwise, between a camera lens and the subject you're photographing, you will lose some quality. If you zoom in on an extreme level, there are some noticeable differences in image quality, but overall, it's marginal at best. We noticed a few times when we pointed the camera at different angles, and the sun caught the TPU in an awkward light, there was some funny business. Other than that, we are delighted with how it performs. We wouldn't want to hurt our selfie game, now would we?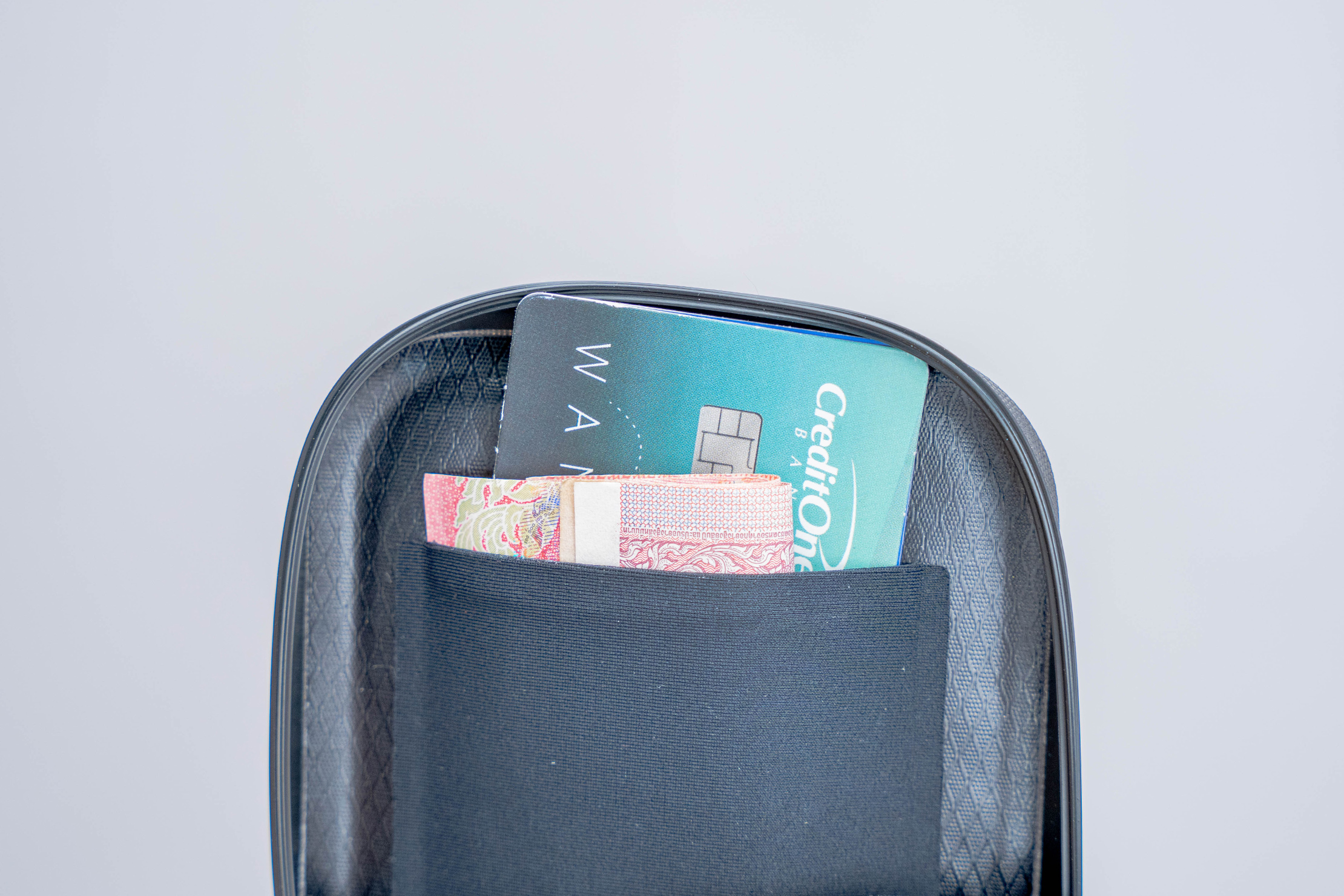 There's a little slider pocket on the back wall of the case crafted from a stretchy, rubbery, mesh-like material. It's a great place to put cards, cash, keys, and any other small item you want to keep in place, even if you plan to pull your phone in and out. The material is snappy and hasn't shown any signs of stretching out over time, ideal. If it were to loosen, it would be hard justifying its use as items could tumble out and get caught by your phone when you pull it out.
If you want to bring more than just a few cards and some cash, your wallet might fit inside the case. A good rule of thumb is that if your wallet fits within the footprint of your phone and isn't too thick, it will fit. This also depends on whether you have an additional protective case on your phone, but we don't dive into that too deep as it's a case-by-case basis. It is important to note that if you do slide your wallet into the case, it's either blocking your camera or your touch screen, neither of which are great features to miss out on.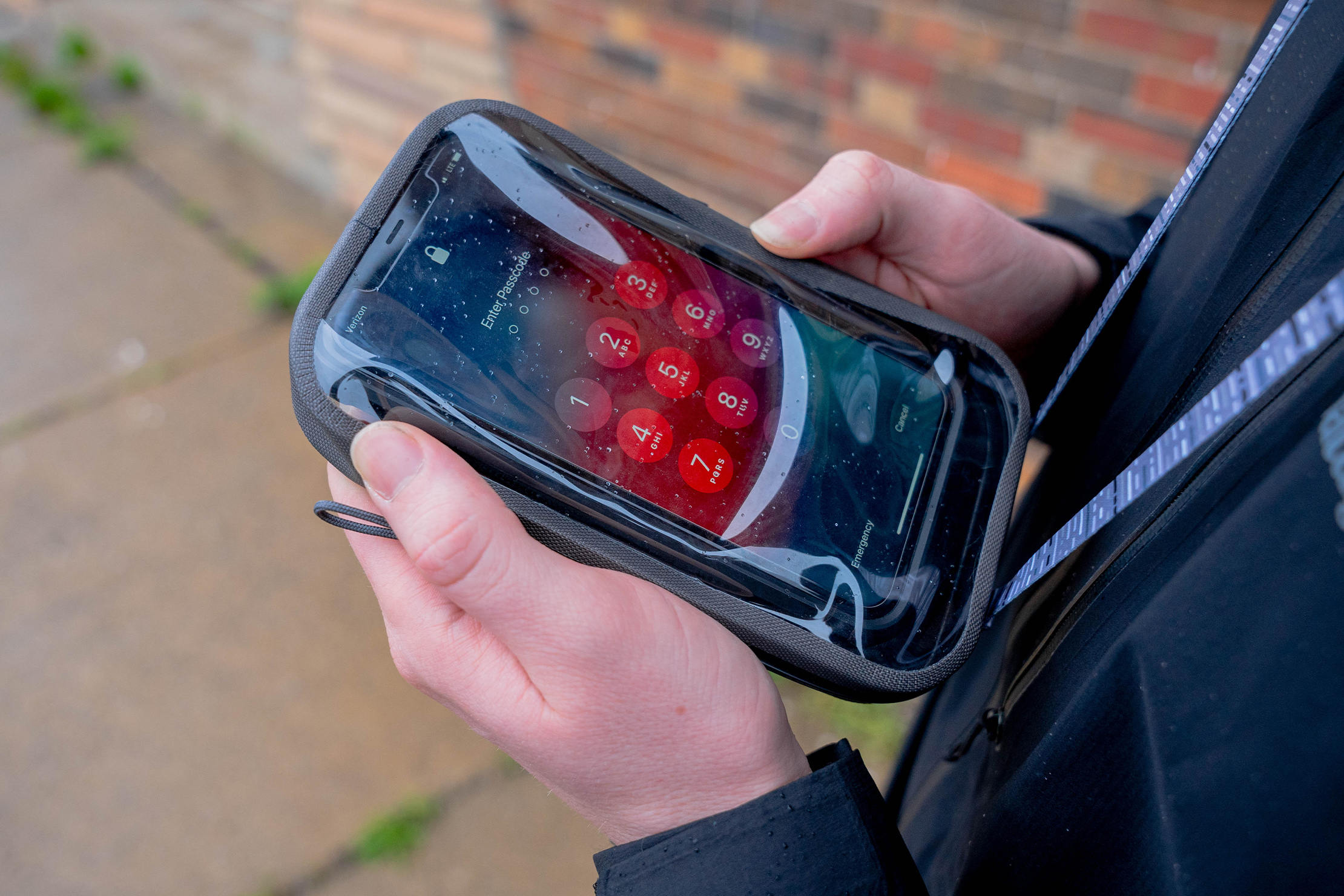 Overall, our impression of the Nite Ize Runoff Waterproof Phone Case is positive, although it feels a bit more niche than the Travel Pouch and other Nite Ize products we have tested in the past. At the most, you will be able to fit your wallet and phone inside the case. It doesn't have as many dynamic uses as a larger pouch, but it does have some positives.
It's a good place to keep your essential travel documents inside your pack to ensure they are safe from the elements outside your pack or spills inside it, too. If you're leaving your backpack at the hotel, you can grab the pouch out and take it with you for a seamless transition without losing the safety that the pouch offers.
It may seem like a little overboard, especially considering many mobile devices have higher IP ratings than the case, but the ability to stow extras inside and affix the case to things gives it a leg up, we think.
Usage Timeline
Initial Usage
Condition:
The zipper can be hard to move from its initial position
Is transparent on both sides, so you can use your phone and take photos
Included lanyard isn't very high quality
2 Weeks of Use
Condition: Excellent
Can be difficult to get phone out when behind band
Photos look surprisingly nice though TPU window
Zipper pull works, but isn't very intuitive
Access the Pro Community Discussion
Get your questions about the Nite Ize RunOff Waterproof Phone Case answered from our team and the Pro Community right here on the page. Plus, join discussions with other members about gear, guides, and more.
Other Productivity & Tech Reviews