Nexstand K2 Laptop Stand Review
Nexstand K2 is one of the best bang-for-your-buck portable laptop stands that won't break the bank, but may itself break (re: lower durability).
Our Verdict
Unlock the Pro Summary
Save time. Get access to brief summaries of our reviews so you can browse and make decisions more efficiently.
Pros
Price—for the money, this is a great laptop stand.
The extra height settings offer added versatility and convenience.
If you need a stand for your gym weights, the Nexstand has you covered (heh).
Cons
Not the sturdiest stand we've seen.
The hard-rubber contact points don't stick to your laptop as well.
The plastic spacer clips are one more thing to keep track of, making the Nexstand 4 pieces in total (including the case).
Recent Pack Hacker Video
Technical Details
Weight (oz)

8.2 oz (232.5 g)

Dimensions

1.5 in x 1.5 in x 14 in (3.8 x 3.8 x 35.6 cm)

Notable Materials

Nylon

Manufacturing Country

China
Full Review
If you spend a lot of time in front of your laptop, you should really look into getting a laptop stand. Luckily, we've done the research for you. If you haven't already, check out our comparison review of The Roost and Nexstand laptop stands, where we compare two of the most popular laptop stands out there. We also go over some more general info about laptop stands. After, come back for an in-depth look at the Nexstand, and check out the usage timeline at the bottom to see how it holds up.
The Nexstand is one of several laptop stands that spawned after the Roost stand was launched. The Roost stand offers a pretty great design, so it's no surprise that others looked to imitate it. That being said, the Nexstand does offer a few features that we think put it into a category of its own. Let's check it out.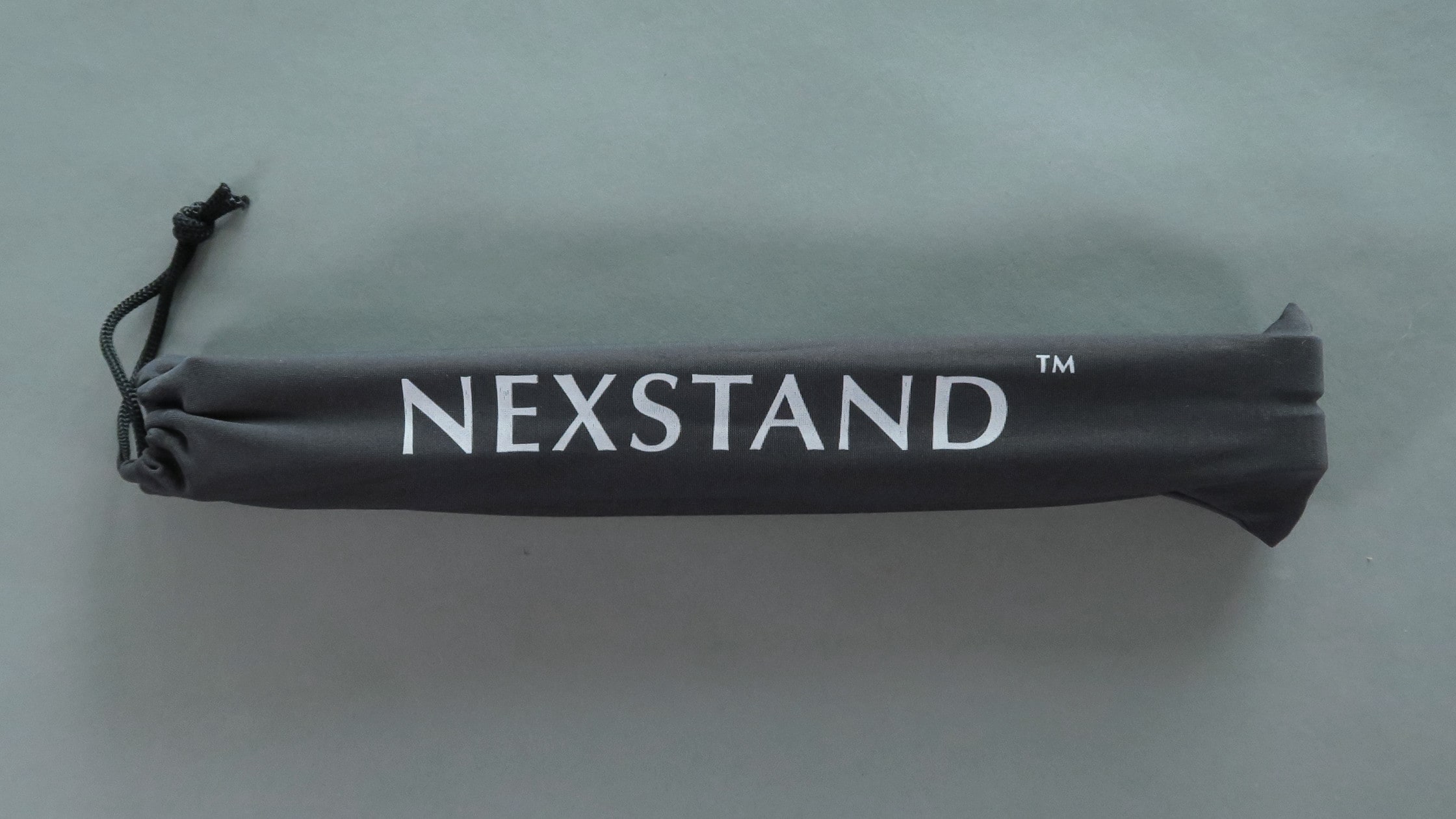 The stand folds up nicely for storage and travel. Folded up, it measures 1.5 x 1.5 x 14 inches (3.81 x 3.81 x 35.6 cm), so it should stow away pretty nicely in your pack. It also comes with a carrying case that is made of a stretchy, soft material. Although it does feel nice, we were hoping for something slightly more durable. It weighs in at 8.2 ounces—slightly heavier than other laptop stands, but still very portable.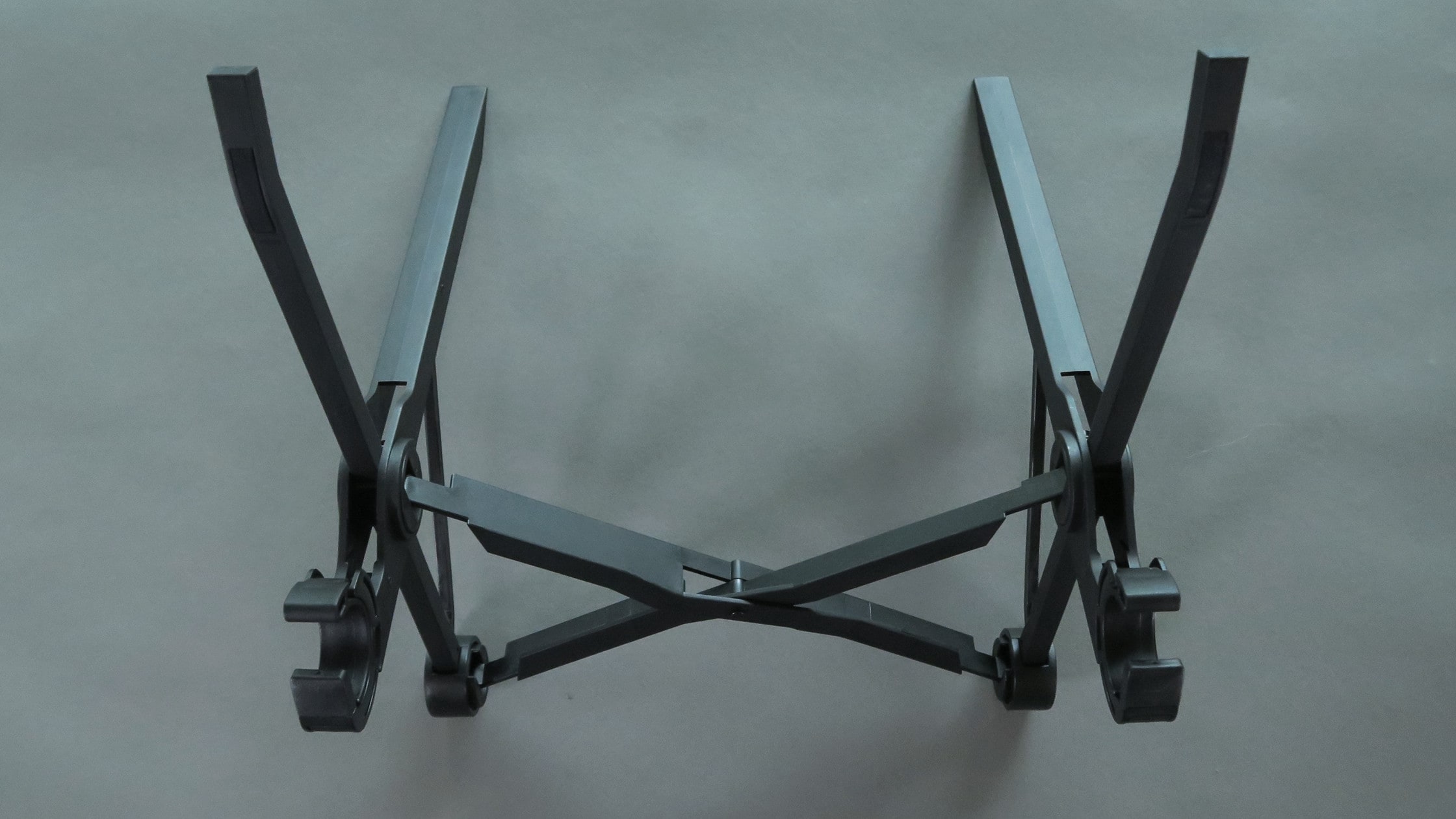 After opening it up, you will see that the Nexstand is built to accommodate any size laptop. The stand itself is built of reinforced nylon—essentially, hard plastic—and feels pretty sturdy when it is set up. It has some hard-rubber clips on the bottom that pivot, allowing you to secure the front of your laptop. The pivot grips come with little plastic spacer clips which allow you to accommodate really thin laptops.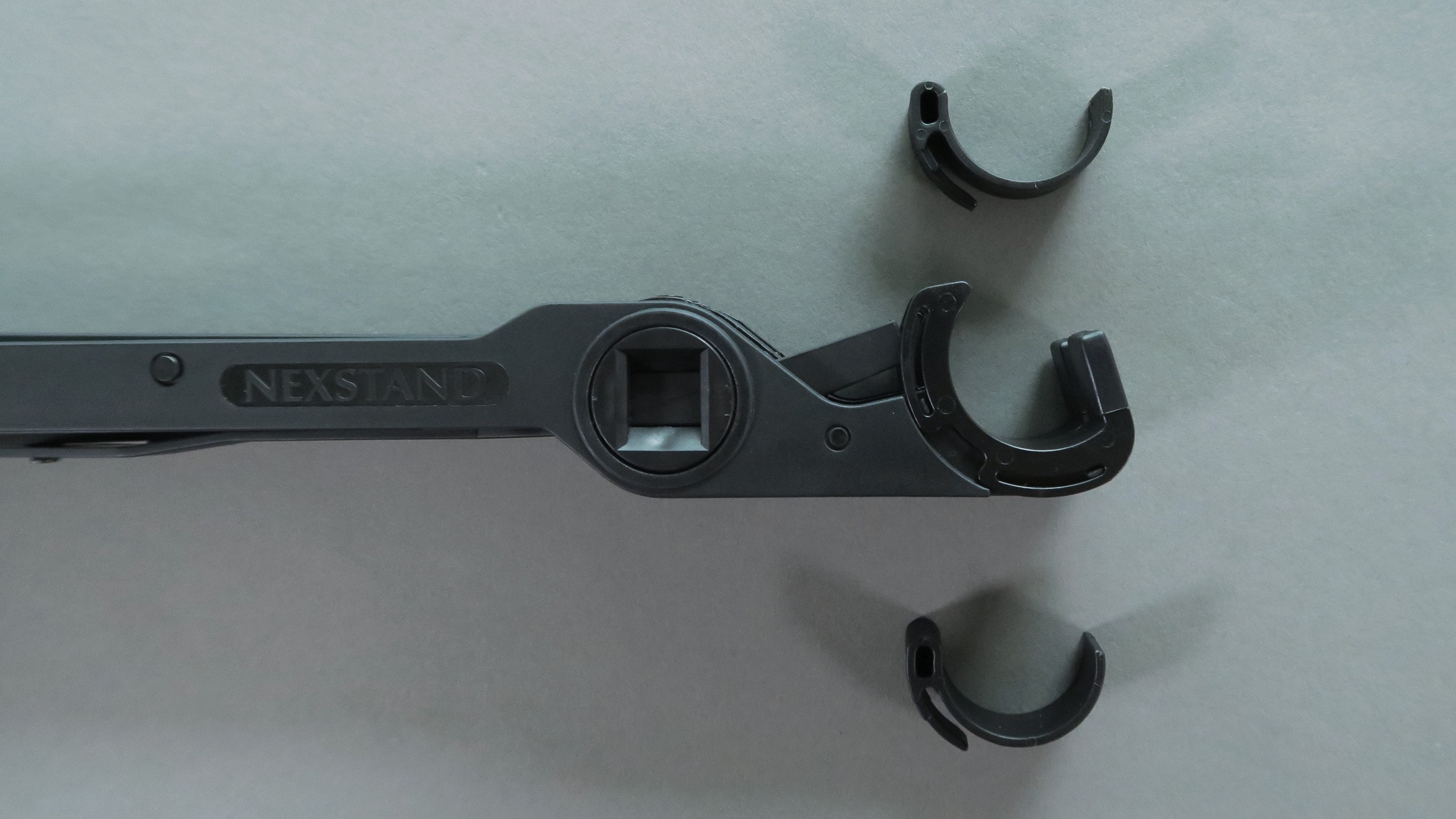 Although this setup works pretty well, there are two things that concern us. The pivot grips are made of this hard-rubber, almost plastic-like material, meaning they don't "stick" to the laptop as well. If you bump the stand, there is a chance that your laptop will fall out of it. The plastic clips are also somewhat concerning. We try to avoid things with small parts—if you lose these clips in the middle of a trip, you are shit out of luck. That being said, chances are you won't run into any of these problems, and at this price point—we're willing to take the risk.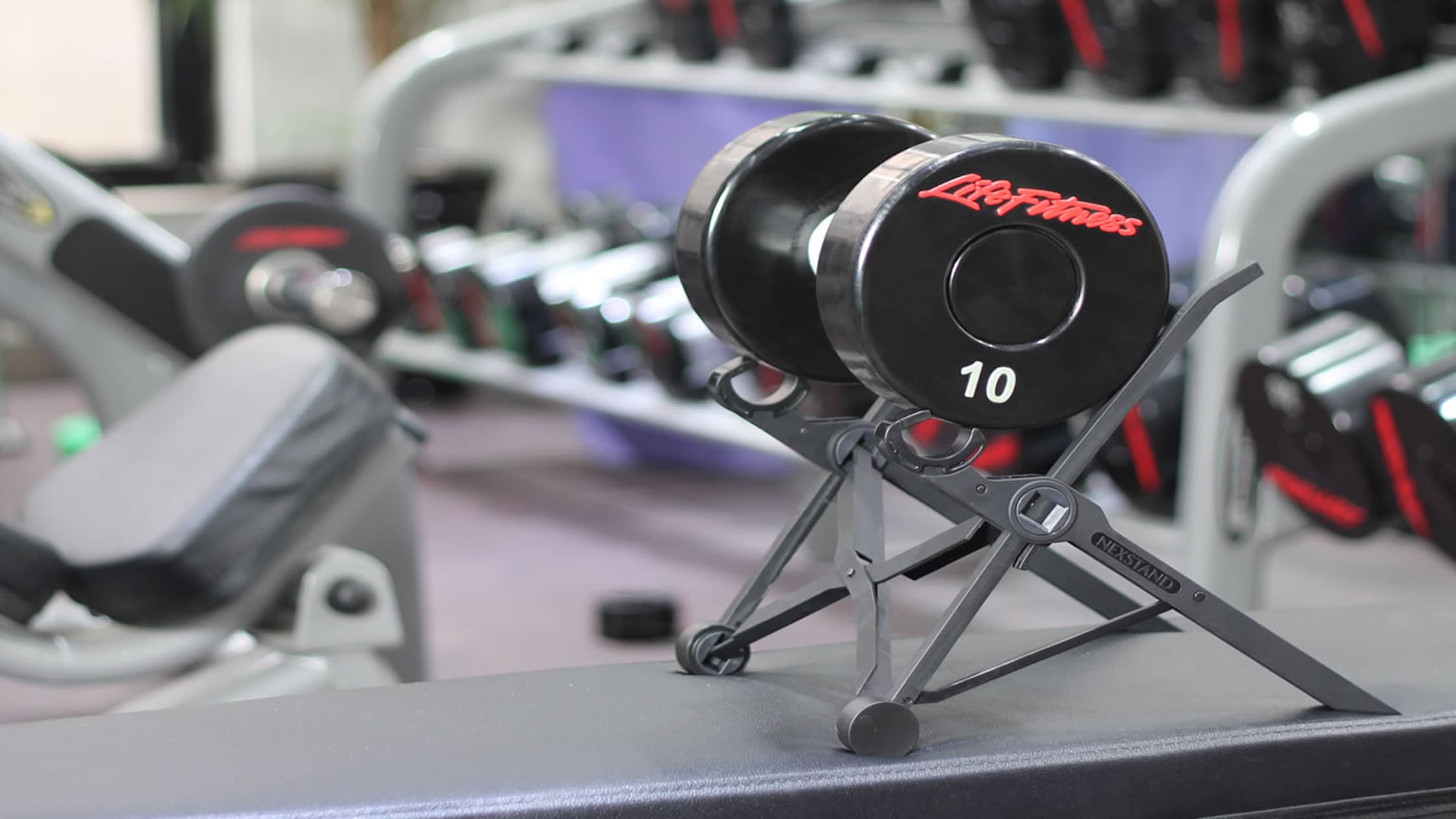 But the Nexstand can hold a lot of gym weights, so that says something… Or does it? We don't really understand the obsession with weights over at Nexstand, but more power to them.
The Nexstand really shines when it comes to versatility. The stand offers eight different height settings. Here at Pack Hacker, we are always on the go and constantly working from different spaces. We found that depending on your workspace, you will almost certainly have to adjust the height of the stand. Having the ability to change the height quickly and easily is a game-changer. With all of the different settings, you can really dial it in and get the stand positioned exactly the way you'd like.
In addition to the awesome versatility, the Nexstand also offers another great benefit—price. At the time of this review, the Nexstand was listed at $29.95. Compared to some other stands, that is super affordable. It may not be the most durable stand out there, but you really can't beat the price.
Usage Timeline
Initial Usage
Condition: Excellent
Looking good right out of the box. Feels a little wobbly when fully expanded, but once we put a laptop on it, it seems to stabilize.
3 Months of Use
Condition: Good
Temporarily lost a clip at the bottom of a backpack. It's been found & all is well.
Access the Pro Community Discussion
Get your questions about the Nexstand K2 Laptop Stand answered from our team and the Pro Community right here on the page. Plus, join discussions with other members about gear, guides, and more.
Other Productivity & Tech Reviews