Muji Hanging Case With Pouch Review
The Muji Hanging Case With Pouch has segmented organization that's convenient if you have lots of toiletries. It's not very water-resistant, though.
Our Verdict
Unlock the Pro Summary
Save time. Get access to brief summaries of our reviews so you can browse and make decisions more efficiently.
Pros
Segmented organization can hold lots of toiletries
Comes with removable pouch
Hanging hook is convenient
Cons
Water soaks through easily
Materials don't feel very premium
Internal mesh isn't easy to clean if toiletries spill inside
Recent Pack Hacker Video
Technical Details
Dimensions

4.72 in x 7.09 in x 1.77 in (12 x 18 x 4.5 cm)

When closed

Notable Materials

Polyester, Nifco Hardware

Manufacturing Country

Indonesia

Warranty Information
Full Review
The Muji Hanging Case With Pouch is a simple toiletry bag with three spots to organize your essentials. It comes with a removable pouch that you can carry on its own for short trips and a hook to hang it up in the bathroom. We picked it up for testing because we thought it would make a good entry-level toiletry bag for people who aren't totally into gear but still need something solid for their toiletries. Also because Muji products give us total nostalgia for traveling in Japan because their stores are everywhere there.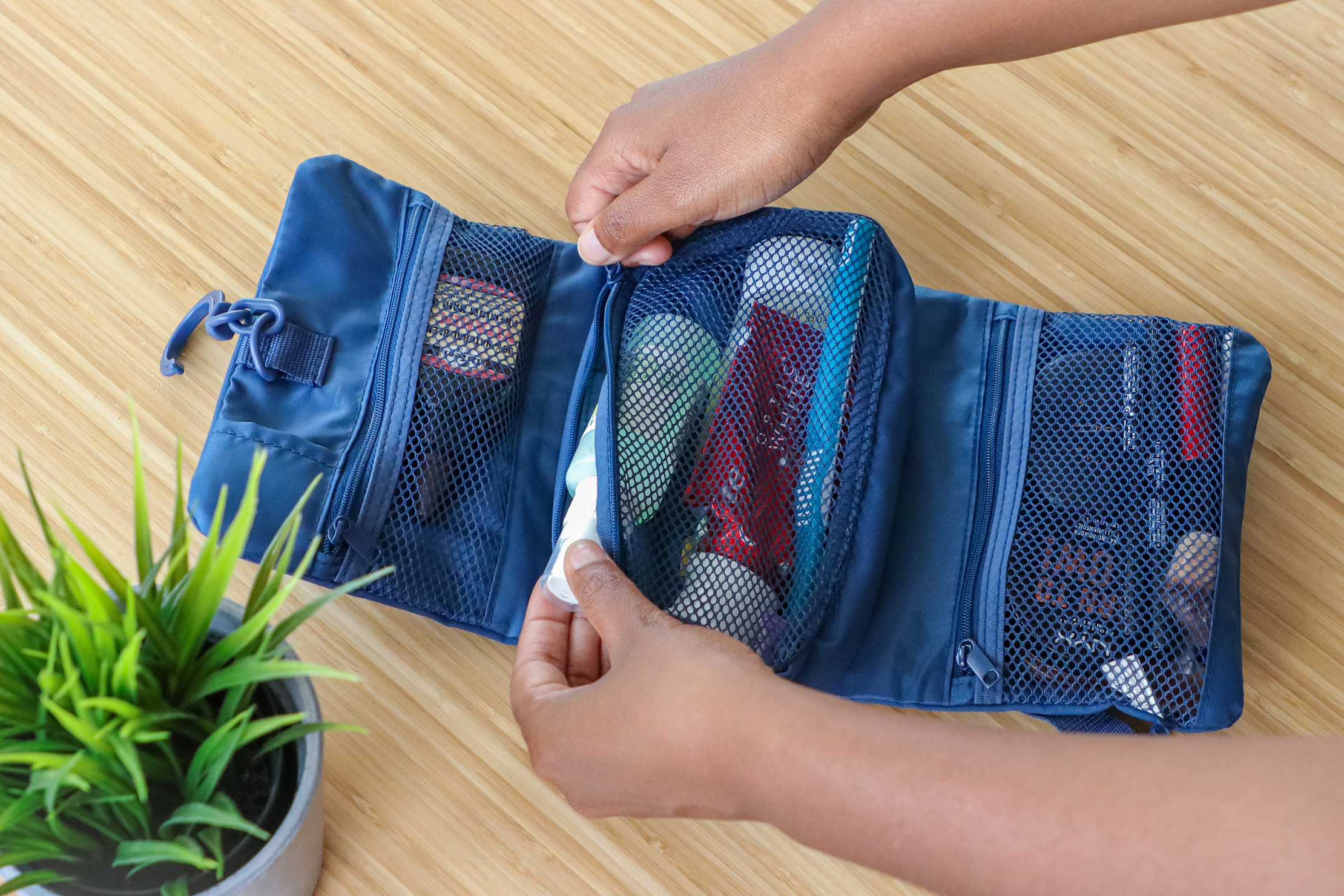 If you aren't familiar with Muji, they're a popular Japanese brand that sells literally everything. Seriously, you can buy travel gear, bed sheets, shoes, curry, and room diffusers on the same visit. All of their products aren't available internationally, but luckily their travel products are. Typically their products are cheap without sacrificing quality. Is that the case for the Muji Hanging Case With Pouch, too? Read on to find out.
Materials & Aesthetic
The Muji Hanging Case With Pouch is made out of 100% polyester, giving it a smooth cloth feel. Unfortunately, polyester isn't high up on the list of water-resistant materials. It wouldn't be a problem if it were being used for an organizer pouch, but this is a toiletry bag we're talking about here. It will likely get wet on the sink basin, so water resistance is important. A few splashes will roll off, but any more than that will soak through. This is especially true on the back of the bag—the part that needs water resistance the most since it will be making contact with the sink.
The rollup style of this bag is unique compared to other toiletry bags that we've tested, which look more like…well, bags. Closing it is kind of like rolling up a burrito, except it's stuffed with hygiene products instead of chorizo and eggs. Anyway, it definitely looks like an overstuffed burrito that's ready to burst when you overpack it. This is easy to do given the amount of space inside—something we'll get into later. If you don't care much about your toiletry bag looking neat from the outside and just want something that will fit all your stuff, this may work for you. On the other hand, if you're the type to care about appearances, you may feel like this toiletry bag looks a little sloppy.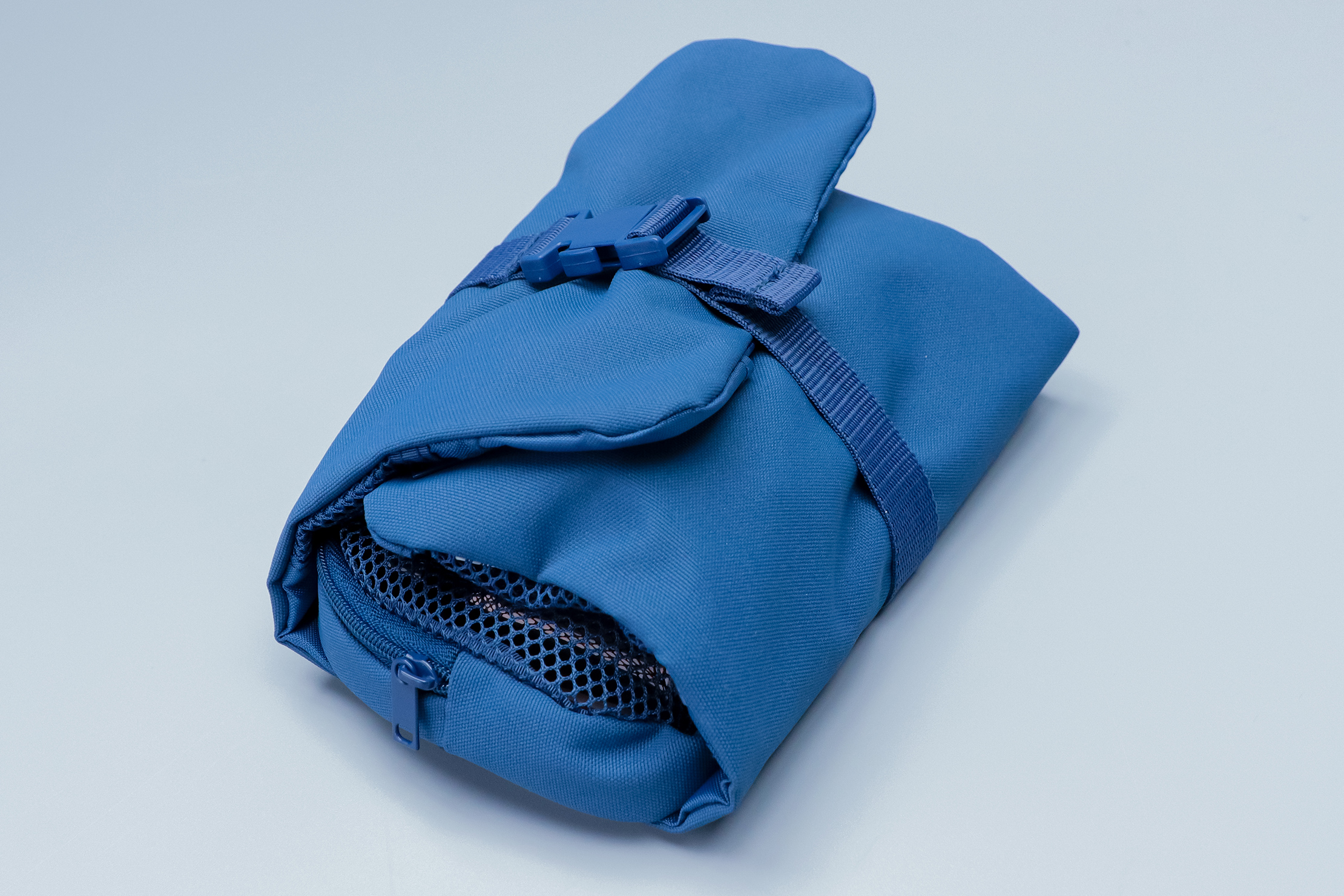 The front features an adjustable buckle closure with a thin strip of nylon webbing. This lets you cinch it down if you've got less to carry or expand it for longer trips. The nylon webbing will also soak through when wet, though, so watch out for that. The buckle itself is from Nifco, which we've seen in several other products and haven't had any problems with. The one on here is pretty small, but it's a toiletry bag, after all, not a travel backpack that would require something heftier.
On the inside, you'll notice some pretty rough mesh paneling. It feels scratchy, which isn't a big deal since toiletry bottles don't need exceptionally soft materials protecting them. Something a bit more smooth would have been nice, though. Or something else more wipeable in case your toothpaste or lotion spills inside. During our two-week testing period, some hair oil leaked out in here, which was pretty disastrous. It soaked right into the polyester material, and the mesh didn't act as any sort of barrier. Many toiletry bags will use something like TPU or tarpaulin, which are easier to wipe clean in case of spills. These materials are preferable to polyester and mesh.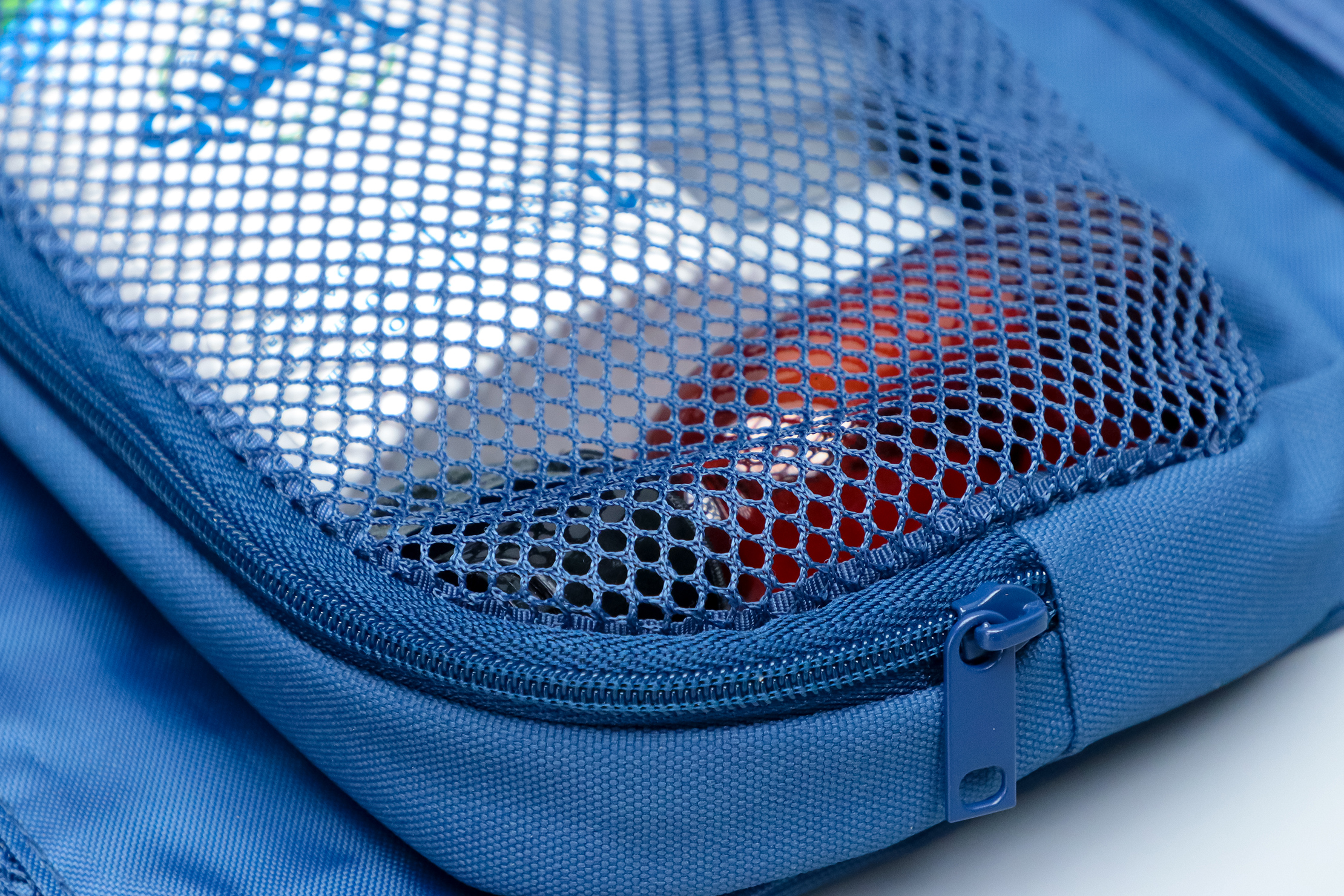 Each of the internal pockets closes with an unbranded zipper. This is typically a red flag level deal-breaker for us. You know, like when someone puts "not sure yet" on their dating profile when it asks what they're looking for. We've had issues with unbranded zippers breaking in the past, and we're still recovering from that trauma. Luckily, we didn't have any problems with the zippers on here breaking or getting stuck. They don't feel very premium, but they work perfectly fine.
Features & Usage
Since we're inside, let's look at some of the features we liked about the Muji Hanging Case With Pouch. The first thing is the hanging hook near the top. This handy little feature allows you to attach it to a towel rack or hook and avoid the wet sink basin entirely. It's a good tradeoff for the material not being water-resistant. This is especially convenient if you wind up staying in a grimy hostel where you'd rather take a shower with bleach than let your stuff come in contact with a shady surface. Maybe that's a bit extreme, but you catch our drift.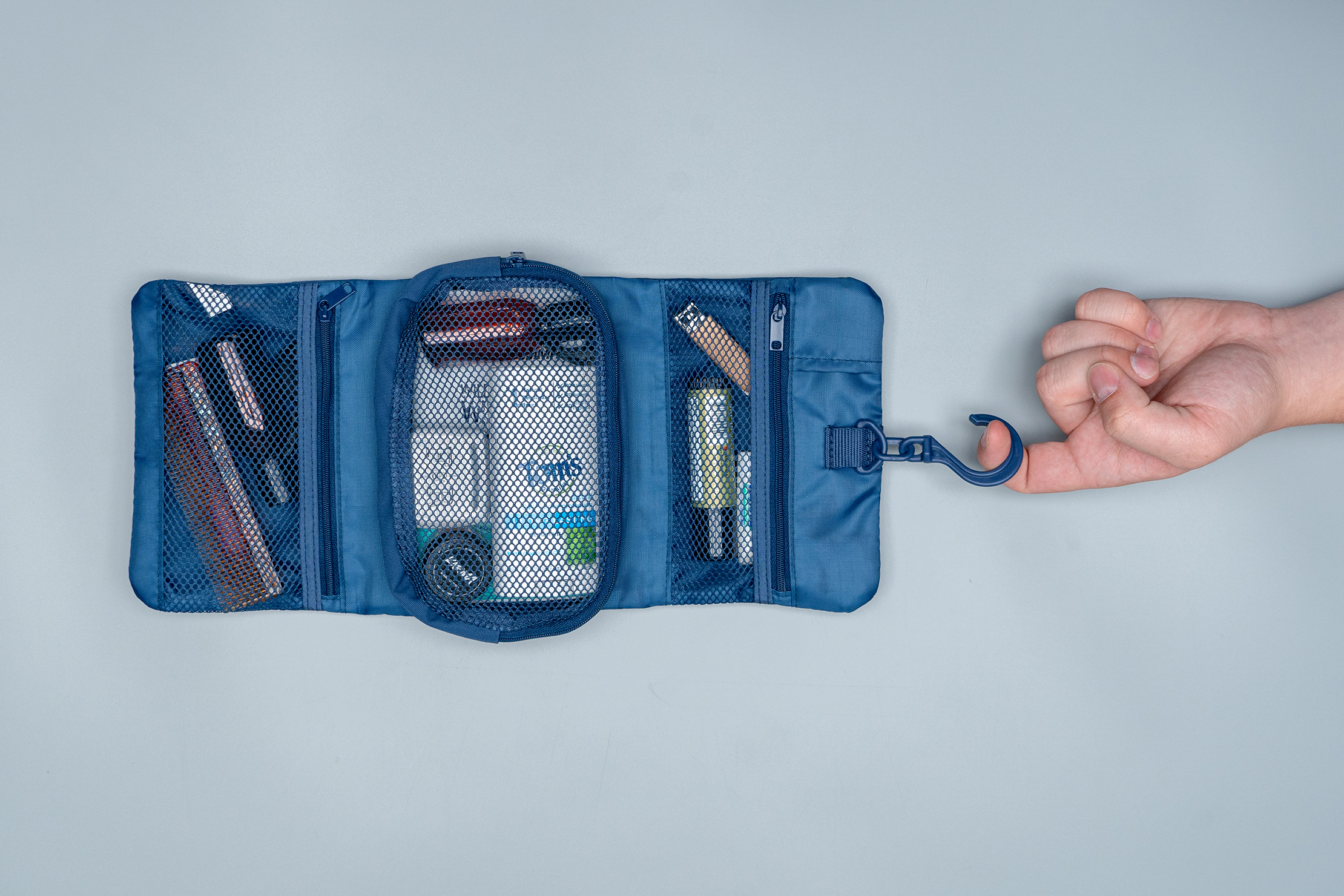 There are three separate pockets to put your toiletries in, and we like how it allows you to create an organization system. The pockets on the top and bottom are thin, so they're best suited for long and slim items. You can also get away with putting smaller items in here like nail clippers. The unfortunate thing about these is that they seem like a good place for a toothbrush, but a normal-sized one is a bit too big. We ended up putting a toothbrush in the center pouch at an angle because it's the only spot it would fit.
This toiletry bag could definitely benefit from a dedicated toothbrush pocket, or at the very least a little flap to cover the head—like the one inside the WANDRD Toiletry Bag. There's a small flap to hide the hanging hook when not in use, so we feel like it would be handy to incorporate something similar to protect your toothbrush. If you have a travel-sized toothbrush, then no worries about where to put it, but you'll need a cap or something similar to protect the head either way.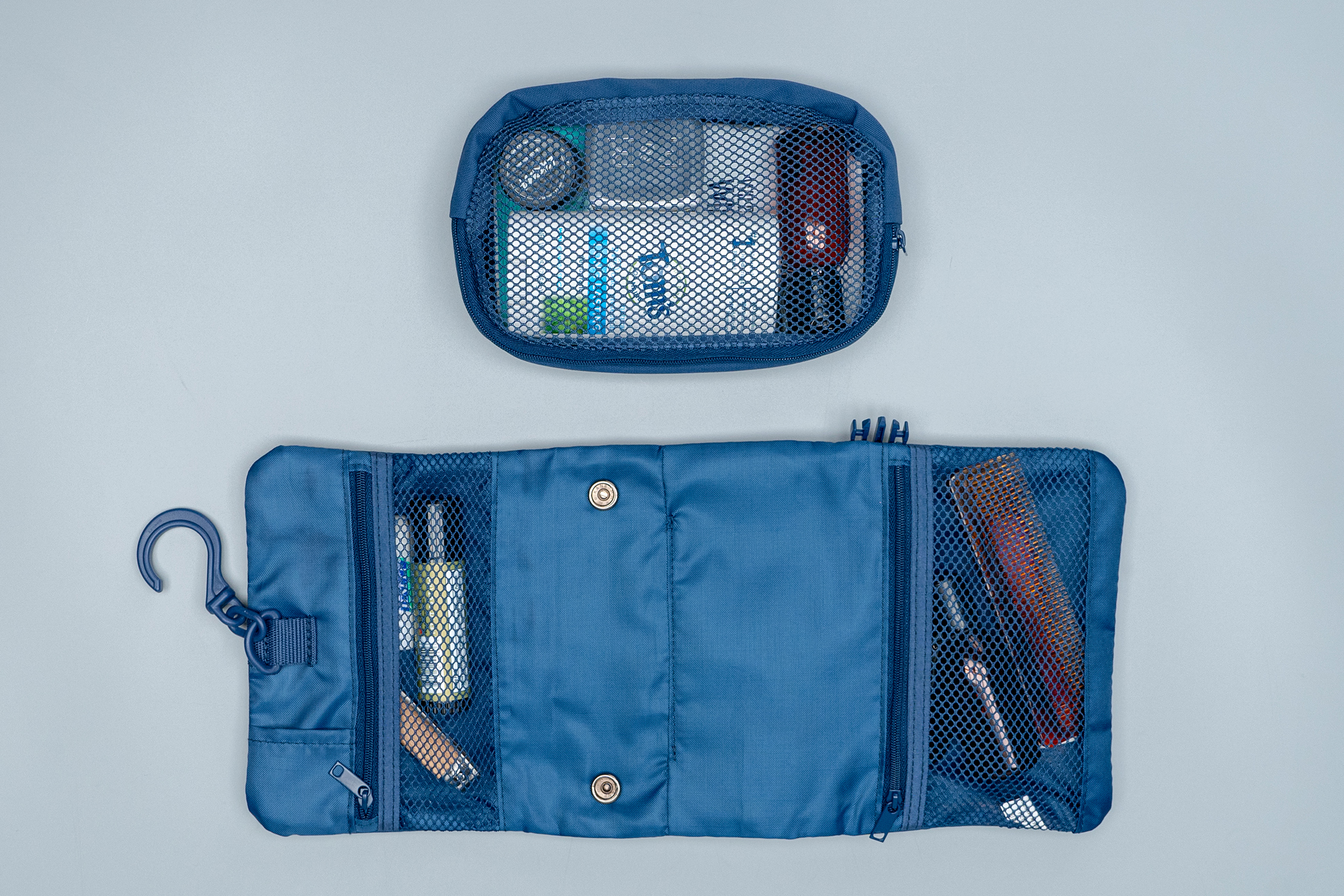 That center pouch we mentioned a few paragraphs ago is the main space where most of your toiletries will go. It's a nice size and can fit a lot inside, including full-sized toothpaste bottles and deodorant. It's also removable, so you can carry it on its own if you don't need the other pockets. Unfortunately, it's not necessarily TSA compliant, so you may want to pack your toiletries inside a plastic Ziploc bag before putting them in here if you're flying.
We found that putting the bulk of toiletries in the removable pouch, like toothpaste and a couple of humangear GoToob+ bottles, made the most sense. Meanwhile, cosmetics fit almost perfectly in the bottom pocket, while other smaller items went at the top. It's really up to you to decide which configuration works since everyone will have different toiletries to carry. Overall, we found the Muji Hanging Case With Pouch quite spacious with a good amount of organization. We wish it were more water-resistant, but the hanging hook does help to avoid it getting wet in the first place. If you need something simple and are traveling on a budget, it's worth adding to your packing list.
Usage Timeline
Initial Usage
Condition: Excellent
The pouch inside is detachable
There's a built-in hook for hanging
Pockets are mesh and see-through
2 Weeks of Use
Condition: Excellent
Polyester material is not very water resistant; a few splashes roll off, but the material soaks through on a drenched sink basin
If something spills inside, it leaks right through the mesh and oil-based products soak into the fabric
Can be expanded or cinched down depending on how many toiletries you need to carry
Three segmented compartments are convenient for keeping different types of toiletries organized
Has enough space to hold both toiletries and makeup
Access the Pro Community Discussion
Get your questions about the Muji Hanging Case With Pouch answered from our team and the Pro Community right here on the page. Plus, join discussions with other members about gear, guides, and more.
Other Organizers & Pouches Reviews