Minaal Rolltop Bag Review
The Minaal Rolltop Bag is simple and sleek with just enough organization. Although, we'd like the harness system to be a little more comfortable.
Our Verdict
Unlock the Pro Summary
Save time. Get access to brief summaries of our reviews so you can browse and make decisions more efficiently.
Pros
Simple, functional organization
Sleek, modern look
Front zipper provides quick access and thoughtful design
Cons
Harness isn't super comfy
Lacks water bottle pockets
Key clip is inconvenient to access
Recent Pack Hacker Video
Technical Details
Capacity

15l

Weight (lb)

1.96 lb (0.9 kg)

Dimensions

18.9 in x 16.1 in x 5.5 in (48 x 40.9 x 14 cm)

Rolled

Notable Materials

Nylon, Fidlock Hardware, YKK Zippers, ITW Hardware, EVA Foam, Neoprene

Manufacturing Country

Vietnam

Laptop Compartment Size

15"

Warranty Information
Full Review
Get up to 20% off Minaal • Join Pack Hacker Pro
For many professionals today, all you need to get your job done is a laptop, a few tech essentials, and strong wifi (of course). You also need a bag to carry all of those tools of the trade whether you're working remotely or commuting to the office every day.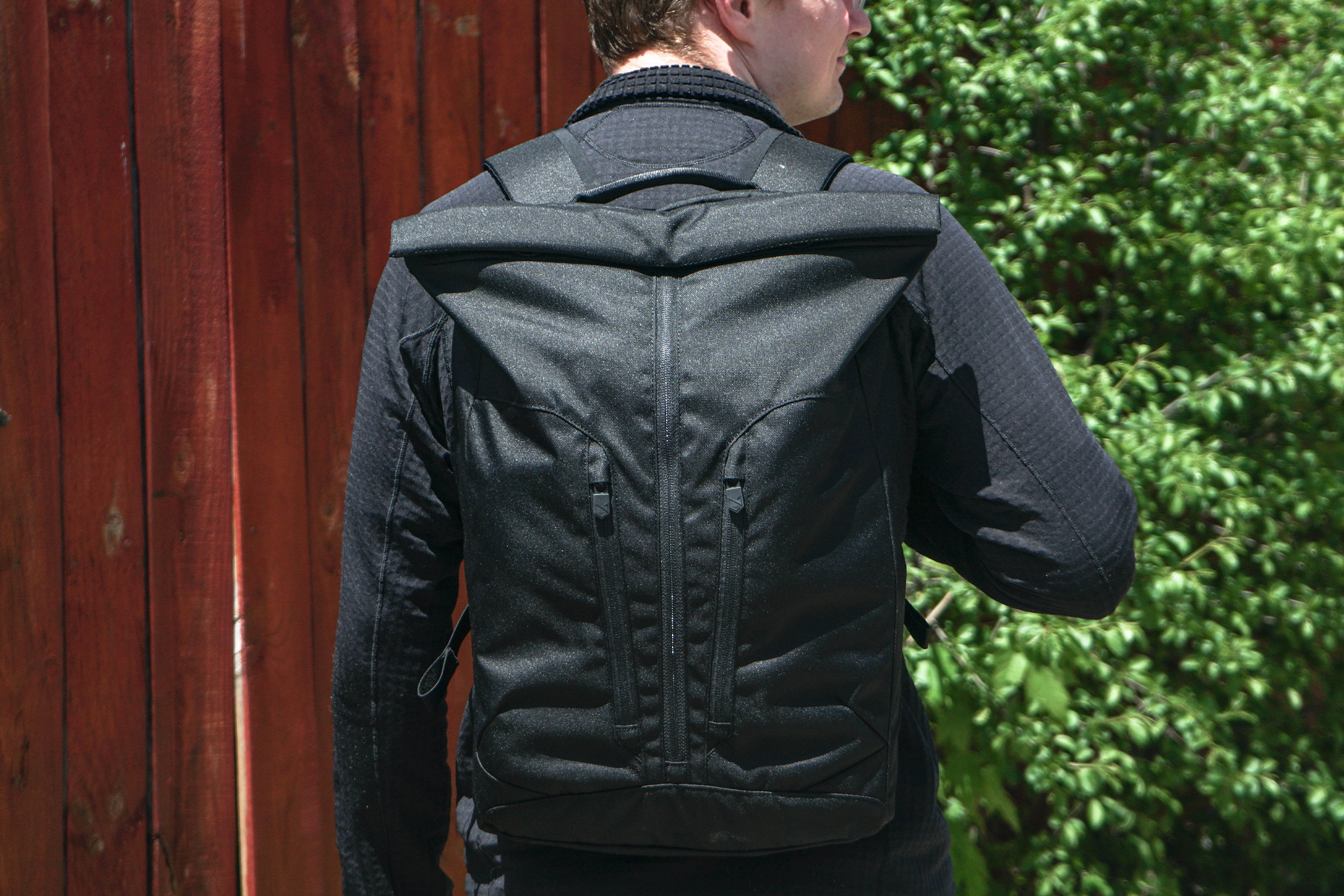 Enter the Minaal Rolltop Bag. It has just enough space and organization for everyday excursions—like going to and from the coworking space or coffee shop, or heading out for a day in the city—with a sleek, modern aesthetic. We've been testing this bag for over two weeks around Detroit, Michigan, and are ready to share our thoughts and experience so far.
So let's roll them out.
Materials & Aesthetic
At the time of this review, the Minaal Rolltop Bag is available in Aoraki Black…and that's it. It's a good thing we're fans of the color black, so this lack of options doesn't bother us. Plus, we think it adds to the overall sleekness of the bag.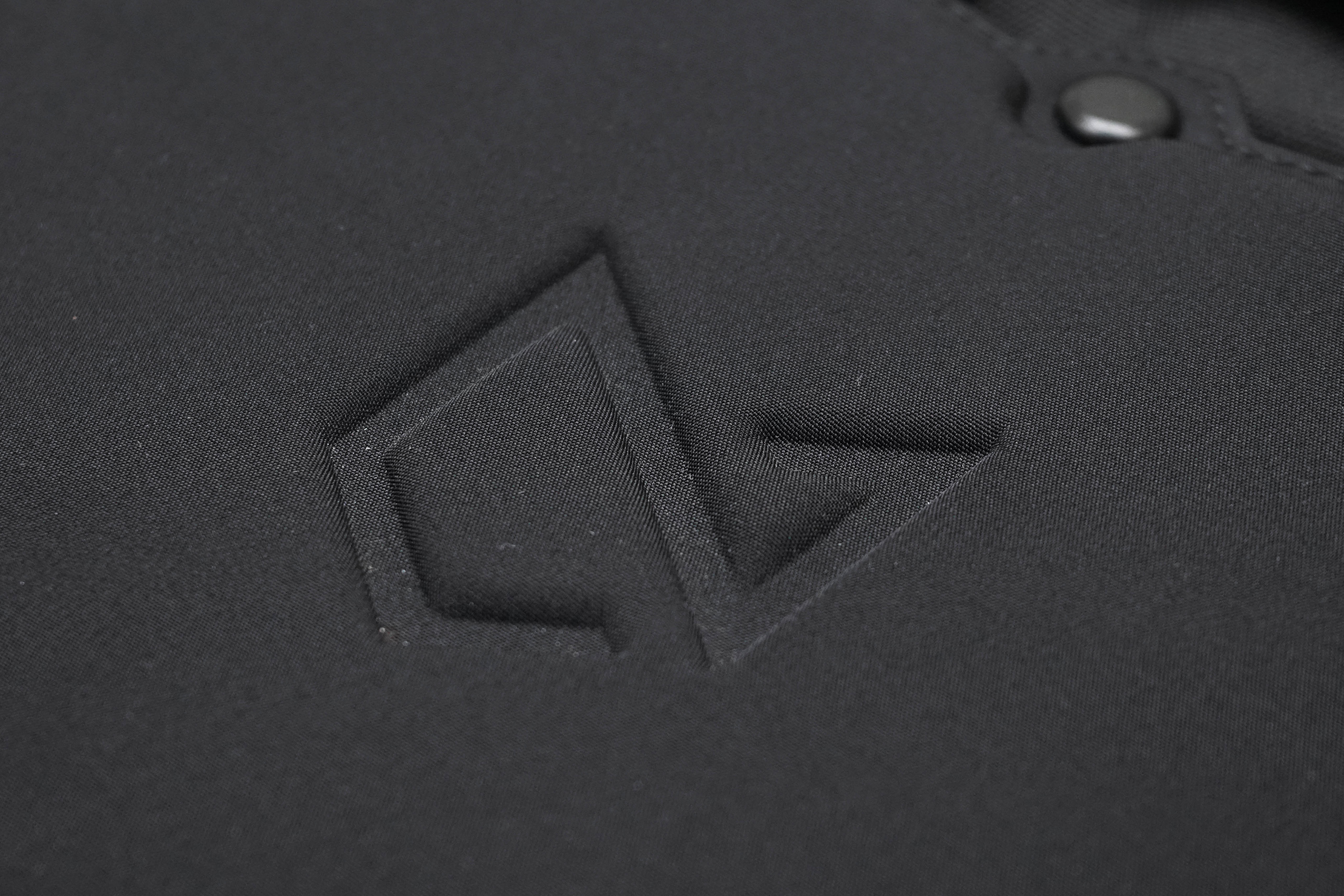 The branding on this bag is minimal, which we always appreciate. You'll find the Minaal logo (which we think looks like a geometric fox of sorts, as we noted in a review of the Minaal Daily Bag) debossed in places like the back panel and zipper pulls. And you'll see it on the inside when you open the front zipper. While it may seem like that's a lot of logos, they're black-on-black, which keeps them subtle.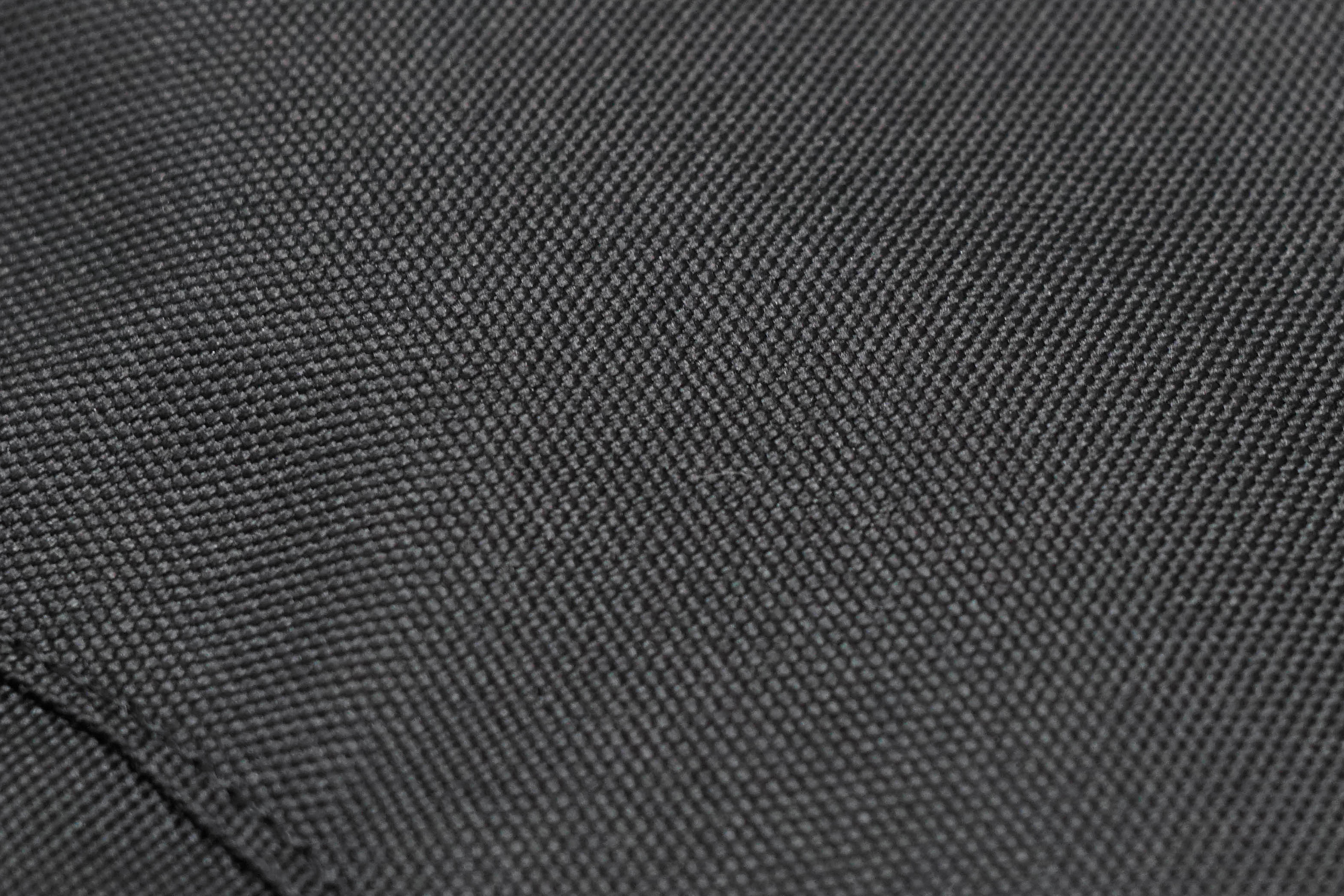 As for material, this thing is made of sturdy nylon which has been holding up well—it's a great material for a bag as it's lightweight but doesn't sacrifice durability.
The rolltop is secured with magnetic Fidlock hardware that is user-friendly and just as durable. And the zippers are from the trusted manufacturer, YKK. We typically have good experiences with YKK zippers, so we don't expect to run into any issues here either.
External Components
Kicking off the harness system, we have the shoulder straps. They're thin yet densely padded—so they're not uncomfortable, but they're not super comfortable either. Over long periods, you may start to feel it. But for a pack this size, you don't need anything too crazy (unless you're transporting your antique brick collection).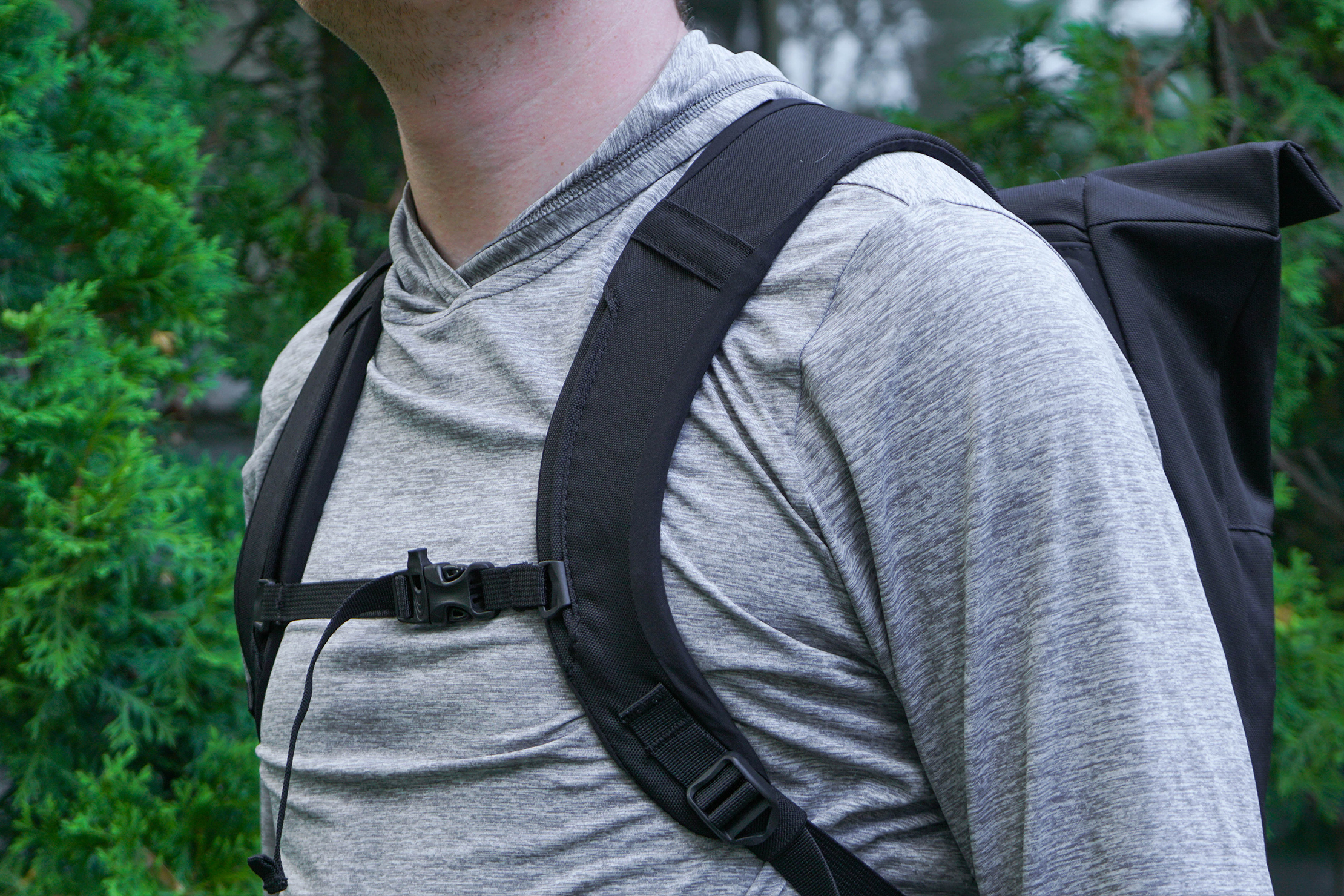 There's an adjustable sternum strap that you can adjust to your preferred height by sliding along a rail. We like this style of sternum strap because it's highly customizable and feels like it's securely attached to the pack. (We've lost more than a few adjustable sternum straps of a different style in our day.) When not in use you can tuck it into the small loop toward the top of the shoulder strap to give you that coveted #DangleFreeExperience. It also has a whistle built it—for all your whistle needs.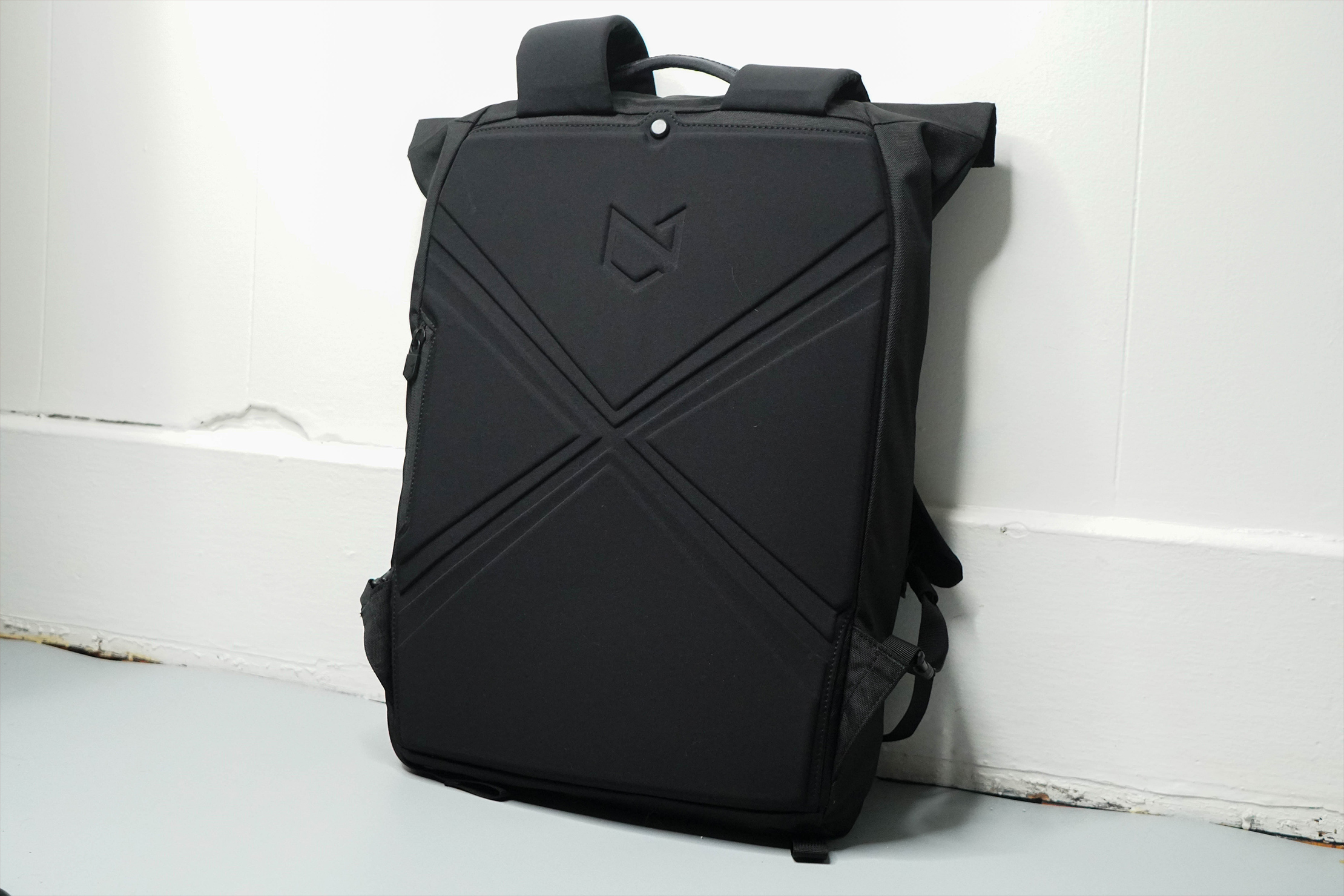 The shoulder straps can also be stowed away. Just unclip the bottom buckles and tuck them into the sleeve behind the back panel.
The back panel itself is quite simple. There's no mesh or air channels to help prevent that dreaded swamp back, but it's been working fine for our typical daily commute. At the top of the back panel, there's a snap that secures the straps when you have them tucked away.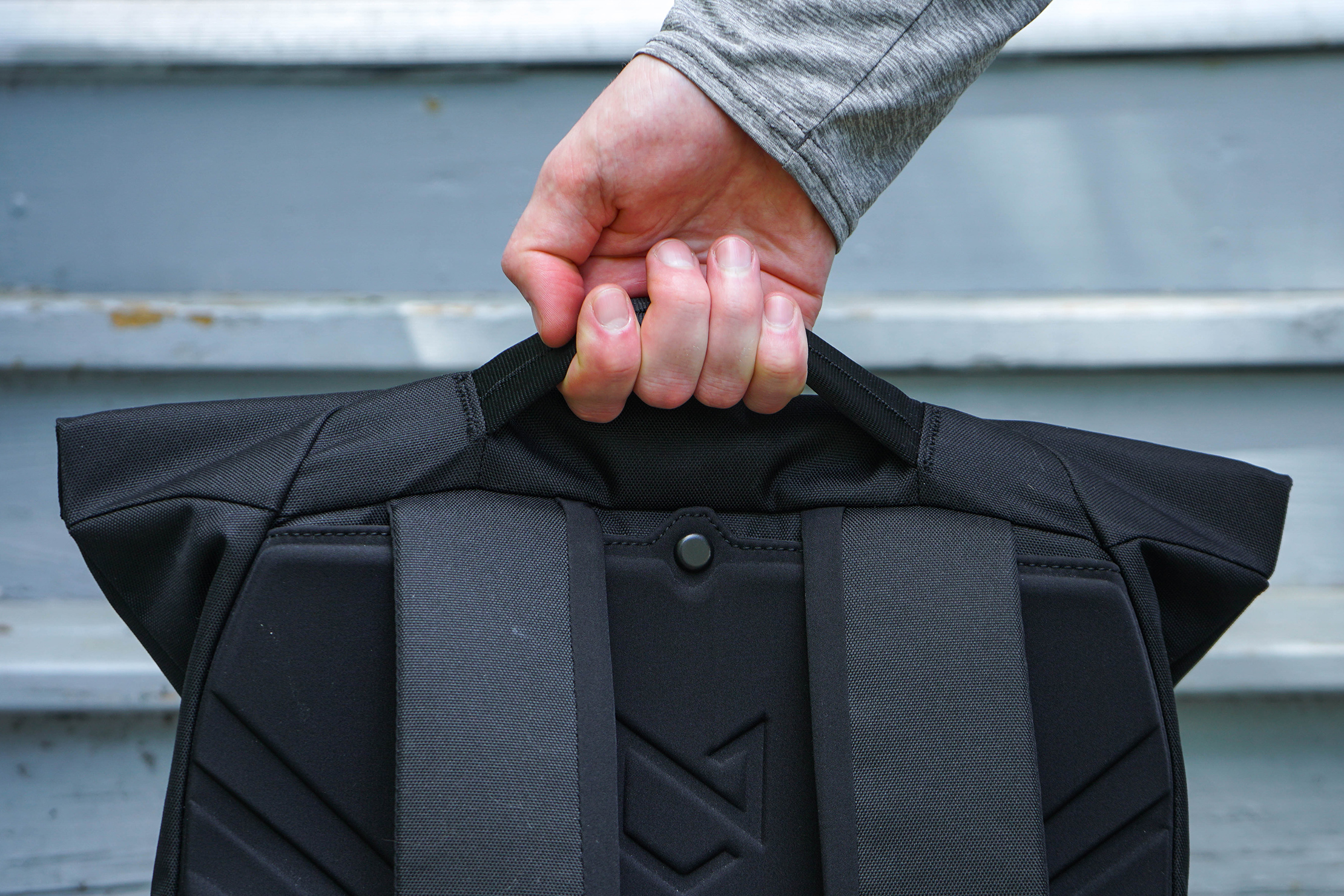 And finally, the top handle—it's comfortable to grab thanks to the EVA foam padding for when you'd rather carry by hand. You'll see it tucked behind the rolltop, sitting toward the back of the bag. At first, we were concerned that having the handle attached here would make the bag uneven or floppy to carry by the handle—but so far, it's been working just fine.
Inside the Pack
You'll find two identical quick-access pockets on the front of this pack—one on each side. They're low-profile and blend in nicely with the rest of the bag. While they're not huge, they are a good size for something like a MacBook charger (which is what we've been storing in one) and other smaller items you want easy access too.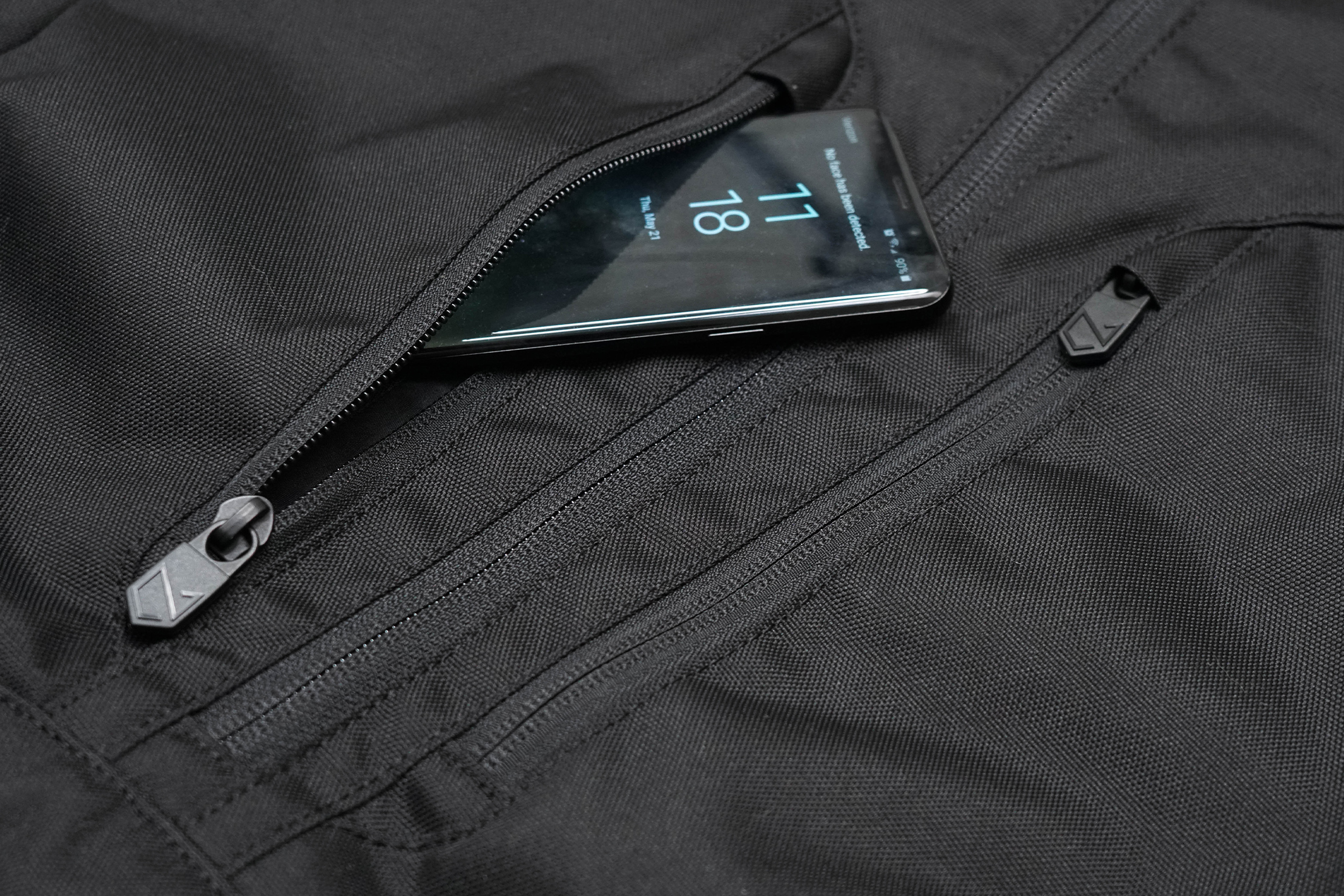 Inside these quick-access pockets are…wait for it…bonus pockets! Yes, each front pocket has a zippered mesh pocket within it for that next-level organization. These mesh pockets are even smaller than the main pocket, so they're best suited for small things you don't want to lose.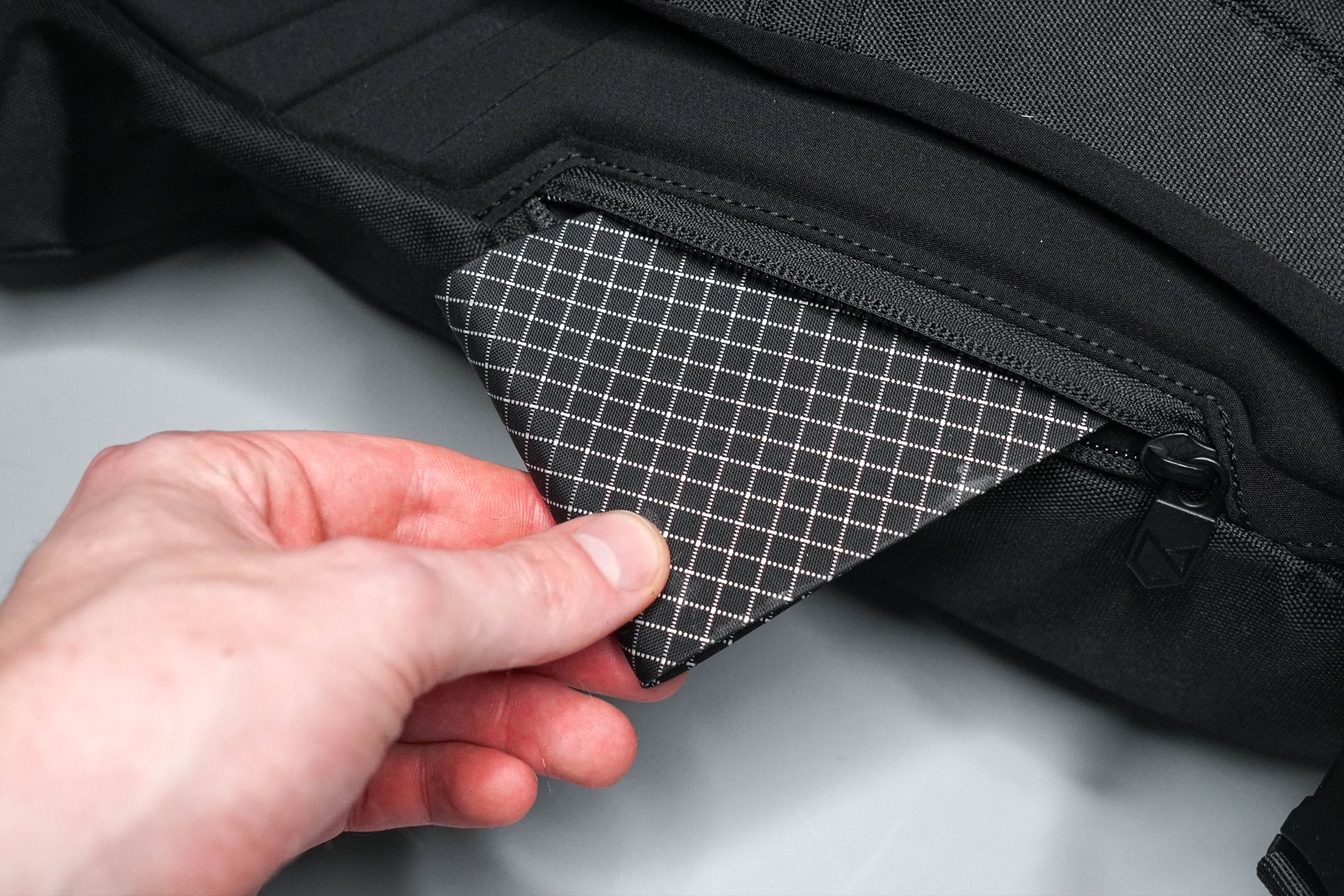 Tucked into the back panel, there's an easy-to-miss but super-useful compartment on the right side. The pocket sits against your back when wearing this pack, so it's a great place to stash your phone, passport, or other valuables when not in use. Plus, it doesn't require taking the bag off entirely to reach it—just sling it to the front and you're good to go.
And that brings us to the main compartment. Two magnets secure the rolltop opening, which is how you get in and out of this bag. The magnets are easy to use—to unroll it, simply place your thumbs on the roll and unfold upward. Then to close it, fold the roll down and the two magnets should click into place.
These magnets are the only way to close the top of this pack, which makes access quick and easy. On the other hand, it's not as secure or versatile as other rolltop bags we've tested that also include a zipper to close the main opening. With a zipper going across the top, you can zip it closed for the times you want your gear to be extra secure.
And you have more flexibility when it comes to packing. If you overfill your pack, you can still close the top without needing to roll it down. Some bags use multiple closure points (instead of a zipper) to achieve this adjustability as well. Here, there's just the one attachment point for the magnets. This is not a deal-breaker, but we wanted to point it out since that expandability is something often associated with rolltop backpacks.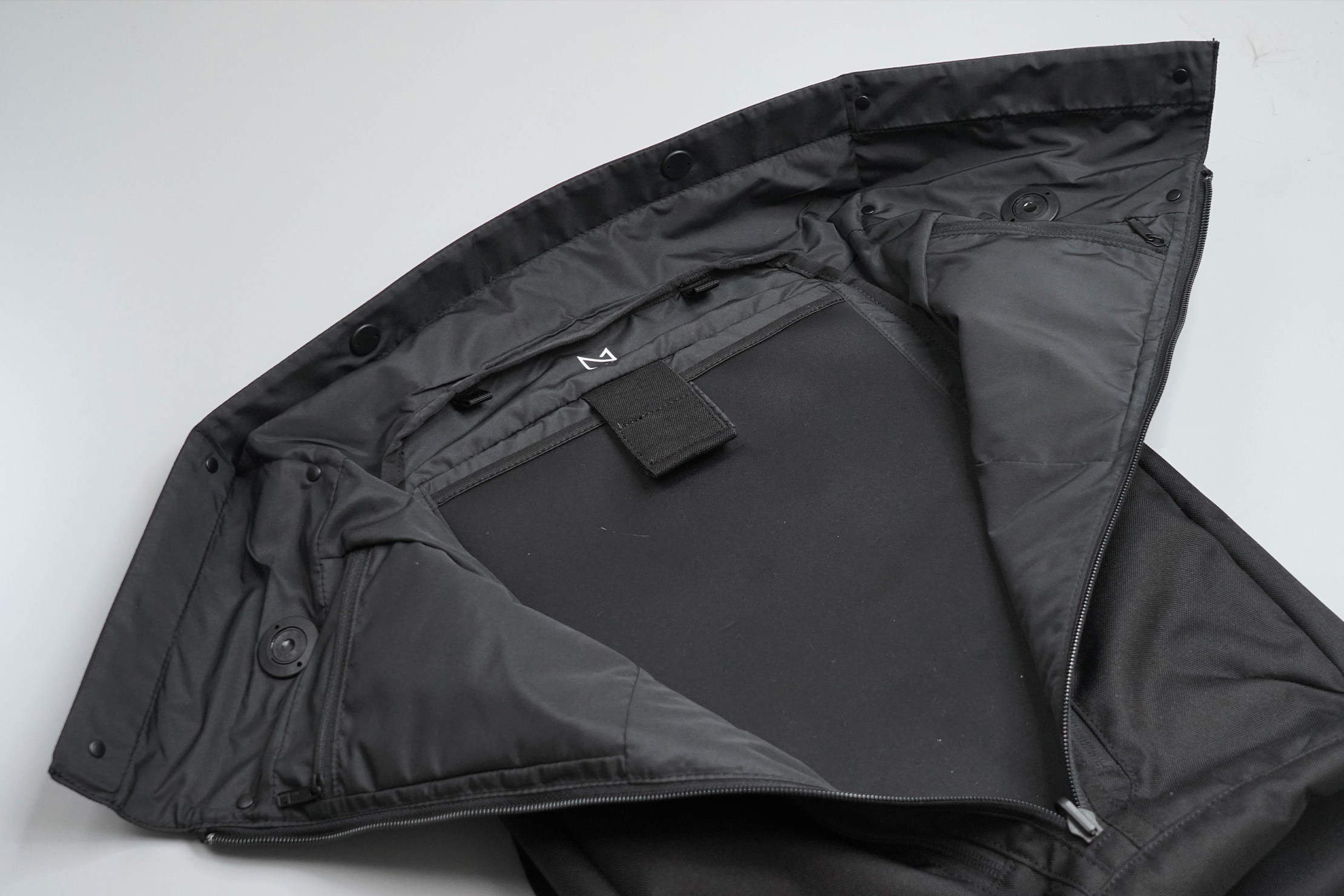 Once you get this thing open, you find just enough space for your computer, charging accessories, a notebook, travel documents, etc. While it's not huge, the Minaal Rolltop Bag has a black interior which, coupled with the top-loader style, can make it a little difficult to see said items inside. This is where that front zipper comes in.
You'll find a zipper running down the front of the bag. It not only lets you butterfly this thing open—making it easier to pack or find what you're looking for—but also allows for quick access inside. If you just want to grab your tech kit, for example, you don't have to unroll the top. You can simply unzip the front and reach in.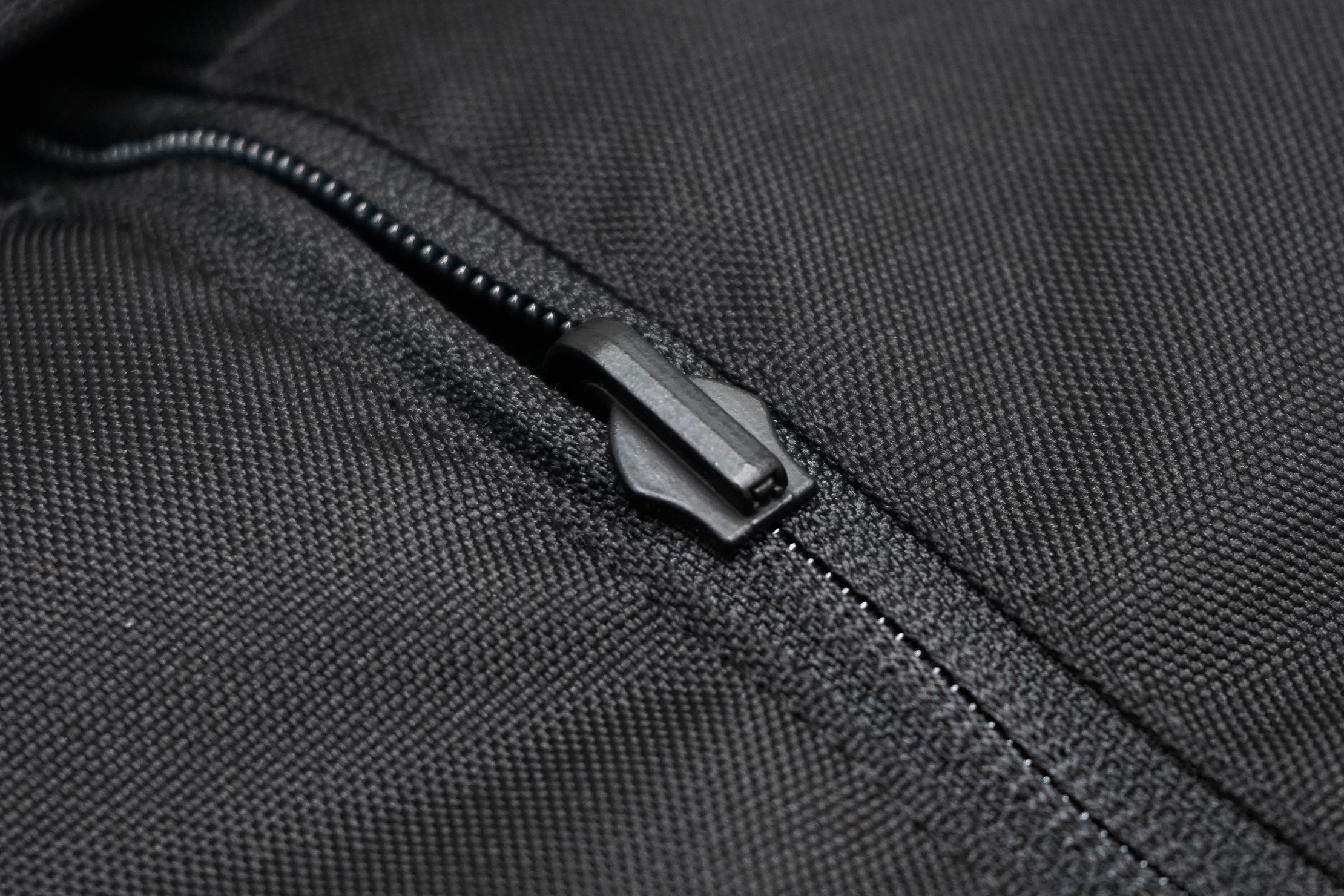 Plus, the zipper pull slides (so it can be on the outside, like a normal zipper, or tucked behind the zipper track). If you're in large groups of people you can flip the tab of this zipper into the bag to put it in "secure mode," making it harder for wandering hands to sample your stuff. We appreciate the thoughtful design thinking going on here. (It's the little things, right?)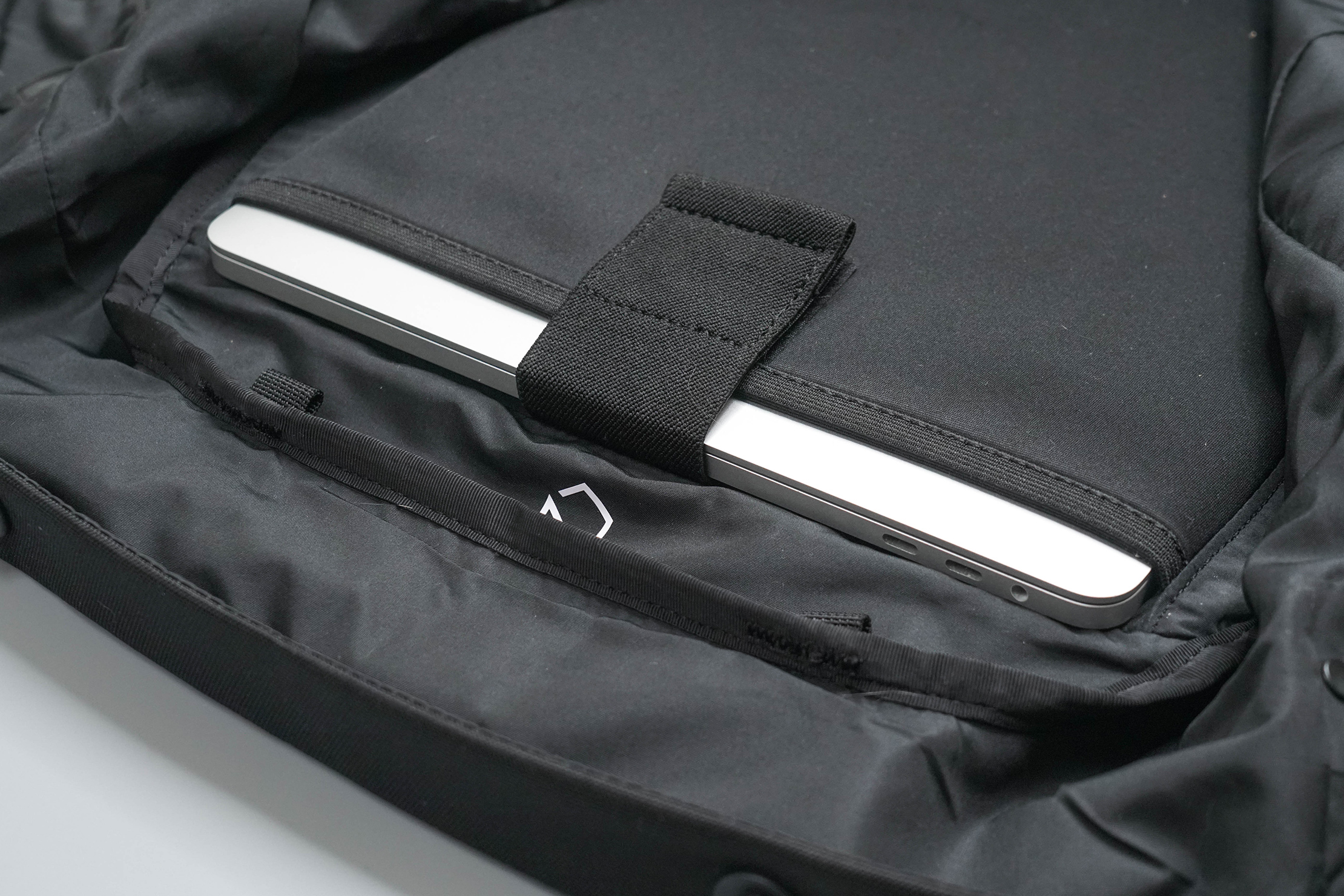 Against the back of the main compartment, you'll find a neoprene laptop sleeve that fits up to a 16" laptop. It's suspended in the bag meaning it's not only lifted off the bottom but centered away from the sides too—so you should be protected from drops no matter what angle you drop your bag at.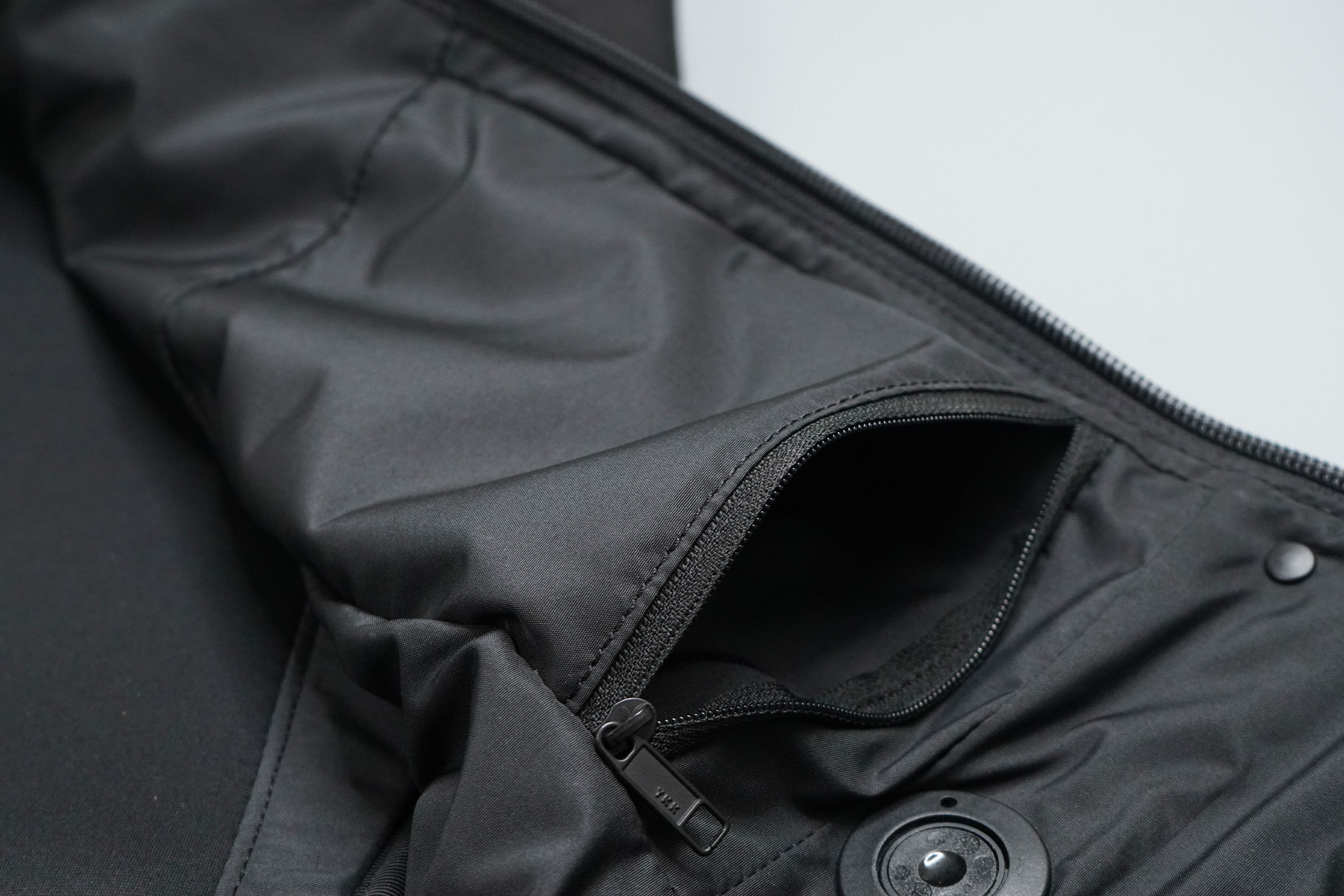 As far as organization goes, the folks at Minaal have kept things pretty simple. There are two identical pockets—one on the inside of each front flap. Minaal calls these pockets "hidden" but they're not really—they're just inside the backpack. These pockets are small but a good size for dongles, an Apple Magic Mouse, USB-C Hub, or your other smaller valuables (wallet, cards, etc.).
Inside one of these pockets (on the wearer's right side) you'll find a clip for your keys. To be frank, this seems like an odd place for a key clip to us. Because it's inside the pack, you have to unroll the top or open the front zipper, then unzip the inside pocket, in order to access your keys. Plus, it's attached at the bottom of the pocket so it's not keeping them from falling to the bottom of the pocket. And it's a pretty short key leash so you can't leave your keys attached while opening the door. We see its intention—keeping your keys handy—but we haven't found it very convenient in our testing.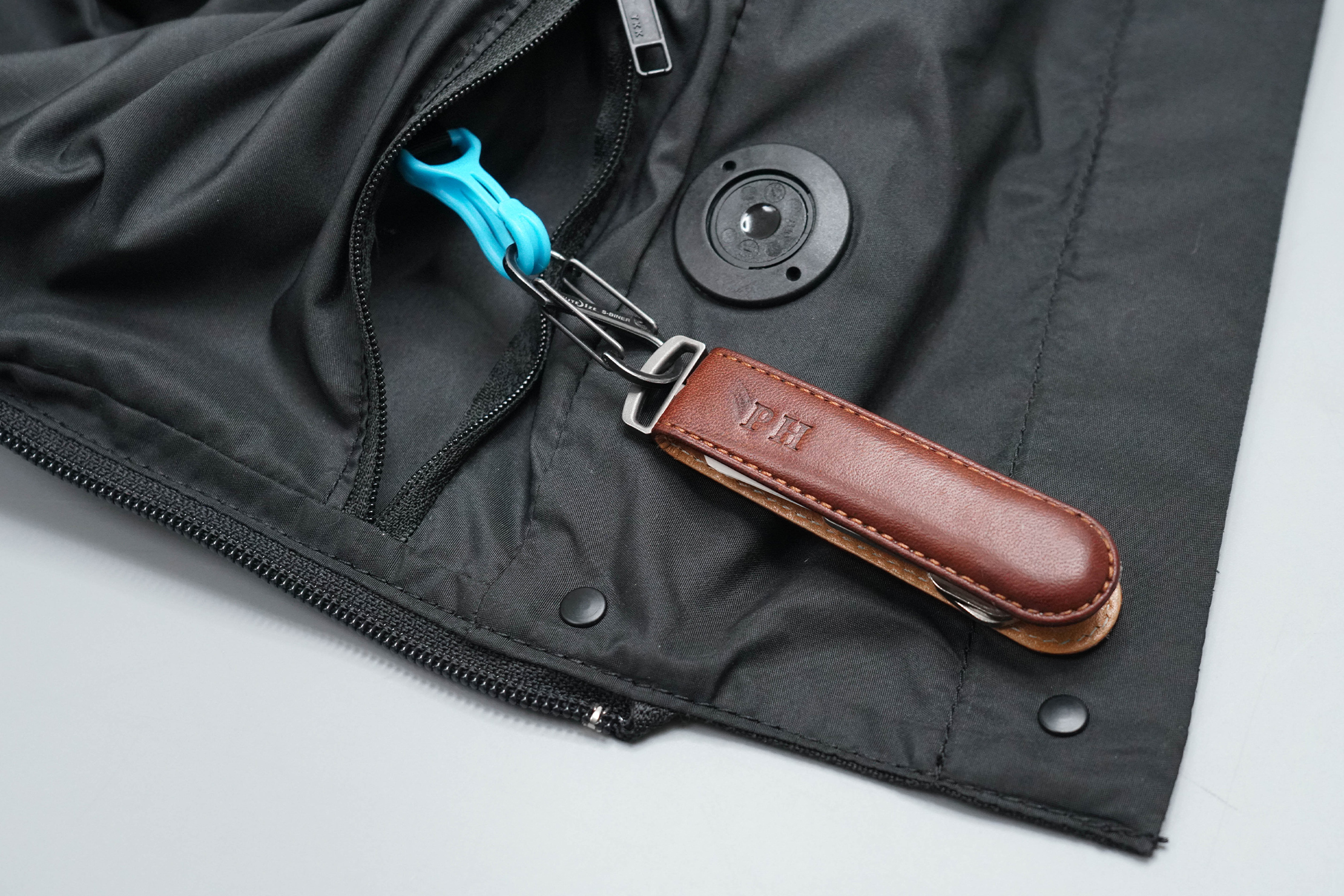 Something that's missing from the Minaal Rolltop Bag is an external water bottle pocket. We don't mind its absence too much as it keeps things streamlined, but it may be a deal-breaker if you prefer to stash water on the outside of your bag. You can still throw it inside the main compartment, but of course, that means a greater chance of water leaking on your expensive tech.
Durability & Testing
We've been taking this Minaal Rolltop Bag with us on our daily driver for a few weeks around Detroit. Its 15L of storage has been just enough to hold our work essentials. Plus, it's sleek and low-profile—something we look for in an EDC bag.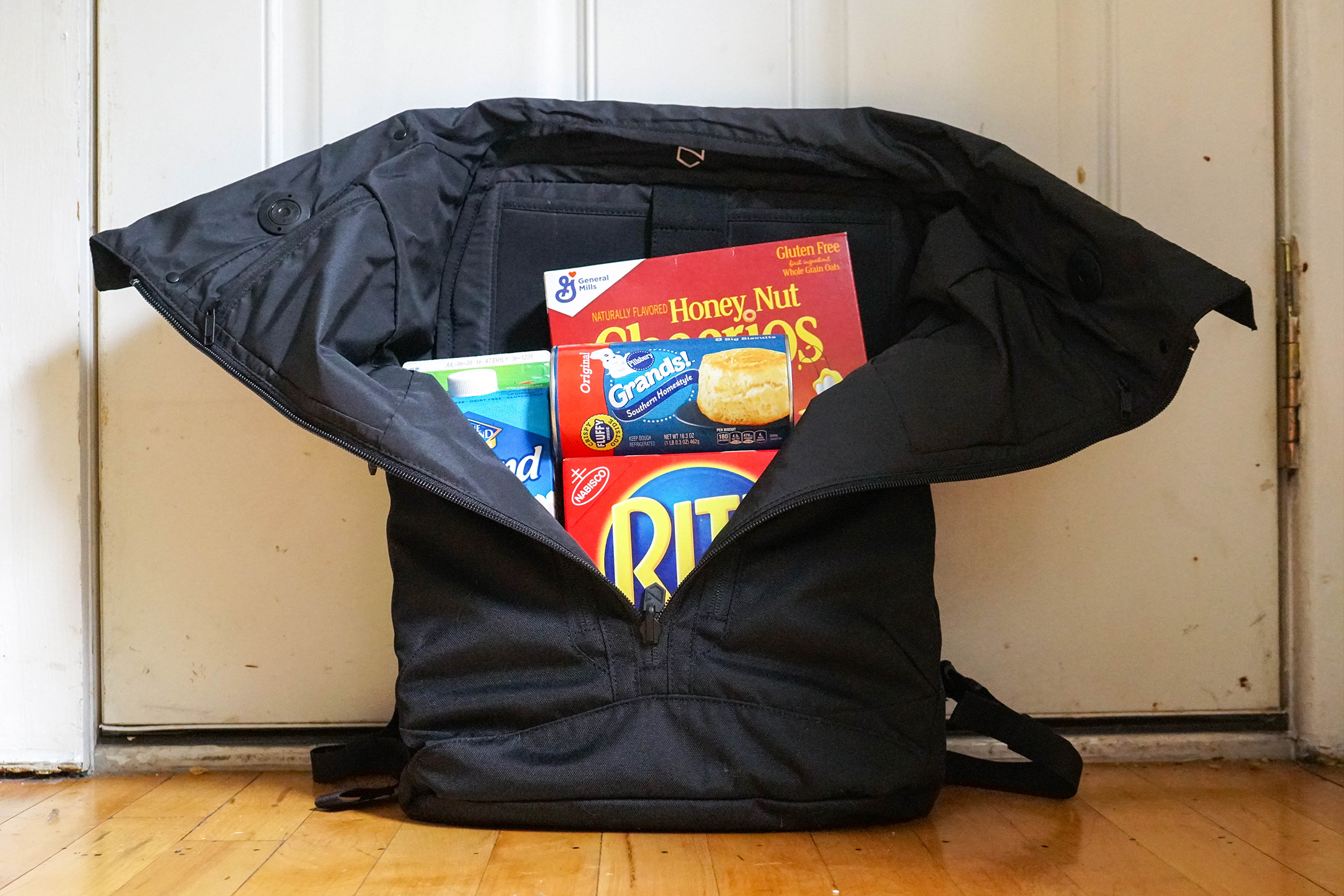 The lack of adjustability of the main closure has not been an issue when carrying our normal loadout. But we did take it grocery shopping, filling it with all the essentials (okay, mostly snacks) and quickly overstuffed it. We were so close to fitting everything—if there was a higher magnetic latch or the top could close with a zipper, we would have been able to. Instead, we had to carry a few things home by hand. Obviously, the Rolltop Bag is not intended to be a grocery-getter, but hey, we're thorough and test bags in all kinds of situations.
Usage Timeline
Initial Usage
Condition: Excellent
Small and minimalist design, perfect for your daily EDC and tech items
Back panel and shoulder straps are thin but densely padded which is more than enough for a bag of this size
Roll-top locks into a single place and can not be adjusted like a traditional roll-top bag
2 Weeks of Use
Condition: Excellent
Been using this bag as a daily driver. While it's pretty simple overall, there's just enough pockets/organization for the everyday tech gear. We did run into an issue when trying to stuff this thing full of groceries since there is only one closure point for the rolltop. Of course, "grocery bag" is not its intended use case.
Access the Pro Community Discussion
Get your questions about the Minaal Rolltop Bag answered from our team and the Pro Community right here on the page. Plus, join discussions with other members about gear, guides, and more.
Other Bags & Luggage Reviews