Matador Speed Stash Review
Matador's Speed Stash lacks organizational details, though it has enough room for your travel essentials and features multiple ways to attach it to your person.
Our Verdict
Unlock the Pro Summary
Save time. Get access to brief summaries of our reviews so you can browse and make decisions more efficiently.
Pros
Sleek look that blends in well with outfit or pack
Enough room for quick-grab items like a phone or passport
Attaching it is easy due to the quick hook and loop fastener
Cons
No place to attach a carabiner or clip
Lack of organization may throw some off, even for such a small pouch
Thinner shoulder straps can slip through the adjustor
Recent Pack Hacker Video
Technical Details
Weight (oz)

2.68 oz (76 g)

Dimensions

7.1 in x 4.5 in x 1.75 in (18 x 11.4 x 4.4 cm)

Notable Materials

Nylon, YKK Zippers, Polyurethane

Manufacturing Country

Vietnam

Warranty Information
Full Review
Get up to 20% off Matador • Join Pack Hacker Pro
The Speed Stash from Matador is a cute little pouch that attaches to the outside of your pack and has space for a few daily essentials or quick-grab travel gear. Even before it has gotten any use, we're curious whether or not it's functional, a novelty, or just in the way. Let's dive…or maybe we should just slide in; it's pretty tiny, and you don't want to bump your head and get a concussion. Okay—let's slide in!
External Components
The Matador Speed Stash is crafted from nylon and looks like a miniature backpack. However, it has a lot of little things going on around its exterior. A front slide pocket crafted out of stretchy mesh is ideal for items you need at a moment's notice. You don't even need to open a zipper to access this area, so it's a good place for an inhaler, snack, or pack of gum. So long as the Speed Stash doesn't flip upside down, your gear should stay in place. If you stuff a larger item inside that stretches the mesh, it'll stay in place even if the road gets rocky. Well, within reason, anyways. If you dangle it upside down like the bullies used to do in the 90s so that they could get your lunch money, you might end up losing whatever you stowed inside.

We've got a YKK #5 zipper, which is adequate for the job it's tasked with. There are two zippers on the track, which might seem silly for such a small item, but they serve a purpose. If you've got the Speed Stash attached to something and you're on the move, it's easier to open the main compartment while the zippers are on the top of the pouch than when they're on the sides. Because there are two zippers, this is easy to do.
The track makes two 90-degree turns, and we don't have any issue getting around them, which is a testament to the YKK models chosen for this pack. If you don't have the Speed Stash fastened properly in the back and you yank on the zipper too hard, you can slide the whole thing up or down on whatever you have it attached to. We'll dive further into that shortly.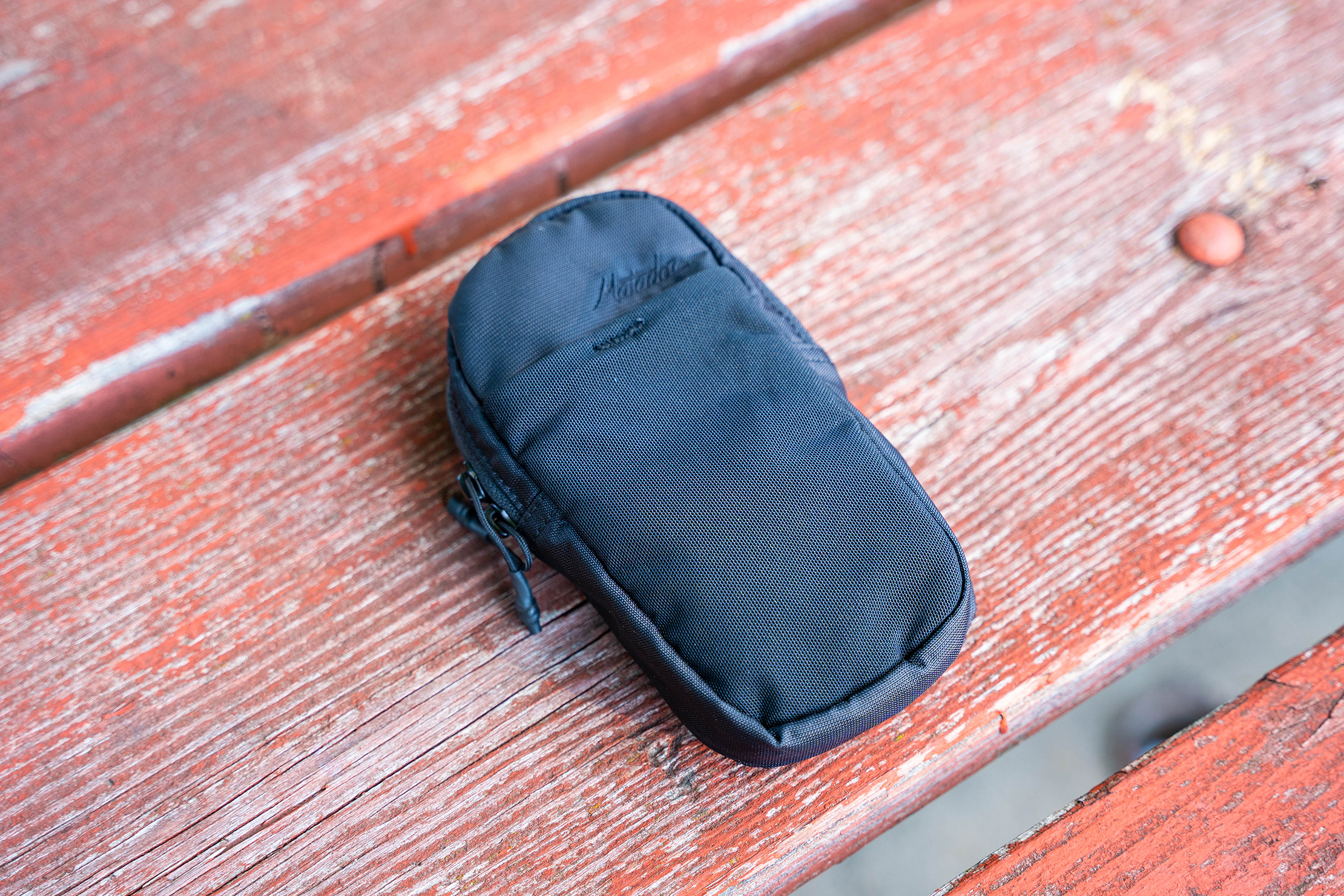 Above the slide pocket we mentioned earlier is an embroidered Matador line of text for some subtle branding. It's black, so it's hard to see until you're right upon it. We think it looks pretty classy and don't mind its inclusion.
The back side of the Speed Stash has a large hook and loop fastener that reminds us of the wrist guards we all used to wear in the 1990s while we were rollerblading down the sidewalk in a neighborhood. Well, maybe not all of us—but you get the picture. The back side opens like a tri-fold pamphlet when you undo the hook and loop fastener. Once it's open, you can easily see the three places you can attach the Speed Stash to different pieces of gear or clothing.
The first method is to vertically run a strap through the pamphlet behind the two folds. We often use the Speed Stash this way, as it's how you attach it to a shoulder strap on a daypack or travel backpack. Unlike the two other tracks, you can tighten this one a little by pulling the hook and loop fastener more or less tight—but for skinny models, there isn't much you can do to stop them from sliding up and down inside the pamphlet.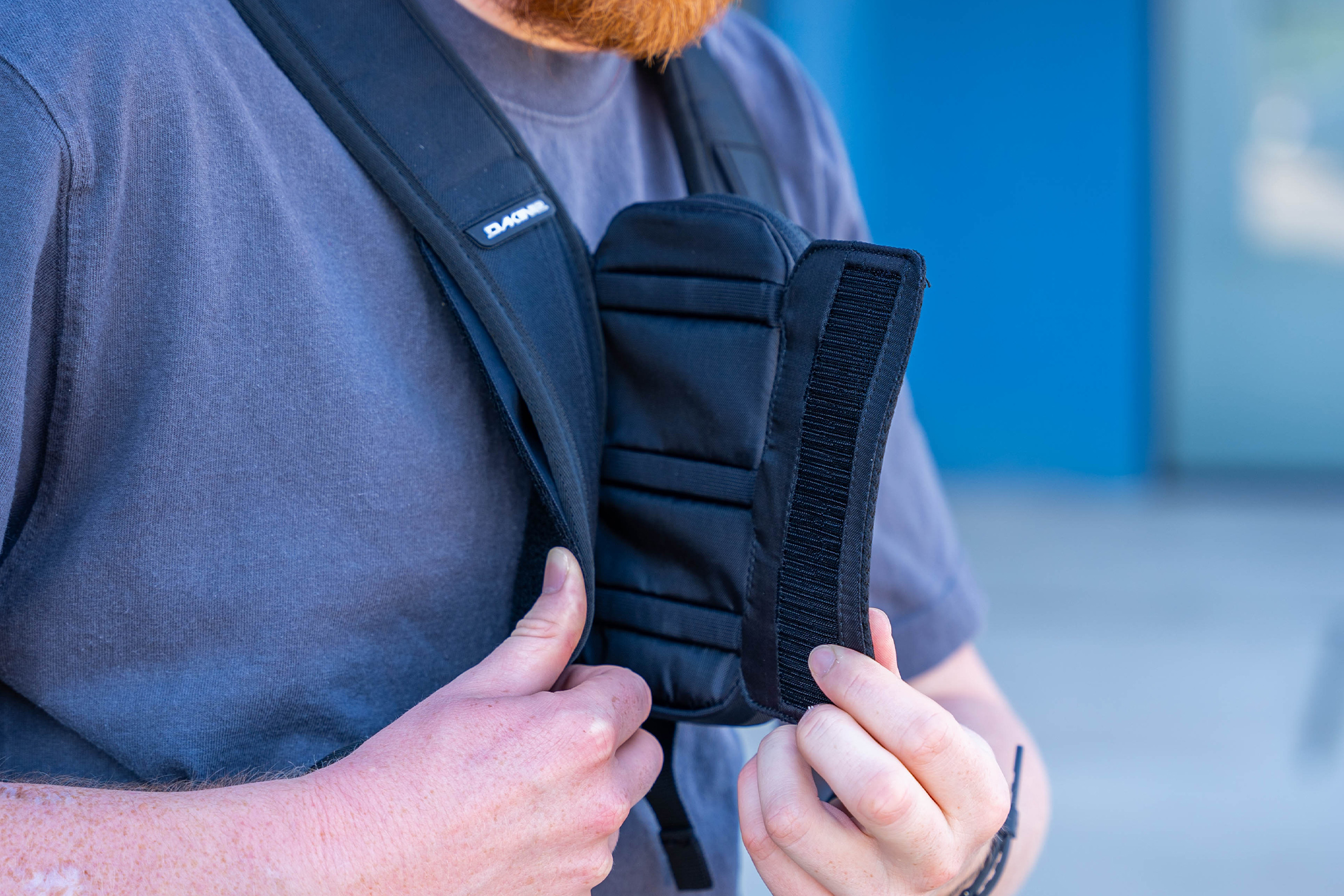 The second method is to run a strap horizontally. There are four loops, or two tracks, where you can attach the pouch to a skinnier strap or belt. They sit one on top of the other, so you can adjust the height at which it sits by choosing either the higher or lower track. We found this method works well for a belt, sternum strap, or even a thinner hip belt. There isn't any way to tighten this attachment method, so it will slide left and right without much resistance. If there's a low point on the strap you have it attached to, it will naturally find its way there pretty quickly.
The best way to ensure that the Speed Stash doesn't move around while you're using it is to use both the vertical and horizontal methods mentioned above. First, you must decide which shoulder strap you want the Speed Stash to be on. Then, grab the sternum strap on that shoulder strap and loop it through one of the four horizontal slits. You can choose either of the two that are closer to your sternum. The upper one will make the pouch rest higher; the lower one will enable it to sit lower.
Next, ensure that one of the hard plastic runners on the backside is right up against where your sternum strap attaches to the shoulder strap so it can rest on it. Once it's in place, secure the hook and loop fastener tri-fold on the back side, and you're ready to go.
When the back closure system is secured, there's mesh and padding on the backside. The mesh offers aeration to keep airflow moving, which keeps things cool. This is more pertinent when you're wearing it on your belt, but it's also an excellent addition to thin shoulder straps.
Inside The Pouch
To keep things short, there's nothing inside the main compartment. Thanks for keeping it here at Pack Hacker; we'll see you in the…erm—okay, we'll talk about it a little more.

The zipper opens roughly a third of the way around the Speed Stash, so you have a fair amount of room to see what you have inside, but it doesn't open far enough for everything to spill out accidentally.
As we started to say at the start of this section, there isn't any organization inside the main compartment. Zip, nada, none. It's just an expanse of empty space that's capable of holding your phone, a snack bar, or any other rectangle-shaped piece of gear like a passport. All the phones we have at Pack Hacker HQ fit inside, but if you have a substantial case it may struggle to fit.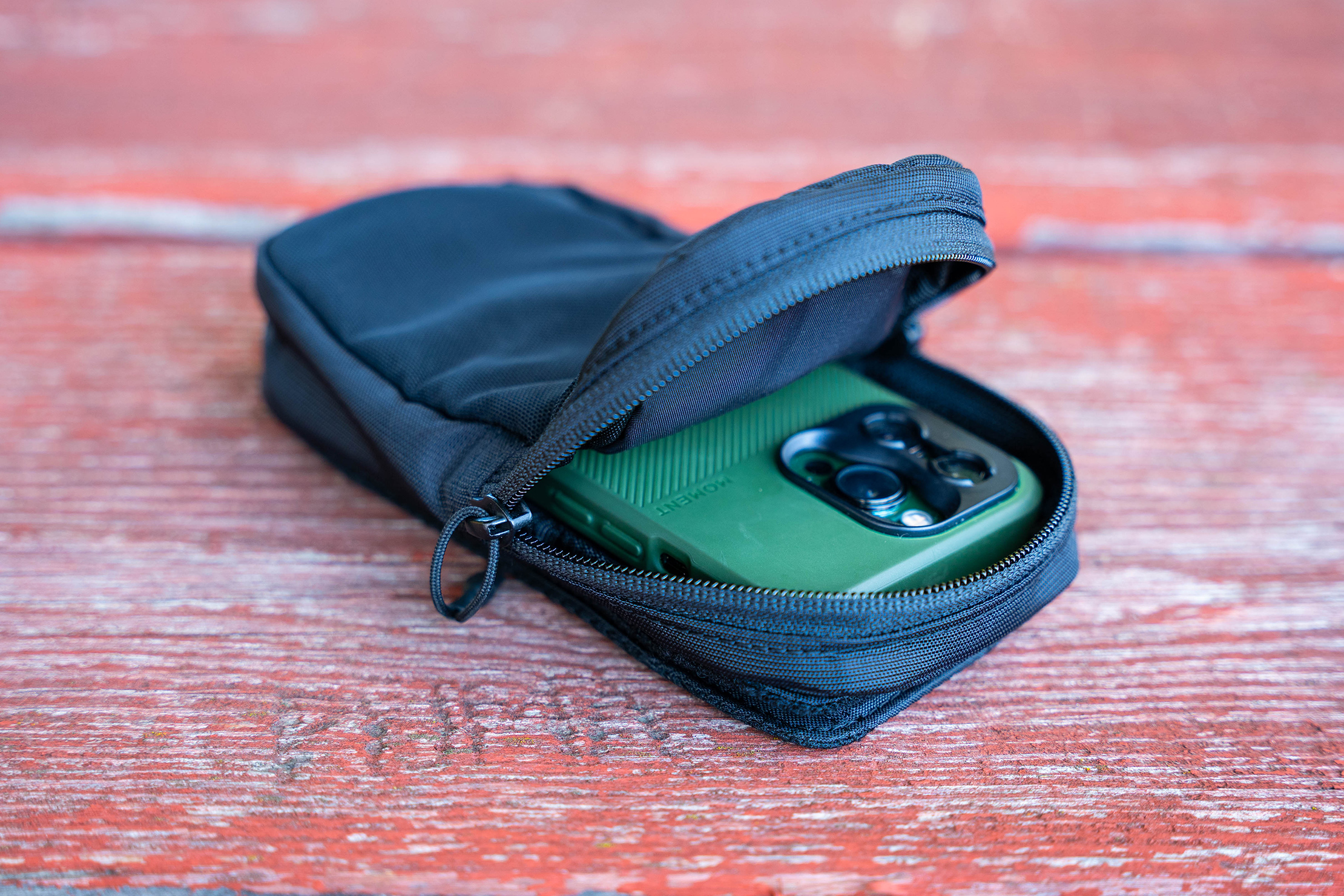 Due to the pamphlet-style closure on the back side, there's ample padding in the rear. The front side has a thin layer of nylon, some extremely thin padding, and the liner material. Because of this, we often opt to put a phone facing backward so that the screen is protected in case the road gets rough. We haven't had any impacts yet, but as any phone that has been through an impact knows, it can be life-shattering. Oh wow, that one was a lot of fun.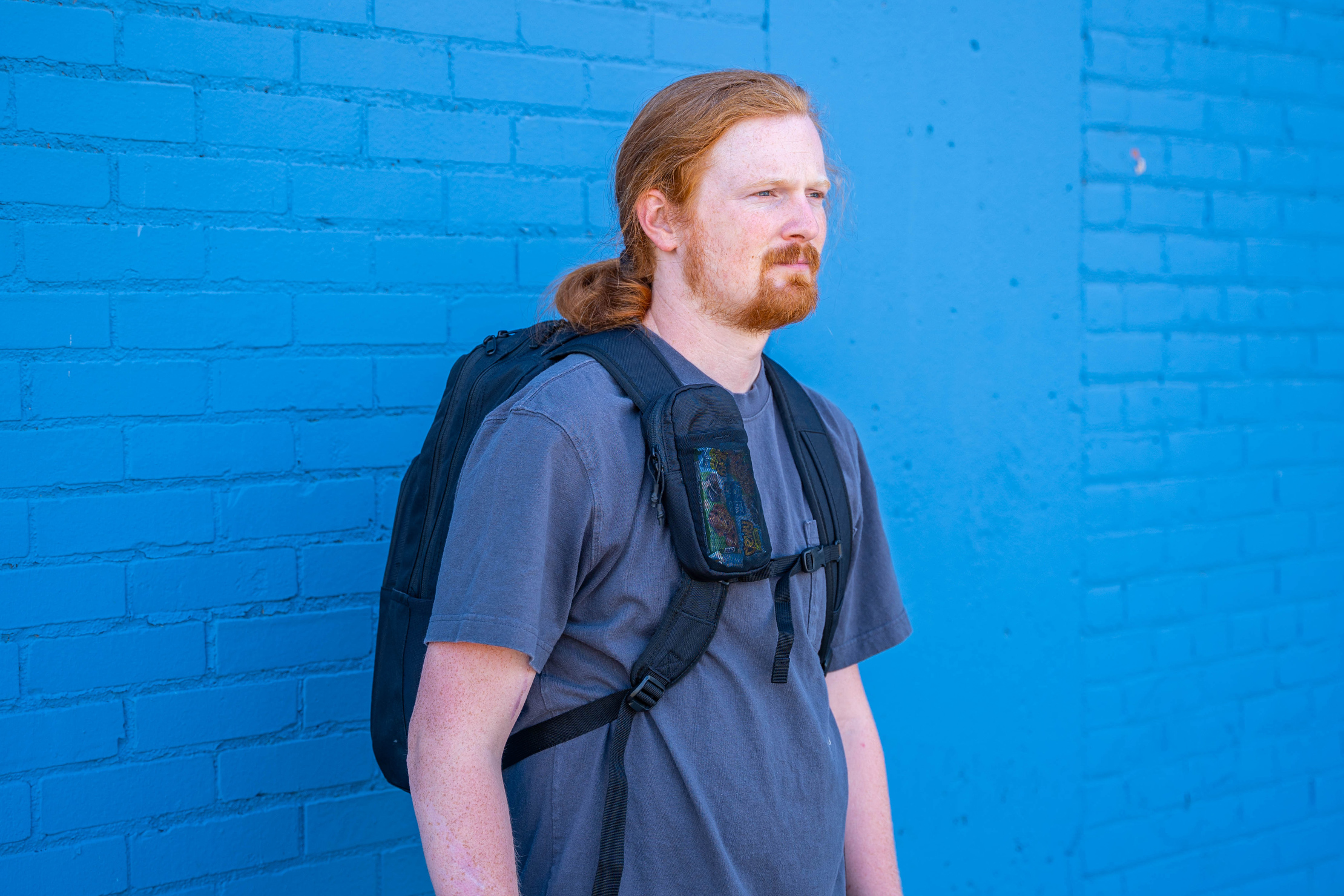 We dig the size of the Speed Stash because you can fit more than one item at a time and the elastic pocket outside offers even more room for things you may quickly need while on the go. Compared to the Chrome Industries Phone Pouch, it has a lot more dynamic uses because of the extra space. We dig the look and the rugged exterior of the Chrome pouch, but you can fit your phone and attach your keys—that's it. With the Matador Speed Stash, you can slide your phone with a cable and mini battery bank in the main compartment and then put a snack bar and your inhaler in the exterior should you get winded or need a snack.
The Speed Stash is an excellent help at the airport—given you can fit your phone, passport, boarding pass, and snack or two inside without worry. You can also stash a battery bank and cable—which is perfect for ensuring your phone stays charged for the whole flight.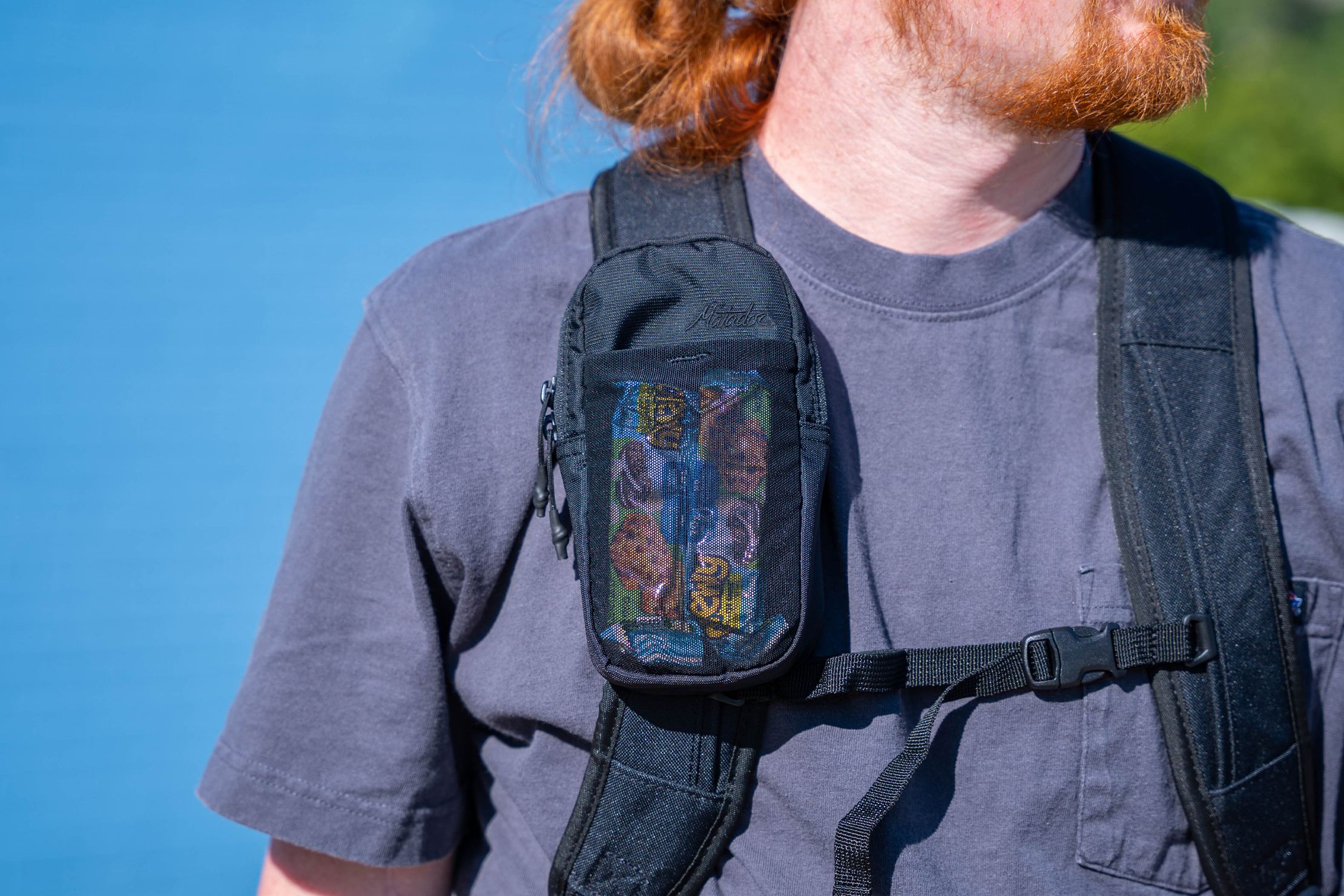 Whether commuting to work or crossing an unfamiliar city, the Matador Speed Stash is a helpful companion that ensures you have what you need on your waist, shoulder, or…sternum…at all times.
Usage Timeline
Initial Usage
Condition: Excellent
The nylon looks sleek, is lightweight, and feels durable.
Three different places to attach it to gear make it a versatile travel companion
We question how it will hold up in wet weather
2 Weeks of Use
Condition: Excellent
No issues with the materials—they look brand new
The closure on the back hasn't loosened and can hold onto most straps
We dig the two zippered main compartment for easy access to gear
Access the Pro Community Discussion
Get your questions about the Matador Speed Stash answered from our team and the Pro Community right here on the page. Plus, join discussions with other members about gear, guides, and more.
Other Organizers & Pouches Reviews