Incase Nylon Accessory Organizer Review
The Incase Nylon Accessory Organizer is a sleek pouch that'll keep your tech gear handy and organized—but the organization may be a bit too much for some.
Our Verdict
Unlock the Pro Summary
Save time. Get access to brief summaries of our reviews so you can browse and make decisions more efficiently.
Pros
Sophisticated, streamlined aesthetic
Smooth lining makes sliding your stuff in and out of the pockets effortless
Clamshell style of opening lets you see and access your stuff easily
Cons
May be too much organization for some
Your stuff can slide out of the mesh pockets
A few loose threads after only a month of testing
Recent Pack Hacker Video
Technical Details
Weight (lb)

.35 lb (0.2 kg)

Dimensions

9.5 in x 6 in x 2 in (24.1 x 15.2 x 5.1 cm)

Notable Materials

Nylon, Polyester, Unbranded Zippers

Manufacturing Country

China

Warranty Information
Buying Options

$49.95
$152.12
Full Review
Get up to 25% off Incase • Join Pack Hacker Pro
The Incase Nylon Accessory Organizer may not be for everyone. If you like to throw all of your tech accessories in a pouch, zip it up, and go then you'll prefer something like the Fjallraven Gear Pockets. But if you like to have a spot for everything, ensuring that all of your random bits and bobs stay tidy and accessible then you'll appreciate all the Incase Nylon Accessory Organizer has to offer.

We've enjoyed testing this handy organizer over the past month in Essex, England, throwing it into a daypack and heading to the coffee shop or co-working space. So let's check out the details.
Materials & Aesthetic
We're digging the sophisticated, classy aesthetic of the Incase Nylon Accessory Organizer. At the time of this review, you can pick it up in Mulberry, Olive, Navy, and Black. All of the colorways are subdued and earthy, which we think ups that classiness. We also like that the branding is minimal—you'll find a logo tag inside one of the interior pockets and that's it.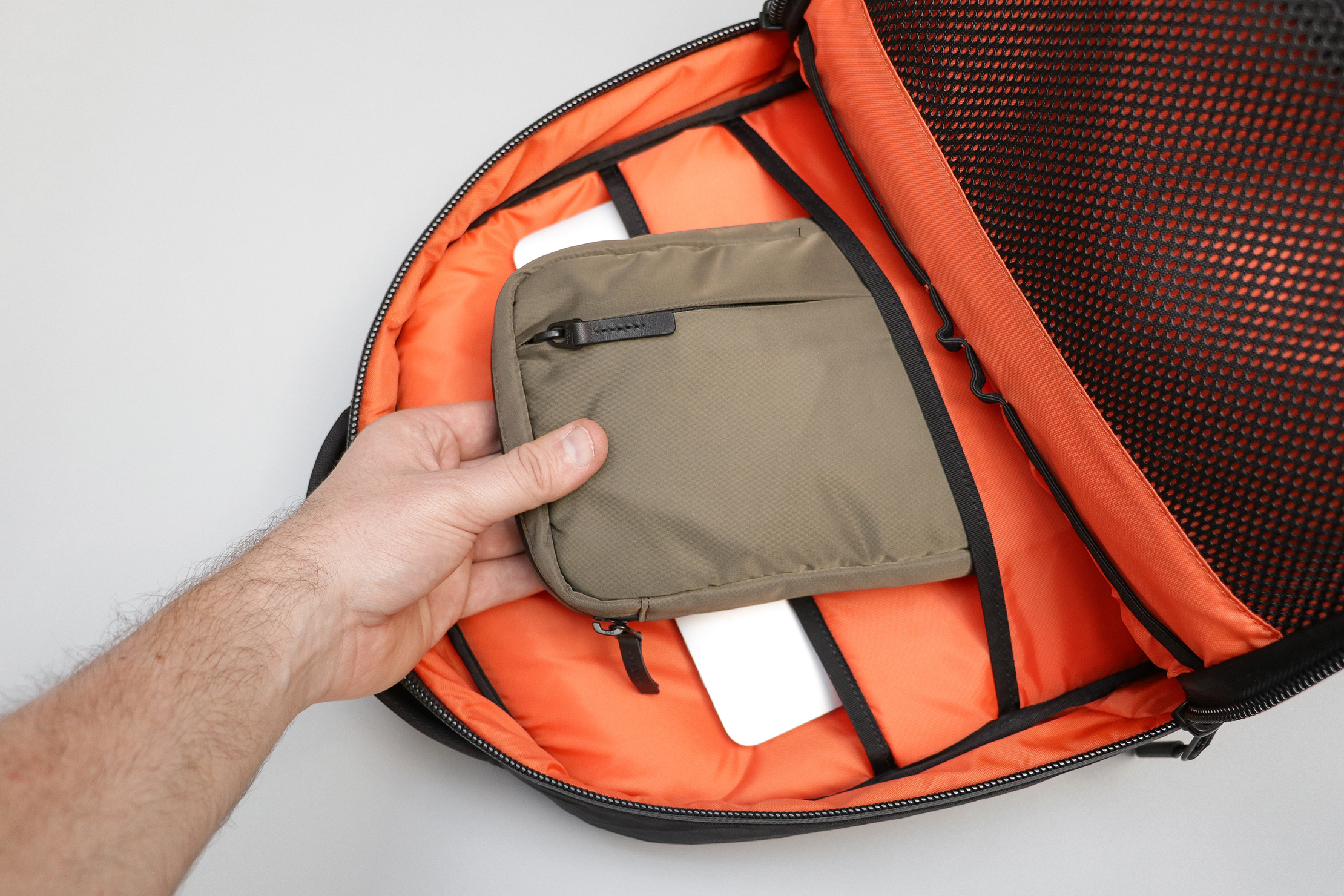 The organizer's streamlined body is also really nice. It slides into backpacks easily and doesn't take up too much room.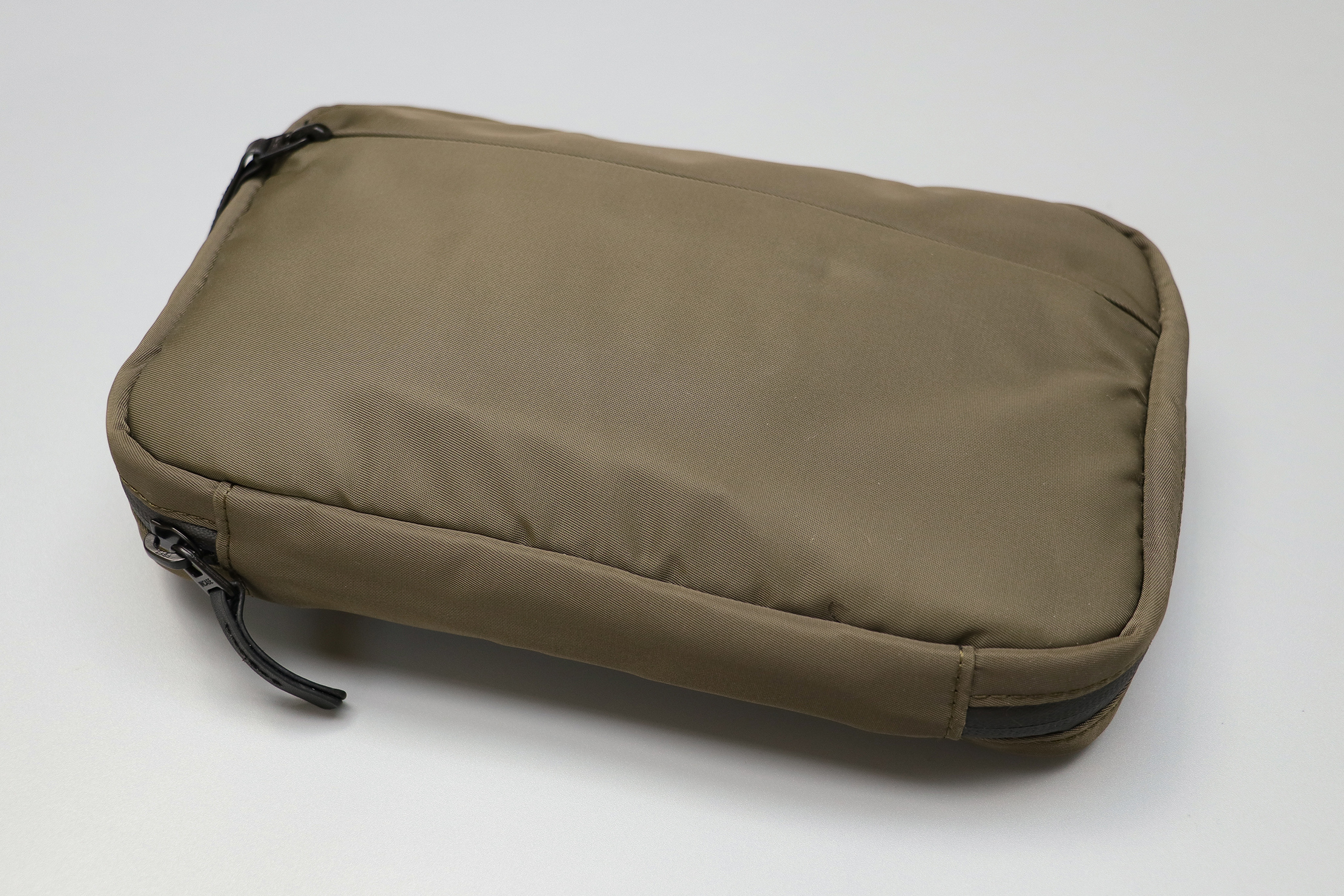 It's made from nylon and polyester and feels nice in the hand—almost silky. We also appreciate that it doesn't collect dust or lint (you'd be surprised by the amount of gear our team has tested that does this). And, if the organizer was to pick something up, it's super easy to clean with just a brush of your hand.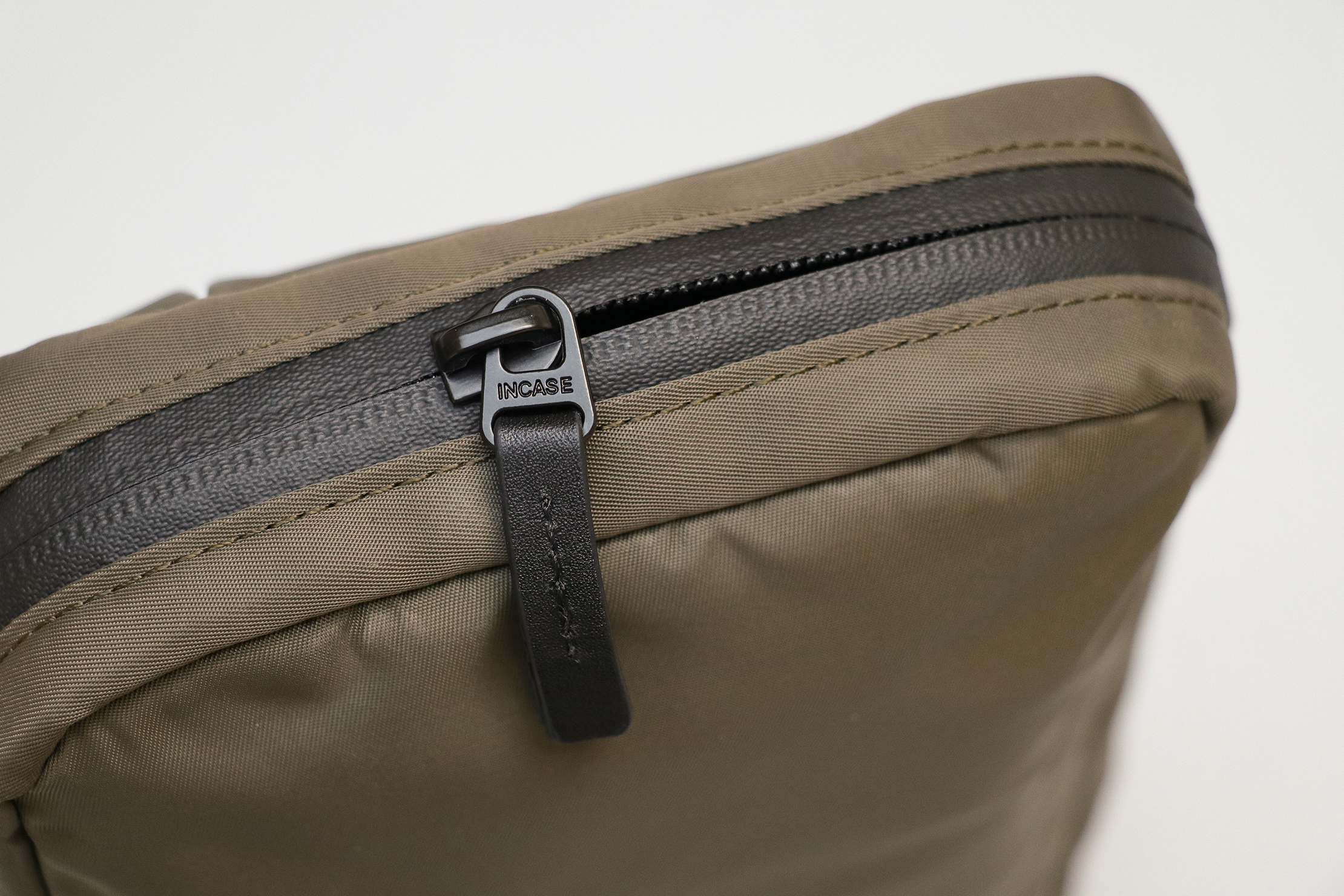 The main zipper is water-resistant, which is nice for a little bit of protection.
Inside the Organizer
Before we dive into a pocket tour, we want to note that this organizer is lined with a shiny, silky material that we're digging. It not only feels nice, but it's smooth enough that it's easy to slide your stuff in and out of the various pockets.
Now, there's a lot of organization going on inside of this organizer. Are you ready? Good—let's go.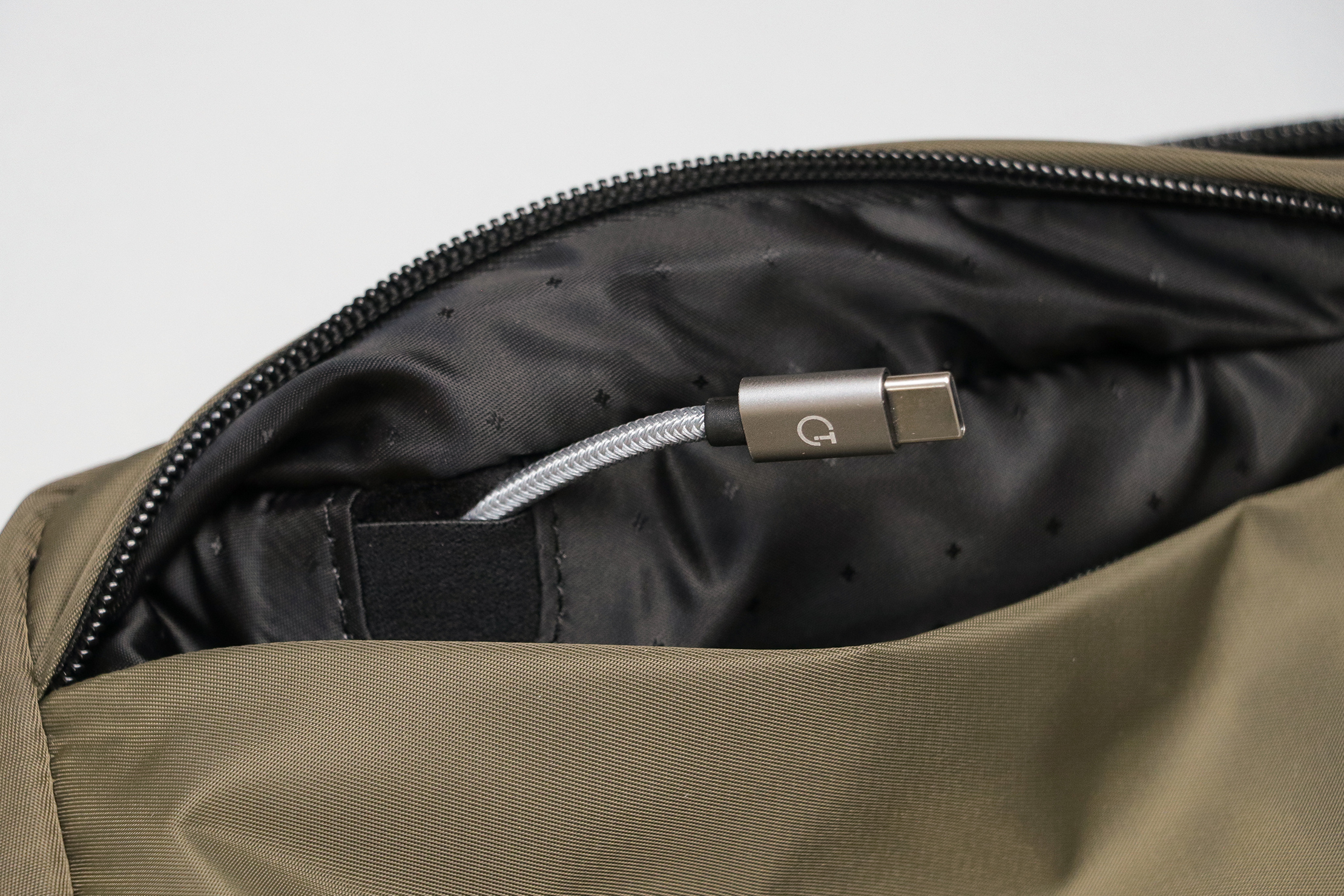 First of all, there's a zippered front pocket that has no further organization inside of it. It's a good spot for items you'll want to get to quickly—since you don't have to unzip the main compartment—but it doesn't have enough depth to work for anything bulky. Maybe a small notebook or sticky notes for all of those brilliant ideas you need to write down right as they fly into your brain. There's also a cord pass through here, so you can charge items you're storing in the main compartment.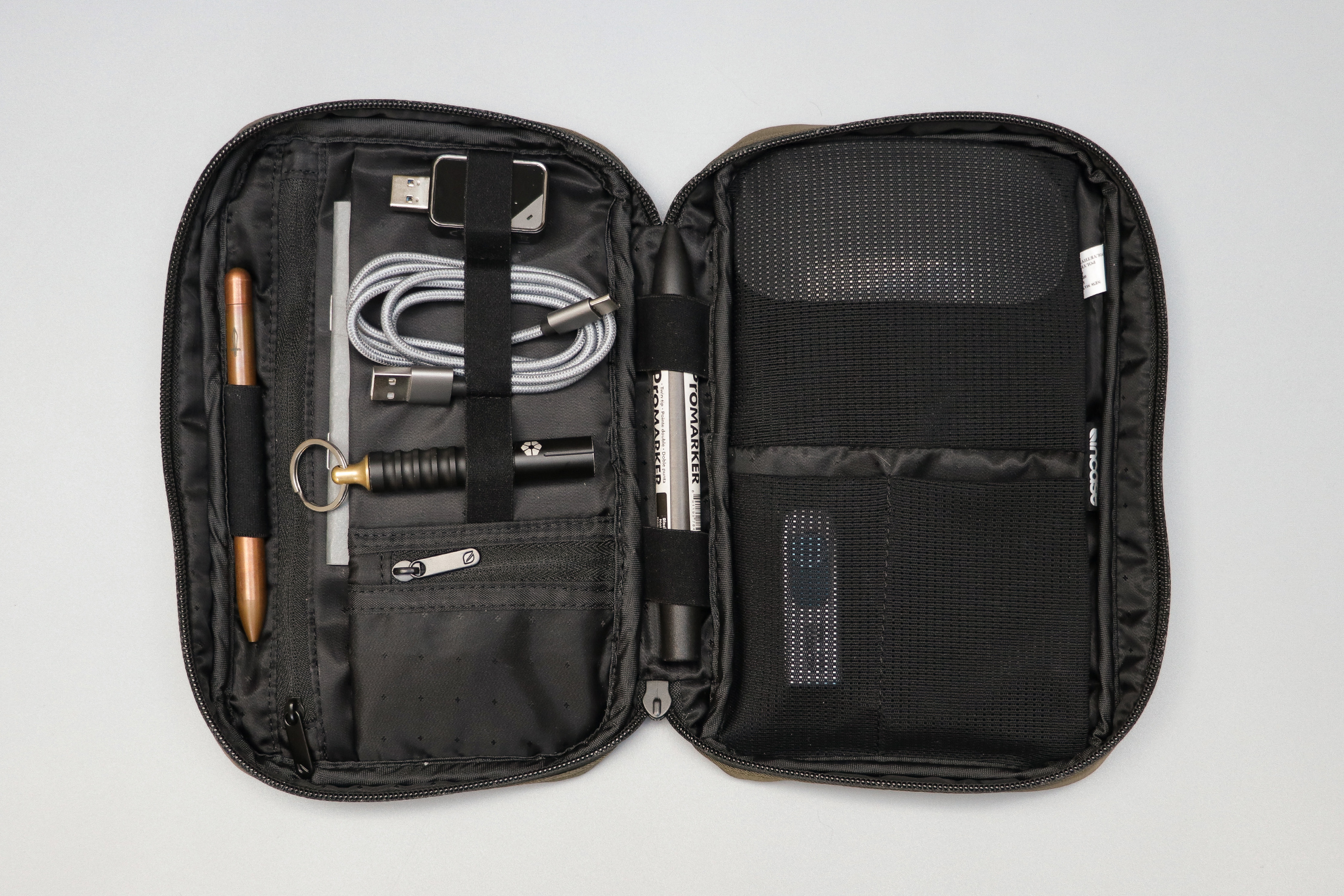 Speaking of the main compartment, let's open it up. It opens in a clamshell-style, so you can see and access everything easily. We're really digging this design—it's super handy to set on a coffee shop table or a desk at the co-working space and have everything you need right there.
On the left side, there's an elasticated pen keeper, which is great to have. We always travel with a pen and it's nice that we have a spot to put it, so it doesn't disappear into whatever void pens (and bobby pins) get sucked into.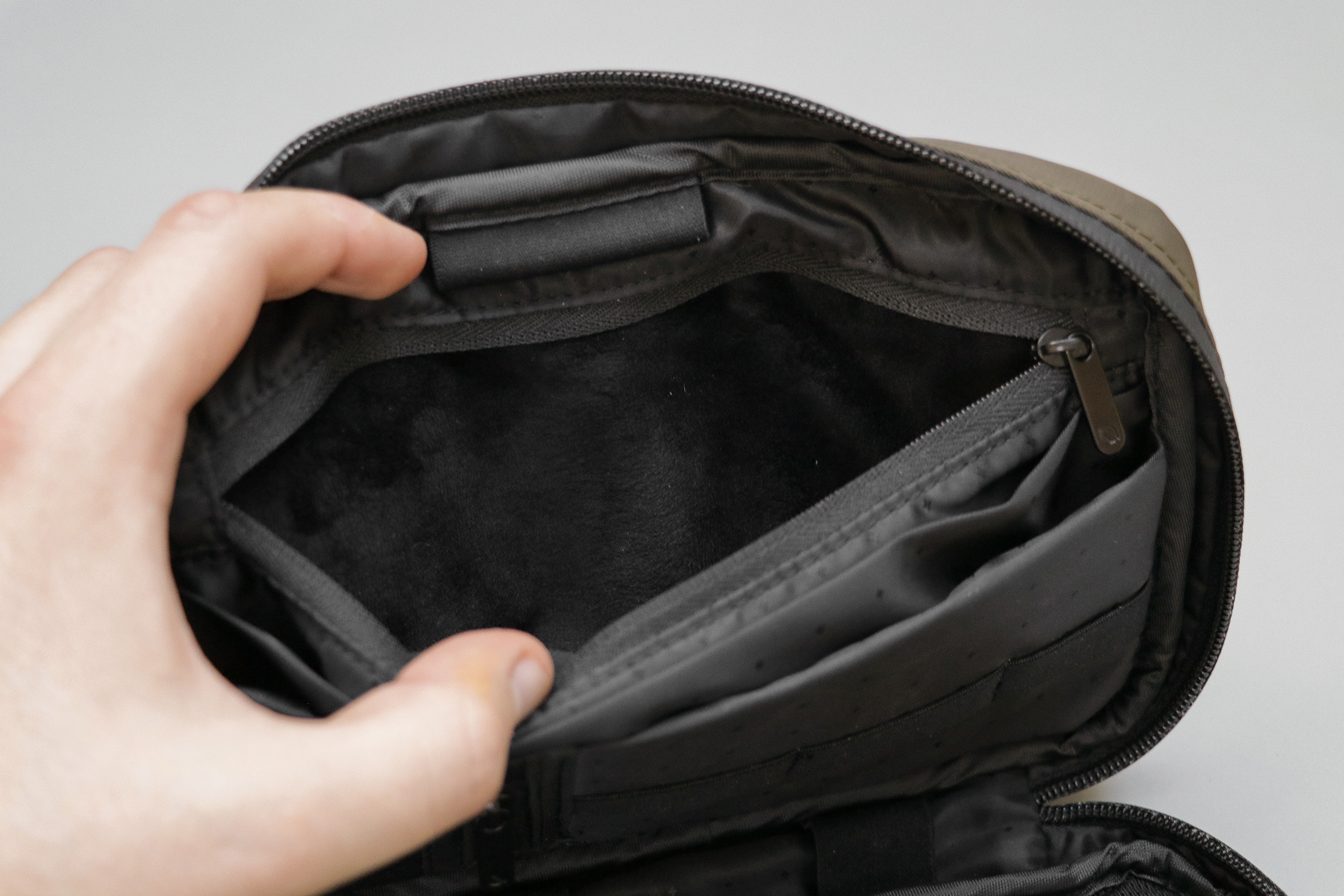 Next to the pen loop, there's a long zippered pocket that's one of our favorite things about this organizer. It's lined with a velvety, soft material that's oh-so-luxurious (and it's still soft after a month of testing). It's great because if you find yourself feeling a bit stressed you can run your fingers over it and feel all of that stress melt away. Seriously though, this soft pocket is a great spot for items you don't want to get scratched up. Your phone, for example.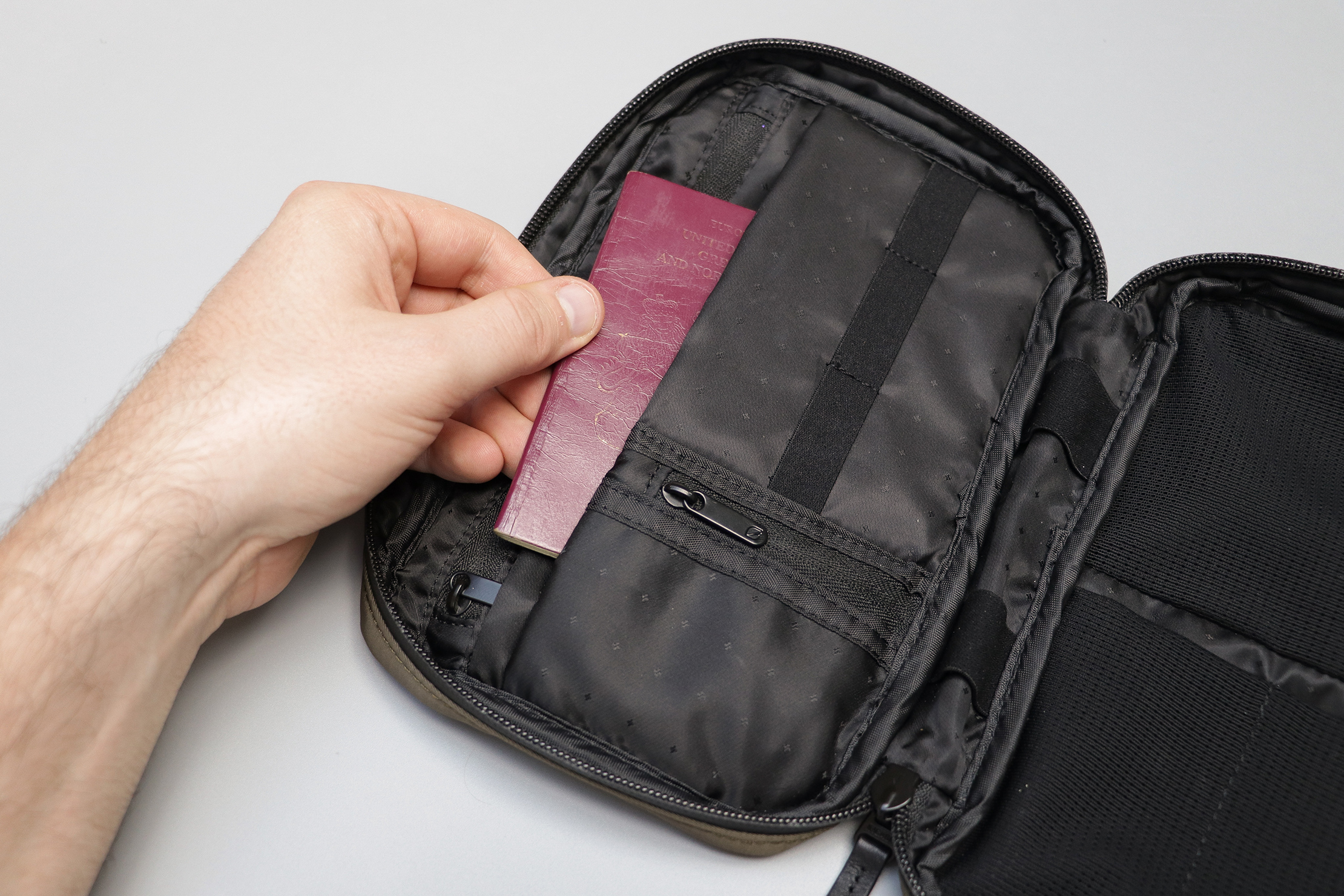 In front of that are two sleeves. While they'll fit bulkier items, we recommend storing flat things here. Just because if you put bulky items in these sleeves they'll sort of distort the elasticated loops on top of them and make it tricky to fully use the rest of the organizer's space. Flat items like a thin, softcover notebook, small papers, passports, etc work great.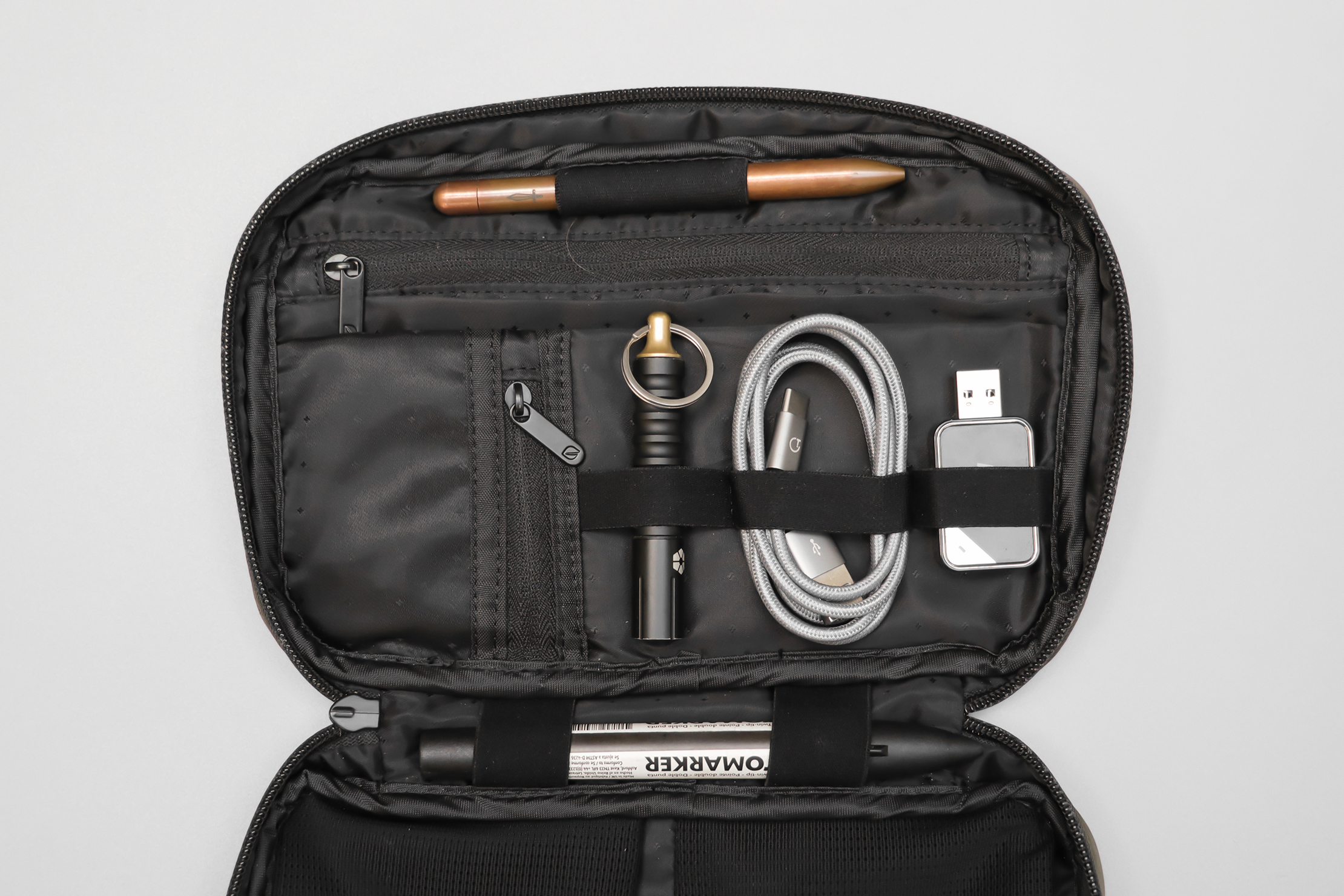 On top of that, you'll find three elasticated loops. Separating the loops from the aforementioned sleeves is a structured divider that feels like it has some plastic inside of it. It's a nice touch, making it easy to slide things in and out of the loops (the silky lining we mentioned earlier also helps with this). We've kept headphones, miscellaneous cords, a small pen, and items like those here.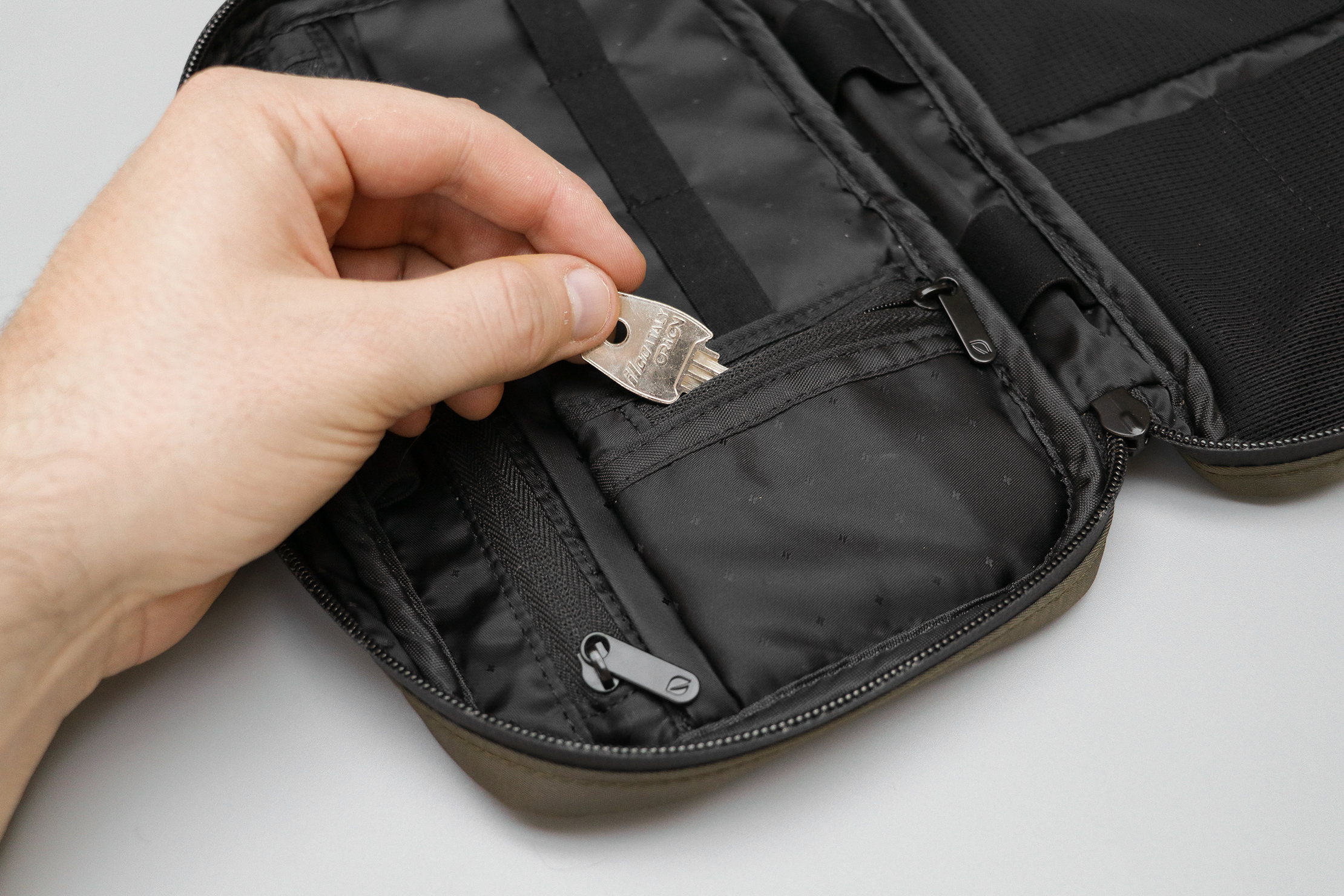 At the bottom, there's a small zippered pocket. It can be difficult to access what's inside of it, but we appreciate that this pocket's here. It's a great place for those smaller items you don't want to get lost—SIM cards, earrings, a USB drive, etc.
The left side of the organizer does have a small amount of padding, which will help with drops, but it's not foolproof by any means. The right side doesn't have any padding.
In the middle of the organizer, there are a couple more elasticated loops—we've put another pen here (do you think we have enough pens?).

And that brings us to the right side of the organizer. There are three stretchy mesh pockets here, all three different sizes. The top one is the largest and will fit bulky chargers—even a laptop charger. The smallest mesh pocket, closest to the center of the organizer, is a good spot for other miscellaneous cords or smaller chargers. And you can keep an Apple Magic Mouse or something equivalent in the middle-sized organizer.
We like that these pockets are all mesh for visibility—you can see what's going on inside. We also like that there's some elasticity at the top.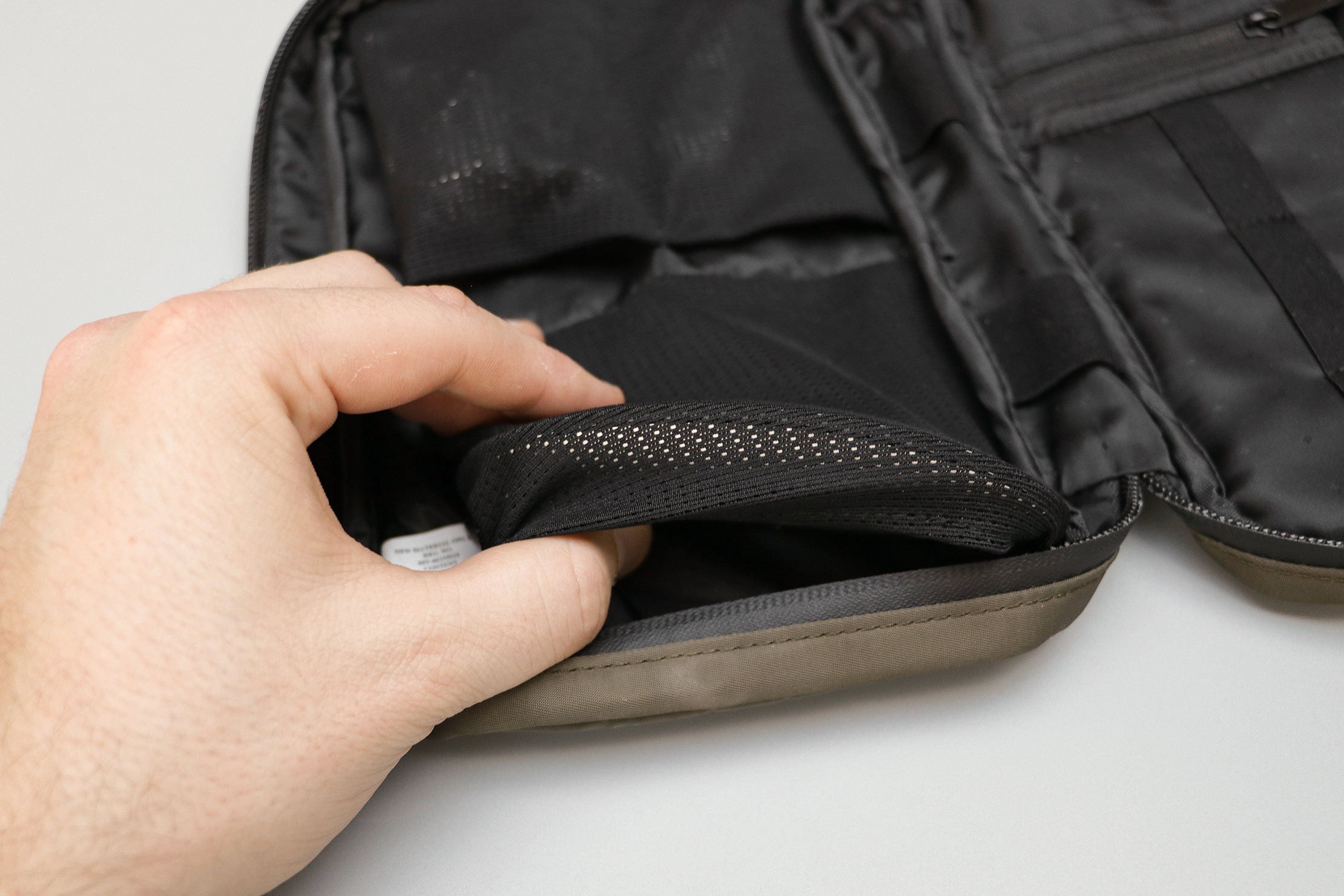 There's also a small fold at the top of each of the pockets to help keep your stuff from falling out, which works…to a degree. It won't keep all of your stuff from falling out, particularly bigger, heavier items—that Apple Magic Mouse we mentioned earlier has slid out of the pocket. But it does a decent job, especially for smaller items. Just be aware that things may move in-transit.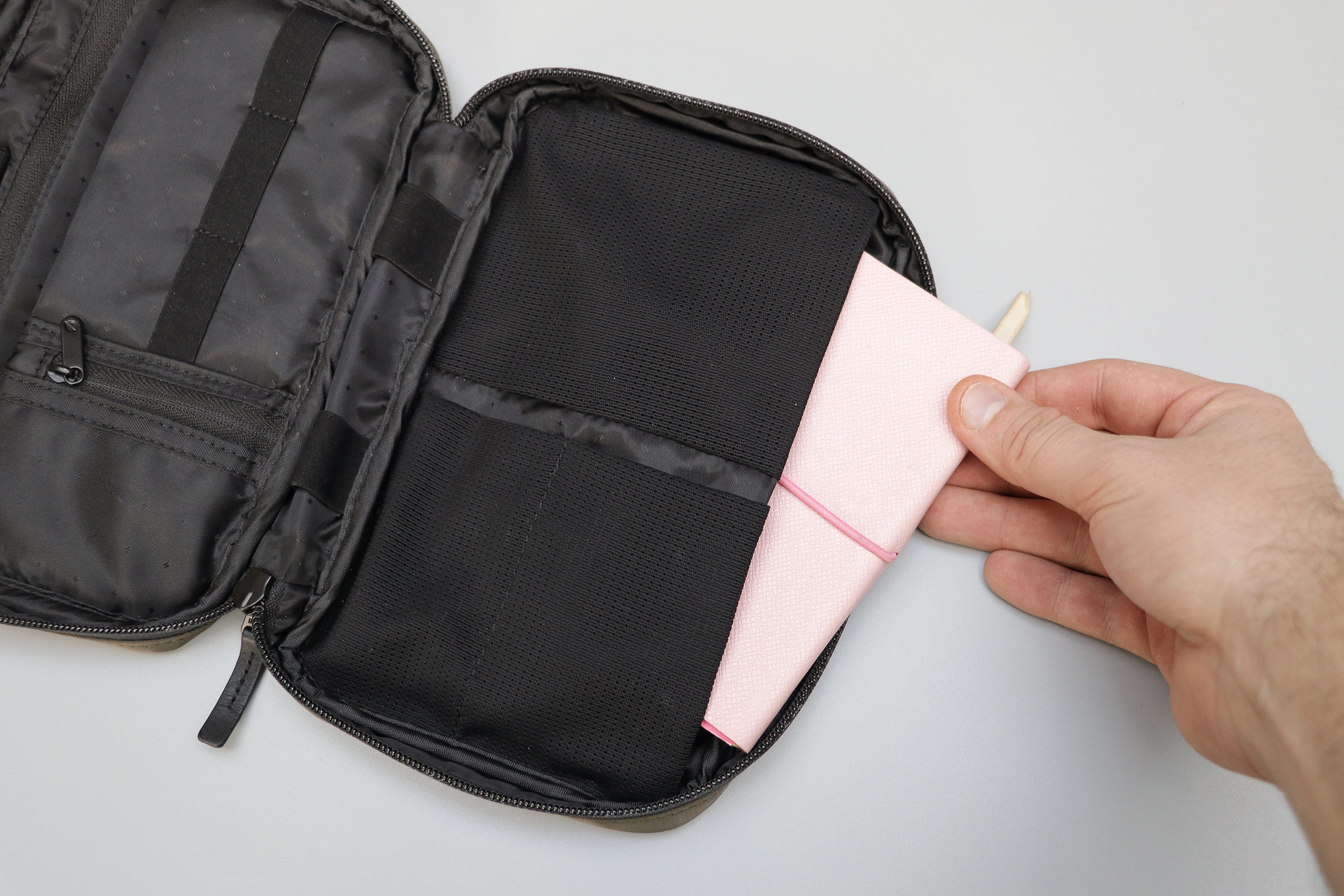 Behind the mesh sleeves, there's a large sleeve. Again, it's a nice spot for thinner items. A thin paperback, another notebook, things like that.
Whew, that's everything. Overall, we're really digging the organization. But, again, if you're the type of person who'd rather throw your stuff into a big ole bucket and move on with your day, this organizer won't be for you. It's also not ideal if you have a ton of bulky tech gear.
Finally, before we wrap up this review, we want to mention that any of the above organization packs flat when not in use, which is really helpful. If something doesn't work for you, you don't have to use it and it doesn't get in your way.
And this pouch works exceptionally well for business travel. At a meeting, you don't want to be digging around one of those bottomless pouches for a pen (or whatever). With this pouch, you've already got everything neat, tidy, and at your fingertips. Plus, because it doesn't pick up dirt (as we mentioned earlier) it's professional enough to keep out.
Durability & Testing
As we said at the beginning of this review, we've been testing the Incase Nylon Accessory Organizer for approximately a month. It's been really nice to have to organize all of those daily tech essentials—pens, chargers, notebooks, etc.
Unfortunately, we do have a minor durability issue to report. We've found a few loose threads along the exterior—one of which is super pesky and sticks out a lot—which isn't ideal. Hopefully, that's not a sign of things to come.
Usage Timeline
Initial Usage
Condition: Excellent
Lots of organization of different sizes and styles
Soft and padded pocket on the interior for phones
Slim profile and easy to pack into your bag
1 Month of Use
Condition: Good
We haven't exactly put this thing through the wringer and we've already found some loose threads. It's not the end of the world, but it's definitely not ideal.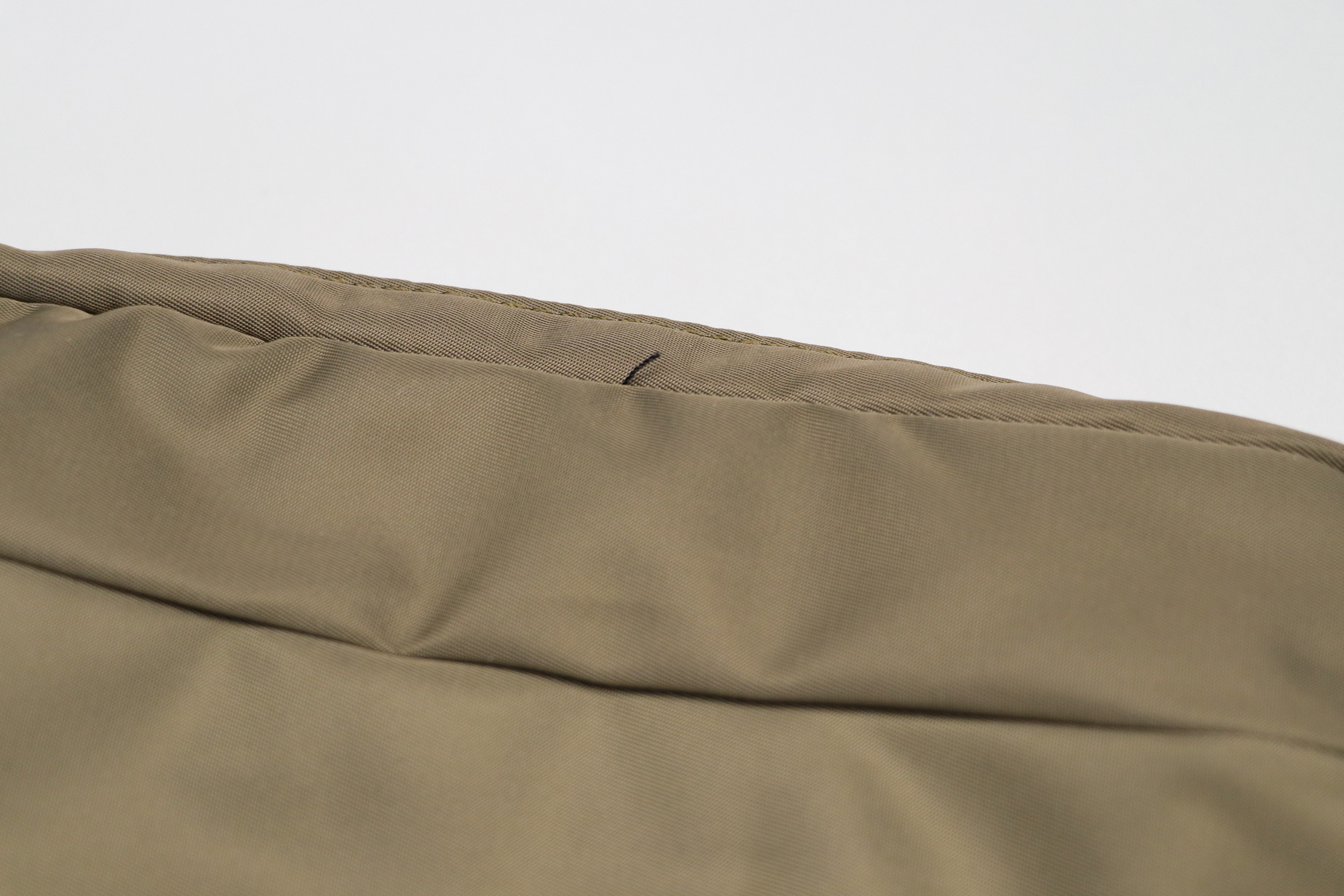 Access the Pro Community Discussion
Get your questions about the Incase Nylon Accessory Organizer answered from our team and the Pro Community right here on the page. Plus, join discussions with other members about gear, guides, and more.
Other Organizers & Pouches Reviews