HEX Evolve Logic Backpack Review
The HEX Evolve Logic Backpack has a simple design that balances minimalism and organization, but it lacks comfort on longer journeys.
Our Verdict
Unlock the Pro Summary
Save time. Get access to brief summaries of our reviews so you can browse and make decisions more efficiently.
Pros
Spacious main compartment
Enough internal organization for daily use
Minimalistic design blends in with surroundings
Cons
Laptop compartment can be difficult to use
Difficult fitting plus-sized water bottles
Luggage pass-through orients the bag sideways
Recent Pack Hacker Video
Technical Details
Capacity

14.5l

Weight (lb)

1.3 lb (0.6 kg)

Dimensions

17 in x 11.5 in x 4.5 in (43.2 x 29.2 x 11.4 cm)

Notable Materials

CORDURA Eco Fabric, YKK Zippers, YKK Buckles

Manufacturing Country

Vietnam

Laptop Compartment Size

15"

Warranty Information
Full Review
Get up to 20% off HEX • Join Pack Hacker Pro
The HEX Evolve Logic Backpack features recycled materials and a simple design. It looks pretty similar to the HEX Evolve Sling on a surface level, which we hold in high regard. Can the backpack live up to the bar it sets? Let's find out!
Materials & Aesthetic
As we mentioned in the review of the sling that bears the same name, the HEX Evolve Logic backpack leans into an industrial design with a textured gray colorway. That's the only option at the time of writing, but we find that it fits in just about anywhere.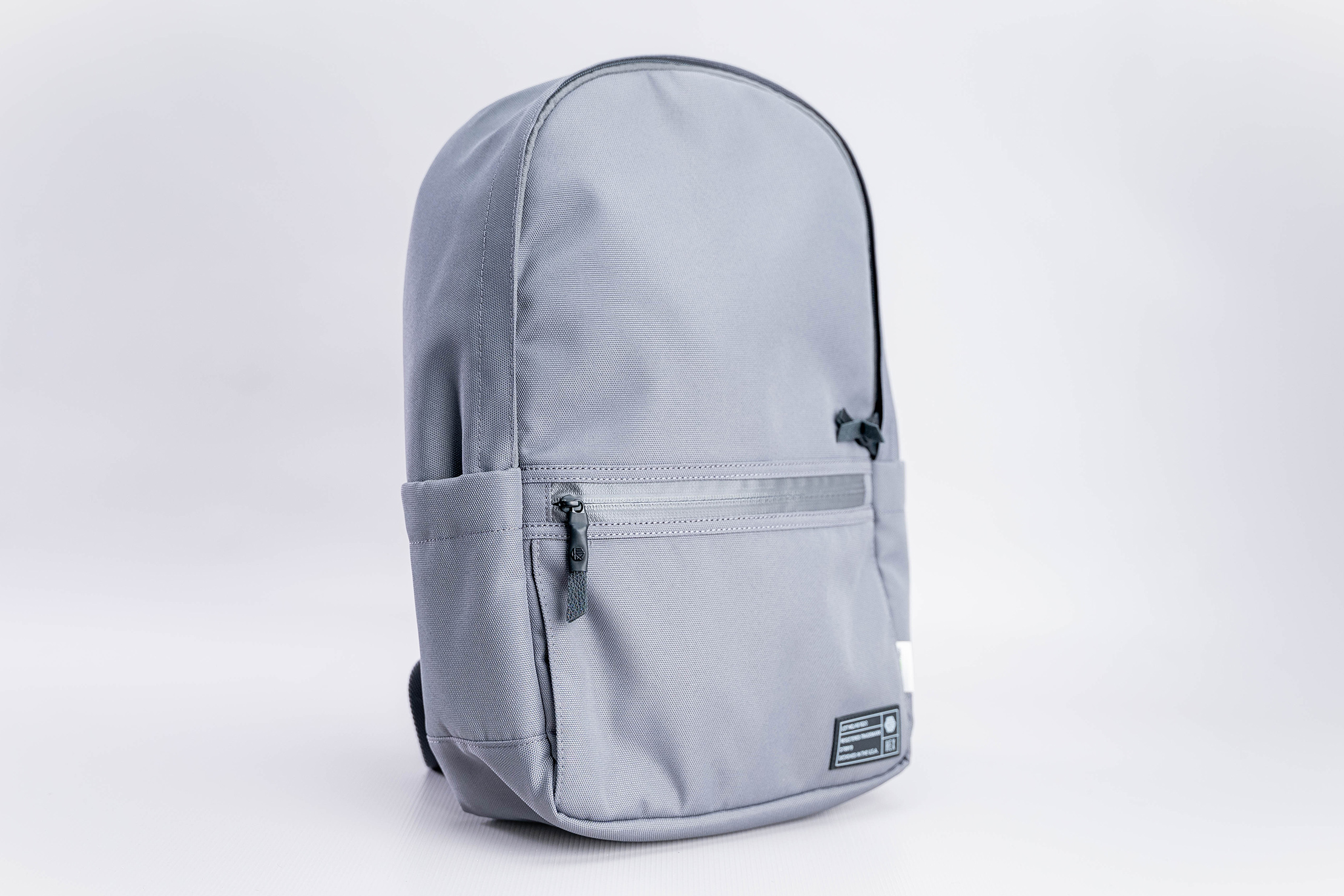 The branding on the pack is very technical-looking. We almost feel like we're back in chemistry class, trying to understand the labels on the beakers so our group mates think we actually know what we're doing. No worries here, though, as the label is simple, sleek, and minimalistic.
The fabric is recycled ECO CORDURA nylon, which we find just as durable as regular CORDURA we've tested in the past. There seems to be a little bit of padding between the outer shell fabric and the interior, which is nice to the touch and gives our gear that little bit of extra protection.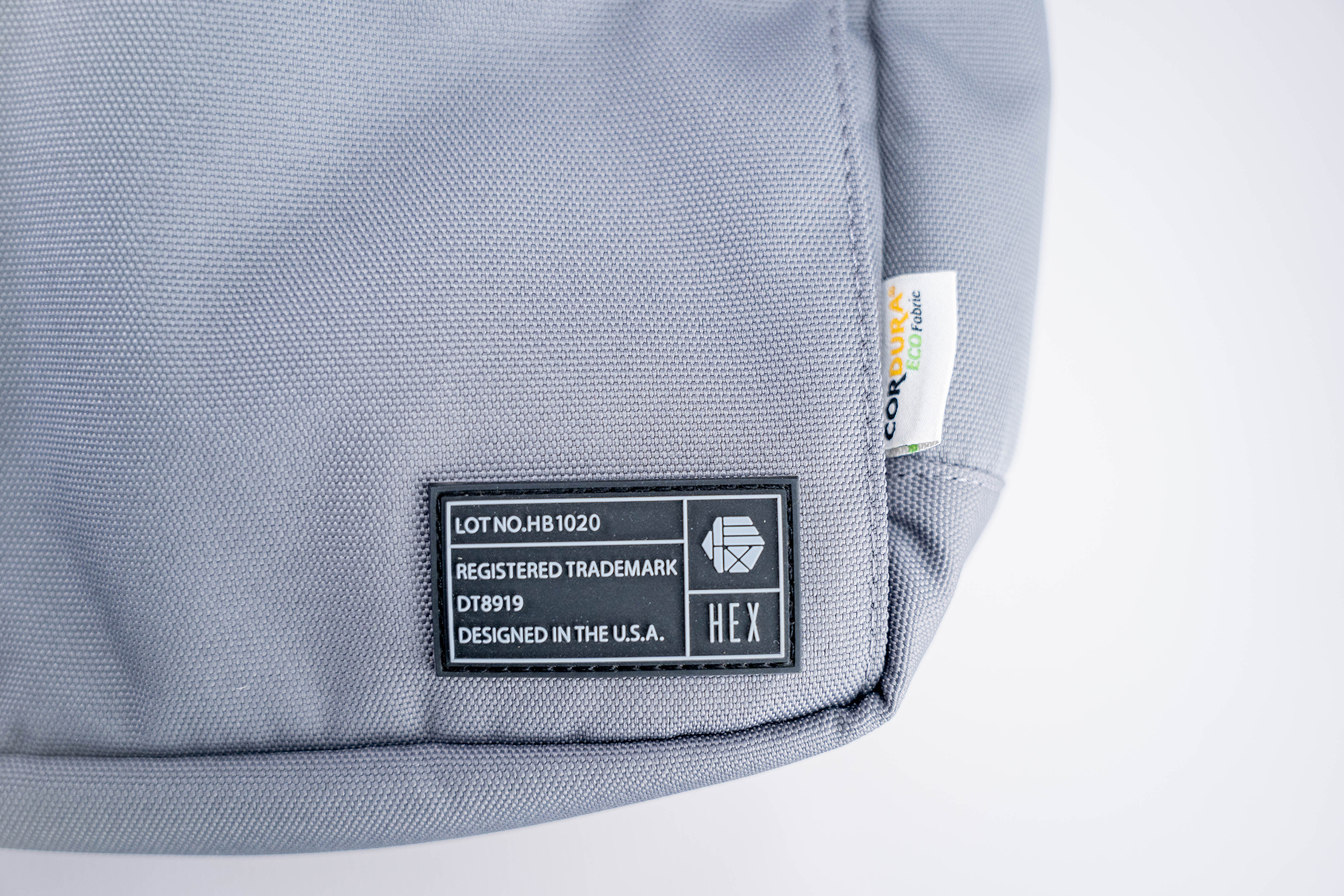 The fabric has an anti-microbial finish, meaning that it should repel any bacteria you might come into contact with, like mold and fungus. We don't think we were around any funguses, but we won't judge you if you often are.
The fabric doesn't feature any weather resistance coatings, but our gear is still dry in light rain. The material remains wet for a while after exposure, but everything inside is okay. We expect this could be more of an issue in worsening inclement weather.
The main compartment zipper is a YKK #8, which is easy to open and close even without a tab on the exterior to grab onto for support. A fabric welt covers it to keep water off the zipper, and it's still dry after getting caught in the rain.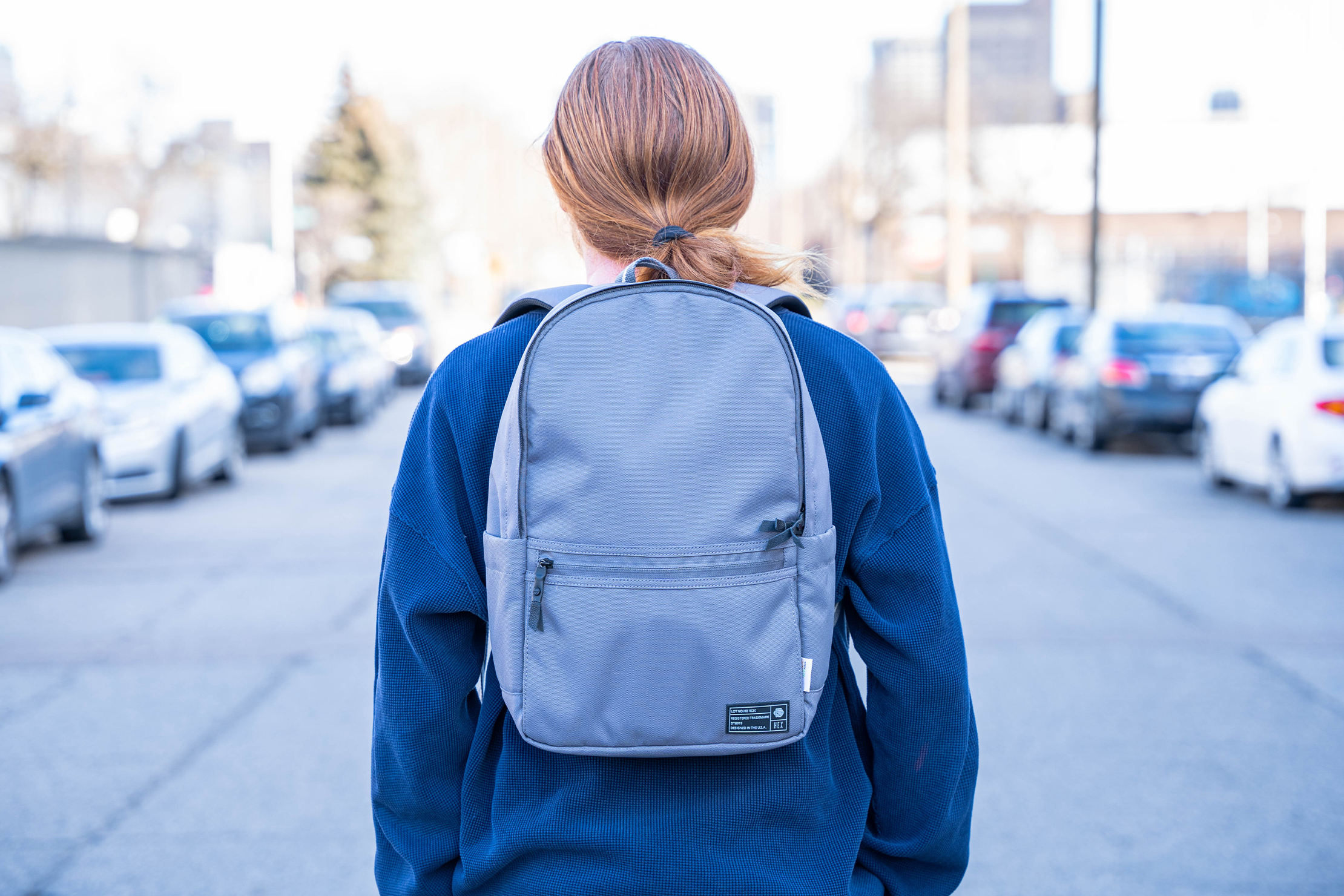 The front pocket zipper is a YKK #5, which can be a little slow to open and close. This is due to a lining that covers the teeth to keep water away from the cracks in the zipper when it's raining or snowing. This pocket is a little harder to open than the main compartment, but the added weatherproofing is a worthy bonus, we think.
The zipper pulls are heat-wrapped plastic with a small fake leather material on the end, which is easy to grasp onto. It does get a little slippery in the rain, but the raised logo on the plastic part has enough texture that makes holding onto the pull painless in all weather conditions.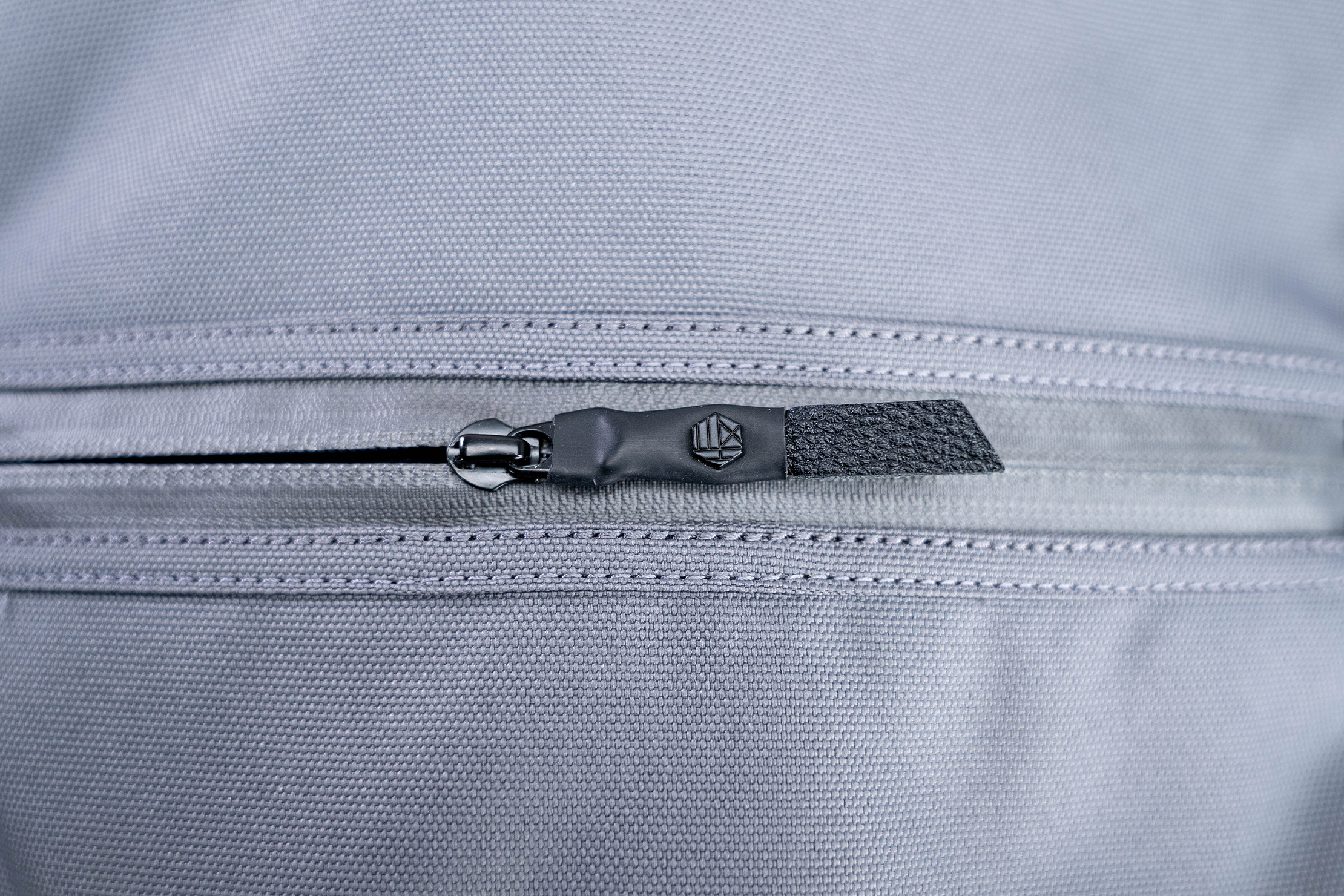 The model we received features ECO CORDURA nylon all around the pack, though since beginning our review they've added what looks like a non-slip bottom with a different black material. We don't have any issues with our pack slipping around as-is, though the addition does create a slightly different, more futuristic aesthetic.
External Components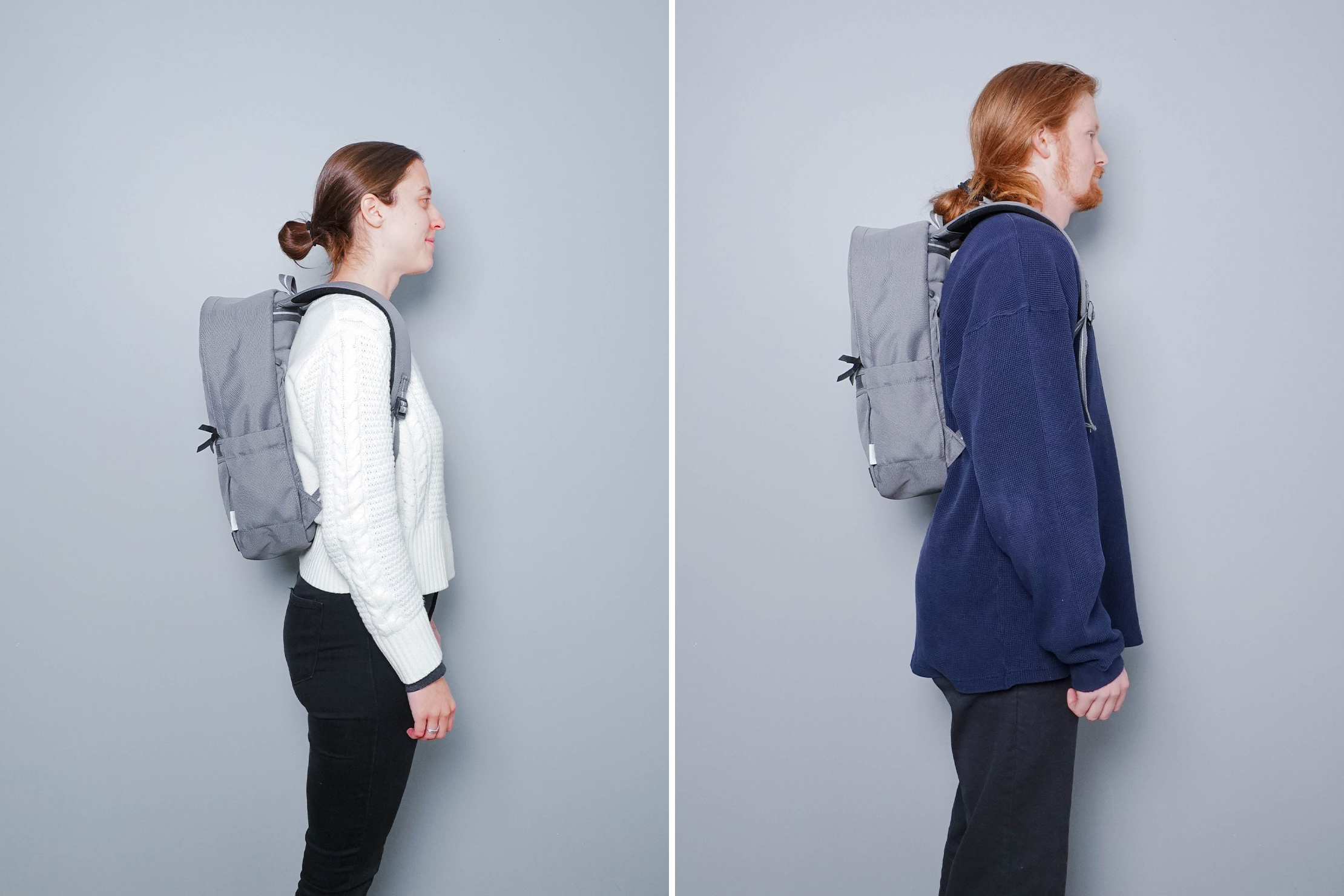 The shoulder straps have a little bit of padding to keep things reasonably comfortable. They also feature mesh to promote airflow and keep sweat at bay on hot days. The shape of the straps doesn't form to the body; they're just flat straight lines that can feel awkward to wear, especially when the pack is full or heavy.
They sort of feel like a generically sized harness you would have to wear at a rock climbing gym but with a little more padding. It isn't that noticeable for short walks to and from the coffee shop from your hotel or Airbnb, but if you're spending the day trekking across a new city, the pack will get a bit uncomfortable.
There's no sternum strap or hip belt, which is fine by us. Even when it's fully packed, it still isn't all that uncomfortable, or at least in a way that a connector between the shoulder straps could have negated. The issue we have is with the strap's shape, not lack of support.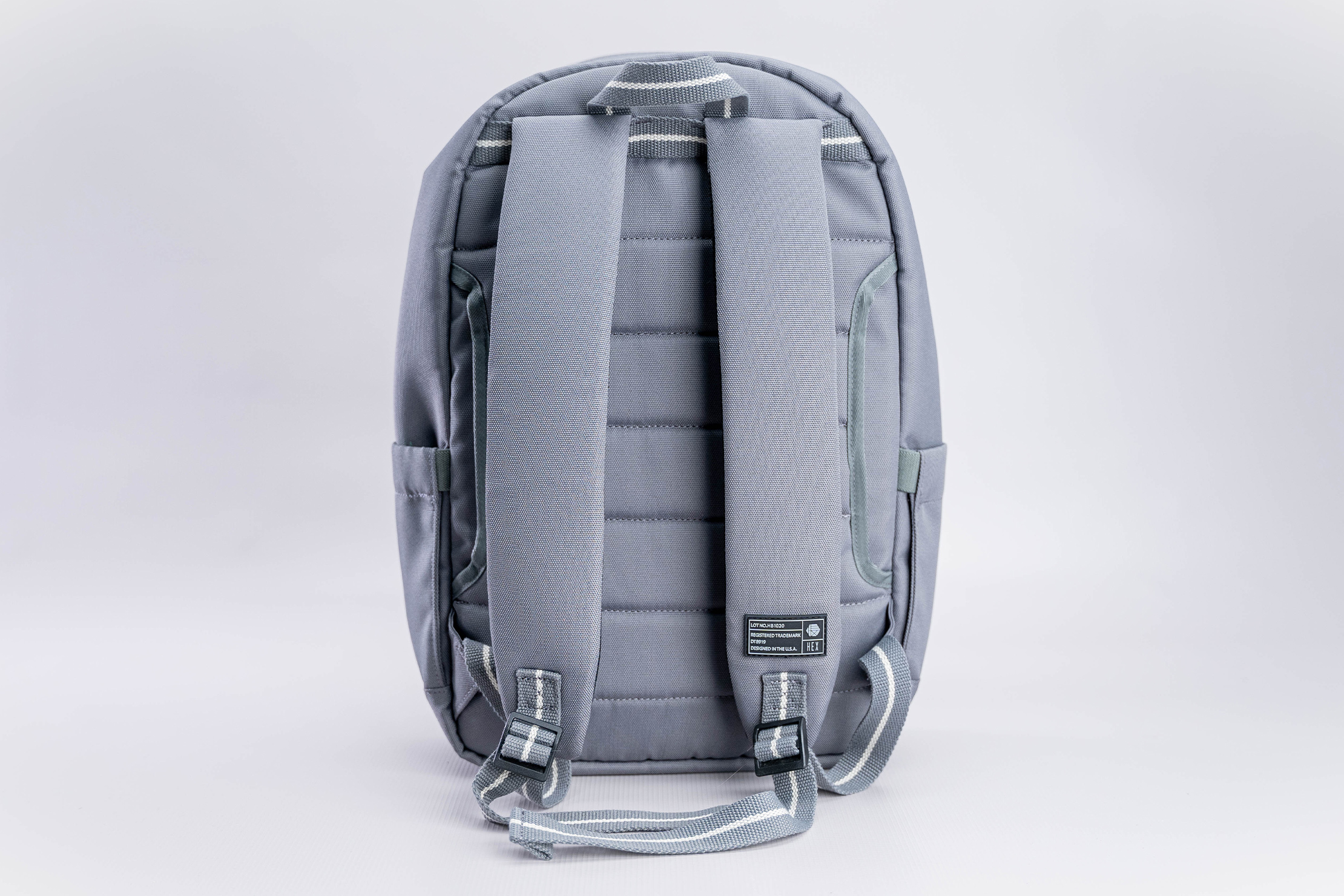 The back panel does have a fair amount of padding, although it doesn't feature any mesh to keep things cool. Even in the winter, we found that the back panel could leave our backs a little sweaty and stale after 15 minutes of use. It's comfortable, but the lack of aeration may be a dealbreaker for some.
The padding is separated from the back panel by a luggage pass-through, which we think is an excellent addition. This makes the pack more usable in the airport, especially as a personal item. Just slide it onto your rolling luggage for instant lumbar relief. However, the pass-through itself is vertical, which we find a little odd. We're used to pass-throughs that keep the pack upright, and turning it sideways means our gear could get all jumbled inside because, most likely, you'll pack it standing up, not horizontally. Additionally, you have to take the pack off the suitcase and turn it upright to access your gear. Otherwise, everything could tumble out when you open it. This isn't the end of the world, but is important to think about before packing your bag to head to the airport.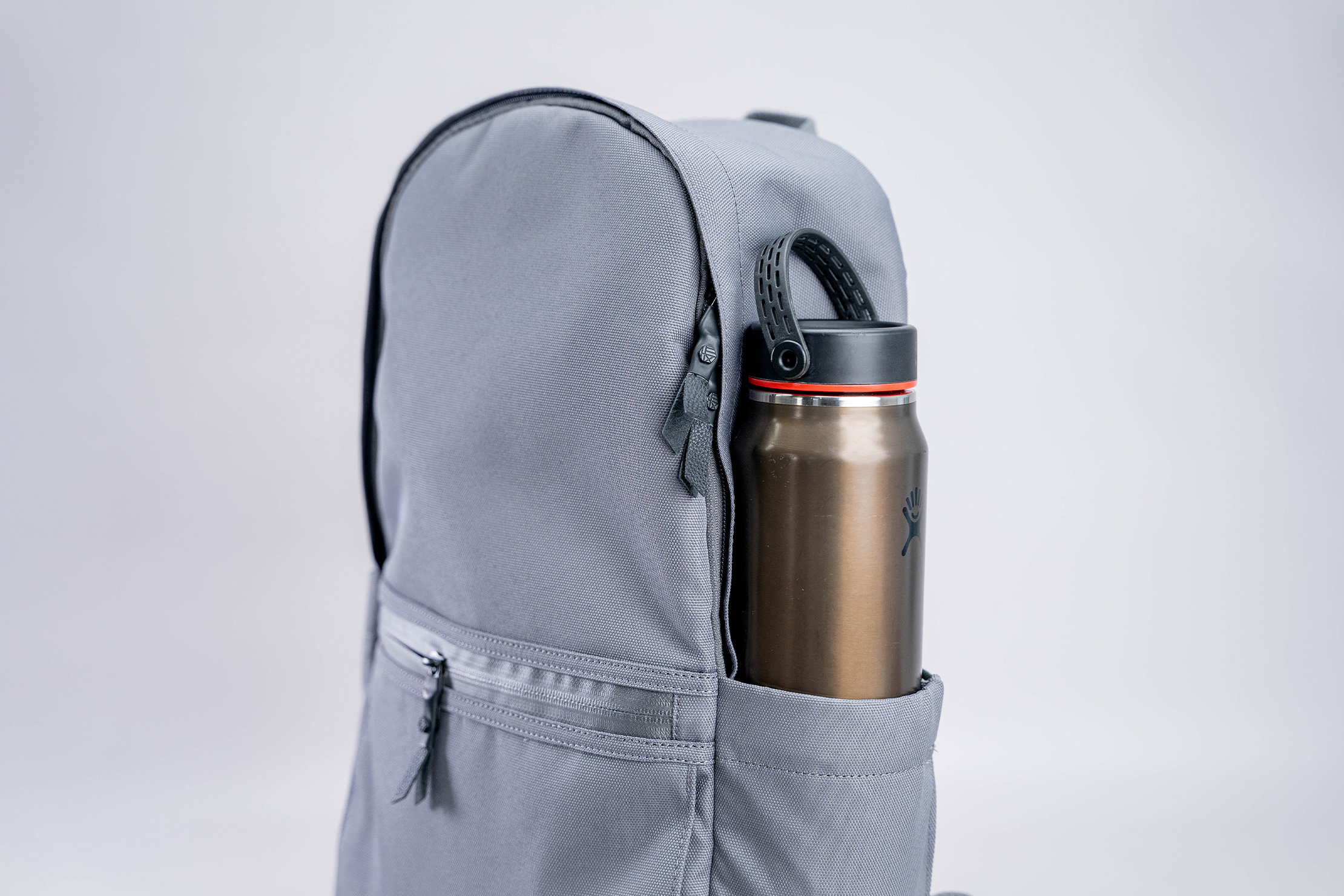 The pack features two water bottle pockets, one on each side. We can fit most standard-sized bottles, but those with a wider diameter are too large. Some larger bottles, like the Hydro Flask Bottle 21 oz, can still fit because they maintain the same width as smaller models but are just taller. Whatever you put into the pocket stays put, as the elastic is tight, which isn't always the case on packs of this size. The pockets blend in nicely with the pack and don't take away from the overall minimalistic look when not in use.
The top handle isn't much to write home about in terms of comfort, but it functions as it should. There isn't any padding or mesh, but it looks nice and feels durable.
Inside The Pack
The front pocket is lined with soft fake fur, which adds extra protection, especially for devices with glass screens. It isn't the largest pocket, but it's well suited for a small tablet or an e-reader. Otherwise, we can fit our phone, wallet, and keys inside. It's hard to get things in and out of this pocket when the pack's main compartment is stuffed full because the pockets aren't independent from one another. Even flat items are challenging to maneuver but are much more manageable than larger ones.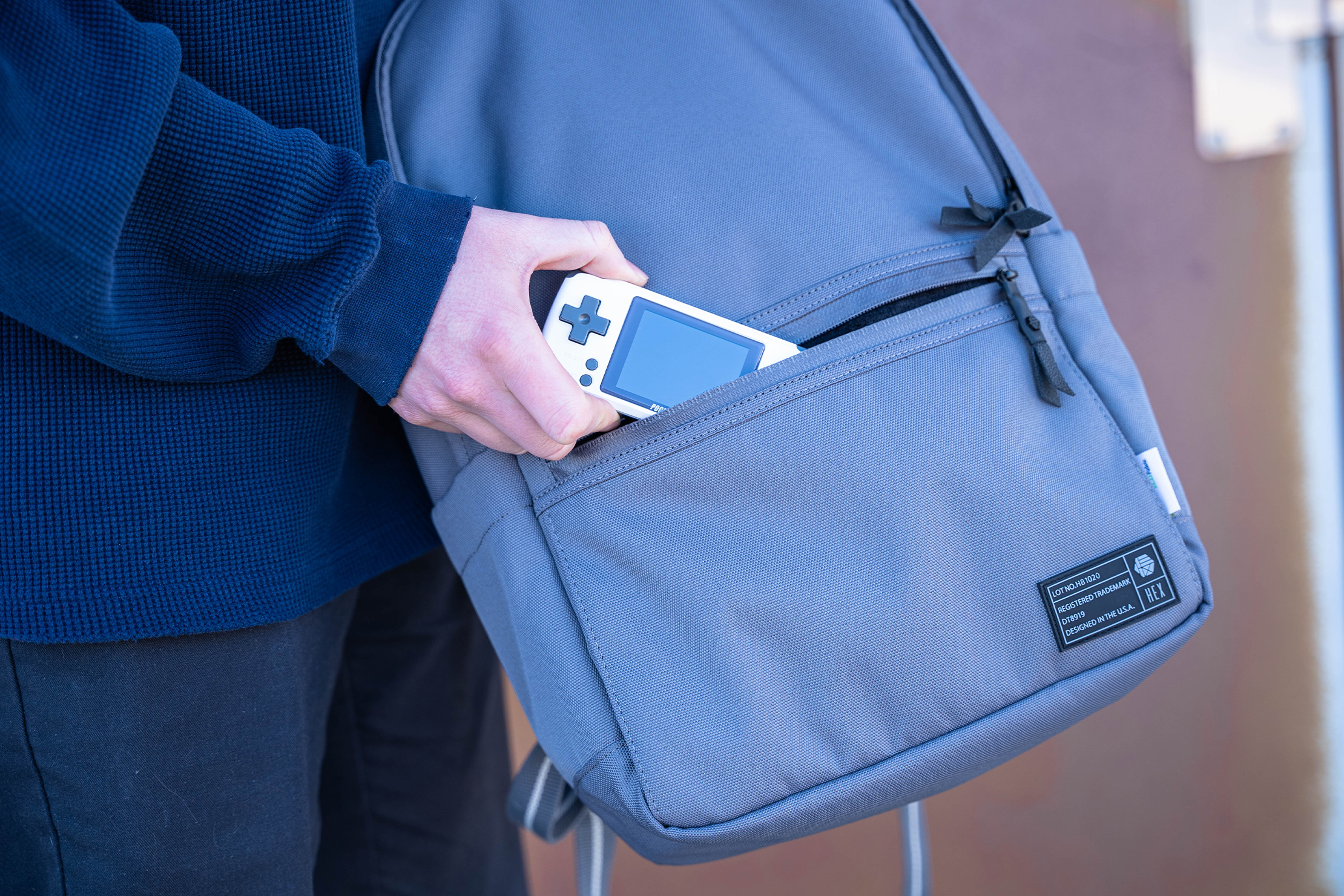 We're delighted with how much we can stuff inside this pack. Coming in at 14.5 L, it's an ideal size for a day trip to a nearby city, light weekend trips, or commuting. The main compartment has some internal organization, but not enough to infringe on the overall storage.
The interior fabric is recycled HEX heritage lining. We aren't exactly sure what that means in terms of materials, but it feels durable enough and is a little slippery to the touch. We spilled on it a few times, and it's easy to clean with just a wet paper towel.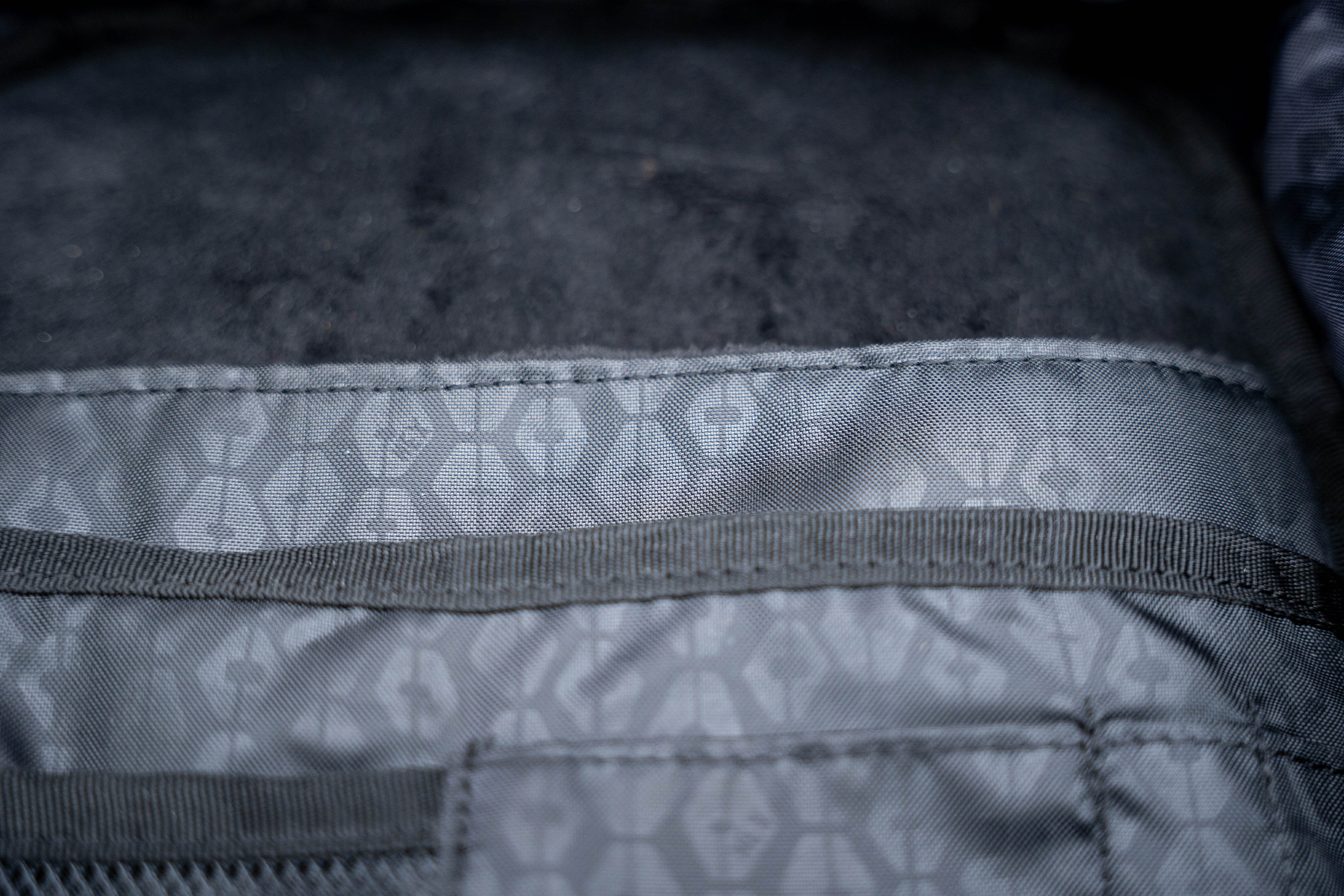 There are four smaller liner pockets: three are the same material as the rest of the interior and one is mesh. The mesh pocket is great for a phone and has a little bit of wiggle room to fit a wallet or an additional small item. The other pockets are great for things you want to keep tied down, like a watch, cash, or other travel accessories.
There are two pen holders, one wider than the other to accommodate larger pens or a stylus. Behind the top two liner pockets is another larger liner pocket that is great for a book for reading on the airplane or your travel documents.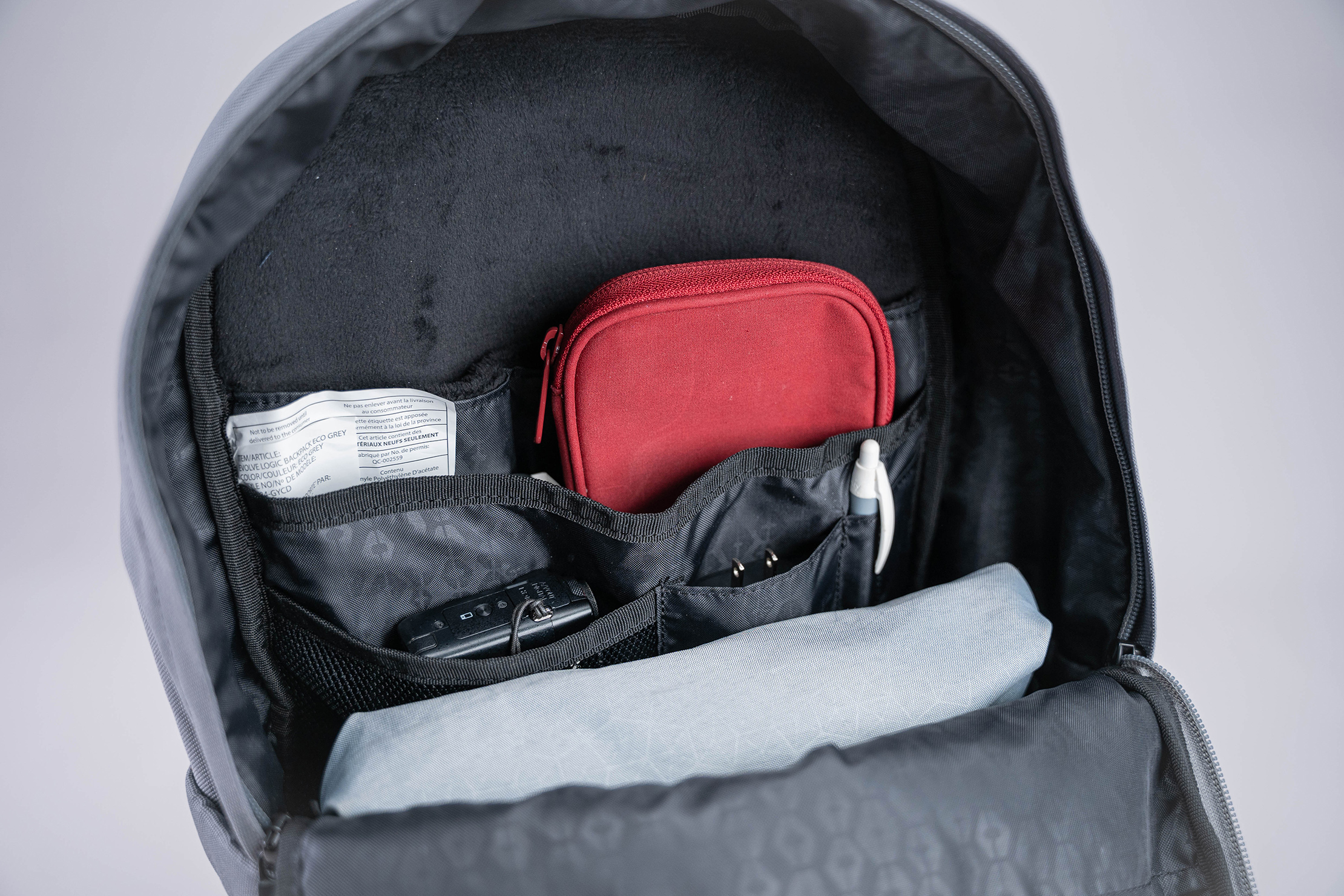 Behind all the pockets is a laptop compartment that will hold up to a 15-inch laptop. It has the same fake fur as the front pocket, which is very soft but doesn't shock you when you grab your computer.
Sliding a laptop into the pack can be difficult due to how rigid the ECO CORDURA nylon is. You have to manipulate the pack's shell to get the laptop in because it hangs over the top of the compartment. This is especially true when the bag is packed full. We often find ourselves taking some of the items out to have easier access, and even then, it's still hard to get out. Grabbing our laptop isn't often time-sensitive, but it's a little frustrating.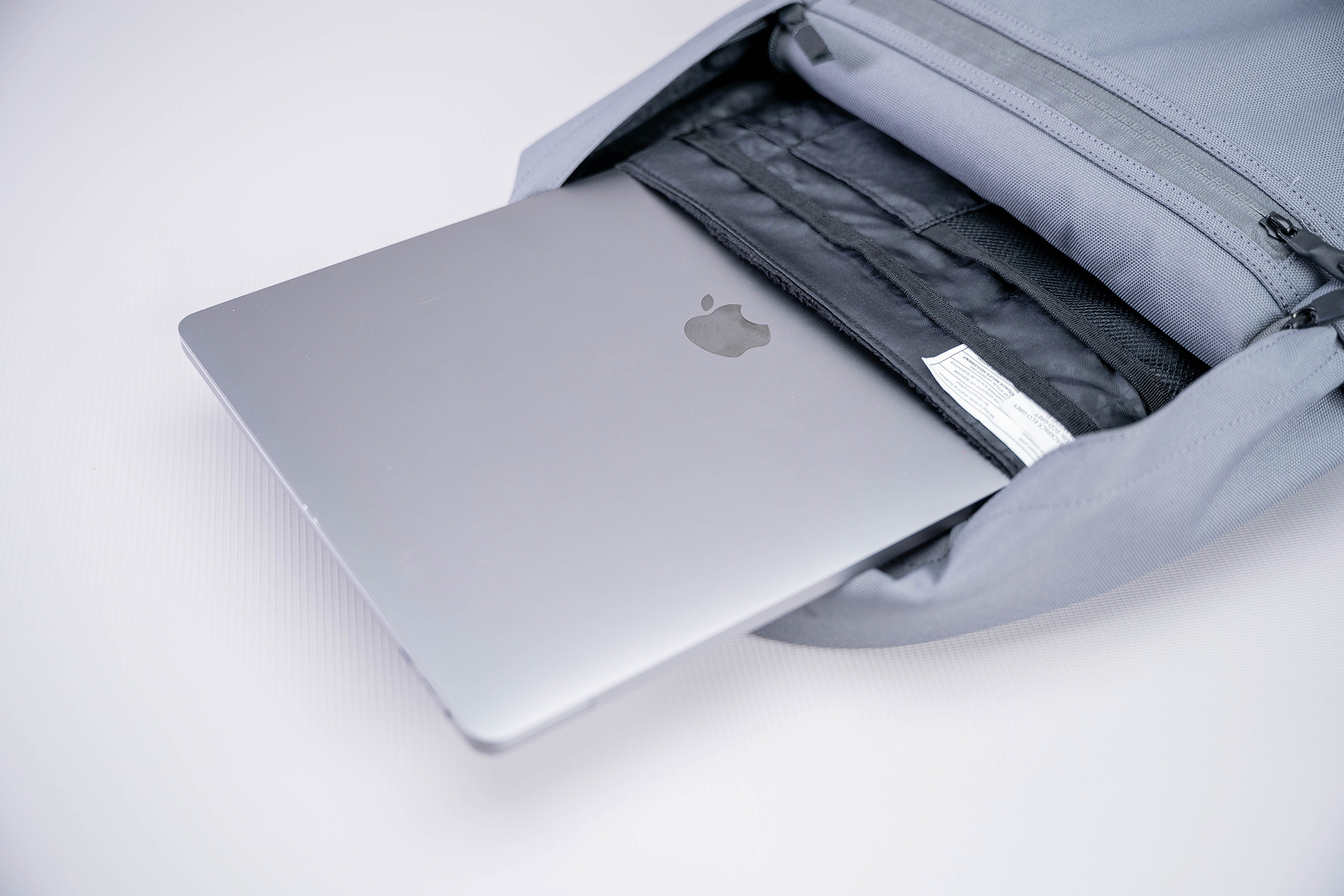 On the opposite side of the laptop compartment is a large pocket that closes at the top via a small hook and loop fastener. This is a great spot for a laptop charger, as it keeps the cord from tangling in the main compartment if you don't have a tech pouch. The fastener is very small and it does come undone when we pack the pocket full, but the fabric is rigid enough to keep our items in place. If you use the luggage pass through and the pack is sideways, this could cause your items to tumble out of the pocket.
Overall, we're pleased with how much we can stuff into the HEX Evolve Logic Backpack. There isn't a ton of internal organization, but it performs pretty well for most uses. When paired with a sling like the HEX Evolve Sling, you'll be able to carry just about everything you need for a jaunt across an unfamiliar city, a commute to work and back, or venturing through the airport.
Usage Timeline
Initial Usage
Condition: Excellent
Segmented back panel bends well for comfort
Gusseted opening shrouds it from light showers and splashes
The luggage pass-through's well-integrated into the back panel
2 Weeks of Use
Condition: Excellent
ECO CORDURA fabric has held up nicely, with no tears or abrasions
The main compartment holds a surprising amount of gear
The water bottle pocket shows no signs of loosening
Access the Pro Community Discussion
Get your questions about the HEX Evolve Logic Backpack answered from our team and the Pro Community right here on the page. Plus, join discussions with other members about gear, guides, and more.
Other Bags & Luggage Reviews