Heimplanet Monolith Weekender 40L Review
The Heimplanet Monolith Weekender is a 40L carry-on compliant pack that works well for one bag travel. We've been impressed with the quality materials, comfortable harness system, and practicality of this pack—it's just a shame there's no water bottle pocket!
This item is no longer available—although the Heimplanet Transit Line Travel Pack may have what you're looking for.
Our Verdict
Unlock the Pro Summary
Save time. Get access to brief summaries of our reviews so you can browse and make decisions more efficiently.
Pros
Durable pack made with quality materials.
Excess straps can be neatly hidden away for a #danglefreeexperience.
Comfortable carry as a backpack and messenger bag.
Cons
Laptop compartment opening could be wider.
No water bottle pocket.
Not suitable for smaller frames.
Recent Pack Hacker Video
Technical Details
Capacity

40l

Weight (lb)

3.5 lb (1.6 kg)

Dimensions

21.5 in x 15.5 in x 8 in (54.6 x 39.4 x 20.3 cm)

Notable Materials

Ballistic Nylon, YKK Zippers, Polyurethane, MOLLE Webbing

Manufacturing Country

Vietnam

Laptop Compartment Size

15"

Warranty Information
Full Review
Get up to 30% off Heimplanet • Join Pack Hacker Pro
In this review, we are taking a look at the Monolith Weekender 40L from German tent and backpack specialists, Heimplanet. At 40 liters—and just under carry-on size limitations—this pack looks ideal for one bag travel, which is exactly how we've put it to work. In just over a month of testing, this pack has seen use around the southeast of England and on a ten-day trip to Portugal.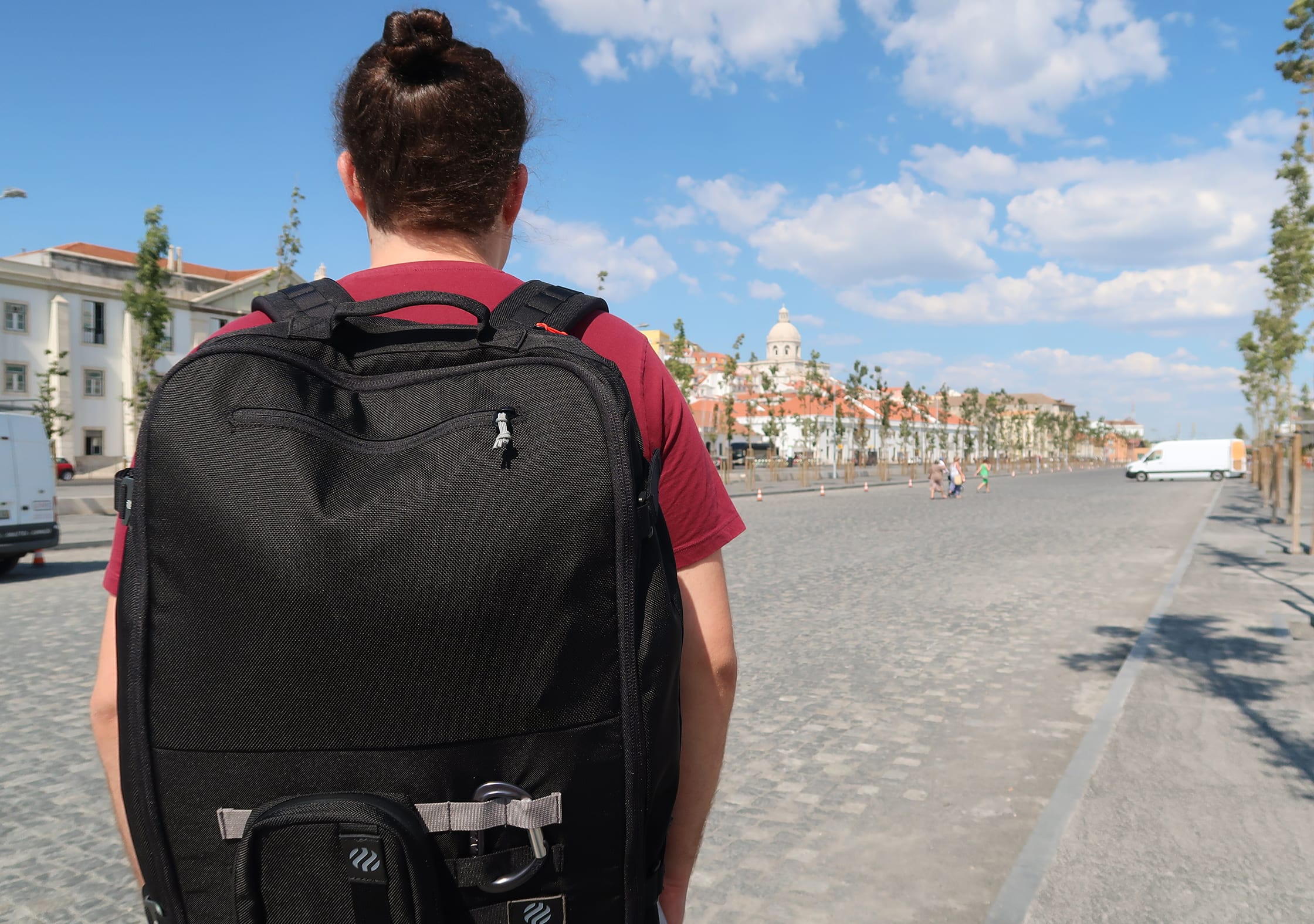 We've reviewed the Heimplanet Transit Line Travel Pack, and it scored highly, so we were thrilled to get our hands on this one. Let's get into it.
Material & Aesthetic
With its streamlined design and tacticool style, we're digging the overall look of this pack. However, we polled our Instagram audience and only 41% agree…tough crowd.
By the way, we do polls like this all time, so if you'd like to partake in the next one, make sure you're following @packhacker on Instagram.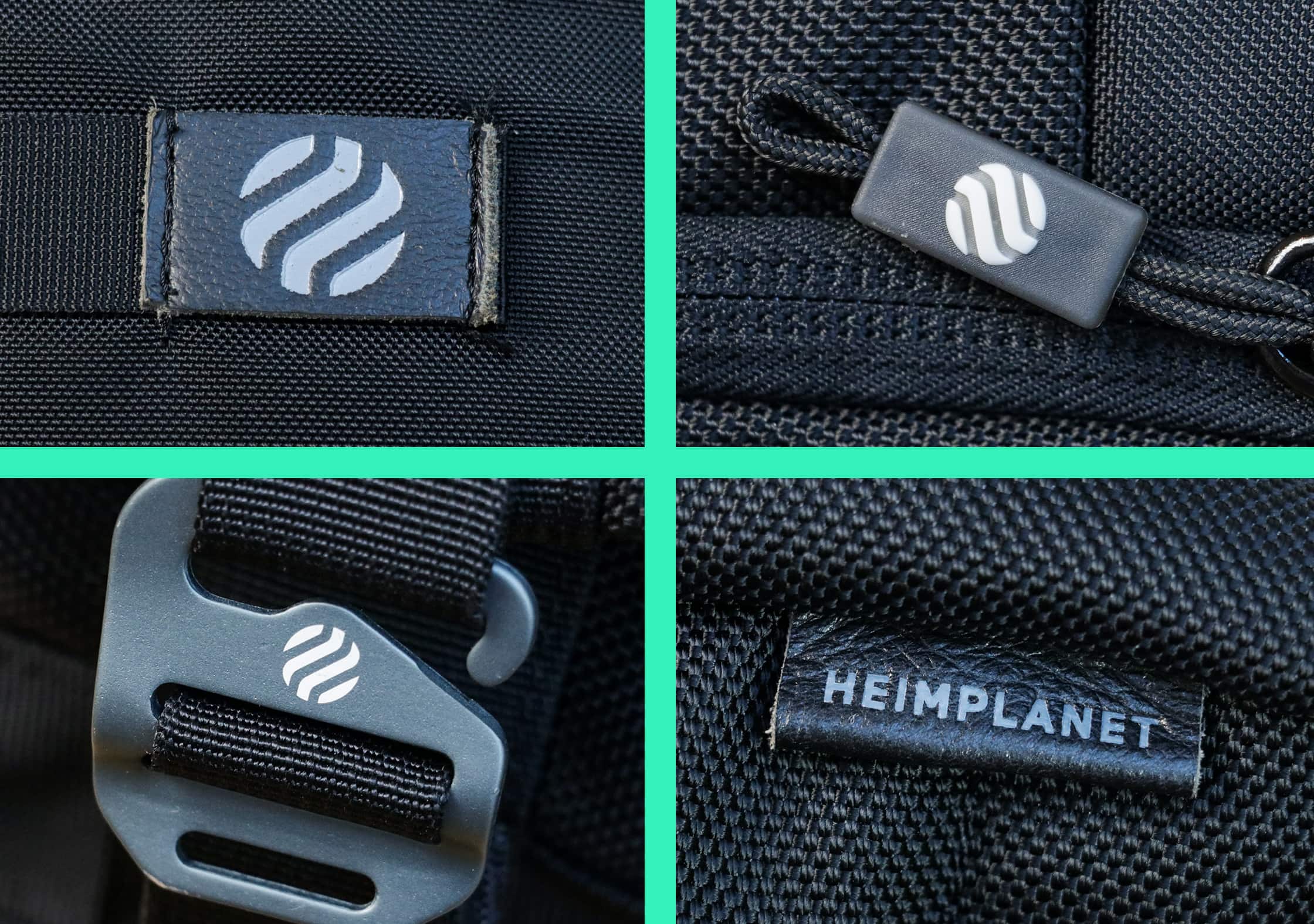 The branding on the Monolith Weekender is positioned discreetly, which we like. There is a Heimplanet logo on the MOLLE at the front of the pack, as well as the main compartment zipper pulls and g-hooks. On the back and side handle of the pack, there is a small tab with "Heimplanet" as well.
At the time of this review, the Monolith Weekender is available in three colors—black, copper red, and pine green. And we think all three will work in most environments, plus they're pretty low key and won't scream "tourist." We went with black, but if you fancy a pop of color the subdued red and green offer great alternatives.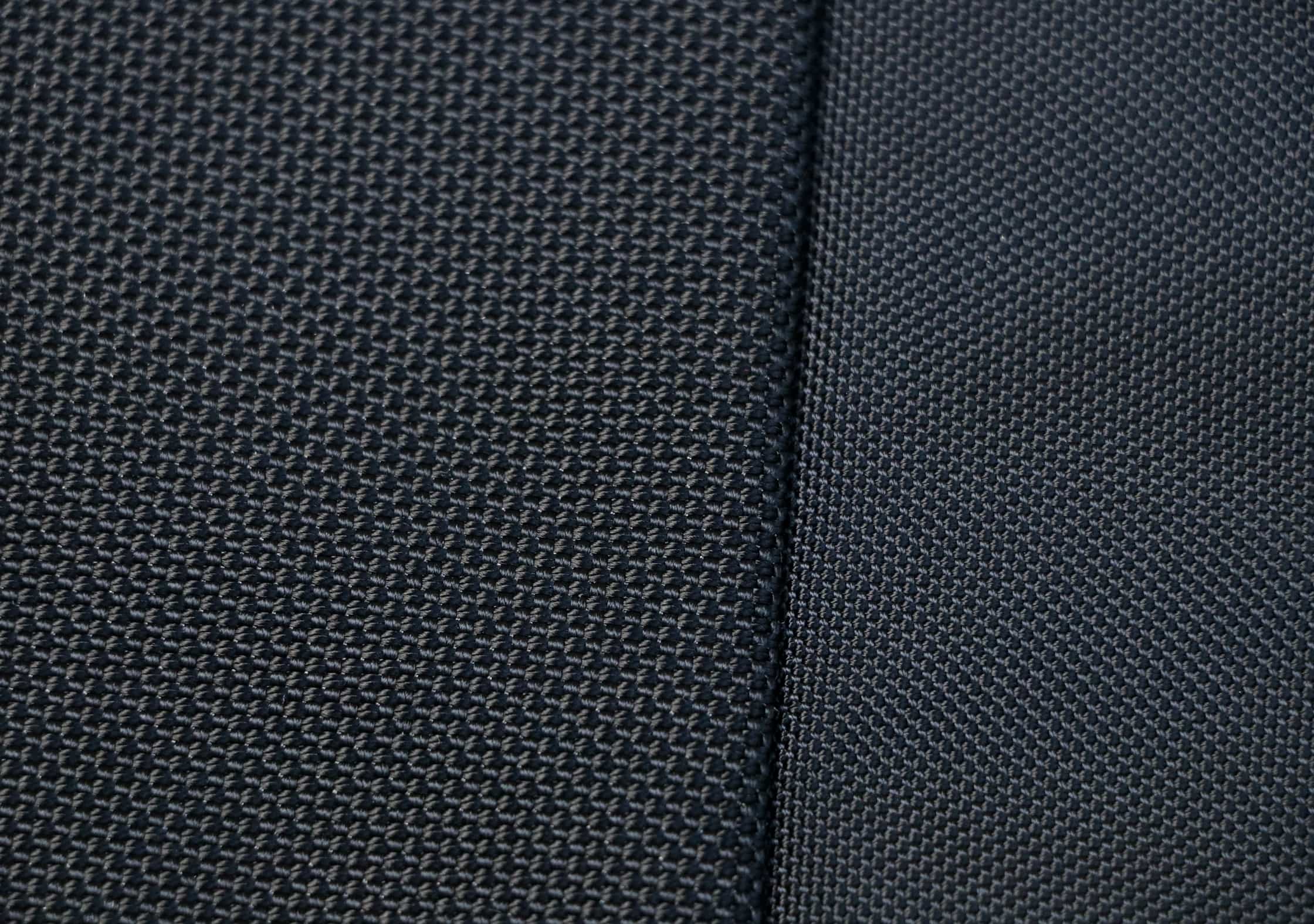 The main material of this pack is ballistic nylon, which is a durable, tear-resistant, and lightweight fabric first used in World War II flak jackets. Long story short…if it's good enough for that, it's good enough for us. The denier is 840D at the front, and 1680D around the rest of the pack for added toughness, one of the highest deniers we've seen on a travel pack. And while ballistic nylon itself isn't waterproof, Heimplanet has coated theirs with polyurethane, so it is highly weather-resistant.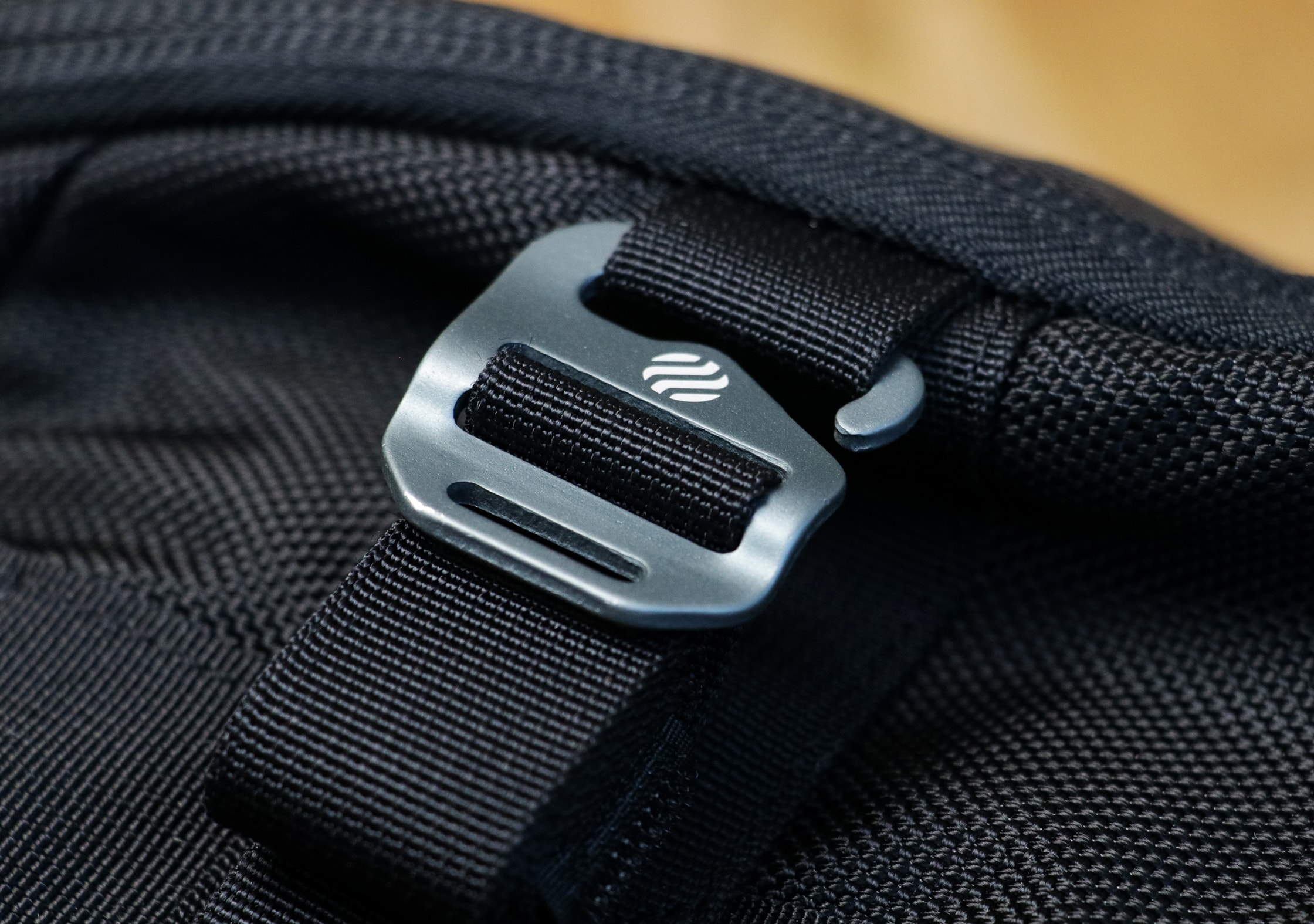 The compression straps and shoulder strap attachments are all custom-made metal g-hooks. They feel strong and we've been impressed with how well they lock in. It's little touches like this that show how much the folks at Heimplanet care and think about their backpacks. It would have been easy for them to throw plastic buckles on, but they didn't cut any corners. We're big fans of this.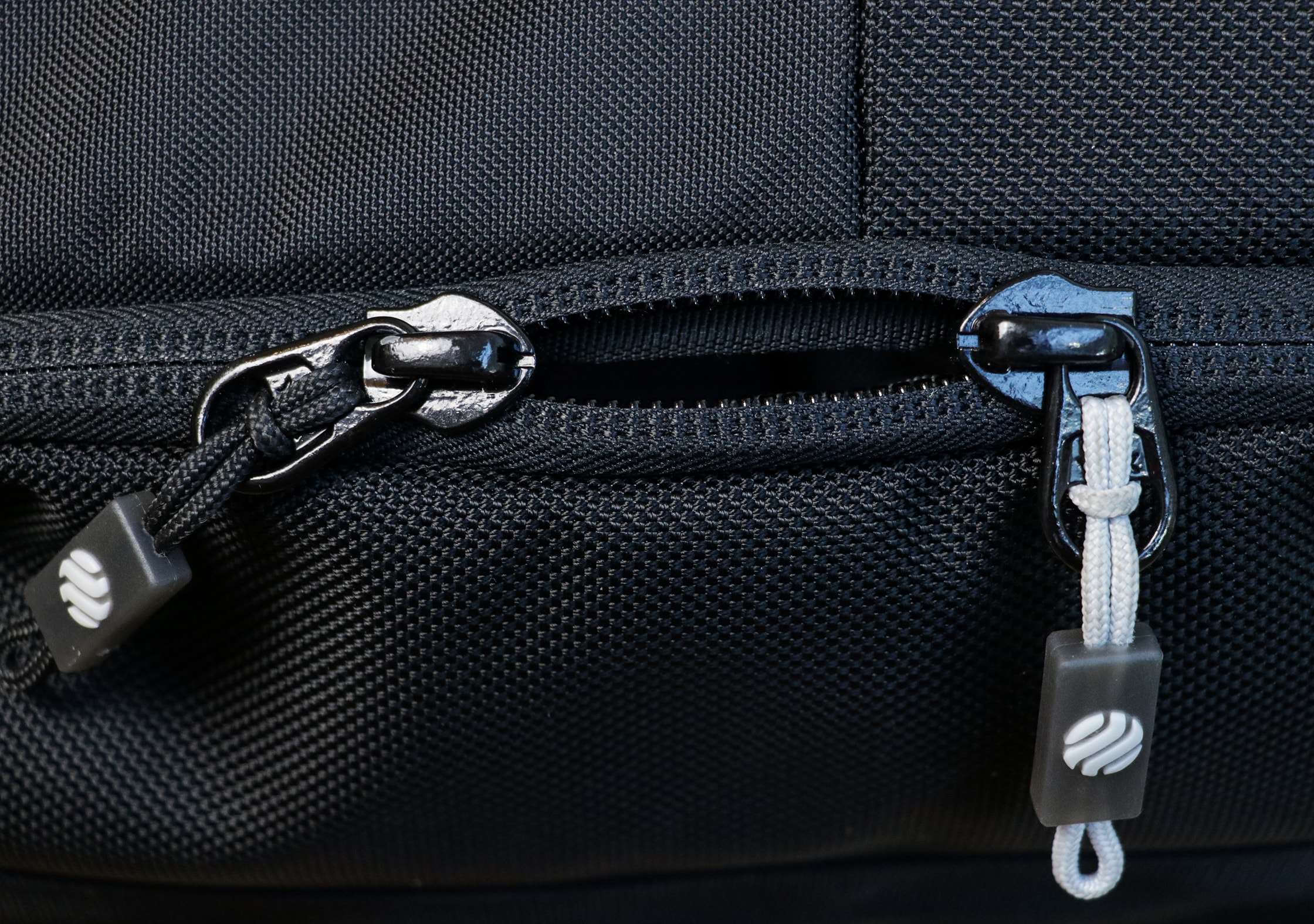 All of the zips on the Monolith Weekender are reverse coil YKK. The main clamshell zip is a #10, the external pockets are all #8, and the internal zips are #5. YKK make some of the most reliable zips on the market, and these are all perfect sizes for their use case. The reverse coil is a great choice too, as the coil sits on the inside which protects the zipper from any dirt and grime.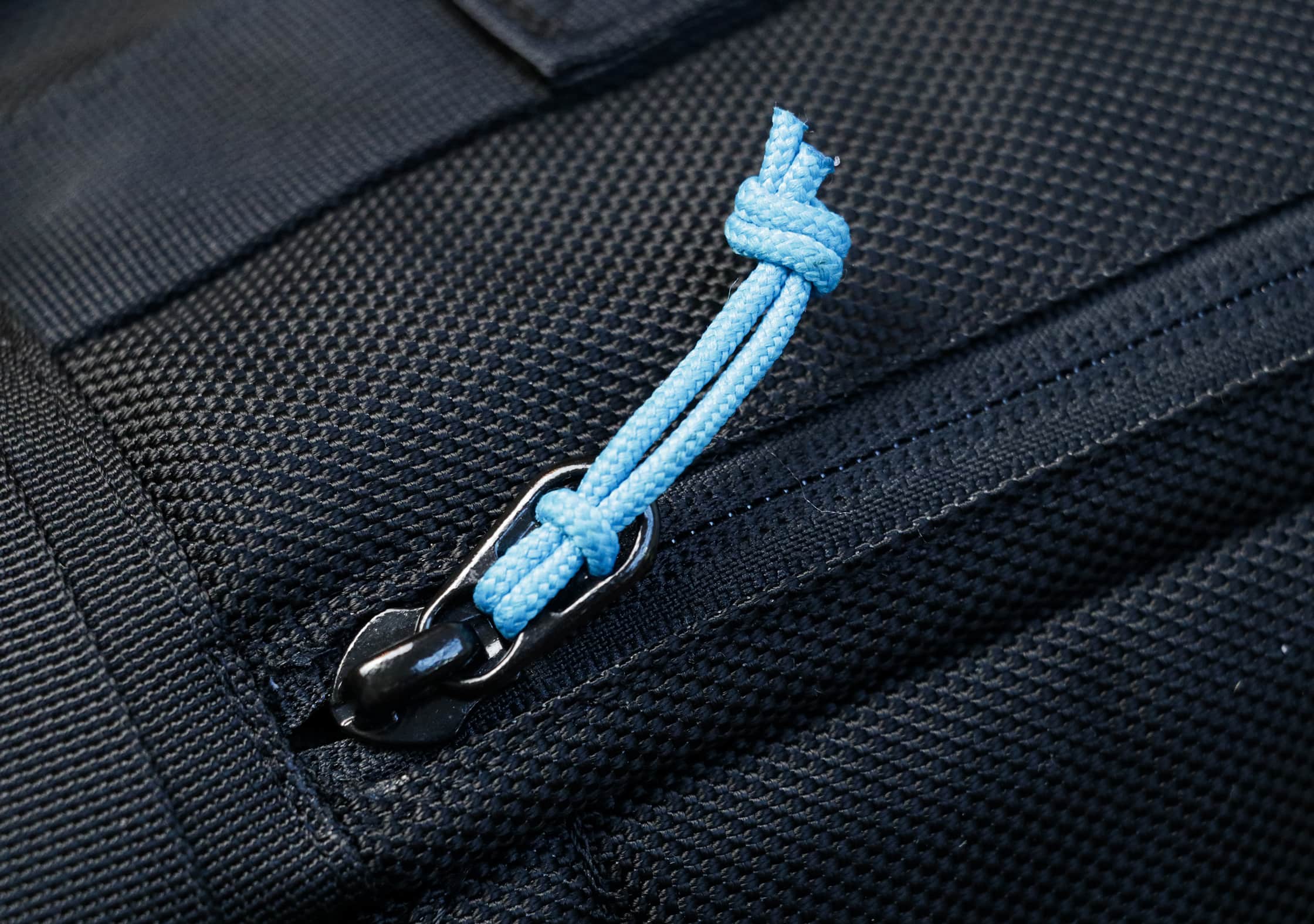 Heimplanet includes a selection of colored zipper pulls with this pack, which is a nice touch and something we'd like to see other manufacturers do. We decided to swap out some of the existing black zippers pulls with these colored ones, and they help you quickly locate each compartment—plus, they add a nice pop of color.
External Components
Moving on to the external components, there's no better place to begin than with the harness system, as the Monolith Weekender can be carried as both a backpack and messenger bag.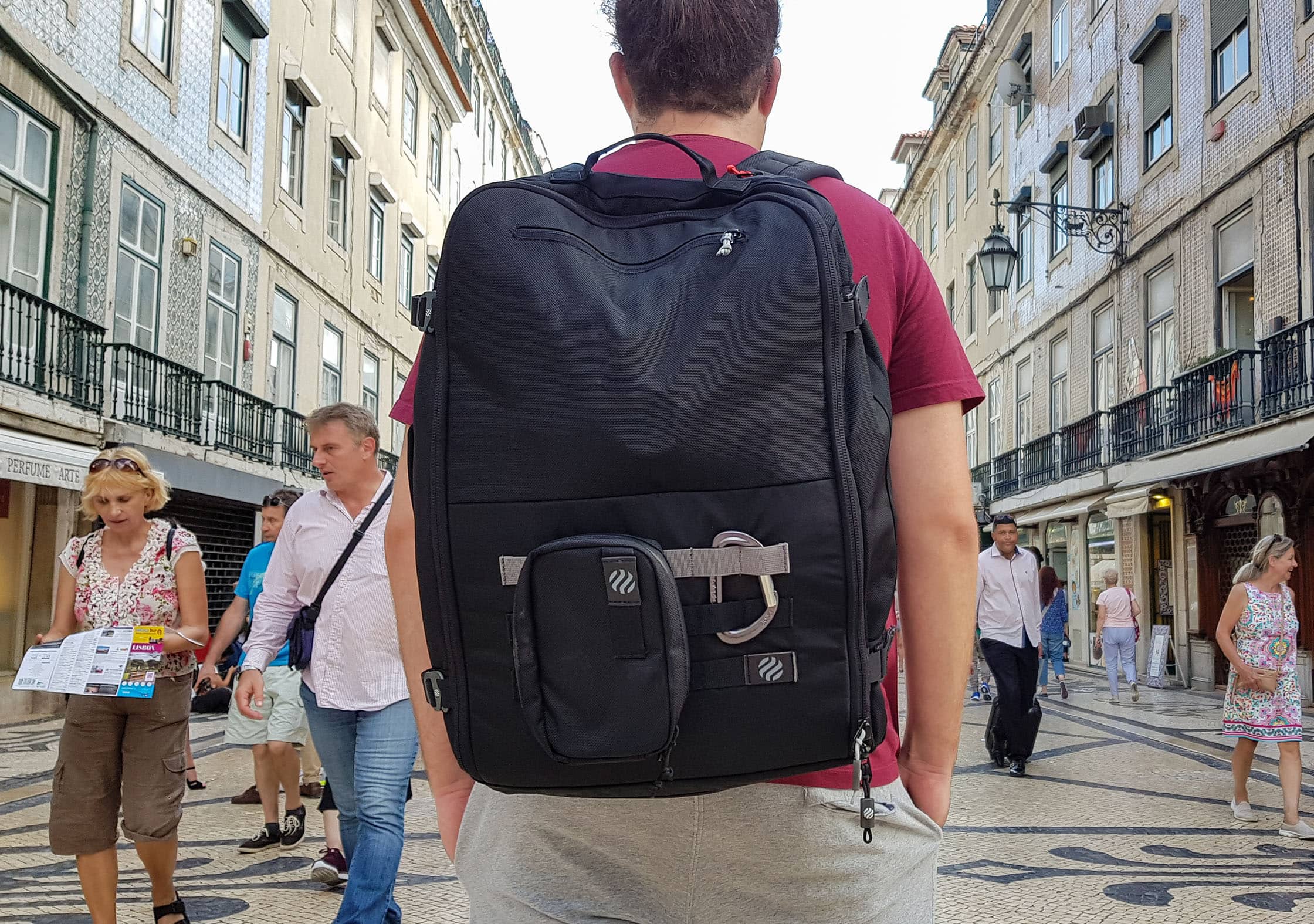 Starting with the backpack style, the thick padding on the shoulder straps provide a very comfortable carry, even when it's maxed out weight-wise. This is a big pack though, and while it will fit a six-foot frame well, anyone under that height may find it a tad too large. Though, the size and shape of this pack shouldn't come as a surprise, considering the geological term for a Monolith is "a large single upright block of stone."
We found the carry comfortable without any additional features, but Heimplanet does sell a sternum strap and hip belt if you'd like some extra support. If you plan on walking long distances, we'd recommend picking them up, but if you're only carrying this thing from the airport to your Airbnb, you'll probably be okay.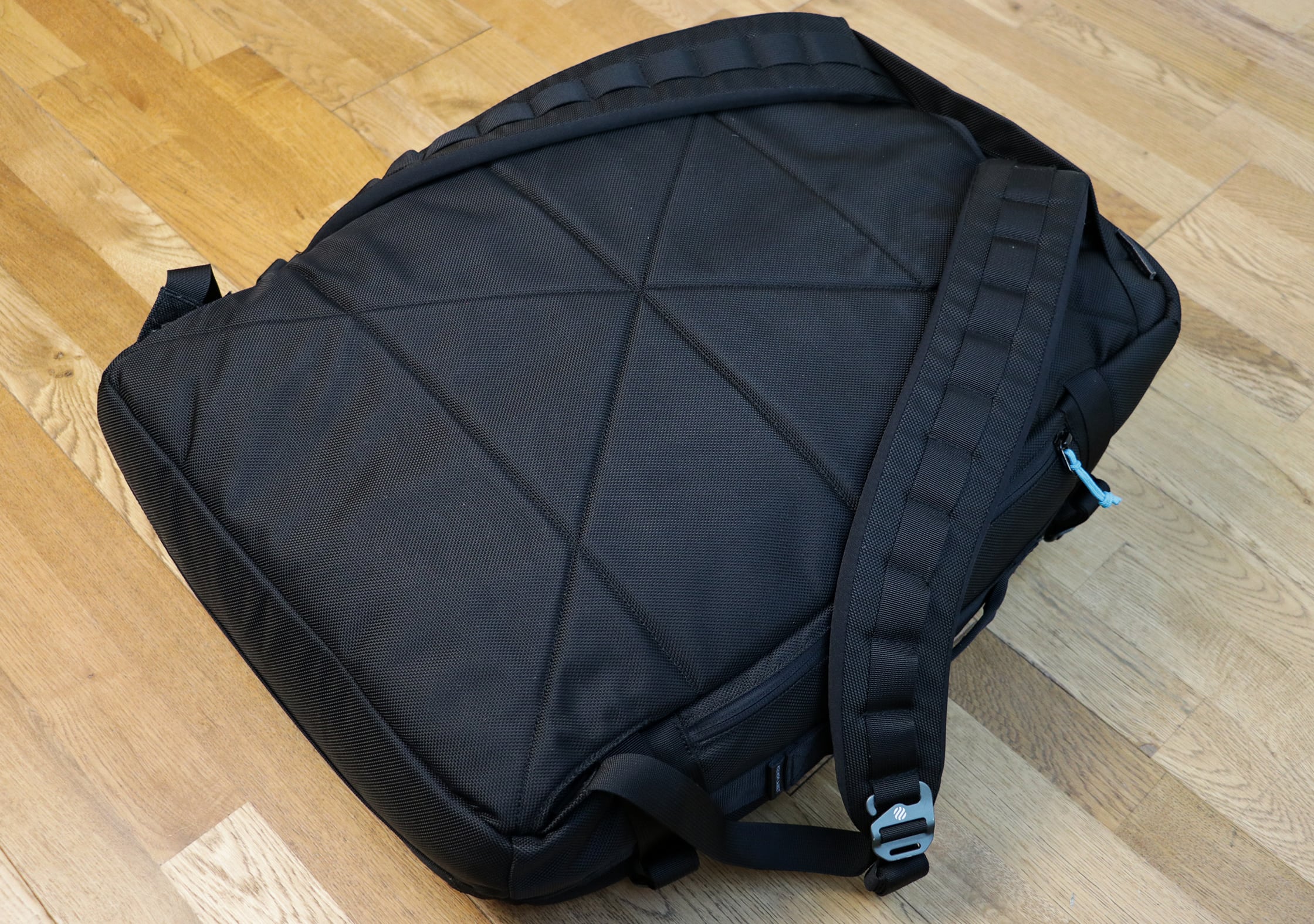 The back panel is well padded and sits snug against your back. However, it's not rigid, so the support is a tad flimsy, and the air-flow isn't great…so get ready for some back-sweat if you're wearing this thing for a while.
To transition this backpack to a messenger bag, you first have to hide away the harness system. To do this, simply unhook the g-hooks, tuck the bottom straps into the holes at the bottom, and stuff the shoulder straps down the zippered opening at the top. It's a quick and efficient process, and one of the better hideaway harness systems we've tested.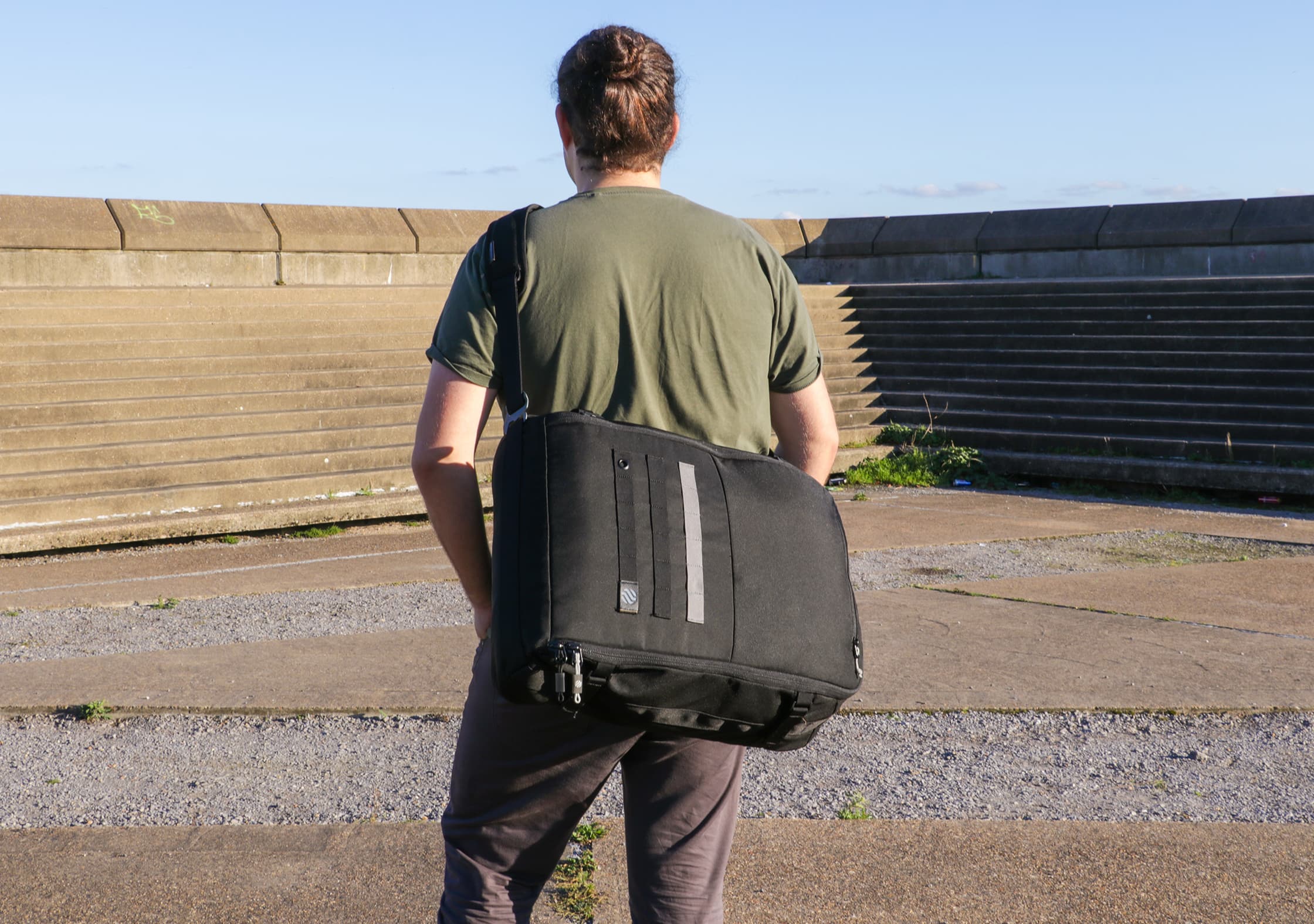 With everything neatly tucked away, you can now add the provided messenger style shoulder strap to the pack. This is done by attaching the g-hooks on either end of the strap through the webbing on the side of the bag.
While we didn't use this style of carry very often, we're pleased to say that it works well—which is surprising, because this doesn't typically work well in practice. We've found that most manufacturers just add on the messenger strap as an after-thought, which results in a worse carry for both modes. But here, the flexible back panel works in your favor because it curves around your body. Plus, the strap has plenty of comfortable padding.
If you're loading this pack full of gear, we'd still recommend carrying it on your back, but the messenger carry offers an interesting alternative when you're not.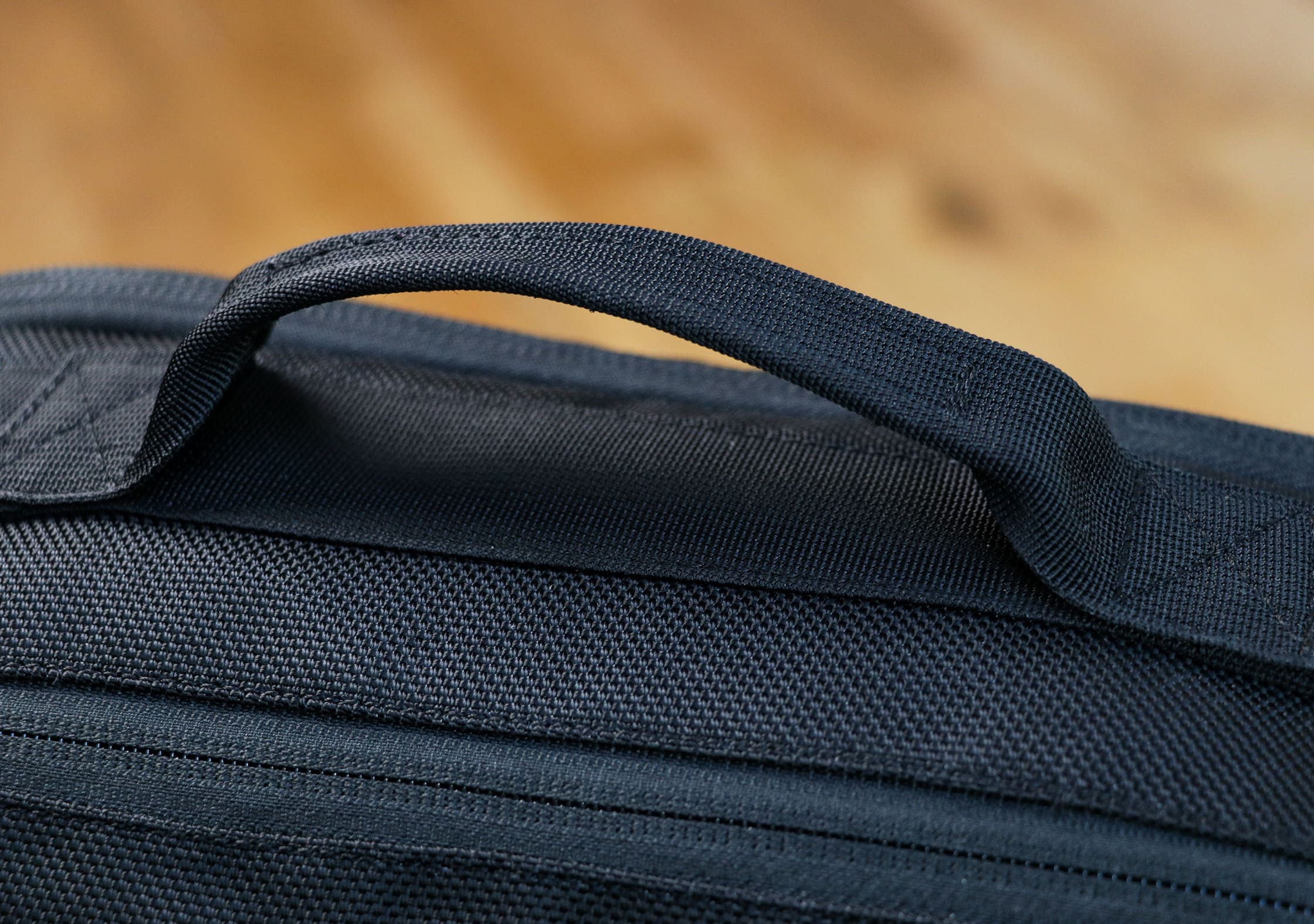 There are two grab handles on this pack—one on the top and one on the right side. There is no padding, which is a shame, but they do feel strong and work well when you need to grab this pack in a hurry.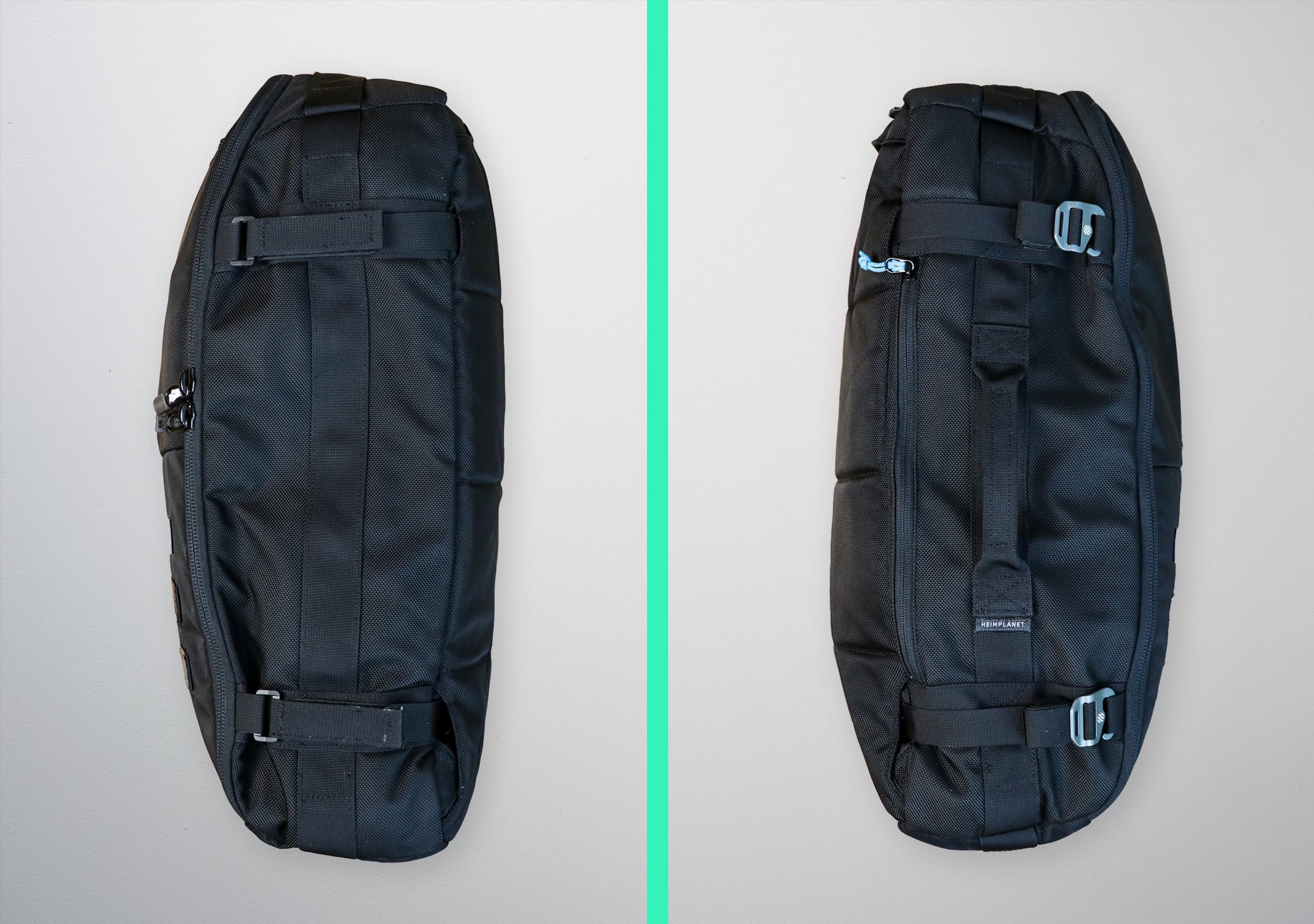 On the side, there are two compression straps that come in useful when you're not carrying a full load. The compression system is made up of two components, a velcro fastener on the right side of the bag—that can also be used to hold a rain jacket—and a g-hook buckle on the left side that you can pull the strap through to compress the pack.
At this point, we have to mention this pack's impressive #danglefreeexperience. The excess straps roll up and secure in place with a velcro fastener. This same feature can be found on the shoulder straps too, meaning you won't find a single dangling strap on this pack—which we think is pretty rad.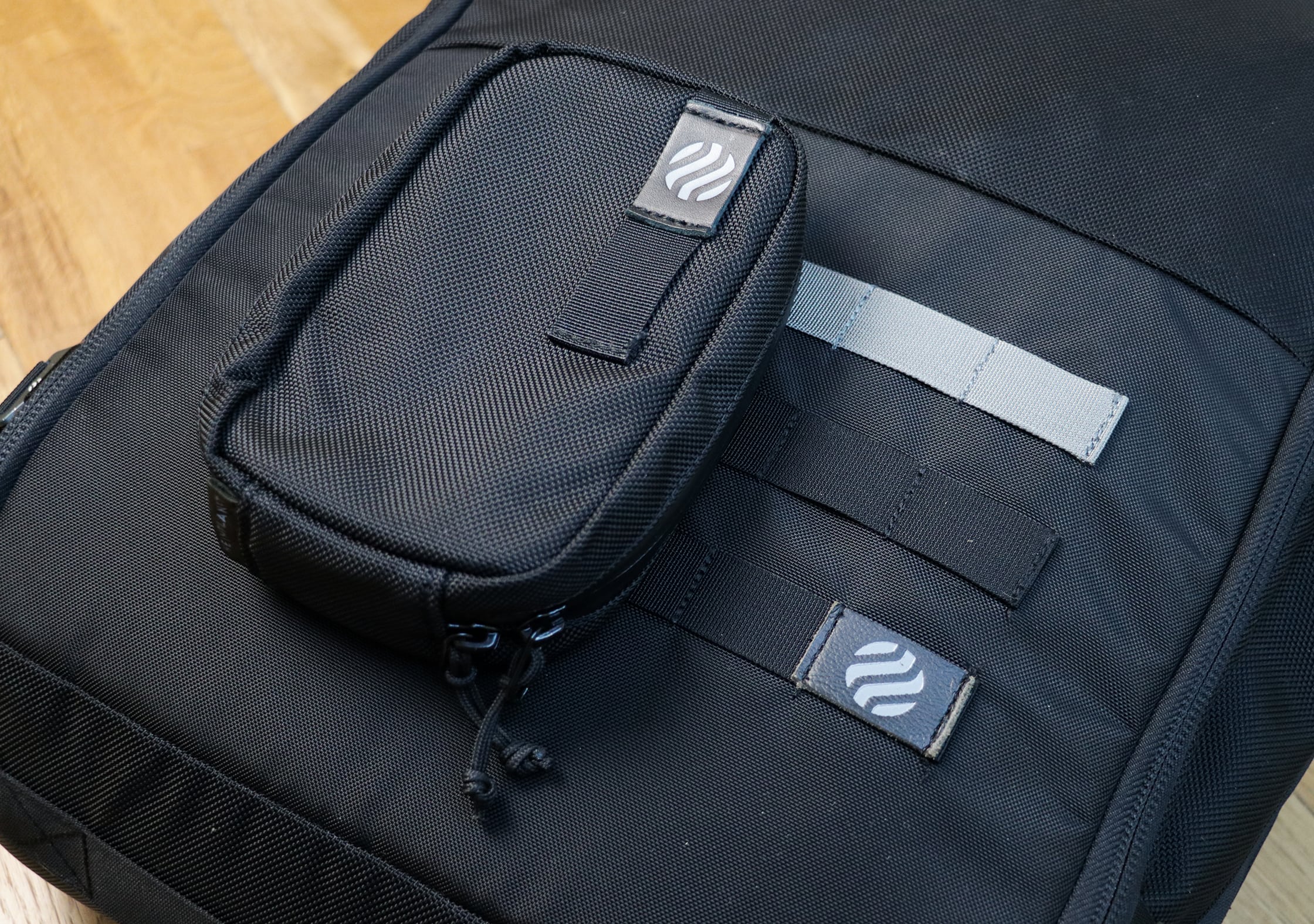 At the front of this pack, there are three rows of MOLLE—which is a modular system that enables you to attach pouches and other gear. Heimplanet makes a range of Monolith Pouches that can be used with this system, and we've found that the small Monolith Pouch works perfectly on the front. We used it to store our earbuds for quick access, which was great for flying.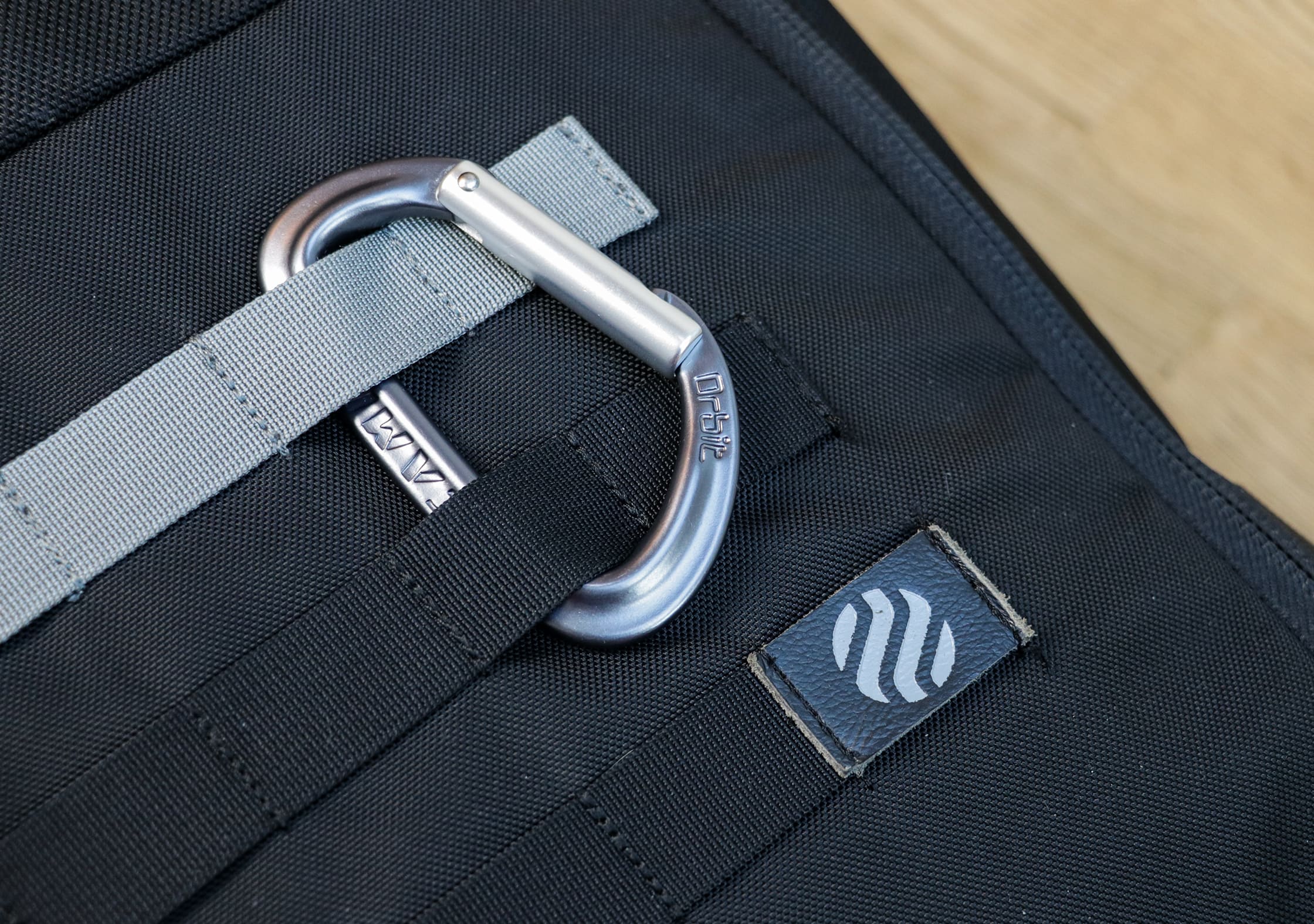 The MOLLE is also a great place to attach a carabiner clip, which can be used to hang items—like a water bottle—off the outside of this pack. "But why wouldn't you just pop your bottle into a designated water bottle pocket?!" Because the Heimplanet Monolith Weekender doesn't have one! That's right, this 40L pack that's intended for travel doesn't have anywhere you can safely store a water bottle. This is a surprising oversight, considering how well thought-out all of the other external components are.
Inside The Pack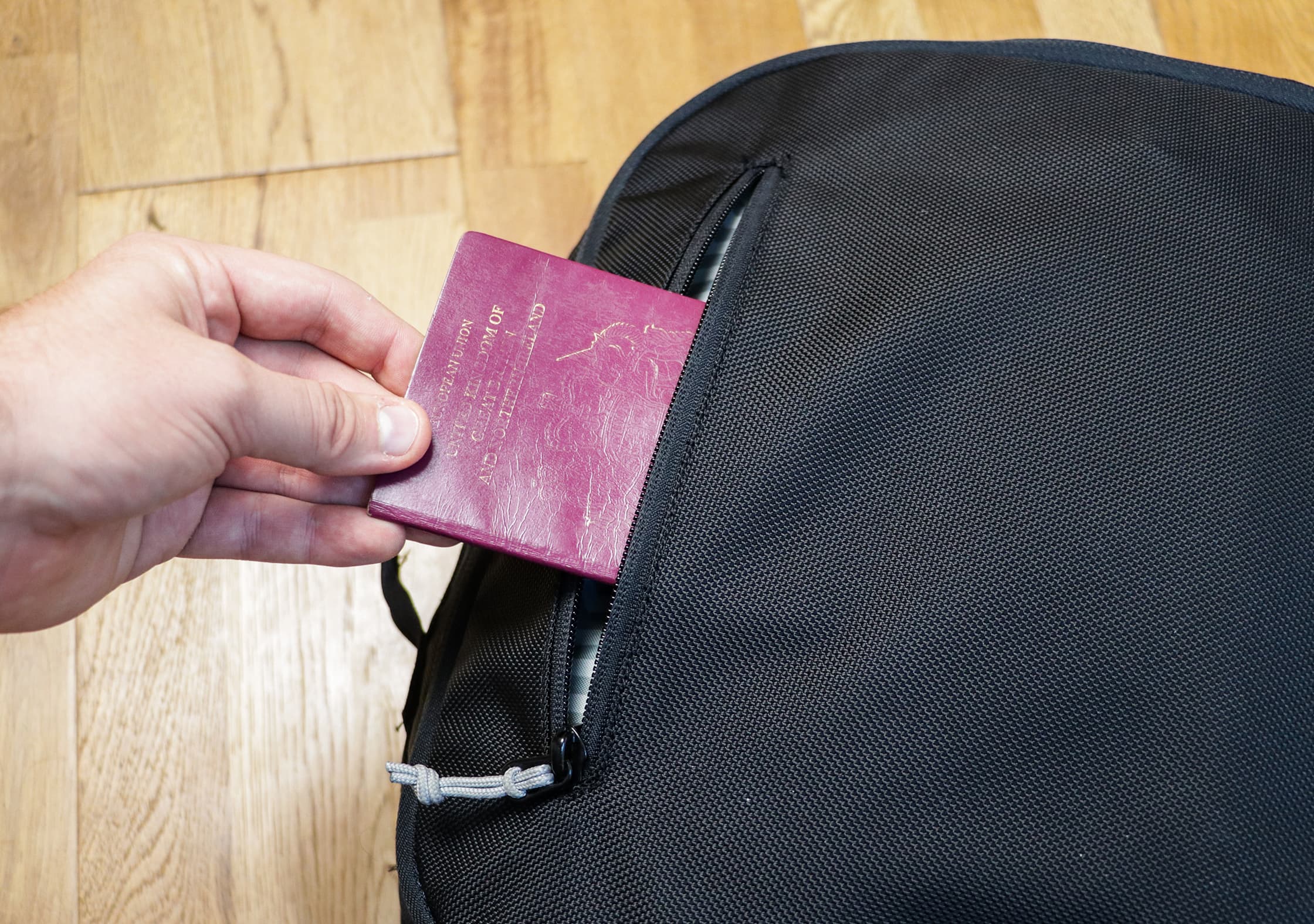 Diving inside this bag, there are two quick-grab pockets. The first one is located on the front and it's a great go-to pocket for all your essentials—like a passport, wallet, and phone.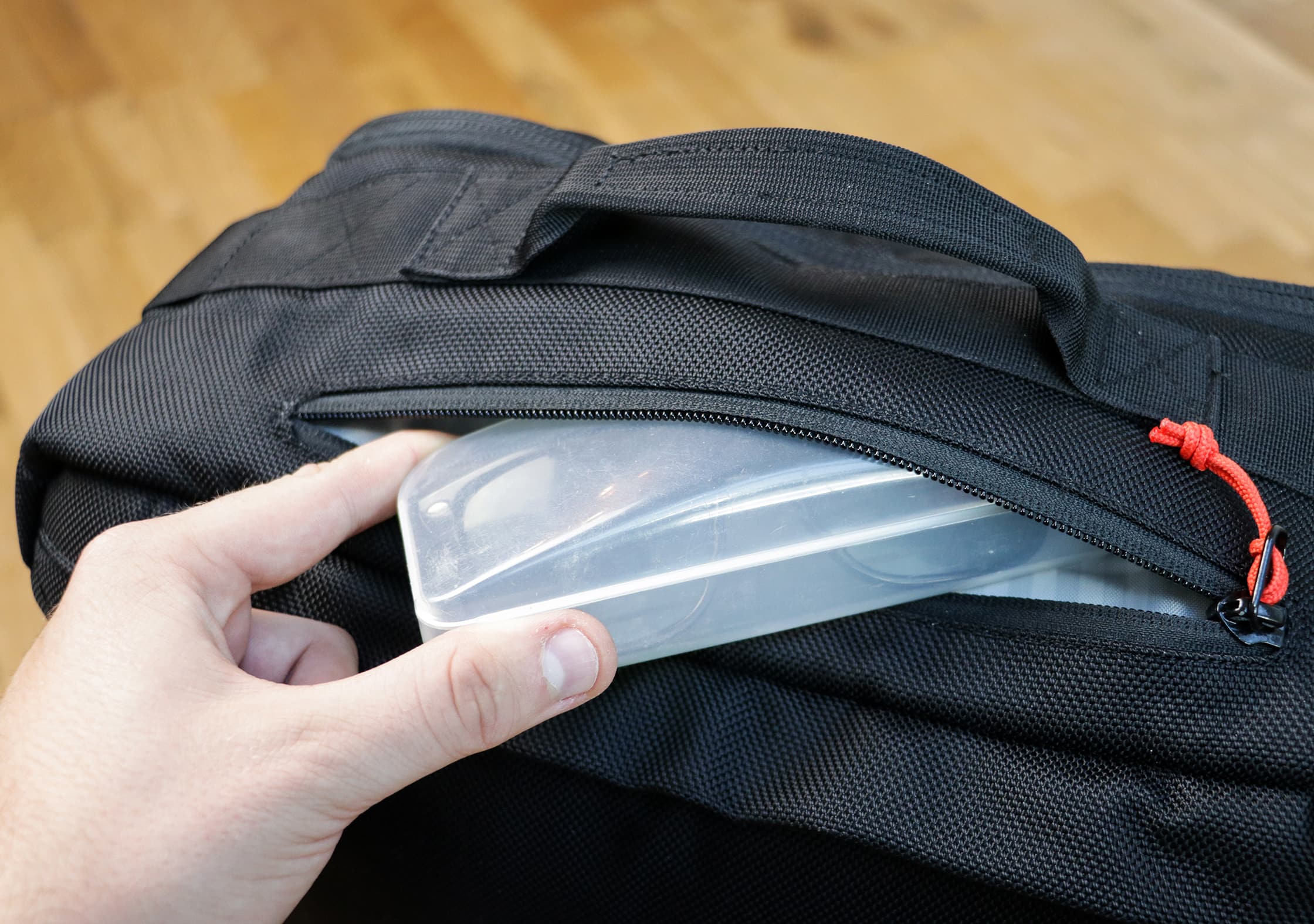 The second quick-grab pocket is on the top, where we've been putting our sunglasses. The zippered access is against your back when you're wearing this pack, so it's also a great place to put any items of value. We first came across a pocket like this on the Sandqvist Zack Backpack, and we've been big fans of them ever since.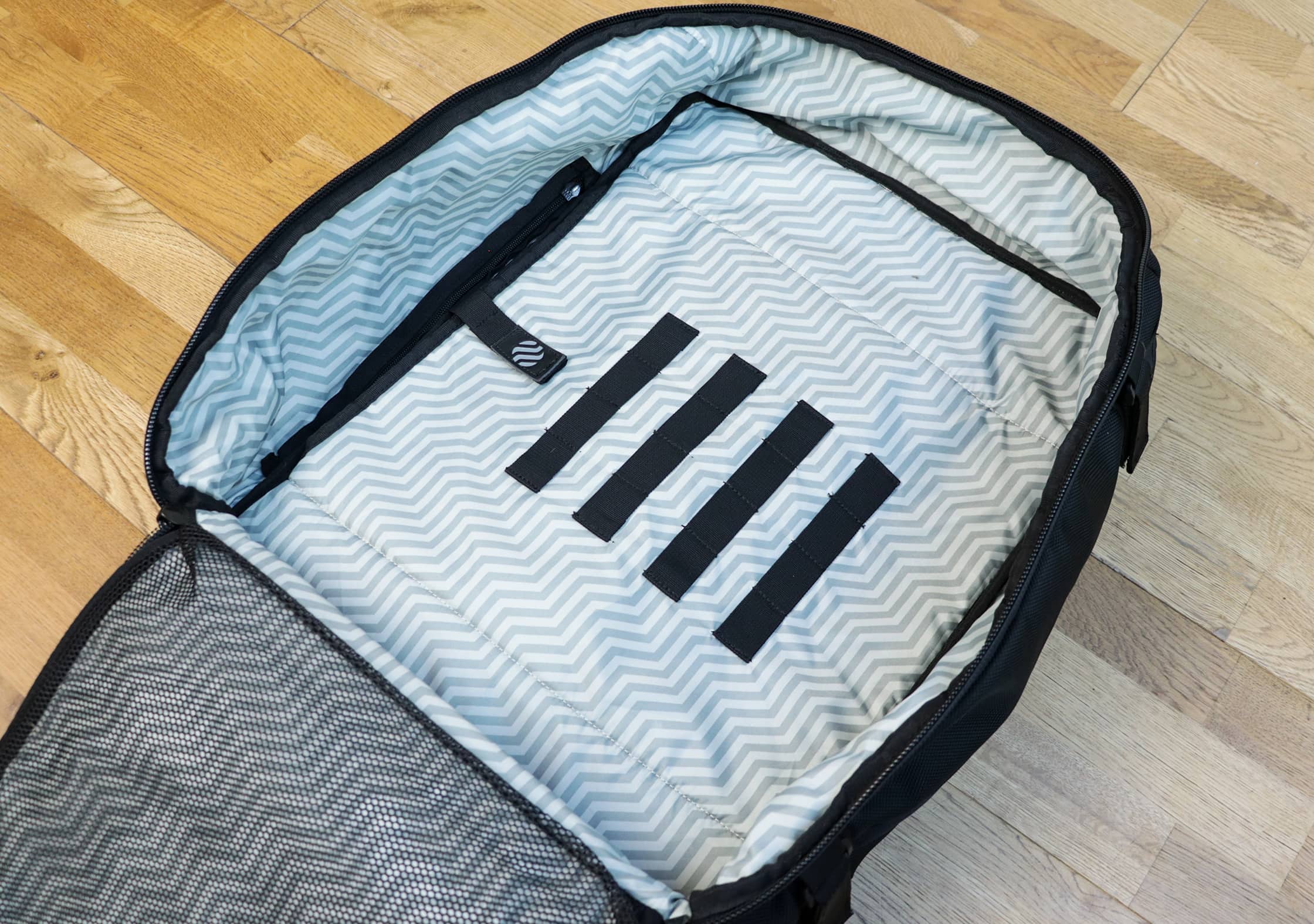 The main compartment of the Monolith Weekender opens up all the way, thanks to its clamshell design. This helps with packing, allowing you to see exactly what's going on inside and organize everything to your liking. Because it's essentially a large 40L bucket, we'd highly recommend using packing cubes to compartmentalize everything and help with organization.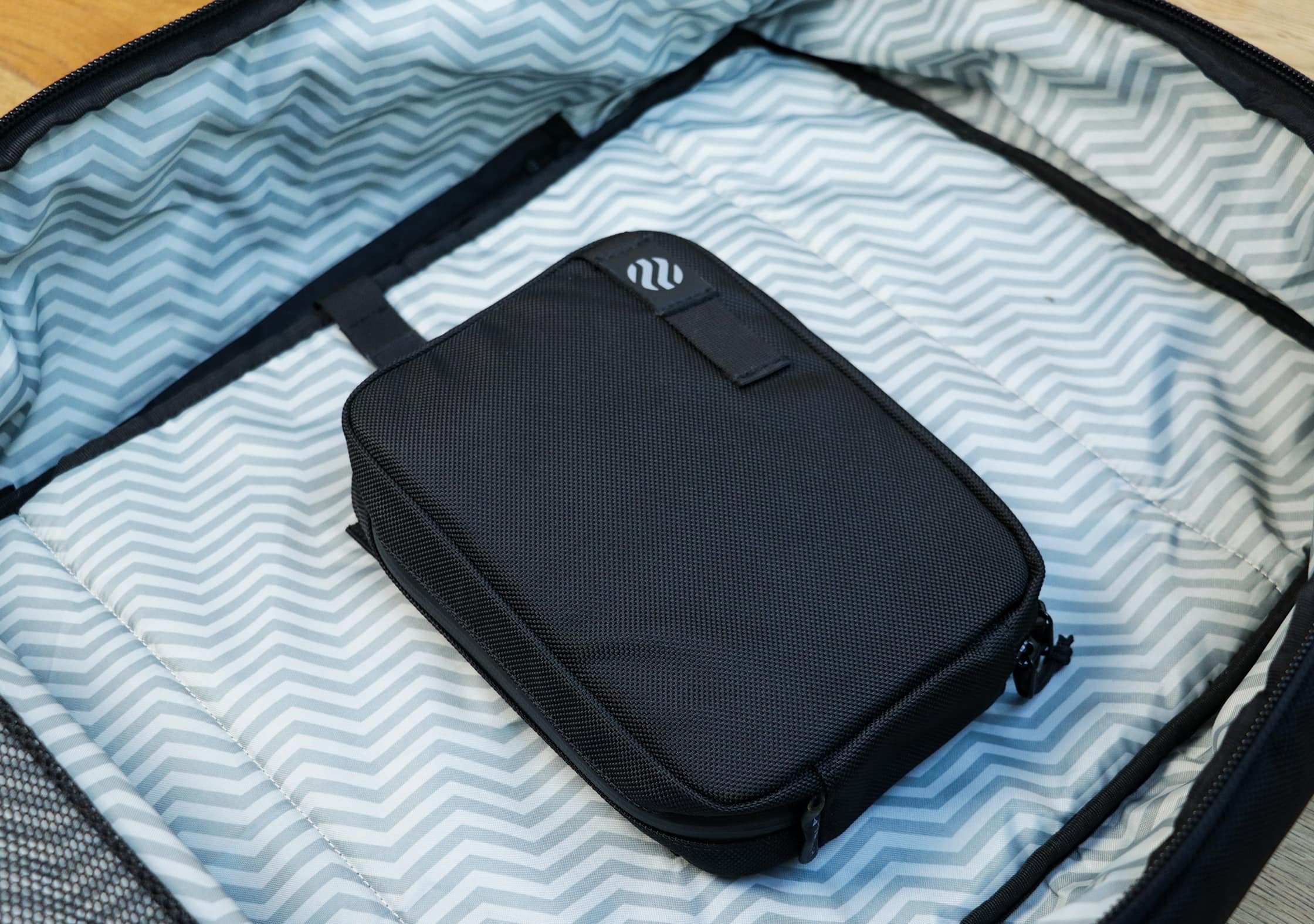 In the middle of the main compartment are four rows of MOLLE, so you can secure pouches inside the pack. The medium Monolith Pouch is a great fit here, however, we found it a bit odd to have it fixed to the middle of the pack underneath everything else inside. We like the idea of MOLLE inside a pack, but the location here just isn't practical—the MOLLE inside the GORUCK GR2 works a lot better, as it's at the top of the main compartment.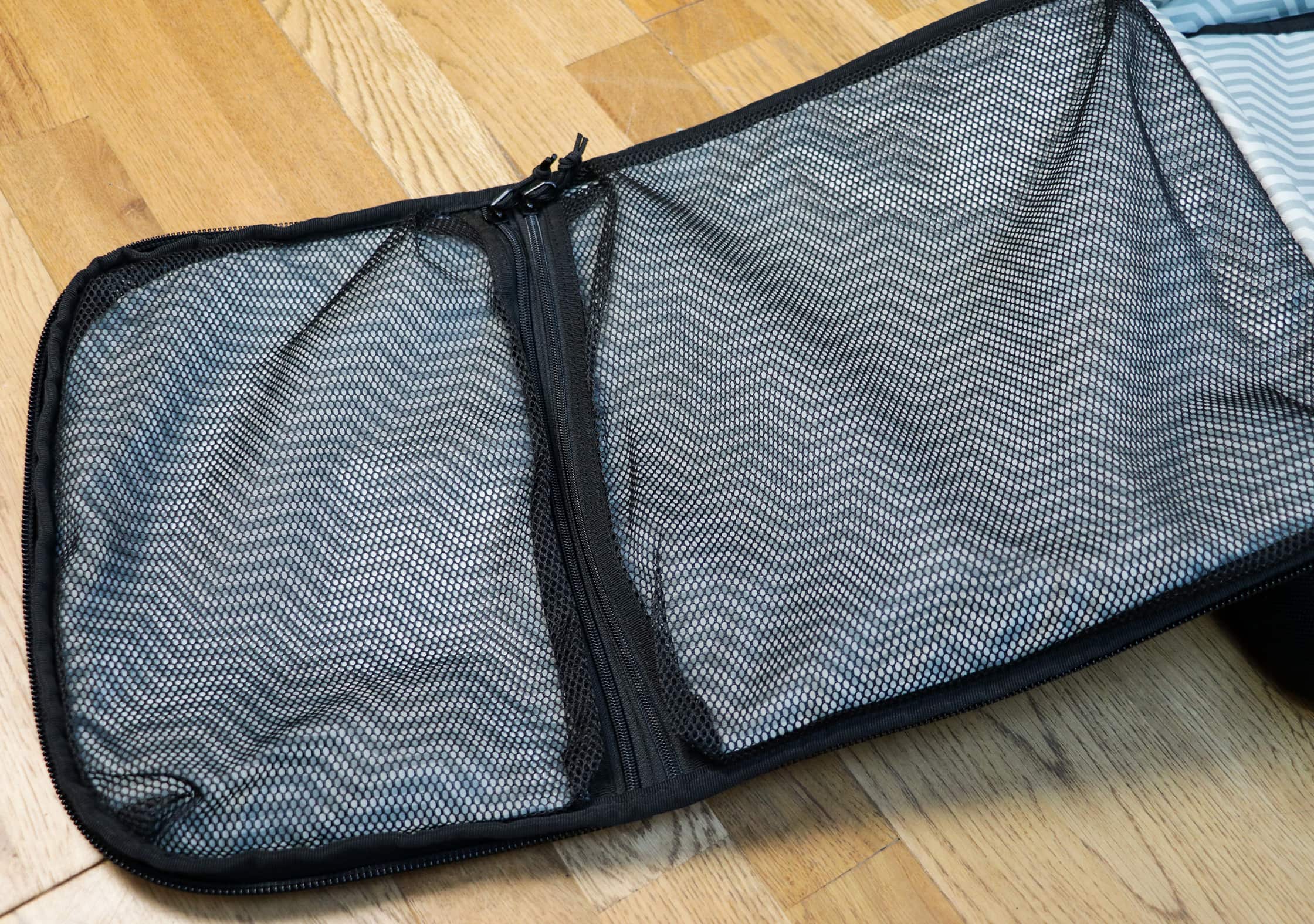 There are two large mesh compartments on the other side of the main compartment. These are great for storing flatter items, and there's a bit of depth to them so you can squeeze in slightly larger items.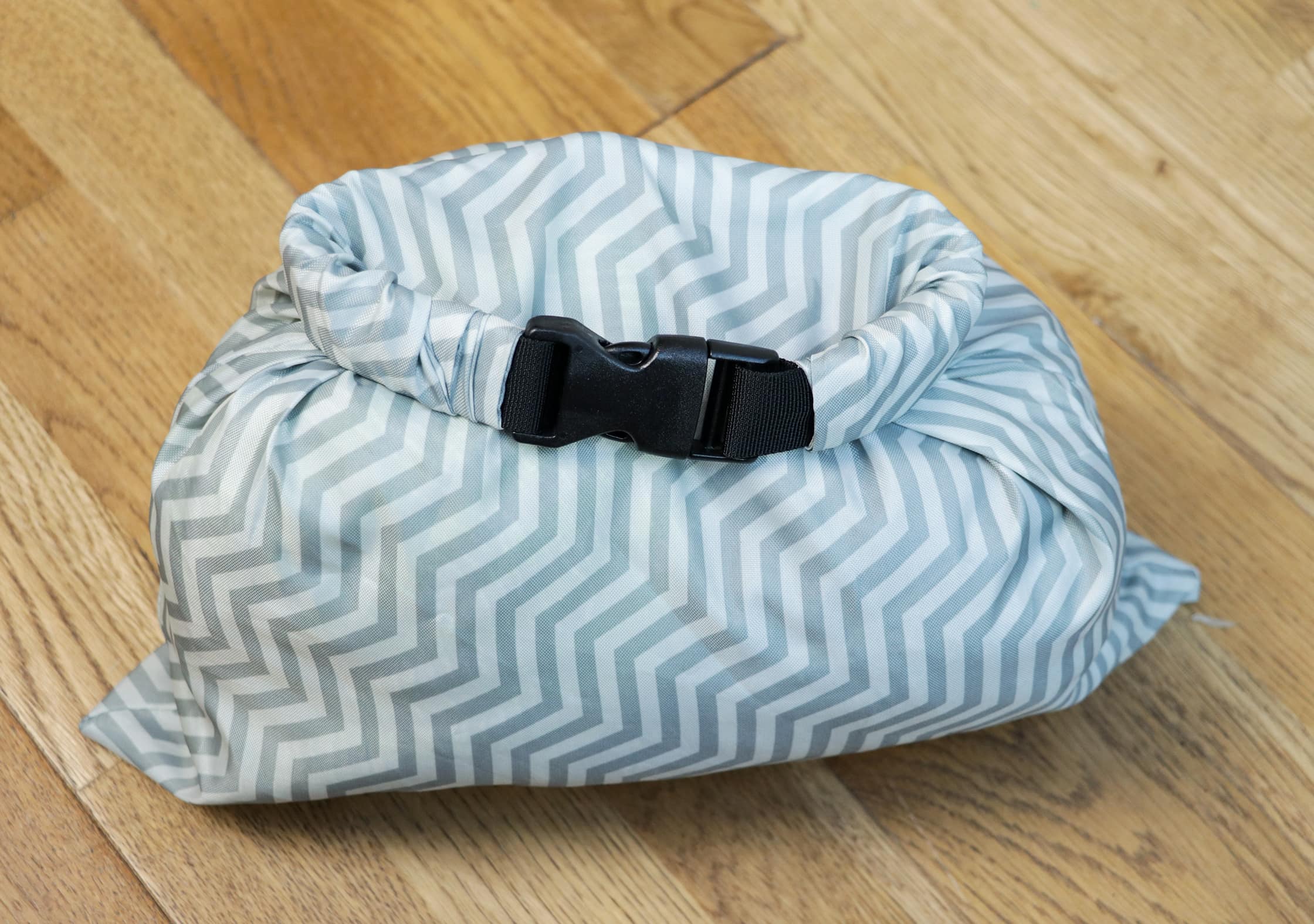 Heimplanet also provides you with a pack sack—a compressible rolltop bag—inside the Monolith Weekender, which can be used for your shoes or dirty clothes. We were impressed with how practical this piece of gear was and found ourselves utilizing it more than we thought we would. And you can easily store it in the mesh compartments when not in use!

Finally, there is a zippered compartment on the left side of the pack that will fit most 15" laptops. We like that this padded compartment is located in the middle of the bag, protecting it from any drops, but we found the opening a bit small and tricky to access—just adding an inch to either side would help a lot.
Durability & Testing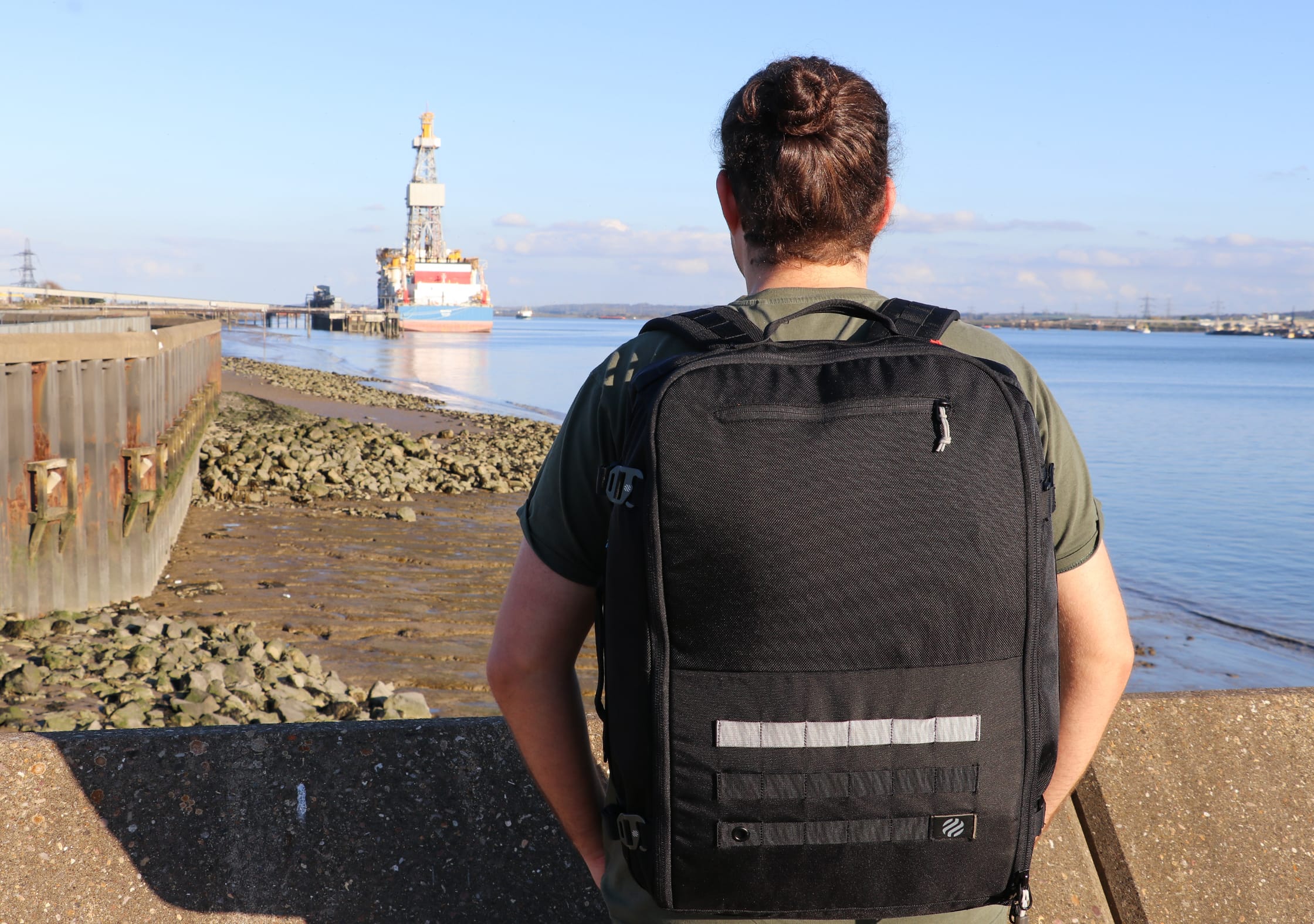 At the time of this review, we've been testing the Heimplanet Monolith Weekender for one month. During that time it's seen use on a ten-day trip to Portugal, as well as frequent trips to the coffee house.
With its quality craftsmanship, durable materials, and solid components—like the metal g-hooks and YKK zippers—Heimplanet has clearly built this pack to last, and we have no concerns with its durability.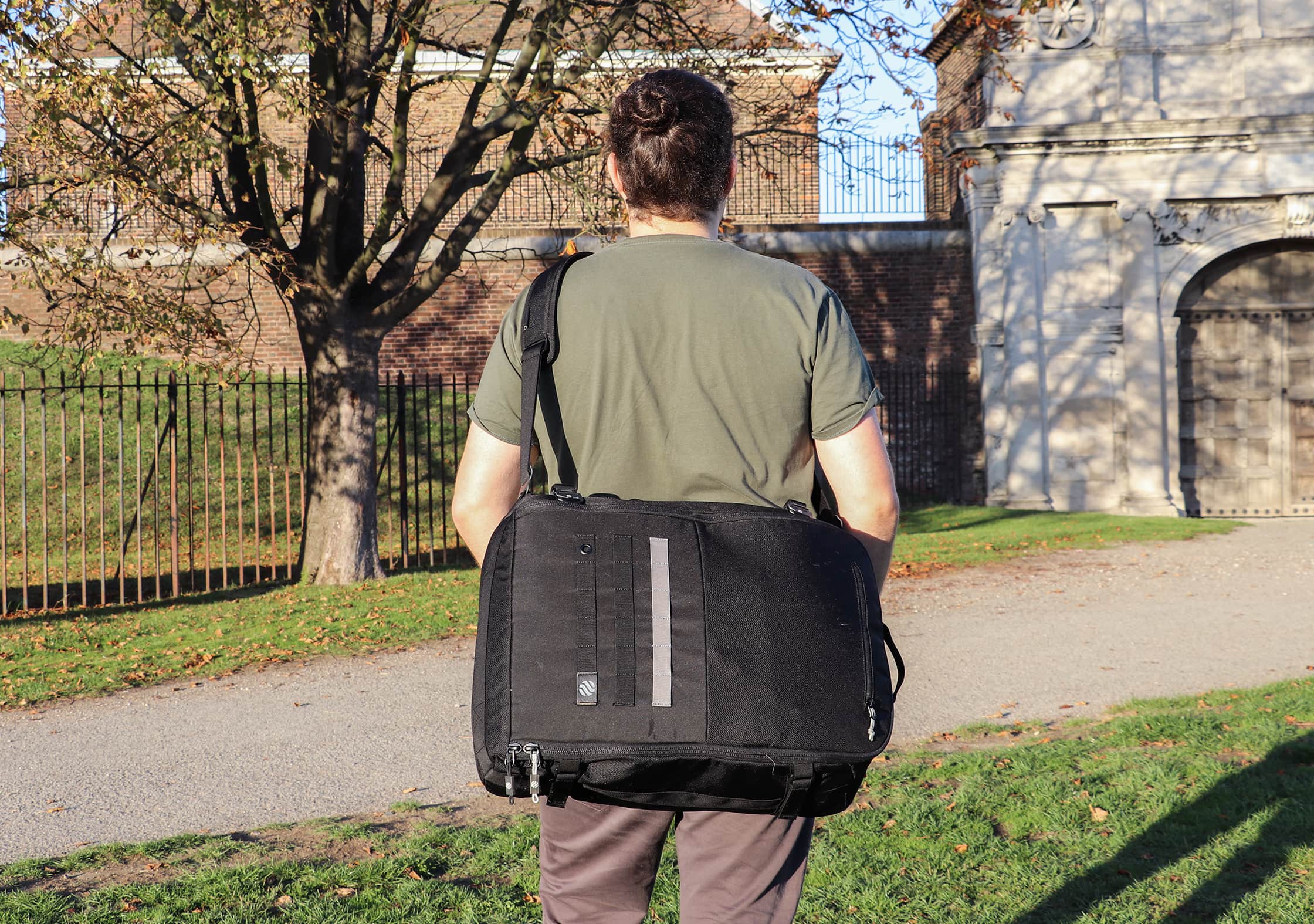 In testing, we found the Monolith Weekender to be a solid pack that works well for one bag travel. We do have some gripes, like the lack of a water bottle pocket, but this is a pack that we'd feel comfortable taking anywhere in the world and we're confident it will handle anything you throw at it.
Usage Timeline
Initial Usage
Condition: Excellent
This is a big bag! It's still carry-on compliant though, we like that.
1 Month of Use
Condition: Excellent
Worked really well as a one bag travel pack on ten-day trip to Portugal.
Access the Pro Community Discussion
Get your questions about the Heimplanet Monolith Weekender 40L answered from our team and the Pro Community right here on the page. Plus, join discussions with other members about gear, guides, and more.
Other Bags & Luggage Reviews