GORUCK MACV-1 Review
The GORUCK MACV-1 is a well-designed, lightweight combat boot that's durable and extra-breathable for urban exploring or outdoor adventures.
Our Verdict
Unlock the Pro Summary
Save time. Get access to brief summaries of our reviews so you can browse and make decisions more efficiently.
Pros
Very lightweight and a great option for travel
The speed laces keep things running smoothly and quick
High-quality materials and craftsmanship
Cons
The boots can take some getting used to and breaking-in if you have a higher instep
The black version shows aesthetic scratch marks pretty quickly
Recent Pack Hacker Video
Technical Details
Weight (oz)

14 oz (396.9 g)

Most sizes

Denier

1000D

For the nylon upper

Notable Materials

Leather, Thermoplastic Polyurethane (TPU), CORDURA® Nylon, EVA Foam, Rubber

Manufacturing Country

Vietnam

Warranty Information
Full Review
When you're on the road, high-quality and lightweight footwear is essential. GORUCK is out to meet that need with its MACV-1, a lightweight combat boot made for travel with lots of breathability, nice craftsmanship and a solid appearance. (And yes, you read that right—a lightweight combat boot.)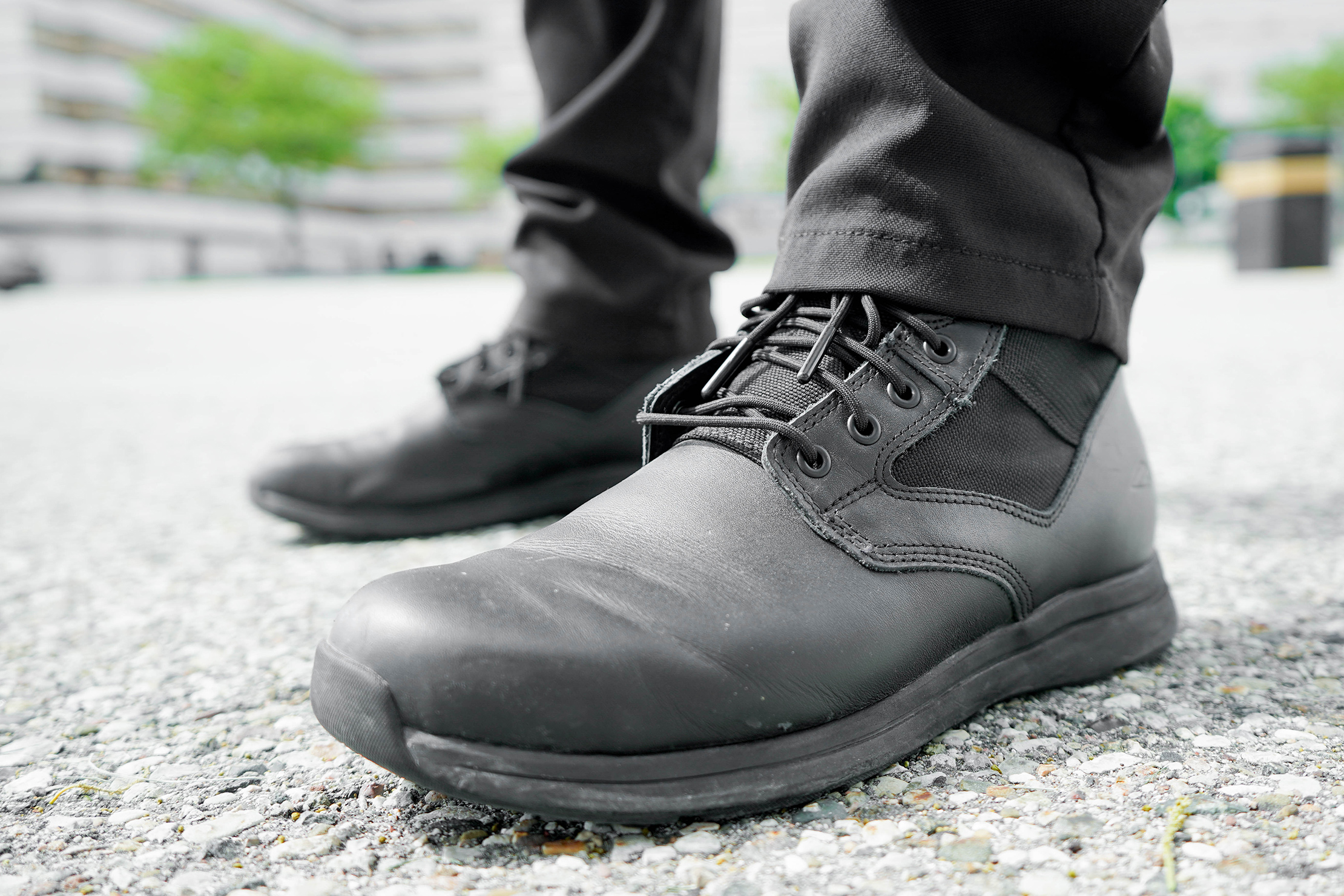 Described as a "jungle rucking boot" that's "proudly not waterproof," the MACV-1 is GORUCK's first shot at creating footwear—so naturally, we couldn't wait to try them out. Our team has been testing the black and coyote version of these boots for a cumulative five months and we're here to tell you everything you need to know.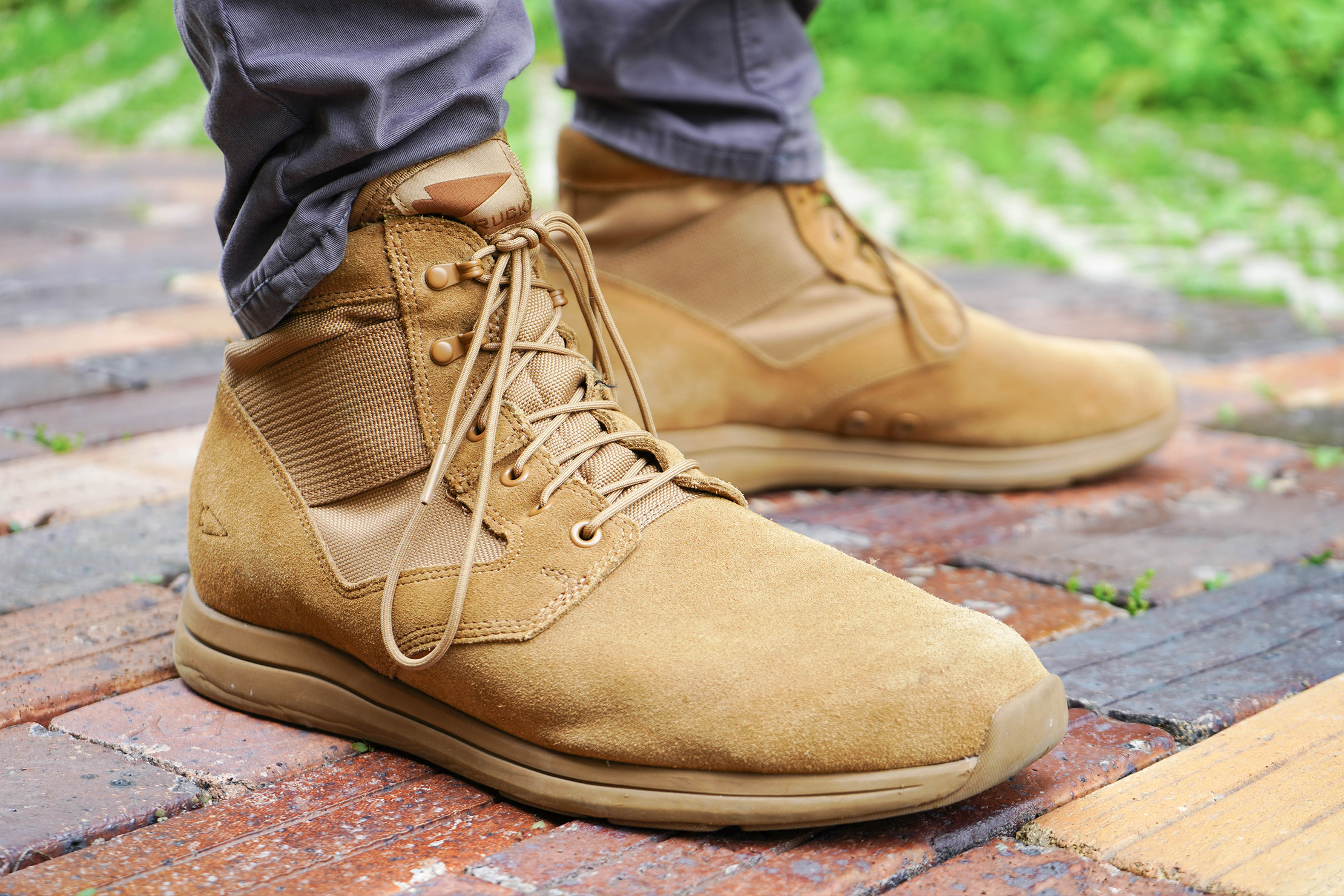 Materials & Aesthetic
The big draw of the GORUCK MACV-1 boots for travel is that they're extremely lightweight. Despite their rugged and heavy appearance, the smaller sizes come in at just under 14 ounces. The black size 10.5s we tested weighed just 16.4 ounces—about the same weight as a soda can, which is pretty unbelievable.
At the time of this review, the MACV-1 comes in two colorways: the black and coyote versions, both of which you'll see featured here. When it comes to branding, the aptly-named GORUCK spear tip is found on three different places on each shoe. The first is on the back left heel, and you'll notice they're reversed on each side so they're always pointing forward—which is a neat, small detail.

GORUCK branding is also found on the tongue of the boot, along with an imprint on the rubber sole which is, again, pointing straight forward on each.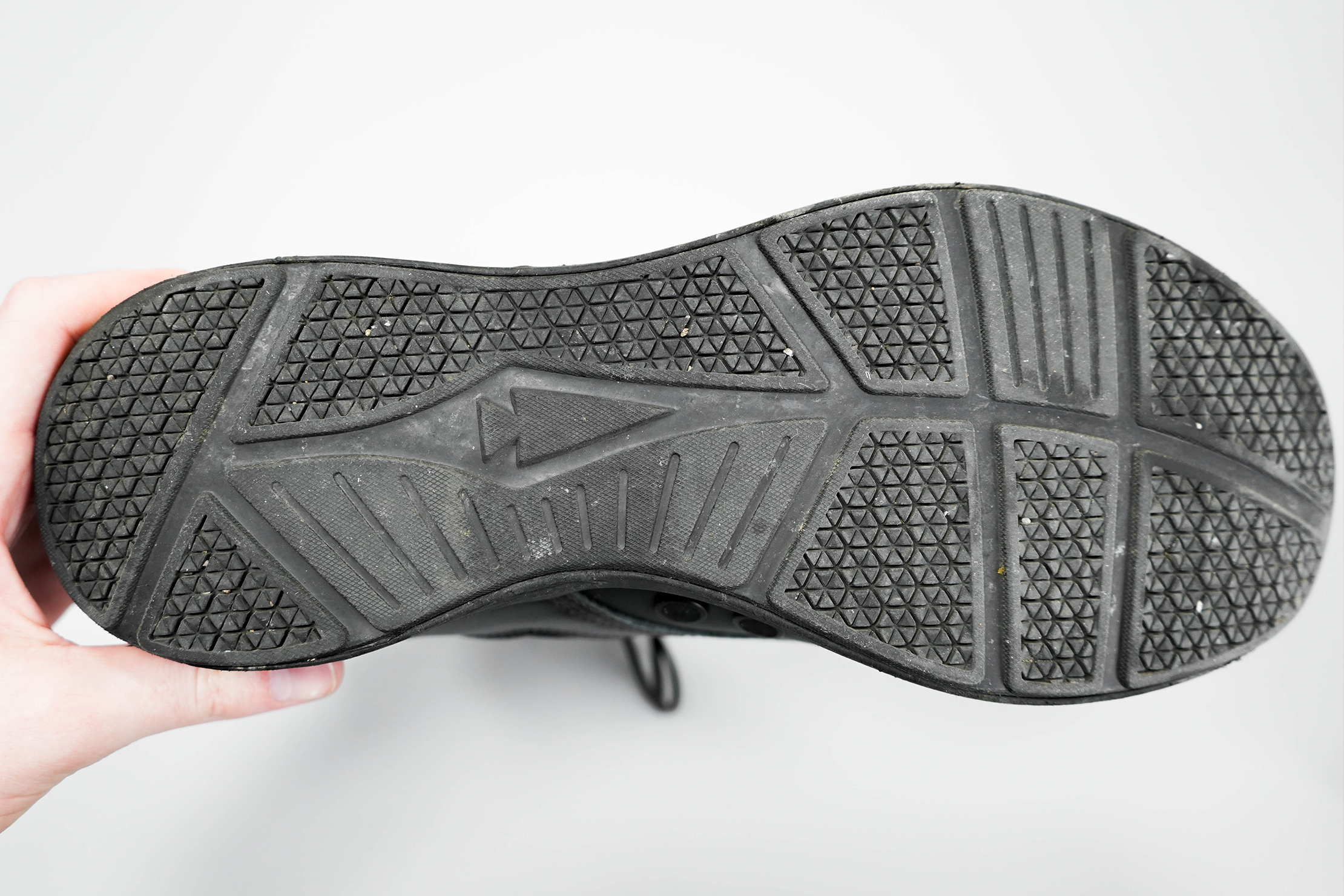 The overall look of the MACV-1 boot is really versatile, at least in our eyes. We think they look pretty great in a polished or urban environment, and they obviously look right at home while outdoors. But as always, we polled our Instagram audience for their thoughts. To our surprise, 39 percent liked the boots while the other 61 percent gave it a thumbs-down. Good thing we review travel gear and not fashion accessories. (Ready to give your two cents? Join us @packhacker to take part in future polls.)
Components & Features
The outside of the MACV-1 features full-grain leather along with a molded TPU on both the toe and heel counter. The heel counter is basically a stiffer part of the shoe that helps prevent friction as you're walking around.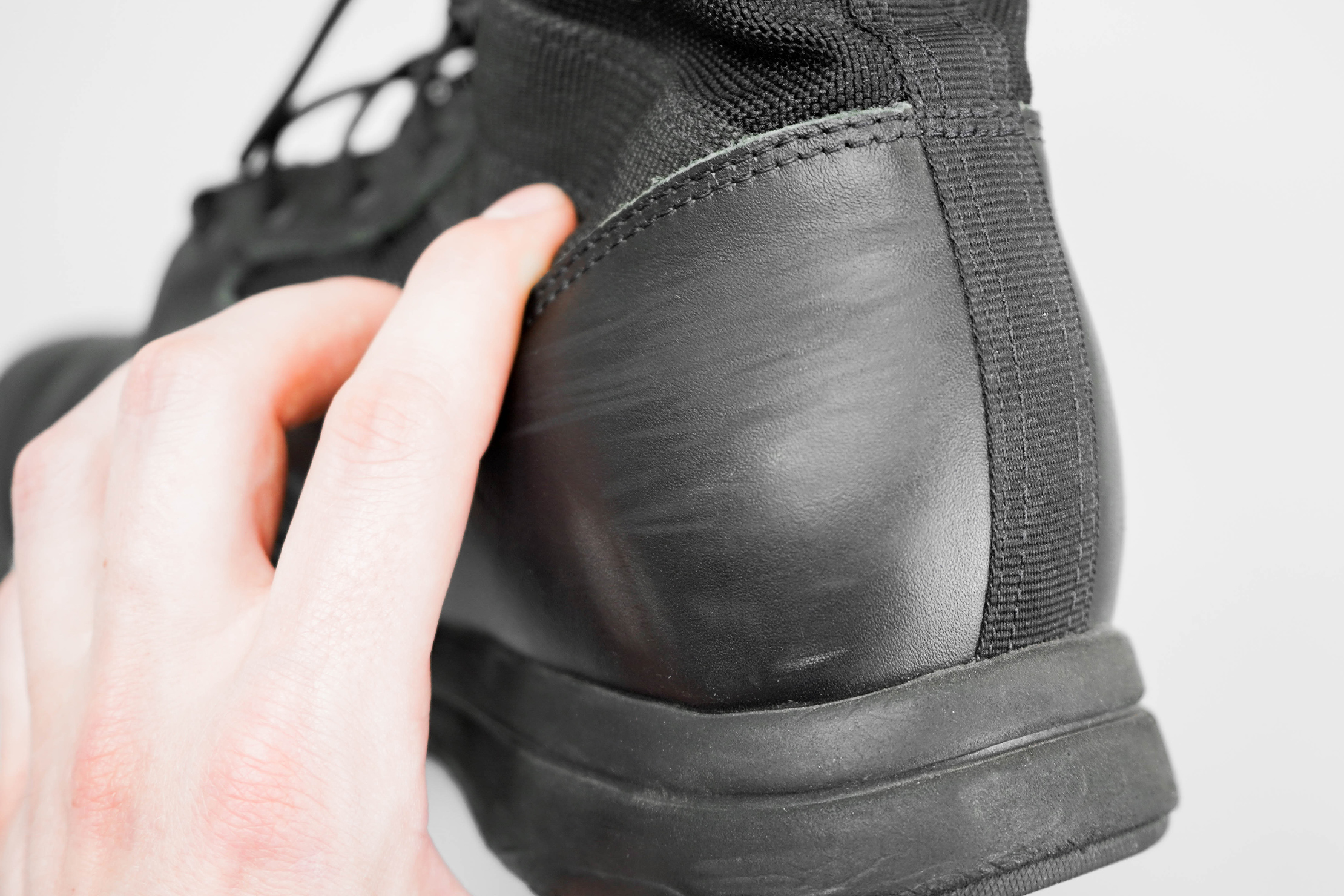 Along the top of the boot, 1000D CORDURA® nylon and some reinforced nylon webbing are used to give the upper a little more flexibility while the bottom is pretty stiff and reinforced. The MACV-1 also has a thick EVA midsole and a thicker rubber outsole that come together nicely.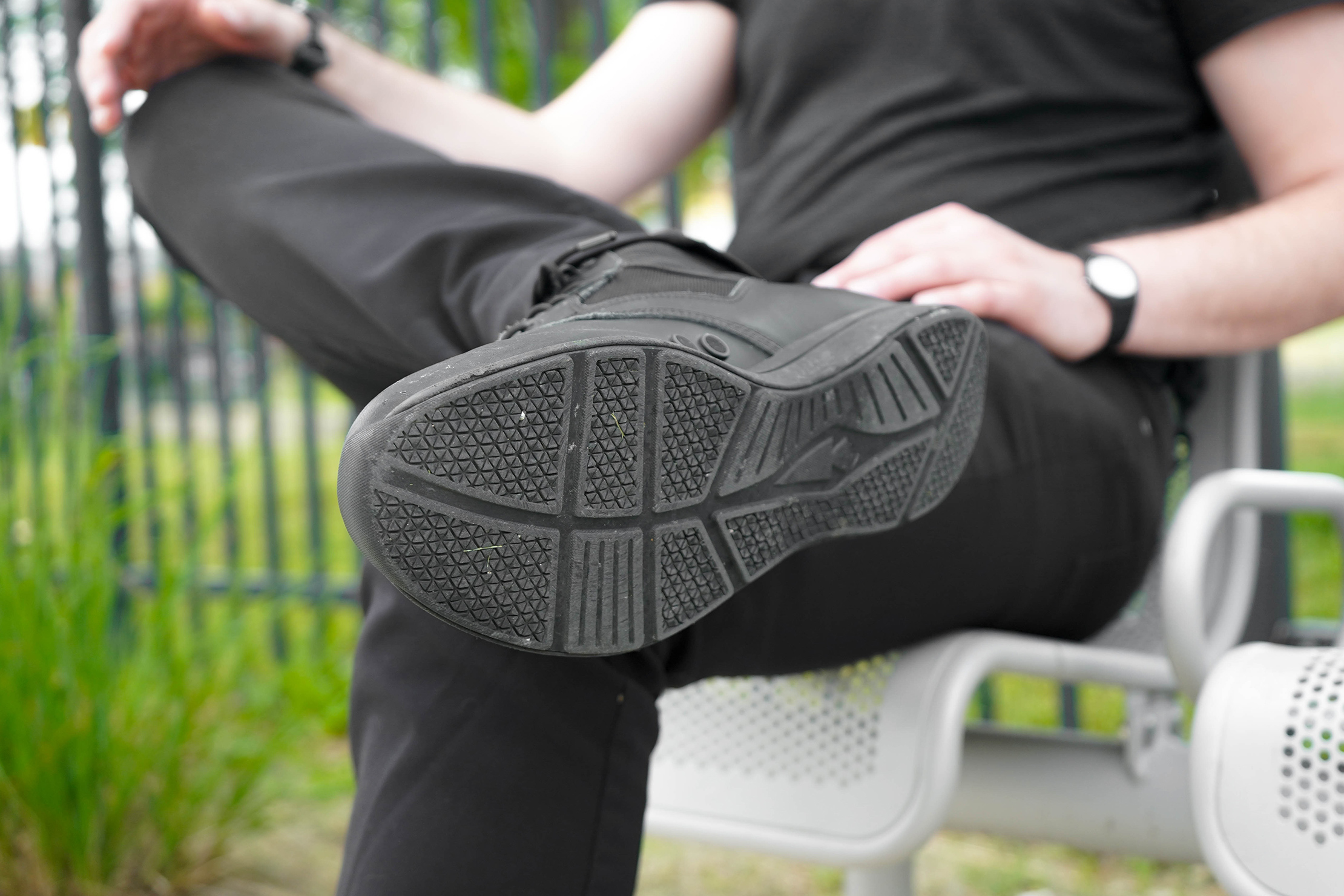 The EVA foam inside the boot offers some padding as you're walking around and the rubber outsole provides the added durability we're always looking for in travel footwear. If you've lost us with all this jargon, the point is that these materials make the boot flexible where it needs to be flexible, stiff where it needs to be stiff, and comfortable where it needs to be comfortable. Which is pretty ideal, as far as we're concerned.
Now, behind that comfort and versatility are a few key features that we definitely think are worth mentioning. First off, the GORUCK MACV-1 has "speed laces," which are thinner, 3-millimeter laces that can lace and unlace a bit quicker than the standard 5-millimeter laces.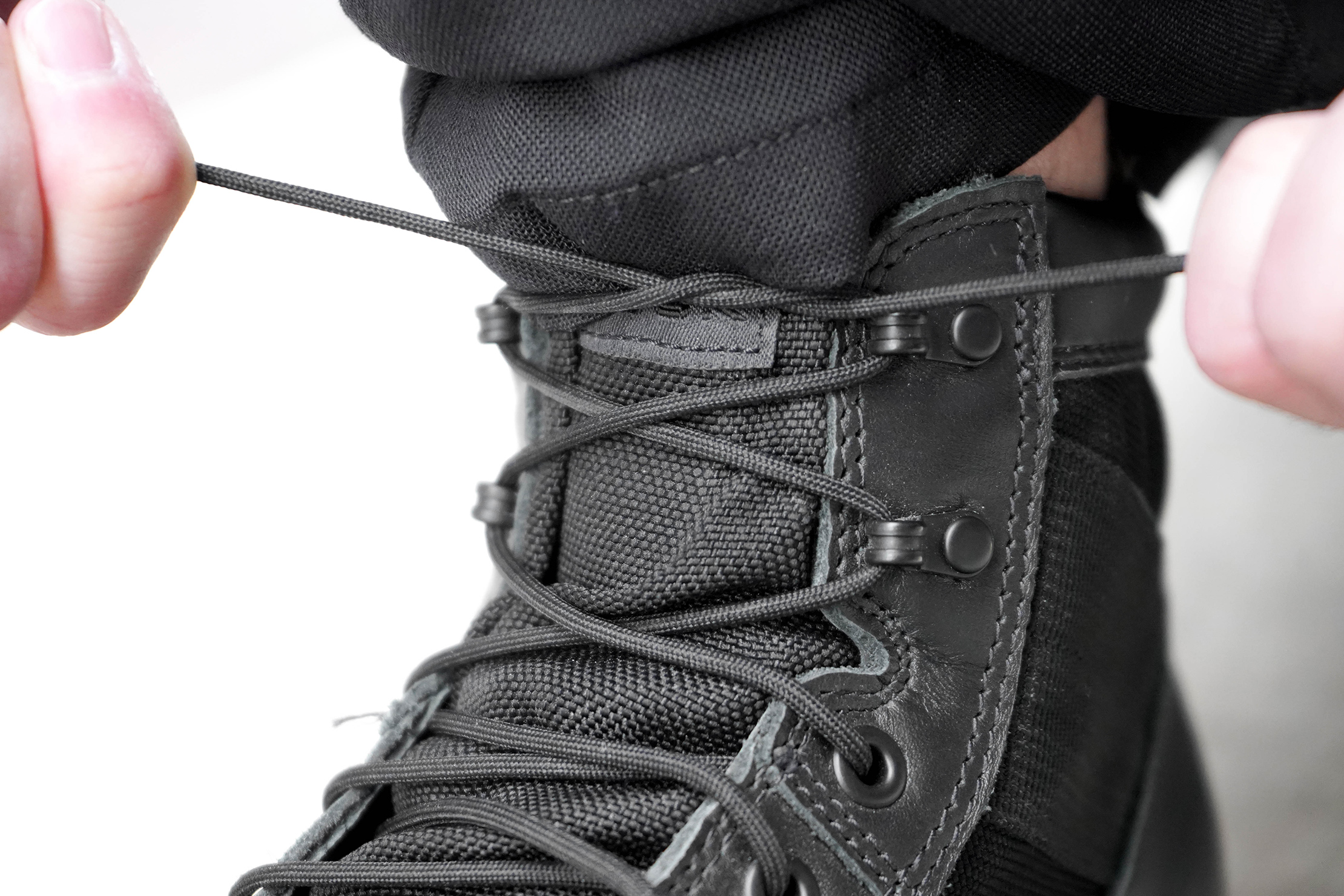 The eyelets are also a bit larger. Essentially, you can de-lace this boot by simply pulling the shoe apart. This is a great feature as they allow you to take the boots on and off easily—something that is often a problem with traditional combat boots and work boots.
We like that the MACV-1s are triple-stitched in certain places for added durability, including the area where the upper attaches to the lower part of the shoe. GORUCK is always trying to make the most durable and high-quality products possible, and that's evident in the design of the MACV-1.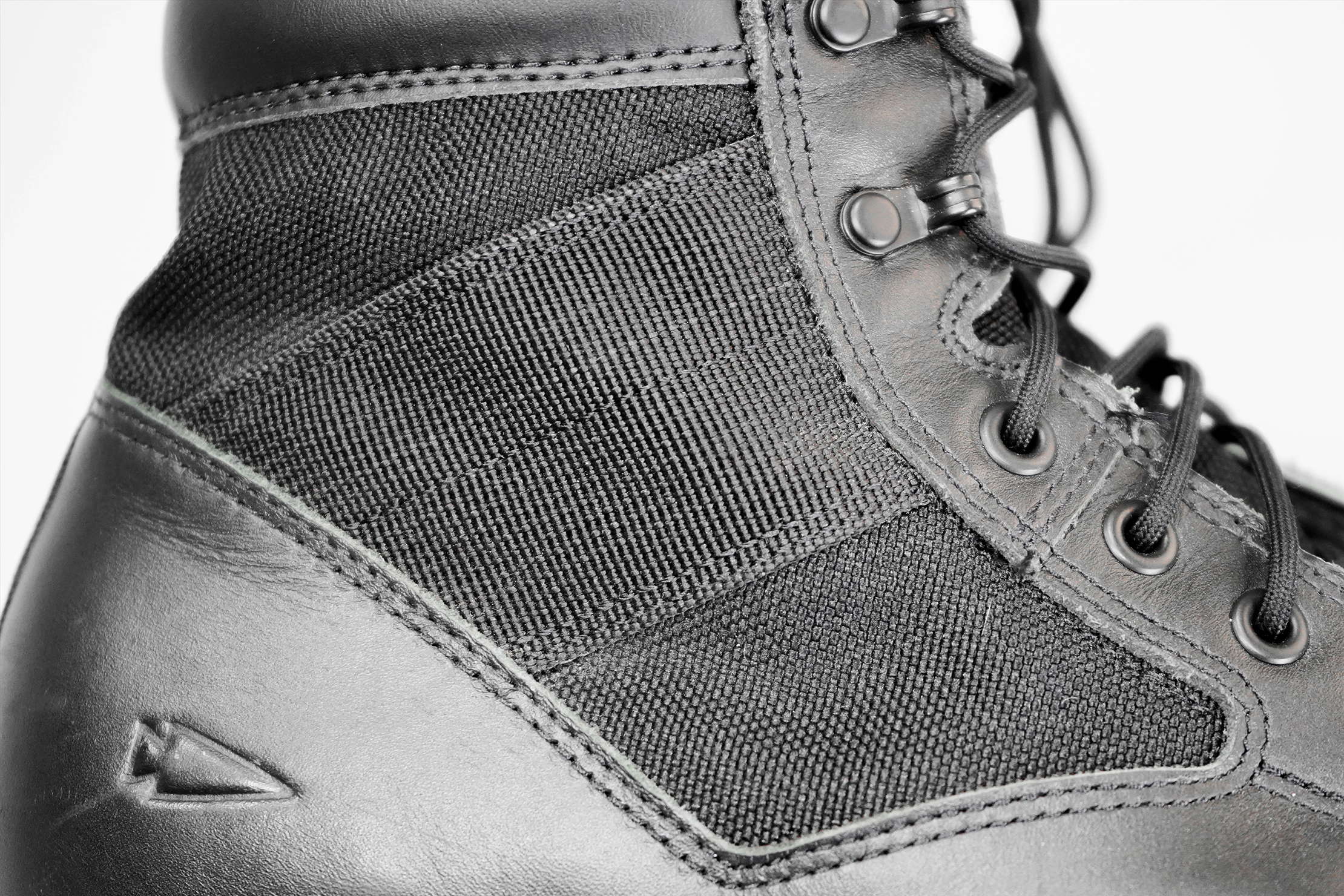 A wide toe box allows your toes to breathe and spread out a little bit more in this boot, as well. This toe box is reminiscent of a more minimalistic shoe, but obviously the super-thick padding at the outsole and midsole of the MACV-1 sets it far apart from the minimalist category.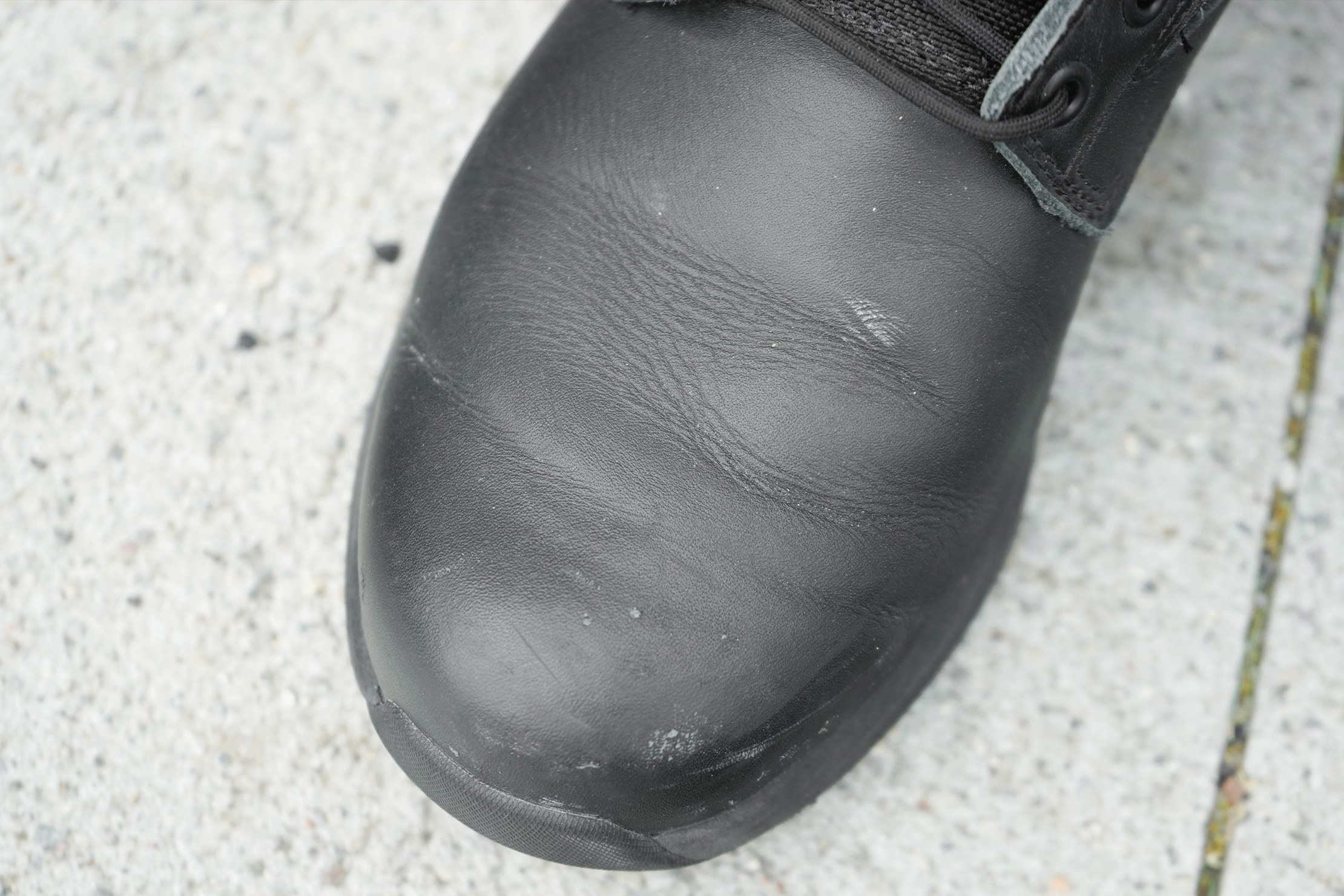 These boots are not waterproof, as we mentioned earlier, which was an intentional choice by GORUCK. They chose to focus on breathability, instead of trapping all that heat and sweat inside of the shoe by making it waterproof—the dreaded "microwave" effect, as GORUCK mentions on its site.
That said, the MACV-1 does feature some shielding drain holes at the bottom that will help with breathability and expel any water that's been collected inside. These guarded drain holes have a little bit of mesh material, which will help prevent dirt and sand from getting inside the shoe while still allowing water to drain out—a really handy feature.
We like the height on these boots, however GORUCK's 8-inch MACV-1s are in preorder at the time of this review if you're looking for something a little taller.
Durability & Testing
From a break-in perspective, our tester Nathan was able to hit the ground running in his GORUCK MACV-1 boots with virtually no break-in period needed. Nathan does have narrower and flatter feet, and he found comfort with these boots right from the start.
Tom, on the other hand, has wider feet with a high instep and he required a little more break-in time—it was about two days before he felt comfortable in the MACV-1s. While the width wasn't an issue, he did feel the boots were slightly tighter towards the top due to his higher instep.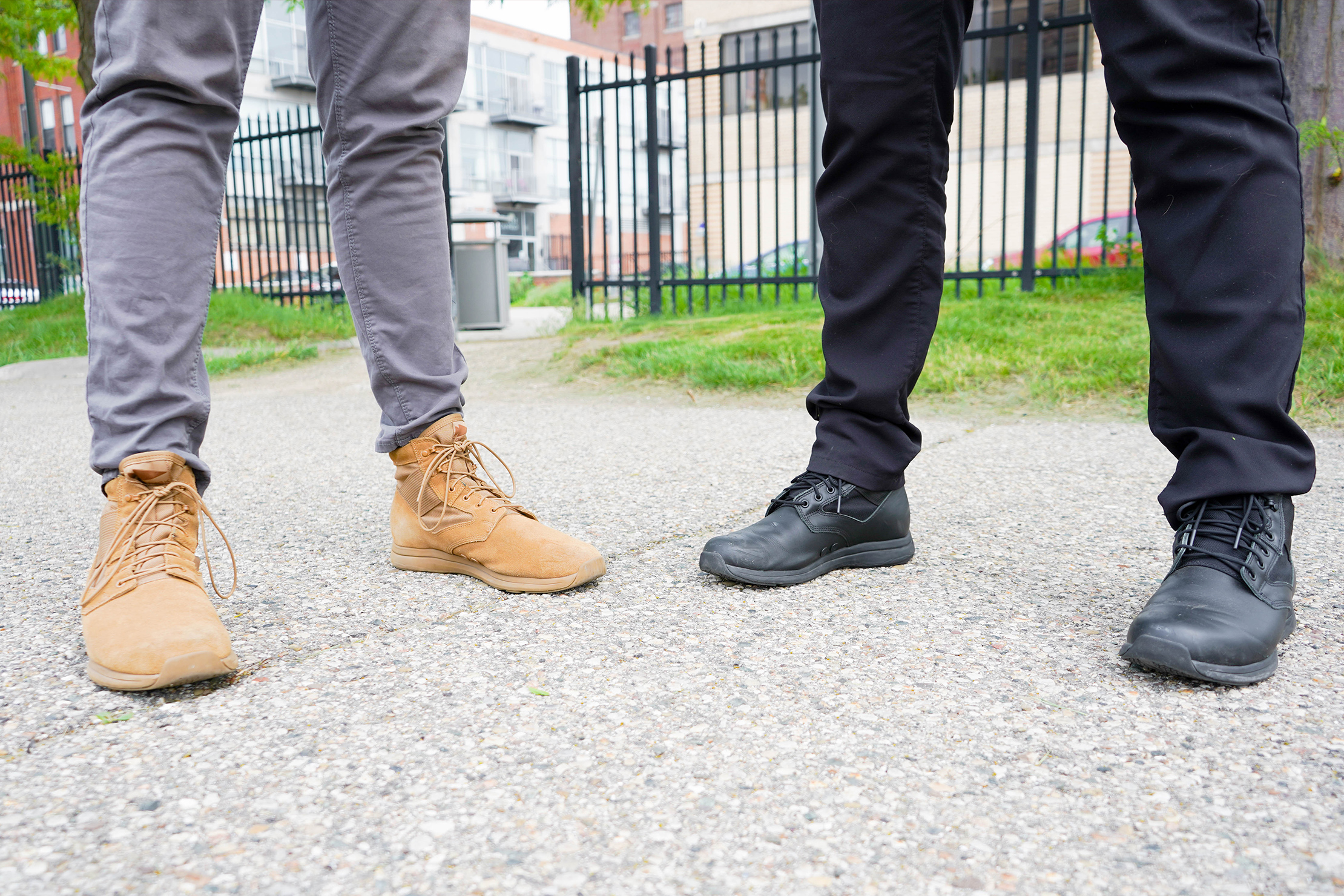 And on the plus side, neither of our testers had blisters during break-in or any other issues like that.
Our testing on these boots has been primarily urban with most of the wear taking place around Detroit, New York City and Minnesota. (In other words, no trekking in a jungle in Vietnam like the GORUCK marketing video shows. Not really our style, anyway.)
We have seen a couple of permanent marks and scratches on the black version but nothing that has affected the durability quite yet—just the aesthetic.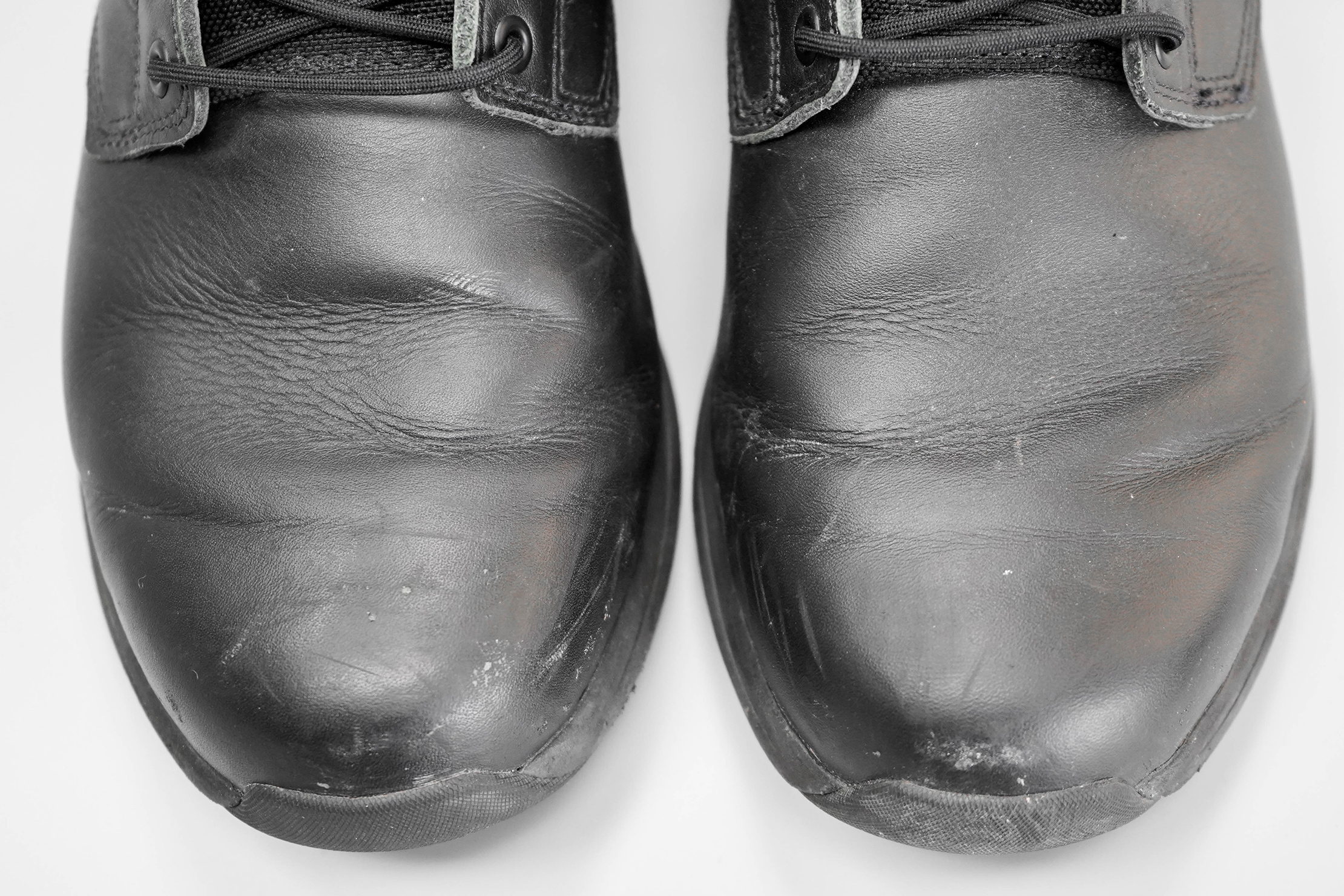 Generally, these boots have been quite weather-resistant and they also dry quickly, especially if you remove the insole. Since the materials in this boot are designed to expel water, we weren't exactly surprised to find out they dry quickly.
If anything does go wrong with the MACV-1, you can feel confident that GORUCK will have your back. The brand's Scars Lifetime Guarantee is one of the best warranties in the business, and it'll cover any manufacturing defects or problems. There's no coverage for normal wear and tear, of course, but you can always shoot them an email if you have a unique situation and they'll likely do their best to rectify the situation. From our experience, they're really great with their customers.
Usage Timeline
Initial Usage
Condition: Excellent
Way lighter than we expected.
Break in period if you have a high arch.
Performs well in inclement weather so far.
They add at least 2 inches of height to the wearer.
We think they look really great and we have both black and coyote.
1 Month of Use
Condition: Excellent
Takes a couple days to break in if you have a higher instep.
2 Months of Use
Condition: Good
Noticing a few marks on the black version, but no durability issues so far.
3 Months of Use
Condition: Good
The speed laces are a nice touch—very quick and easy to use.
6 Months of Use
Condition: Good
No durability issues to speak of. Holding up well with daily use in urban environments.
Access the Pro Community Discussion
Get your questions about the GORUCK MACV-1 answered from our team and the Pro Community right here on the page. Plus, join discussions with other members about gear, guides, and more.
Other Clothing & Accessories Reviews