Gear Infusion PULSEX1 Ultra Slim Wallet Review
The Gear Infusion PULSEX1 Ultra Slim Wallet is a well-crafted minimalist wallet that feels great to carry, though its slim design lacks extra storage.
Our Verdict
Unlock the Pro Summary
Save time. Get access to brief summaries of our reviews so you can browse and make decisions more efficiently.
Pros
Minimalist design and feel
Elastic is snappy and durable
Can fit enough cards for most uses
Cons
Nowhere to store non-card shaped items
Metal lacks protection for easy to damage cards
Difficult to manipulate elastic band
Recent Pack Hacker Video
Technical Details
Weight (oz)

1.6 oz (45.4 g)

Dimensions

2.1 in x 3.45 in x .23 in (5.3 x 8.8 x 0.6 cm)

Notable Materials

Aluminum

Warranty Information
Full Review
If you've watched any YouTube videos in the past five years, you've probably seen an ad for a minimalist wallet. It feels like they've taken the world by storm and don't have plans to go away any time soon, and here at Pack Hacker, we're here for it. On paper, the Gear Infusion PULSEX1 Wallet has a great design and is exceptionally minimalistic. Can it make a name for itself in a saturated market, or will it blend in with the rest of the crowd? Let's find out.
Materials & Aesthetic
The main material we see on this wallet is 6061 aluminum alloy, a metal that uses magnesium and silicon as its main alloying elements. It's one of the most common grades of aluminum and is very durable and resistant to cracks. These are actually crafted with a CNC machine, which is,—to describe it as simply as possible—a big 3D printer that cuts and shapes metal. They're incredibly accurate, which is great for ensuring the product you end up with is what you were expecting.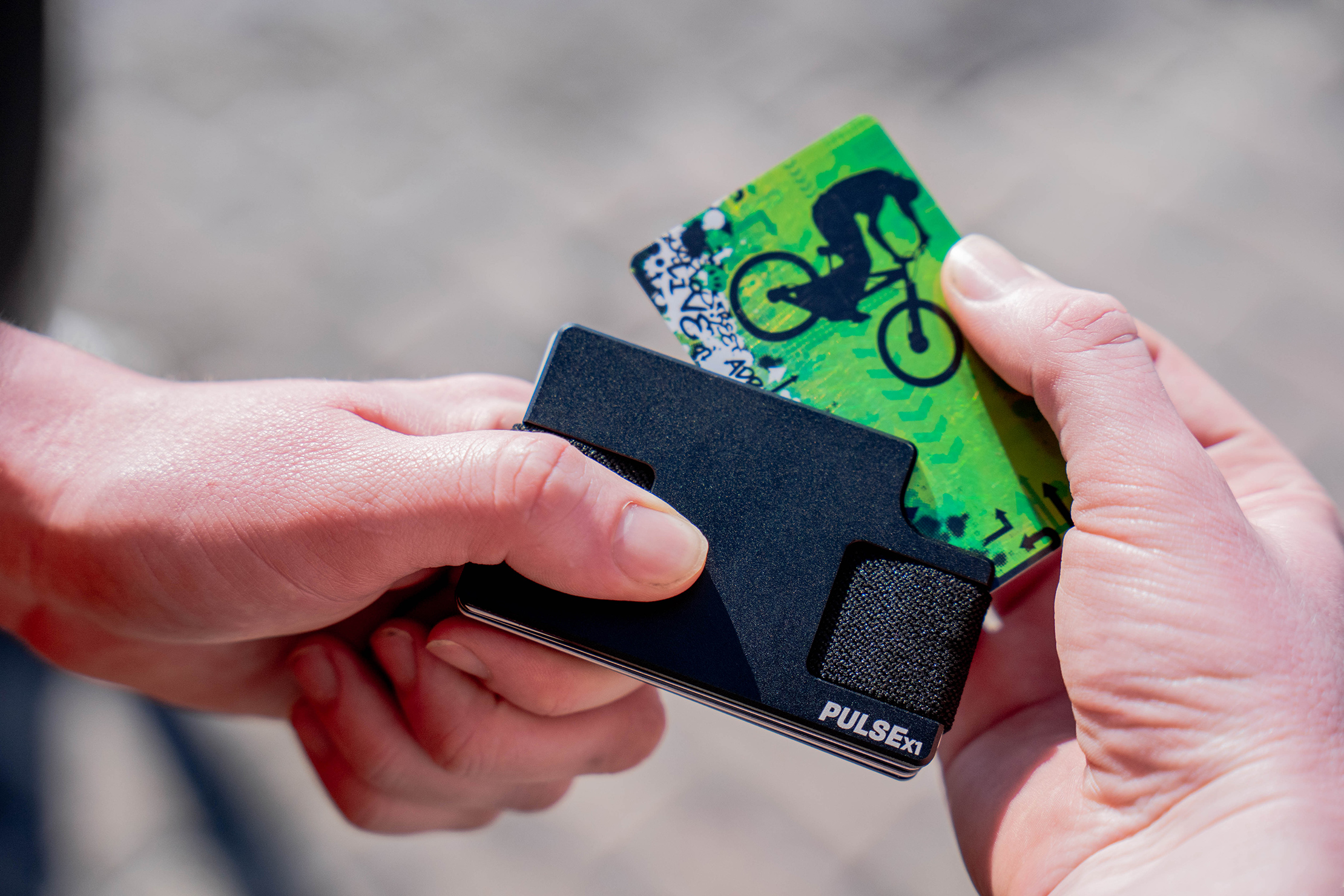 If the wallet looks familiar to you, it might be due to its similarities with The Ridge, another popular minimalistic wallet on the market. Although very similar, the PULSEX1 has card access from both sides of the wallet, and The Ridge has an external cash clip. We won't be doing a detailed comparison between the two (check out our full review for more information on The Ridge), but we thought it was worth mentioning the resemblance at the start.
At the time of writing, it's available in Black, Light Silver, Dark Gray, and Gold. We really dig all of these colorway options because they're very minimalistic to match the wallet and suit the aluminum alloy they're crafted out of. Each colorway keeps the black band, which adds some contrast on the models other than Black. They feel very industrial but also have a hint of art deco. The corners are sharp but also rounded, which adds a bit of duality.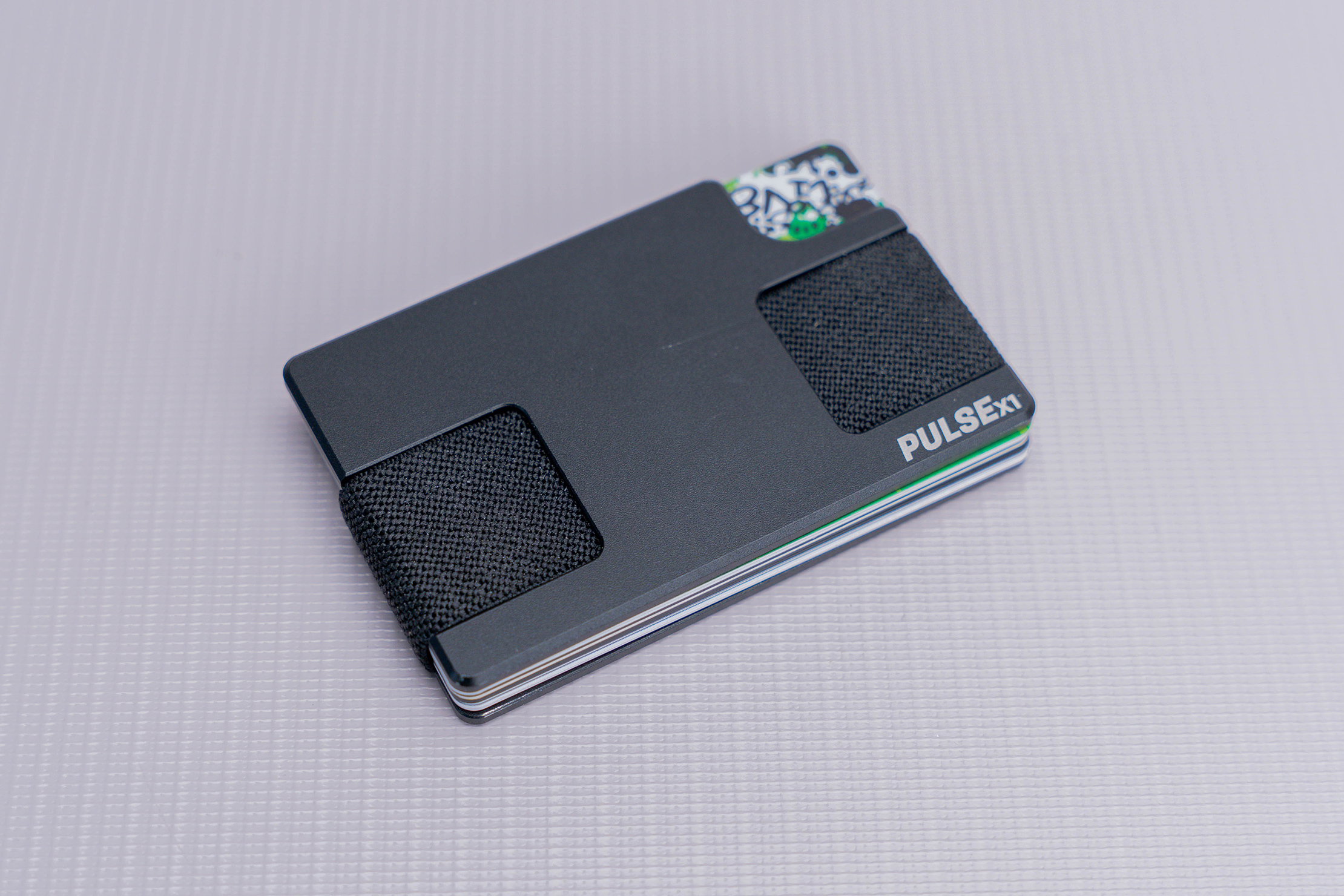 The PULSEX1 logo is in white on the bottom right of the front face, and it's a little loud for our liking. This wallet is extremely simple and minimalistic, but the logo takes away from that. This isn't a deal-breaker for us by any means, but we can see how it may be for some.
The two pieces of aluminum are held together by a large selection of elastic. It's super stretchy, feels durable, and blends well with the metal. It's removable if you needed to clean it or readjust it.
We clocked this wallet in at 1.7 ounces empty, which is .1 ounces more than they have listed on their site. We think this is a huge mistake, and we might as well end this review on the spot. We're only joking—this thing is super lightweight and feels great in a front pocket. With that, we'll get into usage.
Usage & Features
There isn't a ton of customization with this wallet. It's pretty simple; put cards and cash in the center, and that's it. You can loop the elastic around the exterior of the wallet instead of the inside, which gives you a little nook to put your cash or a key. We only did this a few times because we felt it was hard to manipulate the elastic band, but it is doable. The band is tight enough to hold the cash well for a short time, but we wouldn't leave it in there all day.

When the wallet is empty (or only has a few cards in it) and you open it, the top piece of metal can slide up the inside of the other, making a terrible noise that we shudder to even write about. This is rare, as we usually have enough in the wallet to stop it from happening, but we thought we should note it just in case you're sensitive to scraping metal noises (or want to annoy someone).
We're able to fit just around the advertised 15 cards inside depending on the thickness of our cards. If you have thinner, more paper-sized cards, you'll be able to get a few more. With thicker metal cards and added cash, 15 might be pushing it. We did find that no matter how many cards are inside the wallet, getting cards out can be difficult.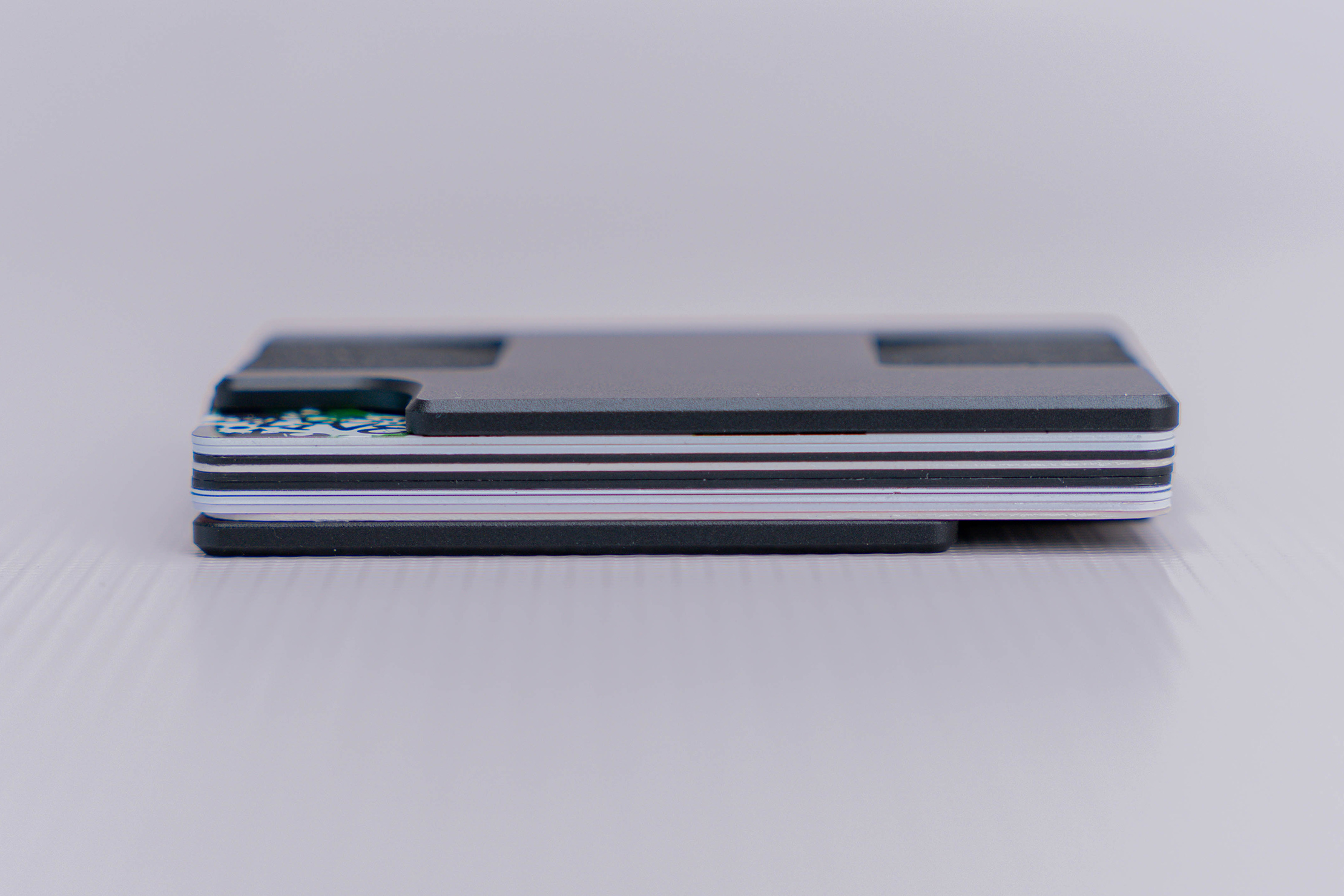 The design enables you to have quick access to two cards, one on the front side and one on the back, with the rest of your cards in between those two. You're supposed to be able to slide those two cards in and out easily because you can push them up with your thumb. We found that it isn't that easy, and when we finally get it out, the card directly behind it comes with it a lot of the time. This may be due to the kind of cards we're using, but it still does this every so often even after swapping out card types. That's potentially problematic if you don't realize that the second card comes out and it falls on the ground, leaving it behind.
Another worry that we have is credit cards or other raised number cards getting ruined by the wallet's interior. There are a few places where the metal has gaps or where the elastic meets with the metal at a corner. We worry that this could begin to scratch off the raised number on our cards, so we always put the numbers facing inward. Although we haven't had any issues, the rough interior and scratching noise it made the few times we did face the card that way was enough for us to change the orientation. It's something to note before you start using it regularly!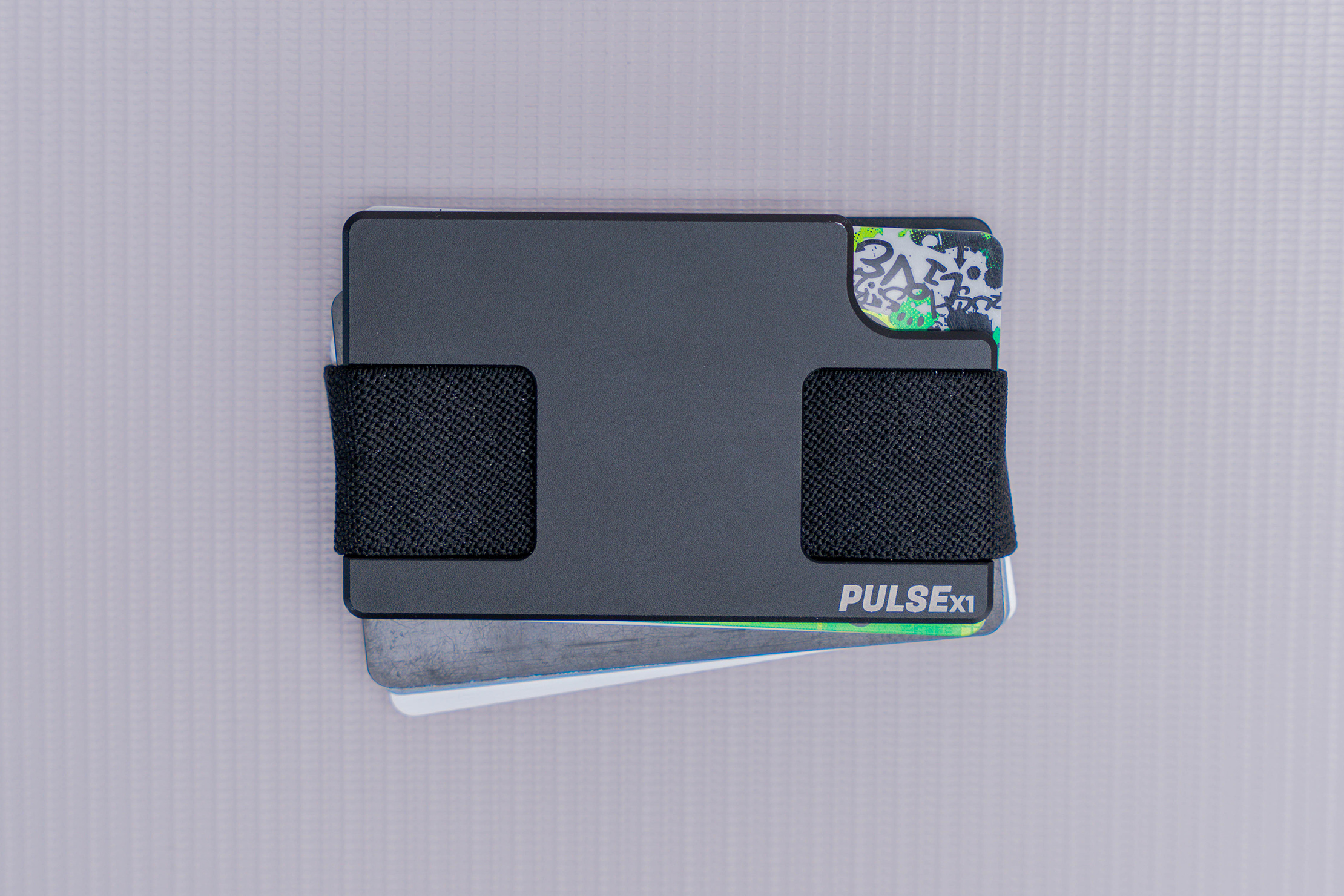 Gear Infusion claims that the wallet is RFID blocking, and we have heard before that aluminum has natural RFID blocking properties, but we could not test Gear Infusion's claims that it is RFID blocking. We do think it's important to note that our cards did shuffle around ever so slightly while it was stowed in the front compartment of our daypack. If a card is even a few centimeters off track in the wallet, it could lead to any RFID blocking properties being null and void. Long story short, even if it blocks unfriendly radio waves, the wallet doesn't encapsulate your cards, so there's always a chance something could get through.
We have to admit that this wallet feels damn good in a front pocket. The rounded edges make it feel comfortable in hand, and it's so small that it's hardly noticeable on a walk around a new city or through the airport. You aren't able to store every random gift card your grandma has gotten you for your birthday since you were 12, but I don't think they have Olive Garden in Europe anyways.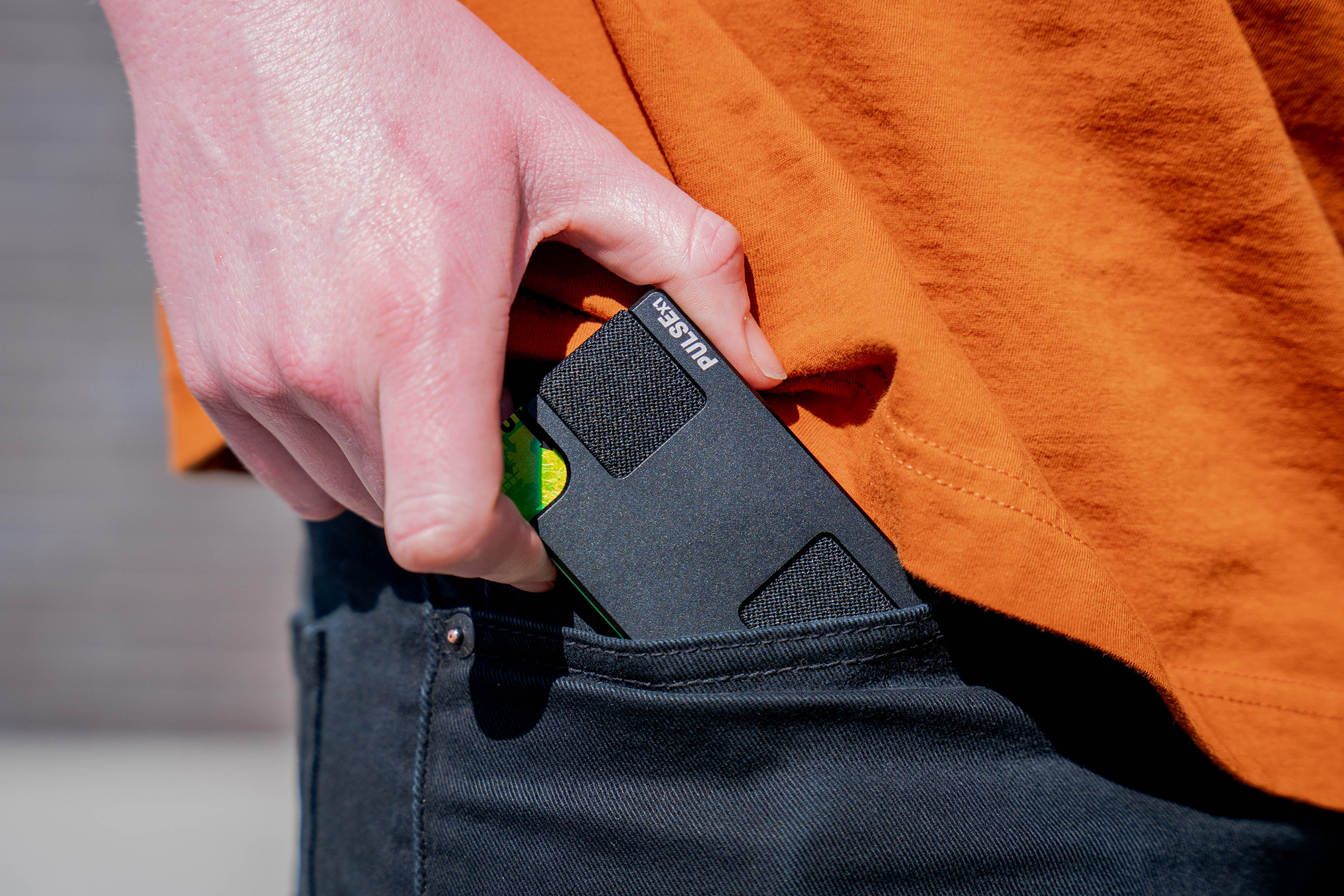 Overall, the Gear Infusion PULSEX1 Wallet is a great minimalist wallet. When it comes to travel, it's a great daily driver, but you'll want something else to carry the important documents like a passport, as this wallet has too tiny of a footprint for anything larger. We look forward to seeing how Gear Infusion improves upon this design, as we think it has a great look and feel but could use a few finishing touches.
Usage Timeline
Initial Usage
Condition: Excellent
Solid & durable feel to the aluminum alloy
Elastic is snappy, but we worry about wear
No way to separate cards, so things can be out of place
2 Weeks of Use
Condition: Excellent
The elastic band is still tight
Can fold in upon itself sometimes
Aluminum has held up extremely well
Access the Pro Community Discussion
Get your questions about the Gear Infusion PULSEX1 Ultra Slim Wallet answered from our team and the Pro Community right here on the page. Plus, join discussions with other members about gear, guides, and more.
Other Organizers & Pouches Reviews