Fjallraven Kanken Gear Pocket Review
Fjallraven's Kanken Gear Pocket combines basic pouch functionality with robust build quality—it lacks sophistication, but it gets the job done.
Our Verdict
Unlock the Pro Summary
Save time. Get access to brief summaries of our reviews so you can browse and make decisions more efficiently.
Pros
No-frills, straightforward design
High-quality materials and construction
Owner information tag conveniently built-in
Cons
Basic functionality can be limiting
Fabric stains relatively easily
Bulky items require strategic packing
Technical Details
Weight (oz)

1.41 oz (40 g)

Dimensions

5.51 in x 8.27 in x 0.2 in (14 x 21 x 0.5 cm)

Notable Materials

Polyester, Cotton, G-1000

Manufacturing Country

Vietnam

Warranty Information
Full Review
If you go to Fjallraven's website and look at the Kanken Gear Pocket's product page, the brief description there reads, "Compact little pack bag in durable G-1000 fabric. Practical for cords, smaller tools, etc." Simple, concise, and understandable. Sometimes it really is that easy.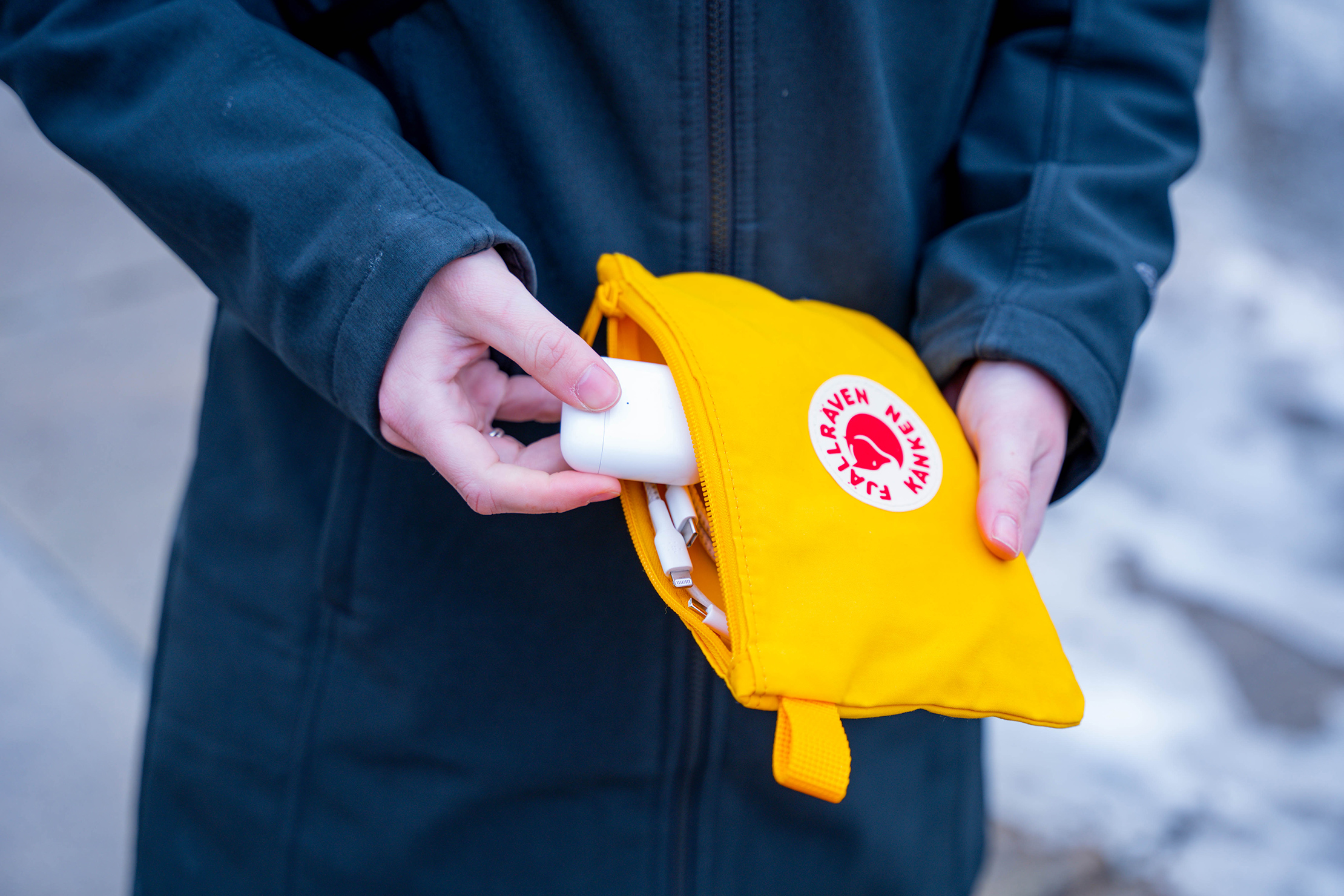 The Kanken Gear Pocket isn't bristling with bells and whistles. One could even say it has one bell and one whistle: its main compartment and nylon loop. If that's all you need, then you'll be happy to know that Fjallraven made this pouch with the same high level of quality we've come to expect from the brand. You get the basic functionality you need, made with a high degree of quality. What more could you ask for?
No, seriously, it's important to ask that because the limited scope of the Kanken Gear Pocket is ultimately its biggest con. Read on to find out whether this pouch covers your needs or if you're left looking for something more.
Materials & Aesthetic
There's no skirting around the fact that the Kanken Gear Pocket is a Fjallraven product. The logo is right there, smack dab in the middle of the pouch. On a scale of minimalist to "in-your-face", this kind of branding definitely leans towards the latter. Not all of their gear is like this, and they have a habit of switching things up when it comes to branding. One quick look at their lineup of backpacks, and you'll see that some come with their small fox logo, others get the full logo and text treatment—namely, the Kanken line of which this Gear Pocket is a part.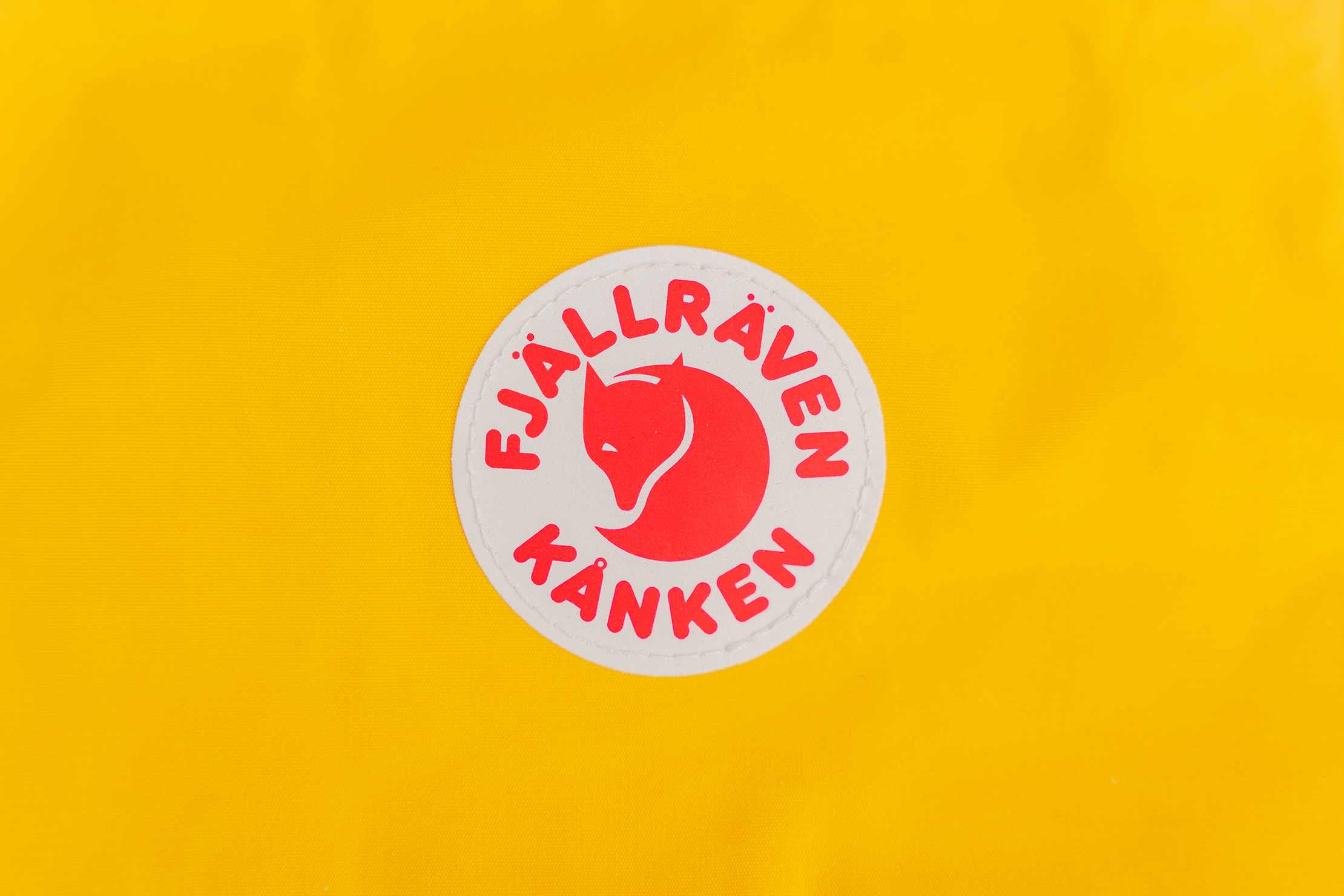 On the plus side, even though the logo is eminently displayed here, it works really well as a centerpiece on this bright Warm Yellow colorway. It has a retro vibe that looks very youthful, and we see the appeal. There's also a small Swedish flag in the form of a tab along the right of the pouch (Fjallraven is a Swedish brand). Overall, it's still a tasteful design, even if it's a bit flashy. Fortunately, there are other colorways to choose from if this one's not to your liking.
The main material on the Kanken Gear Pocket is Fjallraven's signature G-1000 HeavyDuty Eco S. It's a blend of 35% cotton and 65% polyester, making it a really lightweight (but still sturdy) material compared to nylon-based pouches. It's worth noting that, compared to other Fjallraven bags we've looked at before, the G-1000 on this feels somewhat lighter, though that may be because of the pouch's much simpler construction.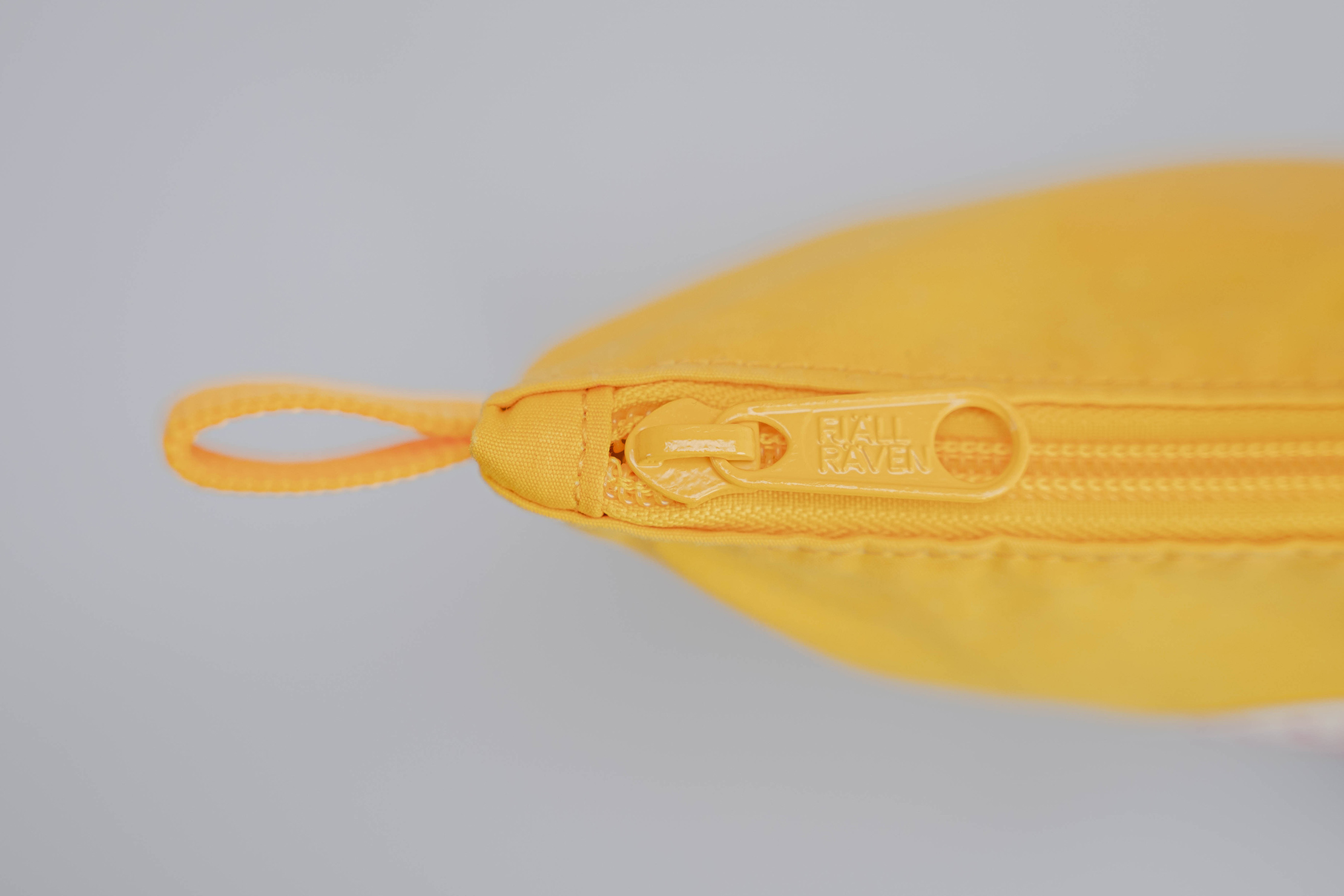 Users may also coat the fabric with Fjallraven's optional Greenland Wax to improve water resistance. We did notice on our sample that the fabric collects dust and even managed to get some color transfer from another fabric. Coating it with wax may help, but it's not absolutely necessary. Mind you, this pouch isn't designed to be 100% waterproof, no matter how much wax you put on the fabric.
Lastly, the zipper on the Kanken Gear Pocket is a YKK-branded one. Yes, "zipper" as in singular, so we're glad it's from YKK. If you only have one zipper on your pouch, you want it to last forever. In our experience, YKK zippers go the furthest in terms of reliability. The metal pull is notably chunky as well, so it's easy to grip firmly every time.
Usage & Features
Carrying the Kanken Gear Pocket is about as straightforward as it gets. Your first option is to clutch it by hand, as we most often do when we're running around the office. At its size, even when it's packed to the gills with gear, it never gets too big to hold with one hand.

Alternatively, you can use the built-in nylon loop to hang it from your finger or attach it to a bigger bag. The nylon loop itself is deceptively simple, but it's quite thick and slightly angled. The extra thickness helps in terms of durability. Because of the Kanken Gear Pocket's basic design, you can be sure that the few features present will be used very frequently. In turn, you want these features to be as robust as possible.
But why is it angled? By our observation, it helps keep the sleek look of the pouch when it's hanging. The pouch inevitably tilts anyway while it's hanging, so angling the loop slightly balances the stress across the stitching. At least, that's what we think—the pouch images on Fjallraven's site appear not to have an angled loop at all. If that's the case, we're kind of glad ours came the way it did.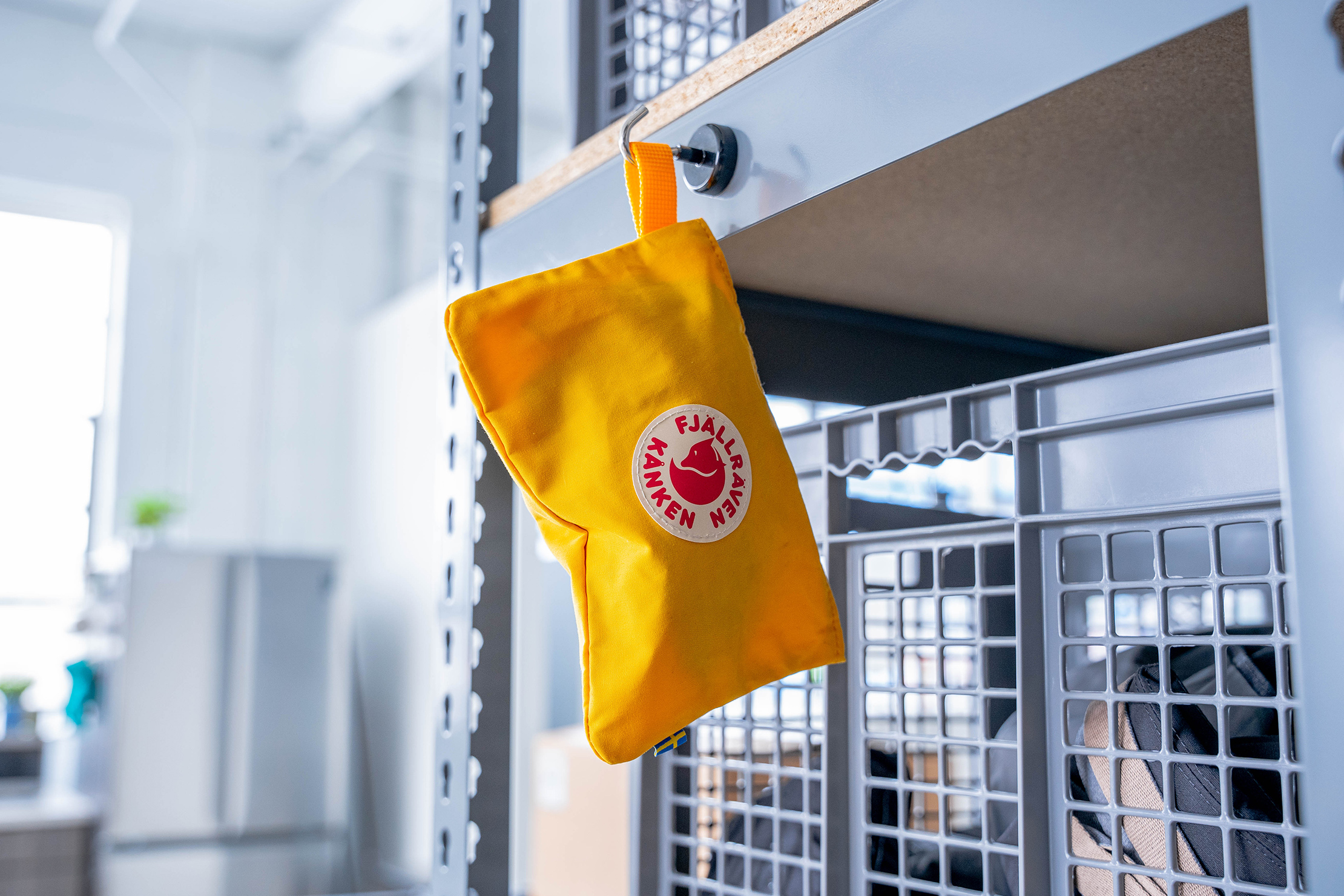 Now, let's move on to the inside of the pouch. There's nothing too special going on when it comes to the layout. There are no gussets, no flat floor, nor are there any additional pockets for organizing items—it's just a single-compartment pouch.
There are only two things inside the main compartment that immediately stand out: the owner information tag and the material care instructions tag. The owner information tag is a thoughtful inclusion for a pouch that's quite bare. On the other hand, we wish that the material care instructions tag was a lot smaller. The extra reading material could come in handy if we get bored, but we'd honestly cut these out the first chance we get.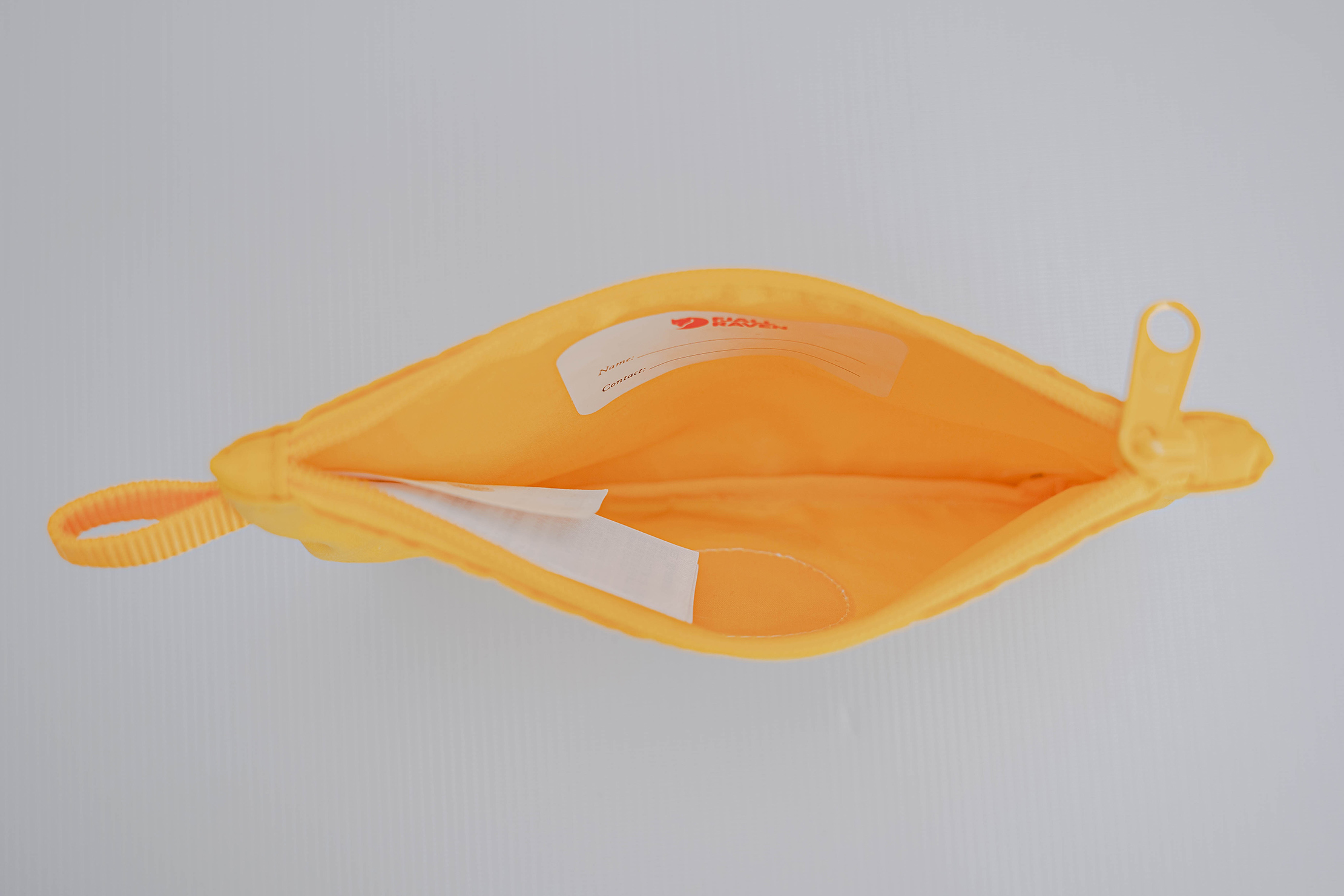 With a length of 8.27 inches and a height of 5.51 inches, there's a fair amount of volume available. For context, that easily fits our iPhone 13, bulky wallet, MacBook charger, and a few bundled-up cables. Since there are no gussets or dedicated floor, horizontal depth solely depends on the sides expanding outwards.
There's also no separate liner fabric, the interior shares the same bright yellow color as the exterior. Consequently, if you choose a darker colorway, you also get a darker interior. Mind you, while a bright colorway is excellent for interior visibility (i.e., sorting through items), it also means stains are also easily visible. If you want our opinion (and we assume you do, since you're reading this review), we'll stick with the bright colorways and just think of the stains as patina.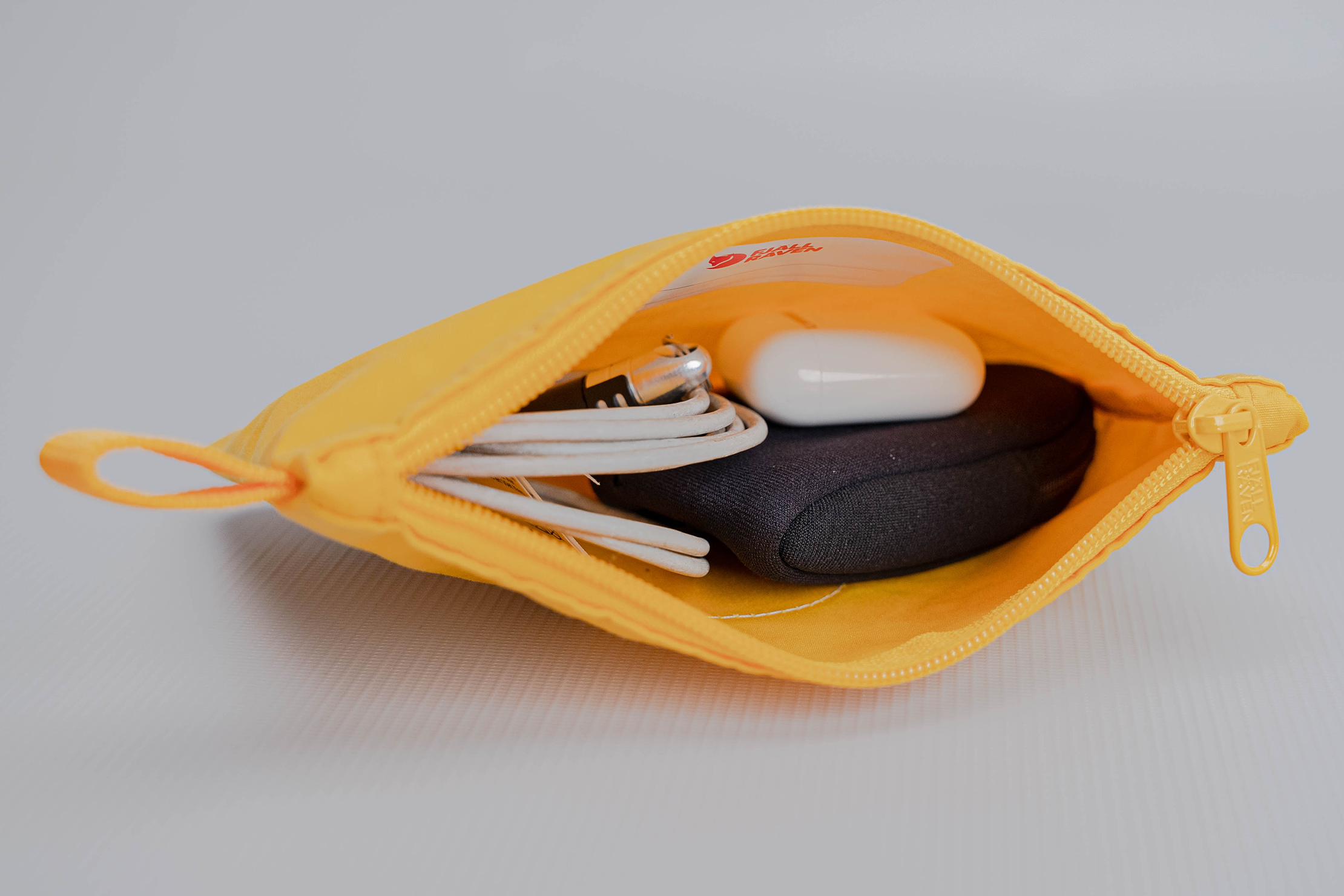 It would be easy to scoff at something as simple as the Kanken Gear Pocket. Sure, there are a lot more pouches out there with more features, but that's missing the point. Sometimes a single-compartment pouch is really all we want or need. The other side of that coin is quality. Just because something performs basic functions does not mean it's excused from being durable and well-built. We're glad to say that Fjallraven delivers with the Kanken Gear pocket in both respects.
Usage Timeline
Initial Usage
Condition: Excellent
Single compartment with no further organization inside
Feels relatively lightweight
Has a little handle loop for hanging it off other bags
2 Weeks of Use
Condition: Excellent
Has a few blemishes on the back, likely color transfer from another bag, but the light color will likely develop more
Sturdy construction—we expect nothing less from Fjallraven
Has the same feel as Kanken bags but a little more lightweight
Large enough to fit a decent amount of gear, from charging bricks to multiple cables
Access the Pro Community Discussion
Get your questions about the Fjallraven Kanken Gear Pocket answered from our team and the Pro Community right here on the page. Plus, join discussions with other members about gear, guides, and more.
Other Organizers & Pouches Reviews